TweakTown's Rating: 91%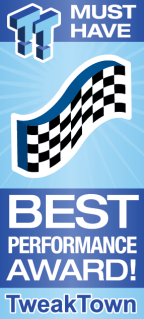 The Bottom Line
Loaded with mobile NVIDIA Pascal and an Intel Core i7 quad-core CPU, GIGABYTE's P55W v6 notebook produces very high performance numbers in a slim yet stylish package, also with a decent price tag.
Introduction, Specifications, and Pricing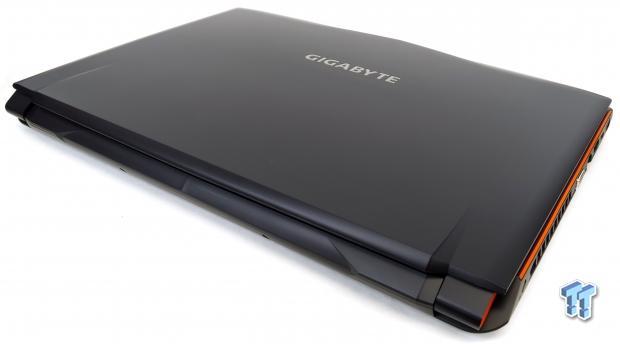 Perhaps the most interesting aspect of the GIGABYTE P55W v6 is its mobile NVIDIA Pascal based graphics card. The GeForce GTX 1060 mobile graphics card is loaded with 6GB GDDR5 and 1280 cores, making it identical to its desktop counterpart, except for a slightly lower clock speed. The most impressive aspect is its TDP to performance ratio. It should have a TDP around 80W, which is less than the roughly 100W TDP of the GTX 970M that it's replacing. Performance is also on par with the GTX 980M, which has a much higher TDP. I write these reviews after I have tested the product, and some of the tests I ran amazed me at how powerful yet cool the mobile GTX 1060 was.
Paired with a quad-core mobile Intel Skylake processor and an M.2 SSD, the GTX 1060M offers excellent gaming performance, or at least it should on paper. Most of the gaming notebooks I review are bulky and require a special backpack or suitcase to carry around; such is not the case with the P55W v6 from GIGABYTE. The notebook is slimmer than the GTX 980M based gaming notebooks I have reviewed, and it is much lighter. Cooling is also much different, with a single exhaust at the side of the notebook. The P55W v6 packs a lot of mid to high-end specs, so let's see how it does.
Specifications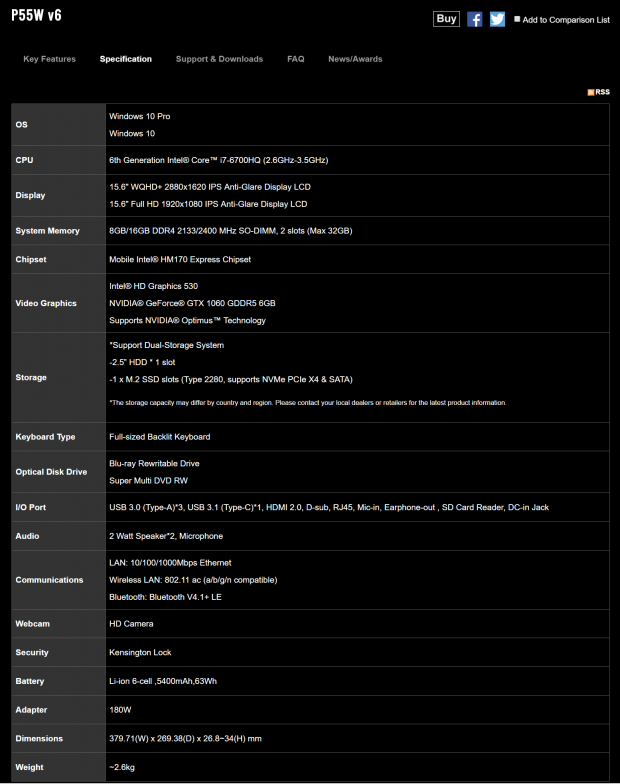 Like most notebooks, the P55W v6 comes in many different configurations. Our unit was loaded with 16GB of DDR4, a 256GB SSD, and a 1TB HDD. The system is based on the HM170 chipset, and our unit uses a 15.6" full HD (1920x1080) IPS anti-glare display LCD. The unit does use a GTX 1060 with 6GB of GDDR5, but when the system does not require the power of a fully-fledged discrete GPU, it will switch over to Intel's integrated HD graphics 530. The unit weighs only 2.6KG and is 379.71mm wide, 269.38mm deep, and 26.8-34mm high. It's a relatively decent sized gaming notebook.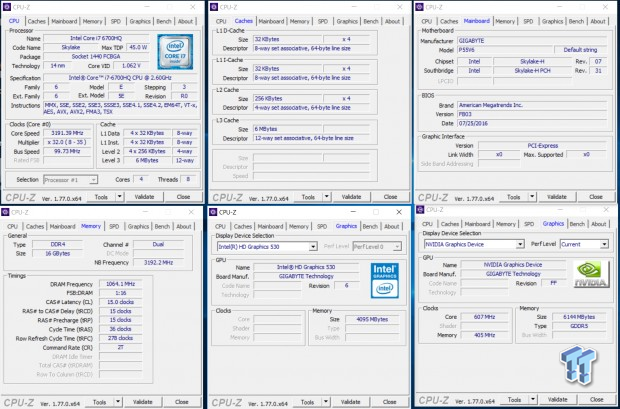 CPU-Z screens show all 16GB of DDR4 running in dual-channel mode at 2133MHz. The CPU is running at 3.2GHz on all 4 cores and 8 threads.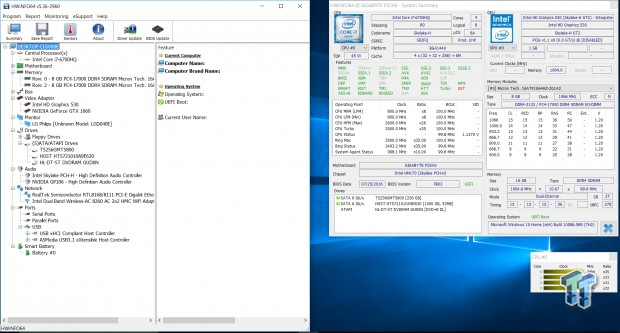 HWInfo shows that the memory is from Micron, the IPS panel is from LG Philips, the SSD is a TS256GMTS800, the HDD is an HGST HTS721010A9E630, and there is a DVD-RAM drive. The wired NIC is a Realtek RTL8111, and the WIFI is from an Intel dual-band Wireless-AC 8260. There is also an ASMedia USB 3.1 controller for the USB 3.1 port.
Pricing
The P55W v6 in our configuration chimes in just below the $1500 mark at $1499.99 on Newegg.
Physical Overview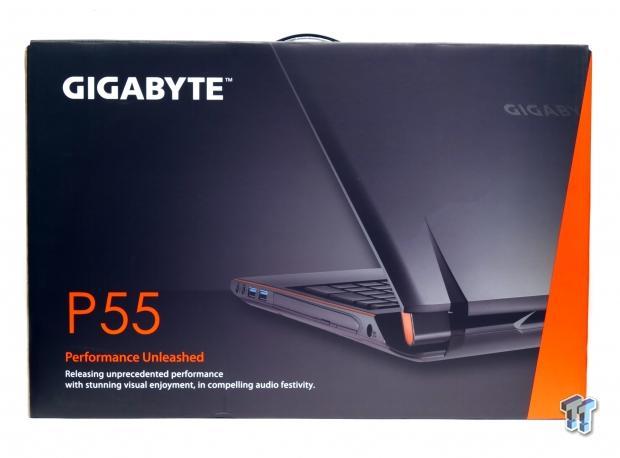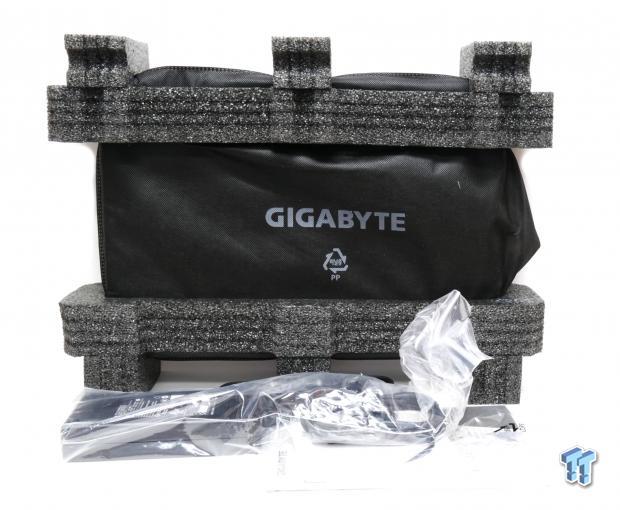 The box keeps things simple; its color theme matches that of the notebook. Packaging is done well; the notebook shouldn't get damaged unless the shell of the box is breached.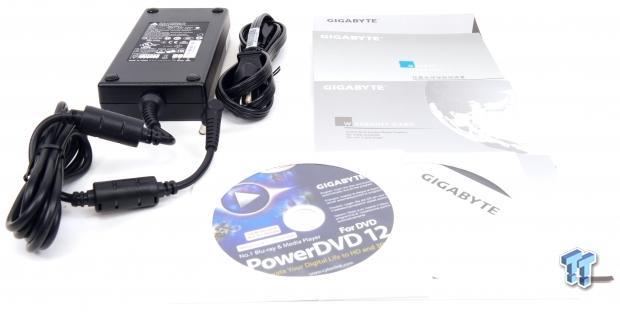 There are almost no accessories apart from a power brick, some DVDs, and manuals. For recovery, a program will make a recovery USB drive, and it will prompt you to do so when you first boot into Windows. The Delta power brick is rated at roughly 180W.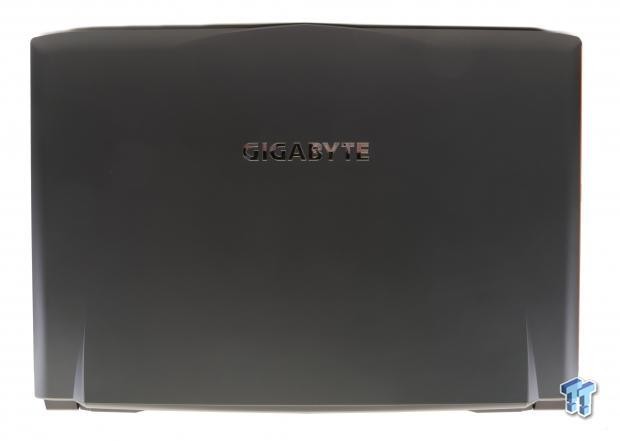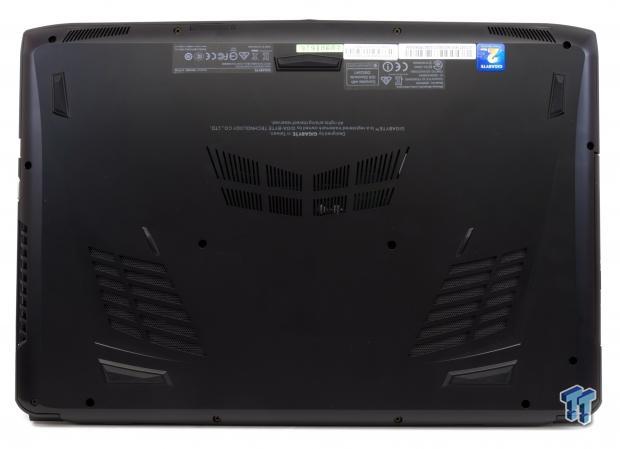 The top of the unit is a composite plastic that feels smooth to the touch. A simple reflective GIGABYTE logo sits in the center, and there is slight edging towards the back of the notebook. The bottom of the unit features air intake vents, those directly below the blower fan have some sort of dust trap. There are five large rubber legs that should hold the notebook in place on a glass surface.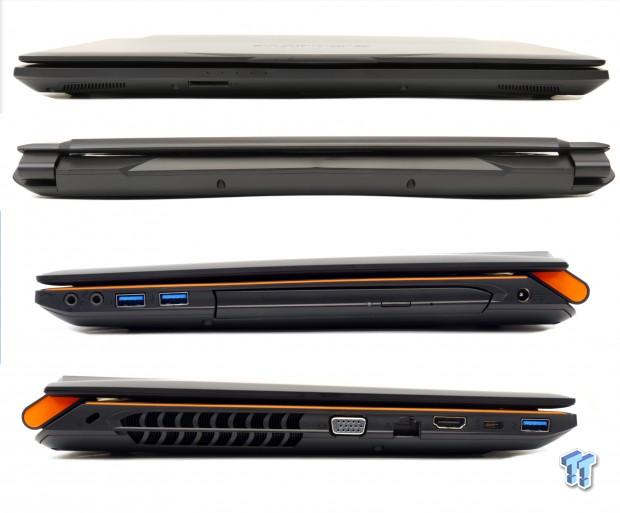 The front of the notebook features some status LEDs and an SD card slot, there are also speaker vents on the right and left sides. The rear of the notebook is surprisingly clear of ports and vents. The right side of the notebook features a headphone jack, a microphone jack, two USB 3.0 ports, a DVD slot, and a DC power jack. On the left side of the notebook is a Kensington lock slot, a huge exhaust vent, a VGA (D-SUB) port, an RJ-45 1GBit LAN port, an HDMI 2.0 port, a USB 3.1 type-C port, and a USB 3.0 port.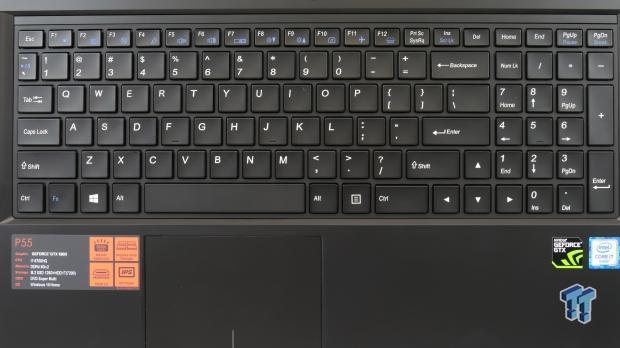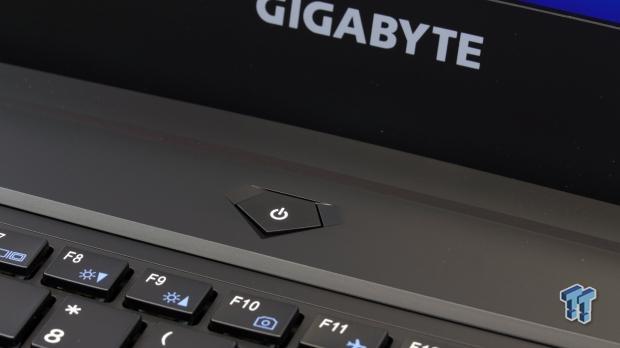 The P55W v6 has a full QWERTY keyboard with large keys; special function keys require you to hold down Fn before they are activated. There is also a number pad, which is crammed in there but does prove to be useful. It's a very basic keyboard layout; the keyboard is backlit, but the backlighting is very dim so you won't notice it in bright settings. The power button is top and center and is nicely styled.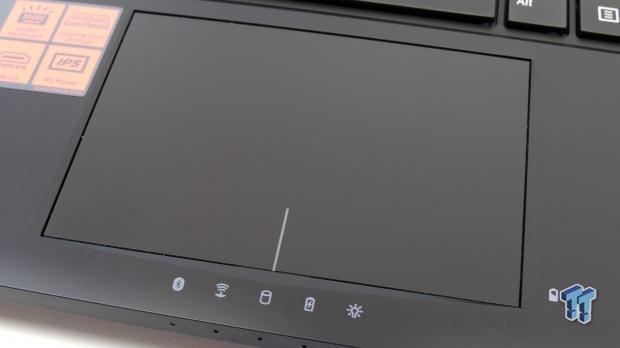 The touchpad is smooth and soft. I did find that at certain points it had a tough time distinguishing between a two finger touch and one finger moving and the other clicking. Since there are no dedicated right and left click mouse buttons, you will have to get used to clicking on the touchpad. You can easily customize the touchpad to be more or less sensitive to button area touches.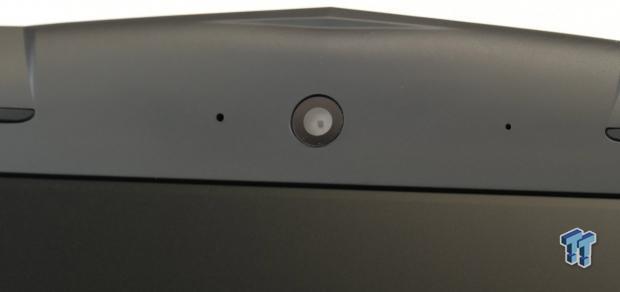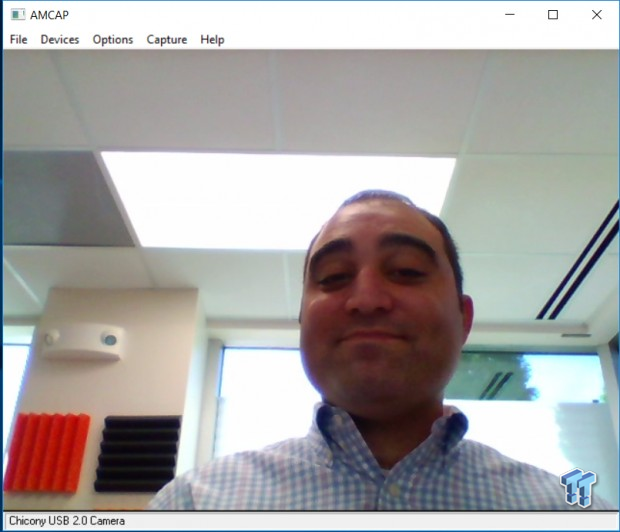 There is an HD camera with dual array microphones; picture quality is decent for web content but nothing spectacular.
Physical Overview Continued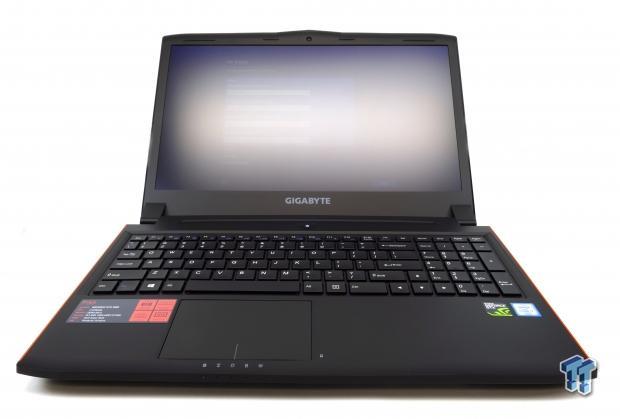 The screen can be tilted a maximum of roughly 110 degrees. The hinges are large and strong.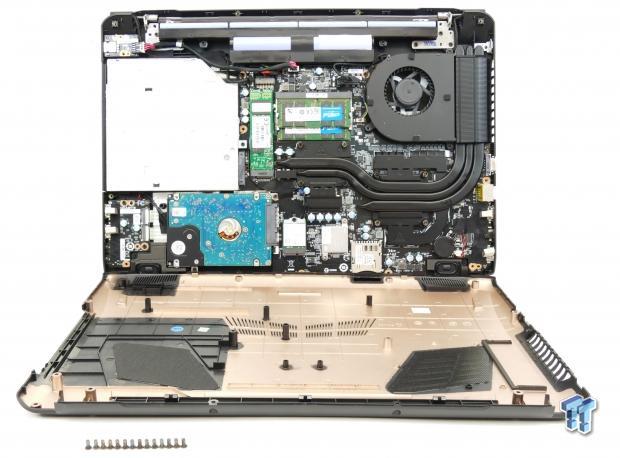 Opening up the unit proved to be easier than expected. Just remove the screws and open her up. There doesn't seem to be any room for adding more memory or storage, but you can easily replace parts if required. The battery pack isn't what we typically see in notebooks, it has a more rudimentary look and is designed to fit in a dedicated space.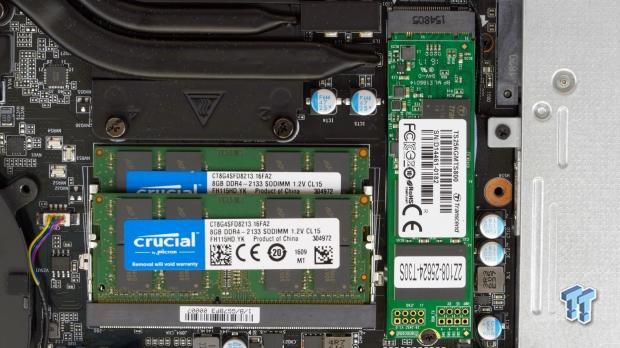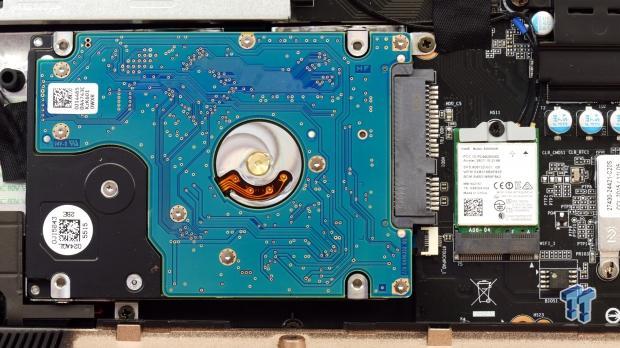 Two 8GB Crucial DDR4 modules produce a total of 16GB in dual channel. There is a Transcend 256GB M.2 SSD; I believe it operates in SATA mode. The hard drive is from HSGT, and the WIFI/BT M.2 device is an Intel 8260NGW.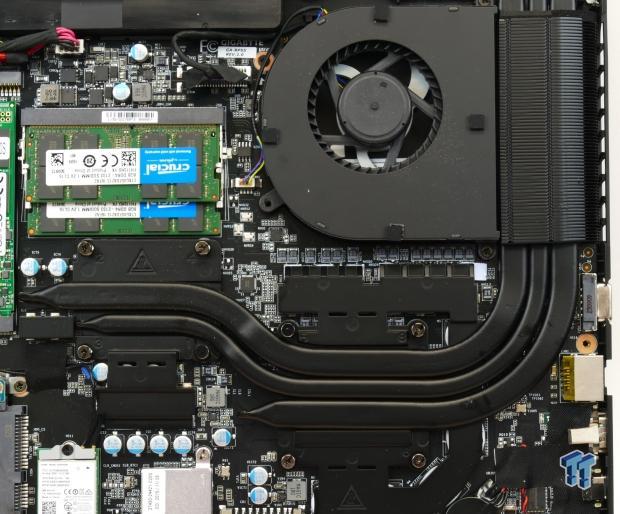 The heat sink utilizes three heat pipes and cools the CPU and GPU at the same time. The blower fan is large, but it does a solid job of cooling the CPU and GPU even when gaming. The unit doesn't get too loud, but it produces noticeable noise when maxed out.
Software and BIOS
Software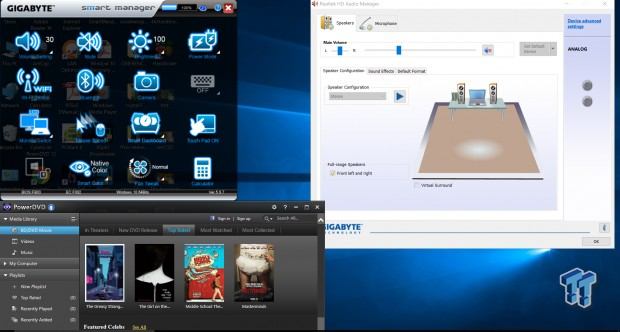 GIGABYTE's Smart Manager is the go-to application for controlling the many functions of the notebook. All the function keys are mirrored by the Smart Manager application. You also get the ability to control the amount of blue light emitted from the screen for easier nighttime viewing. GIGABYTE also includes PowerDVD, and audio can be configured through Realtek HD Audio manager.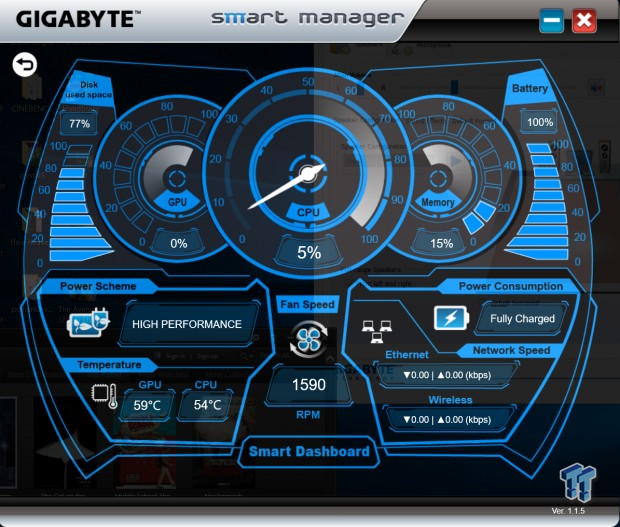 Within the Smart Manager program is the Smart Dashboard where you can get a real-time glimpse of how system resources are being utilized.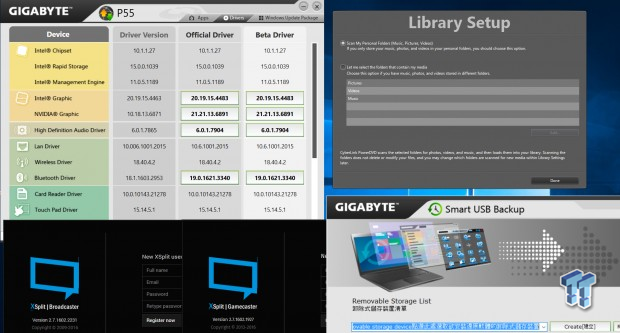 Updating drivers is made simple through an included update utility. GIGABYTE also provides a Smart USB Backup utility to produce a backup of the OS installation. XSplit Gamecaster and Broadcaster also come pre-installed.
BIOS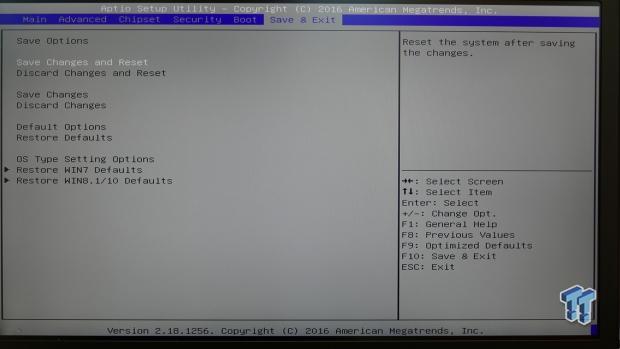 The BIOS on the GIGABYTE P55W v6 looks very similar to that of the traditional BIOS rather than UEFI. It is a UEFI, and you have basic configuration options. Something intriguing is the ability to select Windows versions, and while the system comes with Windows 10, it looks like you can install Windows 7 if you want.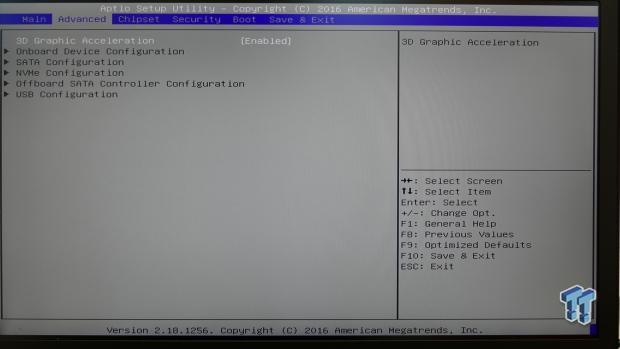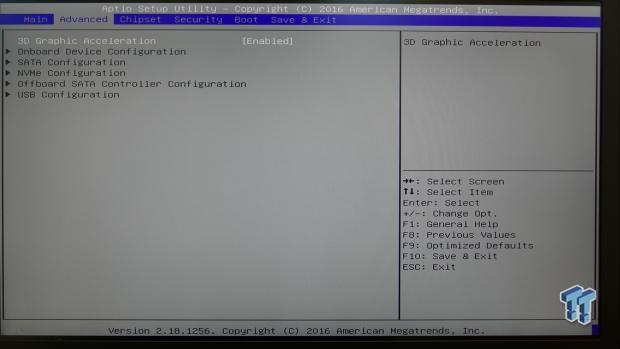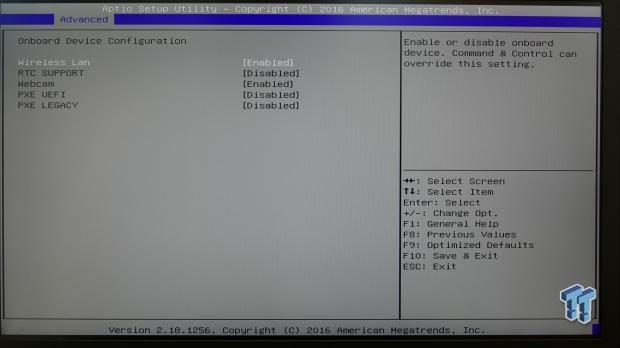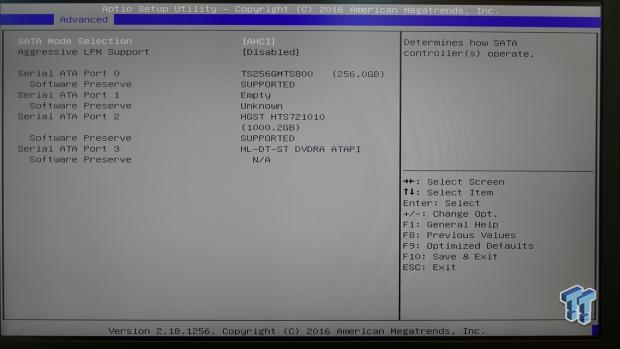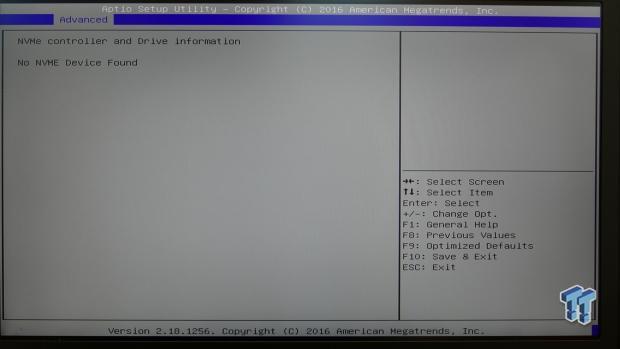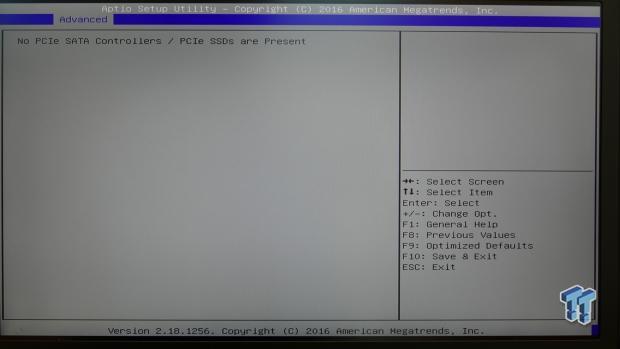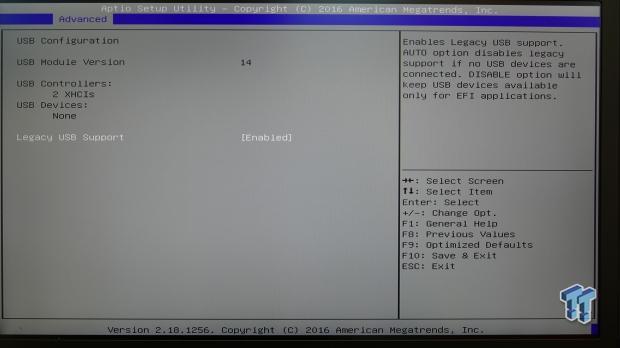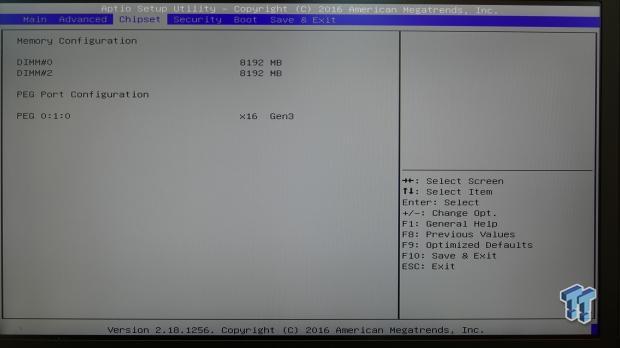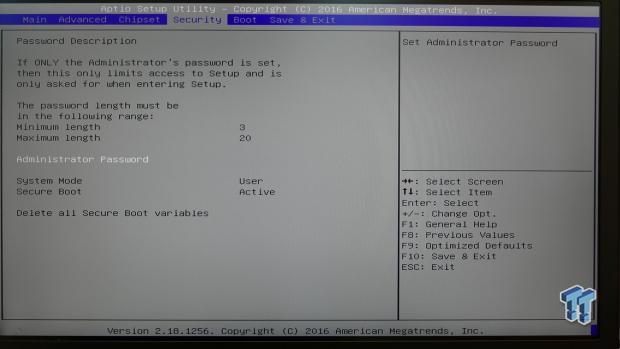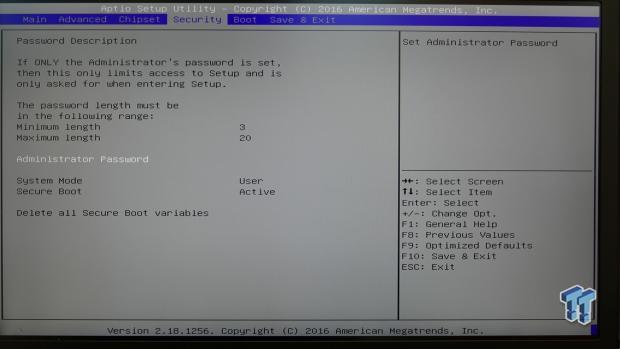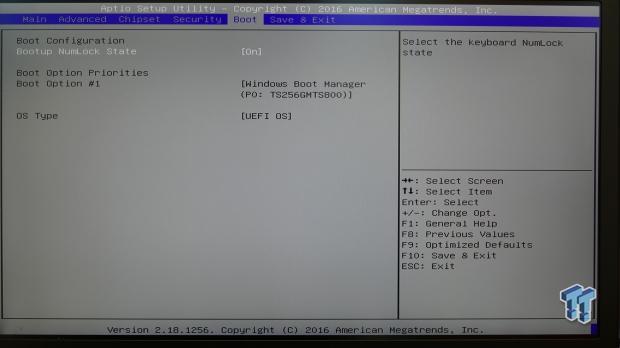 System Performance Benchmarks
CPU, Memory, and System Benchmarks
CINEBENCH 11.5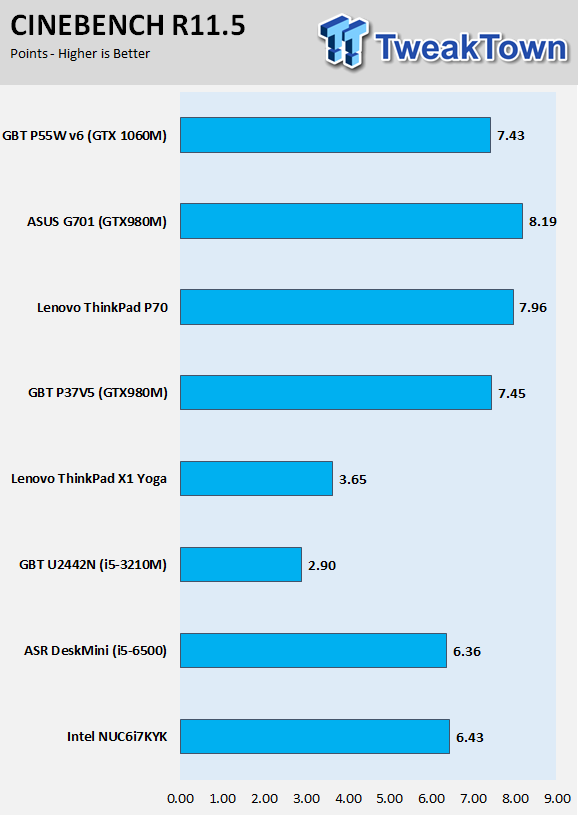 wPrime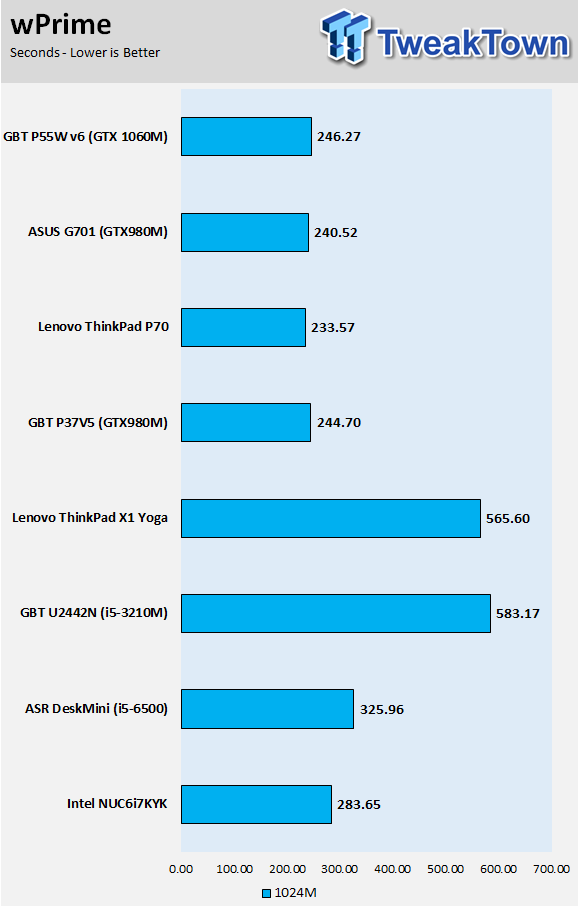 AIDA64 AES and HASH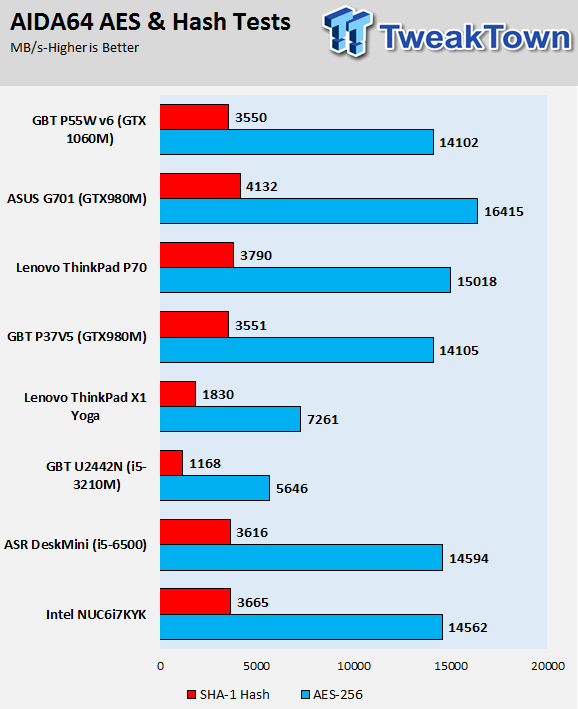 AIDA64 Memory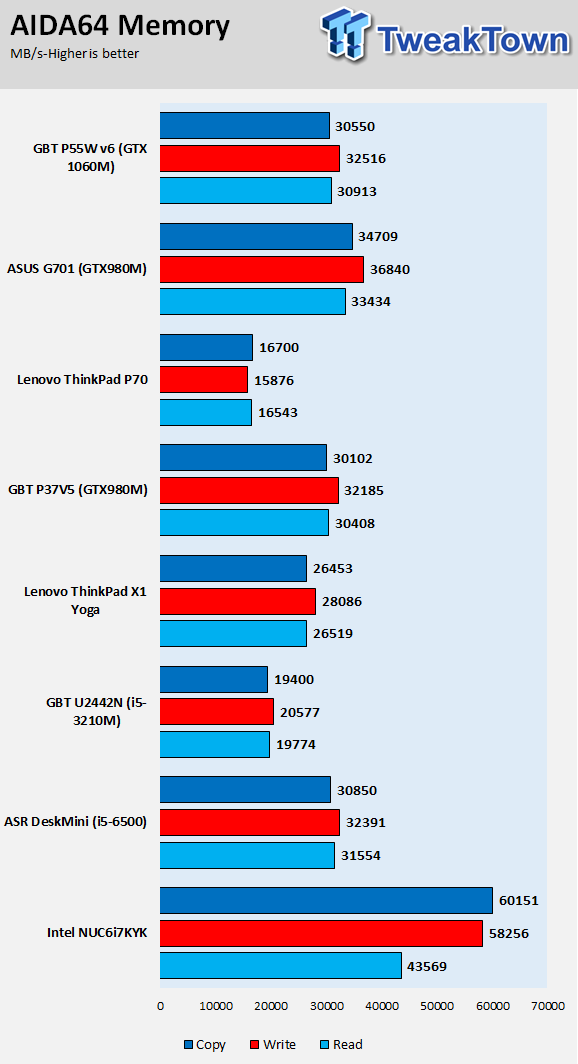 PCMark8 Home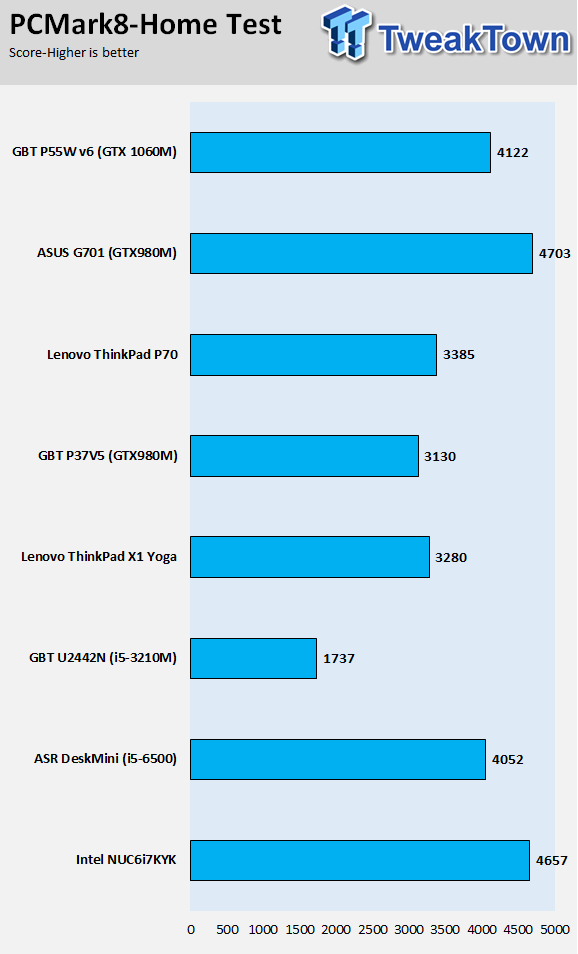 Handbrake 4K and 720P Transcoding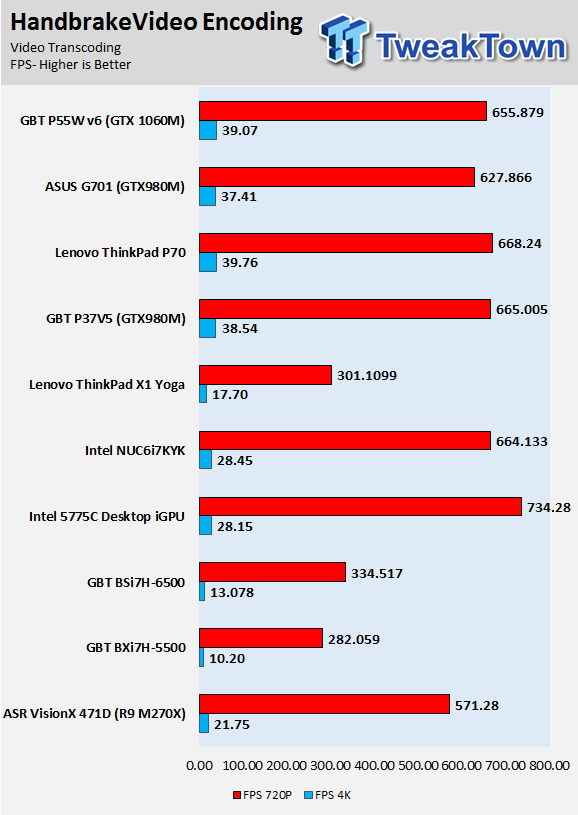 WebXPRT 2015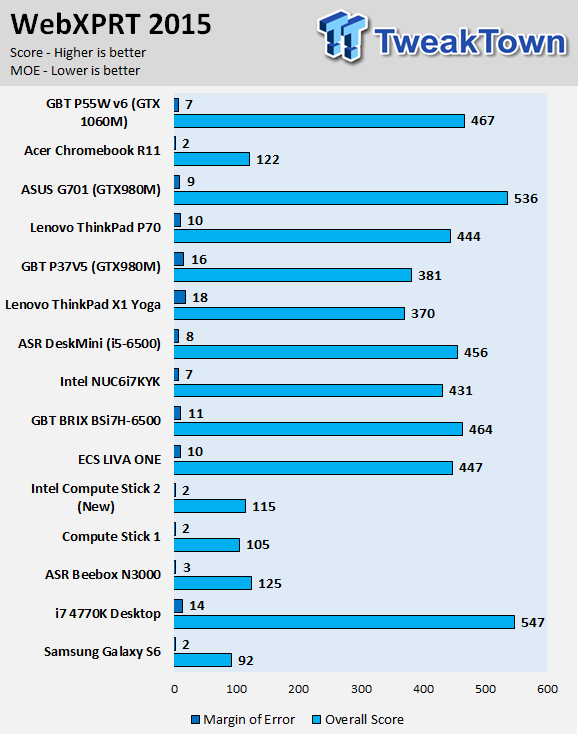 The P55W v6 is where it should be for a gaming notebook equipped with an i7-6700HQ. The powerful quad-core processor matched up with 16GB of DDR4 produces impressive CPU and memory performance results.
System performance is also where it should be, keeping up with systems around double its price.
Gaming Performance Benchmarks
3DMark11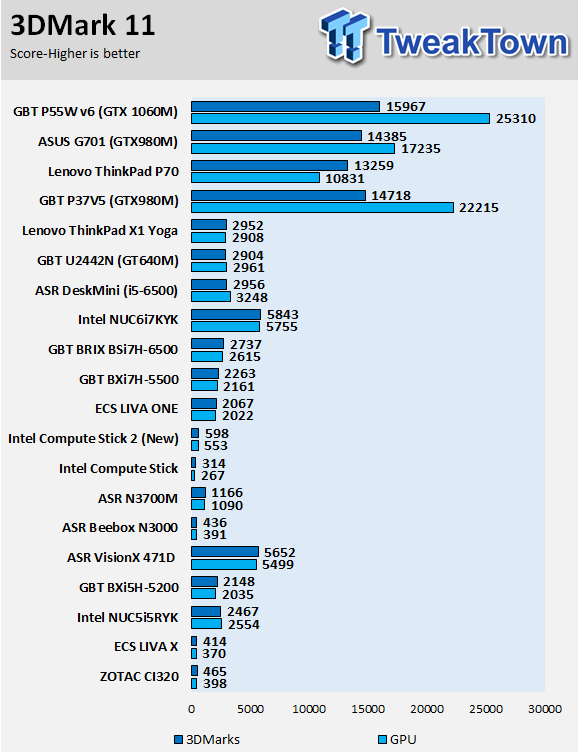 UNIGINE Heaven 4.0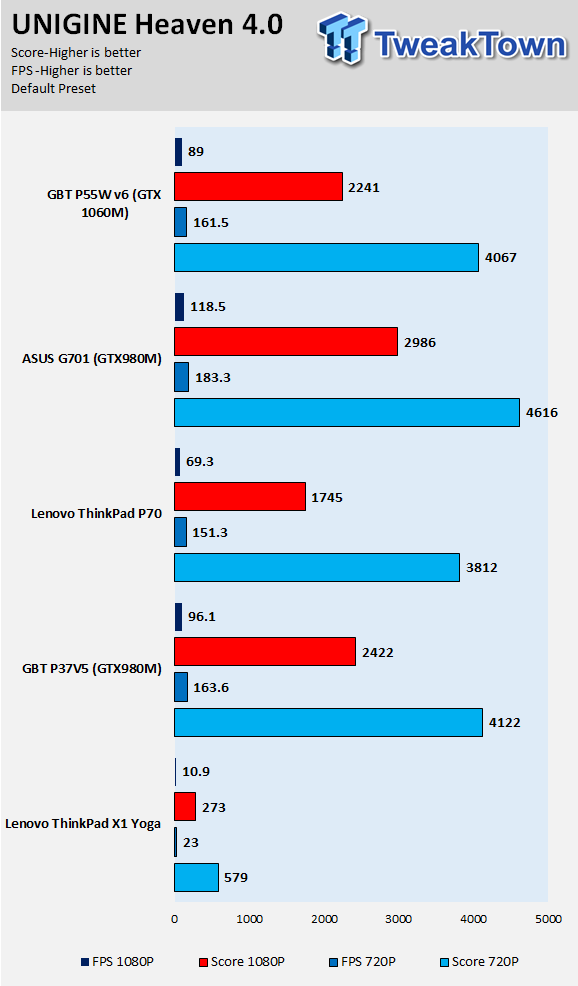 ResidentEvil 6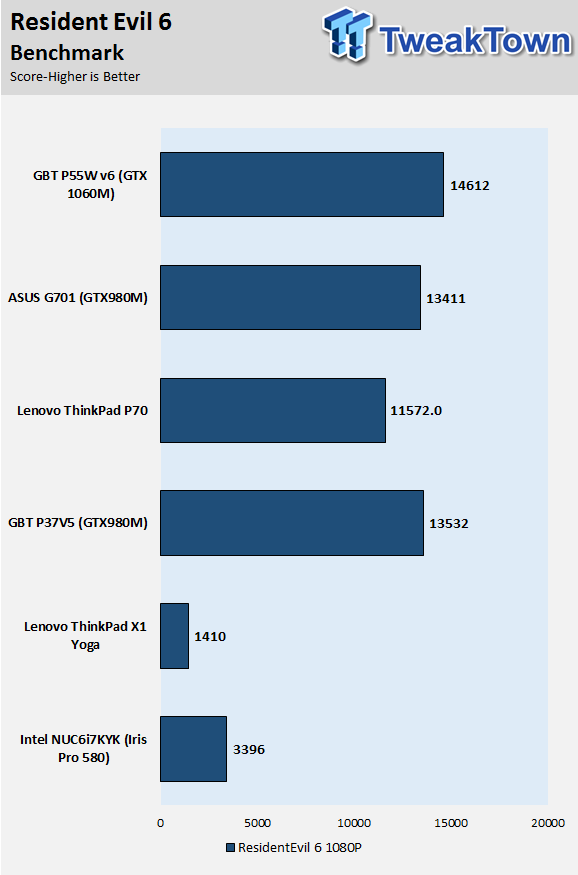 3DMark FireStrike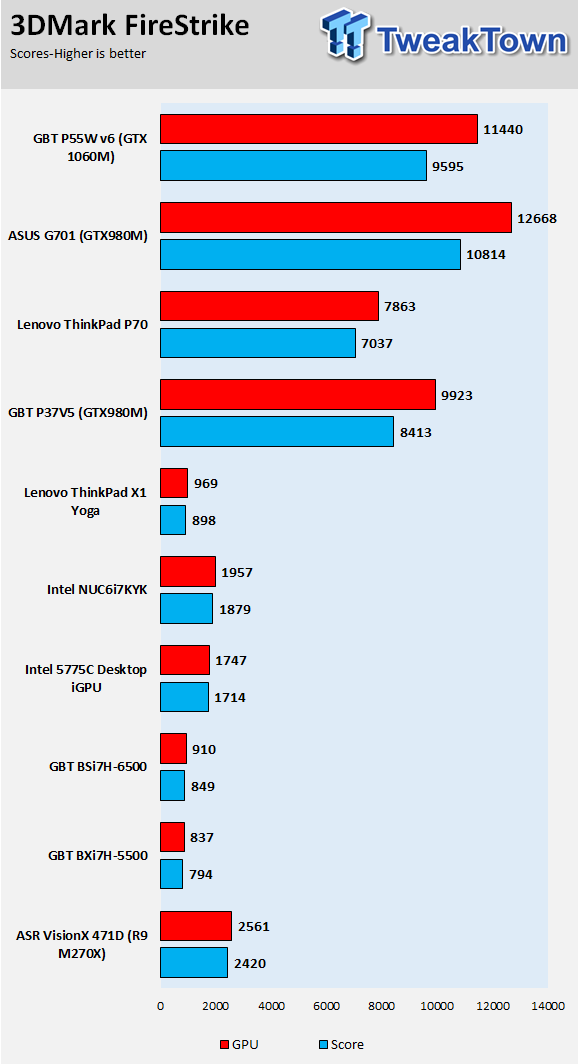 3DMark Cloudgate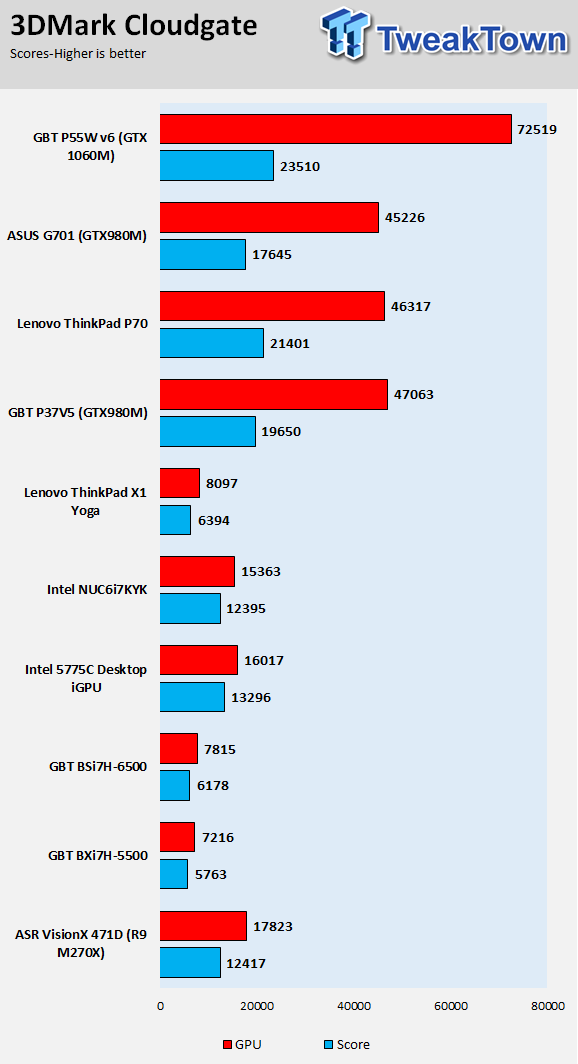 Ashes of Singularity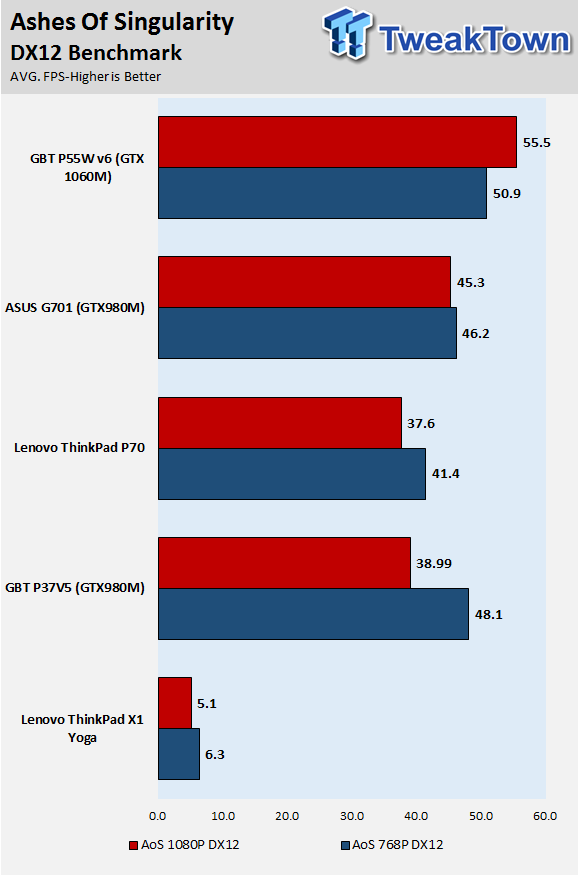 GTA:V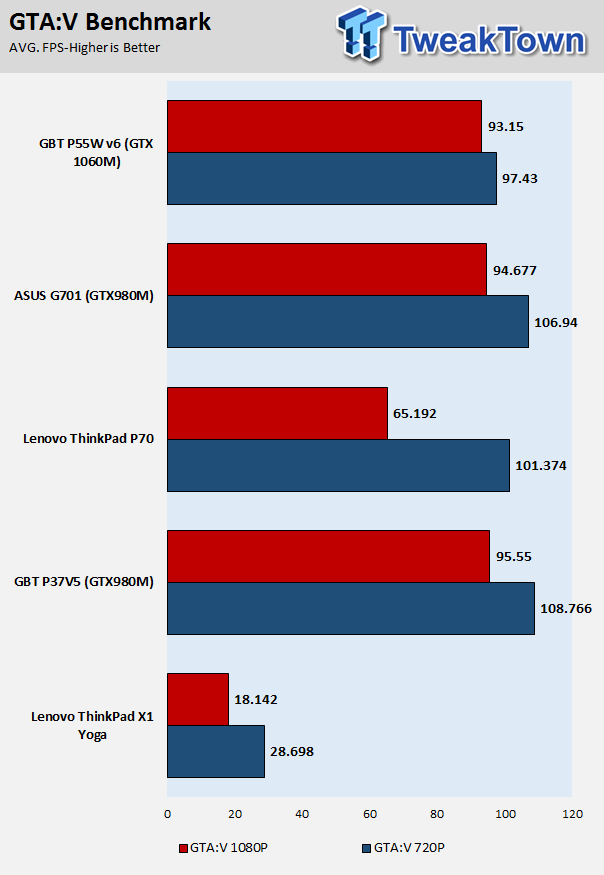 Final Fantasy XIV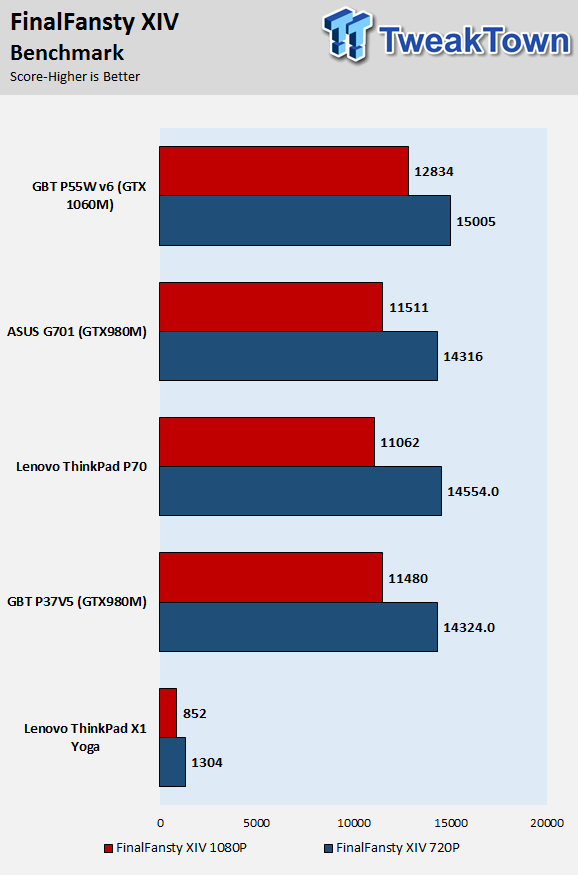 The NVIDIA GTX 1060 in the P55W v6 is very good at scoring well in synthetic benchmarks, the older the benchmark, the better it does. In newer games such as GTA:V and Ashes of Singularity, it becomes apparent that it's more head to head with the GTX980M. I should note that some GTX 980M notebooks on the list have 4GB of VRAM while the GTX 1060 has 6GB, which probably gives it an edge at higher resolutions.
Overall, the mobile Pascal graphics processors provide a ton of performance for their price and thermal envelopes.
System IO and Battery Performance
System IO Benchmarks
Internal Storage Read Test: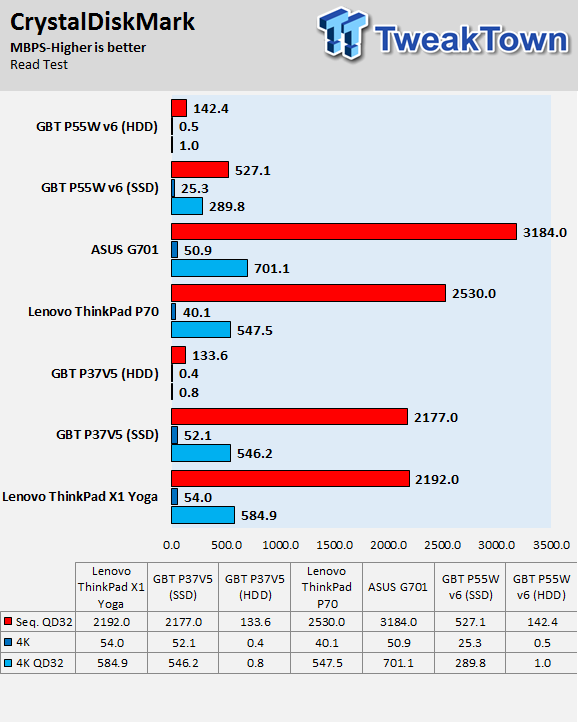 Internal Storage Write Test: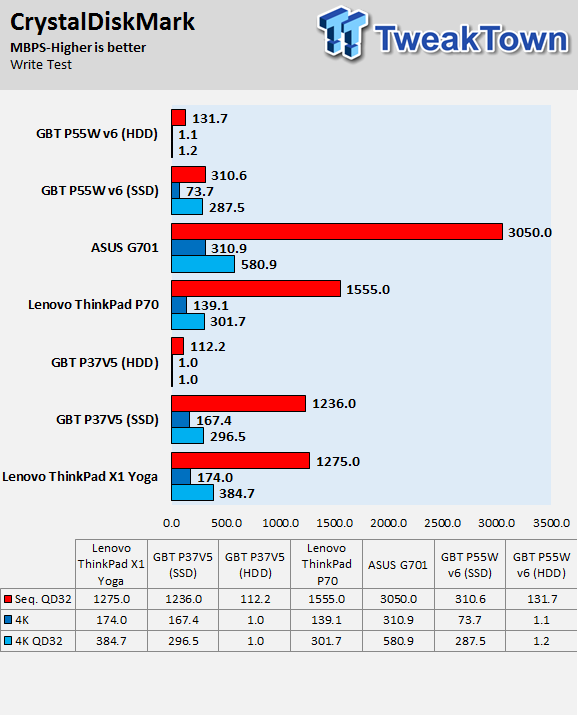 ixChariot Network Throughput: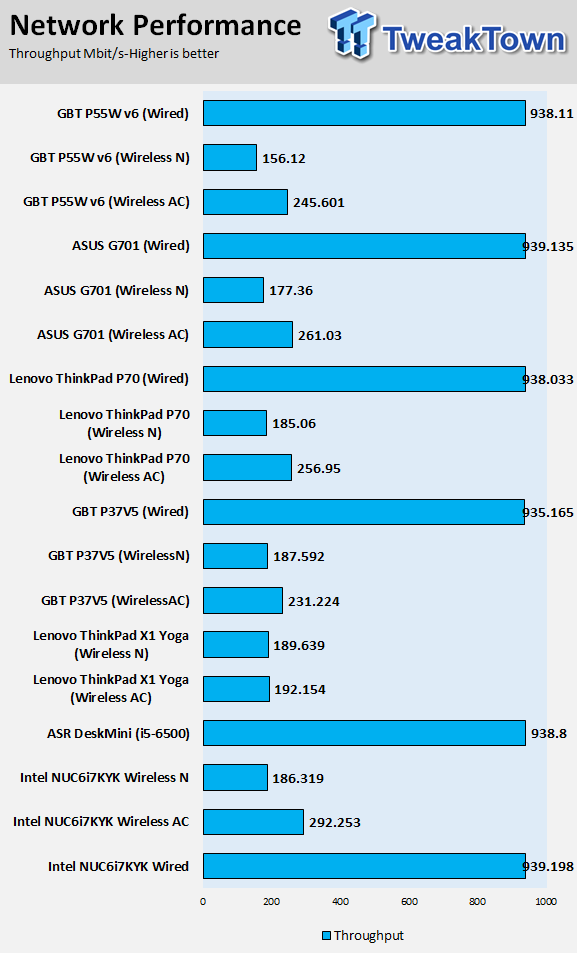 The GIGABYTE P55W v6 is using what seems to be an SATA-based M.2 drive, but in the UEFI, I did find a menu for NVMe drives, so I assume you can upgrade to one if you want.
Network performance is strong and consistent with other notebooks that utilize Intel-based WIFI controllers.
Battery Tests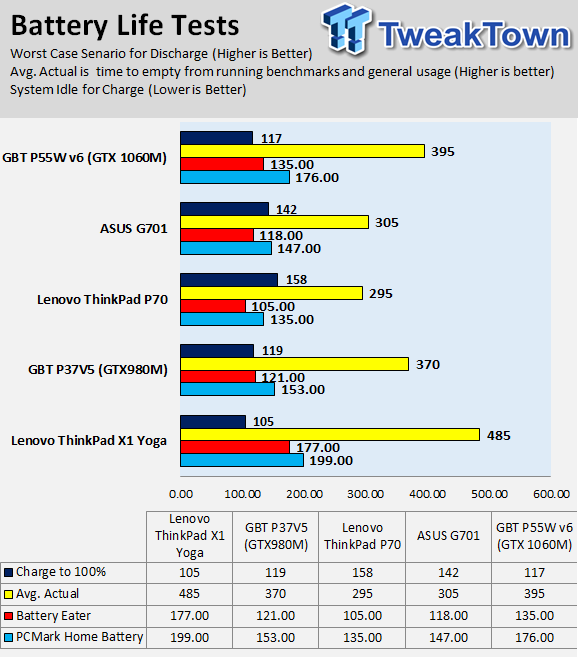 The P55W v6 has a much less power hungry GPU and display panel than most of the notebooks on the list. Overall, battery life is good, but don't expect to be taking it everywhere without charging.
Thermal Performance
Thermal Imaging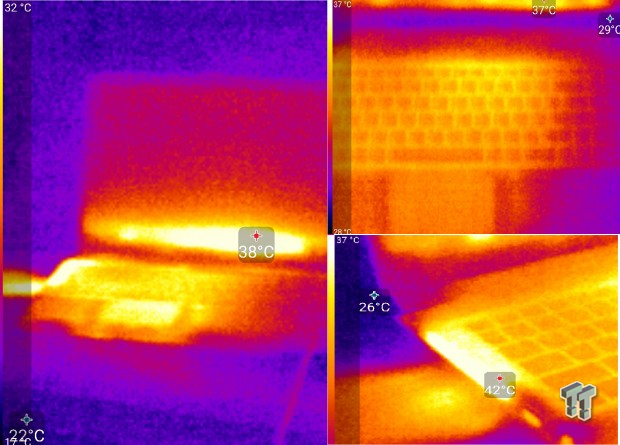 At idle, the notebook stays relatively cool. The IPS panel does get a little warm towards its bottom section, but the heat isn't noticeable. The keyboard also doesn't get very warm, but since the exhaust is on the left side of the notebook, that area does tend to get a bit warmer since that is where the CPU and GPU are located.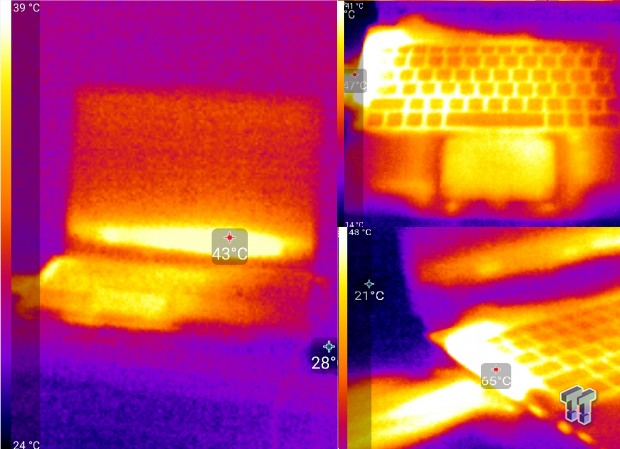 The notebook can warm up while gaming or at full load like in these tests, the heat from the exhaust is noticeable only if you put your hand over the vent, the keyboard itself does not get too hot to touch or cause discomfort.
I like how the exhaust vent is at the side of the machine, because if the notebook is on your lap, it will not heat up your legs.
What's Hot, What's Not & Final Thoughts
Here are key points about the P55W v6.
What's Hot
NVIDIA Pascal GeForce GTX 1060: NVIDIA's latest in graphics architecture is now available for mobile devices, and it's quite impressive. Bringing to the table the same performance increases seen on the desktop variants, NVIDIA's new approach of not drastically hindering mobile GPU performance is a good one. The GTX 1060 used in the P55W v6 is pretty much on par with its desktop variant, but with some hampering in clock speeds, so that its TDP doesn't go too much over 80W. You even get 6GB of VRAM.
Thin and Light: Some people might not like the fact that the body is based mostly on plastic, but the latest design is very lightweight for a gaming notebook of this magnitude. Regarding performance weighted against size and price, the P55W v6 is on par with previous-generation notebooks that are twice its size.
USB 3.1 Type-C: Type-C is the next generation USB port, and the P55W v6 offers a type-C port with a USB 3.1 controller. The P55W v6 is ready for faster file transfers and the next generation of USB 3.1 devices.
Side Ventilation: While the side vent doesn't have the same aesthetic appeal as dual rear vents, it performs admirably, and removes the heat towards a direction most people won't mind. Since most people are right-handed, and most gamers will use a dedicated mouse, it makes sense for the vent to be on the left side of the notebook as it is on the P55W v6. Nice design work.
Plenty of Storage: GIGABYTE loaded the P55W v6 with an M.2 slot for the primary OS drive and even a 2.5-inch 1TB drive for games and other storage. You can further increase this if you remove the ODD and get a slim SATA male to SATA female adapter and add in an extra drive, of course, that would take some modding. These days, where many notebooks are moving towards M.2-only storage configurations, it's nice to see options with regular 2.5-inch drive configurations.
What's Not
Backlit Keyboard is Weak: The P55W v6's backlit keyboard isn't very bright. In fact, you can't even see it's lit up unless the room is very dark.
Speakers: The P55W v6 has a few speakers, but they aren't very loud, so you won't be able to fill a room with sound.
Final Thoughts
GIGABYTE's P55W v6 merges the beauty of Intel Skylake microprocessors with NVIDIA's latest Pascal GPU architecture, bringing high performance with low power consumption to the table. However, while Skylake brought significant power savings gains over its predecessor, Pascal brings both power savings and performance bumps. The GeForce GTX 1060 6GB used in the P55W v6 might be a little less powerful than its desktop variant, but it does the same type of damage its predecessor's big brothers can do.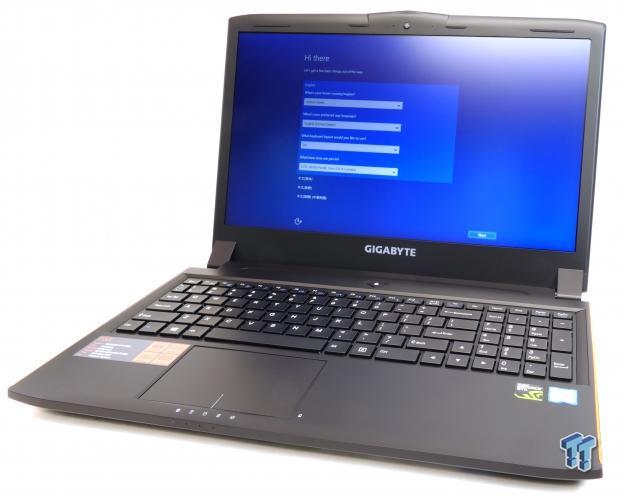 While Pascal and Skylake are great in a mobile mash-up, the manufacturer also has to execute the notebook well, and GIGABYTE does an excellent job. The P55W v6 is great all around, from the mixture of M.2 SSD and 2.5-inch HDD to the Intel LAN and USB 3.1, it is an all-around solid notebook.
While it has some minor pitfalls and a little less bling than many of its competitors, it is a solid option for a mid to high-end gaming notebook. While it does cost $1500, it offers performance you used to have to spend almost double to attain. As far as value and performance go, we're onto a good deal with the P55W v6.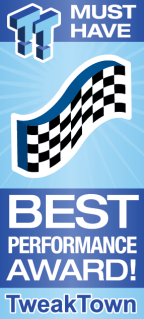 | | |
| --- | --- |
| Performance | 94% |
| Quality including Design and Build | 90% |
| General Features | 89% |
| Bundle and Packaging | 88% |
| Value for Money | 92% |
The Bottom Line: Loaded with mobile NVIDIA Pascal and an Intel Core i7 quad-core CPU, GIGABYTE's P55W v6 notebook produces very high performance numbers in a slim yet stylish package, also with a decent price tag.
PRICING: You can find products similar to this one for sale below.

United States: Find other tech and computer products like this over at Amazon.com

United Kingdom: Find other tech and computer products like this over at Amazon.co.uk

Australia: Find other tech and computer products like this over at Amazon.com.au

Canada: Find other tech and computer products like this over at Amazon.ca

Deutschland: Finde andere Technik- und Computerprodukte wie dieses auf Amazon.de
We openly invite the companies who provide us with review samples / who are mentioned or discussed to express their opinion. If any company representative wishes to respond, we will publish the response here. Please contact us if you wish to respond.