X-Men: Apocalypse 4K Blu-ray Review
"You are all my children, and you're lost because you follow blind leaders. No more false gods. I'm here now."

Published
4 minute read time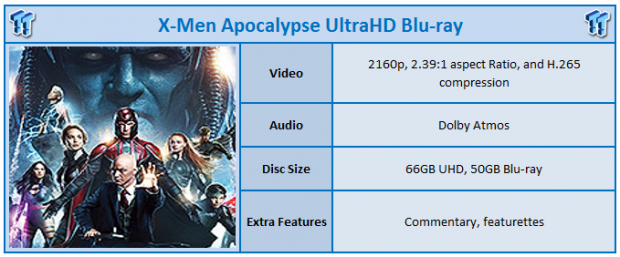 X-Men: Apocalypse 4K Ultra HD Blu-ray
After the roaring success of the previous X-Men feature Days of Future Past, we have signs that franchise fatigue is setting in after the film failed to crack the $550 million mark worldwide, a stunning $200 million less than its predecessor. For comparison, Deadpool pulled in nearly $800 million, even though it was made for less than a third of the budget. While you could blame the saturation of superhero films in the market, there's little doubt that this latest entry feels unexciting and more than a little stale. So, where exactly does Apocalypse go wrong, and what does it do right?
After laying dormant for one millennium, the powerful mutant En Sabah Nur (Oscar Isaac) has been awoken by his motley crew of modern day followers, quickly establishing that Earth has become so foregone that it requires cleansing (read: destroyed). Finding in Erik Lehnsherr (Michael Fassbender) a morally malleable ally to assist in undertaking the task alongside his 'horsemen of the Apocalypse', Professor X (James McAvoy) will needs to mobilize his students into soldiers if they're to overcome their most powerful adversary yet seen.
Following Days of Future Past's post-credits stinger, which cryptically revealed this film's adversary unless you were in the know, Apocalypse returns again under the guidance of the director who started it all, Bryan Singer and the younger X-people introduced in the reboot First Class who reprise their roles for the third time. Fans lamenting the absence of the old crew can be consoled by a great cameo fan-favorite character, in a surprise long since spoiled by Fox's marketing team. Much like the Spider-Man reveal in Captain America: Civil War, it seems that studios are intent on revealing all in a bid to maximize box office potential. But what's wrong with leaving audiences some surprises to discover in the darkened cinema?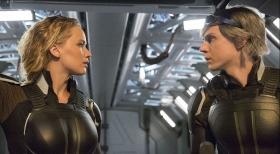 With Erik Lehnsherr / Magneto teetering on the edge of villainy, big-bad duties are performed by Apocalypse, who's repeatedly said to be the originating and most powerful X-Men of them all (so where exactly do you go from there?). Oscar Isaac is a good get, and while he's virtually unrecognizable after his burial in mounds of make-up, prosthetics, and armor, his superb abilities overcome these physical handicaps.
Visually, X-Men Apocalypse is as adept as you'd imagine but with few limitations, the CG artists have gone way, way over the top. While the Quicksilver sequence manages to inserts some smirk-inducing fun, it's symptomatic of a film that's obsessed with throwing as much digital junk around the screen that after a time it just becomes a little tedious. Like the last three Transformers films, the film's climax is so overstuffed and overlong that it borders on boring. Despite the inherent problems with Apocalypse, there's no shortage of material to cover in the X-Men universe, and coupled with a previously demonstrated ability to reinvent itself, I have no doubt that there'll be no shortage of mutant mayhem in the future.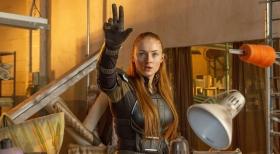 Video
X-Men: Apocalypse is presented in its original widescreen aspect ratio of 2.39:1, mastered to a 66GB dual-layered Ultra HD disc.
Filmed at 6K resolution, with visual effects sequences rendered out at 4K and then compiled into a 4K digital intermediate, as is the norm with most modern blockbusters, X-Men: Apocalypse is a mishmash of sources yet comes across quite impressively in this definitive 4K presentation.
While it lacks the razor-sharp detail of other 4K releases I've sampled, Apocalypse features a pleasing uptick in visible resolution most of the time, even if many of CG heavy sequences are almost indistinguishable to the 1080p Blu-ray transfer. But where this disc shines is in the enhanced color gamut and the HDR pass which pushes the luscious comic book tones and saturation.
My only real criticism is one that's entirely an artistic choice. Unlike the moody Batman v Superman, the transfer is incredibly clean, resembling a video game far more than a motion picture. The complete absence of anything resembling grain seems a trifling matter, but it absolutely alters the pervading mood and the way that the image is perceived. Still, the last few X-Men films haven't been any different, so I guess it's just Singer's style.
Overall, Apocalypse is a solid addition to the growing Ultra HD Blu-ray range but still leaves room for improvement.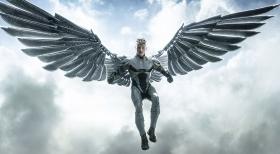 Audio
X-Men: Apocalypse is presented in Dolby Atmos, with an embedded Dolby TrueHD 7.1 'core' for older audio receivers.
Now this is more like it. As with most superhero films, the audio mix is a veritable rollercoaster ride of an experience, with an incredibly active mix pumping to every channel your system can output. The mid and back rear surround channels are constantly active, and the subwoofer provides some good feedback throughout.
Unlike the included 1080p Blu-ray disc, the 4K disc includes an upgraded Dolby Atmos presentation, so if you're suitably equipped for new immersive audio formats via ceiling mounted or upward firing speakers, it makes for an even more aggressive experience.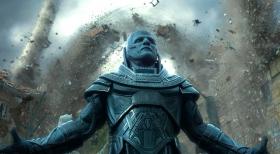 Extras
To maximize the available space for the best presentation, the 4K disc only features only the audio commentary, with the rest housed on the 1080p Blu-ray disc. Let's jump in.
Director Bryan Singer is quite the Audio Commentary fan, so it's no surprise that his effort is pretty entertaining, joined here by co-writer Simon Kinberg. You're going to have to be a pretty dedicated fan to get through it in its entirety, but I'm sure they'll get a kick out of it.
The 63 minute Apocalypse Unearthed documentary is a pretty meaty behind the scenes look at the making of the film, even if it's talking heads come across as perhaps a little too congratulatory at times. Throughout the runtime, you'll get to take a relatively in-depth look at what goes into a huge-budget motion picture production - it's not all glamorous stuff. I was a little surprised about how much of the special effects were done practically; I just don't understand why the effort was put into making it look digital in post-production. Shrug.
Finally, the Gag Reel and Wrap Video show the crew goofing off behind the scenes and flubbing their lines, and the three Theatrical Trailers archive the marketing campaign.

PRICING: You can find products similar to this one for sale below.

United States: Find other tech and computer products like this over at Amazon.com

United Kingdom: Find other tech and computer products like this over at Amazon.co.uk

Australia: Find other tech and computer products like this over at Amazon.com.au

Canada: Find other tech and computer products like this over at Amazon.ca

Deutschland: Finde andere Technik- und Computerprodukte wie dieses auf Amazon.de
We openly invite the companies who provide us with review samples / who are mentioned or discussed to express their opinion. If any company representative wishes to respond, we will publish the response here. Please contact us if you wish to respond.