Acer Chromebook R11 Review
Acer's Chromebook R11 gets thoroughly tested. If you're on a budget and don't mind adjusting to Google's Chrome OS, it could be worth a shot.
Published
|
Updated Tue, Nov 3 2020 6:58 PM CST
9 minute read time
TweakTown's Rating: 88%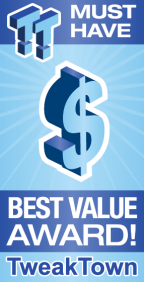 The Bottom Line
With a magnificent display and a healthy amount of features, the Acer Chromebook R11 is perfect if you are in need of a relatively versatile little machine at a good price.
Introduction, Specifications, and Pricing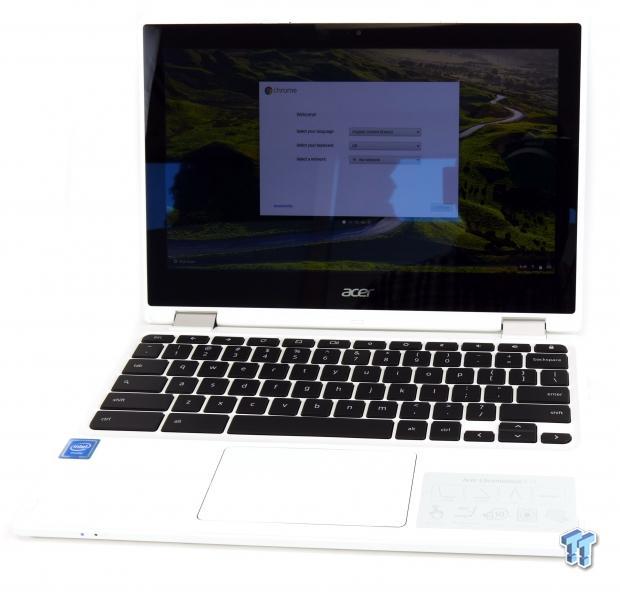 Simply put, a Chromebook is a device that bridges the gap between tablets and notebooks. Running Google's Chrome OS and supporting a wide range of applications through Google's Play Store, the Chromebook is a less expensive alternative to a Windows-based notebook while offering a higher level of productivity than a tablet. To be clear, the Acer Chromebook R11 looks like a small notebook. It has a full QWERTY keyboard and touchpad along with an 11.6" IPS panel. The panel does support touch, and you can flip it 360 degrees and turn the Chromebook R11 into a tablet.
The biggest difference between a Chromebook and a low-cost notebook is the Chrome OS. The Chrome OS is based on the Linux kernel and offers the same applications you might download for your Android phone. These days you can do most things through your browser, and since most people already use Google Chrome on their desktop, notebook, or phone, the shift from a Windows-based OS to one based on the Chrome OS should be simple enough.
Since the Chrome OS is specifically designed to work with the Chromebook R11, it should be possible to optimize user experience. The Acer Chromebook R11 is my first encounter with the Chrome OS, but I do use a Samsung S6 as my daily phone, and I also use Chrome for browsing.
Follow me as we explore the world of the Acer Chromebook R11.
Specifications

The Chromebook R11 that we received uses an Intel Celeron N3060 dual-core CPU that runs at 1.6GHz, 4GB of DDR3L, 16GB of internal flash storage, Wireless AC, USB 3.0, USB 2.0, HDMI, SD card reader, and an 11.6" color touch IPS LCD with a resolution of 1366x768.
It's very thin and lightweight at 0.8"x11.6"x8" (HxWxD) and 2.76 lbs.
Pricing
The Chromebook R11 (CB5-132T-C8ZW, as reviewed) costs $279.99.
Physical Overview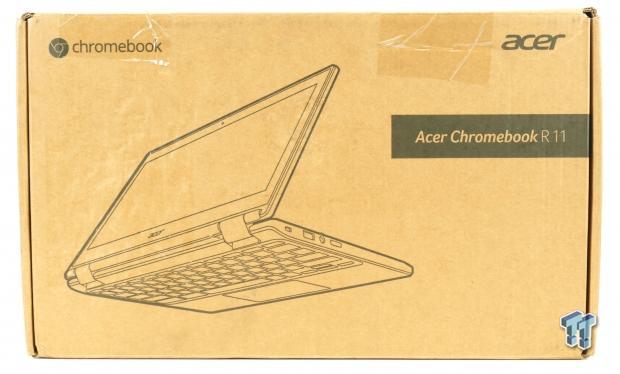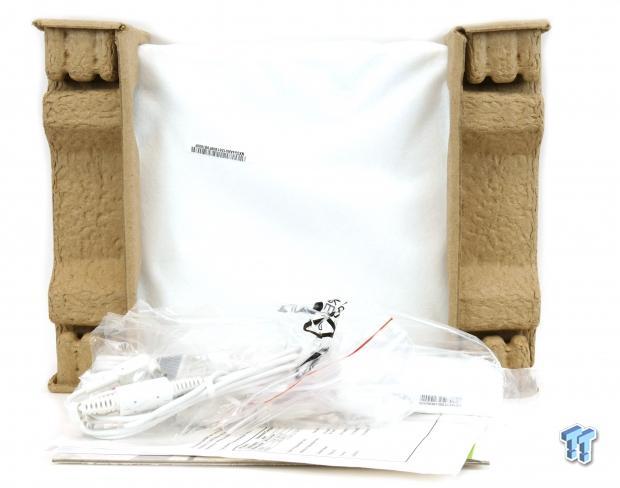 A small cardboard box houses the unit. The Chromebook R11 is safely housed inside along with a few accessories.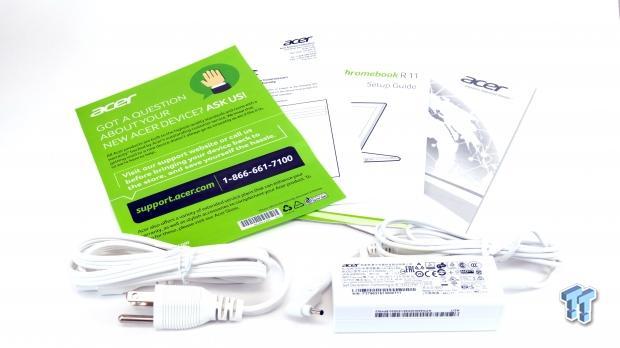 Accessories include an AC/DC power adapter and some manuals. The AC/DC power adapter can supply 19v at 2.37A for a total of 45W.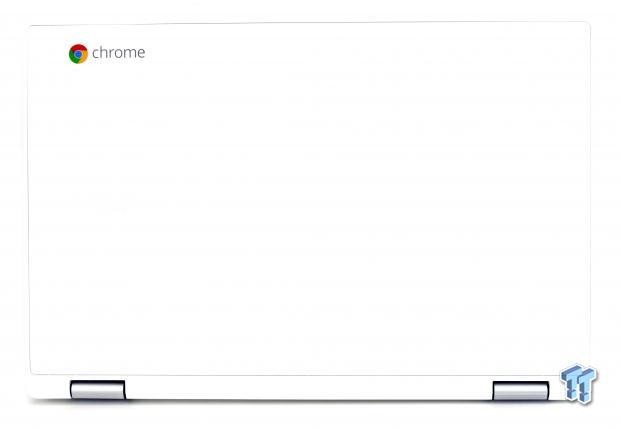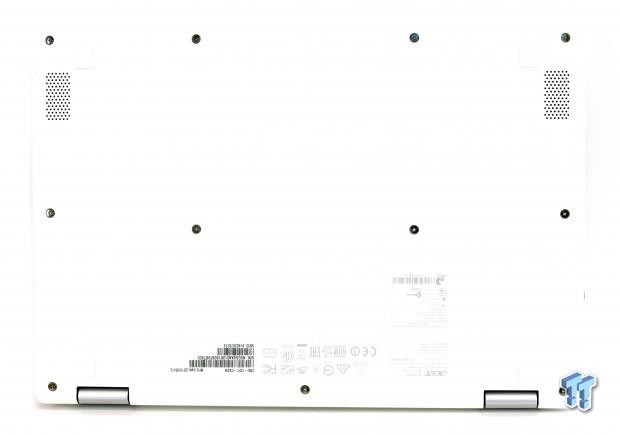 The entire unit features a sleek white aesthetic, with Acer and Chrome labeling on the topside. The bottom of the unit features two speakers on either side of the device and 11 screws that can be removed if you want to open the device.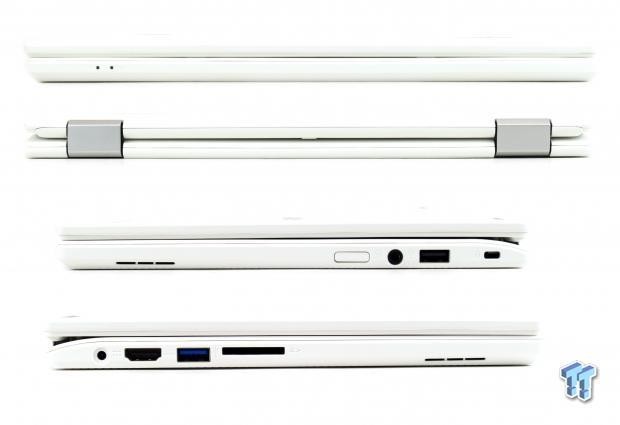 The front of the device features a few status LEDs while the rear features two large hinges. On the right side of the device, there is a power button, headphone jack, USB 2.0 port, and Kensington lock port. On the left side of the device, there is a DC power jack, HDMI port, USB 3.0 port, and an SD card slot.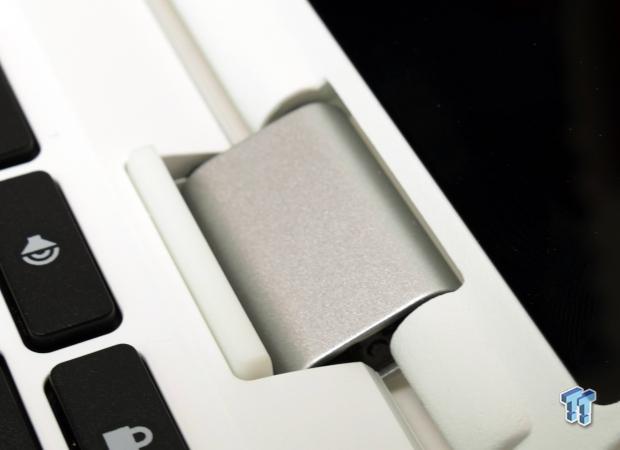 The screen can be turned 360 degrees, and the unit goes into tablet mode. The hinges used are Acer's patented 360-degrees dual-torque custom design and feel very strong and secure.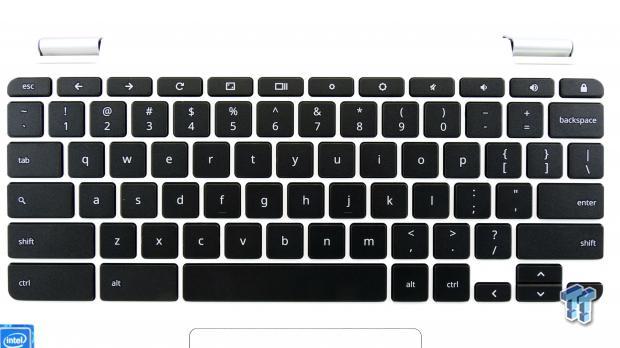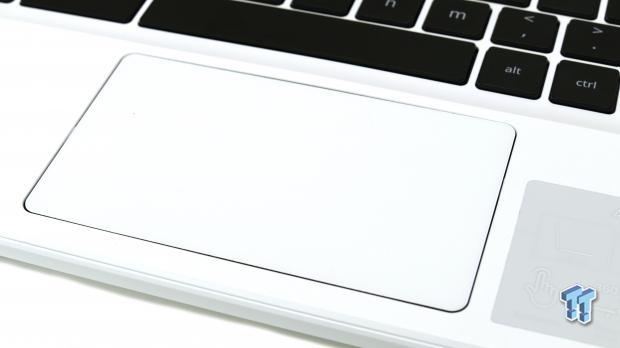 The Chromebook R11 has a full QWERTY keyboard. The keys are not backlit. Key size is quite decent, even if you have bigger fingers you won't have issues. The top row of keys are dedicated special function keys, and since this computer doesn't use Windows, you don't need regular function keys. The touchpad is smooth, and since this is a Chrome OS, you don't have a right-click.
Physical Overview Continued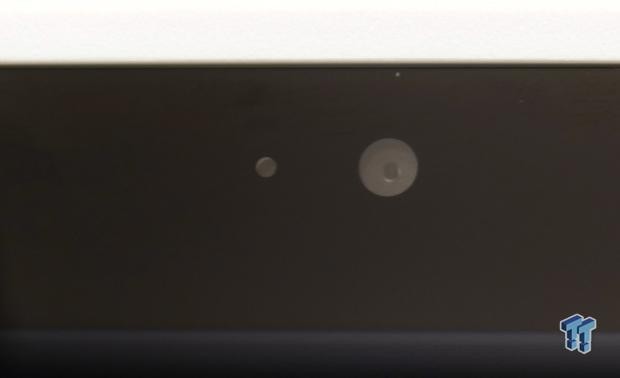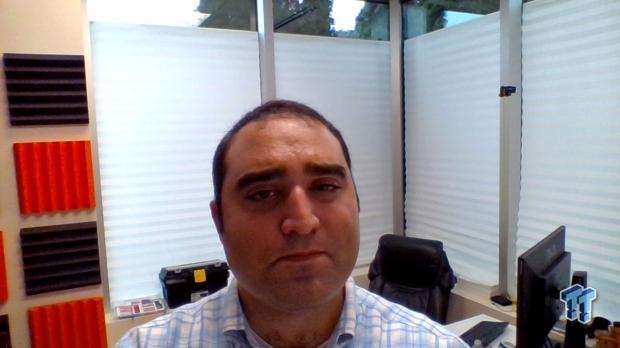 The camera does a decent job of capturing web images and video.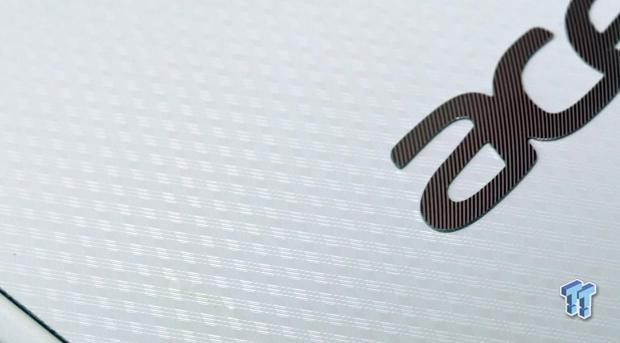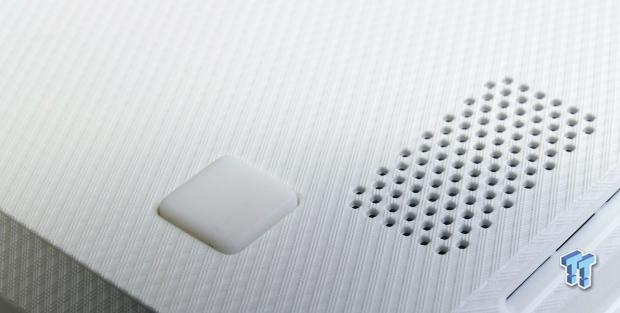 The texturing on the top and bottom of the device is unique and gives the Chromebook R11 a rugged look. A crisscross diamond pattern can be seen in close-up shots. It allows you to grip the device better.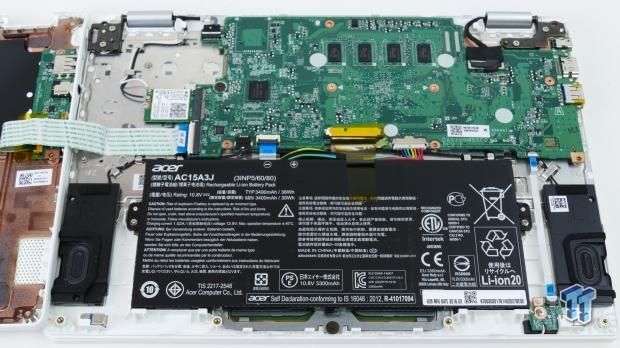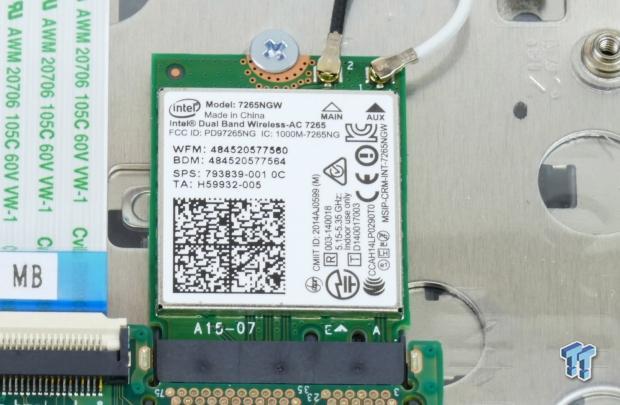 Opening up the bottom of the unit was very easy. Inside the Chromebook R11 is a small PCB and an equal sized battery. The speakers and battery are large enough to produce solid results, and the PCB is highly integrated except for the wireless adapter. Acer is using Intel's Wireless-AC 7265NGW dual-band wireless adapter.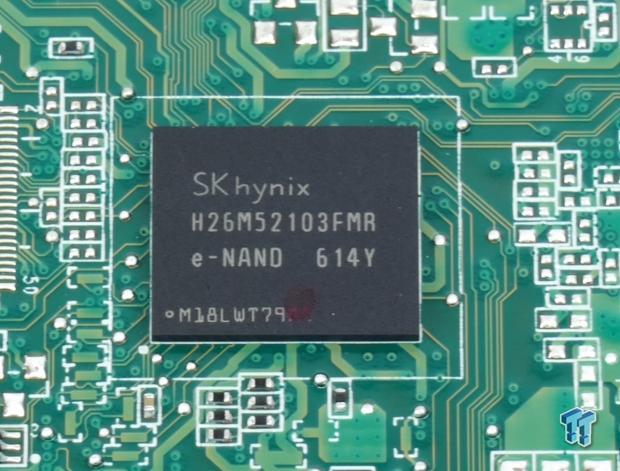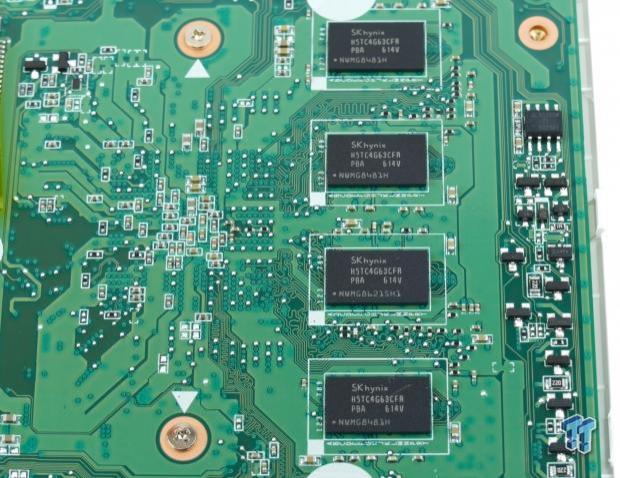 Both the integrated 16GB flash storage and 4GB of DDR3L are from SK Hynix. The H26M52103FMR is the 16GB e-NAND module, and the H5TC4G63CFR 4Gbit modules are used for DDR3L.
Chromebook R11 Setup and Settings
Setup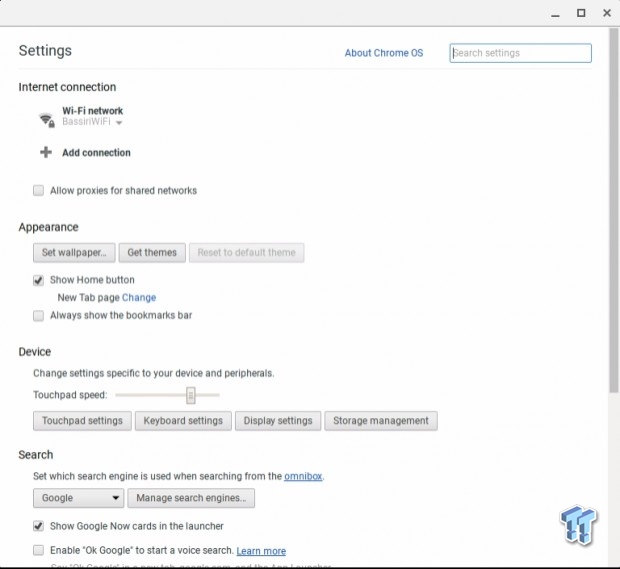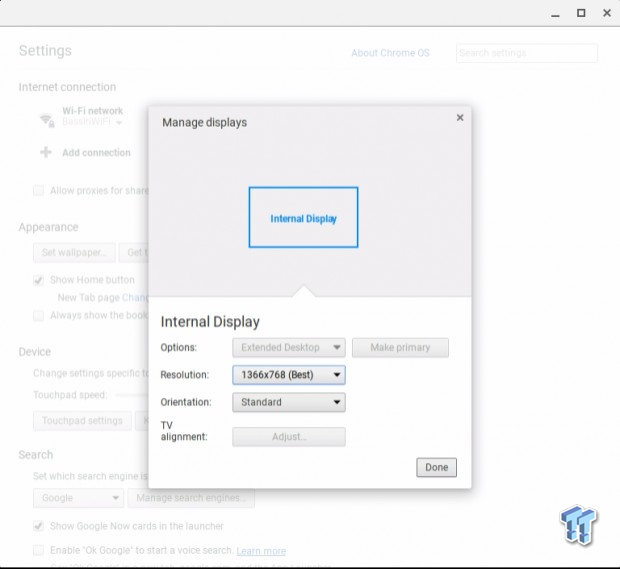 When you first turn on the machine, you are greeted with a login screen to log into your Google account. You will need an account to use the machine, but they are free, and you will get Google Drive. Some customization options are provided to you. You can pick your theme and icon.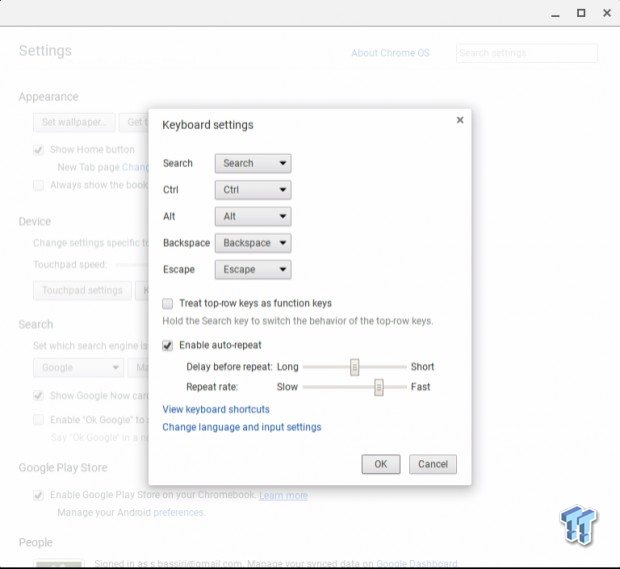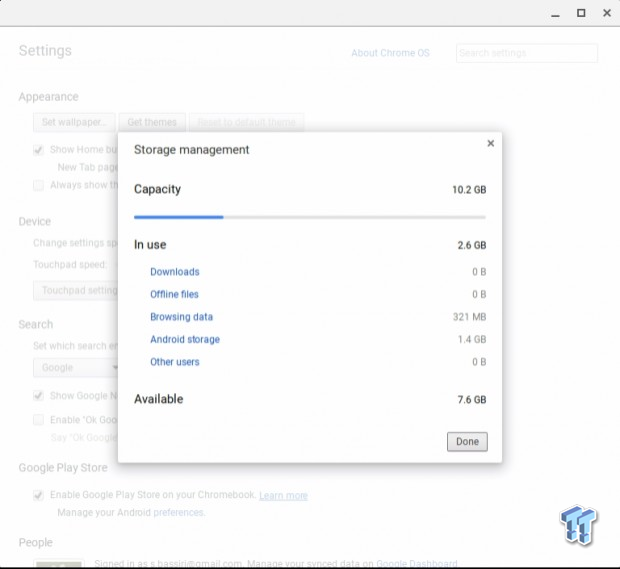 Having never used Chrome OS before, it was nice to see a built-in tour to take you around and how you how to use the OS. Just like Windows 10 makes you search for things more often than just going through menus, the Chrome OS uses a search icon to take you to your various applications.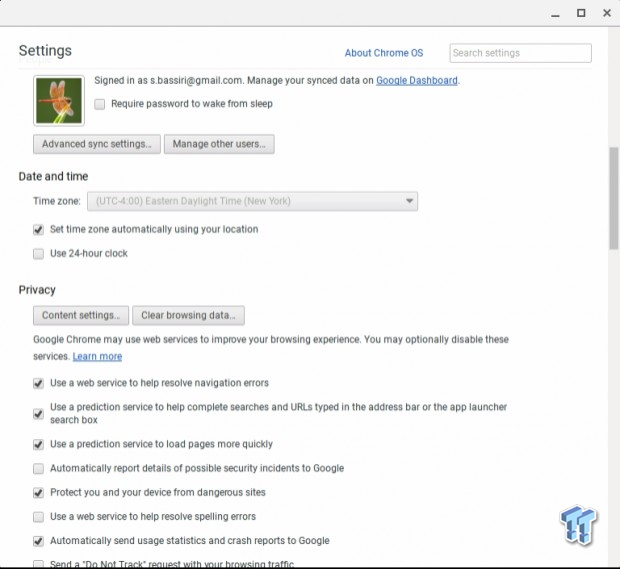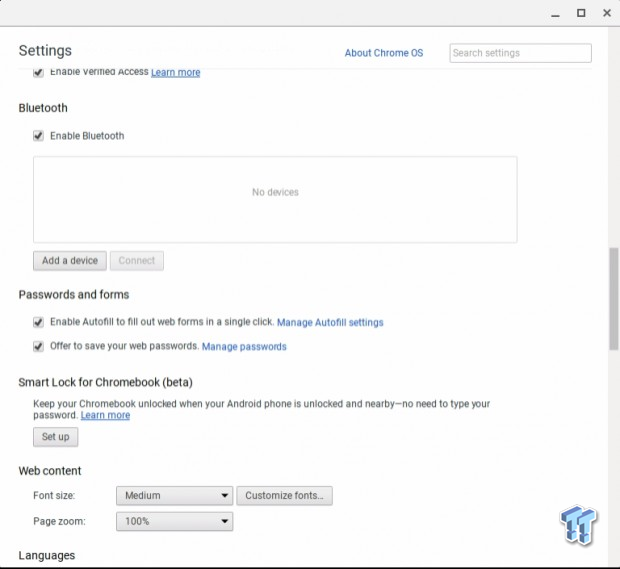 There are a few settings available to you. They are not that intricate, and the basic ones are provided in a small menu blimp. You will need to connect to the internet through WIFI to make the most of the machine - being offline will greatly limit your ability to fully utilize the device. If you aren't one for tours around the device, then you can explore the menus and applications yourself, or keep exploring the tutorial.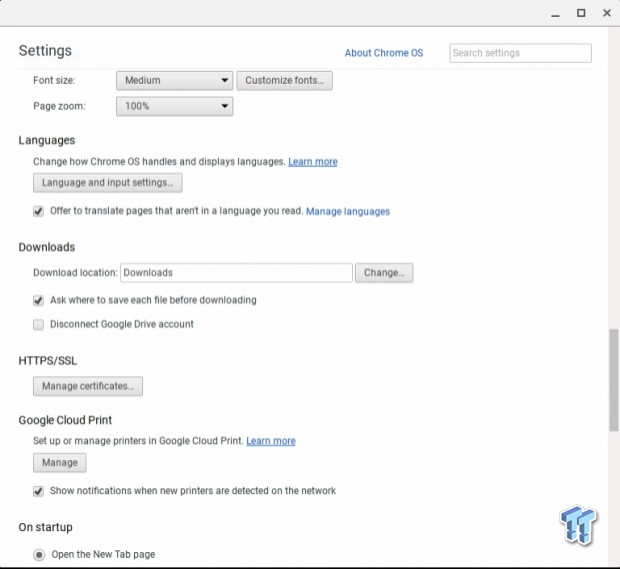 At this point in my setup process, I still didn't know all the tricks for getting around. For example, I couldn't figure out how to take a screenshot. To remedy the screenshot issue, I just downloaded an application that could take screenshots from the Play Store.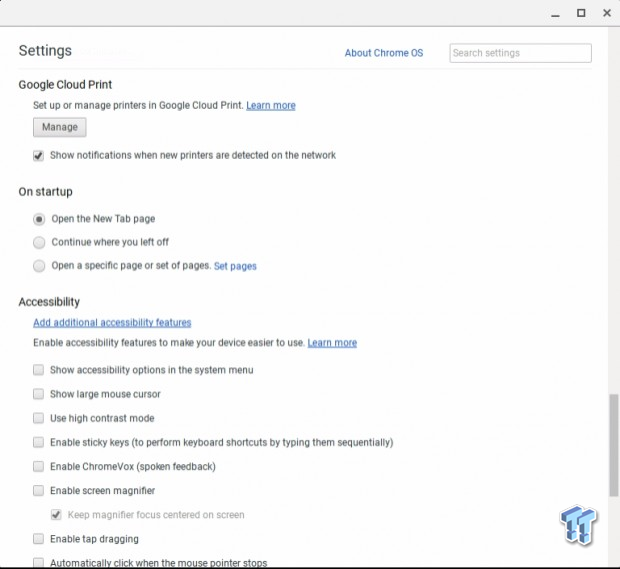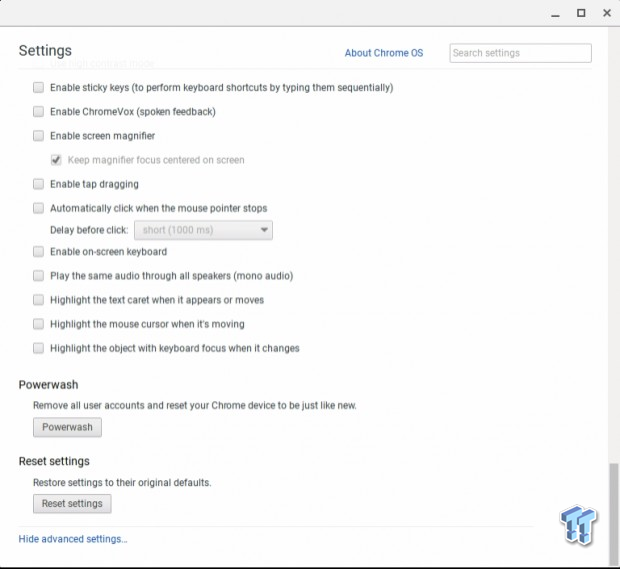 If you click the little circle in the lower left-hand corner, a list of quick launch applications pops up, and you can also see all installed applications from this menu.
Google Applications and Settings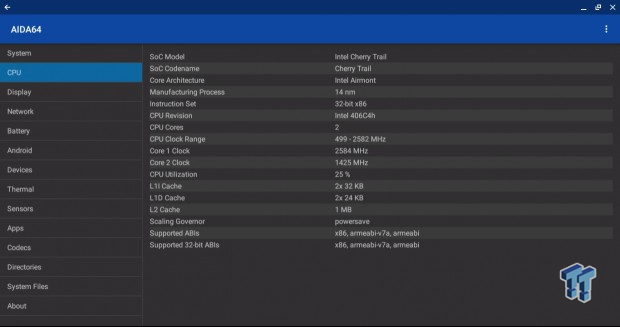 You can access simple settings by clicking the lower right-hand corner of the screen. Quick settings include Wi-Fi, Bluetooth, volume, battery indicator, settings, lock, and power options.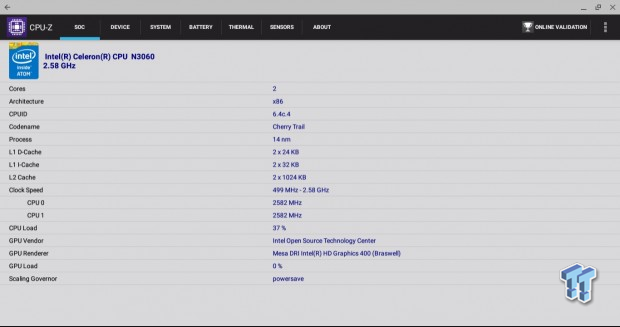 Clicking the settings option in the quick settings menu will take you to a menu similar in style to that of the settings menu in the Google Chrome browser.
You do have the ability to change the screen resolution, although I wouldn't recommend it. Since the Chromebook R11 has an HDMI port, you can also output video to an external monitor. Managing keyboard shortcuts and mouse settings is also possible. Most everything you need can be found in the advanced settings menu, including the ability to wipe the machine or reset settings to default.
System Performance and Experience
System Performance
The Chrome OS doesn't support Windows software, and most of the applications will come from the Google Play Store so I won't be able to run my normal benchmark suite on the Chromebook R11. That being said, there is one web-based benchmark I use, and I have run that to help reference the hardware. The Chromebook R11's software and hardware configuration are designed to work together, so it's difficult to gauge overall performance purely by the numbers since we are comparing different operating systems and hardware.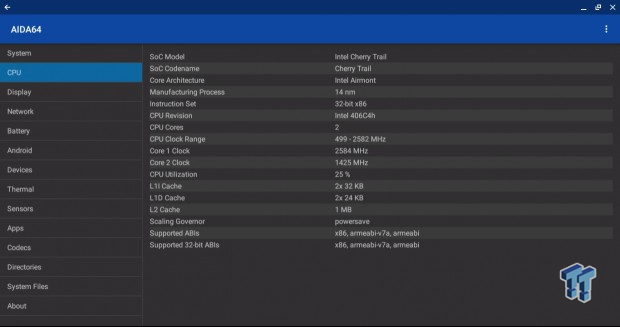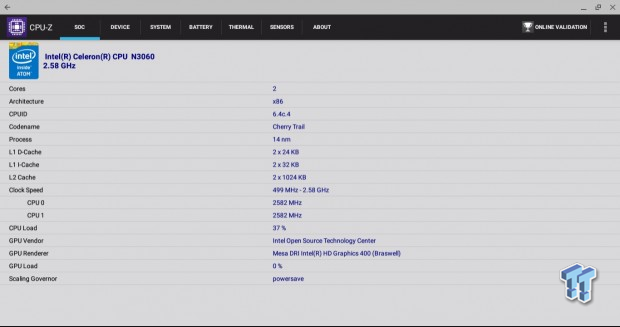 The Chromebook R11 uses the Intel Celeron N3060 CPU based on Intel's Cherry Trail microarchitecture. It has two CPUs cores that can Turbo up to 2582MHz. I don't think the machine has active cooling, but as we will see later in the review, thermal performance is decent.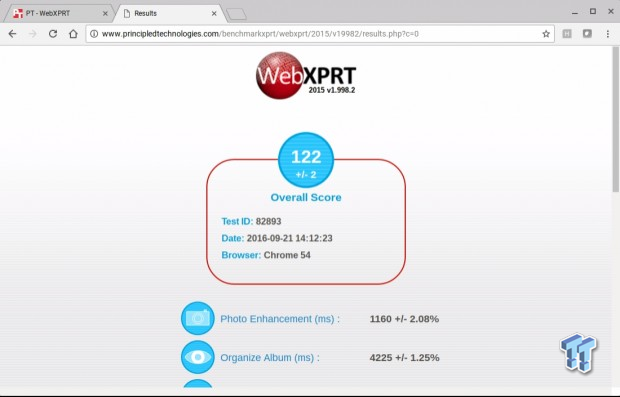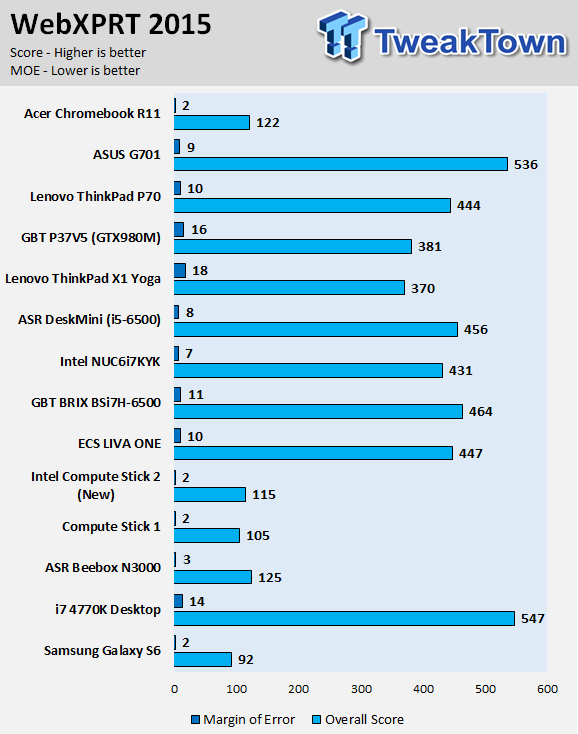 WebXPRT 2015 is a browser based test, and the Chromebook R11 performs well compared to other Celeron based devices. I would say that the results are fair. The Chromebook R11 isn't the snappiest machine, but it does feel more responsive and faster than Intel's second generation Compute Stick.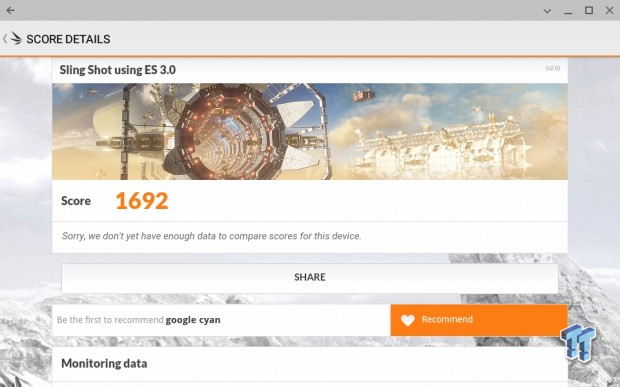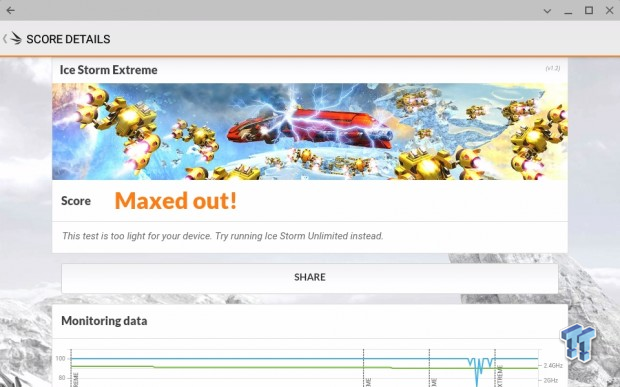 Futuremark did launch a mobile version of their 3DMark graphics benchmarking software, and I was able to run it on the Chromebook R11. I did play a few games on the Chromebook R11, but nothing like an FPS I might play on a gaming notebook or desktop PC.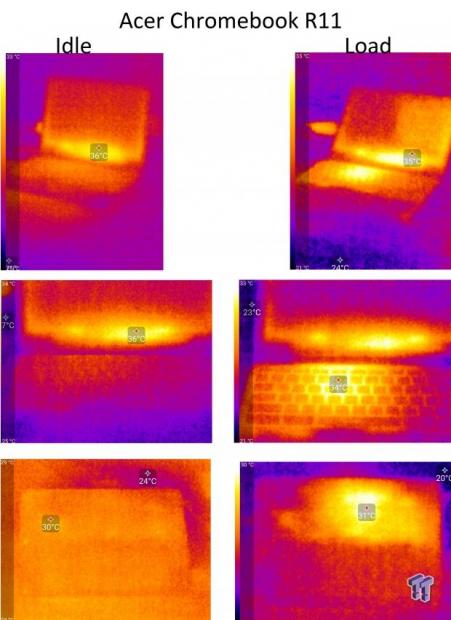 Thermal performance is decent; the Chromebook R11 never gets hot enough to cause discomfort. Battery life is also quite good, lasting upwards of 7-8 hours depending on how I used the machine.
Real World Performance and Experience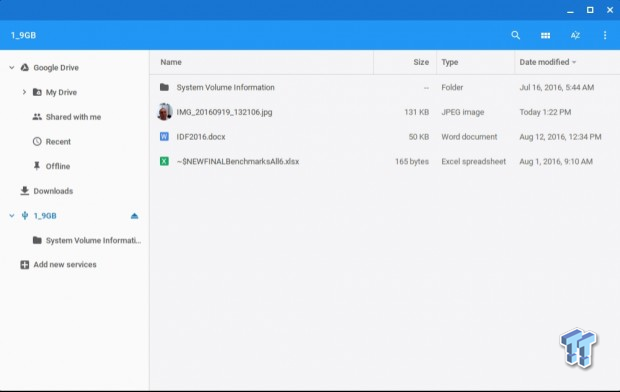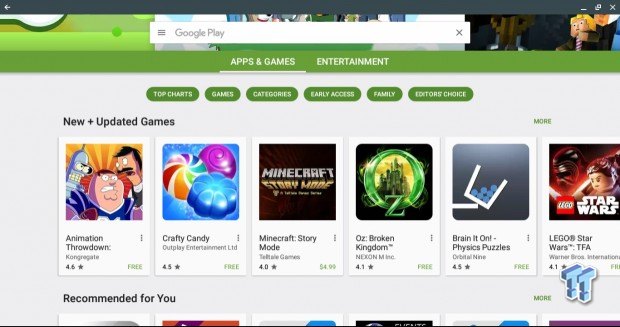 There is a file explorer, but the system prefers you save content to your Google Drive, so it's accessible from the cloud. I captured and saved my screenshots to a USB thumb drive using a program called Awesome Screenshot. If you try to open a file such as an Excel spreadsheet, it will try and launch Google Docs, but that isn't your only option. Google's Play Store application can be downloaded, and it is loaded with applications compatible with the Chromebook R11. I also updated the OS to a developer OS Chrome OS version 54.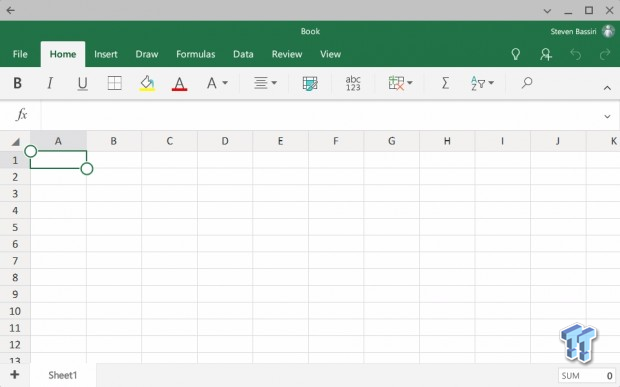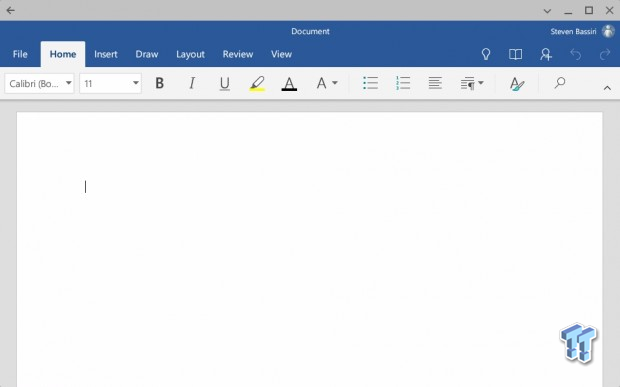 While many applications require internet connectivity to work, Microsoft's applications will open and let you work locally without an active internet connection. There are many other applications that will also work offline, but not all will. I downloaded Excel and Word from the Google Play Store, and they were free and linked to my OneDrive account. I had no problem working with them, and the experience was comparable to that of a desktop machine, just with less screen space and fewer features.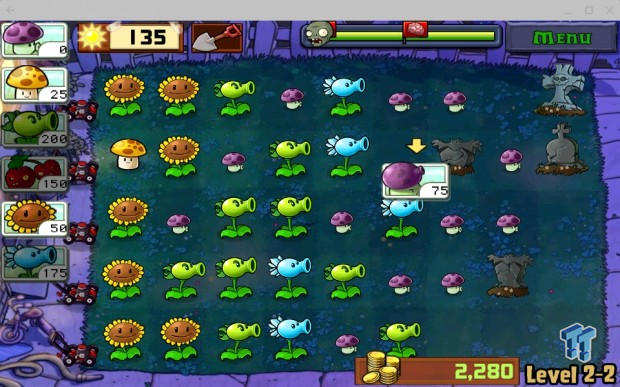 There are many games you can download from the Play Store, and I chose Plants vs. Zombies. The experience is comparable to a tablet experience, but when I flipped the screen into tablet mode, there was a small glitch. I am told the developer version of the OS I used isn't the most stable, so you shouldn't encounter that issue with a stable OS build.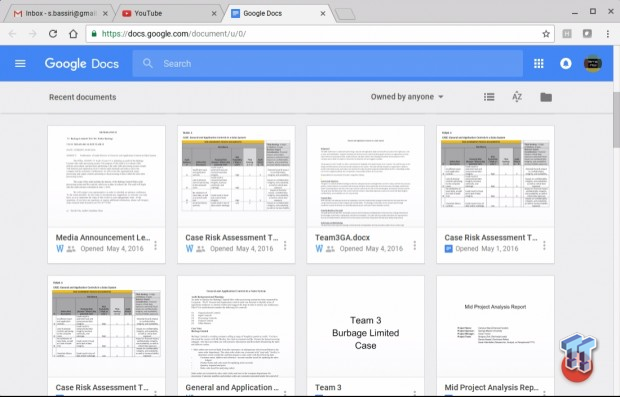 Google Docs is where a lot of your content will be stored. That way you don't use local storage, and you can access your information anywhere.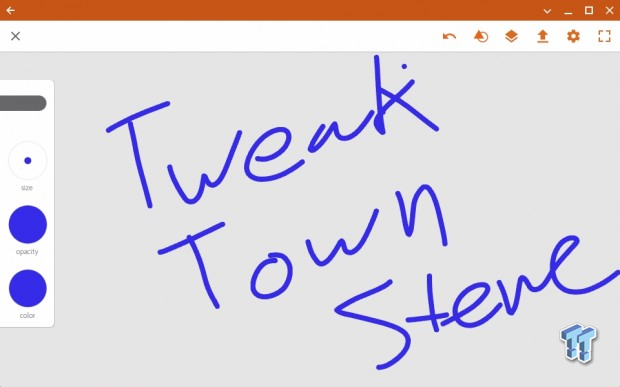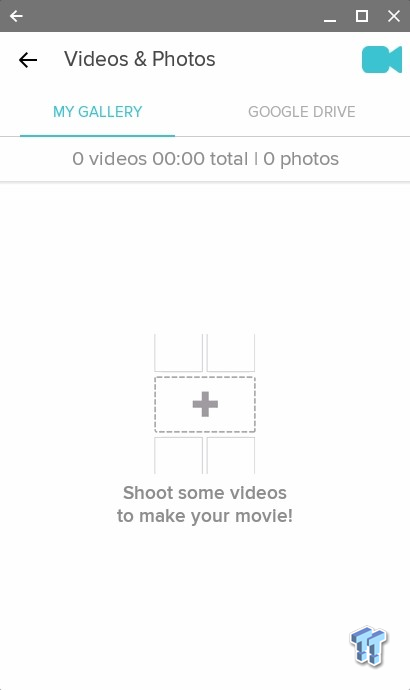 Adobe does off a light version of Illustrator and Google Draw is also included in the basic list of applications. It's nice to be able to draw on the screen in tablet mode and then switch back and type using the physical QWERTY keyboard. There are also many video and image editing software applications available for free; I used Magisto. The Chromebook R11 was able to run all the applications I downloaded from the Play Store without a hitch.
What's Hot, What's Not & Final Thoughts
Here are key points about the CHROMEBOOK R11.
What's Hot
Sleek, Thin, and Textured: The Acer Chromebook R11 is very sleek, thin, and lightweight. A stack of paper of the same thickness might weight almost the same, which is great considering the device is quite capable. I like the texture on the bottom and top of the device, but it does have a very airy feel to it. Nevertheless, the texture will keep the device from slipping out of your hands.
Google Play Store: Using the Google Chrome OS means you are limited to software applications designed specifically for the operating system (Chrome OS). Google's Play Store is loaded with tons of compatible applications and games. I was able to find many of my desktop and phone applications in the store, and they all ran very well on the Chromebook R11.
USB and SD Card Slots: With two USB ports (one is USB 3.0) and an SD card slot, you will be able to browse through your camera's photos and even store pictures and files on external storage devices. Now, USB port compatibility is not perfect, but you should be able to use external keyboards, mice, and even webcams. An HDMI port is present, allowing you to use an external display with the Chromebook R11.
Wireless AC: The Acer Chromebook R11 uses an Intel 7265NGW Dual Band Wireless-AC card. I am happy to report that Wi-Fi speeds were quite good, and you shouldn't encounter any streaming issues. I had no problem streaming Hulu and Netflix content, and applications downloaded quickly.
Battery Life: Half of the Chromebook R11 is the battery, and battery life is excellent. I was able to get 7-8 hours of mixed usage out of a single charge, and the notebook charged to 100% within a few hours.
What's Not
Learning Curve: You do have to get used to Chrome OS. Coming from Windows to Chrome, you actually do have the ability to run mobile versions of the most popular desktop titles such as Word, Excel, PowerPoint, Skype, and Chrome, but you are limited when it comes to more specific software. Getting used to the fact that the OS tries to make you save everything to the cloud, slightly limited options without internet connectivity, and a different menu setup will take some time, but it's manageable.
Celeron Isn't the Fastest: Intel's Celeron processors are great because of their low heat output and compatibility, but they aren't the snappiest processors. While the Celeron used in the Chromebook R11 is good enough to run Chrome OS applications, it's not comparable in responsiveness to a notebook or desktop with an Intel Core series CPU.
Final Thoughts
My first experience with a Chromebook is the Acer Chromebook R11, and I would get this instead of a similarly sized tablet if not only because it does offer a level of usability not present with many tablets. I like the fact that it has a physical keyboard and multiple ports for expandability, and its touchscreen display is very beautiful and responsive.
Most of what we do on our computers, from watching Netflix to typing can be done in the Chrome OS with a Chromebook. While reviewing the Acer Chromebook R11, there were many times when I reached for the Chromebook R11 instead of my phone or tablet.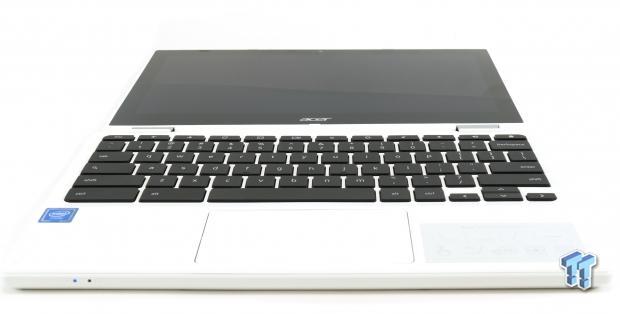 While the Chromebook R11 isn't a full-fledged notebook replacement, it has potential. With reasonable pricing under $300, Chromebooks are finding their way into schools and perhaps even homes at surprising rates. If I had the choice to buy a tablet or Chromebook at the same price point, I would choose the Chromebook.
Acer has done an excellent job creating an attractive product with the Chromebook R11. It's quick enough to get things done, has multiple options for expansion, and excellent battery life, so you don't have to always plug in. If you are in the market for a well-equipped Chromebook, then you should give the Acer Chromebook R11 a try.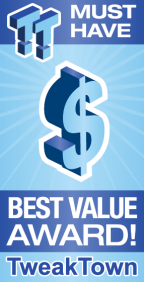 | | |
| --- | --- |
| Performance | 85% |
| Quality including Design and Build | 90% |
| General Features | 91% |
| Bundle and Packaging | 80% |
| Value for Money | 94% |
The Bottom Line: With a magnificent display and a healthy amount of features, the Acer Chromebook R11 is perfect if you are in need of a relatively versatile little machine at a good price.
PRICING: You can find products similar to this one for sale below.

United States: Find other tech and computer products like this over at Amazon.com

United Kingdom: Find other tech and computer products like this over at Amazon.co.uk

Australia: Find other tech and computer products like this over at Amazon.com.au

Canada: Find other tech and computer products like this over at Amazon.ca

Deutschland: Finde andere Technik- und Computerprodukte wie dieses auf Amazon.de
We openly invite the companies who provide us with review samples / who are mentioned or discussed to express their opinion. If any company representative wishes to respond, we will publish the response here. Please contact us if you wish to respond.
Related Tags