Suicide Squad Movie Review
DC Comics commit creative suicide with yet another comic book disappointment.

Published Aug 13, 2016 3:13 PM CDT
|
Updated Tue, Nov 3 2020 6:58 PM CST
3 minutes & 11 seconds read time
Suicide Squad
No issue typifies the problems currently faced by Warner Brothers more than the fact that mere months after the lukewarm response afforded to Batman v Superman, it's been left to a movie featuring characters which barely register in the popular consciousness to help carry the reigns of the entire DC Comics Cinematic Universe.
With the stakes much higher than just the success or failure of just this one film alone, it's no wonder that Warner lost their nerve and changed course during post-production, producing a less-risky mainstream product to appeal to the masses. But were they successful? Roll picture.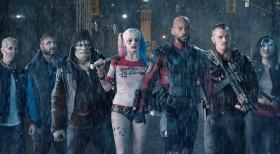 Fearing the future arrival of a less malleable, more hostile super being, CIA operative Amanda Waller (Viola Davis) assembles an expendable group of deranged misfits to undertake risky projects on behalf of the U.S. government. But when one of their own, Dr. June Moone (Cara Delevingne), goes rogue after being possessed by an ancient spirit known as 'The Enchantress,' the Suicide Squad are deployed to try and save the day.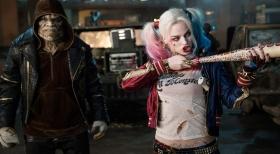 Routinely described in terms such as 'bleak', 'depressing', and 'humorless', the disappointing responses to the Man of Steel and Batman v Superman under director Zack Snyder stands in stark contrast to the lighter toned (but incredibly successful) features from Marvel, such as Guardians of the Galaxy and The Avengers.
This gave Warner pause for thought, and the first casualty was the in-production Suicide Squad, which undertook significant reshoots and an editing overhaul to produce the final product. It should be obvious to even the most inattentive cinema-goers that this is one messed up feature, but rather than point blame at the studio's intervention, perhaps it somewhat saved it.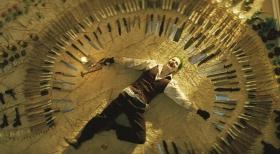 Despite the film's scattergun introduction of pop songs, loud guns, and explosions (all apparently a result of the film's post-production woes), Suicide Squad isn't the marked departure from the dark and dour tone from the Zack Snyder murderverse that the well received, bright and poppy marketing campaign would have you believe. Worse, it's clearly a film that's been cobbled together by Hollywood suits, rather than crafted from the ground up with a clear vision. Maybe it had a clear vision to begin with - Director David Ayer has a solid background through grittily realistic features such as Fury, End of Watch, and Training Day, so he's certainly capable.
Maybe he was just a bad fit. Still, even the best of directors would've struggled to produce something of merit with what was provided on paper. Allegedly, the film's script was written just weeks before the camera rolled after the project was greenlit sans a screenplay. It happens more regularly in Hollywood than most realize, but the only time that anyone really become aware of it is when it all turns to shit.
Sadly, the script just doesn't make a lick of sense. Sure, I know that it's a superhero film and suspension of disbelief is required, but they can't have it both ways. You can't ground a film in gritty reality and then lead me to believe that a dude who throws boomerangs, a psycho woman with a baseball bat, and a crocodile man could ever stand a chance against a rogue Superman.
Additionally, the film's main villain fails to make an impact. Why is she bad? She just is. What does she want? Destruction. Why? Because. It's just basic, formulaic stuff. Modern audiences demand more, and the best visuals and 3D effects simply can't paper over a woefully inadequate story.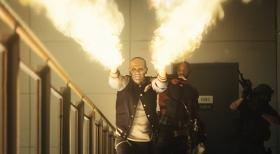 The film's cast led by Will Smith do a solid enough job, and even Jai Courtney, who keeps managing to get cast in blockbuster after blockbuster despite having no discernible charm or acting skills, doesn't stick out far. The real star here is Margot Robbie, who provides the bulk of the film's entertainment value and even when the script calls for a clunker of a line, Robbie delivers it with just the right dose of magic and a knowing wink to the camera. Of course, everyone's looking forward to seeing one of the most enduring villains of all time - the Joker. Unfortunately, his portrayal by Jared Leto is utterly disappointing and just down right odd, played without Jack Nicholson's laughs, nor Heath Ledger's chilling menace. He's basically just a douchebag.
The character isn't helped by a script which can't figure out an appropriate way to use him, so just settles to randomly weave him into scenes throughout, and thus remains completely superfluous to the central plot. And therein lies Suicide Squad's greatest failure, demeaning one of the most enduring comic book villains into a wholly forgettable, nameless thug. Warner and DC - you've gotta do much better than this.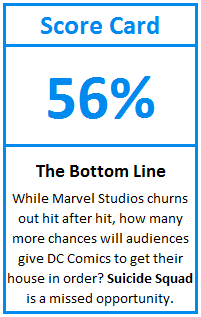 PRICING: You can find products similar to this one for sale below.

United States: Find other tech and computer products like this over at Amazon.com

United Kingdom: Find other tech and computer products like this over at Amazon.co.uk

Australia: Find other tech and computer products like this over at Amazon.com.au

Canada: Find other tech and computer products like this over at Amazon.ca

Deutschland: Finde andere Technik- und Computerprodukte wie dieses auf Amazon.de
We openly invite the companies who provide us with review samples / who are mentioned or discussed to express their opinion. If any company representative wishes to respond, we will publish the response here. Please contact us if you wish to respond.