Crucial Ballistix Tactical DDR4-3000 16GB Memory Kit Review
Crucial's Ballistix Tactical DDR4-3000 16GB dual-channel memory kit offers great performance for the price. Come and take a look.

Published Wed, Aug 3 2016 8:23 PM CDT
|
Updated Tue, Nov 3 2020 6:58 PM CST

Crucial has always been a huge player in the memory market, and ever since we got into the game. Crucial RAM has proven to be a stellar choice when it comes to straightforward performance, but their heat spreaders, ingenuity in design, and the fact that they tend to clock extremely well managed to keep their kits inside of our machines. As of late, we were asked by Crucial to look at a trio of kits which they have released in the DDR4 market, and we will see if everything we remember about their products still rings true.
The first kit we pulled from the packaging to test is this set of Ballistix Tactical, whose XMP 2.0 profile delivers 3000MHz of speed with 15-16-16-35 2T timings, drawing 1.35V of power to do so. This limited lifetime warrantied set of memory can be found by using the BLT8G4D30AETA.K16FE model number, and it denotes that this Ballistix Tactical kit is offered in a dual-sided configuration across two sticks, for a total of 16GB. What we also know is that the speed is rated too high to be Micron based, and have looked to see that the Ballistix Tactical at this speed relies on Samsung ICs.
While the Ballistix Tactical has only one heat spreader design offered across all of this line-up, you do have a choice of speed, density, and timings. These kits are provided with either 2600MHz or 3000MHz, and in densities from a single 4GB stick, on up to 32GB kits, with varying timings dependent on the specific sets. As you can tell, we have some of the better sticks on offer and plan to put them through their paces to see if our memories serve us correctly. This kit should not only look good, but it should also perform well, and for the clockers out there, deliver in spades when it comes to customizing the XMP profile to get every last drop of performance out of our Ballistix Tactical 3000MHz sticks.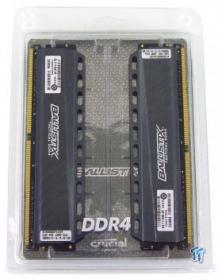 With a cardboard insert in the plastic packaging, Crucial adds a bit of flash with the silver and black designs behind the sticks. This type of packaging allows for a full view of the memory you are buying, in which we can see not only the full heat spreader design but they are also placed inside in a manner displaying all of the sticker information as well.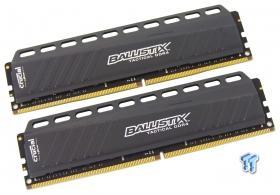 On top of black PCBs, Crucial surrounds the ICs on the Tactical RAM with stylized black heat spreaders. There is what looks like an accessory rail along the top, while the main body line, across the spreaders, angles downward to the right side of it. Along with some angled protruding lines at either end, the Crucial name at the left, as well as the Ballistix Tactical DDR4 in the middle stand out due to the white paint used for them.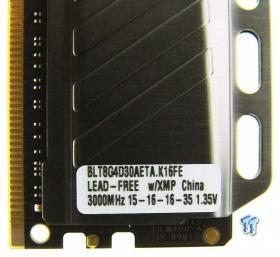 There is a larger sticker, not in this image, which offers the individual part number as well as its serial number. The sticker we did show offers up the model number of the entire kit, states that these are made lead-free and in China, but more importantly displays the XMP 2.0 profile settings at the bottom.

At the top edge of the Ballistix Tactical memory, we find that the heat spreaders do not touch or attach to each other along the top. In this design, each spreader can cool the ICs found under them on both sides, and not combine the heat load. While it does leave a slight gap running along the top, we can appreciate separated spreaders with a dual-sided IC design.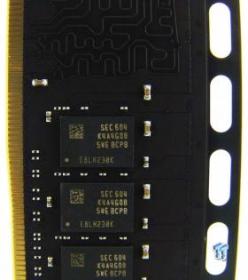 With a thin layer of thermal tape holding the spreader to the ICs, they are relatively easy to remove. Once the spreader is out of the way, we found these Samsung ICs used on both sides of the black PCB. One thing to note. Once removed, the tape lost its adhesion, and we had to replace the tape to regain the benefits of the spreader.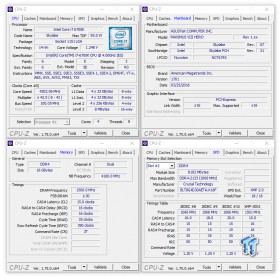 Our first attempt at booting this kit was to set the XMP2.0 profile and found the Ballistix Tactical to come right to life with the specified settings. In this CPU-Z screenshot, we find that they are indeed running at 3000MHz with 15-16-16-35 2T timings, and all 16GB of its density is being reported.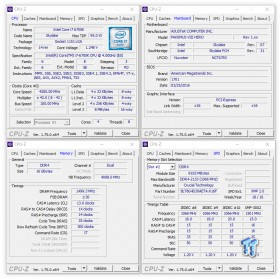 One of the ways we like to torture a set of ICs is to try and find their lowest stable timings. In this quest, we had to stop at what you see here, as anything lower would cause either a BSOD or one of two Q-Codes in the boot process. Still, though, we are pleased with our results, in which this kit can run 3000MHz with 13-14-14-35 1T timings with a small addition of 0.1V to the VDIMM.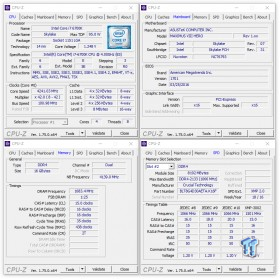 Going back into the BIOS, and resetting the XMP profile, and only changing the VDIMM to 1.45V, we were able to get an additional 366MHz out of these Ballistix Tactical sticks. While it is not the best results we have been able to obtain in the past, we still have no issues finding additional speed left in the ICs to take advantage of.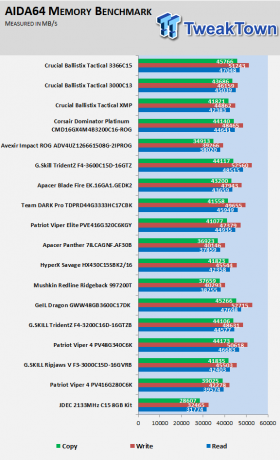 When bandwidth is considered, even with the stock XMP2.0 settings at play, we find that this set of Ballistix Tactical RAM can outshine faster kits on the chart. There is also a marked improvement to lowering the timings, and with the extra speed involved, there aren't many kits on the list that keep up, no matter their default speeds and timings.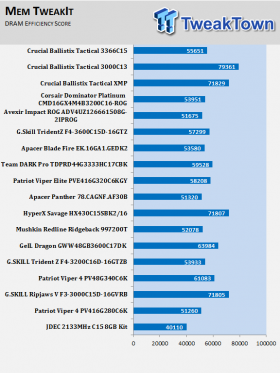 Mem TweakIt and its formula of finding efficiency with both speed and timings incorporated into the results, we see that the XMP2.0 profile delivers great results. Taking this to a much higher level happens when the timings are reduced, but you can see that raising the speed seems to have killed its rating with this test.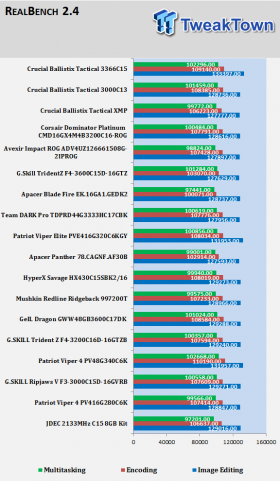 When we got to RealBench testing, we found the results to be fairly average. Other 3000MHz kits were able to perform slightly better than the Tactical RAM, and even with the timings or speed adjusted, we see kits like the Ripjaws V and the HyperX Savage doing slightly better at this test.
It seems that most of our recollections about Crucial still hold true with their dual channel DDR4 RAM kits. The brushed metal, black heat spreaders found on top of black PCBs is an attractive look for any system, and we were able to tweak them to our will seemingly. Being able to take SEC ICs down to CAS 13 is pretty standard, but keep in mind we were stable with a 1T command rate as well, something not many DDR4 kits can do at all, with any timings involved. On the flip side, while 366MHz is not a huge jump in speed, free megahertz is always welcome, especially with such limited effort required to get them.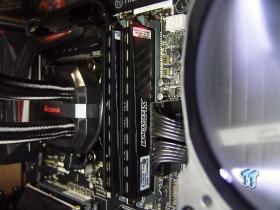 There is only one look for the Ballistix Tactical memory, but this style will fit into any build, and is something not too many kits on the market can boast. Considering the bandwidth, this kit offers, at 3000MHz Crucial is the way to go. On top of this, the efficiency rating offered by the Mem TweakIt software shows that Crucial has the secondary and tertiary timings set correctly to get the most out of this kit. The only place we saw some weakness was in the RealBench testing, and even then, it wasn't so far behind as to make us want this kit any less. All in all, the Ballistix Tactical RAM we have tested is a well-rounded offering.
If what you see here has impressed you enough to warrant a purchase, there are two ways to go about obtaining them. First, you can go directly to Crucial, where they will sell you a kit like ours for $99.99. It is likely that shipping cost in involved as well, but for what we got, the pricing is excellent. You also have the option to shop from the big players in e-tail, and we see better deals through this avenue of consumption. Newegg lists the BLT8G4D30AETA.K16FE at only $89.99, and if you want to save a couple more dollars, venture to Amazon, where the pricing is set to only $87.66. So no matter where you obtain your Crucial Ballistix Tactical memory, with the performance we are offered, the tinkering afforded with these Samsung based kits, and the price all coming into play, it is hard to deny the bang for the buck that Crucial is delivering with these.
Chad's DDR4 Dual-Channel Test System Specifications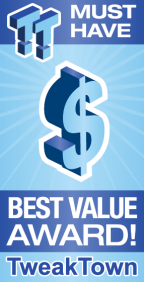 | | |
| --- | --- |
| Performance (including Overclocking) | 92% |
| Quality including Design and Build | 95% |
| General Features | 90% |
| Bundle and Packaging | 90% |
| Value for Money | 97% |
The Bottom Line: Crucial's Ballistix Tactical RAM is impressive! The XMP 2.0 profile is tweaked to get the best performance possible out if the ICs, and we still had room to drop the timings or get an additional 366MHz. However, with all of this, it is the very affordable price that will be its biggest draw.
PRICING: You can find products similar to this one for sale below.

United States: Find other tech and computer products like this over at Amazon.com

United Kingdom: Find other tech and computer products like this over at Amazon.co.uk

Australia: Find other tech and computer products like this over at Amazon.com.au

Canada: Find other tech and computer products like this over at Amazon.ca

Deutschland: Finde andere Technik- und Computerprodukte wie dieses auf Amazon.de
We openly invite the companies who provide us with review samples / who are mentioned or discussed to express their opinion. If any company representative wishes to respond, we will publish the response here. Please contact us if you wish to respond.