GIGABYTE X99-Ultra Gaming (Intel X99) Motherboard Review
Yet another motherboard to join the Intel X99 refresher party is GIGABYTE's X99-Ultra Gaming, offering solid value for money - gamers, take a look.
Published Jul 13, 2016 9:15 AM CDT
|
Updated Tue, Nov 3 2020 6:58 PM CST
14 minute read time
TweakTown's Rating: 91%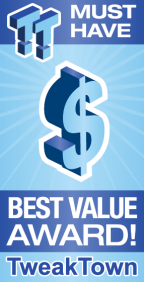 The Bottom Line
GIGABYTE's X99-Ultra Gaming looks and feels like a high-end motherboard equipped with the latest in connectivity and performance features, but without the crazy high price tag.
Introduction, Specifications, and Pricing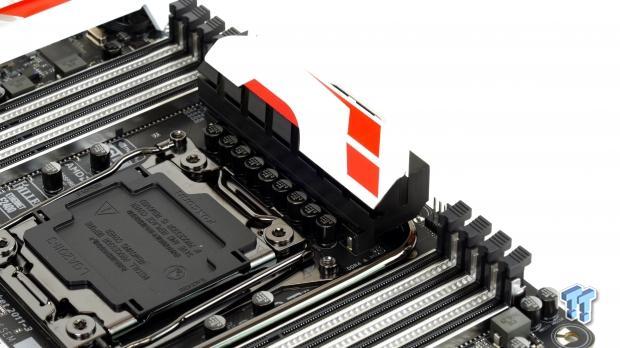 When it comes to GIGABYTE's X99 refresh models, the X99-Designare EX is the top model followed by the X99-Phoenix SLI and then the X99-Ultra Gaming. The X99-Ultra Gaming targets gamers instead of workstation or power users. It's priced lower than the other two new models but still is considered a high-end motherboard. The motherboard is also loaded to the brim with RGB LEDs; they are in almost every nook and cranny.
If RGB LEDs are not your thing, GIGABYTE still has a wide assortment of other features and capabilities that are sure to entice. As with most X99 refresh models, GIGABYTE does have the latest in U.2 and M.2 storage technologies along with a fancy way of switching around CPU PCI-E lanes to facilitate all of the features. As a gaming product, it also needs to facilitate multiple GPUs and GIGABYTE has also employed the same PCI-E layout we saw on the X99-Phoenix to try and optimize two and three card setups over four card setups. Without further ado, let's examine the X99-Ultra Gaming.
Specifications

The motherboard has U.2, M.2, USB 3.1 (type-C and type-A), one Intel NIC, one Killer NIC, and a new BIOS. There are multiple USB 3.0 ports both on the backpanel IO and through internal headers. GIGABYTE's QFlash Plus is also included which allows for emergency BIOS recovery through a flash drive.
Pricing
The X99-Ultra Gaming is available from many large retailers for $279.
Packaging and X99-Ultra Gaming Overview
Packaging and Overview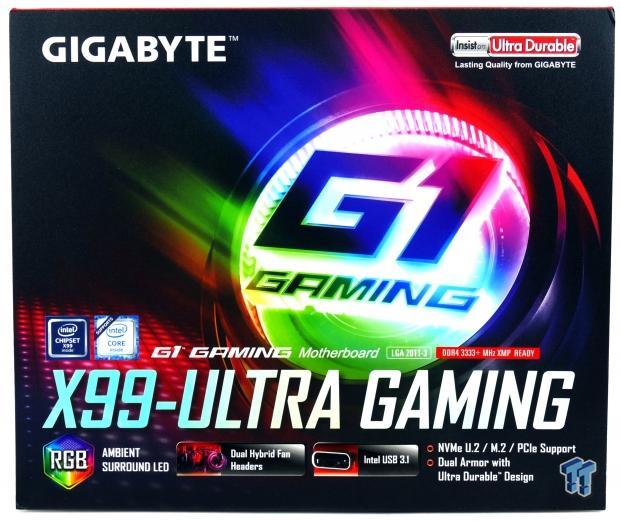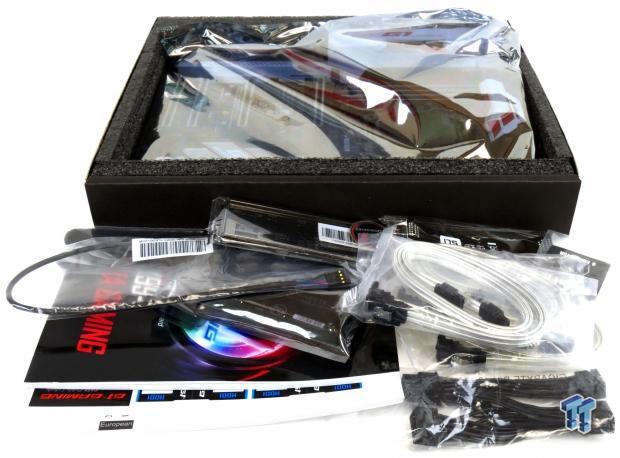 The X99-Ultra Gaming's box is super colorful. The motherboard is securely packaged inside an anti-static bag and foam container.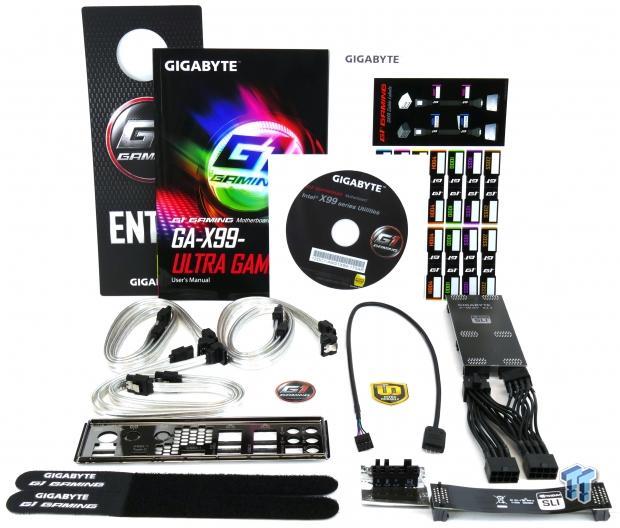 Accessories include a 2-way SLI bridge, 3-way SLI bridge, IO shield, RGB LED strip extension cable, 1 to 3 CPU power expander, G-connector, 2x Velcro cable ties, 6x SATA6Gb/s cables, driver DVDs, and manuals.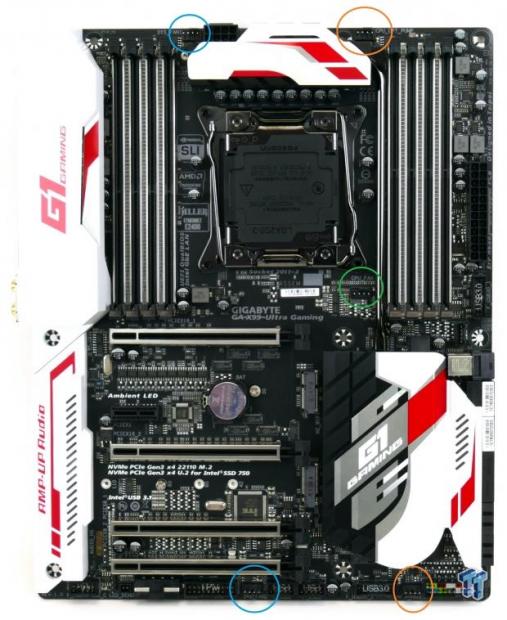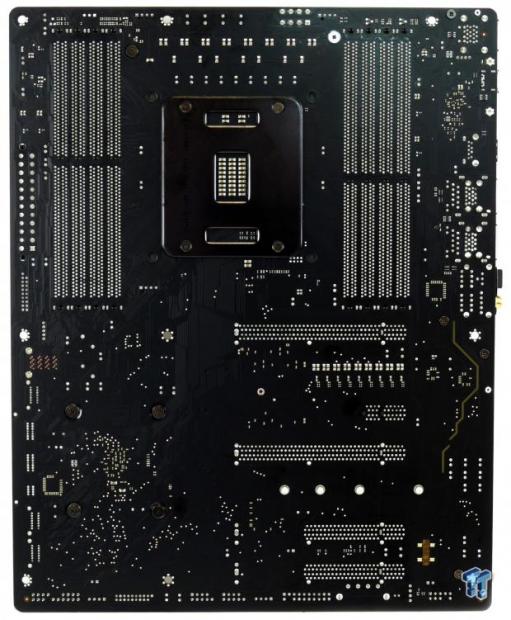 The GIGABYTE X99-Ultra Gaming has five fan headers positioned all around the motherboard. The CPU fan header circled in green is a PWM mode header. The two headers circled in blue are 4-pin voltage mode headers. The two headers circled in orange are voltage or PWM mode headers. GIGABYTE has considerably improved its fan control in the UEFI. You do not need to install their fan control software to set fan curves. The UEFI has a fan control GUI where you can select the reference temperature, change operating mode, and set ramp up points.
The motherboard's aesthetics are very similar to that of the X99-Phoenix SLI, but instead of orange, we get red. Many people prefer red because it is much easier to match with accessories. The motherboard's metal reinforcements also work with its color theme, adding in a mechanical feel to the product. The back of the motherboard is bare of ICs which is a good thing.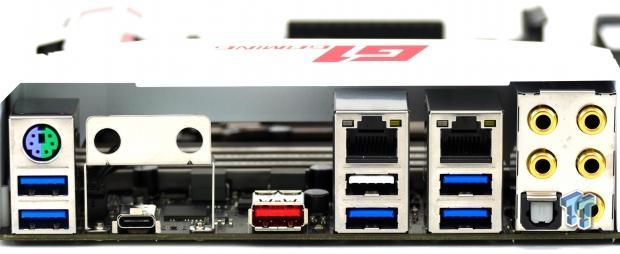 The IO panel on the X99-Ultra Gaming features two 1Gbit LAN ports, a WIFI antenna bracket, USB 3.1 type-C, USB 3.1 type-A, six USB 3.0 ports (the white one is for QFlashPlus), PS/2 keyboard/mouse, and 7.1 gold plated audio jacks with TOSLINK.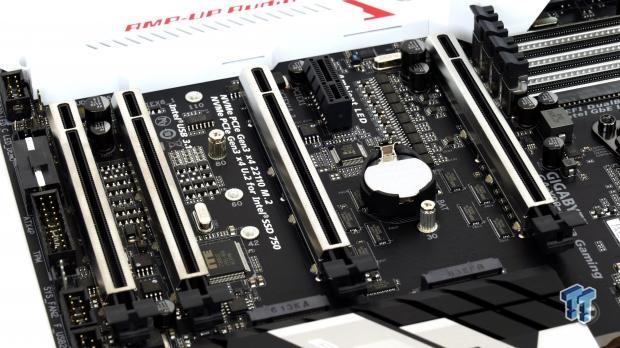 The X99-Ultra Gaming features four PCI-E 16x slots reinforced with a single piece metal support to ensure that GPUs do not damage the slots. The PCI-E layout is simple enough. For starters, the M.2 and U.2 slots are hardwired to the CPU's PCI-E lanes, and 28-lane CPUs do not get U.2. The remaining PCI-E lanes are routed to the first and second slot for 16x/16x, but 28-lane CPUs only get 16x/8x. The third slot will take 8x from the first if it is occupied.
With 40-lane CPUs, the last slot can take 8x from the second slot, but 28-lane CPUs don't get any bandwidth for the last slot. CrossFireX/SLI configurations with 40-lane CPUs work at 16x/16x/0x/0x, 8x/16x/8x/0, 8x/8x/8x/8x, or 16x/8x/0x/8x. CrossFireX/SLI configurations with 28-lane CPUs work at 16x/8x/0x/0x or 8x/8x/8x/0.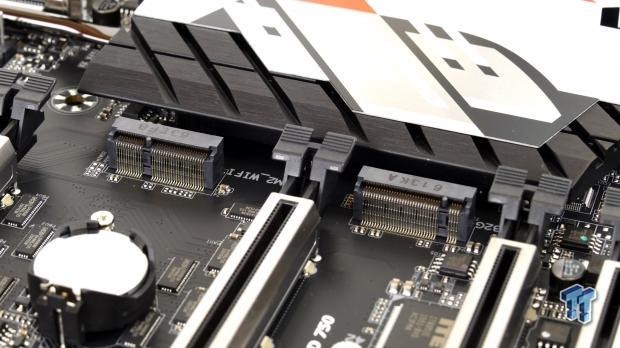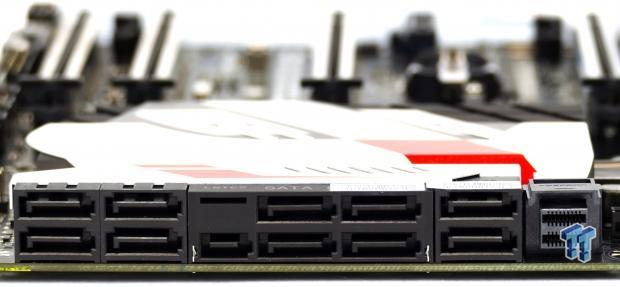 There are two M.2 slots on the X99-Ultra Gaming; the topmost slot is just for WIFI/BT cards, and the bottom slot is a 4x PCI-E 3.0 slot for M.2 SSDs. There are 10 SATA6Gb/s ports from the PCH and a U.2 port for more storage. U.2 only works with a 40-lane CPU.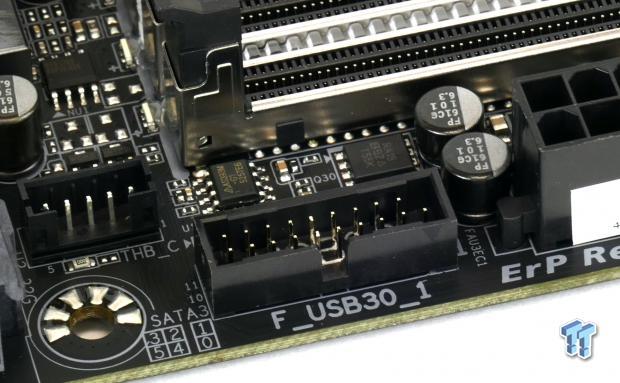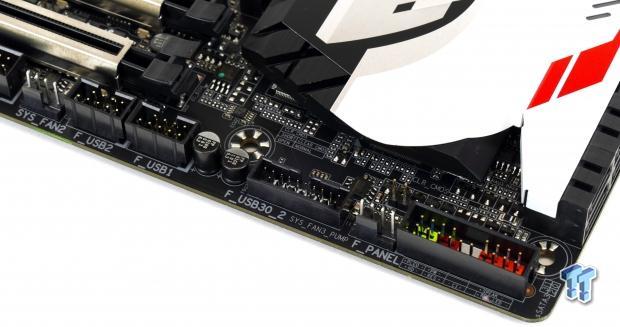 One of the USB 3.0 internal headers is located below the 24-pin connector, and the other is located near the front panel headers at the bottom of the motherboard. There are also two USB 2.0 headers along the bottom edge of the PCB.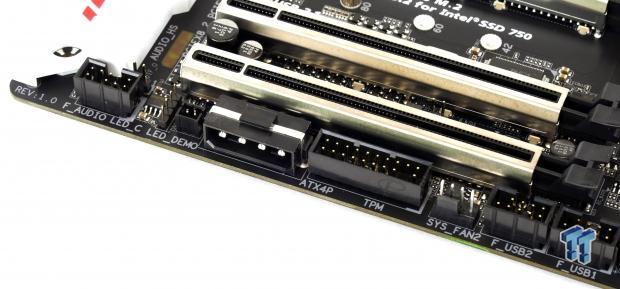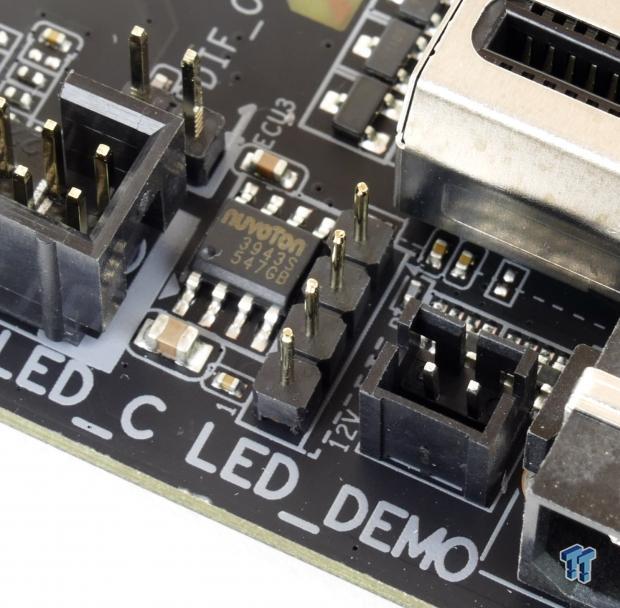 There is an extra PCI-E power MOLEX receptacle at the bottom along with an RGB LED header and TPM header. The "LED_DEMO" header can be fed 5v from a USB battery charger, and the RGB LEDs will illuminate even without system power, but you don't need to use this header for the RGB LEDs to work.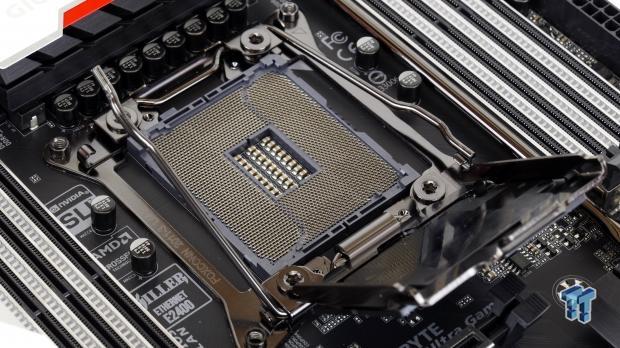 The CPU socket has 2083 pins in total, which is more than the standard Intel socket.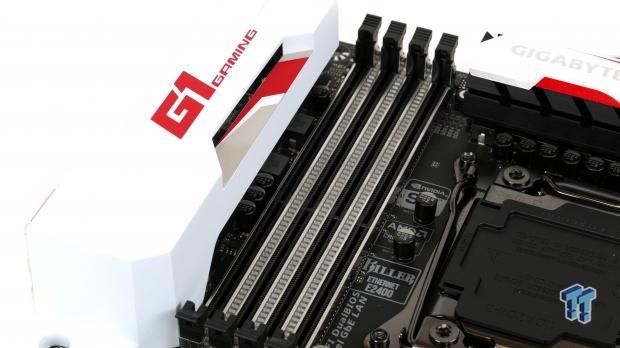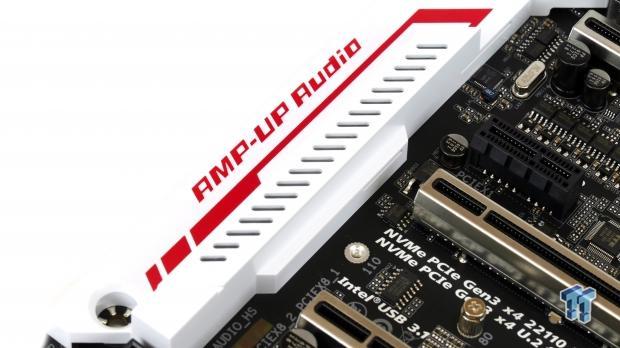 There are RGB LEDs under the IO shield, on either side of the gaps between the DRAM LEDs for the diffusers, under the audio shield, and under the PCH heat sink. There are also LEDs under each PCI-E slot. By default, they are all red, and you can change their color or disable them.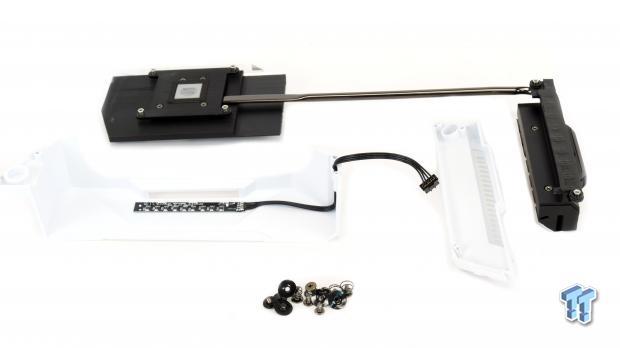 The heat sinks are connected by a heat pipe and are secured to the motherboard by screws. They make excellent contact with the components they cool down.
GIGABYTE X99-Ultra Gaming Circuit Analysis
Circuit Analysis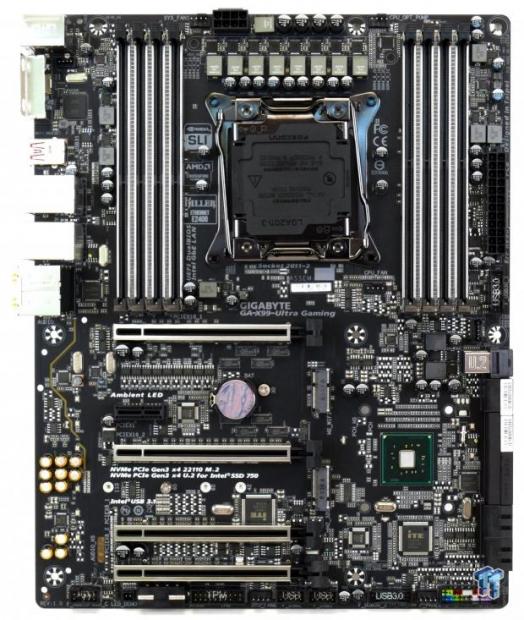 Things just got more interesting.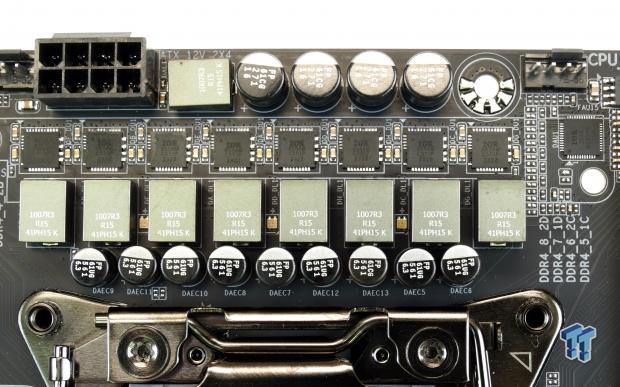 GIGABYTE is using a true 8-phase voltage regulator exclusively powered by International Rectifier. The inductors are the same 76A Cooper Bussman COILTRONICS FLAT-PAC high current power inductors found on GIGABYTE's earlier X99 motherboards. The capacitors are black FPCAPs; I assume they are rated at 10K hours.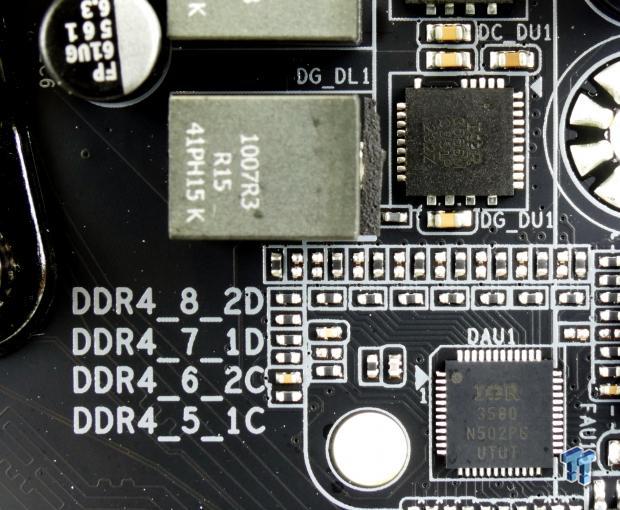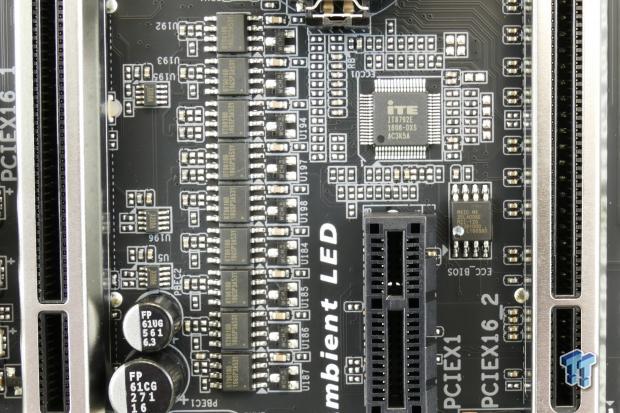 GIGABYTE is using the latest International Rectifier (owned by Infineon) IR3580 true 8-phase digital PWM. They are also using eight IR3556; 50A fully integrated power stages that include their driver, high-side MOSFET, and low-side MOSFET in a single package. The motherboard also has extra pins in the socket that could enhance overclocking of cache and memory; these pins are powered by a special array of linear regulators located below the first 16x PCI-E slot and controlled by an IT8792E embedded controller.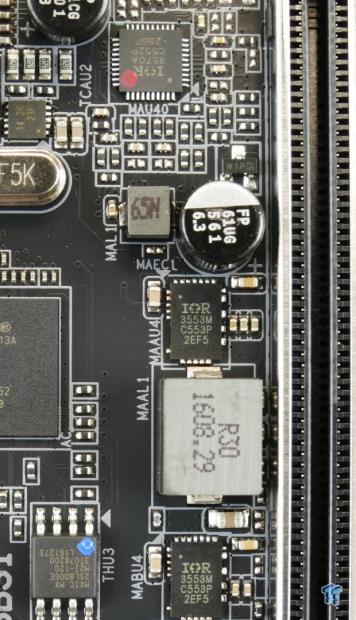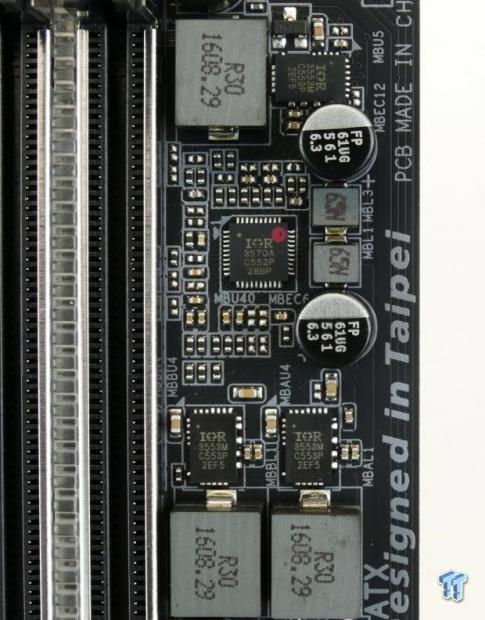 Each four DIMMs gets a two-phase DDR voltage regulator driven by IR3553 (40A) integrated PowIRstages and controlled by an IR3570 3+2 phase digital PWM. The DDR4 VPP rail for each four DIMMs is using a single IR3553 and is controlled by the same IR3570 used for the main DRAM voltage.
GIGABYTE X99-Ultra Gaming Circuit Analysis Continued
X99-Ultra Gaming Circuit Analysis Continued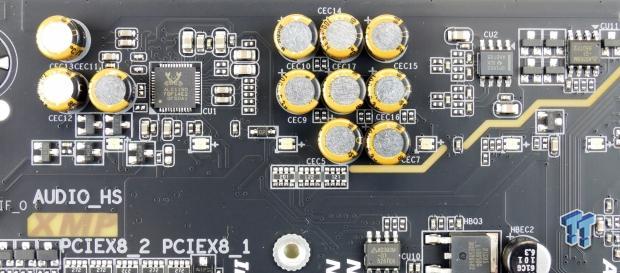 The X99-Ultra Gaming uses the ALC1150 just like almost all other X99 motherboards. It does use a Texas Instruments OPA1652 headphone amplifier along with multiple Nichicon Gold series audio grade electrolytic capacitors. There is also a physical divide to protect the analog signals in the audio area. There are surface mounted RGB LEDs to illuminate the slits in the shield that covers this area.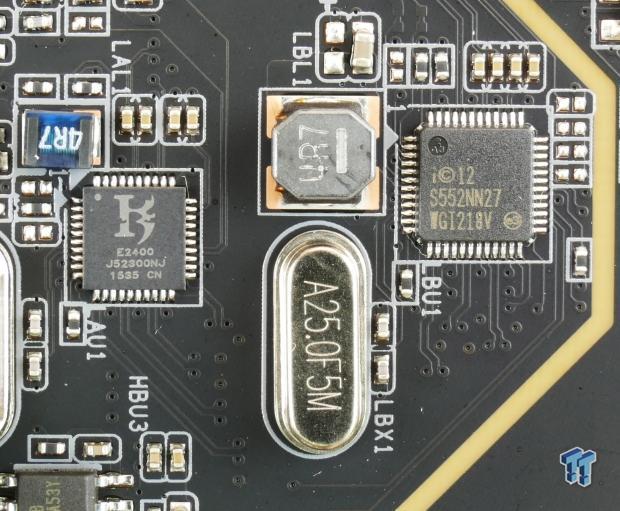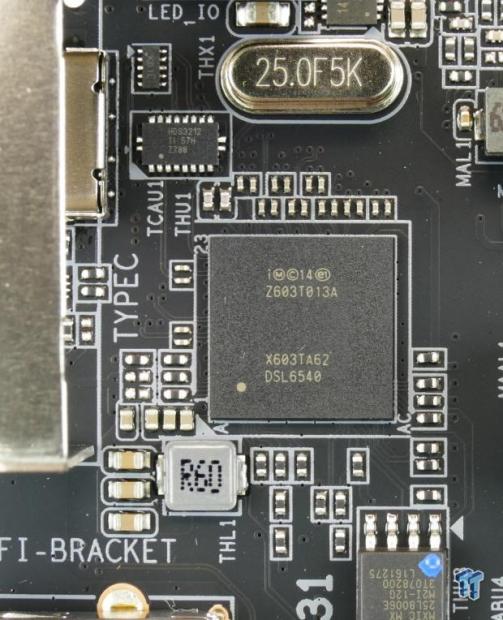 The X99-Ultra Gaming uses two 1Gbit NICs. The first is an Intel NIC, which is partially integrated into the PCH and uses the i218v as the PHY (physical layer device). The second is a standalone Killer e2400, which is built for gamers. You don't have to use Killer's software; you have the option to only install drivers.
GIGABYTE is using Intel's Alpine Ridge USB 3.1/Thunderbolt 3 controller in the USB 3.1 configuration. The X99-Ultra Gaming isn't like some other motherboards that will get Thunderbolt 3 certification later on. It only has two PCI-E lanes routed to the chip instead of four and uses the Texas Instruments HDS3212 USB type-c controller and not the Thunderbolt 3 controller.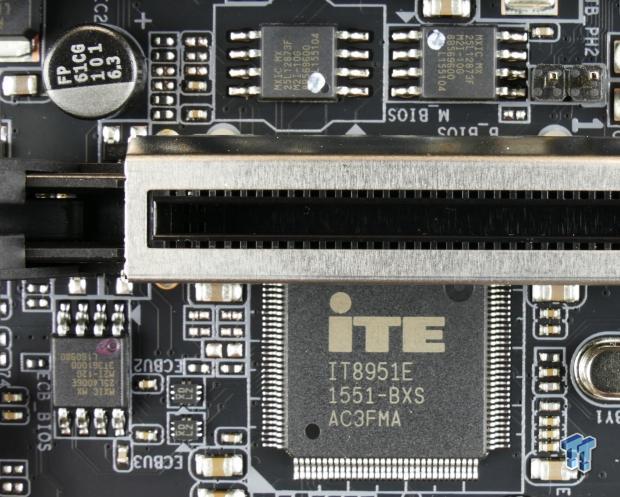 The motherboard has two 128Mbit BIOS ROMs for DualBIOS but also has QFlash Plus, which allows for BIOS flashing without a CPU installed. QFlash Plus is made possible by the IT8951E embedded controller.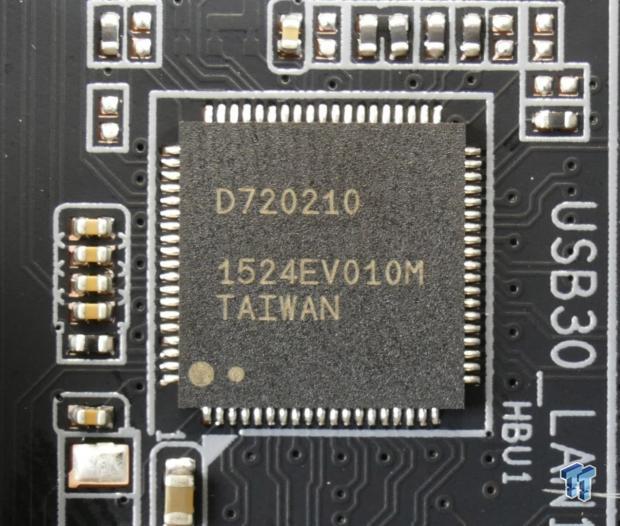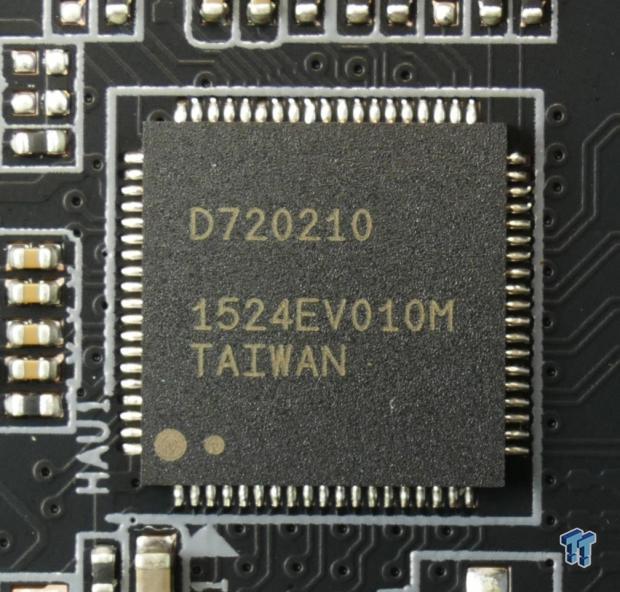 Two NEC D720210 USB 3.0 hubs are used to expand one USB 3.0 port into four. The rear IO panel gets four USB 3.0 through one hub, and the two internal headers also get their bandwidth from one of these hubs.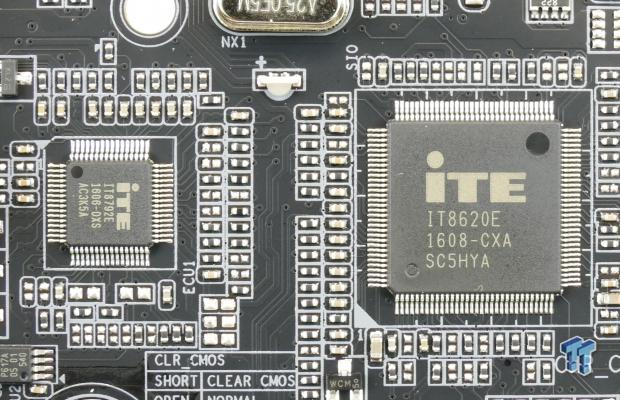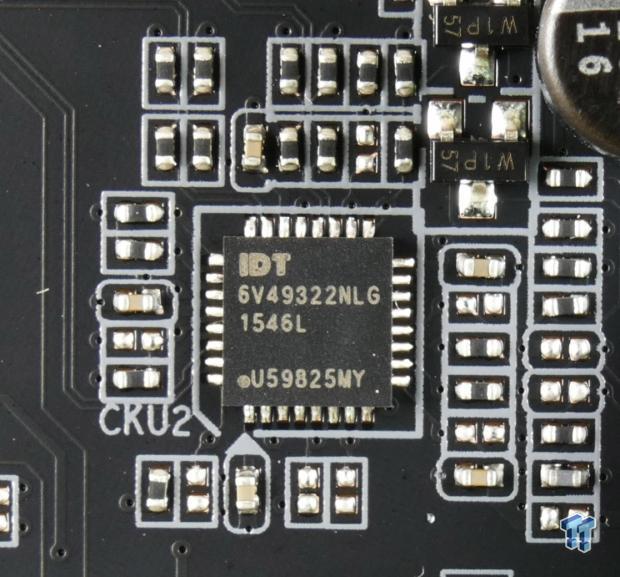 The main SuperIO is the IT8620E, but for extra fan control, GIGABYTE also implemented an ITE8792E embedded controller. The IT8620E provides some fan control, system monitoring, and PS/2 on the rear IO panel. An IDT6v49322NLG clock generator provides better BCLK overclocking capabilities.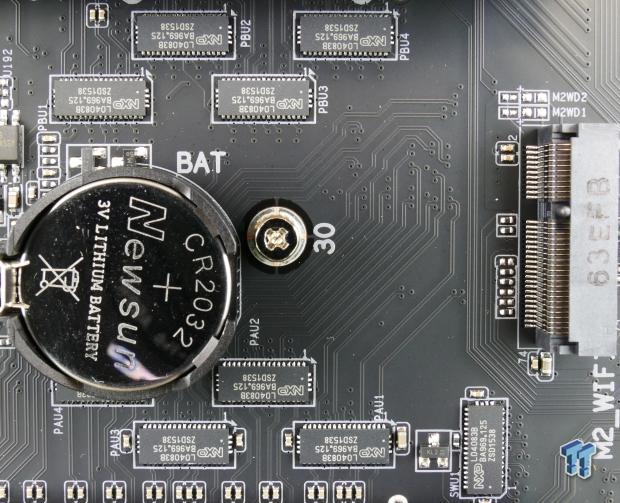 The NXP PCI-E 3.0 quick switches pictured above move around the PCI-E slot bandwidth.
BIOS and Software
BIOS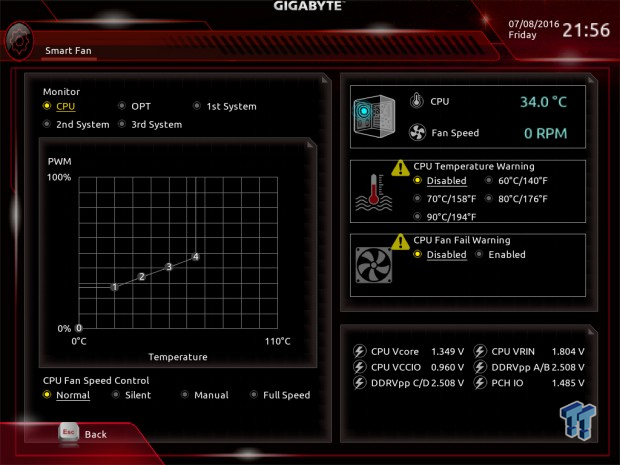 GIGABYTE' new UEFI maintains their traditional layout and settings are located in the same places they were before. What has changed is the addition of GUI based fan control, which is much more powerful than GIGABYTE's previous in-UEFI offerings. Their new fan control brings GIGABYTE up to speed with its competitors allowing users to set curves, choose reference temperatures, and even choose operating mode.
GIGABYTE also has quite good in-UEFI RGB LED control. While you will not be able to control individual zones, you do get good customization options, something that not all vendors offer inside the UEFI.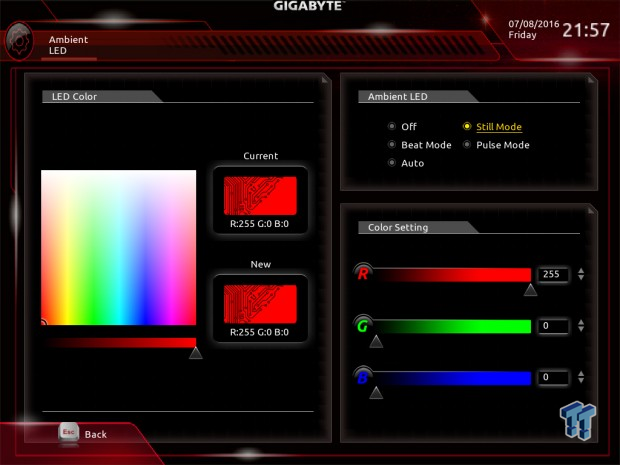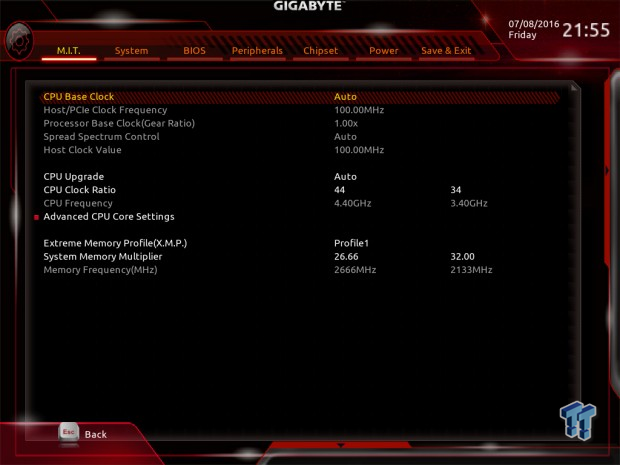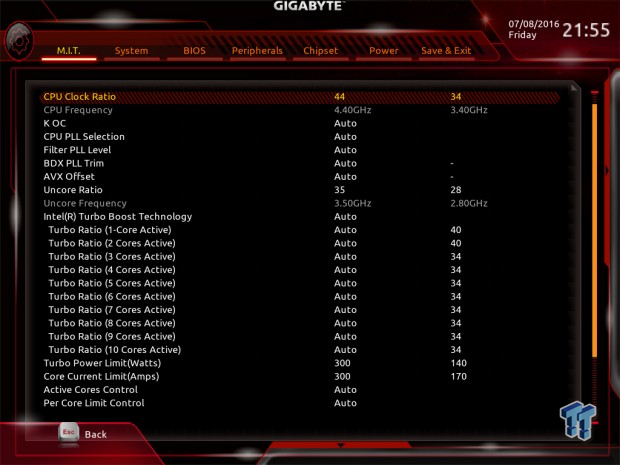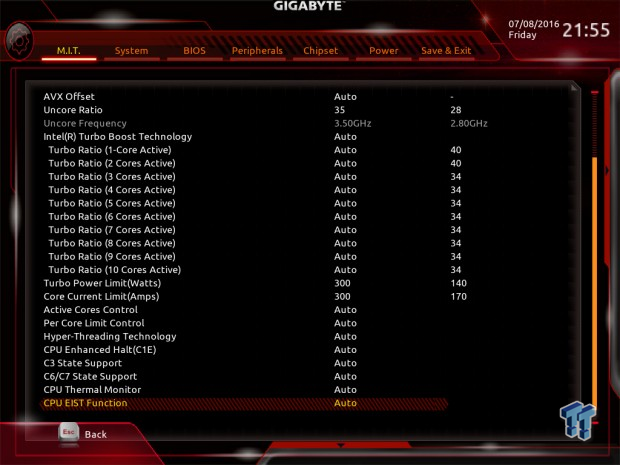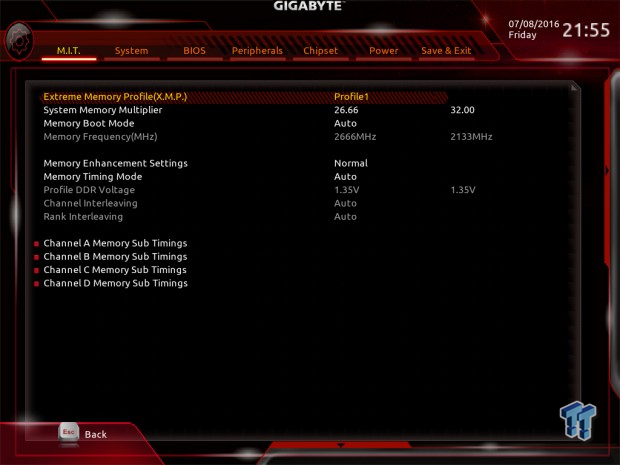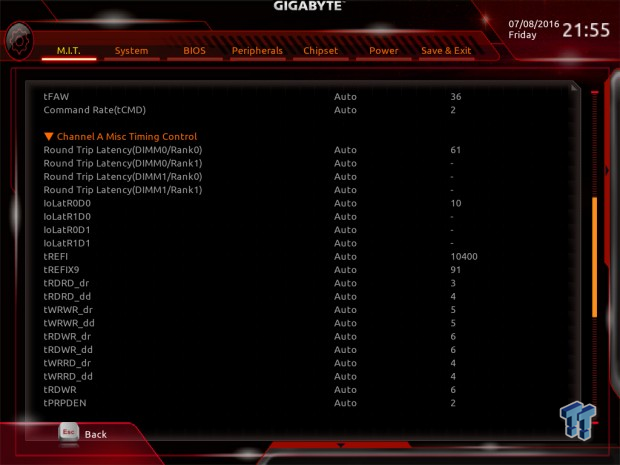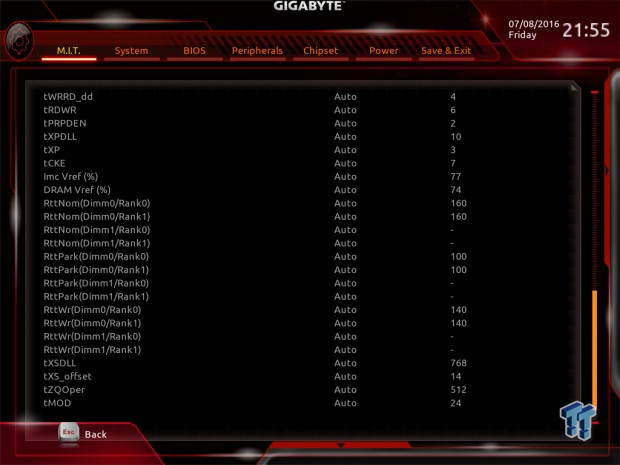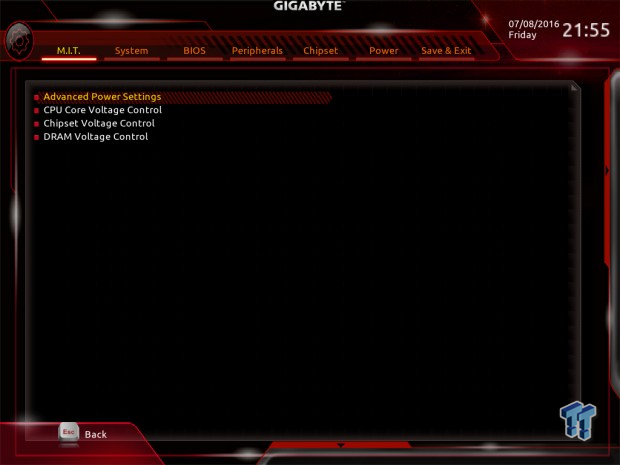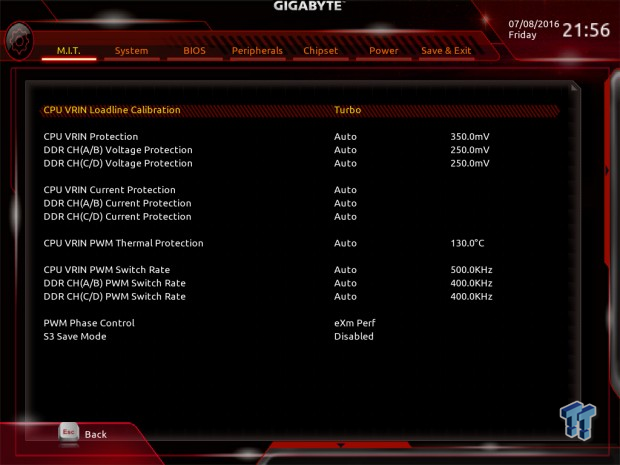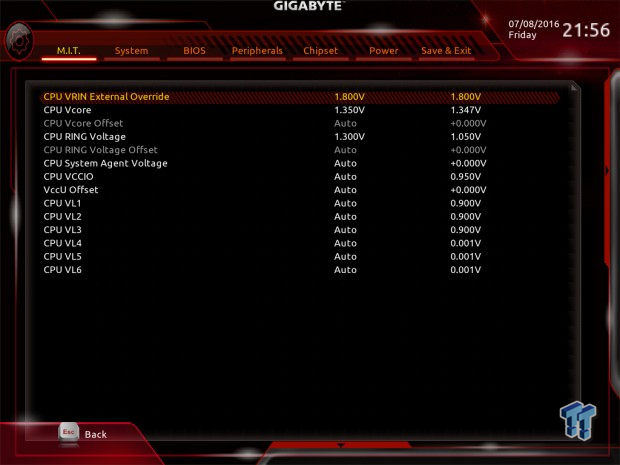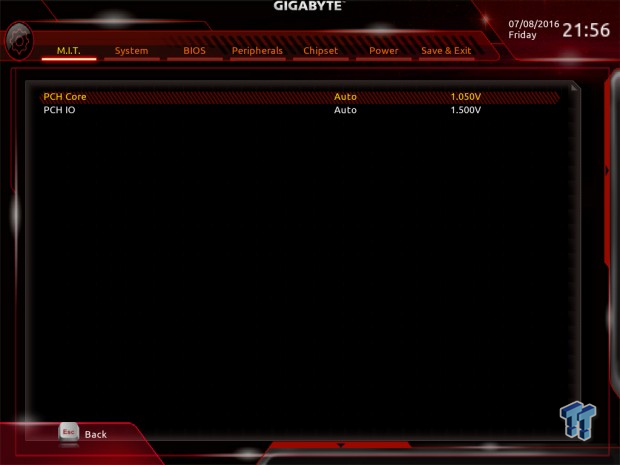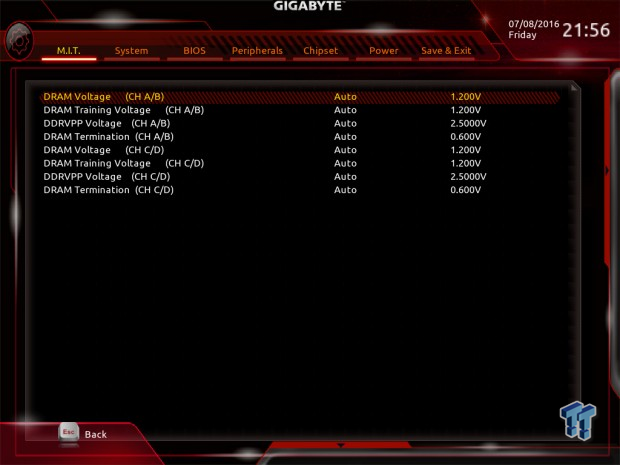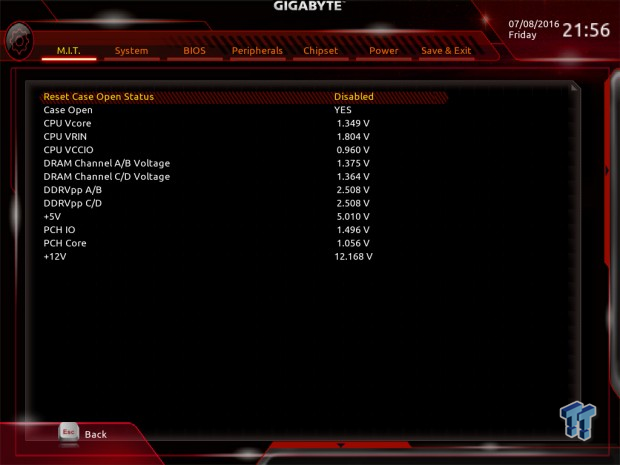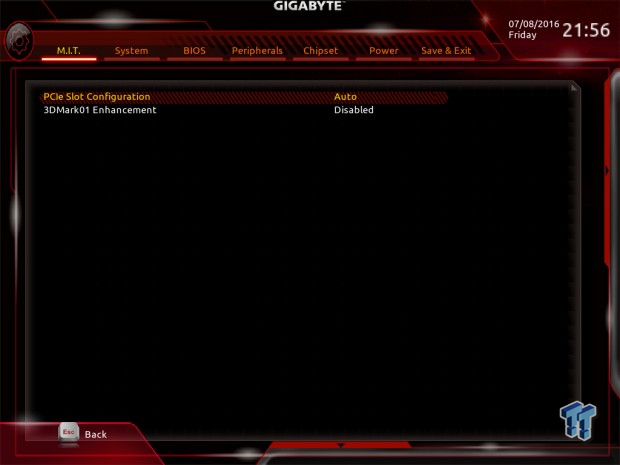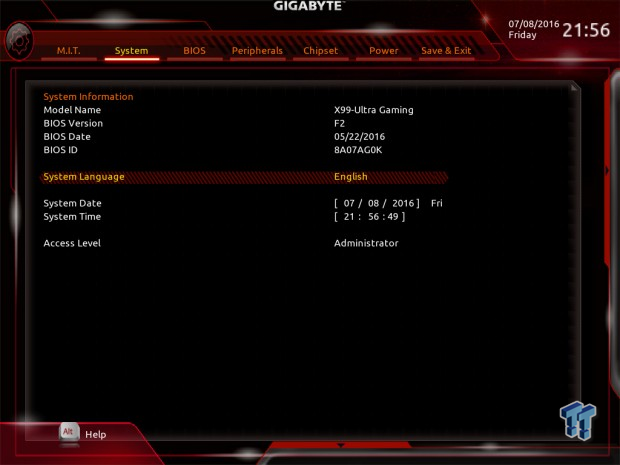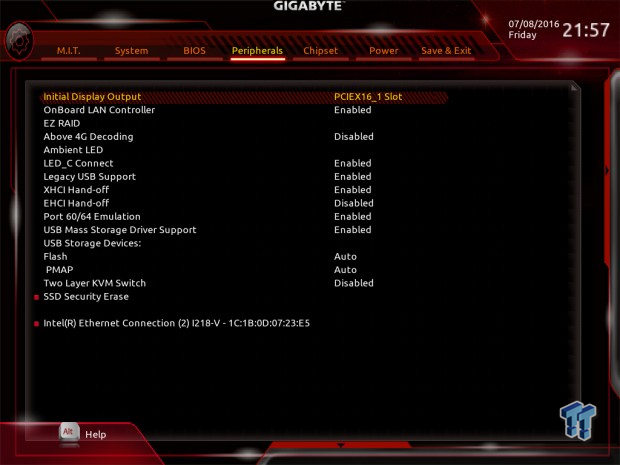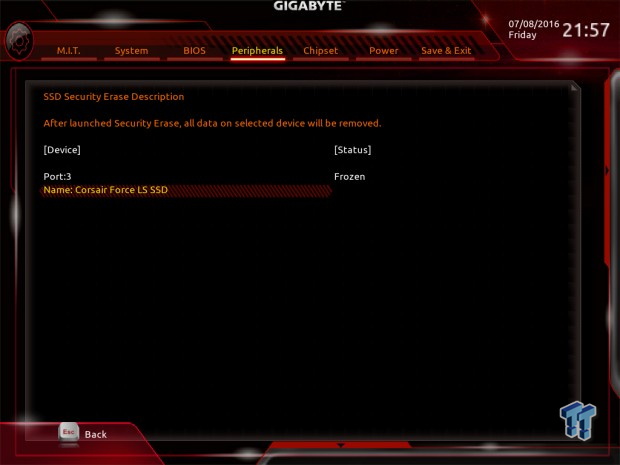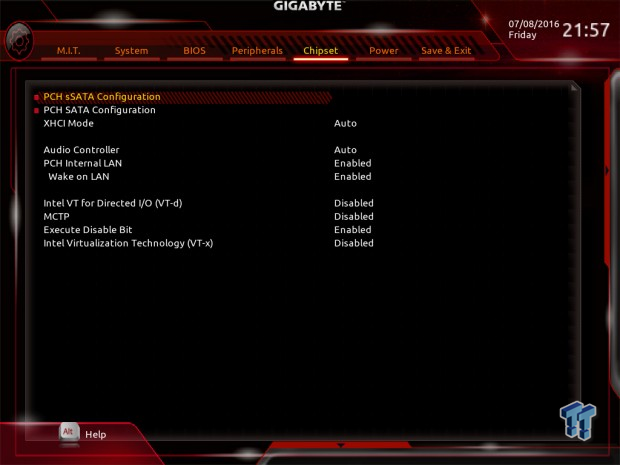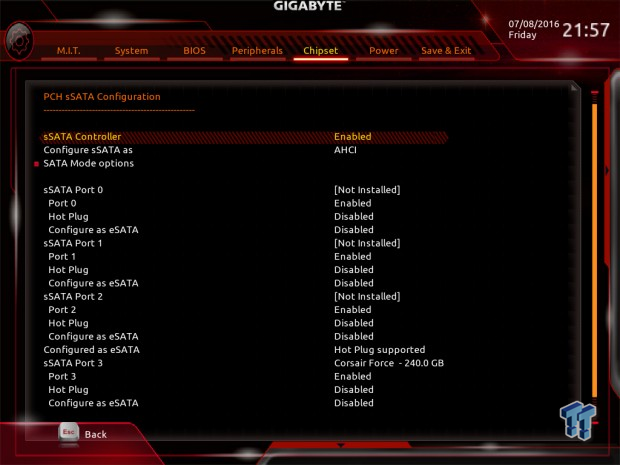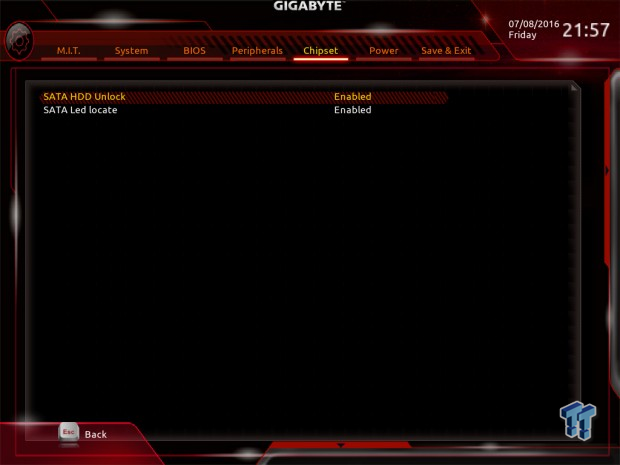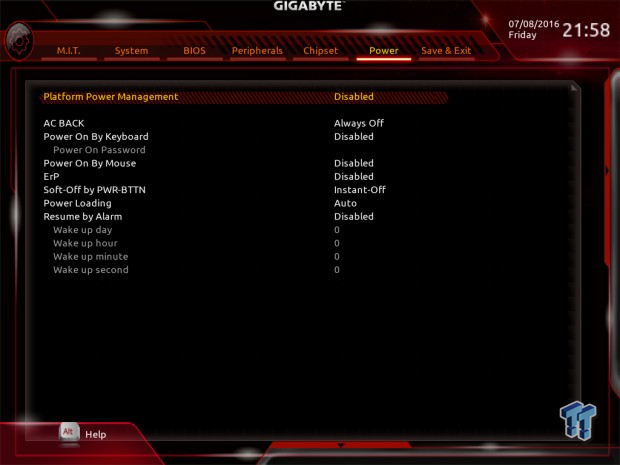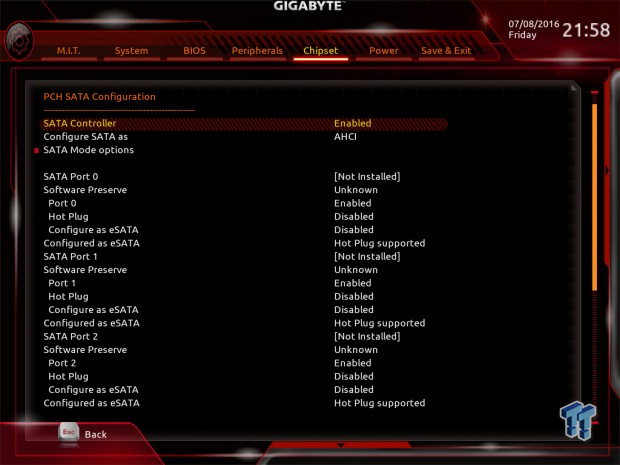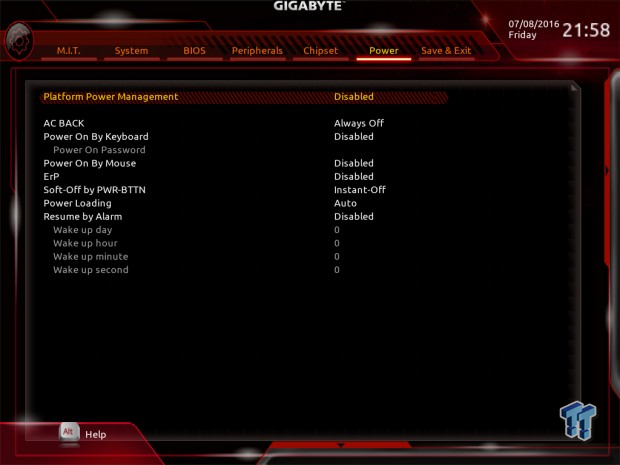 Software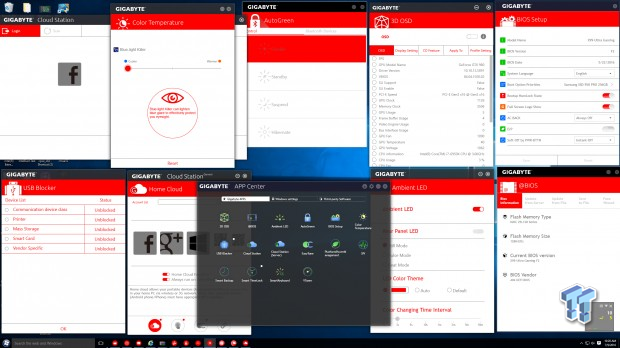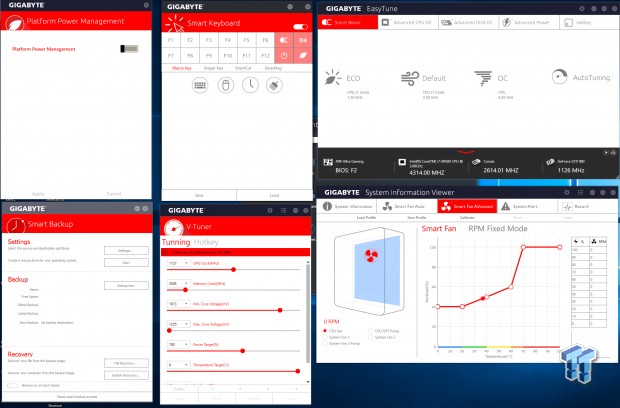 GIGABYTE's programs include BIOS Setup, Auto Green, Platform Power Management, @BIOS, 3D OSD, Ambient LED, Color Temperature (for removing blue light from your monitor), Cloud Station, USB Blocker, System Information Viewer (fan control), EasyTune, V-Tuner, Home Cloud, Smart Backup, Smart TimeLock, and Smart Keyboard.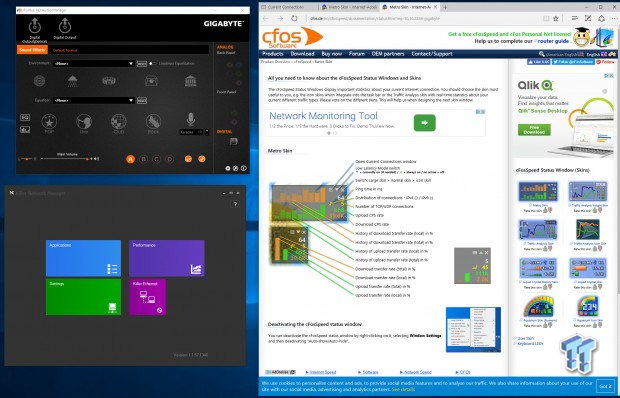 For the Intel NIC, you get cFOS to control bandwidth and Killer has its own NIC suite. Audio control is through Realtek's application with a custom GIGABYTE skin.
Test System Setup
Steven's Motherboard Test System Specifications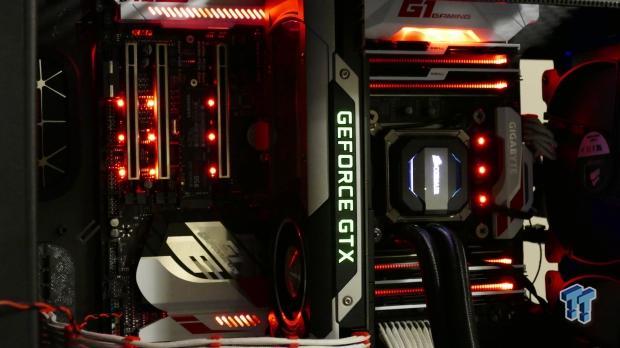 The red RGB LEDs come through orange in this image, but in real life they look very red. You can, of course, change the color to your liking or just turn all the LEDs off. GIGABYTE's latest BIOS fixes some issues where the PCI-E and VRM LEDs were turned off, I prefer them off since they aren't being diffused.
The new test bench is designed to test every aspect of the motherboard and IO. I have designed it so that the motherboard sits in a case and is cooled by fans always on at a constant rate to keep the conditions similar during all tests. I have cut out part of the case behind the motherboard so I can get thermal images of the back of the PCB where the VRM heat spreads. System and CPU power measurements are now digitally logged.
I am also using a Netgear Nighthawk X4 AC2350 for our network (including wireless AC) tests. The latest M.2, SSD, and USB technologies are also being utilized to test the maximum potential of the motherboards that are tested.
Overclocking
Overclocking Results
CPU Overclocking
If you hadn't already heard, the 6950X 10-core $1700 beast isn't the best overclocker. I cannot validate CPU frequency anywhere near 5GHz, and I cannot even boot at 4.5GHz, but I can run 4.4GHz on all cores. I have decided to change how I do the overclocking section and determine exactly what it takes to push to the CPU to this maximum stable frequency on the different motherboards I test.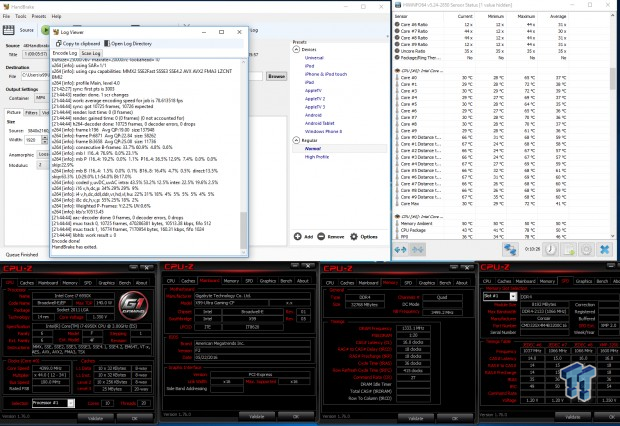 GIGABYTE's current UEFI doesn't have strong auto-rules, so you will need to manually increase voltages such as cache and input voltage. In the future, they will probably address this by implementing auto increases. Auto rules are helpful for novice users, as some of them might not know they have to raise cache voltage to 1.3v+ to maintain a 3.5GHz cache overclock, and so they might not even change that voltage.
Whenever you set Auto, you are giving voltage control to the BIOS engineers, on many boards auto VRIN is 1.9v instead of Intel's default 1.8v, and BIOS engineers use these rules to make their boards seem as if they OC better. The truth is your CPU should OC relatively the same on almost all X99 motherboards that are built well. The X99-Ultra Gaming overclocks relatively easily.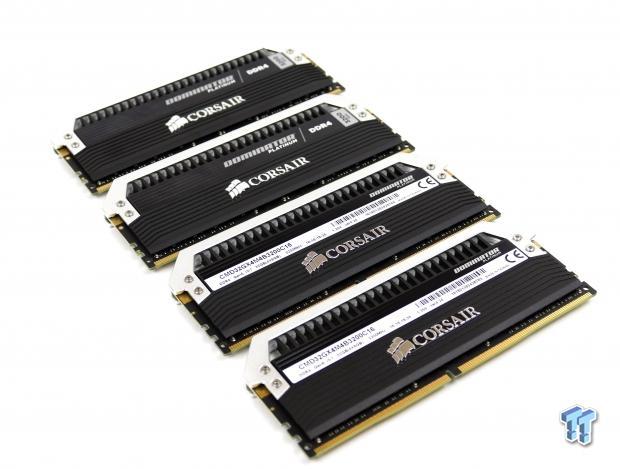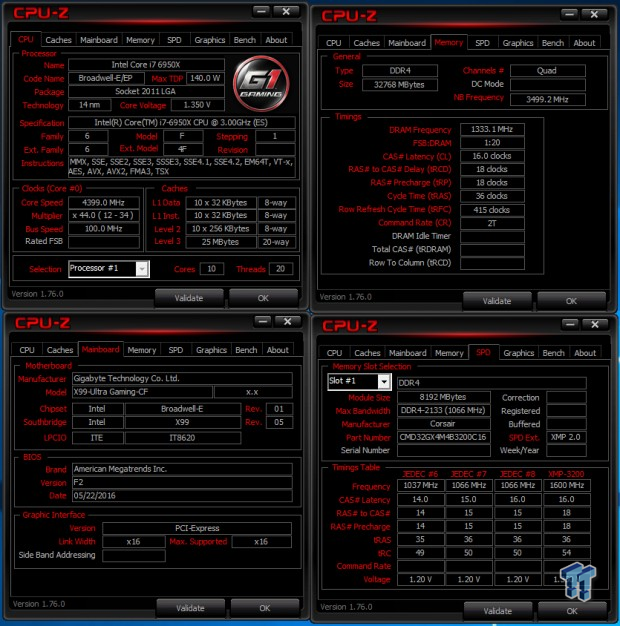 Dominator Platinum 32GB 3200MHz C16 seen above working well.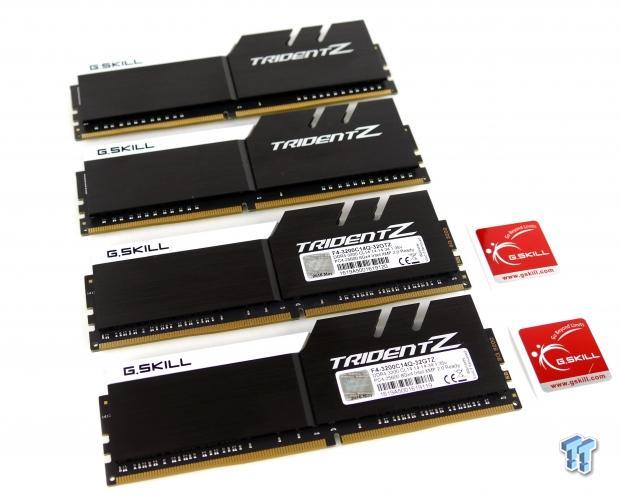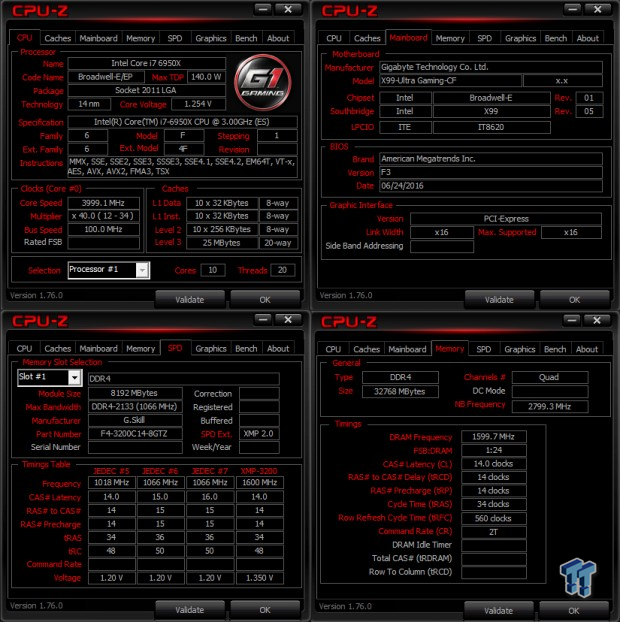 G.Skill TridentZ 32GB 3200MHz C14 kit also seen above working well.
CPU, Memory, and System Benchmarks
CINEBENCH 11.5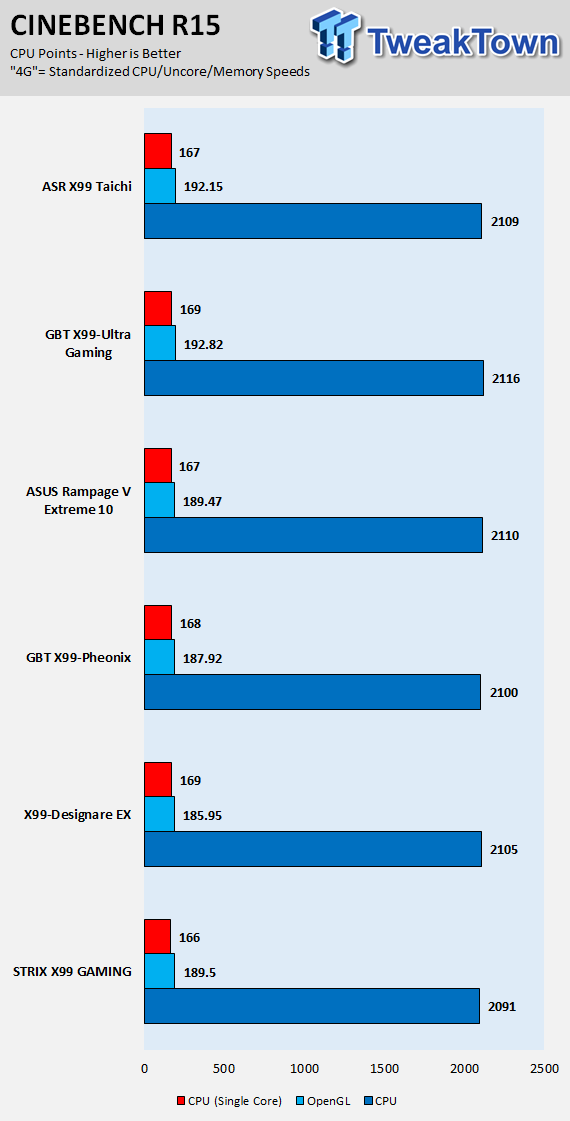 wPrime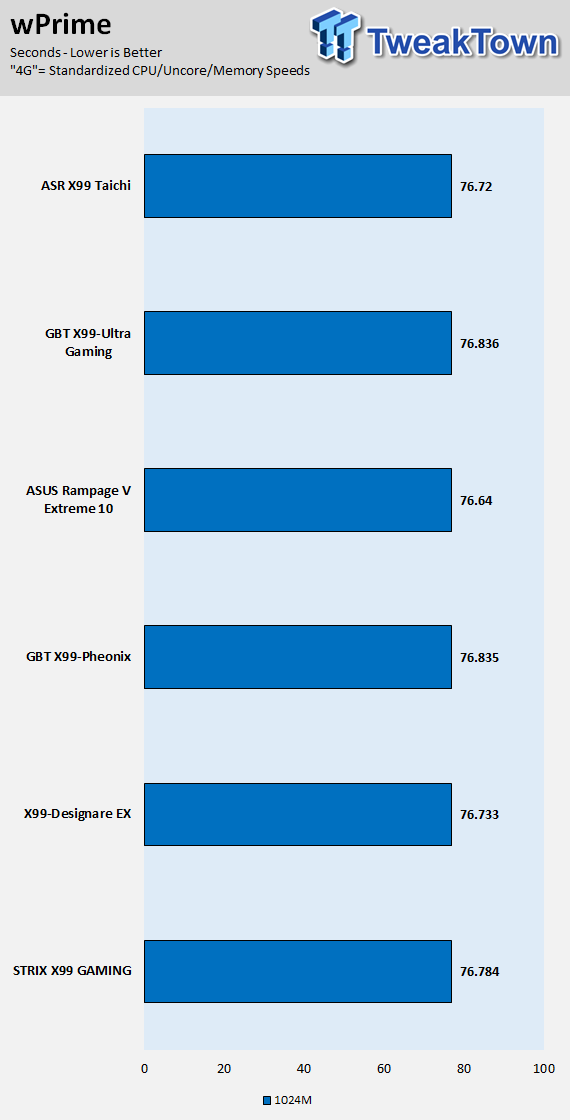 AIDA64 AES and HASH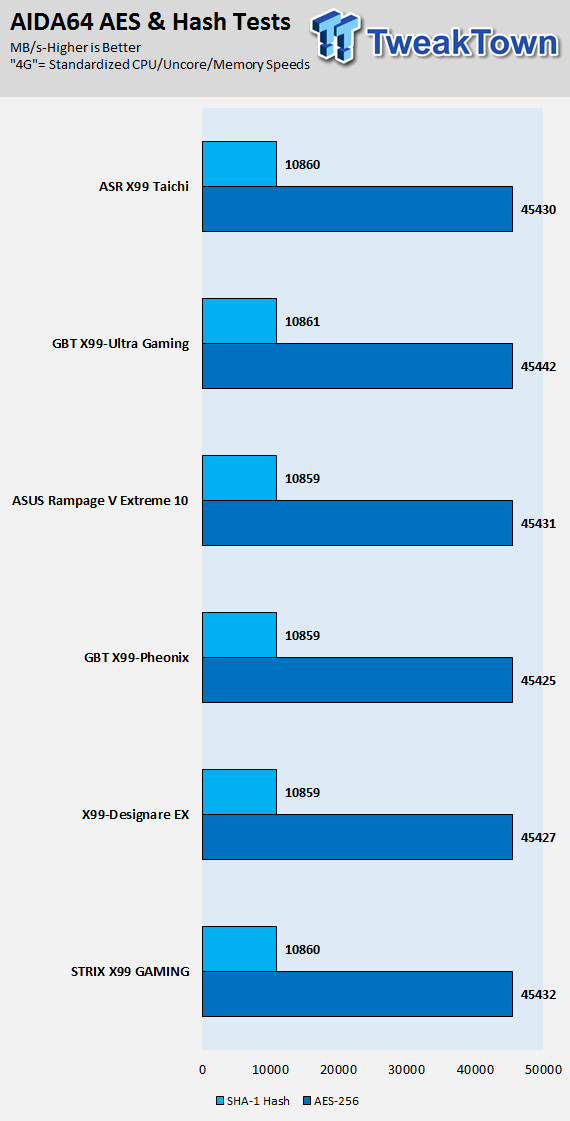 AIDA64 FPU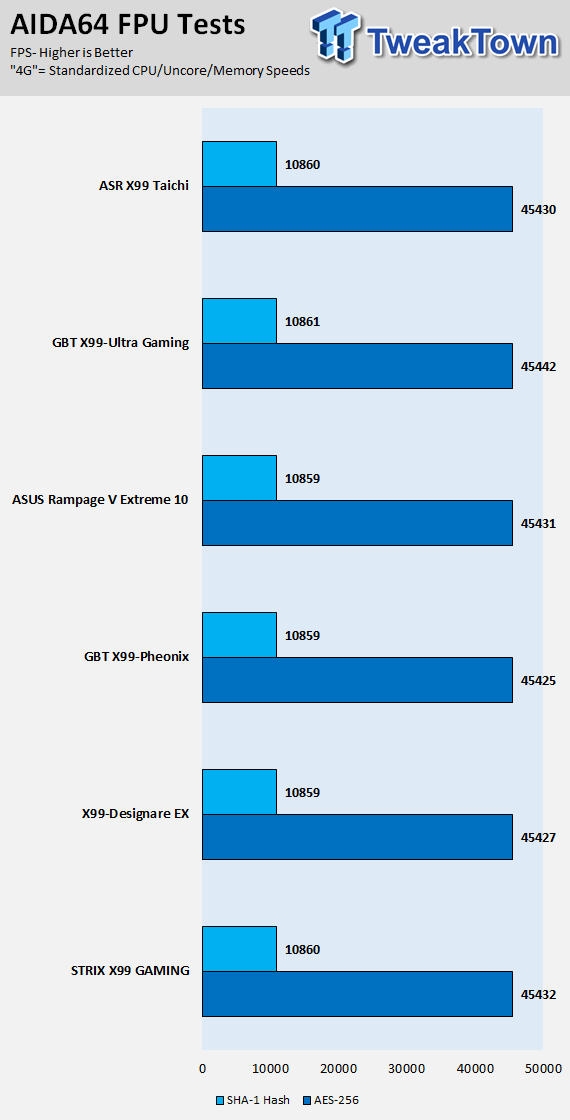 AIDA64 Memory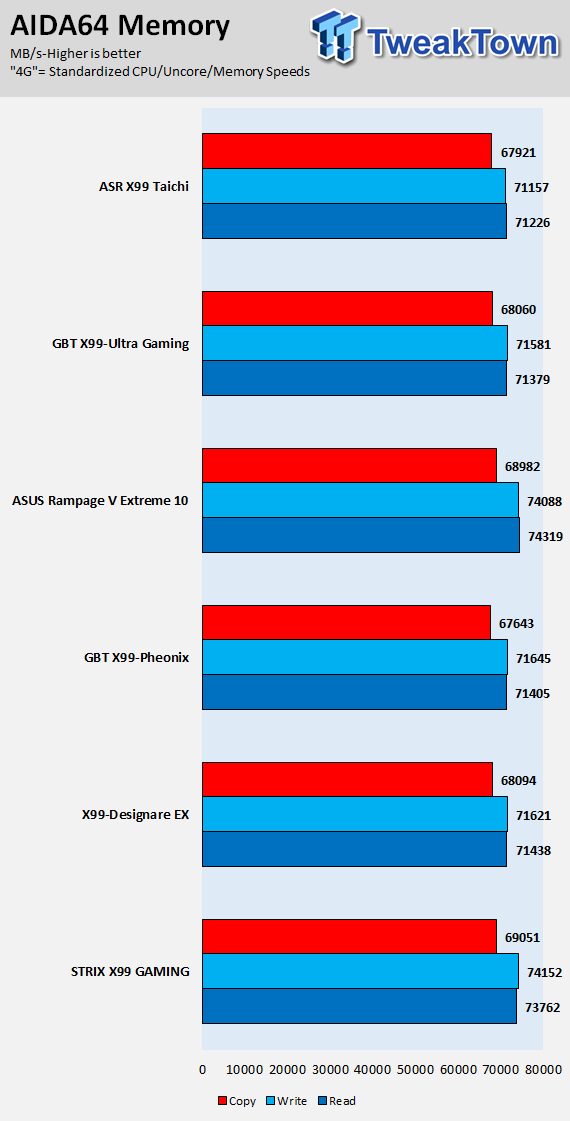 ScienceMark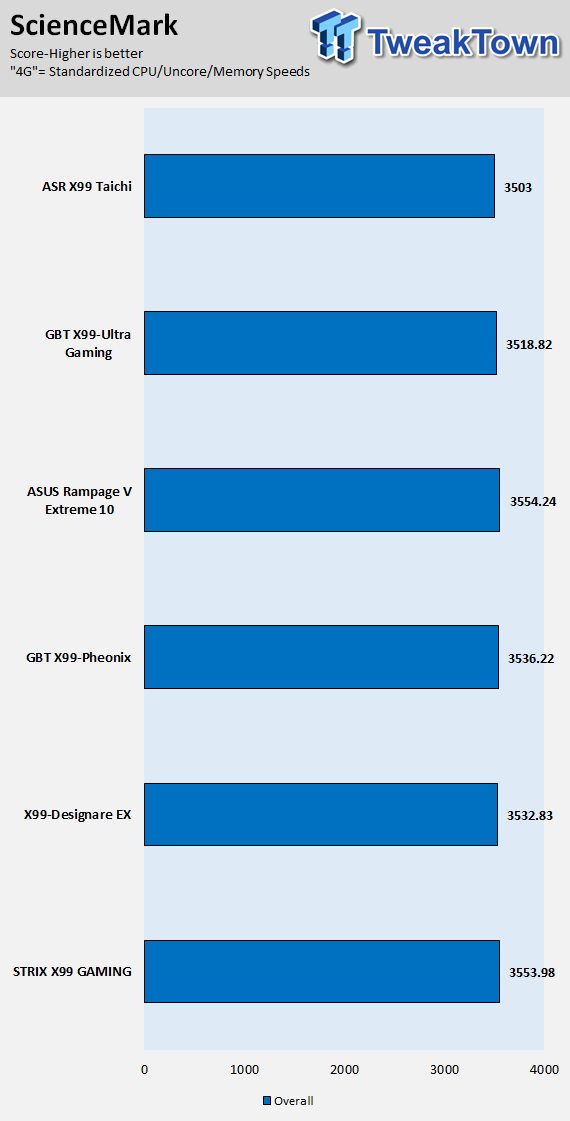 HandBrake 4K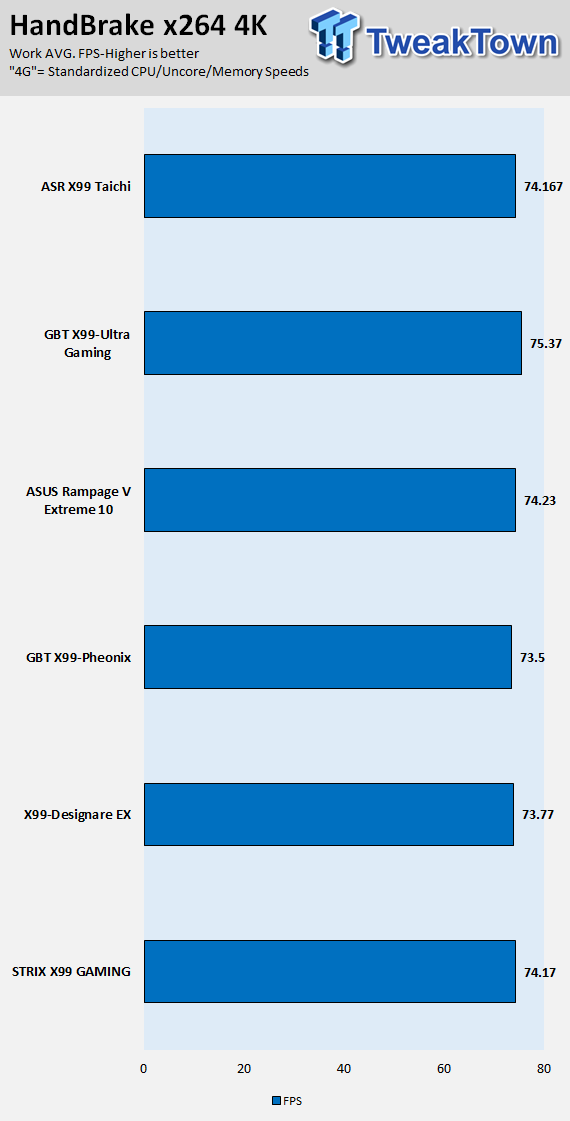 3DMark: Cloud Gate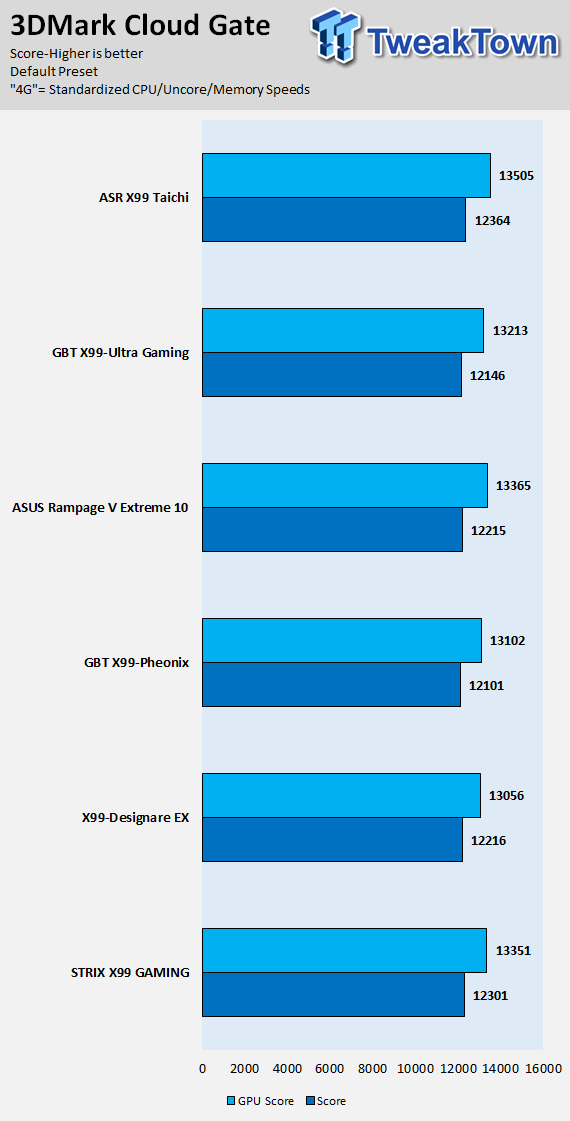 3DMark: Fire Strike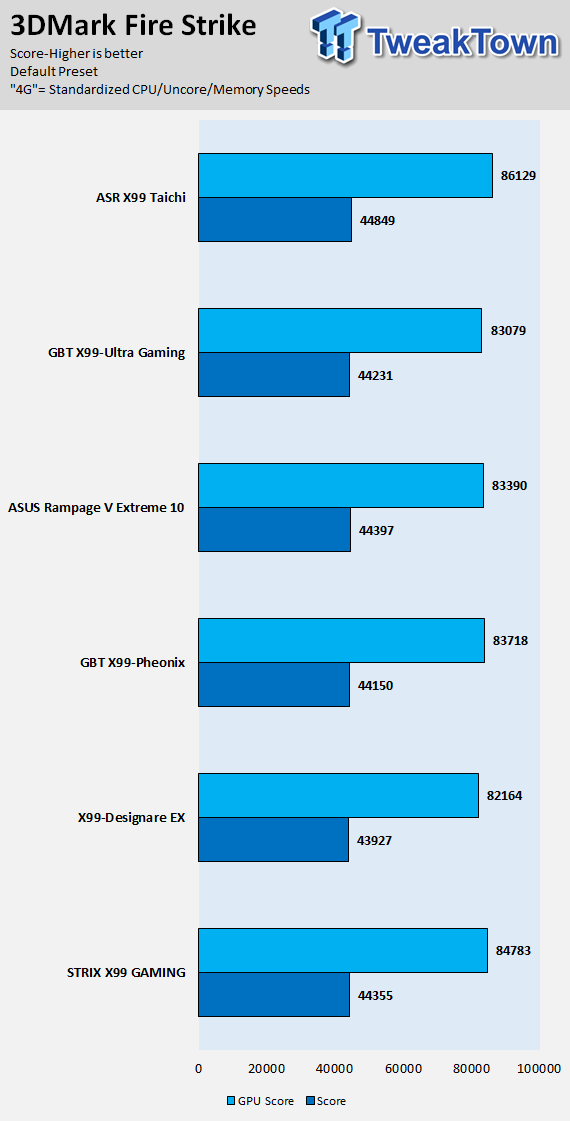 ResidentEvil 6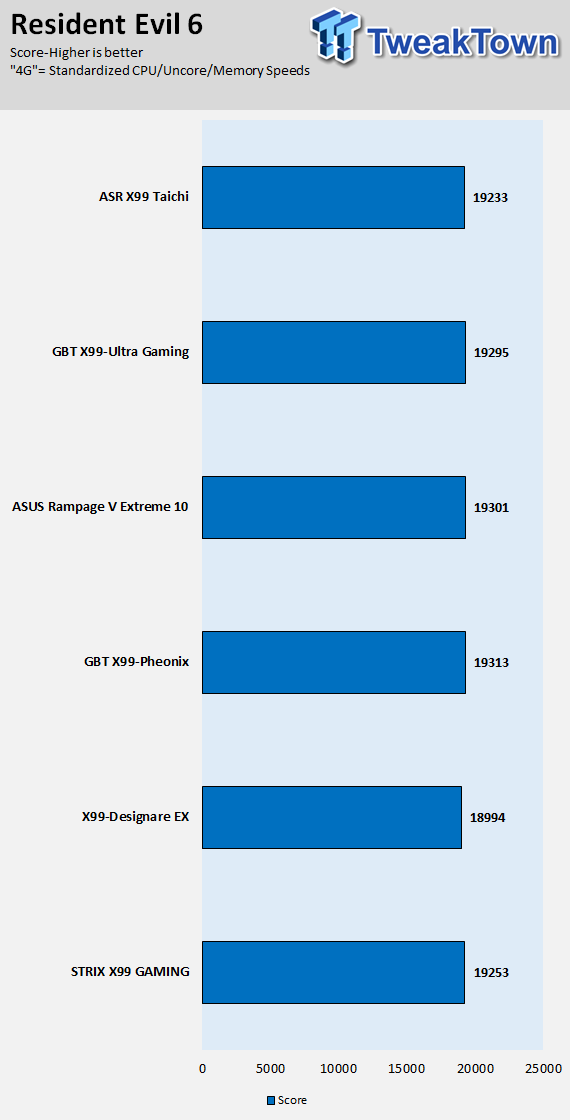 I have decided to test motherboard performance based upon a standardized 4GHz profile for the new X99 refresh motherboards. The base frequency of the 6950X is 3GHz, but since Intel's Turbo profile allows for a single core to hit 4GHz, some motherboards will take any number (sometimes all) of the cores to 4GHz at stock settings, and this creates a huge performance disparity at stock. In all these tests I ran the CPU at 4GHz on all cores, the cache at 3.5GHz, and memory at 2666MHz with timings 16-18-18-36 T2, and allowed the motherboard to set the rest of the timings itself.
The X99-Ultra Gaming fairs well against the competition. All scores are within the margin of error of the individual benchmarks (you almost never get the same score twice), and I found no performance pitfalls. Overall, performance is strong.
System IO Benchmarks
SATA6G: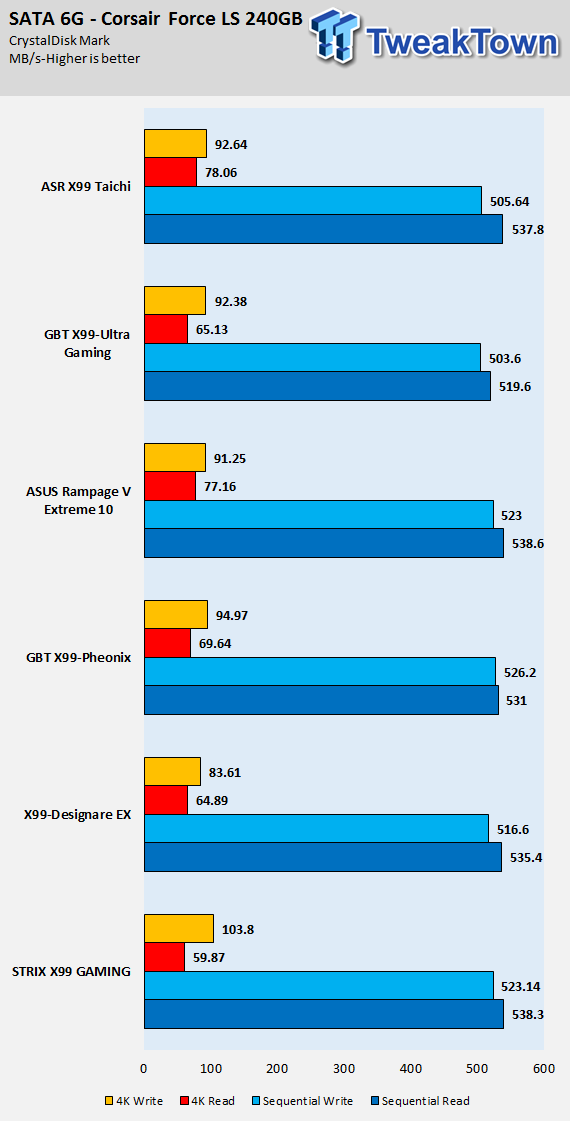 M.2: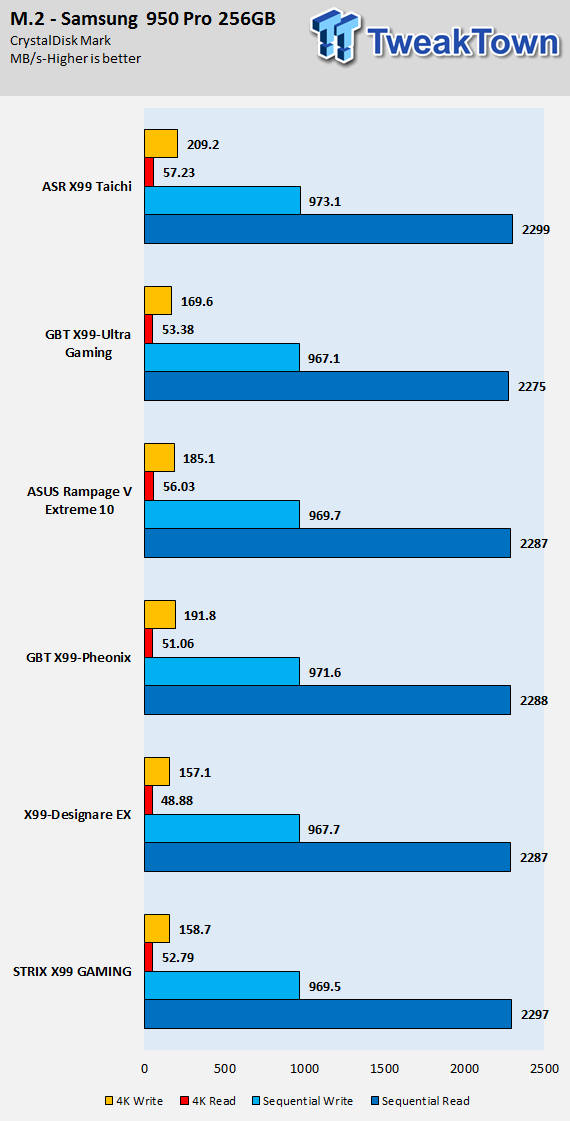 U.2: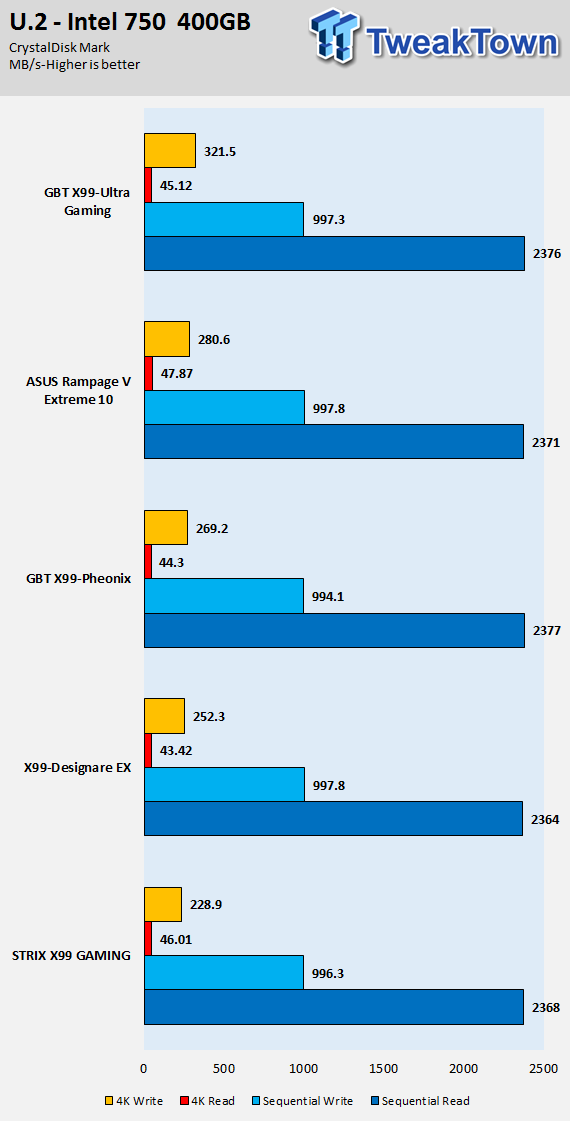 ixChariot Network Throughput: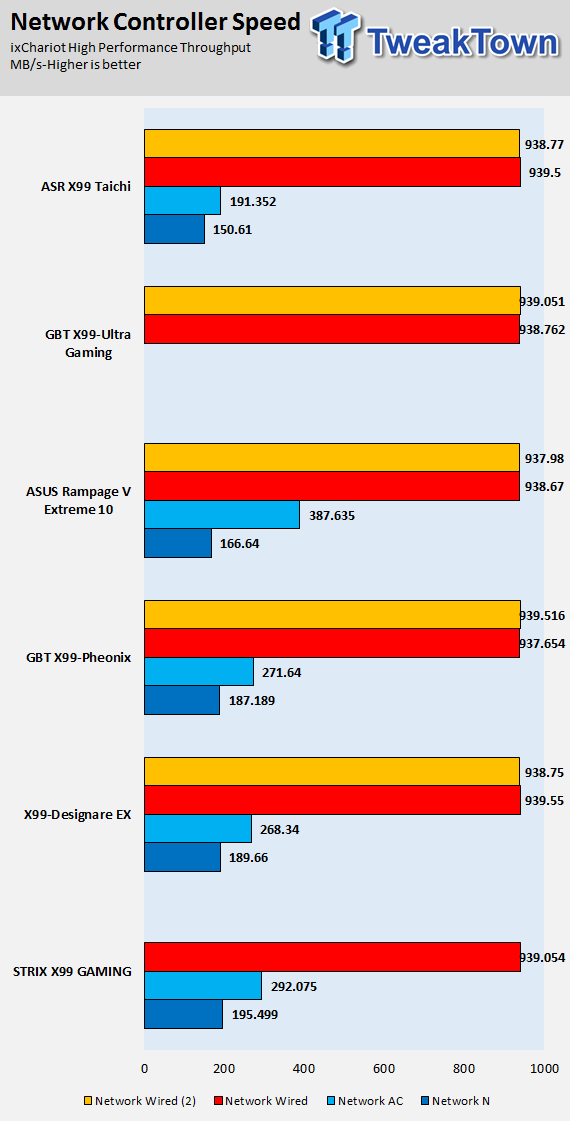 The X99-Ultra Gaming has solid IO performance, especially in U.2 and M.2 tests, where it tops the charts in certain individual tests.
Audio RMAA 5.5:
I disable all audio features, set the correct bitrates, and then test the audio with a loopback test.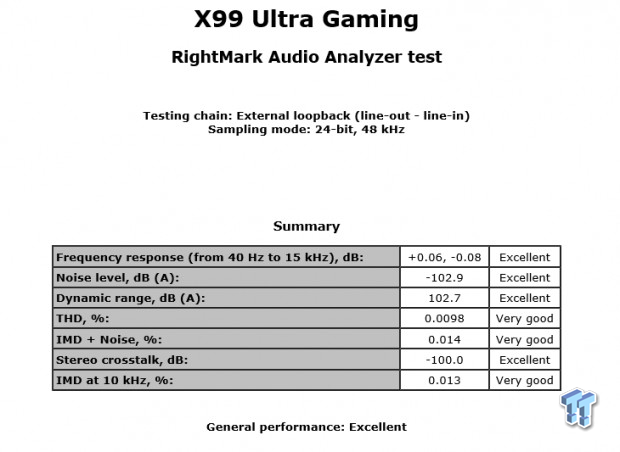 Sound Judgment by Ear: Very Good to Excellent, I found the audio to be clear and full bodied. There are five ratings for audio: 1. Problems, 2. Okay, 3. Acceptable, 4. Very good, 5. Excellent
Thermal Imaging and Power Consumption
CPU power is measured through the 8-pin connector, which is hooked up to a hall effect IC, which measures current and puts out a voltage in proportion to the current. That voltage is logged by a National Instruments ADC, which logs the DC voltage level that I then convert into current.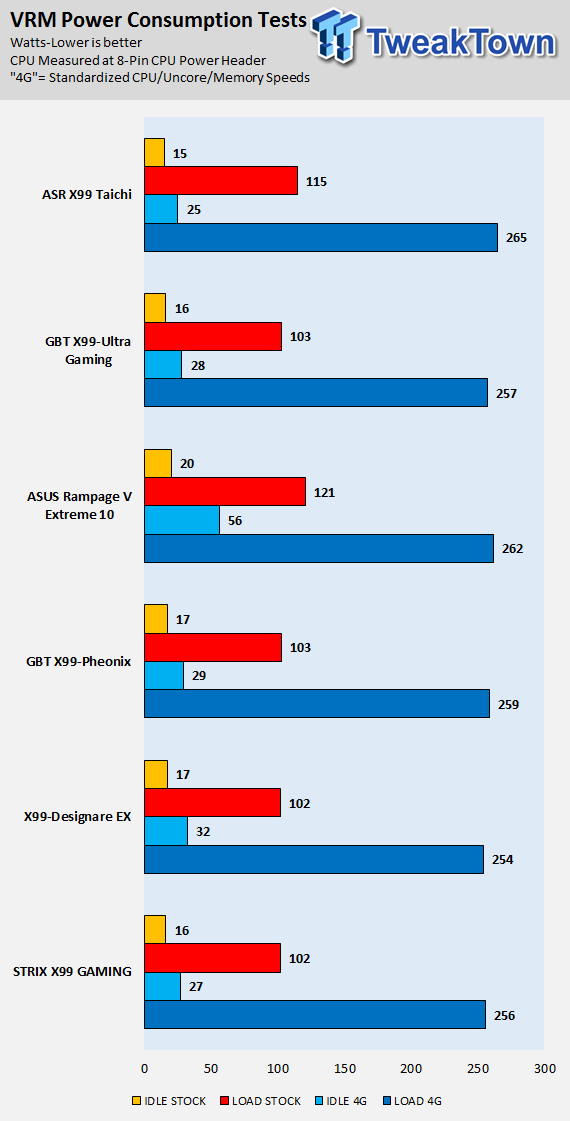 Note on Thermal Images: In the temperature section, we use our Seek thermal imaging camera to capture the surface temperatures of major components on the board. I look at the VRM and then all other things that light up the screen. If there is something to worry about, then I will state it. Otherwise, I will just show the hotter running parts of the board for fun. Unless some component is over 80-90C, then there isn't anything to worry about.
All systems will act differently, so I will look for commonalities, such as how far from the VRM the heat spreads through the PCB and the difference in temperature between the front side and backside of the PCB. Keep in mind, the majority of the heat from the VRM goes into the PCB as it is a giant soldered on copper heat sink. A larger difference in temperature between the back and front of the PCB points towards a more effective heat sink.
Thermal Testing at Stock Speeds:
The image on the left is always at idle, and the image on the right is at load. During ALL TESTS, fans above the VRM that cool the CPU cooler's (Corsair H110i GT) radiator are turned on to high (12v).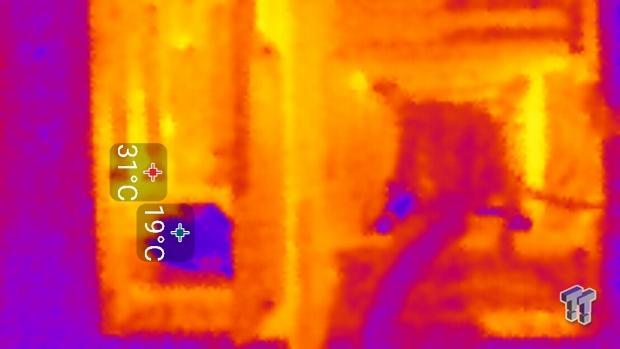 Full frontal.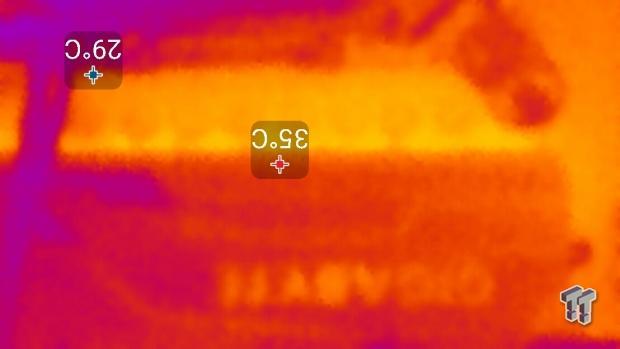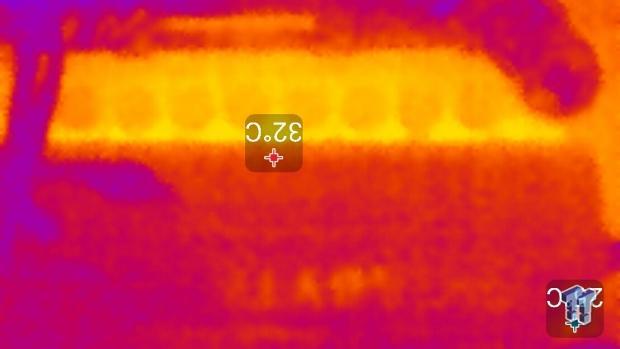 Up-close of the front of the VRM.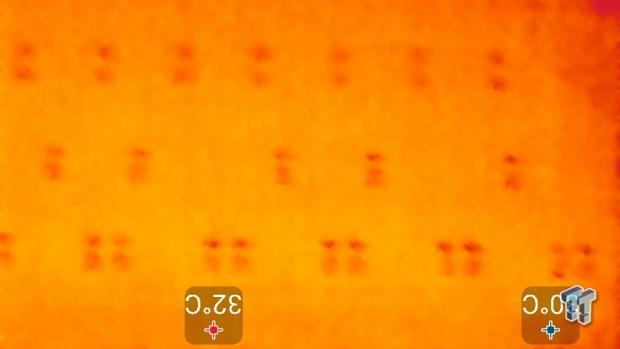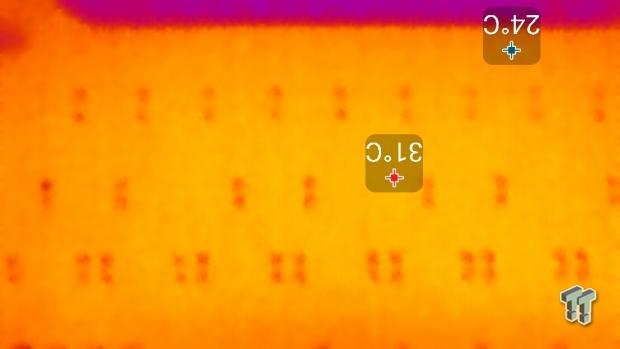 Up-close of the back of the VRM.
Thermal Testing at 4.5GHz Overclocked Speeds:
The image on the left is always at idle, and the image on the right is at load. During ALL TESTS, fans above the VRM that cool the CPU cooler's (Corsair H110i GT) radiator are turned on to high (12v).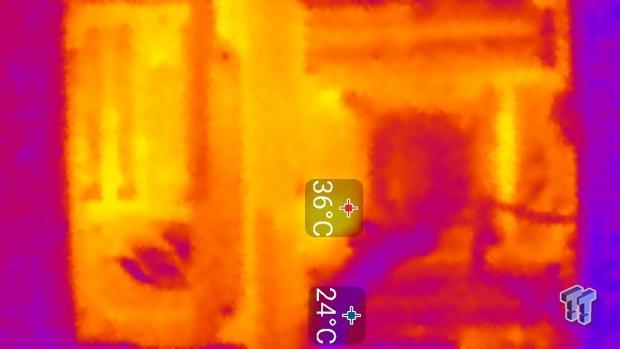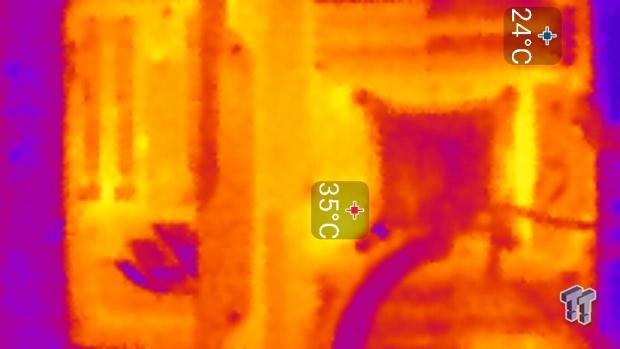 Full frontal.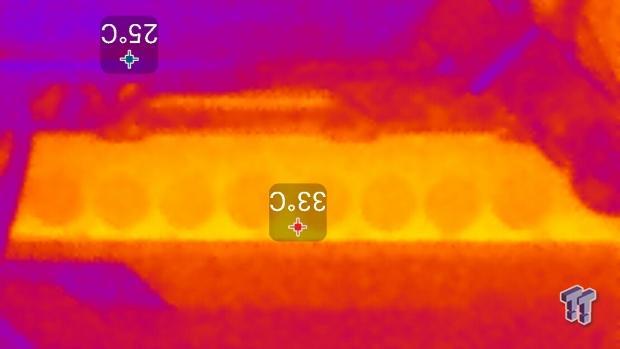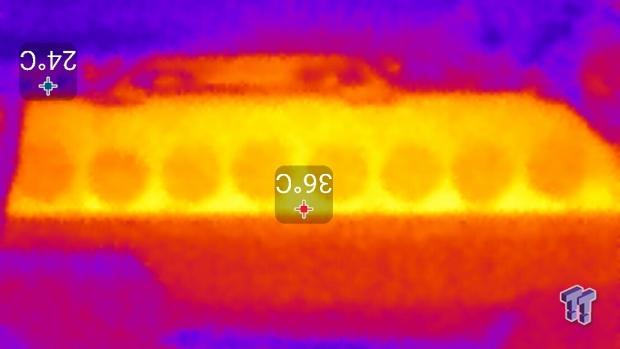 Up-close of the front of the VRM.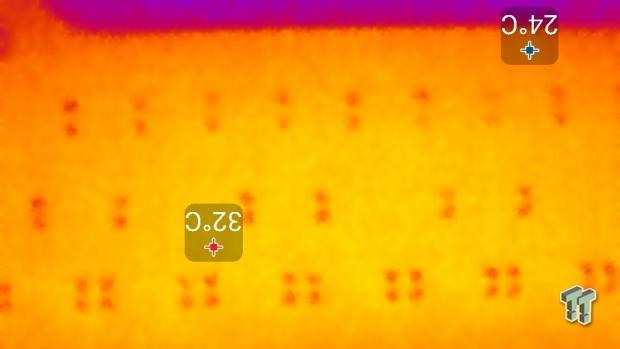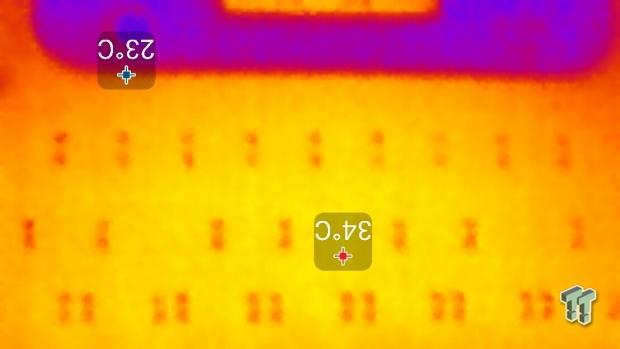 Up-close of the back of the VRM.
The VRM on the X99-Ultra Gaming is excellent. In low load situations, only a few phases are loaded, so at full load, the maximum surface temperature decreases as the load is evenly distributed across all phases. In some load situations, there is almost no change in hot spot temperature, the heat just spreads. There is only a few degrees increase during our overclocking scenario from idle to load, and temperatures on the back never exceeded those of the front, which shows that heat it being handled well by the heat sink system.
Anything under 60C is great, 60-80C is acceptable, and anything above 80C is a bit worrisome (if at stock).
What's Hot, What's Not & Final Thoughts
Here are key points about the GIGABYTE X99-Ultra Gaming.
What's Hot
Optimized 2-way and 3-way spacing: Shifting away from their traditional four equally spaced PCI-E 16x slot arrangement, GIGABYTE has optimized GPU layout for two or three cards, which is what most people will use these days. Two cards get a huge amount of spacing between each other, and three cards can run without blocking the bottom row of headers.
M.2 and U.2 at the same time: GIGABYTE's X99-Ultra Gaming allows for U.2 and M.2 to work at the same time. Instead of switching x4 PCI-E 3.0 between the two, GIGABYTE provides each a dedicated x4 link to the CPU.
Intel USB 3.1: The Alpine Ridge controller has become synonymous with high-end USB 3.1. Although we have yet to see many USB 3.1 devices on the market, Intel's solution should offer superior performance because of its PCI-E lane requirements and Intel's reputation for high-performance controllers.
RGB LEDs Galore: Some people dislike RGB LEDs, but to be honest, they are kind of cool. I am not going to be a hardware snob and pretend like I don't enjoy the lights - even though I own over 100 motherboards, I still like to show off my hardware. GIGABYTE's UEFI based RGB LED control allows you to set and forget the lights. The diffusion in certain zones like the audio and DIMM areas look cool, but I am not a fan of the PCI-E and VRM area RGB LEDs, as they aren't diffused.
Dual NICs: While you can't team the Intel and Killer NICs, they still are useful. You could switch between the two and use the Killer for gaming and the Intel for everything else.
What's Not
No POST Code: Seriously. I know that the POST code is pretty much only handy for troubleshooting, but on an expensive build, it can save time and nerves. I would have also like to have seen a dual BIOS switch to manually change the BIOS ROMs.
No RGB Zones: If you want to disable the PCI-E and VRM RGB LEDs but not the DIMM, IO shield, audio, and SATA RGB LEDs, you are out of luck. You might be able to cover the LEDs you do not like with some black tape, but otherwise, you get either all or none. The same thing applied to using different colors in different zones; you can only choose one color for all LEDs.
No U.2 for 28-Lane CPUs: Since GIGABYTE routed x4 directly to the M.2 and U.2 slots, they decided to only allow U.2 with a 40-lane CPU. However, if you want to use U.2, you can always get an M.2 to U.2 converter, which doesn't cost all that much.
Final Thoughts
The X99-Ultra Gaming is an interesting motherboard. It costs $279.99 while the X99-Phoenix SLI costs $339.99, that's a $60 difference for different networking (no WIFI/different second NIC) and a few changes in aesthetics. The X99-Ultra Gaming uses very high-quality voltage regulator components, the PCI-E layout is excellent, fan control is useful, and the RGBs are a nice touch. Overclocking was very simple, and memory compatibility was quite good with the 32GB kits I used.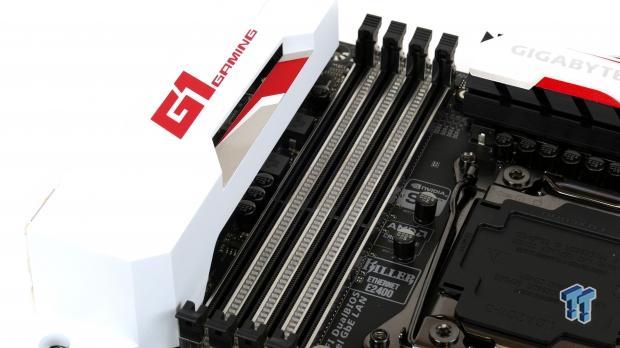 I was upset when I didn't find any POST code display since it's very hard to find one in the US that will work with all motherboards and if I did it would take up a PCI-E slot. If I had to choose between the two motherboards, I would probably go with the Phoenix because of the orange color theme, but if I could make good use of the $60 in savings, I would just get the X99-Ultra Gaming and call it a day.
The amount of features the motherboard has along with all the X99 refresh updates makes it an awesome value product.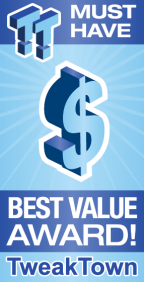 | | |
| --- | --- |
| Performance (including Overclocking) | 90% |
| Quality including Design and Build | 91% |
| General Features | 91% |
| Bundle and Packaging | 88% |
| Value for Money | 93% |
The Bottom Line: GIGABYTE's X99-Ultra Gaming looks and feels like a high-end motherboard equipped with the latest in connectivity and performance features, but without the crazy high price tag.
PRICING: You can find products similar to this one for sale below.

United States: Find other tech and computer products like this over at Amazon.com

United Kingdom: Find other tech and computer products like this over at Amazon.co.uk

Australia: Find other tech and computer products like this over at Amazon.com.au

Canada: Find other tech and computer products like this over at Amazon.ca

Deutschland: Finde andere Technik- und Computerprodukte wie dieses auf Amazon.de
We openly invite the companies who provide us with review samples / who are mentioned or discussed to express their opinion. If any company representative wishes to respond, we will publish the response here. Please contact us if you wish to respond.