TweakTown's Rating: 91%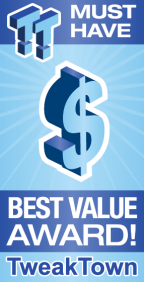 The Bottom Line
ASRock's X99 Taichi combines a very powerful feature set, solid quality components, and unique aesthetics into a single package at a very reasonable price.
Introduction, Specifications, and Pricing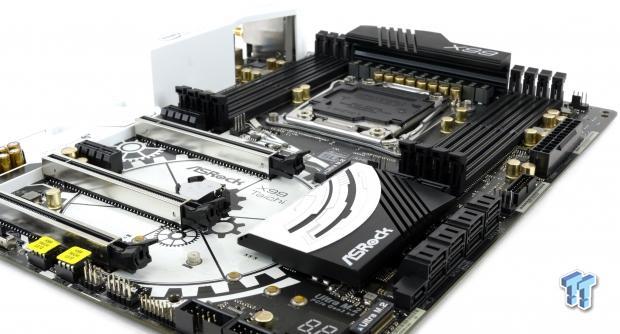 A few weeks before Computex almost all the major brands started to tease us with their latest X99 refresh motherboards for Intel's impending Broadwell-E launch. ASRock released a cryptic video and a grainy image of what would be known as their Taichi. Tai Chi in English is an "internal Chinese martial art" according to Wikipedia, and the X99 Taichi is meant to bring some of that ass-kicking to the X99 arena. The X99 Taichi is supposed to be an "All-Rounder," which means it covers all the bases when it comes to features and performance.
However, that isn't what makes ASRock's Taichi impressive. ASRock's X99 Taichi is meant to bring the pain regarding price. The X99 Taichi only costs $219, and that is on the low-end for X99 motherboards. ASRock's goal is to undercut the competition in price but in a fashionable way. For the first time, ASRock has used a white and black color theme. The unique aesthetics, features, and price of the X99 Taichi are quite impressive at first glance, so let's put it under a microscope and see if it lives up to the hype.
Specifications

Some of the X99 Taichi's greatest features include USB 3.1 type-C and type-A, Wireless AC, dual Intel NICs, dual Ultra M.2 slots, and 3-way multi-GPU capabilities.
Pricing
The X99 Taichi should carry an MSRP of $219 according to ASRock's slides at Computex.
Packaging and X99 Taichi Overview
Packaging and Overview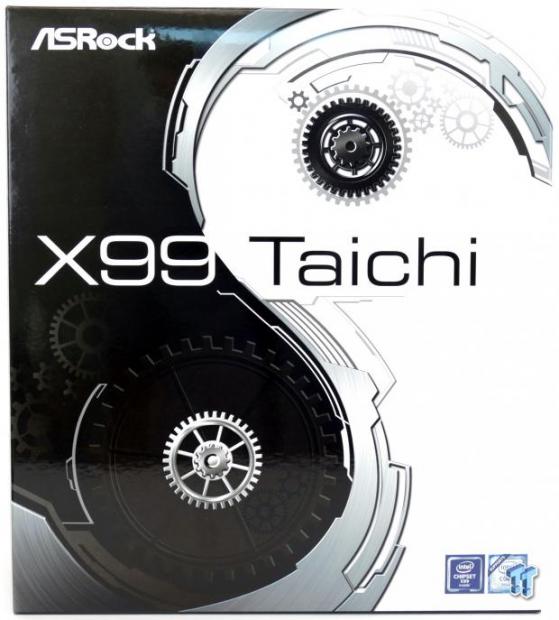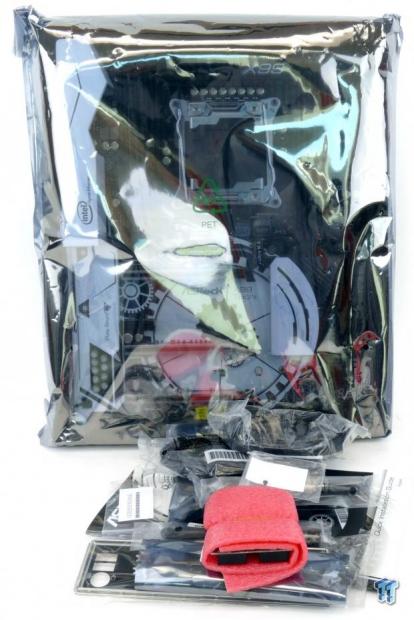 The X99 Taichi's box mirrors the motherboard's color theme. The black and white remind me of the Yin and Yang symbol. Packaging is done well; the motherboard is zip tied to a foam container and then put in an antistatic bag. ASRock has increased their packaging quality compared to some of their other X99 offerings.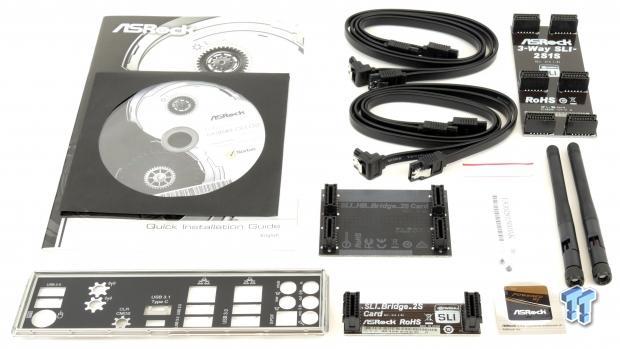 Accessories include a 2-way SLI bridge, 2-way SLI HB Bridge (for GTX 1000 series), IO shield, 3-way SLI bridge, four SATA6Gb/s cables, WIFI antennas, M.2 screws, case badge, manual, and driver DVD.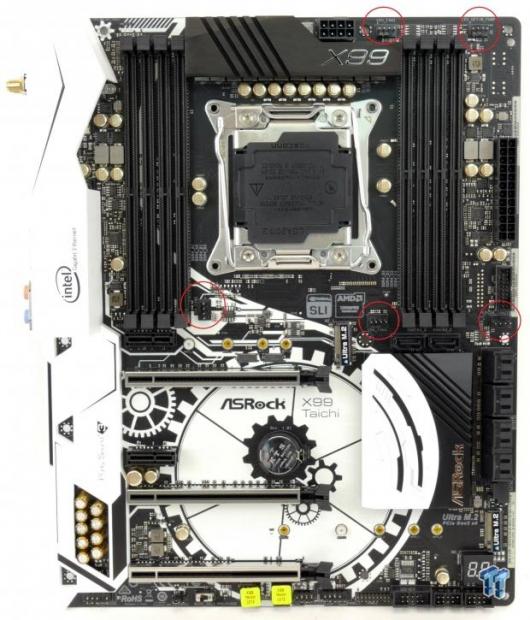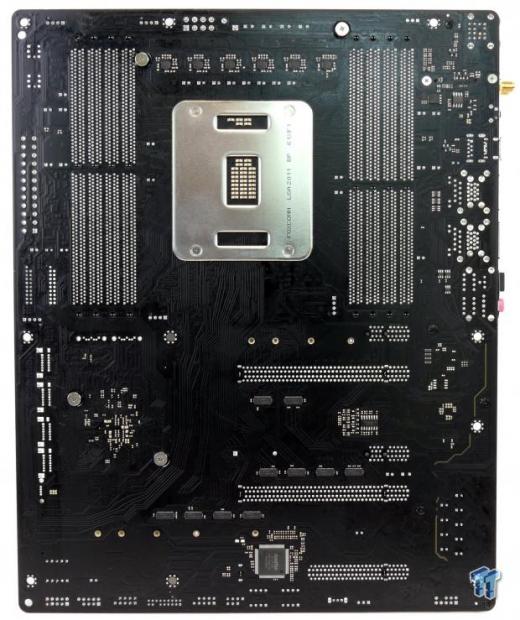 The ASRock X99 Taichi features five fan headers circled in red. They are all 4-pin headers, but only the chassis fan headers will auto detect PWM or DC mode. All of the fan headers support a maximum of 1A output, except for the CPU Optional/Pump header, which supports 2A. The motherboard seems to have been designed to mirror the mixing of technology and spirituality.
Combining the gears that move technology and the philosophy of Chinese martial arts has produced a neat looking white and black motherboard, but I might just be getting too insightful. The silk-screened gears look cool if that's your thing, and it seems that ASRock has centered the battery on purpose to match the silk screen. ASRock also moved the PCI-E quick switches to the rear of the motherboard so they would not interfere with the large white gear. I find it interesting that they made design choices based on the aesthetic effect of the chips.

The IO panel on the X99 Taichi features two 1Gbit LAN ports (both Intel), two WIFI antenna ports, clear CMOS button, USB 3.1 type-C, USB 3.1 type-A, three USB 3.0 ports, three USB 2.0 ports, PS/2 keyboard/mouse, and 7.1 audio jacks with TOSLINK.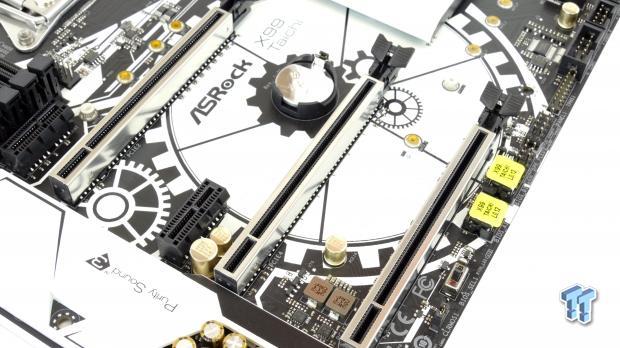 The X99 Taichi has three PCI-E 16x slots that support a maximum of 3-way SLI or CrossFireX. The slots are reinforced by a metal cover to ensure heavy GPUs don't damage them. The PCI-E layout for a 40-lane CPU is 16x/16x/0x or 16x/8x/8x for the three slots from top to bottom. For a 28-lane CPU, the layout is a bit different at 16x/0x/8x for two cards or 8x/8x/8x for three cards.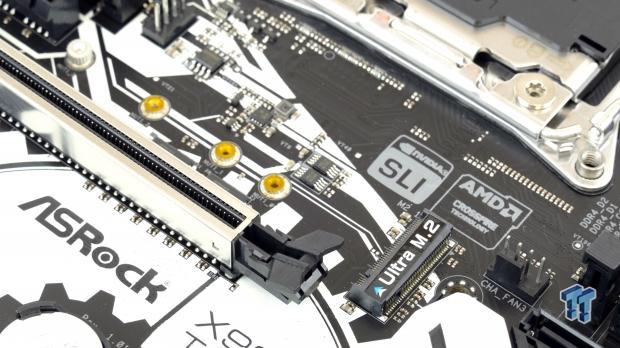 There are two M.2 slots, but only with a 40-lane CPU will both work at x4 PCI-E 3.0. Systems with 28-lane CPUs will only get a single x4 PCI-E 3.0 M.2 slot; the other slot will only work in SATA mode. There are eight SATA6Gb/s ports at a 90-degree angle, the other two SATA6Gb/s ports are vertical. The two M.2 slots share bandwidth with SSATA3_2 and SSATA3_3.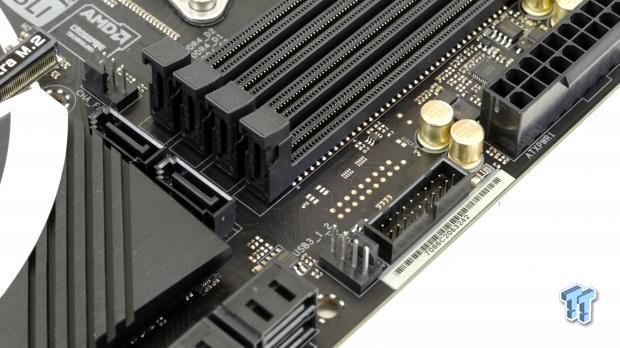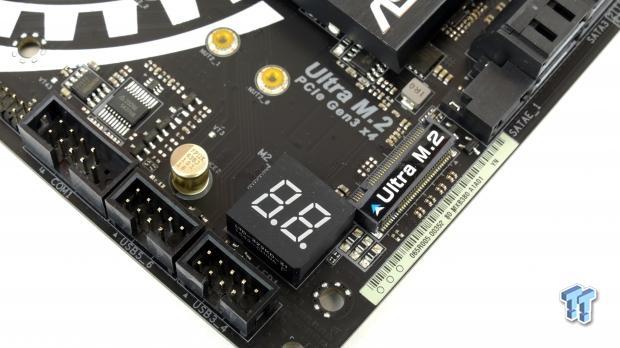 There is a USB 3.0 header located below the 24-pin connector. The two vertical SATA6Gb/s ports mentioned earlier are located below the memory DIMMs. The second M.2 slot is located right above the POST code display. Two USB 2.0 headers are located at the edge of the PCB near a COM header.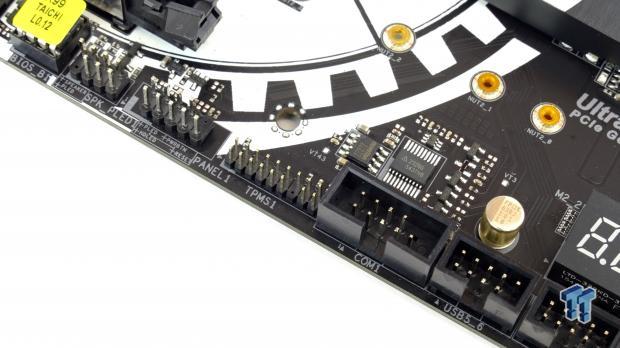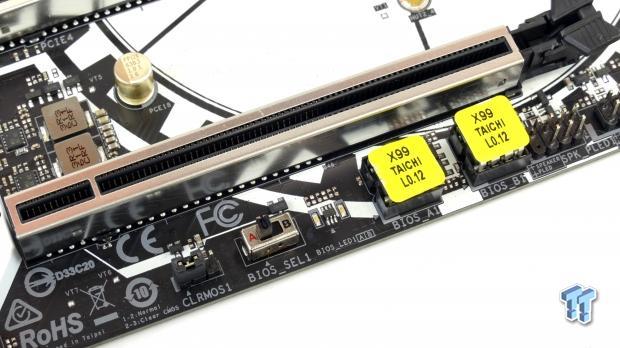 The motherboard supports a TPM module. Case headers are located right below the lock on the last PCI-E 16x slot. The motherboard has two BIOS ROMs and a selector switch so you can choose which to use. A clear CMOS jumper is located near the switch.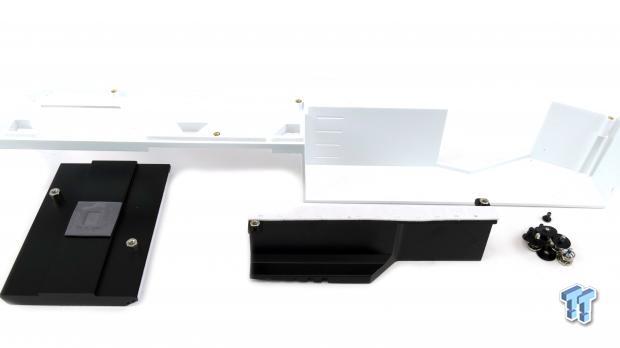 The heat sinks and shield are screwed to the motherboard. The heat sinks make great contact with the components they are tasked to cool down.
ASRock X99 Taichi Circuit Analysis
Circuit Analysis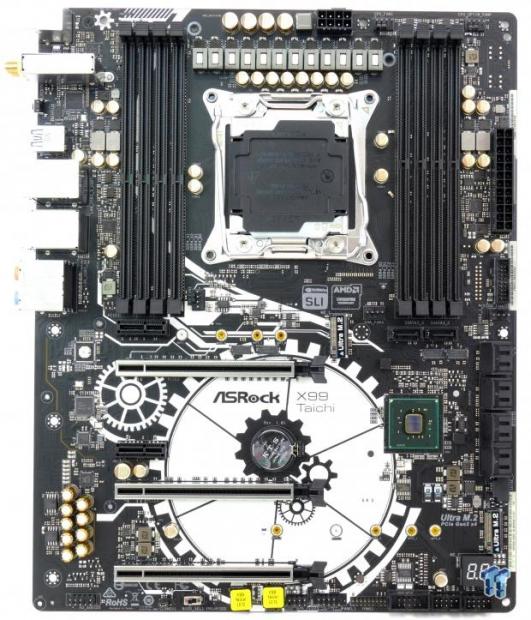 I think the correct reaction is "wow, let them gears churn!"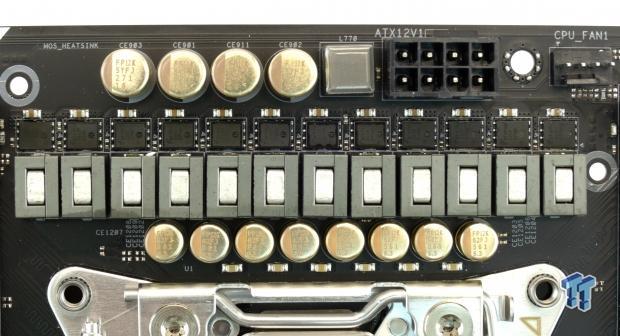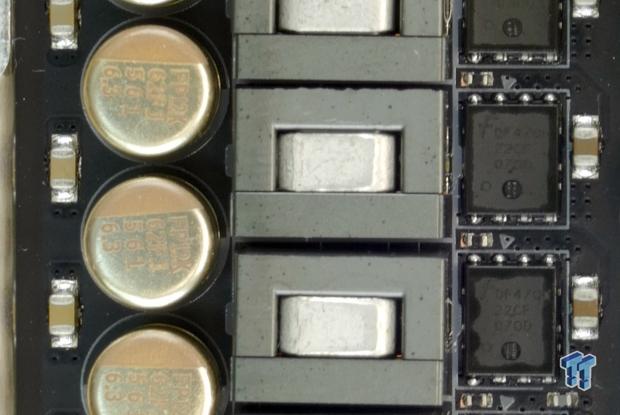 For main CPU input voltage power, ASRock is using their 12 phase voltage regulator. The 12 phases are six true phases doubled the right way to 12. Each phase consists of a Fairchild Semiconductor FDMS3668S, which are dual n-channel PowerTrench power blocks. Each power block has a high-side and low-side MOSFET integrated into a single package to increase power density. Each phase also gets a 60A high-current power inductor. ASRock is using their 12K gold solid polymer capacitors for extra longevity.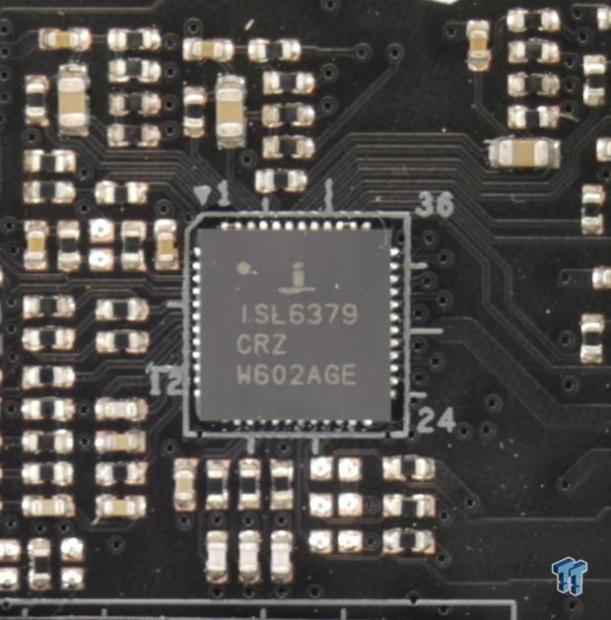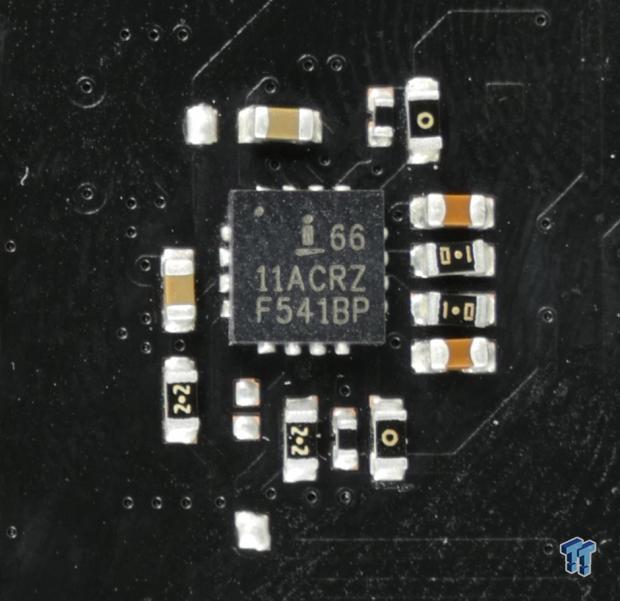 The PWM is a hybrid-digital Intersil ISL6379, which uses a mix of analog and digital technologies to blend great light-load efficiency with powerful high-load performance. It's a true 6-phase PWM, so to get to 12 phases ASRock is using six ISL6611A phase doublers with two integrated drivers. By using this doubling method, ASRock ensures each phase gets its own driver and that the switching frequency is cut in half to maintain high efficiency.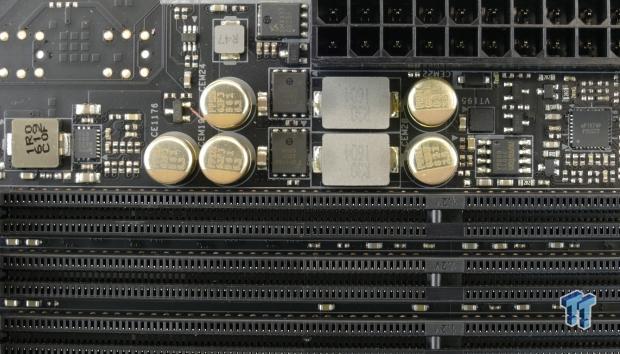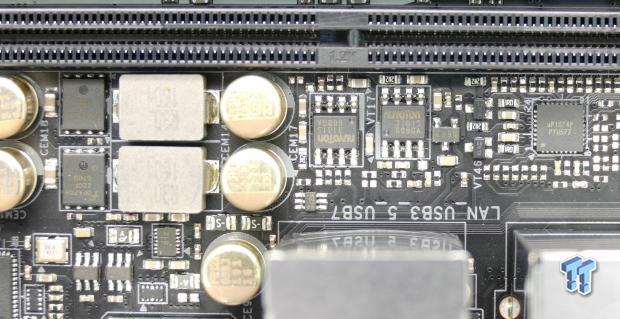 There are two identical memory VRMs on either side of the motherboard. Each of these VRMs powers four DIMMs. Each one gets a UPI Semiconductor UP1674 PWM that controls two of the same Fairchild Semiconductor FDMS3668S PowerTrech power blocks used in the CPU VRM. The DDR4 VPP rail is powered through a point of load integrated voltage regulator.
ASRock X99 Taichi Circuit Analysis Continued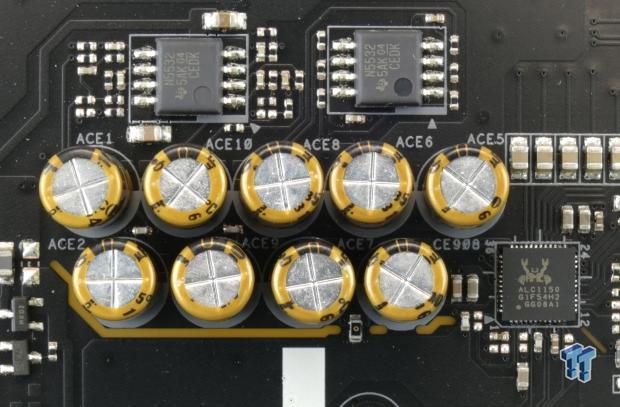 The X99 Taichi has a nice audio section with good quality hardware. It uses the ALC1150 designed for 115dB SNR, two Texas Instruments NE5532 amplifiers, and an array of audio grade capacitors. The audio section is physically isolated from the rest of the motherboard's PCB.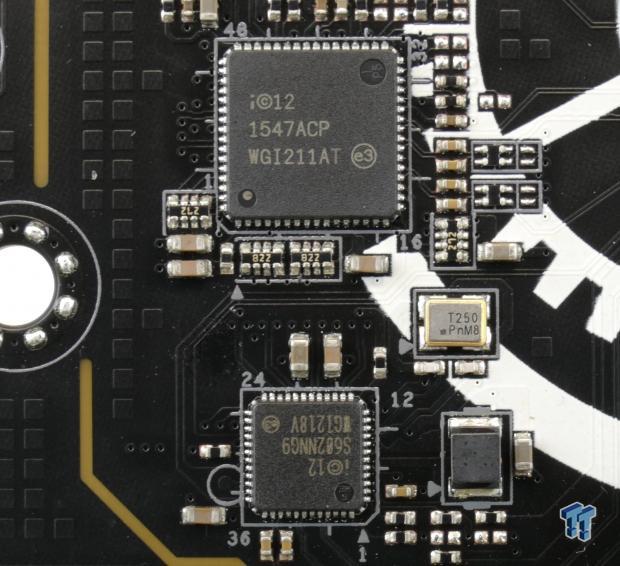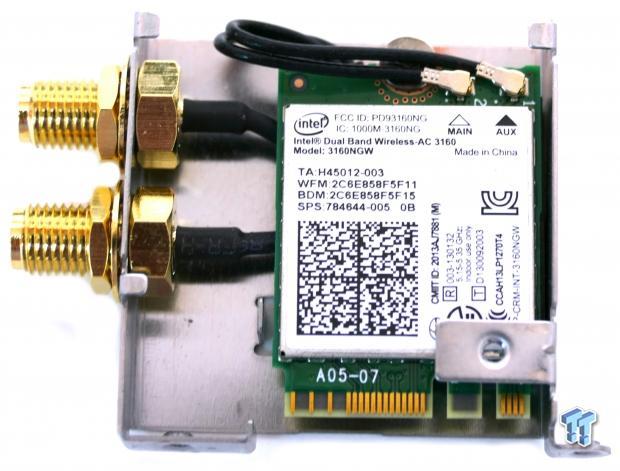 The X99 Taichi is loaded with dual Intel NICs. The i211AT is a standalone network controller while the i218v acts as the PHY for the integrated MAC in the PCH. You can team these two NICs. The motherboard also has a WIFI/BT card, the Intel 1x1 (433Mbps) Dual Band Wireless-AC 3160.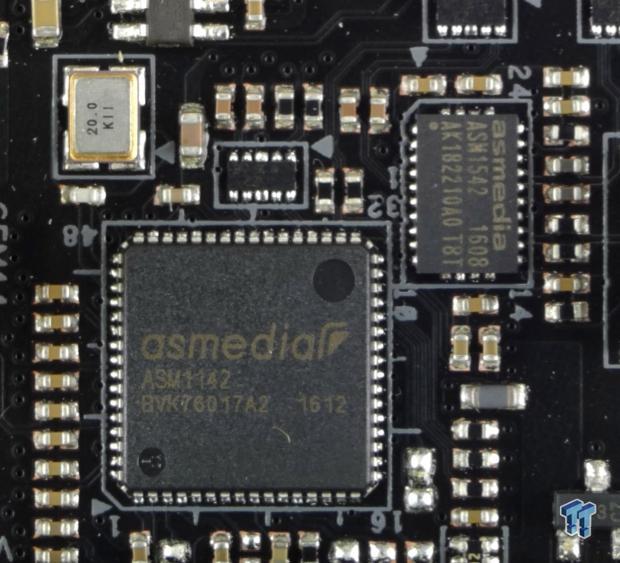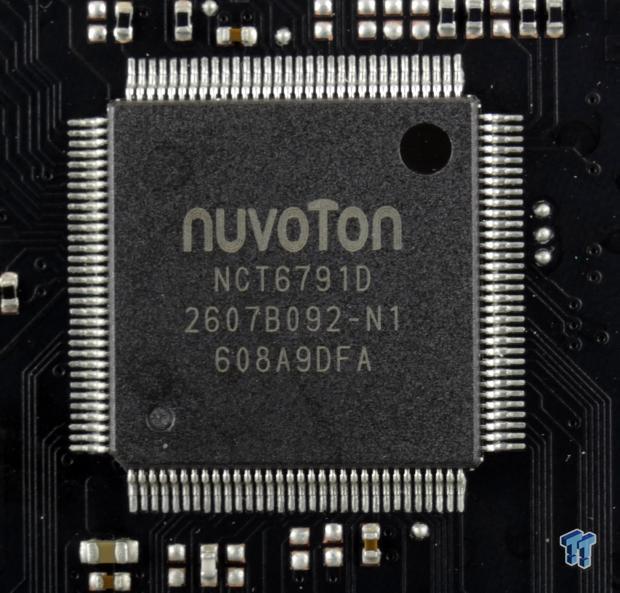 USB 3.1 type-C and type-A are born from an ASMedia ASM1142 controller. An ASMedia ASM1542 10Gbps MUX is used to support the reversible type-C connector. The main SuperIO on the motherboard is the nuvoTon NCT6791D that provides system monitoring, fan control, and PS/2 on the rear IO.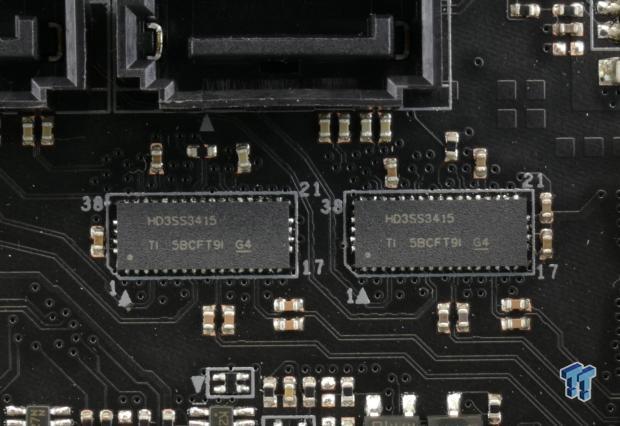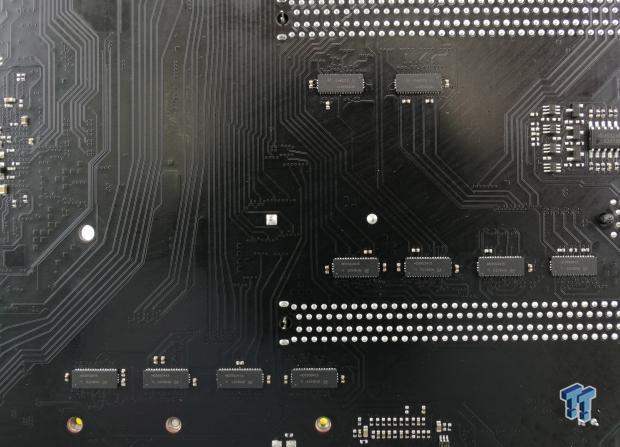 ASRock has a lot of these Texas Instruments PCI-E 3.0 x2 quick switches for moving around CPU and SATA bandwidth. They moved the switches for the x16 slots to the back of the PCB to maintain the aesthetic appeal of their large center gear.
BIOS and Software
BIOS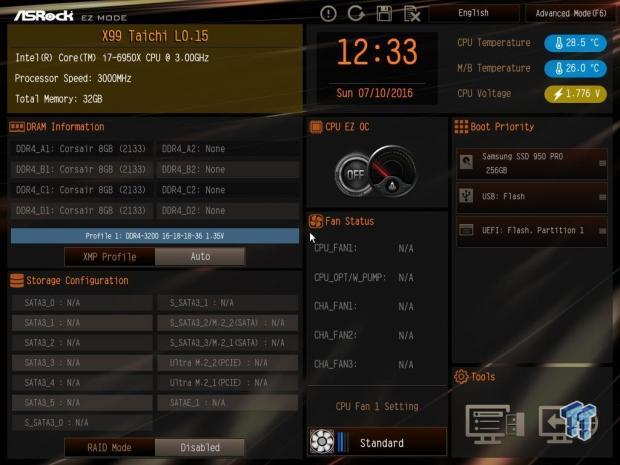 ASRock has made some aesthetic enhancements to its new BIOS for its two new X99 refresh models. The new BIOS looks pretty good, but the older one did not look bad. Fan control has been slightly improved regarding options, and the Easy Mode has a new look and more options to choose from.
ASRock did add in some new fan tuning parameters in the manual input fan control mode, including step up and step down times. Advanced mode has more OC profiles, including memory overclocking presets. There are also a few reasonable CPU overclocking presets. The BIOS was quick and nimble, and overclocking was straight forward.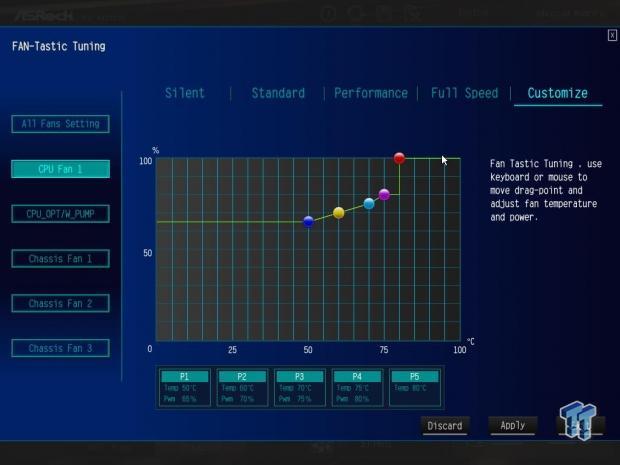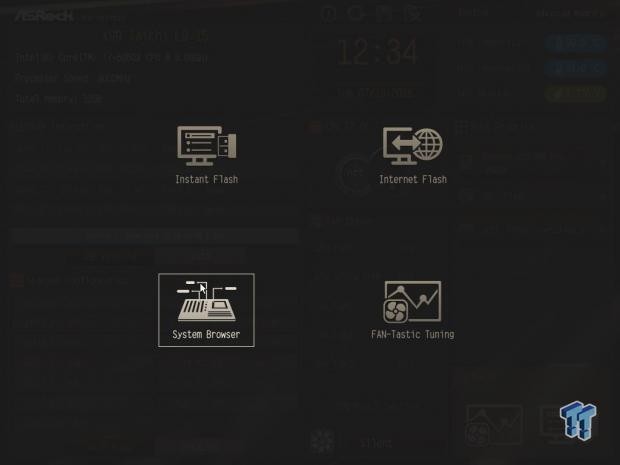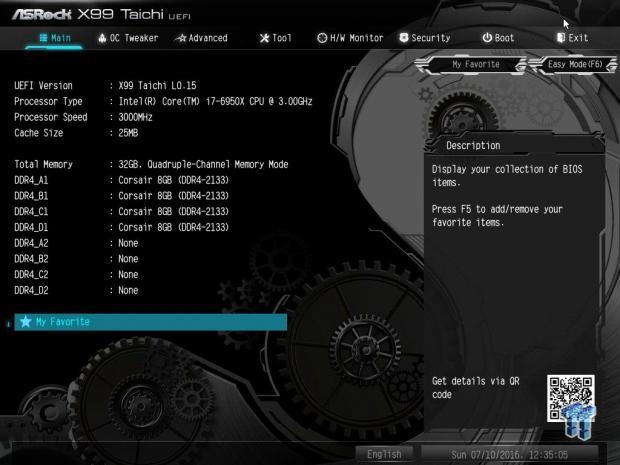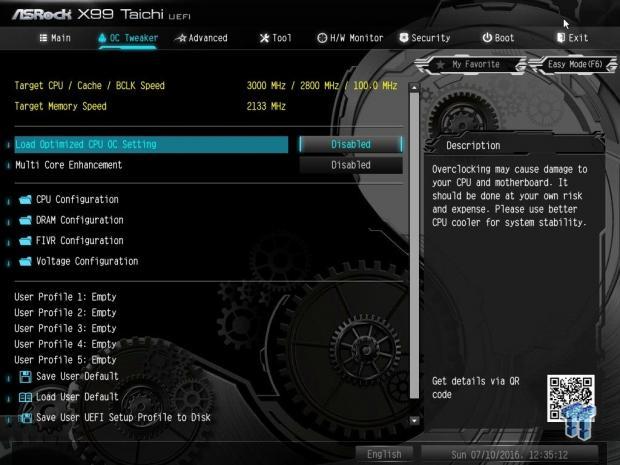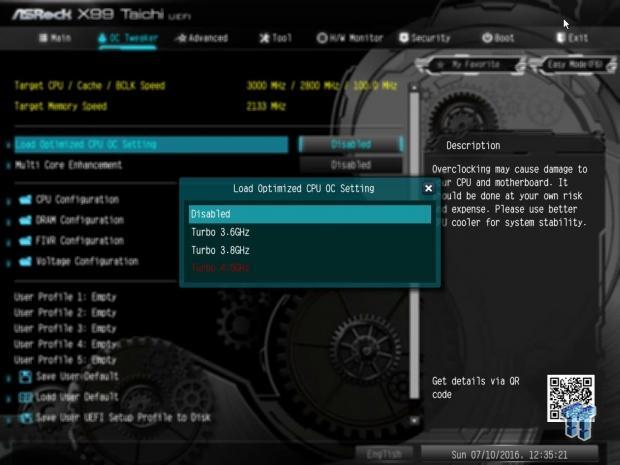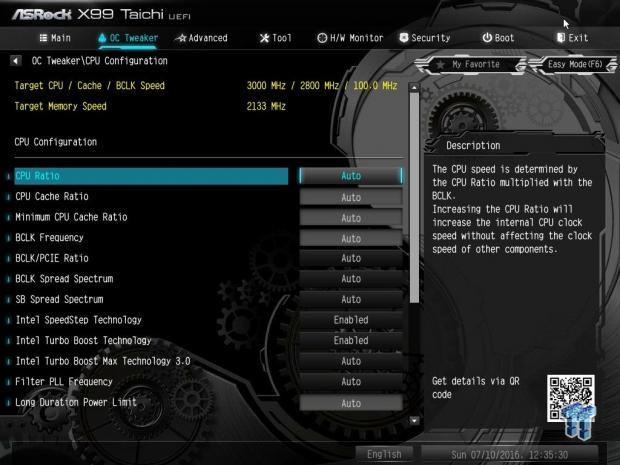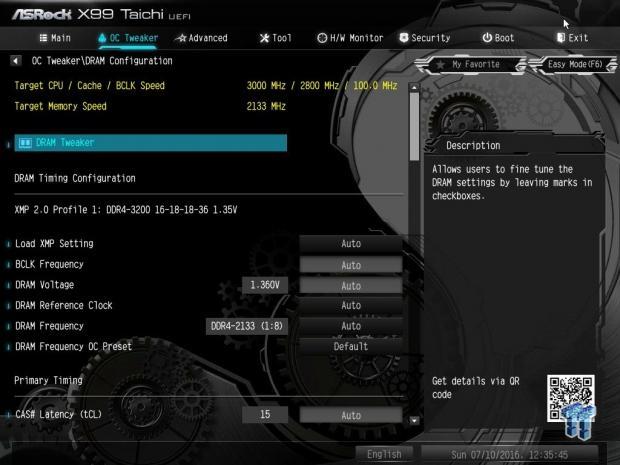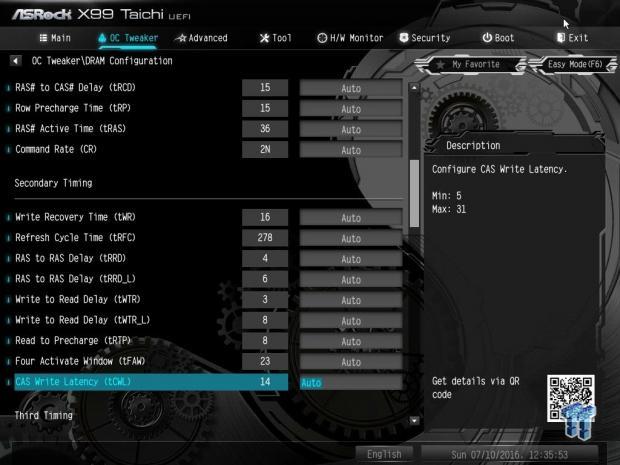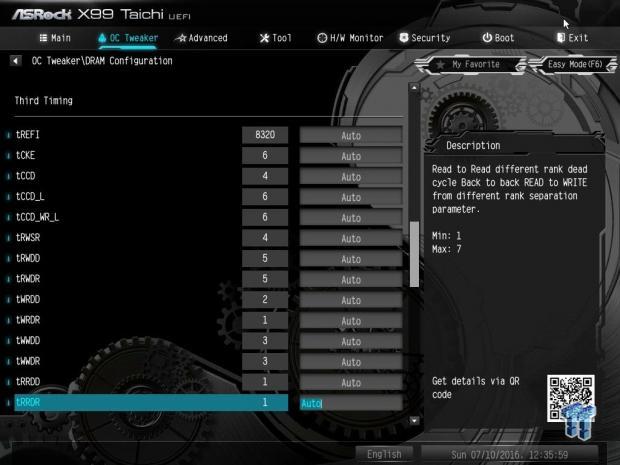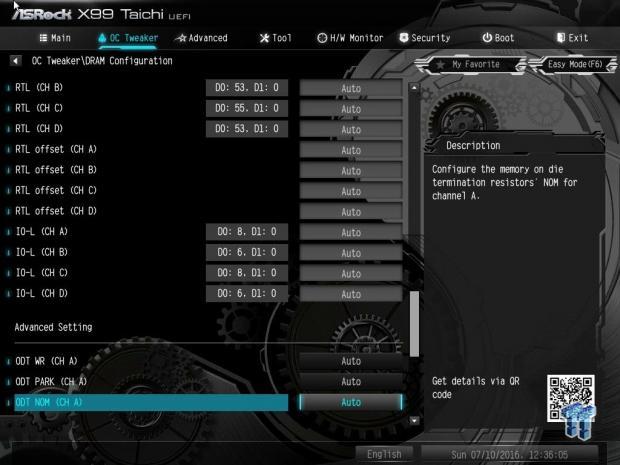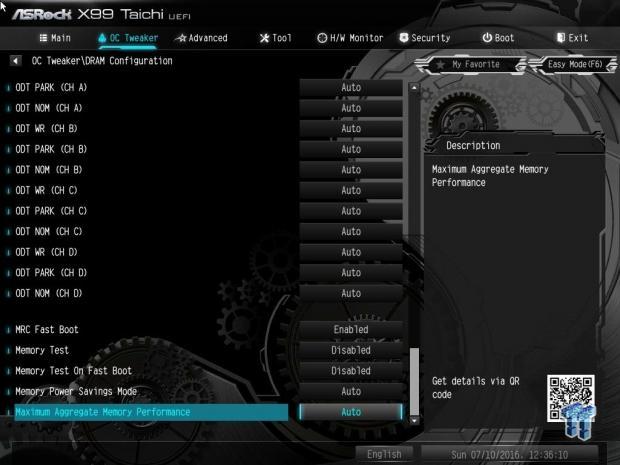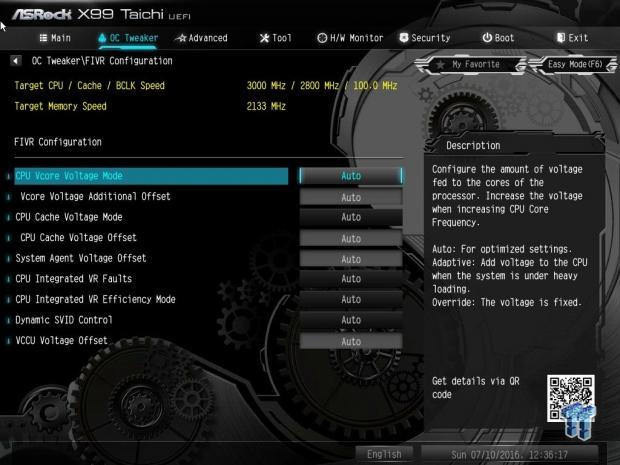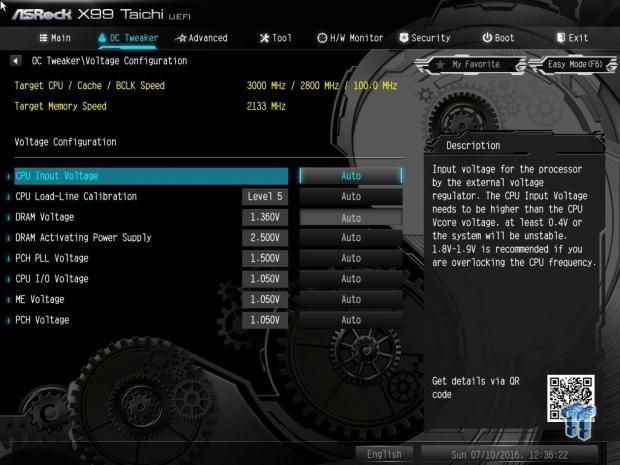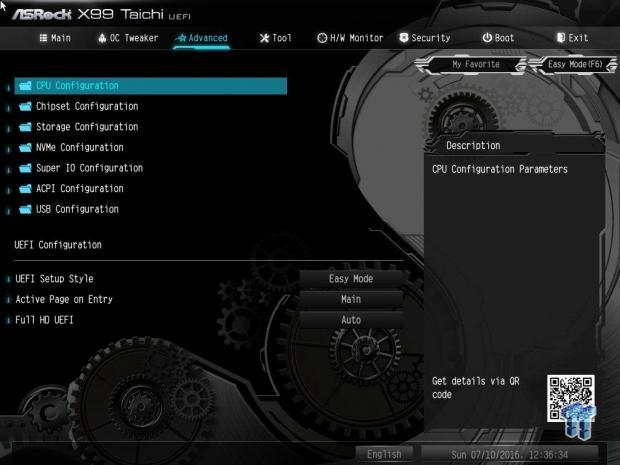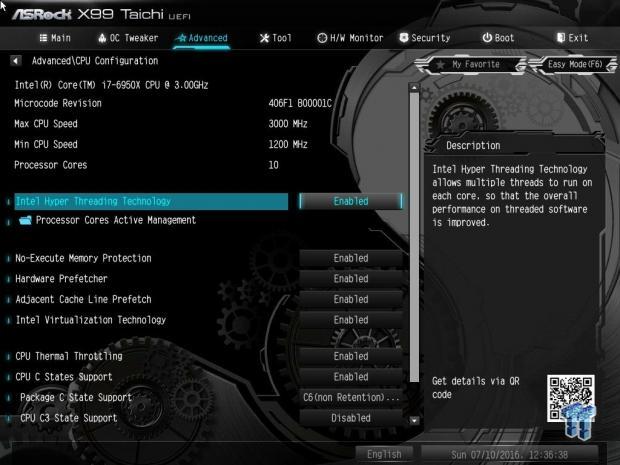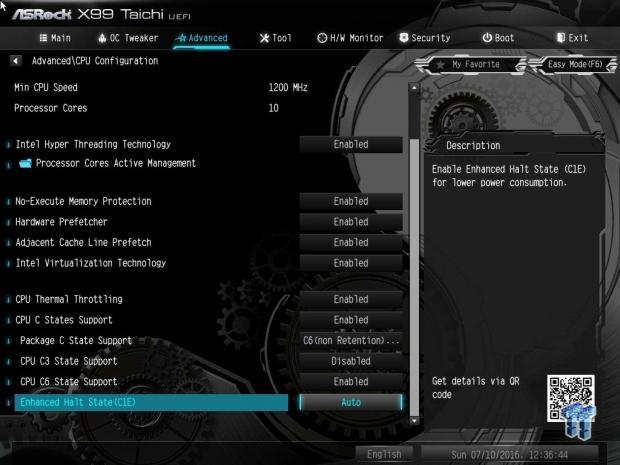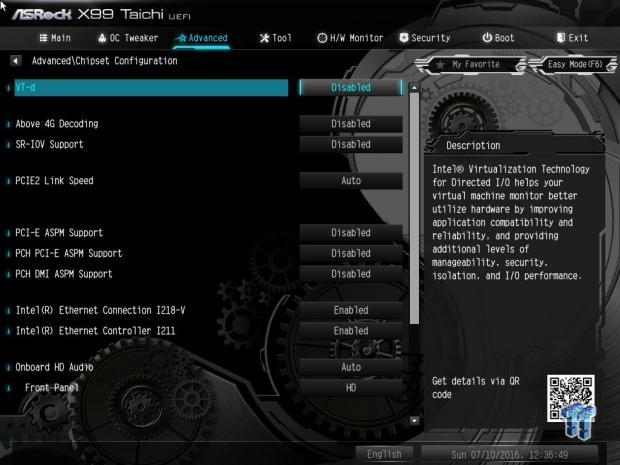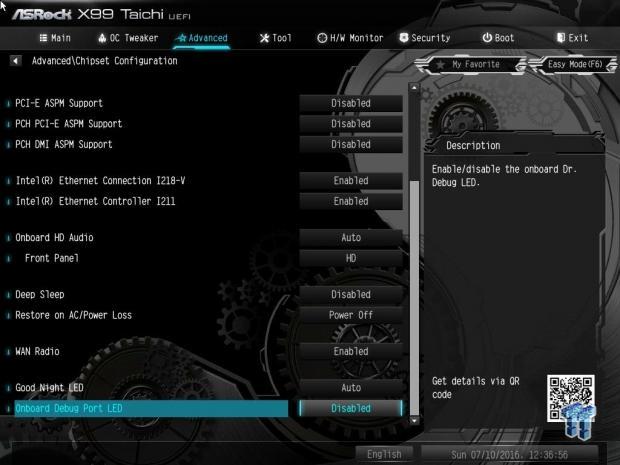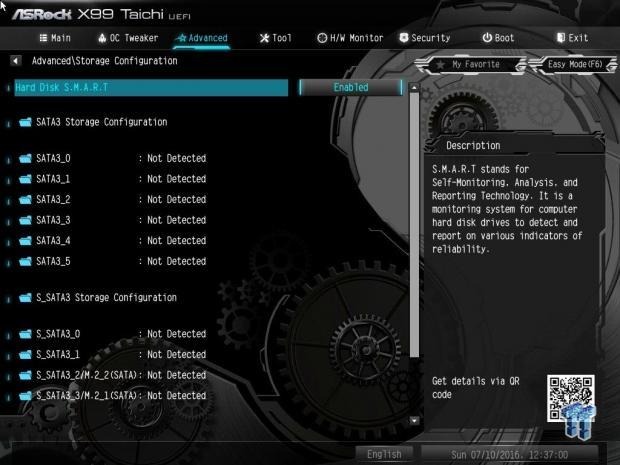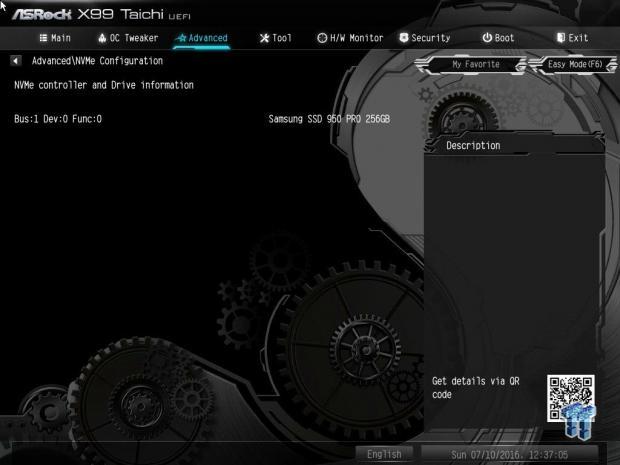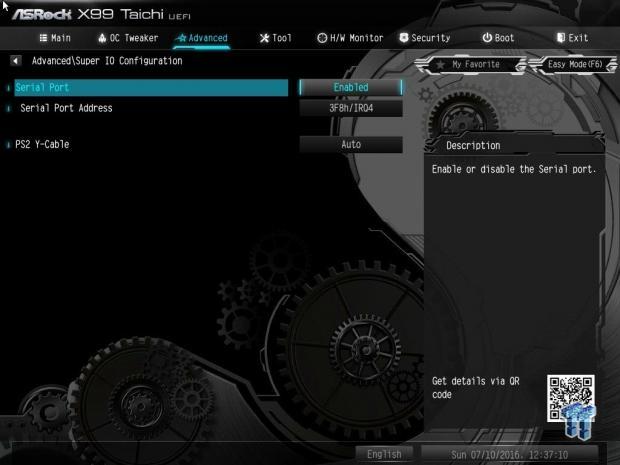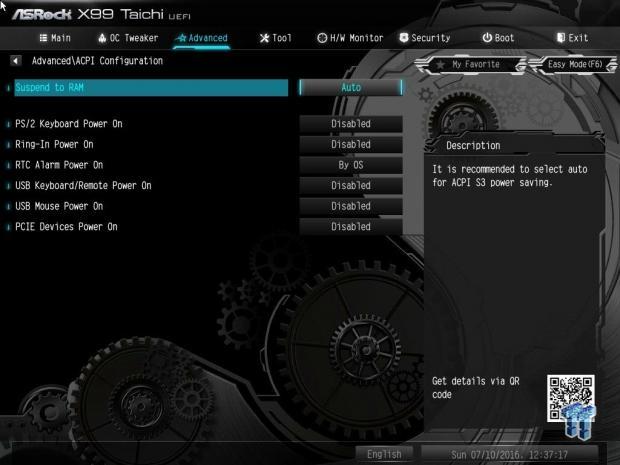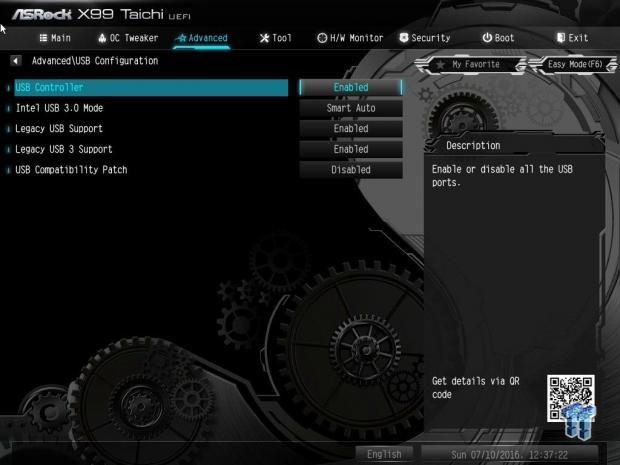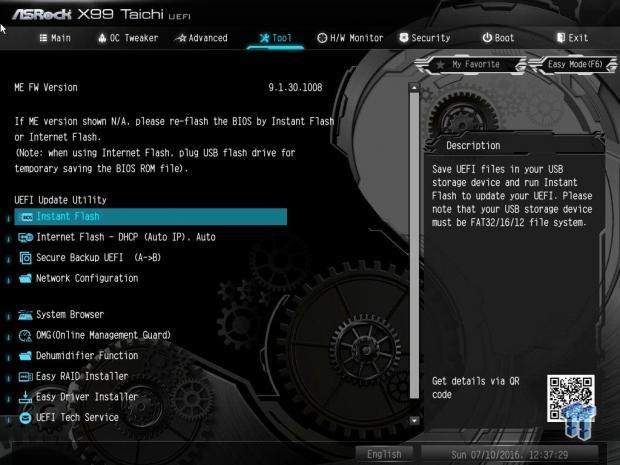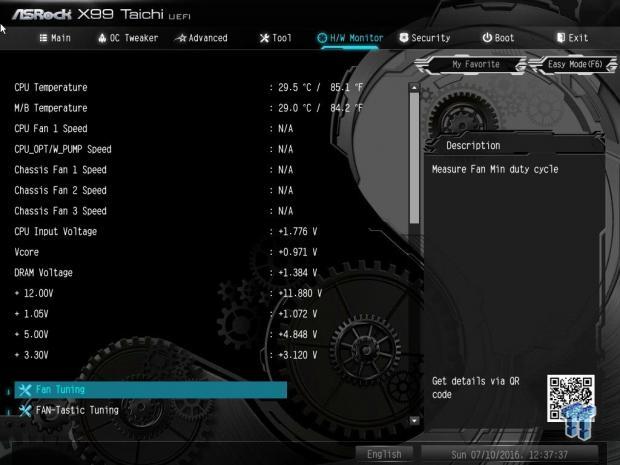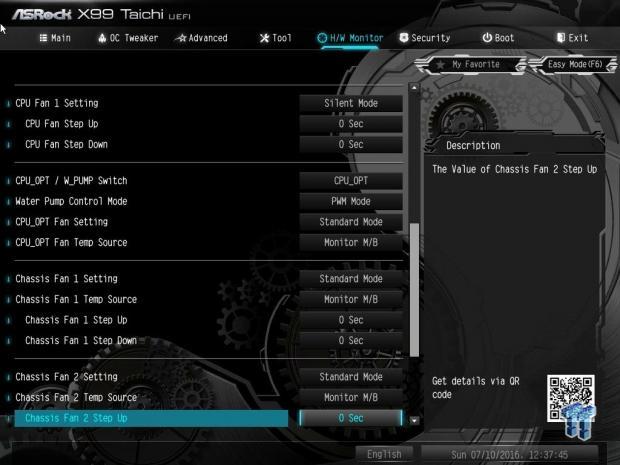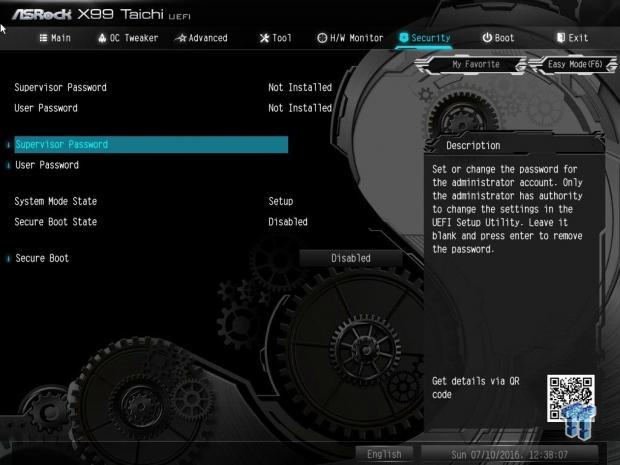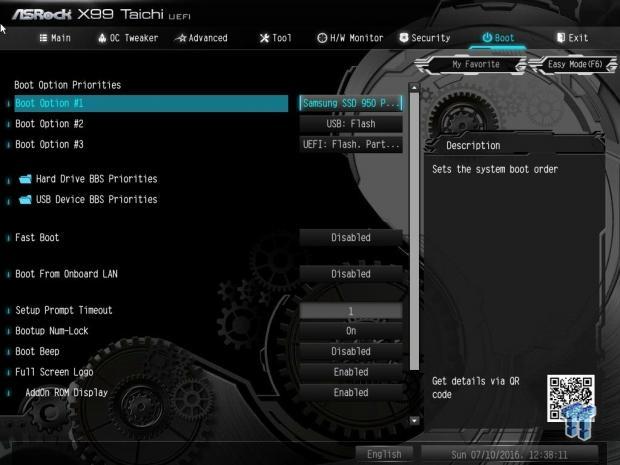 Software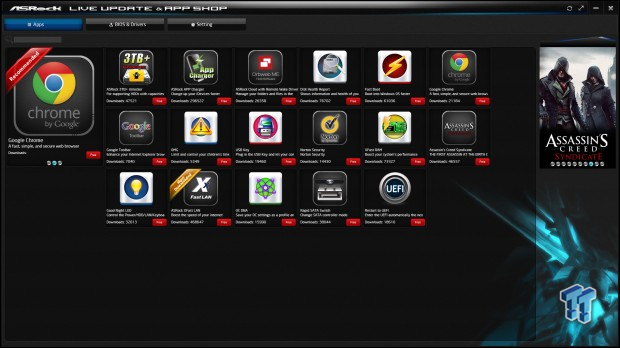 ASRock's APP Shop allows you to install its other applications directly from the application, or you can just download them from the website.
Applications include A-Tuning, APP Charger, ASRock Cloud with Remote Wake, Disk Health Report, Fast Boot, 3TB+ Unlocker, XFast LAN, GoodNight LED, OMG, USB Key, XFast RAM, Restart to UEFI, Rapid SATA Switch, and OC DNA. For a full list, please visit the product page.
Test System Setup
Steven's Motherboard Test System Specifications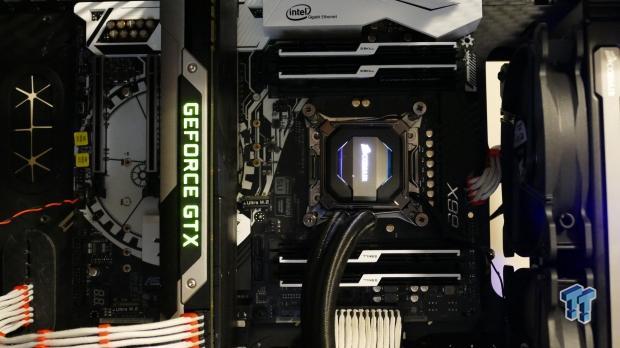 While the motherboard has no RGB LEDs (or any LEDs for that matter), its white and black aesthetics are still pleasing. The motherboard looks really good with G.Skill's black and white TridentZ memory kit.
The new test bench is designed to test every aspect of the motherboard and IO. I have designed it so that the motherboard sits in a case and is cooled by fans always on at a constant rate to keep the conditions similar during all tests. I have cut out part of the case behind the motherboard so I can get thermal images of the back of the PCB where the VRM heat spreads. System and CPU power measurements are now digitally logged.
I am also using a Netgear Nighthawk X4 AC2350 for our network (including wireless AC) tests. The latest M.2, SSD, and USB technologies are also being utilized to test the maximum potential of the motherboards that are tested.
Overclocking
Overclocking Results
CPU Overclocking
If you hadn't already heard, the 6950X 10-core $1700 beast isn't the best overclocker. I cannot validate CPU frequency anywhere near 5GHz, and I cannot even boot at 4.5GHz, but I can run 4.4GHz on all cores. I have decided to change how I do the overclocking section and determine exactly what it takes to push to the CPU to this maximum stable frequency on the different motherboards I test.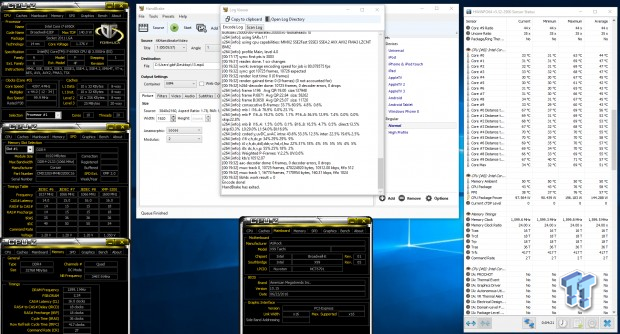 ASRock's motherboard's auto rules for voltages are present; the VRIN will automatically increase, but you might still want to set it manually along with cache voltage. I am not so crazy about their secondary and tertiary timing auto rules; they are set too tight for my taste. I recommend XMP or one of their memory overclocking presets if you are going to overclock memory. The motherboard was easy to overclock; I didn't have many issues and with LLC level 2, what you set is what you get.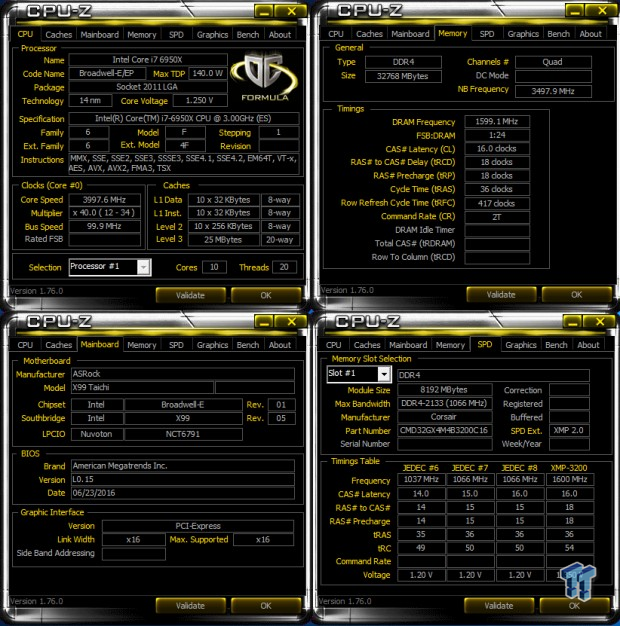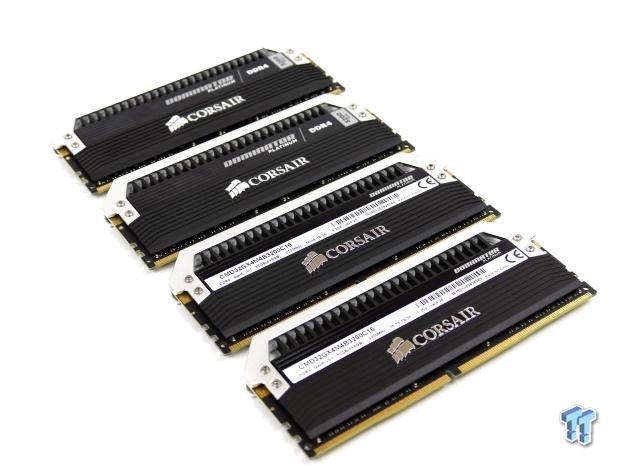 Corsair Dominator Platinum 32GB 3200MHz CAS 16 worked like a charm.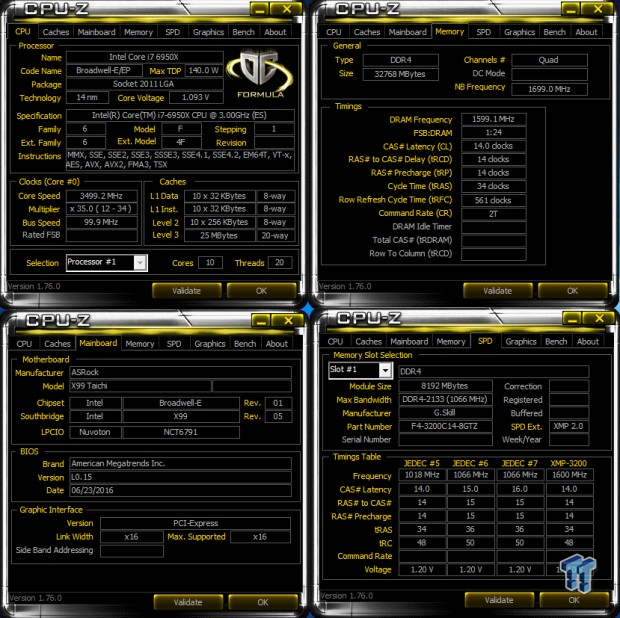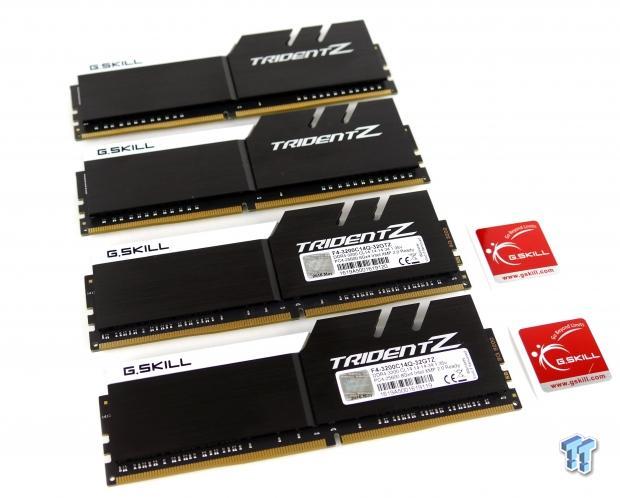 G.Skill TridentZ 32GB 3200MHz CAS 14 32GB also worked like a charm.
CPU, Memory, and System Benchmarks
CINEBENCH 11.5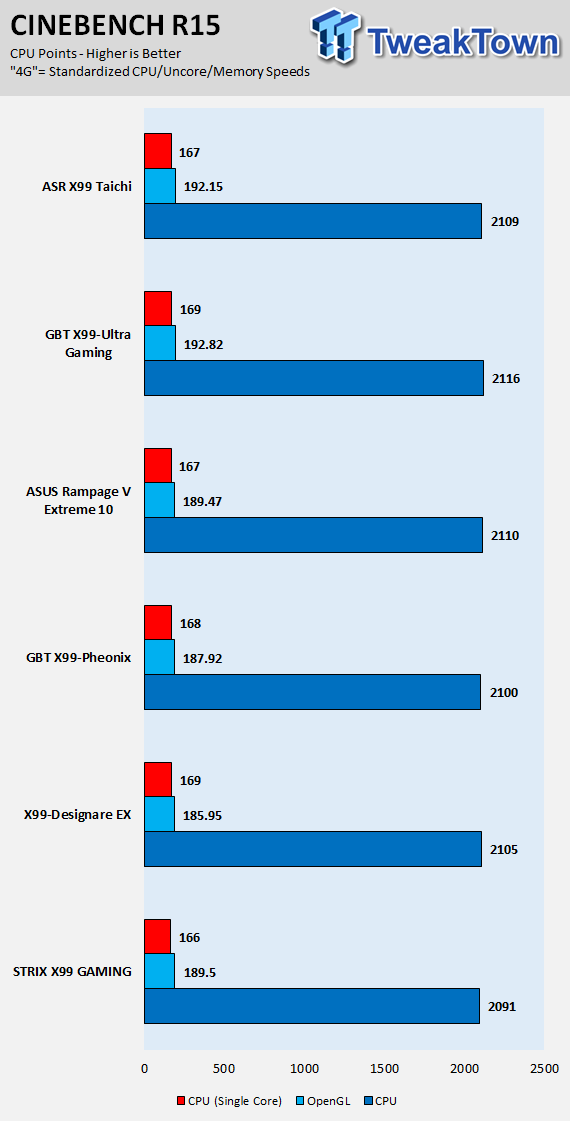 wPrime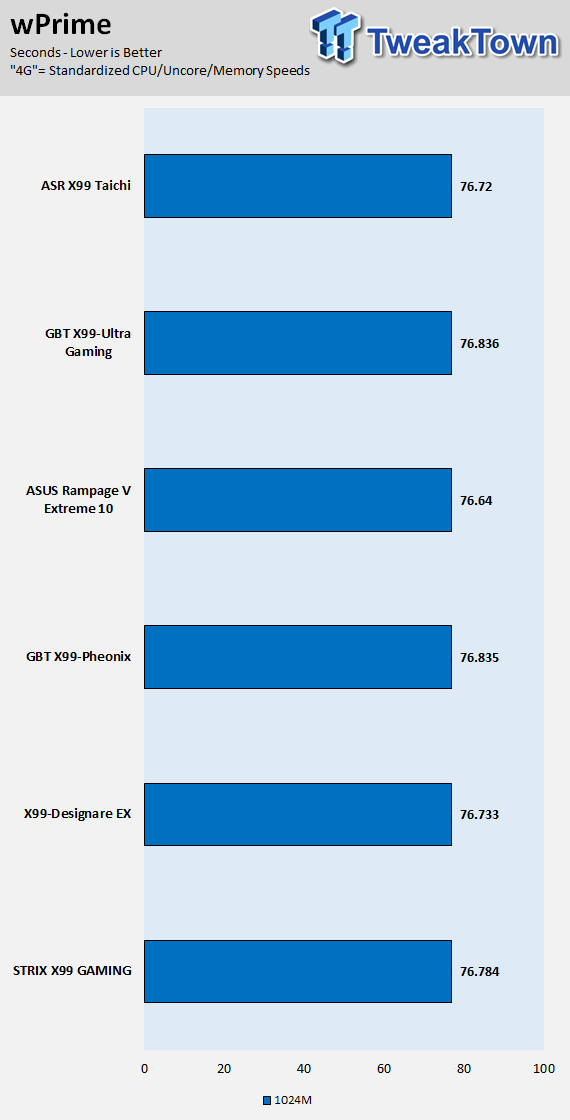 AIDA64 AES and HASH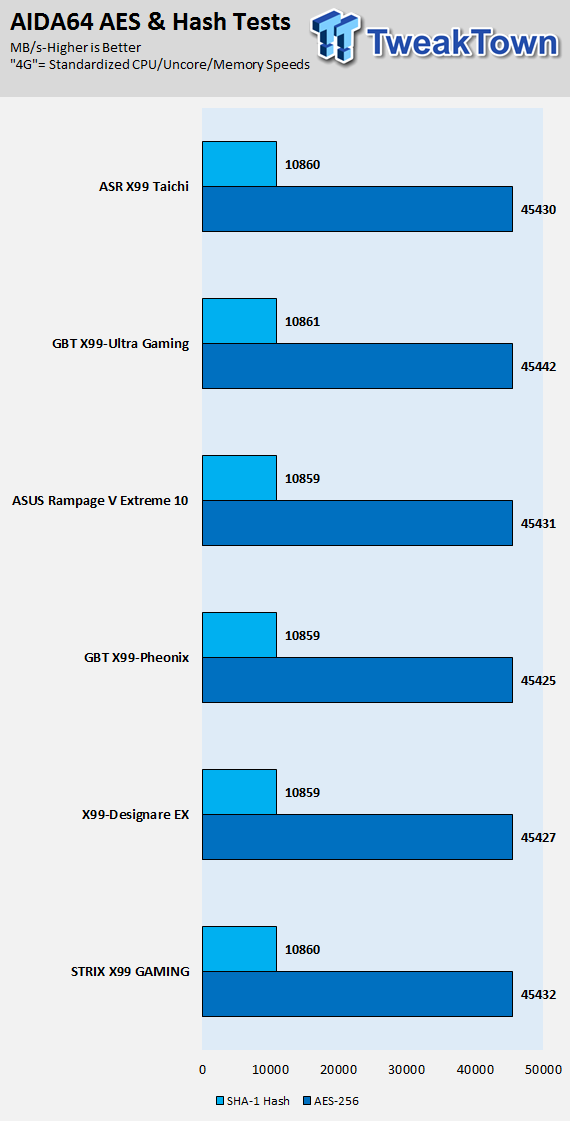 AIDA64 FPU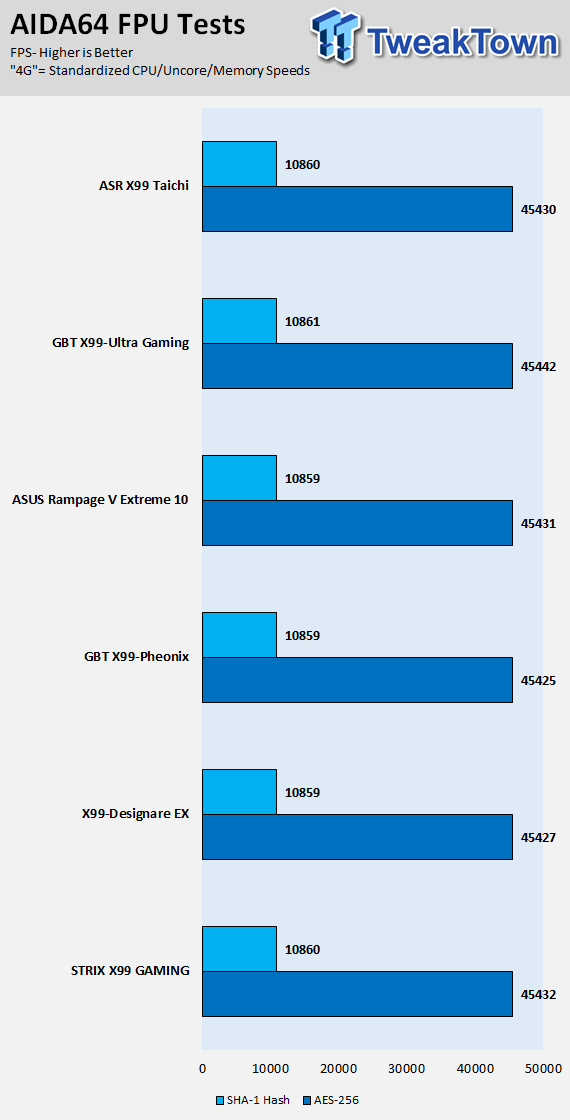 AIDA64 Memory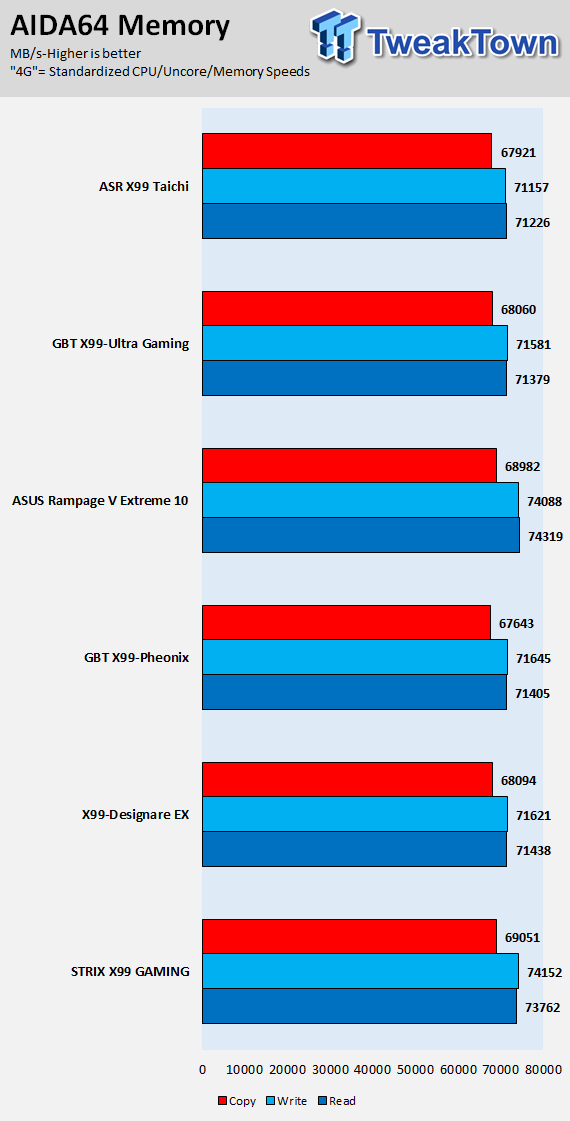 ScienceMark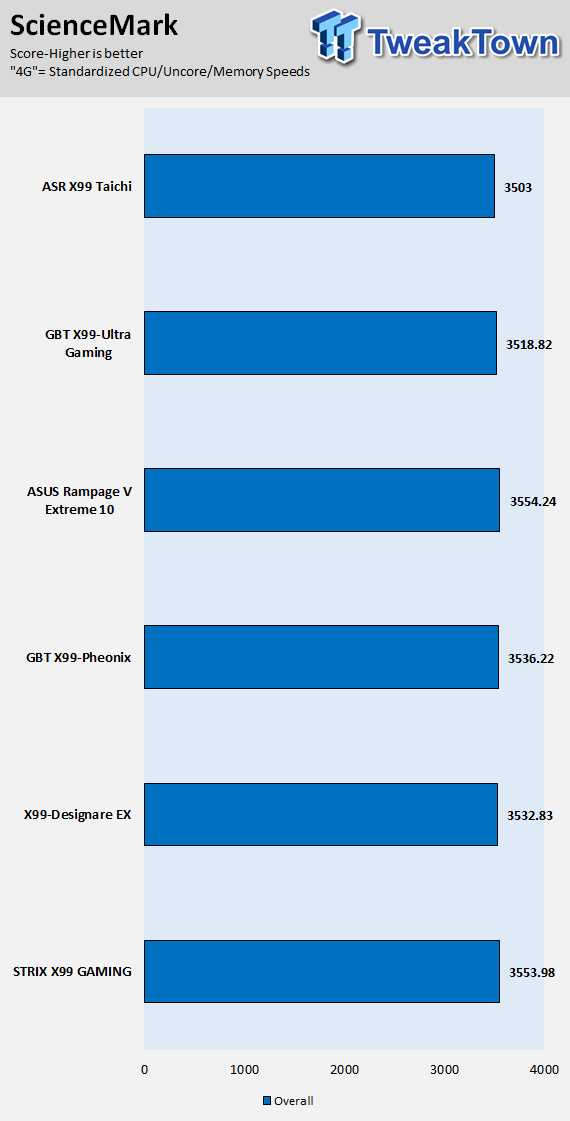 Handbrake 4K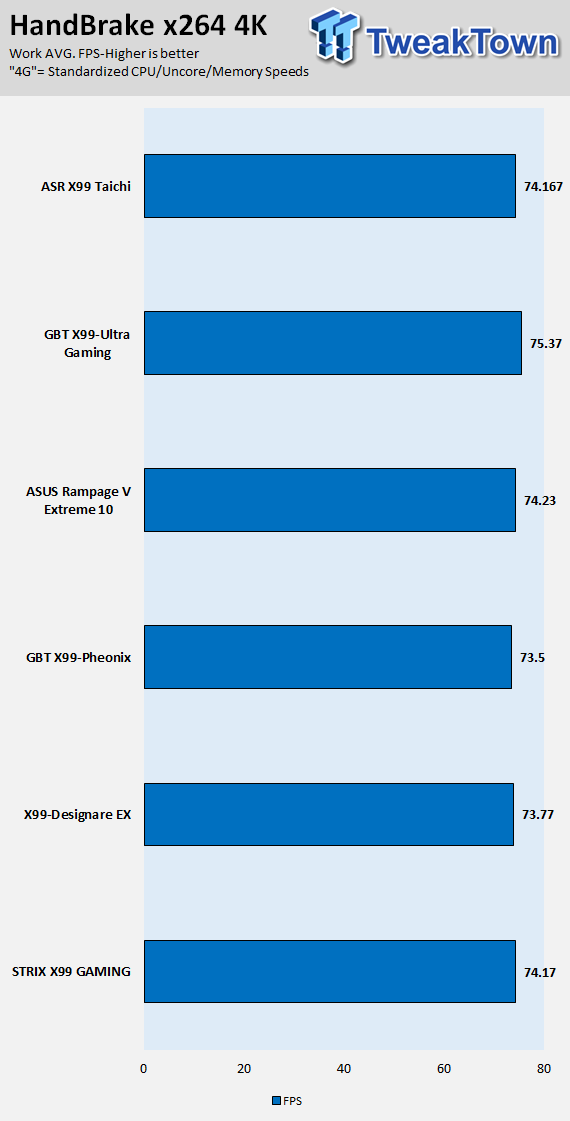 3DMark: Cloud Gate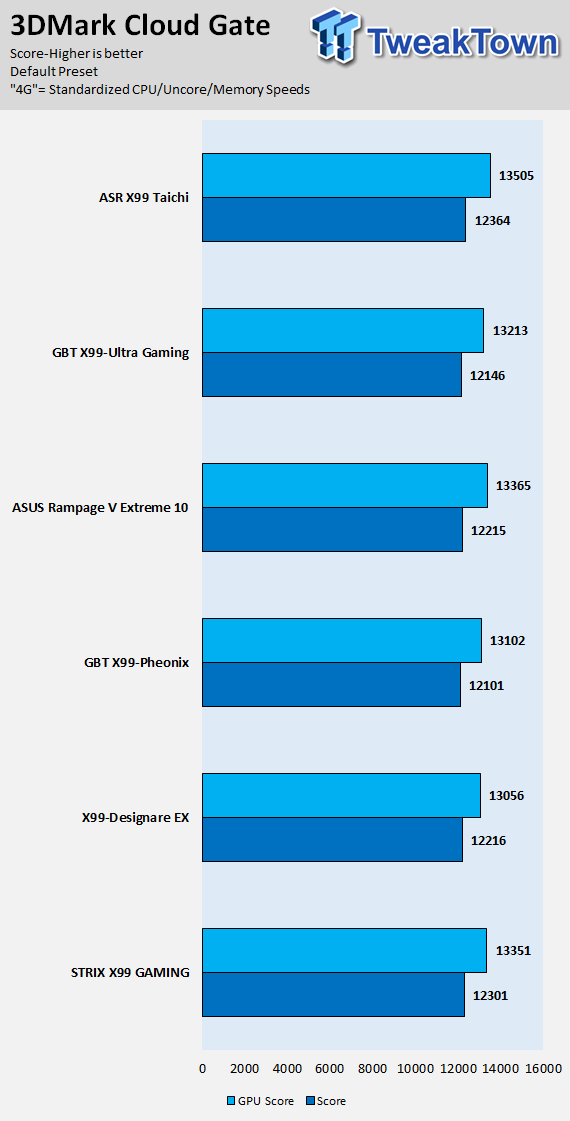 3DMark: Fire Strike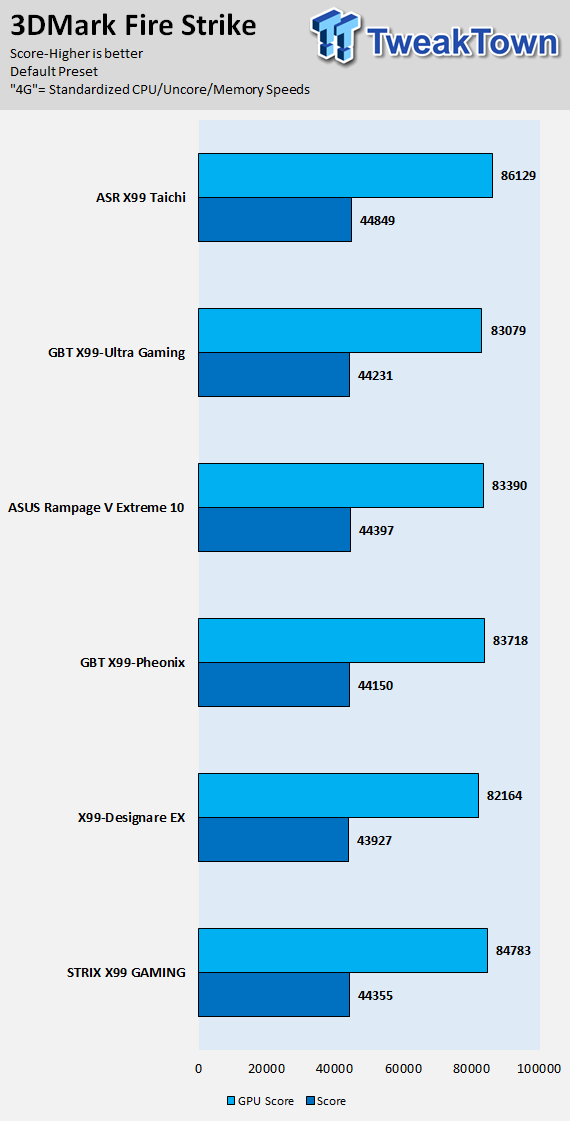 ResidentEvil 6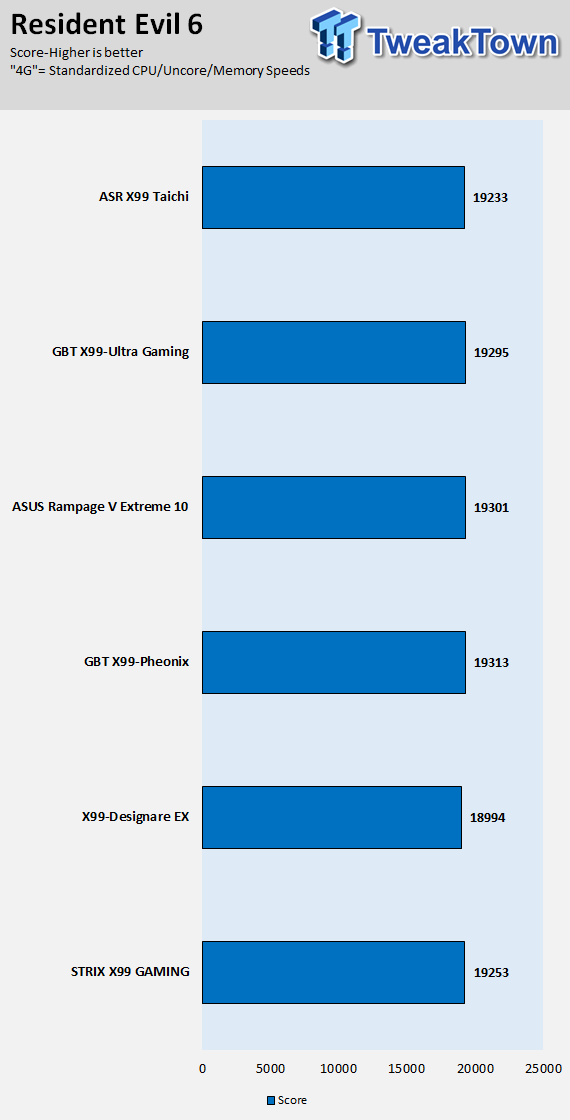 I have decided to test motherboard performance based upon a standardized 4GHz profile for the new X99 refresh motherboards. The base frequency of the 6950X is 3GHz, but since Intel's Turbo profile allows for a single core to hit 4GHz, some motherboards will take any number (sometimes all) of the cores to 4GHz at stock settings, and this creates a huge performance disparity at stock. In all these tests I ran the CPU at 4GHz on all cores, the cache at 3.5GHz, and memory at 2666MHz with timings 16-18-18-36 T2, and allowed the motherboard to set the rest of the timings itself.
The X99 Taichi's performance is where it should be for an X99 refresh motherboard. Scores are within the margin of error for the benchmarks, and I did not notice any performance pitfalls. In fact, the motherboard does exceptionally well in 3DMark tests.
System IO Benchmarks
SATA6G: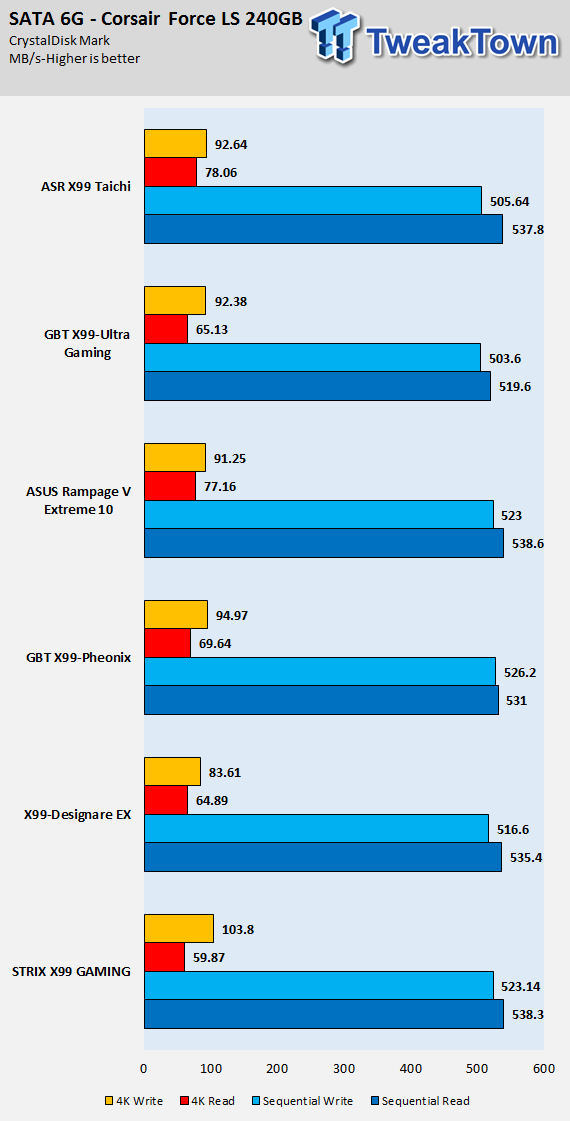 M.2: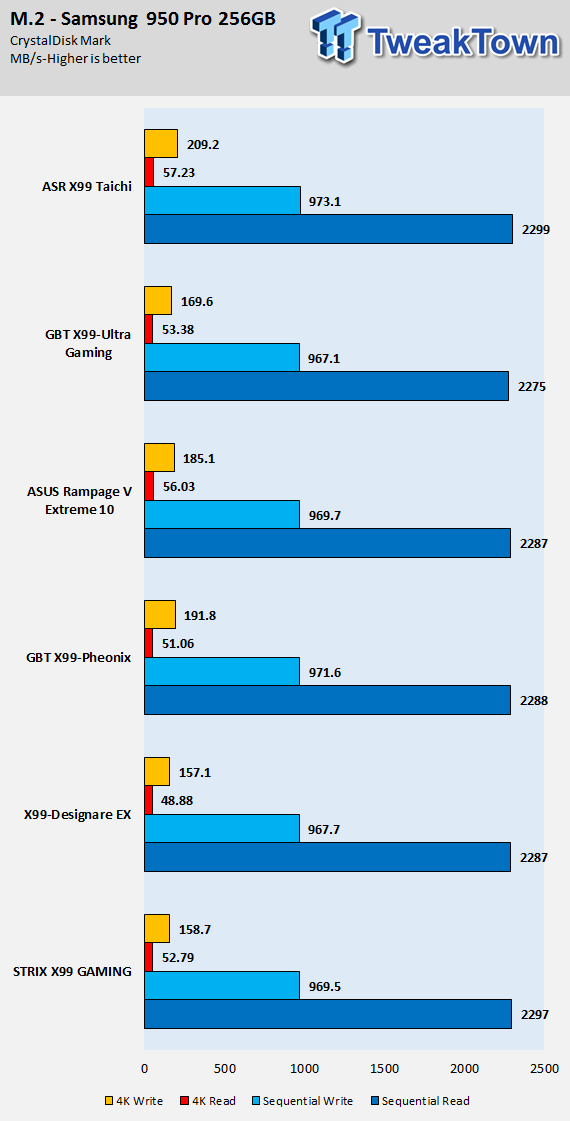 ixChariot Network Throughput: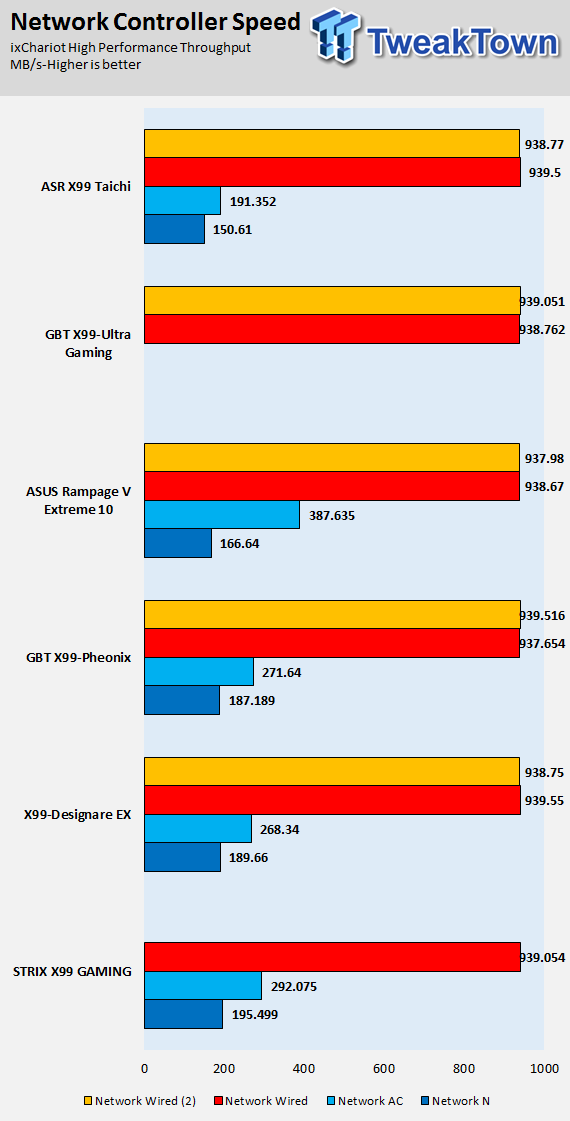 The X99 Taichi has excellent storage IO performance. Wired LAN performance is also great. Wireless AC performance is not that great, but that is because it's Wireless AC card is only a 1x1 unit, so it runs at half the maximum link speed of a normal 2x2 card.
Audio RMAA 5.5:
I disable all audio features, set the correct bitrates, and then test the audio with a loopback test.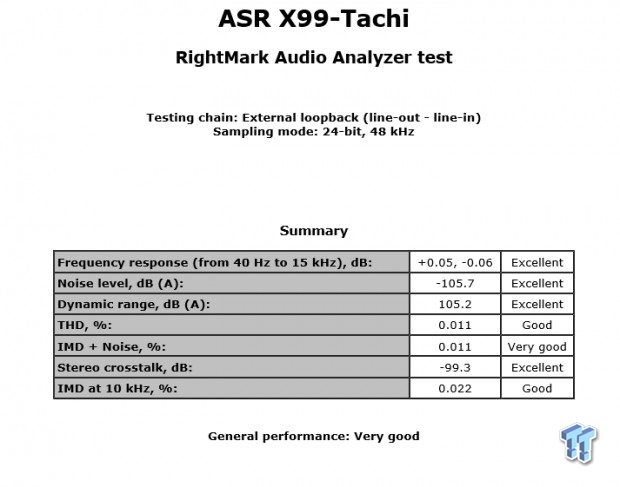 Sound Judgment by Ear: Very Good audio performance. There are five ratings for audio: 1. Problems, 2. Okay, 3. Acceptable, 4. Very good, 5. Excellent
Thermal Imaging and Power Consumption
CPU power is measured through the 8-pin connector, which is hooked up to a hall effect IC, which measures current and puts out a voltage in proportion to the current. That voltage is logged by a National Instruments ADC, which logs the DC voltage level that I then convert into current.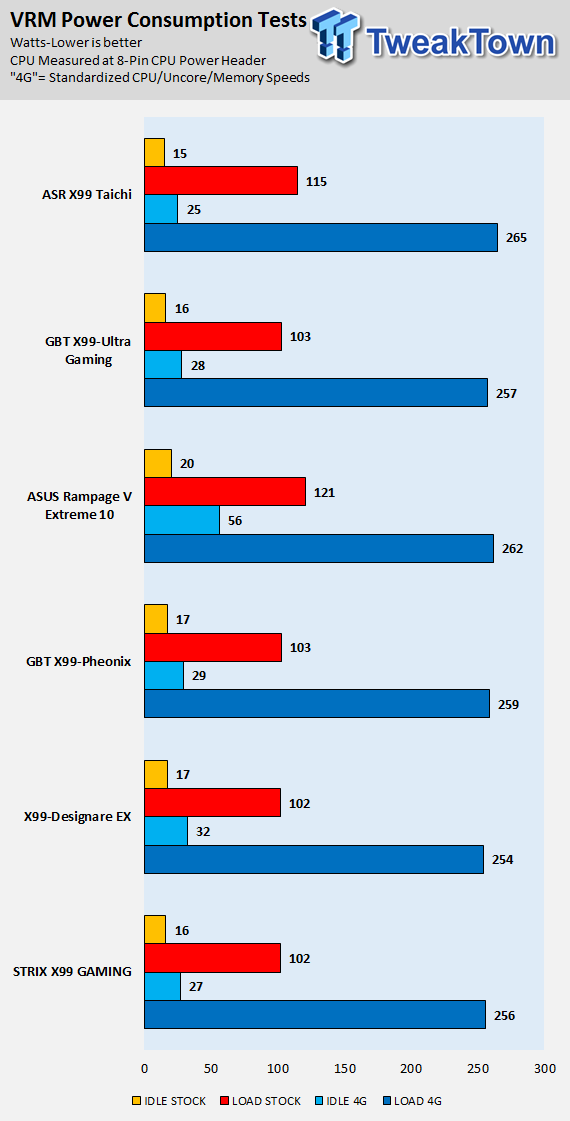 Note on Thermal Images: In the temperature section, we use our Seek thermal imaging camera to capture the surface temperatures of major components on the board. I look at the VRM and then all other things that light up the screen. If there is something to worry about, then I will state it. Otherwise, I will just show the hotter running parts of the board for fun. Unless some component is over 80-90C, then there isn't anything to worry about.
All systems will act differently, so I will look for commonalities, such as how far from the VRM the heat spreads through the PCB and the difference in temperature between the front side and backside of the PCB. Keep in mind, the majority of the heat from the VRM goes into the PCB as it is a giant soldered on copper heat sink. A larger difference in temperature between the back and front of the PCB points towards a more effective heat sink.
Thermal Testing at Stock Speeds:
The image on the left is always at idle, and the image on the right is at load. During ALL TESTS, fans above the VRM that cool the CPU cooler's (Corsair H110i GT) radiator are turned on to high (12v).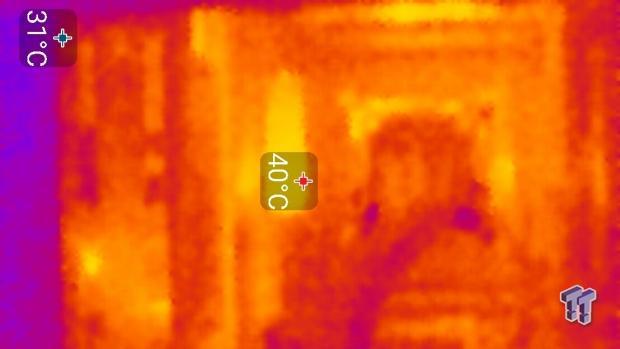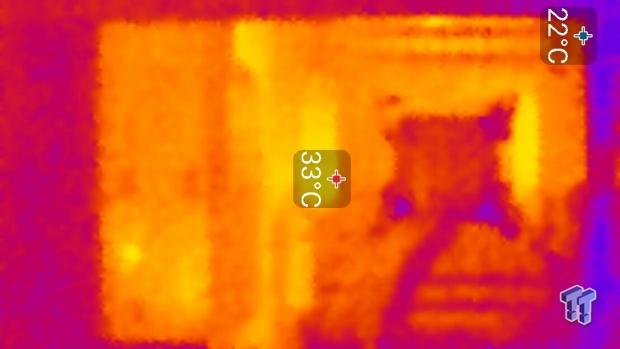 Full frontal.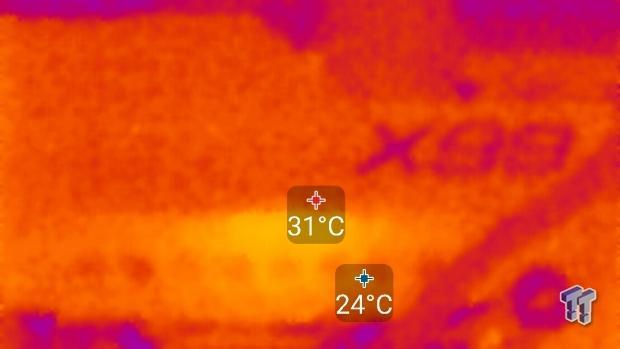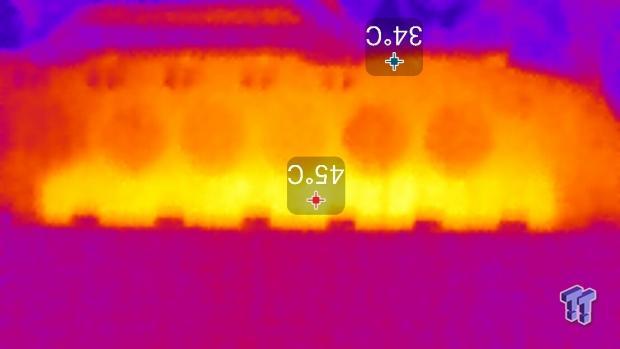 Up-close of the front of the VRM.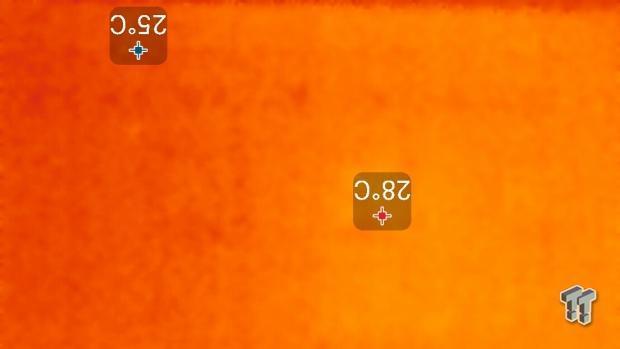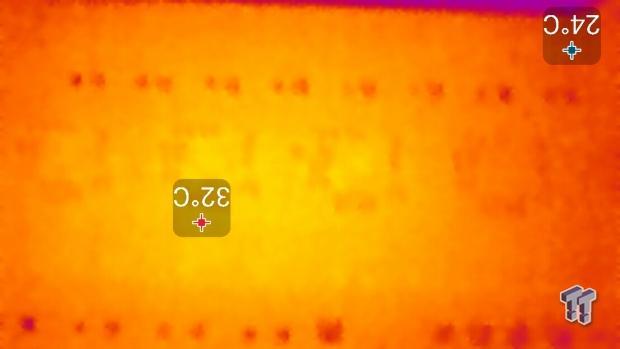 Up-close of the back of the VRM.
Thermal Testing at 4.0GHz Overclocked Speeds:
The image on the left is always at idle, and the image on the right is at load. During ALL TESTS, fans above the VRM that cool the CPU cooler's (Corsair H110i GT) radiator are turned on to high (12v).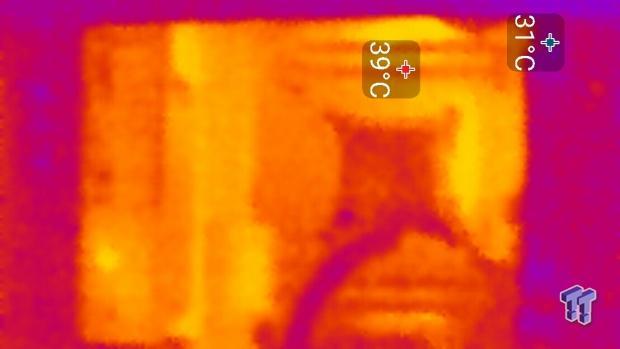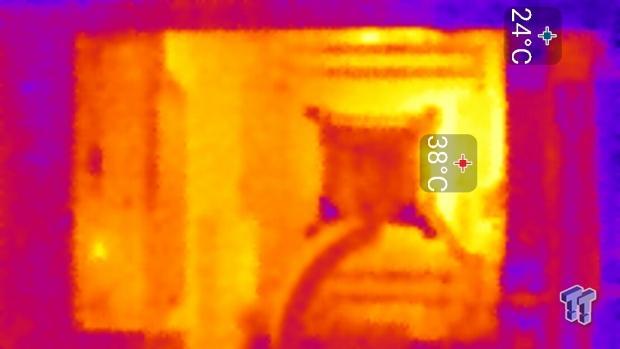 Full frontal.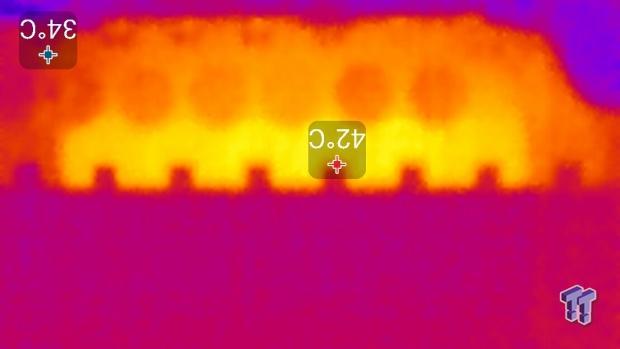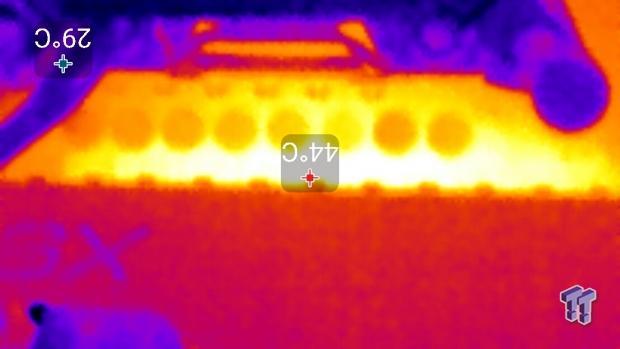 Up-close of the front of the VRM.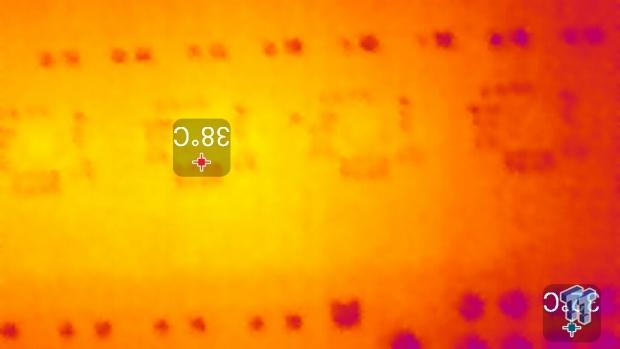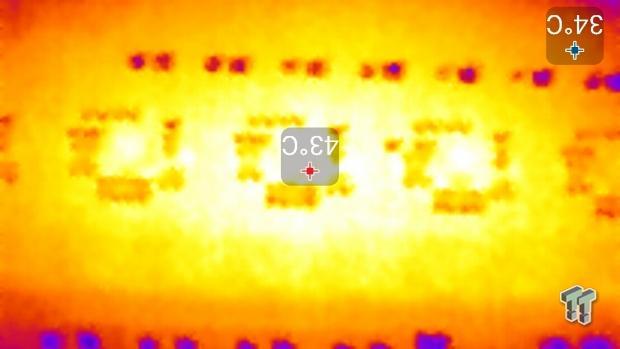 Up-close of the back of the VRM.
The VRM on the X99 Taichi is high quality and does a solid job of feeding power to the 6950X. It uses high-quality components designed for high power density, which is exactly what you want on an X99 motherboard.
Overall temperatures stayed below 50C which is excellent. Temperatures on the backside of the PCB never exceeded those on the front, which means that the VRM cooling is keeping up with VRM heat production. We can see how the Intersil PWM's light load operation mode works at stock at idle, where only a few phases are active, and the rest are shut off.
Anything under 60C is great, 60-80C is acceptable, and anything above 80C is a bit worrisome (if at stock).
What's Hot, What's Not & Final Thoughts
Here are key points about the ASRock X99 Taichi.
What's Hot
Excellent 2-way Spacing: The PCI-E spacing when using two GPUs is excellent. The first and second PCI-E x16 slots provide enough breathing room for even two triple slotted GPUs.
Dual Intel NICs: I didn't expect a motherboard at this price point to carry dual Intel NICs, but I was pleasantly surprised to find them. Since they are both Intel NICs, you can also team them to form a 2Gbit NIC.
Sleek Color Scheme: I am a big fan of basic colors, and I do admire motherboards that exclusively use white and black. The white silkscreen on the PCB matches the shield and PCH perfectly. ASRock also went through the trouble of relocating PCI-E quick switches to the rear of the PCB so that the large white gear wouldn't have black ICs staggered throughout.
POST Code: I have always said if there is one OC feature that provides the most benefit and is not easily added, it's the POST code display. You can add in power, reset, and clear CMOS buttons after the fact, but a POST code display is much harder to add. While ASRock removed almost all OC features, they included a POST code display.
Dual M.2 Slots: While many vendors were focusing on U.2 for their X99 refresh motherboards, ASRock decided to focus on M.2. There are two 32Gb/s M.2 slots to fill with those crazy fast NVMe drives. Just make sure to use a 40-lane CPU if you want to use both at x4 because a 28-lane CPU limits you to SATA M.2 drives for one of the two slots and x4 PCI-E on the other.
What's Not
3-Way Spacing: While it's possible to fit in a third card into the last slot for 3-way SLI or CrossFireX, you will more than likely lose access to the bottom row of headers.
1x1 Wireless AC?: Last I heard there weren't any power limitations on desktop motherboards to warrant using a 1x1 wireless-AC card. While it's still faster than wireless-N, 433Mbps is half the typical 867 Mbps we usually see on X99 motherboards with wireless AC.
Final Thoughts
ASRock is using their Taichi to bring the pain to the competition. Their X99 Taichi is priced very competitively at $219, redefining the basic feature set of motherboards in that price bracket. It is considered the low-end price bracket for X99 motherboards, but the X99 Taichi is not a low-end motherboard. Its component quality is high, and it has dual Intel NICs, dual M.2, high-end aesthetics, and a healthy amount of USB 3.0 and USB 3.1.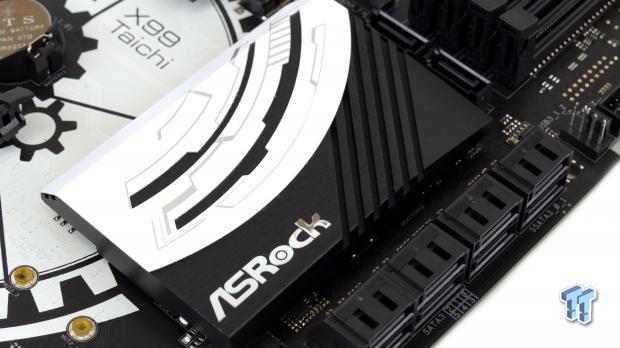 The only things I found lacking compared to much more expensive motherboards were its 3-way SLI/CrossFireX capabilities, Wireless AC, and absence of LEDs. I assume many people would be willing to overlook those weaknesses for a cheaper motherboard, and the X99 Taichi will be waiting for them. In essence, ASRock has used Tai Chi with the Taichi, by strategically picking trivial weaknesses and investing more resources into strengths.
At the end of the tunnel, the X99 Taichi redefines the sub $220 X99 motherboard market, bringing high-end X99 features into an affordable price range. If you are looking for a feature-rich motherboard with a lot of bang for your buck, you should definitely give the X99 Taichi a look.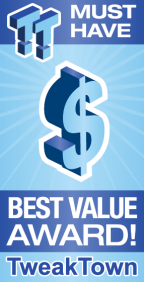 | | |
| --- | --- |
| Performance (including Overclocking) | 89% |
| Quality including Design and Build | 90% |
| General Features | 93% |
| Bundle and Packaging | 87% |
| Value for Money | 95% |
The Bottom Line: ASRock's X99 Taichi combines a very powerful feature set, solid quality components, and unique aesthetics into a single package at a very reasonable price.
PRICING: You can find products similar to this one for sale below.

United States: Find other tech and computer products like this over at Amazon.com

United Kingdom: Find other tech and computer products like this over at Amazon.co.uk

Australia: Find other tech and computer products like this over at Amazon.com.au

Canada: Find other tech and computer products like this over at Amazon.ca

Deutschland: Finde andere Technik- und Computerprodukte wie dieses auf Amazon.de
We openly invite the companies who provide us with review samples / who are mentioned or discussed to express their opinion. If any company representative wishes to respond, we will publish the response here. Please contact us if you wish to respond.