TweakTown's Rating: 95%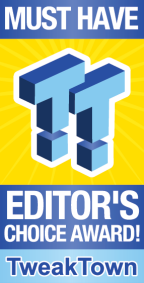 The Bottom Line
ASUS's thorough attention to detail makes the Rampage V Edition 10 one of the best motherboards on the market. With an unexpectedly high number of innovative features, solid performance, and killer aesthetics, it's a motherboard that is sure to impress.
Introduction, Specifications, and Pricing

Over the years, ASUS's ROG Rampage Extreme series motherboards have become synonymous with "the best". While it is hard to judge exactly what "the best" is because models are always changing, and some products shine in ways others cannot, ASUS's consistency with their high-end Rampage series allows us to use the model as a benchmark product. With long-lived chipsets, such as X58, ASUS launches their typical Rampage Extreme model at the beginning and later launches a Rampage Extreme with some fancy name at the end to signify major enhancements. Rampage V Extreme owners will be sad to hear that the Rampage V Edition 10 is ASUS's new top dog. The 10 stands for ROG's 10th-anniversary motherboard, which makes the Rampage V Edition 10 a milestone product.
The Rampage V Edition 10 is one of the most interesting motherboards I have looked at in the past year. For starters, the motherboard feels like it is made from stone, as it's very heavy and feels very solid. We are going through an RGB LED craze; manufacturers are taking older products, slapping on some colorful RGBs, and selling the new product for more than its predecessor. While it's true that the Rampage V Edition 10 has many RGB LEDs, ASUS has also made major changes and enhancements to motherboard features. The Rampage V Edition 10 is not just the Rampage V Extreme with RGB LEDs, it is in itself a true successor to the throne. Follow me as I examine every inch of the Rampage V Edition 10.
Specifications

The ASUS Rampage V Edition 10 is loaded with features, many of which go above and beyond what most other products offer. The motherboard has two USB 3.1 type-A ports, but also two USB 3.1 type-C ports, 3x3 wireless AC, dual Intel NICs, the standard ten SATA 6Gb/s ports, and a dedicated audio DAC.
Pricing
The Rampage V Edition 10 is available from many large retailers for $598.89.
Packaging and Rampage V Edition 10 Overview
Packaging and Overview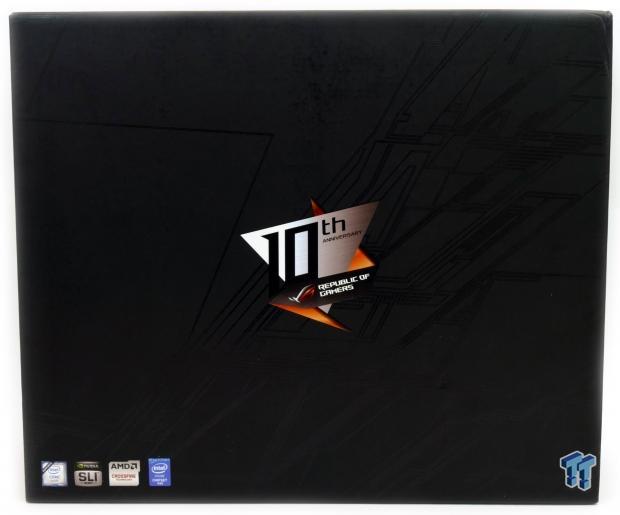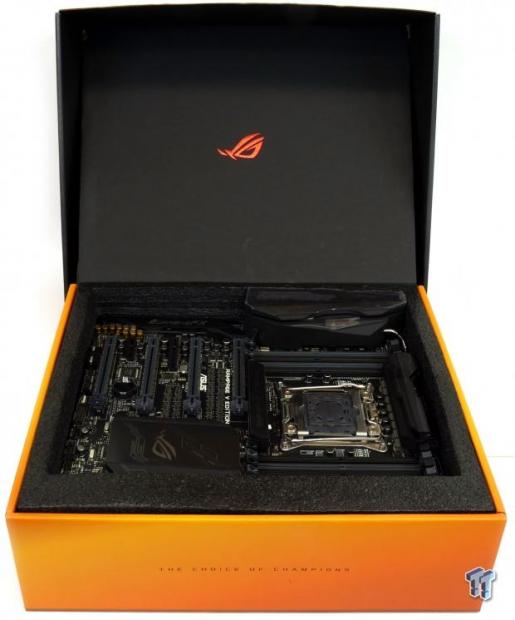 The Rampage V Edition 10's box is not your typical ROG-style box; the 10th-anniversary symbol is located dead center to showcase the significance of the product. Upon opening the box, the motherboard greets you.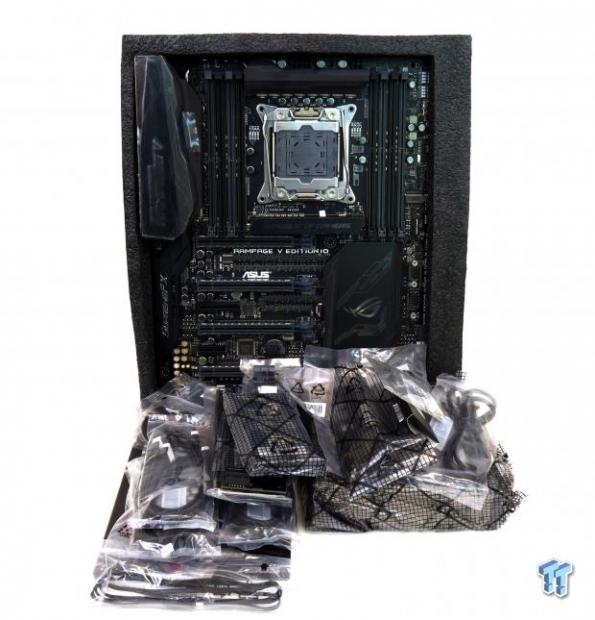 All accessories are packaged individually, and the motherboard sits in a large padded anti-static foam tray.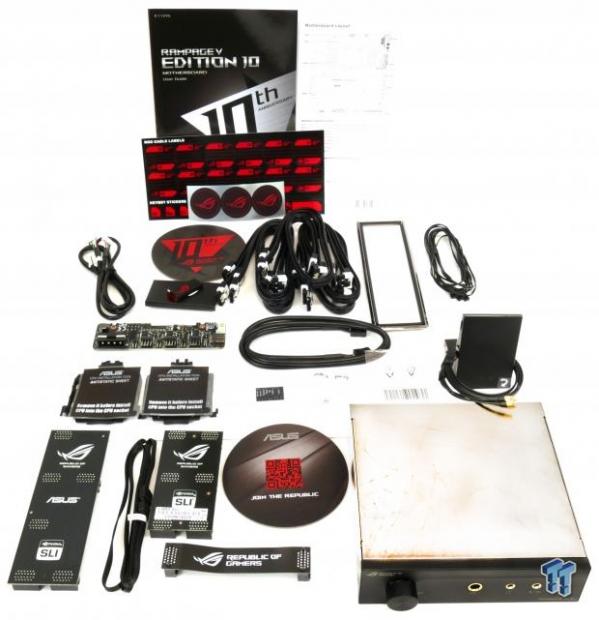 Accessories include 5x SATA 6Gb/s cables, 4-way SLI bridge, 3-way SLI bridge, 2-way SLI bridge, 3-in-1 thermistor cables, wafer cable, cable for SupremeFX Hi-Fi, AURA cable, 3T3R WIFI antenna, fan extension card, Q-connector, 2x ROG coaster, ROG fan label, ROG cable label set, M.2 screw kit, bracket for FAN extension card, CPU installation tool (Haswell-E), CPU installation tool (Broadwell-E), IO frame, USB drive with utilities and drivers, and user guide and manuals.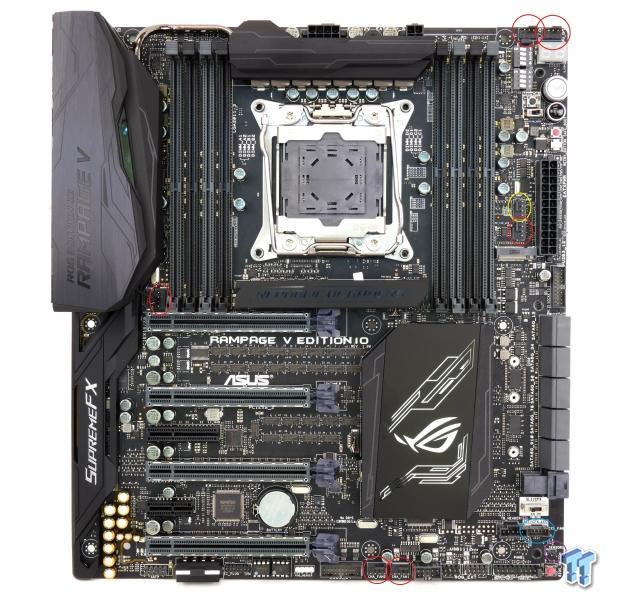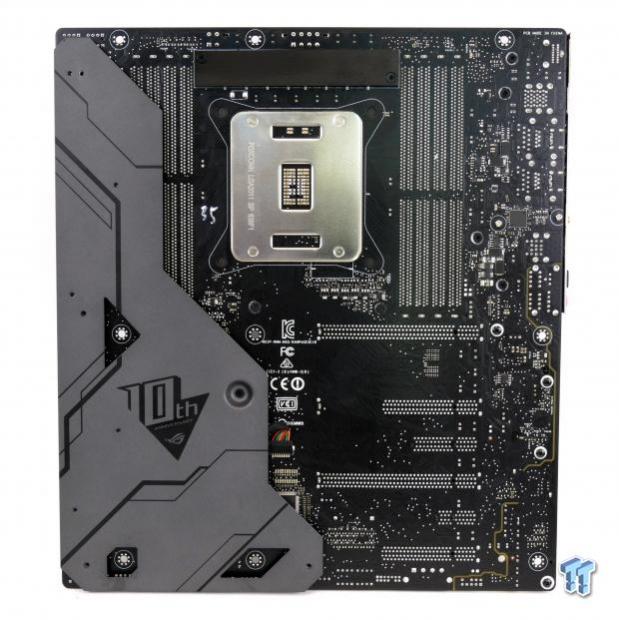 ASUS's X99 Rampage V Edition 10 has six normal 1A PWM/DC mode headers circled in red, one high amperage header circled in yellow that can provide upwards of 3A, a fan extension card header circled in blue, and a temperature sensor input header circled in purple. All fan headers automatically detect the fan type and set the header mode accordingly to PWM or DC operation. The motherboard has more fan headers than most people will need, especially with the included extension card.
The aesthetics of the motherboard look and feel pristine. The metal shielding and black/gray tinting on the heat sinks provide a consistent color theme. When paired with the RGB LED system on the motherboard, which provides independent RGB control for each section (IO, audio, PCI-E, Center ROG, PCB, and rear panel sections), users can change the color of the motherboard to something that matches their taste. The back shield on the motherboard does provide some reinforcement, but it's also there to hide fifteen RGB LEDs that are diffused by a strip of translucent plastic, creating a nice effect when turned on. The motherboard glows from the backside in a way I have not seen on any other motherboard.

The IO panel on the Rampage V Edition 10 is unique; the IO shield is integrated on the motherboard, and there is just a frame you install on the case. ASUS is patenting this system, as there is no guess work and users can't screw up a build by installing the motherboard IO panel incorrectly into the case. The IO panel has a Clear CMOS button, a USB BIOS Flashback button, four USB 3.0 ports, two Intel RJ-45 LAN ports, two USB 3.1 type-A, two USB 3.1 type-C, 3T3R WIFI antenna jacks, two USB 2.0 ports, PS/2 keyboard or mouse, and 7.1 audio outputs with S/PDIF TOSLINK.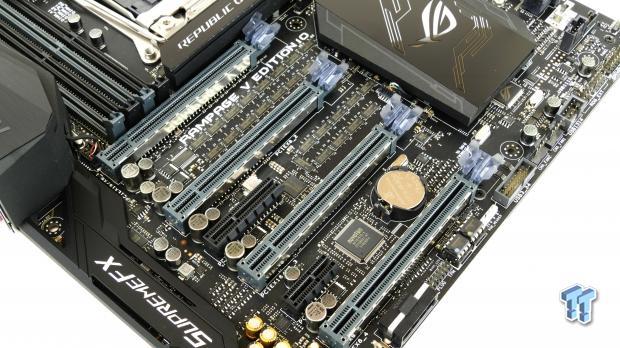 Each of the four PCI-E 16x slots is reinforced through ASUS's SafeSlot, which provides x, y, and z-axis PCI-E slot reinforcement. The PCI-E layout is not simple, so ASUS has provided a switch for users to use for 2 and 3-way SLI/CrossFireX configurations that will illuminate which slots users should use. ASUS did provide us with a block diagram layout of the PCI-E lane allotment and feature sharing; you can see it on the next page. If you want to run 2-way, then you should use the first and middle slot. If you want to do 3-way, you should use the first three slots, and four-way has to be in all four slots. The motherboard also provides a 4-way mode that allows for users to use the U.2 and M.2 connections at the same time. There is also a PCI-E 4x and a PCI-E 1x slot.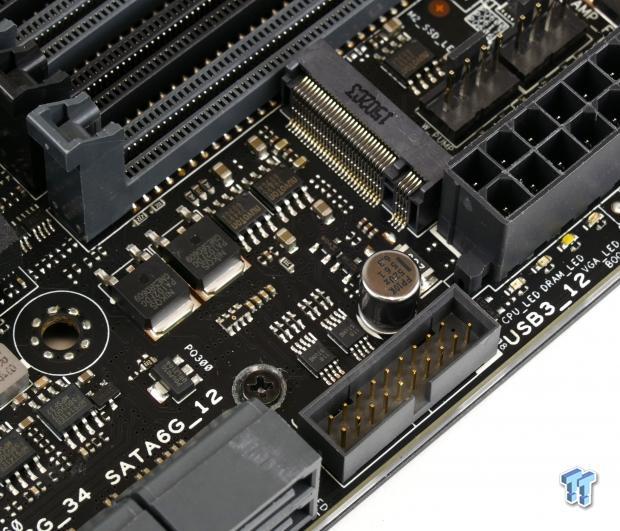 All the SATA6Gb/s ports are from the X99 PCH, and there is also a U.2 connector located just below the SATA port array. A 32Gb/s M.2 slot is located in front of the 24-pin power connector, and a USB 3.0 internal header is located below the 24-pin connector.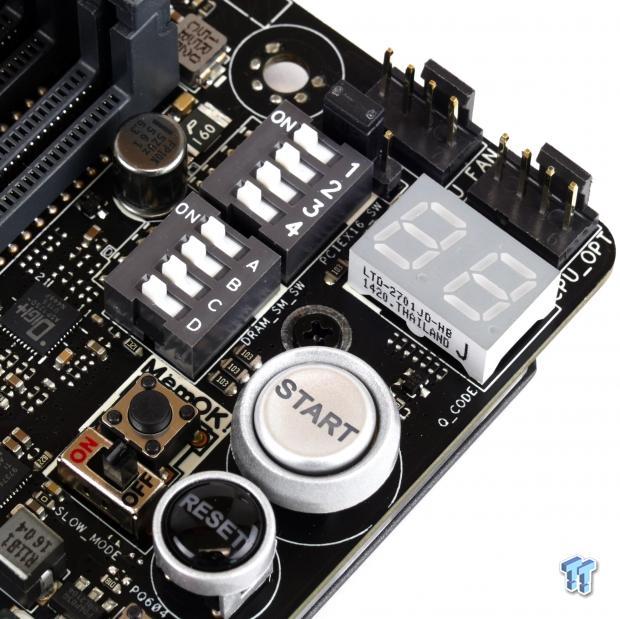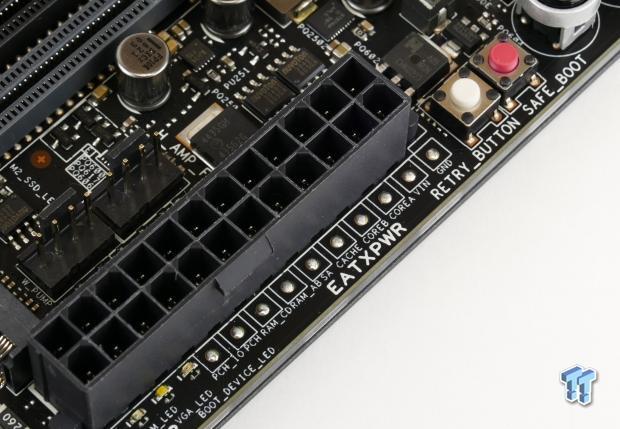 The motherboard also has a wide variety of overclocking features. There is also an LN2 mode jumper located near the DIP switches to disable the memory DIMMs and PCI-E slots if required for troubleshooting. LEDs near these switches will illuminate if the slots are populated. The motherboard also carries a POST code display, power and reset buttons, a MemOK button, a Slow-Mode switch, a Retry button, a Safe boot button, voltage read points, and boot device LEDs for troubleshooting.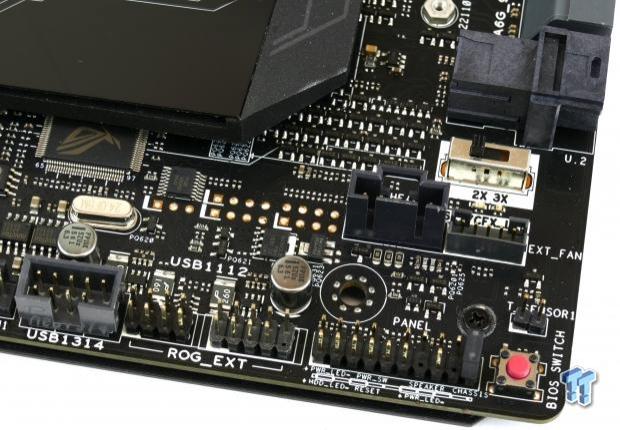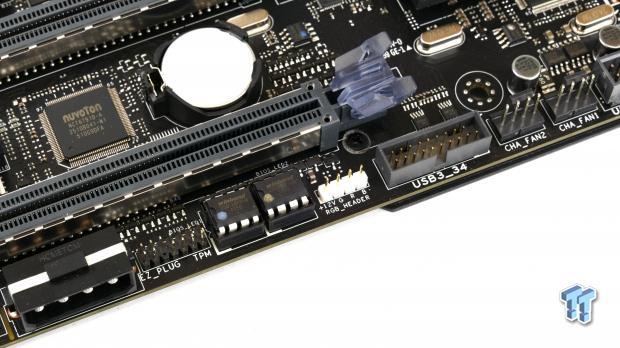 The 2-way/3-way switch is located below the U.2 connector along with the fan extension card header and Thunderbolt header. A BIOS selector switch is located in the lower right-hand corner near the front case headers. An ROG Extension header bank is located to the left of the case headers, as is a USB 2.0 internal header. There is also a USB 3.0 internal header on the lower row alongside an RGB header, two 128Mbit BIOS ROMs in DIP sockets, a TPM header, and a MOLEX receptacle for extra power in multi-GPU scenarios.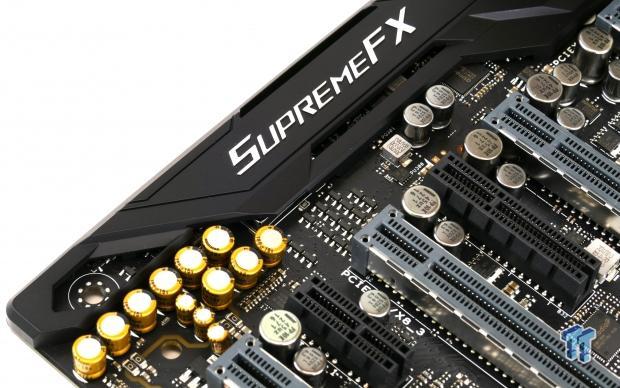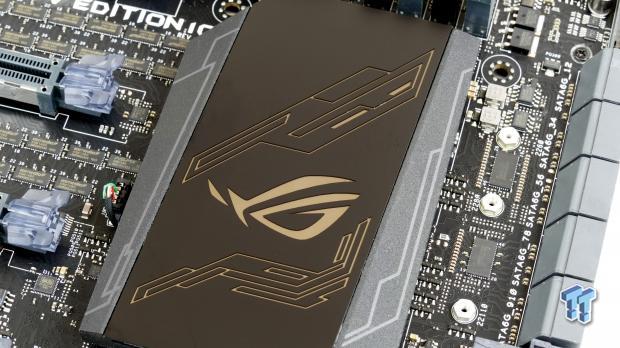 The audio section reveals the Nichicon Gold series audio capacitors and the PCB divide; there are LEDs on the topside that allows the audio section to glow. The PCH heat sink has a very interesting ROG cutout pattern which illuminates diffused light through a translucent mirror finish material.


The motherboard package includes the SupremeFX Hi-Fi DAC, which has 3.5mm and 6.3mm audio outputs, a volume knob, and a microphone input. The device is powered by a 6-pin PCI-E power connector, and data is transferred through a USB 2.0 header.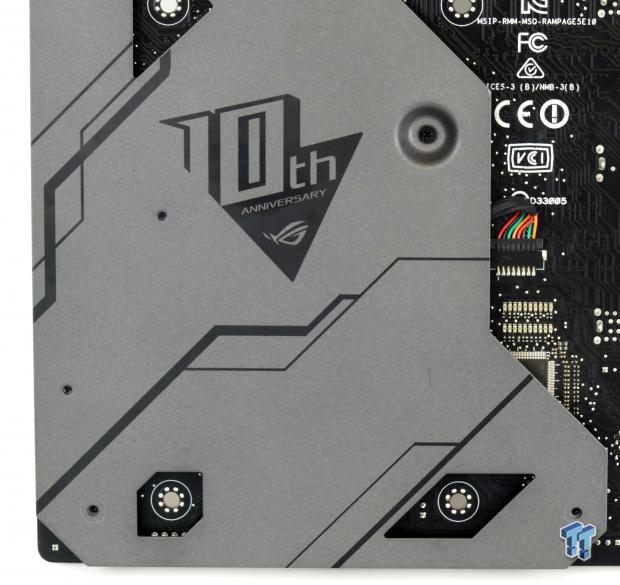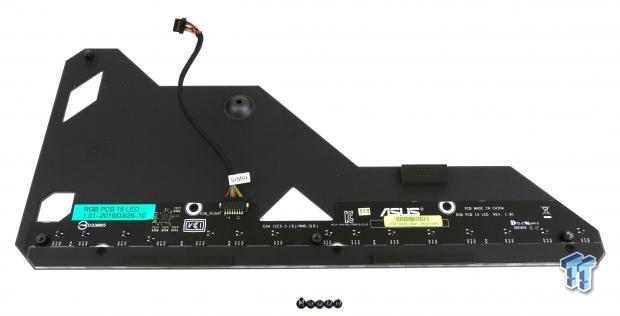 The 10th Anniversary shield has unique styling you will probably never see after you install the motherboard. However, you will see the light from the 15 LEDs that illuminate the edge of the motherboard. The LEDs are split into five sections, each section's RGBs can be individually controlled through ASUS's AURA application. The daughterboard has one of the two RGB LED controllers, and the cable in the image is for communication and power to the controller and LEDs.

The Fan Extension Card features three extra fan headers and three extra temperature sensors.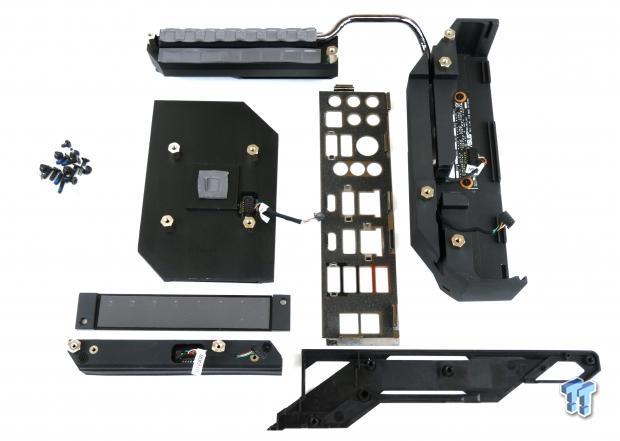 The heat sinks are all screwed into the motherboard, and all but the VRM heat sink have integrated RGB LEDs.
ASUS Rampage V Edition 10 Circuit Analysis
Circuit Analysis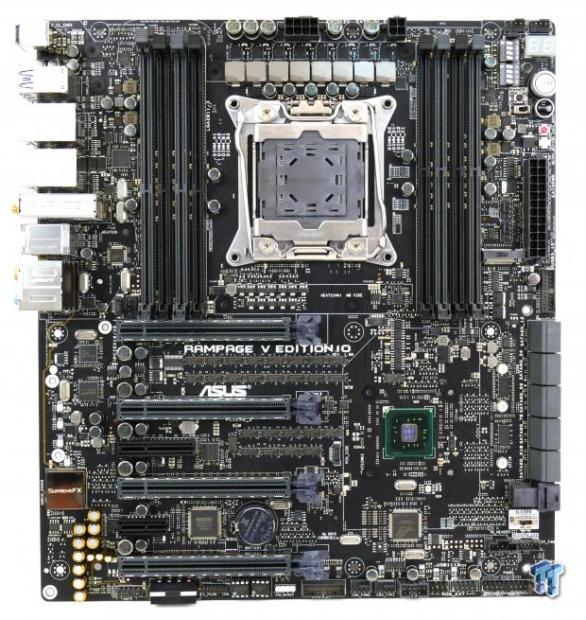 The motherboard is quite beautiful when it's bare; it has a ton of parts that need to be analyzed.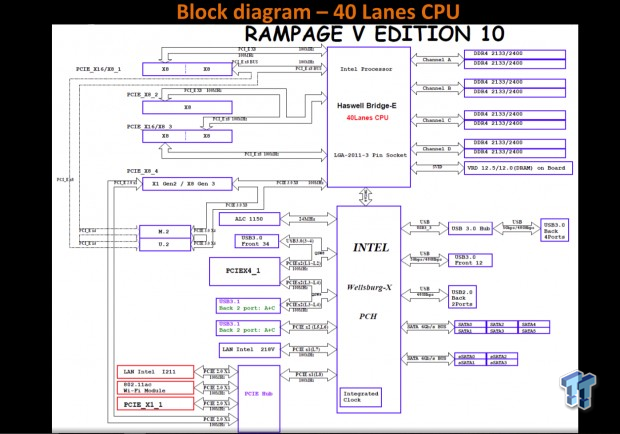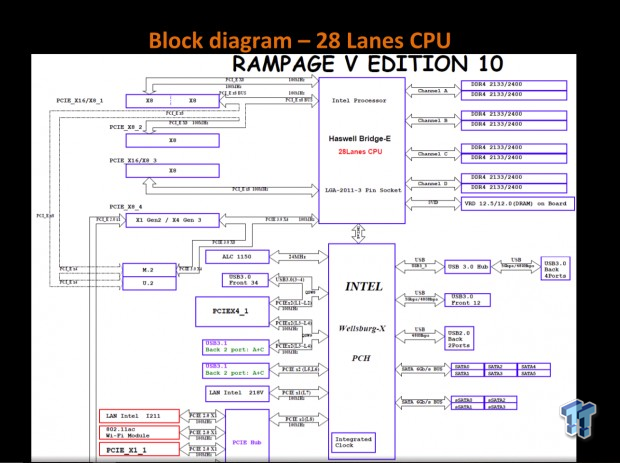 Since the motherboard's PCI-E layout is very complex, I have included two block diagrams; one for a 28-lane CPU and the other for a 40-lane CPU.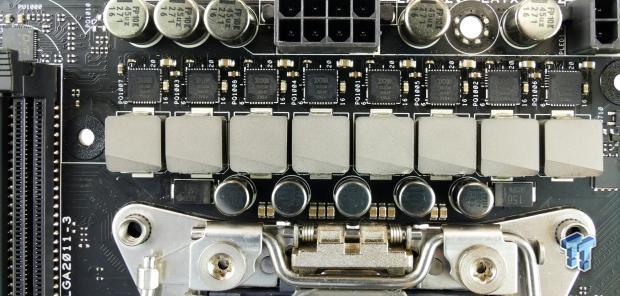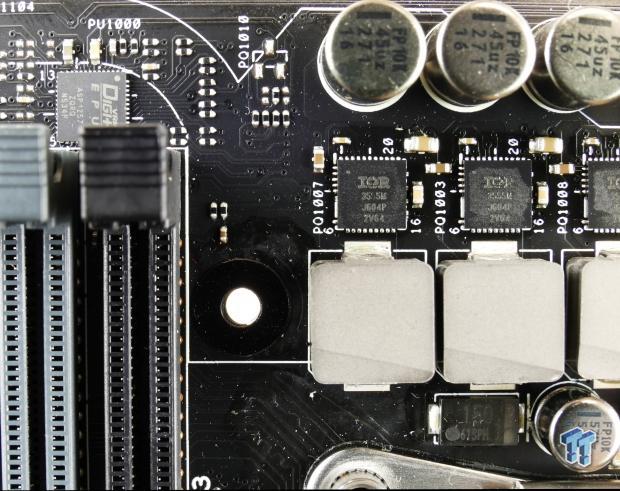 ASUS's main VRM for the CPU core is based on a true 8-phase digital PWM (probably from International Rectifier) and eight International Rectifier IR3555, which are 60A integrated power stages. Each power stage has a driver, a high-side MOSFET, and a low-side MOSFET. These are extremely high-end parts, especially the 60A version of the PowIRstage. The inductors are ASUS's micro-fine alloy chokes, and there is a mix of solid 10K polymers, ceramic, and tantalum capacitors for the output filter.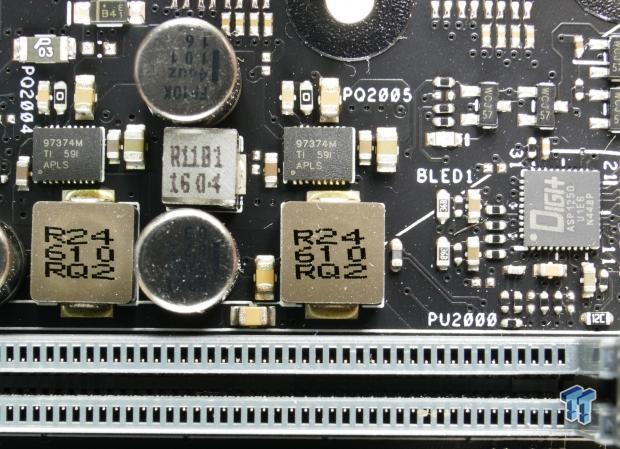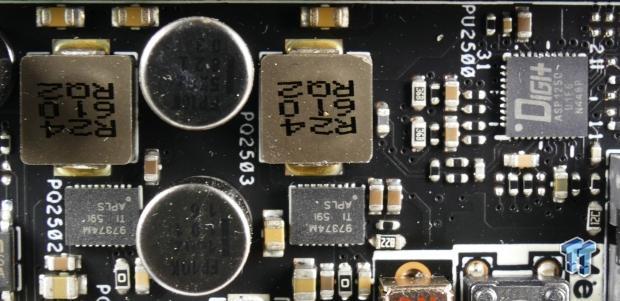 There are two identical two-phase memory VRMs for all eight DIMMs. Each memory VRM gets a Digi+ ASP1250 PWM and two Texas Instruments CSD97374Q4M NexFETs, which can output 15A at 92% efficiency, 25A continuous, or 60A peak. The VPP rail comes from a GSTek all-in-one converter.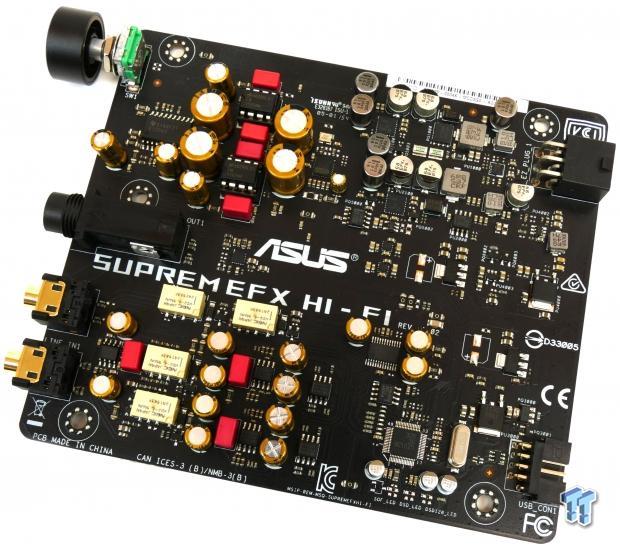 ASUS's SupremeFX Hi-Fi is a semi-external DAC. It is separated enough from the main system that it's protected from the noise, and it uses USB 2.0 for data and is powered independently through the internal PSU. It offers integration with the benefits of an external audio converter. I am told by a contact that it is based on the same hardware family as the STRIX RAID DLX, which costs over $200. The motherboard still has integrated audio so that you can use either. The SupremeFX HiFi DAC uses a mixture of Nichicon Gold series audio capacitors and WIMA audio grade film capacitors to produce excellent audio.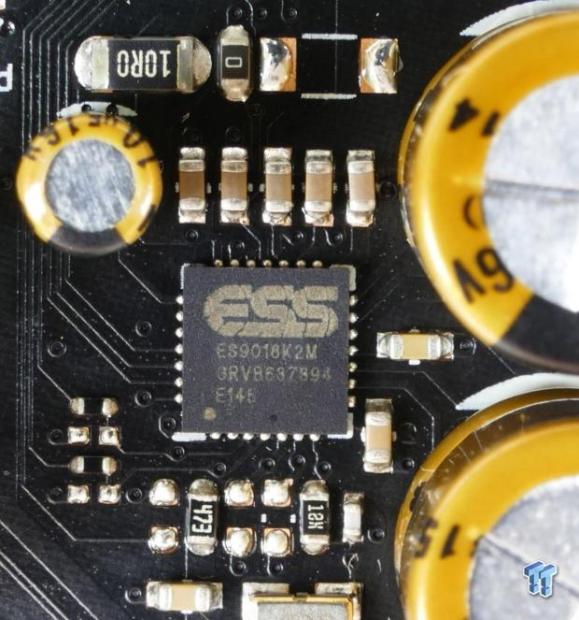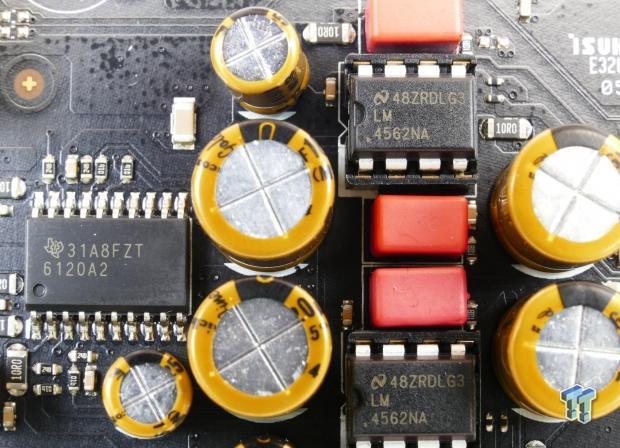 There is some very nice audio hardware in the SupremeFX HiFi box. For starters, I found an ESS Sabre ES9018K2M. The 2-channel 32-bit ESS SABRE DAC (digital to analog converter) sports 127dB DNR with -120dB THD+N. The output from this DAC goes through two sets of amplifiers; ASUS has moved towards multiple stages both onboard and in this DAC. First, each channel is filtered through an LM4562NA amplifier, and then both go through a Texas Instruments TI6120A2 for a final boost before the outputs. The two LM4562 sit in DIP sockets and can be swapped out for higher-end amplifiers if users want.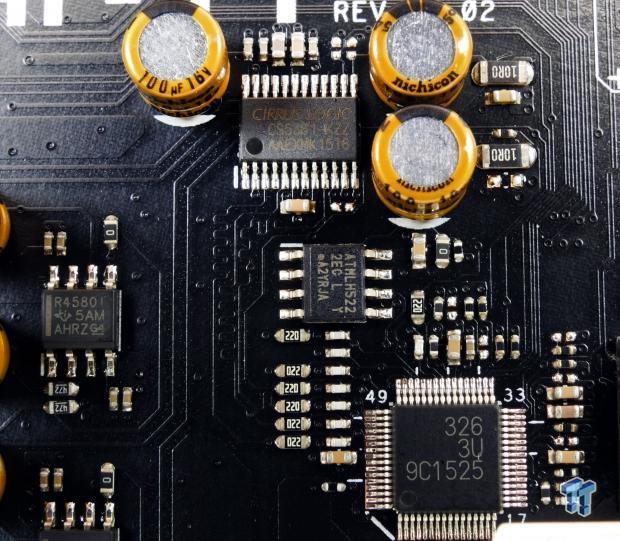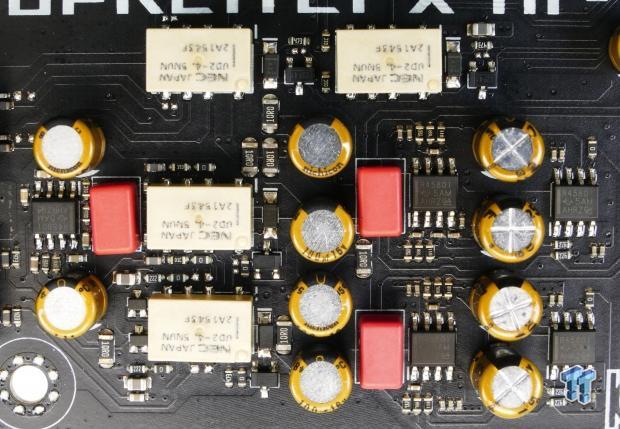 While the DAC is used convert digital signals to analog outputs is from ESS, the ADC (analog to digital converter) for the mic/line-in input is from Cirrus Logic. The CS5361 is rated at 114 dB, 192kHz/24-bit, and -105dB THD+N. It should provide for solid recording of the input. I also found multiple R45801 working in multiple stages, for what I believe is the input stage before the ADC. I also found multiple NEC relays used for de-pop (I assume each channel for the output and input gets one), and a Sonic Sense amplifier to detect headphone impedance and adjust the output accordingly. The USB audio interface is an unknown chip labeled 9C1525, probably from CMedia or another vendor of USB 2.0 audio processors.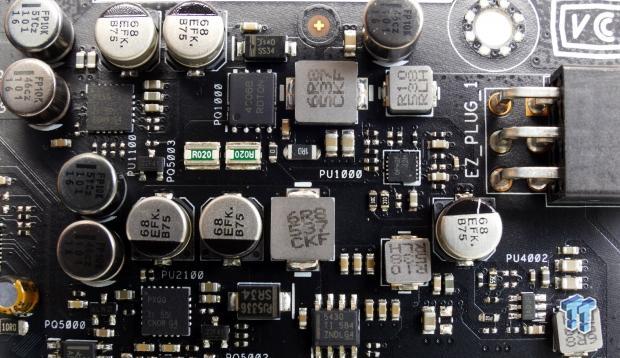 The image above showcases the DC power converters for the amplifiers and other audio hardware on the DAC. There are two high-quality Texas Instruments TPS7A3301RGWR and a couple of converters for boost and step down voltage levels required for the different audio components.
ASUS Rampage V Edition 10 Circuit Analysis Continued
A Realtek ALC1150 is under an EMI shield. There are two Texas Instruments R45801 amplifiers; one amplifies voltage, and the other amplifies current for the front headphone output. There are multiple Nichicon Gold series audio capacitors for improving audio quality.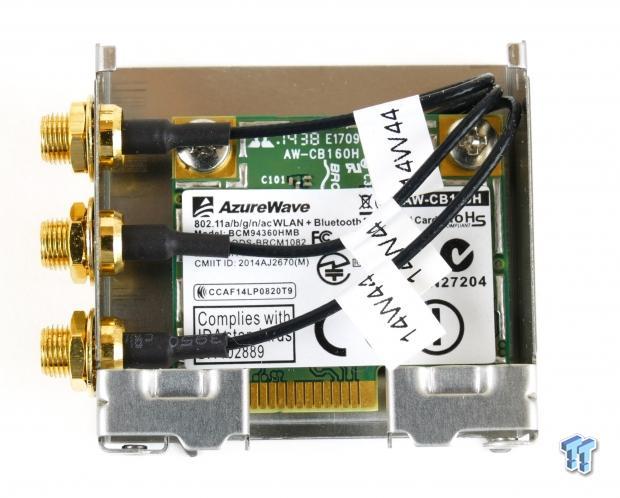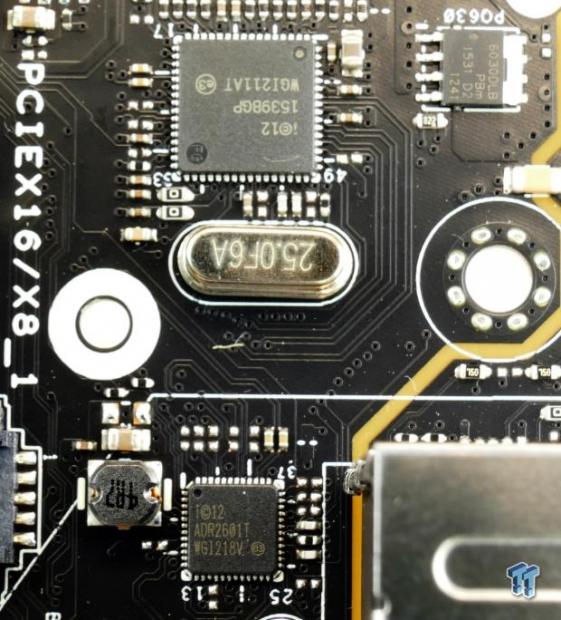 Instead of the typical 2x2 867Mbps Wireless AC cards we usually find on motherboards, ASUS has decided to provide a BCM94360, which is a 3x3 1300Mbps WirelessAC/Bluetooth card. ASUS has also included dual Intel 1Gbit NICs. The WGi218v for the integrated MAC in the PCH and the WGI211AT for the second NIC.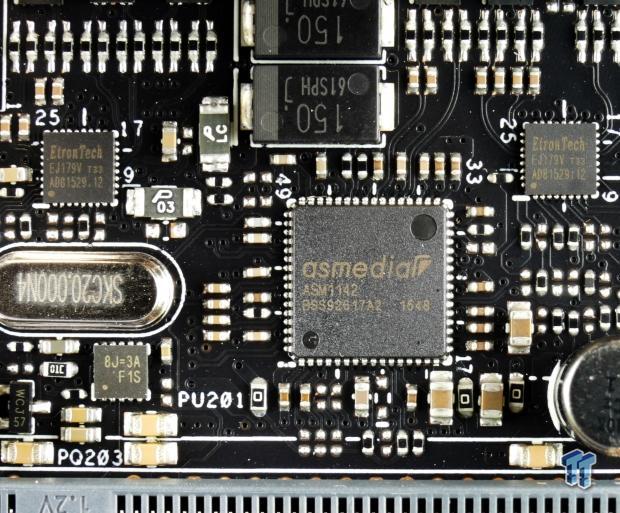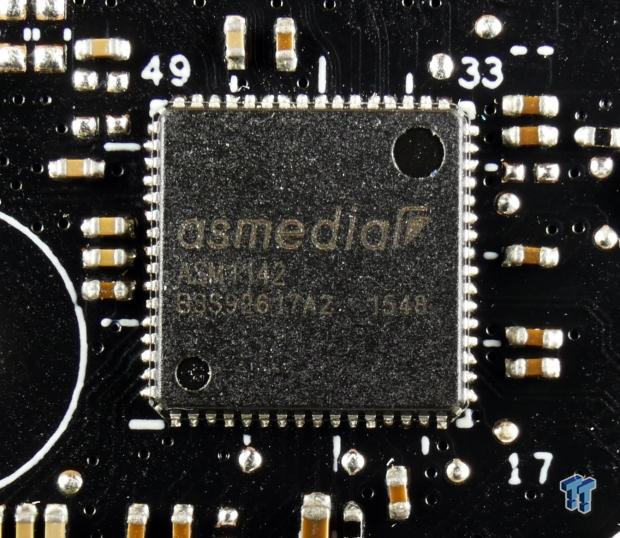 ASUS's two USB 3.1 type-A and two USB 3.1 type-C ports are powered by two ASMedia ASM1142 USB 3.1 controllers. Two EtronTech EJ179V handle the type-C ports and power delivery.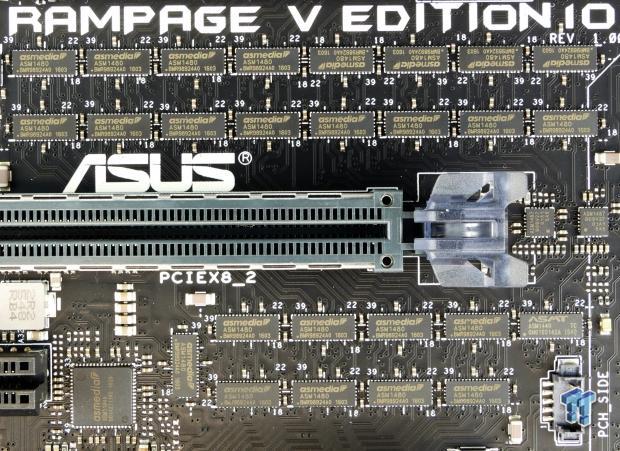 That's a lot of PCI-E 3.0 quick switches, and they are used to switch around all the PCI-E bandwidth to provide all the features on the Rampage V Edition 10. All this switching can also cause problems in signal integrity, so ASUS has included re-drivers. Two ASMedia ASM1467 are used to re-drive the NGFF (M.2) PCI-E signals. There is also an ASMedia 1184e used to expand PCI-E lanes for less bandwidth intensive controllers (like WIFI). The specific connections can be found on the previous page's block diagram of the motherboard. Two Texas Instruments DS80PCI800 PCI-E 3.0 8-channel repeaters with equalization improve the signal strength of the PCI-E 3.0 lanes from the CPU to ensure the signal integrity of the two sets of 8x PCI-E 3.0 switched between two PCI-E 16x slots and the U.2 and M.2 ports.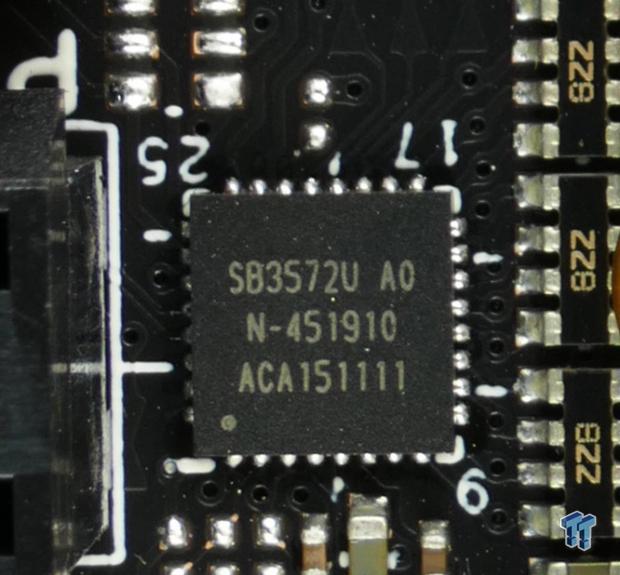 There are two SB3572U RGB LED controllers on the Rampage V Edition 10. One is on the rear shield and one on the front of the PCB. They provide control over individual clusters of RGB LEDs so that you can change the color of the IO area, the mid-board heat sink, PCI-E slot, PCH heat sink, and five regions in the back shield independently.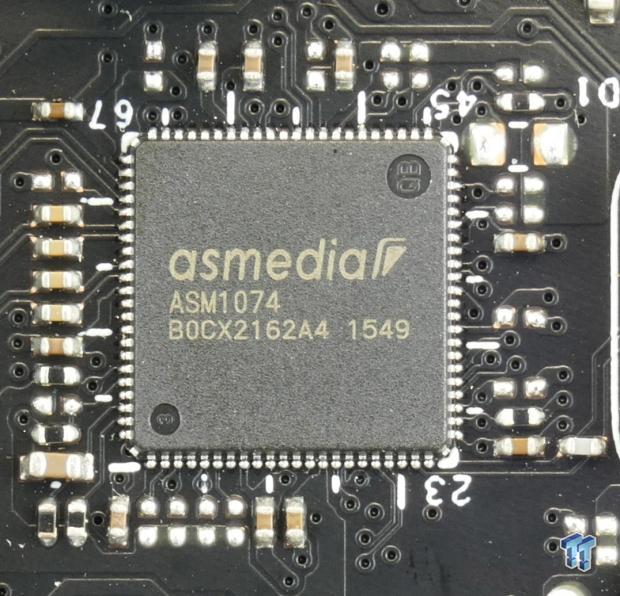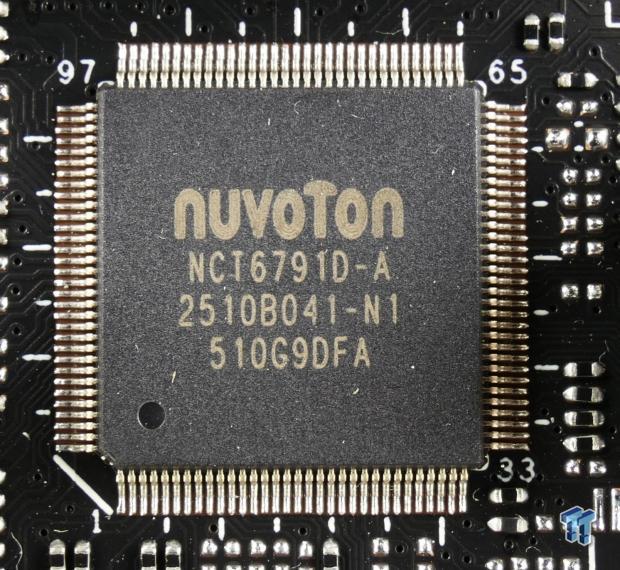 The ASMedia ASM1074 acts as a USB 3.0 hub for expanding USB 3.0 ports. The main Super IO is the nuvoTon NCT6791D, which provides PS/2 keyboard/mouse and fan control and monitoring.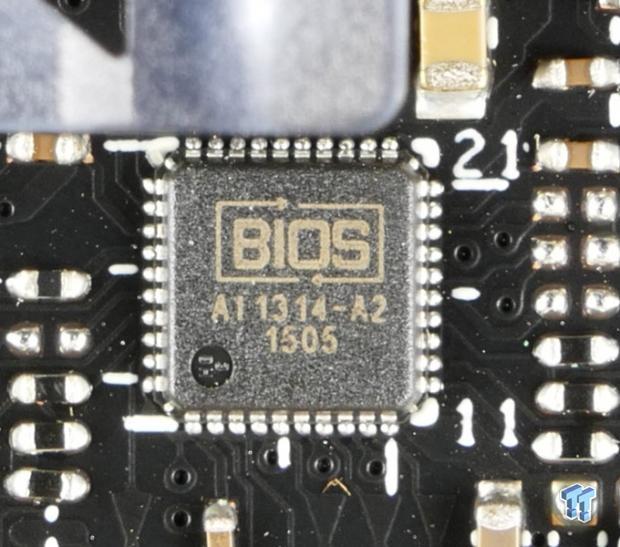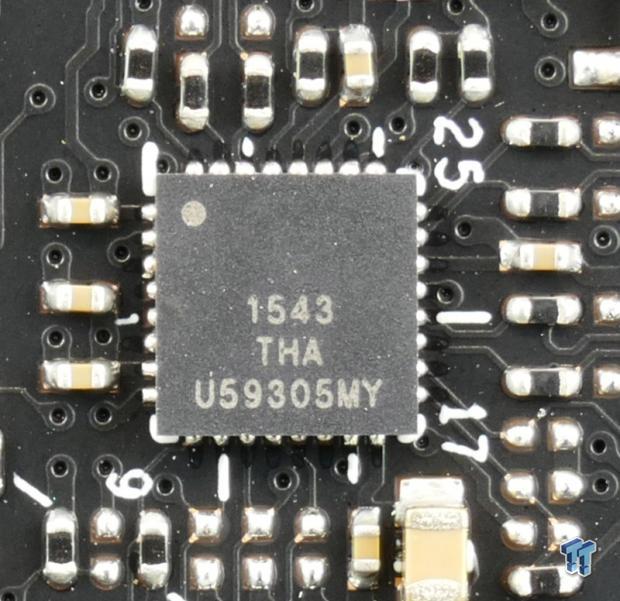 There is a chip labeled "BIOS" on the motherboard that provides the USB BIOS Flashback feature. There is also a clock generator labeled U59305MY.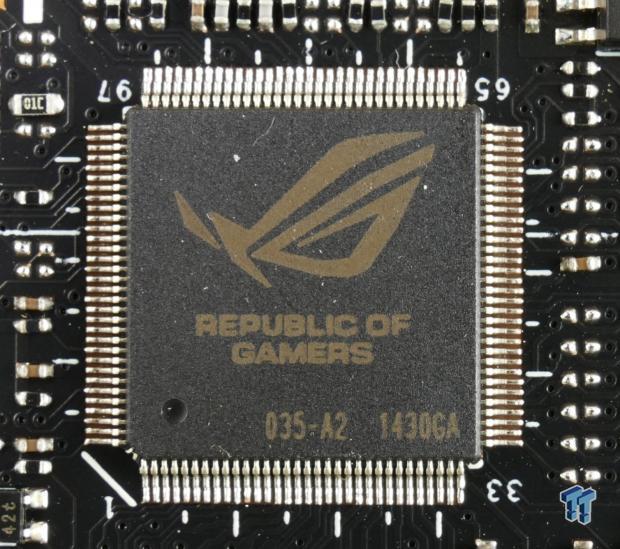 There are two of the large ROG chips above and one smaller ROG chip that provides extensive fan control, monitoring, and other ROG features.
BIOS and Software
BIOS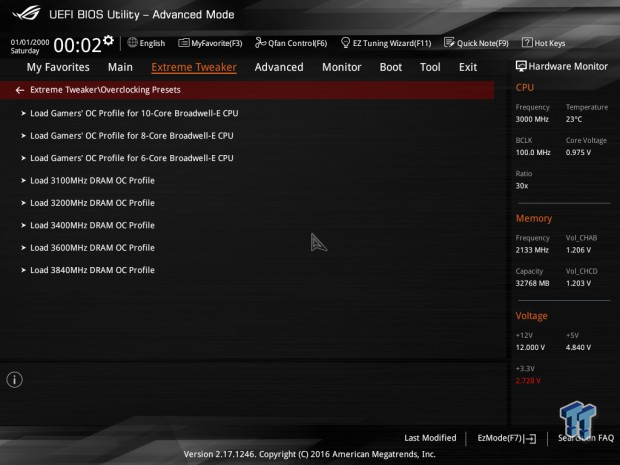 ASUS's UEFI for the Rampage V Edition 10 has a new sleek black/gray/red skin that emphasizes the ability of the motherboard to fit any color theme and not just red. The Rampage V Edition 10 does have the premium ROG BIOS features. While the STRIX X99 GAMING has three Gamers' OC Profile for CPU overclocking, the Rampage V Edition 10 has memory OC profiles for general overclocks and extreme profiles for each type of memory.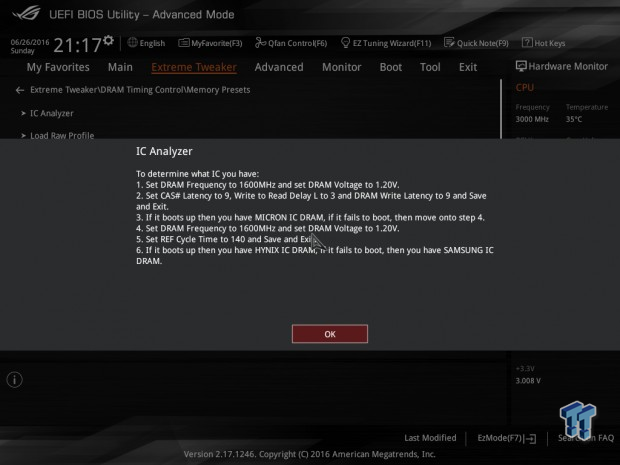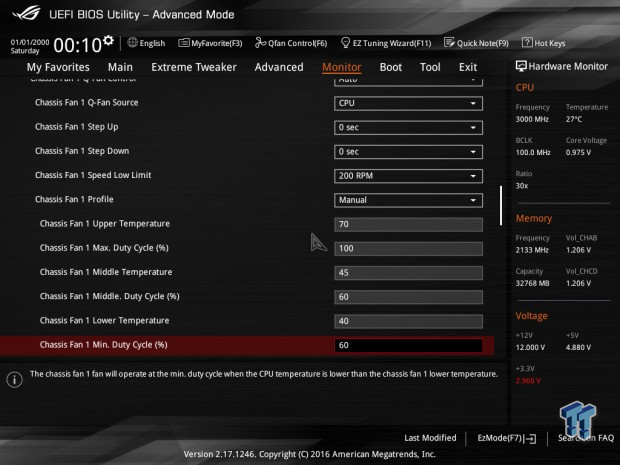 ASUS has also added in an IC Analyzer profile that allows users to figure out exactly what IC is used for your memory DIMMs. Once you follow the steps, you can apply one of the many profiles for overclocking each type of memory. Fan control on the Rampage V Edition 10 is extensive through manual input and a GUI. There are options to change almost every fan profile, and if you want to optimize all the fans, there is an automatic module just for that. The headers on the Rampage V Edition 10 are all auto-sensing, so you don't need to change the mode manually, but if you want to set the fans manually to PWM or DC mode you can.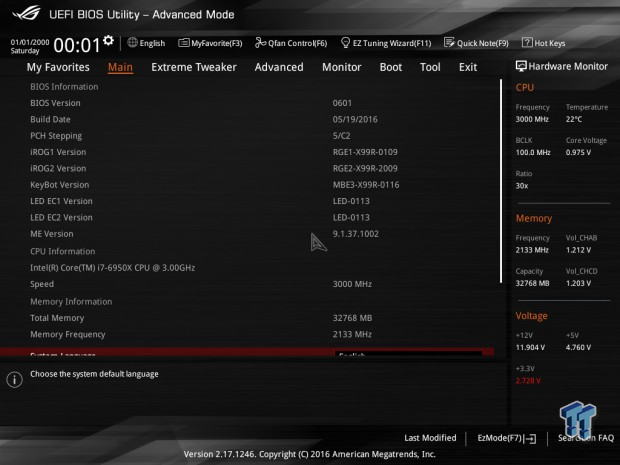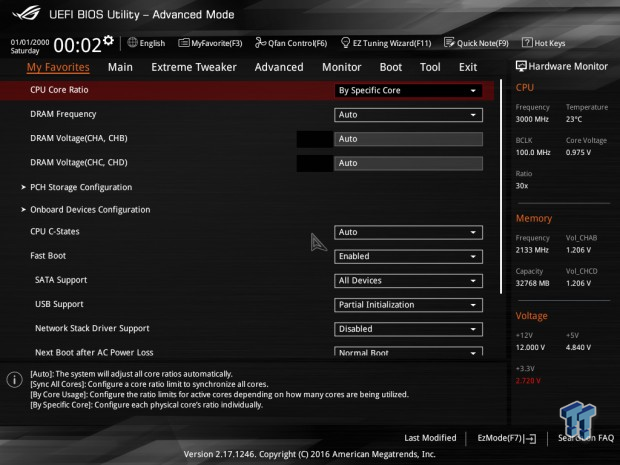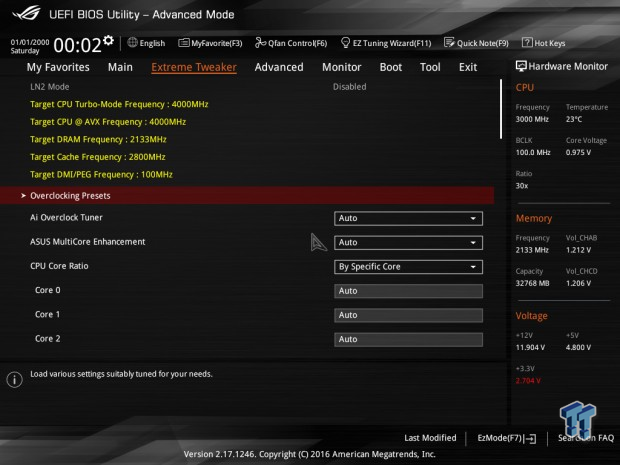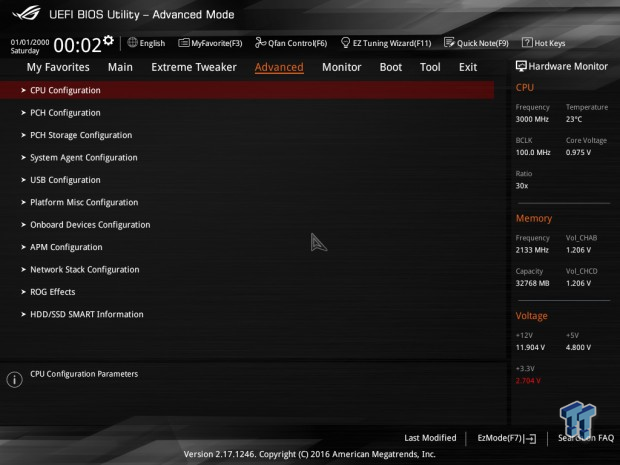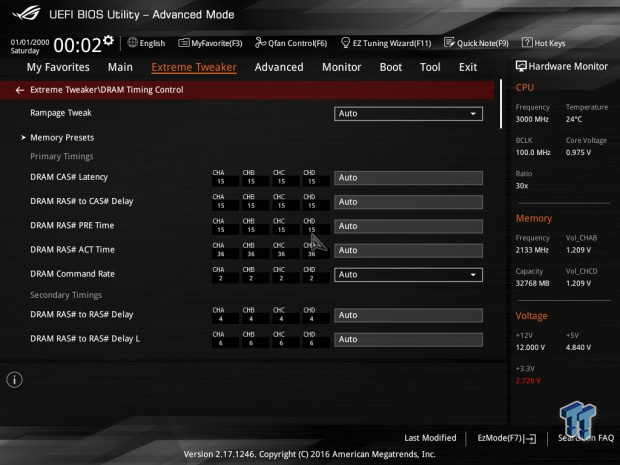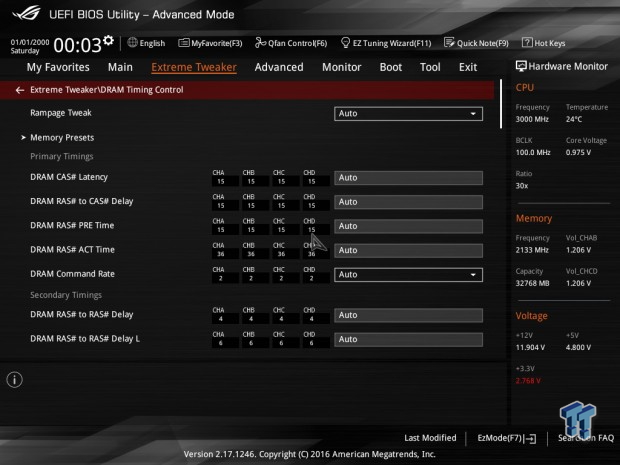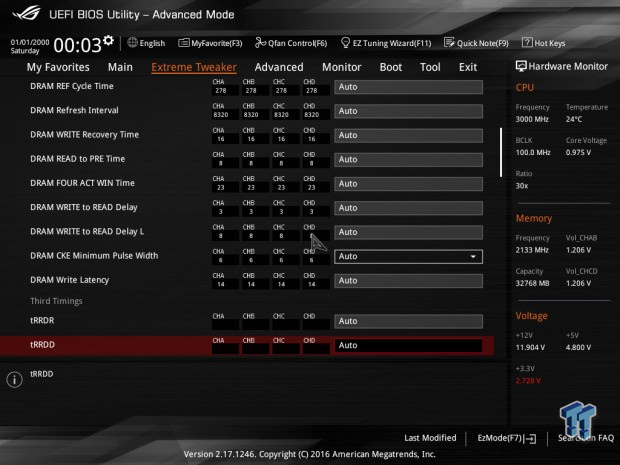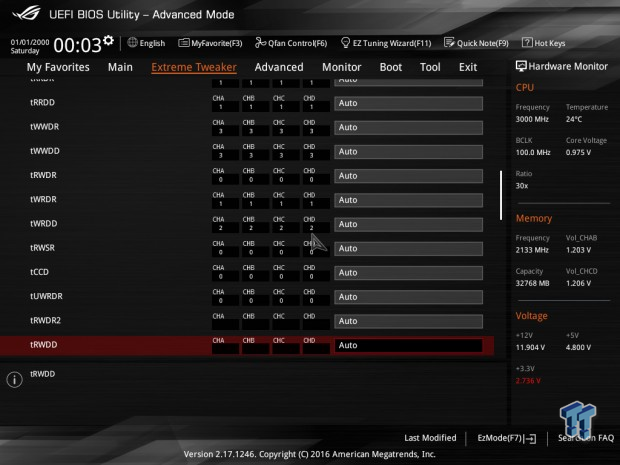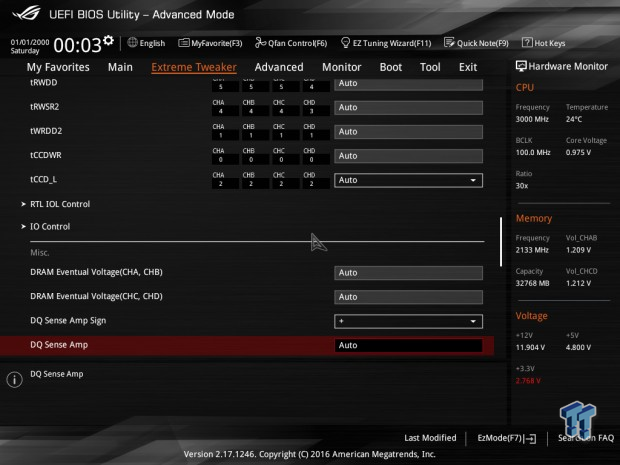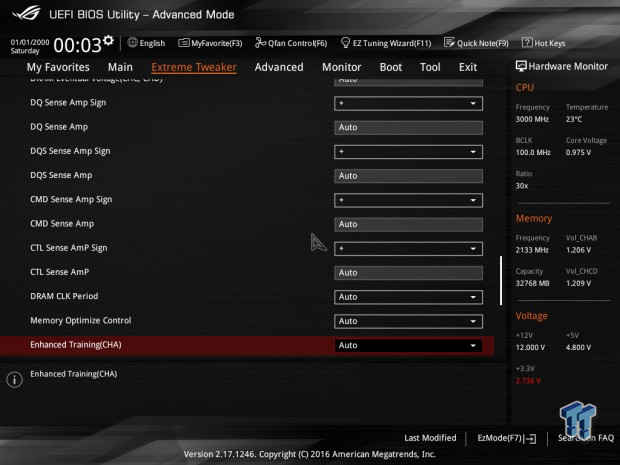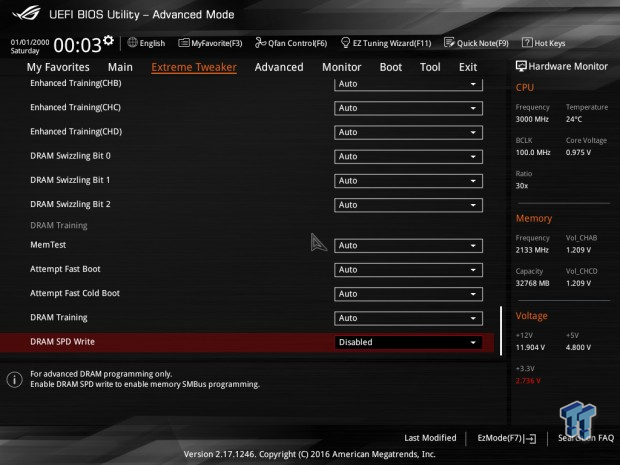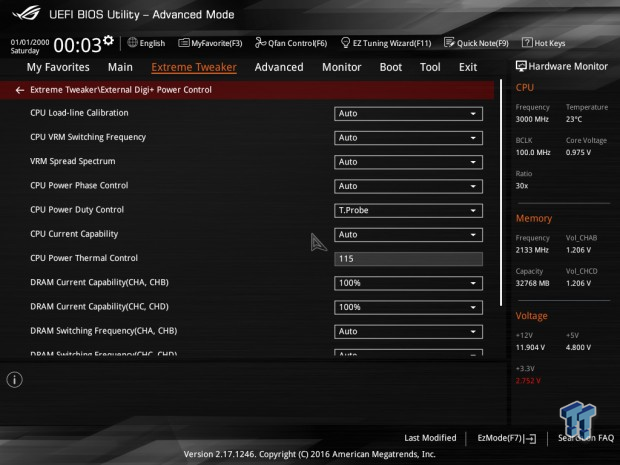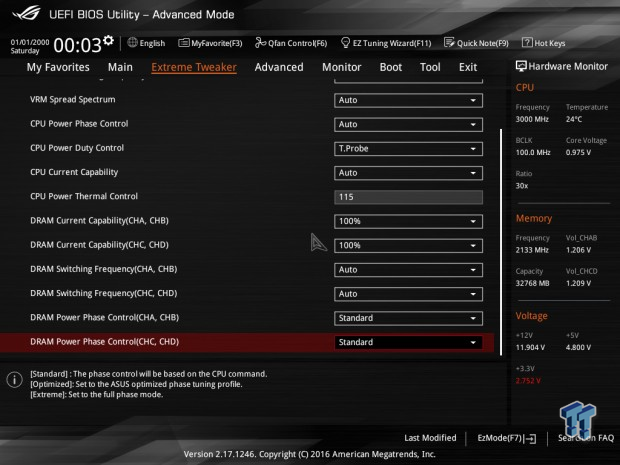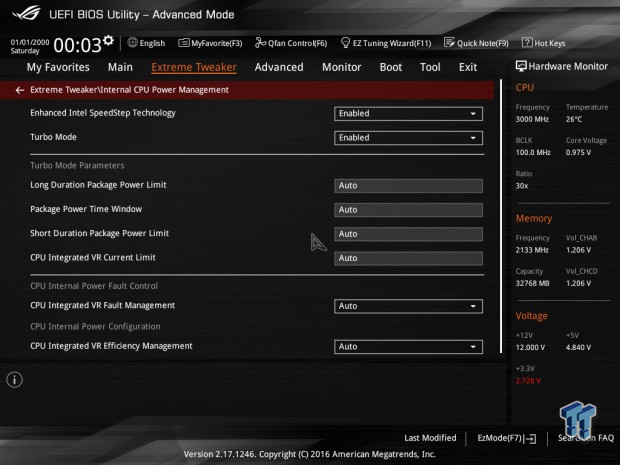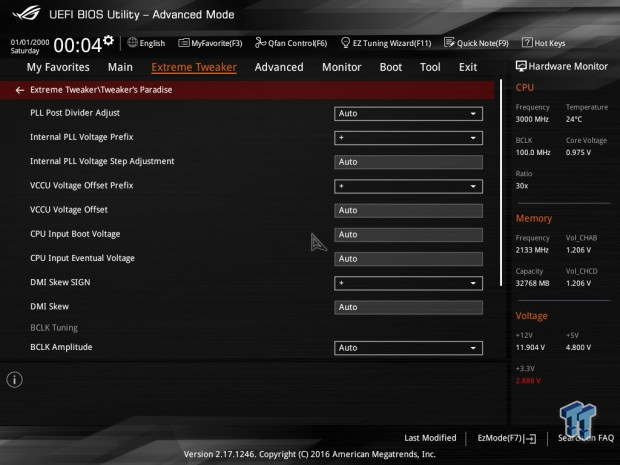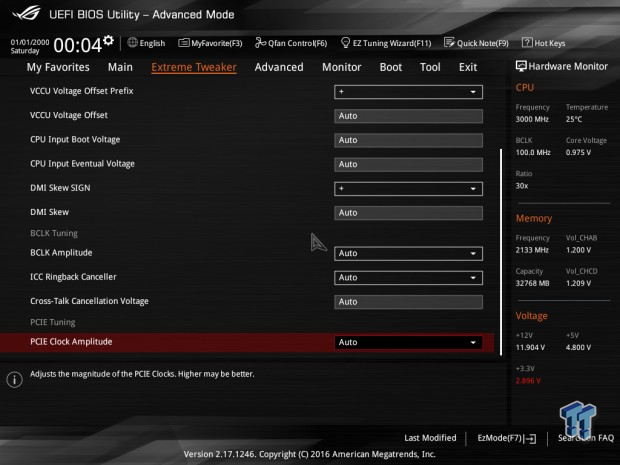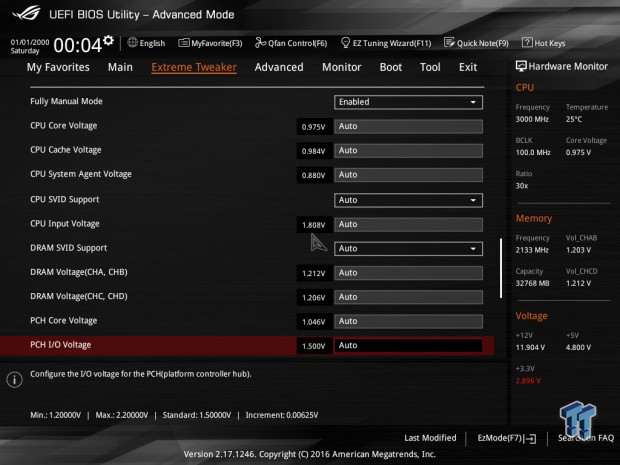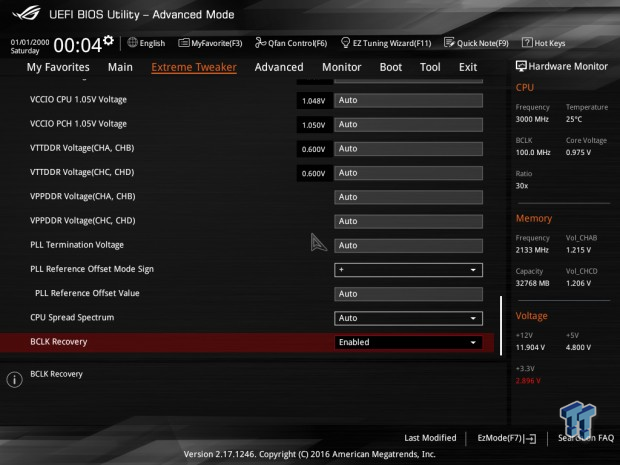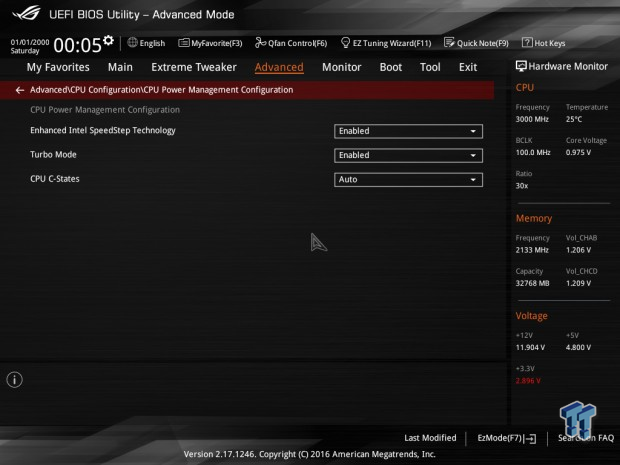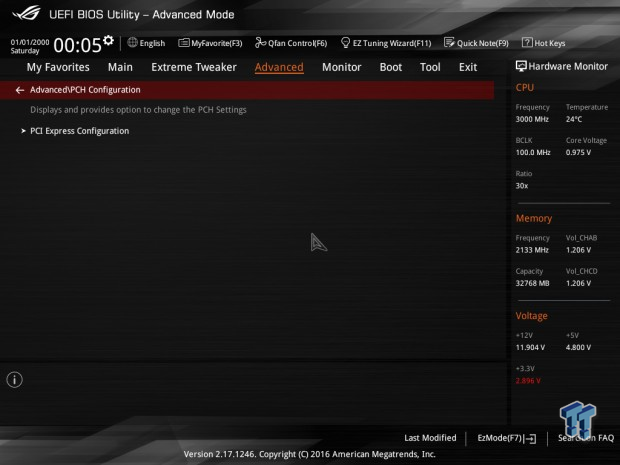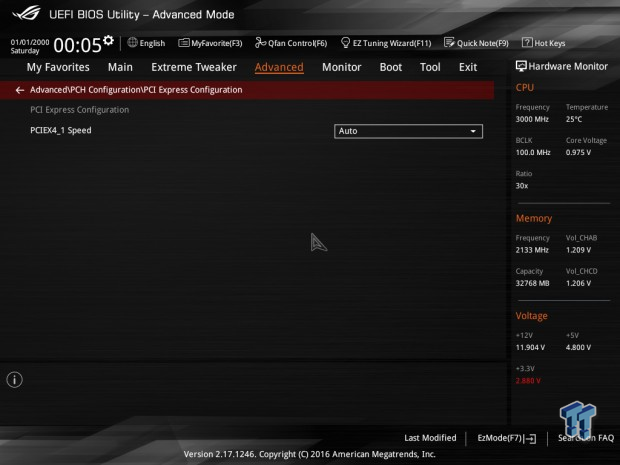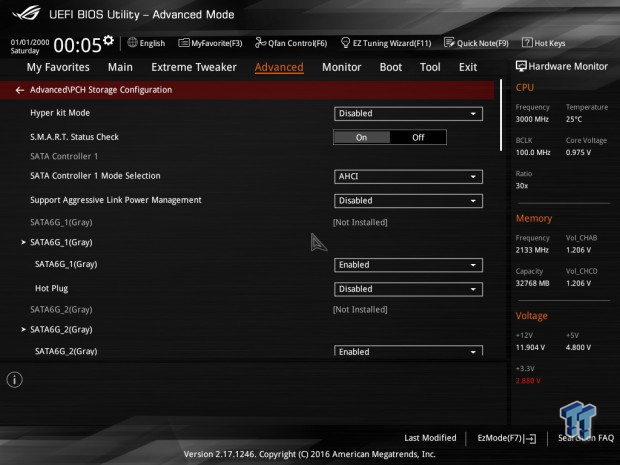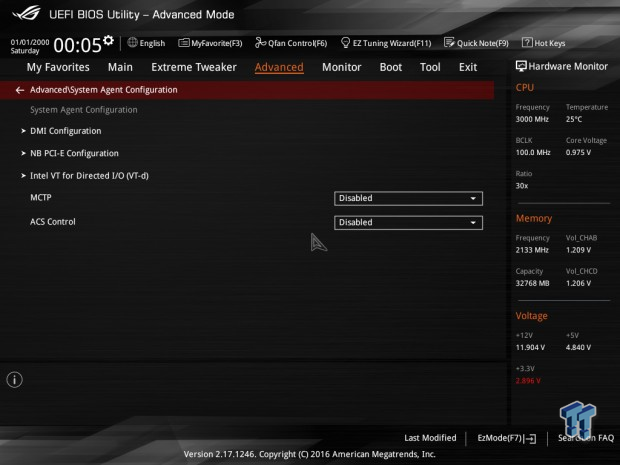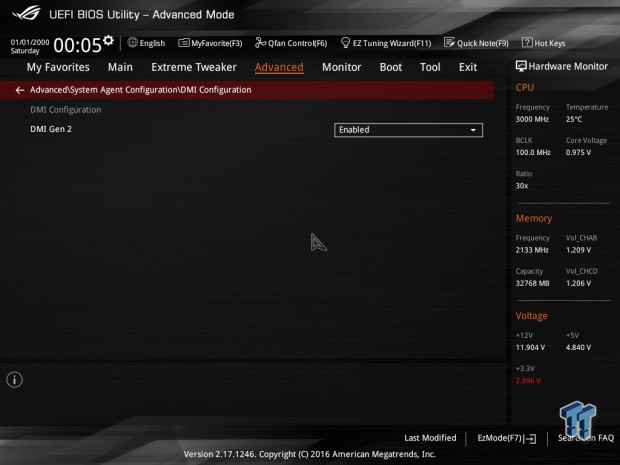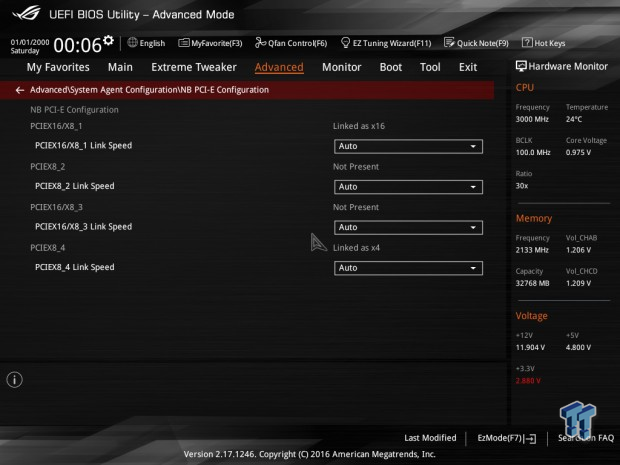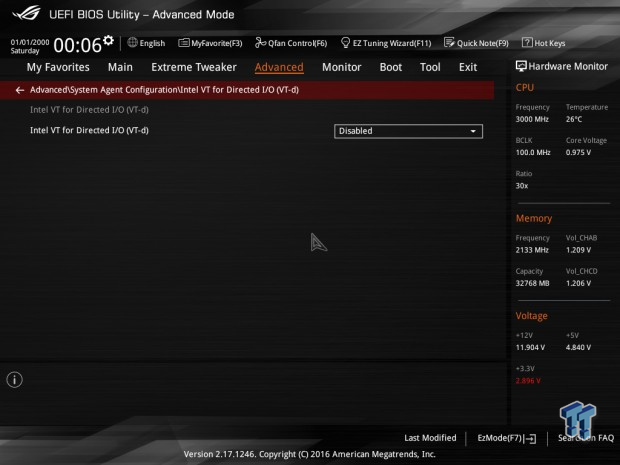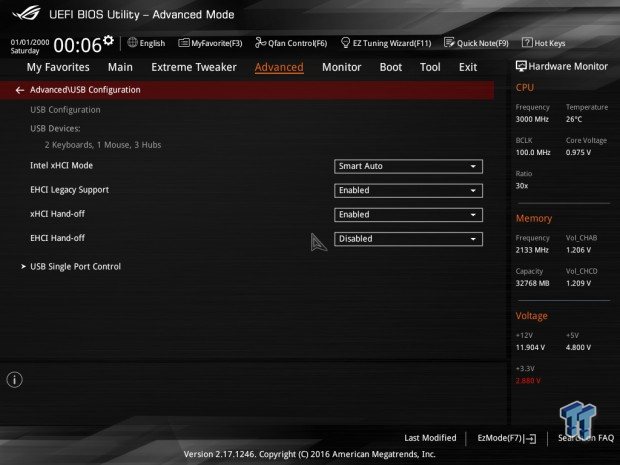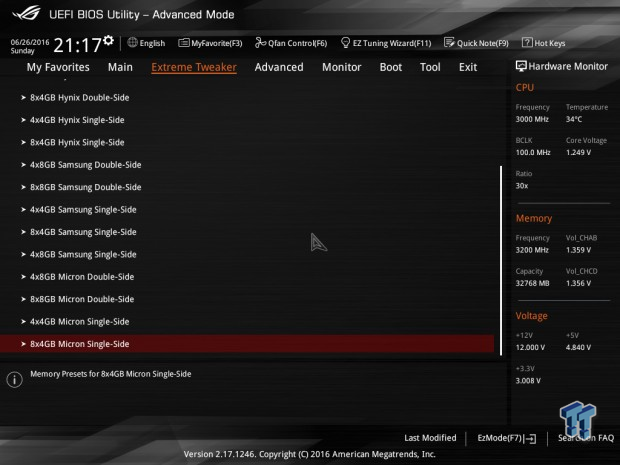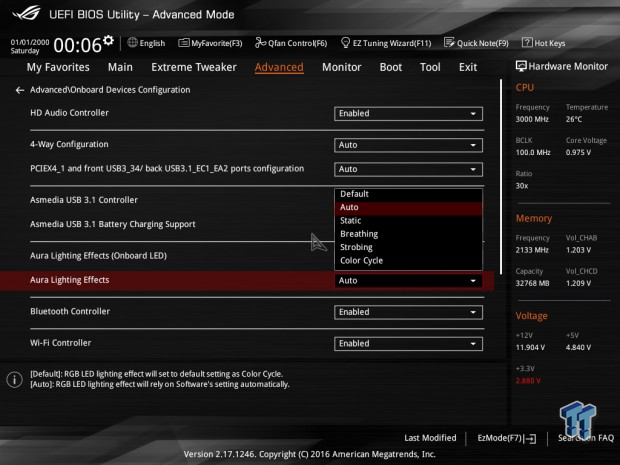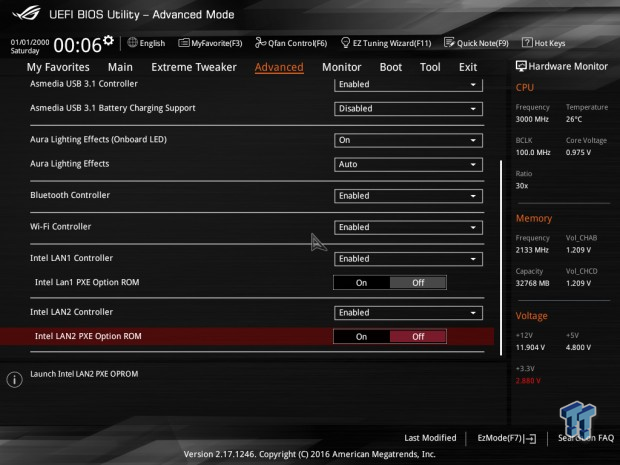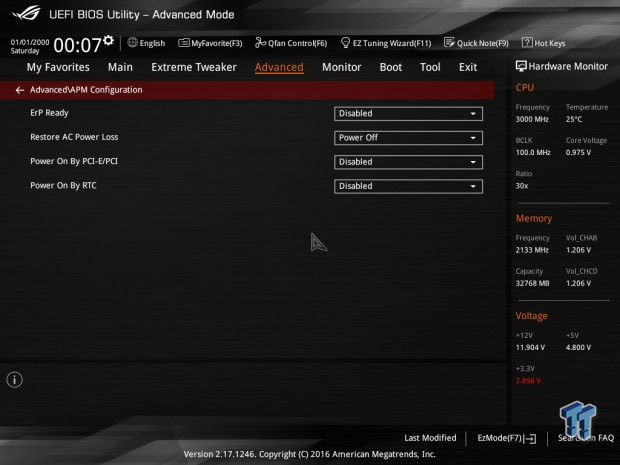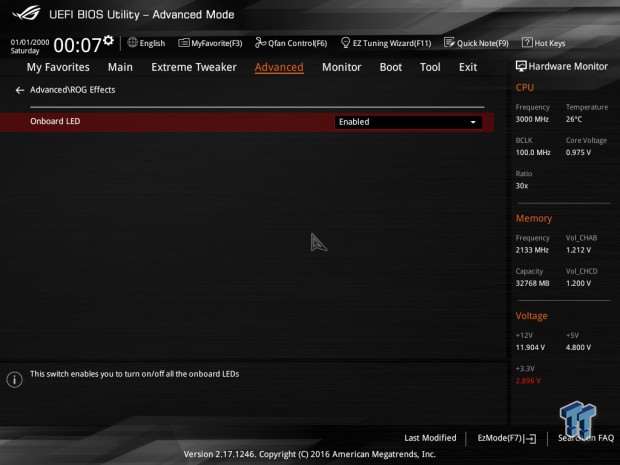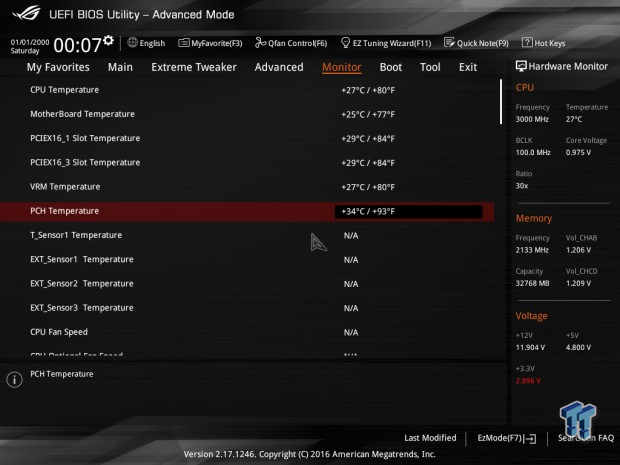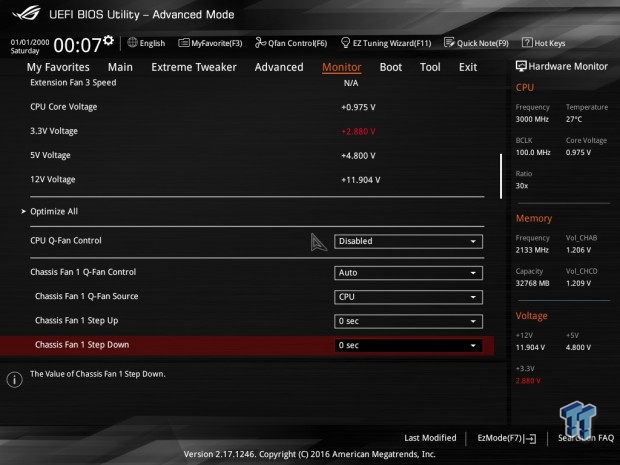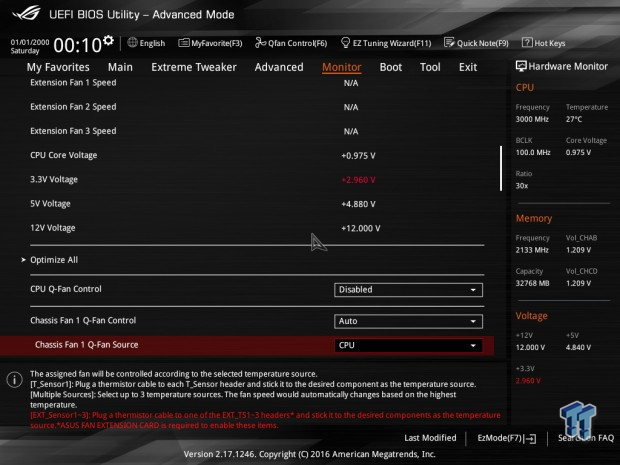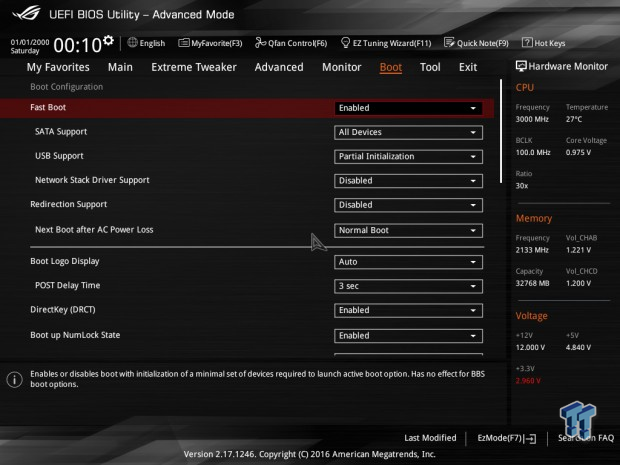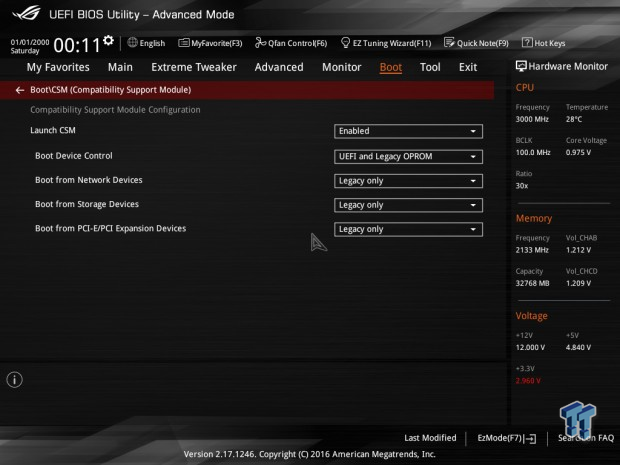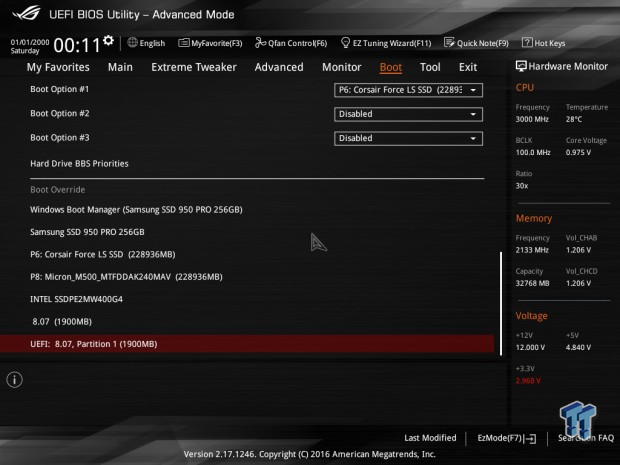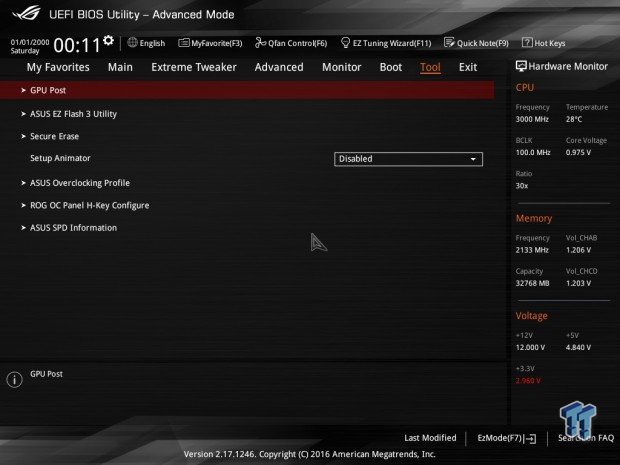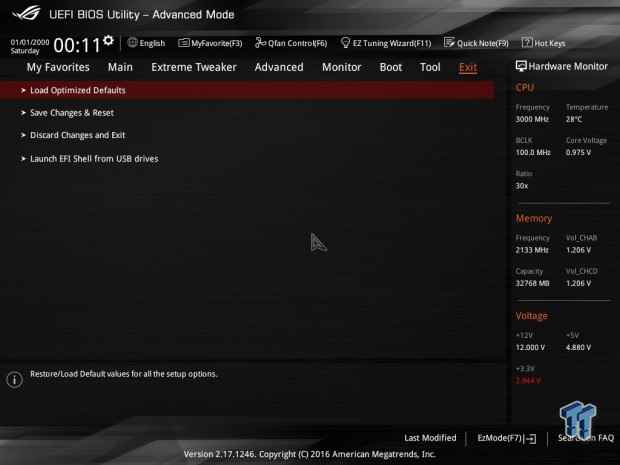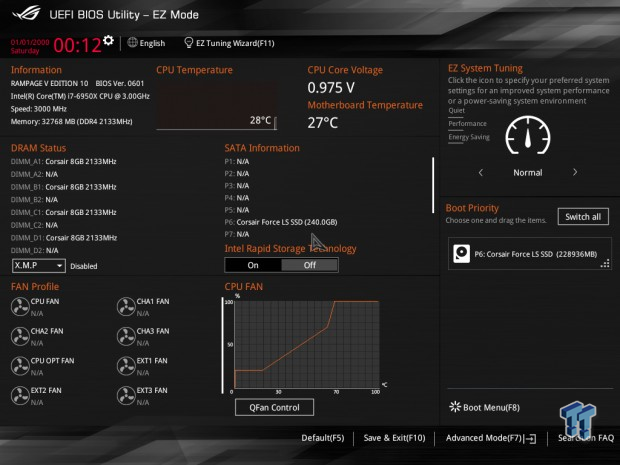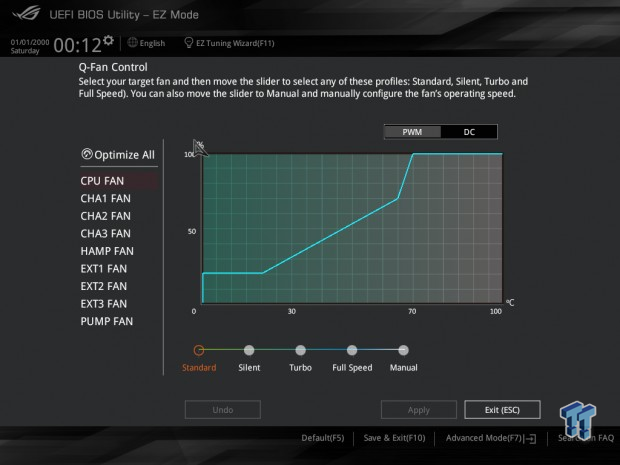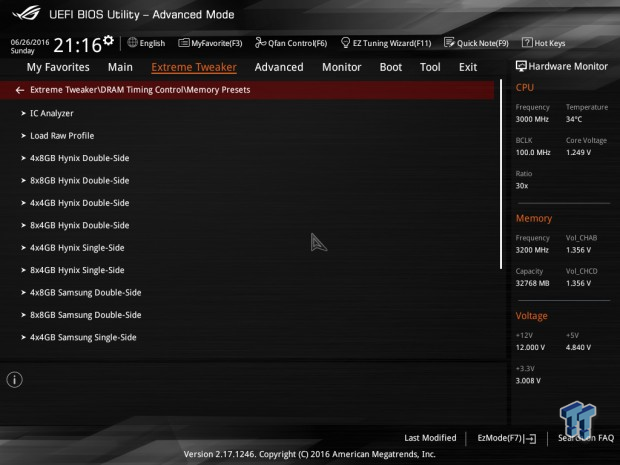 Software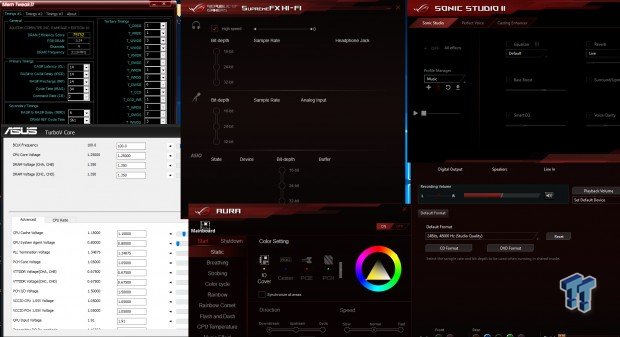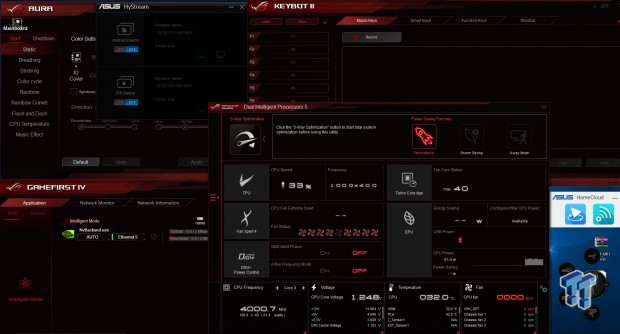 There is a ton of software included. There are two audio programs, Sonic Studio II, and the DAC's SupremeFX Hi-Fi, as well as AURA for RGB lighting, MemTweakIT, TurboV Core, GAMEFIRST IV for LAN optimization, KEYBOT II, HomeCloud, HyStream, and Dual Intelligent Processors 5 that includes more built-in programs.
There are some programs like RAM Cache that I haven't included above. If you want the full list, please visit ASUS's website.
Test System Setup
Steven's Motherboard Test System Specifications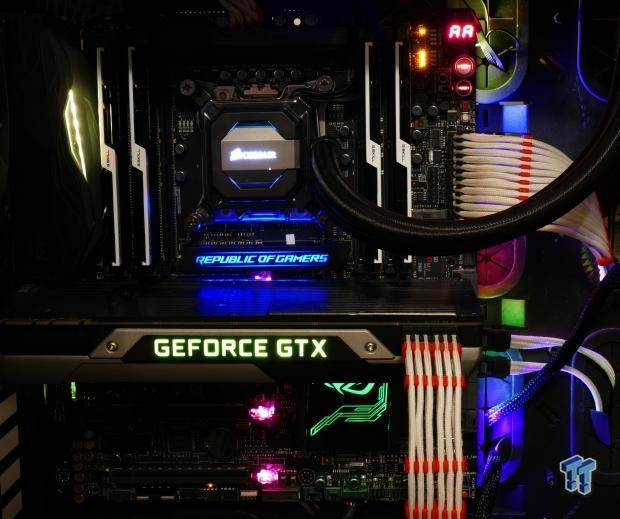 I changed the colors of the RGB LEDs in each region to show how independent control can be used to create neat lighting effects. ASUS did an excellent job with RGB LED diffusion in the center ROG heat sink, the PCH heat sink, and the rear PCB shield right side strip. The lighting on the right side of the PCB is diffused beneath the motherboard through a translucent plastic mechanism. It creates an awesome effect. A lot of people hate on RGBs, but in this case, I welcome them.
The new test bench is designed to test every aspect of the motherboard and IO. I have designed it so that the motherboard sits in a case and is cooled by fans always-on at a constant rate to keep the conditions similar during all tests. I have cut out part of the case behind the motherboard so I can get thermal images of the back of the PCB where the VRM heat spreads. System and CPU power measurements are now digitally logged.
I am also using a Netgear Nighthawk X4 AC2350 for our network (including wireless AC) tests. The latest M.2, SSD, and USB technologies are also being utilized to test the maximum potential of the motherboards that are tested.
Overclocking
Overclocking Results
CPU Overclocking
If you hadn't already heard, the 6950X 10-core $1700 beast isn't the best overclocker. I cannot validate CPU frequency anywhere near 5GHz, and I cannot even boot at 4.5GHz, but I can run 4.4GHz on all cores. I have decided to change how I do the overclocking section and determine exactly what it takes to push the CPU to this maximum stable frequency on the different motherboards I test.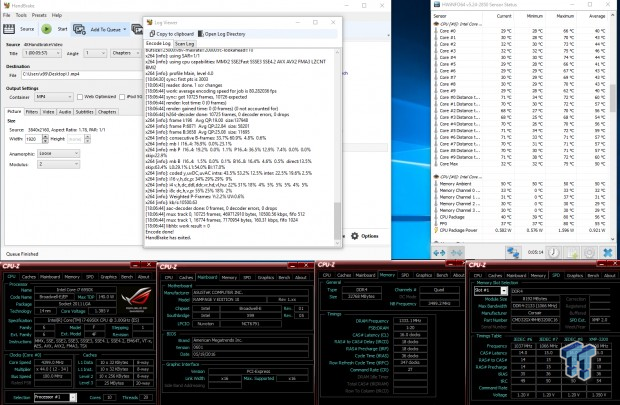 ASUS's Rampage V Edition 10 does provide some help when it comes to overclocking, and it should since it is an ROG motherboard. It was easy to overclock the system to 4.4GHz, 3.5Ghz Cache, and 3200MHz memory using Corsair's Dominator Platinum kit. Setting XMP will help set up an overclock by changing core frequency settings to 4GHz, and from there you can increase the frequency. I did manually set VCore and other voltages.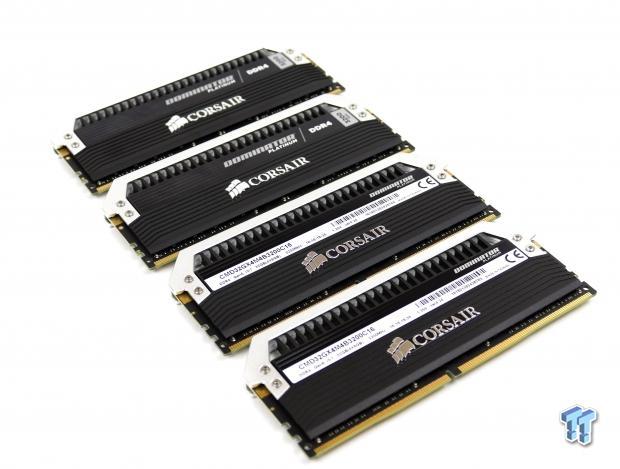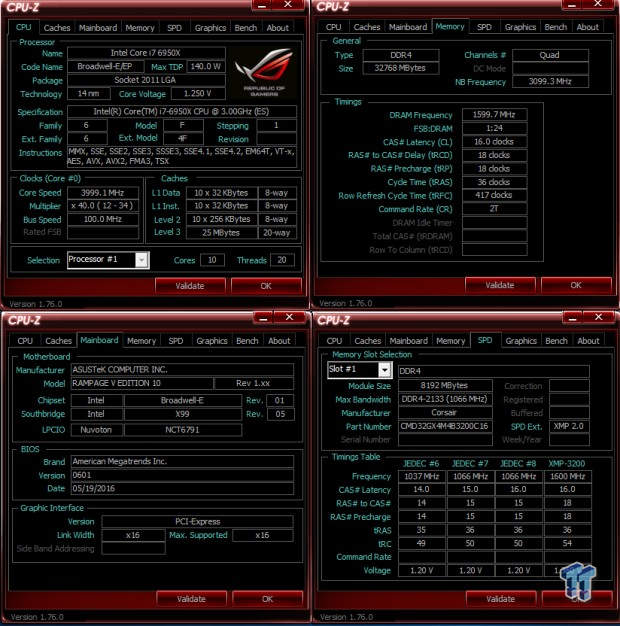 My 32GB (4x8GB), Dominator Platinum 3200MHzC16 kit from Corsair, ran great with XMP on this motherboard.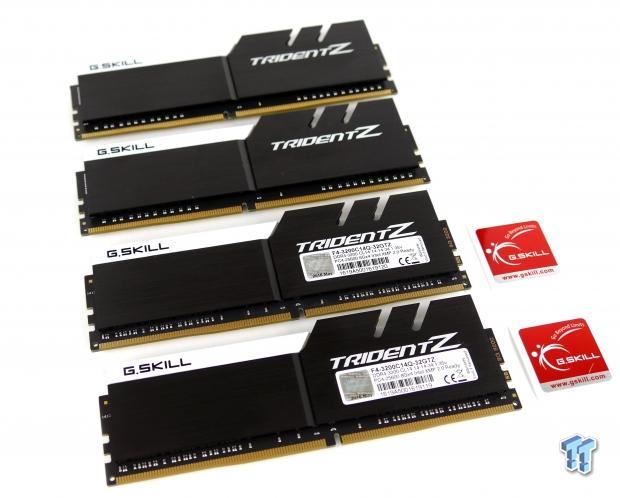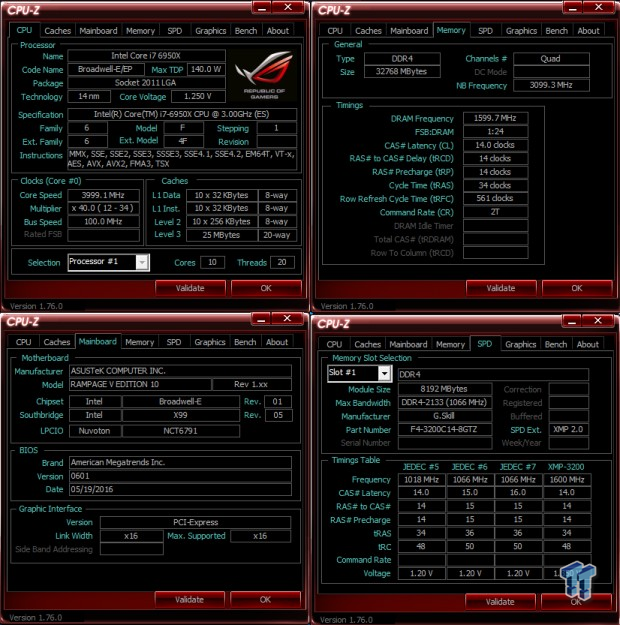 My 32GB (4x8GB) G.Skill TridentZ 3200MHz CAS 14 32GB quad channel kit also ran great on the Rampage V Edition 10.
CPU, Memory, and System Benchmarks
CINEBENCH 11.5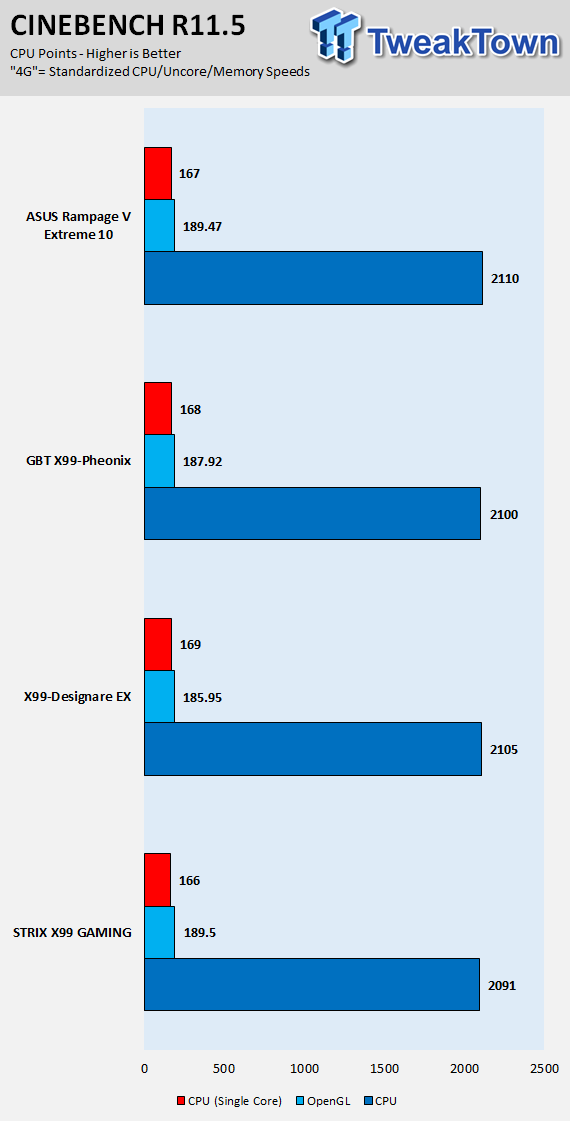 wPrime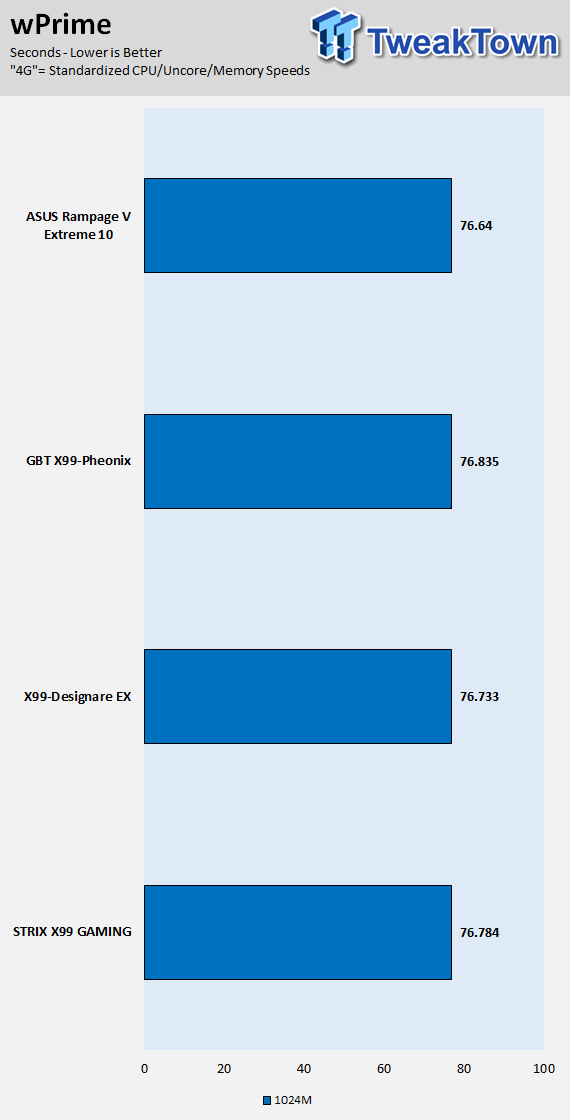 AIDA64 AES and HASH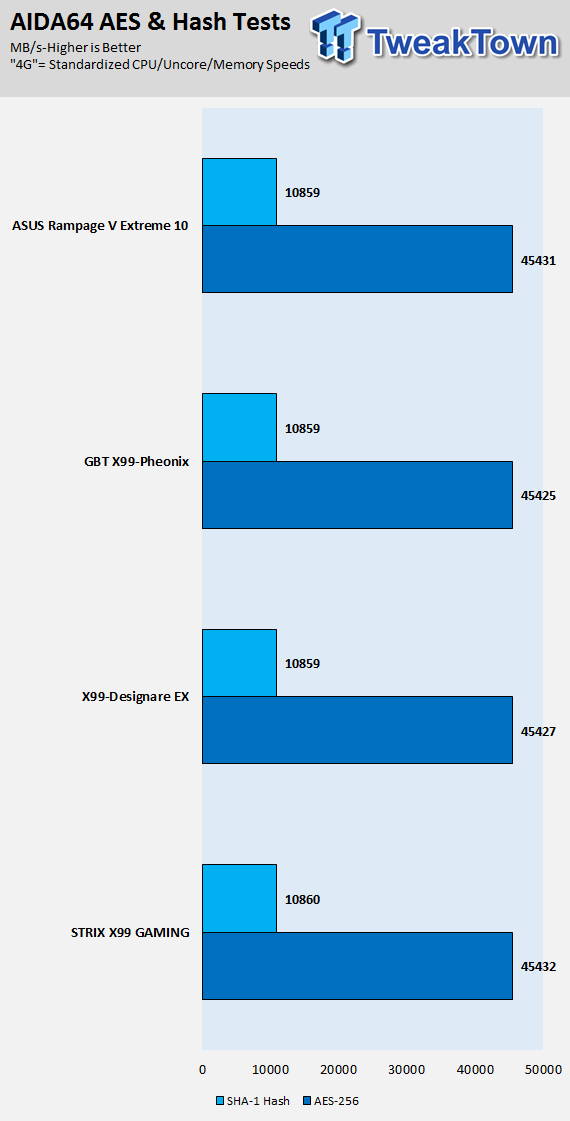 AIDA64 FPU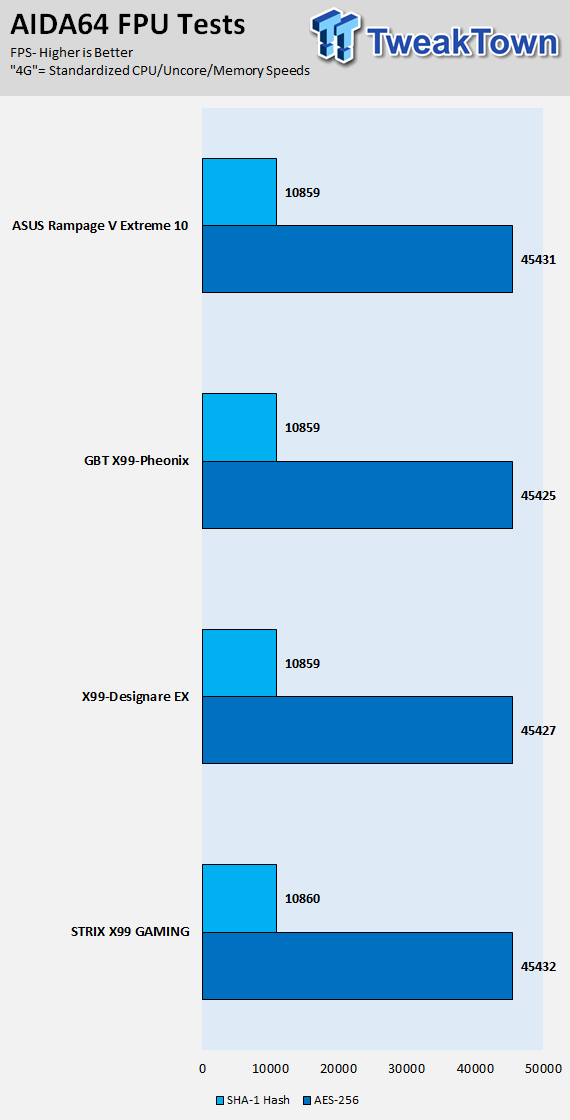 AIDA64 Memory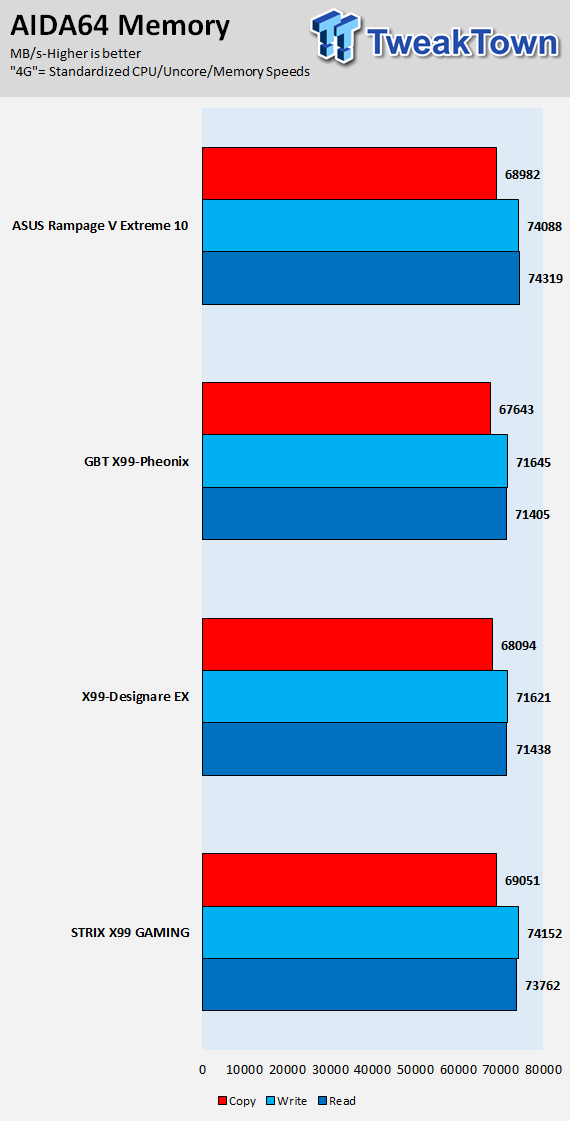 ScienceMark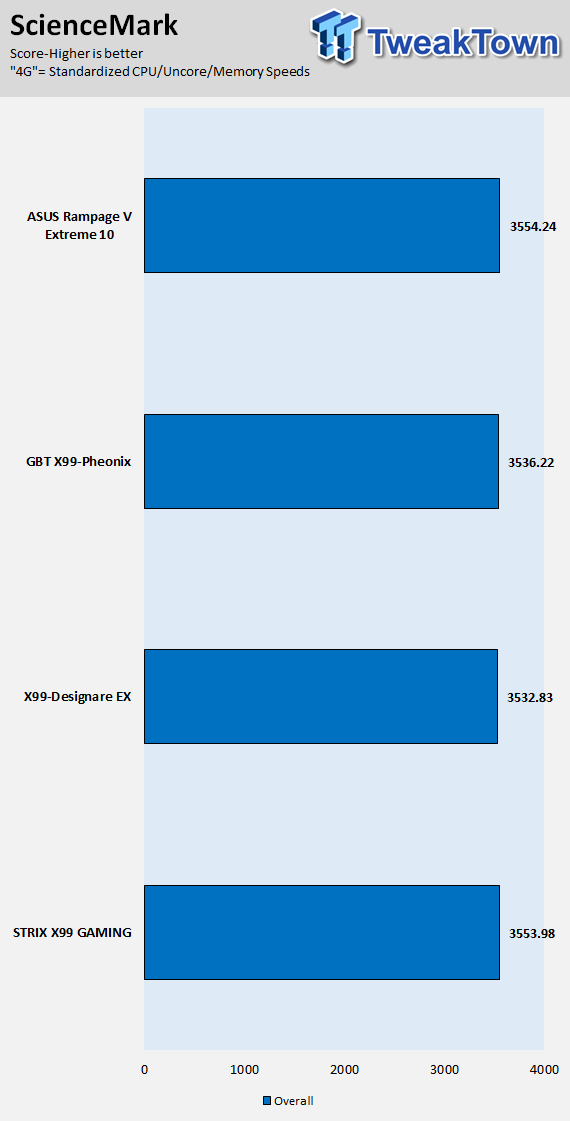 ScienceMark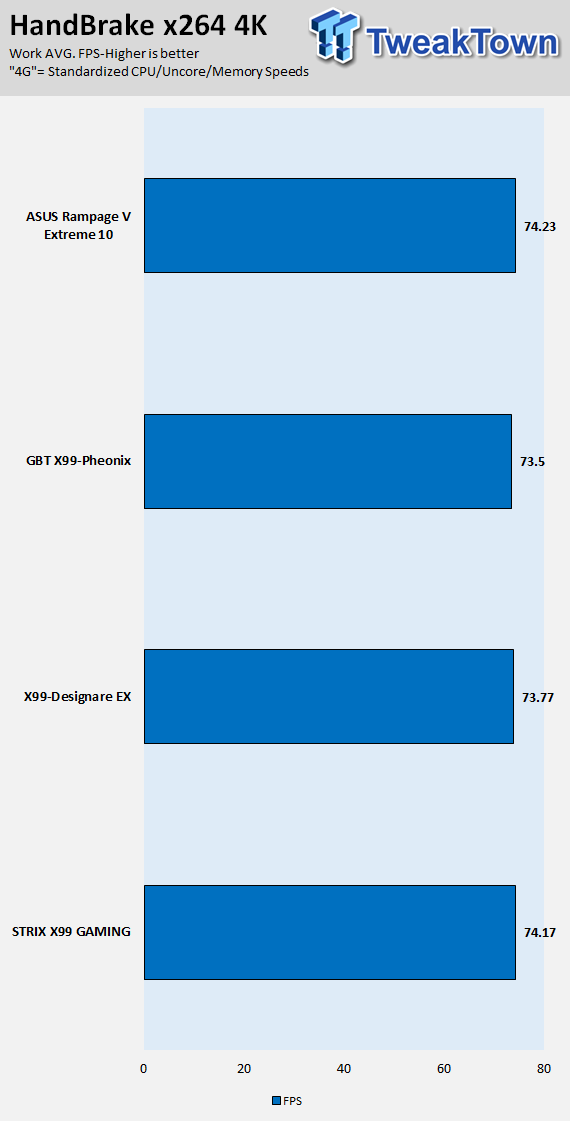 3DMark: Cloud Gate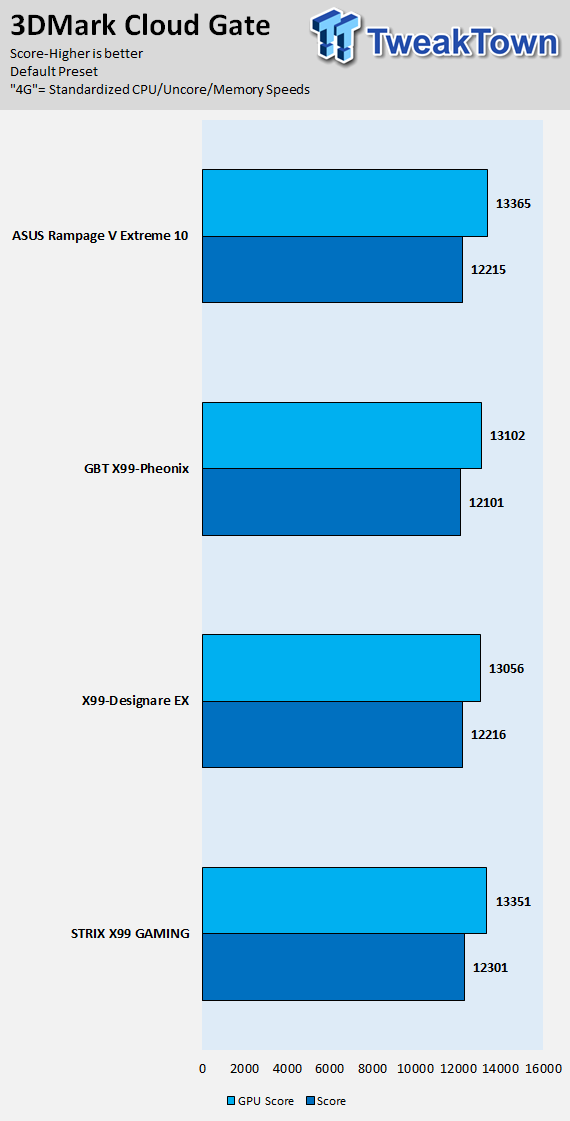 3DMark: Fire Strike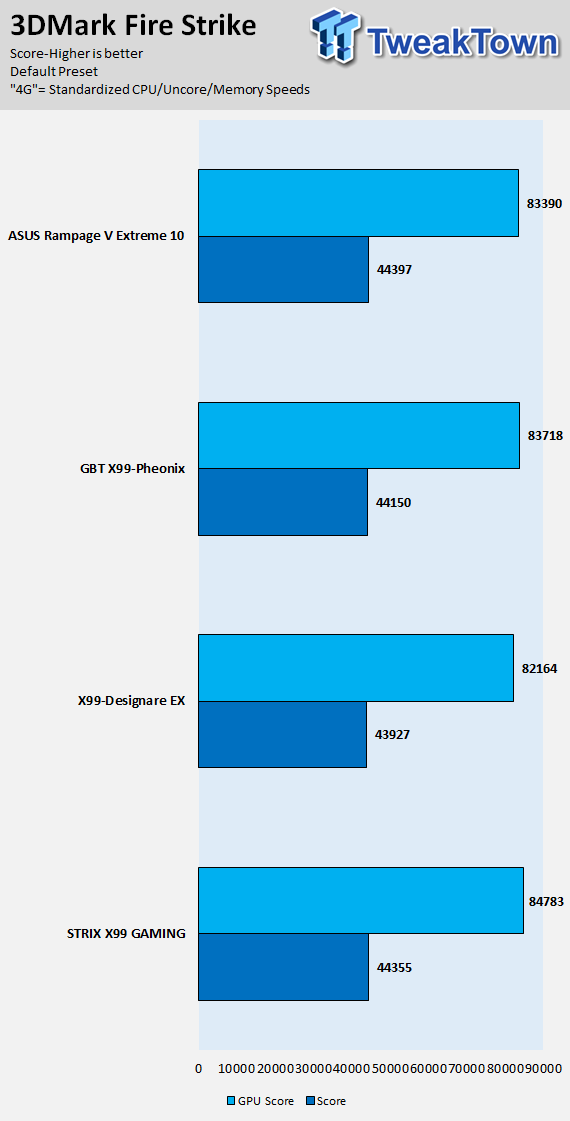 ResidentEvil 6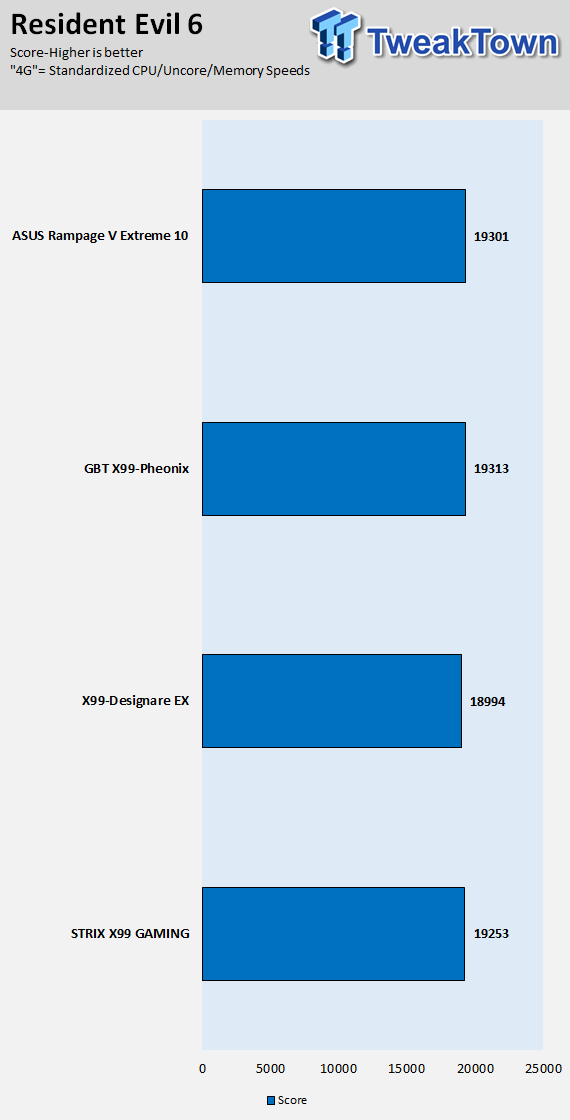 I have decided to test motherboard performance based upon a standardized 4GHz profile for the new X99 refresh motherboards. The base frequency of the 6950X is 3GHz, but many motherboards boost that base speed, so it's better to test with all cores equalized to find performance differences. I set the memory to 2666MHz with timings of 16-18-18-36 T2 and let the motherboard set the rest.
In this case, the Rampage V Edition 10 is very aggressive with memory overclocking, which is a good thing for performance. The profiles built-in for memory overclocking can help stabilize the system if you have issues, but I did not have any. Overall CPU and memory performance were some of the best I have seen yet.
System IO Benchmarks
SATA6G: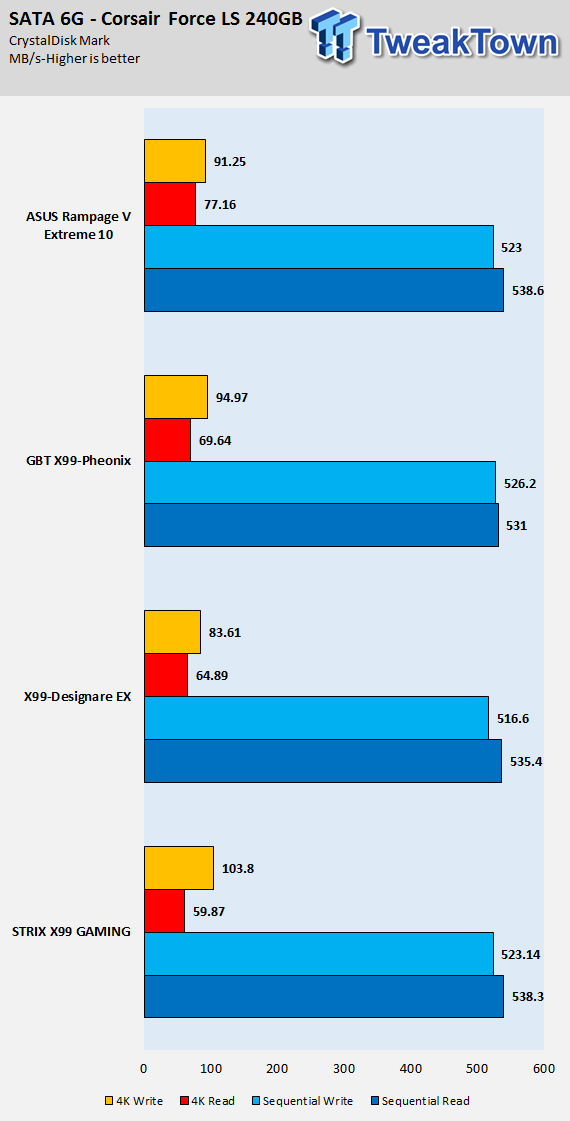 M.2: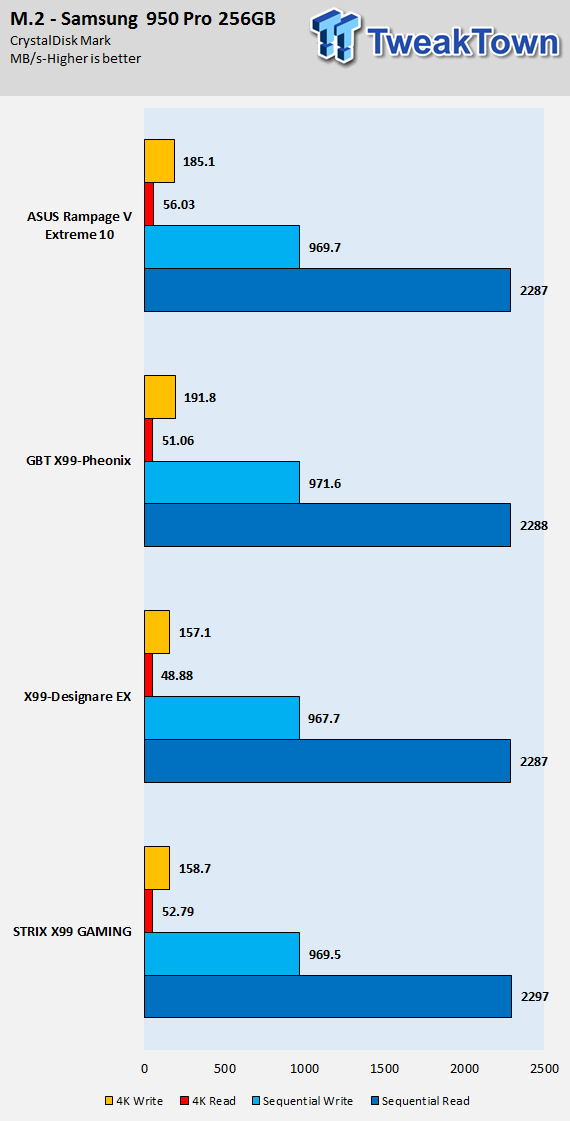 U.2: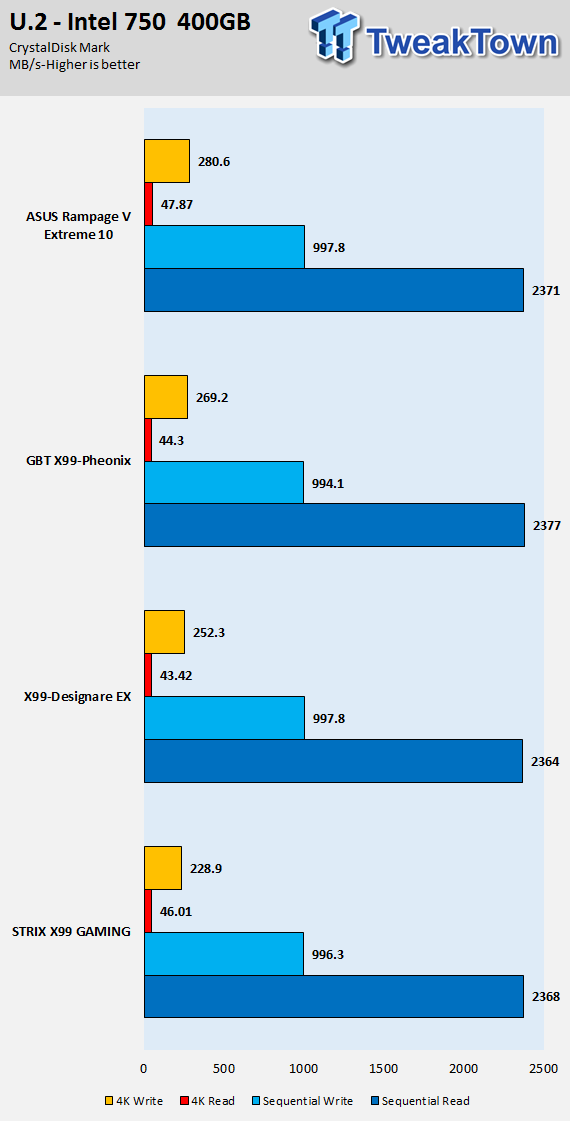 ixChariot Network Throughput: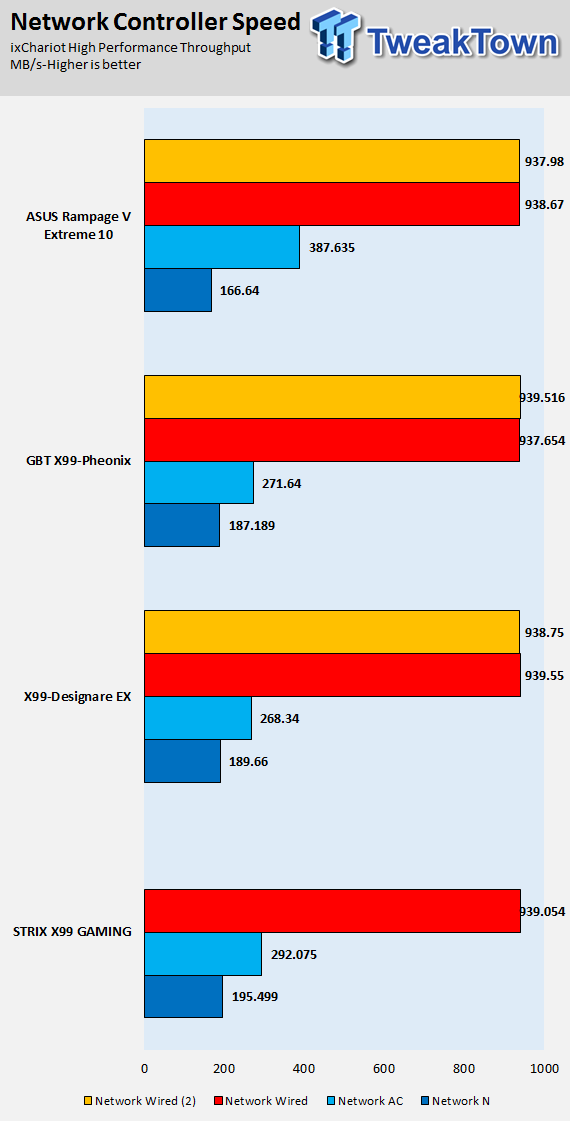 Although the Rampage V Edition 10 has so many quick switches, the motherboard does have re-drivers to maintain signal integrity, and the result is solid performance as seen above.
Audio RMAA 5.5:
I disable all audio features, set the correct bitrates, and then test the audio with a loopback test.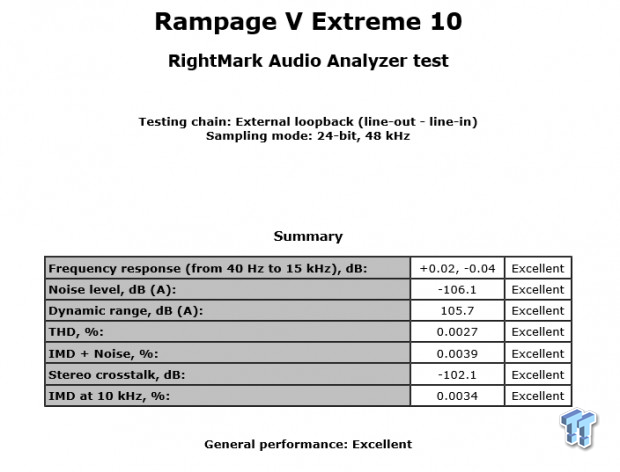 Sound Judgment by Ear: The onboard audio was excellent, but the DAC's audio was better. There is a noticeable boost from using the DAC versus onboard, and I can see why the price of this motherboard is so high; the audio is really quite excellent. There are five ratings for audio: 1. Problems, 2. Okay, 3. Acceptable, 4. Very good, 5. Excellent
Thermal Imaging and Power Consumption
CPU power is measured through the 8-pin connector, which is hooked up to a hall effect IC, which measures current and puts out a voltage in proportion to the current. That voltage is logged by a National Instruments ADC, which logs the DC voltage level that I then convert into current.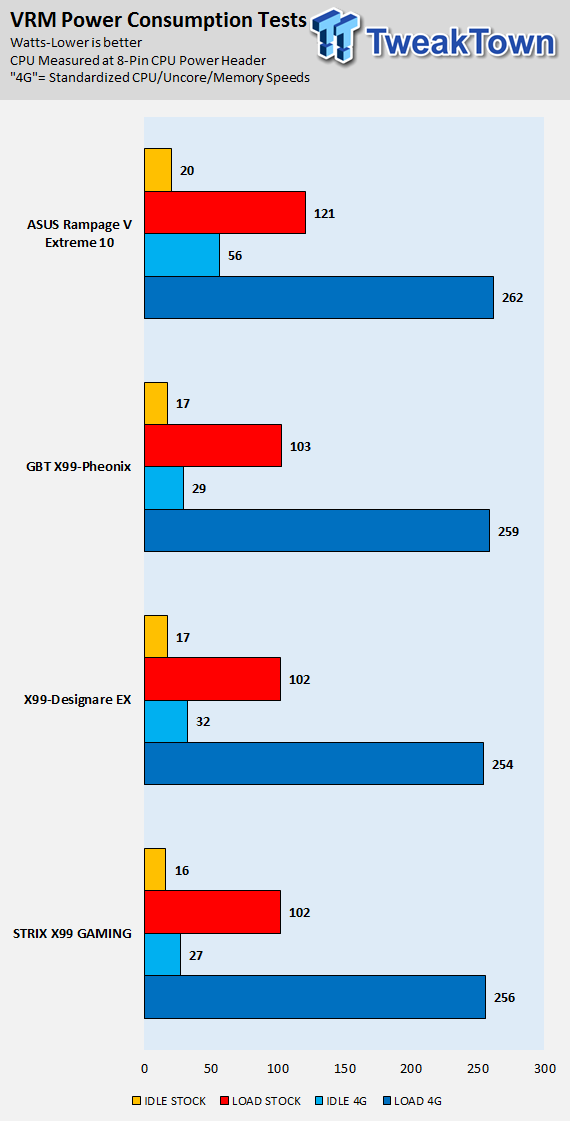 Note on Thermal Images: In the temperature section, we use our Seek thermal imaging camera to capture the surface temperatures of major components on the board. I look at the VRM and then all other things that light up the screen. If there is something to worry about, then I will state it. Otherwise, I will just show the hotter running parts of the board for fun. Unless some component is over 80-90C, then there isn't anything to worry about.
All systems will act differently, so I will look for commonalities, such as how far from the VRM the heat spreads through the PCB and the difference in temperature between the front side and backside of the PCB. Keep in mind, the majority of the heat from the VRM goes into the PCB as it is a giant soldered on copper heat sink. A larger difference in temperature between the back and front of the PCB points towards a more effective heat sink.
Thermal Testing at Stock Speeds:
The image on the left is always at idle, and the image on the right is at load. During ALL TESTS, fans above the VRM that cool the CPU cooler's (Corsair H110i GT) radiator are turned on to high (12v).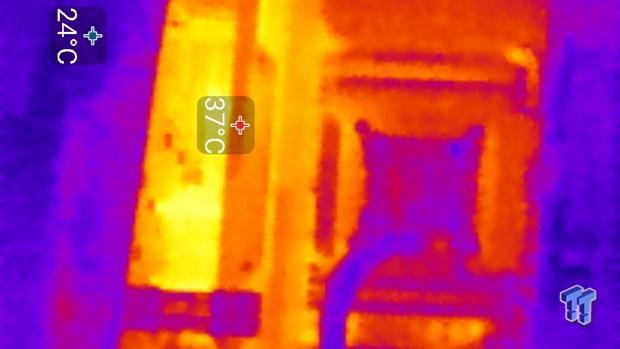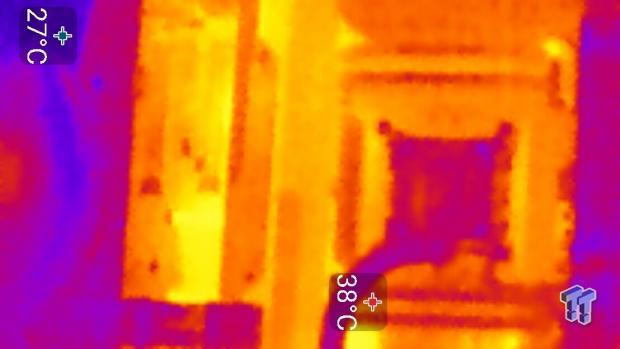 Full frontal.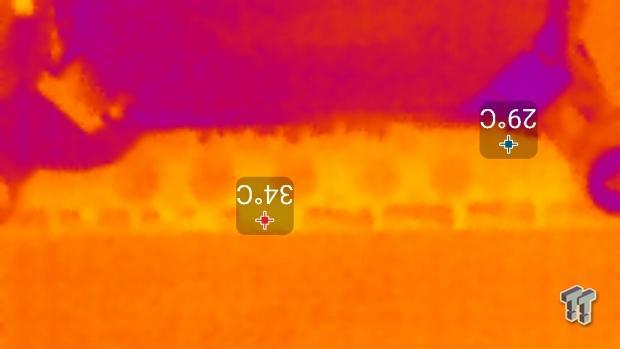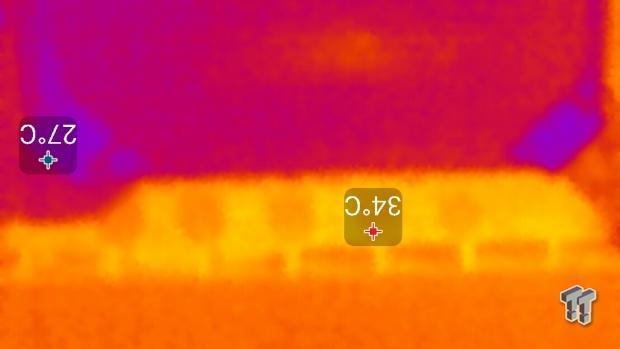 Up-close of the front of the VRM.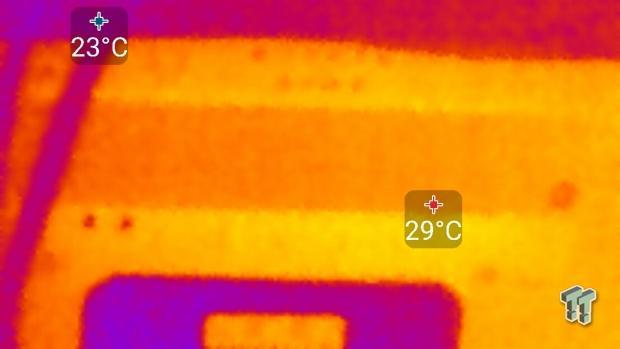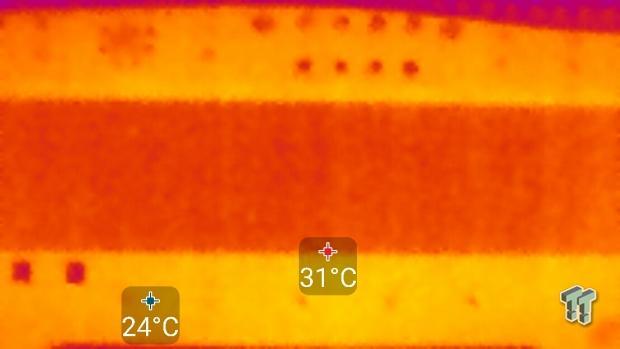 Up-close of the back of the VRM.
Thermal Testing at 4.5GHz Overclocked Speeds:
The image on the left is always at idle, and the image on the right is at load. During ALL TESTS, fans above the VRM that cool the CPU cooler's (Corsair H110i GT) radiator are turned on to high (12v).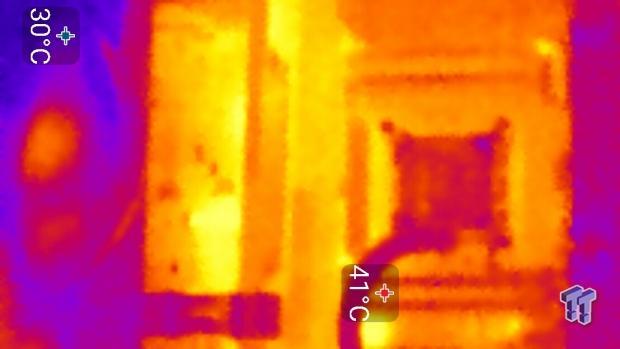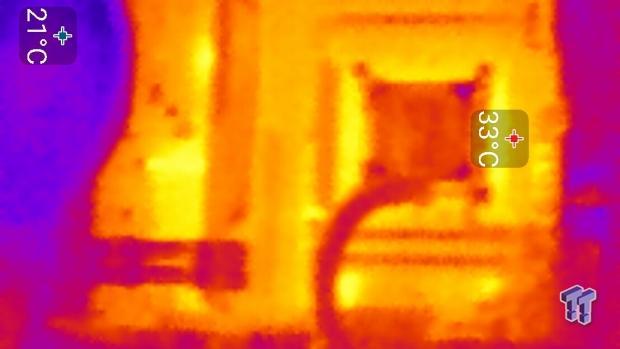 Full frontal.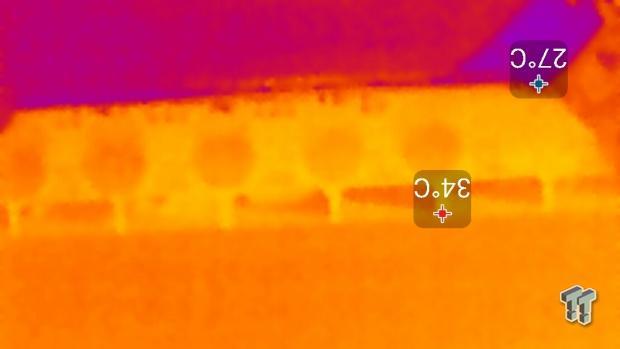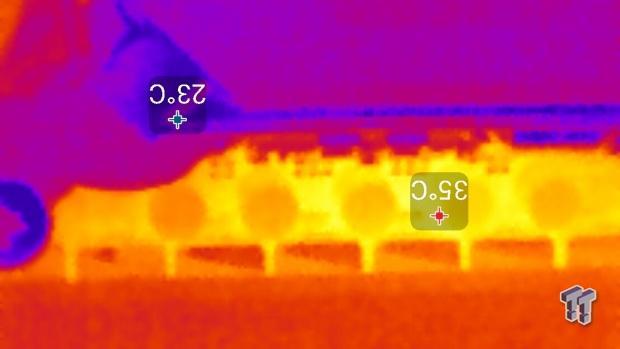 Up-close of the front of the VRM.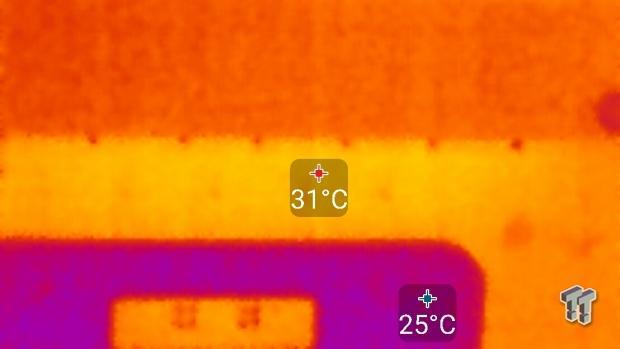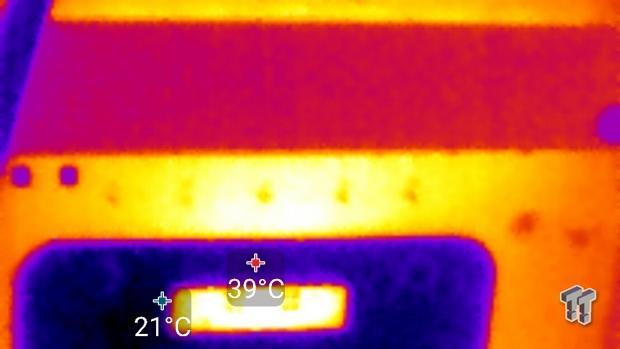 Up-close of the back of the VRM.
The VRM on the Rampage V Edition 10 is extremely high quality. It uses IR's 60A PowIRstages which provide clean and cool power to the VRM. The VRM heat sink is heavy and does its job well; overall VRM performance was excellent. The Rampage V Edition 10 has a high-performance VRM, designed for performance and not necessarily power savings, it provides power fast enough for any workload, and does so without a sweat.
Anything under 60C is great, 60-80C is acceptable, and anything above 80C is a bit worrisome (if at stock).
What's Hot, What's Not & Final Thoughts
Here are key points about the ASUS Rampage V Edition 10.
What's Hot
Aesthetics Worth Its Weight: I review a lot of motherboards, and I rarely come across products such as the Rampage V Edition 10. I get the feeling that ASUS couldn't have done better regarding looks and feel. The motherboard is so heavy, you almost feel like it is a shot-put ball, I am pretty sure you can use it as a weapon if you hurled it at someone. The motherboard's finish, from the integrated IO shield to the lettering on the heat sinks is very sharp and elegant; it provides a chic feeling. While the RGB LEDs could easily make it more toy-like, the way ASUS has implemented them allows you to use them elegantly to add to the appeal of your build.
4-Way SLI with M.2 and U.2: The way ASUS has routed bandwidth allows for the M.2 and U.2 slots to receive bandwidth from PCI-E lanes earmarked for either the first or the last PCI-E 16x slots. ASUS makes this work with all the re-drivers and PCI-E quick switches, allowing for flexibility.
Supreme HiFi: ASUS's SupremeFX HiFi provides many of the benefits of a dedicated DAC, such as EMI protection and off-board power, with the benefits of being inside a case. The parts that ASUS has used are quite impressive, including an ESS SABRE DAC and a Cirrus Logic ADC along with multiple amplifier stages for both the output and input. If you want a definite upgrade from onboard audio, the Rampage V Edition 10 has you covered and some more.
Four USB 3.1 Ports: The Rampage V Edition 10 is the first motherboard I have come across that has four USB 3.1 ports. Two USB 3.1 Type-A and two USB 3.1 Type-C ports provide more USB 3.1 than one can use at this point. You are definitely prepared for the future of USB connectivity with this motherboard.
A total of 3.3Gbps of Total Network Bandwidth: Dual Intel 1Gbit NICs provide wired network connectivity. The Broadcom based 3x3 Wireless AC controller offers up blazing fast 1.3Gbps wireless connectivity for those who just don't have wired network access or want fast WIFI.
ASUS's ROG Experience: From high-end fan control to the full on accessories package, the ROG package is high-end and really gives you those extras that people go crazy for. With the Rampage V Edition 10, ASUS included a snazzy USB drive instead of a driver disc, two ROG coasters, a fan extension card with thermistor cables, and ROG stickers to tag your rig.
What's Not
Breaking the Bank: The Rampage V Edition 10 is one of the most expensive X99 motherboards on the market. It might be the most expensive. The reason for the sky-high price of the Rampage V Edition 10 is the bundled SupremeFX HiFi.
If you already have a DAC: One major reason for the purchase of this motherboard is the DAC itself since it's one of the only ones that comes in a 5.25" bay. If you don't want this or have a better audio DAC, then the cost of this motherboard could be very prohibitive.
Lack of UEFI-Based RGB LED Control: There are settings in the UEFI to enable or disable the RGB LEDs, but I only saw precision RGB control through the AURA application. I should mention that after I had set the RGBs up through Windows, the settings stuck even outside of the OS.
Final Thoughts
The Rampage V Edition 10 is equipped with every high-end feature you could wish for; including fast 3x3 Wireless AC, more than enough USB 3.1, the ability to run four GPUs, M.2, and U.2 all at the same time. While there is a lot of switching going on, ASUS has done their due diligence with re-drivers to make sure signal integrity isn't affected. The only impactful mutually exclusive switching is going on between the PCI-E 4x slot and two internal USB 3.0 and two rear USB 3.1.
The audio from the external SupremeFX HiFi DAC is very good, and in my opinion, is worth it being bundled with this motherboard. While the original Rampage V Extreme/3.1 was bundled with the OC Panel II, you aren't losing that many features without it since ASUS has moved many of its unique features to the motherboard itself.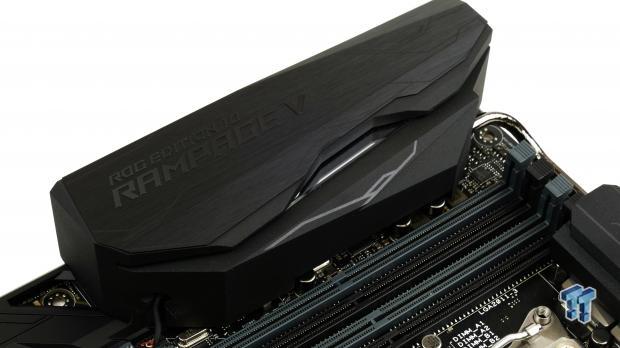 I want to take a second and praise the way ASUS has executed RGB LEDs on this motherboard, well most of it at least. While I can still make out individual LEDs in the IO panel shield at full brightness, the glow from the center ROG heat sink, the PCH, the PCI-E locks, and the right side rear shield is simply glamorous. While the board costs and arm and a leg, it offers very premium internal and external features, elegant aesthetics, and top shelf component quality.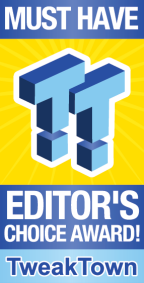 | | |
| --- | --- |
| Performance (including Overclocking) | 95% |
| Quality including Design and Build | 95% |
| General Features | 98% |
| Bundle and Packaging | 95% |
| Value for Money | 90% |
The Bottom Line: ASUS's thorough attention to detail makes the Rampage V Edition 10 one of the best motherboards on the market. With an unexpectedly high number of innovative features, solid performance, and killer aesthetics, it's a motherboard that is sure to impress.
PRICING: You can find products similar to this one for sale below.

United States: Find other tech and computer products like this over at Amazon.com

United Kingdom: Find other tech and computer products like this over at Amazon.co.uk

Australia: Find other tech and computer products like this over at Amazon.com.au

Canada: Find other tech and computer products like this over at Amazon.ca

Deutschland: Finde andere Technik- und Computerprodukte wie dieses auf Amazon.de
We openly invite the companies who provide us with review samples / who are mentioned or discussed to express their opinion. If any company representative wishes to respond, we will publish the response here. Please contact us if you wish to respond.