TweakTown's Rating: 91%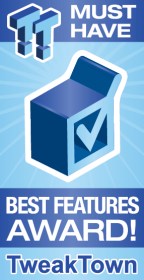 The Bottom Line
If you are in the market for a well-equipped Intel X99 motherboard with the latest in aesthetically pleasing enhancements, the ROG STRIX X99 GAMING from ASUS could be a perfect choice.
Introduction, Specifications, and Pricing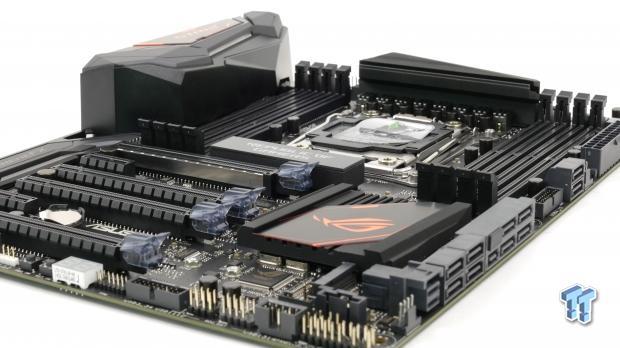 When Intel launched their new Broadwell-E i7-6XXX series processors for the LGA2011-v3 socket, interest in X99 was reborn. Since the X99 chipset has been around for quite a long time, and Broadwell-E CPUs can work with existing X99 motherboards, it has become even harder for motherboard manufacturers to differentiate themselves from their competitors.
All of this is great news for consumers since motherboard manufacturers are now forced to pull out all the tricks. A new wave of X99 motherboards launched in the past few weeks and ASUS sent over their brand new ROG STRIX X99 GAMING. I believe this is the first time ASUS has used their GPU STRIX brand on a motherboard, and it's no surprise since some manufacturers have been experimenting with combining their GPU and motherboard branding.
At first glance one of the main attractions of the STRIX X99 GAMING is its RGB LEDs. Split into a multitude of sections, clusters of RGBs can be controlled to produce some crazy LED effects. When it came to color, ASUS didn't let the buck stop with the RGBs; included in the package are four sets of colored panels for the PCH heat sink and IO shield, to help users change the color of the motherboard without having to rely on RGBs. Apart from RGBs, the STRIX X99 GAMING has a lot of great features, and today we take a look at everything this new ASUS X99 refresh model has to offer.
Specifications

The ASUS STRIX X99 GAMING is loaded with features, most are from the PCH, but a lot of the features have been added after the fact to help differentiate the motherboard from previous X99 models. For starters, the motherboard carries USB 3.1 type-A and type-C, 2x2 WirelessAC with MU-MIMO support, 4x PCI-E 3.0 U.2/M.2, and ASUS's Supreme FX audio.
Pricing
The ROG STRIX X99 GAMING is available from many large retailers for $338.99.
Packaging and ROG STRIX X99 GAMING Overview
Packaging and Overview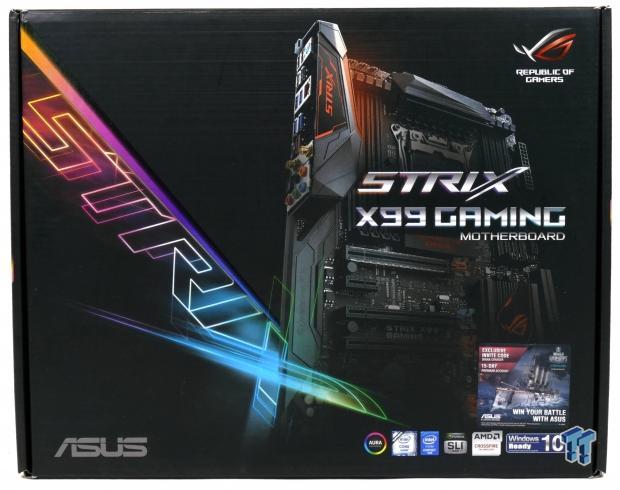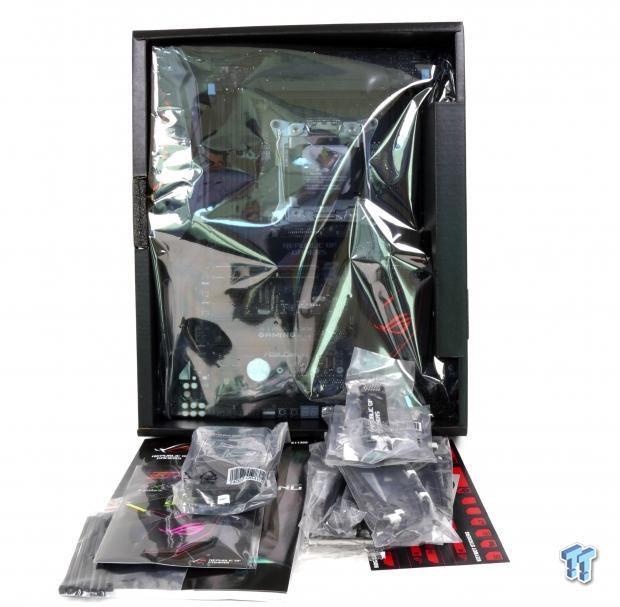 The STRIX X99 GAMING's box highlights its RGB capabilities, and the packaging does an excellent job of protecting the motherboard.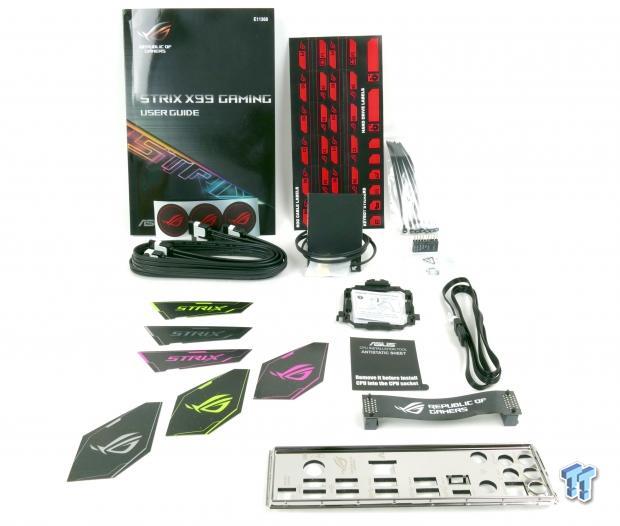 Accessories include 4x SATA6Gb/s cables, SLI Bridge, ROG SLI Bridge, RGB header extension cable, CPU installation tool, Q-connector, 2T2R WIFI antenna, zip ties, IO shield, M.2 screws, color decals/panels, ROG fan labels, ROG cable labels, manual, and driver DVD.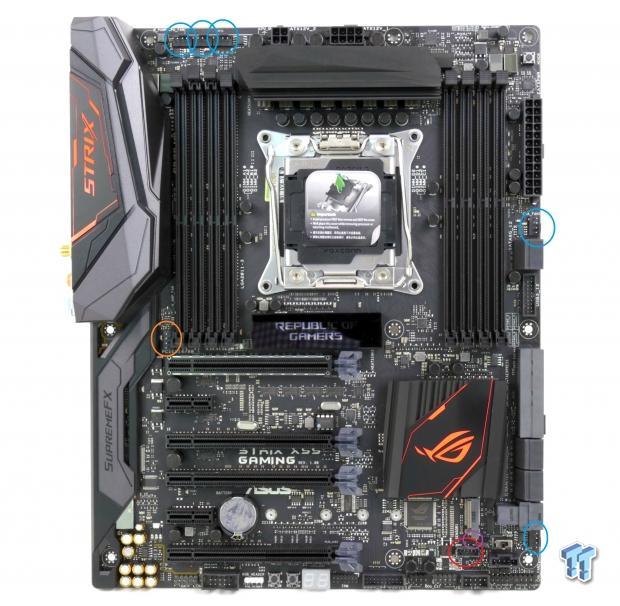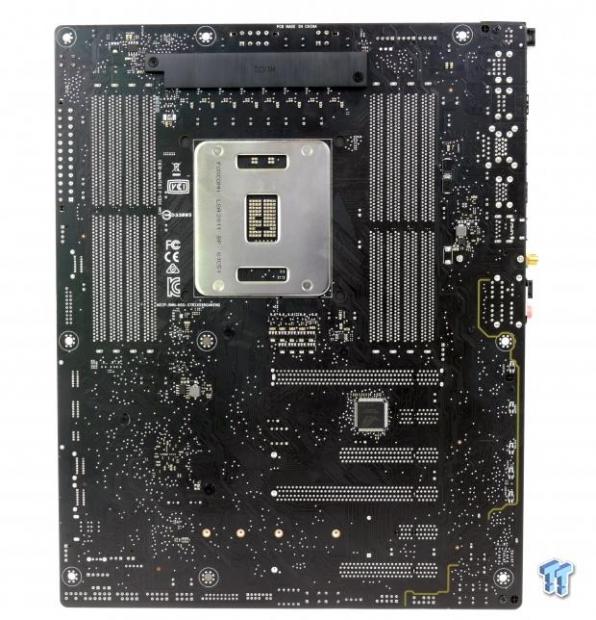 The ASUS STRIX X99 GAMING has six fan headers (circled in blue and orange), the CPU headers auto sense PWM or DC mode fans, and the other headers can be manually set to either PWM or DC mode. The header circled in orange is a high-amperage header. While all the fan headers support 1A output, the high-amperage header supports up to 3A, so you can use it with a splitter and not risk frying the header. There is an input for an external temperature sensor circled in purple. The motherboard does support ASUS's fan extension card, which allows for extra temperature inputs and a few extra fan headers.
The aesthetics of the motherboard, especially with the orange color cards, looks good. The black and gray color theme makes matching accessories and customizing the look of the motherboard very easy. While we are on the subject of RGBs, the center block that says "Republic of Gamers" does have RGBs underneath it, and it lights up in a classy way. The PCI-E slot latches are transparent, and there are RGBs located underneath them to illuminate the latches. The back of the motherboard is bare except for some chips such as an ROG special features controller, some drivers covered by a metal heat sink, and some other miscellaneous components.

The IO panel on the STRIX X99 GAMING carries four USB 2.0 ports, PS/2 keyboard or mouse port, four USB 3.0 ports, USB 3.1 type-A, USB 3.1 type-C, 1Gbit RJ-45 LAN, BIOS Flashback button, WIFI/BT antenna screw ports, and 7.1 audio ports with TOSLINK.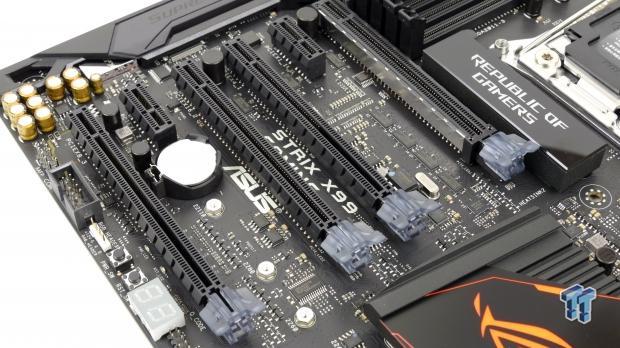 The first thing you might notice is the first reinforced PCI-E 16x slot; the metal reinforcement secures the slot in x, y, and z directions and should help with preventing GPU droop and damage. The PCI-E layout is not super simple, but it is also not difficult to understand. For starters, you should subtract 4x PCI-E 3.0 from the CPU's PCI-E lane count for the U.2/M.2 connectors, they use CPU bandwidth like most other X99 motherboards since the PCH only supplies PCI-E gen2 bandwidth. The third PCI-E 16x slot will be hardwired 16x with a 40 lane CPU and 8x with a 28 lane CPU. The first and last PCI-E 16x slots will operate at 16x/0x or 8x/8x with both 40 and 28 lane CPUs.
The second PCI-E slot is a 4x electrical slot that gets its bandwidth from the PCH, and it shares three PCI-E lanes with the USB 3.1 controller (shares two lanes) or the second PCI-E 1x slot (shares one lane). The first PCI-E 1x slot shares its bandwidth with the WIFI/BT controller; they are mutually exclusive. You might think this is a lot of bandwidth sharing, but X99 doesn't have as much bandwidth as Z170. To keep up with Z170, motherboard manufacturers have come up with some crazy schemes to provide more features, and the STRIX X99 GAMING is one of the most simple when it comes to lane sharing.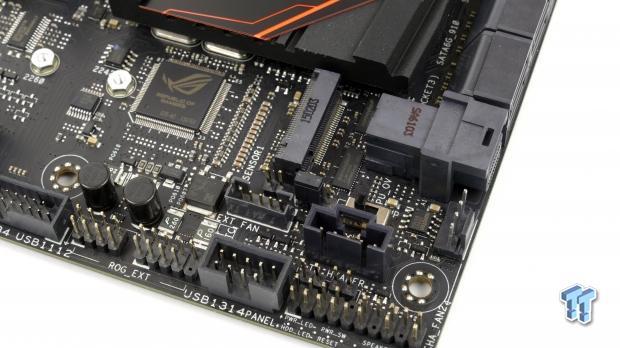 One advantage X99 chipset has over Z170 is support for many more SATA6Gb/s ports, all of the SATA ports are from the PCH. ASUS also added an SATA Express connector. There are two USB 3.0 internal headers on the motherboard; one is located right below the 24-pin power connector. The motherboard supports a 32Gb/s M.2 slot and a 32Gb/s U.2 slot; they are mutually exclusive so you cannot use them at the same time.
There is an XMP switch located right above the ThunderBolt GPIO header, which will enable XMP without requiring the user to enter the UEFI. There is an ROG extension header, I think this might work with the ROG OC Panel, but I am unsure. There are 10 SATA6Gb/s ports; two will be used if you use the SATA Express connector. The six SATA6Gb/s ports closest to the top of the motherboard support RAID, while the four stacked towards the bottom do not. If you want more clarification on SATA RAID or storage configuration, I highly recommend reading the manual (it is a wonderful resource). A single USB 3.0 header is located below the two SATA 6Gb/s ports below the 2-pin power connector.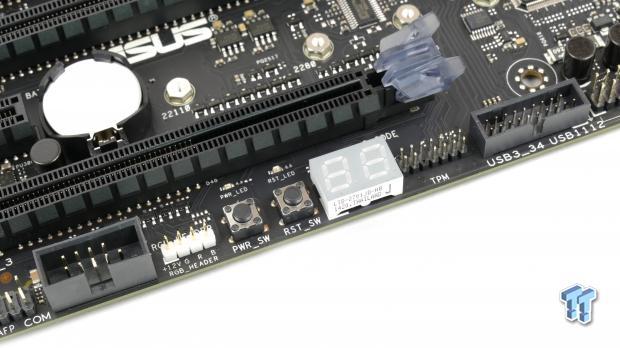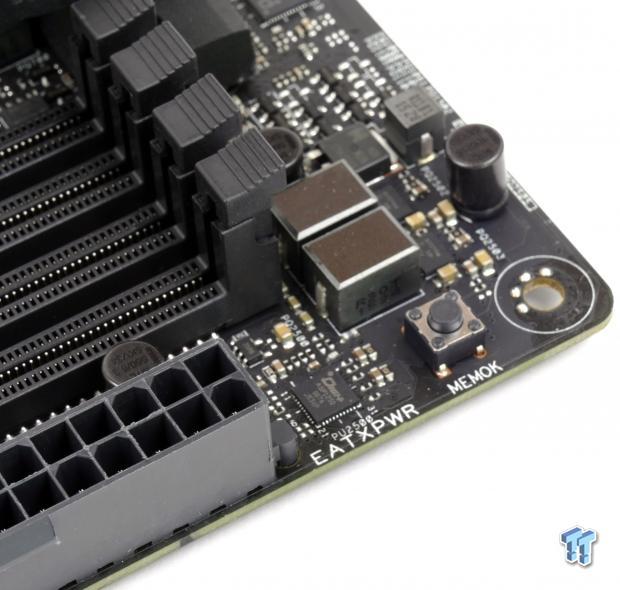 A second USB 3.0 internal header is located at the bottom of the motherboard. There is also a USB 2.0 header on the bottom row closer to the right edge of the motherboard. A very handy POST code display is located at the bottom, near power and reset buttons. There is an RGB header for RGB strips. To clear the CMOS, you must use the jumper. The MemOK button is located in the top right corner of the motherboard and will load a failsafe memory profile to ensure bootup.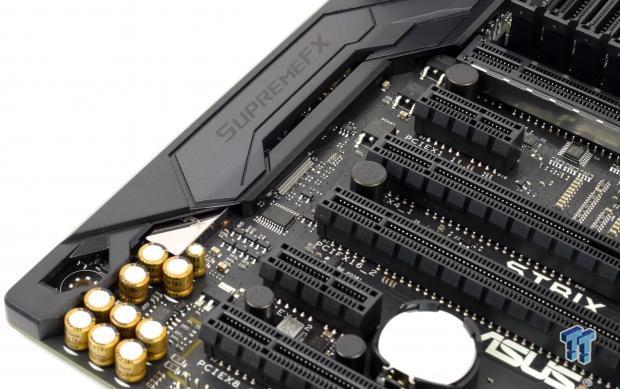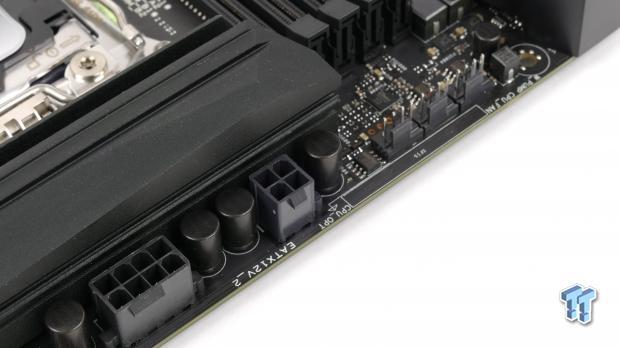 ASUS has done a nice job with their plastic shield; it really spruces up the look of the SupremeFX audio and Gold series Nichicon audio capacitors. The motherboard has a standard 8-pin CPU power connector and an extra 4-pin connector for extra power during overclocking. Three CPU/pump fan headers are also conveniently located towards the top left corner of the motherboard.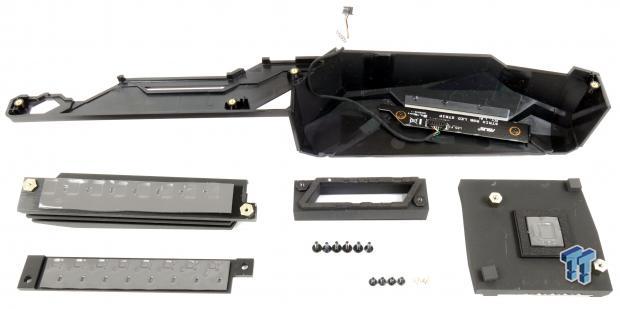 The heat sinks used on this motherboard are hefty and are pretty solid; you don't mess around when it comes to X99 VRM cooling solutions. The plastic shield that covers the IO panel and audio area is a single plastic piece, and an RGB LED strip is mounted at the top for illumination of the color panels/cards. The center ROG block is not a heat sink, but rather an aesthetics-enhancer.
ASUS ROG STRIX X99 GAMING Circuit Analysis
Circuit Analysis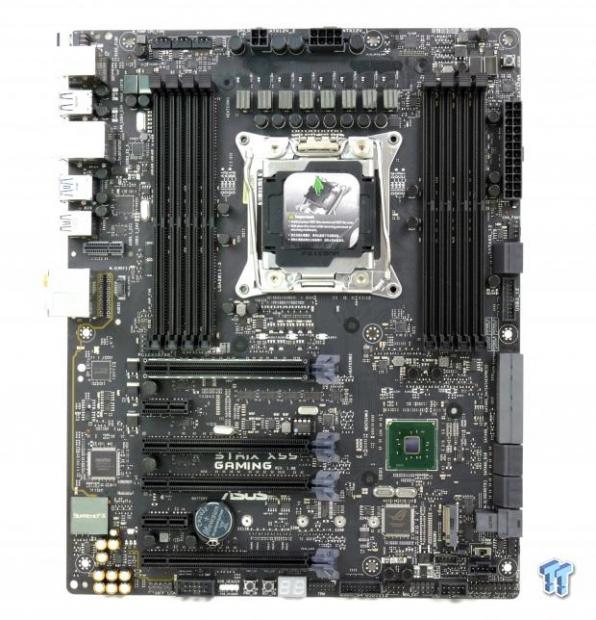 Now things are getting good.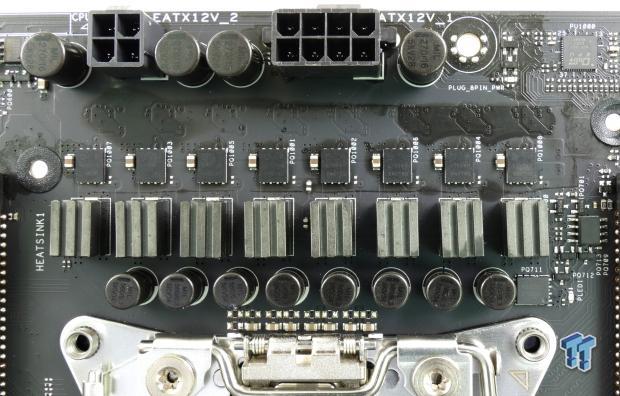 Broadwell-E uses the same FIVR as its Haswell-E predecessors, and both types of CPUs are supported on this motherboard. On this motherboard, ASUS is providing the FIVR with an 8-phase VRM, and some of the extra pins in the socket are also powered through other converters found elsewhere on the motherboard.
The capacitors are "gunmetal" color 5K "MIL" standard solid polymers, and I am unsure of the inductors, but I would assume they are rated anywhere from 30-50A+, but I am unsure of their exact saturation current. The metal fins on the inductors would hint that they could take advantage of active airflow.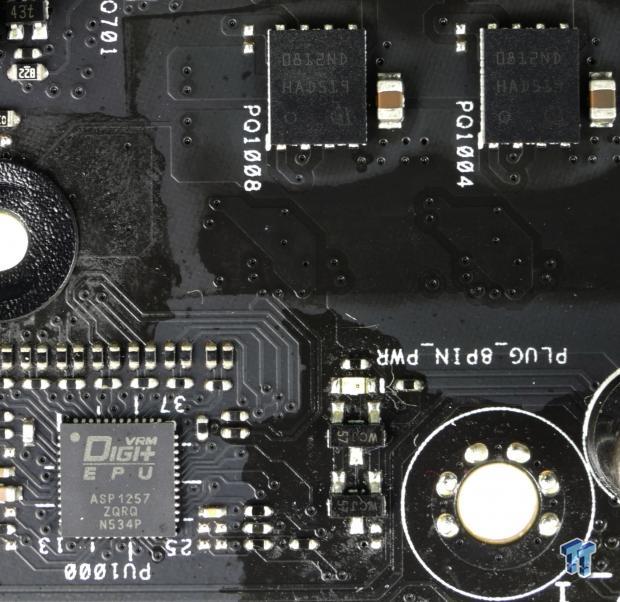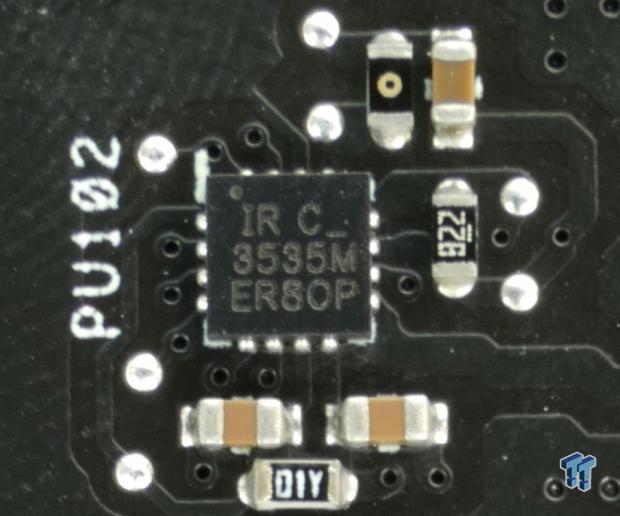 Like in the past, ASUS's PWM is some unmarked PWM; it's labeled "ASP1257". I assume it is an 8-phase digital PWM from International Rectifier. I could not find the datasheet for the power blocks, but they are Infineon BSG0812NDI. Datasheets for the BSG0810NDI, BSG0811NDI, and BSG0813NDI are available from Infineon's website, and the 0810 has the lowest RDS(ON) and the 0813 has the highest, but all of them are rated 50A so I would assume the 0812 is as too, with an RDS(ON) in between those of the 0811 and 0813. Either way, 50A per phase sounds about right for a motherboard in this price range from ASUS.
Since these power blocks are not fully integrated power stages, they require external drivers. ASUS is using eight IR3535 single phase drivers, which reinforces our assumption that the PWM is also from International Rectifier. The drivers are located on the backside of the motherboard and are cooled by a dedicated heat sink.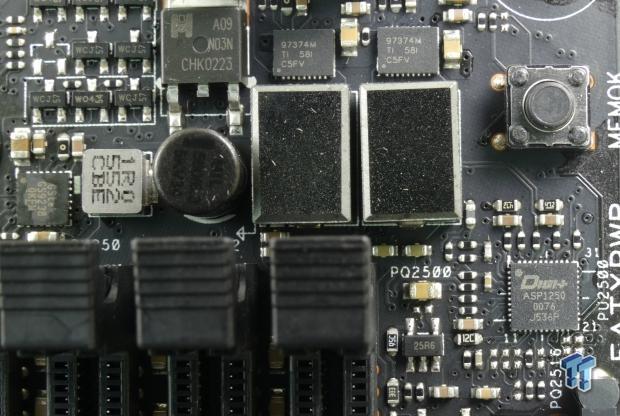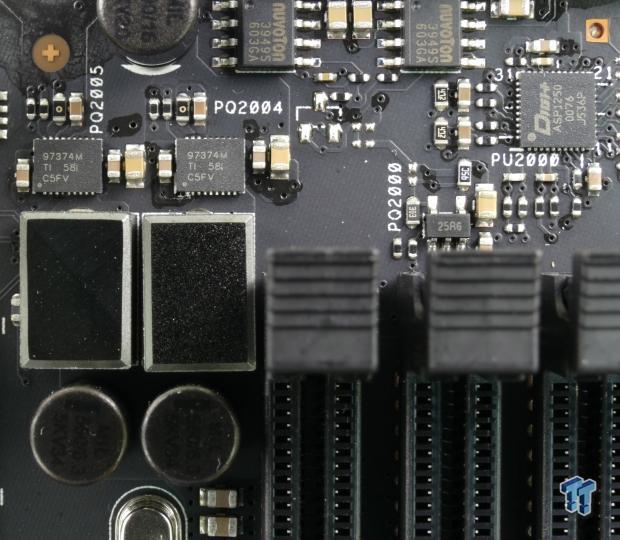 Both sets of four DIMMs has an identical memory VRM setup. The main DDR4 voltage rail is supplied by two Texas Instruments CSD97374Q4M, high-frequency NexFETs, which have very high efficiency at 15A, continuous 25A output, and peak 60A output. They are controlled by an unknown ASP1250 PWM. The VPP rails are provided by GStek GS9238 single buck converters capable of 8A output.
ASUS ROG STRIX X99 GAMING Circuit Analysis Continued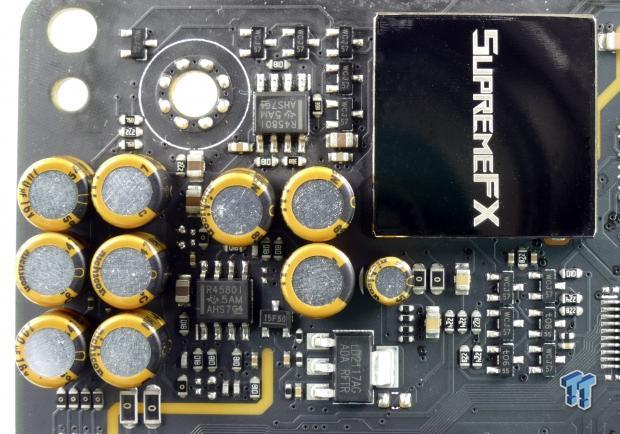 The STRIX X99 GAMING uses an ALC1150 Realtek codec along with two Texas Instruments R4580 amplifiers for the rear and front audio output jacks. There are also ten Nichicon Gold series electrolytic audio capacitors, a physical analog domain PCB isolation solution, and separate routing of left and right output signals to improve audio quality and reduce distortion and unwanted noise.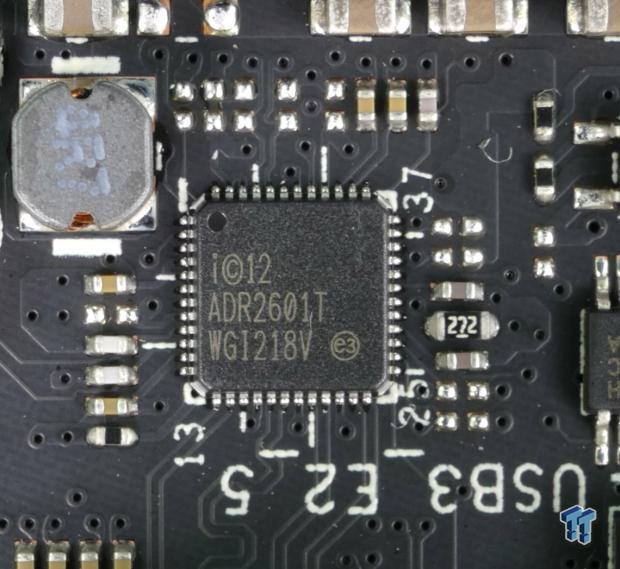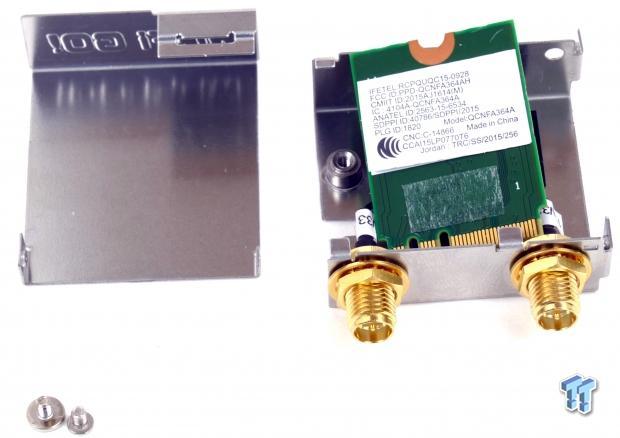 The wired network solution is one from Intel; the integrated MAC in the PCH uses an i218v PHY to produce a 1Gbit NIC. ASUS's WIFI/BT solution is a Qualcomm QCNFA364A M.2 2230-type card that supports 2x2 Wireless AC with MU-MIMO support and Bluetooth 4.1. The WIFI/BT card uses the same 1x PCI-E 2.0 lane as the first PCI-E 1x slot so that you can use one or the other.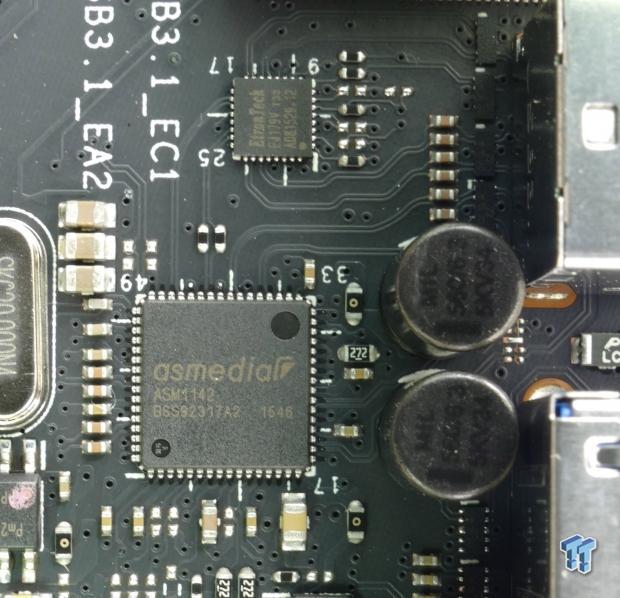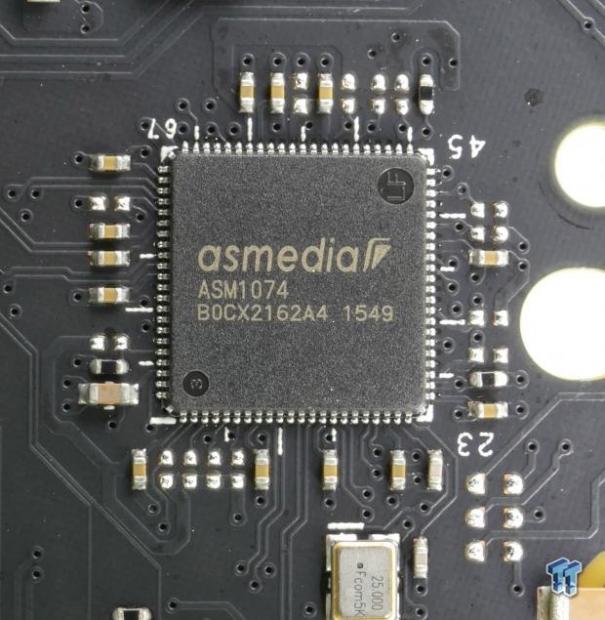 For the USB 3.1 on the rear IO, ASUS is using the ASMedia 1142 and an EtronTech EJ179V type-C switch and power delivery chip. The two PCI-E 2.0 lanes that provide bandwidth to the ASMedia USB 3.1 controller also can be used for the PCI-E 4x slot if you don't want to use the USB 3.1 ports. There are four USB 3.0 ports on the rear IO. One of those ports is directly routed to the PCH, and the PCH also supplies one other USB 3.0 port to an ASMedia ASM1074 USB 3.0 hub that then provides three extra ports for the rear IO. Using hubs for expanding X99 USB 3.0 is very common, and most brands do it. The hubs actually can help with signal integrity for ports that are far away.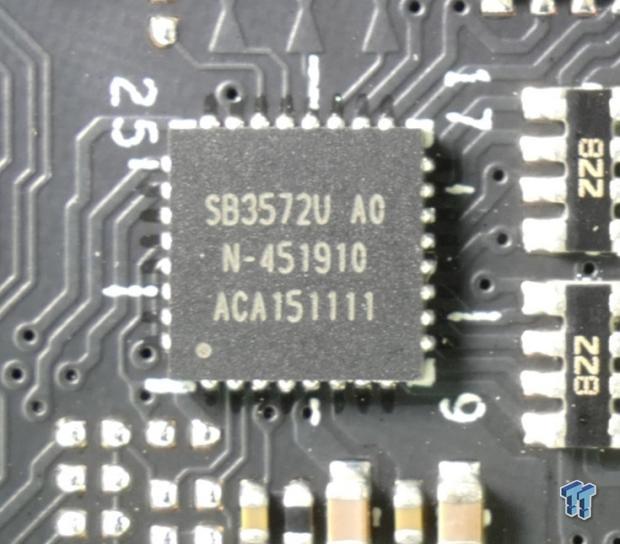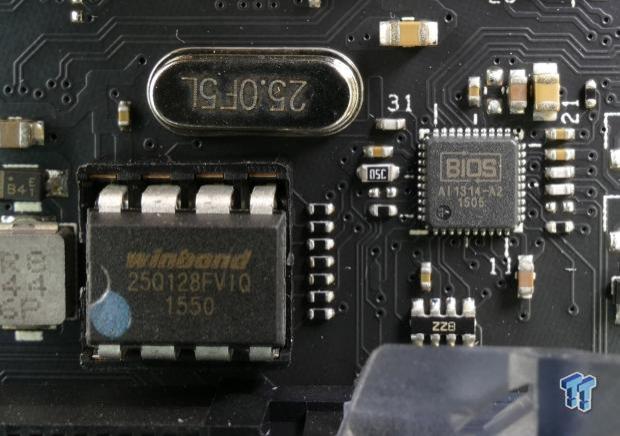 I couldn't identify the IC labeled "SB3572U". I found resellers online but alas a datasheet alluded me. So, I traced the traces through the PCB and discovered that this chip is responsible for controlling the RGB LEDs. It would make sense that an RGB LED controller is being used because otherwise it is very hard to independently control RGB clusters. The chip labeled "BIOS" is ASUS's custom embedded controller used for the BIOS Flashback feature that allows the system to flash the BIOS with a file on a USB stick, even without the main system being active. A single 128Mbit (16MB) Winbond BIOS ROM is located in a DIP socket.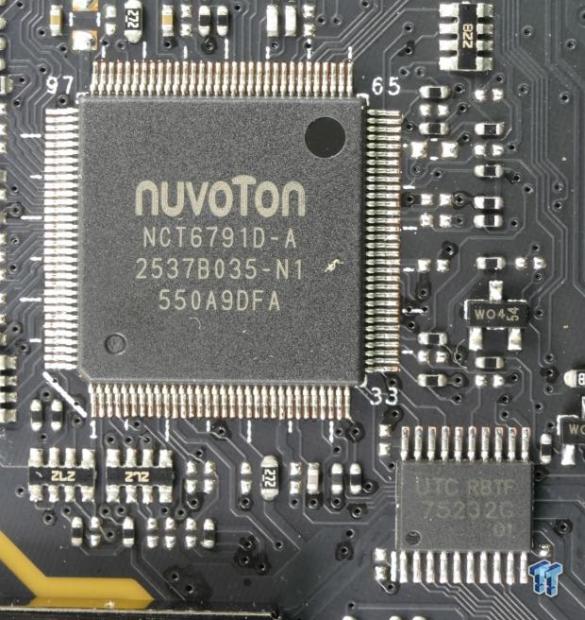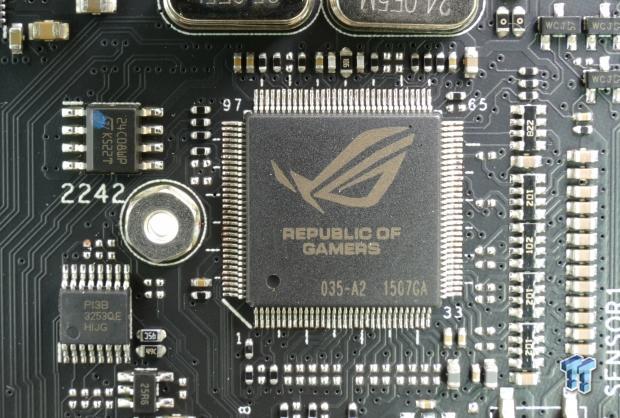 The main SuperIO is a nuvoTon NCT6791D, and a UTC chip is used for the COM Port. ASUS has a lot of special ROG features that are executed and controlled by custom programmed microcontrollers. These chips just say ROG on them, and provide extra fan control, special OC features, and other non-obvious functions.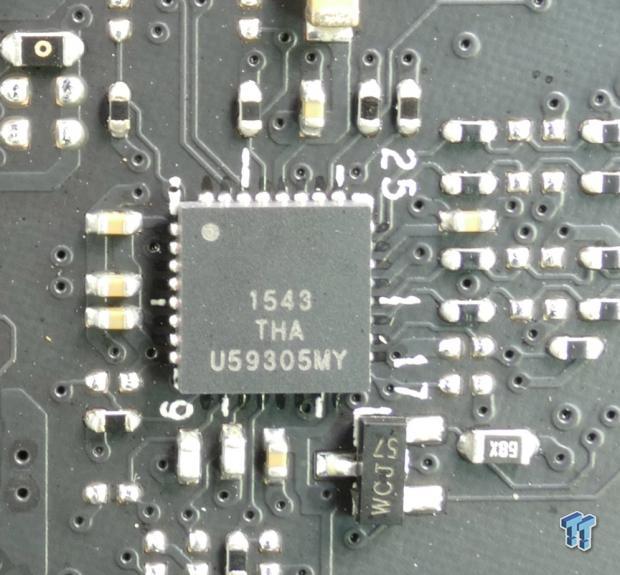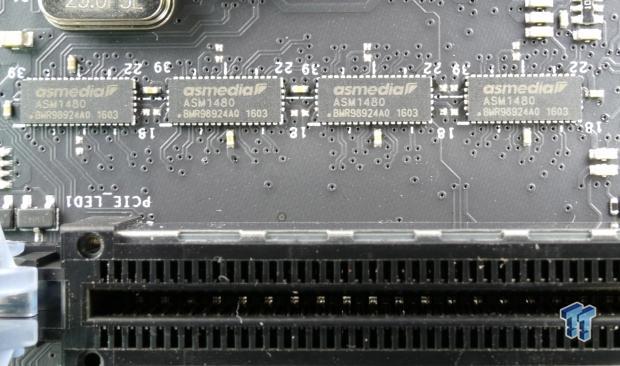 I wasn't able to find what the chip labeled "1543" does, but I assume it's either a clock generator for the CPU or some power delivery chip for the extra pins. I wanted to show some of the quick switches on the motherboard; there is a healthy mixture of PCI-E 2.0 ASM1440s and PCI-E 3.0 ASM1480s used to switch around CPU and PCH PCI-E bandwidth.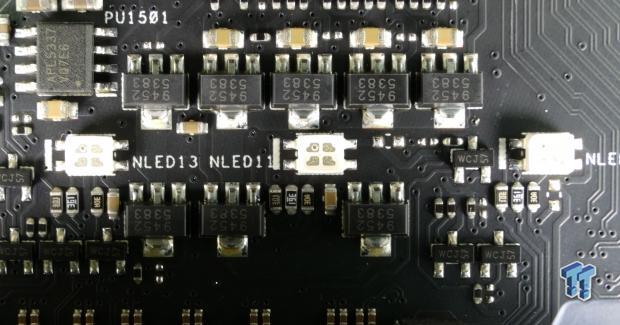 Someone had asked for close-up shots of the RGBs on the motherboard, and these RGBs are located below the "Republic of Gamers" block at the center of the motherboard.
BIOS and Software
BIOS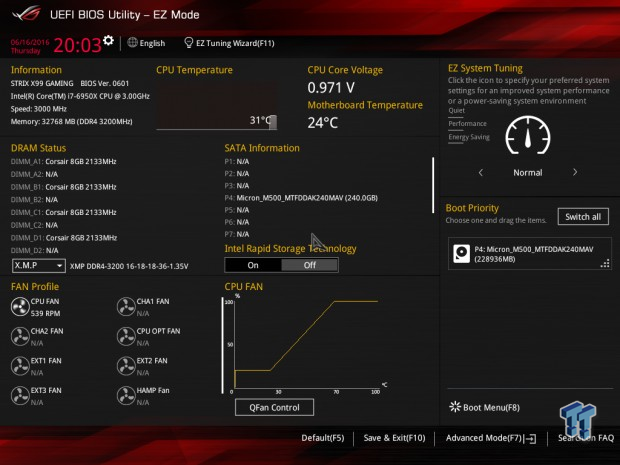 The STRIX X99 GAMING's BIOS is very similar to previous ROG X99 BIOS versions. The STRIX X99 GAMING is considered an ROG motherboard, targeted towards gamers more than anyone else, but it still carries a very wide array of ROG overclocking features, including basic CPU overclocking profiles targeted towards owners of the major Broadwell-E refresh CPUs.
There are two modes; an EZ Mode provides simple GUI BIOS settings, and an Advanced mode provides a GUI more familiar to tweakers and more experienced users. Fan control is just as extensive as it has been from ASUS recently, they have some of the most expansive fan control options include step up, step down, lower speed limits, and even manual duty cycle adjustment.
ASUS's UEFI is perhaps the most setting heavy I have encountered as of yet, but it's also intuitive and has good descriptions of what each feature does.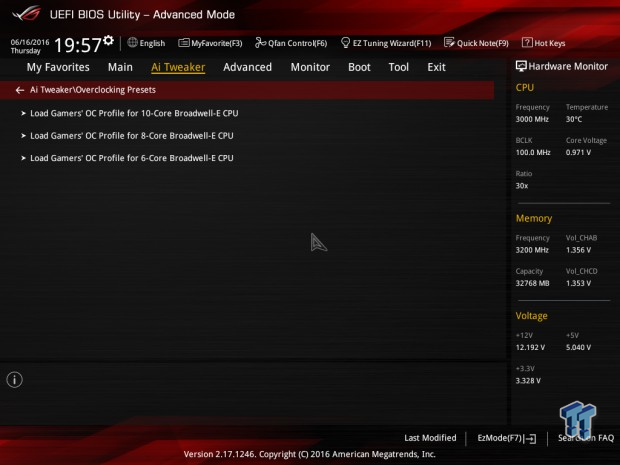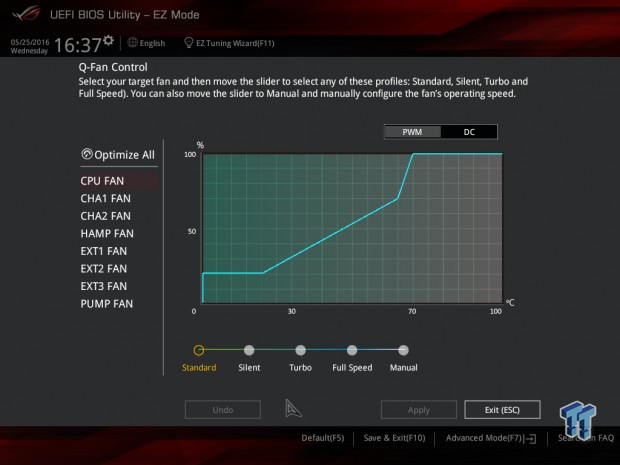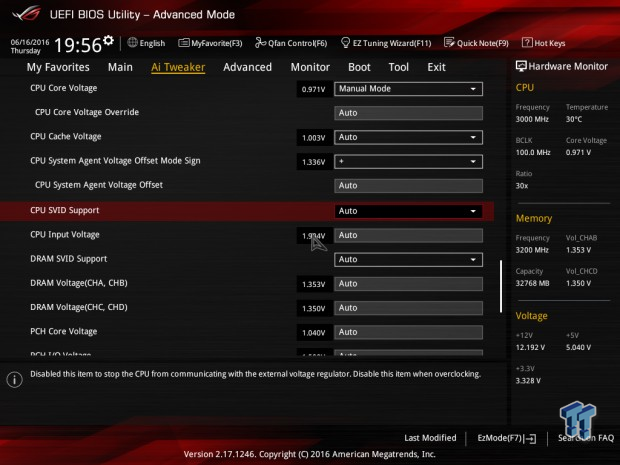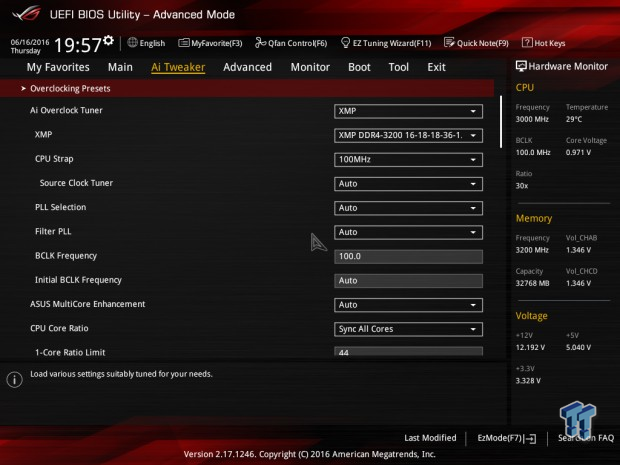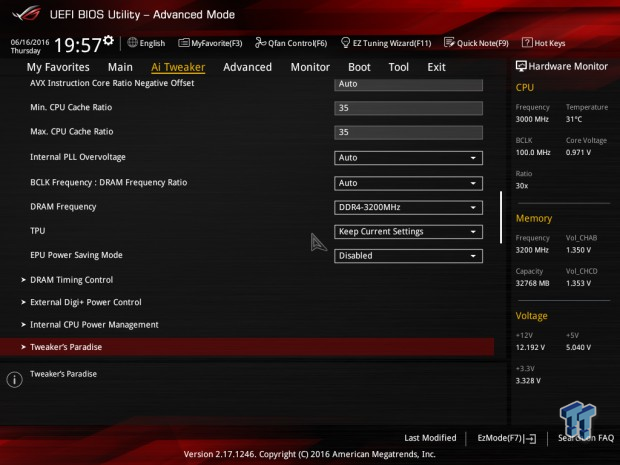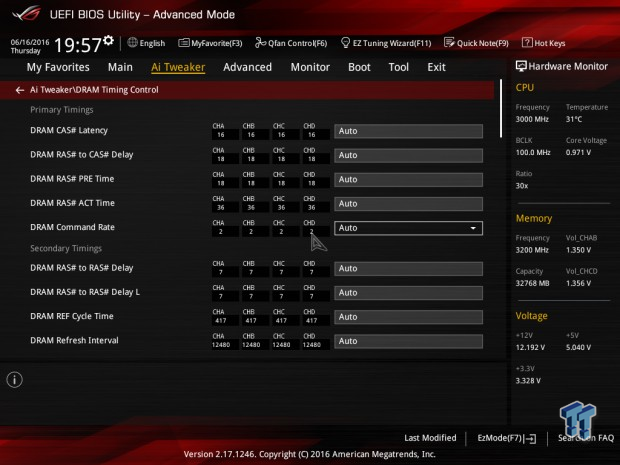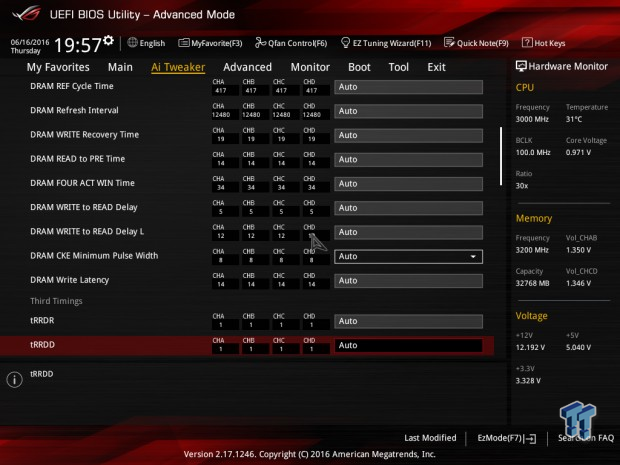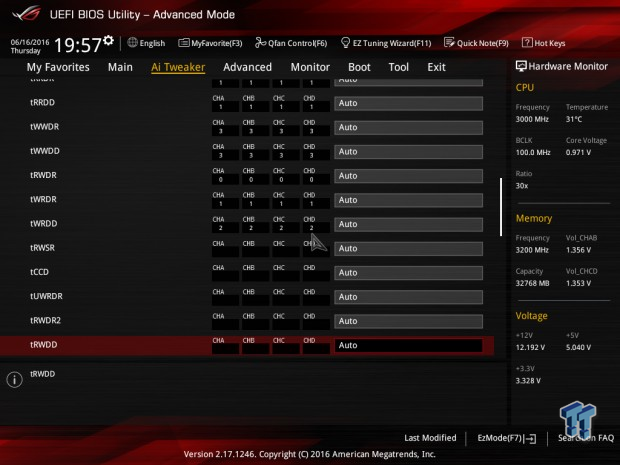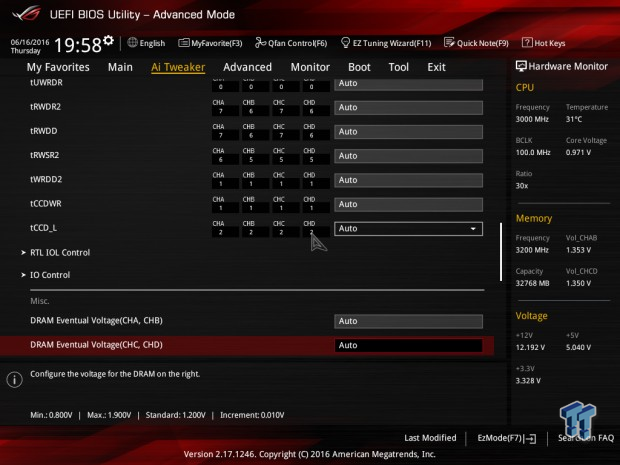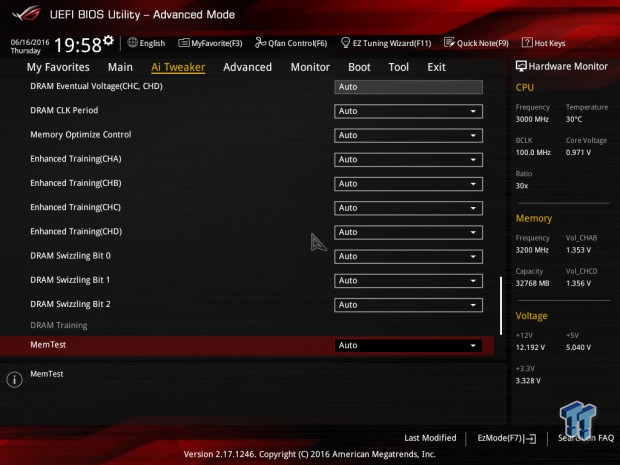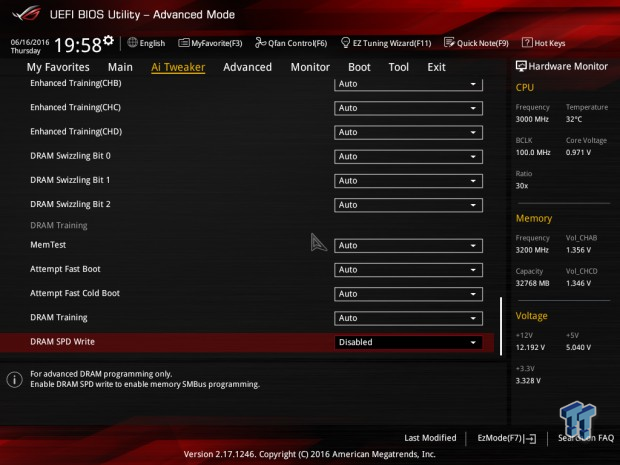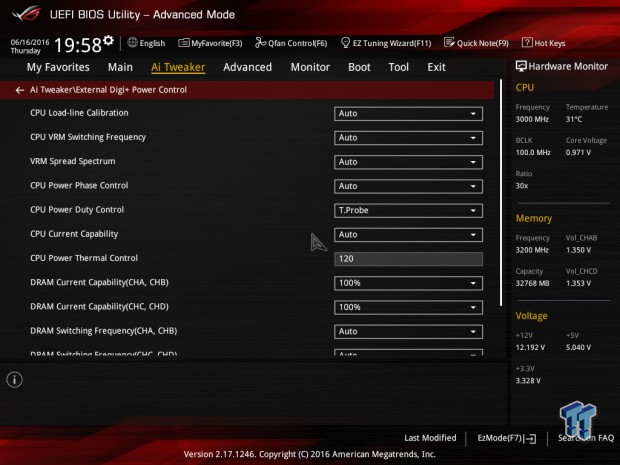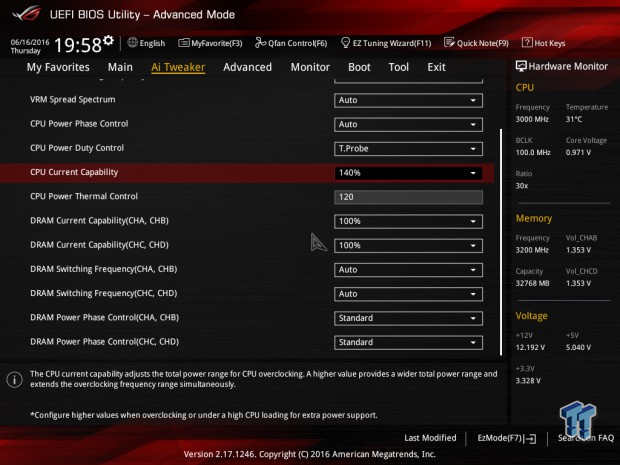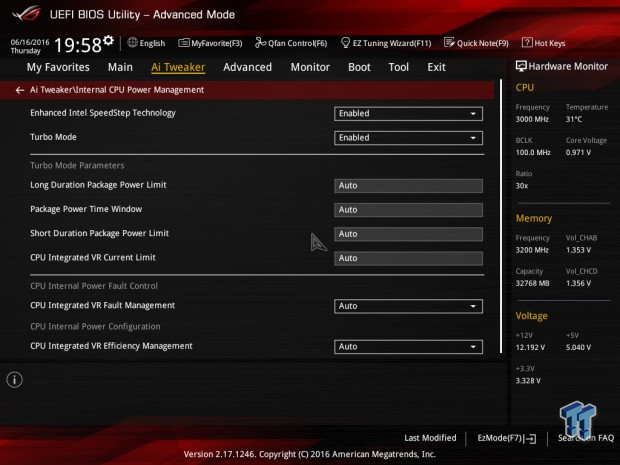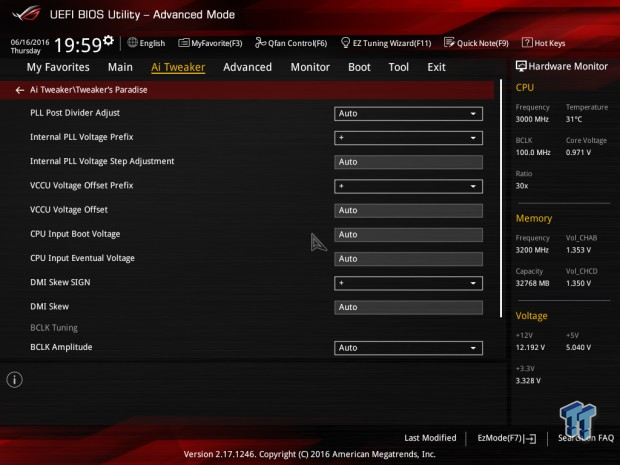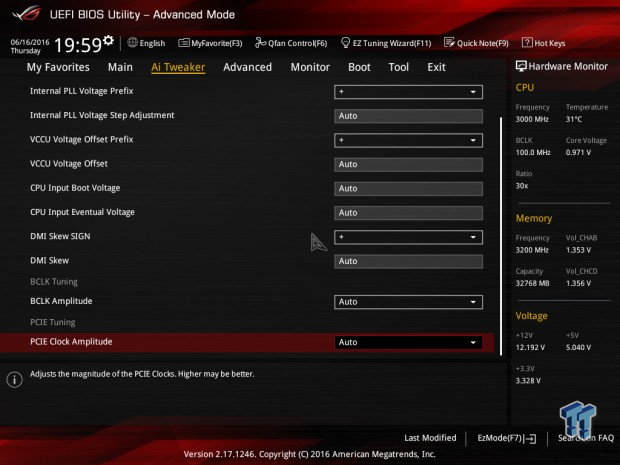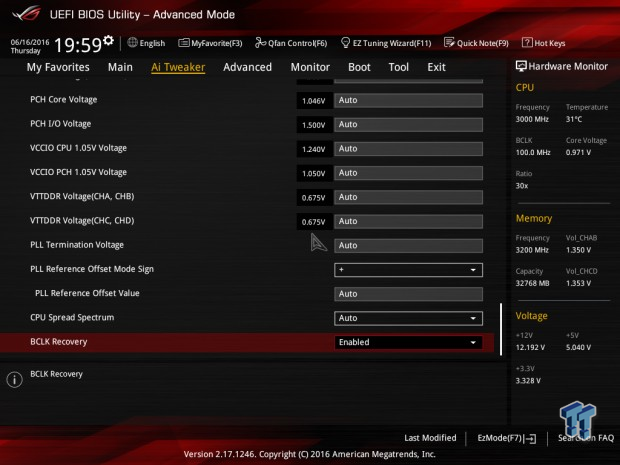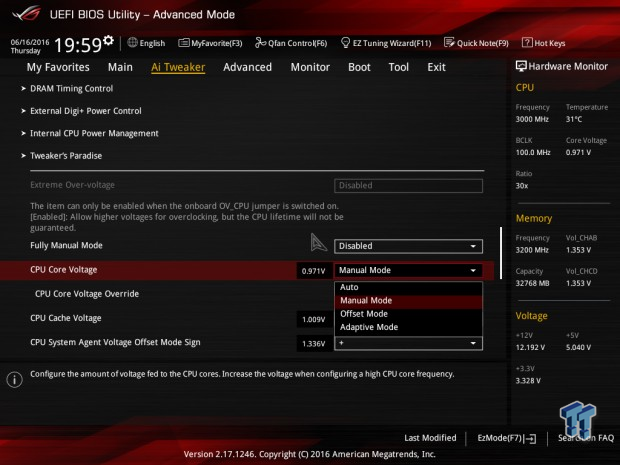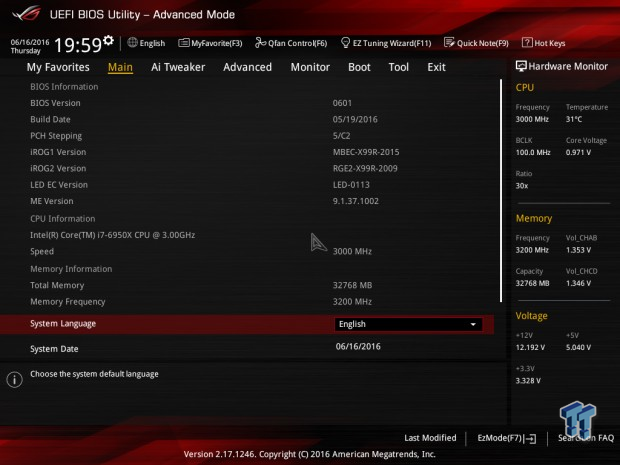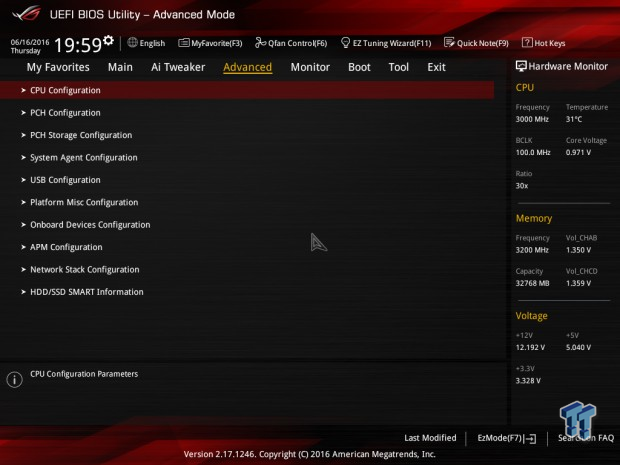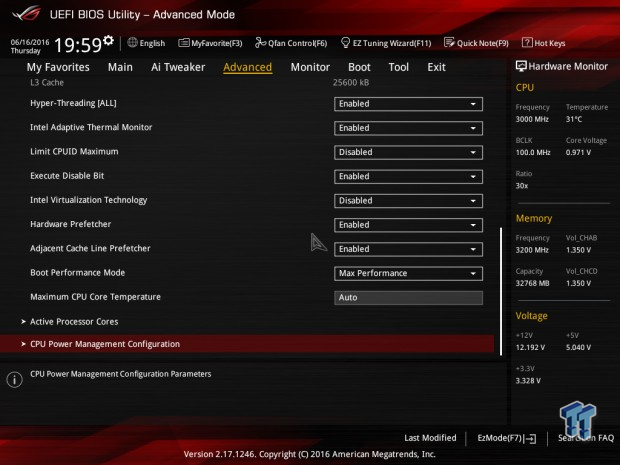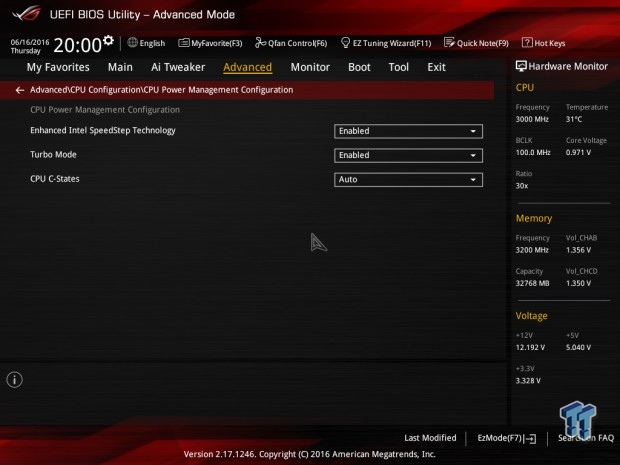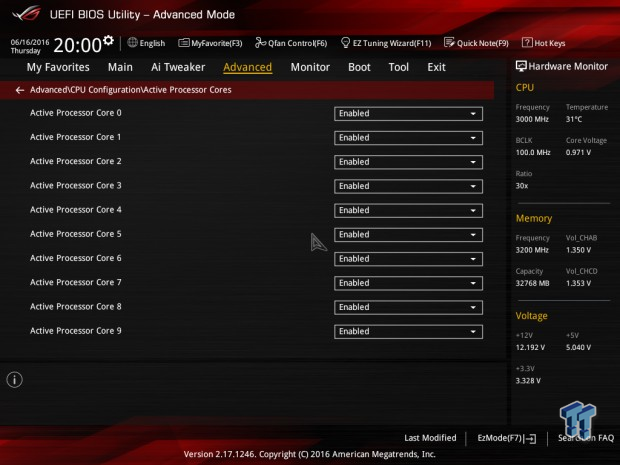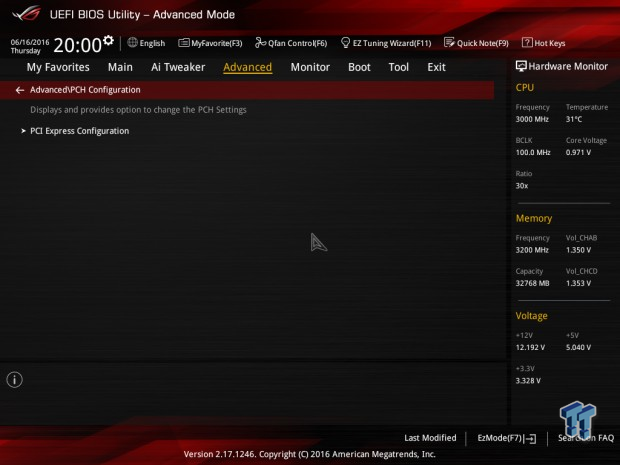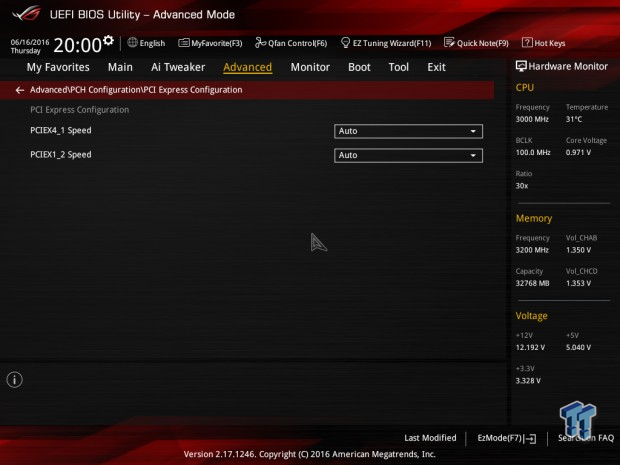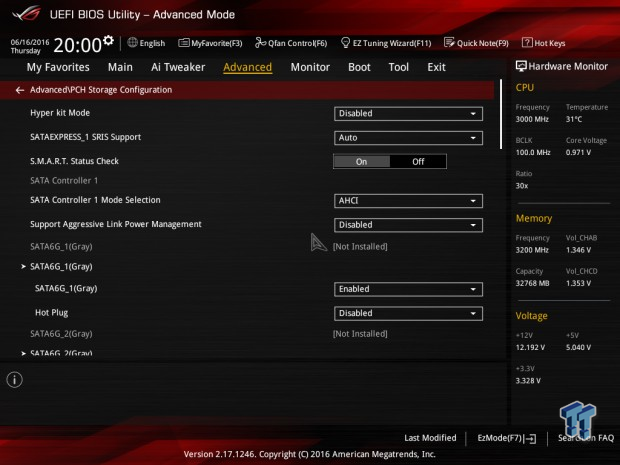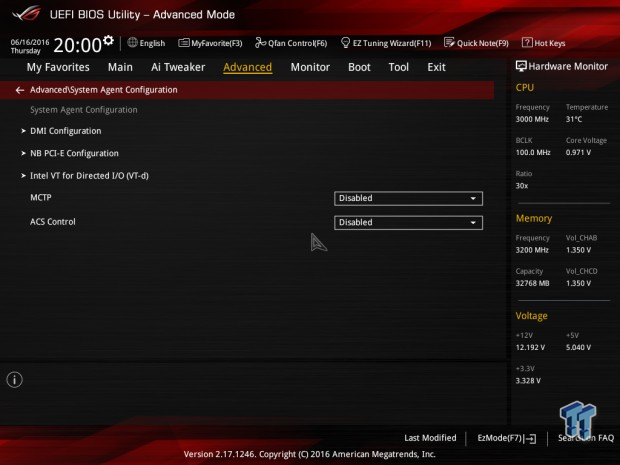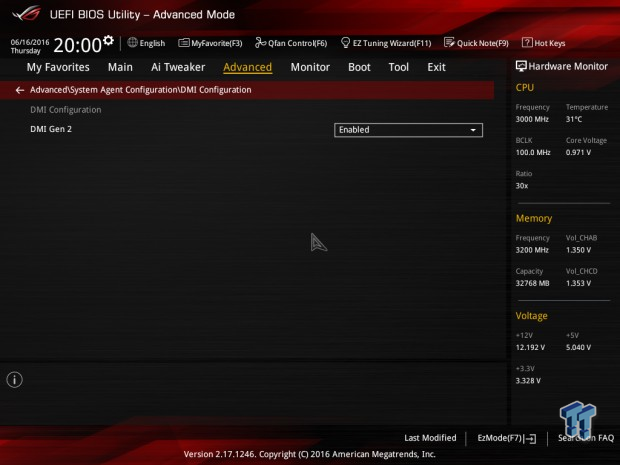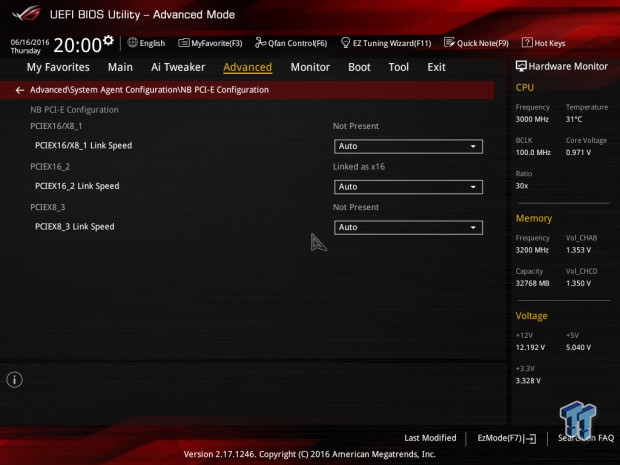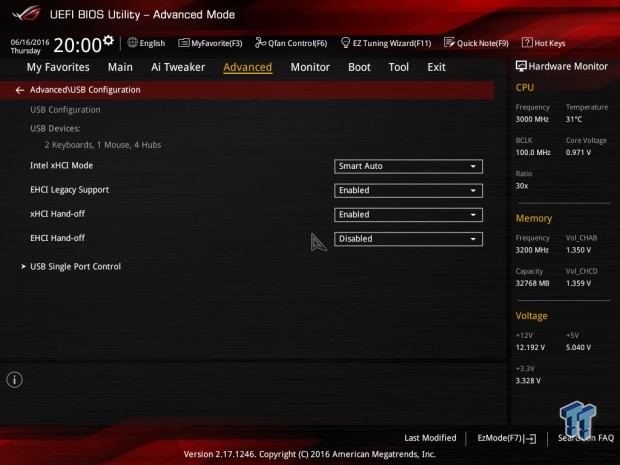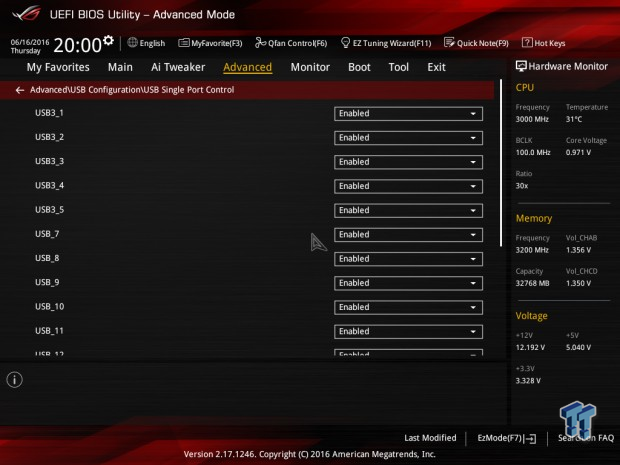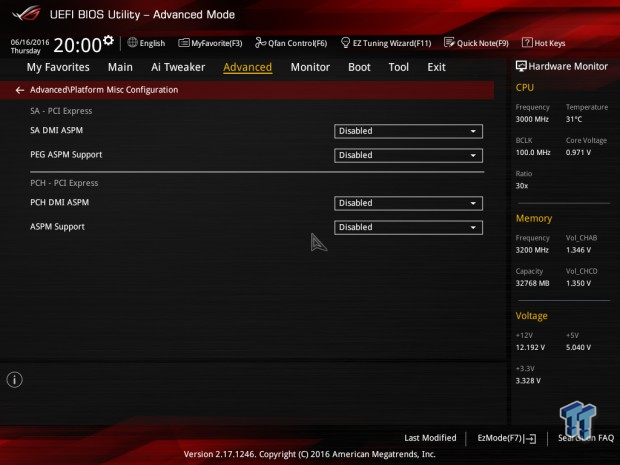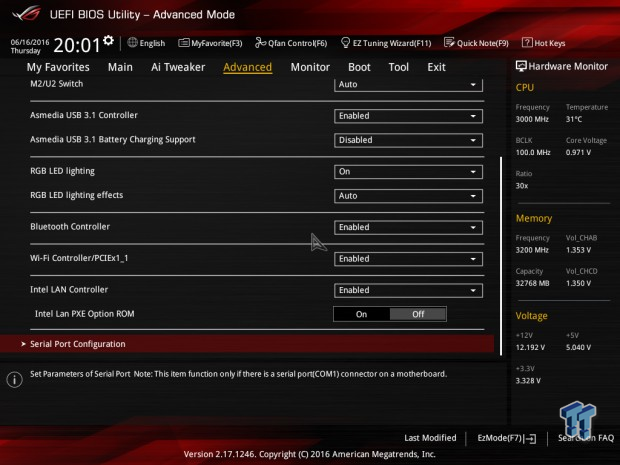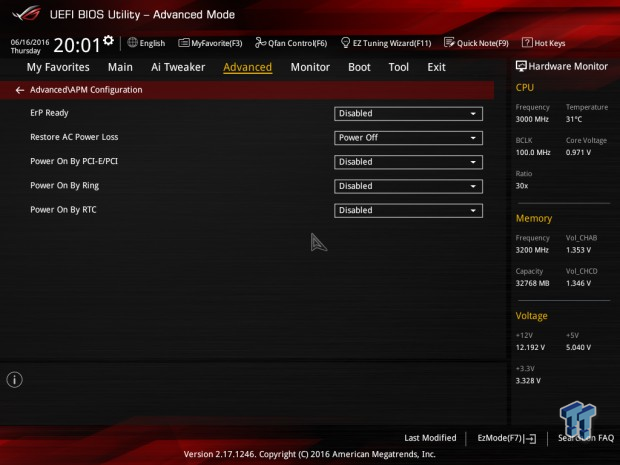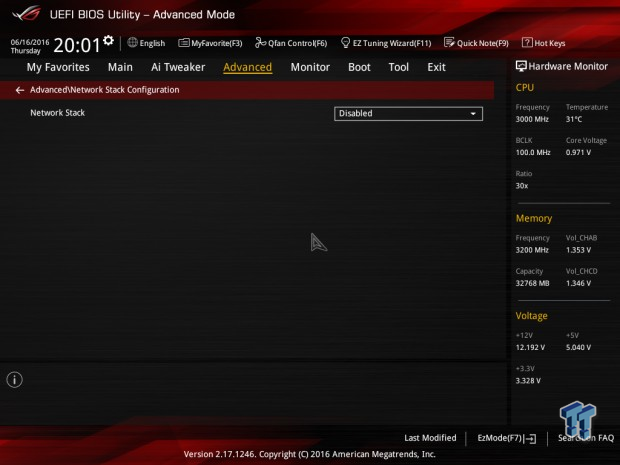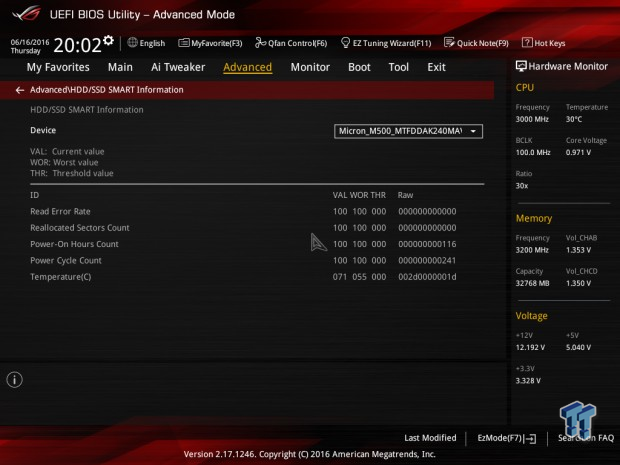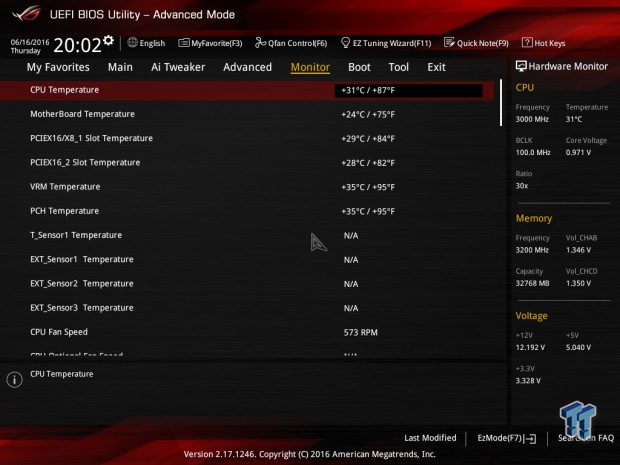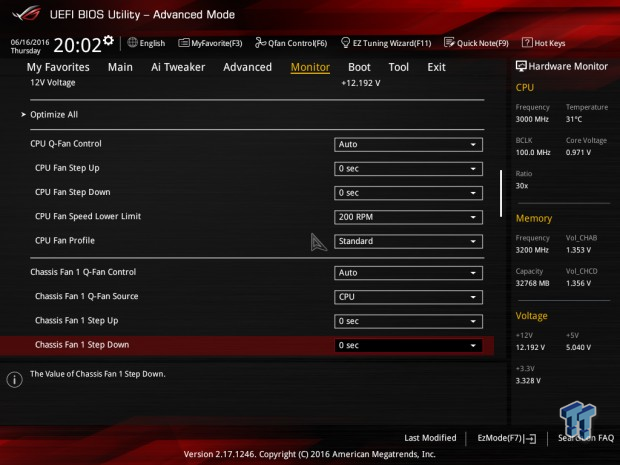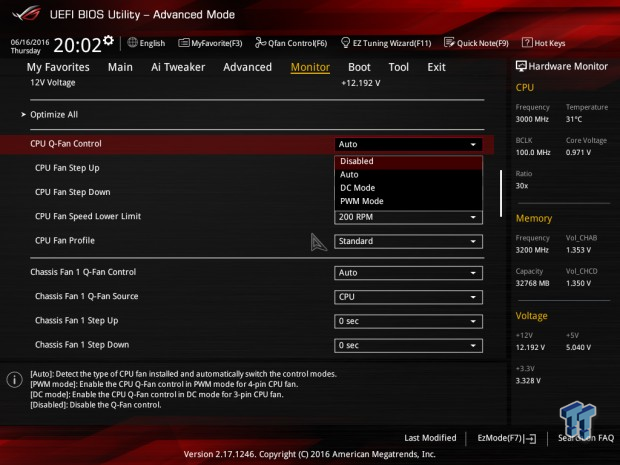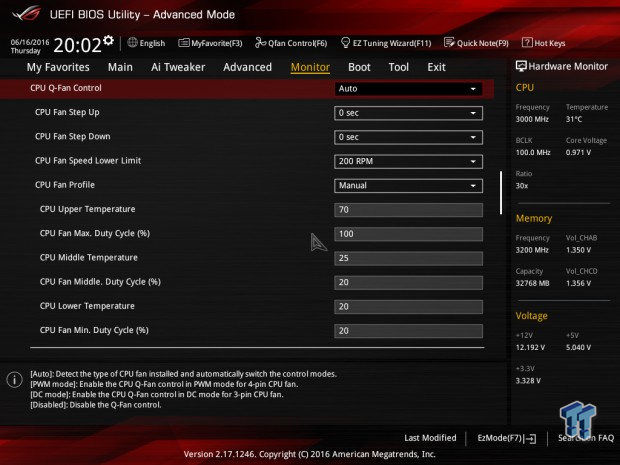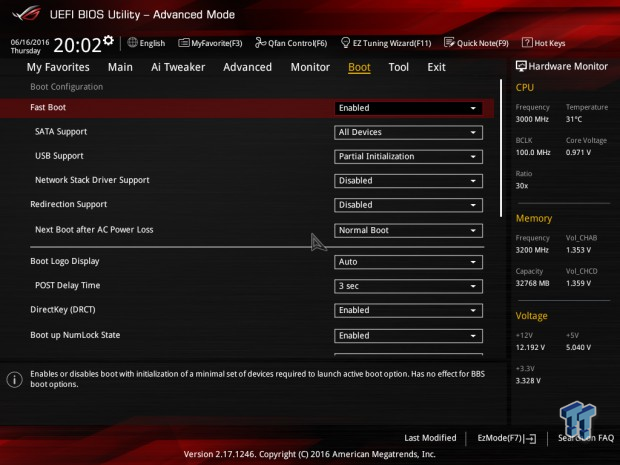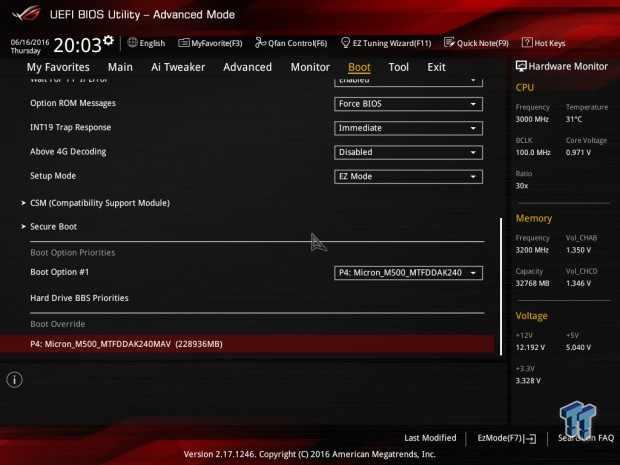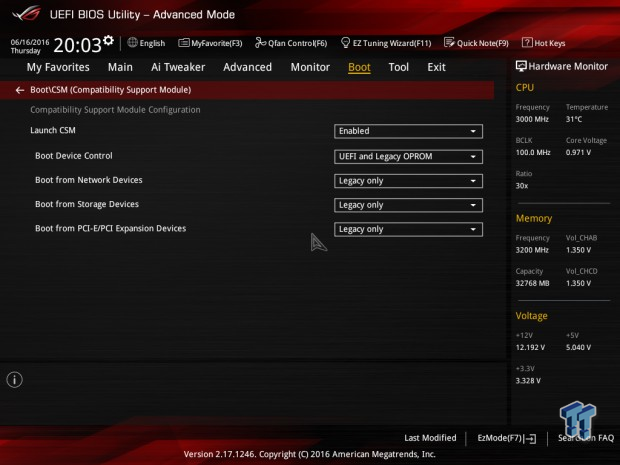 Software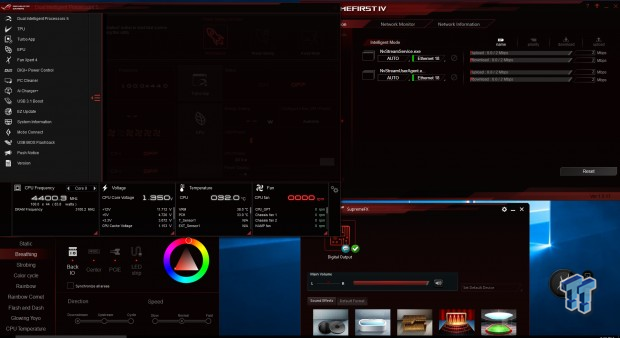 ASUS's software suite is very extensive. Inside the DIP5 program, you can access TPU, Turbo App, EPU, Fan Expert 4, DIGI+ Power Control, PC Cleaner, AI Charger+, USB 3.1 Boost, EZ Update, System Information, Mobo Connect, USB BIOS Flashback, Push Notice, and Version applications. There is also automatic overclocking built into the program if you want to go that route. GameFirst IV is also included for networking, and ASUS has a custom skin for the Realtek audio solution.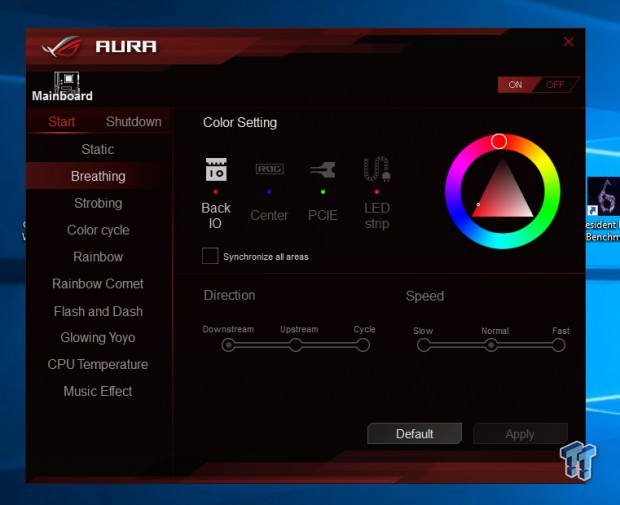 AURA is ASUS's program for controlling the RGB LEDs, and you can control each of the four RGB zones independently or sync all of them for a more uniform effect. There are many ways to control the RGBs, from streaming color across the motherboard to syncing the RGBs to music.
Test System Setup
Steven's Motherboard Test System Specifications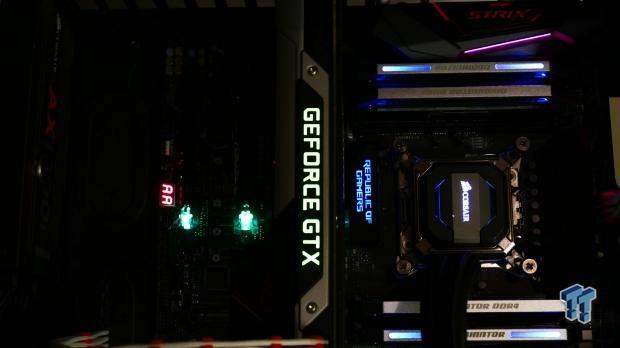 I wanted to illustrate how control over different RGB zones can create a neat aesthetic effect. ASUS's use of diffusers to disperse the LED lighting instead of allowing it to pierce the cones in your retina creates a much better LED lighting effect than I have seen in the past and makes the RGBs a valuable addition for improved aesthetic appeal. The motherboard looks great in a dark case, and the black on black hardware and heat sinks help it blend into the background.
The new test bench is designed to test every aspect of the motherboard and IO. I have designed it so that the motherboard sits in a case and is cooled by fans always-on at a constant rate to keep the conditions similar during all tests. I have cut out part of the case behind the motherboard so I can get thermal images of the back of the PCB where the VRM heat spreads. System and CPU power measurements are now digitally logged.
I am also using a Netgear Nighthawk X4 AC2350 for our network (including wireless AC) tests. The latest M.2, SSD, and USB technologies are also being utilized to test the maximum potential of the motherboards that are tested.
Overclocking
Overclocking Results
CPU Overclocking
If you hadn't already heard, the 6950X 10-core $1700 beast isn't the best overclocker. I can't validate CPU frequency anywhere near 5GHz, and I can't even boot at 4.5GHz, but I can run 4.4GHz on all cores. I have decided to change how I do the overclocking section and determine exactly what it takes to push to the CPU to this maximum stable frequency on the different motherboards I test.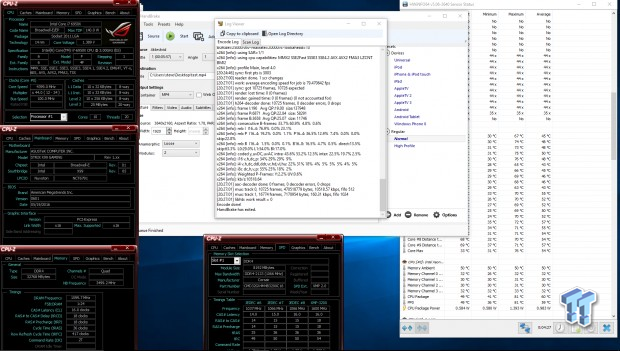 ASUS's motherboard has some pretty strong auto rules, but after manually setting the input, cache, and VCore I was able to get the CPU to transcode a 6GB 4K video in HandBrake to 1080P without overheating and crashing. My standard for this overclock is 4.4GHz on all cores, 1.38-1.4v on the VCore, 1.8v in voltage, moderate LLC, 3.5GHz cache, 1.25-1.3v cache voltage, 3200MHz XMP OC with 0.2-0.3v increase in system agent voltage if needed.
ASUS has a neat little application that works on the software level to help your CPU maintain performance at high temperatures by allowing you to setup a more fine-tuned thermal throttling scheme. ASUS Thermal Control Tool will allow you to fine tune the CPU to allow different frequency operation depending on temperature; it's a neat little program.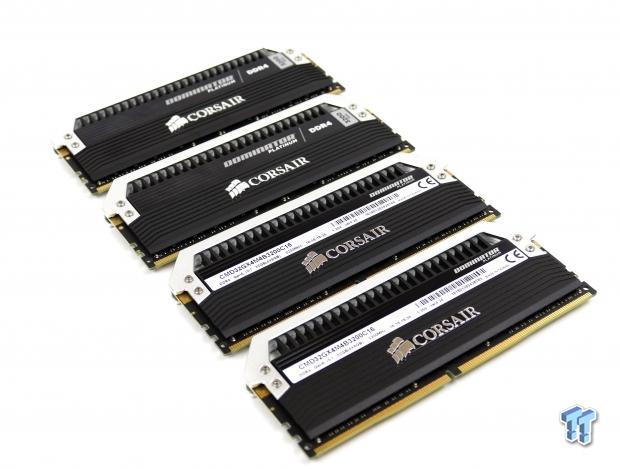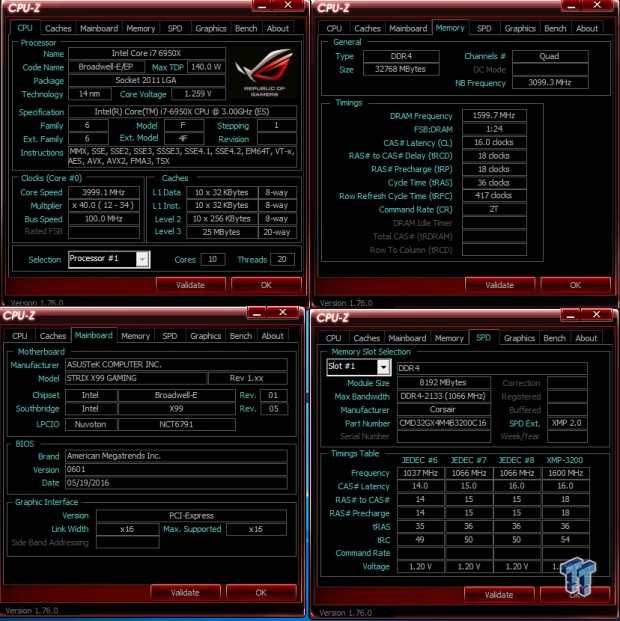 The next step in overclocking testing is finding out XMP compatibility with different kits. The first kit is a 32GB quad-channel Dominator Platinum kit from Corsair. It runs at 3200MHz CAS 16, and the STRIX X99 GAMING was able to run it by just enabling XMP.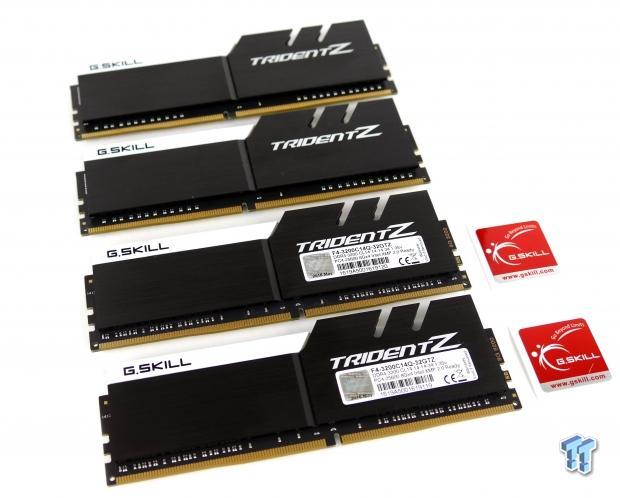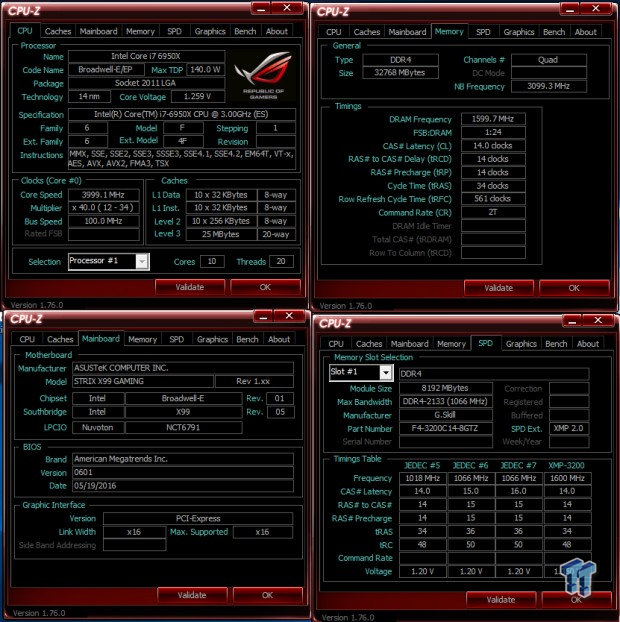 Our final kit for memory compatibility testing is the G.Skill TridentZ 3200MHz CAS 14 32GB quad-channel kit. The STRIX X99 GAMING also ran this kit well, and all I had to do was enable XMP.
CPU, Memory, and System Benchmarks
CINEBENCH 11.5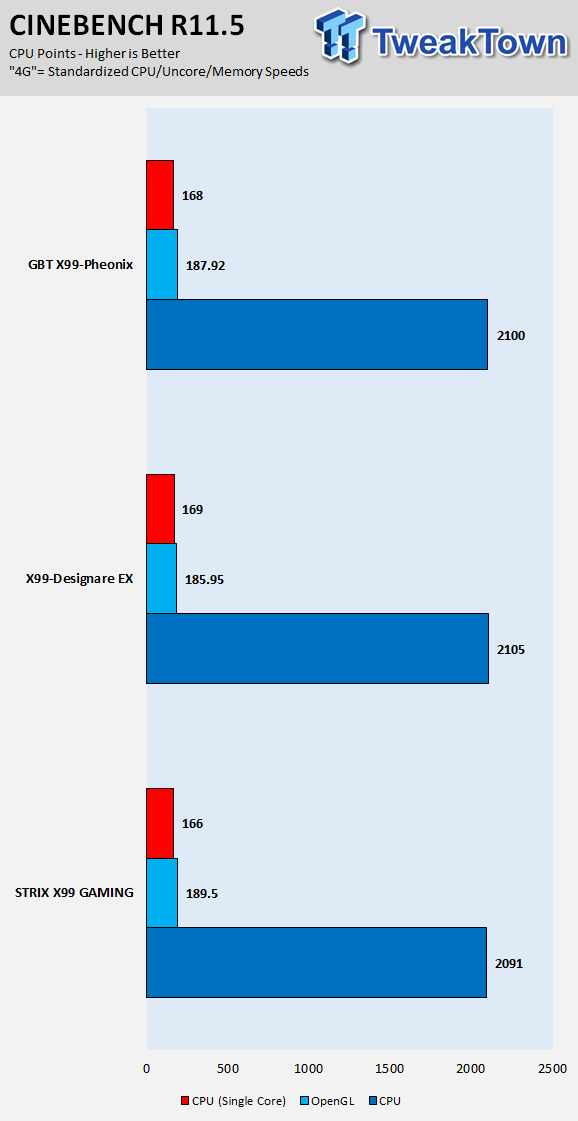 wPrime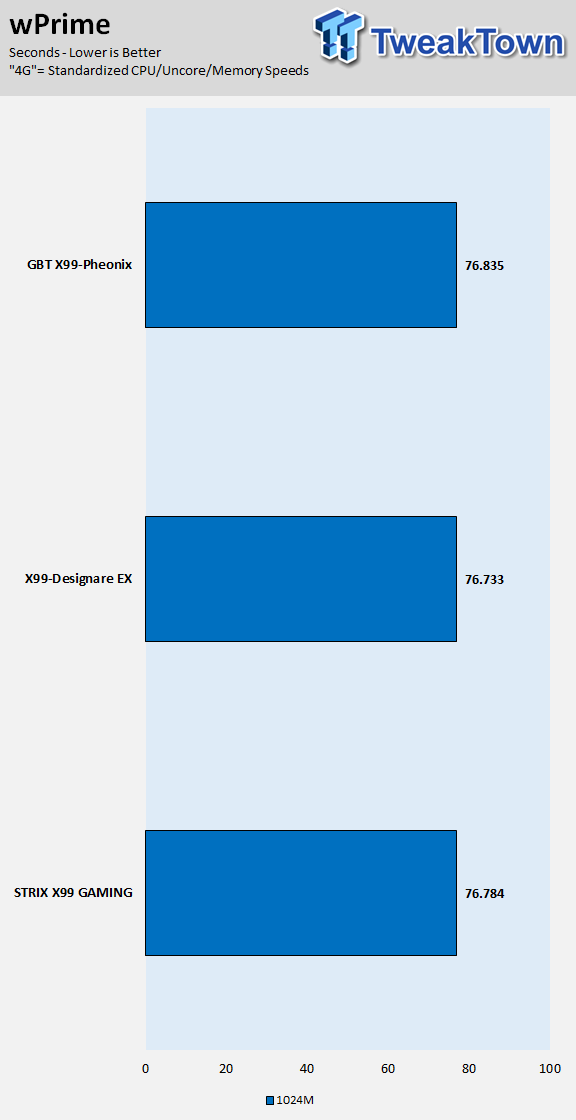 AIDA64 AES and HASH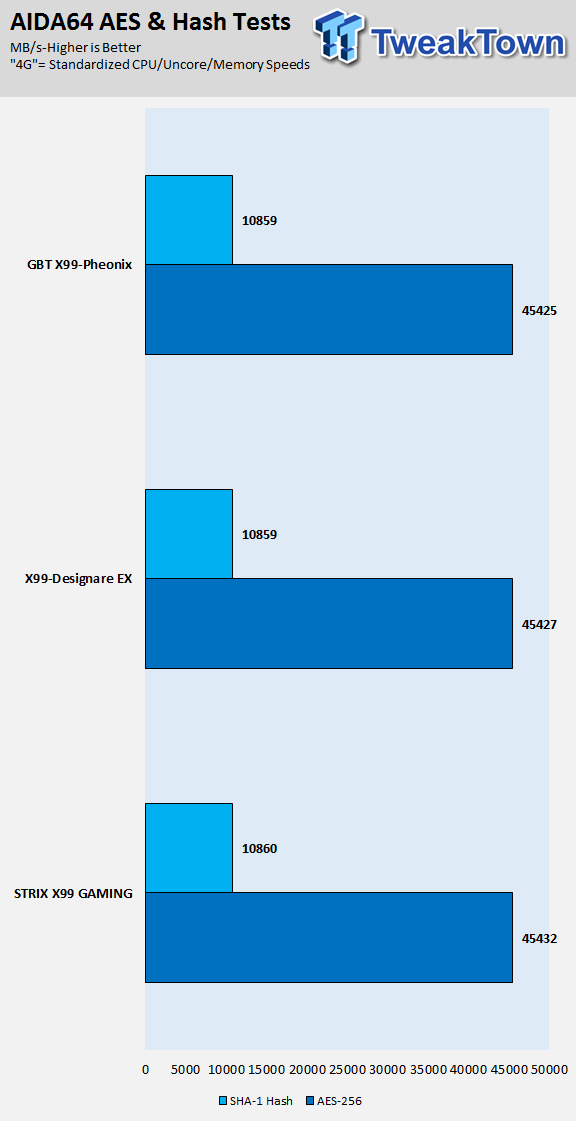 AIDA64 FPU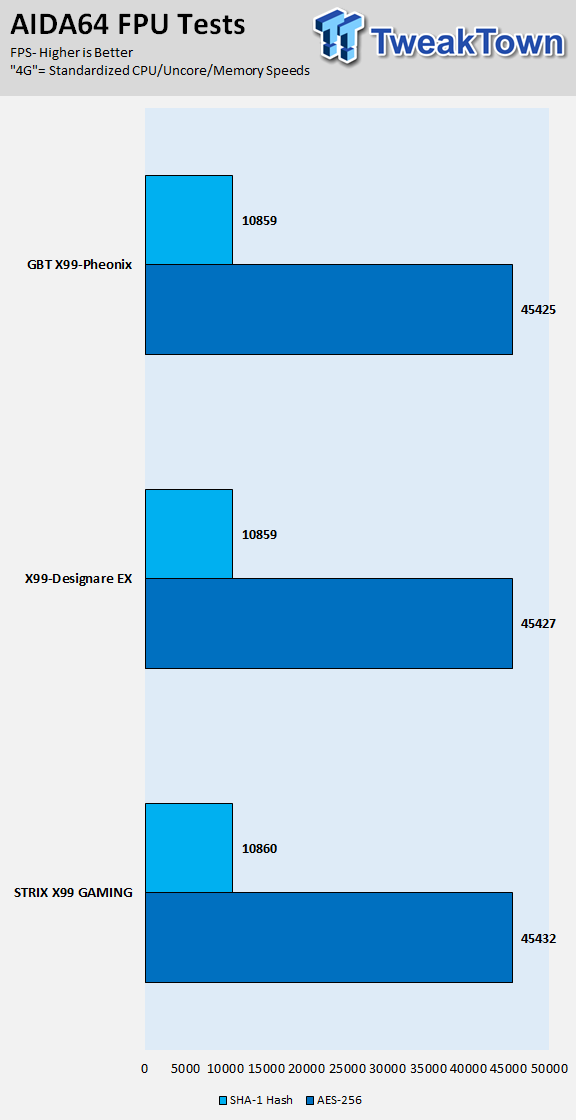 AIDA64 Memory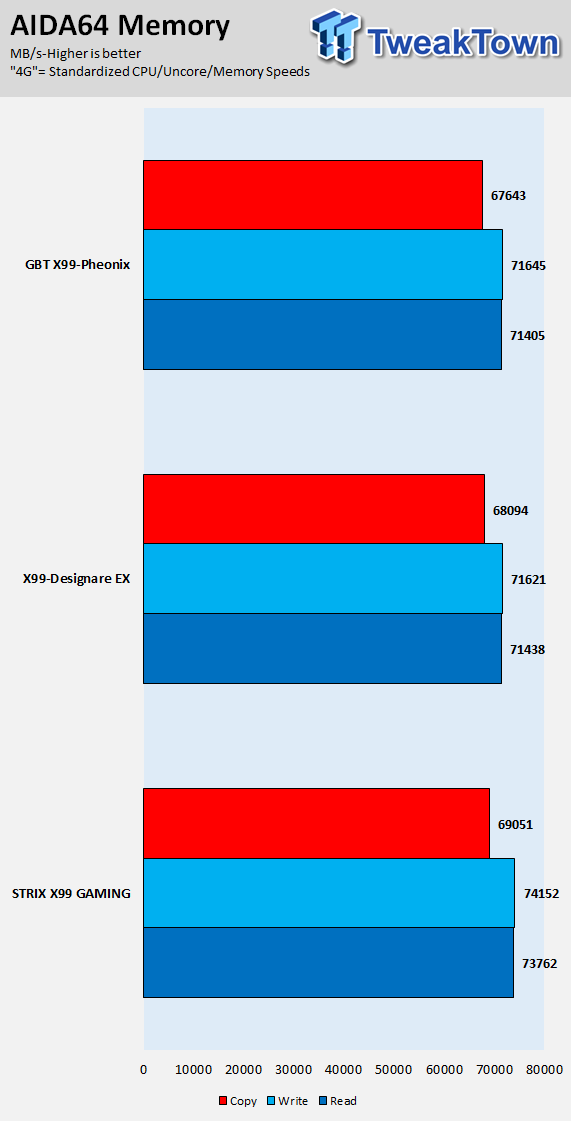 ScienceMark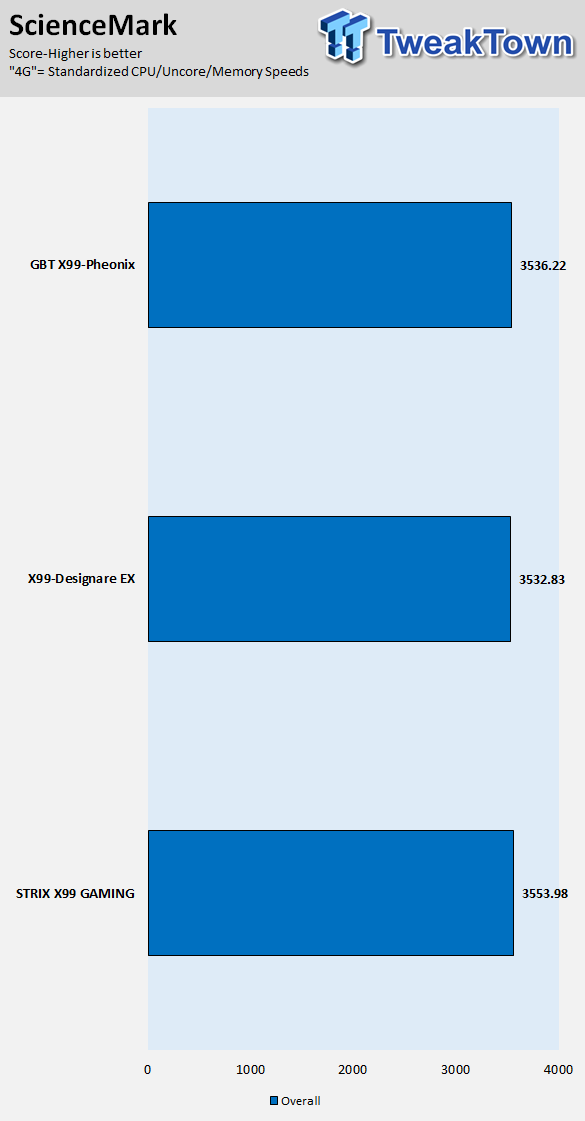 ScienceMark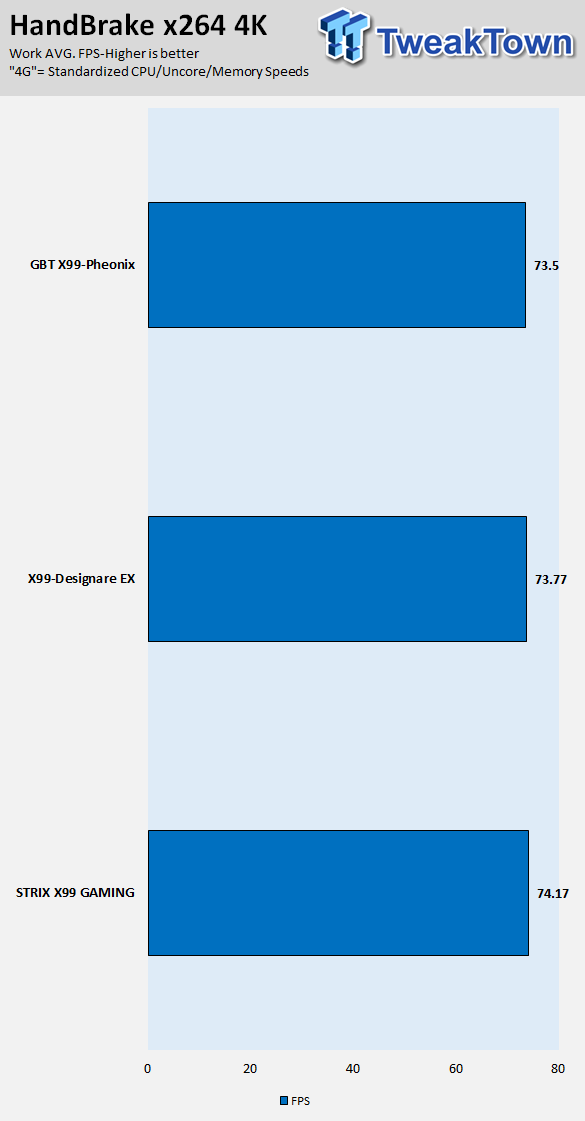 3DMark: Cloud Gate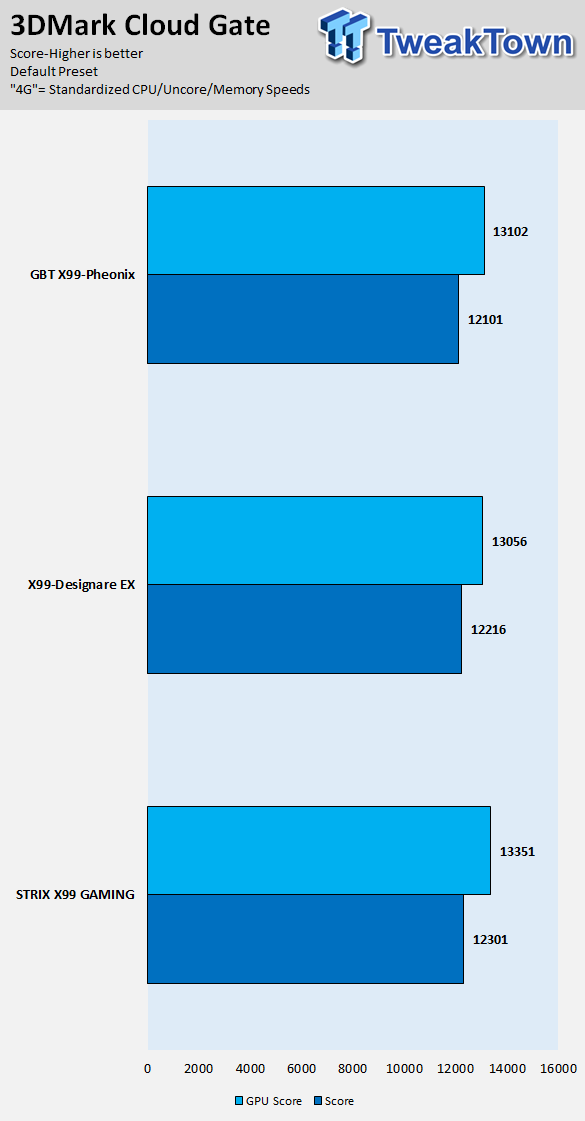 3DMark: Fire Strike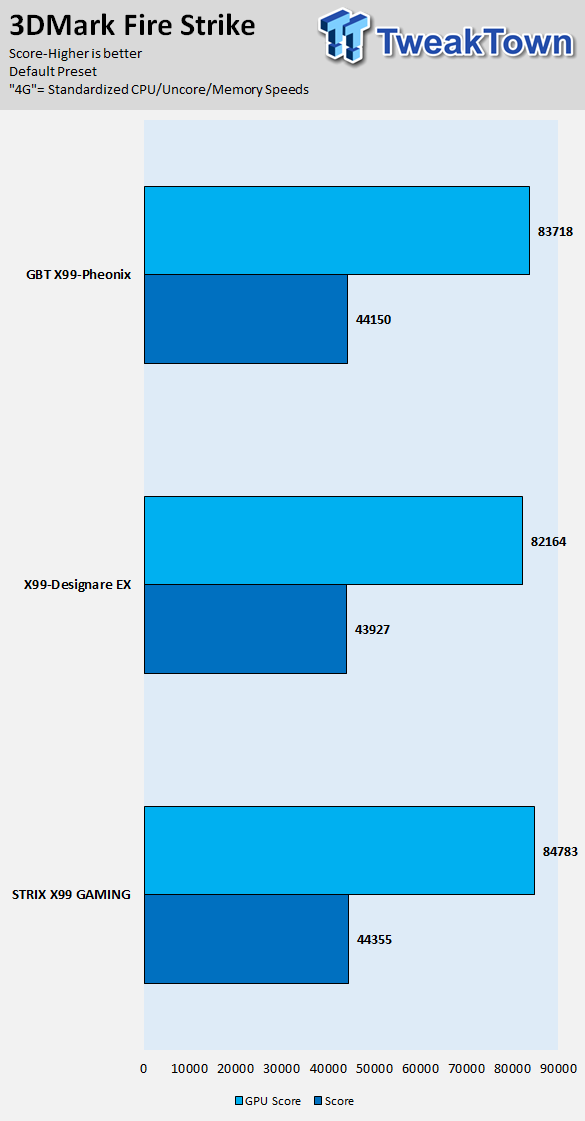 ResidentEvil 6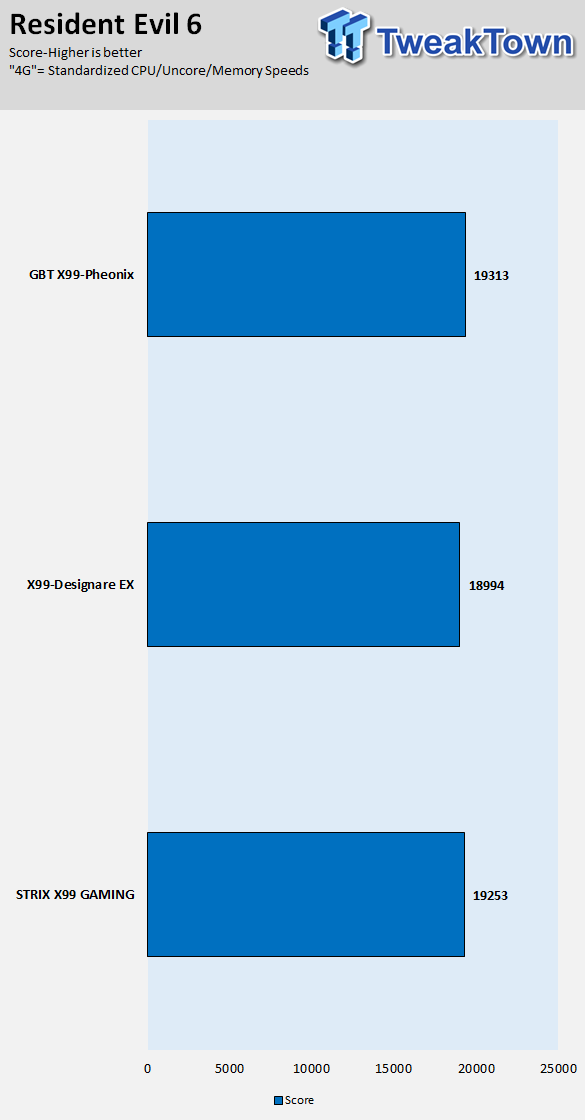 I have decided to test motherboard performance based upon a standardized 4GHz profile for the new X99 refresh motherboards. The base frequency of the 6950X is 3GHz, but since Intel's Turbo profile allows for a single core to hit 4GHz, some motherboards will take any number (sometimes all) of the cores to 4GHz at stock settings, and this creates a huge performance disparity at stock. In all these tests I ran the CPU at 4GHz on all cores, the cache at 3.5GHz, and memory at 2666MHz with timings 16-18-18-36 T2, and allowed the motherboard to set the rest of the timings itself.
We can see that the STRIX X99 GAMING is very strong in GPU, gaming, and memory benchmarks. It is good to see that most of the X99 motherboards score roughly the same in benchmarks because that indicates that none I have encountered so far have any major BIOS performance issues.
System IO Benchmarks
SATA6G: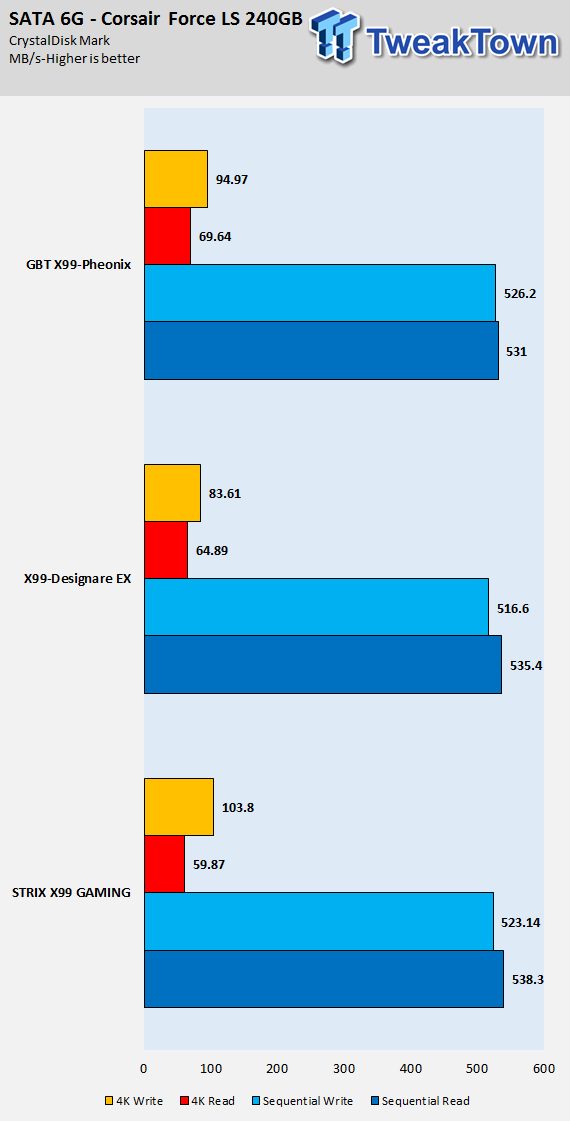 M.2: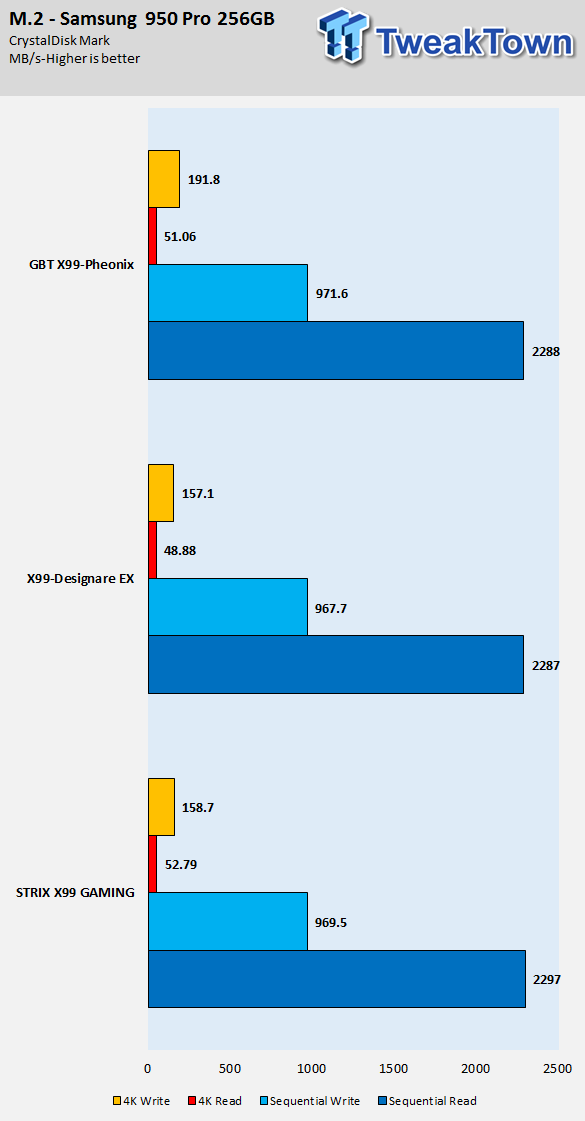 U.2: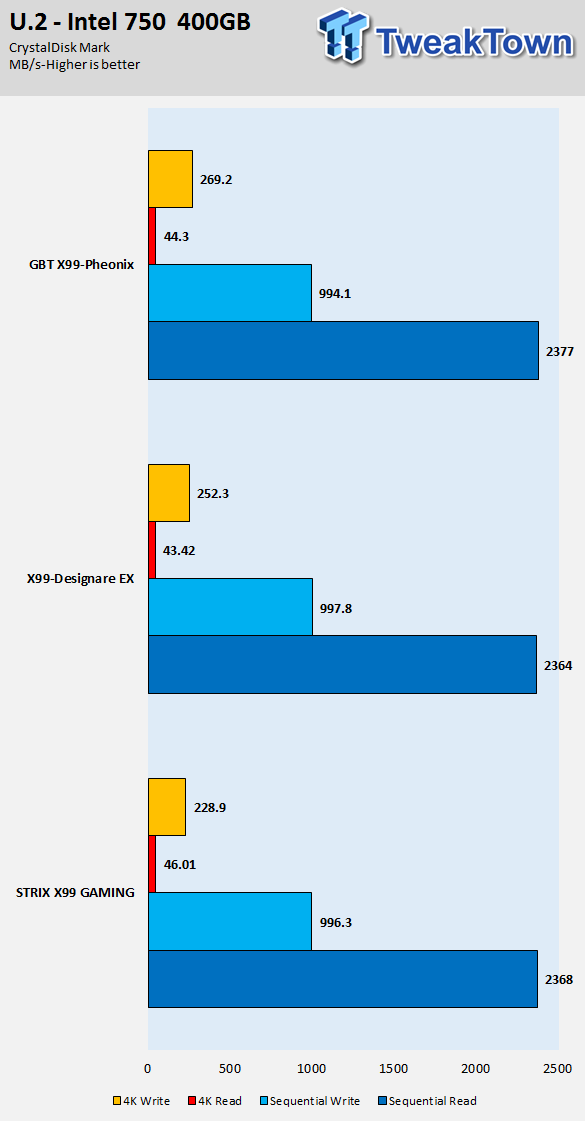 ixChariot Network Throughput: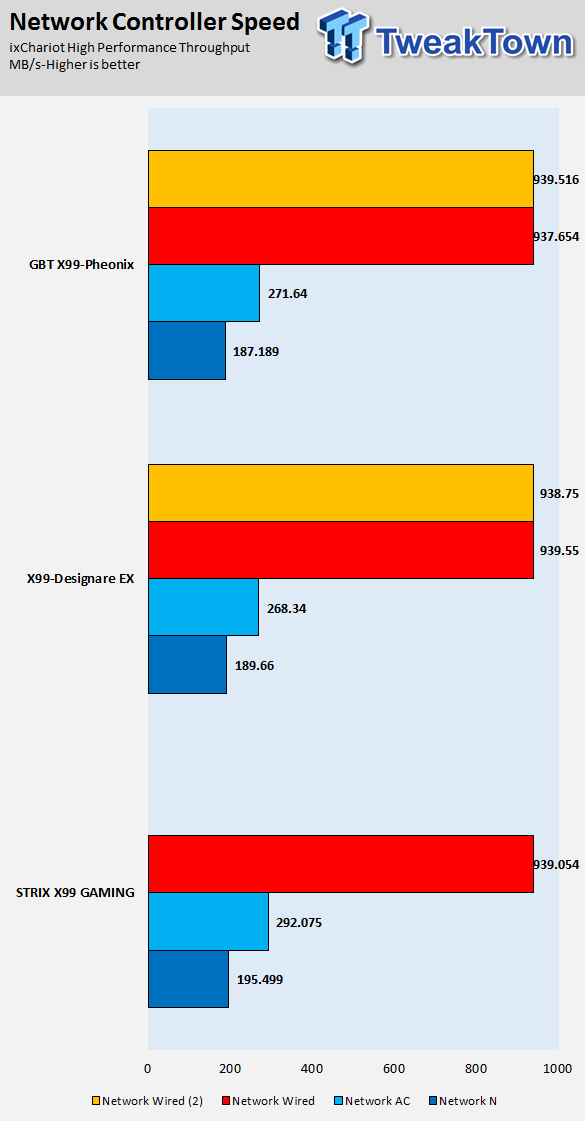 The STRIX X99 GAMING has excellent IO performance; there are no IO performance pitfalls. I found that its Qualcomm wireless AC card performs a bit better than some of the Intel cards I have tested.
Audio RMAA 5.5:
I disable all audio features, set the correct bitrates, and then test the audio with a loopback test.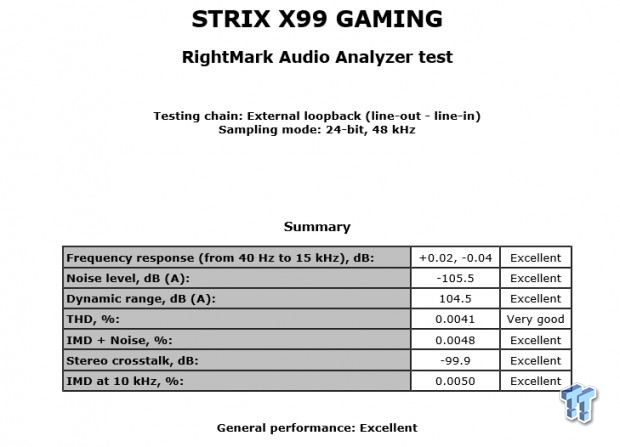 Sound Judgment by Ear: Excellent, audio was clear and high quality. There are five ratings for audio: 1. Problems, 2. Okay, 3. Acceptable, 4. Very good, 5. Excellent
Thermal Imaging and Power Consumption
CPU power is measured through the 8-pin connector, which is hooked up to a hall effect IC, which measures current and puts out a voltage in proportion to the current. That voltage is logged by a National Instruments ADC, which logs the DC voltage level that I then convert into current.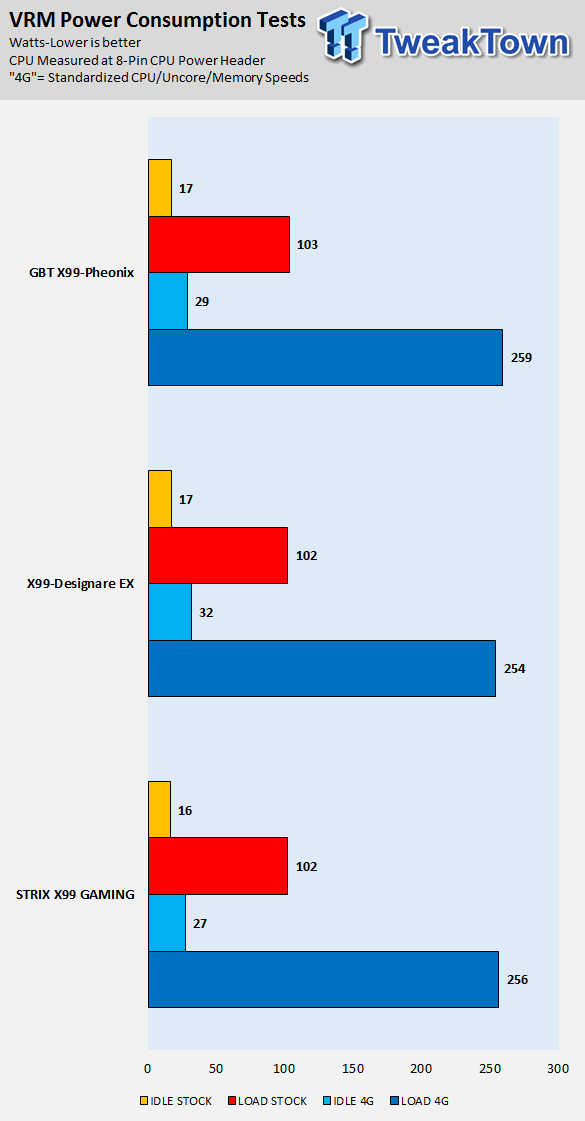 Note on Thermal Images: In the temperature section, we use our Seek thermal imaging camera to capture the surface temperatures of major components on the board. I look at the VRM and then all other things that light up the screen. If there is something to worry about, then I will state it. Otherwise, I will just show the hotter running parts of the board for fun. Unless some component is over 80-90C, then there isn't anything to worry about.
All systems will act differently, so I will look for commonalities, such as how far from the VRM the heat spreads through the PCB and the difference in temperature between the front side and backside of the PCB. Keep in mind, the majority of the heat from the VRM goes into the PCB as it is a giant soldered on copper heat sink. A larger difference in temperature between the back and front of the PCB points towards a more effective heat sink.
Thermal Testing at Stock Speeds:
The image on the left is always at idle, and the image on the right is at load. During ALL TESTS, fans above the VRM that cool the CPU cooler's (Corsair H110i GT) radiator are turned on to high (12v).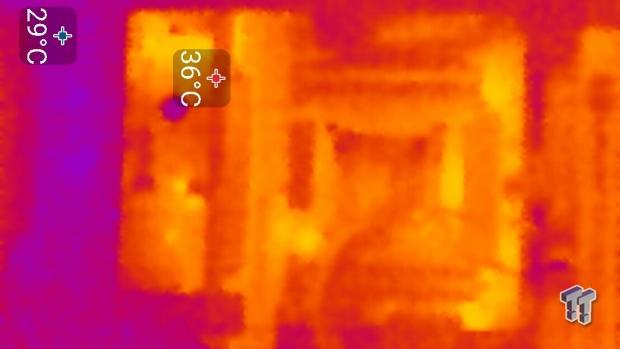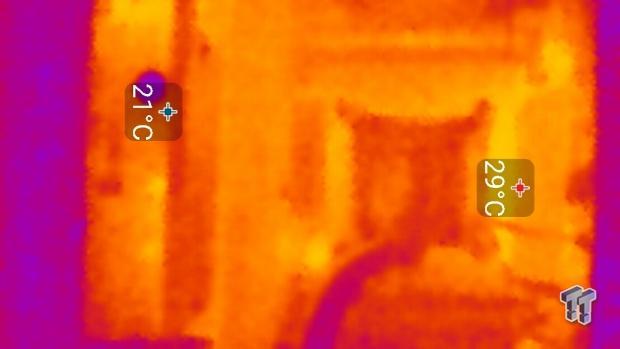 Full frontal.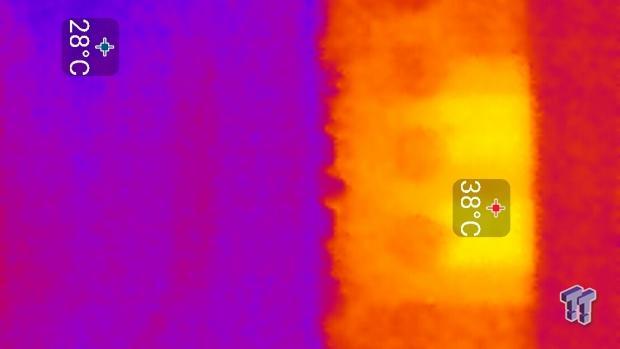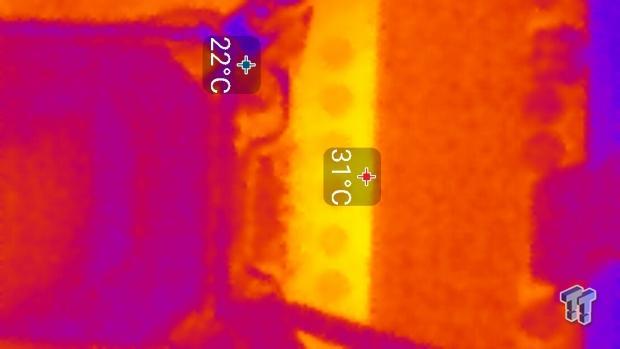 Up-close of the front of the VRM.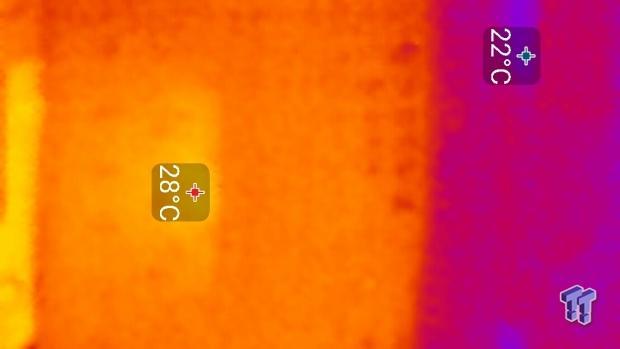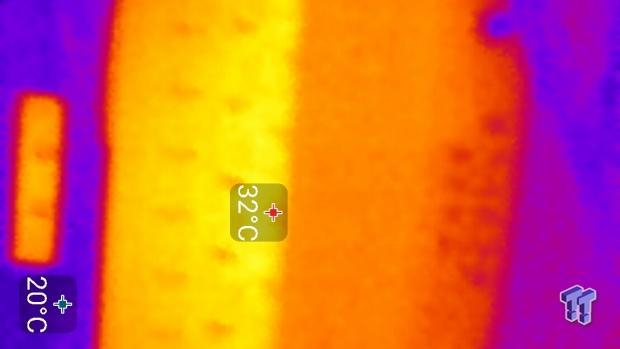 Up-close of the back of the VRM.
Thermal Testing at 4.5GHz Overclocked Speeds:
The image on the left is always at idle, and the image on the right is at load. During ALL TESTS, fans above the VRM that cool the CPU cooler's (Corsair H110i GT) radiator are turned on to high (12v).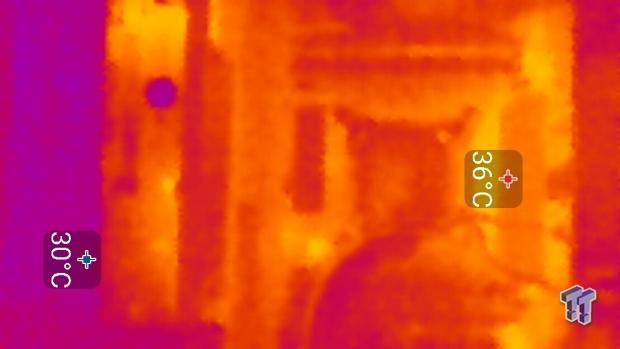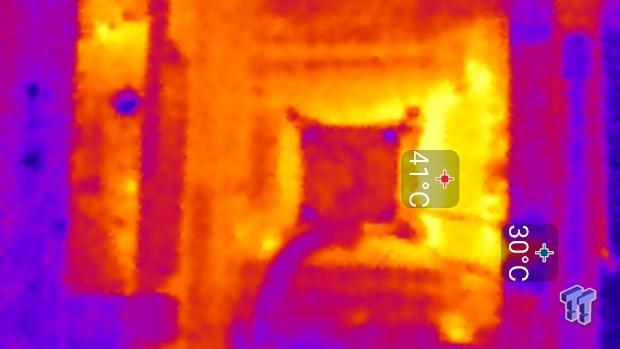 Full frontal.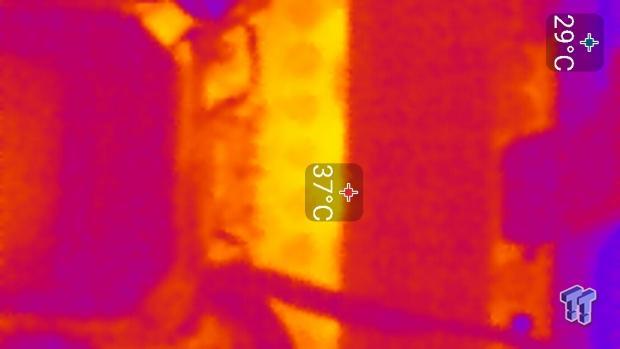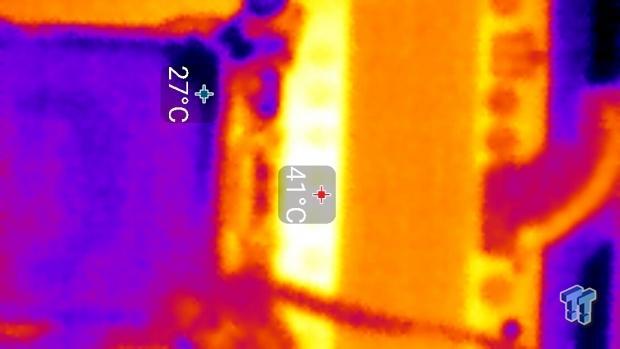 Up-close of the front of the VRM.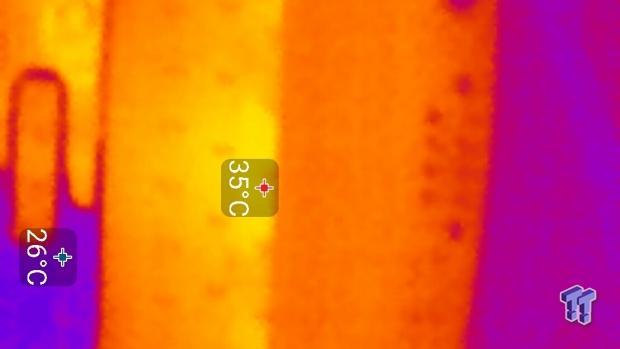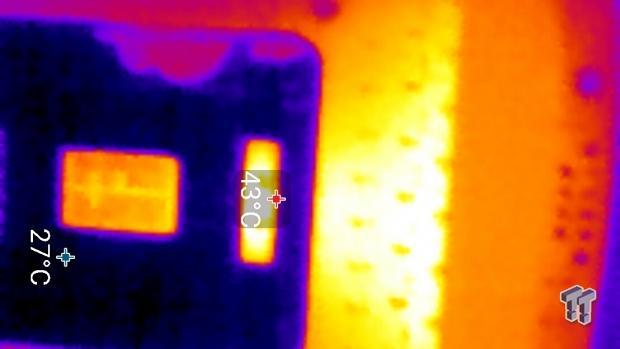 Up-close of the back of the VRM.
The VRM on the STRIX X99 GAMING only uses a few phases at idle at stock, but when overclocked it keeps on about half of the eight for light load situations. The difference between idle and load temperatures is quite low, and we can see that while the back does get a bit warmer than the front, temperatures stay well below 60C or even 50C. Heat also seems to be spread evenly across all phases. The VRM can handle the 6950X, and should provide very good power delivery.
Anything under 60C is great, 60-80C is acceptable, and anything above 80C is a bit worrisome (if at stock).
What's Hot, What's Not & Final Thoughts
Here are key points about the ASUS STRIX X99 GAMING.
What's Hot
Killer Aesthetics: Every time I go to events, motherboard manufacturers ask me about my views on aesthetics and what I consider the best way to go regarding colors and lighting. On one hand, I read forum posts and talk to enthusiasts who want basic color themes (all black or all white) and hate RGBs. On the other hand, I go into stores and ask people about to buy motherboards what they like, and they all seem to want colorful motherboards and the RGBs. ASUS has done a nice job of meeting the needs of both sets of buyers with their unobtrusive RGBs and color cards for changing the color of the PCH heat sink and IO shield without RGBs.
Solid Power Delivery: ASUS's STRIX X99 GAMING has a solid true eight phase VRM with high-quality Infineon power blocks and digital PWM. The memory voltage regulators are also high quality. Thermal imaging shows ASUS's light load power delivery works to only stress a few phases, while at full load the VRM kicks into high gear to efficiently provide power when needed. Overall, I doubt you could over-stress this VRM under any normal usage scenario.
U.2, M.2, Wireless AC, and USB 3.1: The latest and greatest connectivity technologies are provided, and performance is excellent. My qualm is that using either the U.2 or M.2 port disables the other, but with the limited CPU IO, we can't expect much more.
Excellent Fan Control: ASUS's perseverance when it comes to providing the most intricate fan control is apparent on the STRIX X99 GAMING. To step things up a notch, ASUS has added in a high current fan header, allowing users to use a two or three-way voltage mode splitter without blowing the header. Fan control in the UEFI is just as good as control in Windows.
PCI-E Layout: The 2-way SLI/CrossFireX spacing on the STRIX X99 GAMING is solid, and you will get the maximum spacing between the first two cards you install.
What's Not
3-Way Spacing: Only three of the four PCI-E 16x slots are wired to the CPU, so if you run 3-way, you must run in the second, the middle, and the bottommost slots. The bottommost slot is the issue. Adding in a dual slot card can be tricky since you will cover up the bottom row of headers. If you install a normal double slotted GPU into the last slot for 3-way SLI, the POST code and power/reset button functionality will be compromised.
Final Thoughts
We have seen many new "X99 Refresh" motherboards make their way to the market in the past month, and it's obvious that the two prevailing trends are RGB LEDs and new features such as 32Gb/s U.2/M.2. The STRIX X99 GAMING does an excellent job of meeting the aesthetic needs of almost all users. I am reminded of my early years (over ten years ago) when I would have given anything for one of DFI's LanParty motherboards with the colorful slots, and if RGBs were included, I would have sold my soul to procure the motherboard.
As I moved into the enthusiast segment, my tastes changed and I began to want the motherboard to be a uniform solid color so I could have a consistent color theme of my choosing and not of the vendors. ASUS realizes that producing a motherboard to meet both viewpoints is possible, and the ROG STRIX X99 GAMING is the result.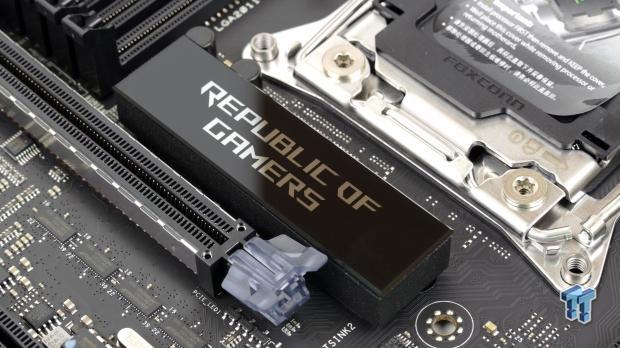 While the motherboard has some great features, it isn't without its pitfalls. If you want to run three cards in SLI, you will need to think about the spacing, and you can only use U.2 or M.2, not both. Like most X99 motherboards, PCH and CPU IO is limited compared to Z170, but ASUS has done a decent job of prioritizing certain features over others. Overall, this motherboard is impressive, and I am glad ASUS has created a motherboard to fit almost everyone's aesthetic preferences.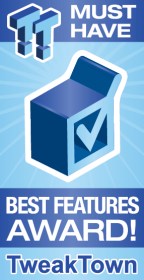 | | |
| --- | --- |
| Performance (including Overclocking) | 90% |
| Quality including Design and Build | 91% |
| General Features | 93% |
| Bundle and Packaging | 90% |
| Value for Money | 90% |
The Bottom Line: If you are in the market for a well-equipped Intel X99 motherboard with the latest in aesthetically pleasing enhancements, the ROG STRIX X99 GAMING from ASUS could be a perfect choice.
PRICING: You can find products similar to this one for sale below.

United States: Find other tech and computer products like this over at Amazon.com

United Kingdom: Find other tech and computer products like this over at Amazon.co.uk

Australia: Find other tech and computer products like this over at Amazon.com.au

Canada: Find other tech and computer products like this over at Amazon.ca

Deutschland: Finde andere Technik- und Computerprodukte wie dieses auf Amazon.de
We openly invite the companies who provide us with review samples / who are mentioned or discussed to express their opinion. If any company representative wishes to respond, we will publish the response here. Please contact us if you wish to respond.