TweakTown's Rating: 82%
The Bottom Line
Synology's RT1900ac is a full-featured router in a small footprint backed by a storage industry leader. While being built on a proven platform, the SRM operating system still needs a few more updates before it's ready for the primetime.
Introduction & Pricing, Availability and Specifications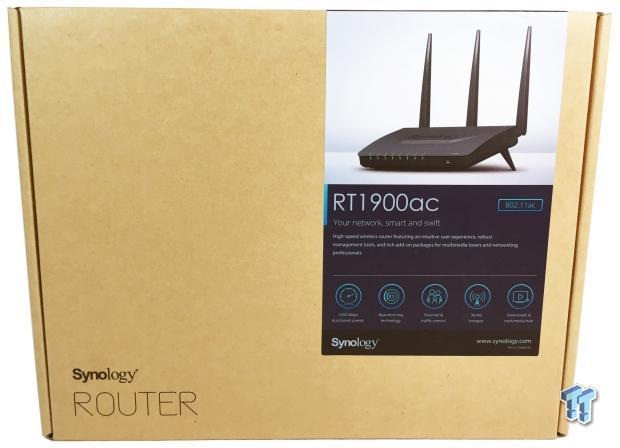 For anyone that follows the market, you will certainly know that Synology is synonymous with storage as they have been designing and producing NAS solutions for nearly 16 years. Starting from scratch in 2000 and releasing their first solution three years later, the DS-101, Synology has grown to be a worldwide leader in business storage solutions.
Back in early October 2015, Synology released their flagship and only wireless router solution into several markets including Taiwan, Hong Kong, Australia and New Zealand. Now at the beginning of 2016, Synology has ironed this solution out and is ready to launch this product in the three largest markets in the world, Canada, China and the U.S.A.
With this router, Synology is offering lag-free gaming, video streaming and quick file transfers utilizing the latest chipset from Broadcom. Adding to this is what I would call the most important part of the router, the firmware or OS. As you can expect with years of experience in the storage market, Synology has launched their routing solution with a very clean, well laid out interface that focuses on both functionality and performance.
Dubbed SRM, this OS features application layer QoS letting consumers get down to the fine details seeing which applications are using the most bandwidth. Additional features include easy to use parental controls, web filtering along with VPN, RADIUS and an app library for add-on features.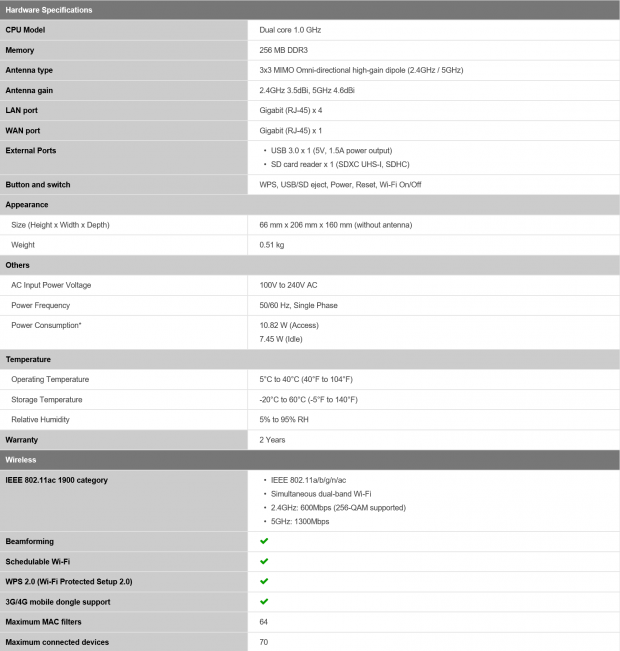 Taking a look at the hardware specifications of the RT1900ac, this solution is powered by the Broadcom BCM58622 Communications Processor. As you will see in later pictures, it features two ARM Cortex A9 cores operating at 1GHz. Paired with the CPU is 256MB of DDR3 memory with our solution using Samsung ICs. The radios for this solution too are powered by Broadcom under the model number of BCM43460 and feature Skyworks Amplifiers in a 3x3 configuration.
LAN and WAN offer gigabit connectivity with a single port for WAN and four ports for LAN while adding to the I/O, Synology has included an SD card reader and USB 3.0 port. The Synology RT1900ac is a dual band solution offering 600Mbps on the 2.4GHz band with 256QAM support while the 5GHz band is capable of 1300Mbps.
MSRP of the Synology RT1900ac Wireless Router is set at $199.99 and features a two-year warranty.
Router Details
Synology RT1900ac Wireless Router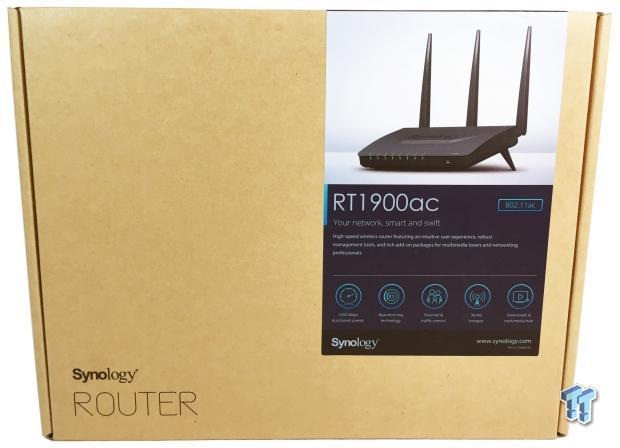 The product packaging is simple in typical Synology fashion. On the right, we have a sticker housing all of the marketing details on the RT1900ac.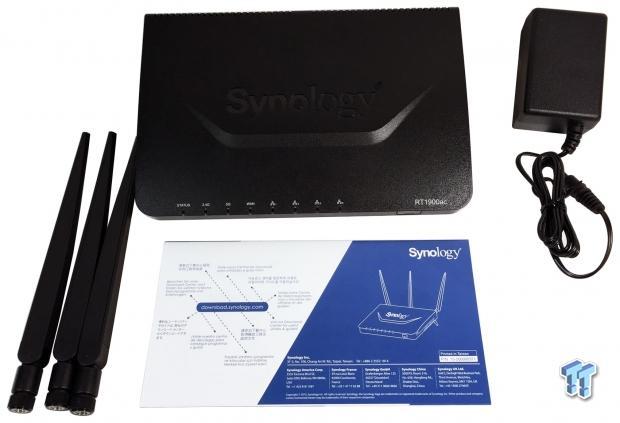 The scope of delivery is pretty straight forward with three antennas, power adapter, and reading materials.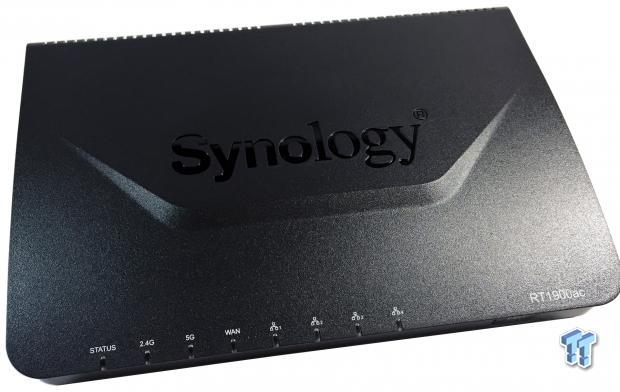 Diving right in we have a look at all of the status LEDs on the front. Worth noting is these LEDs are green, and if you have ever seen or owned a Synology NAS, you know they can be rather bright.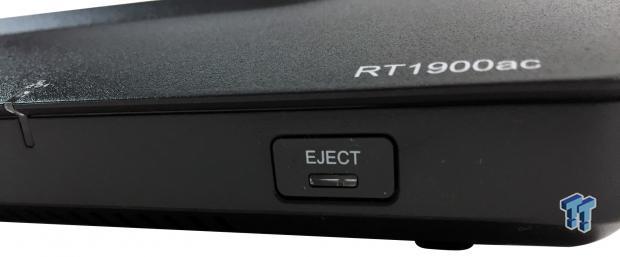 Tucked under the front edge of the router is an eject button for the storage ports that are located just around the corner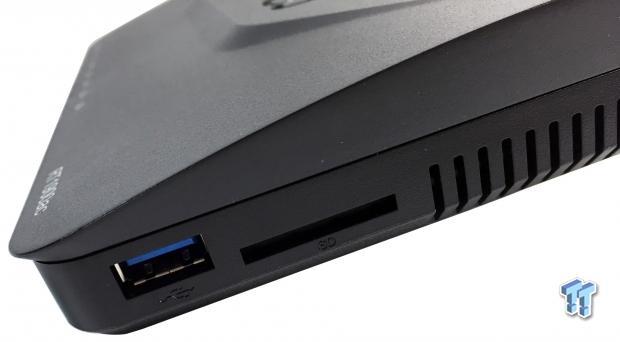 Right around the corner, we have the storage ports I mentioned above. As you can see Synology has included both SD and USB 3.0 functionality.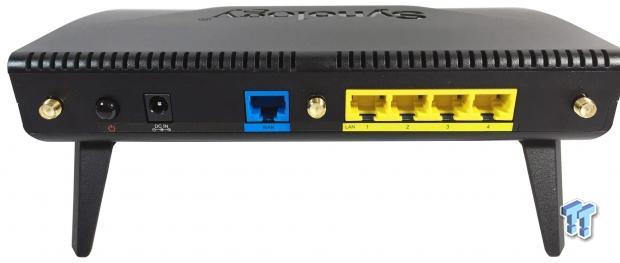 The back of the router houses all of the gigabit ports including one in blue for WAN and four in yellow for LAN. To the far left, we have the power switch and input.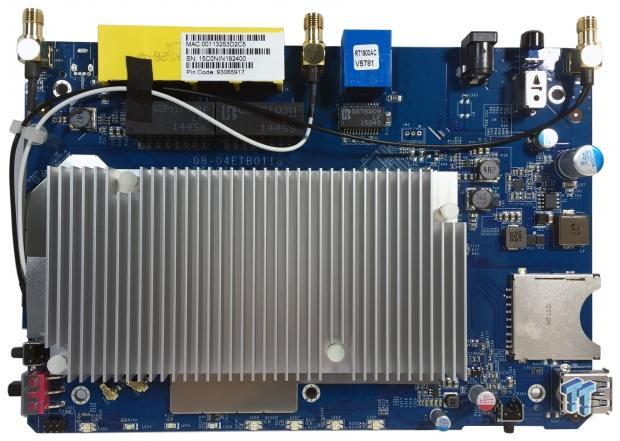 As I have been doing as of late, I tore open the RT1900ac to see what makes it tick. As you can see most of the components are covered by a large heat sink with the SD and USB ports exposed to the right.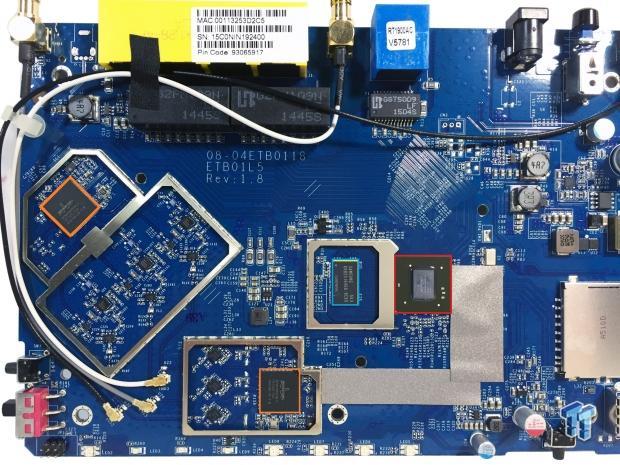 The large heat sink didn't stop me from diving deeper so after removing it and popping the lids on the EMI shields we get a good look at the main components in the RT1900ac. As I mentioned in the specifications, this router is a Broadcom platform featuring a BCM58622 and two BCM43460 radios.
In blue is the 256MB of Samsung DDR3 and not pictured on the back of this unit there are three ICs one of which is the STMicroelectronics 25P80VG flash along with 4GB of Toshiba eMMC, the third IC is the Genesys GL836.
Test System Setup and Management GUI
Tyler's Router Test System Specifications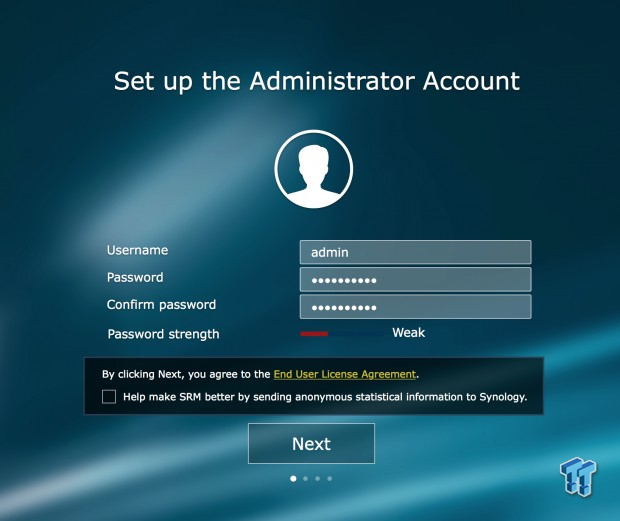 Setup of the RT1900ac is pretty simple, browsing to 192.168.1.1 will start things off with the screen seen above.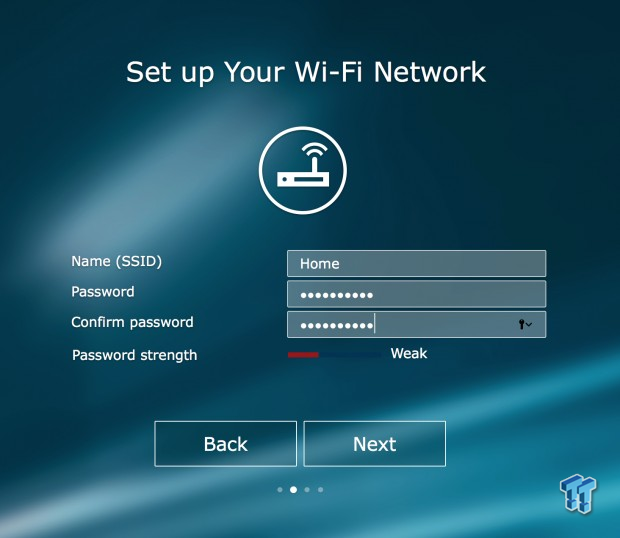 Setup proceeds through setting up your Wi-Fi network.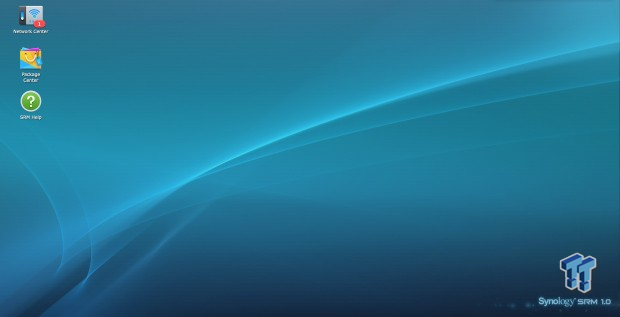 Landing into SRM, we have the network center top the right with the package or app center right below.

Tagging the icon in the top left allows the menu to drop down where you gain access to file station, system logs, and the storage center.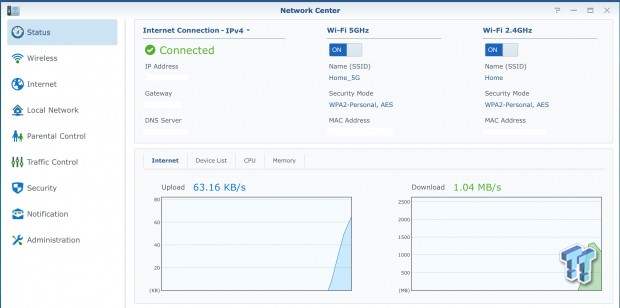 Opening up the network center, you can immediately see how much bandwidth is being processed. At the top, you have internet connectivity followed by 2.4 and 5GHz wireless networks.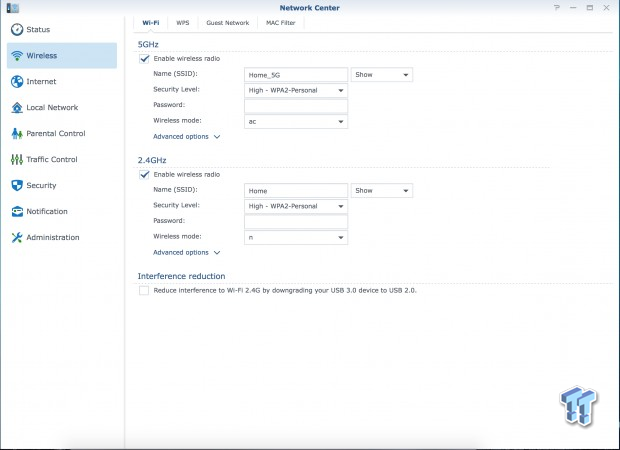 Taking a quick look at the wireless menu, you can see all the options needed for configuring are there including access to guest networks and MAC filtering.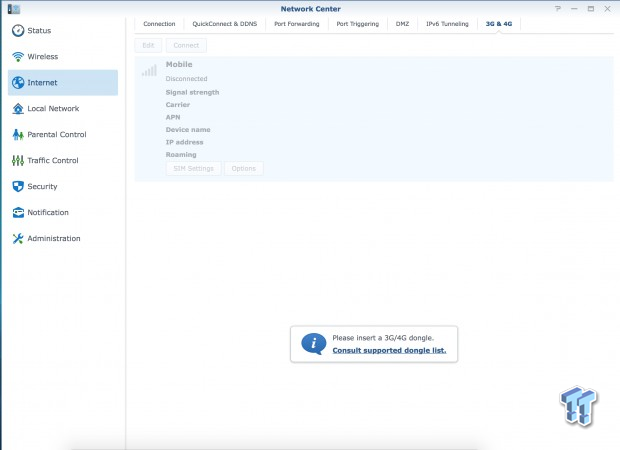 A unique feature of the Synology RT1900ac is the ability for this router to accept 3/4G dongles, a feature I have only seen supported on ASUS routers.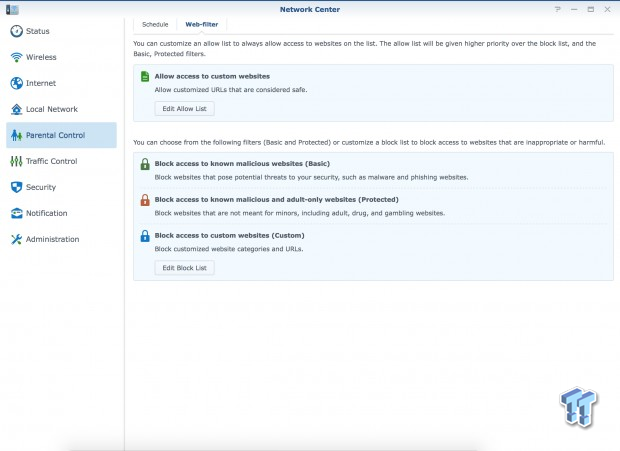 As mentioned previously, parental controls on this router are pretty in depth and allow you to block websites through an umbrella feature or you can manually specify sites to block.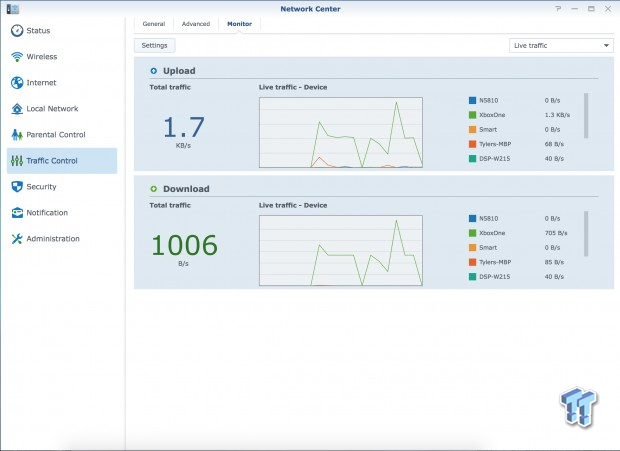 Above we have the traffic control menu that shows you an overall bandwidth usage figure along with devices using the most bandwidth.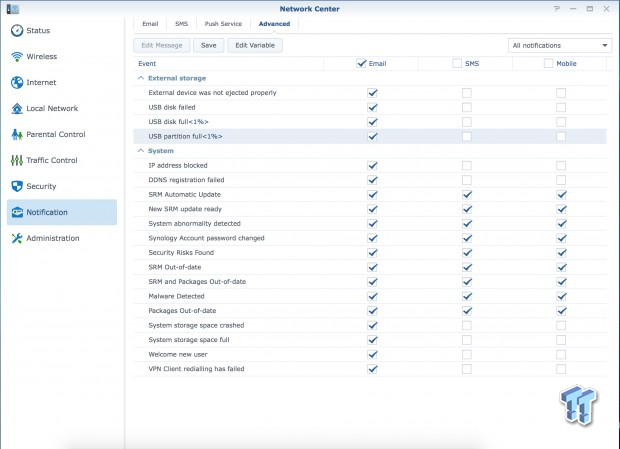 Notifications from SRM go pretty in depth as you can see with the list above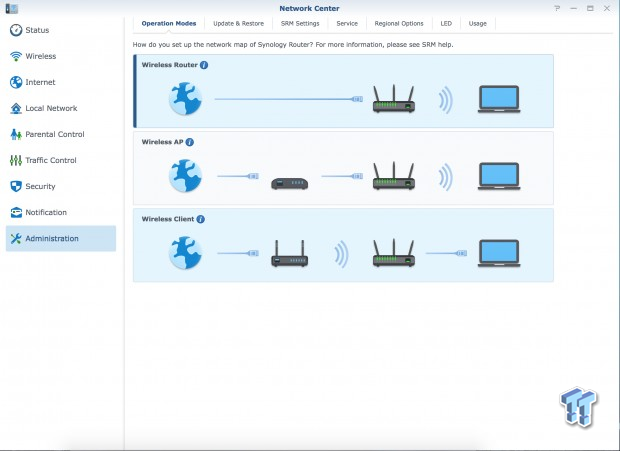 Moving to the administration menu, you have the ability to switch route modes and use this solution as an Access Point or Client if you need to bridge a connection.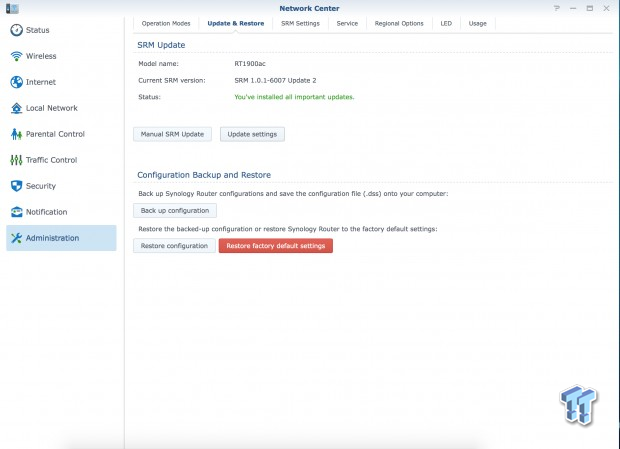 Seen above, we did all of our testing on SRM 1.0.1-6007 Update 2.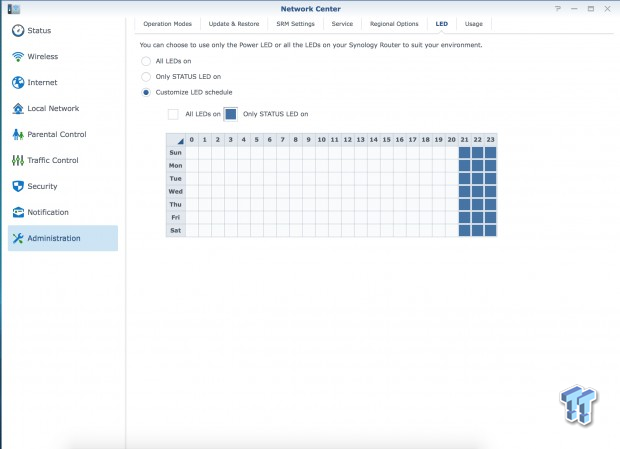 Another thing I mentioned in my opening statements was the brightness of the many LEDs mounted across the front. Luckily, there is software control of these LEDs including full support for scheduling and as you can see I set the lights to shut off at 9 PM.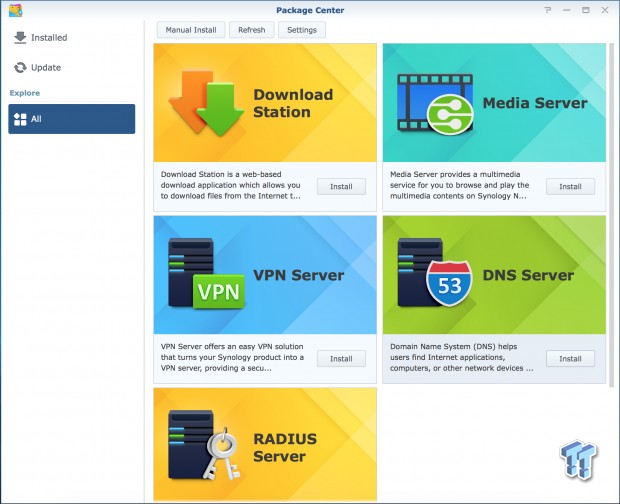 Apps for the RT1900ac are quite slim at this point with just the five you see above available.
Benchmarks – Throughput
Wired Throughput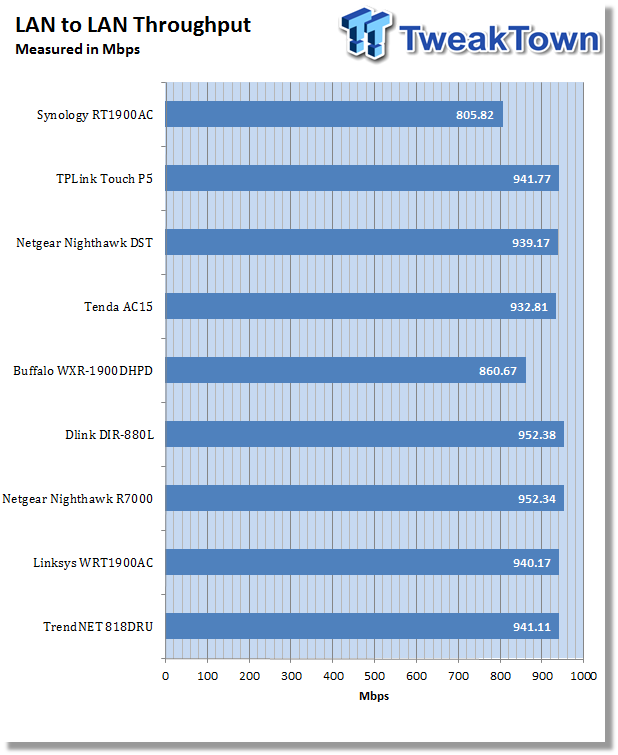 To begin testing, we set up the router for LAN throughput. As you can see above, it didn't really fair too well coming in at 805Mbps.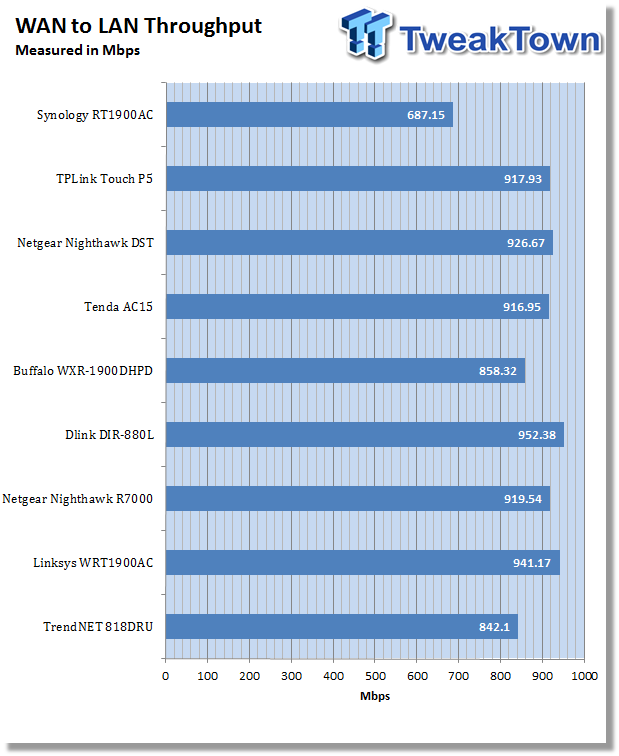 WAN to LAN came in at 687Mbps, the lowest of any router I have tested.
Wireless Throughput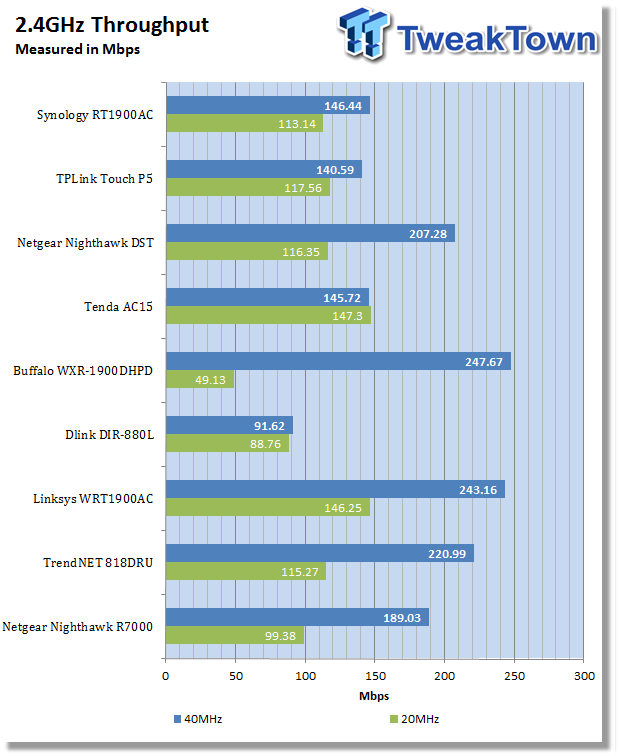 Switching to wireless throughput, the RT1900ac produced 113 Mbps on the 20MHz band and 146 Mbps on the 40MHz band.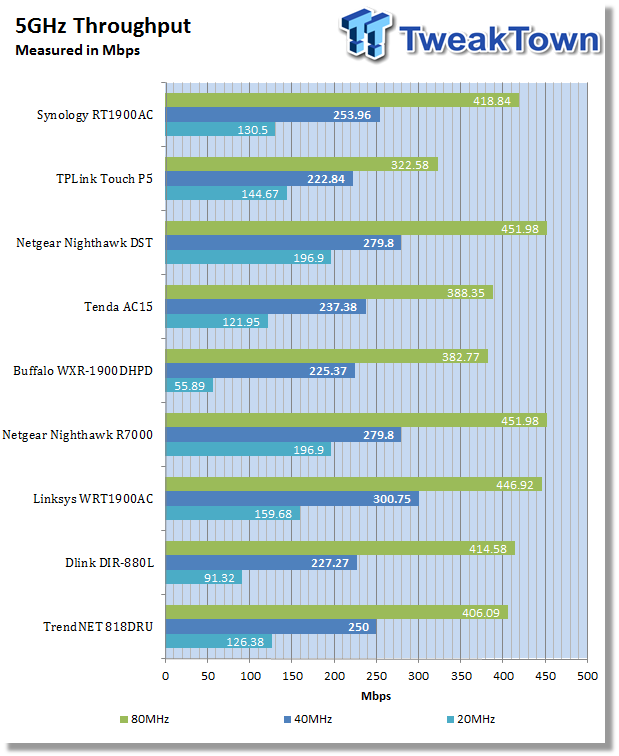 Moving over to 5GHz testing, the Synology unit topped 400 Mbps on the 80MHz band at 418 Mbps, while the 20 and 40MHz bands reached 130 Mbps and 253 Mbps, respectively.
Multi-User Throughput
In our Multi-User test, we use three identical smartphones with the latest MU-MIMO chipset. This test requires the router to handle three simultaneous throughput streams with the results below for each band.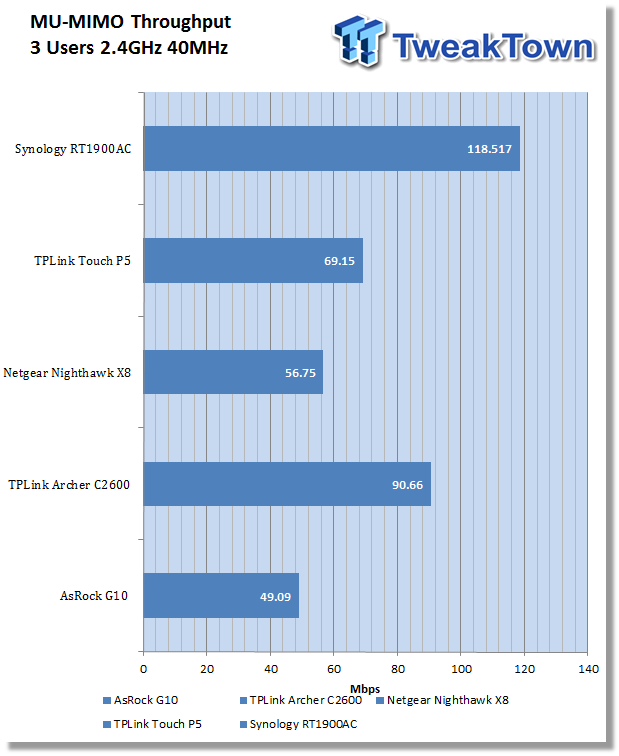 Starting with the 2.4GHz band, the Synology unit was able to produce 118Mbps over all three devices.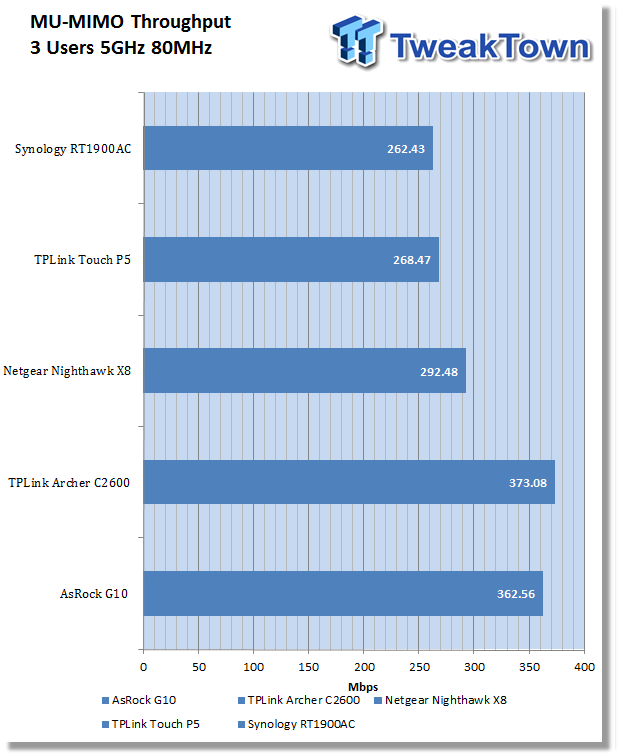 Looking at the 5GHz performance, we found the RT1900ac to enable 262 Mbps across all three of our test devices.
Benchmarks –Storage Performance & Final Thoughts
Storage Performance
In our Storage Performance test, I use a SanDisk Extreme Pro 128GB USB 3.0 flash drive formatted with the EXT4 filesystem. I mount the volume as a network drive and test with NAS Performance Test 1.7.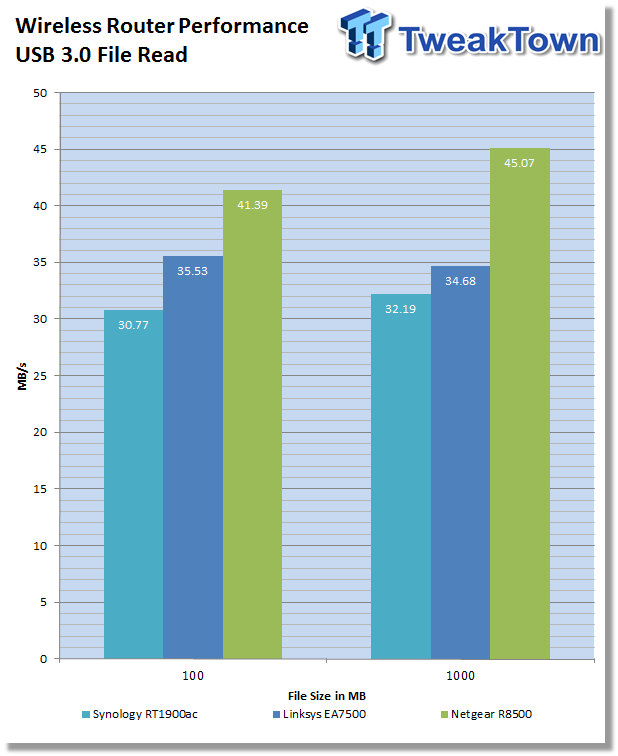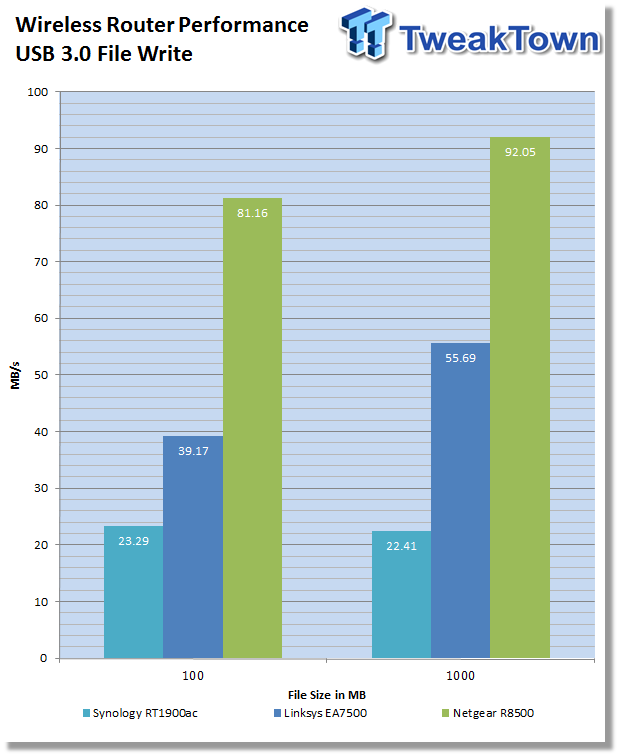 On the storage side of things, the Synology RT1900ac was able to achieve 30 MB/s read with a 100MB file transfer and switching over to a 1000MB file netted just a touch more at 32 MB/s. As far as write performance was concerned, the RT1900 reached 23 MB/s and 22 MB/s, respectively.
Final Thoughts
In its market debut, Synology has produced quite possibly the smallest full featured router I have put my hands-on. At just 8" x 5.5", its footprint is that of DVD or Blu-ray case making it quite convenient for those setting their router on the desk or in a media room.
Build quality seems to be top-notch; the unit's halves are a hard black plastic that are sandwiched together with five screws. The storage port placement is much more appropriate than many other solutions that place it at the back, with the Synology router you have quick access on the side with a front mounted eject button so you never have to enter the WebGUI if you don't want to. The software side of things offers a professional menu option that's easy to navigate, especially if you are familiar with DSM.
The performance of the Synology RT1900ac was not what I expected but nonetheless not terrible by any means. Wired throughput numbers hovered around 800 Mbps while WAN throughput touched close to 700 Mbps at 687 Mbps. Wireless throughput on both the 2.4GHz and 5GHz bands was solid though as I was able to reach 113 Mbps and 146 Mbps putting this solution in line with many other platforms. As mentioned 5GHz performance was on par with many of the AC1900 solutions tested; I was able to top 418 Mbps, which is a feat for some solutions.
Storage performance of the RT1900ac too was a little low, here I was able to reach a peak of 32 MB/s read and 23 MB/s write, this left me stunned as well as I truly expected the Synology to produce some top notch storage numbers. With that said, the Synology RT1900ac clearly has work that needs to be done and I don't want to sound like I have given up on this solution as I think many of the performance issues come down to this being the company's first attempt at a router.
That being said, I would recommend for those wanting something they can set and forget to move on as this Synology router just isn't ready. But if you have the patience and are willing to go through a few updates, the RT1900ac has the potential to be one of the best solutions on the market after some refinements.
| | |
| --- | --- |
| Performance | 75% |
| Quality including Design and Build | 87% |
| General Features | 88% |
| Bundle and Packaging | 85% |
| Value for Money | 75% |
The Bottom Line: Synology's RT1900ac is a full-featured router in a small footprint backed by a storage industry leader. While being built on a proven platform, the SRM operating system still needs a few more updates before it's ready for the primetime.
PRICING: You can find products similar to this one for sale below.

United States: Find other tech and computer products like this over at Amazon.com

United Kingdom: Find other tech and computer products like this over at Amazon.co.uk

Australia: Find other tech and computer products like this over at Amazon.com.au

Canada: Find other tech and computer products like this over at Amazon.ca

Deutschland: Finde andere Technik- und Computerprodukte wie dieses auf Amazon.de
We openly invite the companies who provide us with review samples / who are mentioned or discussed to express their opinion. If any company representative wishes to respond, we will publish the response here. Please contact us if you wish to respond.