CM Storm QuickFire XTi Mechanical Gaming Keyboard Review
Cooler Master's CM Storm QuickFire XTi mechanical gaming keyboard goes under the chopping block today as we put it through the paces.

Published
11 minute read time
TweakTown's Rating: 97%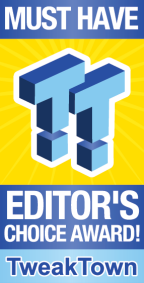 The Bottom Line
Cooler Master and their QuickFire XTi reminds us why we gravitate to them. Always on the edge with new offerings, delivering solid and dependable products, and in this instance, can be had for a very reasonable price.
Introduction, Specifications, and Pricing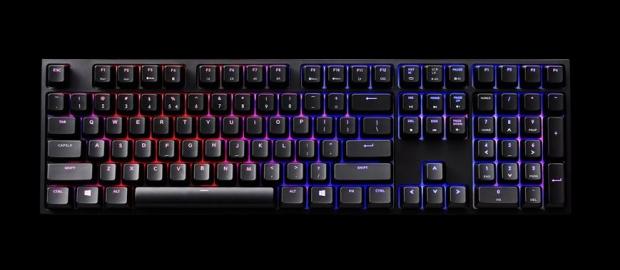 Given the success of the QuickFire Rapid, Rapid-i, and many other great mechanical keyboards from Cooler Master and the CM Storm team, it makes a lot of sense to keep building the portfolio of options to get your product into as many hands as possible. Of course, we started out with the Trigger series, and that is where we got hooked. Since then we have seen many variations of options and layout, 104-key and TenKeyLess designs, and not once have we ever had an issue with them. While they do tend to end up as out daily driver, we have yet to have one fail, and tend to donate them to others long before their lifespan is used up.
In our minds, the CM Storm team has their ear on the heartbeat of the more advanced portion of the mechanical keyboard community. This allows them to filter through issues that come up in other products; they can field tons of suggestions to what the masses want. This allows them to not only bring forth new products, but do so with more than just "hey look guys, we changed the LED color", or "we added stuff you will never use." In this instance, you get a lot of control at your fingertips and is a keyboard that goes to show you do not require a huge keyboard with a ton of extra keys to get the job done, and done well.
So building upon what are already really great options for your hard earned dollar in mechanical keyboards, CM Storm now brings forth the QuickFire XTi and delivered it for our opinion. CM Storm sticks with Cherry MX switches in this design and offers this design in three flavors so that you can find the right switch type for you. While we don't want to give it all away before you see for yourself, what the QuickFire XT includes within the usual size and shape of a keyboard is impressive. While not full RGB LED backlit, with the various light profiles and dual color LEDs, there is plenty to keep users more than happy with this latest mechanical keyboard offering.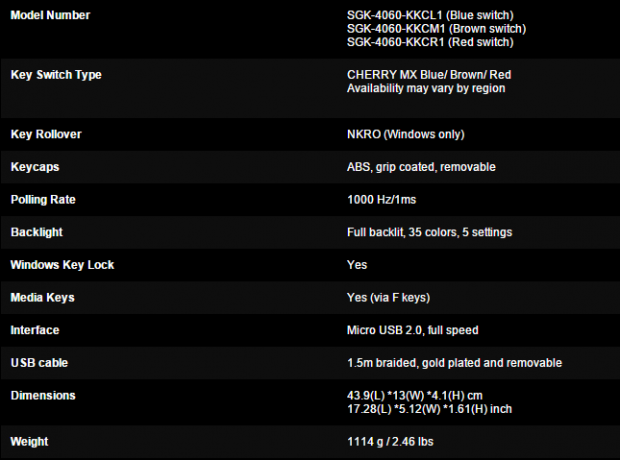 As we move into the specifications, we first must cover that while we were sent a sample sporting Cherry MX blue switches in it, you can also purchase this same layout backed with Cherry MX red or brown switches as well. It is also noted that availability can depend on region as well. The QuickFire XTi offers full NKRO support in Windows via presses of the ABS keycaps that are sprayed with a grip-coat, and all of the caps are removable. The QuickFire XTi also sports a 1ms response time or polling rate by default, and use of the keyboard is done without drivers. There are however firmware updates you can get that improve on what the QuickFire XTi offers out of the box.
Every key on the board has an LED to backlight it, as shown, in 35 colors and across five modes of effects. With the color options, however, you have solid blue, solid red, or many shades of purple and pink as you combine the two color buttons. The modes, however, are more impressive for those who like to look at the keyboard, or on a break switch modes and use a red and blue snake to chase a pink dot. There is also a Windows "lock-out" key offered, there is a set of muti-media keys, and there are still keys for repeat rate, Macros, and profile keys as well. The last things worth a mention are that there is a detachable gold plated USB cable, 1.5 meters in length and that the QuickFire XTi weighs in at 2.46 pounds.
Locating the QuickFire XTi is relatively easy, as everywhere we looked, we found a listing. Shopping smart can save you a bit of cash with this keyboard as well. First we found it at Amazon where they have it listed at a fairly reasonable $144.93 with Cooler Master listed as the seller, and if you are a Prime member, you can have it shipped for free. We then looked for the best deal we could find, and ran across the listing at Newegg, where they currently list the QuickFire XTi for just $119.99 with free shipping. Twenty-five dollars isn't a huge deal to most, but that is near twenty percent off the price. Either way, though, we feel that what Cooler Master is offering, and what we are about to show you will have you also seeing the value in such a keyboard.
Chad's Peripherals Test System Specifications
Packaging, Accessories, and Documentation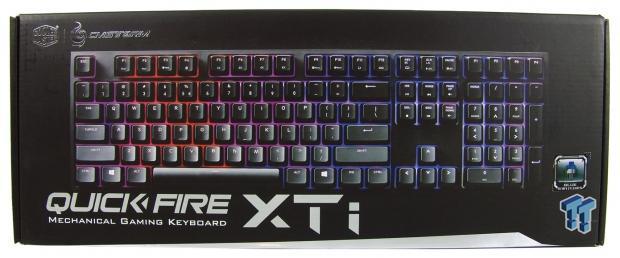 Both Cooler Master and CM Storm share the space at the top left for the logos while the QuickFire XTi is shown almost in life size on the front. There is a notation that this mechanical gaming keyboard is built with Chery MX blue switches, and we see one of the lighting options that this XTi is capable of offering.

At this end, we find that Cooler Master and the CM Storm logos share space. While it is just packaging, we do like the pop of the chromed lettering against the completely black background.

On this longer panel, it is said in many languages that this is the QuickFire XTi, it is a mechanical keyboard, and to visit Cooler Master for more information. We also see that they display all of the company information, and while all other current OS are listed, W10 is not mentioned but is supported.

At the other small end of the box, we find that the full product name graces this end, again in the chromed lettering. To the right is the product sticker showing the full product number with the KKCL1 at the end denoting again the Cherry MX blue switch version is inside.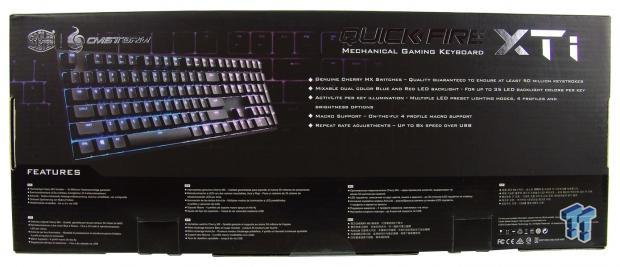 On the back, we find a ghosted image of the keyboard behind the normal image of it with five features listed to the right covering the switches, color options, modes, Macros, and repeat rate adjustments. These are again shown across the bottom but in multiple languages.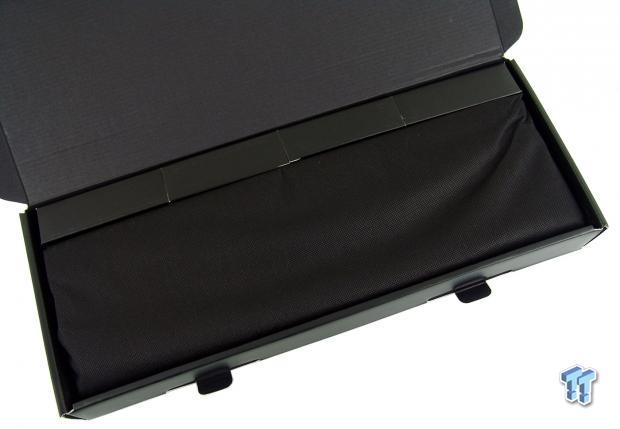 Inside of the box, we find the QuickFire XTi to be wrapped in a cloth bag to protect the finish applied to the keys and frame of this keyboard. The cardboard section in the back is where you find the bits that come along with this offering.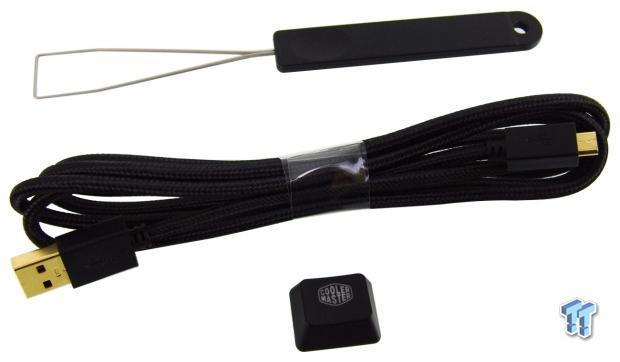 Tucked away in the box, we found the metal wire-style key puller that will not scratch the key caps when used. There is the gold plated cable bundled up, and we also get a Cooler Master key cap to replace a Function or Windows key.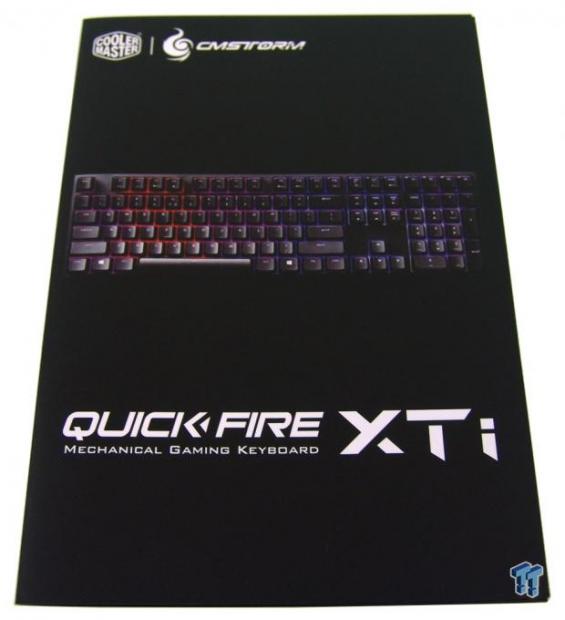 Under the keyboard, you will find a quick start guide for this device. It covers what the keyboard can do, and how to go about connecting it and where to find the firmware updates.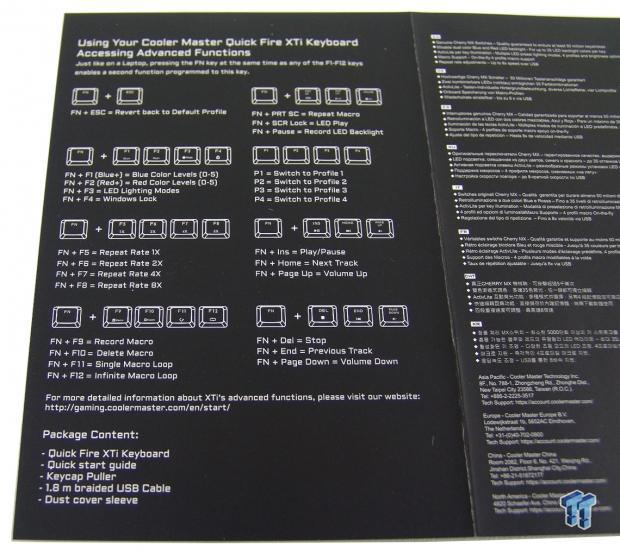 There is also a guide to the advanced functions of this design. It shows us what key combination is intended for which feature. We will cover these individually as well, but this is super handy to have until you get better accustomed to this keyboard.
CM Storm QuickFire XTi Mechanical Keyboard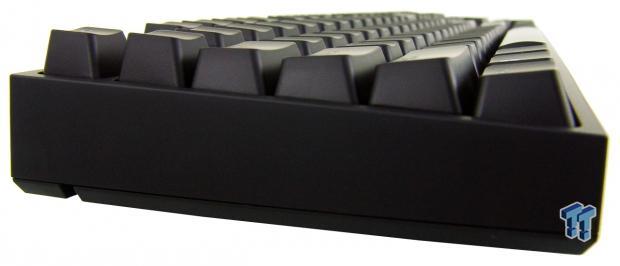 The QuickFire XTi uses a sleek design with just a bit of frame around the keys, but the top section of the frame also carries over the side and connects to the lower section very near the bottom. Looking at the key caps, we can see they are angled away from the user as it sits like this.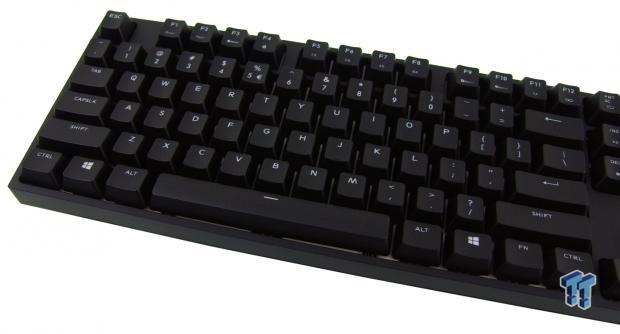 There are a few changes for secondary key functions in the main section of this keyboard, but, for the most part, the font used and the look of this design screams Cooler Master.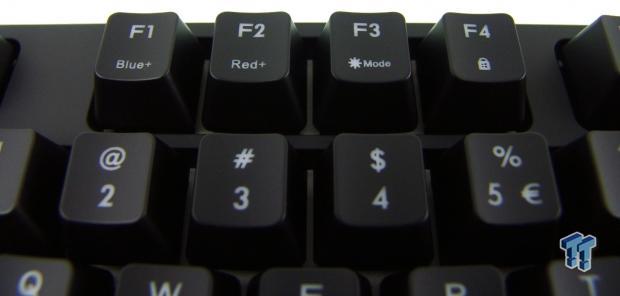 Moving right into the secondary functions, we are looking at the first group now. Here you can set the blue LED from off through five levels of brightness with F1, and F2 does the same thing but for a red light. These can also be mixed with various shades of purple. F3 allows you to swap through the LED effects and modes, and F4 offers us Windows lockout functionality.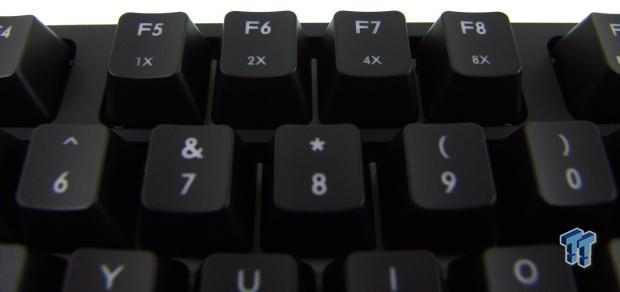 The next group is very simple to understand. For games that require fast repeated clicks, you can address this in the F5 through F8 section of keys. 1X of course for one press of a key with one press of a key, and at the other end 8X will quickly press that key eight times to every one stroke on the keyboard.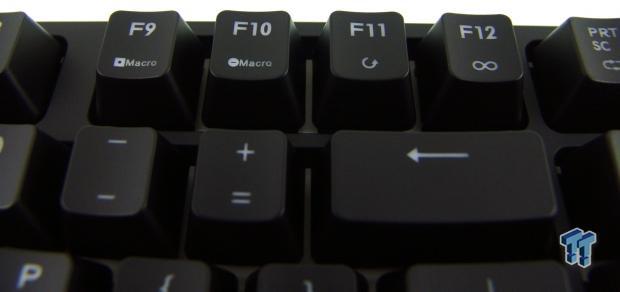 Without a software suite, F9 starts Macro recording on-the-fly, and the F10 key allows you to delete the Macro and start over. F11 offers the ability to repeat the macro once after the key press, and F12 is so that the Macro will spam infinitely as long as the key is held.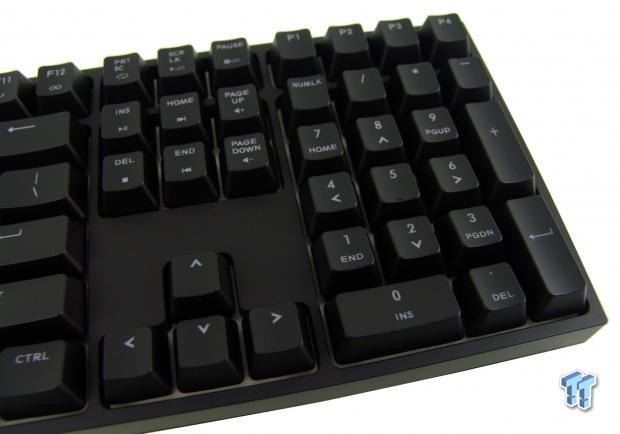 The right third of the keyboard also has quite a bit going on as well. There are arrows on the number pad as well as other commands. Then looking at the top row, we find four profile buttons to keep track of the Macros.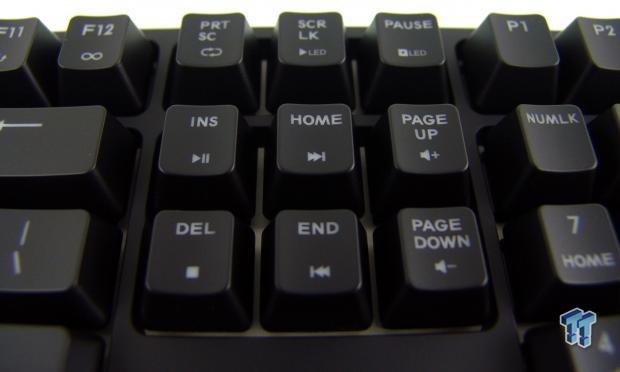 Speaking of command keys, at the top of the right side, the secondary functions continue. There is a repeat macro, LED play, and record LED backlight options across the top. Below that we run into the typical multi-media keys.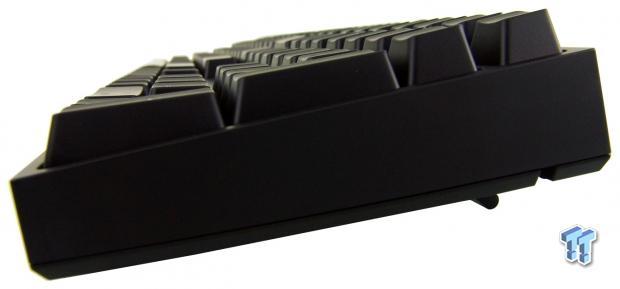 Making it now to the right side of the QuickFire XTi, now with the legs extended, we see that the usage angle increases to a more ergonomic angle of attack. Also on both sides are notches at the bottom, which as you will see, allows the wiring to run through them if needed.

The underside of the keyboard offers a few things. There are small rubber pads near the corners for grip, there is a Cooler Master logo in the center, and wire management trails that run either straight out the back or to either side of the keyboard.
CM Storm QuickFire XTi Continued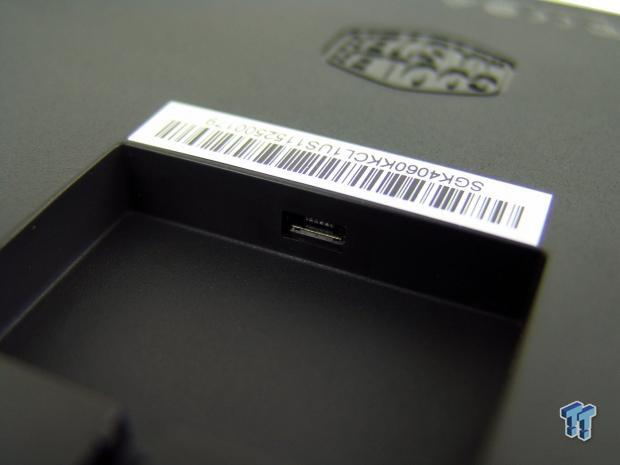 Moving in closer for special attention to the back side of the keyboard, we first ran across the flip out feet near the back. While they do open to the back and are susceptible to collapse, the ends are rubberized so this QuickFire XTi should stay in place most of the time.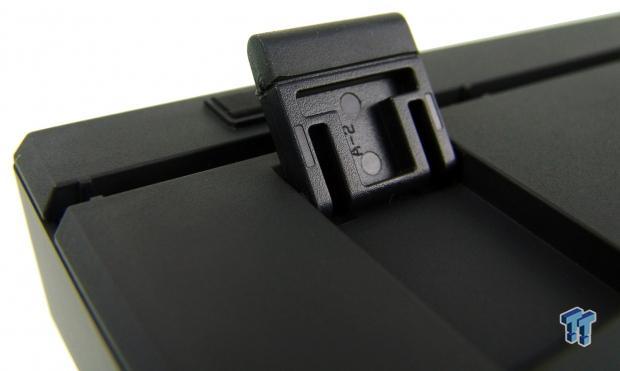 Just above the product sticker, in a deep recess near the back edge, we find the mini-USB port to connect the supplied braided cable to the QuickFire XTi. Having it removable is very handy, especially when it comes to cleaning the keyboard.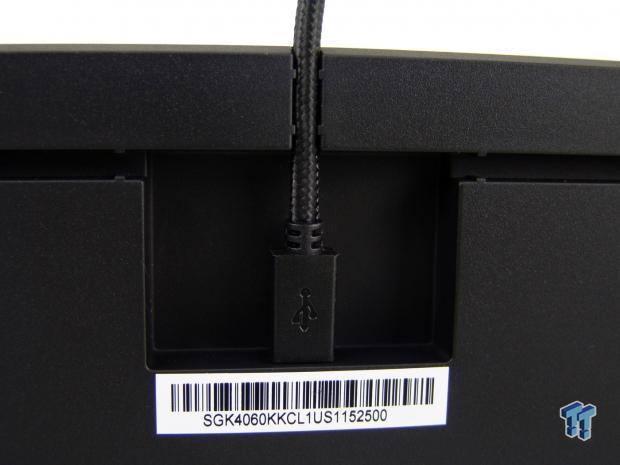 We chose to run the braided cable straight out the back of the QuickFire XTi, but plainly visible are the tabs that will lock this cable to either side just as easily.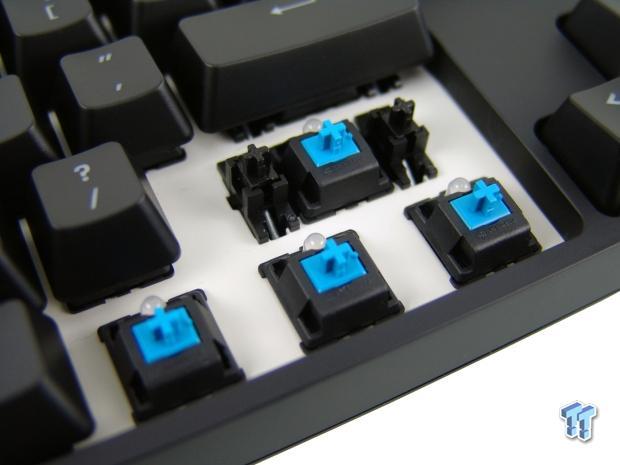 Just to verify it, we did remove a few key caps and indeed find Cherry MX blue switches used on this keyboard. A single LED allows for all of the color options, and we also see that the torsion bars are enclosed on the larger keys.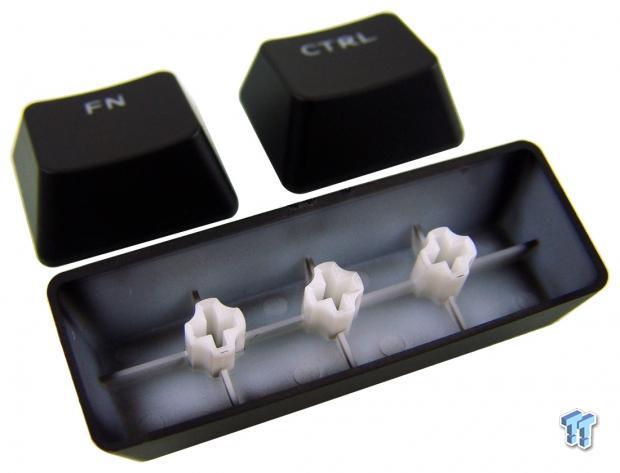 As many do, Cooler Master first molds the key caps in an opaque white plastic, so that the LEDs can show through them. After that, each cap is then sprayed with a grip coating that offers us the black finish we find in this design.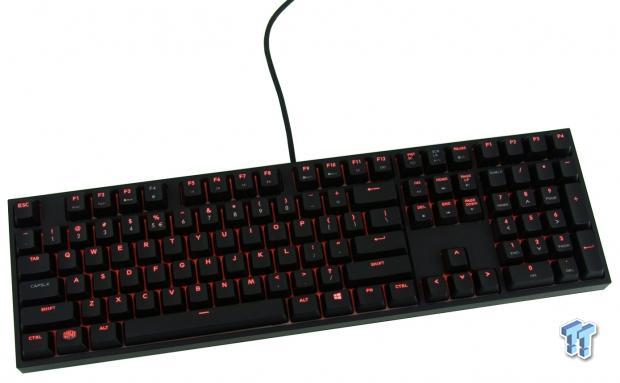 One option of course once the keyboard has power, is to start to mess with the lighting. Here we have just the basic red LEDs on, and they are at their brightest setting.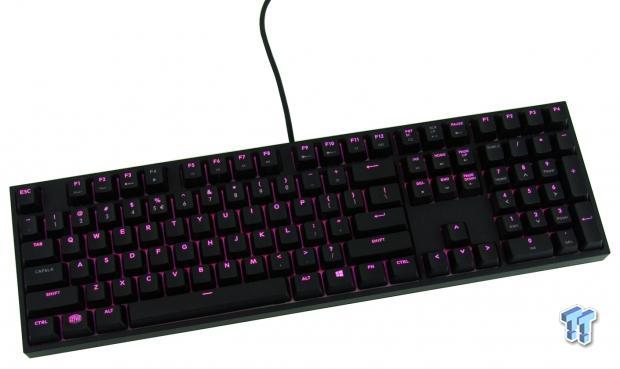 This is a look at the one of the colors offered when mixing the blue LEDs and the red LEDs together. There does not seem to be much real color difference between the 35 colors, it is more intensity, as a lot of the settings are too subtle to pick up on.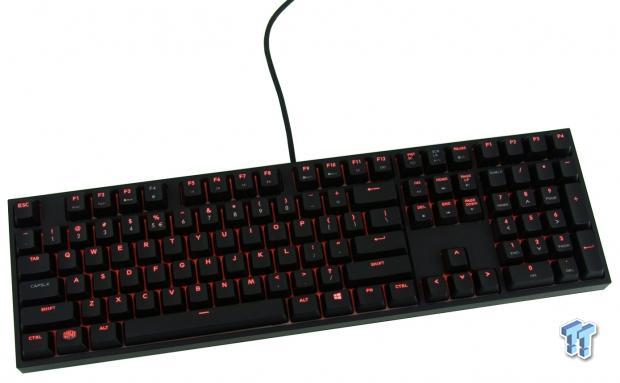 We also made sure to stop and get a look at the blue LED option that we see here. On top of just basic colors, you also have modes. There is the solid color, breathing, follow the key press lighting, cross patterns to a press, and with a firmware update, you get the snake game and a rainbow effect using red purple and blue changing as it waves from left to right across the keys.
Final Thoughts
There is a lot to like about this design in the QuickFire XTi. We love the fact that this solution is driver-less, requiring you only to learn to finesse the keyboard to do as you wish rather than clicking away in software. Outside of being a solid keyboard with Cherry MX blue switches in it, which we prefer, but you do have other options, Cooler Master is still able to offer a keyboard worthy of the "gaming" moniker. Sticking with a typical 104-ley layout, using the Function key and a plethora of secondary keys across the top, you can get this keyboard to do anything your heart desires, it just takes a bit of an effort.
In our testing, we found no dead switches, no sticky keys, just hours of pleasurable typing and gaming sitting behind this QuickFire XTi. The default setup with full NKRO support and anti-ghosting, along with 1ms response time offers you top tier performance all the time from the components inside. Speaking of which, we typically peel our keyboards open, but this design is screw-less and requires some pry tool to open the QuickFire XTi without damaging your fingers or the finish on the keyboard. While this does not make it super easy for the mod community, it does keep amateur hands off of stuff they don't need to be on, and likely will reduce RMA claims for them as well. With everything this keyboard offers, we find ourselves sitting here scratching our heads wondering why so many need huge software suites, and sometimes they offer less functionality at the same time.
The lighting we dig as well. Red and blue have to be the top two choices out there for backlit keyboards, and that is included here. Mixing them is also cool, as purple is a bit lighter, and will also draw in the female crowd to their keyboards. As far as the modes go, they too add a lot of style and options. We did find that not all of what we described earlier came ready to go on the QuickFire XTi; we did have to get the latest firmware for the game and the wave where it then drives the lights across the board changing them from blue to purple to red, and repeating this over and over.
It always comes down to price though when looking at buying a new mechanical keyboard to use day to day, and Cooler Master is right on the mark with the pricing of the QuickFire XTi. Even at $144, you get a lot of keyboard for the investment. Considering though that this keyboard can be had for $115, this driverless design offers a ton of bang for the buck. No headaches from software, the ability to program and save things on the go, anywhere, multiple LED color choices and lighting effects, the list goes on and on. In the end, Cooler Master and the CM Storm team deliver another high-quality solution to mechanical keyboarding and is well worth your attention when looking to replace your daily driver.
Chad's Peripherals Test System Specifications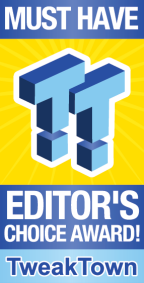 | | |
| --- | --- |
| Performance | 98% |
| Quality including Design and Build | 99% |
| General Features | 95% |
| Bundle and Packaging | 96% |
| Value for Money | 97% |
The Bottom Line: Cooler Master and their QuickFire XTi reminds us why we gravitate to them. Always on the edge with new offerings, delivering solid and dependable products, and in this instance, can be had for a very reasonable price.
PRICING: You can find products similar to this one for sale below.

United States: Find other tech and computer products like this over at Amazon.com

United Kingdom: Find other tech and computer products like this over at Amazon.co.uk

Australia: Find other tech and computer products like this over at Amazon.com.au

Canada: Find other tech and computer products like this over at Amazon.ca

Deutschland: Finde andere Technik- und Computerprodukte wie dieses auf Amazon.de
We openly invite the companies who provide us with review samples / who are mentioned or discussed to express their opinion. If any company representative wishes to respond, we will publish the response here. Please contact us if you wish to respond.