Tt eSPORTS Commander Gaming Gear Combo Review
Tt eSPORTS wants you to 'take command of the game' with its Commander Gaming Gear Combo. This keyboard and mouse package certainly has great value.

Published
10 minute read time
TweakTown's Rating: 93%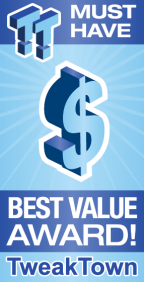 The Bottom Line
At $30, the Tt eSports Commander Gaming Gear Combo is a solid way to go! The plunger switches are nice, for a driverless kit it still offers a lot of features, and it does look good too.
Introduction, Specifications and Pricing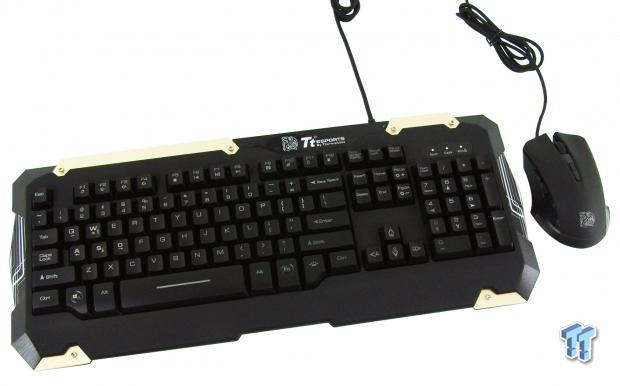 When it comes to the peripherals game, it seems most of what we see is high dollar gear where it would figure that companies had the most to make by selling them. The thing is, the reality of the market shows that customers are still looking to save every dime... hell, every penny when it comes to choosing the gear to go along with their gaming build. While every company seems to offer some form of entry-level priced gear, that can sometimes mean you are digging out $40 a pop for a mouse and keyboard. But we are of the train of thought that we buy peripherals like tools for any trade. It is something we use every day for many hours, and we don't mind paying up for something that falls into that Goldilocks zone of "just right" for our needs, but on the flip side, a lot of gamers are happy as long as it works and does not affect the budget to the rest of life.
What we have found out though over time, is that many companies make huge profits a dollar at a time, selling masses of that product. This is where the budget gamers and average users come into play. As we say, a lot of gamers out there aren't looking for much as far as feel or outrageous software options, they just want all of the keys, maybe some multimedia keys, a bit of backlighting, and they are content. The same thing is also said for mice. Unless you play a lot of MMO or other Macro based game styles, you too can get by here with just the basics. This is where the Tt eSPORTS team is coming in to help solve a lot of the questions, and delivers us a combo kit of a keyboard and mouse that is stylish, very functional, and has a very keen eye directed at the overall price.
Today, we are diving into the Commander Gaming Gear Combo. In this one package, we are offered a 104-key standard US layout keyboard, but rather than offering a basic membrane board, this is a plunger switch based keyboard that is more like a hybrid between membrane and mechanical keys. Along with a very aggressive aesthetic look to the board, it is backlit blue, and the intensity is adjustable. Also, in that box is an optical gaming mouse that offers on-the-fly DPI adjustment, side buttons on the left, and illuminated LEDs in three locations. So, in essence, the Commander Gaming Gear Combo has everything a gamer needs right in one box, and takes away a lot of headaches deciding on other gear, when for minimal cost, you can just pick up this kit instead, plug it in, and enjoy.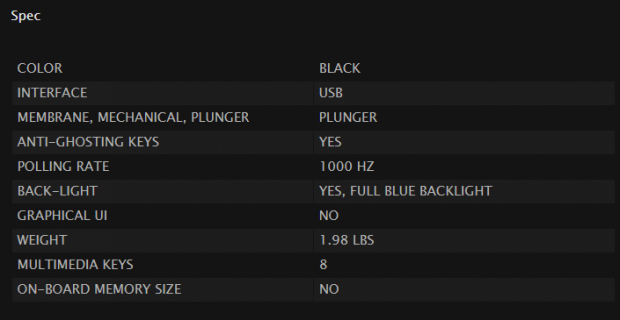 Tt eSPORTS does offer us a chart, but it only seems to cover the keyboard and not the mouse. As to the keyboard, we are given a black plastic keyboard with metal-like accents in a titanium color. This design opts to use plunger switches that offer mechanical tops to them and even allows the use of aftermarket keycaps that work with Cherry and Kailh switches. It is powered over USB, offers anti-ghosting, has a 1000 Hz polling rate at all times, and is backlit, even into the frame with blue LEDs. We also see it weighs near two pounds, it offers multimedia keys, and while it has no onboard memory, the cable is sleeved.
As to the mouse, things are pretty basic. While we will not be tearing these products apart, because frankly at this price they could be built of Playdoh. If it worked for six months before drying out, you got your money's worth. We assume it uses an Avago sensor, something like the A5050 we saw in the Scroll X1, due to the 2400 DPI maximum the Commander mouse offers. There are two buttons on the left side of this near ambidextrous design, but none present on the right to accommodate left-hand users. If offers a heavily segmented scroll wheel with a rubber coating on it. Along with a "CPI" rather than DPI button on the top, there is a slit on either side that lights up, as does the battle dragon logo on the heel, of course in blue to match the keyboard.
We thought we had a handle on what something like this should cost, as we were guessing somewhere around say $59.99. As we looked around to find pricing, our jaw did need to be picked up from off the desk. With around fifteen hits in Google shopping, it is very easy to locate these in stock, ready to be bought. The pricing, however, being as low as $29.99 prior to any shipping charges is downright insane. For a basic membrane board and a mouse, we would expect to have to pay more, but somehow the Tt eSPORTS team is able to put a package together, and with the Commander Gaming Gear Combo, you really cannot go wrong in this purchase. Even if just for a backup set to sit on the shelf, you will be hard pressed to beat this deal.
Packaging and Documentation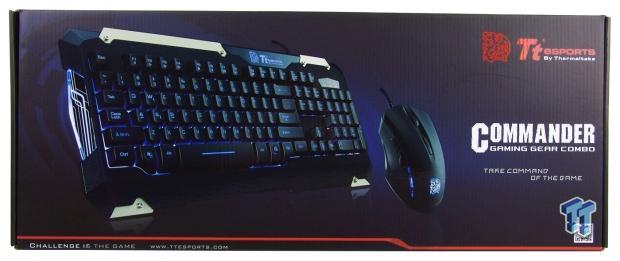 Using blue in the background and bright red accents, it is easy to pick out the Tt eSPORTS name and logo at the top. The Commander naming is done in white and tells us to "take command of the game" with the products shown to the left of said statement.

Both of the smaller ends of the box are the same and we are only showing one due to this. They simply offer the red outline around the edges, which has changed from the typical dog bone shape we are used to, but still offers the company name and logo in the center.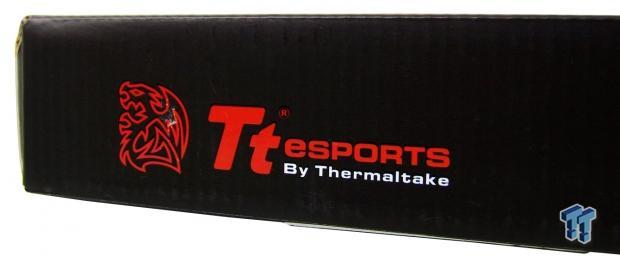 Both of the longer sides are also identical. At the left end of both sides, you are given the Tt eSPORTS name and logo.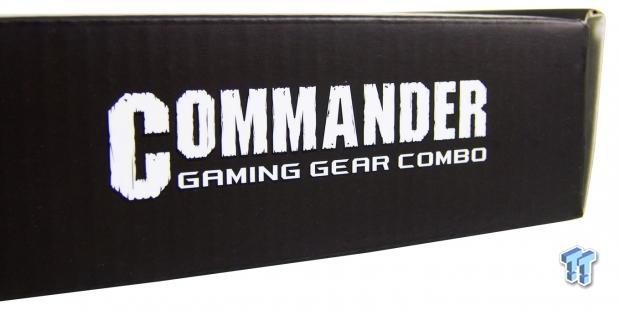 At the right end of those same longer sides, after a long section of plain black cardboard, we are then given the Commander Gaming Gear Combo naming.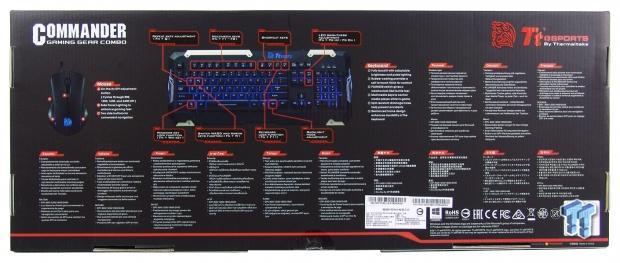 On the back, we start with the mouse and its on-the-fly DPI adjustments and 2400DPI max, its side buttons, and side panel lighting. It is then onto the keyboard where we find repeat rate adjustment, multimedia keys, shortcut keys, LED brightness adjustment, modes to the backlighting, keyboard lockout, WASD and arrow switching, and even offers a Windows key lock.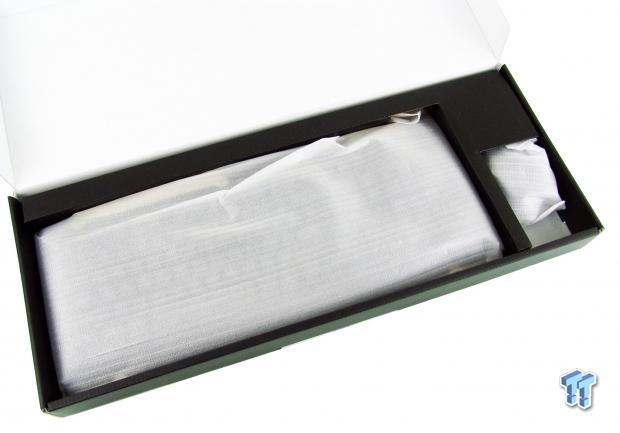 Inside of the box, we find the keyboard off to the left, wrapped in a thin foam envelope, and it cord tucked under cardboard at the back. To the right, we see a smaller opening with a mouse also wrapped in a foam bag sitting there ready to get to work. While very basic, this inner packaging allowed both components to arrive in superb condition.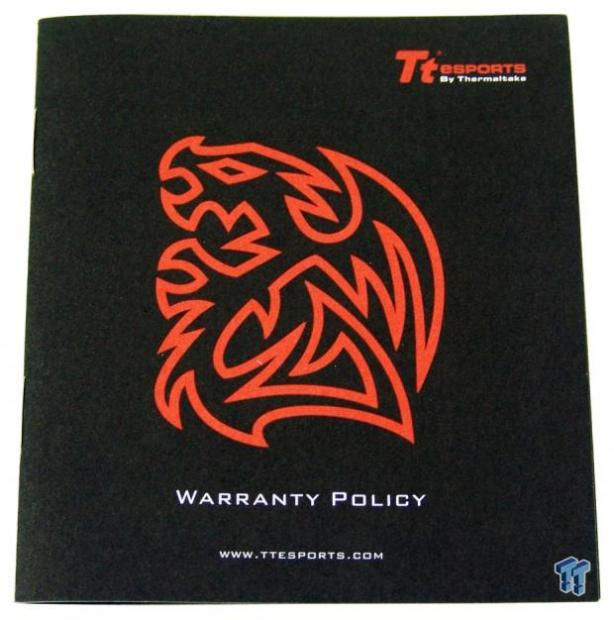 The only thing other than the keyboard and the mouse that we found inside of the box is this warranty policy book. It describes what will be covered in the one year period.
Commander Gaming Gear Keyboard

The left side of the keyboard has a lot of angles and various surfaces used, and also offers a circuit board like design in some plastic to illuminate late when powered. Also, as this keyboard sits flat as it is now, the keys are still angled slightly towards the user where most are angled away.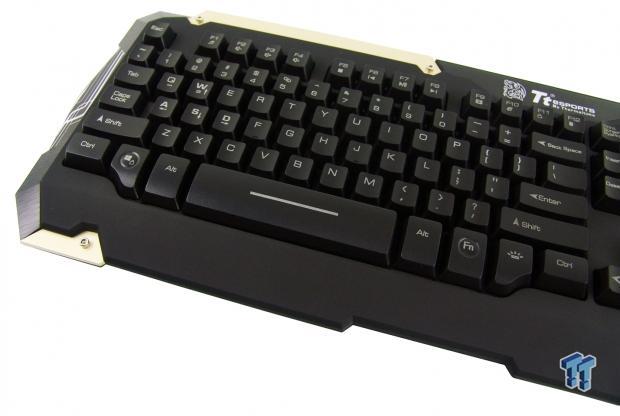 The larger left section of the keyboard offers a wide frame and even some titanium-like accents at the front and back. You will also notice that these caps are tall, just like a mechanical cap, and can be swapped out for PBT caps or METALCAPS that Tt eSPORTS sells. You may have trouble, however, trying to replace the lower row of very wide caps from the Windows key to the lighting mode key.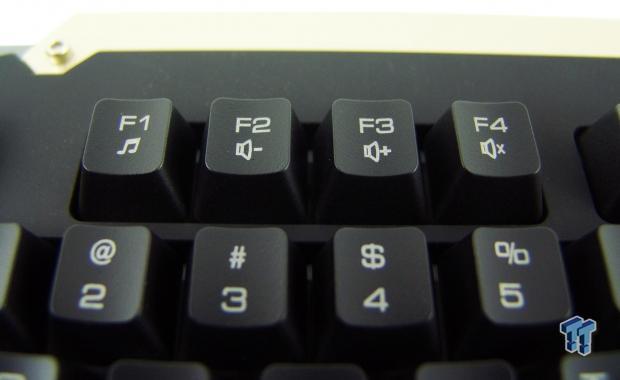 Across the top of the keyboard on the F-keys, we find they serve dual purposes. Here with the F1 through F4 keys, we see a media player button, volume down, volume up, and the mute button.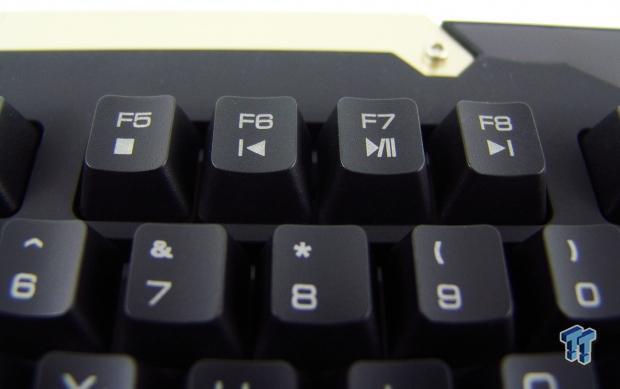 On the F5 through the F8 keys, we find they are also used to stop a track, go back a track, play and pause, and the last one goes forward a track.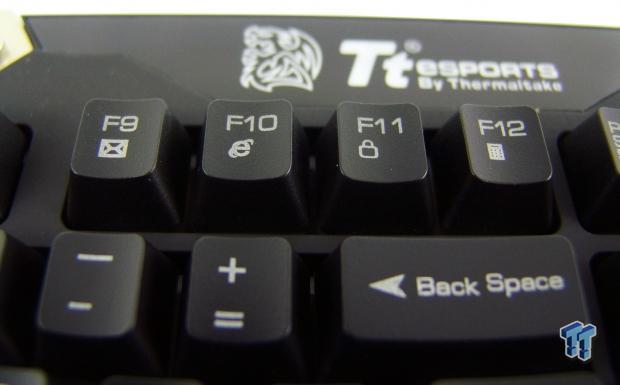 The last group of the F9 through F12 keys offers to open email, open Internet Explorer, lock the keyboard down from being used at all, and can also open the calculator for you.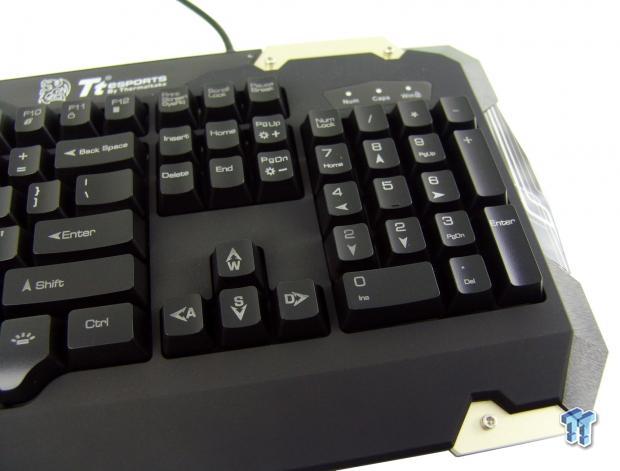 The right side also brings in the titanium colored bits, and the layout is typical of the rest of the keys. Do note the LED brightness keys near the top, which the arrows have WASD on them, and also there are more arrow options on the keypad.

The right side matches the other side exactly, even down to the plastic accent panel that lights up.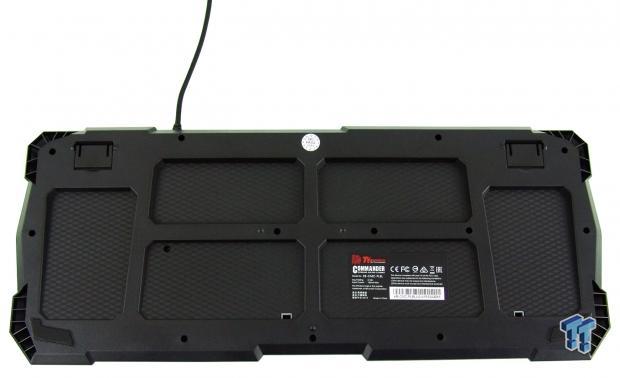 Under the keyboard, we find the frame is built with support bars to keep flex to a minimum. There are only rubber feet in the front, but we also see drain holes near the front, in case you accidentally spill something on the keyboard.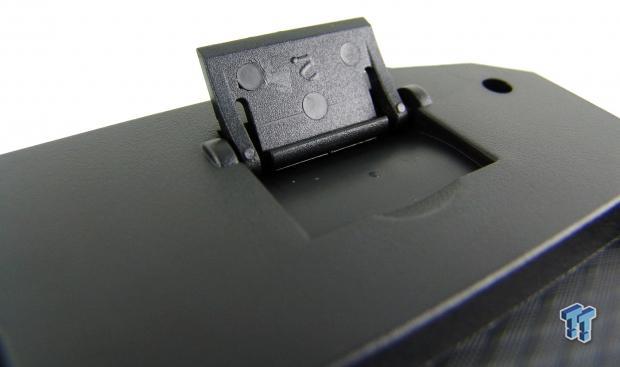 Either corner at the back of the Commander keyboard offers a flip out foot. It is plastic through to the tip and offers the same footing as it does with them in, without rubber feet in the back.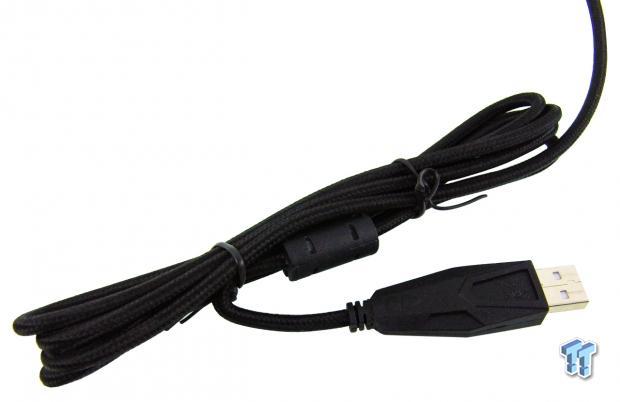 The 1.8 meters of cable has been sleeved from end to end, and terminates in a USB 2.0 connection that isn't gold plated, but isn't a big deal anyway.
Commander Gaming Gear Mouse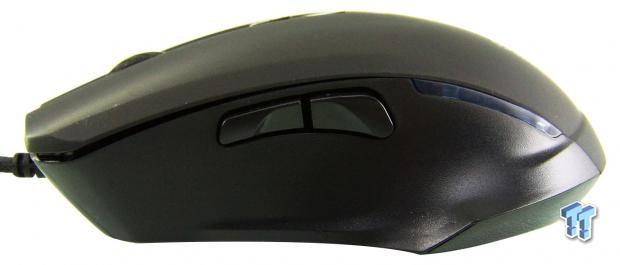 The left side of the Commander mouse offers a convex shape to allow your thumb to grab the mouse just under the pair of buttons. Just behind that pair, there is a slit that curves with the top part of the mouse, and will glow blue when powered.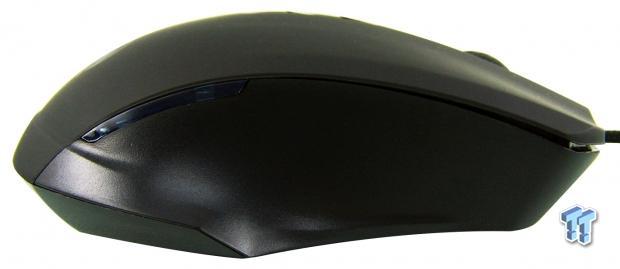 From the back, we can see that the center of this mouse is the tallest part, and that both sides slope down evenly, even the wings at the bottom are the same here. Oh right... that white battle dragon logo we see now, it too will glow blue when powered.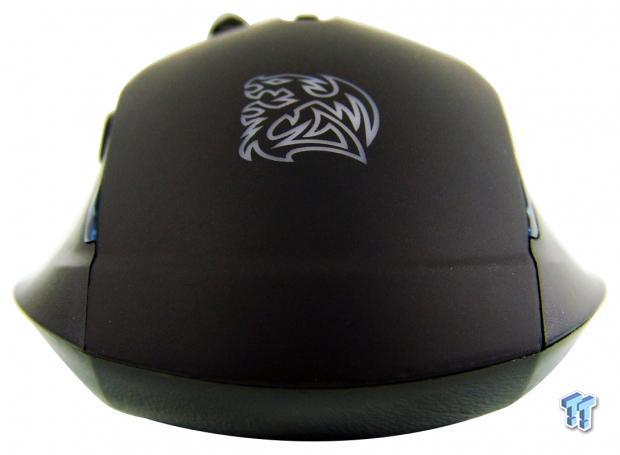 The right side offers a less convex shape, but still feels good under the ring and pinky fingers. There are no buttons on this side, but there is a matching LED strip that also glows blue like the rest of the LEDs.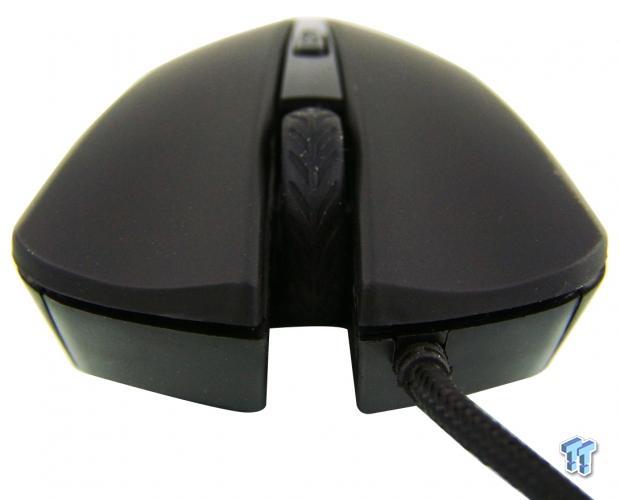 The mouse is split at the nose with the scroll wheel tucked back into the gap. The buttons to either side are longer and are also convex in shape to help keep fingers over the switches and not at the edges.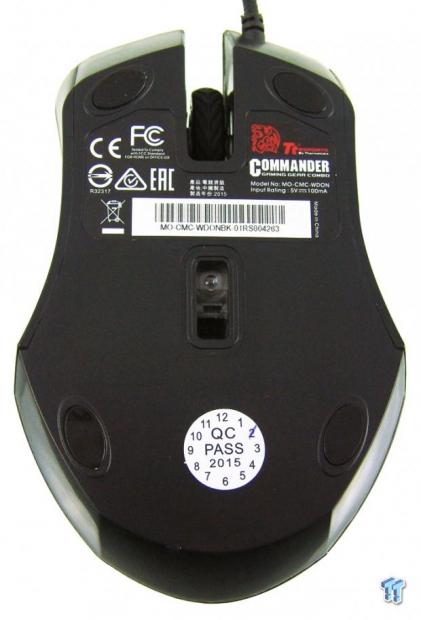 Under the mouse, we find the sensor eye is centered in this design, and that four small oval shaped feet are used to give this mouse its glide.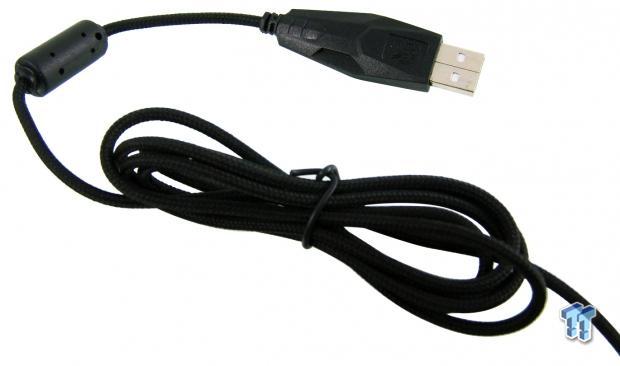 Pretty much an identical match to the keyboard, this 1.9 meters of braided cable is from the mouse.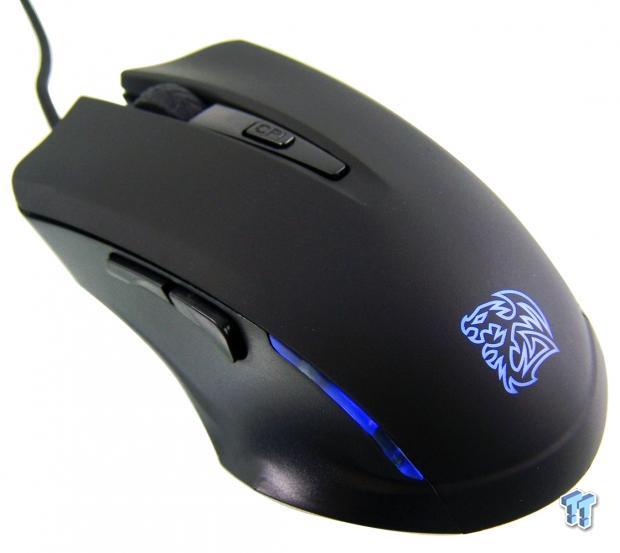 As we start to fire things up for a bit of preliminary testing, we find the Commander Gaming Gear mouse does illuminate brightly with a glow of blue LEDs from the back and at either side of it. This is also a good time to point out the CPI button to change DPI on-the-fly, sitting just behind the scroll wheel.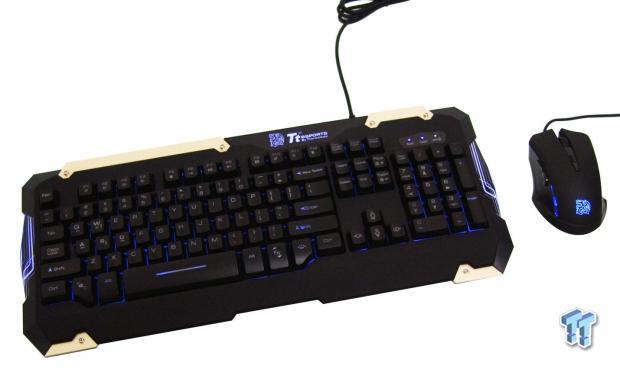 Plugging them both in for pictures left us with this. On the keyboard, the side panels, the entire underside of the keys layout, and even the logo is illuminated, but the key caps are solid and light does not pass through them. The mouse is definitely a good match to the style of this keyboard, and of course all of the blue LEDs helps a lot with that.
Final Thoughts
Starting off with the Commander Gaming Gear Keyboard, we find that we are growing fond of the plunger switches. They require a fair amount of pressure to get them to start moving down, the feel is linear, with a soft tap at the bottom as the membrane collapses. There is an occasional thud to the space bar and a clack to the key caps, but these noises are from the return of the keys, and not from activation. The multimedia and lockouts are very handy to have, and we dig the solid blue LED backlighting over the optional mode of breathing LEDs.
Also, for those that like to game with arrows, there is no need to remap this keyboard, just hold the Function key, and press W and WASD and the arrows switch functionality. For a budget friendly design without drivers, Tt eSPORTS is still able to offer quite a bit to gamers and regular PC users.
The Commander Mouse has a slightly different story. We have no issues with its size or comfort, nor did we run into any tracking issues in any of the four DPI settings. The thumb buttons are in easy reach, and the concave sides, even without rubber grips, make this mouse very easy to lift and move about. Our issue was in the left click button. Considering we had no hand is mucking about by opening it, it is strange that we find that you really have to mean it when using this button, and only this button. Our guess is that it is simply a finicky switch, and you could easily RMA to solve the issue. If not for this issue, we really would have nothing detrimental to say about it either. It's accurate, it fits many hand grip styles, and again, considering the price point of this kit, we really could not ask for more for many games, as long as Macros aren't a huge part of the game play.
Considering you can go to all of the big name box store internet retailers and find this kit, there are no excuses as to why you cannot try the Commander Gaming Gear Combo for yourself. On top of being easy to find and only having to dish out $29.99 is just icing on an already tasty cake. There is a fair bit of style offered, the blue LEDs are nice, and adjustable on the keyboard if too bright at maximum, or you can put it into breathing mode. Another bonus is that once you are used to this gear, it is light, easy to pack away, and driverless, so it is easy to take along with you and still have all the comforts of home.
Of course, there are some things missing from the feature set, but considering we see just keyboards alone selling at $140, and a nice mouse can go at $80, you are saving damn near $200 with this value option. Even as spoiled as we have become with peripheral options, we can see holding onto this for some time, as it really is much better than a standard membrane kit.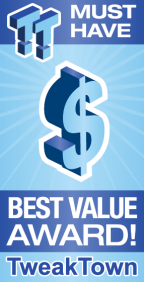 | | |
| --- | --- |
| Performance | 90% |
| Quality including Design and Build | 93% |
| General Features | 91% |
| Bundle and Packaging | 90% |
| Value for Money | 99% |
The Bottom Line: At $30, the Tt eSports Commander Gaming Gear Combo is a solid way to go! The plunger switches are nice, for a driverless kit it still offers a lot of features, and it does look good too.
PRICING: You can find products similar to this one for sale below.

United States: Find other tech and computer products like this over at Amazon.com

United Kingdom: Find other tech and computer products like this over at Amazon.co.uk

Australia: Find other tech and computer products like this over at Amazon.com.au

Canada: Find other tech and computer products like this over at Amazon.ca

Deutschland: Finde andere Technik- und Computerprodukte wie dieses auf Amazon.de
We openly invite the companies who provide us with review samples / who are mentioned or discussed to express their opinion. If any company representative wishes to respond, we will publish the response here. Please contact us if you wish to respond.
Related Tags