ASRock VisionX 471D (Intel Haswell) Mini PC Review
Steven tells us all about ASRock's VisionX 471D SFF PC in this review. If you're looking for a capable small computer that actually overclocks, read on.
Published
14 minute read time
TweakTown's Rating: 92%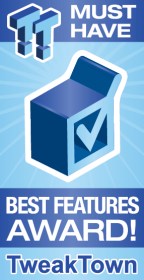 The Bottom Line
ASRock's VisionX 471D does an excellent job bridging the gap between the SFF PC and the desktop, offering excellent performance and features in a very compact and low-power design.
Introduction, Specifications, and Pricing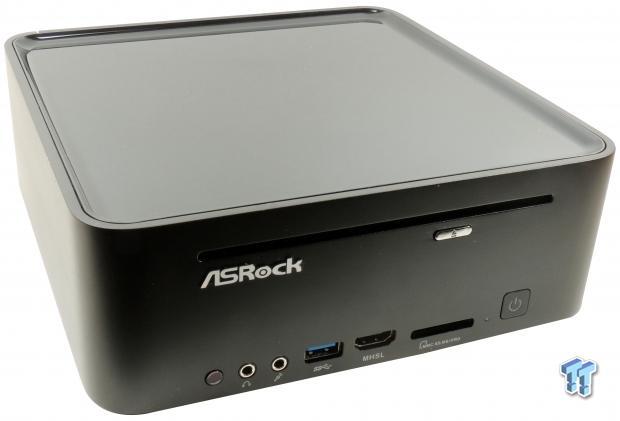 I have reviewed a number of high performance small form factor PCs (SFF PCs), but today I have something a little bit different in store for our readers. ASRock has provided me with one of their VisionX series mini PCs. It's about two to three times the size of a small form factor PC such as the Intel NUC, but with a much more powerful feature set.
The VisionX series from ASRock is a mini PC with features closer to that of a high performance desktop rather than a notebook. While it's marketed towards being a home theater PC (HTPC), its specifications put it more in line with high performance desktop computing. With a quad-core Intel Core i7 CPU and a dedicated AMD R9 series mobile GPU, the VisionX isn't your average HTPC. Follow me as I venture through the world of the VisionX 471D.
Specifications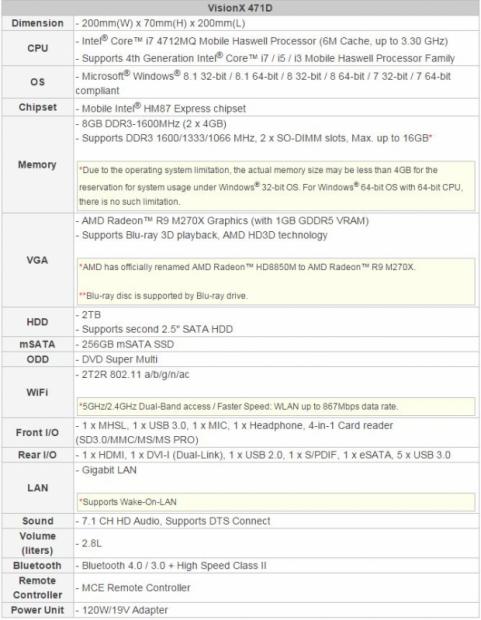 There are a few versions of the VisionX 471, however, today I am reviewing the D version. It carries an Intel Core i7 4712MQ CPU which features 4 cores and 8 threads with a 3.3GHz Turbo boost as well as an AMD R9 M270X (used to be called HD8850M) with 1GB GDDR5. Based on the Intel HM87 chipset, it features two SO-DIMMs that can support up to 16GB DDR3 (it comes with two 4GB sticks), a 256GB mSATA SSD, a 2TB HDD, and it has room for another 2.5-inch drive.
The device does ship with a DVD drive; however the B version of the product comes with a BD combo drive that supports Blu-ray, normal DVDs and CDs. It also features an HDMI port in the front that features mobile high speed link (MHSL) for streaming your portable device content onto a big screen. The VisionX also comes with wireless AC and Bluetooth 4.0 support, Bitstream support, and a MCE remote control in the box.
Pricing
The VisionX 471B costs $1049.99 on Newegg, and I couldn't find the VisionX 471D on sale. The only difference between the D and B versions is the optical disk drive, which on the B supports a Blu-ray combo drive, which costs a little more than the DVD drive in the version I have.
Packaging and System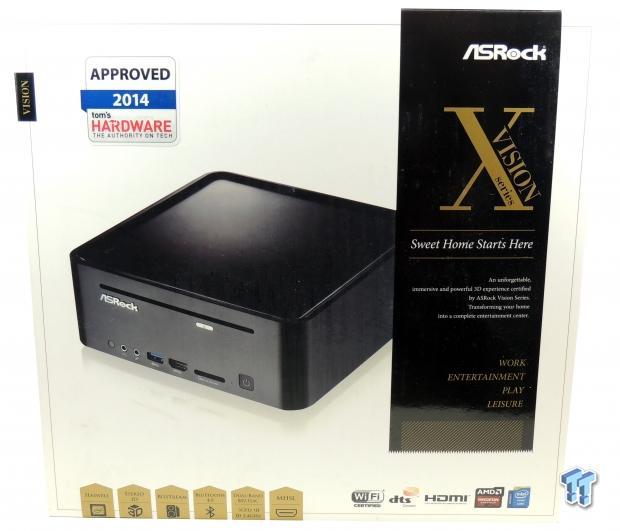 When I received the VisionX 471D, I was very surprised as it weighed a lot more than I expected. I thought maybe there were two devices in there, but after opening the box, it became apparent that this is a well-built high performance PC.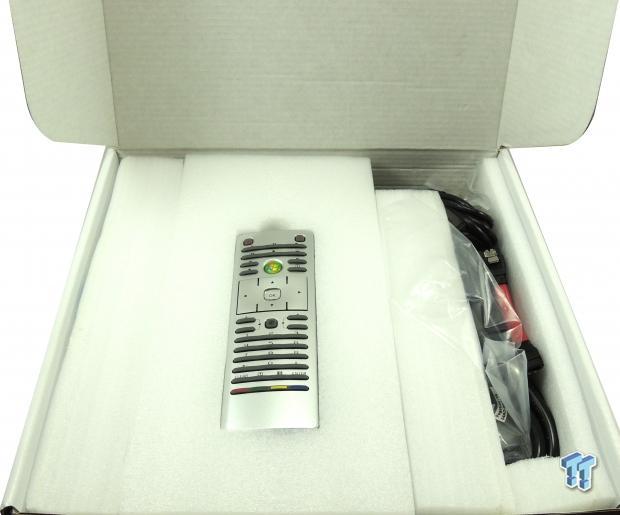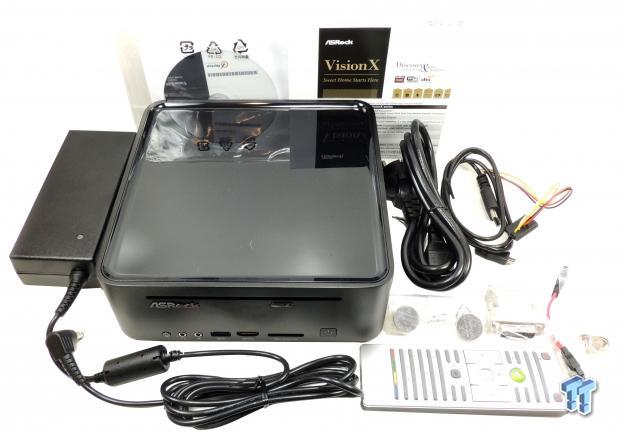 The VisionX 471D is well protected inside its box, and when you open the box up, you are greeted by a remote control. Unpacking everything is quite easy and there is a good deal of accessories. Accessories include: AC/DC power converter (120W), HDMI-to-microUSB cable, SATA power dongle, remote control with two battery cells, a short SATA cable, and of course the driver DVD and manual.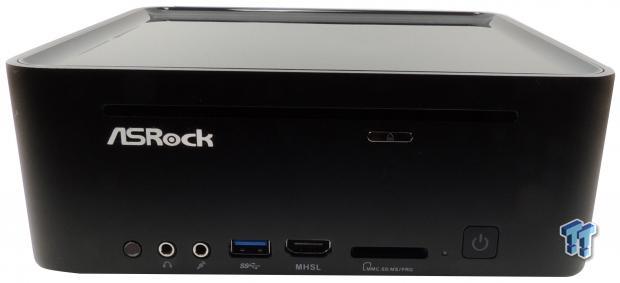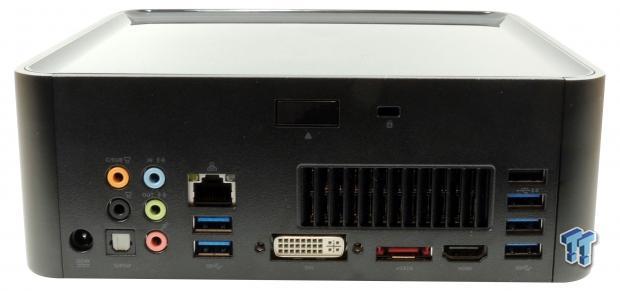 The front of the unit carries the IR receiver, headphone jack, microphone jack, USB 3.0 port, HDMI input, MCC/SD/MS/Pro card reader, power button, and a DVD drive button/slot. The back of the unit has a vent for the blower fan to expel the heat, DC power jack, 7.1 audio output with S/PDIF digital, 5x USB 3.0 ports, RJ-45 LAN, DVI, HDMI, eSATA, and a single USB 2.0 port. There is also a Kensington lock port as well as a lid release button located on the back of the unit.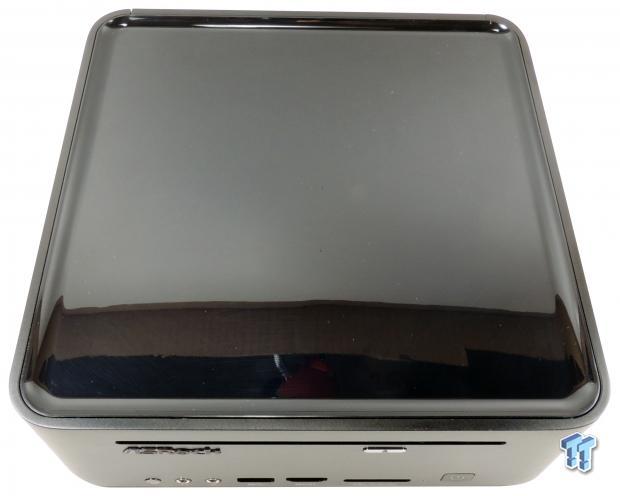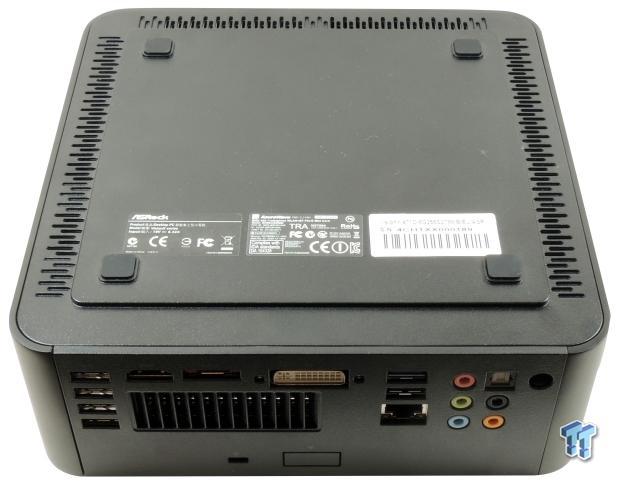 The top has a little indent that runs all around and has a reflective surface; you could perhaps put something on top of the box if you really wanted to as the metal frame could support it. The bottom of the unit has some more vents for air intake and four rubber feet so the device doesn't easily move on a countertop.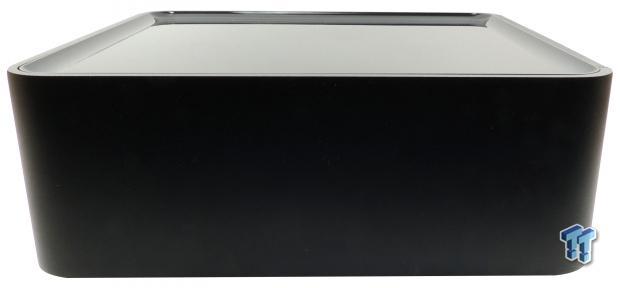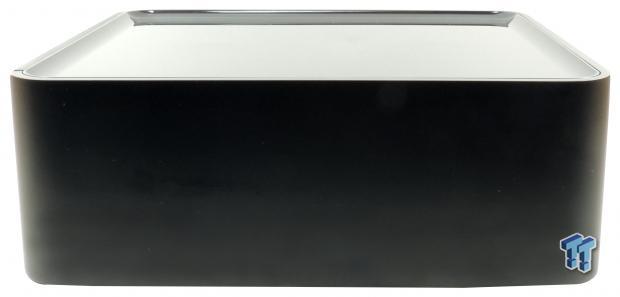 Both sides of the unit have no connections or indents; instead a nice brushed aluminum finish is there for a contemporary look.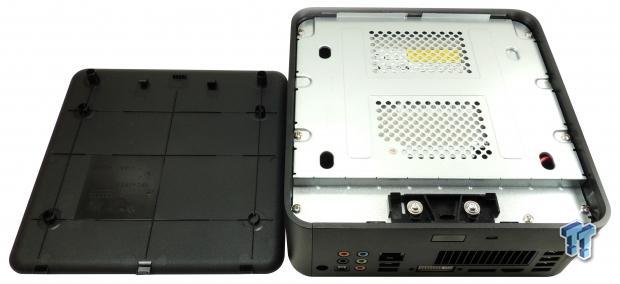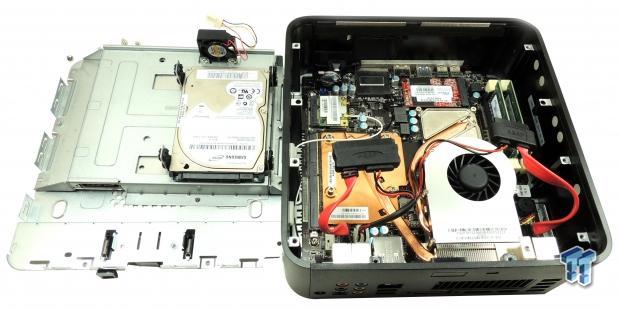 To open the device up, you just press the button on the back of the unit and the lid pops off, then you unscrew 8x screws with a standard Phillips head screwdriver to release the DVD and HDD cage. There are detailed directions included on how to open the box up, but there is no need unless you want to replace a part.
The unit comes ready to battle; you just need to install an operating system. I chose Windows 8.1 Pro because that is what I use on all the SFF PCs I test. Once you open the box up and remove the cage, you will see all the rest of the goodies that make the VisionX 471D tick. There is also a small fan located on the drive cage to cool down the storage.
Teardown of the VisionX 471D
The Teardown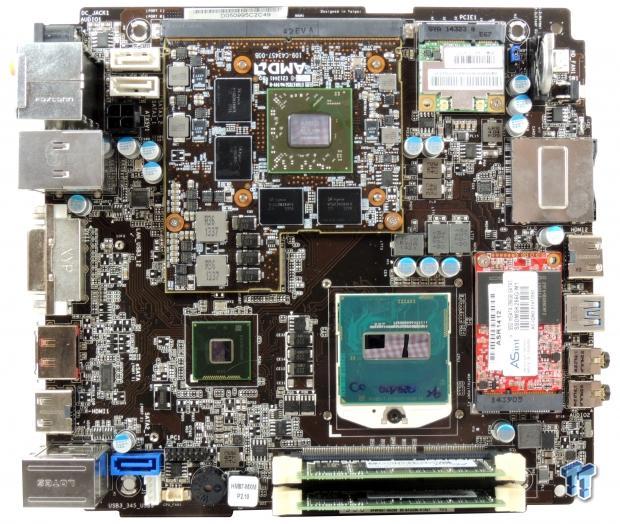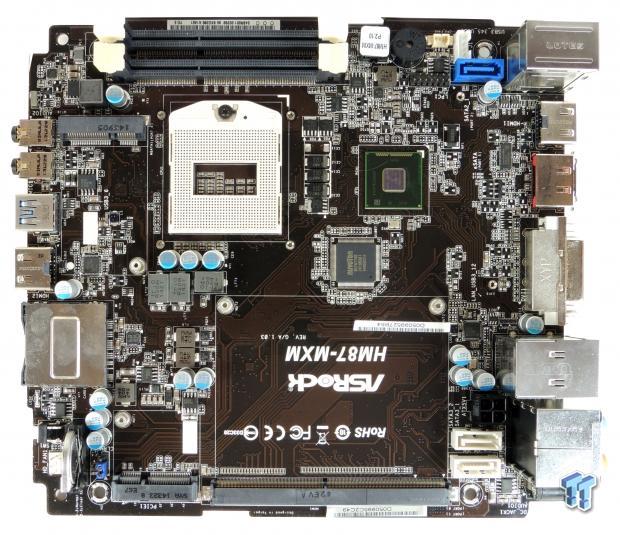 The PCB is quite gorgeous; one of the more beautiful ones I have seen considering you can remove all the parts, including the CPU and GPU. Everything inside this box can be replaced or even upgraded, however, its default configuration is almost the same as my desktop machine! I really think that this form factor might be the future of computing if we can figure out a way to cool higher performance devices (or reduce their thermal output) like an octa-core CPU in such a small space. The motherboard is an ASRock HM87-MXM.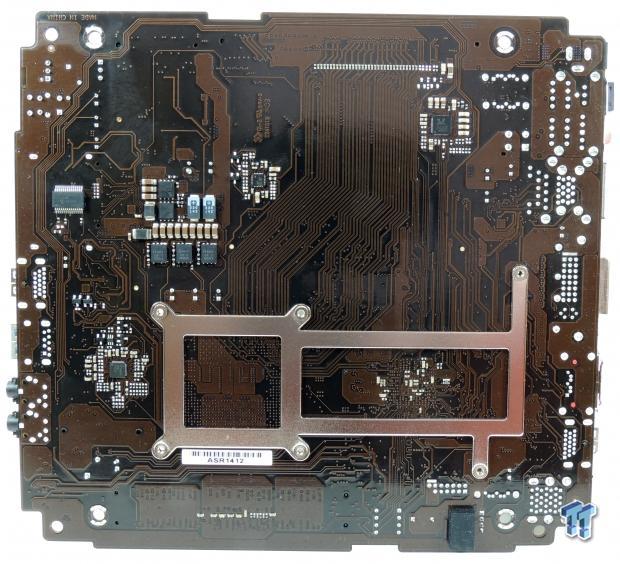 There are components on the backside of the PCB. A large support bracket for the CPU and GPU coolers is present as are the MOSFETs for the CPU VRM and some assorted ICs for power management and IO.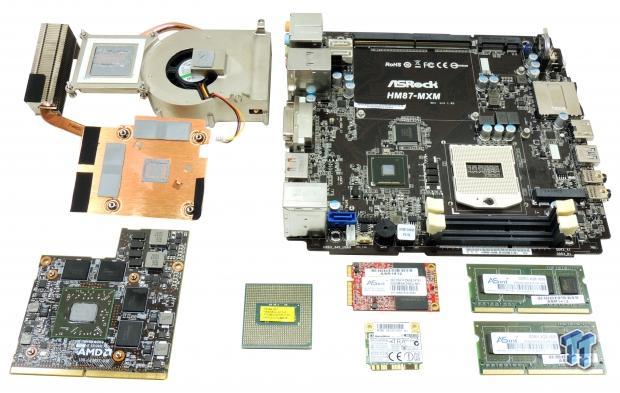 I just had to disassemble everything, and while it is my job to do so, I would do it even if I didn't have to! I was very surprised to find that the CPU isn't a BGA CPU, and that it also has pins. This system is supposed to be like a high performance gaming laptop, but in the mini PC form factor, so almost everything comes from the laptop world. That includes SO-DIMMs, a MXM slot for GPUs, mSATA, and a mini PCIe slot for the wireless AC card.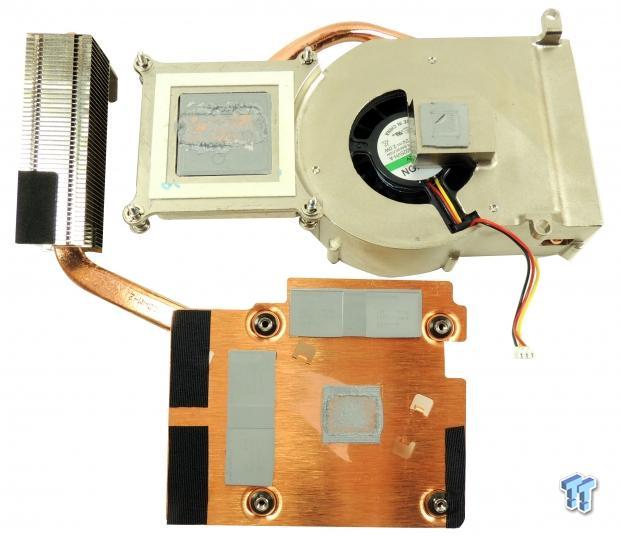 The cooling system is precise; one blower fan is responsible for removing the heat from the CPU and the GPU. However, you can remove the heat sink for either the CPU or GPU independently so that you don't need to un-mount one to change out the other.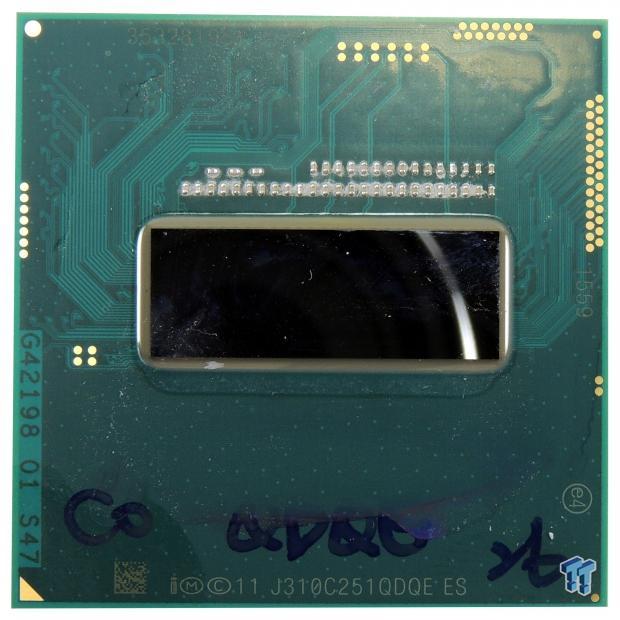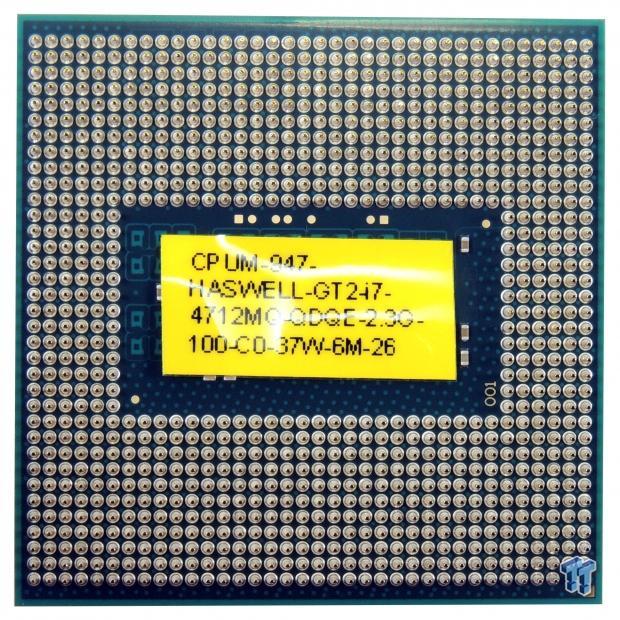 The CPU installed is an Intel Core i7 4712MQ mobile Haswell processor with 6M Cache and a turbo of up to 3.30GHz. It features GT2 graphics, and a 37W TDP. This is also an expensive CPU with a box price of $378 from Intel's Ark site.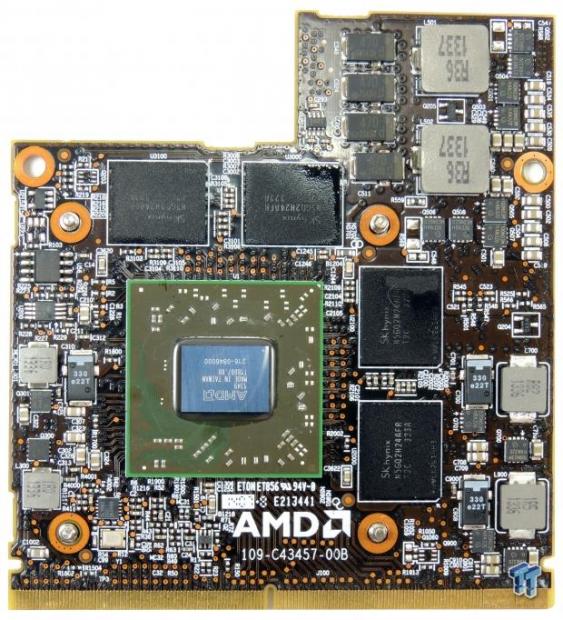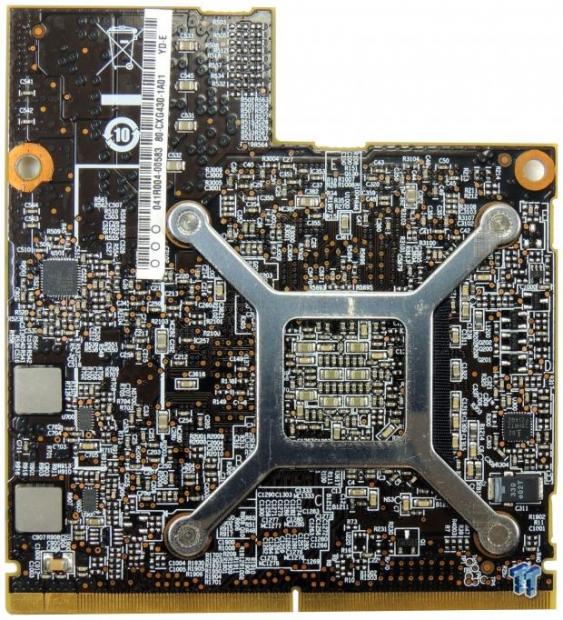 The GPU is an AMD Radeon R9 M270X with 1GB GDDR5. In many specification charts, you will see this listed as the AMD HD8850M, but it has been rebranded by AMD as the R9 M270X. It's actually a good performing GPU, and can play many games at 1080P; perhaps not the latest with highest settings, but I was able to play Battlefield Bad Company 2 noticeably better than my laptop, which has a GT640M.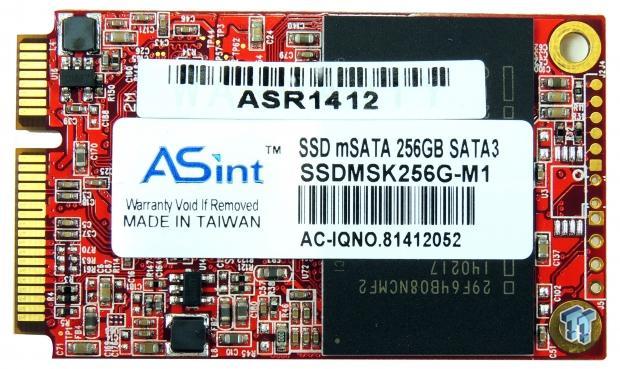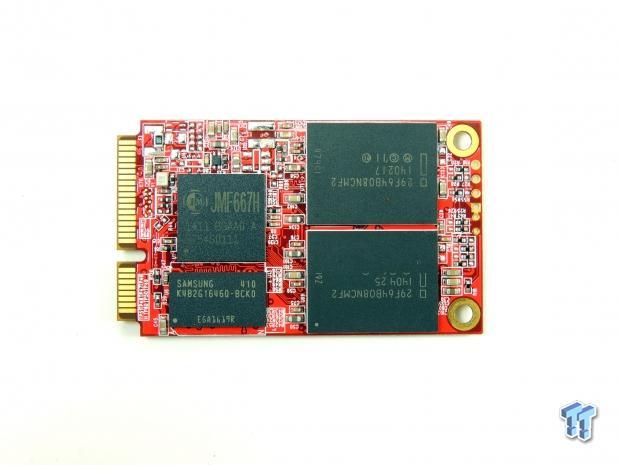 A 256GB mSATA drive from ASint is installed, I have never heard of this brand before, but the performance numbers are quite good.
Teardown of the VisionX 471D Continued
Teardown Continued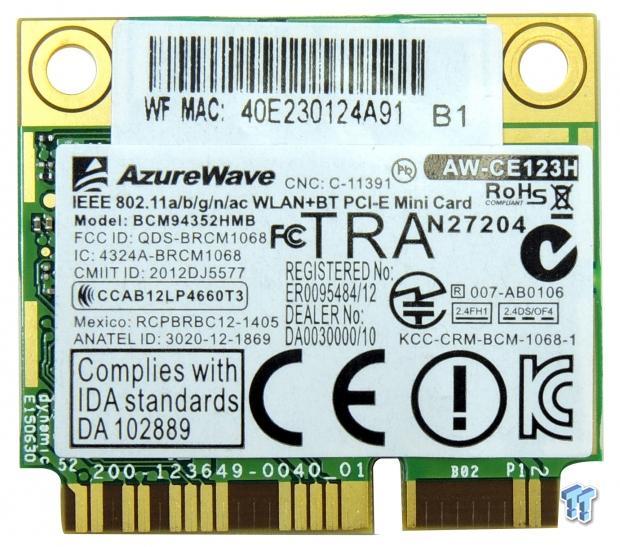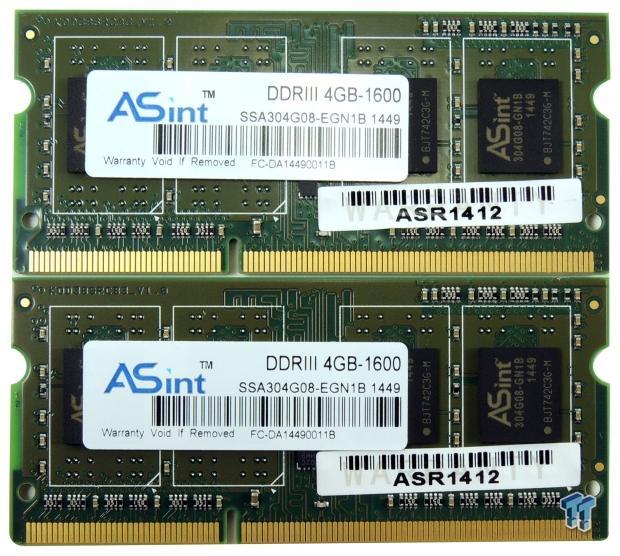 An AzureWave wireless AC / Bluetooth 4.0 card is included, model number is BCM94352HMB. Two 4GB ASint DDR3 1600MHz SO-DIMMs are also installed in the VisionX 471D.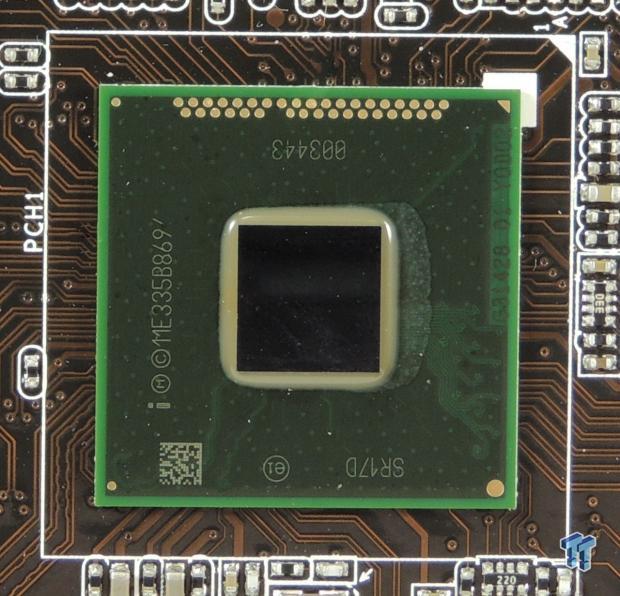 The chipset is the Intel HM87 which supports 16x PCI-E lanes for graphics at PCI-E 3.0, 3 independent displays, 6x USB 3.0, 4x SATA, 1x eSATA, RAID, and up to eight PCI-E 2.0 lanes for extra IO.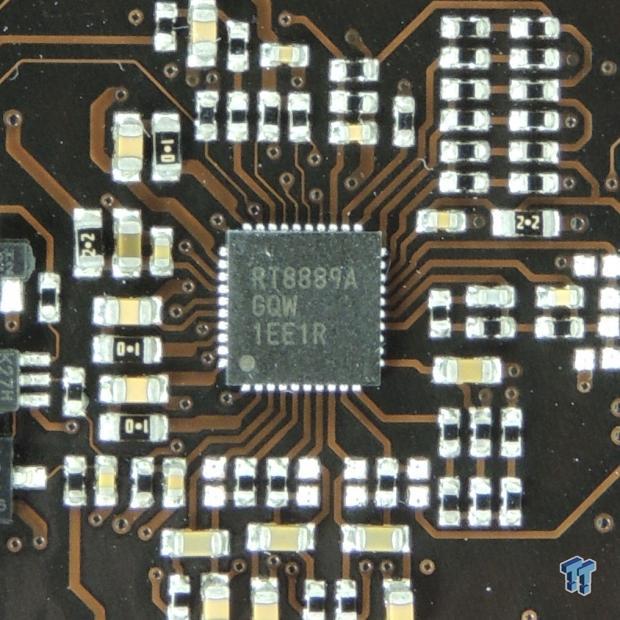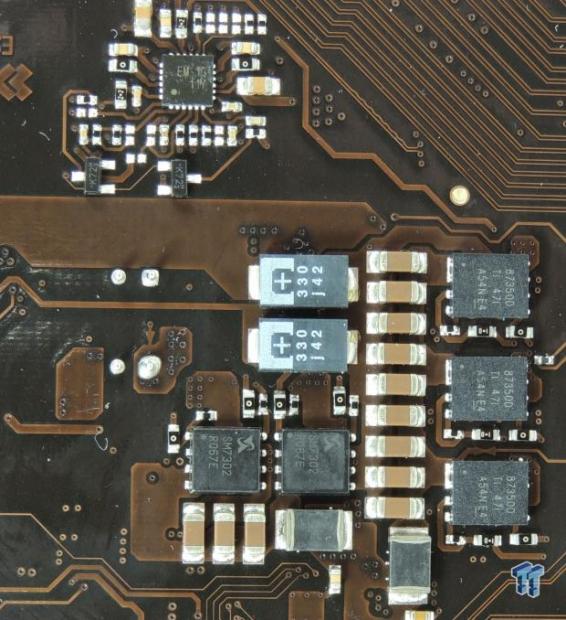 The Richtek RT8889A is a 3 phase VRD 12.5 PWM with 3 integrated drivers. Three high performance Texas Instruments NexFETs are used, the CSD87350Q5D, which are capable of 25A each at 90% efficiency. Each of these NexFETs have both a high and low side MOSFET built into it, and this is basically overkill for such a low power CPU, but considering this little beast can overclock to 4GHz, it's a capable voltage regulator.
Located right above the MOSFETs in the image on the right is a chip labeled EM 1G. I have done this for a while, so I know to look for Richtek marking codes when I see obscure marks on ICs, and magically I find that EM actually is the marking code for a RT8205, which is the main voltage controller on the motherboard. It is the chip in charge of converting the input from the AC/DC PSU which can range from 19-25v down to the voltages that the motherboard needs.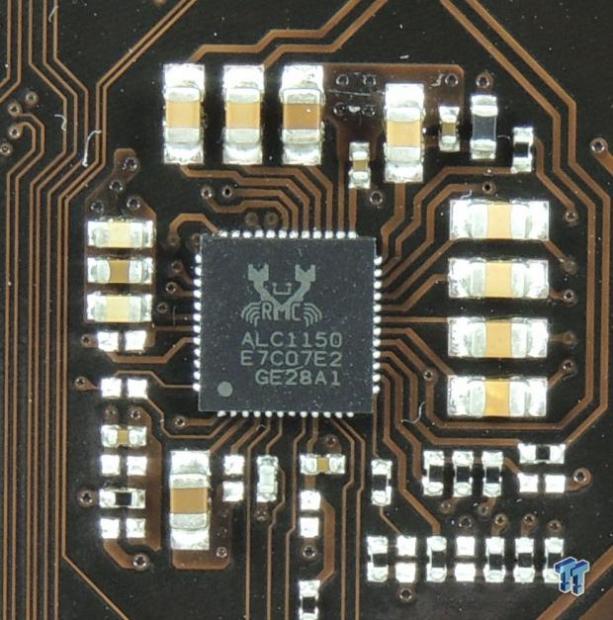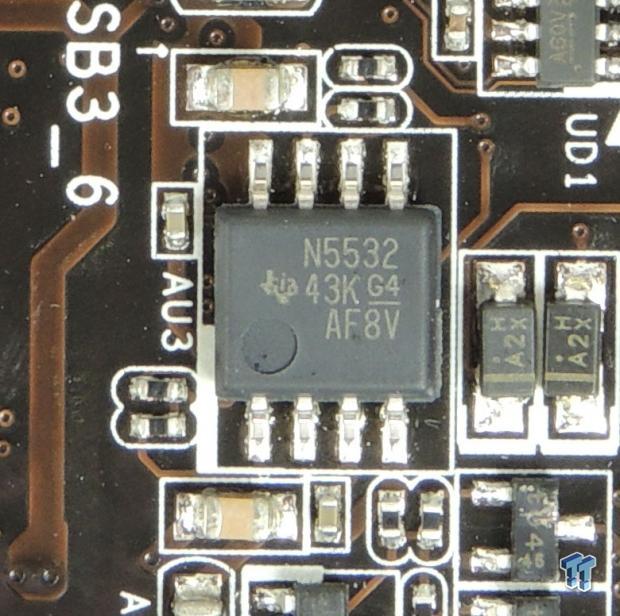 I was stunned to see that ASRock chose to use the Realtek ALC1150 with a Texas Instruments NE5532, basically the same high quality audio hardware found on many higher performance enthusiast motherboards. None of the SFF PCs I have tested use this codec or an amplifier.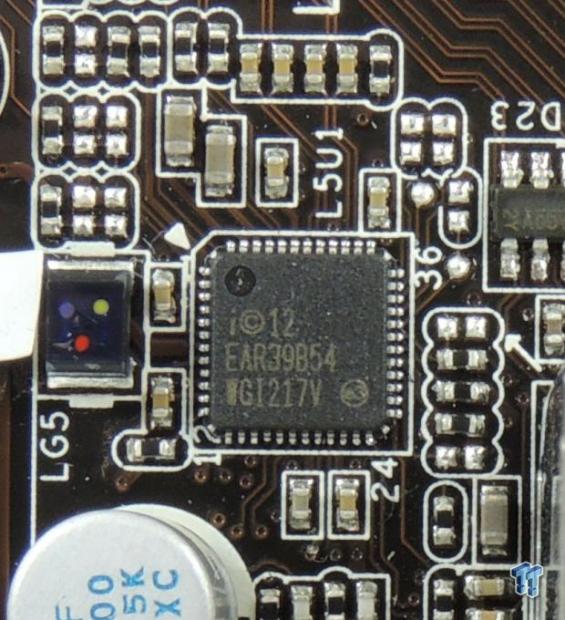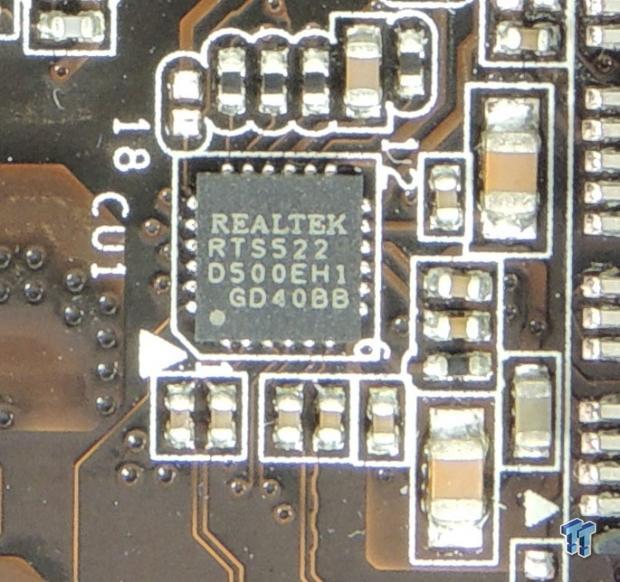 ASRock is also using the Intel i217v PHY to compliment the GBit MAC inside the PCH; the preferred NIC solution for many enthusiasts. A Realtek RTS522 is used for the MMC/SD/MS/Pro combo card reader.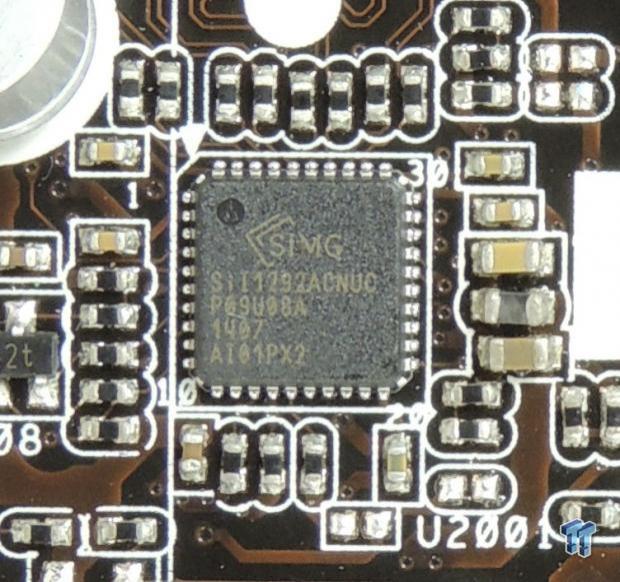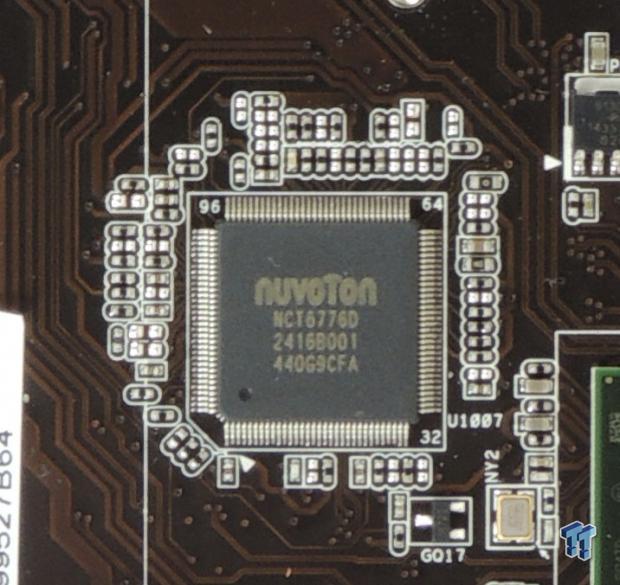 This is a Silicon Image SiI1292A which is an MHL/HDMI-to-HDMI IC. This is a special IC which allows for users to hook up their portable devices to the VisionX 471D and watch the content on whatever the VisionX is hooked up to. It's what makes HDMI input and streaming possible.
The nuvoTon NCT6776D handles all the SuperIO tasks such as temperature and voltage monitoring and fan control.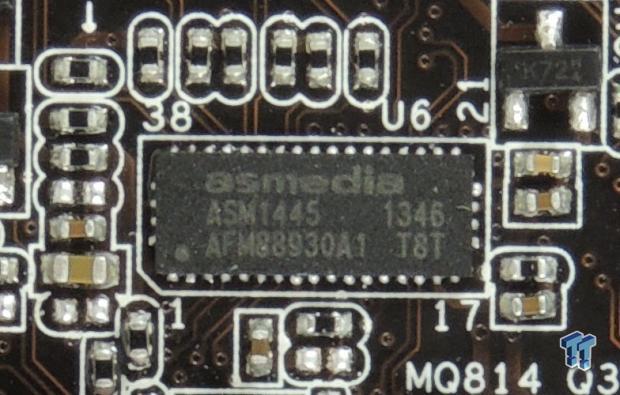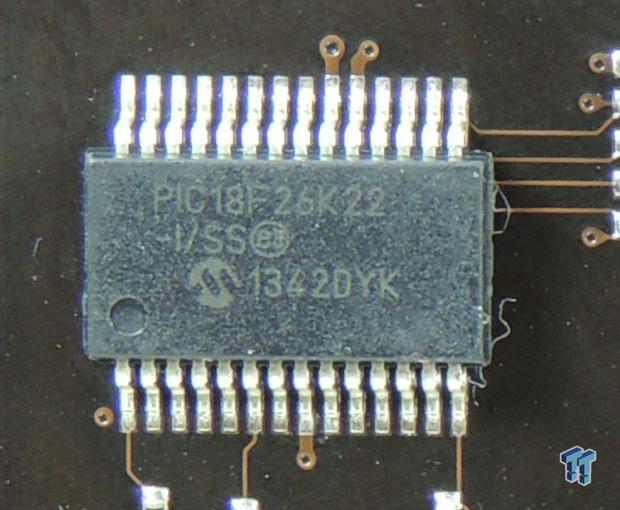 An ASMedia 1445 is an HDMI/DVI switch to allow for the HDMI and DVI outputs on the back of the VisionX. The Microchip PIC18F26K22 is an 8-bit PIC micro controller which supports XLP Tech and RISC. That means it's basically a low power programmable microcontroller with a very wide variety of supported uses. It could do a lot of things, but in this case, I think it handles some IO tasking on the motherboard - my guess is it deals with the HDMI input streaming, IR remote, or some sort of backbone system circuit.
BIOS and Overclocking
Overclocking
While the VisionX 471D is a pre-built HTPC / mini PC, it can overclock! I discovered this when I went to take BIOS shots for the review, and I have been playing with it ever since. While the multiplier is locked to 35x maximum, the board does have the ability to engage BCLK multipliers for overclocking. There is even a built in 4GHz preset! I tested this preset out and found that it is pretty well optimized.
While you can't really run Prime95 at the risk of overheating, you can get away with basically all other tasks while the system is overclocked to the 4GHz setting (including my entire benchmark suite). Choosing the 4GHz profile will load in the 1.25x BLCK divider and set the CPU and Cache multipliers to 32x each for 4GHz on both. The profile also increases the VCore and vCache to 1.2v each through the override voltage mode.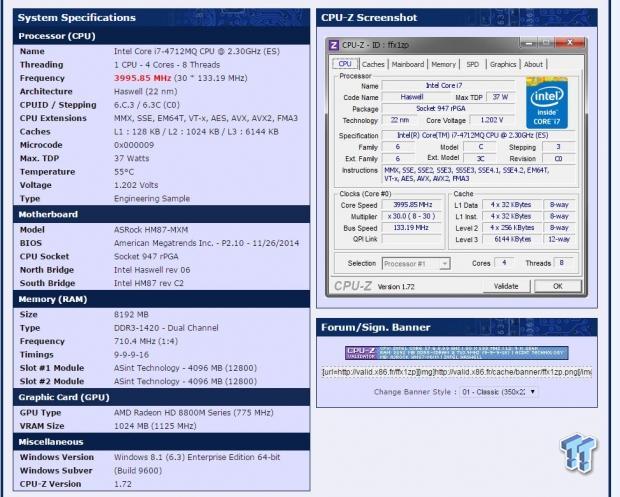 There is one downside, the memory (or IMC) isn't meant to really overclock, so when you set the 4GHz profile, it down-clocks the memory from 1600MHz (default) to 1420MHz (because the next multiplier above produces 1776MHz) and sets timings 11-11-11-28-T1. I tried setting 1776 MHz and that failed to boot, terribly, but the system recovery was excellent. I then went to engage 1866MHz (because some multipliers work better than others for DRAM overclocking), it booted, but I lost one channel of memory. I ended up using the 1420MHz clock, but I was able to set the DRAM timings to 9-9-9-16-T1.
Do be forewarned, the fan will spin up all the time when you OC with the 4GHz profile, and it can be audible which kind of defeats the purpose of an HTPC, but then again, how many HTPCs do you know that can overclock? If you really want to overclock, I would recommend looking into modding the fan or heat sinks for better cooling, as the default configuration is of course not setup for overclocking.
I do want to mention that the automatic OC recovery was quite good; better than most custom built systems I have used. Obviously some thought was put into overclocking this system.
BIOS
The UEFI is just like most ASRock enthusiast motherboards, which is quite nice. Performance wise, the UEFI is packed with features and ASRock doesn't really limit customization like many other vendors who sell pre-built/barebones machines tend to do. Overclocking is totally unlocked (except for CPU multiplier), just like you would expect if you built your own system. The only downside is that the CPU isn't a K SKU, so overclocking is more limited because of the platform's design.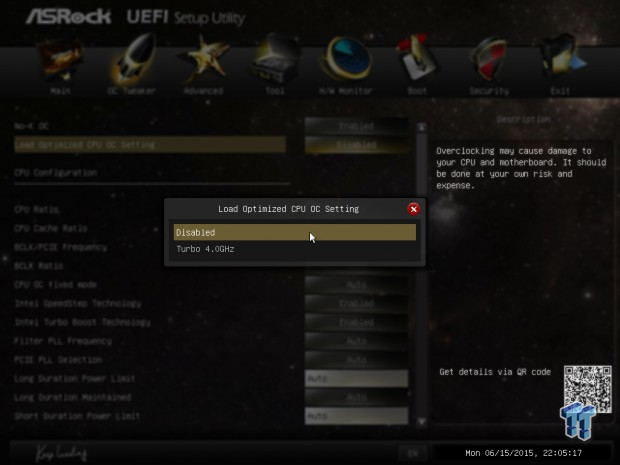 There is one preset overclocking profile for a 4GHz overclock, and it seems to be very well tuned.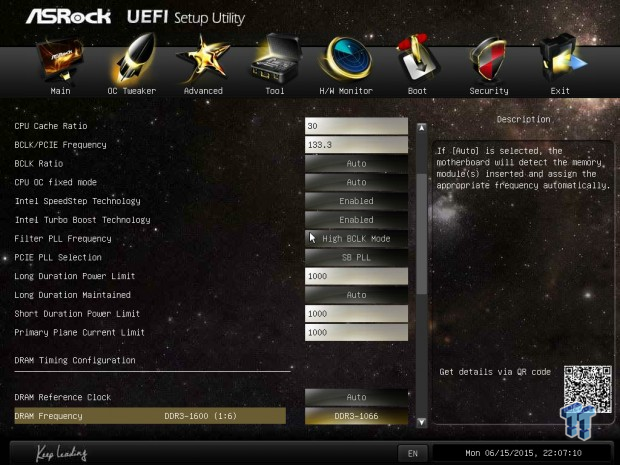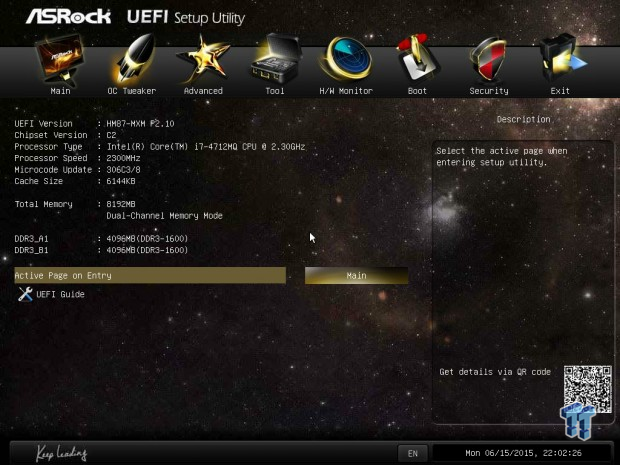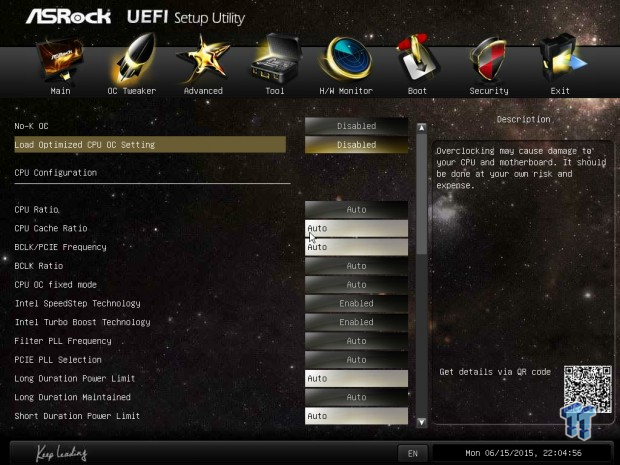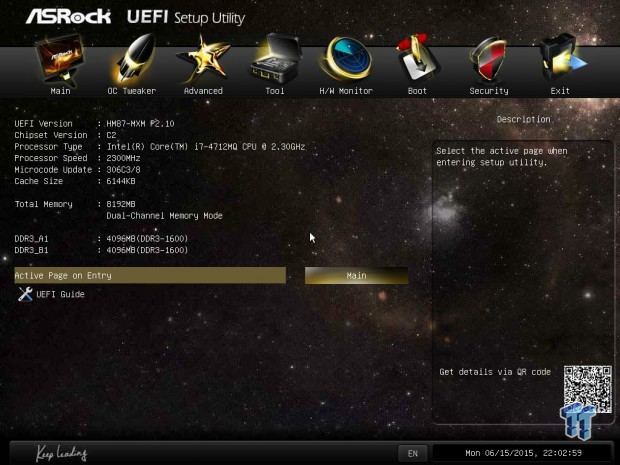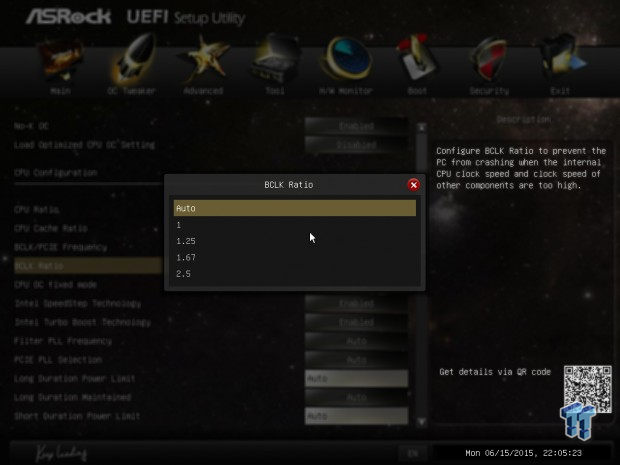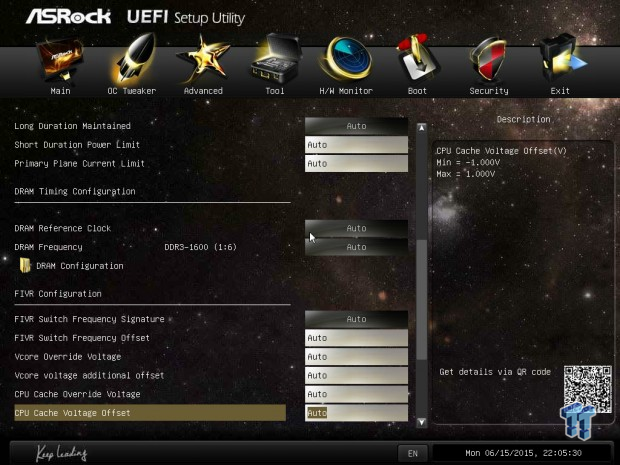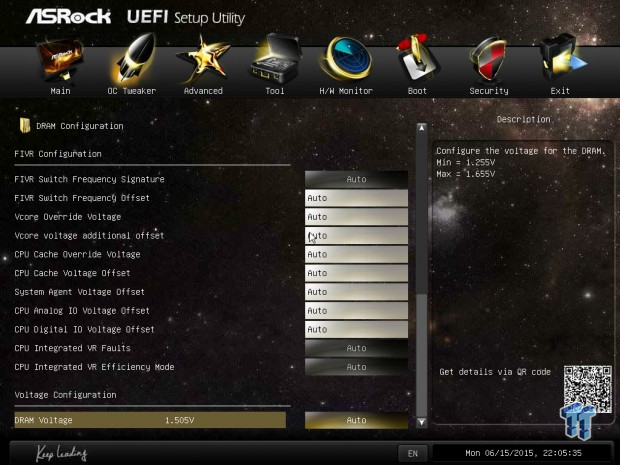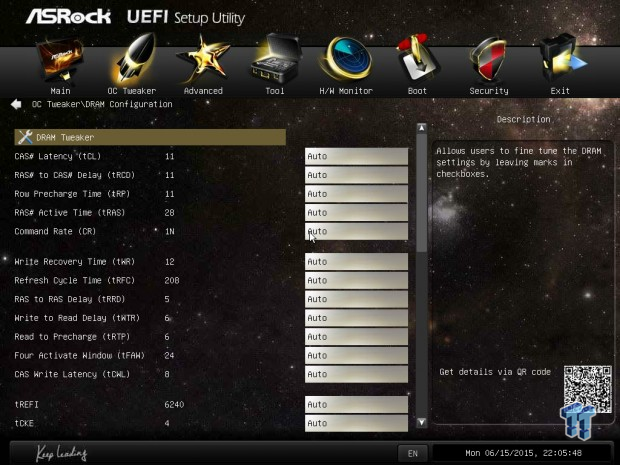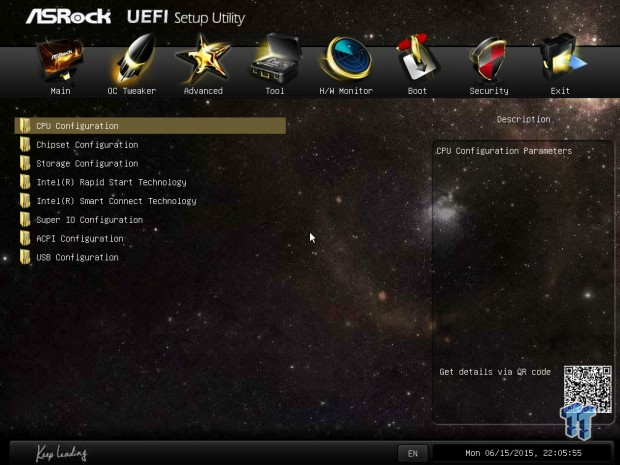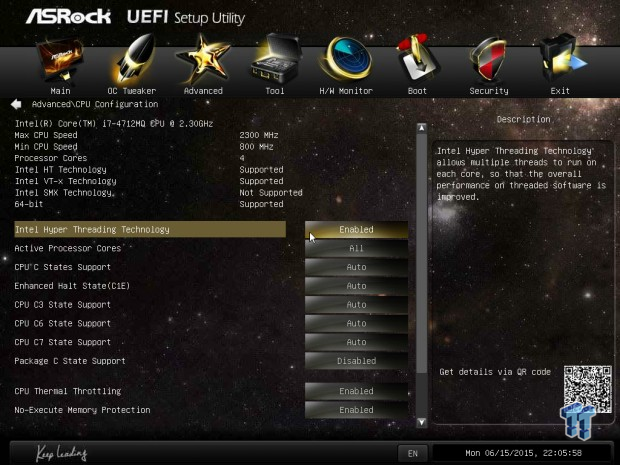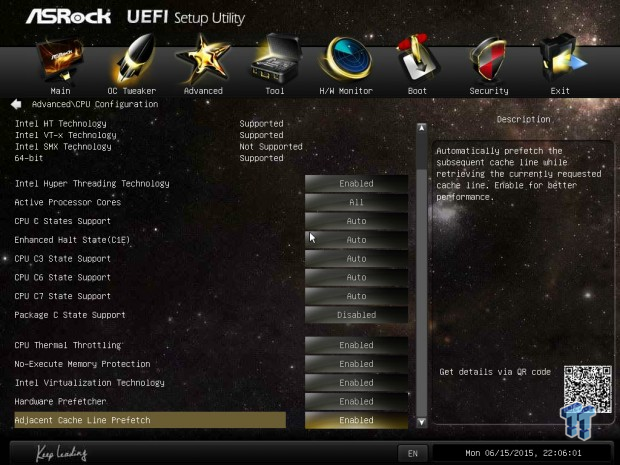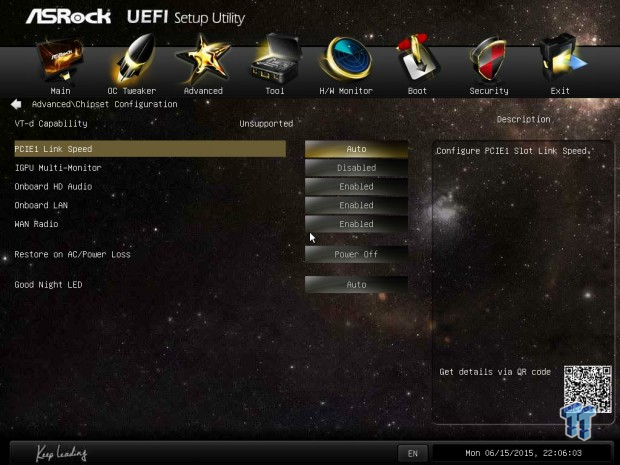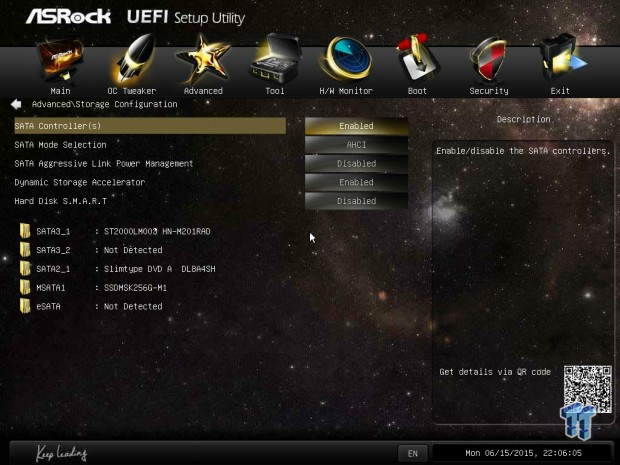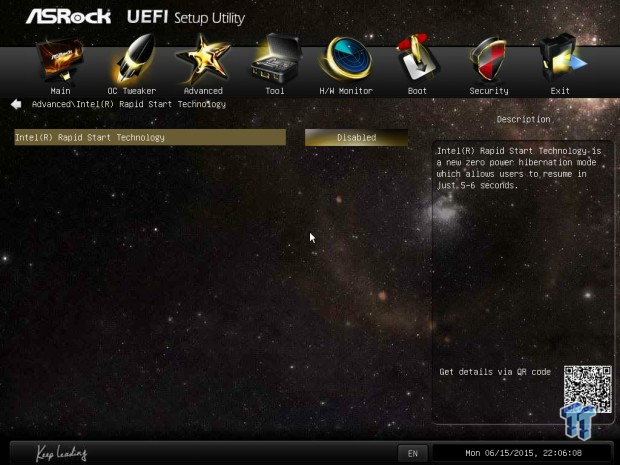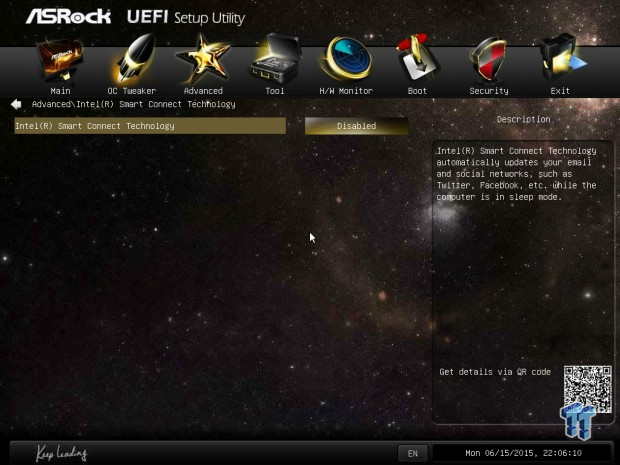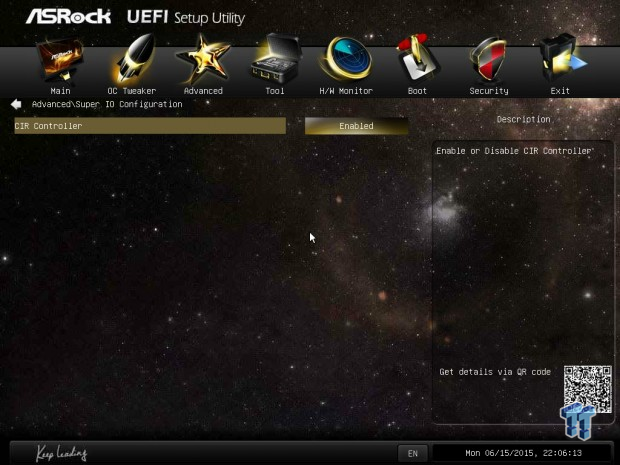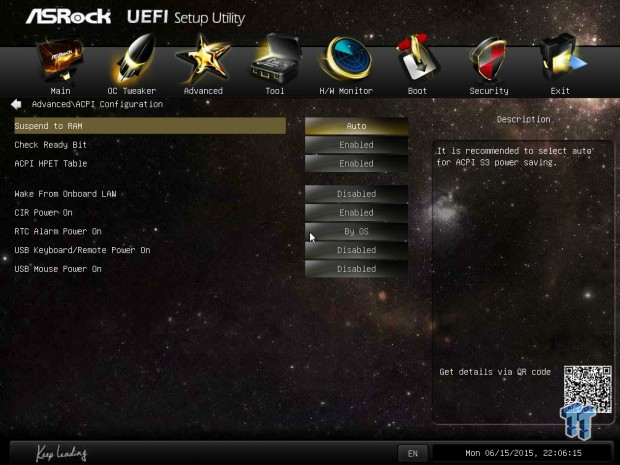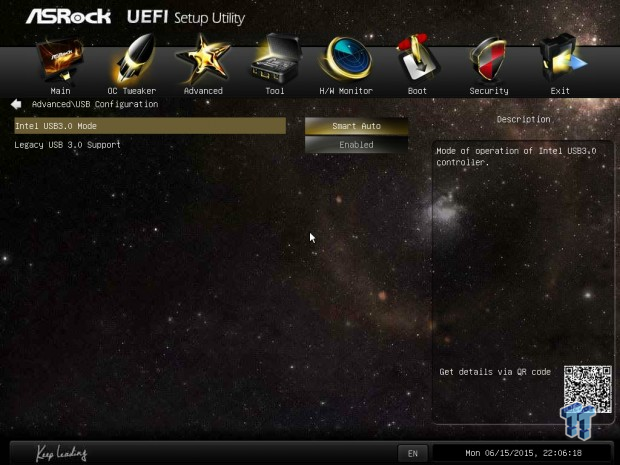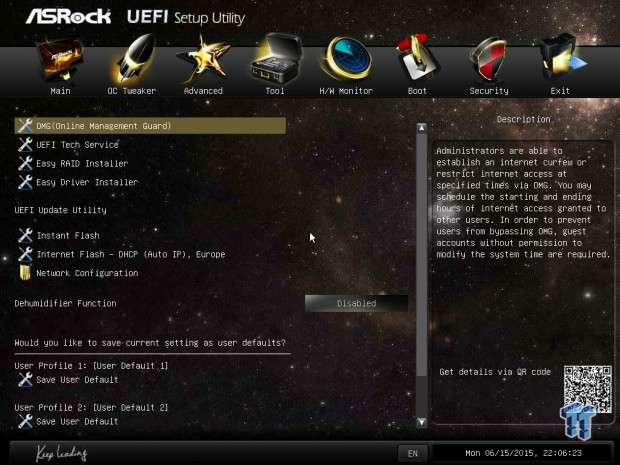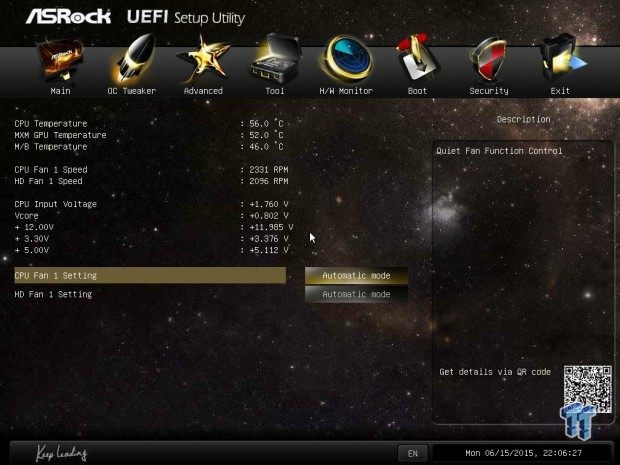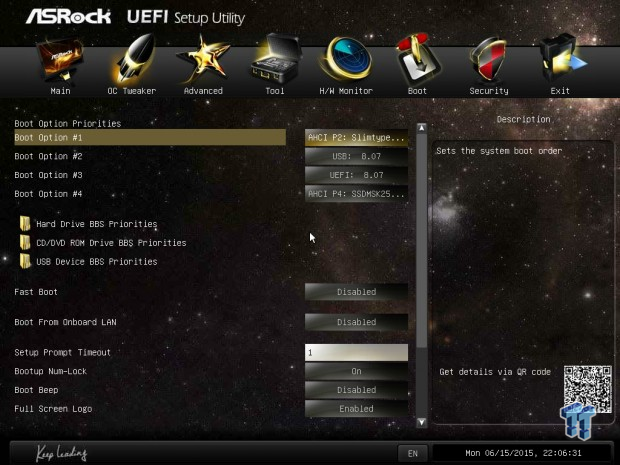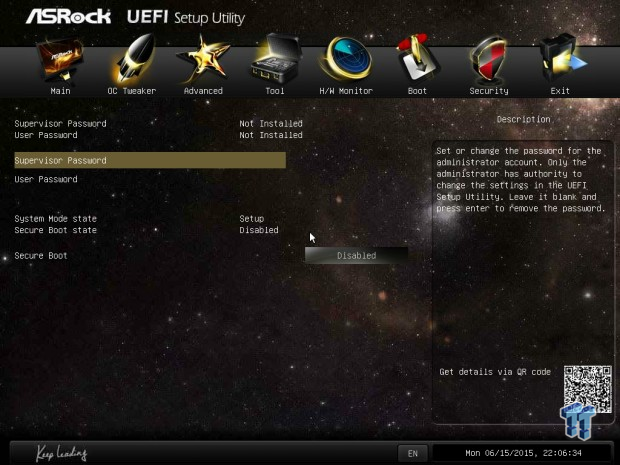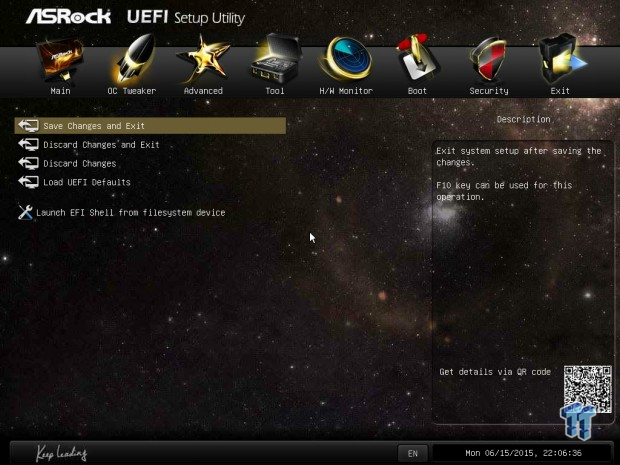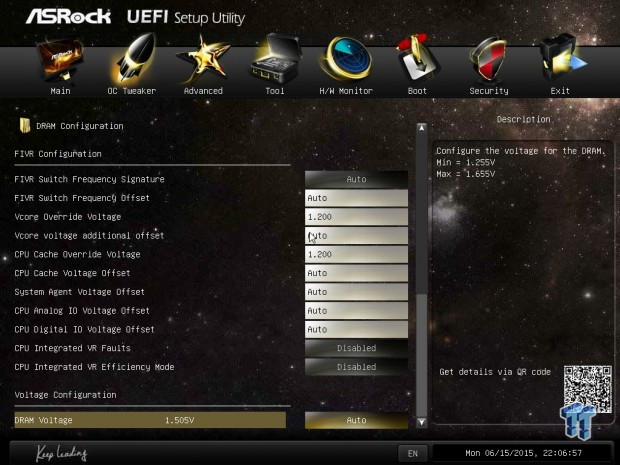 Test Setup and Benchmarks
Test Setup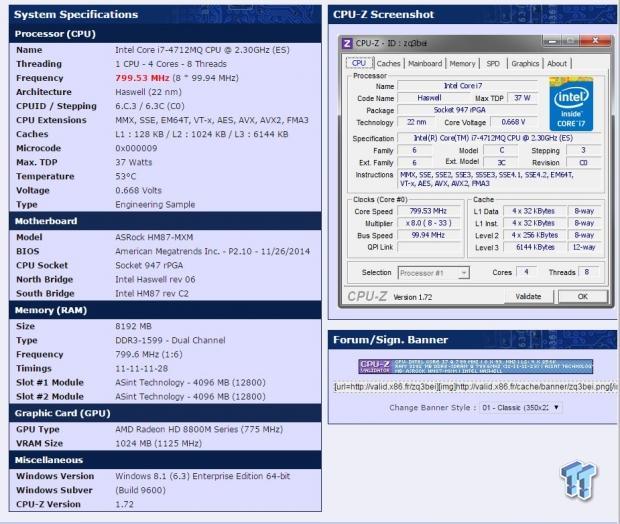 The system is already pre-built; all the end-user needs to do is install an operating system. I chose to install Windows 8.1 Pro. Since I overclocked the system, I decided to also run the benchmarks with the VisionX 471D overclocked.
There are two caveats with overclocking this HTPC. First, while the system is almost silent the entire time while at stock, during overclocking, the fan is continuously blowing at full speed. Second, the memory clock is downgraded when the 4GHz overclocking profile is engaged because of how the BLCK multipliers work and DRAM limitations of the system, which is why the AIDA Memory benchmark suffers when the system is OCed.
CPU, Memory, and System Benchmarks
CINEBENCH 11.5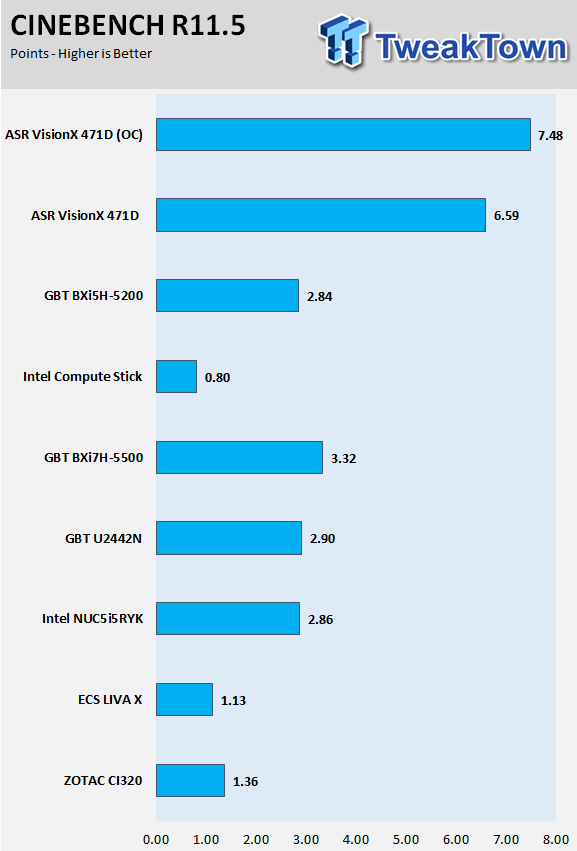 wPrime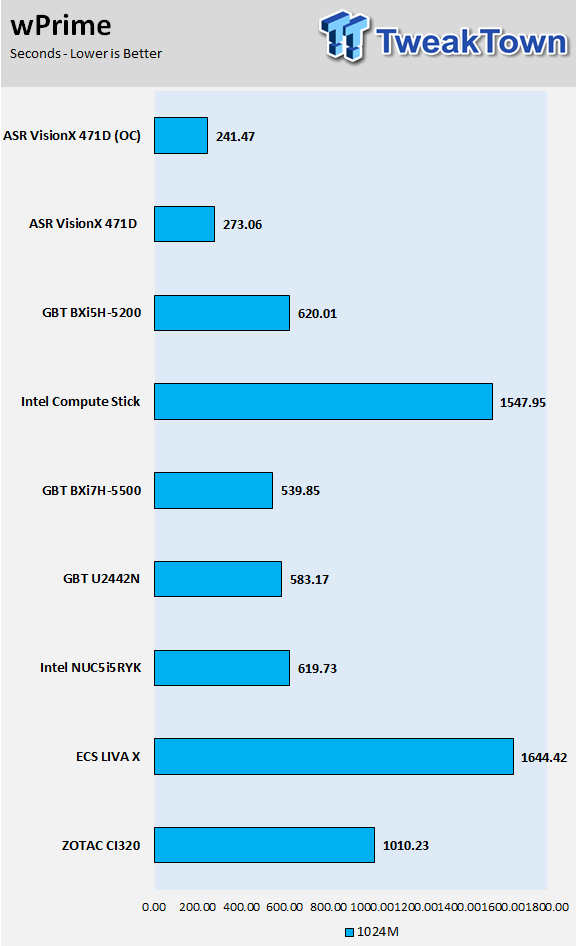 AIDA64 AES and HASH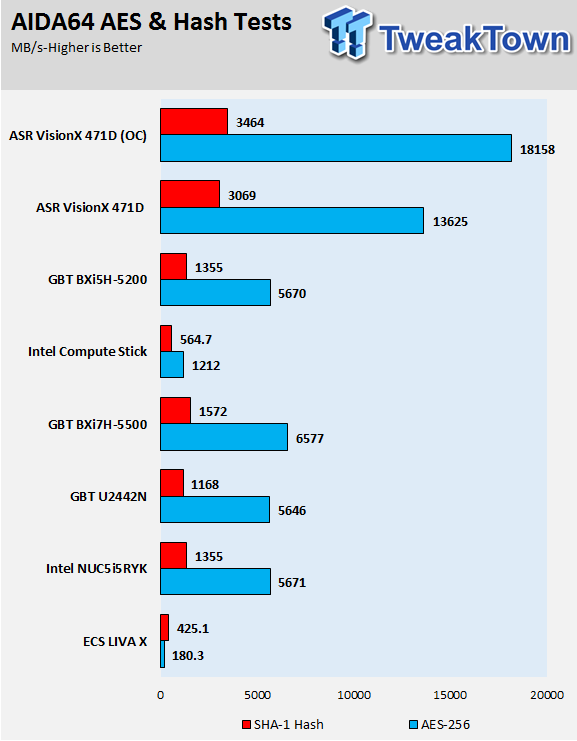 AIDA64 Memory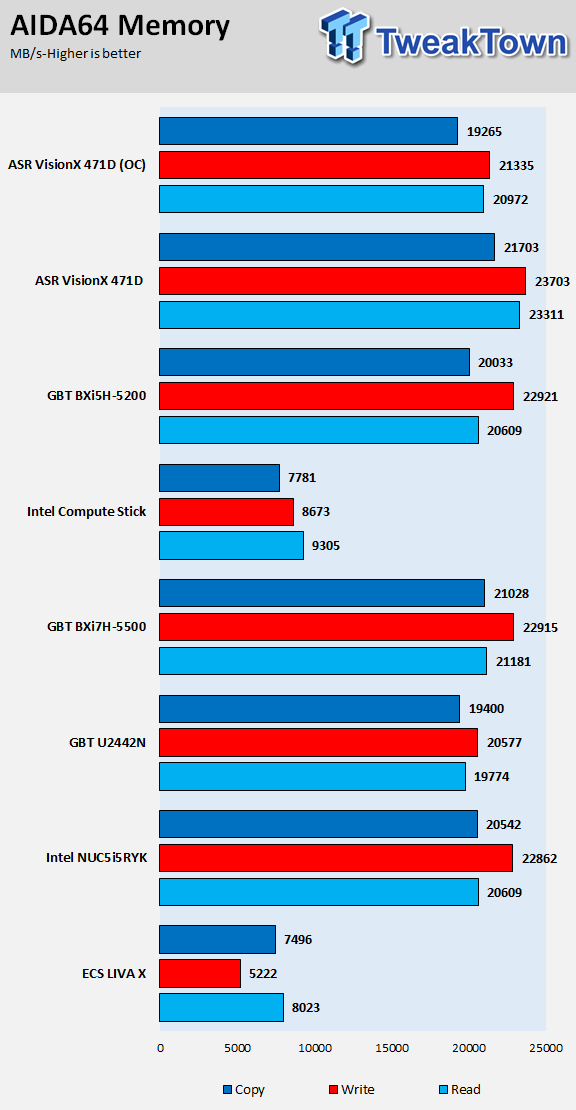 PCMark8 Home Test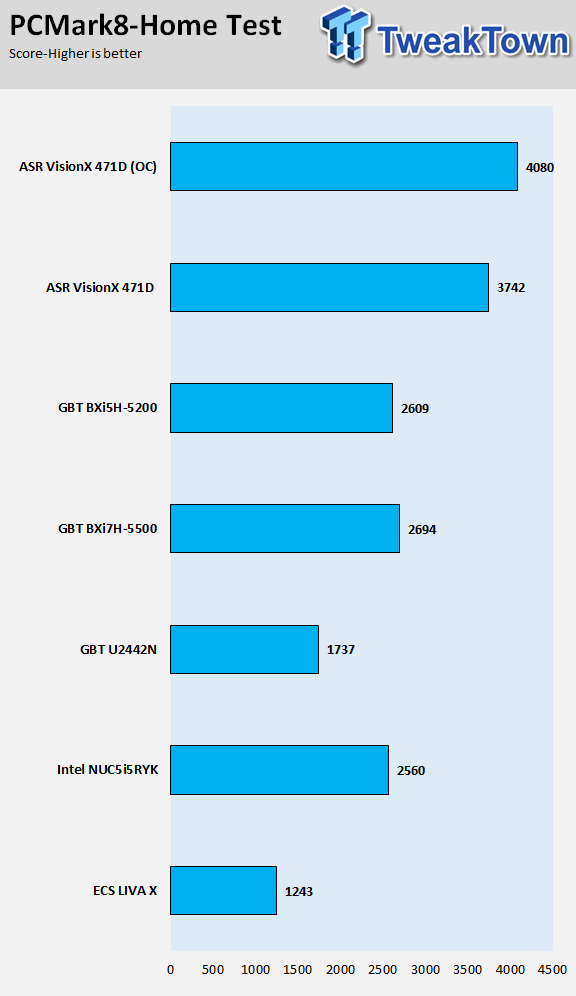 PCMark8 Work Test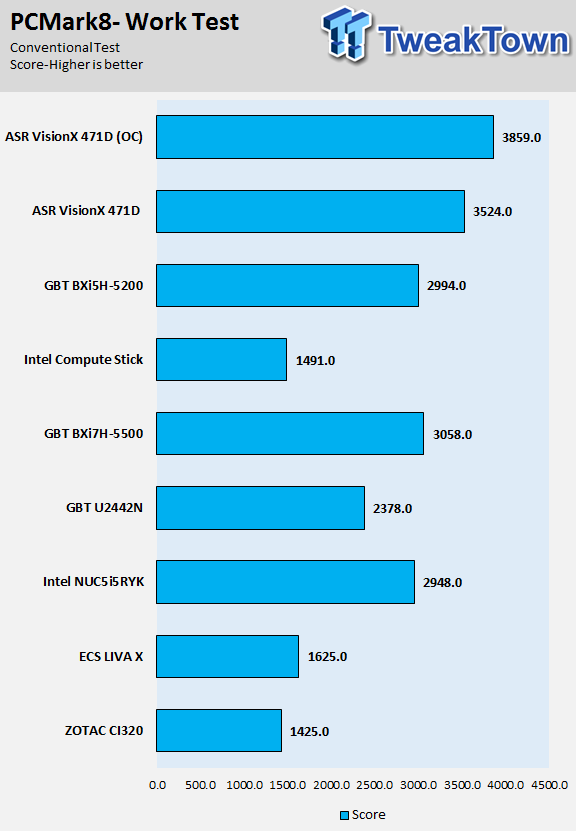 Graphics Benchmarks
3DMark11
UNIGINE Heaven 4.0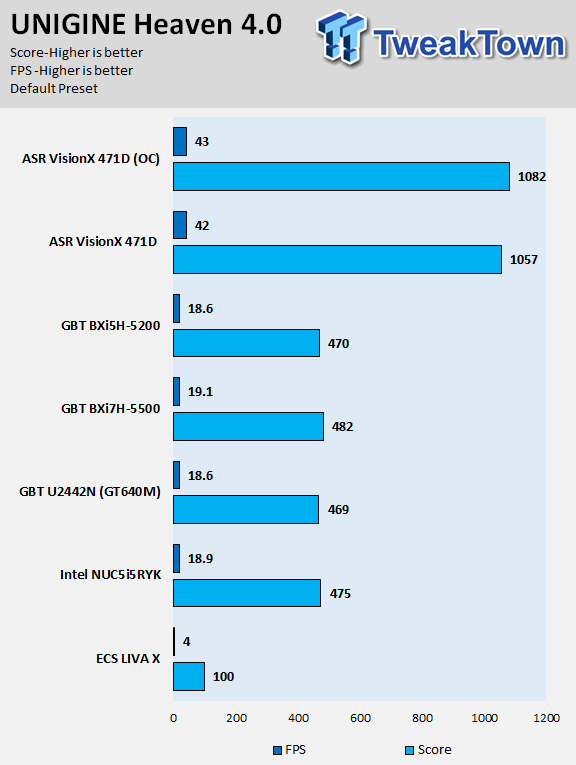 Lost Planet 2 DX11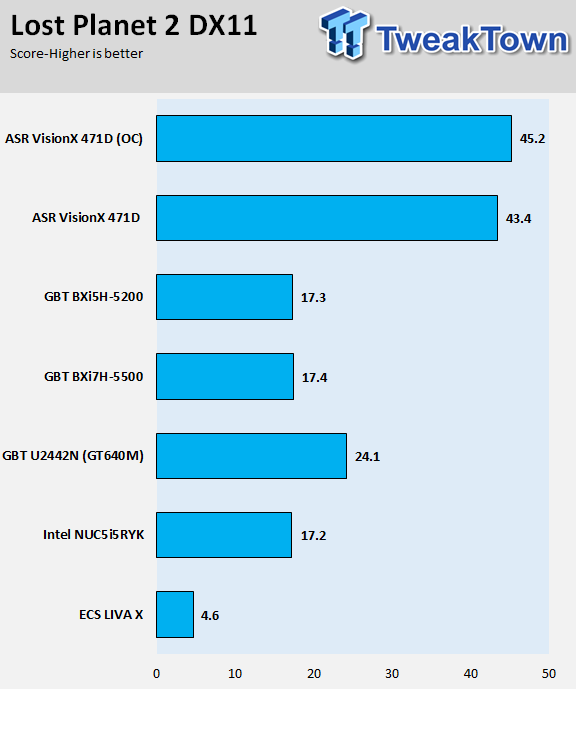 Resident Evil 6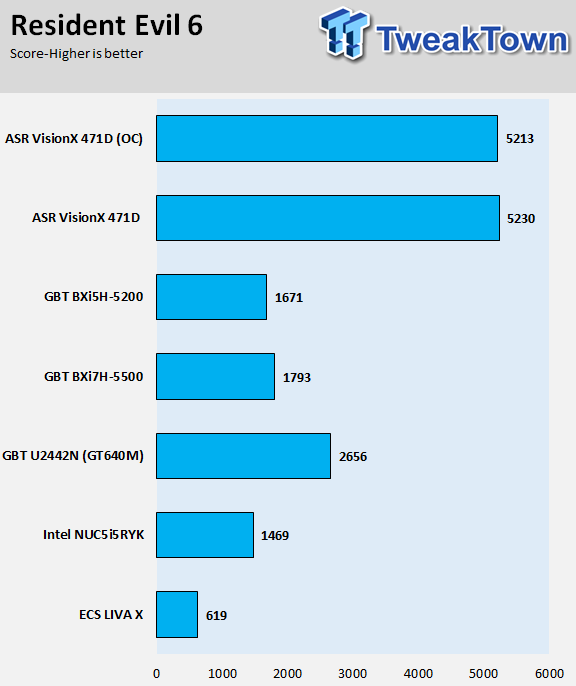 The ASRock VisionX 471D is really fast compared to the SFF PCs in the charts. This is partially due to the fact that it's a mix between a gaming notebook and a desktop. Not only does it have a quad-core processor with hyper-threading, which is basically double the cores and threads of the top SFF PC in the charts, but it also carries 8GB of DDR3 and a dedicated video card, an M270X.
Compared to my four year old Ivy Bridge based Ultrabook which also has discrete GPU, the GT640M, the VisionX 471D wins hands down. Overclocking the CPU resulted in a slight decrease in memory speeds as described in the overclocking section, and it only yielded minor performance gains. I would recommend really fine tuning the overclock with the multipliers (supported up to 35x) if you decide to overclock, or somehow improve the cooling.
System IO Benchmarks
Storage and Network Performance
CrystalDiskBench-Read: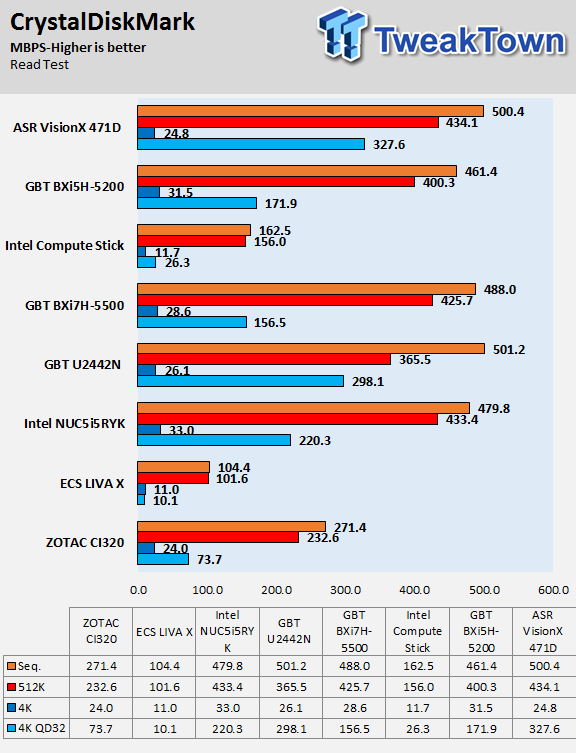 CrystalDiskBench-Write: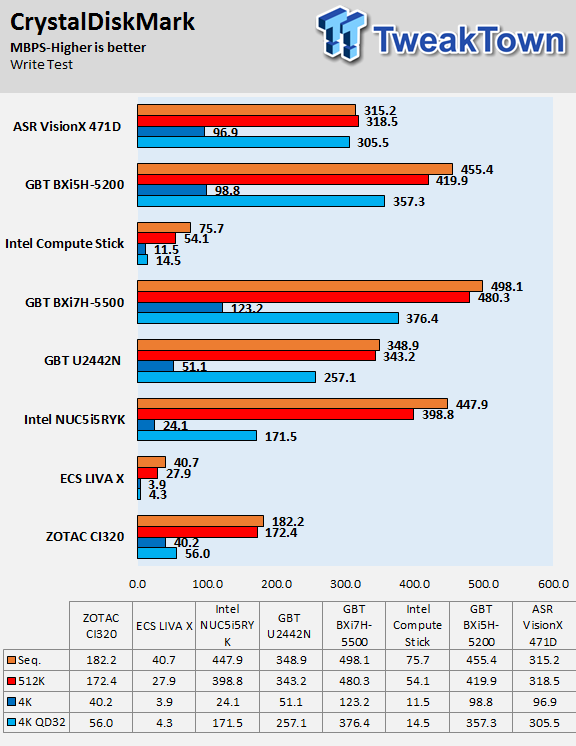 Diskbench USB 3.0 Speed: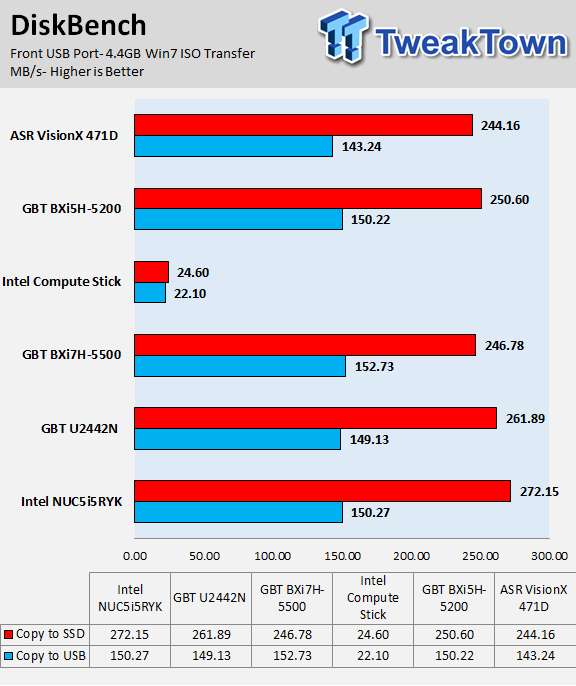 ixChariot Network Throughput: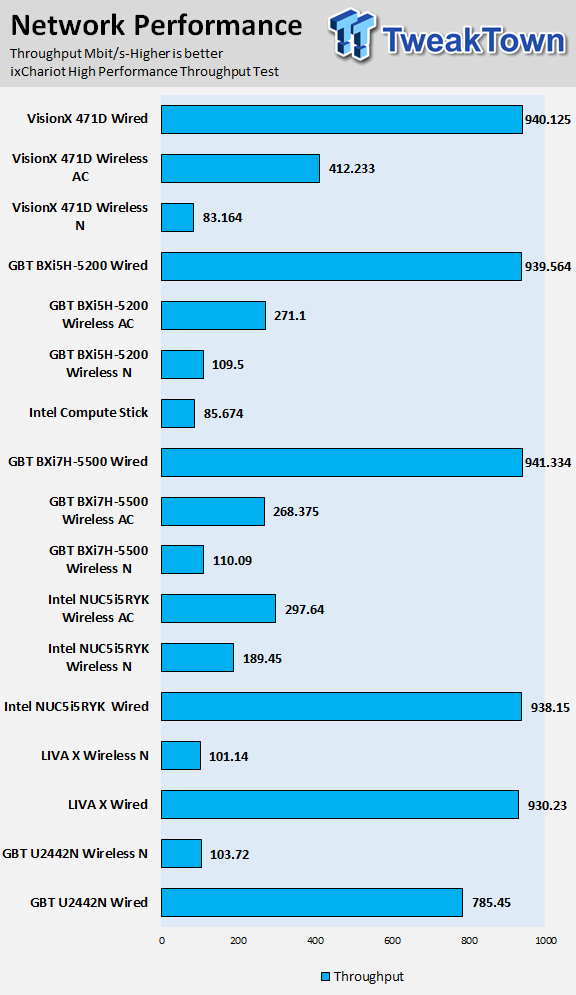 The unknown ASint SSD performed very well in sequential read and write tests, but was a tiny bit slower than other mSATA and M.2 drives in 4K tests, but it's not something you would notice in the real-world.
What surprised me was the AC wireless performance, as I have tested this same mini PCIe card before and have never had results over 400Mb/s, which is really awesome.
Temperature and Power Consumption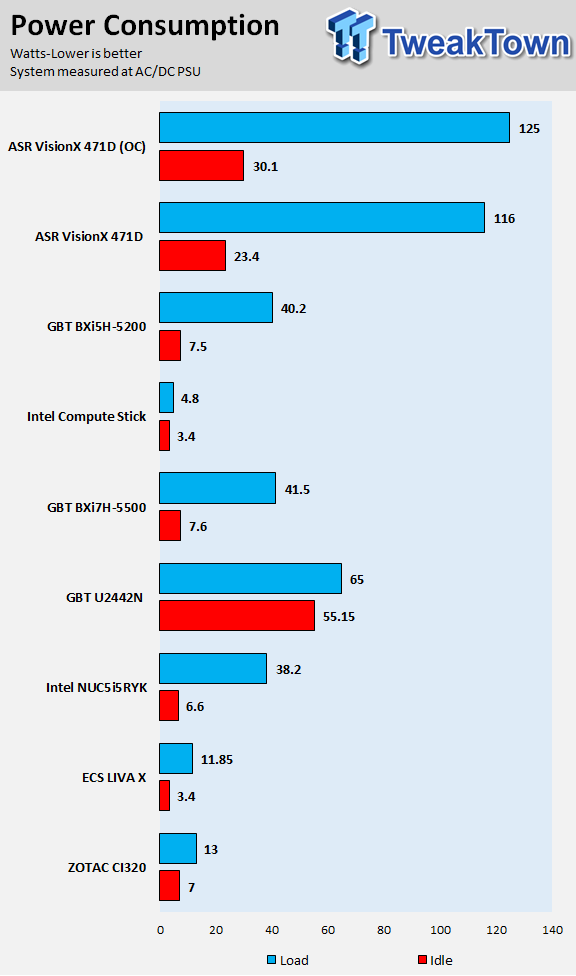 Here is the kicker, the results for power consumption while the VisionX 471D is overclocked only reflects running Prime 95 and no GPU load like the rest of the results. When I tried to load the GPU (Furmark) and CPU (Prime95) together (when the system was at a 4GHz overclock), the system would shut down, as the AC/DC adapter had reached it OCP trip point. Of course this system was never designed to be overclocked, and the system never shut down during any of our normal CPU and GPU workloads (even when overclocked).
This isn't really a big deal since no program I encountered was able to shut the system down. Overall the system was quite impressive, and while the power consumption is much higher than the SFF PCs listed, the performance gains are huge. None of the SFF PCs have an Intel quad-core i7 CPU, a discrete GPU, or 3 drives (mSATA, 2TB HDD, and DVD drive), but all together I would say that power consumption is kind of low compared to similar desktops with close to the same performance.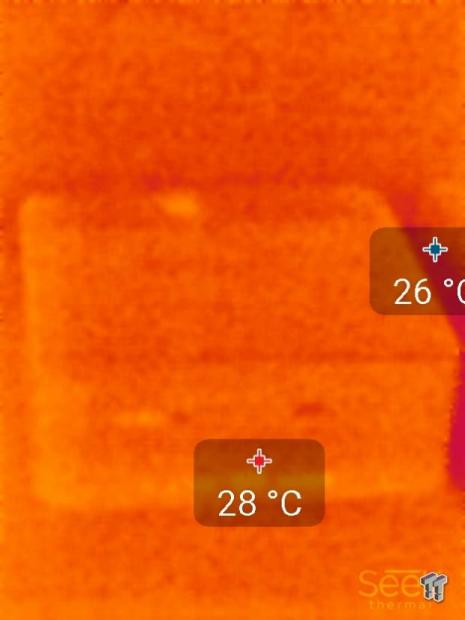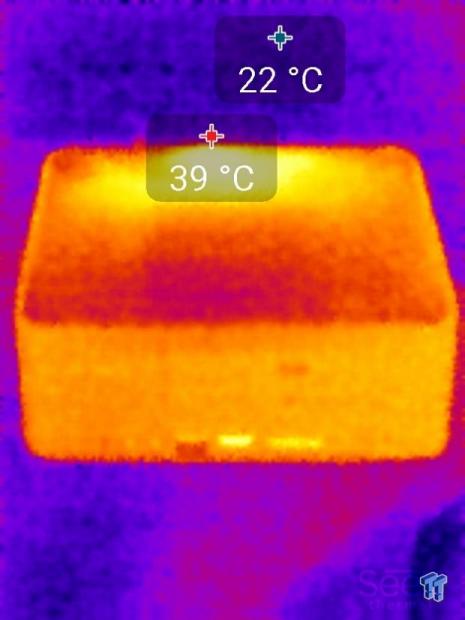 Shot of the front of the VisionX 471D idle and load, at stock.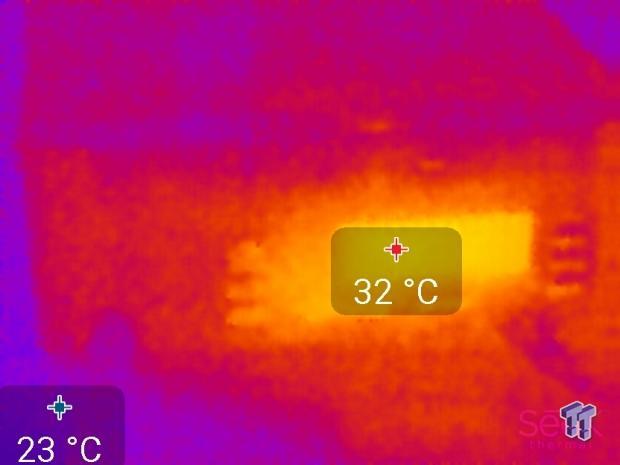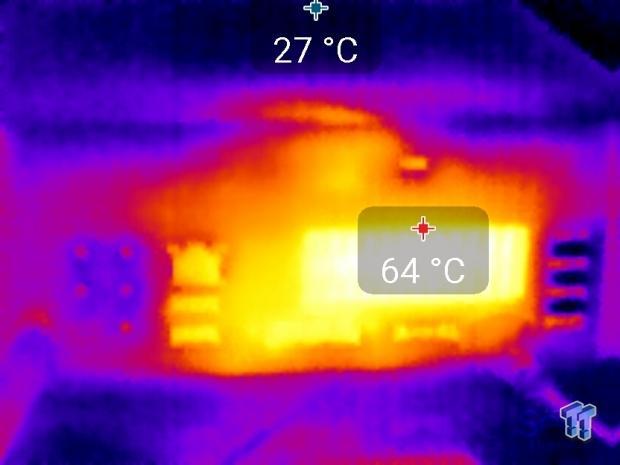 Shot of the back where the exhaust fan is at idle and load, at stock. Notice the exhaust temperature is higher here than when the system is overclocked and at load (below) and that is because the fan wasn't blowing at full speed like it is when the system is overclocked, plus there is a GPU load here that isn't present below because of power restrictions.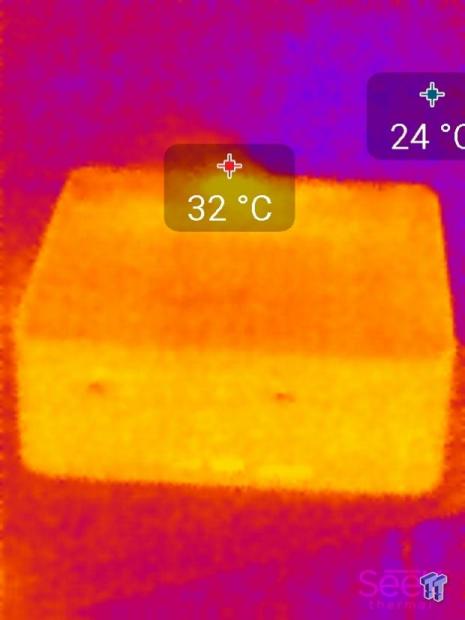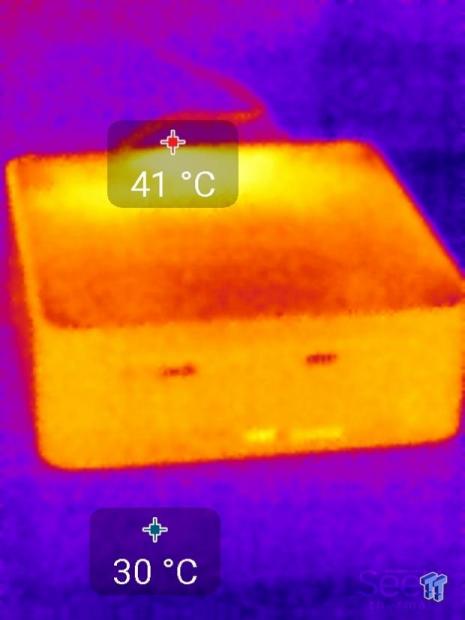 This is a shot of the front of the unit at idle and at load, when the system is overclocked with the 4GHz profile in the UEFI. The fan is blowing full speed the entire time.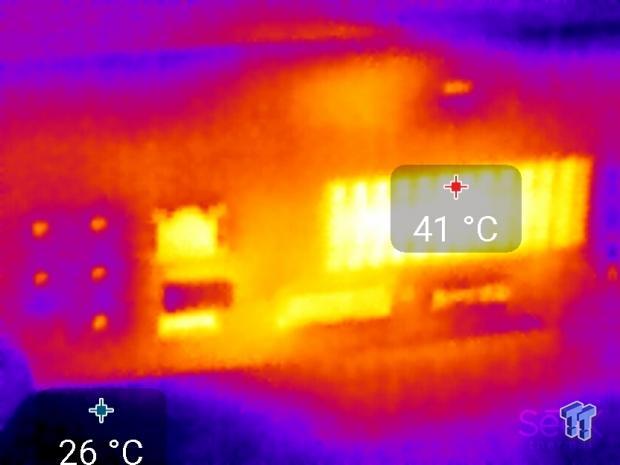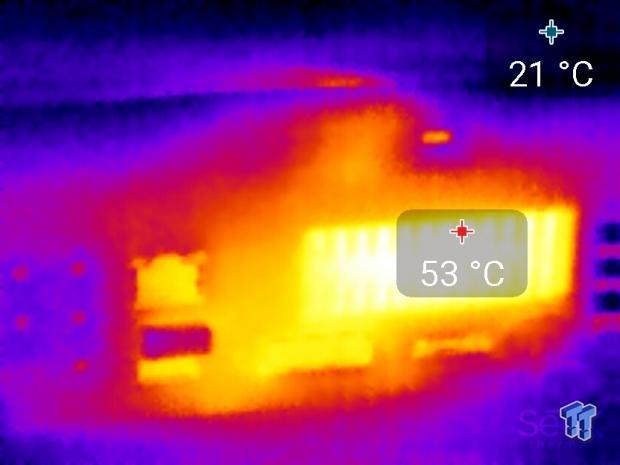 This is a shot of the rear exhaust of the unit at idle and at load, when the system is overclocked with the 4GHz profile in the UEFI. The fan is blowing full speed the entire time.
The temperature increases are smaller when the system is overclocked because the fans are set to blow 100% 24/7, but with the stock UEFI profile, the system stays pretty quiet the entire time.
What's Hot, What's Not & Final Thoughts
This is where you can fast forward to the final section of the review, and get a quick recap and points on the ASRock VisionX 471D.
What's Hot
One of the most powerful mini PCs on the market: The ASRock VisionX 471D is possibly one of the best performing HTPCs/Mini PCs. In fact, I wouldn't use this only as a HTPC because it's just so powerful. I could actually use this to replace my main computer on which I do light gaming. Its quad-core i7 is blazing fast, and since it doesn't run off a battery, you can run it at its maximum performance levels without too much noise. The integrated GPU puts it above many mini PCs that run off integrated graphics, and the performance benefits are quite noticeable.
Expansive feature set: This little mini PC has more features than most desktops. While everything but the chipset is replaceable, including the CPU, the system comes with some great hardware. My favorite features are in the following order: 3.3GHz quad-core i7 with HT, AMD Radeon R9 M270X, 256GB SSD, blazing fast wireless AC, HDMI input, 2TB HDD, 8GB DDR3, IR receiver, 6 USB 3.0, and SD card reader. There are actually more features than I listed (such as a DVD drive and 7.1 channel audio), and this mini PC has room for another 2.5-inch internal drive.
Surprise - It can overclock to 4GHz!: For a prebuilt HTPC, the VisionX 471D has a crazy amount of customization options. The UEFI is the most expansive I have seen on a prebuilt machine, and every single part of the system can be upgraded or replaced. When I saw that the UEFI offered overclocking options that rival those of Z97 motherboards, my jaw dropped and almost hit the ground! I have never seen a mini PC with such capabilities, and the 4GHz built-in overclocking profile is icing on the cake.
What's Not
It's not cheap: While the price of the VisionX 471D is not currently known, the VisionX 471B is $1049.99 and the only difference is that the B model has a better optical drive that supports Blu-ray media. At around $1000, it's quite an investment for a HTPC, but you do get pretty good value for the price. The VisionX 471D would be ready to go out of the box if it had an operating system, but alas you will need your own, which will add onto the price tag.
Final Thoughts
I am impressed. I wasn't expecting too much more from this machine than I already get out of many of the SFF PCs, but the VisionX 471D fills in what's missing from smaller form factors. Dedicated graphics is a big requirement for many PC enthusiasts, and can't make it into SFF PCs because of the thermal envelope, but the VisionX is capable. Expansion is also a huge benefit of the VisionX 471D, and while it already comes packed with a 2TB HDD and 256GB SSD, there is still room for another 2.5-inch drive.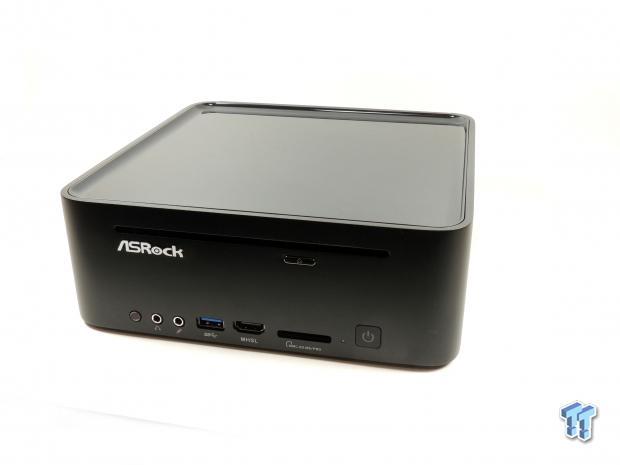 All of the benefits I have mentioned so far are hardware or performance based, but the VisionX 471D also offers some excellent aesthetics. The mini PC looks as great as it performs, and it's smooth sailing after you install an OS.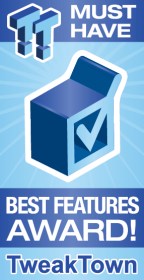 | | |
| --- | --- |
| Performance (including Overclocking) | 96% |
| Quality including Design and Build | 92% |
| General Features | 95% |
| Bundle and Packaging | 85% |
| Value for Money | 90% |
The Bottom Line: ASRock's VisionX 471D does an excellent job bridging the gap between the SFF PC and the desktop, offering excellent performance and features in a very compact and low-power design.
PRICING: You can find products similar to this one for sale below.

United States: Find other tech and computer products like this over at Amazon.com

United Kingdom: Find other tech and computer products like this over at Amazon.co.uk

Australia: Find other tech and computer products like this over at Amazon.com.au

Canada: Find other tech and computer products like this over at Amazon.ca

Deutschland: Finde andere Technik- und Computerprodukte wie dieses auf Amazon.de
We openly invite the companies who provide us with review samples / who are mentioned or discussed to express their opinion. If any company representative wishes to respond, we will publish the response here. Please contact us if you wish to respond.
Related Tags