Enermax Revolution X't 630W 80 PLUS Gold Power Supply Review
Enermax shows that its lower-end PSUs are just as worthy of their name as the higher-end offerings. Read on to see why this unit is a great bargain.
Published Wed, Jun 17 2015 9:15 PM CDT
|
Updated Tue, Nov 3 2020 6:59 PM CST
Introduction & Specifications, Availability and Pricing
Enermax is a company that is well known for their excellent and uncompromising quality. They constantly seek to drive innovation, striving to meet the demanding needs of the market and their customers. The power supplies are renowned as some of the best in the industry around the globe. The past examples that we've reviewed have shown this to be exactly the case and today we expect no different from the unit that is on the bench.
That unit is the Enermax Revolution X't 630W power supply. It sits more towards their entry level enthusiast segment and aims to provide those who seek something more than a base, no frills model without adding too much to the cost. It features all the protections we've come to expect from Enermax packed into a semi-modular chassis and enough power to handle a single high-end GPU or a pair of mid-range ones.
Specifications, Availability and Pricing
The Enermax Revolution X't 630W features a single 12V rail rated for 51A or 612W of power.
As I said before, this unit is meant to provide the same protection that you would find in the higher-end offerings from Enermax. The Revolution X't 630W features SCP, OVP, OCP, OPP, and OTP. The power supply is semi-modular and all of the cables both native and modular are of the flat ribbon type. The unit is rated for 80 PLUS Gold efficiency. The one thing that this unit does not feature is being rated for 100% continuous output at 50C. It is, however, rated for it at 40C.
The Enermax Revolution X't 630W is priced right in the middle of the road for models of similar wattage and efficiency. It currently retails for $99.99 and can be found on sale for less and either way that makes for a heck of a good deal for someone in need of a mid-wattage power supply. Enermax backs the Revolution X't with a five-year warranty.
Package & Inside the Box
Package
The packaging is relatively simplistic with a glimpse of the power supply alongside a wattage and efficiency rating.
The back gives us a wealth of information on the unit. It is important to note that Enermax uses this box for all wattages of this model so make sure you're reading the I/O and cable charts properly. Worth noting here is that the unit features HeatGuard which keeps the power supply fan running for 30-60 seconds after the system powers down to remove residual heat. This is yet another feature that you don't normally find on anything other than a higher-end unit.
All four sides of the box feature the same information, showing a few features of the unit that we've already seen on the front and back.
Inside the Box
Enermax breaks from the traditional packaging materials of foam and cardboard to protect the unit and instead uses a large air packed sleeve. It seems to work quite well.
The top houses the I/O specification label for the unit and shows off their textured black finish on the unit.
Both sides feature the same Revolution X't logo with the opposite being inverted.
The front has all of the modular connections labeled and easily accessible.
Flipping around to the rear of the unit, we find the AC input with on/off rocker switch. Enermax uses standard honeycomb mesh for the venting of the power supply. The two holes below the AC input are for the CordGuard attachment that helps make it difficult to accidentally unplug the power cord from the unit.
On the bottom, we find the clear 139mm fan that cools the unit covered with a standard wire grill for protection.
There are four modular cables included with this unit, all of which are of the flat ribbon type.
Accessories included in the box are the user's manual, AC input cord, CordGuard attachment, mounting screws, case badge, and two Velcro cable ties.
Cabling Arrangement & A Look Inside
Cabling Arrangement
Cabling for the Enermax Revolution X't is very straightforward. Natively wired to the unit are the 24-pin Main, ATX 4+4, and a single cable with a pair of PCI-E connectors. The four modular cables consist of on PCI-E cable with two connectors, two SATA cables, and a single Molex + FDD cable.
Rail distribution is as simple as it gets with a single 12V rail. There is no need to worry about load balancing here.
A Look Inside
Inside the Enermax Revolution X't, we find that the PCB is very compact. Enermax could have used a much shorter chassis if they wanted to use a smaller fan, but opted to go for the larger one for a quieter fan.
A single Panasonic capacitor sits on the primary side of the power supply.
The secondary side is riddled with Taiwanese capacitors.
Enermax uses their own ED142512M-OA 139mm twister-bearing fan to provide the active cooling for the unit.
Test Results
Our load tests utilize a couple of FAST ATE active load testers, and a variety of other equipment such as an oscilloscope, power conditioner, temperature probe, and a power consumption meter. You can read more about our standard testing approach here.
The tests performed are based around six conceivable setups that are out there, and progressively load down the PSU up to the power supply's limits, or 1000W; whichever comes first. Since our test equipment's limits are higher than that of the Enermax Revolution X't, we can test it to the maximum.
The above tests represent typical loads that we have measured from various systems, and are meant to give a rough idea of where your computer might fall in line with our tests. Please keep in mind that each system is different, and actual loads can vary greatly, even with similar hardware.
Let's start by taking a look at the voltages, to see how well this unit did during testing. Starting with the 12V rail, we see 2% regulation from start to finish, with a total drop of .18V. The 5V rail managed to stay within 3% of specification, with a total drop of .11V from start to finish. Moving towards the 3.3V rail, we see that regulation was within 3% of specification, with a total voltage drop of .08V.
DC Output quality for the Enermax Revolution X't 630W was acceptable and well within specifications. During Test One, we saw 24mV of noise on our scope at 35% load. When we increased the loads in Test Two, the ripple climbed to 34mV at around half load. Increasing loads even further showed that the noise on the 12V rail climbed to 58mV at 630W.
The Enermax Revolution X't 630W is rated for 80 PLUS Gold efficiency. This means that the power supply must perform at 87% / 89% / 87% efficiency, at 20% / 50% / 100% loads respectively. As you can see, the Enermax Revolution X't 630W is performing exactly as would be expected to reach these levels of efficiency.
Final Thoughts
One of Enermax's goals when designing a product is that quality comes first. In every power supply of theirs that I have looked at in the past, this has always held true. This holds true even in their lower-end offerings; the Enermax Revolution X't 630W is a prime example. The only piece of this unit that we can find that isn't of superior quality are the Taiwanese capacitors on the secondary side of the unit.
From a performance perspective, the Revolution X't 630W is every bit of what you'd expect from Enermax and a 600W-700W unit meant for those seeking something more out of a unit without breaking the bank. Voltage regulation proved to be within 2%-3% depending on the rail you look at. The DC output quality suffers a tiny bit due to the Taiwanese capacitors, but the unit is still well within ATX specifications and shouldn't cause you any issues whatsoever.
The only thing that I'd like to see different with this unit is that it be fully modular. This is a very minor complaint, especially given that the only connectors that are natively wired are those that are going to be required.
For a single Benjamin though, it is hard to fault this unit as that extra bit of modularity costs a fraction more. Considering this unit is competing in the most cluttered market segment of power supplies, cost is very important and it is easy to see why it was left out, since every cent matters here.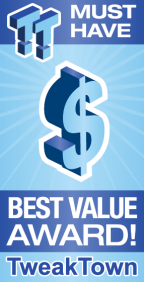 | | |
| --- | --- |
| Performance | 88% |
| Quality including Design and Build | 88% |
| General Features | 92% |
| Bundle and Packaging | 90% |
| Value for Money | 90% |
The Bottom Line: Enermax's Revolution X't 630W PSU is an excellent mix of price, features, and performance that you simply can't go wrong with.
PRICING: You can find products similar to this one for sale below.

United States: Find other tech and computer products like this over at Amazon.com

United Kingdom: Find other tech and computer products like this over at Amazon.co.uk

Australia: Find other tech and computer products like this over at Amazon.com.au

Canada: Find other tech and computer products like this over at Amazon.ca

Deutschland: Finde andere Technik- und Computerprodukte wie dieses auf Amazon.de