Seagate Enterprise NAS HDD Review (NAS Testing)
Today Chris puts Seagate's Enterprise NAS hard drive through the paces as he installs it in a NAS to see how it performs.
Published Mon, Jan 5 2015 1:22 PM CST
|
Updated Tue, Nov 3 2020 6:59 PM CST
Introduction
Despite having an aggressive nearline product portfolio, Seagate was behind the curve when Western Digital released the new Red Pro NAS-specific HDD with 7,200 RPM platters. Seagate, Western Digital, and Hitachi all have HDD products designed specifically for NAS products - a growing segment of the HDD business. The first products address lower cost consumer and small business NAS units that range from two to eight bays.
HDD manufacturers are now addressing the six to sixteen-bay NAS products. These products need higher spindle speeds to reduce latency that can increase when the drive count increases. The DRAM buffer sizes are also increasing to help with large random data workloads.
One of the biggest challenges for larger NAS products is vibration. Most of these systems are rack mounted with other devices, and vibration comes from several other rack mounted products. Since the NAS companies have successfully increased the number of storage bays into each rack unit, the HDDs are now closer to each other than ever before. No better example exists than Seagate's own Business NAS that crams eight 3.5" HDDs in a 1u form factor.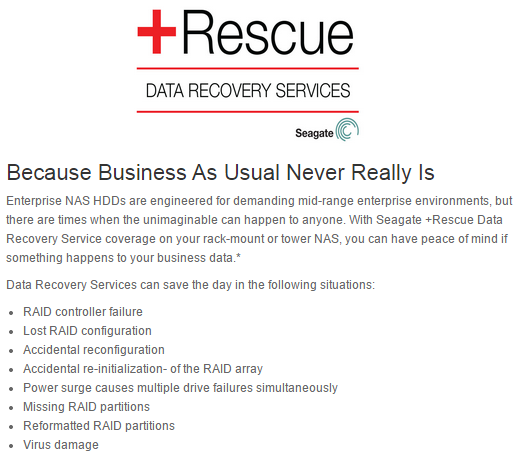 Being second to market has advantages. Over the years, Seagate has acquired a pair of data recovery services. The most recent, ActionFront Data Recovery Labs, was acquired in 2005, just after Mirra Inc., a personal server builder that also offered data recovery services. Since then, Seagate's data recovery wing has been fairly quiet, but now the company is ready to make some noise with this valuable service.
Seagate Enterprise NAS HDDs can be purchased with additional insurance from Seagate called "Rescue Data Recovery Plans." As someone who has accepted the fact that I will never hear the end of my own data loss event, I suggest everyone take a look at Seagate's data recovery add-on options.
Hardware Specifications and Pricing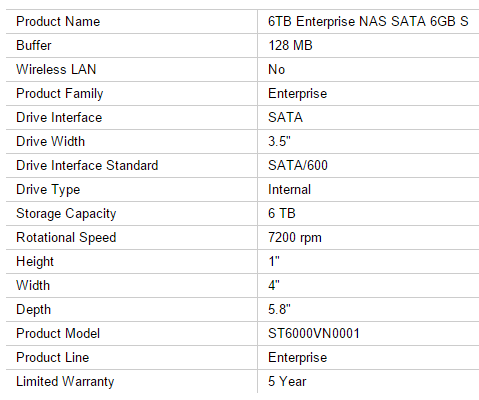 Available in 2TB to 6TB capacities, the Seagate Enterprise NAS brings 7,200 RPM performance to the growing SMB NAS market. This product line has a large 128 MB buffer, keeping random data flowing at high levels. Together, the Enterprise NAS SATA HDD bridges the gap left open by Seagate's smaller NAS HDD product and traditional nearline products used in datacenters.
Seagate's 6TB Enterprise NAS product comes to market nearly uncontested. Products built for this specific use top out at 4TB with 7,200 RPM disks. Western Digital does have a 6TB Red HDD, but uses 5,400 RPM spindle speed, and the company's Red Pro with 7,200 RPM spindles stop at 4TB of capacity. HGST offers a 7,200 RPM 6TB NAS-targeted model, but only recommends the Deskstar NAS for up to eight-drive bays, and they only carry a three-year warranty.
Seagate's Enterprise NAS products will work well in smaller NAS, but offer features designed to excel in larger systems like the Thecus N8810-G and QNAP TS-EC1279U-RP. There is no doubt many system builders will also adapt the higher spindle speed NAS-specific model for use in Windows servers.
The Enterprise NAS series comes with a five-year warranty, and is priced competitively with other products on the market. The 6TB model we're testing today doesn't have a competitor at this time, and the current $462.99 (CDW.com) price reflects that. The 4TB model drops to just $263.99, or within $40 from WD's NAS Pro 4TB.
PRICING: You can find the Seagate Enterprise NAS HDD 6TB for sale below. The prices listed are valid at the time of writing but can change at any time. Click the link to see the very latest pricing for the best deal.
United States: The Seagate Enterprise NAS HDD 6TB retails for $439.99 at Amazon.
Seagate ST6000VN001 6TB Enterprise NAS HDD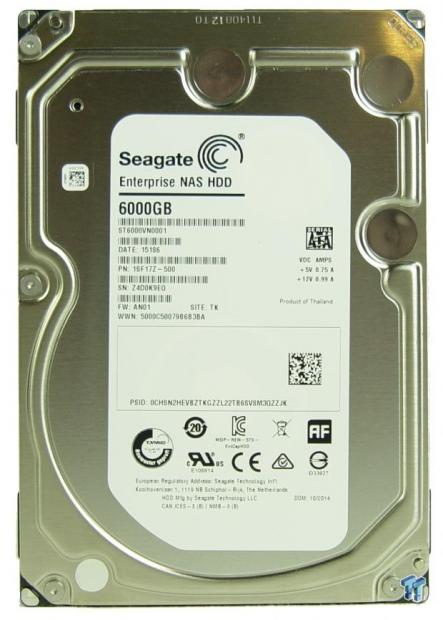 The Seagate Enterprise NAS is a typical 3.5" hard drive with a one inch z-height. The top label shows the model number, serial number, production date, and other relevant information.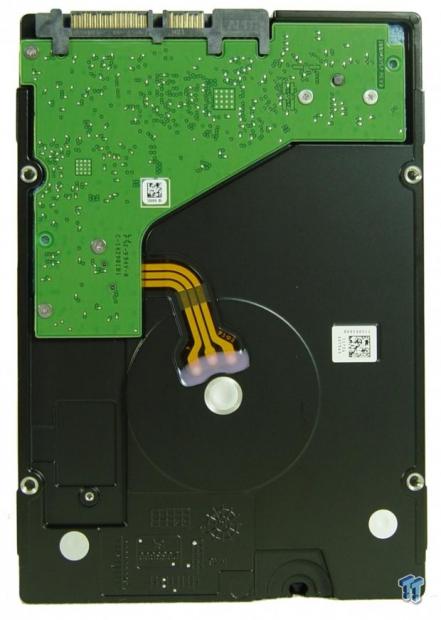 All of the surface mount components are on the inner facing side of the PCB. The casing is a little different on the 6TB models from the other capacities, and this provides room for more platters to fit inside the case.

The ST6000VN001 has two mounting points on the sides, and not the typical three found on some hard drives.

Seagate's Enterprise NAS HDD product line is available in SATA only. For SATA 6Gb / 12Gb, users would need to venture into Seagate's nearline product series.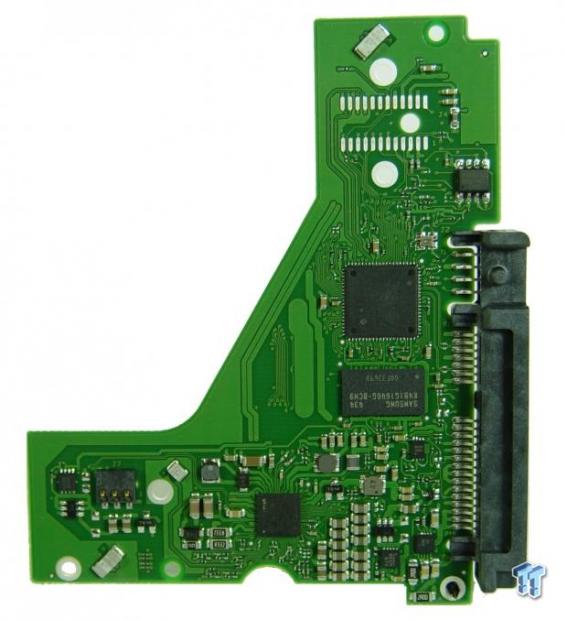 The large array of solid state capacitors on the lower edge of this image provide power to the drive to flush data in the Samsung DRAM buffer to the disk in case of a power fail event.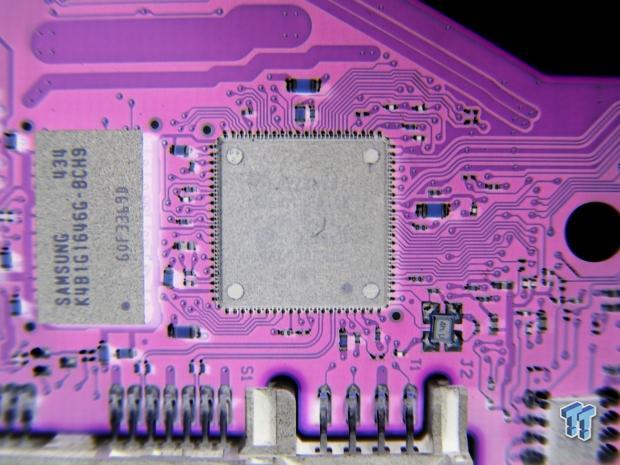 The Seagate Enterprise NAS HDD uses a Samsung 128MB DRAM buffer for cache duty.
Test System Setup
Test System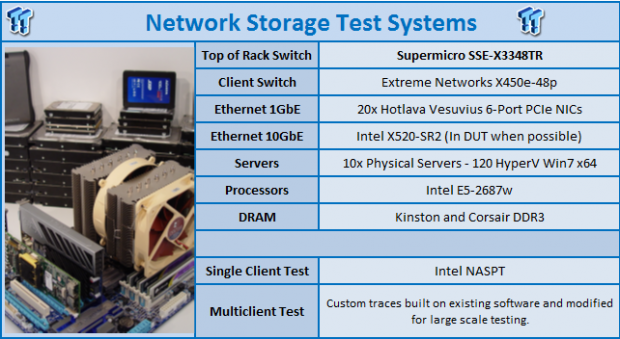 Our NAS test 'system' has migrated to three 42u racks, much like what you'd find in a datacenter. There are ten servers that attack the target NAS with 120 Hyper-V installations of Windows 8.1 64-bit, each with a dedicated gigabit Ethernet port. The systems feed to three Extreme Networks X450e-48p switches, and then to a Supermicro SSE-X3348TR top-of-rack switch. The device being tested connects to the Supermicro switch via 1GbE, 10GbE, or 40GbE. The iSCSI and NASPT tests use a single machine connected to the Supermicro switch.
This level of testing wouldn't be possible without the help and support from several companies, many of which have little to do with NAS products. We would like to thank AVADirect, Antec, Corsair, GIGABYTE, Icy Dock, Kingston, LSI, Noctua, Rosewill, Seagate, Thermaltake, and Western Digital for their much-appreciated support.
Intel NASPT
The Intel NAS Performance Toolkit (NASPT) is a file system exerciser and analysis tool designed to enable direct measurement of home network attached storage (NAS) performance. Designed to emulate the behavior of an actual application, NASPT uses a set of real-world workload traces gathered from typical digital home applications. Traces of high definition video playback and recording, office productivity applications, video rendering/content creation, and more, provide a broad range of different application behaviors.
TweakTown Custom 120-Client Office Test
The TweakTown Custom 120-client Office Test uses 120 Windows 7 Hyper-V installations and custom software to stress each NAS with traces from Microsoft Office tasks. Both throughput (in Mbits per second) and latency (in milliseconds) are measured.
Seagate NAS HDD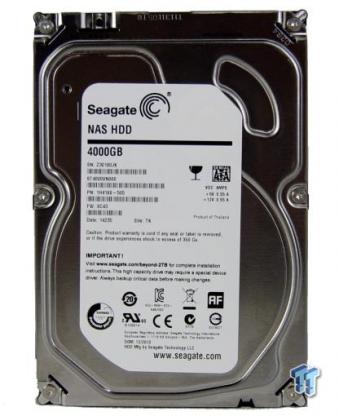 TweakTown uses Seagate NAS hard drives for all of our NAS tests. You can read our full review of the Seagate NAS HDD here. For this review, we're using the 4TB NAS HDDs to compare to other HDDs.
Supermicro SSE-X3348TR 10GbE / 40GbE Switch

With a switching fabric of 1284 Gbps through forty-eight 10GBaseT and four 40GbE ports, the SSE-X3348TR is our switch of choice for testing SMB and enterprise network attached storage products. You can read our full review of the Supermicro X3348TR top of rack switch here.
Thecus N8900 Eight-Bay NAS with Intel X520-SR2 Dual 10GbE NIC

To test the NAS-specific HDDs, we're using a Thecus N8900 eight-bay NAS loaded with an Intel X520-SR2 two-port 10GbE NIC. The system connects to the Supermicro switch via a QSFP+ to 4x SPF+ cable. We're using 802.3ad to increase bandwidth between the NAS and the network.
Initial Comparison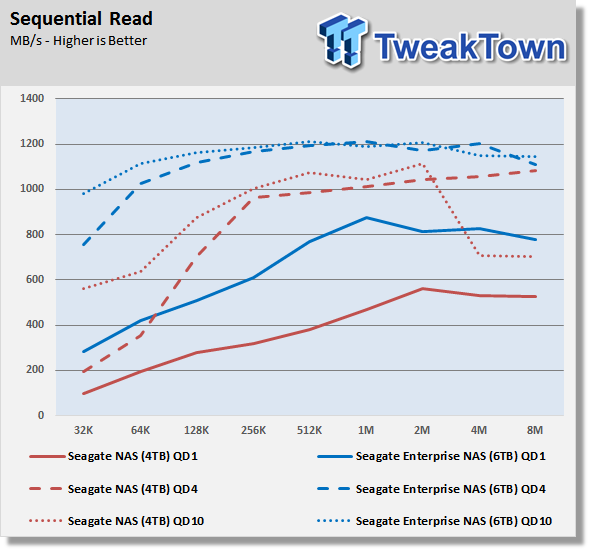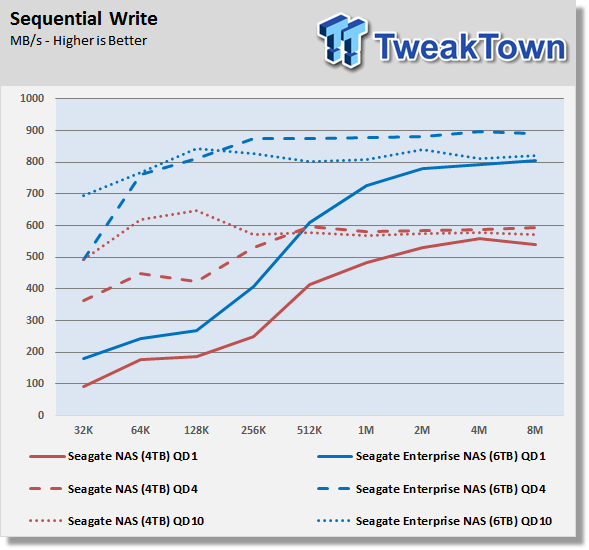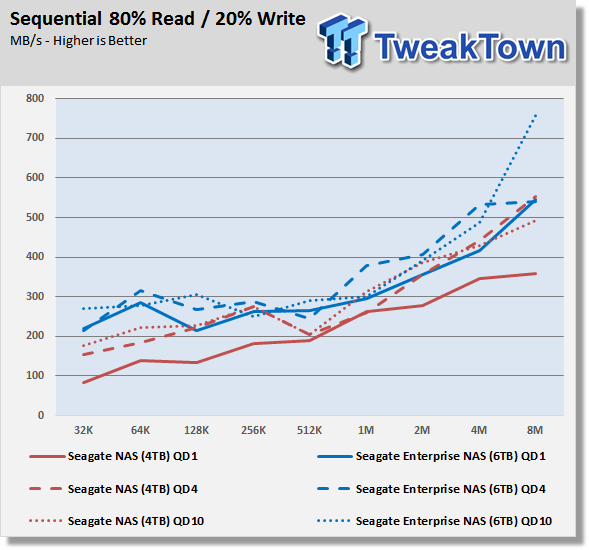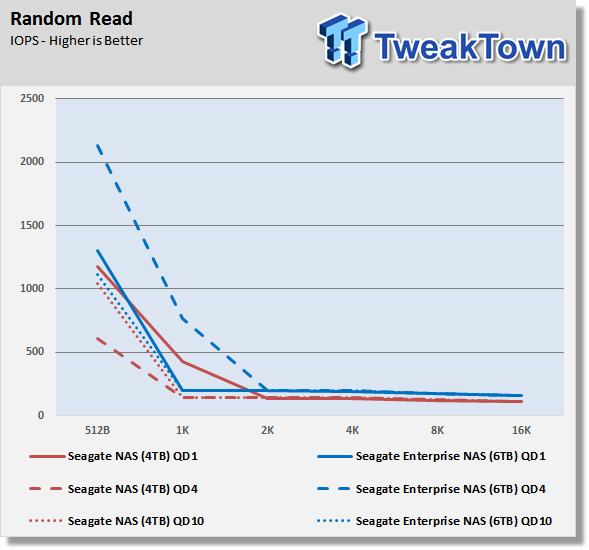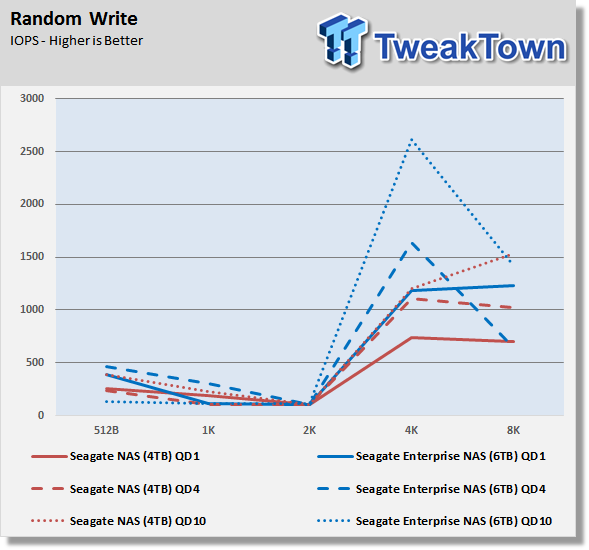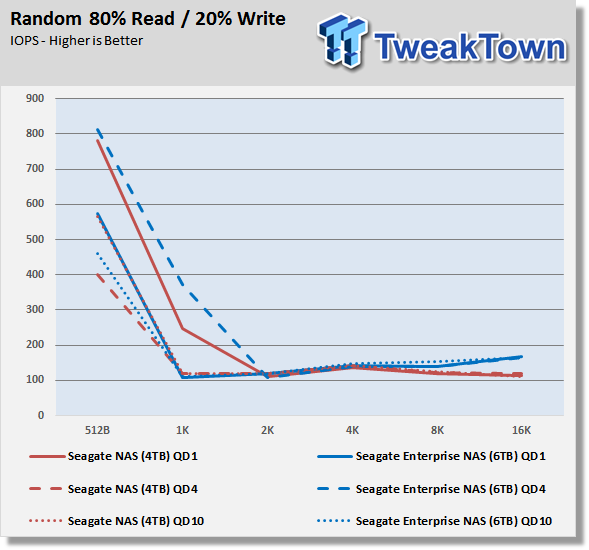 Before we dive into the workload tests, let's take a look at some simple synthetics that show sequential and random performance. For these tests, we're using eight drives in a Thecus N8900, running in RAID 5. The NAS connects to the network with two 10GbE links, and the test system connects to the network with an Intel XL710 NIC running at 40GbE.
Nothing in the results look out of place from what we expected to see. In most cases, the Seagate Enterprise NAS HDD delivers higher performance at QD4 than the Seagate NAS does at QD4. The solid lines show QD1 performance, and the 7,200 RPM Enterprise NAS clearly dominates the 5,900 RPM NAS in all of the synthetic tests.
Benchmarks - RAID 5 Single Client Performance
Benchmarks - RAID 5
RAID 5: Block-level striping with parity data distributed across all member disks.
HD Video Playback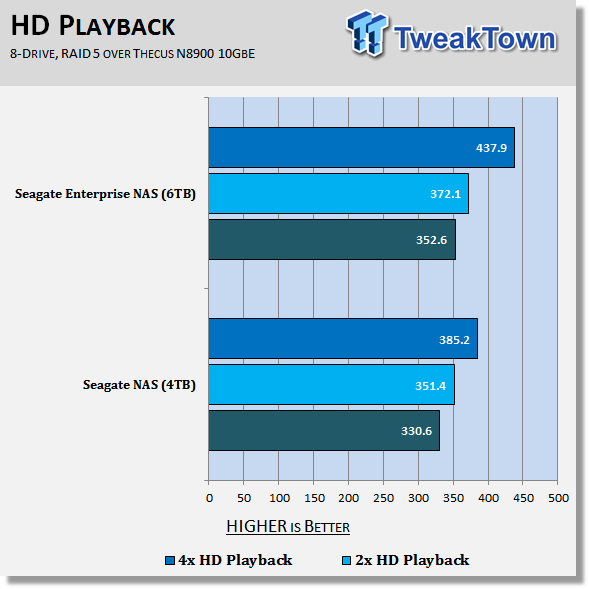 HD Video Play - 720p HD stream from Windows Media Player 256kB reads
2HD Video Play - 2x playback
4HD Video Play - 4x playback
HD Video Record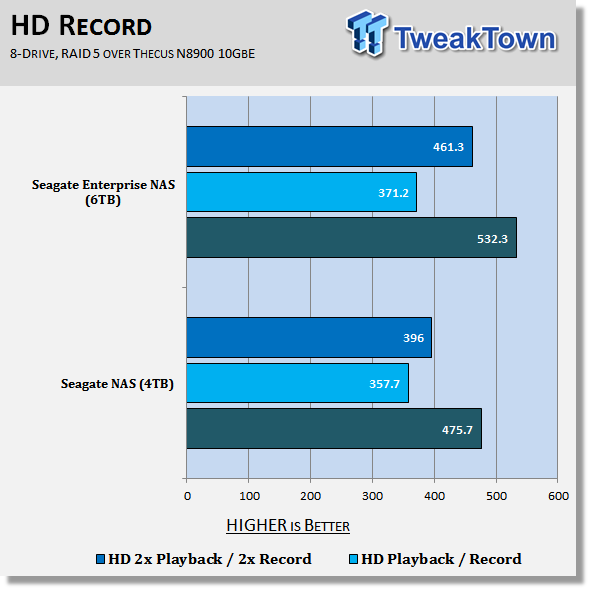 HD Video Record - 720p HD stream, 256kB writes
HD Video Play & Record - one playback, one record simultaneously
2x HD Video Play & 2x Record - two playback, two record simultaneously
Content Creation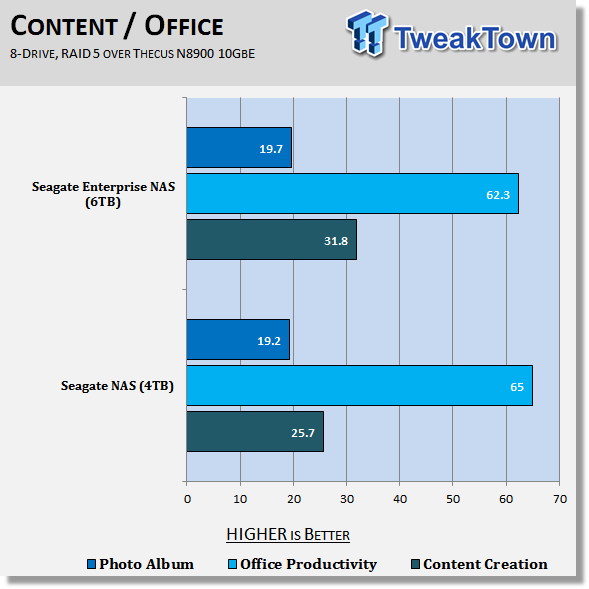 Photo Album - All reads - wide distribution of sizes
Office Productivity - Reads and writes, 1kB & 4kB reads; Mostly 1kB writes
Content Creation - 95% writes; 1k, 4k & little reads; Writes up to 64kB
File / Directory Transfer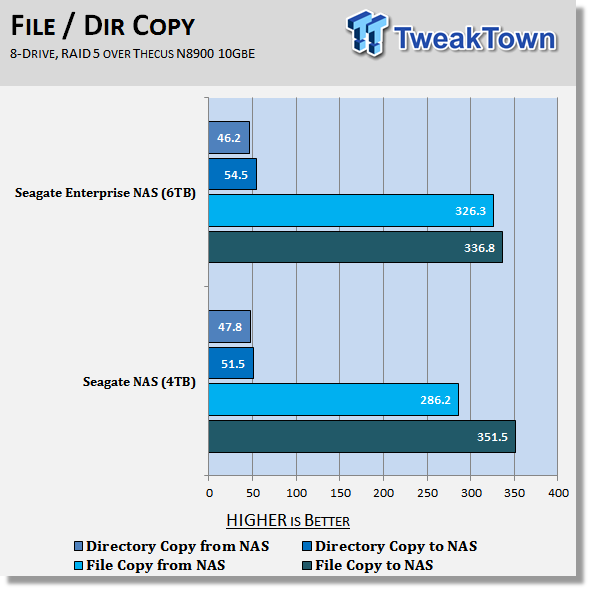 Directory Copy From NAS - 64kB reads
Directory Copy To NAS - Predominantly 64kB writes, wide scattering under 16kB
File Copy From NAS - 4GB file copy, 64kB reads
File Copy To NAS - 64kB writes
Single Client Performance Summary
Using a server with an Intel X540 10GbE NIC to the NAS connected to the network with 2x 10GbE SFP+ connections, we measured single client performance with Intel's NASPT utility. The Enterprise NAS outperforms our baseline Seagate NAS 4TB array in nearly all tests. The NAS server's cache does help to level the field in some tests, allowing the gap to decrease. In some of the other tests, we see the Enterprise NAS walk away from our baseline drive.
Benchmarks - iSCSI Database and Workstation Workloads
Benchmarks - Database Workload
IOPS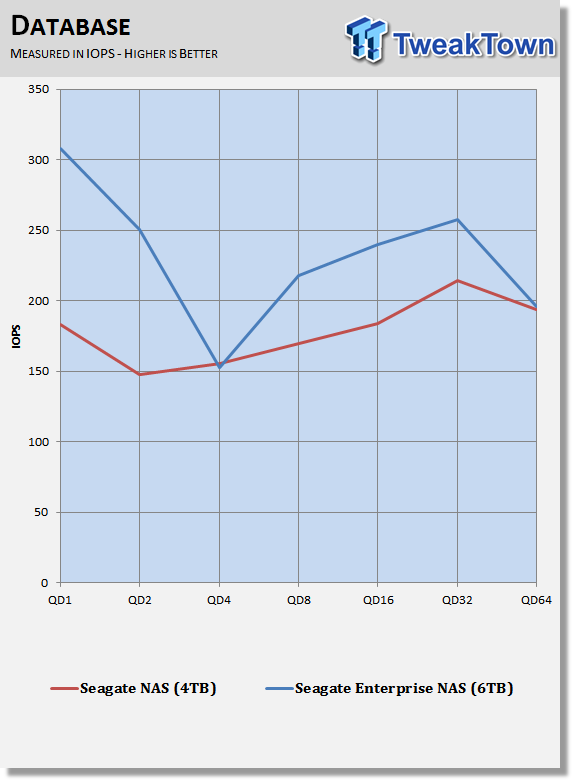 Latency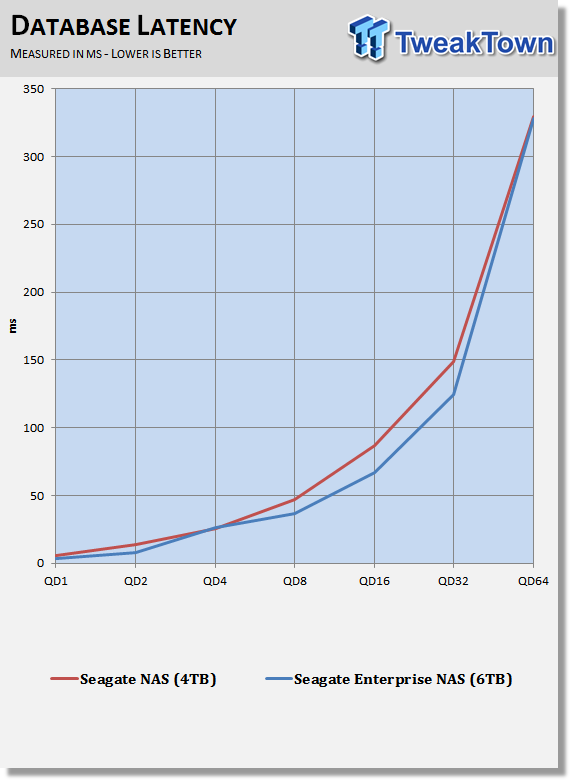 Outstanding IO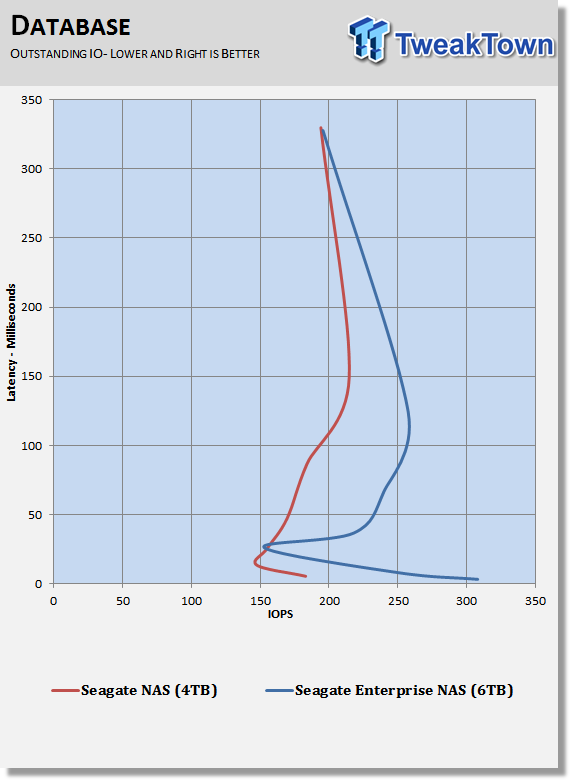 Maximum Latency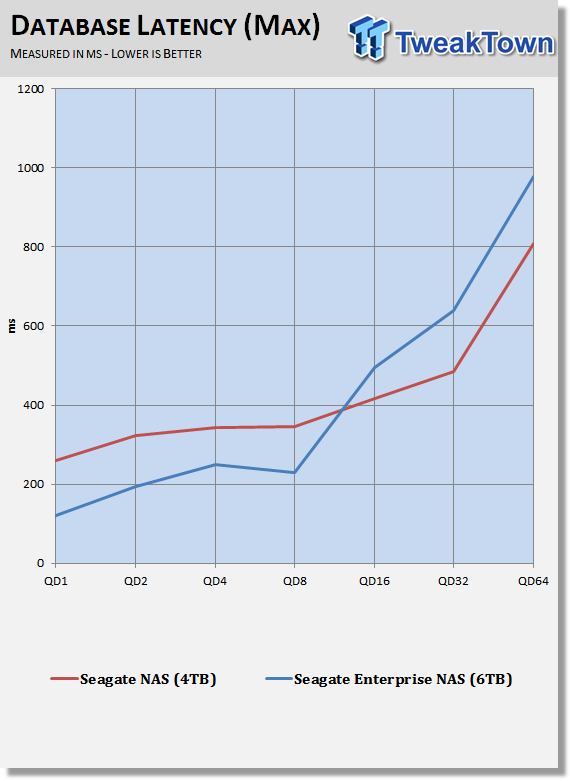 Other than the odd result at QD4, the Enterprise NAS shows a clear performance lead over the baseline NAS HDD array in the database test.
Benchmarks - File Server Workload
IOPS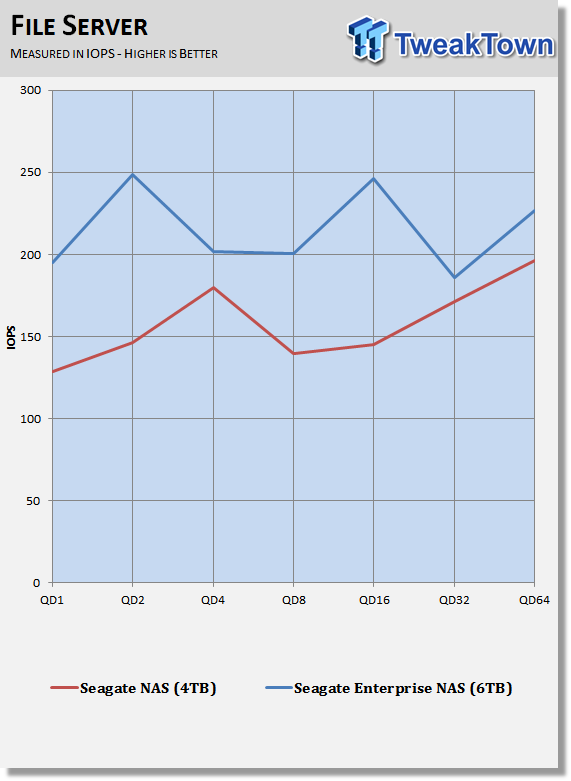 Latency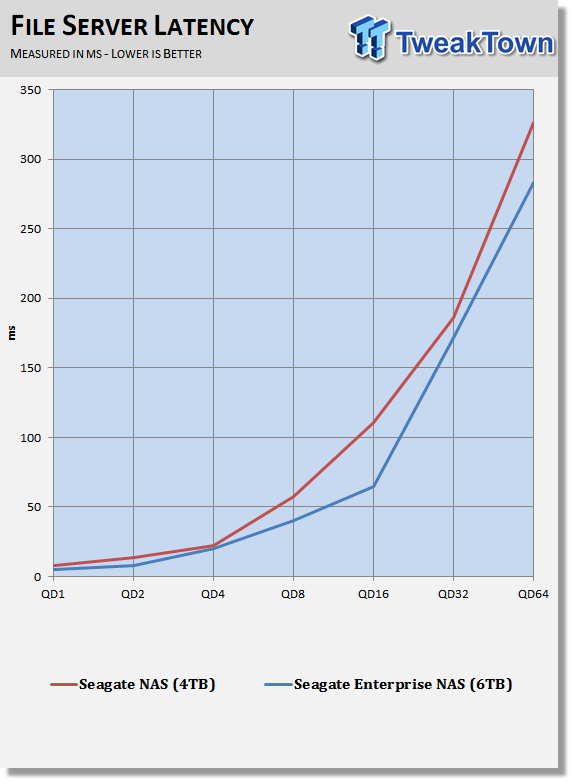 Outstanding IO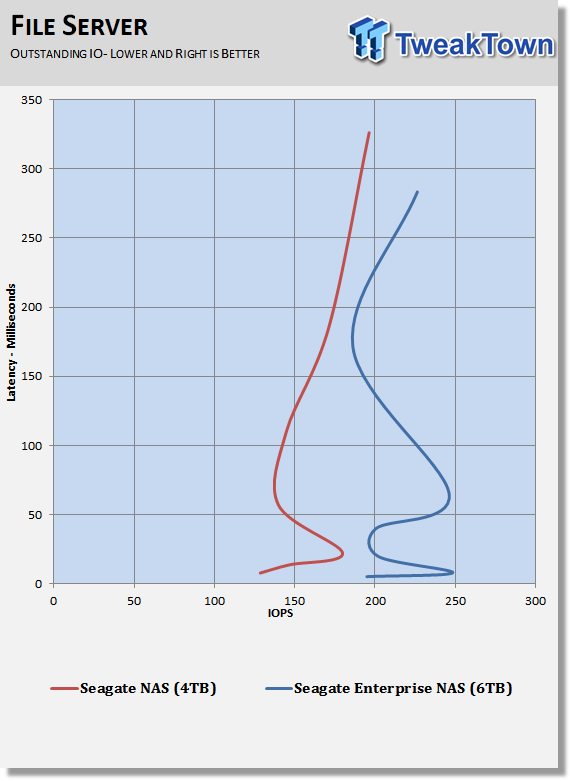 Maximum Latency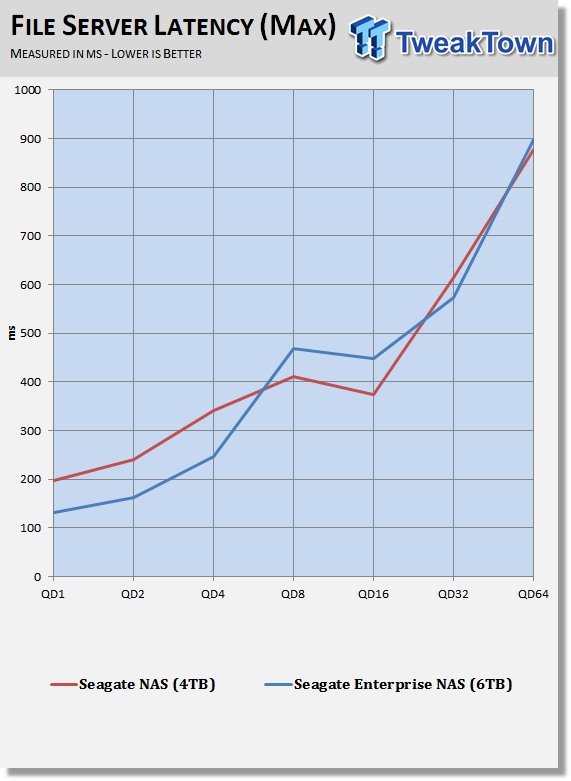 It shouldn't come as a surprise to see the Enterprise NAS outperforming the NAS HDD in any of these tests. We're mainly looking at the margin.
Benchmarks - iSCSI Server Workloads
Benchmarks - Email Server Workload
IOPS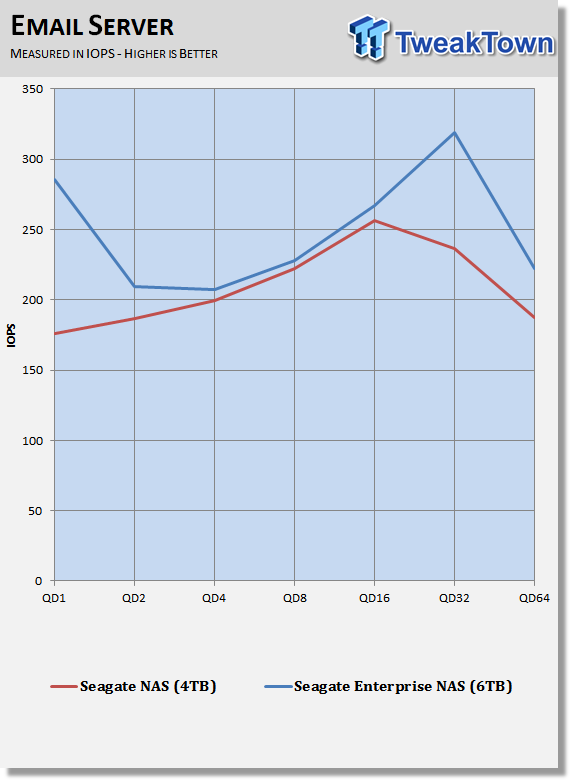 Latency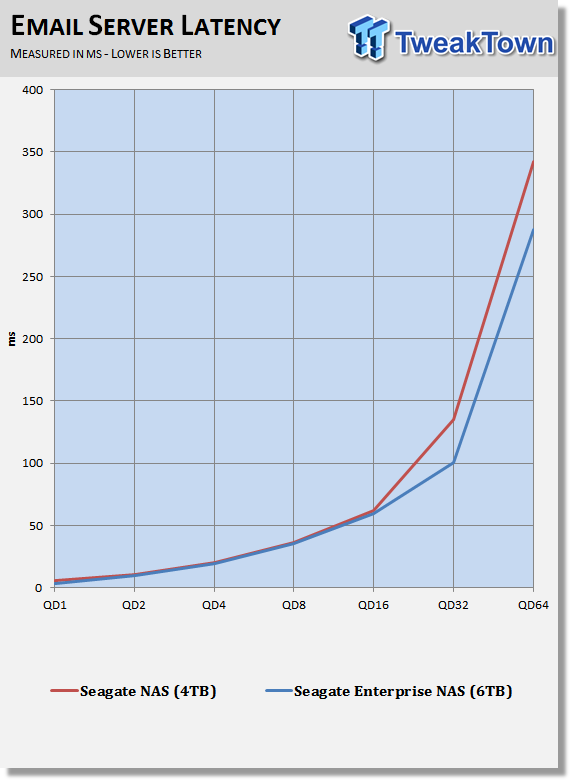 Outstanding IO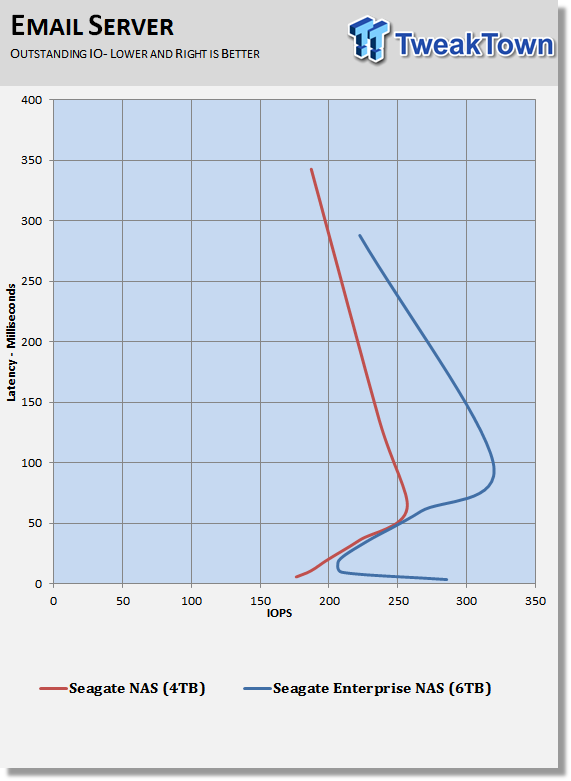 Maximum Latency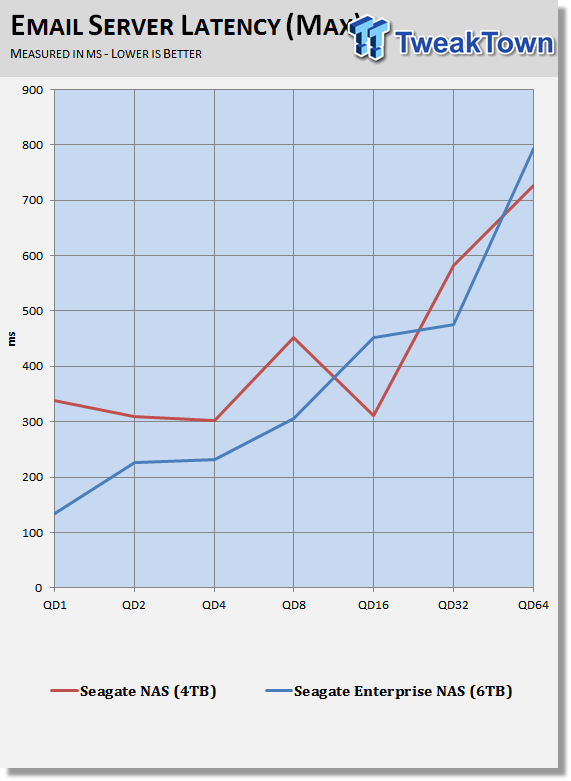 At several queue depths, the two drives perform very close to each other, but when the depth increases in the email server test, the higher spindle speed makes all the difference.
Benchmarks - Web Server Workload
IOPS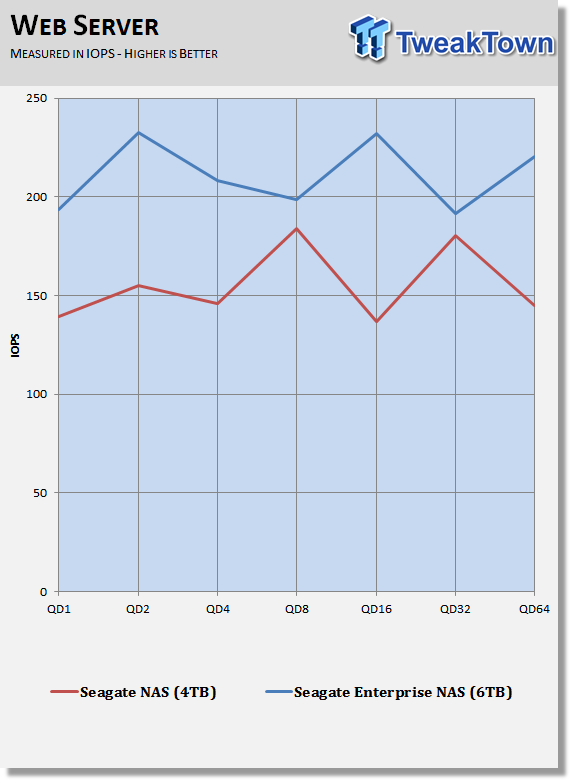 Latency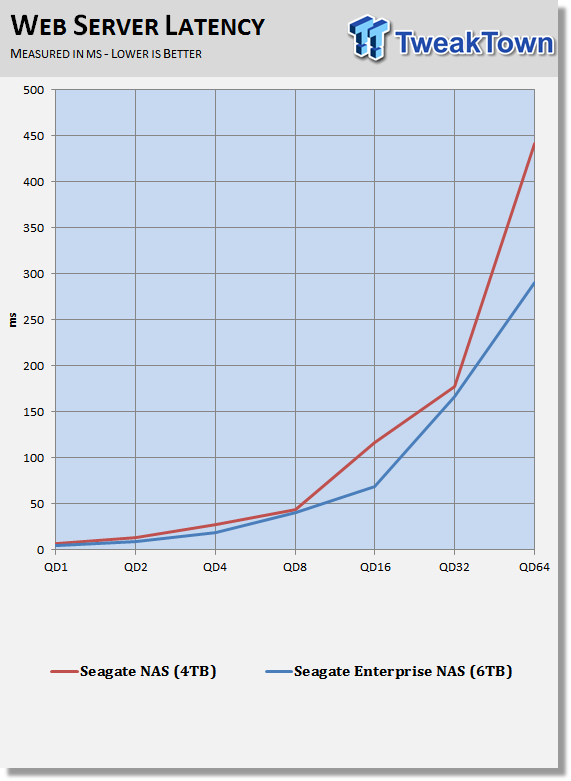 Outstanding IO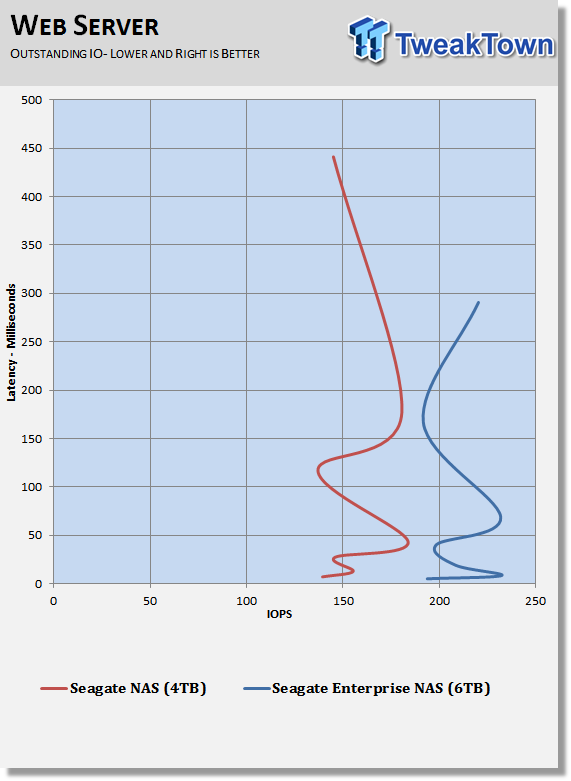 Maximum Latency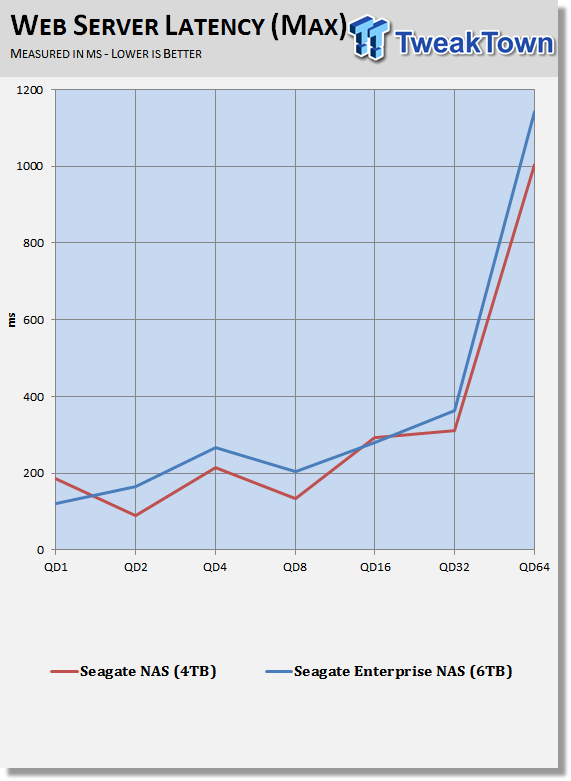 One thing we're starting to notice in these tests is the higher max latency from the new Enterprise NAS 6TB HDD.
Benchmarks - Workstation Workload
IOPS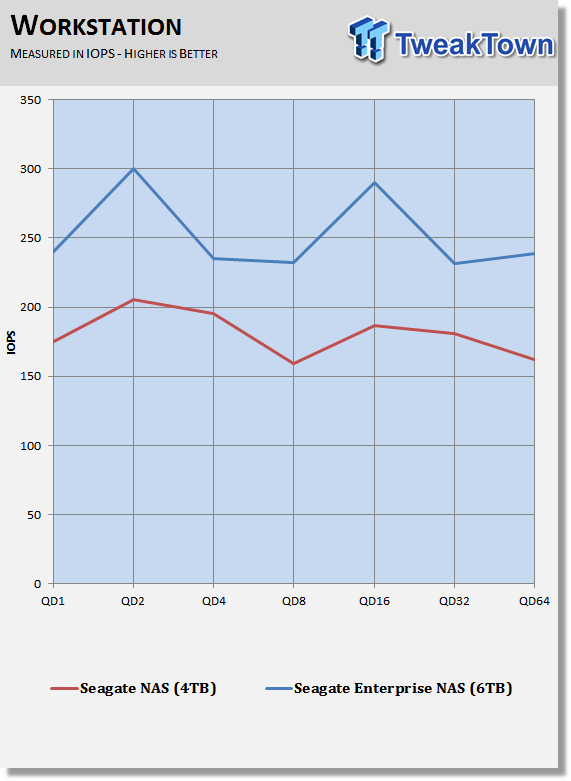 Latency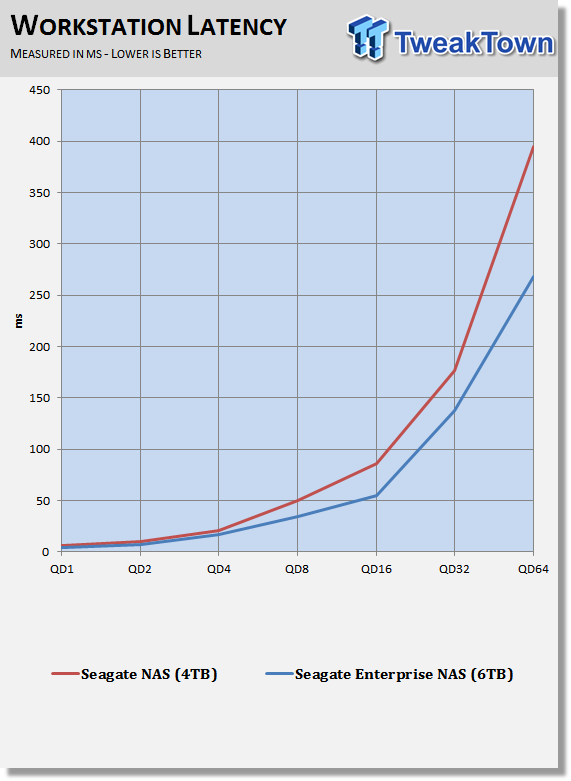 Outstanding IO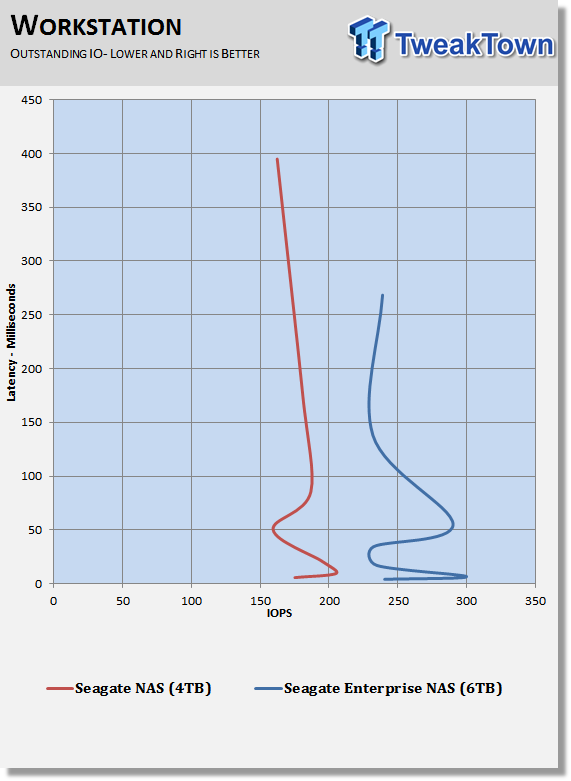 Maximum Latency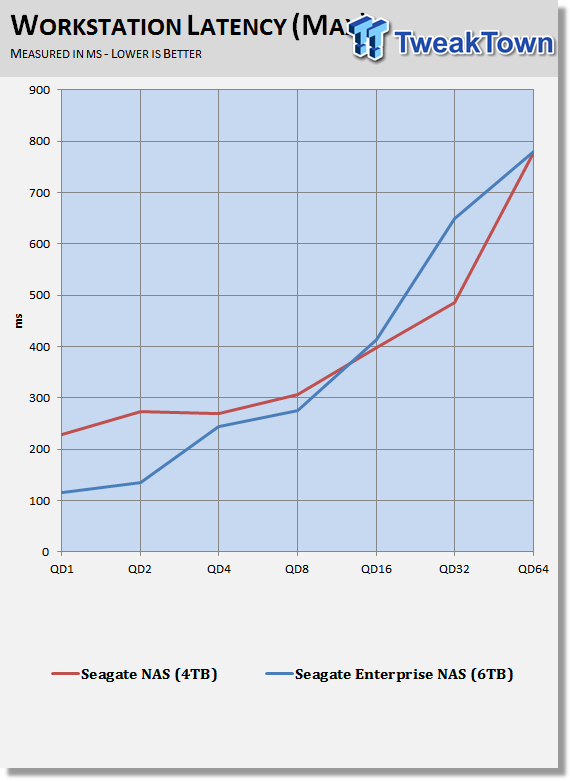 The workstation test shows the largest difference between these two workhorse HDDs designed for NAS use.
Benchmarks - Multi-Client Test
The Intel NAS Performance Tool (NASPT) is an excellent way to determine NAS performance in a single user environment. Any review that only uses NASPT assumes that only a single computer will access the target NAS at once. We took issue with this method of testing, and spent over a year designing, building, programming, and finally validating the TweakTown Multi-Client Test.
The test uses Microsoft Office data recorded to traces, and played back to the NAS from up to 120 client Windows 7 installations (clients). We record total throughput of all clients, and average response time per client.
Over time, we'll populate the two multi-client charts with several NAS products from a span of categories. The products range from a dual Xeon server with 2x 10GbE to a two-bay NAS with a single gigabit Ethernet connection. The products will fall into their performance categories based on performance, and not marketing material or opinion.
Throughput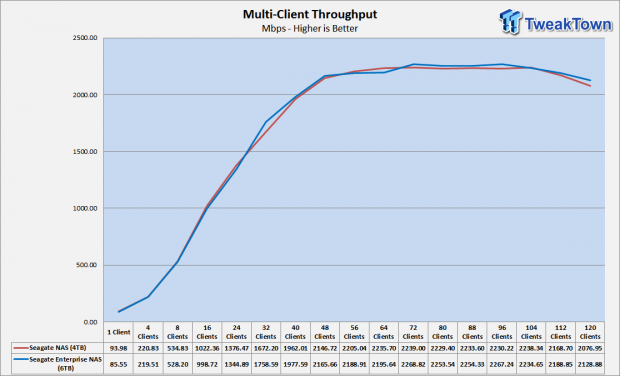 Surprisingly, our custom multi-client test didn't show a much of a difference until we got all the way to 120 clients reading and writing Microsoft Office data to and from the NAS. This test usually shows large differences in different HDDs in a NAS, but not this time.
Latency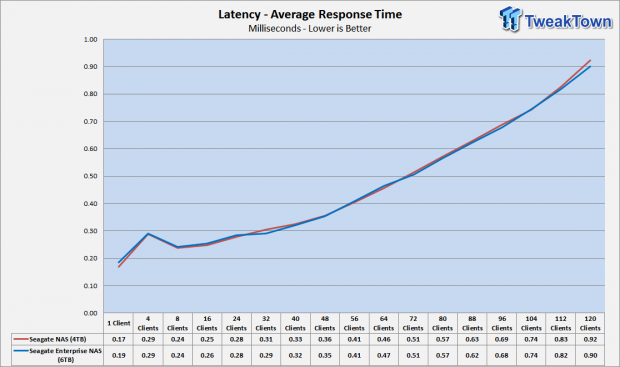 The latency test shows us the same, nearly identical performance with both sets of drives in the multi-client test.
Final Thoughts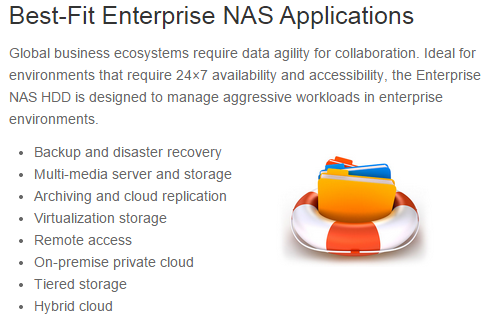 Before NAS specific hard drives came to the market, some systems were built with ill-equipped desktop HDDs, and others with enterprise products with more features than needed for the installation. The WD Red and Seagate NAS brought us out of the dark ages for smaller systems. The next logical step is to move forward and tackle larger NAS systems, which is a rapidly growing market.
One reason for the SMB NAS market's growth in popularity is the number of roles these products converge upon. In our NAS reviews, we talk about file, email, database, cloud, and download services, but those are only the tip of the capabilities offered in modern day NAS systems.
The most recent products introduced on-system virtualization and other features that put more emphasis on random performance. The NAS is no longer just a vault for large sequential file storage and playback. To meet these new demands, Seagate has increased the spindle speeds, and tuned the DRAM buffer.
Without serious competition in the 5TB and 6TB size, these models come at a significant premium. The Enterprise NAS 4TB, 3TB, and 2TB models are priced to compete with existing products on the market, and offer an excellent five-year warranty.
PRICING: You can find the Seagate Enterprise NAS HDD 6TB for sale below. The prices listed are valid at the time of writing but can change at any time. Click the link to see the very latest pricing for the best deal.
United States: The Seagate Enterprise NAS HDD 6TB retails for $439.99 at Amazon.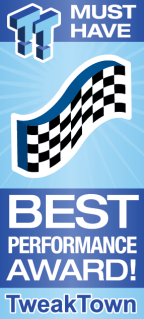 | | |
| --- | --- |
| Performance | 95% |
| Quality including Design and Build | 95% |
| General Features | 96% |
| Bundle and Packaging | N/A |
| Value for Money | 89% |
The Bottom Line: With a high spindle speed and more cache than other products, Seagate built the ultimate large capacity NAS HDD.
PRICING: You can find products similar to this one for sale below.

United States: Find other tech and computer products like this over at Amazon.com

United Kingdom: Find other tech and computer products like this over at Amazon.co.uk

Australia: Find other tech and computer products like this over at Amazon.com.au

Canada: Find other tech and computer products like this over at Amazon.ca

Deutschland: Finde andere Technik- und Computerprodukte wie dieses auf Amazon.de
We openly invite the companies who provide us with review samples / who are mentioned or discussed to express their opinion. If any company representative wishes to respond, we will publish the response here. Please contact us if you wish to respond.
Related Tags