ViewSonic VX2880ml 28-inch 4K 30Hz Monitor Review
ViewSonic has a super-light 4K-capable monitor with its VX2880ml, designed for the professional market, but not so much for gamers.

Published Tue, Dec 16 2014 1:08 PM CST
|
Updated Tue, Nov 3 2020 6:59 PM CST
Introduction, Pricing and Specifications
Before I started working at TweakTown, I worked at a retailer Down Under, selling high-performance gaming PCs and the associated technology and software to go with it. ViewSonic was never really a brand that people wanted against the likes of Samsung, LG or Dell when it came to monitors, but there were always sparkling stars in ViewSonic's lineup that sold well.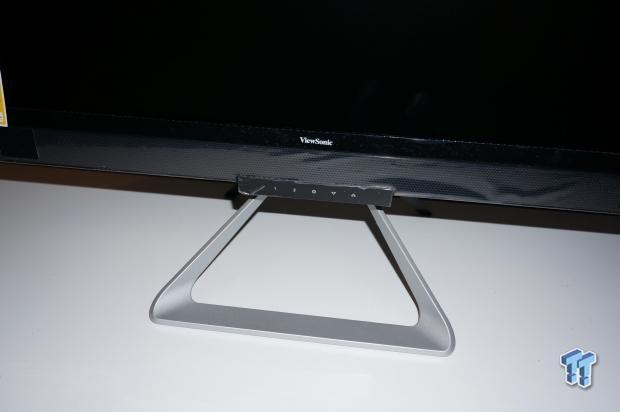 One of the monitor that I sold truckloads of was the ViewSonic VX2835vm, which was a 28-inch 1920x1200 LCD monitor with a single HDMI and VGA port included. At the time, it was priced for a little under $1000 - but this was back in 2007. Since then, we've had seven years go by, but the resolution on 28-inch monitors hasn't really changed.
We've been swaying back and forth from 1920x1080, which became the new norm of LCD resolutions, to 2560x1440. 4K, or Ultra HD, is finally penetrating the market thanks to huge drops in panel costs. We've seen the 4K monitor push begin with prices of these monitors hitting $600-$700, which opens up an entire new market of consumers - those who didn't want to spend multiple thousands of dollars on a new high-res screen can now spend under a grand, and still get a kick-ass screen.
What we have here today with the ViewSonic VX2880ml, is a cheap 4K-capable LCD with some interesting options on the back. But I don't want to go into that just yet, so let's cover the basics.
Specifications and Pricing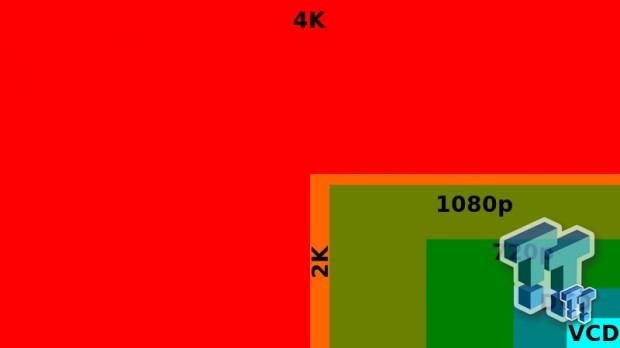 The ViewSonic VX2880ml is a 28-inch 4K monitor based on a 30Hz LCD panel, with a resolution of 3840x2160. We have a 5ms response time, a contrast ratio of 1000:1 backed up by a dynamic contrast ratio of 50,000,000:1. We have three different inputs on the back: DisplayPort, mini DisplayPort and HDMI with the latter being a version 1.4 port. This means that all three ports are capable of driving 3840x2160, which is really quite nice to see. Normally we're locked to one or the other.
Not only do we have a DisplayPort, but we have two. Why two? Because one of them is an output, that allows for DisplayPort-capable monitors to be daisy-chained. This allows you to plug the DisplayPort cable into the VX2880ml and then your PC, with another cable going between your VX2880ml and another DP-capable screen.
There are two 2W speakers on the monitor, a 3.5mm jack for audio, and an external 90W power adapter. On the back we have a VESA mount, too. For those who want to plug in their mobile devices, ViewSonic has provided an HDMI (MHL) port.
Unfortunately, there's no height adjustment or portrait abilities, but we do have a slight pivot to play with. Enough to move the monitor on an angle if it wasn't at the right angle, which is about what I expected from a monitor at this price with 4K abilities.
In the box, we have the monitor itself, an adapter, power cable, DisplayPort cable, mini DP cable, MHL cable, USB 3.0 cable, Quick Start guide, ViewSonic Wizard CD-ROM (with the box contents being different to each market). The one that I received here in Australia didn't include the MHL cable for example.
When it comes to the dimensions and weight, we have: 659mm x 510mm x 240mm (or 25.9 x 20 x 9.44 inches). This all arrives in a package that weighs 4.6kg (or 10.1lbs).
ViewSonic has priced the VX2880ml quite competitively, with it on Amazon for $499.99, down from its original price of $831 - which I think is far, far too high. Near $500 is a perfect price for this display, so let's hope it doesn't go above that in the near future.
PRICING: You can find the ViewSonic VX2880ml 28-Inch 4K Ultra HD Monitor for sale below. The prices listed are valid at the time of writing but can change at any time. Click the link to see the very latest pricing for the best deal.
United States: The ViewSonic VX2880ml 28-Inch 4K Ultra HD Monitor retails for $499.99 at Amazon.
Canada: The ViewSonic VX2880ml 28-Inch 4K Ultra HD Monitor retails for CDN$564.99 at Amazon Canada.
Out Setup & Configuration
I used the ViewSonic VX2880ml for around two weeks for the review, as my main monitor for work, as well as some gaming when I could fit it in.
Our Setup
This is what I'm running:
CPU: Intel Core i7 4930K processor w/Corsair H100i cooler (stock clocks)
Motherboard: ASUS Rampage IV Black Edition
RAM: 16GB Corsair Vengeance Pro of 2400MHz DDR3
GPU: NVIDIA GeForce GTX 980 (reference) in SLI
Storage: 240GB SanDisk Extreme II and 480GB SanDisk Extreme II
Chassis: InWin X-Frame Limited Edition
PSU: Corsair AX1200i digital PSU
Software: Windows 7 Ultimate x64
Drivers: GeForce 340.43
We'd like to thank all of our partners for their support, as this couldn't be possible without NVIDIA, ASUS, Corsair, SanDisk, or InWin. Without them, we wouldn't have the hardware here to test today, so I'd like to thank them all for providing us with the hardware here in my lab.
Configuration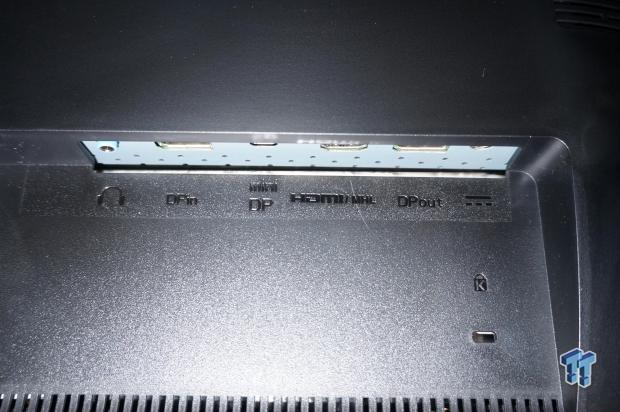 One of the best features of the VX2880ml is the DisplayPort daisy chaining ability, which allows for multiple monitors to be daisy-chained together into the single DisplayPort output of your PC. This is great for those who only have a single DP out, but with more and more GPUs - such as the GTX 980s we used in our testing - coming with multiple DP outputs, it's not such a big seller.
Two daisy-chained displays can be used, with a maximum supported resolution of 2560x1440 each. If you wanted to have four additional displays daisy-chained, they have a maximum supported resolution of 1920x1080 each.
Above, we have the stand, which is very sturdy for the monitor to be screwed into.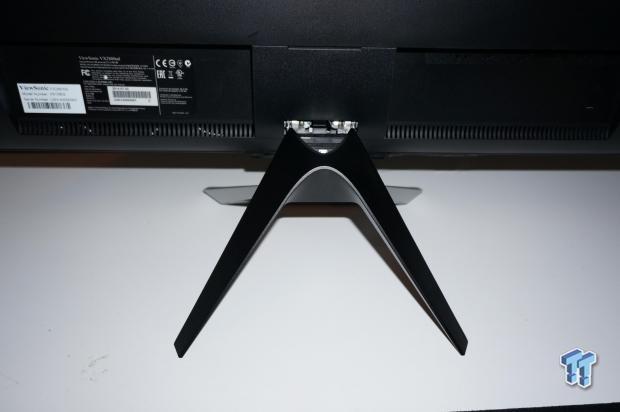 Here we have the monitor on its stand, taking a look at it from behind.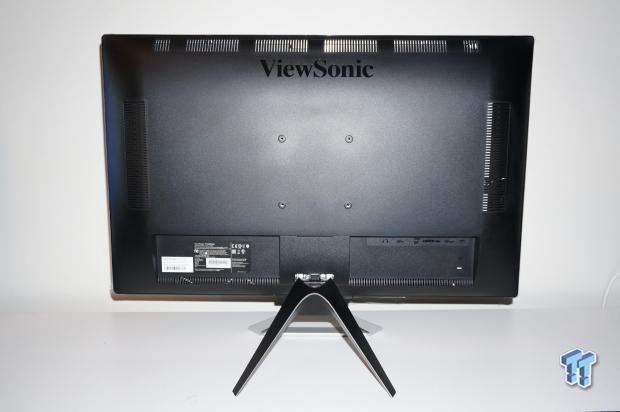 Once again with a shot of the entire monitor, on its stand from behind.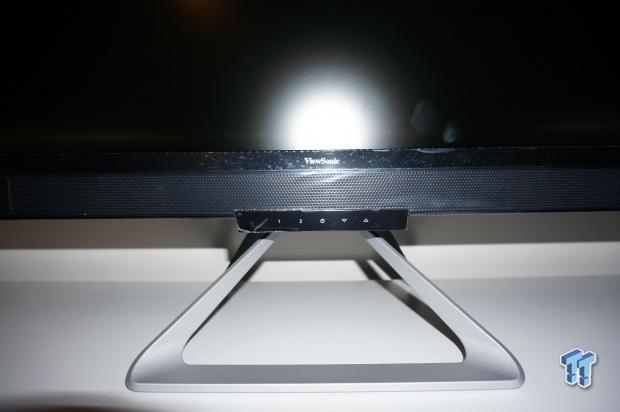 Moving onto the touch-operated users controls on the front, we have five buttons. From left to right, we have '1' which toggles the main on-screen menu, '2' which goes through your display inputs, the center button is the power on/off button, while the down and up arrows on the right brings up some other options.
Down will show the Blue light filter adjustment, while pressing Up opens up the ViewMode menu. If you're in the on-screen menu and press '1', the arrow pads turn into menu navigation controls, while '2' turns into the item select control. When you're in the menus themselves, '1' acts as the 'exit' button. It's confusing, but it works well once you've tinkered around with it for a bit.
Desktop & Gaming Use
Desktop Use
I'm really two minds about 3840x2160 on a 28-inch panel, sometimes it feels fine - looking at images, or video, but when I'm using it for productivity, it's simply too small. A 30-inch (or bigger) display size is much better, allowing everything to scale that little bit more.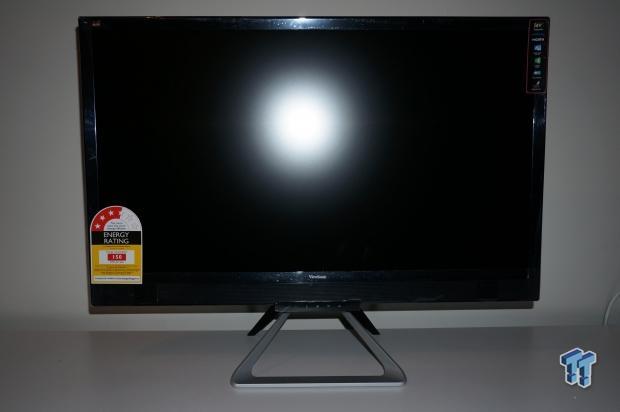 3840x2160 on a 28-inch panel is just too much, sure the pixel density is high, but that's not everything. A 27- to 28-inch monitor should have a maximum resolution of 2560x1440, which is where I personally think it is about perfect. This isn't to say that the ViewSonic VX2880ml was bad, as this isn't ViewSonic's fault - they could have opted for a bigger panel, say 30- or 31-inch, but this would've resulted in a more expensive monitor.
Color reproduction was great, as expected, and so was the general image quality. I have nothing bad to say here about that. The resolution is too high for serious desktop work at 4K, unless you are running Windows 8 or 8.1, and had adjusted the scale of the UI to fit 4K on this 28-inch panel better. Even then, I don't think you'd want to use it long term like this - but again, some people will find it more than fine.
Gaming Use
This is where I'm going to tear into the ViewSonic VX2880ml, but I won't spend too long telling you why you should not buy this monitor for gaming. 30Hz is just, no. It's just no, okay?
But really, this isn't a gaming monitor, folks. This is a monitor for productivity, something we talked about above, but for gaming - it's just subpar. The resolution is too high for a monitor of this size, and while it's nice, the Acer XB280HK 28-inch G-SYNC capable monitor blows it away with not just its 60Hz refresh rate, but G-SYNC technology.
ViewSonic aren't here with the VX2880ml to provide gamers with the perfect Ultra HD display, which is why I think we see all the marketing material concentrate on the DisplayPort daisy-chaining and color reproduction, both of which are great features for the office.
What's Hot, What's Not & Final Thoughts
What's Hot
It's So Light!: This is something I truly didn't expect from the ViewSonic panel; it's just so light! Picking it up, it feels like it's broken - or something is missing, because it's just so light. Great job on the weight there, ViewSonic.
4K Resolution: 4K is great, it really is. It's not for everyone, but for people who are heavy into productivity, this could be the one for you.
Great Color Reproduction: ViewSonic has put some time into the color reproduction of the VX2880ml, something that Photoshop users will really appreciate.
What's Not
30Hz, Ugh: This is just something you can't get past, especially when you've been using 60Hz, or beyond. Coming down from the ASUS ROG Swift PG278Q, with a 144Hz refresh rate, it feels like I've gone from driving in a Ferrari, to walking, no, crawling on the pavement. 30Hz is fine for a static image, but even just moving the mouse cursor around the screen shows just how bad 30Hz is. Really, this monitor should be 60Hz.
Final Thoughts
ViewSonic has a good monitor here, but it's just not great. It's priced better than it was when it launched, but the price isn't everything. 30Hz is just too low these days, especially when you're moving your mouse around the screen and you can see it.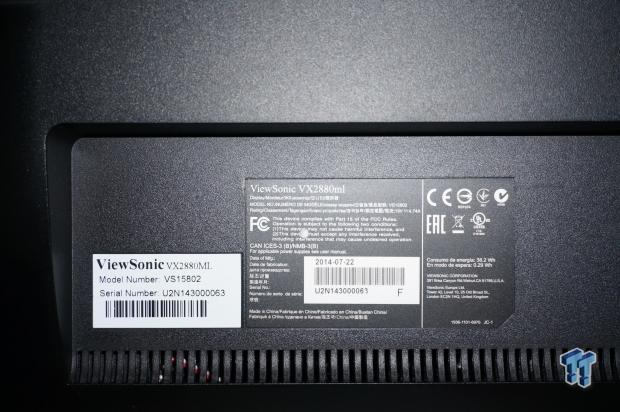 This isn't just coming from someone like me who might game, because I don't game as much as I used to. Even in Windows, 30Hz is abysmal compared to 60Hz. With so many 60Hz-capable 4K displays coming onto the market these days, I don't know why ViewSonic decided to stick with 30Hz. Maybe it was price, maybe it was because they were later to the game on 4K? Who knows.
I would love to see a VX2890ml or similar, with the refresh rate upped to 60Hz. I think if ViewSonic were to do that, they would have a winning chance of selling more. For now, I wouldn't recommend it to most people, unless you're a ViewSonic fan, or don't mind the refresh rate being locked at 30Hz.
If you're using Photoshop or similar, the 3840x2160 resolution is going to be great for you. You'll adjust to the smaller UI, text and other parts of your toolset, but you'll get used to it and wonder how you ever lived on anything less than 4K.
PRICING: You can find the ViewSonic VX2880ml 28-Inch 4K Ultra HD Monitor for sale below. The prices listed are valid at the time of writing but can change at any time. Click the link to see the very latest pricing for the best deal.
United States: The ViewSonic VX2880ml 28-Inch 4K Ultra HD Monitor retails for $499.99 at Amazon.
Canada: The ViewSonic VX2880ml 28-Inch 4K Ultra HD Monitor retails for CDN$564.99 at Amazon Canada.
| | |
| --- | --- |
| Performance | 75% |
| Quality including Design and Build | 80% |
| General Features | 85% |
| Bundle and Packaging | 75% |
| Value for Money | 90% |
The Bottom Line: 4K monitors are getting cheap, with the ViewSonic offering we have here today being a fine choice for professionals. 28-inch is a bit small for 4K, but the color reproduction and daisy-chaining DisplayPort monitor option is a great addition to the VX2880ml. 30Hz, though is a pretty big downside - gamers should avoid it.
PRICING: You can find products similar to this one for sale below.

United States: Find other tech and computer products like this over at Amazon.com

United Kingdom: Find other tech and computer products like this over at Amazon.co.uk

Australia: Find other tech and computer products like this over at Amazon.com.au

Canada: Find other tech and computer products like this over at Amazon.ca

Deutschland: Finde andere Technik- und Computerprodukte wie dieses auf Amazon.de
We openly invite the companies who provide us with review samples / who are mentioned or discussed to express their opinion. If any company representative wishes to respond, we will publish the response here. Please contact us if you wish to respond.