Tesoro Kuven Devil A1 7.1 Virtual Gaming Headset Review
Tesoro has a strange looking, yet great performing PC gaming headset for the price with its Kuven Devil A1 7.1 Virtual Gaming Headset. Here's our review.

Published Tue, Oct 21 2014 4:03 PM CDT
|
Updated Tue, Nov 3 2020 6:59 PM CST
Rating:

90%
Manufacturer: Tesoro
Introduction, Specifications, Pricing, and Availability & Package
Tesoro is a brand you're probably not aware of, but after trying out their latest headset, I think you will be hearing much more about the company going into the future. Tesoro makes a slew of gaming related products, such as keyboards, mice, mouse pads, and audio products.
When it comes to gaming audio, Tesoro has three headsets: the Kuven Angel A1, Kuven Devil A1, and Kuven.Pro True 5.1. The Angel and Devil are the same headset, with the Angel being white, and the Devil being black - did you expect anything less? Both are 7.1 virtual speaker headsets, while the Kuven.Pro True 5.1, as you guessed it, is a true 5.1-channel gaming headset.
Specifications, Pricing, and Availability
What we have here today is the Kuven Devil A1, the black version of the headset, which looks beautiful. It features a unique design and style, which is something we're going to go into more detail about below. For now, let's discuss what the Kuven Devil A1 is capable of.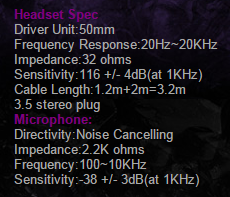 First off, we have 50mm driver units for some serious sound output, the 7.1-channel virtual surround sound, a frequency response of 20Hz~20KHz, impedance of 32 ohms, and the microphone. We have a noise cancelling microphone with an impedance of 2.2K ohms, frequency between 100~10KHz, and it is a high-quality mic to boot.
As for pricing, Tesoro is pricing the Kuven Devil A1 at a devilish price of just $79.99, something we're going to also talk about in detail later.
What's In The Box
A Closer Look & How They Feel
A Closer Look at the Kuven Devil A1 Headset
If our Google Glass unboxing of the Kuven Devil A1 wasn't enough to whet your appetite, then let's look around the headset in more detail before we move onto how it sounds, which is the most exciting part of the experience.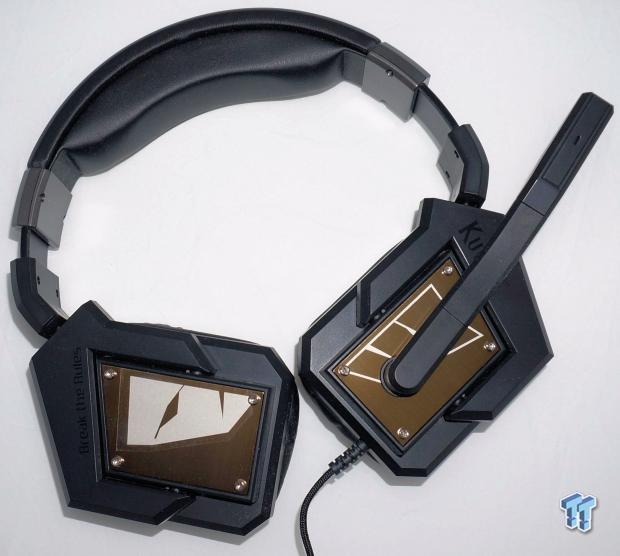 Starting off with a look at the Kuven Devil A1, from the top, you can see the square ear cup design, and the super-long microphone. The massive amount of padding at the top of the headset is also evident here, but we'll take a closer look at that in a minute.
These are some of the most comfortable ear cups I have ever used. You can see that they are quite wide, so they should fit over most gamers' ears.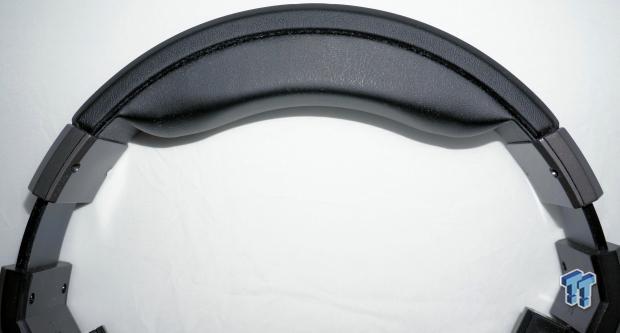 Here you can see that thick headband, which was comfortable for me for hours upon hours of gaming.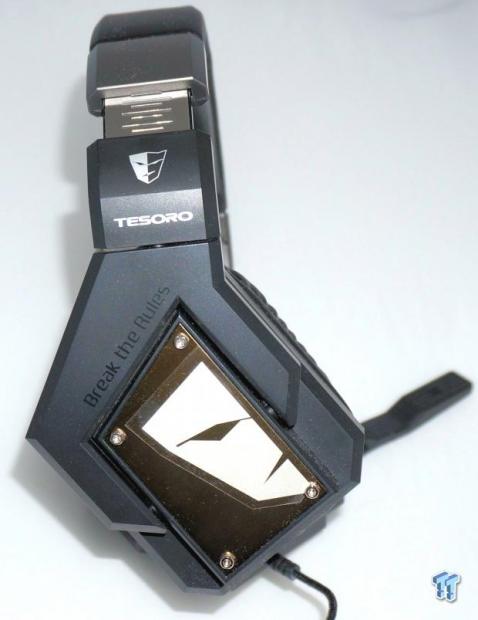 In profile, you can see that Tesoro has its branding, and is telling you to 'Break the Rules'.
On the left, we have one side of the controller on the headset, which allows you to control the volume, and turn the mic on and off. On the back of it, we have the Tesoro logo.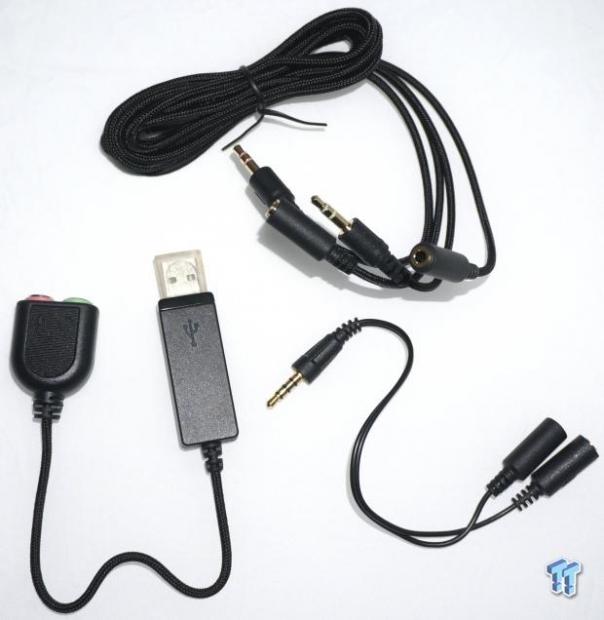 There are three cables in the box, and the top cable is a long, 3.5mm cable that takes both the headphone and microphone cables, and extends them to your PC. To the bottom left, we have the 3.5mm to USB cable, which will convert the cable to USB to plug into devices like notebooks, or if you had speakers on your PC and didn't want to use the 3.5mm jack, the USB port will do. The last cable combines the two cables on the headset itself into a single cable that is capable of being plugged into a device like your smartphone or tablet for listening to music on the go.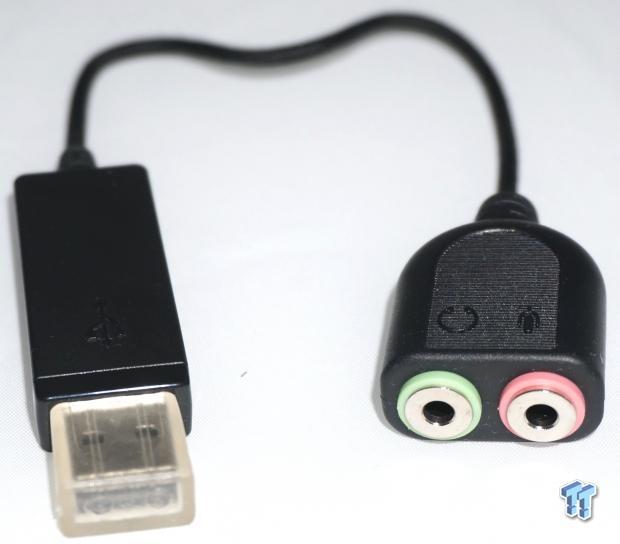 Here is closer look at the USB converter cable.
The Listening Experience, What's Hot, What's Not & Final Thoughts
The Listening Experience
I was so utterly impressed with what Tesoro has provided with its Kuven Devil A1 headset, and at under $80, it's an absolute steal. It's my new favorite headset for under $100, and it's also one of the most comfortable headsets I've ever had the pleasure of wearing.
I've used the Kuven A1 for hours and hours on end, and it is constantly surprising me with its comfort. It has a massively adjustable headband, so much so that when you think it is a little uncomfortable or tight, it feels like it extends from nowhere to adjust that little bit more.
I played Battlefield 4 for around 20-25 hours on the Devil A1, where I was thoroughly impressed with its audio quality. I had BF4 set to "War Tapes" and "Surround" with some super impressive audio being pumped into my ear canals.
While flying through with the chopper, another chopper flew past me to my right, and behind me. I could hear the 'whoosh' of his chopper, and the blades spinning to my right from his propeller. I could hear his mini gun firing up, with bullets whizzing from my rear, to my left and right, and in front of me. The level of surround sound was really quite immersive.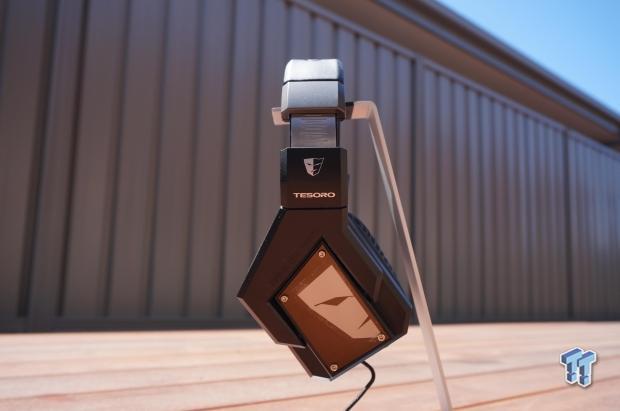 The same goes for in-game shooting, where acting as support, I was laying down cover fire and throwing down ammo packs for my teammates. I could see two enemies in front of me, one was around 200-250m away, while the other was just a block or so away. The soldier in the distance was a sniper, so as I hid behind cover I could hear massive thumps behind me, which were his bullets going above my head and hitting the wall behind me. I could hear distinct whizzes above my head as his bullets missed, which creates a level of immersion that is absolutely incredible for $79.
Better yet, was the engineer who was near the sniper, who kept firing rockets at me and above me, into the ground and wall behind me. The explosions created a nice level of bass, but it definitely could've been better. I was still quite impressed with the level of bass from the Devil A1, but that is something I would definitely like amplified in its successor.
What's Hot, What's Not, & Final Thoughts
For those who want to sum up the entire review in a few points, the What's Hot and What's Not part of my review will help you. Skip right to this bit if you want a quick read, or if you want to find out what I found to be the most notable parts of the Kuven Devil A1; we're going to jump into that right now.
What's Hot
Super Comfortable: When I first looked at the Kuven Devil A1s, I thought they looked comfortable, but they wouldn't be comfortable to wear. Oh, how I was wrong. I took the headset to the first LAN I had been to in many years, using it over a 36-hour period.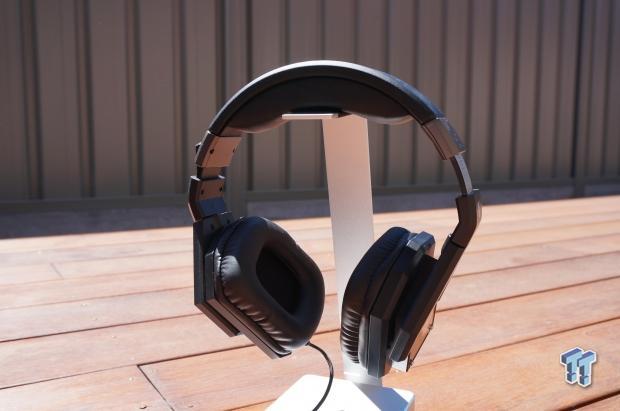 I was gaming for 2-3 hours at a time, wearing the Kuven Devil A1 the entire time. My experience was comfortable the entire time, and I didn't find myself taking the headset off every 30-45 minutes to readjust it to get comfortable again.
Amazing Sound: The sound quality coming from the Kuven Devil A1 is great, with powerful sound, and crystal clear audio for communicating within the game you're playing. I played Battlefield 4 for over 40 hours on this headset, and was in audial bliss the entire time.
USB or 3.5mm: This is another nice touch, as it means you can plug your headset directly into a USB port for ease of use, or into a notebook that might not have a 3.5mm jack. Alternatively, for those with dedicated sound cards, you're going to be plugging this bad boy directly into that 3.5mm jack.
Stylish Design: The Kuven Devil A1 is a headset that I fell in love with much more over time, especially when it came to its design and style. The square ear cups look weird, but are just so comfortable. The metal touches on the ear cups are also really nice, adding to the overall design of the 7.1 virtual PC gaming headset.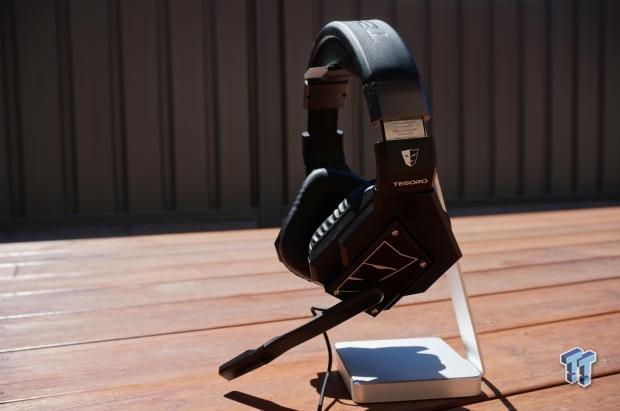 Excellent Microphone: Normally, I don't mind the microphone on most gaming headsets, but the microphone on the Devil A1 needs a mention. It doesn't sit too close to my face, which I really liked. It sits far enough from my face that it doesn't touch my chin, or get close to it, and when it's put away, it's really away - right up close to the ear cup, and nowhere near your face.
What's Not
More Bass Required: This is something I think the successor to the Devil A1 should feature: increased bass. It was pretty much the only thing I thought was lacking in an otherwise near perfect PC gaming headset.
Final Thoughts
I've got to admit: when I first opened up the package, I didn't expect to be finding myself here, thinking that this is one of the best PC gaming headsets I've tested. But, here we are, and that's exactly what I think - the Kuven Devil A1 is one of the best PC gaming headsets I've had the pleasure of testing.
For $79, you're getting a well-made, great-sounding headset, which also happens to look great. It can be used with a normal 3.5mm jack, or USB, has extension cables that are great for notebook gamers who don't want the big cord, or even better for desktop PC gamers who want the ridiculously long cord (like me).
Everything down to the microphone is well-crafted, with a unique shape on the headset itself. I'm thoroughly impressed with every aspect (maybe apart from the lack of deep bass) in the Kuven Devil A1. This is a product that could easily be sold above $100, but for $79, you're getting a damn, damn good PC gaming headset.
If you're in the market for a new headset, and want to try a new player in the market, why not try Tesoro? You'll surprise yourself with how good it is for the price - that's for sure.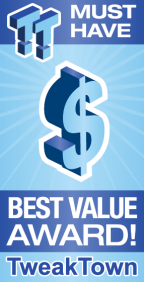 | | |
| --- | --- |
| Performance (Sound Quality) | 90% |
| Quality including Design and Build | 95% |
| General Features | 90% |
| Bundle and Packaging | 80% |
| Value for Money | 95% |
The Bottom Line: Tesoro has a damn impressive headset here with the Kuven Devil A1, and for $79. Unbelievably comfortable, with a super stylish design, 3.5mm and USB options, and an excellent mic. Perfect for gamers, though it's lacking a bit in the bass department.
PRICING: You can find products similar to this one for sale below.

United States: Find other tech and computer products like this over at Amazon.com

United Kingdom: Find other tech and computer products like this over at Amazon.co.uk

Australia: Find other tech and computer products like this over at Amazon.com.au

Canada: Find other tech and computer products like this over at Amazon.ca

Deutschland: Finde andere Technik- und Computerprodukte wie dieses auf Amazon.de
We openly invite the companies who provide us with review samples / who are mentioned or discussed to express their opinion. If any company representative wishes to respond, we will publish the response here. Please contact us if you wish to respond.
Related Tags