Crucial Ballistix Sport DDR4-2400 32GB Quad-Channel Memory Kit Review
Crucial sent over a 32GB DDR4 RAM kit that stood out as a great buy at first sight. Let's look closer to see if it's true in Shawn's full review.
Published Tue, Oct 7 2014 4:14 PM CDT
|
Updated Tue, Nov 3 2020 6:59 PM CST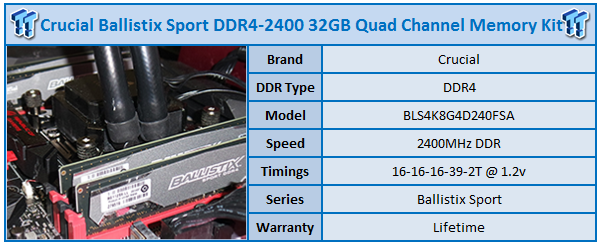 The other day we got a chance to take a look at a 16GB G.Skill kit that carried with it a stock clock of 2400MHz DDR. The default rated memory speed for the new Intel X99 platform is 2133MHz DDR. If you're looking for something that offers a little bit more of a kick, though, you can move up to 2400MHz DDR, which is the next jump in speed.
The G.Skill kit we looked at the other day was a great kit of memory that came in at an excellent price point. After testing the ADATA 2x 32GB kit, though, it felt like the sweet spot for people wanting a serious amount of RAM was at the 32GB level. It offered a solid amount of RAM, without the painful price tag that is associated with 64GB of DDR4.
When Crucial said they're launching their new line of DDR4 kits, taking a look at price and the general knowledge of the DDR4 market gained in the past few weeks since launch, it looked like I had found the perfect kit of RAM to test from the folks over at Crucial.
Taking a look below, you can see the new Crucial Ballistix Sport kit. The heat sink design here is really cool, as it's more a protector than anything else. If we've really learnt anything about RAM over the last few years, it's that the heat sink most companies use is more cosmetic than anything else. It's simply a plate that covers each side of the RAM kit with this particular one coming in grey.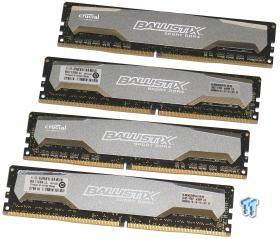 Both sides of the plate show the Ballistix Sport DDR 4 logo. One side also shows the Crucial logo on the left, while the other side carries with it a pair of stickers. The left side is a serial number and information related to that, while the right side gives us a run down on some of the main specifications that the kit holds.
Moving in a bit closer, you can see the sticker on the right that gives us the main speed and timings. You can see this particular kit is a 2400MHz DDR kit and comes with a 16-16-16-39-2T timing setup at 1.2v. As for the size of the kit, we're dealing with a 32GB one, which consists of four 8GB modules.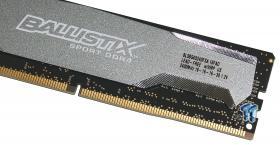 As we move in closer here, we also get a closer look at the plate that Crucial installed and you can see the iridescent grey color, which looks awesome, especially against the black PCB that Crucial has opted for. All in all, this is a really nice looking kit that looks fairly impressive.
Coming in at 2400MHz DDR, we knew that when it came to running the kit at stock, we'd run into absolutely no problems. Taking a look below, you can see we indeed ended up in Windows at 2400MHz DDR with a 16-16-16-39-2T with the default 1.2v. You can also in the top left corner we're running a total of 32GB of DDR4 RAM across the four modules.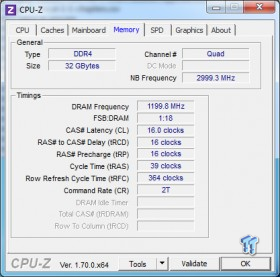 With everything working, it was time to head back into the BIOS to see just what kind of performance we could get out of the kit. On one hand, we expected overclocking ability to not be too bad because of the more relaxed timings. On the other hand, we knew that it can be slightly impacted because of the fact that we're dealing with larger 8GB modules instead of the normal 4GB ones we see in 16GB quad-channel kits.
Still, with all that said, we were back in the BIOS and adjusting the memory divider, along with the voltage to 1.35v, which seems to be the sweet spot when it comes to maximum voltage on DDR4. Everything was going strong until we hit the 2800MHz DDR divider. At 2800MHz DDR, our system wouldn't boot, so we had to head back into the BIOS and move down to the next one.
Once we'd done that, we as always adjust the BCLK to see if we can get some extra MHz out of the kit. Funnily enough, we ended up with our BCLK coming in at 105. This combined with the memory divider resulted in our memory coming in at 2799MHz DDR. We actually could get into Windows as high as 2850MHz DDR with an even higher BCLK, at this point, though, the system was unstable.
With everything looking as it should, as always, I head back into the BIOS one more time to overclock our i7 5960X and see just how much performance we're able to get out of the kit. Due to the higher BCLK, I was a little limited when it came to the multiplier that could be reached. In the end, we stopped at 43x. Combined with the 105 BCLK, we ended up with a CPU clock of 4513MHz.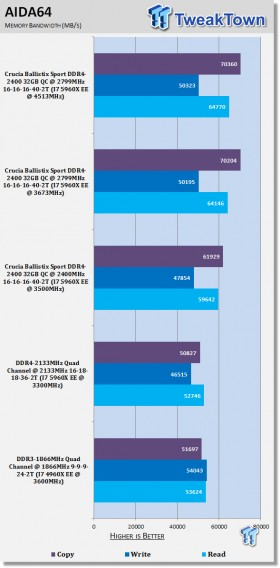 Firing up AIDA64, you can see out of the box, the Crucial kit brings with it a nice performance boost when compared to the stock 2133MHz DDR clock. As we move the kit up to 2799MHz DDR, you can see that the Copy and Read performance sees an awesome performance boost, while the write sees a nice bump, but not quite as significant. When we throw CPU overclocking into the mix, you can see the massive overclock really does little to overall RAM performance with the numbers not really moving. This is of course very typical as we've seen the last few Intel chipsets not offer added RAM performance when CPU overclocking has come into the equation.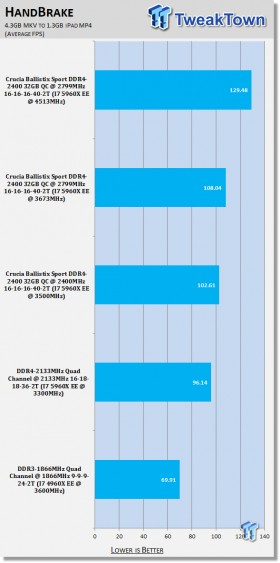 Taking a look and HandBrake, we can see that we see that performance is slightly increased when compared to the 2133MHz DDR clock speed, thanks to the extra CPU MHz. Moving from 2400MHz DDR to 2799MHz DDR brings with it a nice little bump in performance here. This is also thanks to the CPU clock that has been increased thanks to the higher 105 BCLK we needed to increase the RAM clock speed.
Finally, we finish up with our 32GB Crucial kit running at 2799MHz DDR and our CPU running at just over 4.5GHz. Taking a look at the HandBrake graph, you can see we see a fantastic increase in performance that sits the average encode FPS at almost 130.
While the 16GB G.Skill kit we looked at the other day was priced at the mid $200 mark, two kits of that to make up a total of 32GB was going to set you back around $500. The Crucial kit, on the other hand that we're looking at today, comes in at the mid $400 price point and also carries 32GB of RAM across four modules, instead of eight. While most likely not needed, the other benefit outside of the more aggressive price tag here is the fact that you can also expend with a second 32GB to give you a total of 64GB for under $1,000.
The cheaper price tag does come at the cost of slightly looser timings, but as you start to move to this level of RAM, you'll find more people prefer to have the larger amount verse the slightly more aggressive timings - especially if it gives them the ability to save some money in the process.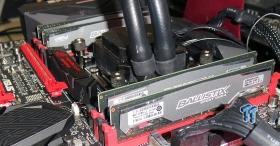 32GB seems to be the sweet spot when it comes to making sure all your bases are covered. The price associated with it isn't as insane as the 64GB kits, and it's a solid increase over the standard 16GB kits that most people will be looking at. As for speed, 2400MHz DDR is also a great number for people who are looking for something that is quicker than that standard 2133MHz DDR clock, but again don't want to spend the money associated with higher speed kits.
Moving from 2400MHz DDR to 2666MHz DDR, which is the next step up, you're seeing about an extra $150 added to the price tag for 32GB kits. Moving up higher and higher brings with it quite significant jumps as 2800MHz DDR kits are around $700 and 3000MHz DDR kits are around the $900 mark.
If you're looking for a solid 32GB kit of DDR4 RAM across four modules, this Crucial kit we're looking at today could be perfect. While the timings are a little more relaxed, the quality of the kit is awesome, and the overall price point it hits at is excellent. In the end, if you want some more MHz for free, you can always head into the BIOS and bump up the memory divider.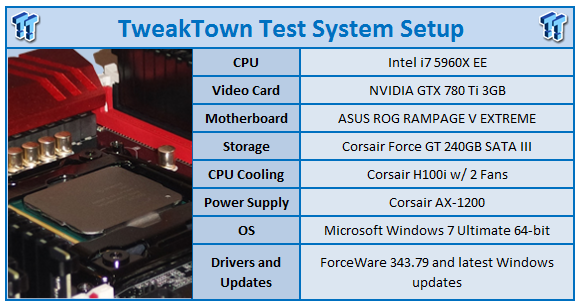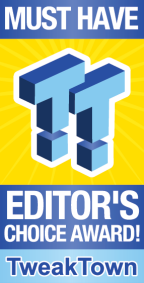 | | |
| --- | --- |
| Performance (including Overclocking) | 96% |
| Quality including Design and Build | 95% |
| General Features | 97% |
| Bundle and Packaging | N/A |
| Value for Money | 99% |
The Bottom Line: While the timings are a little more relaxed on this Crucial Ballistix Sport DDR4-2400 32GB quad-channel memory kit, the simple fact is that Crucial offers a ton of memory at an awesome price point, while also offering some good overclocking on a kit that really looks fantastic with its grey iridescent heat sink on the black PCB.
PRICING: You can find products similar to this one for sale below.

United States: Find other tech and computer products like this over at Amazon.com

United Kingdom: Find other tech and computer products like this over at Amazon.co.uk

Australia: Find other tech and computer products like this over at Amazon.com.au

Canada: Find other tech and computer products like this over at Amazon.ca

Deutschland: Finde andere Technik- und Computerprodukte wie dieses auf Amazon.de