ADATA XPG Z1 DDR4-2400 64GB Quad-Channel Memory Kit Review
64GB of DDR4 - it looks and sounds impressive. Let's see what this ADATA XPG 2400MHz DDR RAM kit is all about and how it performs as tested by Shawn.
Published Tue, Sep 16 2014 12:20 PM CDT
|
Updated Tue, Nov 3 2020 6:59 PM CST
Rating:

93%
Manufacturer: ADATA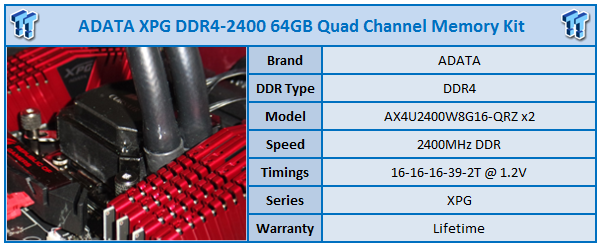 From the moment I saw it packaged, it looked sexy. Opening the four individual packages with their infuriating blister pack, while annoying, gave a larger sense of the reward at the end. There's just something about opening a kit of memory that consists of eight modules and carries a price tag in excess of $1,100. That's exactly what we've got on our hands today, though.
At the moment the main focus of DDR4 kits we've looked at have been about speed, so much so that we've already seen a Corsair kit that carried with it a massive stock clock speed of 3200MHz DDR. And the focus has also been on 16GB kits. For X99, 16GB seems to have become the new standard. Considering you need four modules to run a Quad-Channel setup, this doesn't come as a huge surprise since 4GB modules are the most common these days.
When we started to look at larger kits, I figured that the next size up would be a 32GB one. Either by four modules or eight. ADATA decided to just say forget about that, and instead opted to send over a massive 64GB kit of RAM.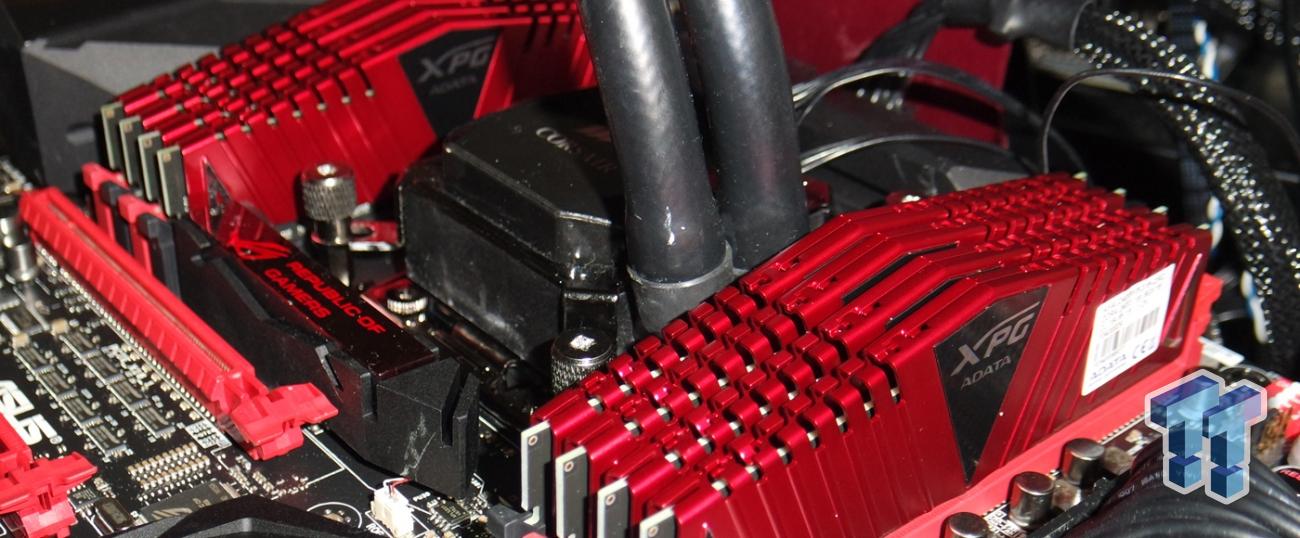 Out of the packaging, you straight away notice that this is a good looking kit. Combing the red heat sink with a black PCB is a combination that never disappoints, especially when you combine it with a board like the ASUS Rampage V Extreme. Taking a look above, you can see together they really look awesome, especially with all the DIMM slots full.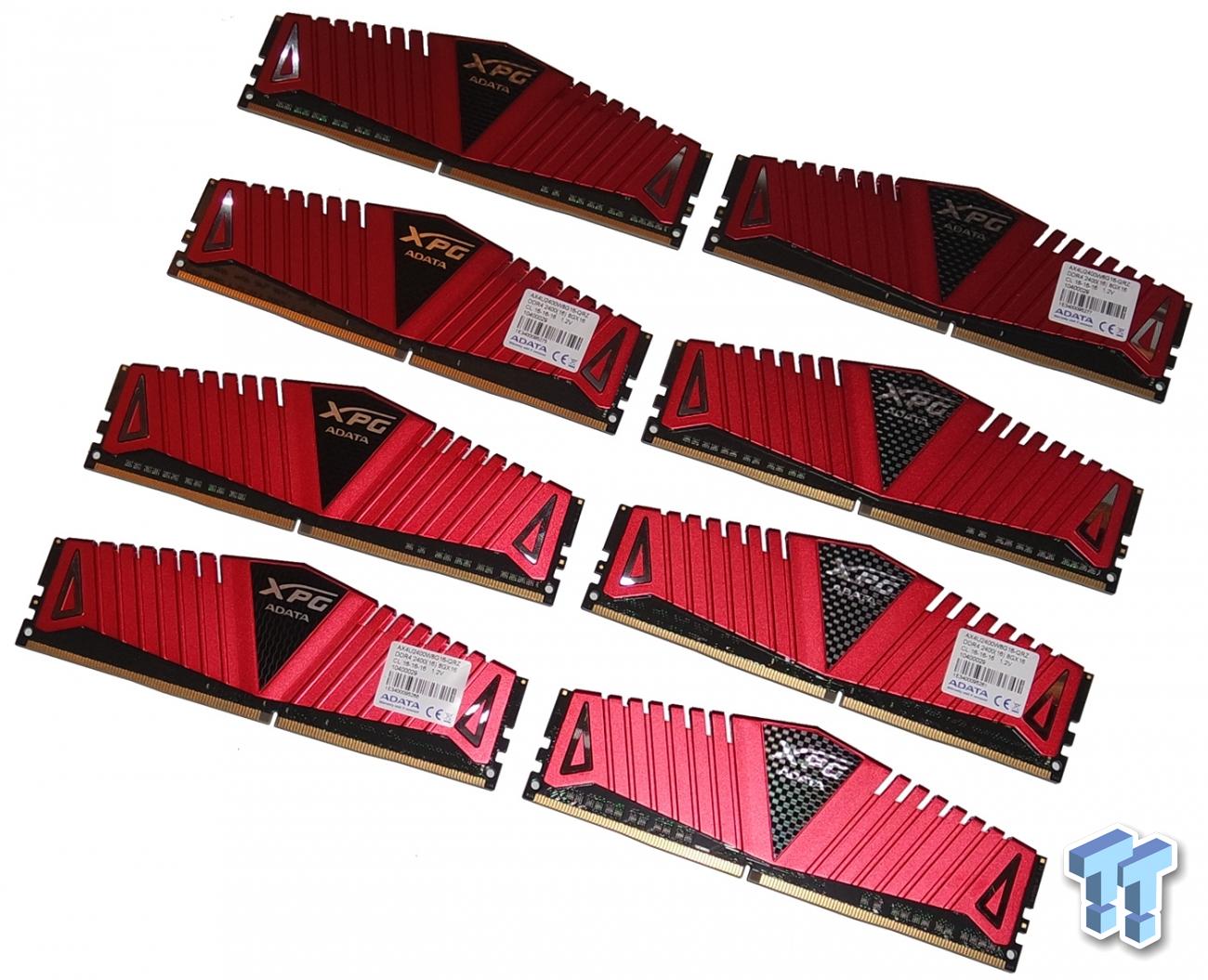 Outside the red and black color theme, though, the carbon fiber look in the middle that holds the XPG and ADATA looks fantastic, and really adds the icing to the cake. Both sides of the RAM kit are near identical with the only difference being one side includes a sticker giving us a run down on some of the main specifications.
As for the overall quality of the modules, the heat sink feels good. This is a solid kit of RAM that looks and feels great in your hands, and the overall design is a breeze to install in your system, thanks to no sharp edges. This is especially handy when you're cramming so many modules so close together.
Moving in a bit closer and taking a look at the sticker, you can see we've got some basic information shown. The AX4U2400W8G15-QRZ refers to one 32GB DDR4-2400 kit. With two on hand, we've got a massive 64GB of DDR4 with a stock speed of 2400MHz DDR. Shown on the kit as far as timings go is 16-16-16, but the extended version of that is 16-16-16-39-2T @ 1.2v.
While these timings are a little relaxed, the voltage is also quite low. One of the big reasons behind the lower timings, though, is the simple fact we're dealing with 8GB modules, instead of the standard 4GB ones we've been seeing lately, combined with the fact you then need to make sure all four work together perfectly. ADATA of course need to cover their bases. The situation becomes even more extreme when you consider the fact that we need eight of these bad boys to work together perfectly.
Turning the system on, it booted up without an issue. Heading straight into the BIOS, the first thing we do is change to the XMP profile. With that set, we hit F10, saved the settings and rebooted. Firing up with no problems, we got into Windows without an issue.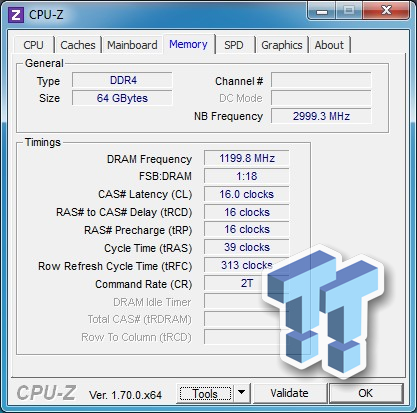 Heading into CPU-Z, we wanted to make sure that our kit was running properly. Looking above, you can see it was indeed running at 2400MHz DDR with a 16-16-16-39-2T setup with just 1.2V. This was a great start and when it came to benchmarking, the kit we ran into absolutely no problems.
With stock not being a problem, it was time to head back into the BIOS and do some overclocking. As great as these new ASUS X99 boards tend to be when it comes to overclocking, I wasn't holding my breath when it came to overclocking a 64GB kit that filled all eight DIMM slots.
With that in mind, we headed back into the BIOS and moved the voltage of the RAM kit up to 1.35v, which is the standard we're seeing for higher performance kits. While we could probably go as high as 1.4v, we didn't want to go too crazy. So, already at 2400MHz DDR, we figured the best thing to do was move up the RAM divider.
Step one was to move to 2600MHz DDR. It was wishful thinking, but 200MHz DDR extra on this massive kit, I really thought was something that wasn't going to happen. Much to my surprise, we got into Windows without an issue. Headed into CPU-Z to see how everything looked and found everything looked right. With that working, it was time to head back into the BIOS and move to the 2666MHz DDR divider. Again, we got into Windows without a problem.
Our next step up was the 2800MHz DDR divider and here we ran into issues - not too much of a surprise. Before we stop at 2666MHz DDR, though, with a bit of fine tuning on the BCLK, we can see if we can get any higher. Moving the BCLK 1 at a time to find the sweet spot, we eventually found the perfect number.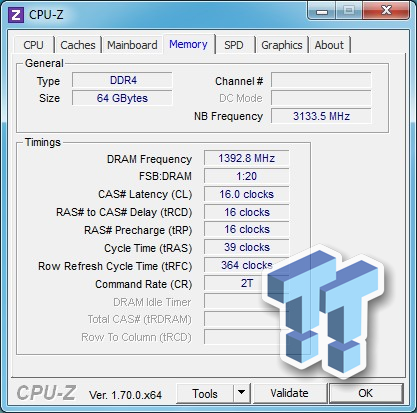 With the 2666MHz DDR divider working without an issue, the final BCLK we ended up on was 104.5. Combined with that divider, that brings our 64GB DDR4 ADATA kit in at a solid 2786MHz DDR using the same 16-16-16-39-2T timings, which can be seen above. Because of the increased BCLK, when combined with the stock 35x CPU multiplier, our CPU clock is also slightly elevated to 3657MHz from 3500MHz.
With everything looking so strong, there was only one more thing we needed to do. Heading back into the BIOS, it was time to increase our CPU voltages and up the CPU multiplier to see just how much performance we could get from this kit. With our memory remaining at 2786MHz DDR with a 16-16-16-39-2T @ 1.35v setup, we pushed our CPU multiplier up to 44x. Combined with 104.5 BCLK, this brings our final CPU clock in at 4597MHz or nearly 1100MHz over the stock turbo speed of 3500MHz.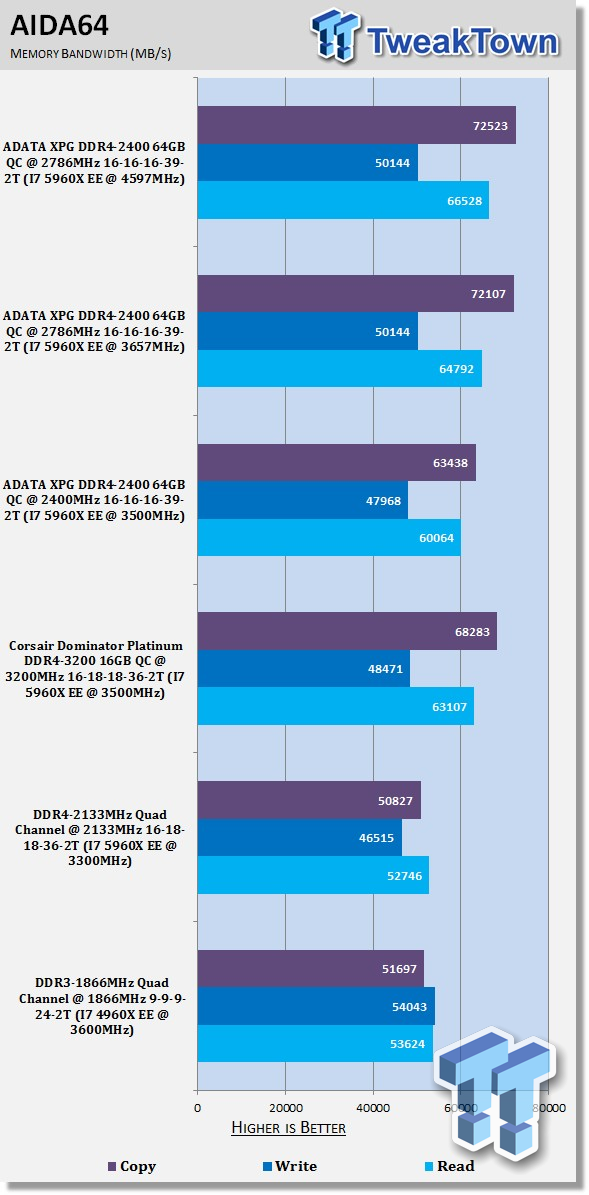 When it comes to the overall cost of this kit, one kit that sits close to it is the 3200MHz DDR 16GB Corsair kit. While under $1,000 still, it is getting up there when it comes to price. Looking above, you can see that with both kits at stock, the Corsair kit clearly comes out ahead. The difference in overall bandwidth varies from 5 - 8% depending on the test. As we climb up the speed table, though, you can see at 2786MHz DDR, the ADATA kit comes out ahead thanks to its slightly more aggressive timings.
When it comes to the overclocking side of things, we normally don't see much change. Looking above, though, you can see that while the write performance is identical, the Read and Copy speeds jump up ever so slightly. Thanks to the more aggressive timings, you can see that performance tends to be quite strong when it comes to raw bandwidth.
When it comes to HandBrake performance, you can see that clock for clock, the Corsair Dominator 3200MHz DDR kit comes in at about 2% faster when our CPU is at 3500MHz. As we move to 2786MHz DDR and the CPU jumps slightly, we close the gap between the previous results and pass the Corsair by about 3%. The biggest jumps comes when our CPU is increased to 4597MHz. Compared to the stock result, we see a gain of around 30% thanks to the massive increase in speed.
The market for people who buy 64GB of DDR4 is going to be extremely small, and for obvious reasons. The first is, to get into a setup like this, you're talking in excess of $1,000 just for the memory. You're also going to see little benefit to the added memory in a lot of scenarios. Saying that, there is a clear market for people who need this much RAM. If you're using a computer with multiple clients, you're going to quickly start sucking up RAM.
If you're one of those people who also love to leave their computer running constantly and have a ton of apps open, you might be surprised just how much RAM you're using. Between Photoshop, Chrome, Word and a few other basic programs, I'm personally using nearly 11GB right now. That doesn't take any editing into the equation. If I want to start gaming, I would probably be best to shut down a few of the more RAM heavy programs.
64GB might be a little on the extreme end of things. Going down a notch, though, and using just four modules, you're looking at half the price, and that translates to around the mid $500 area. Sure, it's still a lot of money, but if you're talking about $1000 on a CPU, $1000 on a video card setup and $500 on a strong SSD drive, then throwing another $500 odd into the mix for 32GB of DDR4 doesn't seem so bad overall.
While 16GB is going to be the mainstream kit people buy, it's safe to assume that enthusiasts looking to have some serious random access memory on hand will opt for the 32GB. It's easy to get "wowed" with what we've got here today. For starters, 64GB of DDR4 just sounds epic. Secondly, looking at the ASUS Rampage V Extreme with full banks of memory looks amazing. On top of that, the fact that we got such an overclock out of this setup is just amazing. It's not only a testament to the quality of the ADATA kit we've got here, but it also shows just how strong this ASUS motherboard is once again.
In its entirety, this ADATA XPG Z1 64GB 2400MHz DDR4 kit is just awesome. The nerd inside me would say if you can afford it, buy it. When the part of my brain that controls reasoning kicks in, though, the bottom line is you don't need this much RAM, unless you're using your computer in an extremely professional environment, or you just have money to burn.
Pushing that aside, though, what is really attractive here is the 32GB setup. It gives us plenty of RAM, hits at a fairly strong price point, and offers overall great performance. ADATA might not be one of the first companies that come to mind when thinking about what RAM kit to buy, but here again, the XPG line from them proves the company makes some quality RAM that deserves to be in your system.
PRICING: You can find the ADATA XPG Z1 DDR4 DRAM MODULE (AX4U2400W8G16-QRZ) 2400MHZ 4x8GB Kit for sale below. The prices listed are valid at the time of writing but can change at any time. Click the link to see the very latest pricing for the best deal.
United States: The ADATA XPG Z1 DDR4 DRAM MODULE (AX4U2400W8G16-QRZ) 2400MHZ 4x8GB Kit retails for $639.99 at Amazon.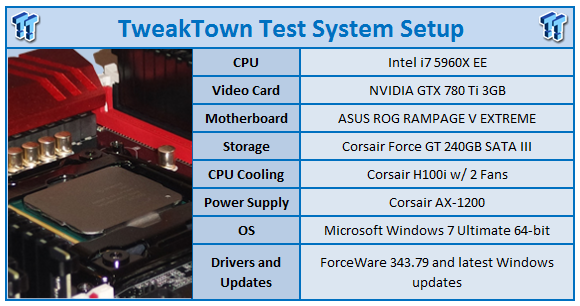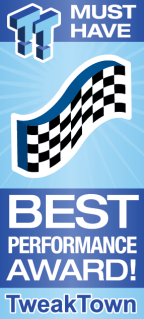 | | |
| --- | --- |
| Performance (including Overclocking) | 95% |
| Quality | 95% |
| General Features | 95% |
| Bundle and Packaging | 90% |
| Value for Money | 90% |
The Bottom Line: 64GB might be a little on the extreme end, but half the kit and half the price, and 32GB of this DDR4 2400MHz DDR XPG Z1 memory from ADATA becomes a dream kit for people who are looking at getting some serious RAM that isn't going to bust the bank account wide open. Still, if you want to be extreme, go and buy 64GB of this stuff!
PRICING: You can find products similar to this one for sale below.

United States: Find other tech and computer products like this over at Amazon.com

United Kingdom: Find other tech and computer products like this over at Amazon.co.uk

Australia: Find other tech and computer products like this over at Amazon.com.au

Canada: Find other tech and computer products like this over at Amazon.ca

Deutschland: Finde andere Technik- und Computerprodukte wie dieses auf Amazon.de