G.Skill Ripjaws4 DDR4-2400 16GB Quad-Channel Memory Kit Review
G.Skill sent over a cheaper and slower DDR4 RAM kit for Shawn to review. Let's see if this DDR4-2400 kit is worth considering as we overclock it.
Published Thu, Oct 2 2014 4:10 PM CDT
|
Updated Tue, Nov 3 2020 6:59 PM CST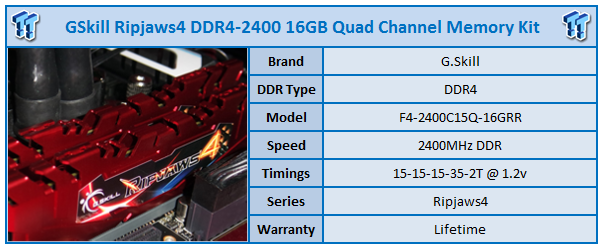 We've been a little quiet on the X99 front the last week or two and really it's for good reason. The new Maxwell line of video cards from NVIDIA are nothing short of stellar. Not only have they got the attention of us, but they've also got the attention of PC enthusiasts the world over. Today, we're moving back to our X99 machine, with a DDR4 kit that arrived recently.
As weird as it is to say, the kit we're looking at from G.Skill is one of the more value orientated ones that we've seen so far. We've taken a look at a number of DDR4 kits since the launch of the Intel X99 platform, but we must say the first Ripjaws4 kit we looked at from G.Skill, which carried a 3000MHz DDR clock speed, really impressed us. Bringing with it some strong performance at quite an aggressive price point, we saw a kit from G.Skill that really stood out from the large amount of DDR4 that launched at the same time.
Today, taking a look at the kit below, you can see the overall design is pretty much identical to the 3000MHz DDR kit we looked at recently from G.Skill. You can see we've got the same red heat sink design and against the black PCB, we end up with a kit of RAM that really looks great.
While both sides have the G.Skill Ripjaws4 sticker on it, you can see that one side of the kit has a sticker covering the Ripjaws4 logo that gives us a rundown on some of the main information. The Ripjaws series from G.Skill has been a great looking kit since inception. Not only that, though, the performance on the kit has been fantastic. Let's move in a bit closer, though, and see just what exactly we're dealing with here today.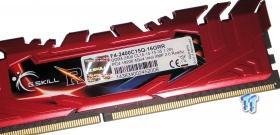 Specification wise, the kit is very similar to the 3000MHz DDR kit we looked at with the 15-15-15-35-2T timing setup. Both kits also come in a 4x 4GB setup offering us a total of 16GB of DDR4 that can be ran in quad-channel memory mode.
The big difference between the two kits is this one comes with a stock clock speed of 2400MHz DDR. The lower clock speed also means that the memory doesn't require the same 1.35v, instead it comes in at 1.2v. This also impacts the price a fair bit - we'll take a closer look at that towards the end, though.
When it came to installing the kit, we knew that we wouldn't run into any problems. Installing the kit into our ASUS ROG RAMPAGE V EXTREME, we headed straight into the BIOS and set the XMP profile to 1. As we expected, our system booted without a single problem and got into Windows.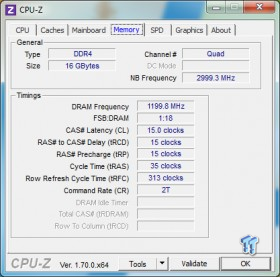 Heading into CPU-Z, we made sure everything was as it should be, and looking above, you can see our kit is indeed running at 2400MHz DDR with the 15-15-15-35-2T setup. After running our benchmarks, we do what we always do and head back into the BIOS to see just what kind of performance we're able to get out of this kit.
Back in the BIOS, the best way to figure out what type of clock speed we're able to get is by moving the memory divider up one notch at a time till it no longer boots. Along with that, we also move the memory voltage to 1.35v, as we know that it's still plenty safe enough on the kits we've tested so far.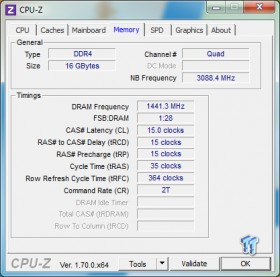 Working our way through the memory dividers, it wasn't until the 2933MHz DDR one was selected that our system would no longer boot. Moving back to the 2800MHz DDR divider, we then attacked the divider with a BCLK adjustment. Taking a look above, you can see this results in our 2400MHz DDR kit now running at 2883MHz DDR, thanks to the 103 BCLK that was achieved. Because of the increased BCLK, we also get a slight increase in our CPU clock, which moves it from 3500MHz to 3603MHz.
Finally, the last thing we do is head back into the BIOS and increase our CPU multiplier to get results with our G.Skill Ripjaws4 DDR4 kit running at its highest overclocked speed, along with our highest overclocked CPU speed. Taking a look below, you can see in our graphs the final result was a 45x multiplier, which when combined with the 103 BCLK, resulted in a final clock speed of 4634MHz on our Core i7 5960X.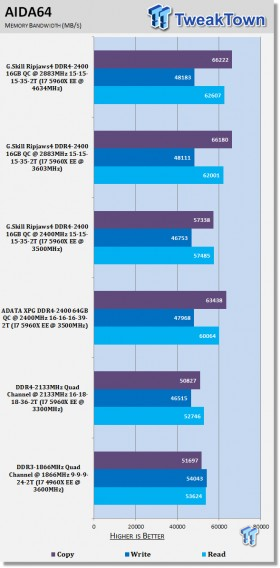 Out of the box, you can see that the G.Skill kit comes in a little slower than the ADATA kit we looked at which carries the same speed, but slightly more relaxed timings. The big difference is that the ADATA kit we looked at consisted of two 32GB kits resulting in a massive 64GB of DDR4. Compared to the SSR3 and stock DDR4 setup, you can see that this G.Skill kit gives us a nice little performance boost in all key areas.
As we move to 2883MHz DDR, though, you see some big movement in the read and copy results. This increase in performance also helps separate it from the massive ADATA kit that managed to sneak slightly ahead. When we throw CPU overclocking into the mix, you can see there's no real difference when it comes to RAM bandwidth. This is something that has been consistent with the last few generations of Intel chipsets.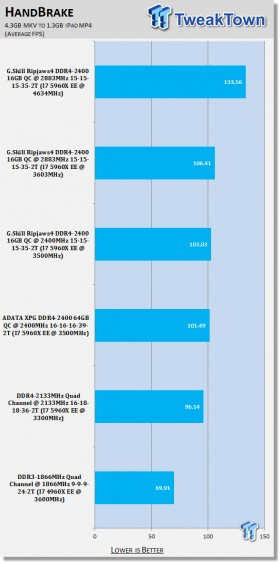 Heading into HandBrake, we start to get a look at the performance of the different setups under a real-world environment. Taking a look above, you can see that in this instance, our G.Skill kit with its slightly more aggressive timings, manages to get out slightly ahead of the ADATA kit that carried with it slightly more relaxed timings.
As we start to increase the clock speeds, we start to see more movement, especially as our CPU clock increases. Moving from our CPU and RAM running at stock to both running at their maximum overclock, you can see an increase of around 30% here. Of course, most of the gains are thanks to the strong increase in CPU clock speed.
The Ripjaws4 DDR4 kit from G.Skill really stands out. While the 3000MHz DDR kit from them came in at around the $400 mark, this 2400MHz DDR kit comes in at the mid $200 price point. Thanks to the strong overclocking potential of the kit, this is a fantastic option for people who are looking for something that's strong and won't break the bank.
2400MHz DDR is the next step up from the standard 2133MHz DDR kit and a fantastic option for people who are looking to get a bit more performance when compared to the default clock speed. Thanks to the lower voltage, we've also got a fair bit of head room as we can move to 1.35v.
If you're looking for a well-priced 16GB kit that offers some added performance out of the box over the default 2133MHz rated kits, this is a nice option. If you then want to see if you can get even more performance out of the kit via overclocking, you've got the ability, as you can increase that default voltage from 1.2 to 1.35v.
Not everyone needs a massive 64GB of DDR4, nor do they need a kit that runs at over 3000MHz. If you're looking for something that isn't too expensive and yet offers some fantastic performance, this 2400MHz DDR4 Ripjaws4 kit from G.Skill is a kit you should be looking at. If you're looking for a bit more RAM, though, the 32GB version of the kit that comes in at a little over $500, and is also a great option to consider.
PRICING: You can find the 16GB G.Skill Ripjaws 4 DDR4 2400MHz PC4-19200 CL15 Quad Channel kit (4x4GB) for sale below. The prices listed are valid at the time of writing but can change at any time. Click the link to see the very latest pricing for the best deal.
United States: The 16GB G.Skill Ripjaws 4 DDR4 2400MHz PC4-19200 CL15 Quad Channel kit (4x4GB) retails for $306.94 at Amazon.
Canada: The 16GB G.Skill Ripjaws 4 DDR4 2400MHz PC4-19200 CL15 Quad Channel kit (4x4GB) retails for CDN$375.85 at Amazon Canada.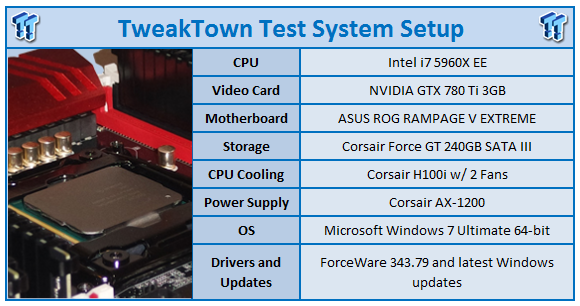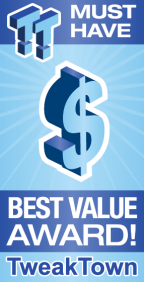 | | |
| --- | --- |
| Performance (including Overclocking) | 95% |
| Quality including Design and Build | 95% |
| General Features | 95% |
| Bundle and Packaging | N/A |
| Value for Money | 98% |
The Bottom Line: If you're looking to get some extra speed over the default X99 memory speeds without breaking wide the bank account, this Ripjaws4 2400MHz DDR4 kit from G.Skill is a fantastic option thanks to an aggressive price point and solid performance.
PRICING: You can find products similar to this one for sale below.

United States: Find other tech and computer products like this over at Amazon.com

United Kingdom: Find other tech and computer products like this over at Amazon.co.uk

Australia: Find other tech and computer products like this over at Amazon.com.au

Canada: Find other tech and computer products like this over at Amazon.ca

Deutschland: Finde andere Technik- und Computerprodukte wie dieses auf Amazon.de