Thermaltake Toughpower DPS G 1050W 80 PLUS Gold Power Supply Review
Thermaltake extends its digital offerings with the DPS G PSU. The new series offers up to 1050W of digitally controlled power, their highest to date.
Published Sep 9, 2014 12:00 PM CDT
|
Updated Tue, Nov 3 2020 6:59 PM CST
6 minute read time
Introduction & Specifications, Availability and Pricing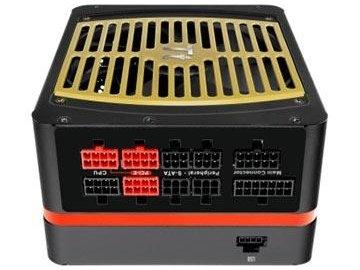 I've said it before and I will say it again, digital power supplies are where the industry is headed. Those that have chosen to adopt and create the technology first are way ahead of the curve right now and in a few years, this is what others will be playing catch up on. Right now, the only two companies that have digitally controlled and monitored consumer units on the market are Corsair and Thermaltake. Both are working feverishly to stay ahead of the curve and the unit that we have today is another effort at doing just that.
The Toughpower DPS G series from Thermaltake is their second iteration of digital power supplies. The first was only available in a select few wattages, but the new series covers a much broader range of outputs, and as such, it should appeal to quite a few more who are interested in a digital unit. Thermaltake is offering the Toughpower DPS G in wattages ranging from 450W all the way up to 1050W. If that doesn't cover most of the PC market, I don't know what does.
For those wondering what the differences are over the DPS G series compared to the DPS series, it is relatively simple. Thermaltake has changed manufacturers between the two. The original units were manufactured by Sirtec and the new ones are made by CWT. In our experience, we have seen better overall quality from CWT-made units. This is apparent in many ways, ranging from components used to how well everything is soldered together. Let's start by taking a look at the specifications to see what all the 1050W DPS G has to offer.
Specifications, Availability and Pricing

The Thermaltake Toughpower DPS G 1050W power supply utilizes a single 12V rail which is capable of providing 100% of the unit's output. This works out to be a whopping 87.5A. Both the 3.3V and 5V rails are rated for 25A with a combined maximum output of 130W. The 5VSB rail is rate for 3.0A or 15W. Combined maximum output for the DPS G 1050W is 1050W.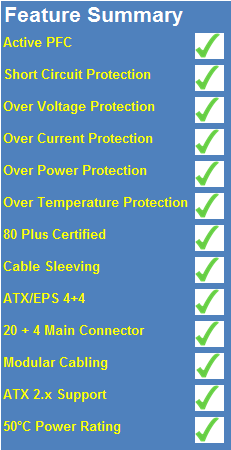 Thermaltake knows that in order to continue their reputation as a top tier PSU manufacturer that they have to deliver when it comes to features. The DPS G 1050W follows suit with that and doesn't miss a beat when it comes to all of the features that we look for. All protections are present including OVP, OCP, OPP, OTP, and SCP. The Toughpower DPS G 1050W is rated for 80 PLUS Gold efficiency. All cables are of the flat ribbon type, including the 24-pin main. Finally, the DPS G 1050W is rated for 100% continuous output at 50C.
Thermaltake lists the Toughpower DPS G 1050W with an MSRP of $209.99. This is very competitively priced unit considering the technology that comes along with it. The only unit that provides the same features and is digital at this time is the Corsair HX1050 which has an MSRP of $10 more than the Thermaltake unit. Thermaltake backs the Toughpower DPS G 1050W with their industry leading seven year warranty.
Package & Inside the Box
Package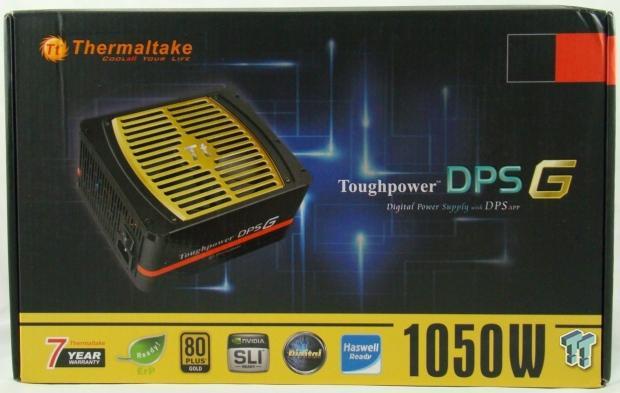 The DPS G 1050W power supply uses nearly identical packaging as the previous generation DPS units. Aside from a few picture changes relating to the physical appearance of the unit and the new components, there is no difference.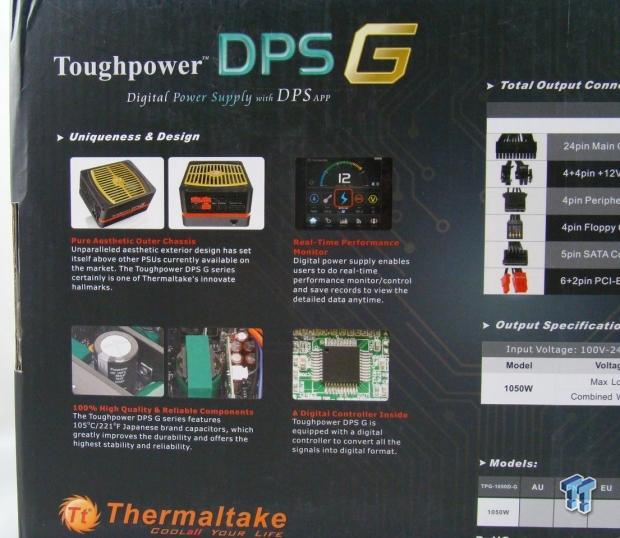 At the very least we know that quality hasn't gone down any. The components shown and text are almost word for word for what we saw with the DPS 850W.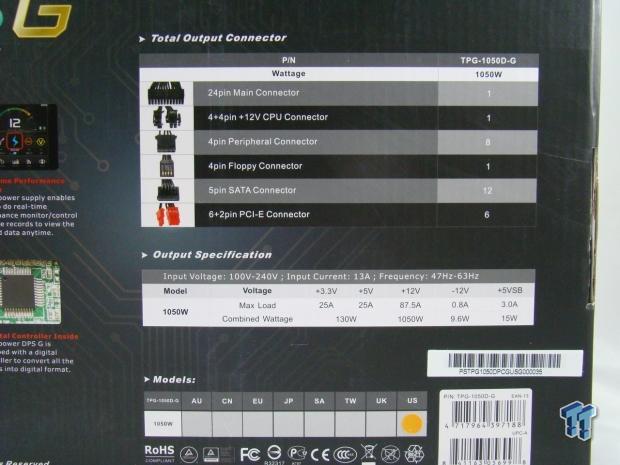 Even the cables included and I/O specifications (with the exception of the 12V rail) are identical to what we saw from the DPS 850W unit. I'd still like to see a list of cable quantities, along with their length on the box.
Finally we have a quick list of features in multiple languages on the box. Three sides simply show a picture of the unit and contain no useful information.
Inside the Box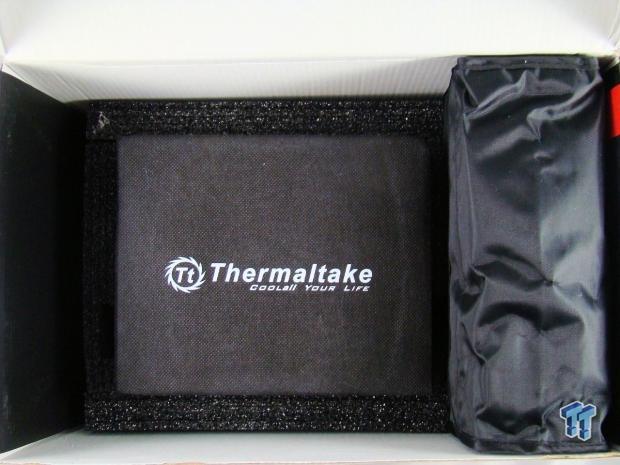 Standard foam packaging protects the unit in shipping and there is plenty there in case your package takes some abuse along the way.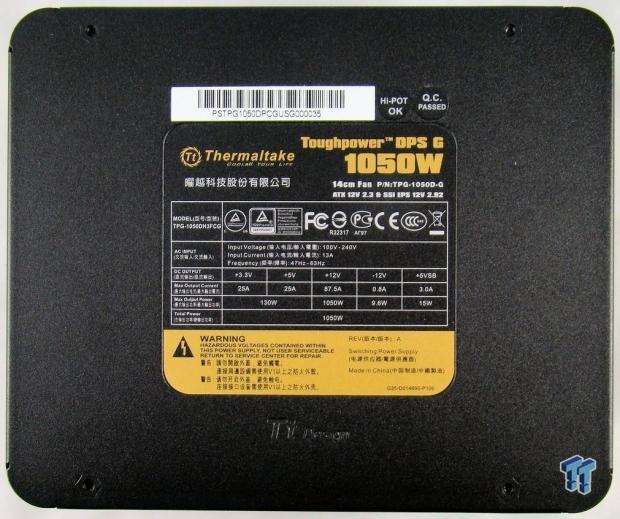 The top of the unit features the I/O specification label and we can see the matte black finish on the unit.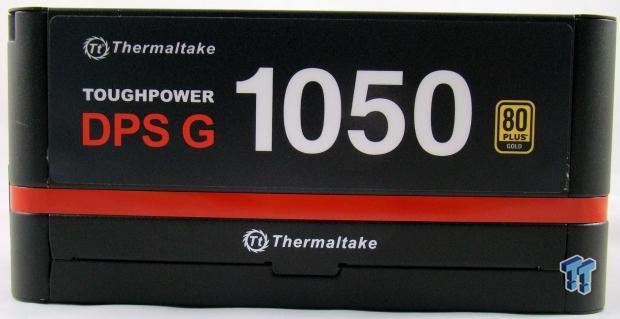 Both sides have the exact same logo with it being inverted on the opposite.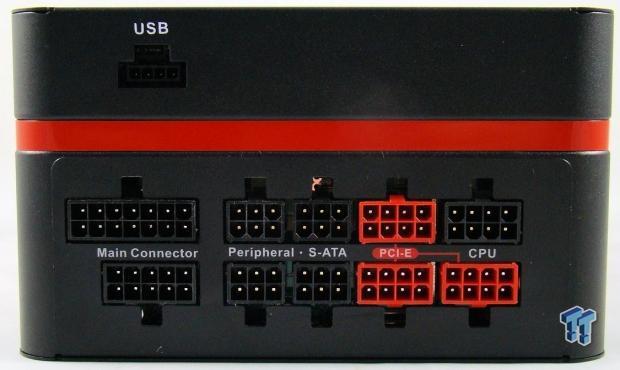 On the front of the Toughpower DPS G 1050W we find that all of the connectors are clearly labeled.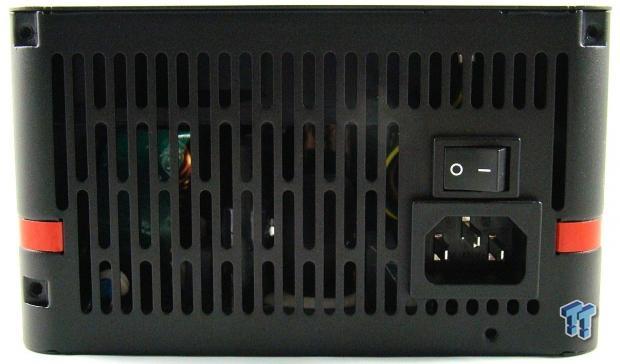 For the first time in a very long time, we find a non-honeycomb mesh backplate to the power supply. Also note the rounder corners. There are rubber isolation mounts included in order to reduce vibration and lower noise created by the unit.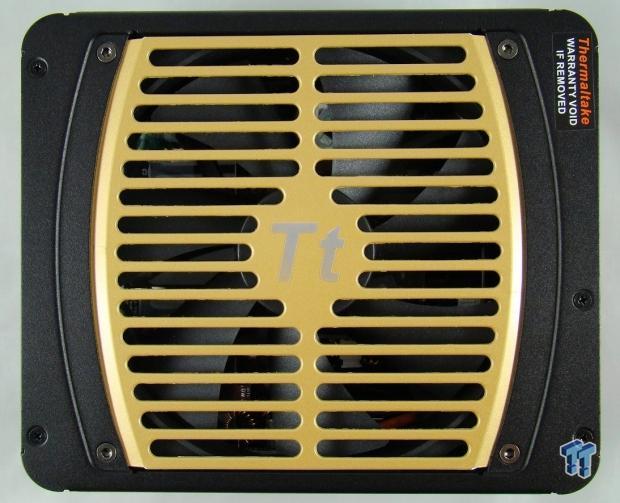 The bottom of the unit flows with the ventilation on the back and gives some much needed contrast to the unit.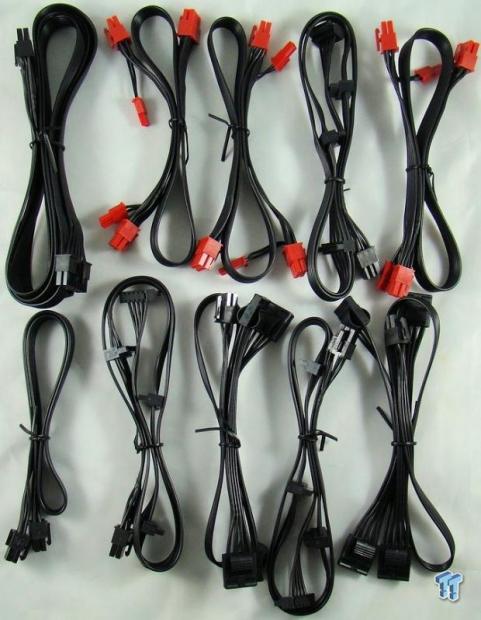 Included with the unit are flat modular cables. All of the PCI-E cables have red connectors to make them easy to differentiate.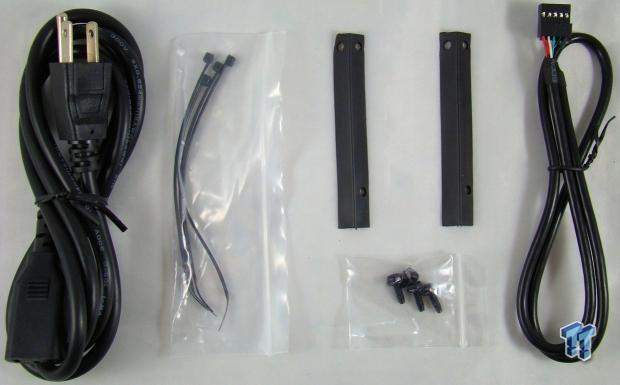 Accessories included are the AC power cord, cable ties, rubber isolation mounts, elongated mounting screws for the rubber mounts, and USB head cable which allows you to utilize Thermaltake's DPS App with the DPS G power supply.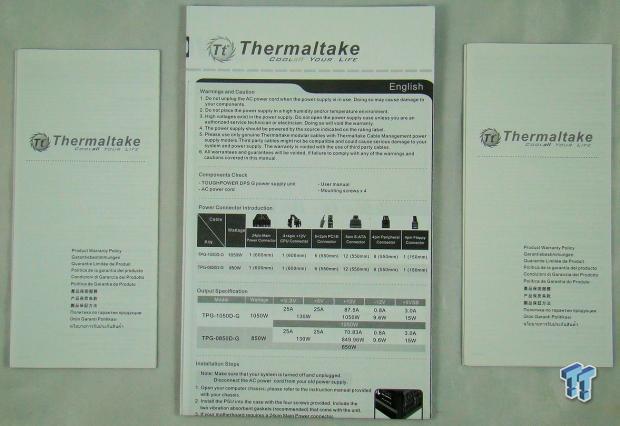 Rounding out the contents of our box were two warranty packets and a user manual. We're assuming the two user manuals stuck together and that most will only receive one.
Cabling Arrangement & A Look Inside
Cabling Arrangement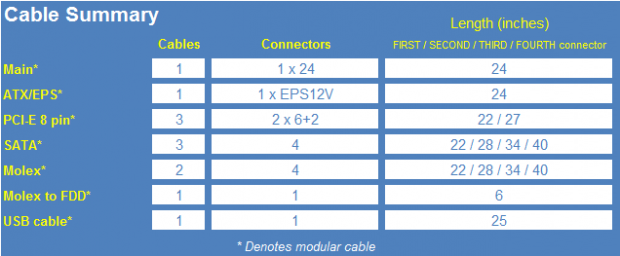 This is the exact same cable layout that we saw with the 850W DPS and my complaint is that it is just that. There aren't any more options. There isn't a second EPS12V cable. There simply aren't any more options to utilize the extra power cables other than by increasing the wattage used on the 12V rails. Other than that, we've got a solid list of cables here that should take care of most users.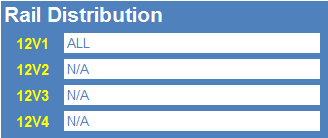 Rail distribution is as simple as it gets with a single 12V rail. There is no need to worry about load balancing here.
A Look Inside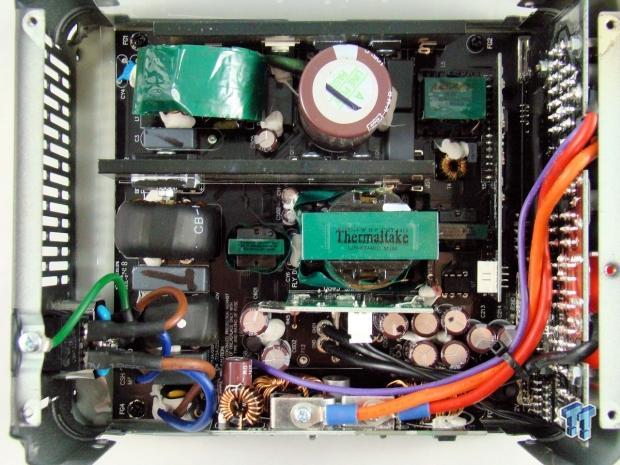 This is the first time that we have seen a significant difference in the two DPS units and we can tell that they are in almost no way similar. The new design certainly favors less passive cooling. And there are many differences on the secondary side.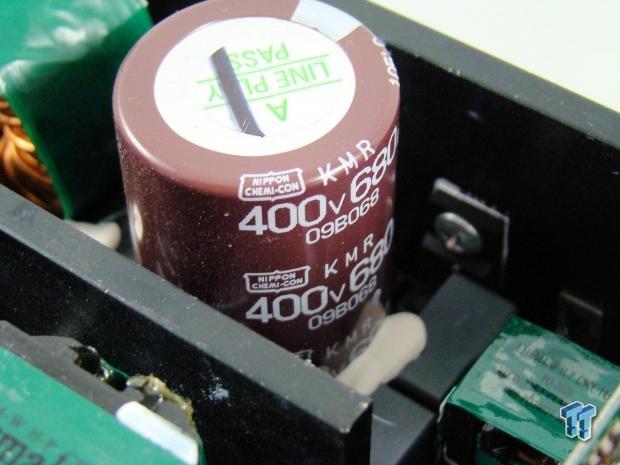 A single Nippon Chemi-Con capacitor is present for the primary side of the power supply.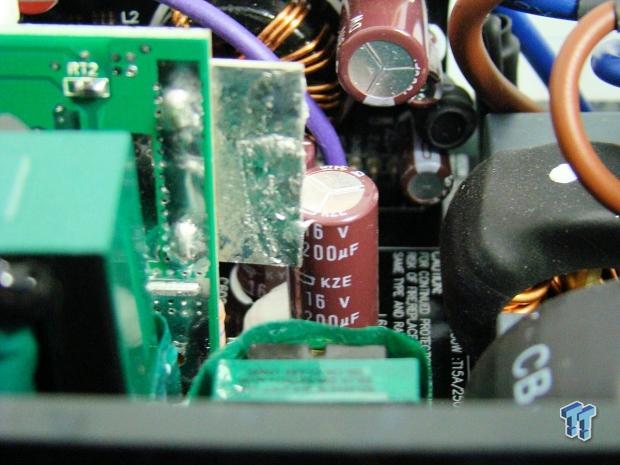 Nippon Chemi-con capacitors are present on the secondary side of the power supply and this is where you will find a big difference. Many of the secondary caps were solid state on the previous model. This time around, they are electrolytic caps.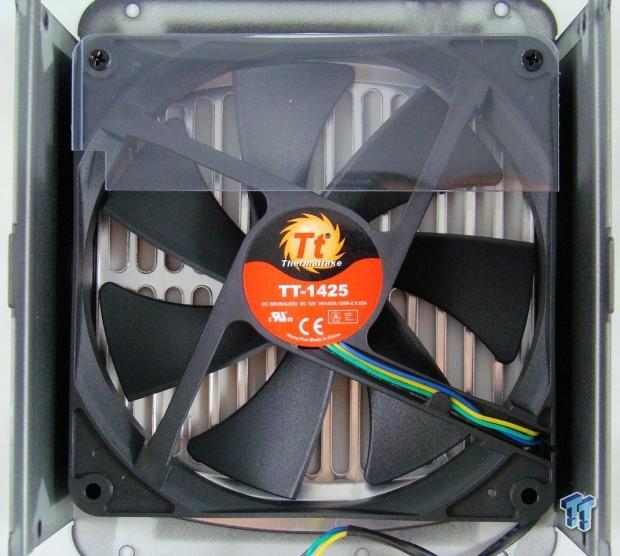 Thermaltake uses a slightly different fan this time around as well. This time they use the TT-1425 fan, which appears to be a rebranded Ong Hua HA1425L-12SB-Z.
Load Test Results & Final Thoughts
Load Test Results
Our load tests utilize a couple of FAST ATE active load testers, and a variety of other equipment such as an oscilloscope, power conditioner, temperature probe, and a power consumption meter. You can read more about our standard testing approach here.
The tests performed are based around six conceivable setups that are out there, and progressively load down the PSU up to the power supply's limits, or 1000W; whichever comes first. Since our test equipment's limits are lower than that of the Thermaltake Toughpower DPS G 1050W power supply, we can only test it to 1000W.

The above tests represent typical loads that we have measured from various systems, and are meant to give a rough idea of where your computer might fall in line with our tests. Please keep in mind that each system is different, and actual loads can vary greatly, even with similar hardware.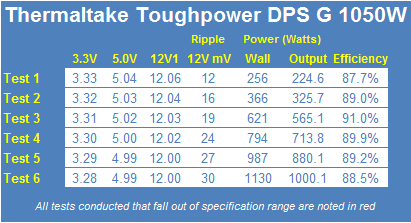 Let's start by taking a look at the voltages, to see how well this unit did during testing. Starting with the 12V rail, we see 1% regulation from start to finish, with a total drop of .06V. The 5V rail managed to stay within 1% of specification, with a total drop of .05V from start to finish. Moving towards the 3.3V rail, we see that regulation was within 1% of specification, with a total voltage drop of .05V.
DC Output quality for the Thermaltake Toughpower DPS G 1050W was excellent, and well within specifications. During Test One, we saw 12mV of noise on our scope at 21% load. When we increased the loads in Test Three, the ripple climbed to a 19mV at around 50% load. Increasing loads even further showed that the noise on the 12V rail climbed to 30mV at during Test Six at 1000W.
The Thermaltake Toughpower DPS G 1050W is rated for 80 PLUS Gold efficiency. This means that the power supply must perform at 87% / 90% / 87% efficiency, at 20% / 50% / 100% loads respectively. As you can see, the Toughpower DPS G 1050W performs exactly as expected. Thermaltake has certainly achieved that happy medium where they are no longer skirting just the 80 PLUS Gold minimum, but aren't quite at the Platinum level.
Final Thoughts
This is the fifth or so digital unit that we have taken a look at thus far and the second unit that we've seen from Thermaltake. Being that we are still in the infancy stages of digital power supplies, I think it is safe to say that everyone wins with these units. Every digitally controlled unit that we have had thus far has performed on what was previously thought as a near flawless level of operation.
The Toughpower DPS G 1050W is no exception to this, doing what few have ever achieved and that is maintaining voltage regulation across the board within 1% of ATX specifications. Thermaltake does this while also maintaining excellent noise suppression and decent efficiency. The efficiency is also rather high on this unit as it stays solidly between the lines of 80 PLUS Gold and Platinum.
While we may not be able to say that the performance from the DPS G 1050W is unparalleled or that it is what the industry standard should be, we can say that the Thermaltake DPS G 1050W is probably the best unit on the market in terms of performance and value. The Thermaltake DPS G 1050W combines the best of both world's and this is truly what is the crème de la crème for consumers; excellent performance with exceptional value.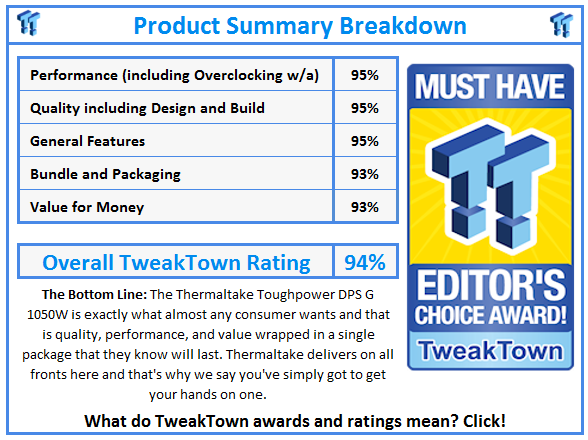 PRICING: You can find products similar to this one for sale below.

United States: Find other tech and computer products like this over at Amazon.com

United Kingdom: Find other tech and computer products like this over at Amazon.co.uk

Australia: Find other tech and computer products like this over at Amazon.com.au

Canada: Find other tech and computer products like this over at Amazon.ca

Deutschland: Finde andere Technik- und Computerprodukte wie dieses auf Amazon.de