TYLT Energi 5K Battery Pack Mobile Travel Charger Review
TYLT fills out its Energi Battery Pack range with the Energi 5K, featuring 5200mAh of portable power. Follow on as Anthony tells us about it in his review.

Published
5 minute read time
Introduction, Specifications & Pricing and Packaging
Introduction, Specifications & Pricing
We've already reviewed the awesome Energi 2K and 3K battery packs from TYLT, but today we have one that will charge up your smartphone twice thanks to its 5200mAh internal battery. Today, we have the Energi 5K battery pack, something that falls in the middle of TYLT's Energi range. The company sells the Energi Battery Packs in 2K, 3K, 5K, 10K and an upcoming 12K model that we should have our hands-on in the coming weeks.
The Energi 5K continues the trend of sporting an embedded micro-USB to USB cable, but there are two different models to choose from. There's the Energi 5K and Energi 5K+, the + provides you with a Lightning cable to charge up your compatible iOS-based Apple iPhone or iPad. We have the Energi 5K model with us today, which comes with the micro-USB cable embedded in it, as well as a standard USB port for charging up a second device. We have a total of 5200mAh of available battery to play with, which is enough to charge the average smartphone twice.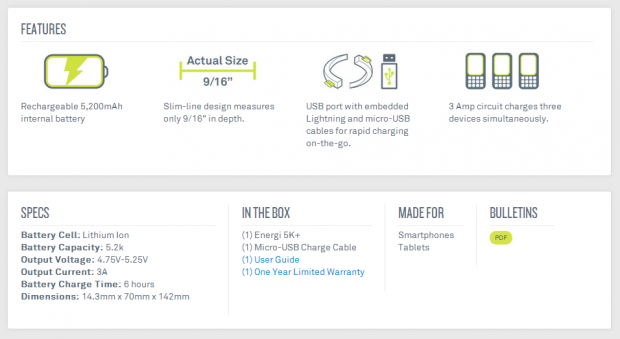 When it comes to the total output voltage, we have it sitting between 4.75V and 5.25V, with the output current sitting at a total of 3A. To charge up the internal 5200mAh battery, it'll take you around six hours. We continue the slim-line design that the Energi Battery Pack range has been kicking so much ass in so far, with dimensions of just 14.3 x 70 x 103 mm, or 0.56 x 2.55 x 5.59 inches. It's a little chunkier than the Energi 2K and 3K Battery Packs we reviewed, but not by much.
TYLT offers the Energi 5K in three different colors: blue, gray and red. The one we have today is blue, which I think looks great. How much does this all cost you? We're talking $79.99 here, which is quite expensive for a 5200mAh battery, but we're also talking about TYLT's eye for design and extremely good quality. Let's see if it's worth it.
Taking It Out of the Box
TYLT has an eye for design, something that bleeds right down to the package. We've talked about this a few times now with the Energi 2K and 3K batteries, but the 5K is where the fun begins - as you can charge up two devices at once, or your single smartphone up twice during a heavy day of use. Let's take a look at the box, and what comes included.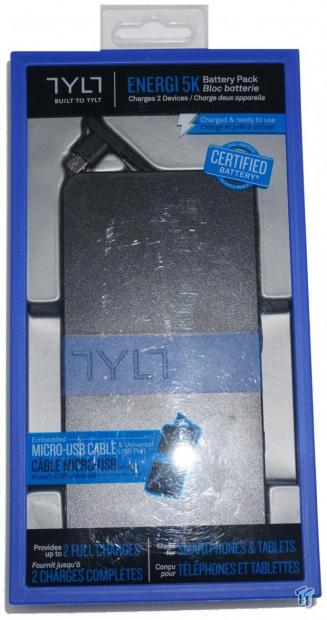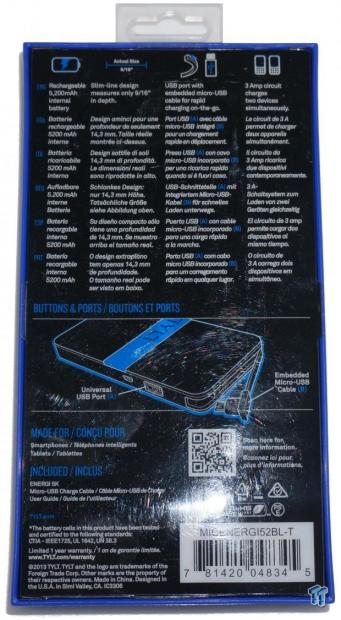 The front of the Energi 5K battery pack package doesn't change from the Energi 2K or 3K, where we can see through to the Energi 5K itself. Flipping it over, we have some information on the device, such as it featuring a rechargeable 5200mAh internal battery, a slim-line design, a USB port with an embedded micro-USB cable, and a 3A circuit for charging two devices simultaneously.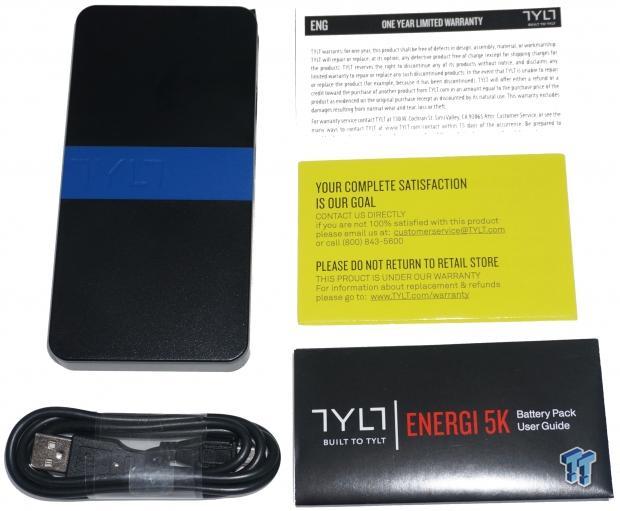 In the package, we have the TYLT Energi 5K battery itself, a micro-USB to USB cable, warranty guide, a satisfaction guarantee from TYLT, and a user guide.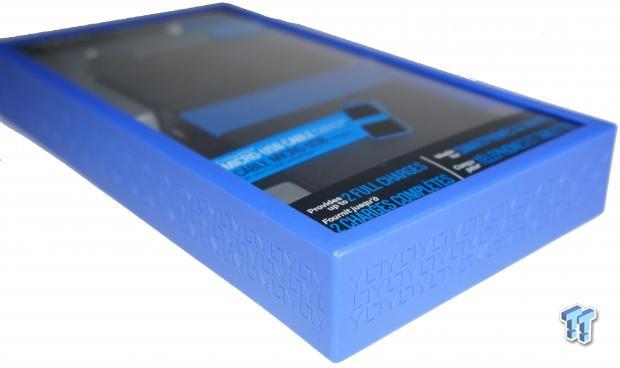 When I talked about the detail that TYLT put into its package, you can see here as we get up close and personal that there has been some serious work put into it. There's absolutely no need for it, but you know what - I love it. It gives off an awesome first impression, something I love. It also feels great to the touch, again not that it matters, but TYLT has goes down to micro details on all of its products, even the packaging.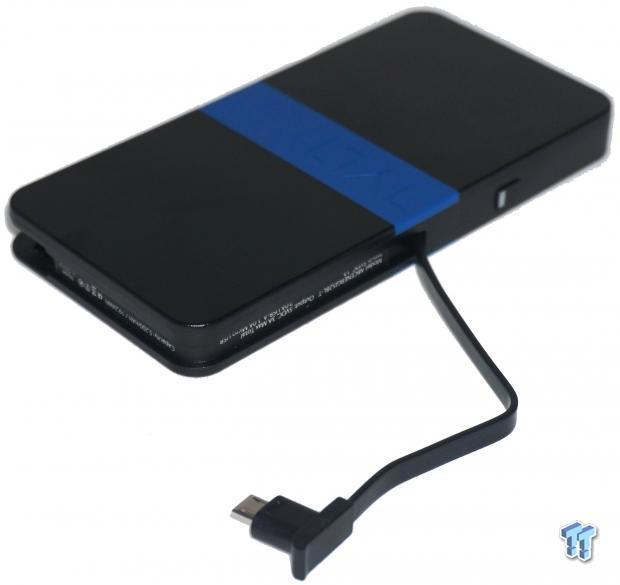 Here we have the TYLT Energi 5K out of its package, with its embedded micro-USB cable showing.

In this photo, we have the Energi 5K on its side, with its embedded USB cable spotted to the left, the full-sized USB port and micro-USB port for charging.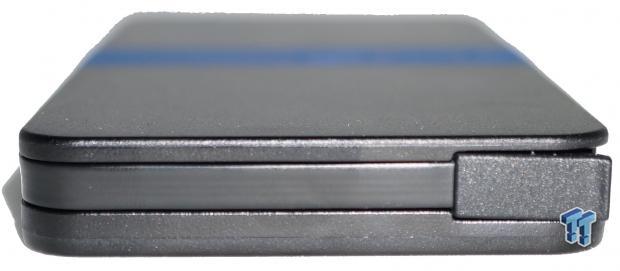 Here we have the top of the Energi 5K, with its embedded micro-USB cable tucked in.

On the other side of the charger, we have the power button, and the start of the embedded micro-USB cable.
Usage and Final Thoughts
Using the TYLT Energi 5K Battery Pack
I charged up the TYLT Energi 5K, and had my drained Samsung Galaxy S5 for testing it to its full capabilities. I had my Galaxy S5 drained to around 15% at night, and watched the final two episodes of '24'. During this time, my Galaxy S5 charged up to 100% from the Energi 5K. I still had some juice left in it, so I went and plugged in my 2013 Nexus 7 tablet, charging that up from 0% to around 55% before the Energi 5K was completely drained of juice.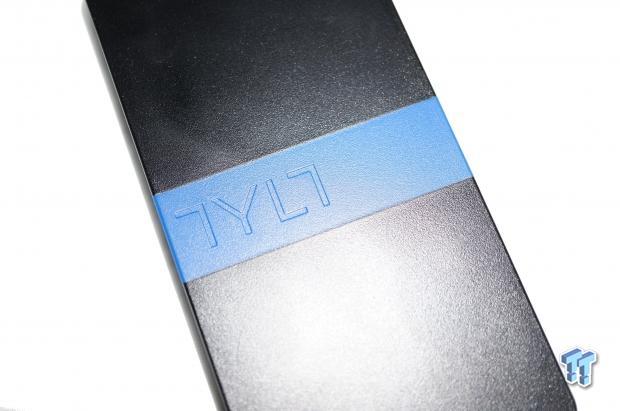 Another way of testing out the Energi 5K was charging up two devices at once, something I did with my Galaxy S5 and Galaxy Note 3 smartphones. I was able to get both devices from around 10-20% each, to their maximum 100%, something I loved being able to do from a portable battery. The ability to charge up two high-end smartphones to maximum battery levels is just great.
I had the TYLT Energi 5K in my backpack charging up my Nexus 7 tablet on a road trip, so that when I arrived, I had a fully charged tablet ready to go to start blasting music to my portable speaker through Bluetooth.
What's Hot
It's Big, But It's Still Portable: The best part about the Energi 2K and 3K batteries was that they were portable, and while we still have that with the Energi 5K, it's not as portable. Sure, it slides into my pocket, but it pokes out all over the place and is uncomfortable to tote around. In my bag however, is a different story - it lives in there without a problem, providing me with enough charge to boost up my smartphone close to two times over.
Embedded micro-USB cable: This is something I love to see. Normally I give other companies points off for not including one, but TYLT is a company that knows its users. Not everyone wants to drag around a mobile charger AND a micro-USB cable. Sure, it's a micro-USB cable and not a Lightning cable for iPhones, but that's why we also have a USB port. TYLT is going after the much bigger market with the micro-USB cable, as there are tens of millions more devices that use that connectivity versus the Lightning-powered iOS-based devices.
It Looks Great: The Energi range of chargers from TYLT look great, and that is something that commands a higher price. I truly love the look of the Energi chargers, as it catches my eye from the packaging, right down to the detail on the Energi 5K itself.
What's Not
It's Definitely on the Pricey Side: This is an expensive battery, especially when the competition has 8000-10,000mAh batteries that are close to one-third of the price, and when you take into consideration something like the LUXA2 EnerG 8800mAh Portable Battery Bank, at just $29.99, it becomes a much harder decision to sway toward the Energi 5K.
Final Thoughts
If price wasn't an object, the TYLT Energi 5K should be your next charger, if you are after something that packs a little more portable charging punch compared to its siblings in the Energi 2K and 3K batteries. At $79.99, however, it's bordering on far too expensive. You can get batteries with 50% more power for under half the price, which is really saying something. TYLT has positioned itself as a premium brand though, which is its saving grace.
TYLT is offering consumers a great looking, very premium charger here, and that is something worth paying for. Is it worth $79.99? Yes. Will everyone buy it at this price? No. Fans of TYLT wouldn't think twice, but sitting on a store shelf next to something that is much cheaper, you will think twice. Do I have an issue recommending the Energi 5K Battery Pack even at $79.99? Definitely not. TYLT continues its expansion of its Energi Battery Pack range, with yet another great charger on its list.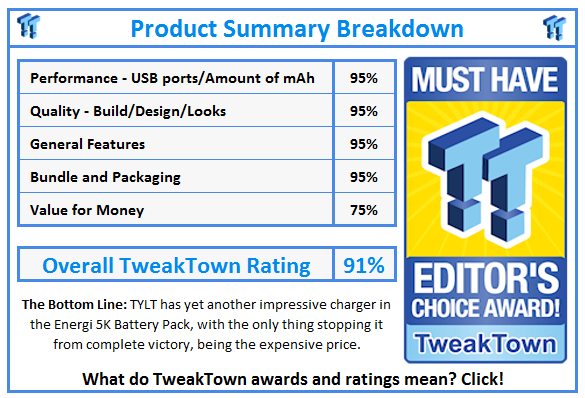 PRICING: You can find products similar to this one for sale below.

United States: Find other tech and computer products like this over at Amazon.com

United Kingdom: Find other tech and computer products like this over at Amazon.co.uk

Australia: Find other tech and computer products like this over at Amazon.com.au

Canada: Find other tech and computer products like this over at Amazon.ca

Deutschland: Finde andere Technik- und Computerprodukte wie dieses auf Amazon.de
We openly invite the companies who provide us with review samples / who are mentioned or discussed to express their opinion. If any company representative wishes to respond, we will publish the response here. Please contact us if you wish to respond.