Introduction, Specifications and Pricing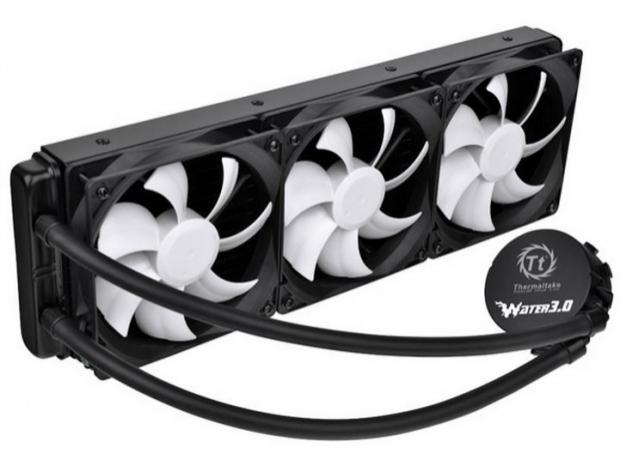 For anyone paying attention to what Thermaltake has been delivering as of late, you already know that they have been really stepping up their game, as well as their product line. For those who haven't followed along that closely, may we direct your attention to a chassis like the Urban T81? This is where Thermaltake put their best foot forward in chassis design, and along with removable bays, a fan hub, great wire management, they also showed us one of the most water cooling ready cases on the market.
They have also done great things with coolers with the introduction of the NiC series, where performance is key, but clearance to everything else around it is priority number one. Then of course, while everyone else was offering Cherry MX based keyboards, Thermaltake took their own path and released the Poseidon Z with Kailh switches, and a super impressive five-year warranty.
We have also seen very good things with their water cooling products. Of course most people will laugh at the Big Water name, but Thermaltake was leading the market then too. They also came along with the Water series of AIOs that did much better for them. Along with these AIOs is where a new set of hardware was first introduced that took some really hard to work with gear, and for the first time in many years, made it easy to install an Asetek OEM sealed loop. It really seems that in almost every aspect we can think of in what Thermaltake is currently offering, it is very hard to deny that they have learned from the past, don't mind turning over a new leaf, and are now a company that can stand proudly as an industry leader.
All of this brings us to why we have you here today. In years of trial and error, and with a great team putting the ideas out on the table, Thermaltake is attempting to become the AIO master, the end all be all leader in performance of any AIO that has been released prior to this latest submission to our labs. Thermaltake has broken the rules when it comes to what is an acceptably large AIO. Where most companies would stop with a 240mm radiator and some serious fan power, Thermaltake thought why not take it one step further, and while keeping serious fan power to cool the system, they are introducing the first 360mm version.
If that in itself does not have you interested, stick around, as the charts will for sure give you some serious food for thought, and make you want this cooler more than just based off initial impressions of our introductory image.

At first glance at this short chart, you might think Thermaltake has hidden details and given us just the basics without much else to go from, but upon closer inspection, they just pack a lot of information into one small space.
First on the list is the copper waterblock, well the cold plate actually, as the block is made of black plastic, the top of which emblazoned with the Thermaltake name and logo, along with the Water 3.0 naming. Under the covering cap with the naming on it, we also find the pump for this system. This pump is rated to spin at 2900 RPM (give or take a small bit), when powered with 12 volts.
Since we have a triple 120mm aluminum radiator to cool this time around, we also are shipped a trio of 120mm fans that are rated for a maximum of 2000 RPM and 99 CFM per fan. Also connecting the radiator to the head unit, they supply 326mm of black rubber tubing, or on this side of the pond, that is roughly twelve inches. We also see that the entire unit, radiator, tubing, head unit, fans, and the coolant safe for mixed metals comes in at 1.32 kg in weight, but only a small fraction of that is supported by the motherboard. Lastly, as any AIO should, the Water 3.0 Ultimate is more than capable of fitting all the latest sockets for both Intel and AMD processors.
Currently availability is quite low, as we have the first of its kind to arrive to any media. We do know of one other unit in existence, but we somehow beat a shipping snafu and are able to show off the Water 3.0 Ultimate as soon as possible. We were told via a conversation with our rep that these coolers will release soon, we were told anywhere from a week to a month depending on how smoothly the container clears customs.
We were also made aware of the MSRP, which all things considered with all other AIO releases prices, to obtain this 360mm AIO, it isn't going to set you back that much more at all. During that talk, we were told that the Water 3.0 Ultimate will carry a $139.99 MSRP, but keep an eye out for introductory sales, as they always seem to happen for the first week or so upon release.
Packaging

In the typical black and red, we are given the image of the Water 3.0 Ultimate across a swipe of blue to highlight both the product and its naming. We also find three key features that should sway your decision to buy this off the shelf.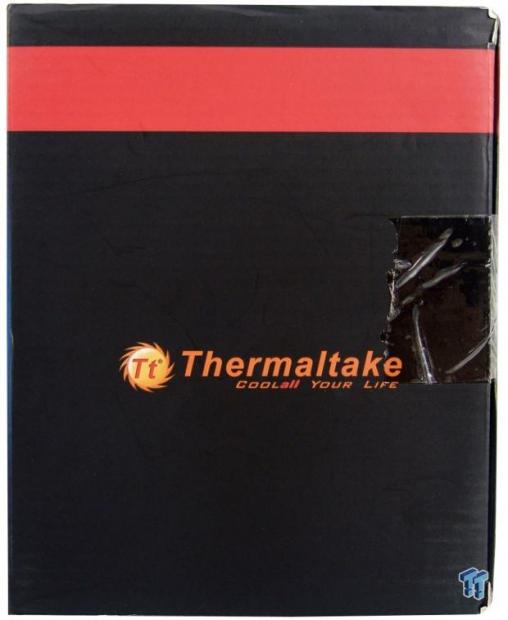 Both of the ends of the box have just the red strip at the top and carries the Thermaltake name, logo, and slogan.

Spinning around to the back, we find the list of features off to the left, just next to a performance chart of results Thermaltake received in their testing. The bottom is taken up with five images showing various aspects of the cooler and hardware, and off to the right we get a look at the head unit screwed to a motherboard.

What can only be called the bottom of the box, we find there is still yet a bit of information to cover. Here we find a more typical specifications chart on the left, while the right side is taken up with lists of features in eleven languages.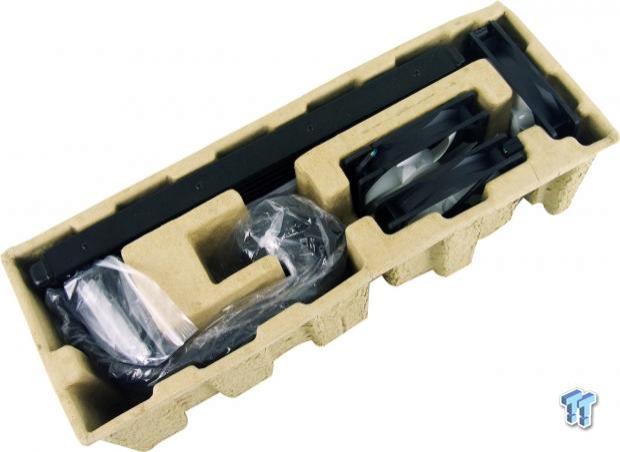 Inside we find the typical recycled cardboard inner packaging that separates and isolates the components for transit. The head unit and tubing is wrapped in plastic, but the fans and radiator are left exposed, with the bag of hardware dropped into the left side of the box.
Thermaltake Water 3.0 Ultimate AIO CPU Cooler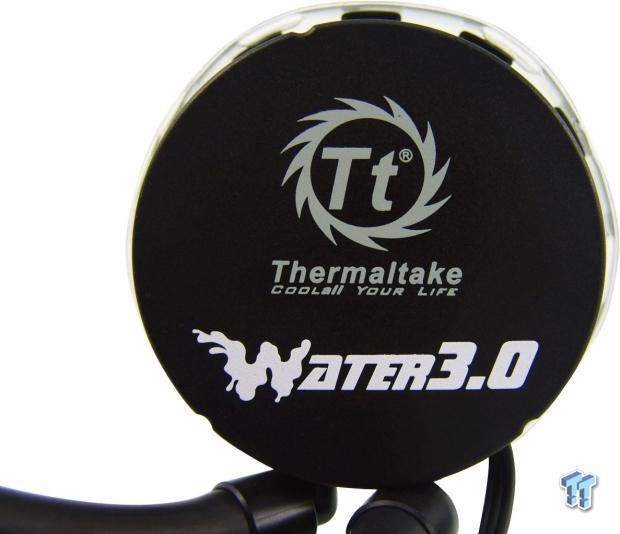 As we mentioned, the head unit is entirely black, and being an Asetek unit, we have tabs all the way around the edge. We also see a large logo, the Thermaltake name and slogan, as well as the Water 3.0 naming on there, but sadly there are no LED lights, if that is your thing.
In this design we have both of the swivel fittings close together to allow the head unit enough flexibility not to kink the tubing. We also find the 3-pin fan lead exits the head unit close to the hoses, so it helps keep things tidy looking once installed.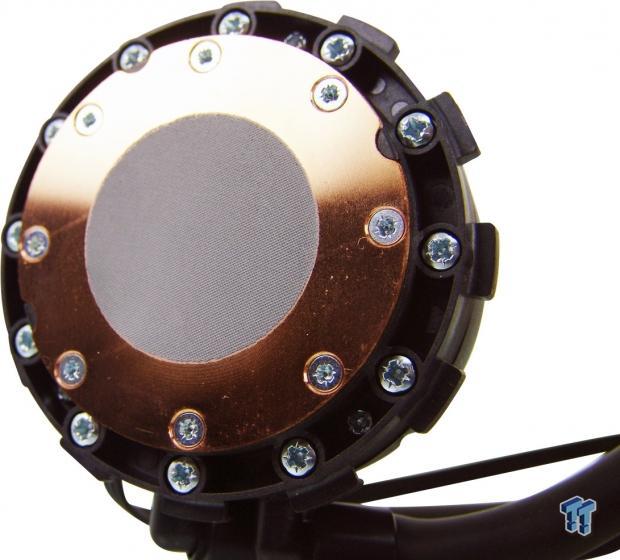 The copper cold plate comes protected under a clear plastic cap that also helps to keep debris out of the pre-applied thermal paste. Of course, we have to remove this to replace the TIM with our standard, and to get a better look at its finish.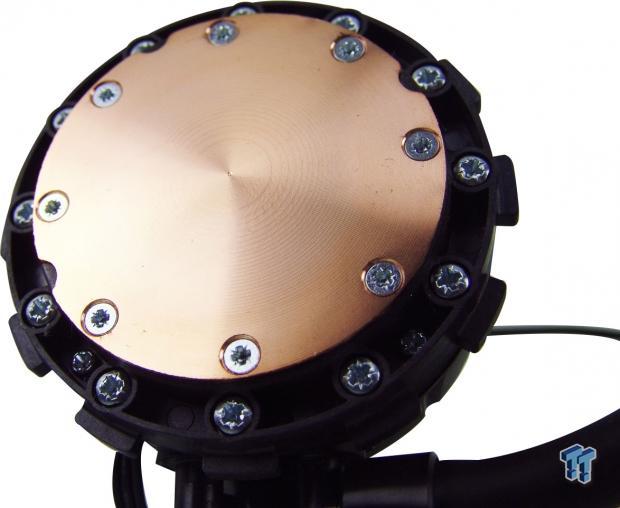 With the paste now removed, we see defined circular milling marks that conclude in the center with just the slightest indented dimple. This base is in no way flat. It stands taller in the center, and we all know convex bases offer more mounting pressure as well as making for better mating to the CPU.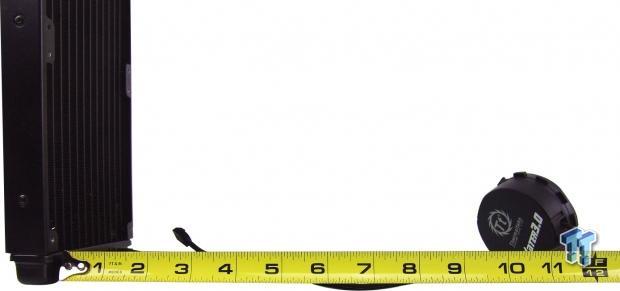 Between the head unit and the radiator, we find this kit to have twelve inches of tubing, but we also found that the 3-pin lead form the head unit is eleven inches in length, so there will be no issues finding a fan header within reach.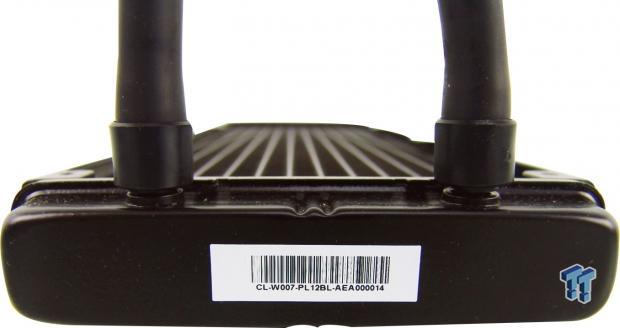 As we see with how the tubing was attached at the head unit, it is again stretched over the barbs, and has plastic sleeves applied just in case here too. We can also see from this angle that even while 393mm in length, Thermaltake built this on a standard 27mm thick radiator.
Moving way back, we can now see the radiator as air would flow through it. We are still dealing with a high FPI design, just that this time there is much more radiator than we are used to seeing in an AIO. Outside of that, it still offers offset tubes so screws don't puncture them and plain sides.
Accessories and Documentation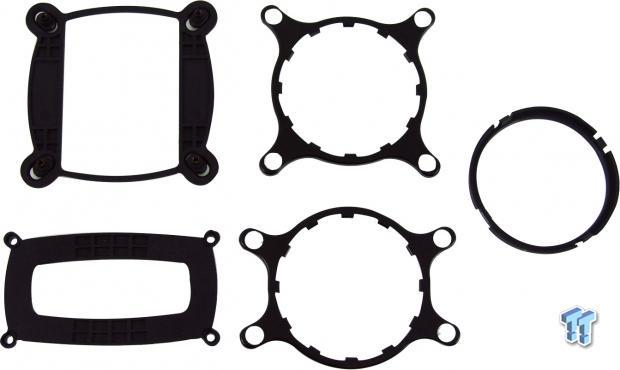 As we dug into the hardware bag, we found there is quite a bit sent with this cooler. For now, let us start with this. We have the Intel and AMD back plates on the left, the Intel and AMD top plates that go on the head unit, and to the right we have the snap-ring that locks the top plate to the head unit.

Along the top, we also get LGA2011 mounting screws with a universal set next to them for other Intel and AMD sockets, and at far right are the small clips that set the top plates for correct screw alignment. Along the bottom, we have two foam pads with adhesive on both sides to stick the back plates to the motherboard, and at the right, we have inserts for the AMD back plate to give it something to screw into.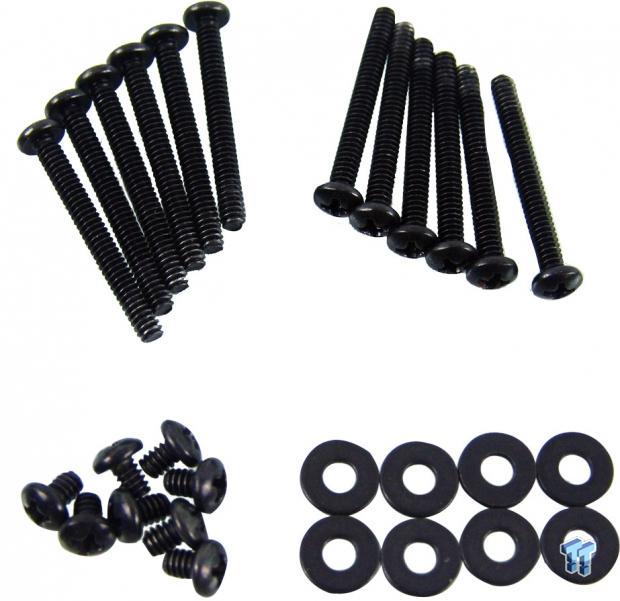 To mount the fans, we are given a set of twelve long screws that are already pre-cut to accommodate a 25mm fan and not damage the fins. We are also given eight screws and washers to use to mount the radiator to a chassis by mounting the outer two fans to the chassis, leaving the center one unmounted. Even so, supporting this radiator with eight screws is plenty of security to safely hang this AIO.
With retail kits, there will be an instruction manual, but in our box, all we found was the insert on their warranty information. We also found our kit to be missing one other thing, there is a sleeved triple splitter cable that should be here to allow one fan header to power all three fans on the radiator. Due to the early nature of our review sample, we missed a couple of items, but retail units will include them.

Speaking of fans, here is the trio of near 100CFM monsters. With ratings like that, we expect these to be loud, but we are fond of fans with black frames and white blades like these supplied with the kit are - also all fans are PWM and are powered with a 4-pin connection.
Installation and Finished Product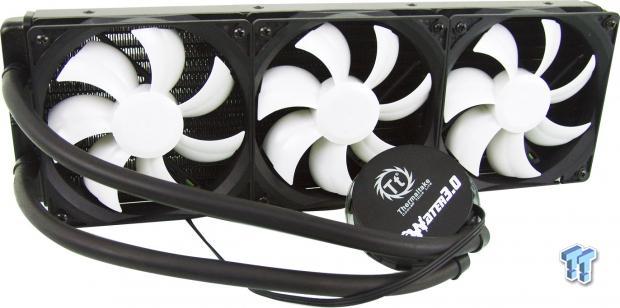 To start the installation process, we went ahead and installed the 120mm fans. As a tip to keep in mind, start all twelve of the screws, before you send them all home. There is just enough room for the fans, and this will relieve possible binding issues when going to install that last fan.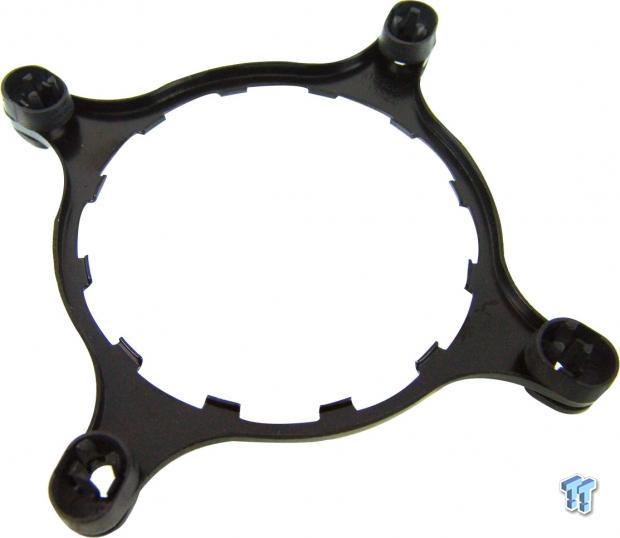 We also had to carefully look at the ends of the clips that slip into the top bracket to make sure we are set for LGA115X. At this point, we need to take this to the head unit and align the tabs.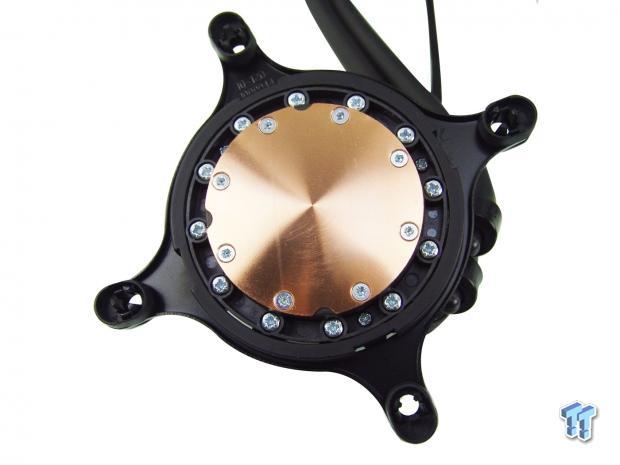 After the tabs are all grabbing the accompanying tabs on the head unit, and you have the four corners where you want them, you then take that snap-ring, and lock the head unit to the top plate, and make it one solid component to mount to the motherboard.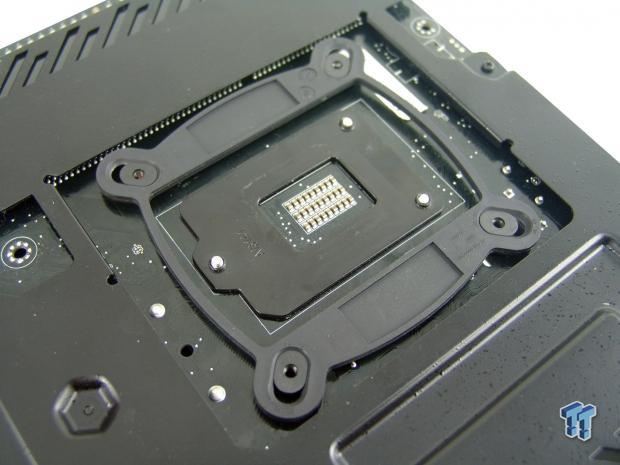 To prep the motherboard, all we had to do was adjust the sliding points at the corners to line up with the holes, and we also were sure to attach the back plate to the motherboard with use of the adhesive foam pads supplied to us.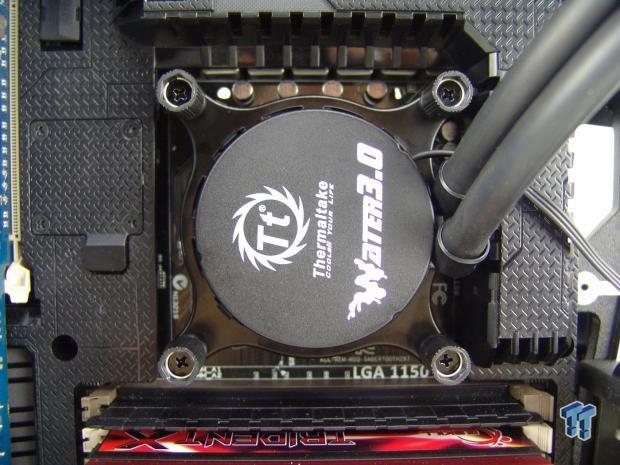 Yes, we realize the head unit is turned ninety degrees to the left, but this is the only way we could align it and still mount the radiator to the top of our chassis. To get here, simply side in the thumbscrews into the clips, and then screw them in an X pattern, until they stop spinning for the best mounting pressure.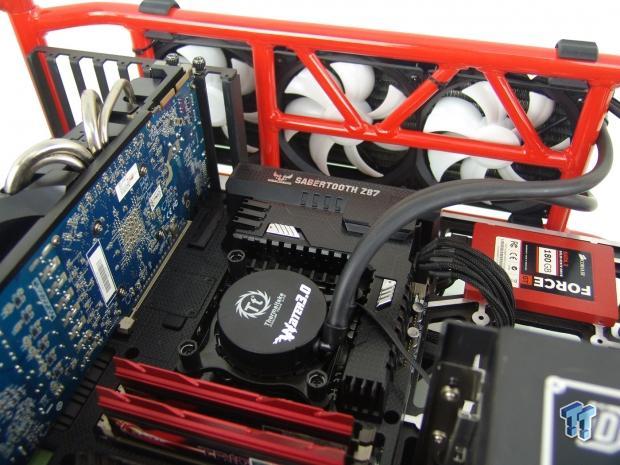 As we step back to have a look at how the Water 3.0 Ultimate AIO had to be installed to the D-Frame, unlike others, we could actually install it this way, and we still have gentle curve in the tubing. With many cases already offering water cooling support in the top, and many more offering room down the front, maybe a triple radiator AIO just needed enough case support to be lucrative, but Thermaltake is leading the charge.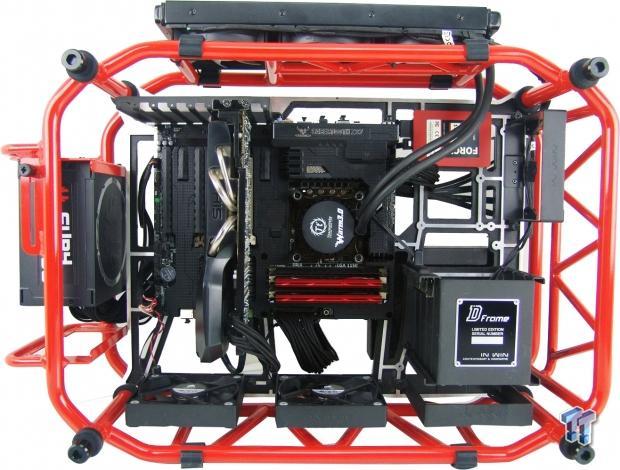 We didn't really have anything more to cover other than this coolers much larger need for space. If anything, this image just gives a great perspective on just how large and in charge the Water 3.0 Ultimate is.
Test System Setup, Thermal Tests and Noise Results
Test System Setup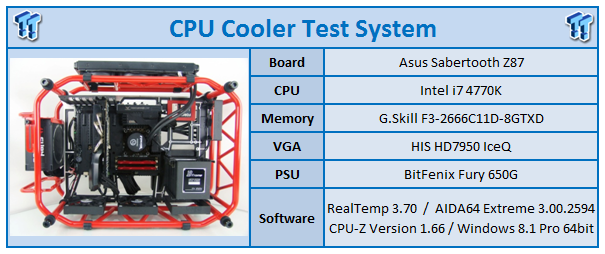 I would first like to thank ASUS, InWin, Corsair and Fractal Design for supplying products for me to test with.
To see our testing methodology and to find out what goes into making our charts, please refer to our CPU Cooler Testing and Methodology article for that information.
Thermal Results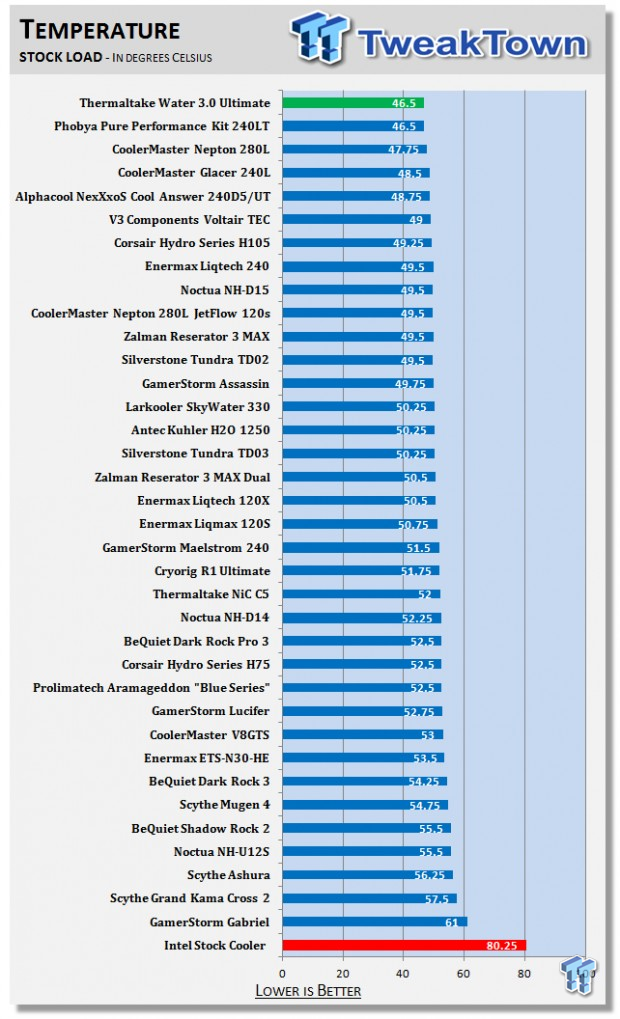 Well we sort of expected that with so much surface area that the stock results would be good, we just didn't honestly expect them to be this good. When the run was completed, the 46.5 degree temperature we saw not only impressed us, but takes top honors at this level.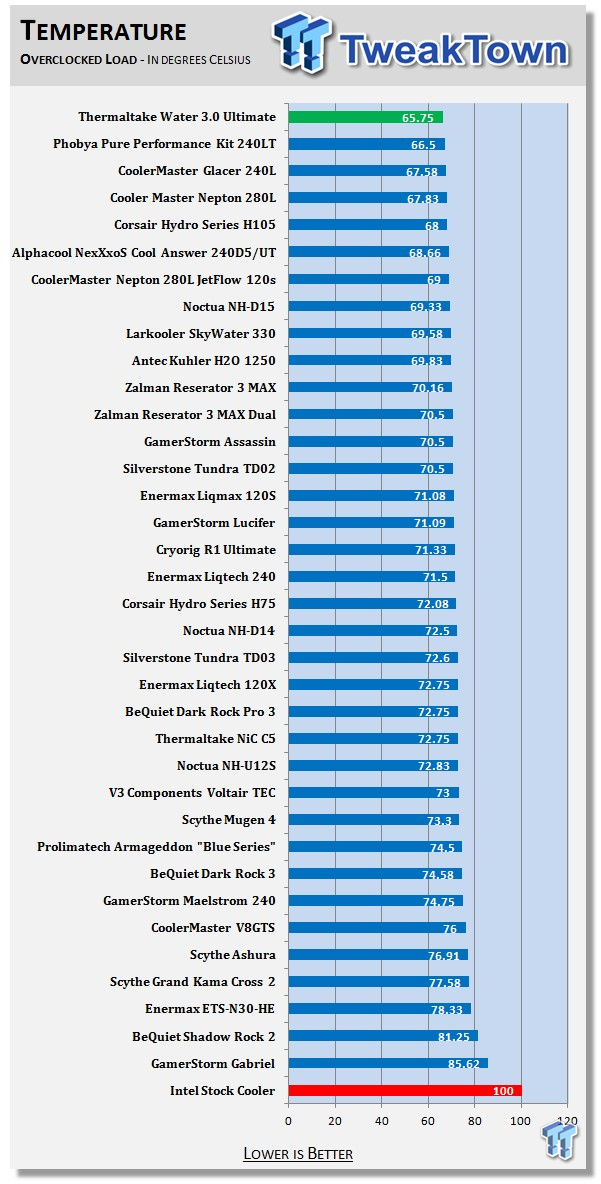 This is where we expected the performance to be seen, and boy does Thermaltake supply the performance.
With a 65.75 degree result in the overclocked testing, the Water 3.0 Ultimate tops the chart. Of course, this is against mostly 240mm solutions, but there are a couple there in the chart that got handily beat that offer very similar amounts of surface area in their radiators.
Noise Level Results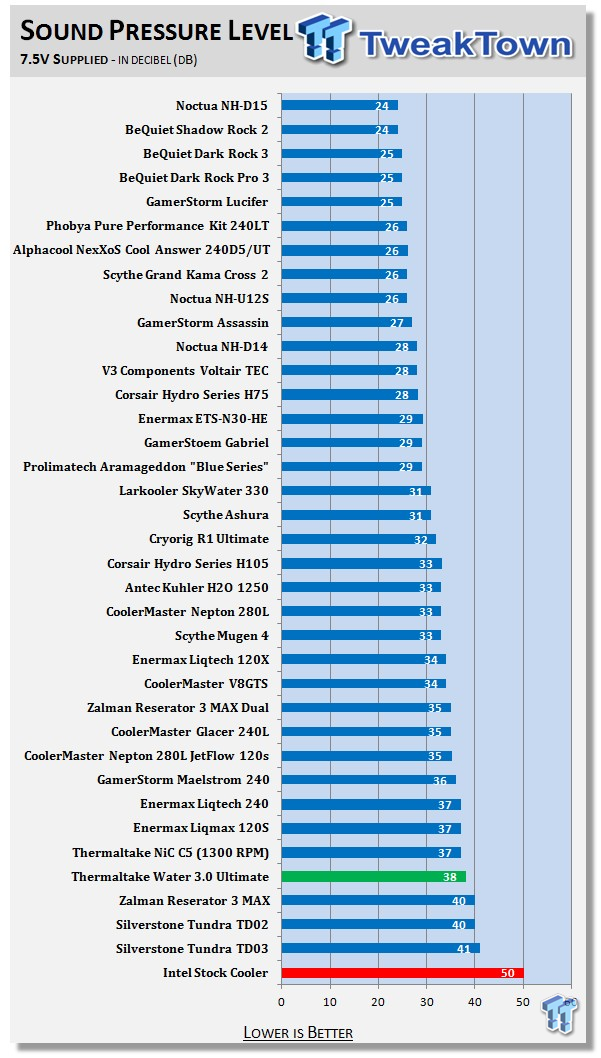 With just 7.5 volts pushed to the fans, we found them to be spinning at 1400 RPM, but they did climb in this chart to our reading of 38 dB that is very near the bottom of the charts.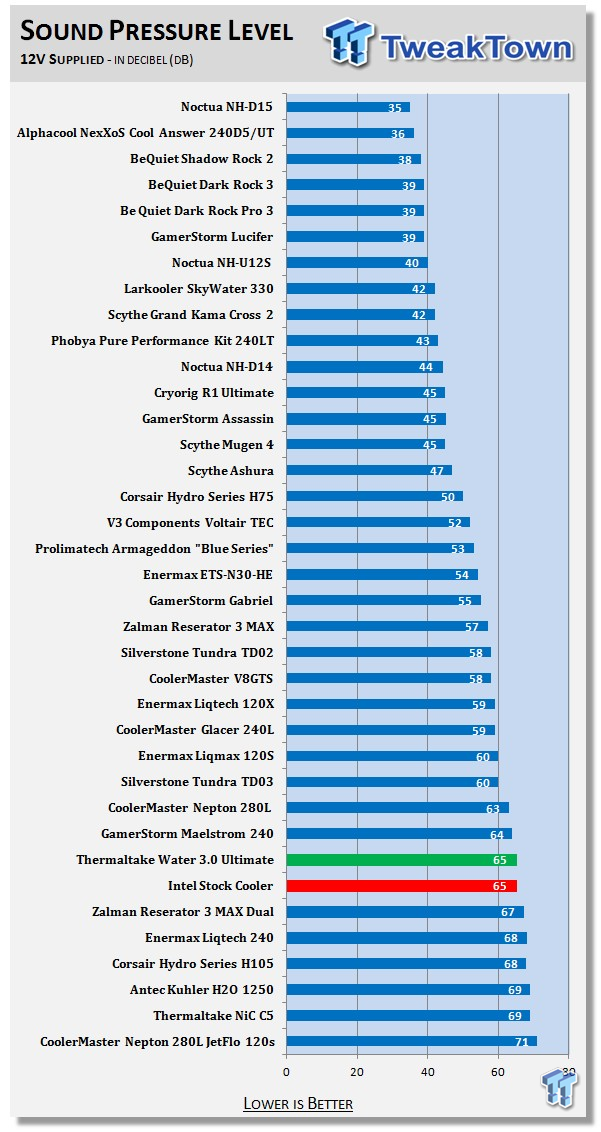 When it came to allowing the fans to spread their wings and let lose, we saw them spinning at 1900 RPM, while delivering 65 dB of noise. While that is on par with a stock cooler at full blast, we also knew coming into this that we have yet to see a near 100CFM fan that can do it with much less noise.
Final Thoughts
Thermaltake proves that sometimes it is much better to be first once again. In short, the Water 3.0 Ultimate is the end all be all if you are looking for the most efficiency of any AIO we have tested. Of course, most others tested were 240mm systems, but also remember, even on the custom loops that got beat, they come with 60mm thick radiators, and outright kill the Water 3.0 on surface area, yet they could not keep up. We also realize that most of what makes a good radiator great is when the fans that accompany it are up for the task at hand, and with the high FPI design in Asetek radiators, throwing near 300 CFM of airflow through this radiator was bound to have tremendous effects on cooling, and our charts prove that as well.
Do not consider our lack of an instruction sheet and splitter cable to be any reason to think ill of this design and quality, both as a cooler, as well as its contents. Realize that butts were busted to get this cooler to us as soon as possible, and we had to take what was available, but retail kits will have everything needed to get the Water 3.0 Ultimate up and running in your system as expected.
This does lead us to one of only two things that we can actually make a slightly ill remark towards. One of them is of course the need for room. You are going to need a full-tower design with triple 120mm radiator support in some form to use this internally. The second thing that Thermaltake brought up is the noise levels. Of course, some will say this is way too much to have sitting next to you, but the intention was to be the best of the best, and sometimes when trying to set the bar as high as Thermaltake has with this cooler, concessions have to be made, and with PWM in control, only rarely will you hit out such high noise levels.
Availability may be quite low at this moment, but knowing this cooler is going to hit the market very soon, and at only $139.99 as set by Thermaltake's MSRP, we can see the lines forming already to be some of the first to own this cooler. We hope for your sake that customs is polite and expeditious in the manner in which they check that container through, as we know a few of you are already foaming at the mouth to get one of your very own. To put that pricing into perspective, the Water 3.0 Ultimate is releasing for around $10 more than any typical 240mm AIO releases at, and it handily beat the Phobya kit that costs much closer to $200 to own. Looking at things in that sort of light makes this the obvious choice.
We really love the trend that Thermaltake has taken in the last year or two. They must really have some great minds over there in their concept and R&D teams. While we saw the changes happening slowly over the years, it's like the whole company has been injected with caffeine as of late, because there is a whole new league of products coming out. We all had the question in the back of our minds about a 360mm AIO and what sort of performance could be had. Well, with the advent of better cases to support this, Thermaltake bounds into the charts, pushing everyone out of their way to stand proudly on the top of the heap, with the best performing AIO we have ever tested.