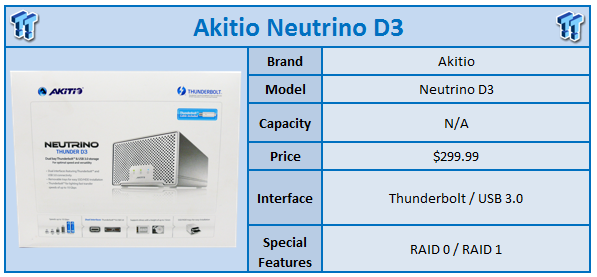 In the last few months, we have seen a good amount of product come through the lab from Akitio. While most of these have been pure Thunderbolt solutions, today we take a look at the Neutrino D3 that carries both USB 3.0 and Thunderbolt.
The D3 is a small form factor aluminium enclosure capable of housing two 2.5" SSDs or HDDs. Connectivity options include both USB 3.0 and Thunderbolt, with OS support for Windows and OS X 10.7+, though a single downfall is the unit is not compatible with BootCamp. The Neutrino Thunder D3 is available in many capacities ranging from two 256GB SSDs to two 2TB HDDs. The model we have in house is the diskless version.
MSRP of the diskless Akitio Neutrino D3 is listed at $299.99 with a two-year warranty.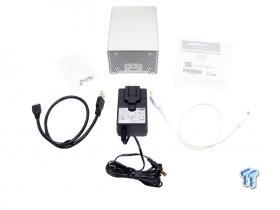 Scope of delivery for the Neutrino Thunder D3 includes both Thunderbolt and USB 3.0 cables, along with the power adapter and reading materials.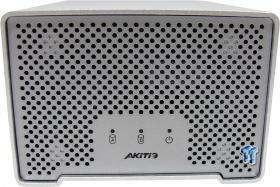 Looking at the front of the unit, we find three LEDs in the center, two for drive activity and one for power.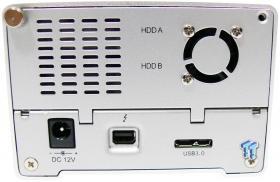 The back of the unit houses both connection options, along with the power input and small fan for dissipating heat.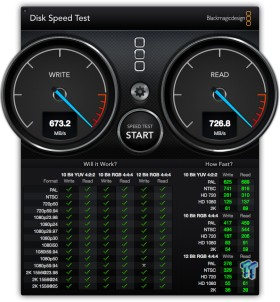 In our first test, we fired up Black Magic and ran the drives in RAID 0. Performance topped out at 726 MB/s read and 623 MB/s write.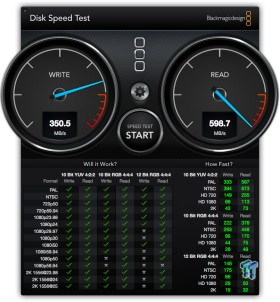 RAID 1 offered up 598 MB/s read and 350 MB/s write.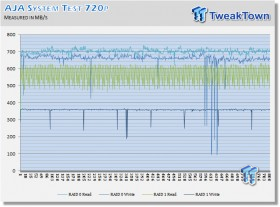 Switching gears over to AJA system test, we found the Neutrino to do pretty well with 720p. Peak throughput was a little over 700 MB/s read in RAID 0, while RAID 1 peaked just over 600 MB/s.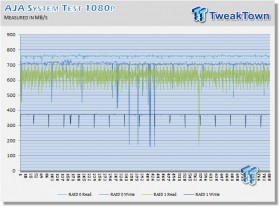 Here we have our first set of tests with IOMeter. The Voyager GTX SSD came in at 413 MB/s read and 192 MB/s write.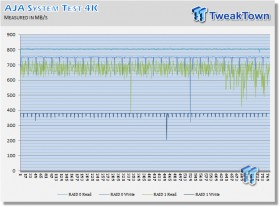 Moving to 1080p, the Neutrino Thunder D3 was able to bring in 750 MB/s in RAID 0. 4K allowed the Neutrino Thunder D3 to max out its Thunderbolt connection at 800MB/s in RAID 0.
The Neutrino Thunder D3 carries a great amount of performance thanks to its Thunderbolt connectivity. While this device is first-generation Thunderbolt, the Neutrino Thunder D3 offers up support for both Windows and OS X, which sets it apart from many solutions on the market. One downfall of the Thunder D3 is it requires a power adapter, so that limits portability options, where access to a power source just isn't available.
Build quality of the D3 was quite good, the aluminium doubles as both a heat sink for the internal drives, and adds to the durability factor. The only build quality issue I did have was the drive trays being a bit clunky with nothing but the drive to support them.
Performance of the D3 was quite good; we were able to peak out our Thunderbolt connection with 4K testing. In addition, we even topped 700 MB/s in RAID 0 as well.
PRICING: You can find the Akitio Neutrino Thunder D3 (Enclosure Only) DAS for sale below. The prices listed are valid at the time of writing but can change at any time. Click the link to see the very latest pricing for the best deal.
United States: The Akitio Neutrino Thunder D3 (Enclosure Only) DAS retails for $299.99 at Amazon.