TweakTown's Rating: 93%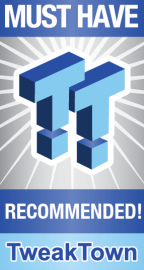 The Bottom Line
The Yoga 9i continues to deliver a fantastic experience for anyone spending countless hours on their notebook.
Pros
+

Brilliant OLED display

+

Touchscreen

+

Performance

+

Keyboard and touchpad
Cons
-

Soldered CPU and memory
Should you buy it?
Avoid
Consider
Shortlist
Buy
Introduction, Specifications, and Pricing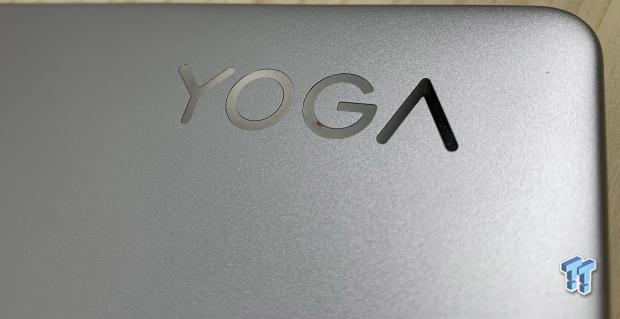 Over the last few generations, we have enjoyed the standalone Yoga lineup over the Thinkpad X1 Yoga models, primarily because of the increased chassis dimensions, design, and with last year's model, OLED displays. In our recent conversations with Lenovo, we inquired about the latest model and were lucky enough to snag one for review.
Specifications
On the hardware front, this year's Yoga 9i is equipped with the Intel Core i7 1360p, a 16-thread design that offers four P-cores and eight E-cores. Boost is available up to 5GHz on the P-cores and 3.7GHz on the e-cores. Lenovo has paired this CPU with 16GB of 5200MHz DDR5, which is soldered and not upgradable. Graphics are handled by Iris Xe.
Storage for this model is noted as a 1TB Gen4 TLC NVMe solution, while the Intel AX211 handles networking. As mentioned briefly above, the display is an OLED panel with a 3840x2400 resolution; it is 100% DCI-P3 certified and offers touch capabilities and 400nits brightness. Connectivity includes three USB-C ports, two of which are Thunderbolt certified, and we also have one USB-A port and a 3.5mm audio jack.
The MSRP of the Lenovo Yoga 9i with the above configuration comes in at $1799 with a one-year warranty.
Notebook Overview
Lenovo Yoga 9i Overview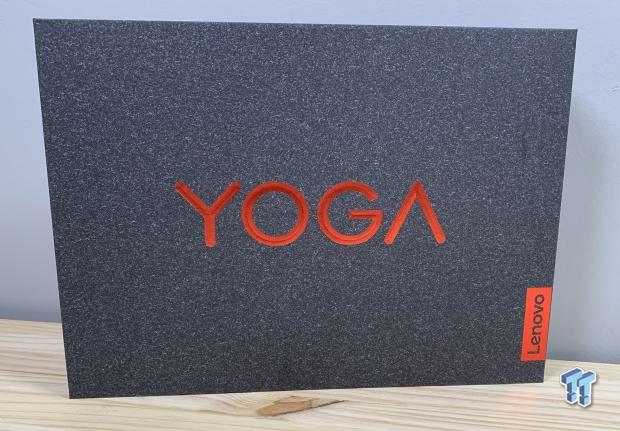 Packaging for the Yoga gives us a grey granite-looking box with red logos.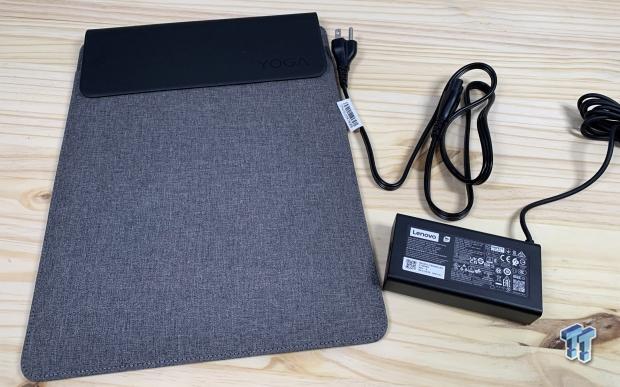 Unboxing, the Yoga 9i was delivered with a carrying case on the left and USB-C power adapter to the right.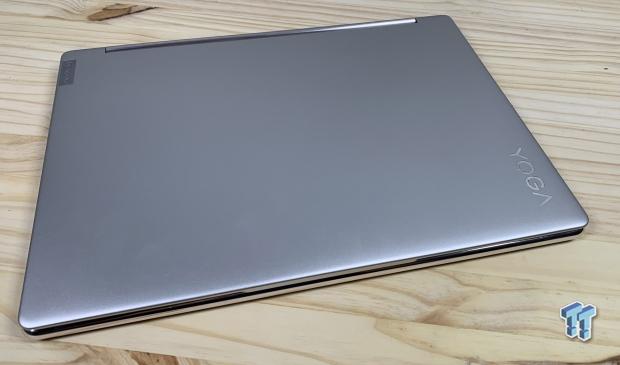 As we have seen in the past, the Yoga 9i is a 14" notebook with Lenovo branding top left and Yoga bottom right.

The left side starts with a USB-A port followed by two Thunderbolt ports.

Under the display, the Yoga 9i offers a full-width soundbar that is Dolby Atmos capable.

We find the 3.5mm audio jack, USB-C, and power button on the right side.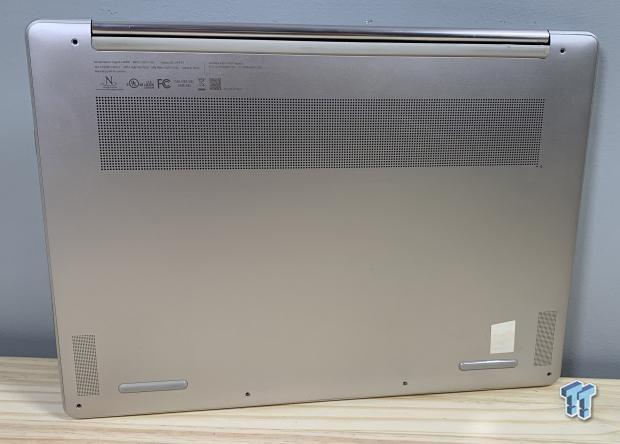 The bottom of the Yoga is closed off, with a small amount of venting across the top.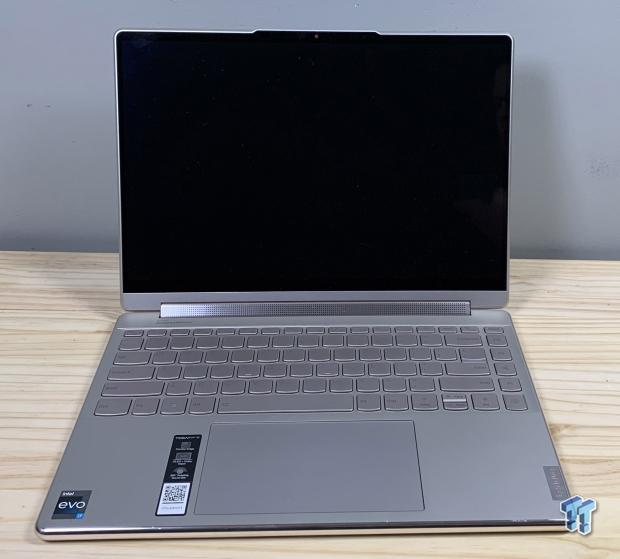 Opening the Yoga, we have a large trackpad centered in the chassis, with a standard Lenovo keyboard above.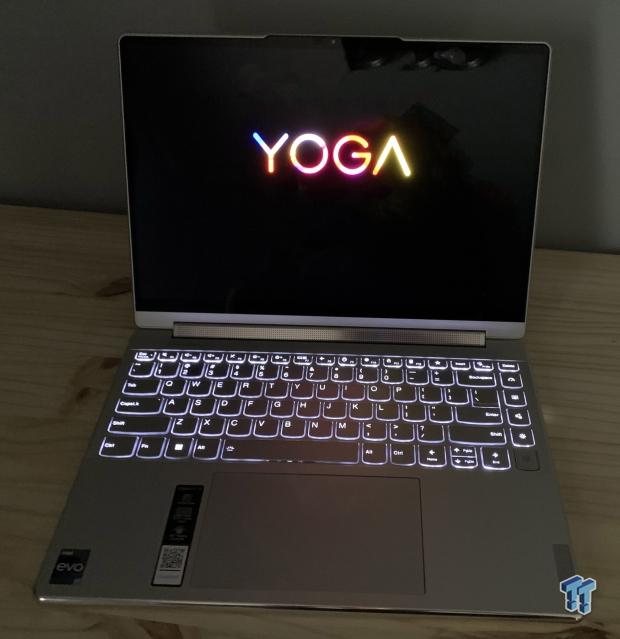 Dimming our lighting, we have the backlit keyboard and the OLED display shown above.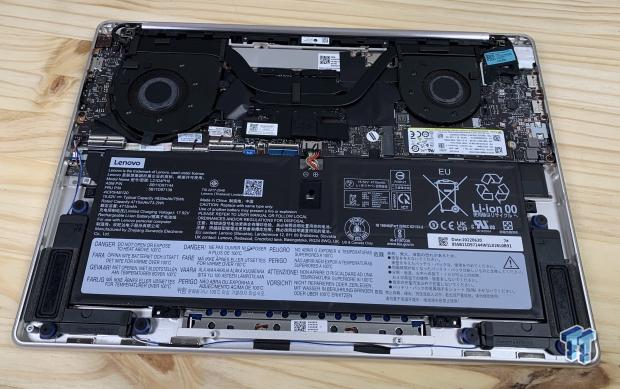 Internally, Yoga houses its battery at the bottom of the chassis with dual cooling fans above. In between, we have a single NVMe slot off to the right. WiFi, CPU, and memory are all soldered.
BIOS/UEFI and Software
UEFI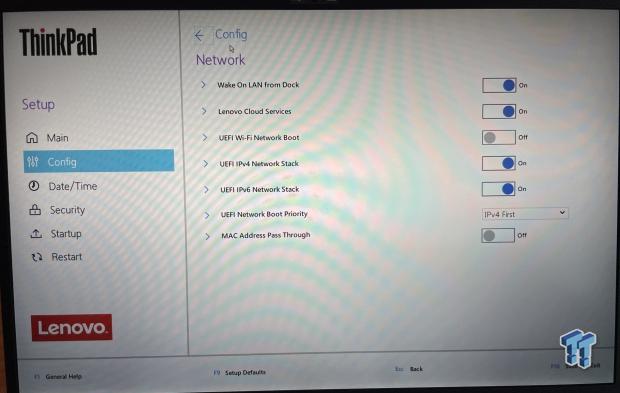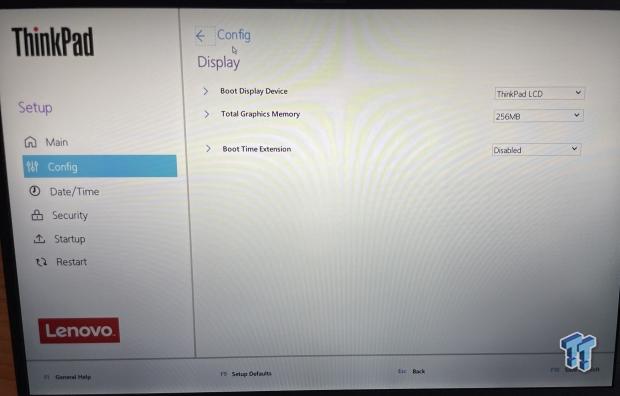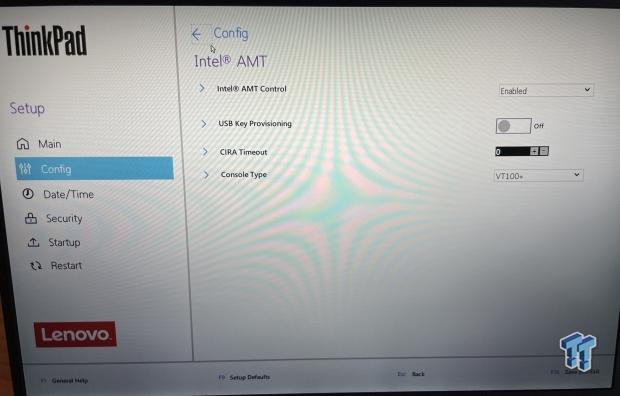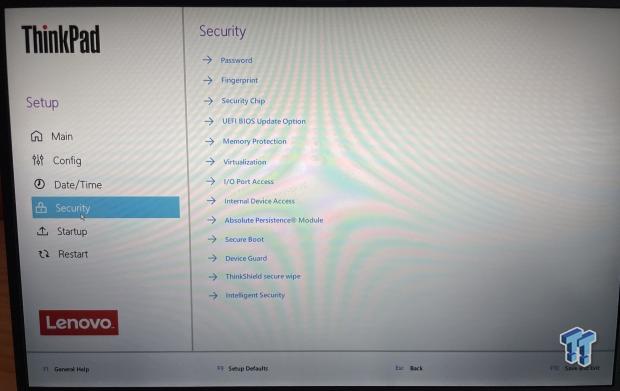 The setup for the Yoga 9i offers mouse support with a friendly GUI. The main page provides insight into the installed hardware, CPU, memory, and NVMe. The configuration menu includes networking, USB, display configuration support, CPU power options, and Thunderbolt at the bottom.
Further options include support for USB boot and keyboard mouse setup and power options such as Speedstep and c states. Security offers options for setting up fingerprints and passwords, memory protection, virtualization, and I/O ports.
Software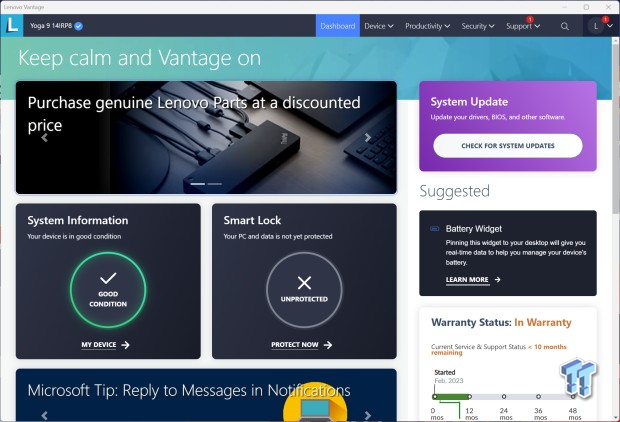 Included software for all Lenovo laptops is called Vantage. From here, the initial screen will offer warranty information on the right side with quick settings along the bottom.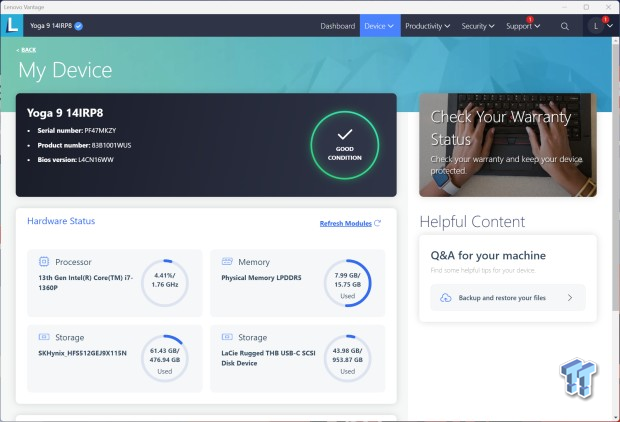 Moving into the software, we find information about the laptop, including the CPU, memory, and storage.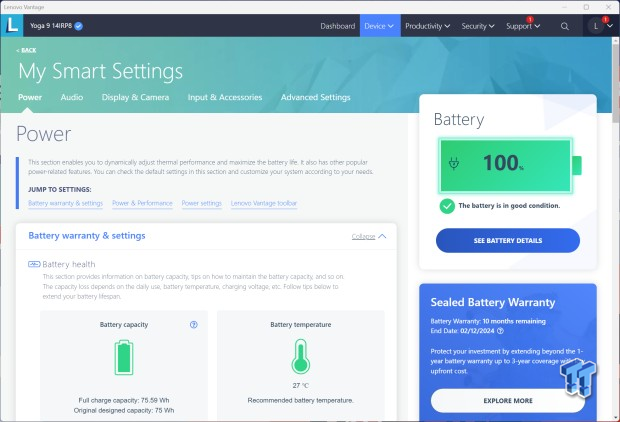 Power settings will show you the status of the battery and its condition.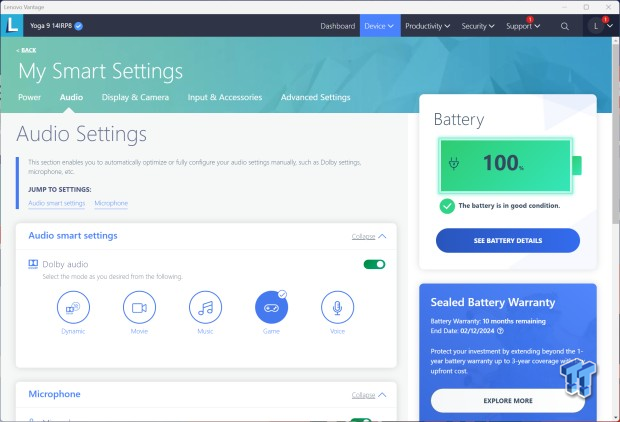 Audio settings offer configuration on the integrated speakers and microphone.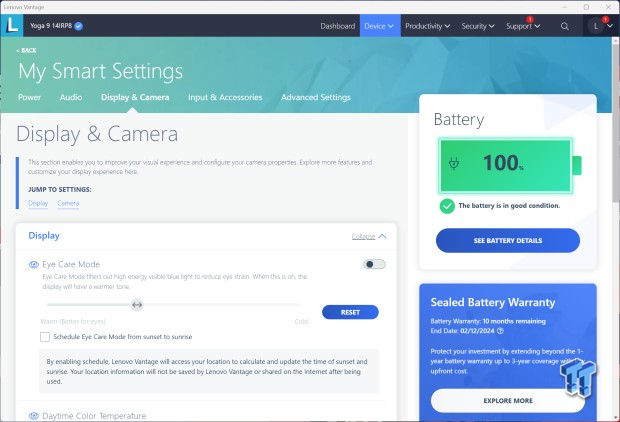 Last, we have display settings and camera that allow you to turn on eye care mode and configure the display color temperature.
System/CPU Benchmarks
Cinebench
Cinebench is a long-standing render benchmark that has been heavily relied upon by both Intel and AMD to highlight their newest platforms during unveils. The benchmark has two tests, a single-core workload that will utilize one thread or 1T. There is also a multi-threaded test that uses all threads or nT of a tested CPU.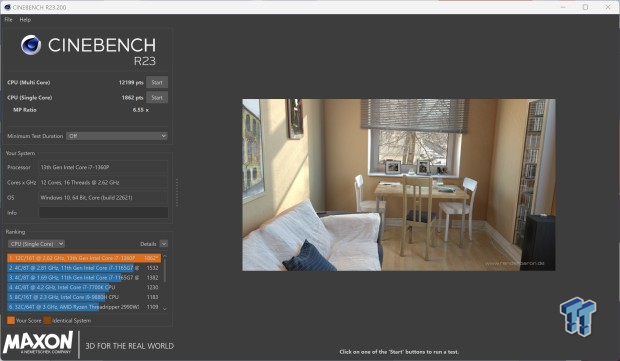 We kicked off testing the Yoga 9i with R23, as we do. Single-core picked up 1862 while multi-core landed at 12199.
BAPCo CrossMark
CrossMark is an easy-to-run native cross-platform benchmark that measures overall system performance and responsiveness using real-world application models. CrossMark supports devices running Windows, iOS, and macOS platforms.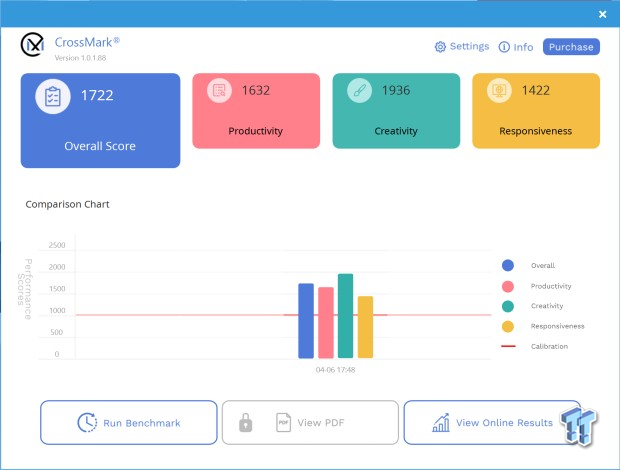 CrossMark gave us a score of 1722 for the Yoga 9i. Creativity was the highest scoring in 1936.
AIDA64 Memory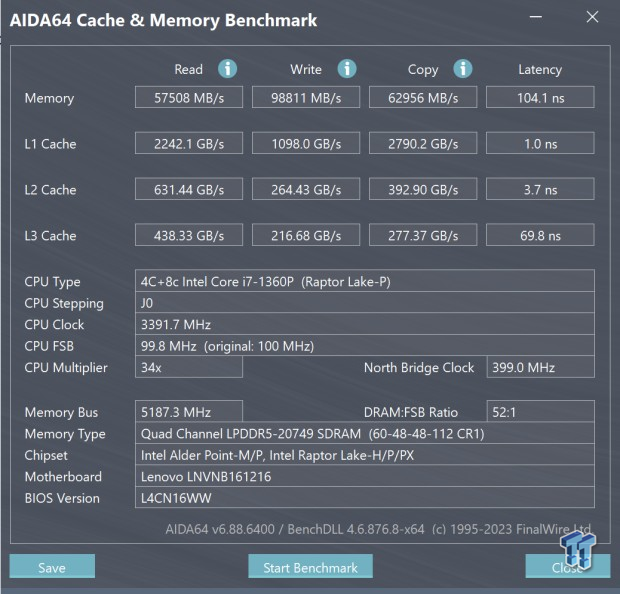 Memory throughput offered us 57K read, 98K write, and 62K copy. Latency was very high at 104ns.
Geekbench 6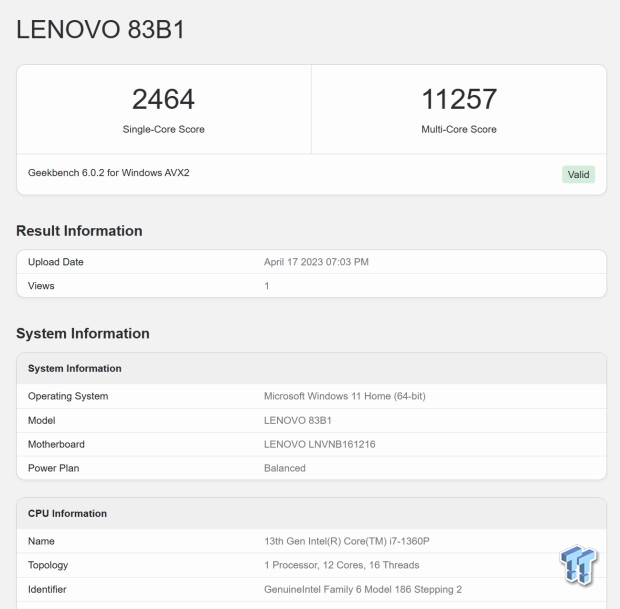 Geekbench CPU scored 2464 single-core and 11257 multi-core.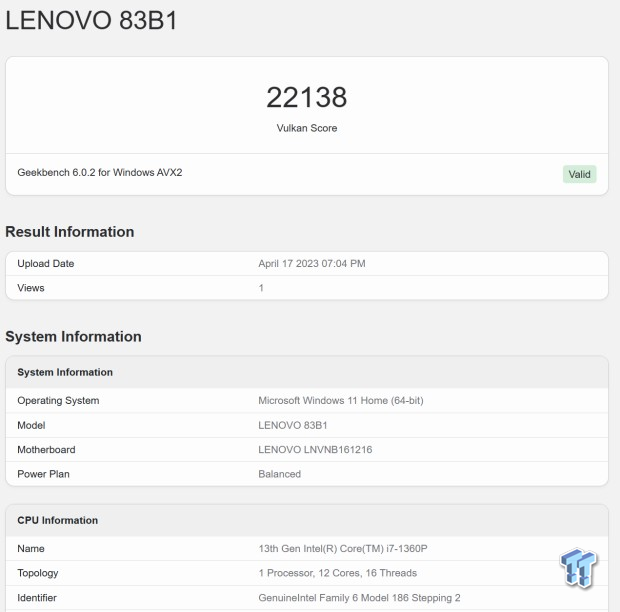 Switching to GPU workloads, the Yoga grabs 22138 with Vulkan API.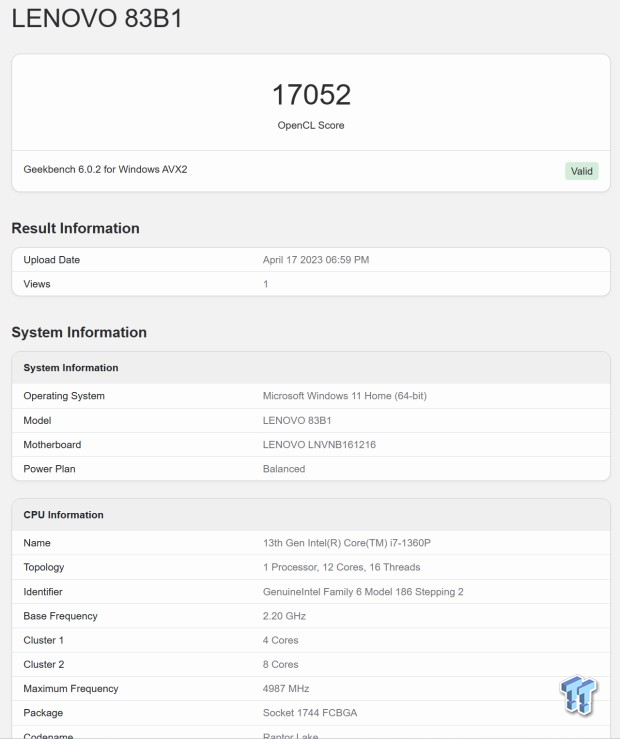 OpenCL gave us 17052.
PCMark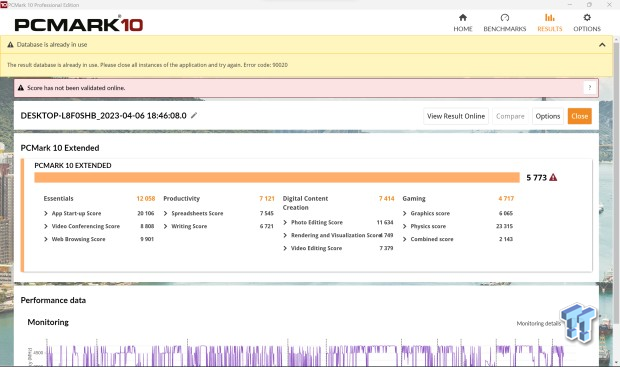 PCMark Extended landed us a score of 5773 for the Yoga.
3DMark and Comparisons
3DMark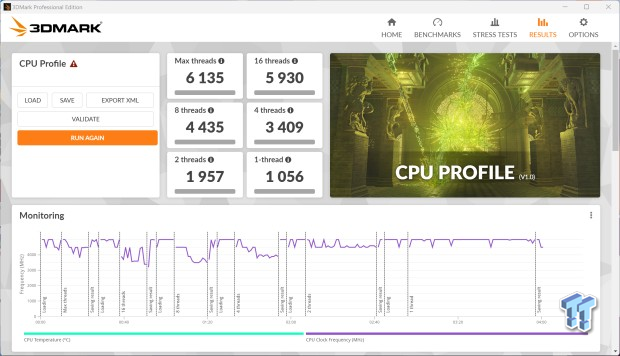 CPU Profile offered a single-core score of 1056 for the 1360p and 5930 at sixteen threads.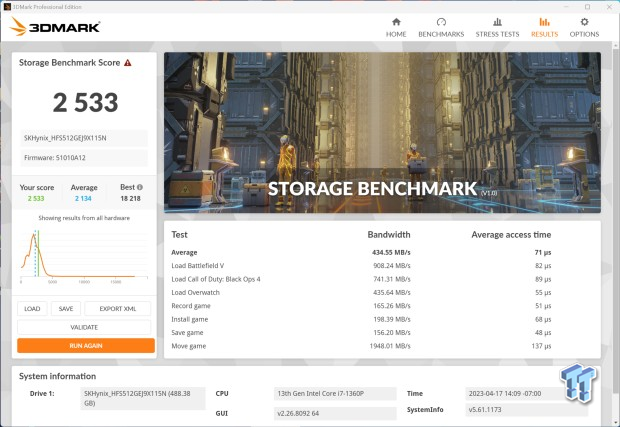 Storage was quite good on the Yoga 9i; the score was 2533 with a bandwidth of 434 MB/s.
Charts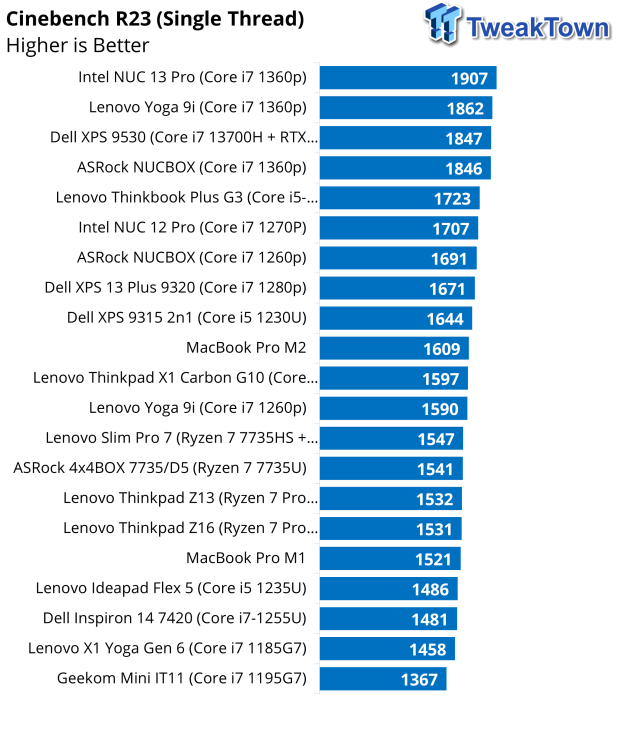 Getting into our charts, R23 puts this year's Yoga 9i in second in our single-thread chart.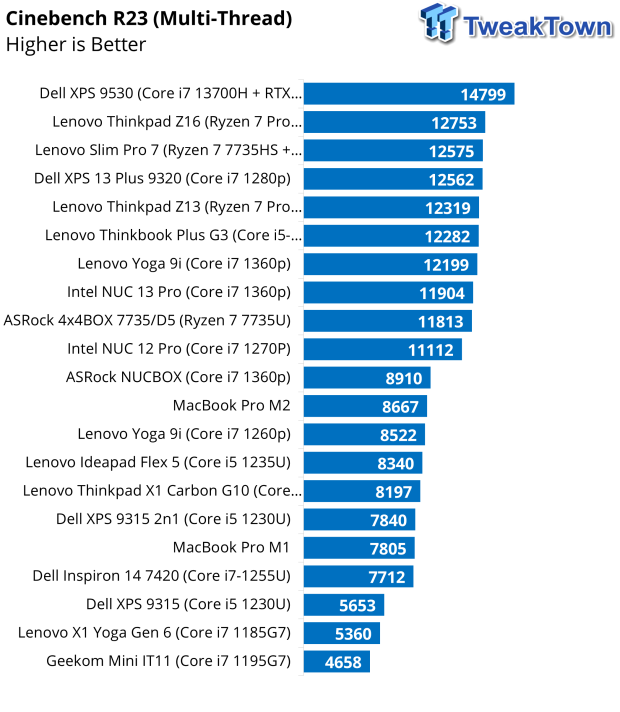 Multi-thread gets a good bump over the 12th Gen model, scoring 12199. We land in the 7th spot.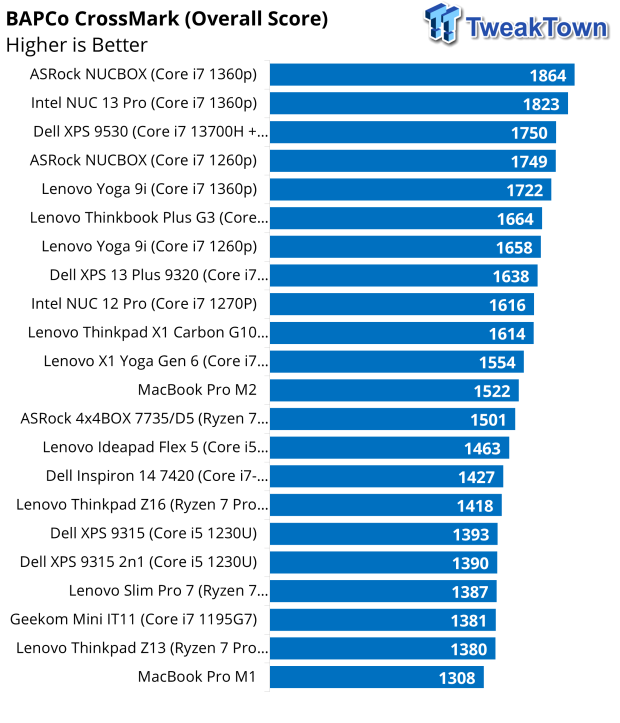 CrossMark scored 1722; this put Yoga in the 5th spot.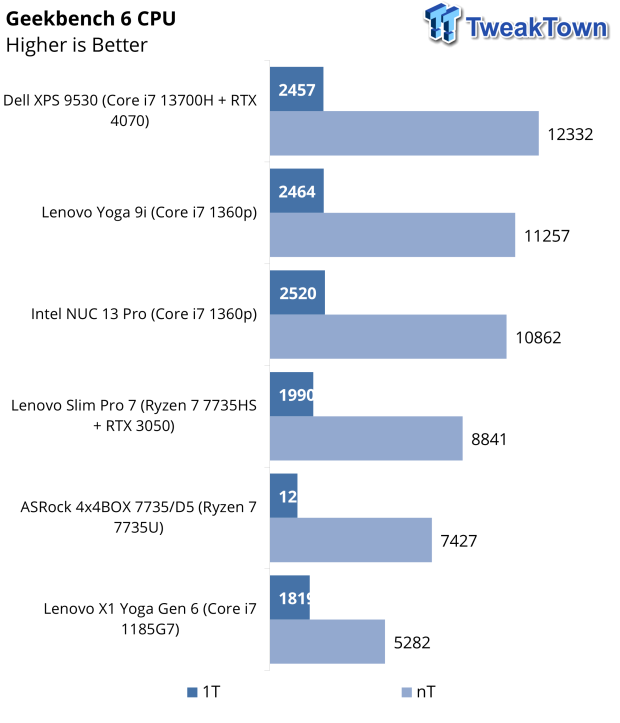 Into Geekbench CPU, the Yoga is at the top, 2nd in our charts to the XPS 9530.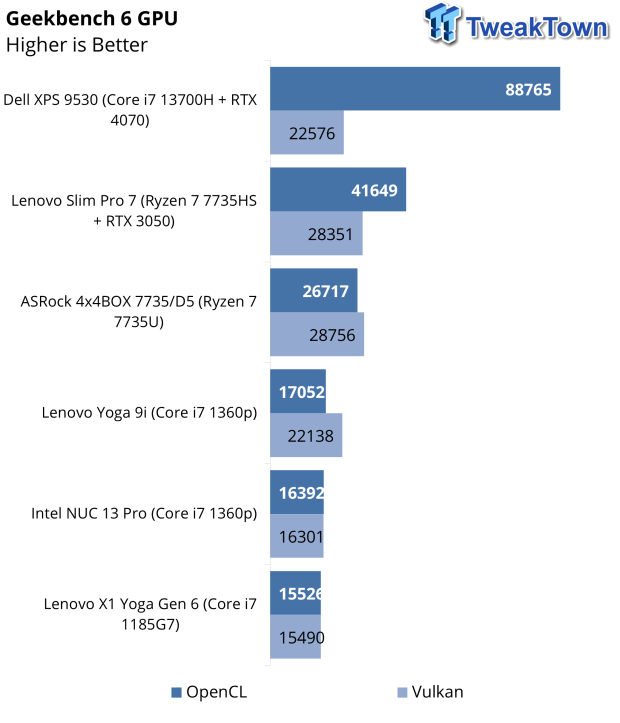 Our GPU chart shows the Yoga in the middle of the pack.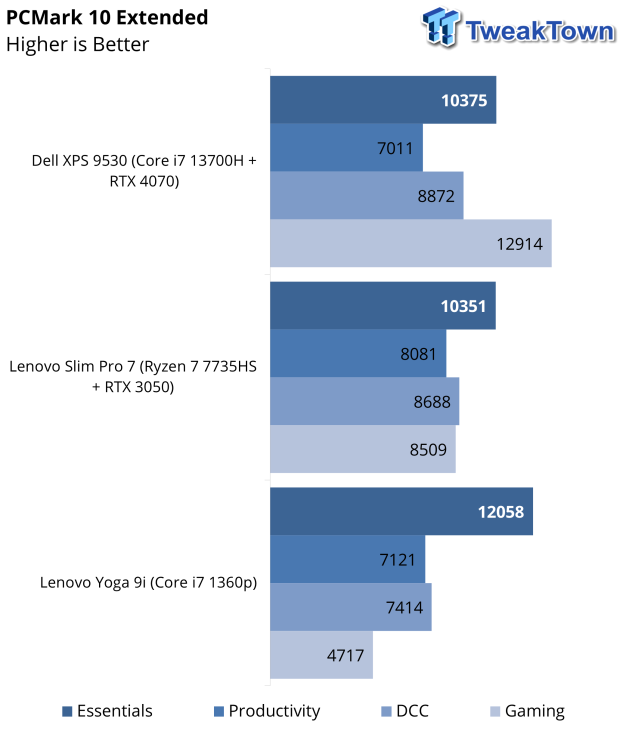 PCMark showed a fantastic score for essentials.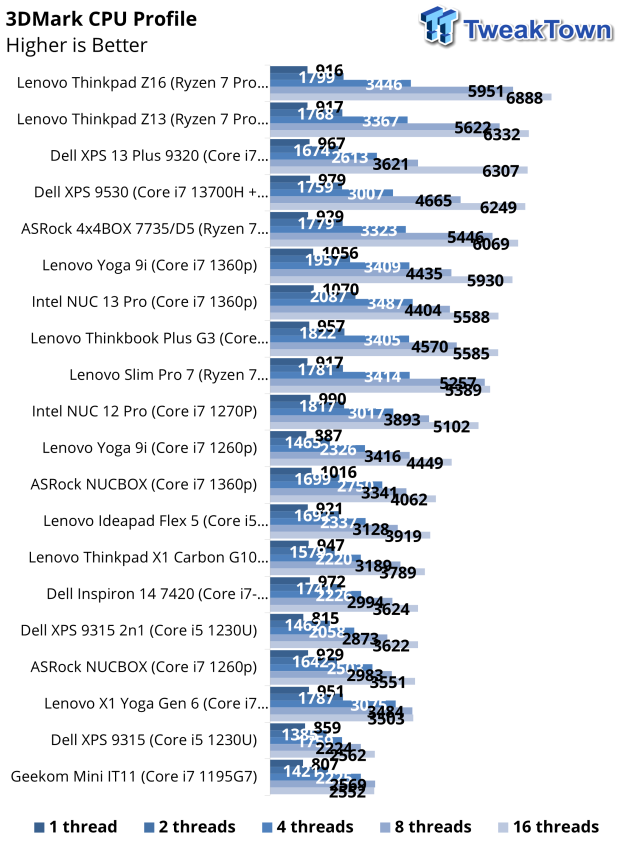 CPU Profile shows Yoga in the 6th spot.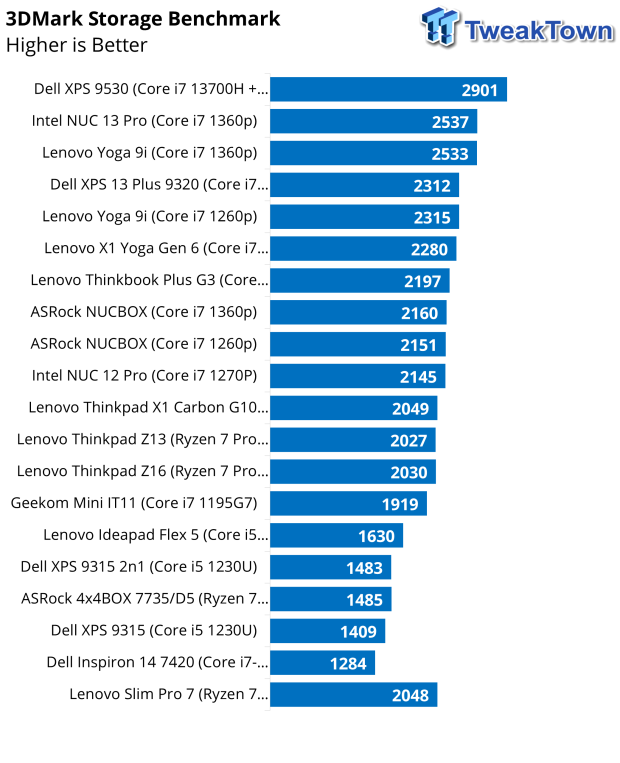 Regarding storage, the Yoga was quite good, third in our charts.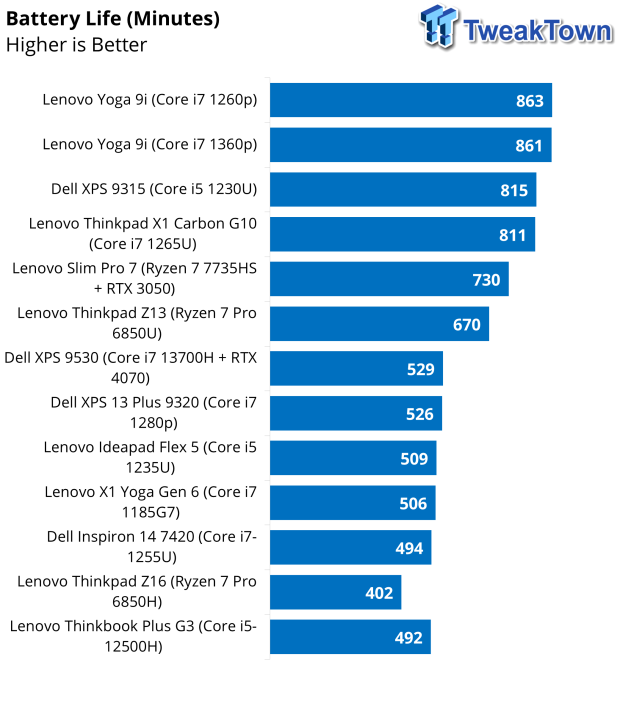 Battery life is at the top of our charts, second to only last year's Yoga 9i by two minutes.
Value and Final Thoughts
Value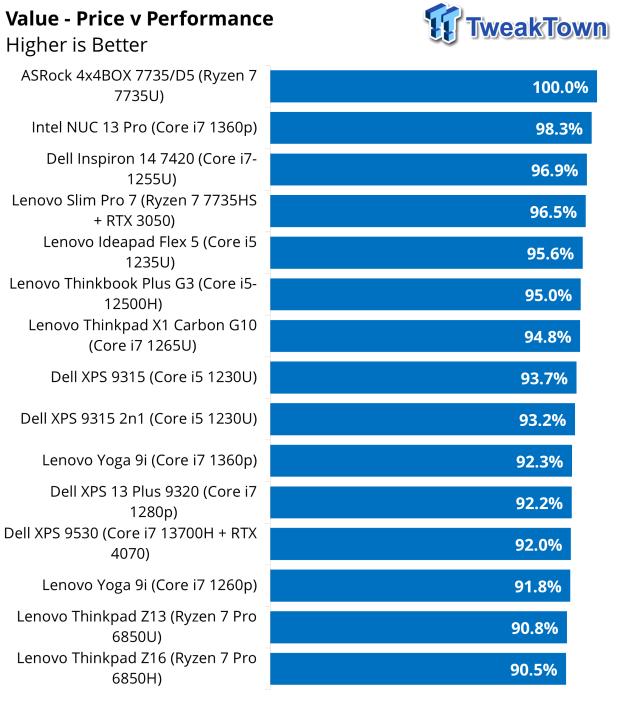 With Value, the Yoga 9i is towards the bottom, with a score of 92.8%.
Final Thoughts
Yoga continues to deliver a fantastic user experience for those looking for a 2-in-1 productivity experience. The chassis remains reasonably solid. The rolled edges eliminate a lot of wrist fatigue I've experienced with the X1 series, and adding to this, the centered trackpad, while quite large, offers a solid tactile click to it.
The backlit keyboard can be tuned and, at its highest setting, is very bright, while the keys offer that signature Lenovo feel. The display is absolutely gorgeous, with no bleed, incredible blacks, and tons of resolution, assuming you choose the 3840x2400 option.
The hardware in this machine is quite good. If we reflect back on our charts, the Yoga did quite well with nearly every workload we threw at it, offering top-three-level performance in single-thread workloads like R23, CPU Profile, and Geekbench. We also found fantastic performance from those same benchmarks with multi-thread workloads. Looking at CrossMark and PCMark, the Yoga is still a top-five system, offering chart-topping numbers with PCMark essentials.
Lenovo Vantage offers a solid software platform for the Yoga 9i, allowing you to configure nearly every bit of the notebook within it, along with hardware monitoring and managing any updates the system may need. The BIOS is relatively simple for this system. Not a lot to be configured, but boot options are available, along with a few options for power, USB, and system security.
Regarding pricing, the Yoga 9i, as configured for this review, lands at $1799, a bit above our Yoga 9i sample from last year, but we have a better display, double the memory and quadruple the storage. Overall, this notebook is reasonably priced for its hardware and performance in the current market.
Lenovo is continually adjusting prices, so watch out for a deal!