Digital Storm Vanquish 2 Level 4 Desktop Gaming PC Review
Today Trace reviews a pre-configured gaming system from Digital Storm. The Vanquish 2 Level 4 is budget friendly at around $1300, but how does it perform?
Published
11 minute read time
Introduction & Specifications, Configurations and Pricing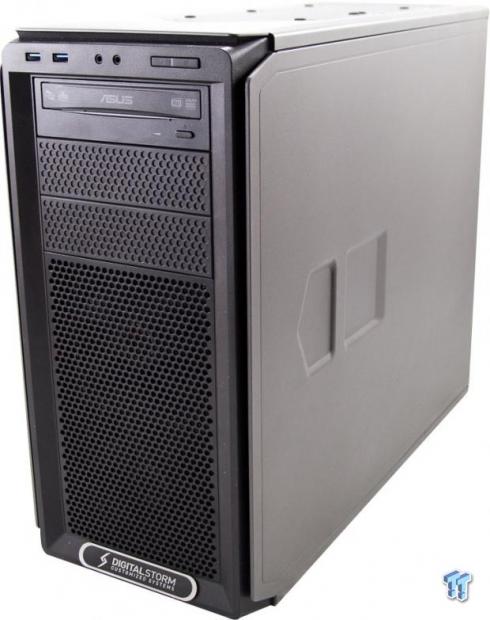 Digital Storm is a name we're quite familiar with around these parts. We've seen the company's work at CES and in our very own lab, and every time we've been quite impressed with what the custom PC manufacturer is doing.
Digital Storm is based out of the San Francisco, CA, bay area and uses both mass-produced cases and custom cases created using other local metal workers and machine shops. We've seen systems from Digital Storm that fall into both of these categories. Today in the lab, we have a system that falls into the former category. Enter the Vanquish II Level 4.
The Vanquish II Level 4, as the name might suggest, is the second iteration of the Vanquish gaming system line. We, unfortunately, don't have a frame of reference to see the improvements, as we didn't get a chance to look at the Vanquish I, but we can investigate the machine to see if it stands by itself as an awesome gaming machine.
The Level 4 designation means that the system has been configured by Digital Storm's experts to maximize performance on a certain budget level. Level 4 is the highest budget, and the system comes a little over $1,000, but we'll cover that aspect in a minute.
Without further ado, let's dive into the meat of this review and see what the Vanquish II is made of.
Specifications, Configurations and Pricing
The Level 4 Vanquish II comes configured with an Intel i5-4590. The 4590 is a quad-core processor based on Intel Haswell microarchitecture. It features a base speed of 3.3GHz and a TurboBoost speed of 3.7GHz. Unfortunately, the 4590 is not a K skew, so the processor's multipliers remain locked for overclocking. The 4590 also lacks HyperThreading, so the system is presented with just four cores and four threads.
The CPU features generic "upgraded CPU Air Cooling." On our system, this means cooling is provided by a ZALMAN CNPS5X 92mm tower-style air cooler that retails for just $23 on Newegg. It's certainly better than stock, but by how much remains to be seen. Of course, since it is a generic upgrade, your system may make use of a different CPU cooler.
The 4590 is slotted into an ASUS H81M-D Plus mATX motherboard. Again, this is a budget motherboard, something you can tell by the use of the Intel H81 chipset, as opposed to a higher-end Z87 chipset. The motherboard itself supports a max of 16GB of DDR3, and features two SATA 6Gb/s ports, one PCIe x16 slot, and two PCIe x1 slots. It does, however, include gigabit networking.
Two 4GB DDR3 DIMMs are slotted into the motherboard's RAM slots. According to the spec sheet, they are clocked at 1600MHz and are "Digital Storm Certified Performance Series." This generic statement again means that your system could come with differing memory. In the case of our system, we have ADATA XPG RAM with timings of 9-9-9-24.
Graphics are provided by an NVIDIA GeForce GTX 770 2GB video card. Our specific card is the DirectCU II from ASUS, a solid brand and model. We expect that your system could come with a different brand and model as no specific brand or model is specified.
Windows 8.1 64-bit is the operating system pre-installed on a Samsung 840 EVO 120GB SSD. Storage is provided by a 7,200RPM 1TB Seagate drive. All of the components are stuffed into a Corsair Graphite Series 230T case in the Battleship Gray color.
Digital Storm has the Vanquish II Level 4 on sale on its website for $1,259. You can, of course, customize this machine to your heart's content, but the price and ship time may increase depending on your selections. This price includes lifetime Expert Care and a three-year limited warranty.
Packaging, Bundle & System Pictures
Packaging
The Vanquish II Level 4 arrives in what I would call Digital Storm's typical packaging.
The box is solid black with red Digital Storm logos and white writing, and is sealed with tamper evident tape. The system itself is in one of those cool suspension shipping systems that Origin uses with its laptops. Pictures below.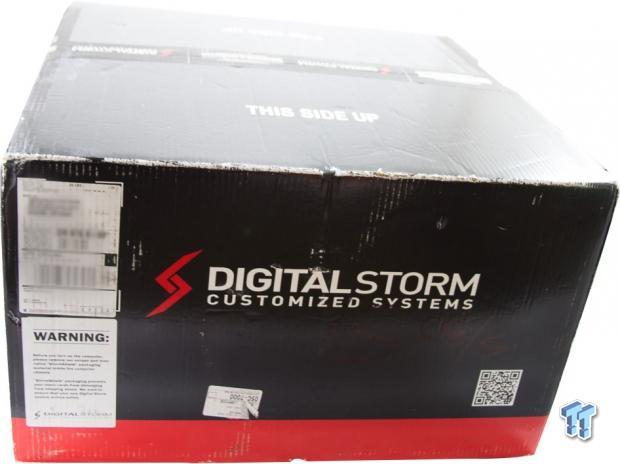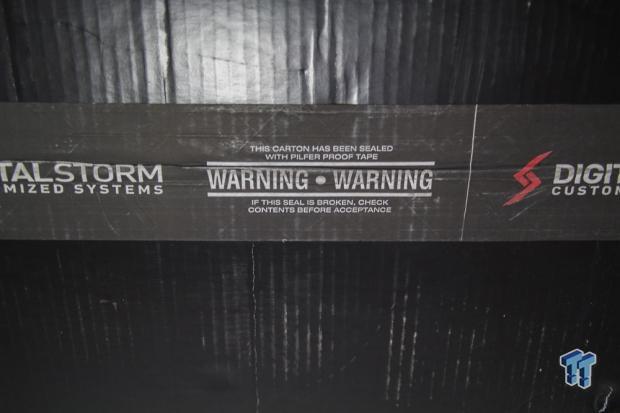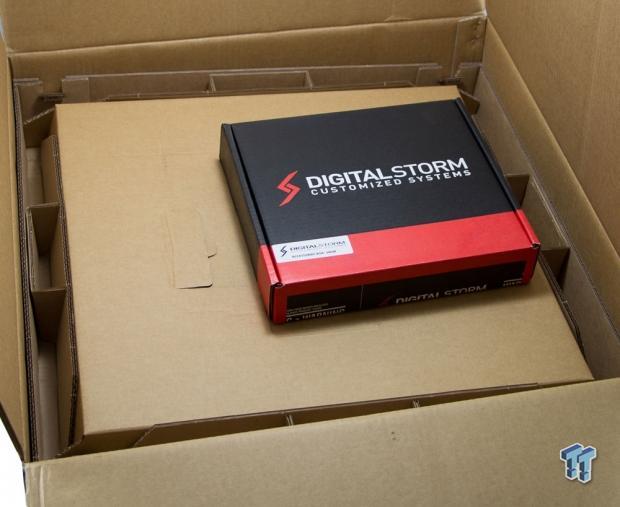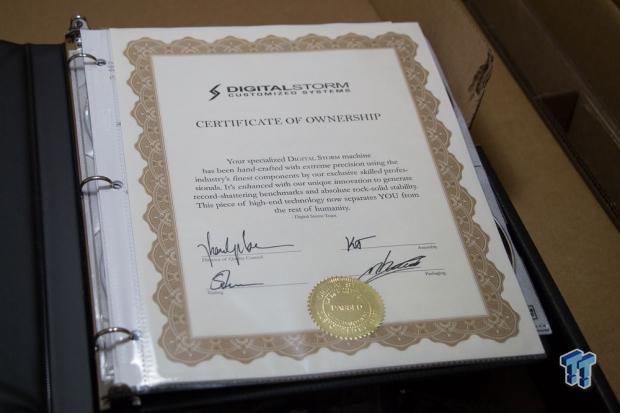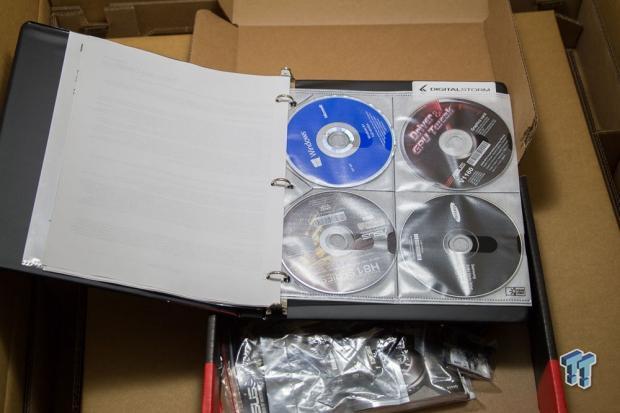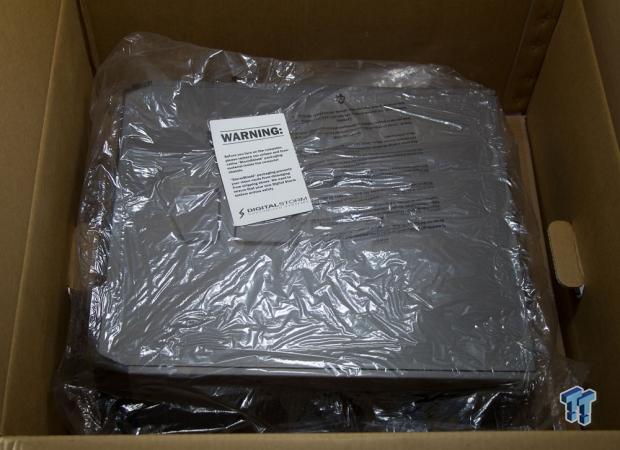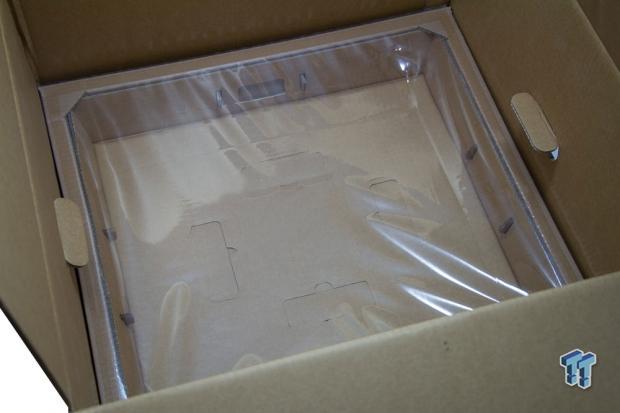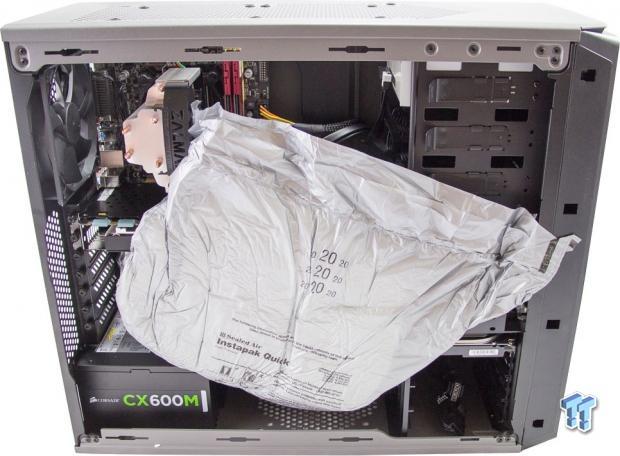 System Pictures
The following pictures are of the system: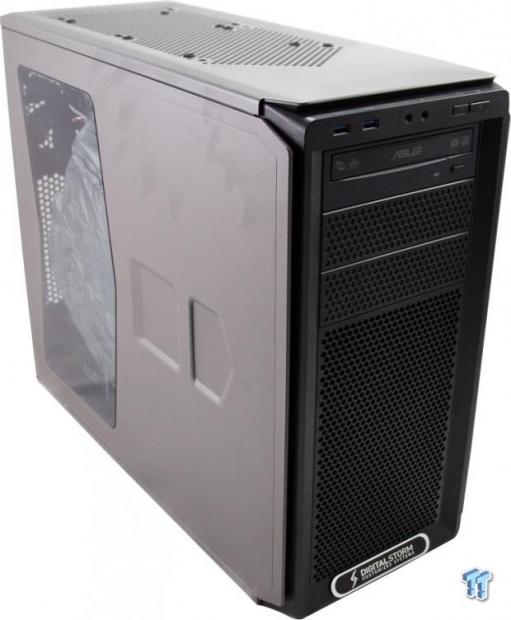 Left front side of the system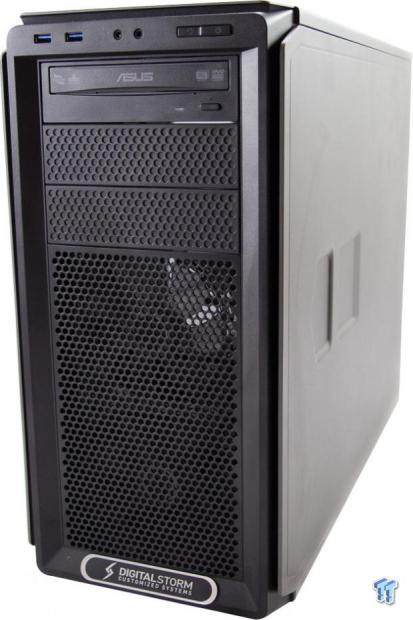 Right side of the system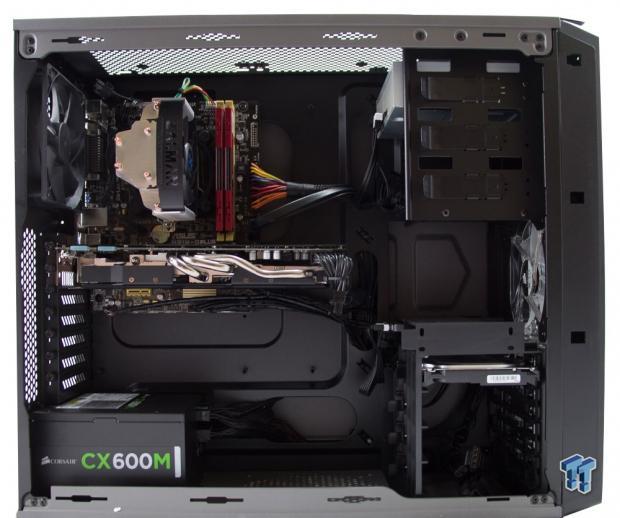 Internals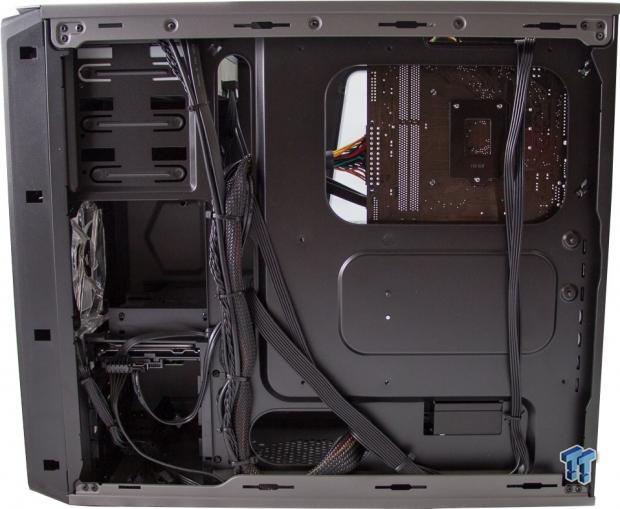 Back side with panel removed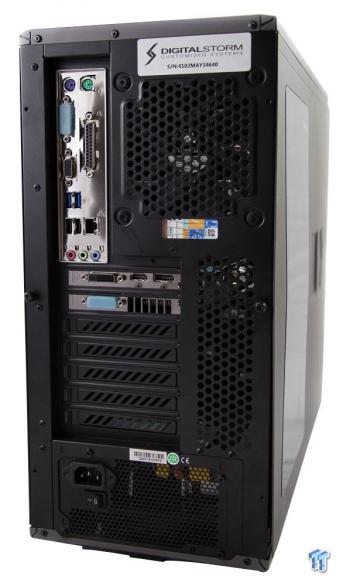 Rear panel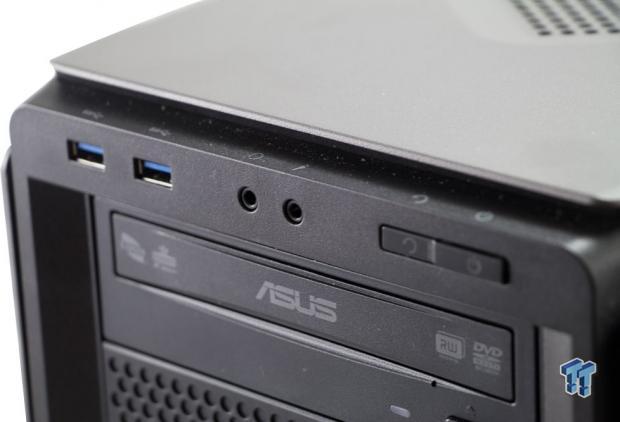 Front panel
Testing Methodology
We appreciate the support provided by Corsair, GIGABYTE, and ASUS. Without their support, our job would be much more difficult.
Benchmarks and Testing Methodology
- CPU Tests
Cinebench R11.5 starts off our tests. The multi-threaded rendering test is ran and the score reported.
wPrime is ran for both the 32M calculation and 1024M calculation with the number of threads available on the system.
- Storage Tests
CrystalDiskMark is run to put a number on how well the system hard disk drive / SSD runs. It measures five different metrics, of which higher is better for all. The higher the numbers, the snappier the operating system will feel, especially if the "4K" number is high as most operating system files are small files.
HD Tune is run on any storage drives installed in the system. Maximum, minimum and average read and write speeds are reported in the charts.
- System Tests
PCMark 7 is run to get an overall idea of how the system performs as a whole. It tests all aspects of the PC and puts a score on how well it performs overall. In this test, a low scoring area can affect the overall score, so it's important to read the analysis. A higher score is better.
- Gaming Tests
3DMark Vantage is ran on the Extreme preset to get a feel for how the computer would manage gaming. The CPU, GPU and combined scores are reported. A higher overall score is the best and a high GPU or CPU score shows particular prowess with tasks that use that part of the computer.
3DMark 11 is run on the Extreme preset and the Physics, GPU and combined scores are reported. This test is only run if the system supports DirectX 11. A higher overall score is the target, though a high individual result shows prowess in a particular area.
3DMark- Fire Strike Extreme Test is run on the system to measure DirectX 11 performance and CPU performance. 3DMark is the latest version of Futuremark's widely used gaming benchmarking software. The combined, GPU, and Physics scores are all reported in the charts.
Battlefield 4 is run at 4K resolution with the graphics preset set to "Ultra." FRAPS is used to record 60 seconds worth of FPS data. The game is played in a similar manner each time.
Crysis 3 is run at 4K resolution with the graphics specifications set to "Very High." No anti-aliasing is used. See picture on actual test page to see full details. FRAPS is used to record 60 seconds worth of FPS data. The game is played in a similar manner each time.
- Heat, Noise and Power Consumption
The system is fully loaded using Furmark and Prime 95. Component temperatures are recorded using CoreTemp and Furmark. Noise is recorded in front of the system, midway up, six inches from the machine using a decibel reader.
Idle power consumption is system consumption while sitting at the desktop, as recorded by a Kill-a-watt style meter. Loaded consumption is recorded during the load of Prime 95 and Furmark using the same meter.
Benchmarks - CPU Tests
Cinebench
Version and / or Patch Used: R11.5 build CB25720DEMO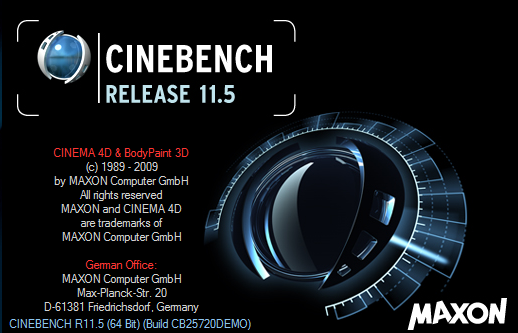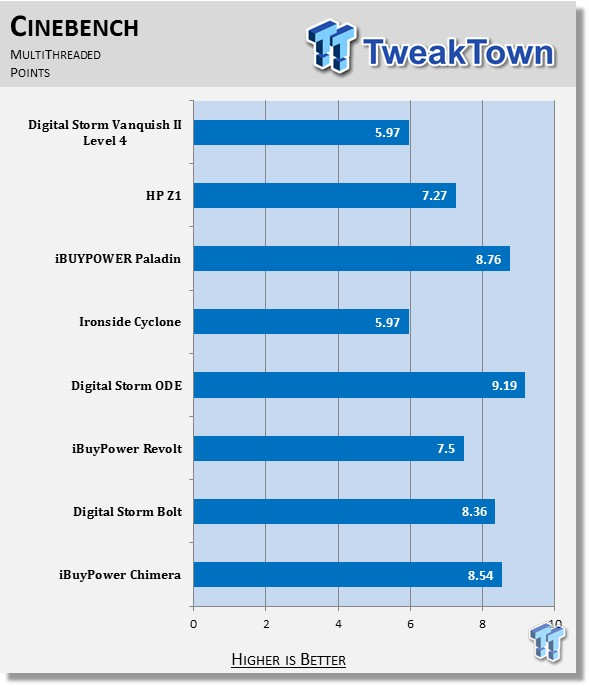 You can see in the chart above that the Vanquish II Level 4 suffers somewhat in the Cinebench test from a lack of HyperThreading. CPU performance through parallelism isn't of massive importance in gaming quite yet, as most games don't take advantage of more than four cores. As games continue to evolve and become more CPU bound, an upgraded CPU would definitely be useful.
wPrime
Version and / or Patch Used: 2.09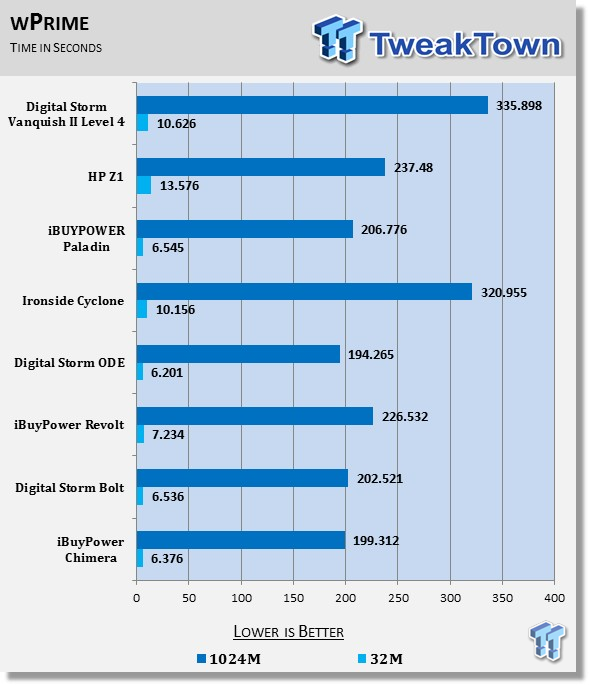 Continuing the trend seen above, tasks that are highly multi-threaded benefit from the HyperThreading technology in Core i7 CPUs. Therefore, the Vanquish II is at a disadvantage in this test. We'll see just how this hampers gaming performance later on in the review.
Benchmarks - Storage Tests
CrystalDiskMark
Version and / or Patch Used: 3.0 Technical Preview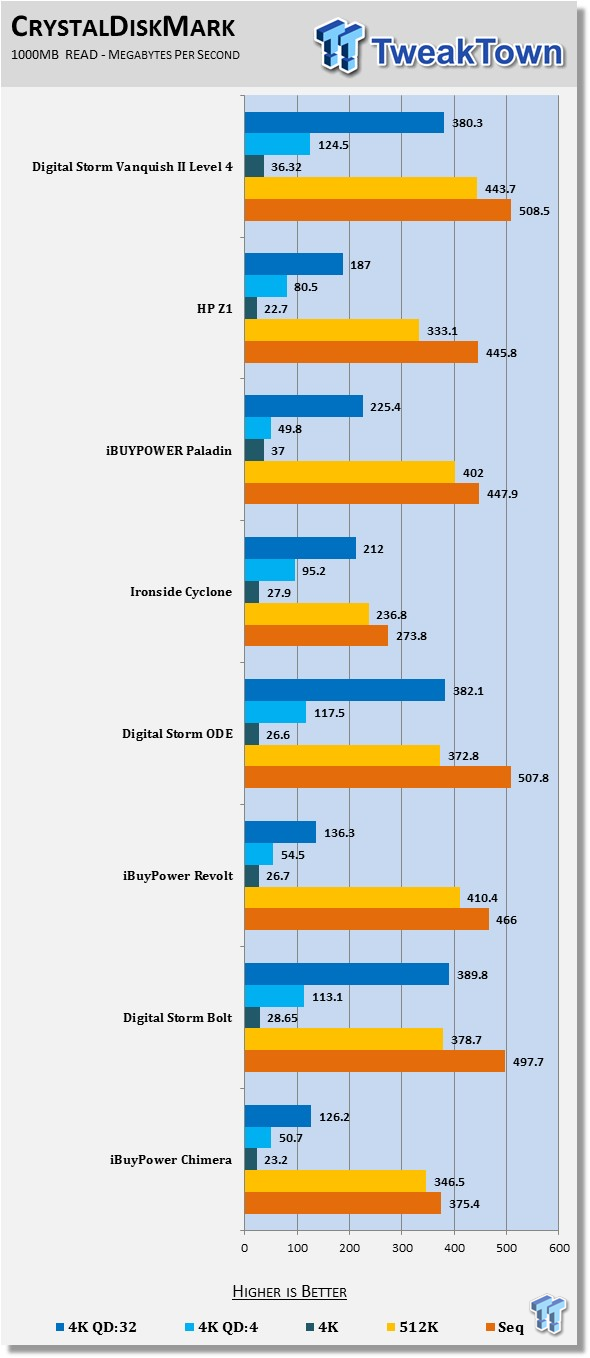 The Vanquish II Level 4 is equipped with a speedy Samsung 840 EVO 120GB SSD. The EVO provides for snappy boots and overall system responsiveness. Sequential speed is the fastest we've recorded, and the all-important 4k read speed comes in second place at 36.3 MB/s, just behind the leader's 37 MB/s.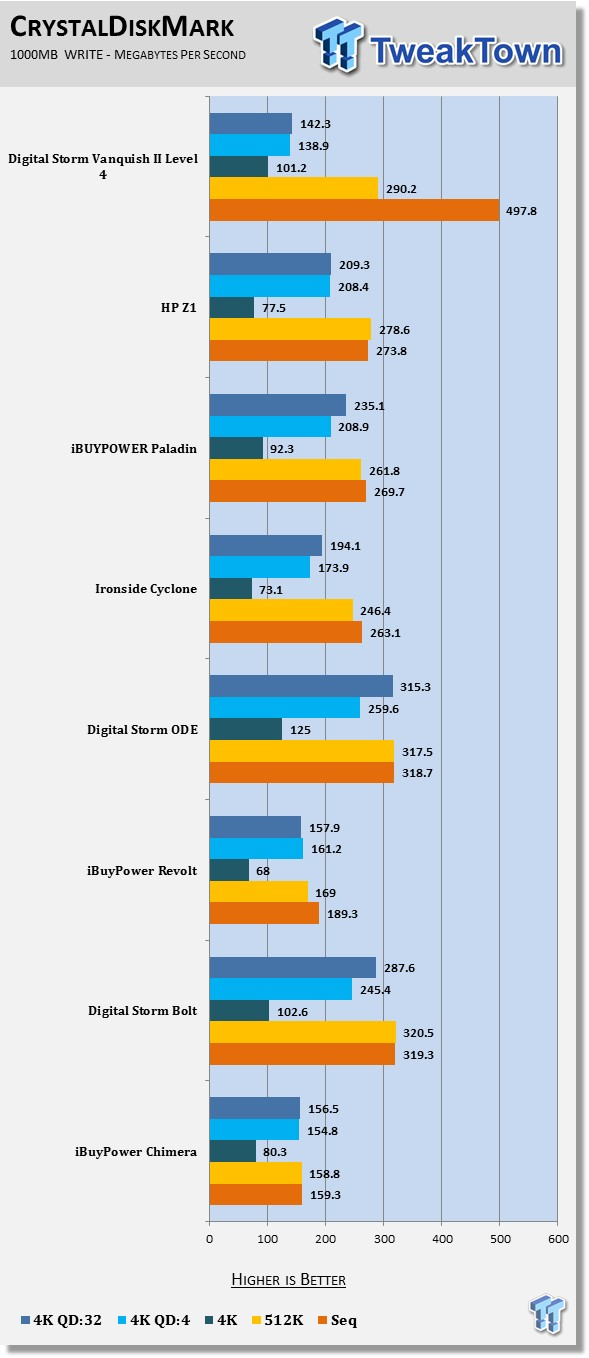 Sequential write speed absolutely trounces everything else we have for comparison with nearly 500 MB/s write speed. Its 4k speed comes in third, just 24 MB/s behind the leader, and a mere 1.4 MB/s behind second place, another Digital Storm system.
HDTune
Version and / or Patch Used: 5.00
HD Tune Pro gives us accurate read, write and access time results and for the last couple of years has been gaining popularity amongst reviewers. It is now considered a must have application for storage device testing.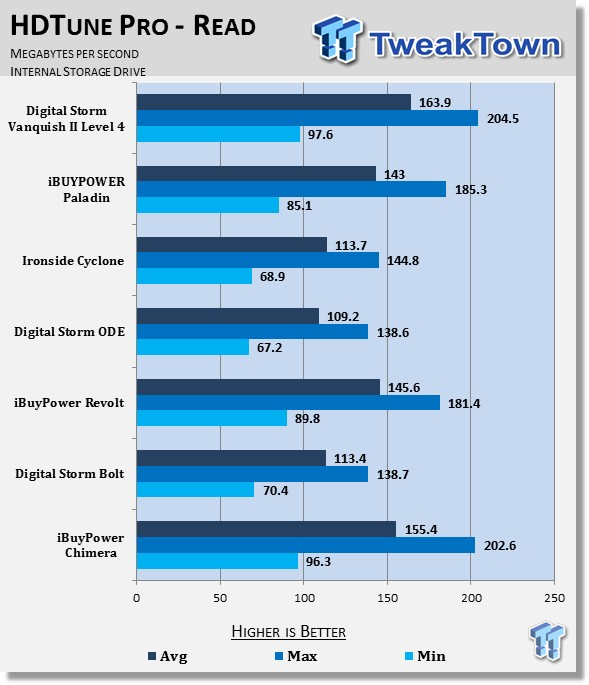 The 1TB storage drive installed in the Vanquish II is the speediest in terms of read speed that we have tested. It produced a max read speed of 204.5 MB/s and an average read speed of 163.9 MB/s, nearly 10 MB/s faster than the second place machine.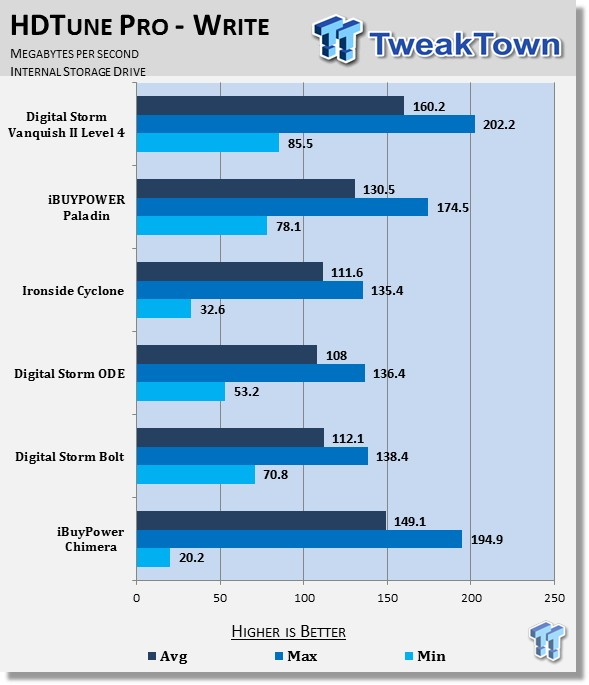 The same trend holds true for the write speeds of the system, with the system again coming in first place with an average write speed of 160.2 MB/s.
Benchmarks - System Tests
PCMark 7
Version and / or Patch Used: 1.0.4.0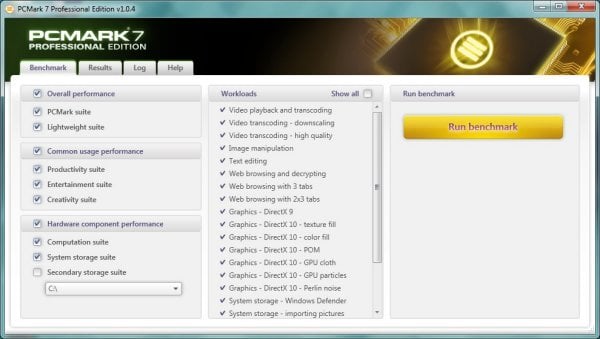 PCMark 7 is a great utility for testing a PC's all-around capabilities. It tests all aspects of the computer, from graphics performance to hard disk performance, and attempts to put a score on it, which is not an easy task.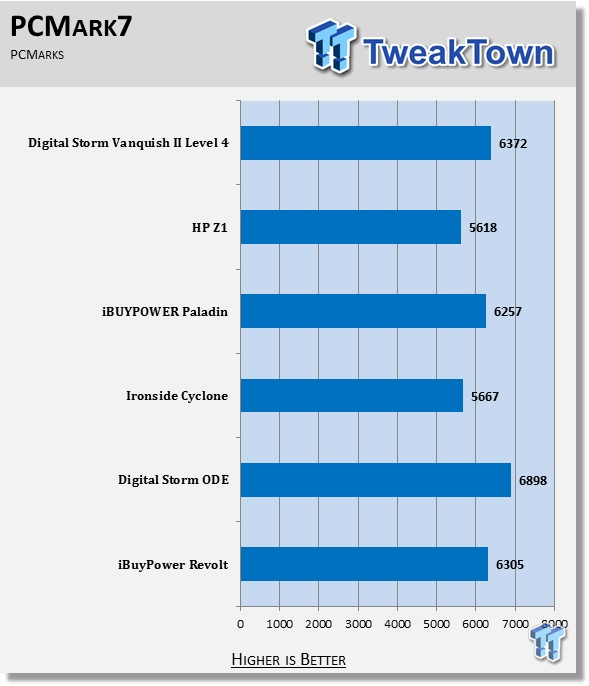 The Vanquish II proves itself as an all-around PC. It produces the second highest PCMark 7 score on our chart at 6372.
Note: PCMark 7 will be phased out as we move to PCMark 8.
PCMark 8 - Creative Test
Version and / or Patch Used: 2.0.228
PCMark 8 comes with various benchmarks to assess PC performance in key areas. As we are testing performance desktop systems, we utilize the Creative Test, non-CL accelerated.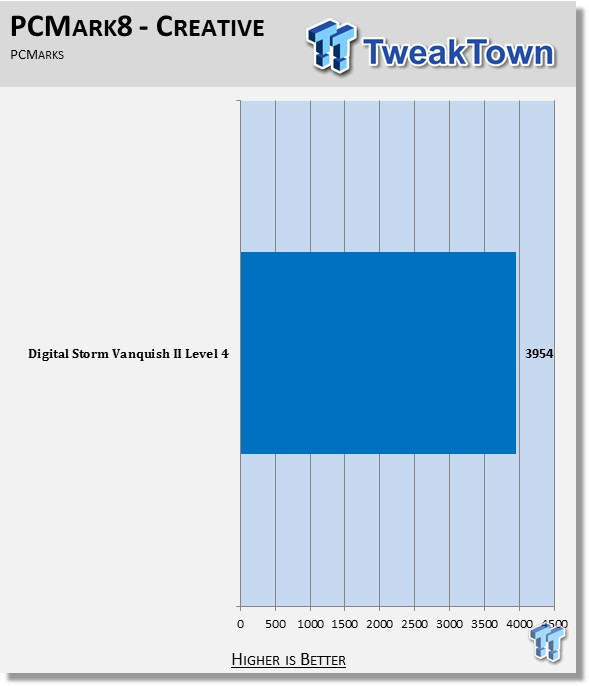 As soon as we get some more comparison systems, PCMark 7 will be eliminated in favor of PCMark 8's Creative test.
Right now, we have nothing to compare it to, so we are using PCMark 7 to compare and providing PCMark 8 results simply as extra information until our next desktop comes through the lab.
Benchmarks - Gaming Tests
3DMark Vantage
Version and / or Patch Used: 1.1.0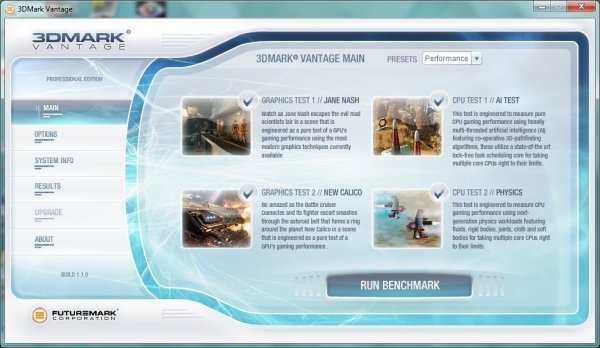 3DMark Vantage tests both processor and graphics performance and is a good indication of how systems compare. The results are generally more repeatable and consistent than other forms of benchmarking. Vantage uses DirectX 10 and can handle multi-core CPUs.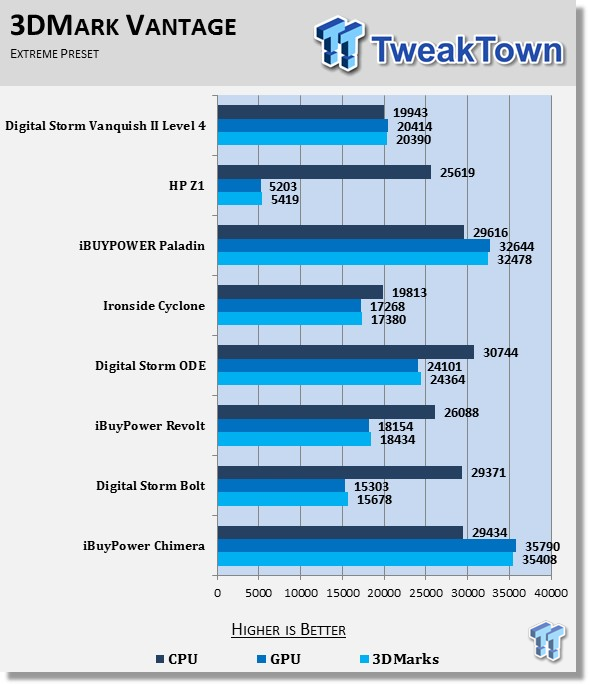 The Vanquish II Level 4 performs about where we would expect. It comes in fourth place, behind more expensive and powerful machines, and ahead of the small form factor desktops we have reviewed. It produces an overall score of 20,390.
3DMark 11
Version and / or Patch Used: 1.0.3.0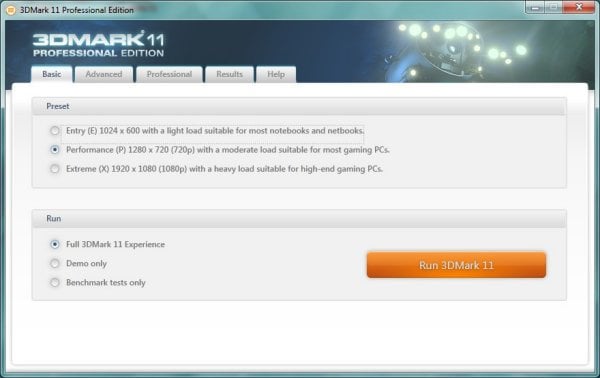 3DMark 11 is the latest version of the world's most popular benchmark. Designed to measure your PC's gaming performance 3DMark 11 makes extensive use of all the new features in DirectX 11 including tessellation, compute shaders and multi-threading. Trusted by gamers worldwide to give accurate and unbiased results, 3DMark 11 is the best way to consistently and reliably test DirectX 11 under game-like loads.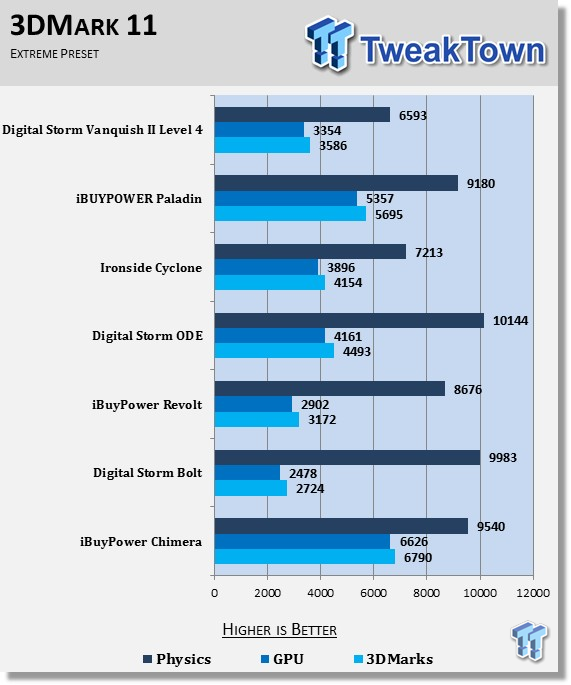 Here again, we see the Vanquish II beating the SFF systems and losing to the larger and more expensive desktops. An overall score of 3586 is a decent score, but a more powerful CPU would help boost results. As you can see, the GPU scores of the Cyclone and ODE aren't too much higher, but their higher CPU results helped contribute to the larger overall score.
3DMark - Fire Strike Extreme
Version and / or Patch Used: 1.0.0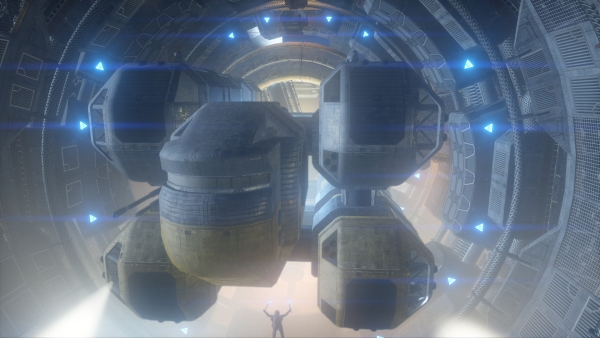 Fire Strike is a new test that is designed for powerful gaming desktops. We have checked the "Extreme" test option to make it that much more torturing on the system. Overall, CPU, and GPU scores are reported.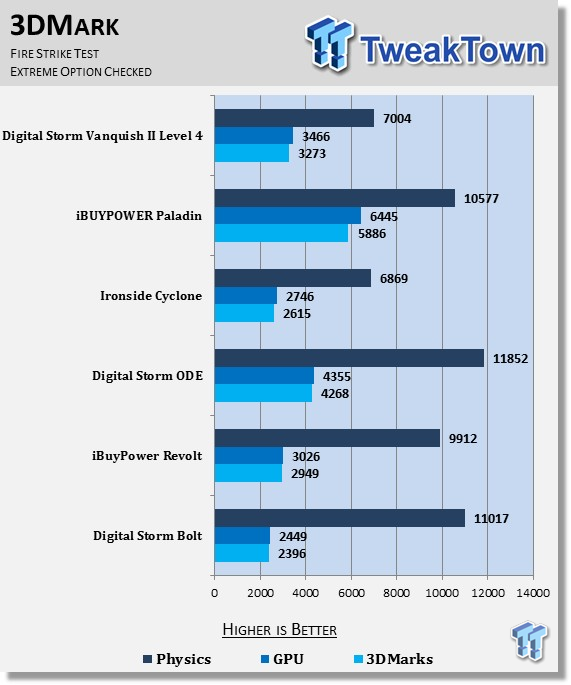 The Vanquish again beats out the SFF machines, some of which are more expensive than the Vanquish. We get an overall score of 3273, putting the Vanquish II Level 4 in third place, which is not bad place to be sitting for a system that costs less than $1300.
Battlefield 4
Version and / or Patch Used: Latest Origin Update
Battlefield 4 is the latest installation in the Battlefield franchise. We benchmark BF4 with a custom 60 second run at the beginning of Siege of Shanghai. Settings are 4K for the resolution with the "Graphics Quality" set to Ultra.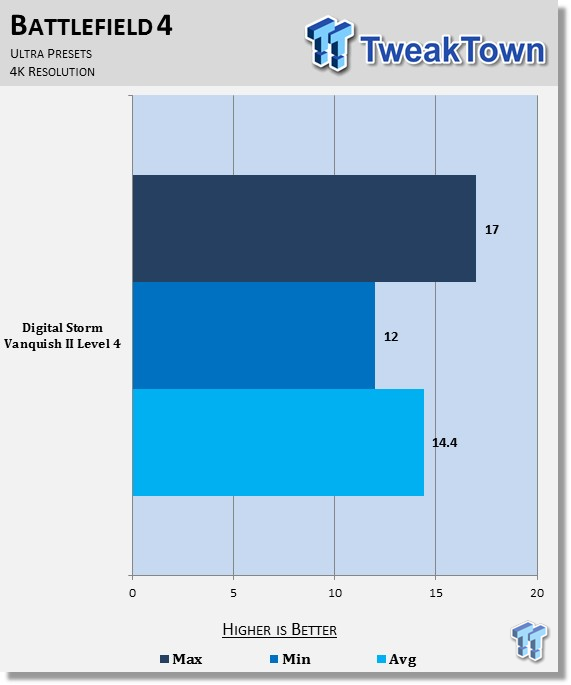 We've upped the ante in terms of putting these machines through hell. Thanks to our 4K monitor provided by ASUS, we are better able to test these machines and see how they will do in the future.
We've gone ahead and switched out Battlefield 3 for Battlefield 4 and cranked the resolution all the way to 11... err, 4K. Graphics preset remains at Ultra. Due to this switch, we have no systems for comparison, so this test is provided strictly for information until we have more systems pass through the lab.
Crysis 3
Version and / or Patch Used: Latest Origin Update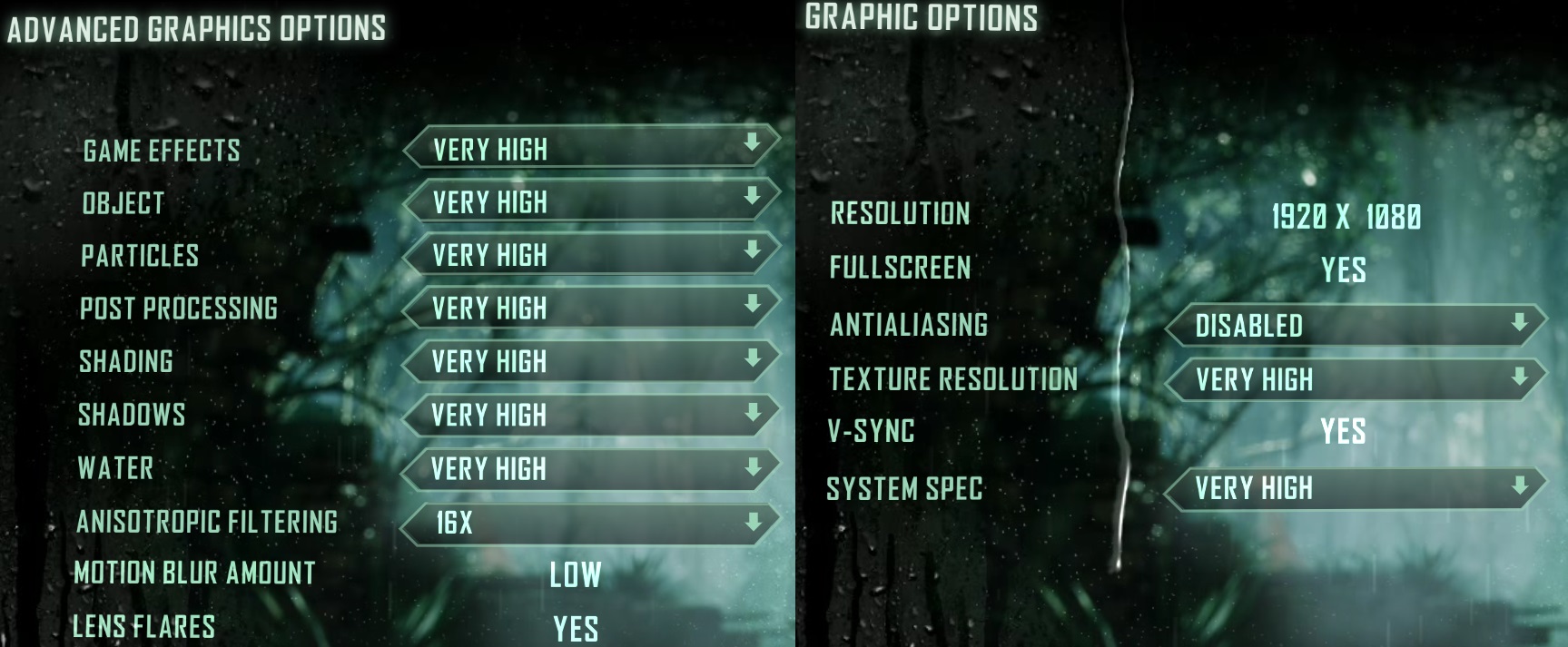 Crysis 3 is run at 4K resolution with the graphics specifications set to "Very High." No anti-aliasing is used. See picture above for full details, aside from resolution. FRAPS is used to record 60 seconds worth of FPS data and recording starts at the start of the campaign and finishes most of the way up the tower. The game is played in a similar manner each time.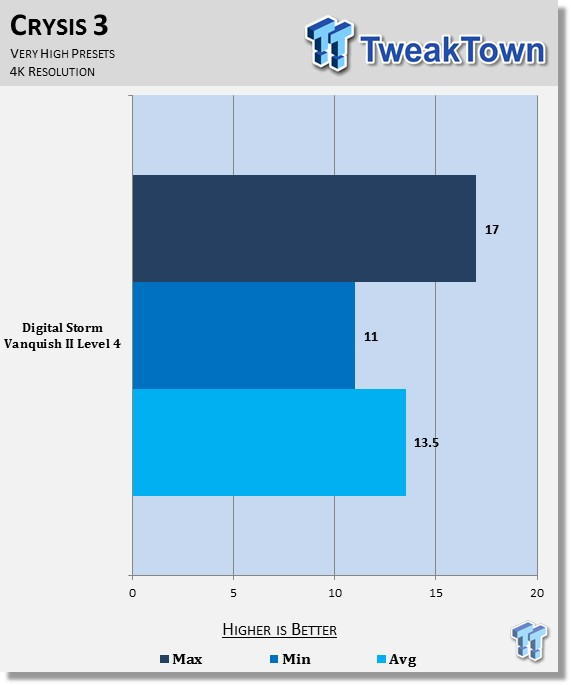 Similarly to the Battlefield 4 test above, we've cranked the resolution up to 4K thanks to our ASUS monitor. Again, since we don't have other systems to compare to, we are using this strictly for information.
Temperatures and Noise & Power Consumption
Temperatures, Cooling and Noise
The system is fully loaded using Furmark and Prime 95, similar to our laptop testing. The sound recordings are made in front of the machine, about 6 inches from the center of the tower. Temperatures are reported as recorded by CoreTemp and Furmark.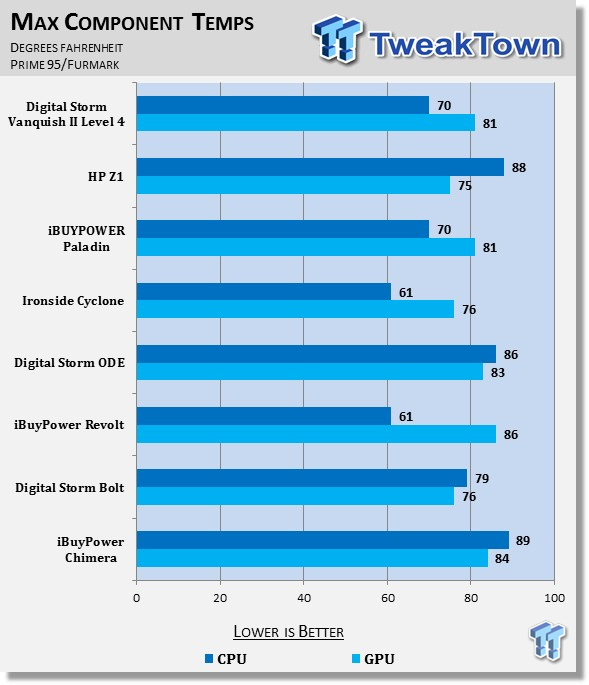 The Vanquish manages to keep CPU temperatures in check on this lower-end i5 processor that isn't overclocked. For this processor and clock speed, the Zalman air cooler fitted is plenty. If you plan to move to a 4770K and overclock, you'll definitely want to get a better cooler.
On the GPU side of things, the GTX 770 reached a maximum temperature of 81C, which is actually one of the hotter GPUs we have tested. Thanks to the DirectCU II design, however, noise wasn't a massive issue.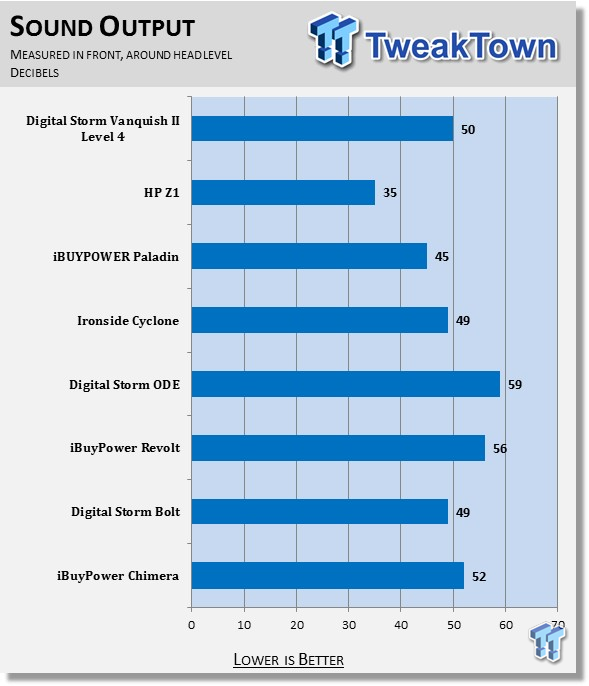 Sound-wise, we get a middle of the road 50 decibels. It's not the quietest, but it certainly isn't the loudest, coming in 9 whole decibels lower than the loudest machine. 50 decibels is easily manageable and tolerable.
Power Consumption
Power consumption is measured while the system is loaded for the temperature test and while sitting idle at the desktop. Measurement is taken at the wall, so it includes everything running in the system, not including the monitor.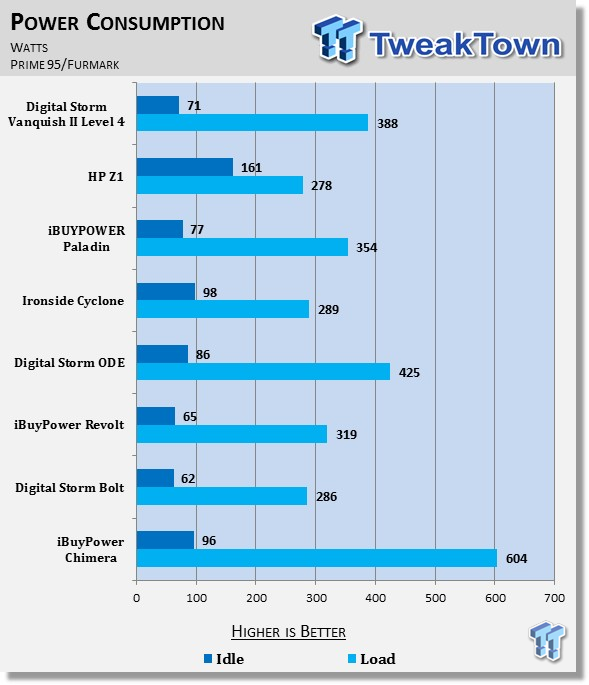 The GTX 770 proves itself hungry, resulting in a load power consumption of 388 watts. This is the third highest consumption, beat only by the dual GPUs of the Chimera and the powerful ODE gaming system. At idle, power consumption drops to 71 watts, making it the third lowest.
Final Thoughts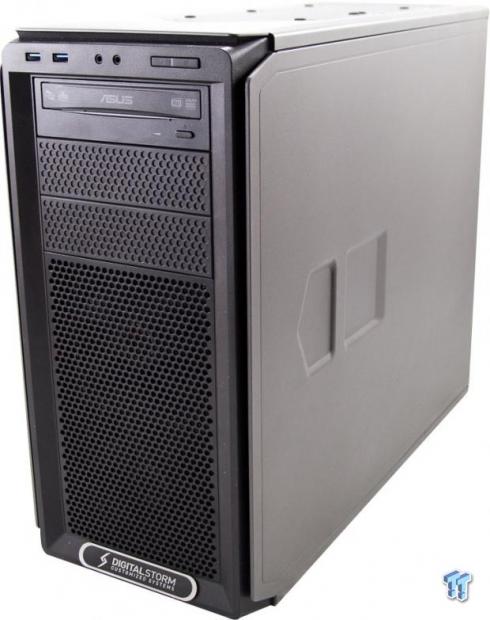 As this review comes to a close, I find myself quite pleased with what Digital Storm is presenting in the Vanquish II Level 4 gaming desktop. While I would certainly make some changes that would result in a price increase, the system as presented is very capable and of high quality.
Of chief importance, the system arrived to us unharmed by the shipping process. I'm always nervous about receiving desktops due to the bulky nature and fragility of the system components.
Setting up the machine was simple. Open the side door, pull out the foam protecting the video card, put the side door back on, and boot the machine, after of course plugging in the power cable, mouse, keyboard, and display.
We found no compatibility issues, as you would expect from a system being built by a system integrator, but it does bear mentioning. Cable management was at par; there are a couple of places I would likely change, but it's of minor detail and partially personal preference. The cables are bundled and routed, kept away from dangerous areas (fans, etc), and will not impede airflow or cooling.
One major complaint I have about the system could be seen as a positive. The Corsair case being used is quite a bit larger than the mATX motherboard, resulting in the motherboard/GPU combo looking awfully small in the case. The positive flipside of this is the future upgradeability of the system. You can easy put in a larger motherboard that supports multiple GPUs.
Looking at the value of the system, you're getting a fully built and three-year warranted system with lifetime support for around $150 over the price of doing it yourself. This means cable management is left to someone else, making your life easier, all of the components are tested before being shipped, and you have lifetime support and one person to contact in case of a product failure. That's quite the deal.
If you're looking for a budget gaming machine, the Vanquish II Level 4 is an excellent choice in terms of value, performance, and build quality. I would suggest stepping up to a 4770K and a better air cooler if you are planning on buying it, and a better GPU if you want more gaming performance, and have the funds to do so.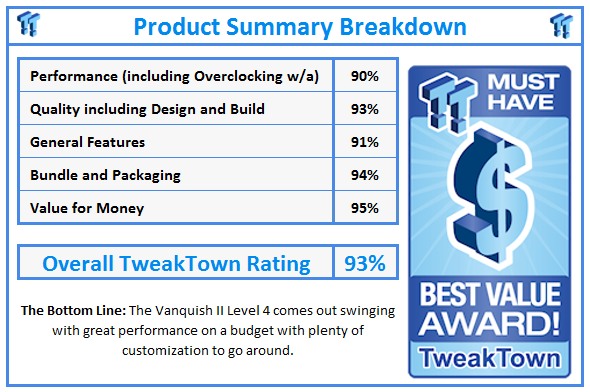 PRICING: You can find products similar to this one for sale below.

United States: Find other tech and computer products like this over at Amazon.com

United Kingdom: Find other tech and computer products like this over at Amazon.co.uk

Australia: Find other tech and computer products like this over at Amazon.com.au

Canada: Find other tech and computer products like this over at Amazon.ca

Deutschland: Finde andere Technik- und Computerprodukte wie dieses auf Amazon.de