Wolf Creek 2 (2014) Blu-ray Movie Review
"What in the bloody hell are you buggers doing out here?"

Published Jul 6, 2014 11:25 AM CDT
|
Updated Tue, Nov 3 2020 6:59 PM CST
3 minutes & 53 seconds read time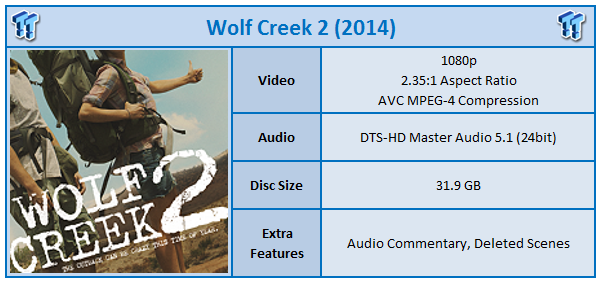 Wolf Creek 2 (2014)
At the conclusion of the first Wolf Creek, outback murder Mick Taylor literally walked into the sunset, gun in hand, after months spent terrorizing three backpackers. In the interim, it seems he's become emboldened by his evasion, his crimes now on a larger scale. Having proved their concept that resonated with audiences nine years earlier, the filmmakers return with added confidence, presenting a movie that is in many ways similar to the first, but with one which takes it much further. The question is, is it as good as the first?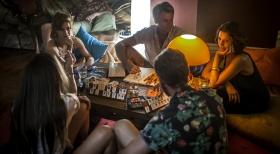 Whilst backpacking through the outback en route to Wolf Creek, German tourists Rutger (Phillipe Klaus) and Katarina (Shannon Ashlyn) are chosen by Mick Taylor (John Jarratt) who offers some seemingly friendly advice. In short time, the couple is attacked and another intense and bloody outback battle is set in motion. But when resourceful British ex-pat Paul Hammersmith (Ryan Corr) becomes entangled in the bloodshed, the survival instincts of both Hammersmith and Taylor are tested.
In the same manner that Writer / Director Greg McLean attempted a bit of back story and blossoming romance with the ill-fated outback tourists in the first movie, he's followed a similar route here. Of course, these soon to be ex-blood bags are entirely perfunctory and any exposition simply serves to delay the inevitable. Ultimately, the audience doesn't care about these walking targets, and whatever time we spend with the hapless couple, just isn't enough to form a caring bond or care about their plight.
But once the film's main protagonist, the dashing British expat Paul Hammersmith enters, it's a whole new ball game and the film takes a surprising turn. A fourth quarter breather with Hammersmith and Taylor playing a game of Australian inspired trivia provides chills and even a few nervous laughs, whilst Taylor even reveals the reason for his murderous bent as some misplaced xenophobic patriotism.
Sadly, the well-crafted sequence leads up to a confusingly abrupt conclusion, which raises more questions than answers. In the end, I felt cheated by a film that revels in proudly displayed everything (and I think the OFLC were quite lenient with their MA15+ rating here), but didn't feel the need to offer a rational conclusion.
McLean handles Wolf Creek 2 with abundant and obvious talent, but sadly his script isn't as adept. John Jarratt is simply wonderful once more, and his performance stands out Wolf Creek from other bloodbaths such as Saw. The production values by way of the increased budget are there on screen, particularly in the thrilling Duel-inspired road battle. During that sequence Hammersmith taunts Taylor with the line "is that the best you can do?". The filmmakers themselves should realized the irony.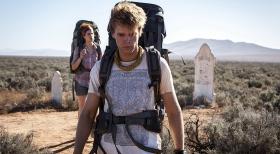 Video
Wolf Creek 2 is encoded with AVC MPEG-4 compression and presented in the intended aspect ratio of 2.40:1.
Lensed on the next-gen Arri Alexa Plus 4:3 (which affords the capacity to record in native Super35 wide aspect ratio as well as the square aspect ratio of 4:3) and lower resolution GoPro cameras for brief stunt sequences and finalized in a 2K digital intermediate, Wolf Creek 2 is automatically a technical step above its predecessor, which was recorded on much older CineAlta equipment.
Part sumptuous landscape photography, part gory horror, the encode here does a superb job of dealing with whatever the film throws at it, although it certainly helps that the bit rate is kept incredibly high at all times, which ensures that there aren't any issues with macro blocking, aliasing or any other digital nasties. Color balance is great all around, and there aren't any issues with the black levels on the film's many night scenes.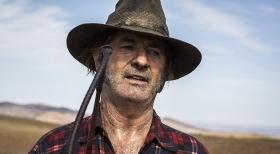 Audio
Wolf Creek 2 is presented in DTS HD Master Audio 5.1, at 24 bits.
Under the supervision of veteran Australian sound designer Paul Pirola, Wolf Creek 2 sounds plenty impressive and thoroughly theatrical, enhancing the isolation of the Australian outback, and later amplifying the blood curdling screams as the body count starts to rack up.
The surround channels are kept active throughout in a solid mix, which has little subtlety, but plenty of bombast. At my reference audio levels, I can't help but mention how dynamic the mix is, alternating between restraint and blatant power. The subwoofer channel is very aggressive and comes into its own when required.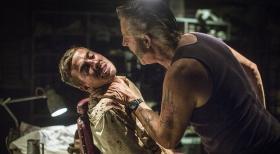 Extras
Roadshow Entertainment has released two versions of Wolf Creek 2 into the Australian market; the standard theatrical version (which I'm looking at here) and a longer 'Director's Cut' version, which is offered at specialty retailers. In terms of the supplemental materials, the 'Directors Cut' version offers an additional making of documentary that is not found in this version. Despite this, let's take a look at what's here.
First up is the Audio Commentary with Director Greg McLean who doesn't let up for nearly the entire run time. Clearly, McLean has lived with this franchise for a very long time, and his passion is evident. The commentary was recorded in 2013, months before the film's opening, so there's no opportunity for reflection or introspection.
The only other extra feature is a total of eight Deleted Scenes, which amount to around 20 minutes of footage and are presented in HD. These look to have been deleted late in the game, due to their general finish and color grading. The first scene, Backpacker Hostel, is actually an alternate opening.
PRICING: You can find the Wolf Creek 2 Blu-ray for sale below. The prices listed are valid at the time of writing but can change at any time. Click the link to see the very latest pricing for the best deal.
United States: The Wolf Creek 2 Blu-ray retails for $29.99 at Amazon.
Canada: The Wolf Creek 2 Blu-ray retails for CDN$28.48 at Amazon Canada.
Australia: The Wolf Creek 2 Blu-ray retails for $29.99 AUD at Mighty Ape Australia.
New Zealand: The Wolf Creek 2 Blu-ray retails for $34.99 NZD at Mighty Ape NZ.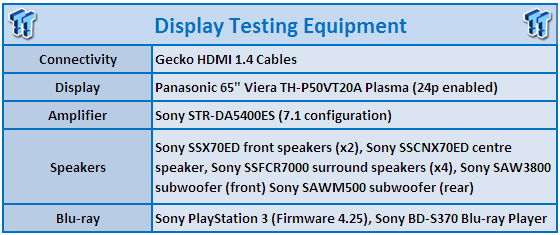 PRICING: You can find products similar to this one for sale below.

United States: Find other tech and computer products like this over at Amazon.com

United Kingdom: Find other tech and computer products like this over at Amazon.co.uk

Australia: Find other tech and computer products like this over at Amazon.com.au

Canada: Find other tech and computer products like this over at Amazon.ca

Deutschland: Finde andere Technik- und Computerprodukte wie dieses auf Amazon.de
We openly invite the companies who provide us with review samples / who are mentioned or discussed to express their opinion. If any company representative wishes to respond, we will publish the response here. Please contact us if you wish to respond.