LG G Flex Curved Screen Smartphone Review
LG has the first smartphone on the market with a curved screen, but that's about all that is special with the G Flex. Read on for Anthony's full thoughts.

Published
8 minute read time
Introduction & Specifications
When I first began hearing about the LG G Flex, I was quite excited to see what the world of a curved display would bring to smartphones. The South Korean giant was the first on the market with a smartphone that featured a curved display, but that on its own can't sell a smartphone in this market.
LG is quite the player right now, making the Nexus line of smartphones for Google, as well as its impressive G series of smartphones. The last LG smartphone I reviewed was the G2, something I awarded 90%. The G2 was a great smartphone, and still is, so I'm expecting a lot from the G Flex.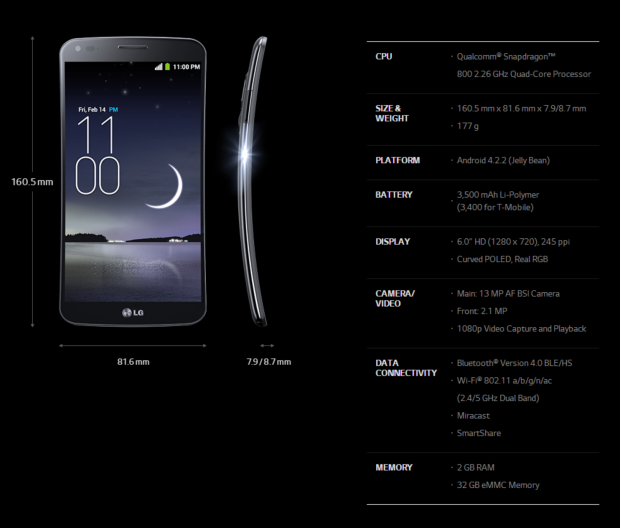 One thing you need to keep in mind with the G Flex, is that even with the word "Flex" in its name, it's by no means a phone that magically flexes to and fro. I don't understand LG's thinking here, I would've preferred G Curve or something, as it would make more sense. Sure, it is flexible, but only by a tiny amount, and it is not something you would actually use in the real-world.
Anyway, let's dive into the specifications of the G Flex.
Specifications
We'll start off with the elephant in the room, the 6-inch HD curved POLED display. While it may be big, and curved, it has a massive downside in its low resolution of just 1280x720. This provides us with a pixel density of 245 PPI.
Moving along to the internals specifications, we have Qualcomm's Snapdragon 800 processor - a 2.26GHz quad-core processor. We have 2GB of RAM, a 13-megapixel rear-facing camera backed up by a 2.1-megapixel selfie snapper, and a huge 3,500mAh battery.
Connectivity wise, LG has you covered with 4G LTE, Wi-Fi 802.11 a/b/g/n/ac, Miracast, and Bluetooth 4.0. As for its operating system, we of course have Android on-board, with Android 4.2.2 Jelly Bean, which is a little disappointing in the world filled with KitKat-powered devices.
All of this arrives into your hands for around $540 right now on Amazon, something we'll talk about later on in the review.
Look & Feel, Self-Healing & Just How Good Is That Curved Display?
Looking Around the G Flex
When pulling the G Flex out of the box for the first time, the size is kind of intimidating. But, we live in a world of 5-inch and bigger smartphones thanks to Samsung's Galaxy Note range of handsets. The G Flex cranks it up a notch, up to 6 inches.
Looking around the G Flex, we see LG has used its innovative rear-key system, something it used on the G2. This means that the power button and volume button are on the rear of the phone, where your fingers would naturally sit during a phone call.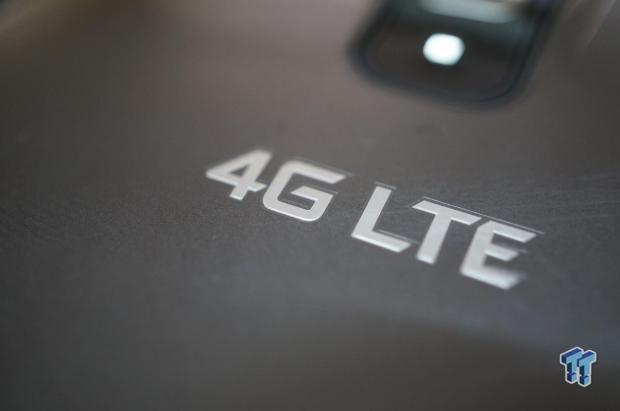 We also have some huge 4G LTE branding on the back, too.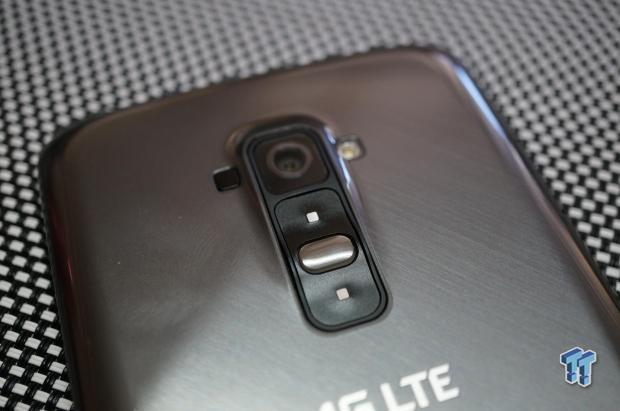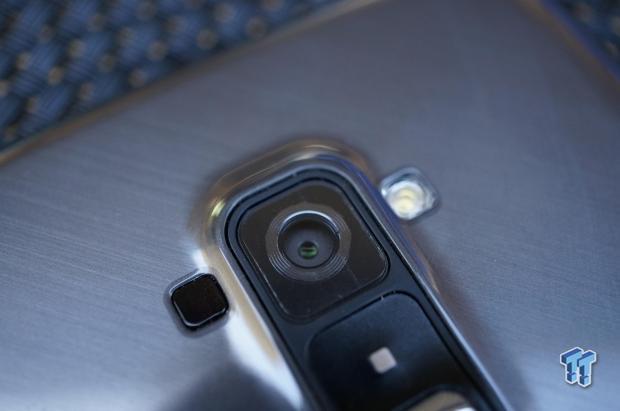 The back of the G Flex is where all the action is, with the 13-megapixel rear-facing camera with LED flash up top, just above the power and volume buttons.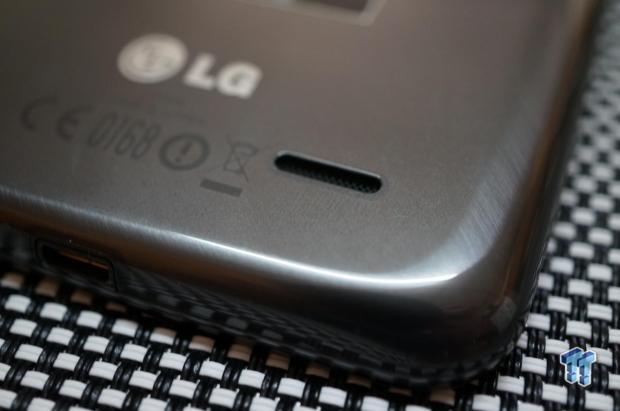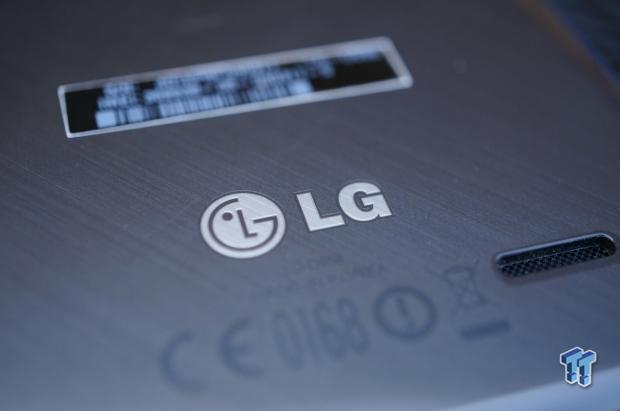 Down at the bottom, we have some LG branding and the speaker.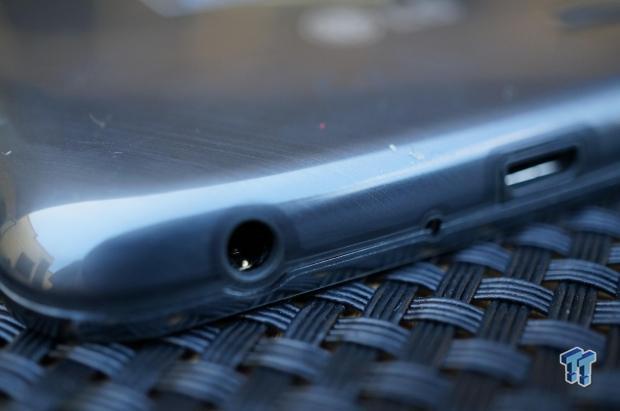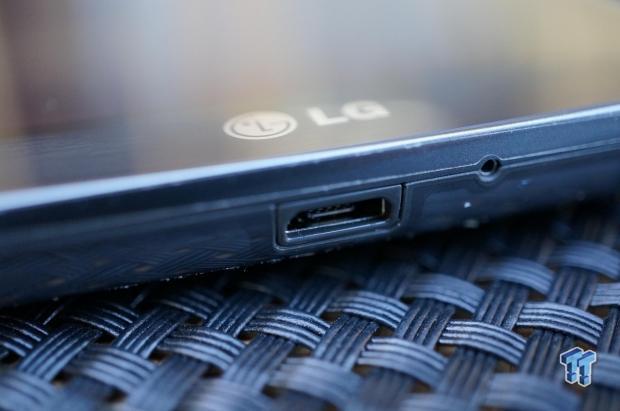 On the bottom of the G Flex, we have the 3.5mm jack for audio, and the micro USB for charging and syncing. To the left of the G Flex, we have the SIM card tray.
How Does It Feel?
LG has used a contoured design with the G Flex obviously, so it does actually feel quite good in the hand. I have medium-sized hands, and even to me, it feels quite big. I actually got used to the 6-inch quite quickly, noticing this when I went back to the 4.95-inch screen on the Nexus 5. The Nexus 5 felt like an iPhone compared to the G Flex, a feeling I haven't had in quite some time.
Using it for phone calls felt a bit ridiculous, as it is getting very close to tablet territory - I personally consider 7 inches the beginning of tablets, so being just 1 inch smaller than a 7-inch tablet, it feels weird holding it up to your ear.
The unique button placement is great when you're in phone calls, but it takes a few days of using it to remember to not press along the side of the smartphone, but on the back. Once you do, it really does change the way you use the G Flex, making it much easier to adjust the in-call volume.
Self-Healing
Let's get this right - the G Flex ain't no T-1000 - it's not going to take a bullet and morph back into its original shape.
LG used a self-healing finish on the back of the G Flex, a coating that has found its way onto cars, but is now being baked onto smartphones and other consumer electronics. The self-heating feature of the G Flex will see small scratches and other slight marks disappear, or heal, something that LG thought would be a good idea because a curved phone is more prone to scratches and marks.
I didn't want to grab out a samurai sword to the G Flex, but I did use a normal kitchen knife on the rear of the G Flex, scratching it. To my surprise, there was nothing - I didn't think that I was applying enough pressure - who would, when was the last time you took a knife to your expensive gadget? - so I tried again.
I started scratching lines into the G Flex, ever so slightly, lines that were showing up barely - but I could make them out. I showed the G Flex to a friend of mine who was near me when I was doing it, who noticed the cuts. Within days, the cuts disappeared - and as I wrote this review (about two weeks after I had 'sliced' the phone) - the scratches are completely gone.
This is something I would normally take pictures of, but I don't want to go around recommending that you scratch your phone - where doing so, you actually leave a mark that is permanent. My recommendation would be to not test this, as it is something that someone like me would tell you about - something that you don't need to test for yourself. But, there are always the curious...
Just How Good Is That Curved Display?
The 6-inch curved screen is great for watching videos, or playing around on YouTube, as it is curved and massive. The curved side of things gives you a great screen to watch when laying down in bed, or showing a video to someone, and having 6 inches of screen in your hands for watching content is simply great.
Where it begins to lose its greatness, is its low resolution. You don't notice it at first, but when you directly compare a Full HD panel next to the 720p on the G Flex, you really see it. Even on the home screen, you can see that the pixel density is low - considering we have a pixel density of just 245 PPI, compared to something like the 4.95-inch screen on the Nexus 5 with 445 PPI.
This is where the G Flex begins to lose its charm, its biggest strength, it's also its Achilles heel.
Software & Camera
Software - LG Lets the G Flex Down With An Outdated OS
In this world of ever-evolving mobile operating systems, and a partner so close to Google that it builds smartphones for the company, I truly expected the G Flex to rock the latest version on Android out of the box - version 4.4, KitKat.
But no, it did not - instead, we're stuck with Android 4.2.2 Jelly Bean. This isn't a deal breaker, but it certainly is a point that needs to be addressed when looking at purchasing the G Flex smartphone. There are some cool features that LG has baked into UI, such as the knock-on feature that has made the trip on over from the G2.
The knock-on feature allows you to double-tap the screen when the G Flex is off, acting like the power button - turning on the display. If you return to the home screen, and double-tap once again, the G Flex will lock. The problem here is, that the knock-off feature only works at the home screen - meaning if you're in another application such as Facebook, double tapping the screen twice does nothing until you press the home button, and then double-tap.
We also have dual-screen mode, which is actually quite useful - but is something that I don't find myself using on a day-to-day basis. Dual-screen mode allows you to resize and flip screens at whim, simply by holding down the back button for a few seconds - which then displays 14 different native applications that can be used in the dual-screen mode.
You can even do some drag-and-drop using this mode, which comes in handy when you're using something like the Calculator, while in another application.
Let's Take the Camera For a Spin
The 13-megapixel camera on the back of the G Flex took some pretty good photos, with some impressive video to boot. The HDR capabilities are actually impressive, but so is HDR on most cameras and smartphone snappers these days.
Here is a bunch of photos taken on the G Flex; first we'll show off the HDR shots.
The above shot is with HDR disabled.
And again, this time with HDR enabled.
Above, and below, we have some shots using the full auto setting on the G Flex.
What's Hot, What's Not & Final Thoughts
What's Hot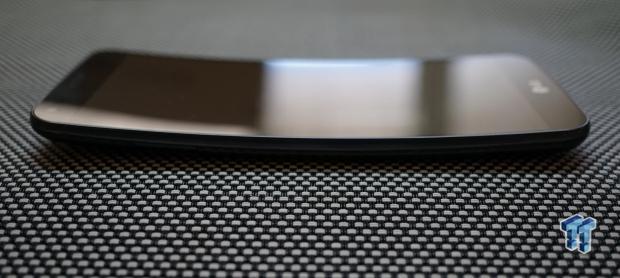 DAT CURVE: The curved display is gorgeous to look at, from the outside at least. It's a feat of engineering and design, and definitely gets you some weird looks in public.
It's Blazingly Fast: That's what you'd expect from the Snapdragon 800 and 2GB of RAM. It didn't feel like it was getting slowed down at all.
Self-Healing, It's Like a Personal T-1000: The self-healing aspect of the G Flex is a super plus for me. You won't want to take a knife to it, but knowing that it is safer - not invincible - from minor scratches, is a really nice touch.
What's Not
Poor Quality Screen: The curved P-OLED display is impressive for its curves, but not for its resolution or poor pixel density. With just 1280x720, the G Flex isn't swimming in spare pixels, and it's very noticeable. If it were a 1080p display, things would've been much better for the G Flex.
It Feels Like an Experimental Handset: It feels like LG had one foot in, and one foot out of the G Flex. For something that sells for $530, I would expect premium all-round, but that's not what is on offer here.
It's Too Expensive: For $530, you can get yourself the Nexus 5 with the wireless charger, and some change. Sure, it has a flexible display - but that is not a major selling point at all. If it were a 1080p display, then this would be a different review.
Final Thoughts
There were two reasons we don't have benchmarks on the G Flex, first - I didn't have Internet access at home to download all of the required benchmarks, and to update them all. Second, I only had a week with the handset. I do apologize for the lack of benchmarks, but even if the G Flex smashed every benchmark up and above every other device we've ever tested, there is still no way I could recommend this phone to you.
I wanted to like the G Flex, I really did - but I just didn't. The G Flex feels great, but the low resolution screen really holds it back from semi-greatness. I don't know what LG was thinking, but to me, it feels like this was somewhat of a flag in the ground for getting the first flexible smartphone on the market.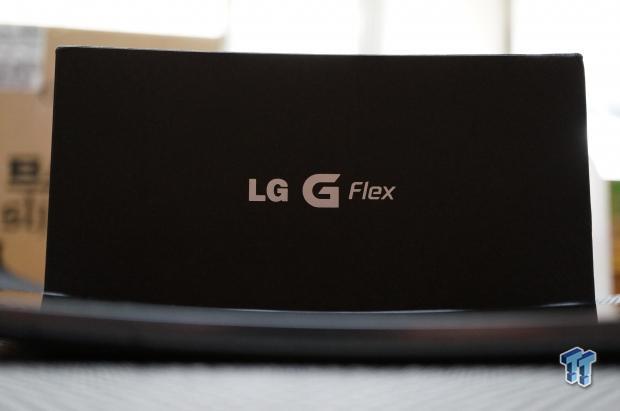 Smartphone makers are having to do daring things these days, but LG could've done something different with the G Flex. I have a big feeling that LG isn't done with the flexible smartphone scene just yet, with the next-gen G Flex hopefully featuring a high resolution display - if it ever materializes.
Maybe LG has hurt consumers too much with the G Flex, I know that I'll be hesitant on it until I get some hands-on time with it. Fool me once, LG...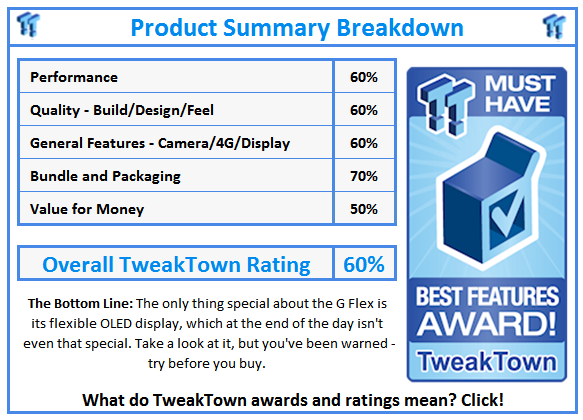 PRICING: You can find products similar to this one for sale below.

United States: Find other tech and computer products like this over at Amazon.com

United Kingdom: Find other tech and computer products like this over at Amazon.co.uk

Australia: Find other tech and computer products like this over at Amazon.com.au

Canada: Find other tech and computer products like this over at Amazon.ca

Deutschland: Finde andere Technik- und Computerprodukte wie dieses auf Amazon.de
We openly invite the companies who provide us with review samples / who are mentioned or discussed to express their opinion. If any company representative wishes to respond, we will publish the response here. Please contact us if you wish to respond.