Thecus N7710-G 10GbE 7-bay NAS Review
Today Chris spends some time with the Thecus N7710-G. This beast of a NAS not only includes seven drive bays, but also 10 gigabit networking as well.
Published
10 minute read time
Introduction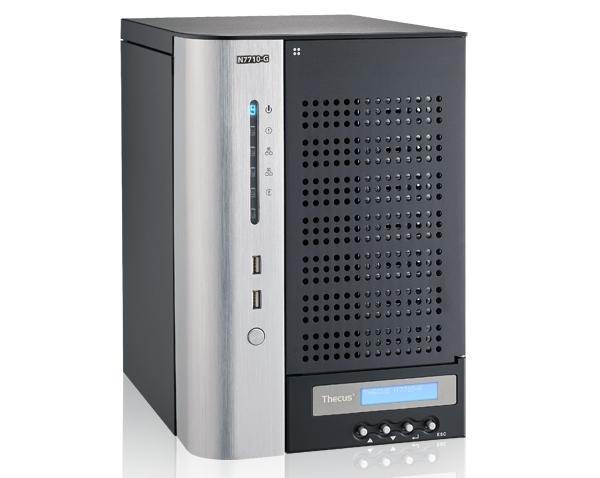 Over the last year, we've banged the 10GbE drum in our NAS and, later, our switch reviews. The technology has trickled down from top of rack to edge environments. Switches like the Netgear ProSAFE XS708E have transformed the 10GbE market, making the technology affordable for a wider market. 10GbE is now not only affordable, but the RJ45 standard means businesses no longer need to rely on expensive fiber.
Even if the client computers are connected at 1Gb Ethernet, businesses can increase productivity when more than one client system is connected to a central data source, like a server, that does use 10GbE. The 10x increase in throughput from the server to the clients means more clients can talk to the NAS at the same time without a performance reduction.
We're now past the catch 22 phase. Just two years ago, Thecus gave customers a 10GbE option by selling the most expensive NAS models with an open PCIe slot and giving the operating system drivers for a few 10GbE NICs. The Thecus N7710-G is the company's first 10GbE from the factory product. Thecus also released the new rackmount N8810-G.
Today, we're testing the new N7710-G, Thecus' new 7-bay model with 10GbE from the factory. Over the years, we've tested every 7-bay model Thecus has released and always loved the products. The 77xx products always deliver high performance at a very good value. They are also just one tick away from the rackmount units, but the price gap between the 7-bay and 8-bay rackmount units is significant.
Hardware Specifications and Pricing
Modern NAS servers have moved beyond data storage through a wire network. In order to get the most out of a NAS, you need to look at the extra I/O hardware and the mountain of potential software features.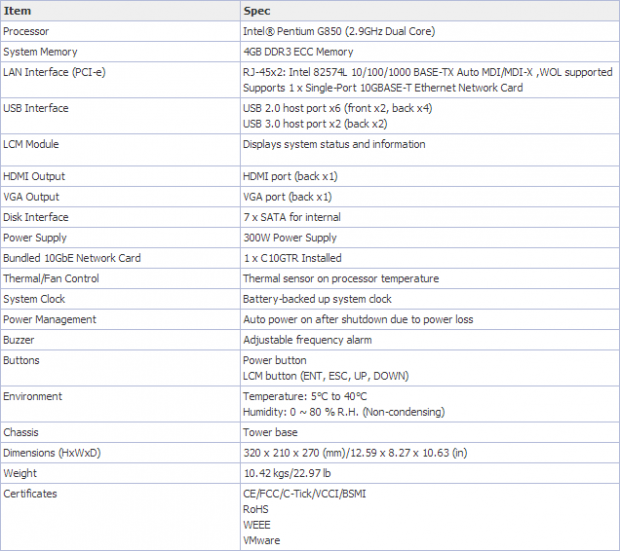 Deep inside the Thecus N7710-G is a dual-core Intel Pentium processor running at 2.9GHz. Paired with the dual-core processor with HyperThreading is 4GB of DDR3 DRAM. Comparing the big three Taiwanese NAS manufacturers, Thecus is the only maker with a 7-bay NAS with 4GB of DRAM standard, and the N7710-G isn't the only model with this feature either.
The signature feature on the N7710-G is the 10-gigabit Ethernet port, and on this model, you get one special port. 10GbE comes from a Marvell chip PCIe adapter connected to one of two PCIe ports in the NAS. Thecus also outfitted the N7710-G with two additional Ethernet ports that run at 1Gb.
Additional connectivity comes in the form of two USB 3.0 ports, six USB 2.0 ports (two front, four rear), a VGA port, and a HDMI port that carries both video and audio.
The N7710-G has seven drive bays, and aside from using USB drives, that's as many as you'll get to use. This model doesn't have eSATA unlike many of the previous Thecus units we've tested. Who cares though, it has 10GbE!
That 10GbE capability is going to cost you, though. The Thecus N7700 Pro V2 currently sells for $799, but it has a slower processor, and you have to add your own 10GbE adapter. Thecus also has a new N7710 model without 10GbE, but we weren't able to find it at a US etailer at the time of writing (it was just announced). The big boy model we're testing today, the N7710-G, costs $1,114.99 through Google Shopping at the time of writing, and that makes this the most expensive 7-bay NAS we've tested from Thecus.
For that price, you get a 2-year warranty, Ethernet cables, an Acronis True Image DVD, a driver disk, and a few other bits and pieces we'll show later in the review.
PRICING: You can find the Thecus N7710-G for sale below. The prices listed are valid at the time of writing but can change at any time. Click the link to see the very latest pricing for the best deal.
United States: The Thecus N7710-G retails for $1,133.43 at Amazon.
Canada: The Thecus N7710-G retails for CDN$1,524.18 at Amazon Canada.
Software Features
NAS products are equal parts hardware performance and software features. One complements the other in a balanced product. You need more hardware performance to run more software features at the same time.

RAID 0, 1, 5, 6, 10, 50, and JBOD are supported in the software. The NAS also supports RAID level migration as well as RAID expansion and even AES 256-bit encryption.
Thecus equips the NAS with several functions built-in the operating system from the factory. These include, but are not limited to, iSCSI, backup, group and user accounts, and more. Tallied up, there are nearly 190 software packages that are features when needed and don't get in the way when not.
Packaging and Accessories
Packaging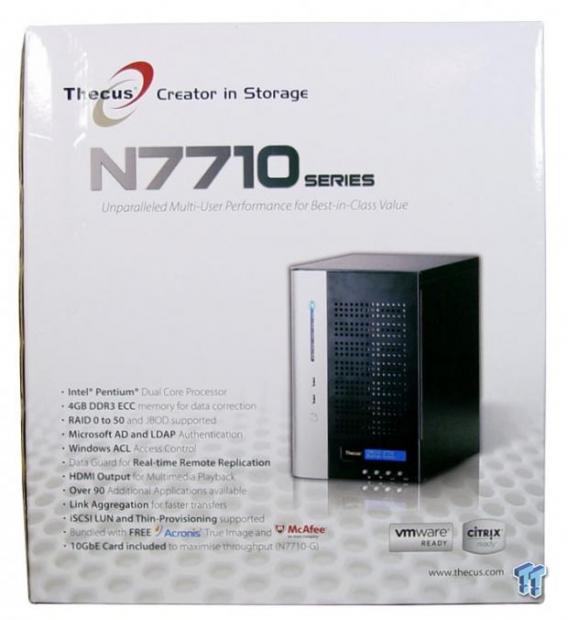 Thecus put together an attractive retail package for the N7710 Series. The 10GbE and non-10GbE models share the same package aside from a sticker change.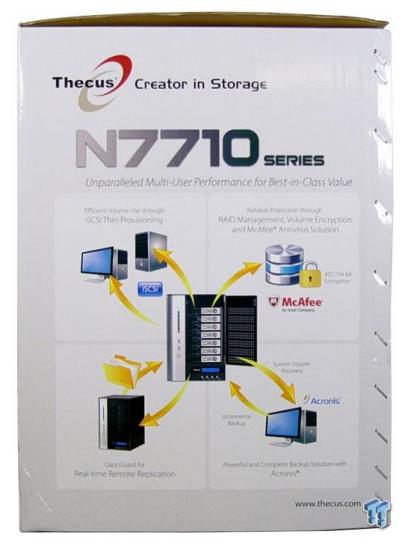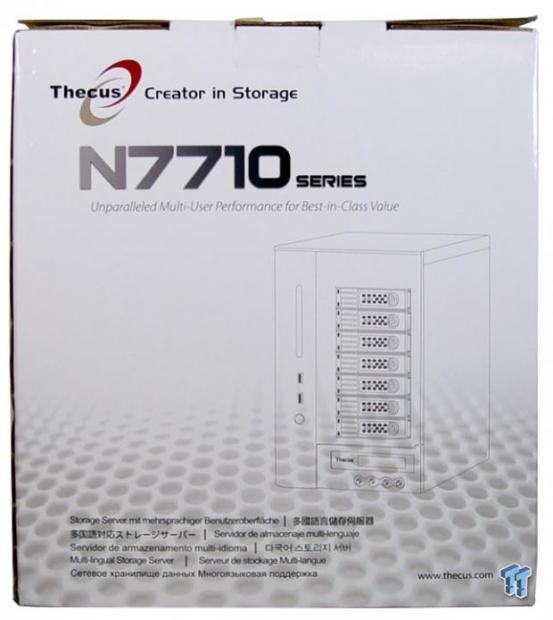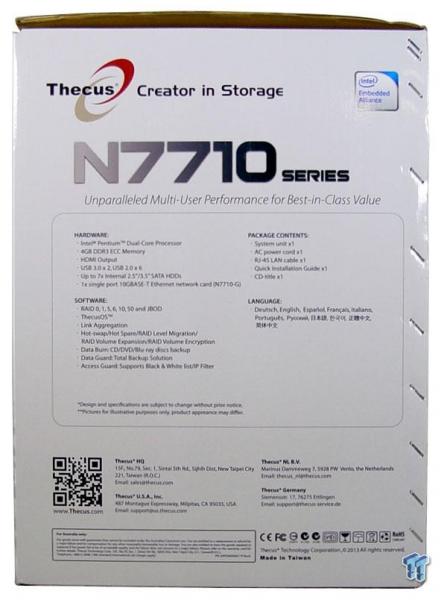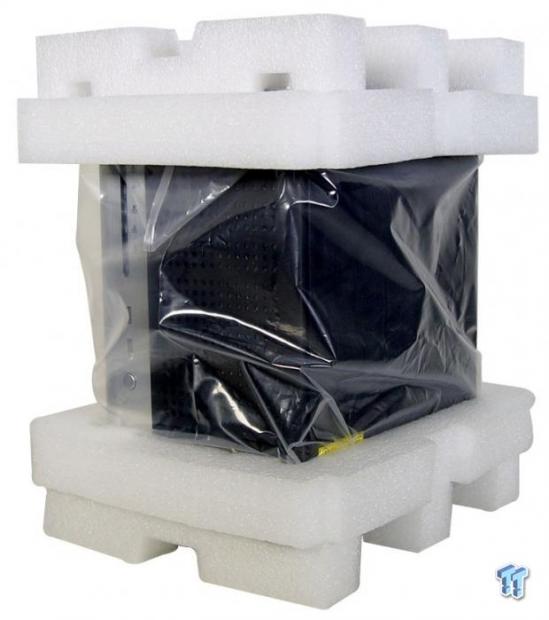 Inside, we found the NAS packaged very well with dense foam around the main unit and the accessory package in a separate box.
Accessories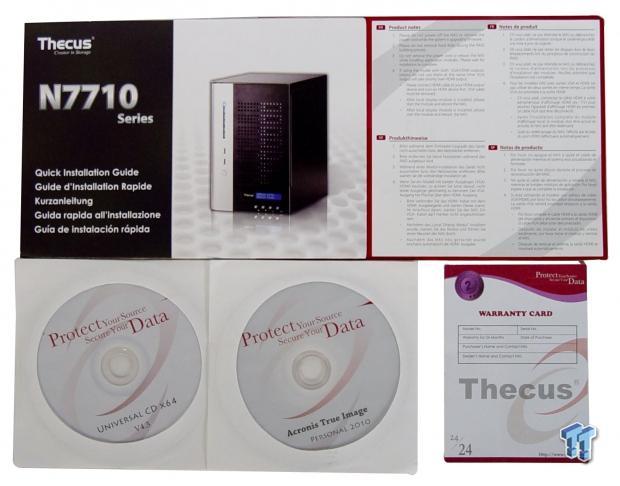 Inside, we found a trio of paper manuals and two software disks, one an Acronis True Image disk and the other a universal (to Thecus) disk with a full manual and software.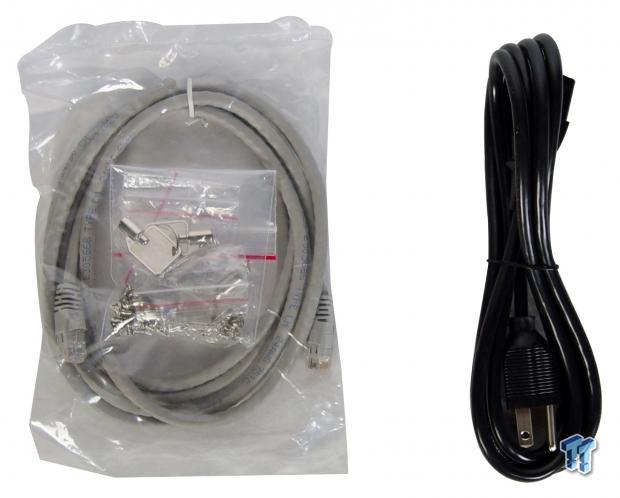 Hardware accessories include an Ethernet cable, screws for mounting drives, and a power cable.
Thecus N7710-G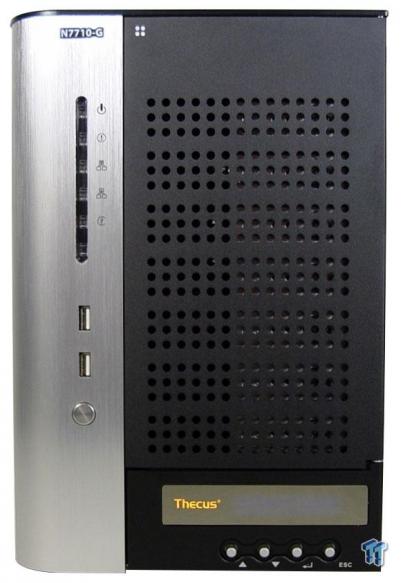 Here we get our first look at the Thecus N7710-G. Aside from the sticker at the top left of the unit, it looks exactly like the N7710 and N7700 Series.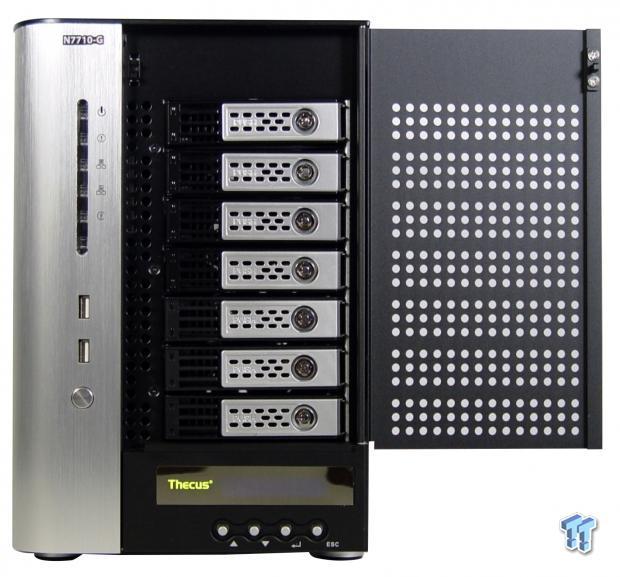 There are seven locking drive bays for 3.5-inch drives, but the drive sleds accept 2.5-inch drives as well. The front door is non locking, but since each drive bay has a lock, this unit has a bit of physical security to go along with the AES 256-bit RAID encryption on the software side.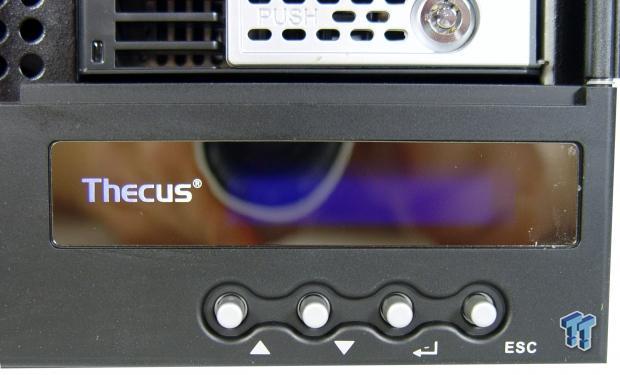 Behind the mirror finish is a display that you can use to configure RAID, manipulate IP addresses, and check the system status.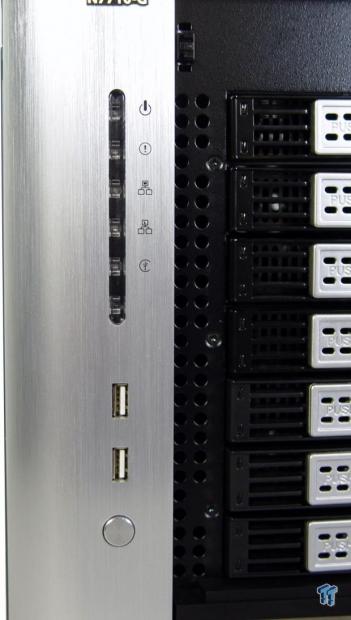 Status LEDs for system power, disk activity, warnings, and network activity grace the left side, embedded in an aluminum panel. Two front mounted USB 2.0 ports are just under the LEDs, and a power button graces the front as well.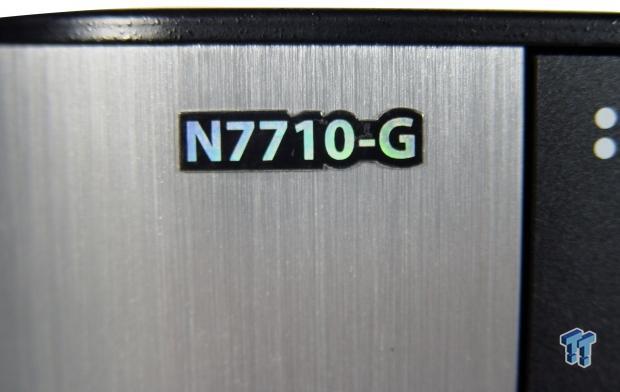 The –G badge gives this unit away: you have the connectivity of 10 gigabits packed inside....plus a couple of 1GbE ports for other networks or failover.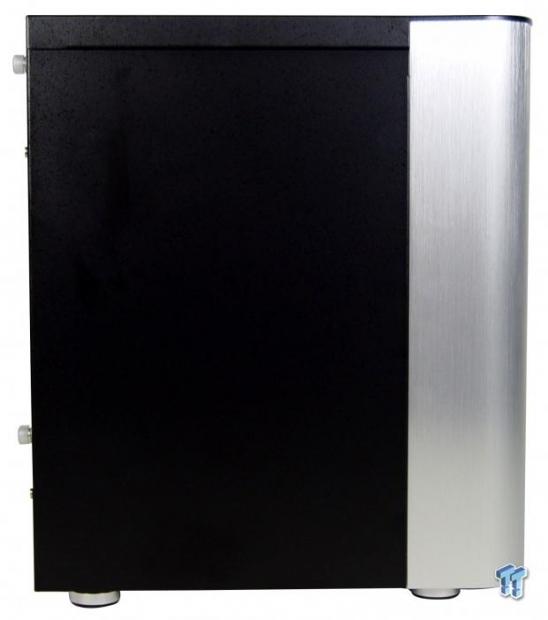 The aluminum from the front fascia carries over to the side of the NAS.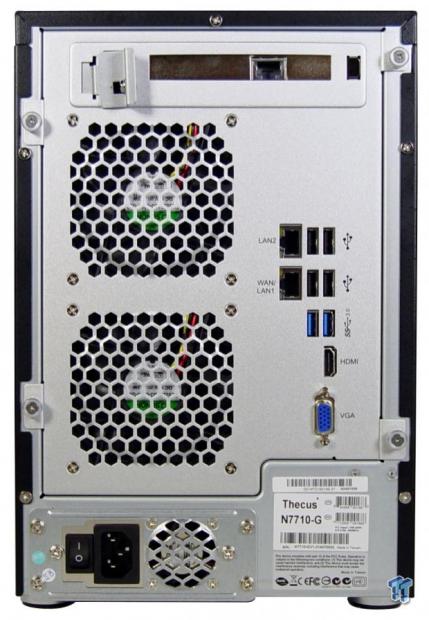 Most of the connectivity comes from the back of the unit. Two large Sunon low speed fans keep the disks cool. A small fan on the bottom keeps the power supply cool.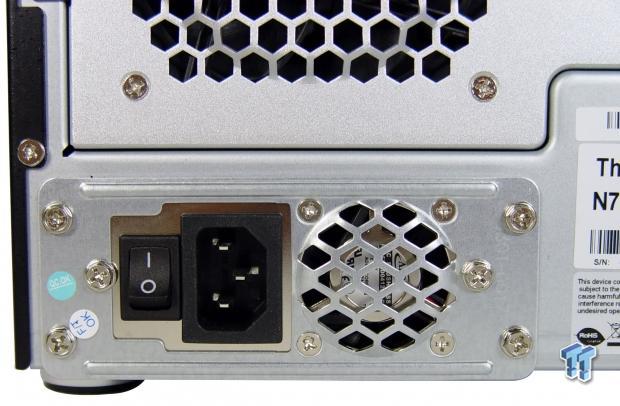 The power supply is inside of the system, so you don't have to fiddle with a power brick.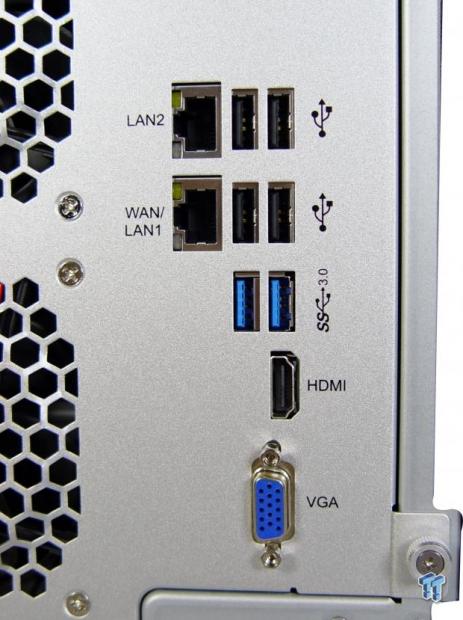 Two 1GbE ports, six USB ports (two USB 3.0), HDMI for A/V features, and a VGA port all come off the internal motherboard.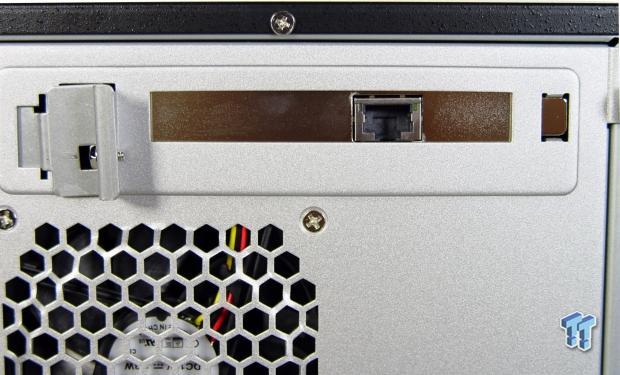 The 10GbE port is at the top via a PCIe adapter card.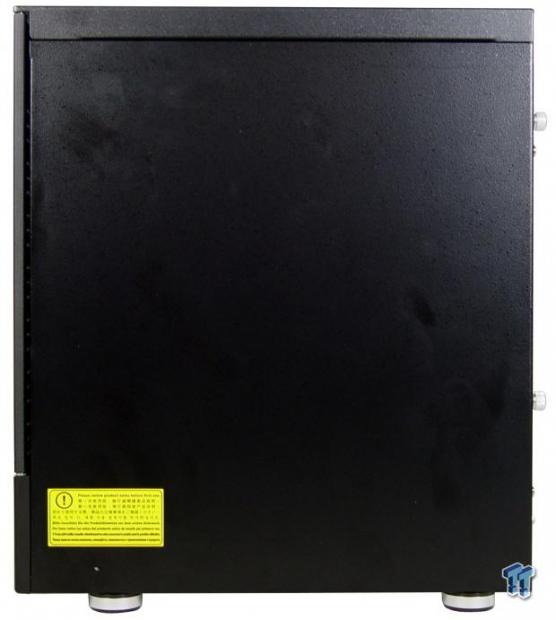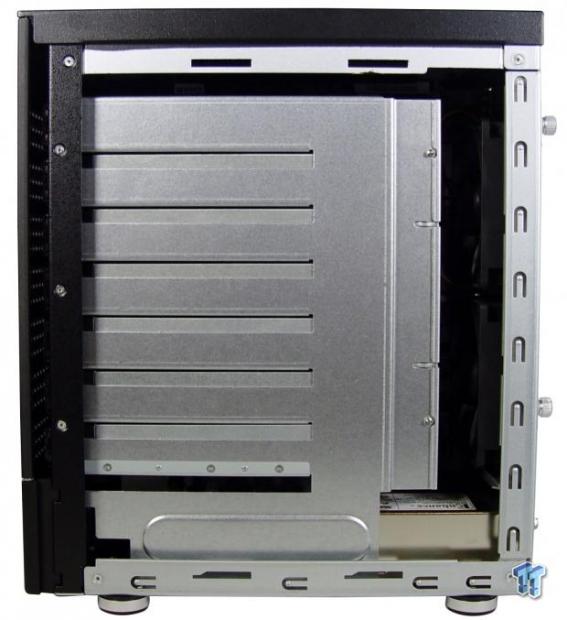 With the side cover off, we can reach inside and slide the 10GbE card out to take a look. This is also the same method you use to add a card to the N7710 base model NAS.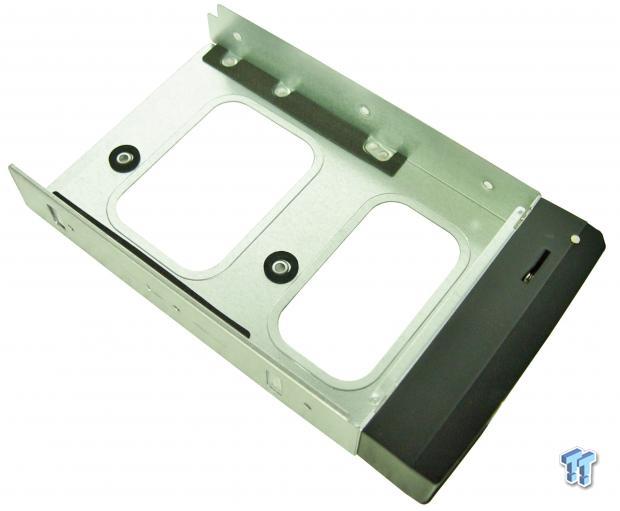 The drive sleds support both 3.5-inch and 2.5-inch drives.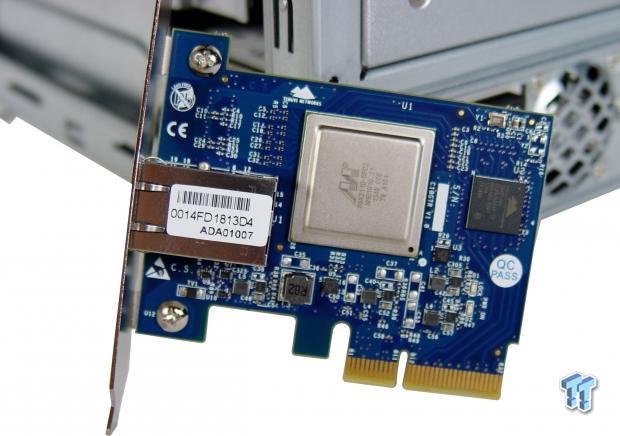 Thecus sells the C10GTR 10GbE NIC on its own for models like the 7710 and others with PCie ports and support for 10GbE NICs.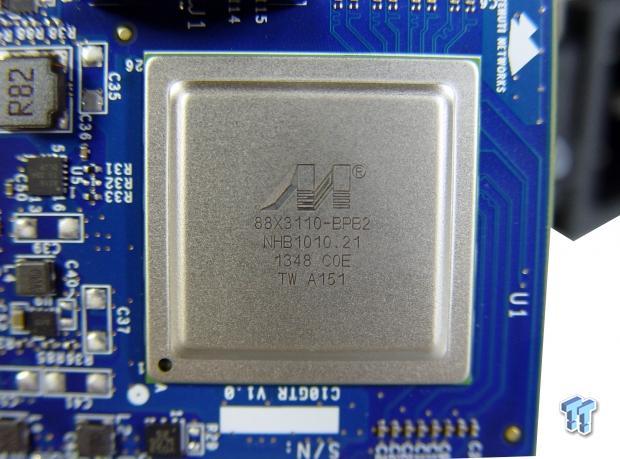 The adapter uses Marvell 88X3110-BPB2 silicon.
Test System Setup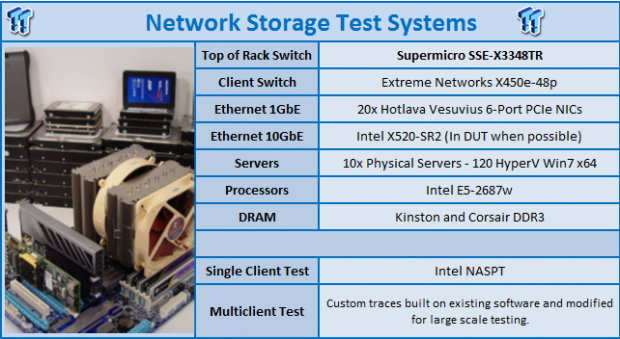 Our NAS test 'system' has migrated to three 42U racks like what you'd find in a datacenter. There are ten servers that attack the target NAS with 120 Hyper-V installations of Windows 7 64-bit, each with a dedicated gigabit Ethernet port. The systems feed to three Extreme Networks X450e-48p switches and then to a Supermicro SSE-X3348TR top-of-rack switch. The device under test connects to the Supermicro switch via 1GbE, 10GbE, or 40GbE. The iSCSI and NASPT tests use a single machine connected to the Supermicro switch.
This level of testing wouldn't be possible without the help and support from several companies, many of which have little to do with NAS products. We would like to thank AVADirect, Antec, Corsair, GIGABYTE, Icy Dock, Kingston, LSI, Noctua, Rosewill, Seagate, Thermaltake, and Western Digital for their much-appreciated support.
Intel NASPT
The Intel NAS Performance Toolkit (NASPT) is a file system exerciser and analysis tool designed to enable direct measurement of home network attached storage (NAS) performance. Designed to emulate the behavior of an actual application, NASPT uses a set of real-world workload traces gathered from typical digital home applications. Traces of high definition video playback and recording, office productivity applications, video rendering/content creation, and more provide a broad range of different application behaviors.
TweakTown Custom 120-Client Office Test
The TweakTown Custom 120-client Office Test uses 120 Windows 7 Hyper-V installations and custom software to stress each NAS with traces from Microsoft Office tasks. Both throughput (in Mbits per second) and latency (in milliseconds) are measured.
Seagate NAS HDD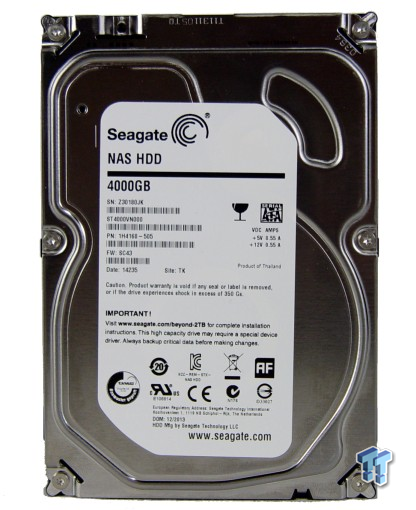 TweakTown uses Seagate NAS hard drives for all of our NAS tests. You can read our full review of the Seagate NAS HDD here.
Supermicro SSE-X3348TR 10GbE / 40GbE Switch

With a switching fabric of 1,284 Gb/s through forty-eight 10GbE ports with RJ45 connectors and four 40GbE QSFP connectors, the SSE-X3348TR is our switch of choice for testing SMB and enterprise network attached storage products. Many server and motherboard manufacturers have included 10GbE on top-tier offerings. 2015 will be the year for a 10GbE take over.
Benchmarks – RAID 5 Single Client Performance
Benchmarks – RAID 5
RAID 5: Block-level striping with parity data distributed across all member disks.
HD Video Playback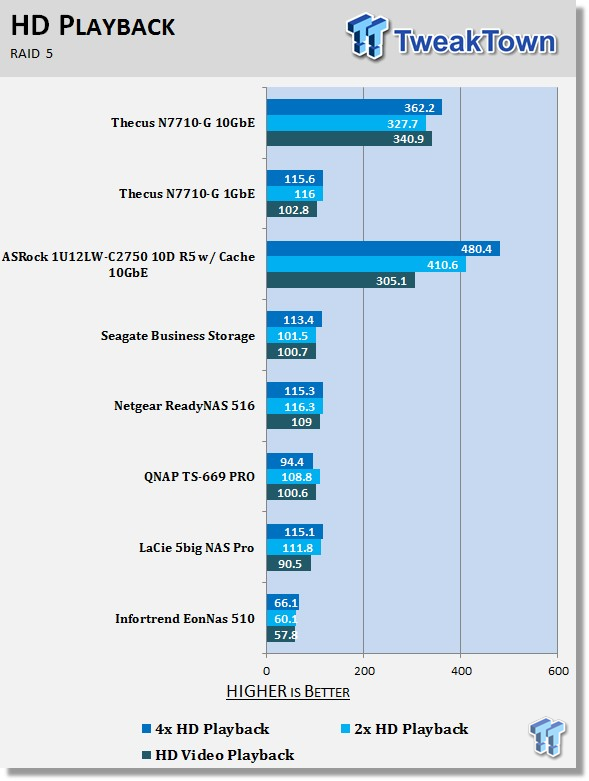 HD Video Play - 720p HD stream from Windows Media Player 256kB reads
2HD Video Play - 2x playback
4HD Video Play - 4x playback
HD Video Record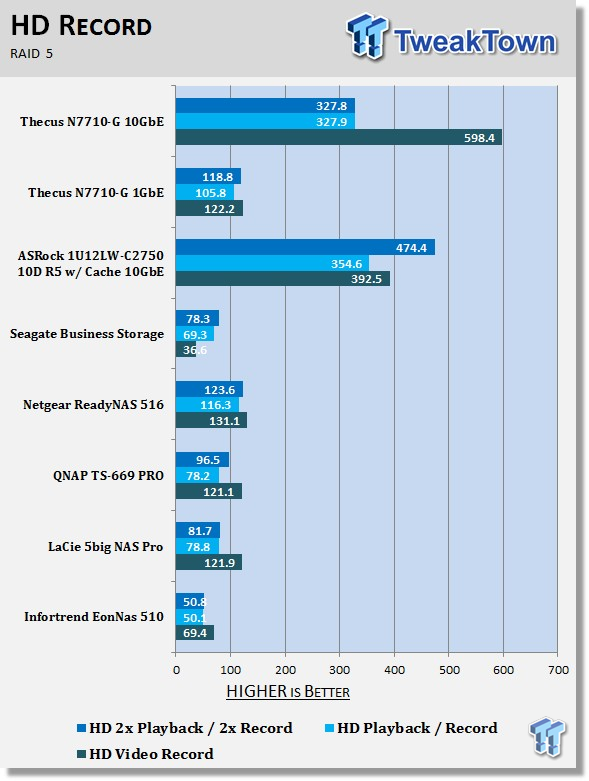 HD Video Record - 720p HD stream, 256kB writes
HD Video Play & Record - 1 playback, 1 record simultaneously
2x HD Video Play & 2x Record - 2 playback, 2 record simultaneously
Content Creation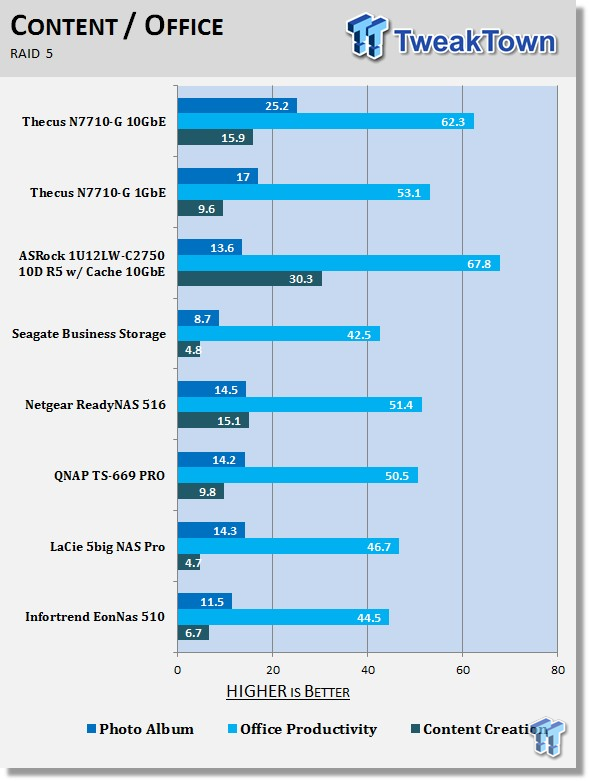 Photo Album - All reads – wide distribution of sizes
Office Productivity – Reads and writes, 1kB & 4kB reads; Mostly 1kB writes
Content Creation - 95% writes; 1k, 4k & little reads; Writes up to 64kB
File / Directory Transfer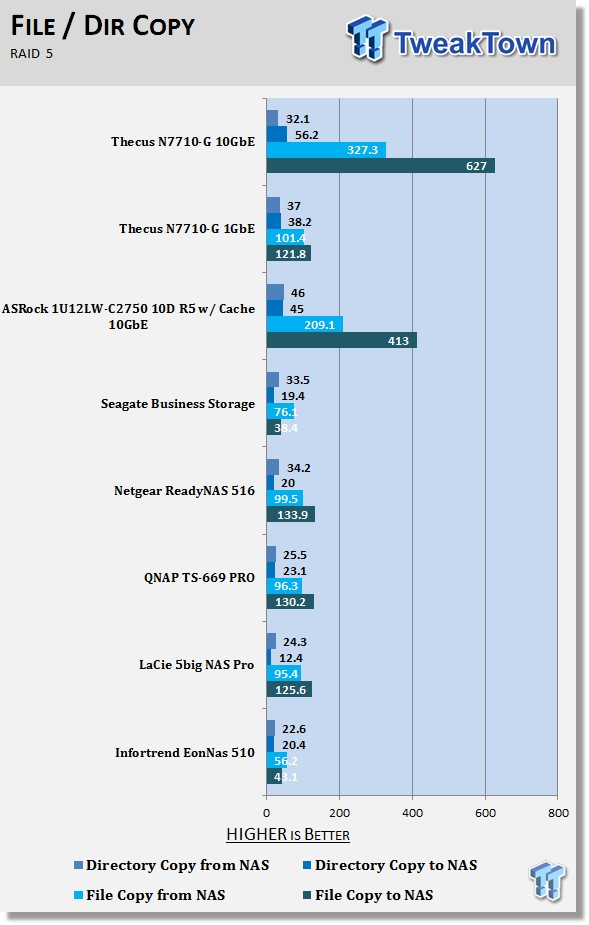 Directory Copy From NAS - 64kB reads
Directory Copy To NAS - Predominantly 64kB writes, wide scattering under 16kB
File Copy From NAS - 4GB file copy, 64kB reads
File Copy To NAS - 64kB writes
Single Client Performance Summary
In the single client tests, we see the Thecus N7710-G performance in both 10GbE and 1GbE. Even with just a gigabit connection, this NAS performs very well and competes with the other products on the chart. Using 10GbE, we see a significant performance increase in nearly all tests.
Benchmarks – iSCSI Enterprise Workloads
Database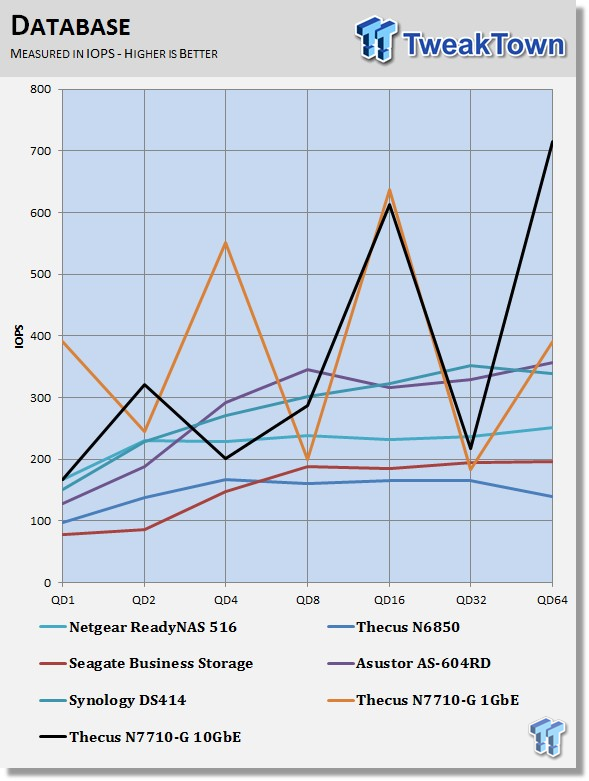 File Server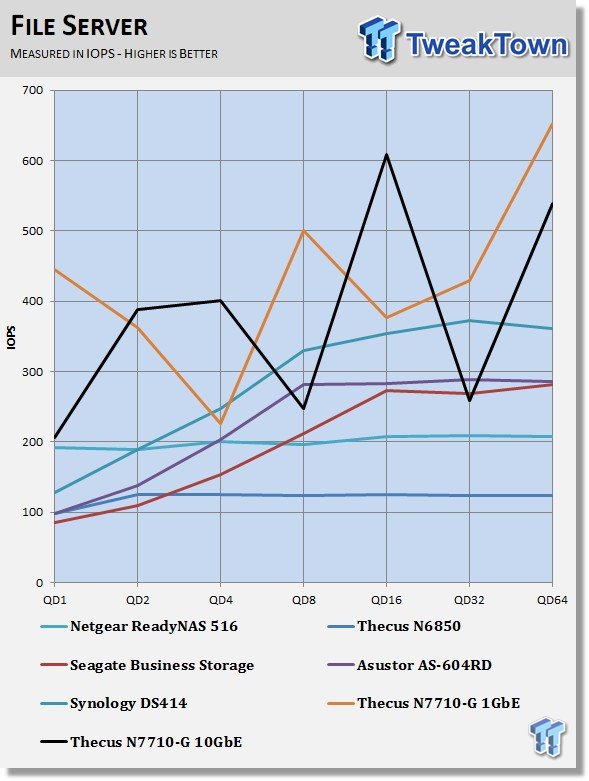 Email Server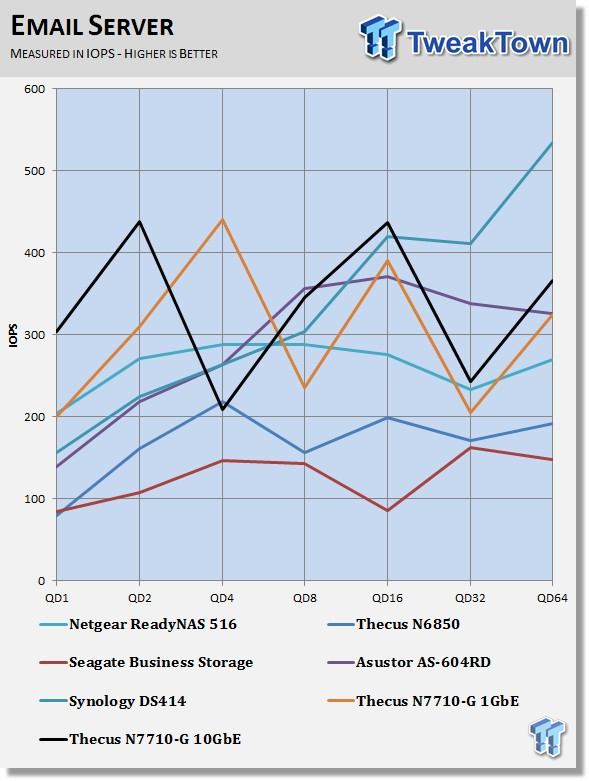 Web Server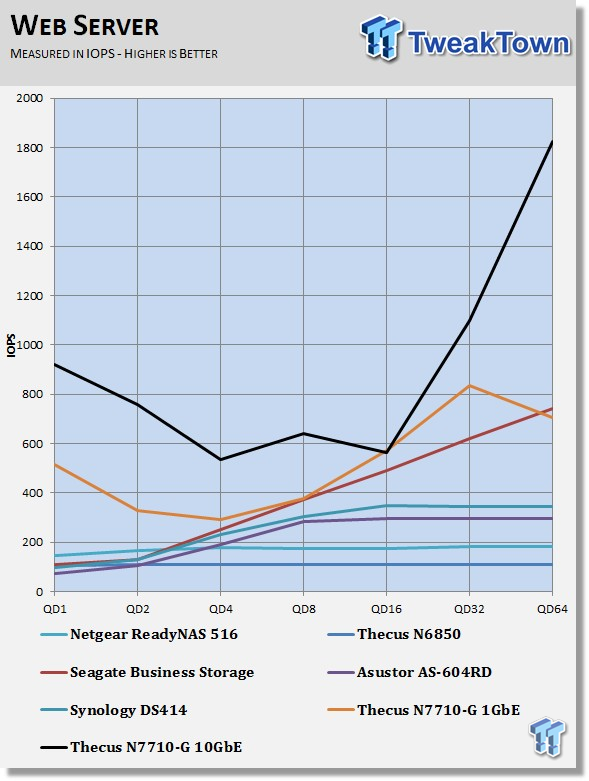 Workstation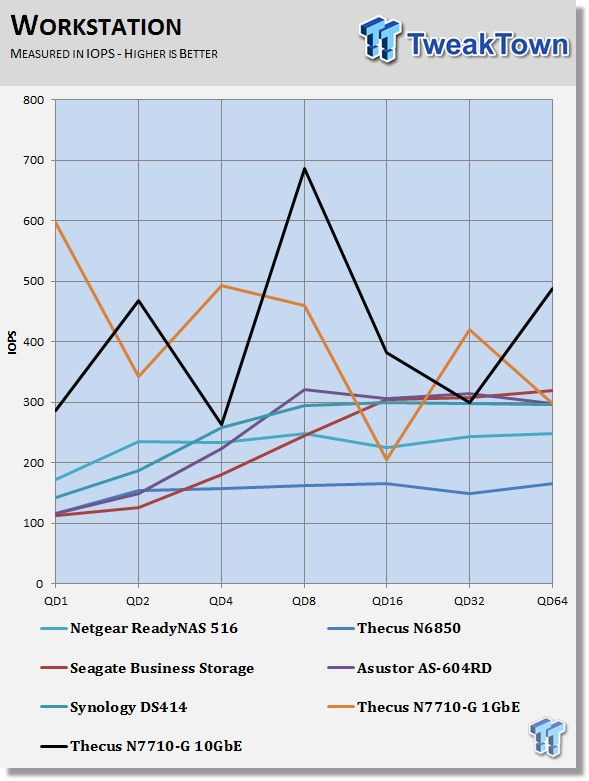 iSCSI Enterprise Workload Summary
In the enterprise workload tests, we see the N7710-G crisscrossing its way through the charts. The odd results occurred in both the 10 gigabit and 1 gigabit runs. In nearly all of the tests, the N7710-G outperforms the comparison units in the charts. It does this in both 10GbE and 1GbE.
Benchmarks – iSCSI Workload Latency
Database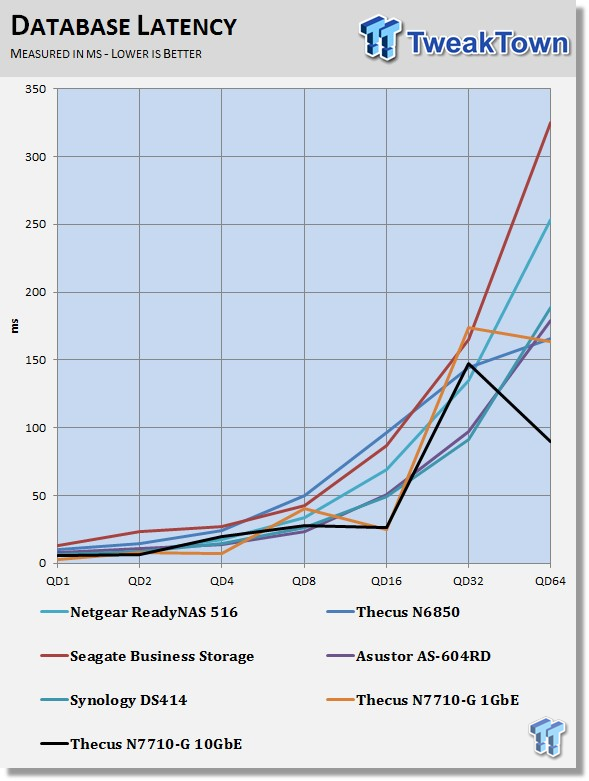 File Server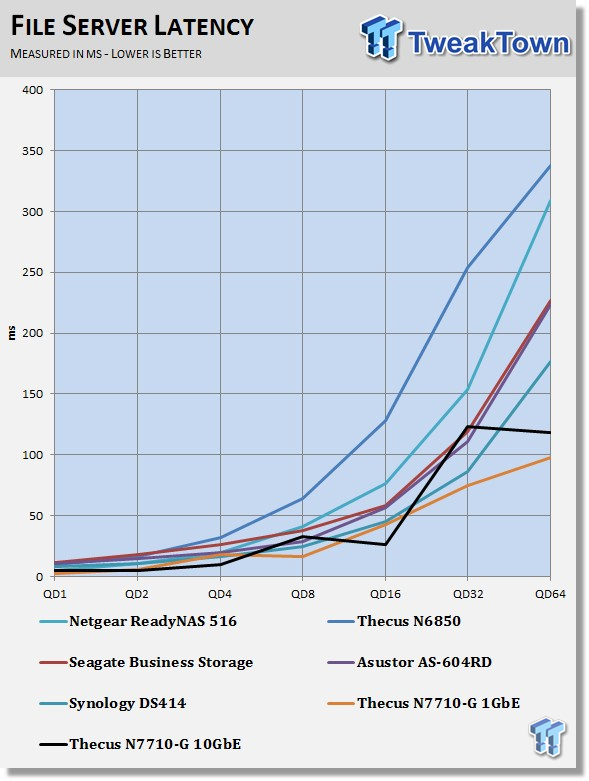 Email Server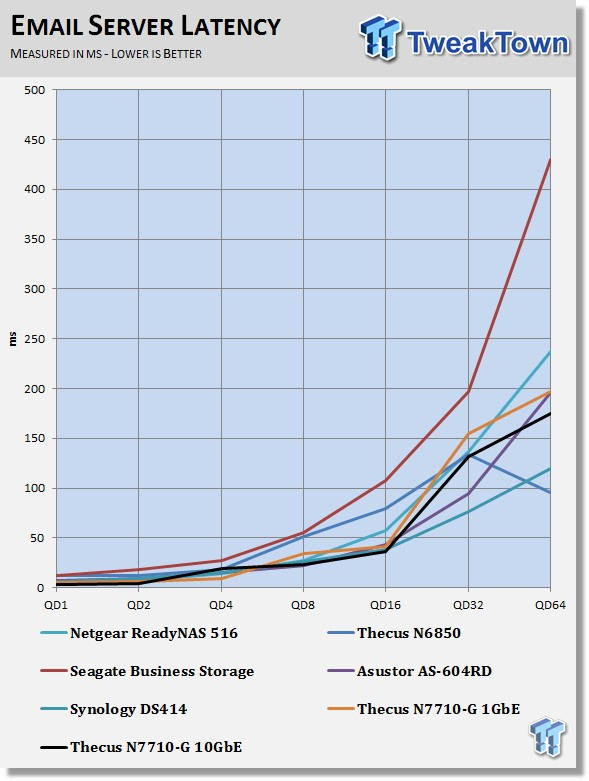 Web Server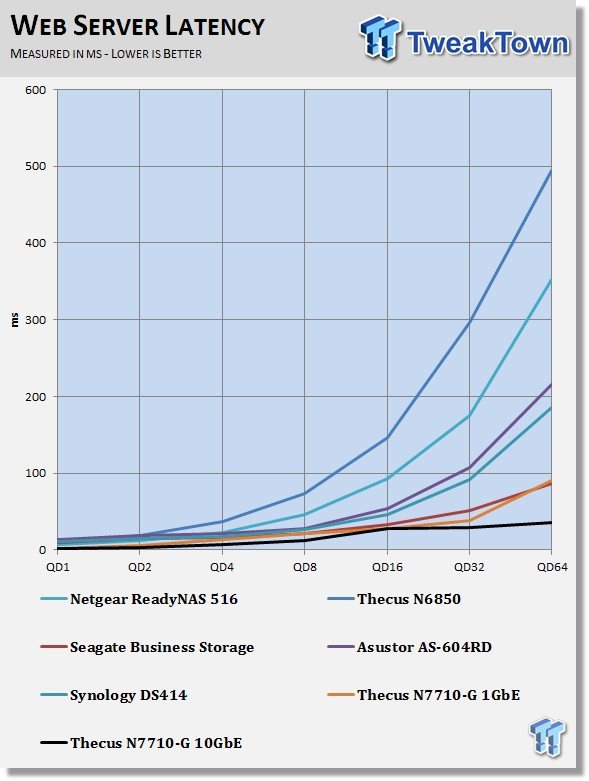 Workstation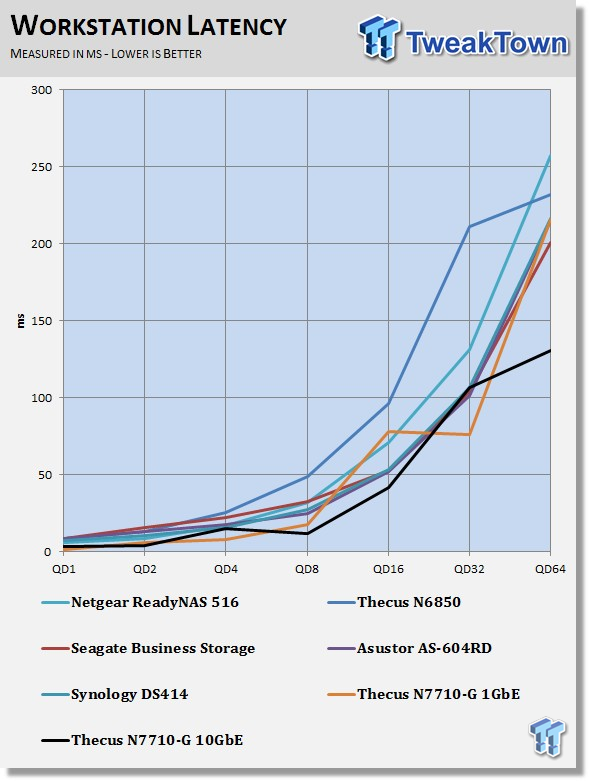 iSCSI Enterprise Latency Summary
Across all tests, the N7710-G running at 10 gigabits produces the least amount of latency compared to the other products on the chart.
Benchmarks – Multi-Client Test
The Intel NAS Performance Tool (NASPT) is an excellent way to determine NAS performance in a single user environment. Any review that only uses NASPT assumes that only a single computer will access the target NAS at one time. We took issue with this method of testing and spent over a year designing, building, programming, and finally validating the TweakTown Multi-Client Test.
The test uses Microsoft Office data recorded to traces and played back to the NAS from up to 120 client Windows 7 installations (clients). We record total throughput of all clients and average response time per client.
Over time, we'll populate the two multi-client charts with several NAS products from a span of categories. The products range from a dual-Xeon server with two 10GbE ports to a 2-bay NAS with a single gigabit Ethernet connection. The products will fall into their performance categories based on performance and not marketing material or opinion.
Throughput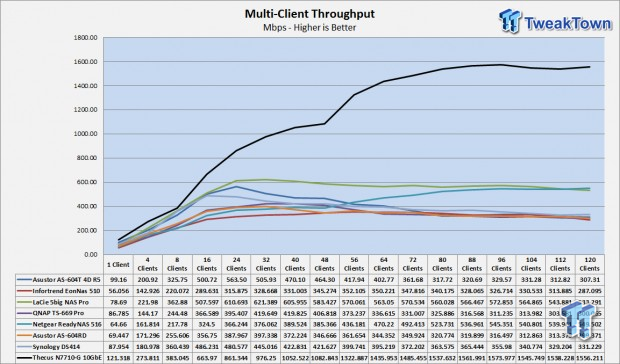 It shouldn't come as a surprise to see the N7710-G opening up in the multiclient test. When you have an office with several computers working off of the NAS at the same time, 10GbE can increase productivity, reduce wait times, and increase the user experience. In this test, the client computers are running gigabit Ethernet and the N7710-G is running at 10Gb/s.
Latency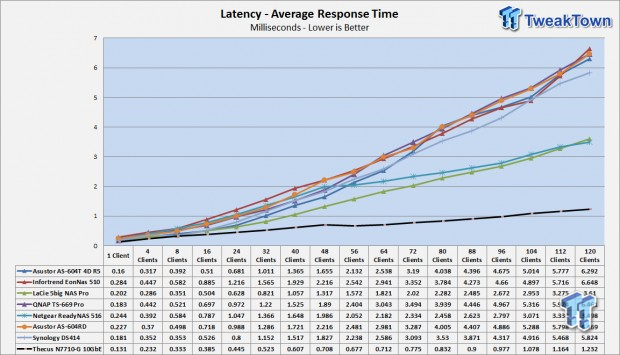 There is also a massive reduction in latency with the faster interface. Commands complete faster, and that reduces the latency, allowing the NAS to move on to the next task.
Final Thoughts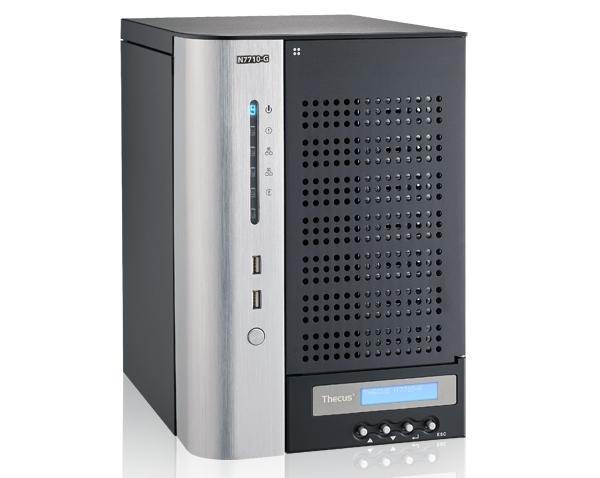 It's almost ironic that I'm writing this review on Memorial Weekend. The first time I ever saw a 10GbE network was in an Indy car team's headquarters here in Indianapolis. A friend's neighbor worked for the team, and over the next few years, I had nearly unrestricted access to the garage and even worked on their computers from time to time. As with most motorsports these days, from club level to Formula One, data plays a significant role in the sport. The amount of data gathered from every test session is massive, and it needs to be analyzed by servers and workstations. Eventually that data needs to come in contact with human eyes. Using portable hard drives is out of the question with data sets this large. Security is also a consideration given the sensitivity. Millions of dollars are on the line, and teams can't afford to wait for data.
Thanks to Thecus, your business no longer has to wait on data either. Your data might not have cost millions of dollars to collect, but it's certainly worth millions of dollars to you. You want your data to be secure from both intrusion and data loss, two basic tasks found on the Thecus N7710-G. While those tasks are the primary function for NAS products, they are by no means the limits of capability.
The Thecus N7710-G has over 90 official and third party applications that run on the unit. The flexibility is amazing. At times, I question what a modern NAS is. The potential is limitless but based on the needs of the user. Email server, web server, database server, mass storage, DHCP / DNS, network policy maker, multimedia hub... the list just keeps going on and on. What can the Thecus N7710-G does for you? In one word, everything!
Looking at the performance measured today, it's clear that the N7710-G, when paired with a 10GbE switch, delivers exceptional data throughput at very low latency. Even running on a more traditional 1GbE network, the N7710-G is impressive in the same workloads. 10 gigabit Ethernet is coming of age for small businesses, but the cost is still significantly higher than gigabit networks. Companies are working hard to reduce costs, which lowers initial investments. It's my opinion that we are already at a tipping point where 10 gigabit can quickly pay for itself in increased productivity in a short amount of time in installations where several users connect to the same central storage source at the same time. The Thecus N7710-G is a great way to increase your productivity without breaking the bank.
PRICING: You can find the Thecus N7710-G for sale below. The prices listed are valid at the time of writing but can change at any time. Click the link to see the very latest pricing for the best deal.
United States: The Thecus N7710-G retails for $1,133.43 at Amazon.
Canada: The Thecus N7710-G retails for CDN$1,524.18 at Amazon Canada.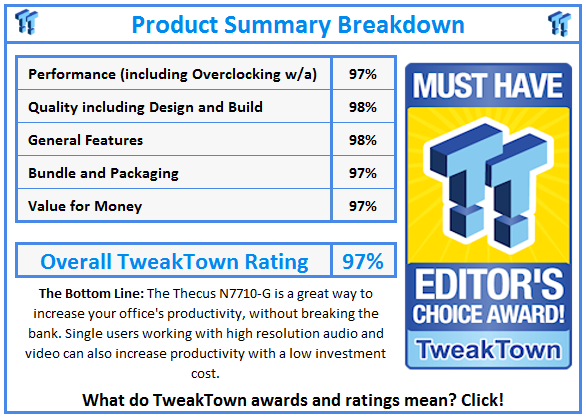 PRICING: You can find products similar to this one for sale below.

United States: Find other tech and computer products like this over at Amazon.com

United Kingdom: Find other tech and computer products like this over at Amazon.co.uk

Australia: Find other tech and computer products like this over at Amazon.com.au

Canada: Find other tech and computer products like this over at Amazon.ca

Deutschland: Finde andere Technik- und Computerprodukte wie dieses auf Amazon.de
We openly invite the companies who provide us with review samples / who are mentioned or discussed to express their opinion. If any company representative wishes to respond, we will publish the response here. Please contact us if you wish to respond.
Related Tags