Samsung XP941 512GB M.2 PCIe SSD Review
It's the world's fastest consumer SSD, but to get the most out of it, you need to jump through some hoops. Read on as Chris gives us the complete rundown!
Published May 20, 2014 2:18 PM CDT
|
Updated Tue, Nov 3 2020 7:00 PM CST
16 minute read time
Introduction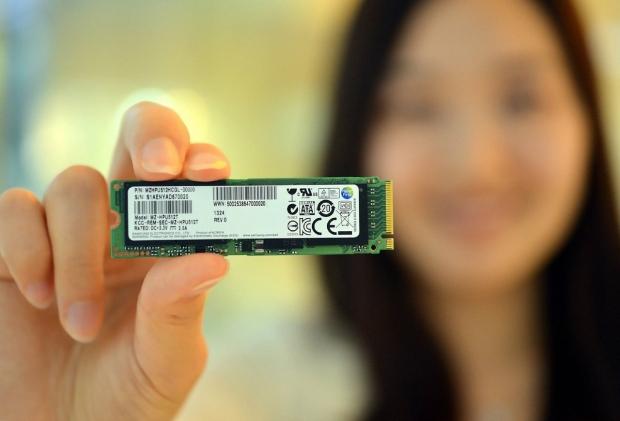 The Samsung XP941 has been on the market for quite a while now. Apple and Sony both embraced Samsung's futuristic wonder in retail products. Apple brought an XP941 variant to the market in the 2013 Macbook Pro and later in the new cylinder-shaped Mac Pro. Sony took a different route and stuffed the XP941 in a VAIO Pro 13-inch Ultrabook. None of these products are all that interesting from the eyes of a Windows person. The Apple is easy to discount by name only, and the last thing most of us would want to pair together is an amazing SSD with a 13-inch display.
Things have changed with the introduction of Intel's new Z97 chipset. Over the last two generations of chipsets, motherboard manufacturers have slowly implemented UEFI capabilities in mainboard BIOS. With Intel's guidance, and a product to fill the need, the Samsung XP941 can now be used as a boot device in off-the-shelf motherboards.
At this time, there is only one confirmed enthusiast motherboard on the market, but booting to PCIe storage is on every motherboard manufacturer's radar. Z97 brings SATA Express and M.2 storage to the world consumer world.
The lone motherboard that fully supports Samsung's PCIe 2.0 4-lane SSD is the ASRock Extreme6. Sadly, our sample is still twelve hours away at the time of writing, but we'll publish a full review in the coming days. With an adapter, the XP941 works in other motherboards on the market, but only as secondary storage (you can't boot from the drive).
Additional compatibility will come, but don't look to onboard M.2 slots for full performance. The Extreme6 is the only Z97 board on the market that supports 4-lane PCIe storage; the others are only 2 lanes. The Extreme6 takes PCIe storage a step further and is the first PCIe 3.0 4-lane capable product on the market. We haven't even encountered a PCIe 3.0 SSD on the enterprise side either. We'll talk more about the Extreme6 in a few days. Until then, let's talk about why we would even be interested in Z97 from a storage point of view.
Specifications, Pricing and Availability
Before we dive in, I would like to thank Rod Bland from RamCity for supplying us with a Samsung XP941 512GB SSD and a pair of Bplus M.2 to PCIe 2.0 x4 adapters. Rod convinced Samsung to release an unknown number of XP941 OEM drives to the masses. His Australian based e-tail store, RamCity, carries a wide range of products with a focus on DRAM. The shop also has the best selection of SSDs we've seen outside of Newegg. Rod's professional blog is also a treasure for M.2 and PCIe SSD data.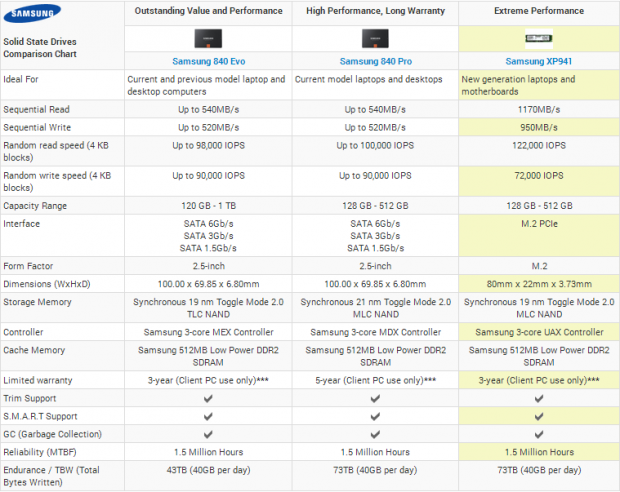 RamCity put together a nice comparison of current Samsung drives spanning the EVO, Pro, and XP941. This allows us to get a really good look at the performance specifications of these three models in their 512GB capacity sizes. Our 512GB XP941 sample delivers 1170 MB/s sequential read and 950 MB/s sequential write speeds with a massive 122,000 4k random reads and a tame 72,000 4k random writes.
Samsung has been tight lipped about the XP941 even when asked pointed questions about the controller, technology, and advanced features. RamCity has more information on this drive than any other source (until our review hits the web).
Samsung released the XP941 in four capacity sizes: 128GB, 256GB, 512GB, and a large 1TB model that is an Apple exclusive at this time. Today, we're focusing on the 512GB model, and it has the highest performance of the three publicly available XP941 models.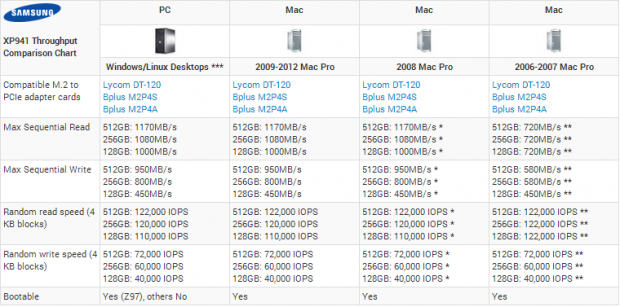 At this time, Apple systems dating back to 2006 work with the XP941 with an adapter, and many of those systems can even use the XP941 as a boot device. On the PC side, the XP941 does not work as a boot device aside from a few systems. Sony released a notebook with an XP941, and ASRock's Extreme6 can boot from the XP941 without an adapter. The Extreme6 can also use the drive without an adapter, but it is the only retail motherboard at this time with an Ultra M.2 slot (up to PCIe 3.0 x4 lanes).
The Samsung XP941 is the only consumer PCIe 2.0 x4 lane product on the market. Plextor recently released the M6e, but it uses two lanes instead of four. From the roadmaps we've seen, PCIe 2.0 x2 is the standard for 2014 to the first half of 2015. Marvell has a PCIe 2.0 x4 controller in development, but manufacturers told us not to expect anything on the sample side until December or January. That is, of course, if everything goes as planned and without any major issues.
In the past year, we've talked quite a bit about LSI SandForce SF3700 controllers and that controller's evolution. The SF3700, as of last year, is a 2-lane controller for the consumer market and a 4-lane controller for the enterprise market, both using PCIe 2.0. Samsung jumping the gun with the XP941 pretty much ruins years of work on SATA Express (SATAe) because the spec is limited to PCIe 2.0 x2. SATAe drives will use the familiar 2.5-inch form factor, and although retail drives have yet to hit the market, the spec has already been overshadowed by the XP941 that you can buy today.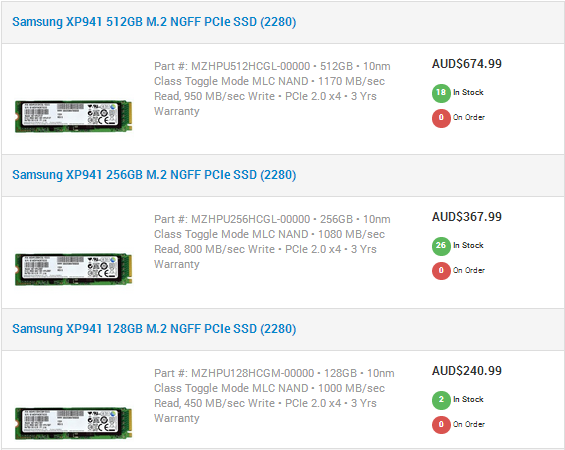 Now that we've put the ball on the tee and explained that the XP941 is really a product generation ahead of everything else, we can talk about the price. RamCity is based in Australia, but the AUD converts to the USD in a favorable manner. Our 512GB sample costs AUD$674.99, and that comes out to right around $600 in US dollars. Yes, this is an expensive SSD, but instead of complaining about the price of next-next generation hardware, we are just happy to have the opportunity to purchase it without waiting a year or two to purchase it at a lower price.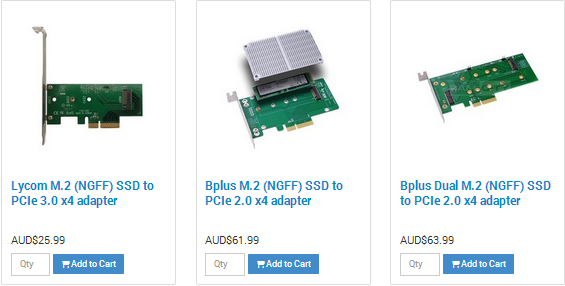 RamCity is responsible for the warranty of the XP941 and gives purchasers a full three-year warranty. The RamCity package is similar to the way many manufacturers sell mSATA drives, and the drive comes in a clear plastic case. In the ASRock Extreme6, you will not need an adapter, but in nearly every other installation, you will need an adapter. RamCity offers three models with a starting price of around $20. Later in this review, we'll explain why we think the more expensive Bplus M.2 heat sink model is more appropriate.
Samsung XP941 512GB M.2 SSD

Here we get our first look at the fastest consumer SSD on the market today. We say consumer with a bit of tongue in cheek since it uses the proposed enterprise spec 4 lanes and is technically an OEM drive with an aggressive retailer bringing them to market.
The XP941 isn't much larger than a stick of gum, but it does fall within the specs for M.2. The spec for this model is 22mm wide and 80mm long, which is 2280 or M.2 2280. The M.2 spec has other sizes that go from 30mm to 110mm. As the length increases, so does the surface area for more components, such as the flash packages. The smaller size drives are mainly designed for cache modules, part of Intel's RST 13.x storage system that we'll talk about in the ASRock Extreme6 Storage Subsystem Overview in a few days.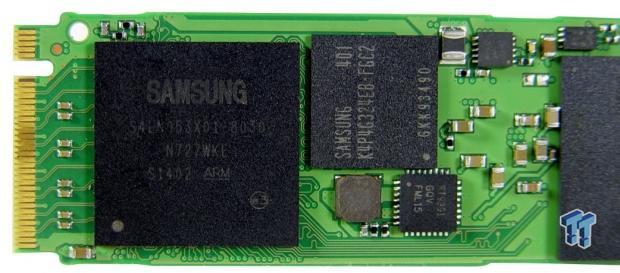 The controller's name is UAX, and it is a triple-core architecture like the EVO's MEX and the Pro's MDX. We like to say that one core is dedicated to reading, one to writing, and one to arithmetic. The third core manages the flash, background transfers (garbage collection), and wear leveling activities. The 512GB model also has a 512MB DRAM buffer that is next to the controller.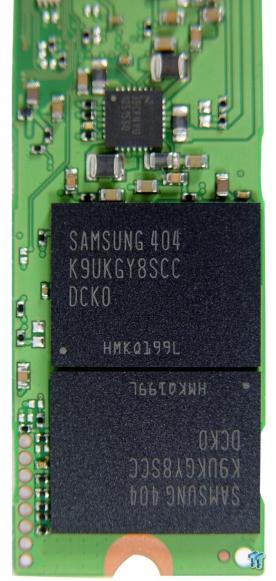 Until now, we've only seen 16 die in a single package on the mSATA EVO 1TB SSD. The EVO uses TLC flash, but the 512GB XP941 uses 16 MLC die in a single package. The drive has four NAND flash packages in total, with two on each side. This product is like an exotic sports car made in limited numbers like a Ferrari FXX or Aston Martin One77. The technology is available but not cost effective for mainstream use.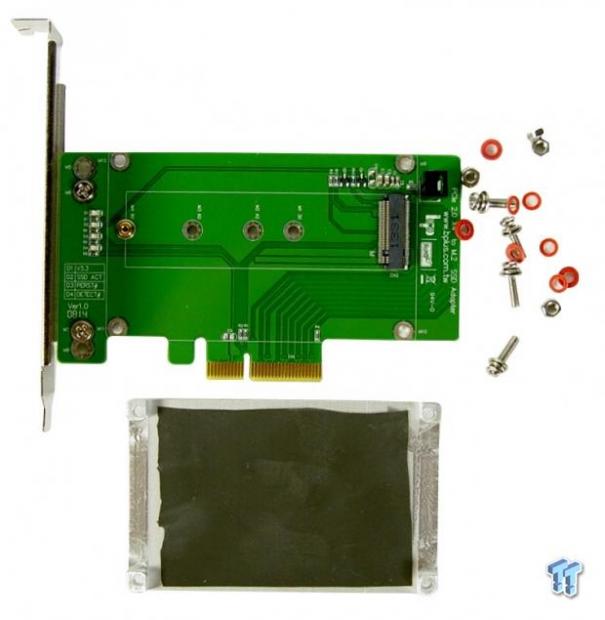 RamCity also sent us a pair of Bplus PCIe 4-lane adapters that include a heat sink for the drive. Here we see the adapter broken down and ready to accept an 80mm length M.2 drive. Note: this model will only support up to 2280. It does ship with both a full height and half height cover.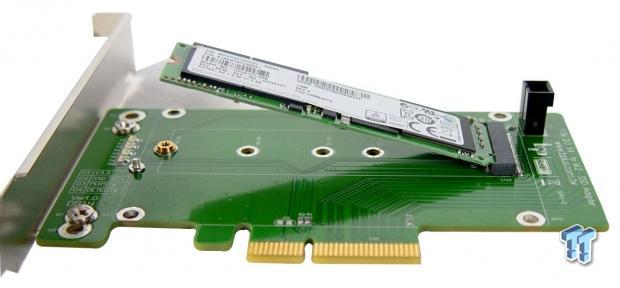 The drive installs at an angle like the RAM in your notebook. You push it down gently and then install a screw that holds the drive against the adapter.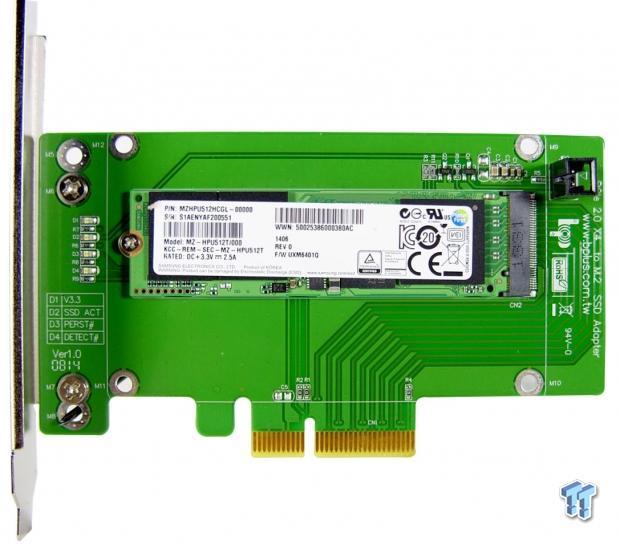 With the drive in place, we can get the heat sink ready.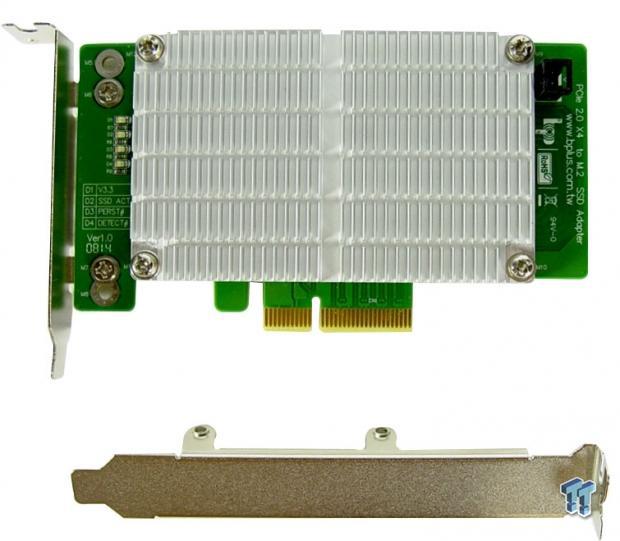 Here we see everything together and the two back covers. The adapter does ship with two of the tiny screws used to hold the drive down. This is very good since I managed to drop one within 15 minutes of opening the package.
Test System Setup and ATTO Baseline Performance
Desktop Test System
Today, we're using our custom ASUS test system with the Bplus adapter for this review. In a few days, we'll test the drive in the new ASRock Extreme6 motherboard with a native Ultra M.2 connector.
ATTO - Baseline Performance
Version and / or Patch Used: 2.34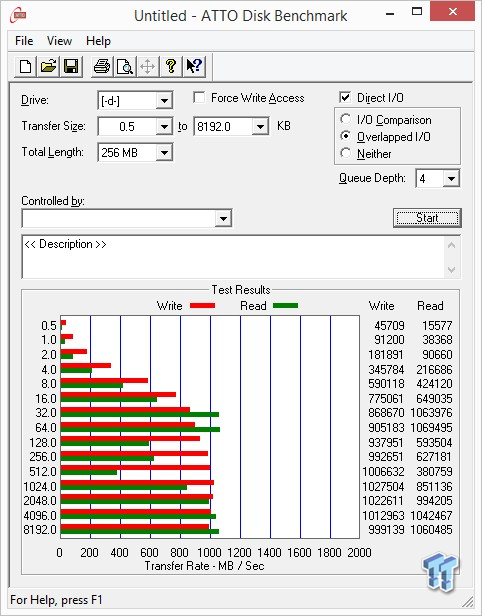 PCIe can be tricky. Today, we're using Intel's Z87 chipset, but you'll get better performance from Intel's high-end platform, which uses the X79 chipset or the upcoming X99 chipset. We've found a lot of performance variation between Z87 motherboards and even among the PCIe slots on the same motherboard.
We bring this up mainly because of the ATTO results below. In our Z87 test system, the read performance dropped off in the middle transfer sizes, but this didn't happen on our X79 system. We still managed to achieve 1069 MB/s sequential read and 1027 MB/s sequential write speeds.
Benchmarks - Sequential Performance
HD Tune Pro - Sequential Performance
Version and / or Patch Used: 4.55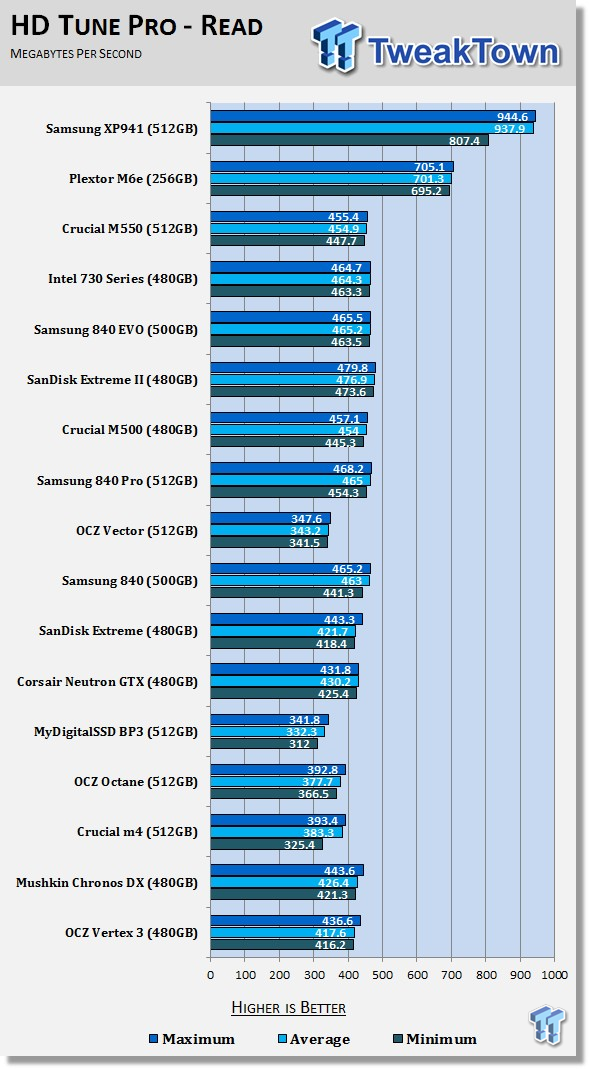 Today, we're using the 512GB capacity size charts, but we're added the Plextor M6e 256GB to the mix.
I think this chart really shows the sequential read performance differences between the Samsung XP941, what we expect from M.2 PCIe 2-lane devices, and the normal SATA SSDs on the market today. The Samsung XP941 is a significant leap in storage performance.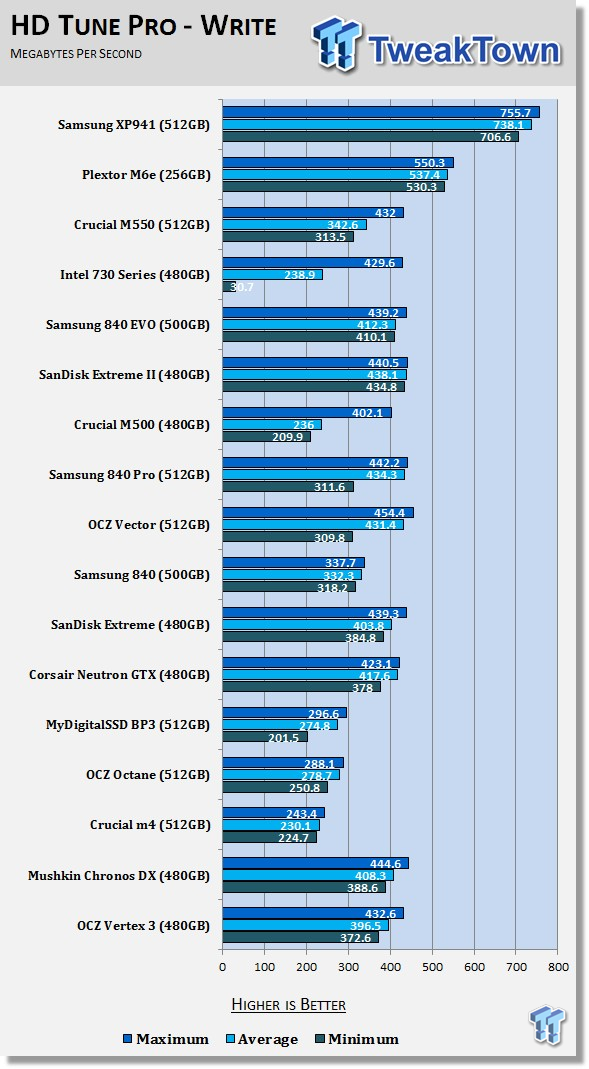 The sequential write performance chart shows the same significant leap forward. The Plextor M6e is faster than the SATA protocol drives, but the leap is only around 100 MB/s. The Samsung XP941 is around 200 MB/s faster using 64kB blocks like what this test uses.
HD Tach - Sequential Write Performance after Random Writes
Version and / or Patch Used: 3.0.4.0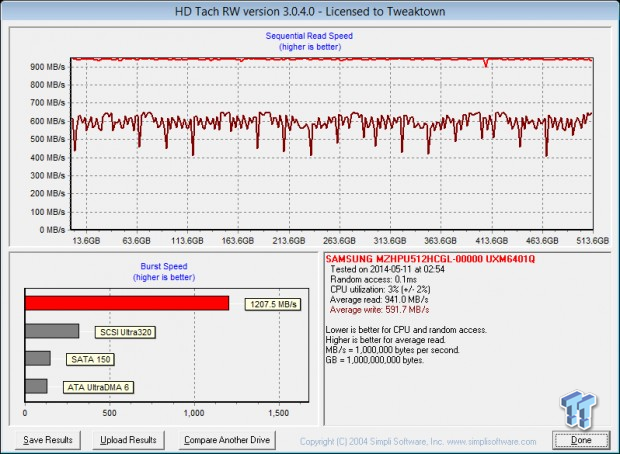 After running the XP941 through write tests with random data, we ran HD Tach to measure sequential performance with 128kB blocks. The write performance dropped to just over 400 MB/s at the lowest point. We've used the same random workload and had performance drop to less than 10 MB/s on some SATA drives.
Benchmarks - Anvil Storage Utilities
Anvil Storage Utilities
Version and / or Patch Used: RC6
So what is Anvil Storage Utilities? First of all, it's a storage benchmark for SSDs and HDDs where you can check and monitor your performance. The Standard Storage Benchmark performs a series of tests; you can run a full test or just the read or the write test, or you can run a single test, i.e. 4k QD16.
Anvil Storage Utilities is not officially available yet, but we've been playing with the beta for several months now. The author, Anvil on several international forums, has been updating the software steadily and is adding new features every couple of months.
The software can be used several different ways to show different aspects for each drive. We've chosen to use this software to show the performance of a drive with two different data sets. The first is with compressible data, and the second data set is incompressible data. Several users have requested this data in our SSD reviews.
0-Fill Compressible Data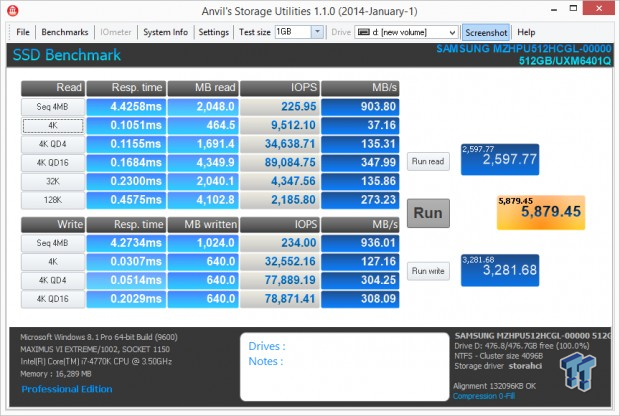 Incompressible Data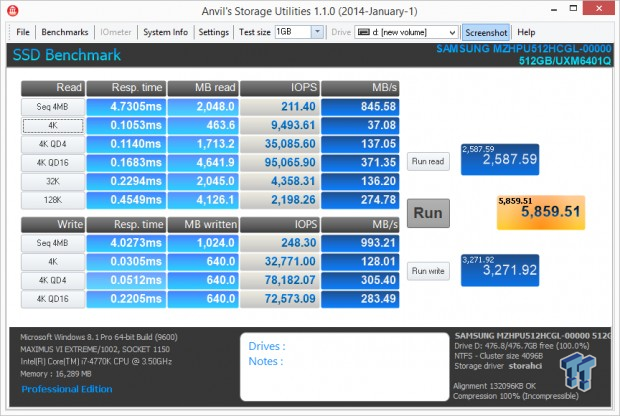 The Samsung XP941 doesn't differentiate between compressible and incompressible data, so the performance is nearly identical when writing both data types.
Read IOPS through Queue Depth Scale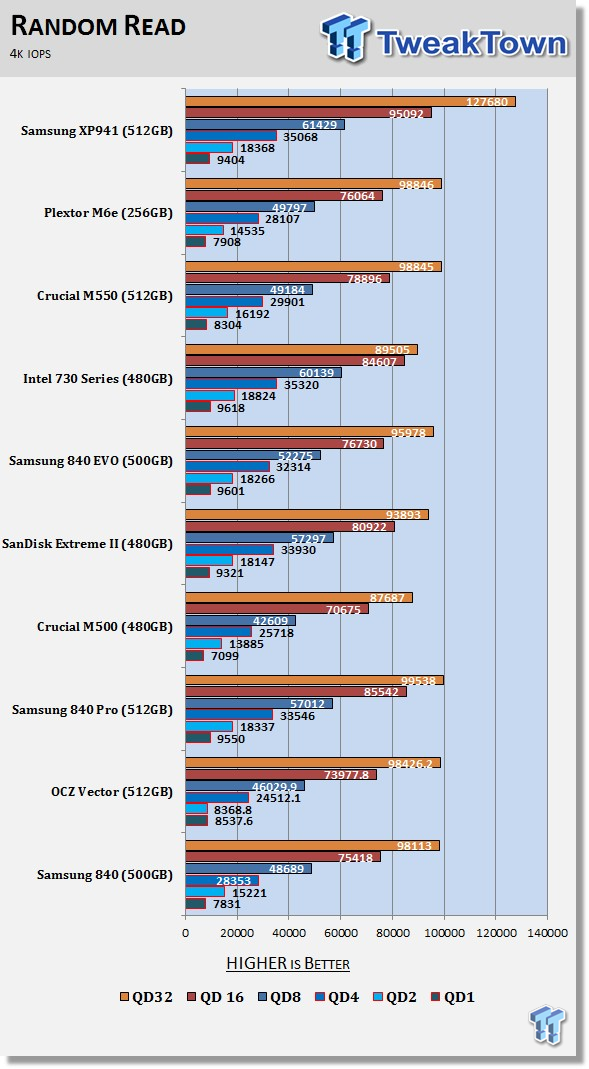 The QD1 random read performance is nearly as high as the 840 EVO and Pro. The latency hasn't decreased by a significant amount due to the AHCI driver set in individual tests.
At the upper levels of the queue depth scale, the XP941 gets to stretch its legs. The QD32 4k random read performance is nearly 130,000 IOPS. You can't get to that level with SATA.
Scaling Write IOPS through Queue Scale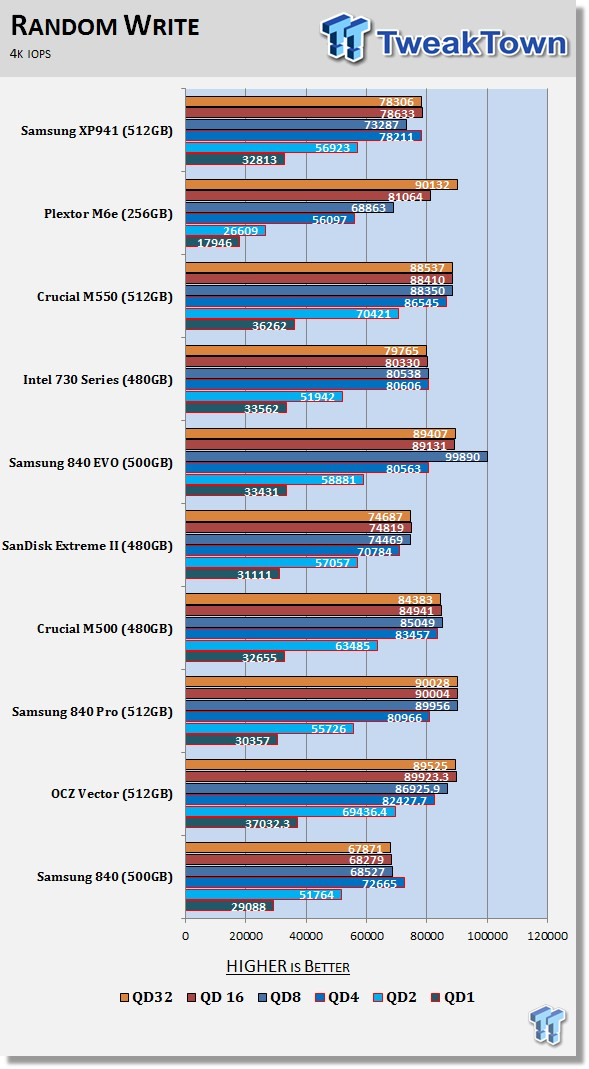 At this time, we're still not sure if the XP941 uses Turbo Write like the 840 EVO. QD1 random write performance is 32k. The QD32 random write test surpassed 78k, much lower than what we expected since the EVO and Pro achieve 90k IOPS.
Benchmarks - PCMark Vantage (Drives with Data Testing)
PCMark Vantage - Drives with Data Testing
Version and / or Patch Used: 1.0.0
For a complete breakdown on the Drives with Data Testing, please read this article. You will be able to perform this test at home with the files provided in the article; full instructions are included.
Brief Methodology
SSDs perform differently when used for a period of time and when data is already present on the drive. The purpose of the Drives with Data testing is to show how a drive performs in these 'dirty' states. SSDs also need time to recover, either with TRIM or onboard garbage collection methods.
Drives with Data Testing - 25%, 50%, 75% Full States and Dirty / Empty Test
Files needed for 60 (64GB), 120 (128GB), 240 (256GB)
60GB Fill – 15GB, 30GB, 45GB
120GB Fill - 30GB, 60GB, 90GB
240GB Fill – 60GB, 120GB, 160GB
Empty but Dirty - a test run just after the fill tests and shows if a drive needs time to recover or if performance is instantly restored.

With the drive empty, it produced a Vantage result of over 162k, a record for consumer SSDs. With half of the flash full and the drive in a dirty state, the Vantage performance drops down to 53k.
This is still faster than most of the SATA drives on the market, but it also goes to show that flash does not deliver constant performance all of the time.
Benchmarks - PCMark 8 Consistency Test
Futuremark PCMark 8 Extended - Consistency Test
Version and / or Patch Used: 2.0.228
Heavy Usage Model:
FutureMark's PCMark 8 allows us to wear the test drive down to a reasonable consumer steady state and then watch the drive recover on its own through garbage collection. To do that, the drive gets pushed down to steady state with random writes and then idle time between a number of tests allows the drive to recover.
Precondition Phase:
1. Write to the drive sequentially through up to the reported capacity with random data.
2. Write the drive through a second time (to take care of overprovisioning).
Degradation Phase:
1. Run writes of random size between 8*512 and 2048*512 bytes on random offsets for 10 minutes.
2. Run performance test (one pass only).
3. Repeat 1 and 2 for 8 times, and on each pass increase the duration of random writes by 5 minutes.
Steady state Phase:
1. Run writes of random size between 8*512 and 2048*512 bytes on random offsets for 50 minutes.
2. Run performance test (one pass only).
3. Repeat 1 and 2 for 5 times.
Recovery Phase:
1. Idle for 5 minutes.
2. Run performance test (one pass only).
3. Repeat 1 and 2 for 5 times.
Storage Bandwidth
PCMark 8's Consistency test provides a ton of data output that we use to judge a drive's performance.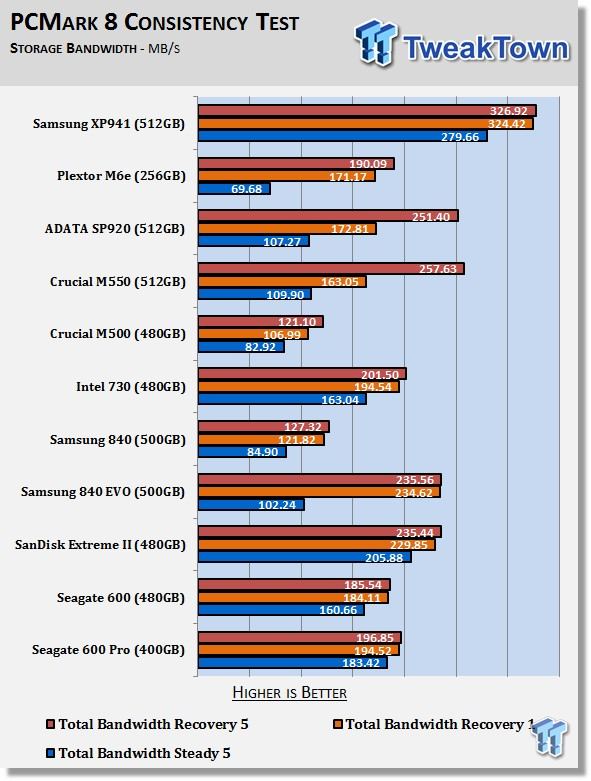 In the PCM8 Consistency test, we see the best and worst case performance over a duration of time. The middle result shows recovery after a five minute pause after heavy disk activity. The Samsung XP941 512GB recovers well and delivers significantly more throughput in real-world conditions when compared to the EVO and Pro SSDs.
Storage Bandwidth All Tests
Here we see all of the tests plotted on the same chart. This shows the drive from worst case to steady state to recovery performance.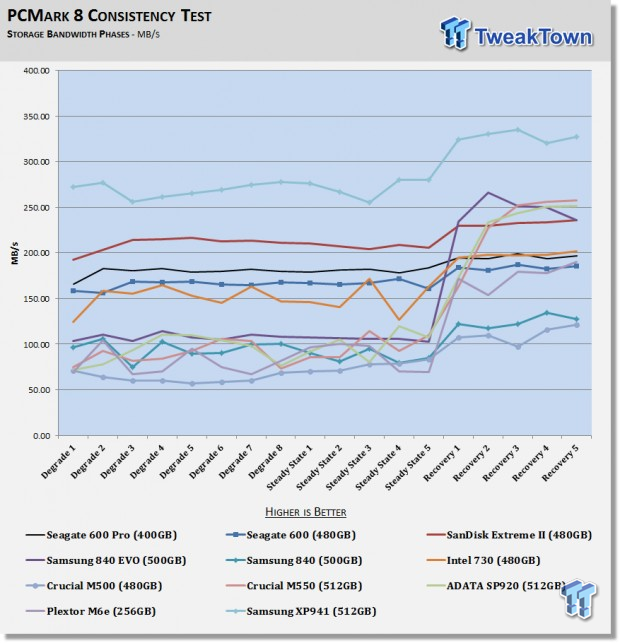 Here we see all of the tests lined up in the same graph to see the stages of performance. The XP941 is easy to spot; it delivers the highest performance all the way across the chart. The drive wears down, but the performance doesn't drop as low as many other drives on the market.
Some drives have a real issue with degraded state flash, including some of Samsung's offerings. We were honestly surprised to see the XP941 do so well across the chart, but the fact is it delivered amazing performance.
Benchmarks - PCMark 8 Consistency Test - Continued
Total Access Time
The access time test measures the total latency across all 18 tests. This is one of the most important tests we run at this time for consumer SSDs. When your latency is low, your computer feels fast; it's just that simple.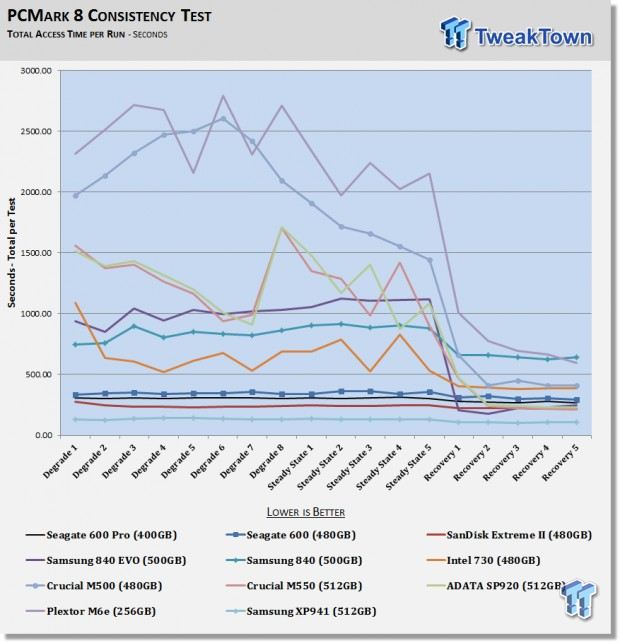 One of the most significant charts in the entire review is this access time chart. Access time and latency are what make your system feel fast. Most of us rarely transfer large sequential files to and from a system or load large games, but we are always opening files, folders, and applications. This test shows the latency. Again, the Samsung XP941 is easy to spot because it works through all of the tests with the least amount of latency.
Disk Busy Time
Disk Busy Time shows us how long the drive has to work to do the given tasks. The best scenario is high throughput performance with low busy time. The less the drive works, the less power it consumes. For the most part, this is an efficiency test.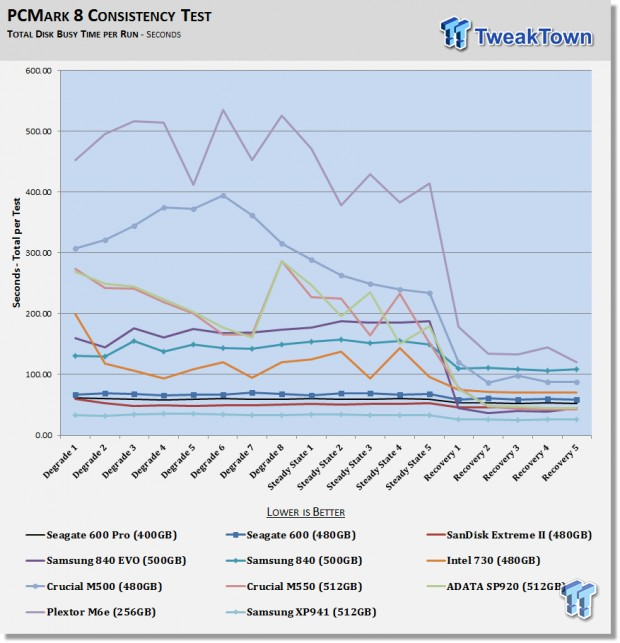 The disk busy time shows how hard the drive works to accomplish the results. This test ties in with power consumption as well because when the drive doesn't work for as long, it gets to lower power states faster.
Benchmarks - Nuts and Bolts
Additional Tests
We've always ran more tests than what we publish to learn more about each drive. We rarely add the tests or even mention them unless we find something of interest. The Samsung XP941 is an interesting drive, and we found some interesting information in our additional tests that we think is worth mentioning.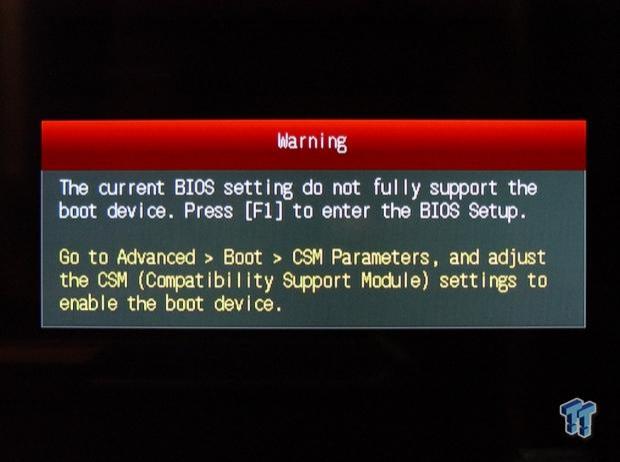 We've already mentioned the first, but it's worth going into more detail on. At this time, there is only one enthusiast level PC motherboard available that allows you to use the Samsung XP941 as a boot device. That board is the new ASRock Extreme6 Z97. In our ASUS ROG Z87 Extreme VI, we couldn't even see the Samsung XP941 in the BIOS to make it a boot device.
The ASUS ROG Extreme VI does have a UEFI BIOS, and I wouldn't be surprised to see motherboard manufacturers work compatibility in--at the very least on enthusiast models.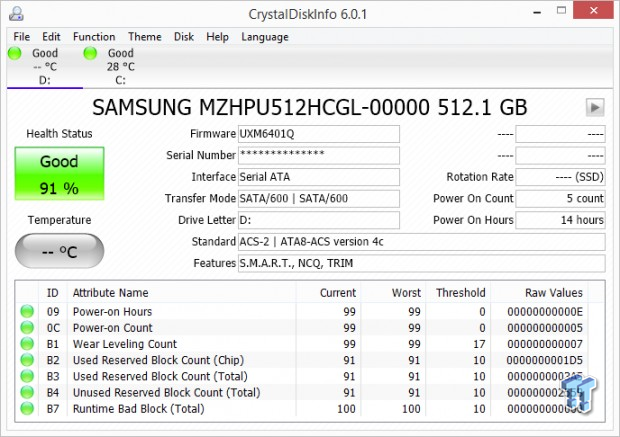 Unlike other Samsung SSDs on the market, the Samsung XP941 doesn't give us a lot of information from SMART polling. What you see is exactly what we found. Also, the Samsung XP941 is not seen as a Samsung product in Samsung Magician, so you can't secure erase the drive in Magician. You can't use RAPID Mode either.
Without Magician to secure erase the drive, we turned to PartedMagic. A two year old version of PartedMagic couldn't see the XP941 at all, but the newest version does. That doesn't mean you should use it though. We managed to brick our XP941 sample in PartedMagic after secure erasing the drive with the Enhanced Secure Erase. The SE cycle took around 45 minutes, and once it finished, the drive threw an Invalid CHS error in Sector 0 on the next reboot.
Now, Windows fails to see the drive, and Linux does not have the tools to fix the issue since this is a PCIe based drive. We could actually fix the drive if it was SATA. We hope the necessary tools became available at some point. Until then, don't secure erase the XP941 in PartedMagic.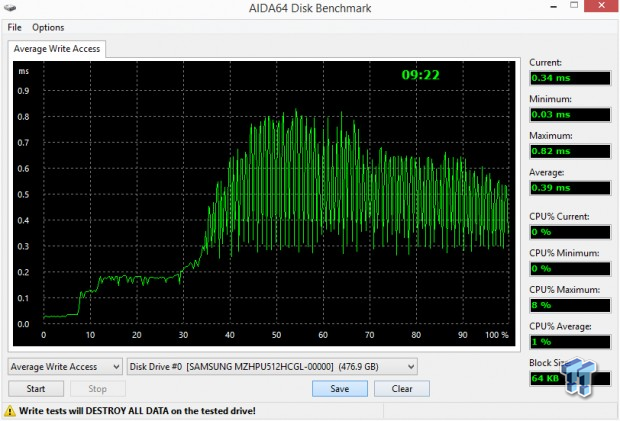 We replaced AIDA64's latency test with the PCMark 8 test a few months ago, but the XP941 still shows high latency after a full LBA span write test. Most of us will never write the entire capacity size of the drive all at once, so this isn't an issue on the consumer side. On the enterprise side, it can become an issue. Also, this test shows very low latency at the start, and we think Samsung enabled Turbo Write on the MLC flash. This is really speculation at this point, but the XP941 does have some of EVO's write latency traits.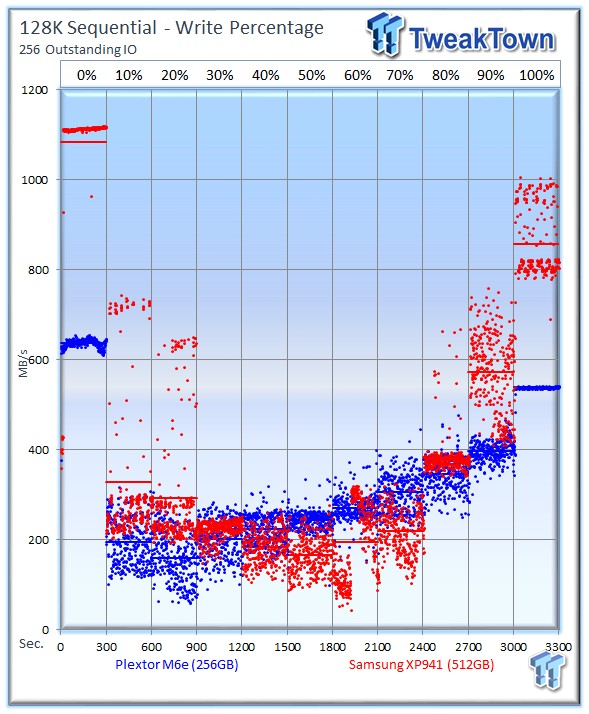 The latency issue doesn't just hurt random performance. The Plextor M6e has a similar issue, and we think it's because both Plextor and Samsung run very aggressive garbage collection schemes. In this chart, we see sequential 128kB writes to both drives, and the results are a very large bathtub curve with performance dropping to very low levels. Even with sequential data, a user cannot reasonably expect 1100 MB/s data transfer performance all of the time.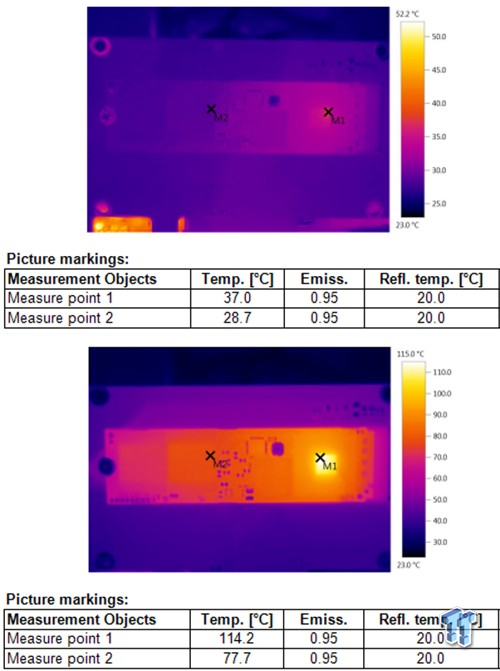 Until now, the highest temperature we've recorded on a SSD controller was 84C. The Samsung achieved a whopping 114.2C measurement in the same test and ran under the same conditions. We recommend you use an adapter bracket with a heat sink whenever possible or, at the very least, provide good air cooling to the XP941.
In the image above, we see the idle (top) and 10 minute 4k load (bottom) thermal images. At idle and even under light use, the drive stays cool, but under a high workload, it could boil water.
The controller temperature also increases the temperature of the other components, and the edge of the NAND flash closest to the controller reached nearly 80C. Flash endurance is directly tied to temperature. With the NAND hot, each single write could be like 3 or more writes, so keeping everything cool is important for the long term health of the SSD. The Samsung XP941 is an enthusiast product--at least the price and performance tell us so--and enthusiasts already know a thing or two about keeping system components cool.
We reached out to Samsung to ask about any thermal throttles but have yet to hear back.
Final Thoughts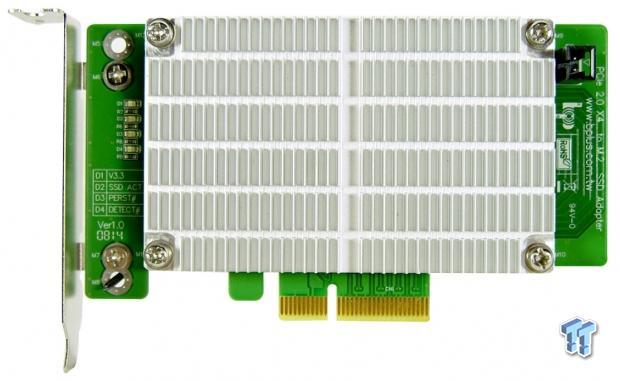 I think the temperature of this product plays a large role in why Samsung chose to make the XP941 an OEM SSD. Luckily, RamCity came up with a cleaver solution and brought in an adapter that comes with a heat sink to tame the beast. If you use the XP941 in a professional environment under a heavy write workload, we recommend using a heat sink. The Bplus adapter we used in this review worked very well.
Without question, the Samsung XP941 is the fastest consumer SSD in the world. It doesn't matter what benchmark you want to look at or what corner case the XP941 is thrown in; it comes out on top everywhere. It's difficult to convey how far ahead the XP941 is beyond other drives on the market at this time. When we went from SATA II to SATA III, it was a step forward. Moving from SATA III to PCIe 2.0 x2 was a leap forward, but moving straight from SATA III to PCIe 2.0 x4 is like an Olympic long jumper using a trampoline for extra distance.
Until December or January, we won't see another 4-lane PCIe SSD hit the market--at least not that we are aware of. Samsung has the enthusiast market covered as long as it can supply enough drives to fill the demand.
Helping to fill that supply line is RamCity. I'm a supporter of an enthusiast who stepped up to help others. There are a number of e-tail and small shops all over the world started by enthusiasts with passion about the products they sell, and I'm glad I found another one. Over the last few weeks, I've spoken with Rod Bland from RamCity on a number of occasions and found him to be very knowledgeable about the SSD market, and I find his enthusiasm uplifting.
This is our first article with the XP941, but we have a few more planned before leaving for Computex in a couple of weeks.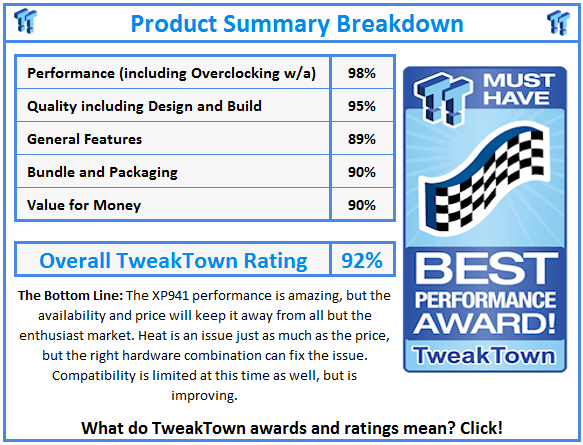 PRICING: You can find products similar to this one for sale below.

United States: Find other tech and computer products like this over at Amazon.com

United Kingdom: Find other tech and computer products like this over at Amazon.co.uk

Australia: Find other tech and computer products like this over at Amazon.com.au

Canada: Find other tech and computer products like this over at Amazon.ca

Deutschland: Finde andere Technik- und Computerprodukte wie dieses auf Amazon.de
We openly invite the companies who provide us with review samples / who are mentioned or discussed to express their opinion. If any company representative wishes to respond, we will publish the response here. Please contact us if you wish to respond.