Netis Systems WF2710 AC750 Wireless Router Review
We look at our first AC750 router, the Netis Systems WF2710. Read on as we explore the performance of this affordable small form factor solution.

Published
5 minute read time
Introduction & Pricing and Availability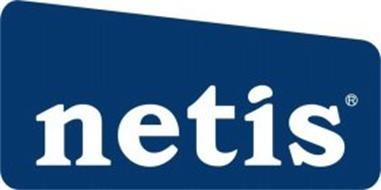 When we did our very first 802.11ac router review in late November, we discussed the new markets that AC technology has opened up. With products ranging from AC600 to AC1900 technology, this leaves the end-user with a wider array of choices when building or upgrading their home network.
In-house today, we have the Netis Systems WF2710, a dual band AC router capable of 450Mbps on the 5GHz band, and 300Mbps on the 2.4GHz band. Along with the WF2710's capabilities as a router, Netis has also allowed the device to be used in a WDS network, or as a wireless repeater, offering more flexibility in your network setup.
Additionally, the Netis is capable of broadcasting multiple SSIDs for each band. The WF2710 conforms to IEEE 802.3 10Base-T, IEEE 802.3u 100Base-TX specifications, and offers Omni-directional 5dBi antennas for increased range and throughput.
Pricing and Availability
MSRP of the Netis Systems WF2710 is listed at $29.99 with a one-year warranty.
Availability of the router is very slim at this point; in fact, I was unable to find it anywhere outside of China.
Netis WF2710 Wireless Router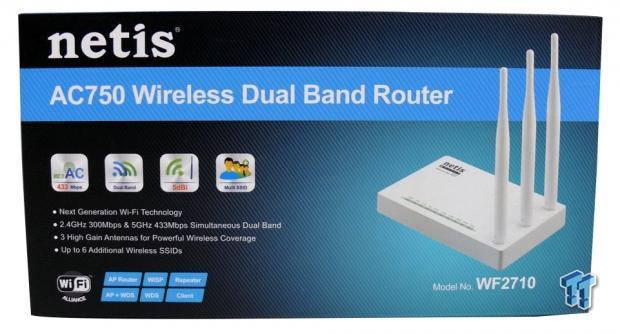 The packaging for the WF2710 features a centered image of the router. Features of the router are listed to the left.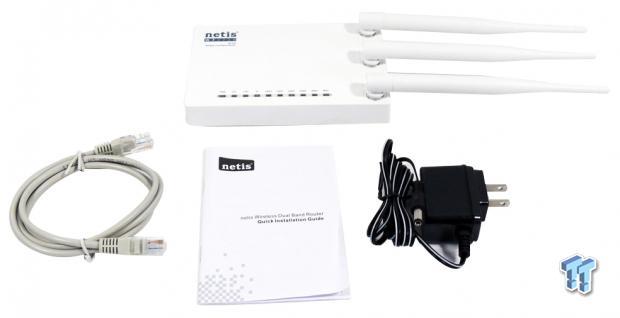 Scope of delivery includes the router, Ethernet cable, and power adapter.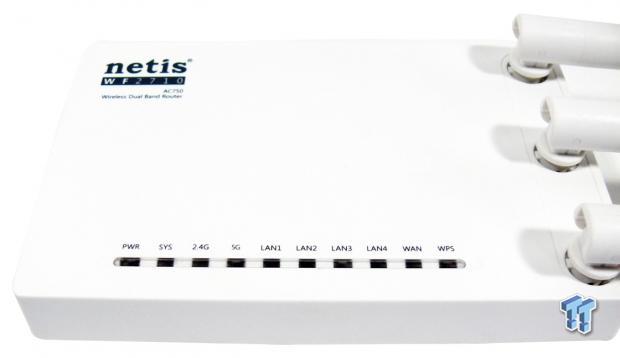 The top of the router features a complete set of LEDs, which indicate power status and activity across all connections.

The backside of the router houses the WPS button, one WAN port, and four LAN ports. To the right, you will find the reset button and power connection.
Management GUI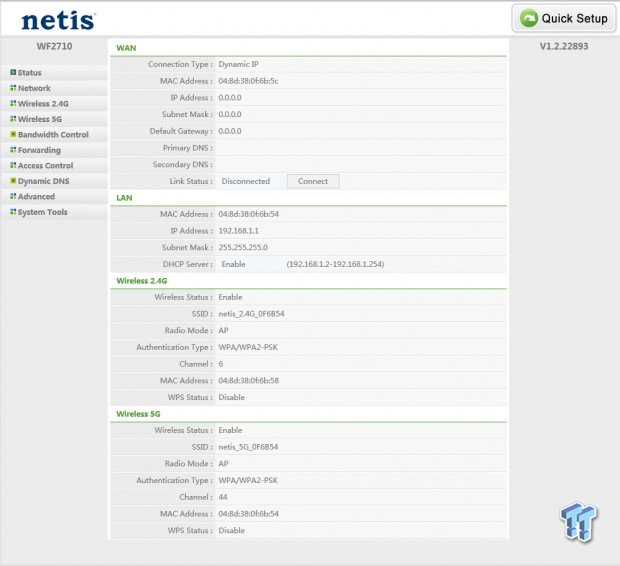 The landing menu for the WF2710 carries all of the information on the WAN, LAN, and wireless networks.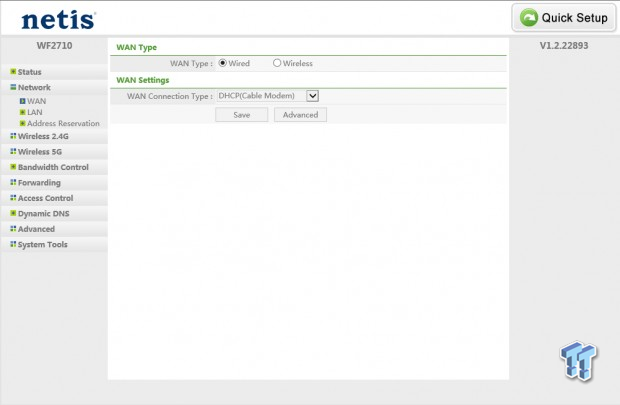 The Networking menu allows you to configure your WAN side settings.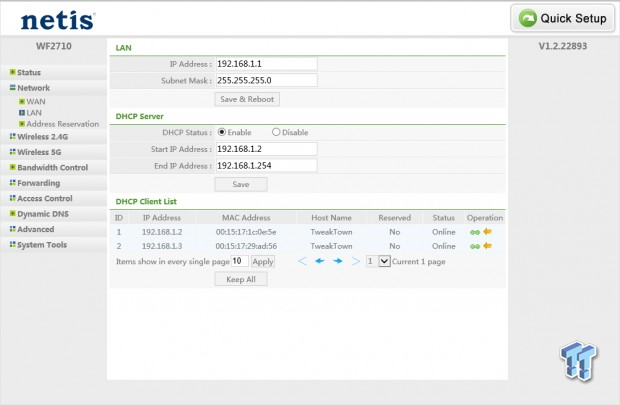 The LAN settings can be configured as well; below, you can see what devices are connected.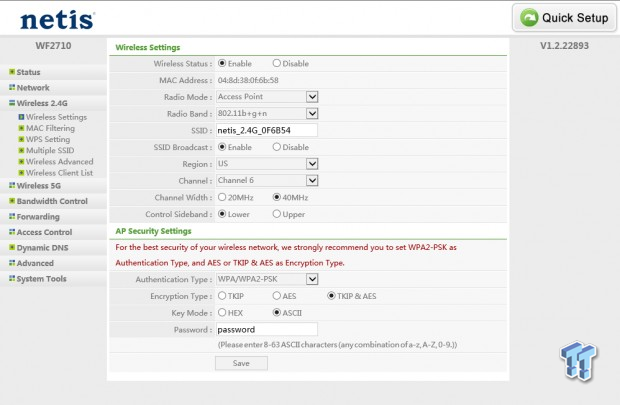 In the 2.4GHz menu, you can configure the SSID, as well as the Mode and Channel of the band.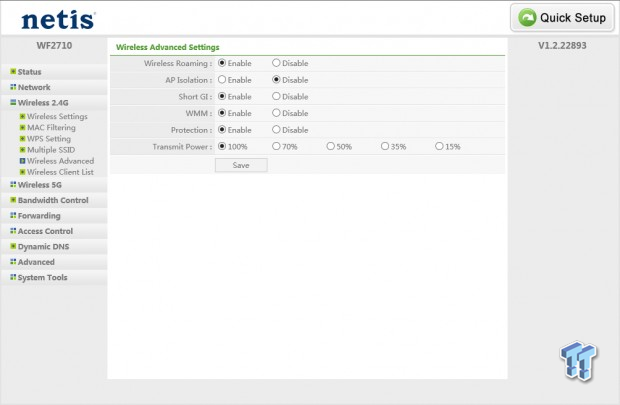 The Advanced menu setting allow you to control the transmit power, along with WMM, and a few other things.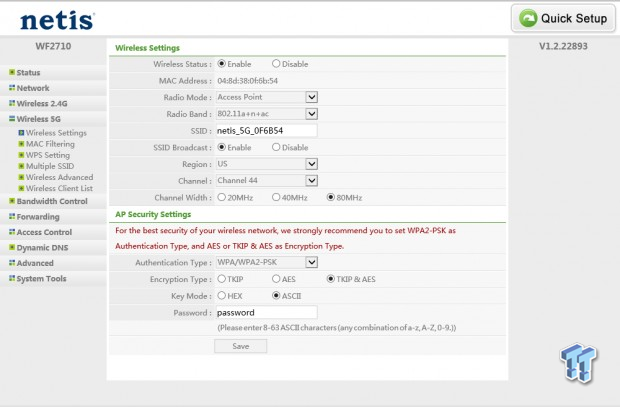 The 5GHz band shares much of the same options we saw above. You can change the SSID and security settings from here, and even the wireless modes.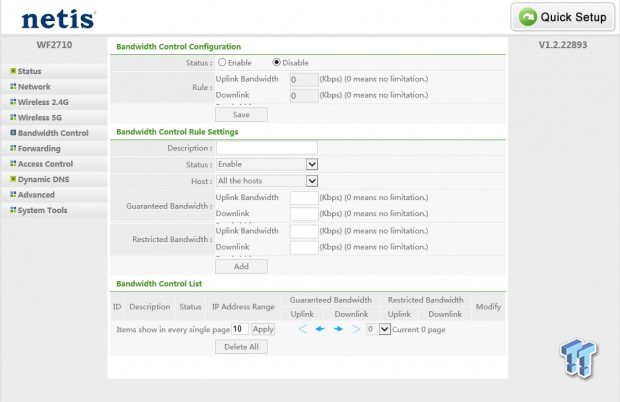 Bandwidth control is in the Netis QoS menu. Here, you can setup the router to control bandwidth to each device.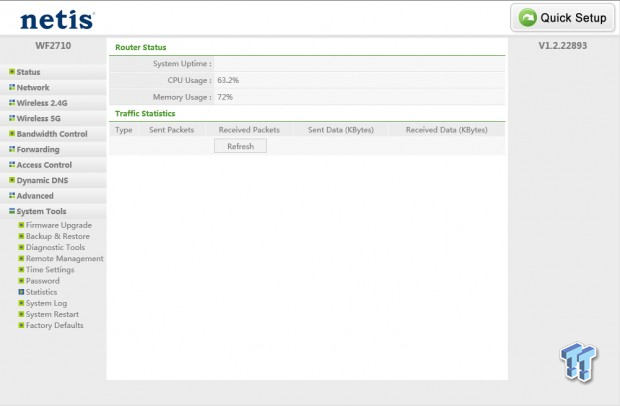 The System Tools menu shows quite a bit of information on the device as it is running.
Test System Setup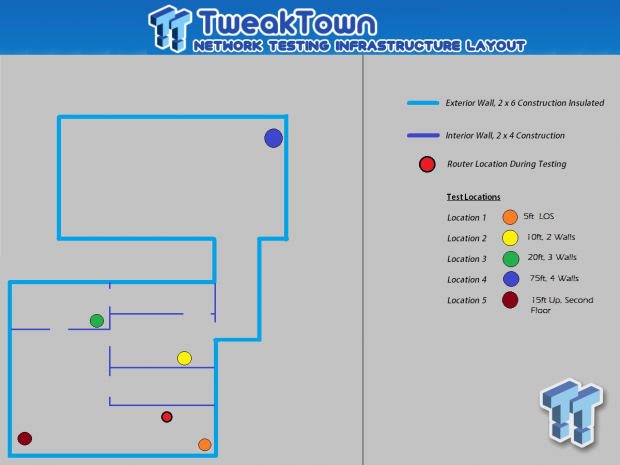 As wireless networking has proliferated in homes and offices around the world, and network vendors keep releasing new devices on a regular basis, you now have so many options that it's hard to make a choice. The truth of the matter is, regardless of how many features a wireless router or access point has, the two most important things about it are its speed and range.
We test throughput in a dual-node network environment consisting of a Custom PC with a GIGABYTE Z77UP5 TH, and an Intel Core i5 3570K Processor operating at 3.3GHz with 16GB of DDR3, featuring the Startech.com ST1000SPEX42 quad port gigabit network adapter. The second system features a GIGABYTE x58 OC Mainboard with an Intel Xeon L5639 Six Core CPU, 48GB of DDR3 from ADATA, and the StarTech.com ST1000SPEX42 NIC.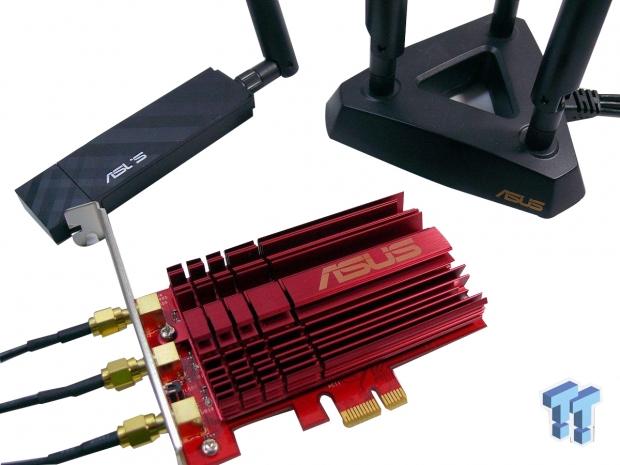 Wireless throughput is tested using the ASUS PCE-AC68 PCI Express Network Adapter. Range is tested with a HP Probook installed with an ASUS USB-AC56 adapter via USB 3.0.
We perform all tests in a real-world environment. You may get better range and throughput results in a spacious facility with few internal walls, or outdoors. Our tests provide a benchmark for estimating the range and throughput of wireless networking devices in an indoor setting, with some obstacles.
Benchmarks - Wired Throughput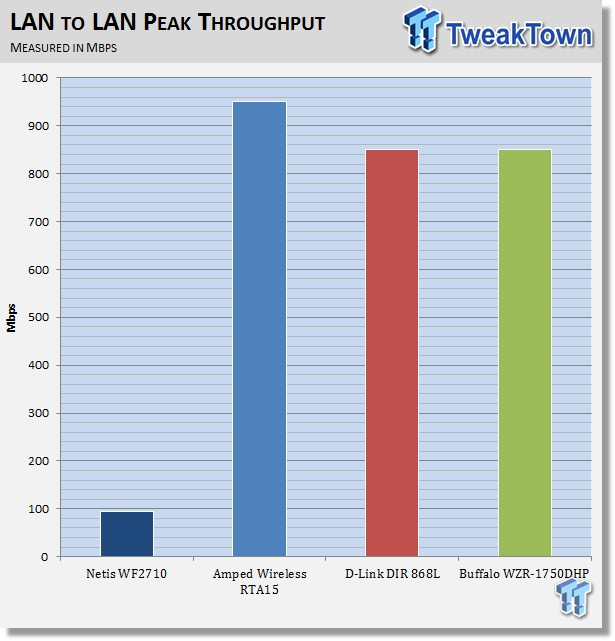 LAN to LAN throughput of the WF2710 was in line with 10/100 specifications, peaking at 95Mbps.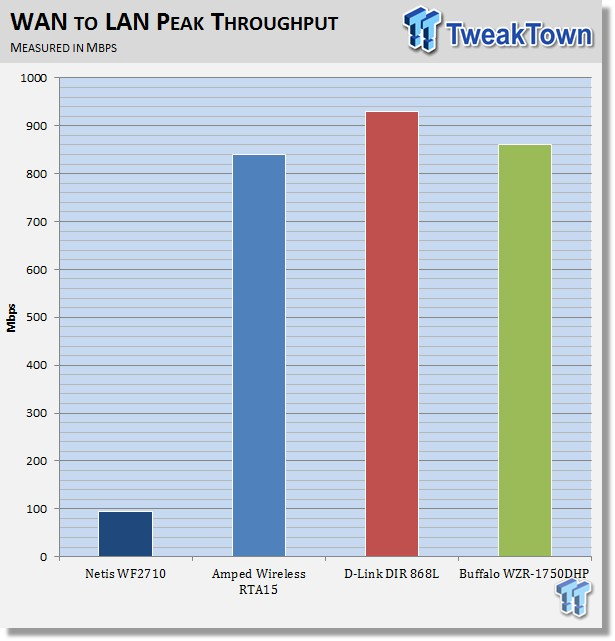 WAN to LAN featured the same results seen above. The peak was 95Mbps.
Benchmarks - Wireless Throughput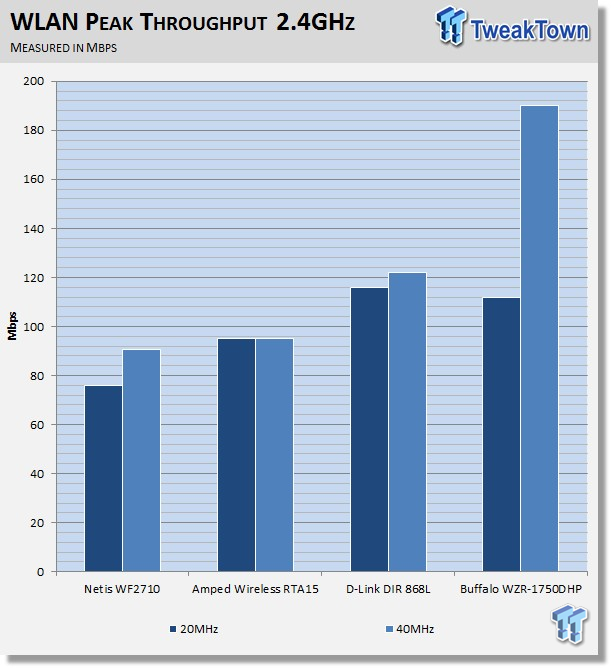 The WF2710 did quite well in our 2.4GHz testing. The router was able to keep up with the Amped Wireless RTA15, peaking at 78Mbps on the 20MHz band, and 90Mbps on the 40MHz band.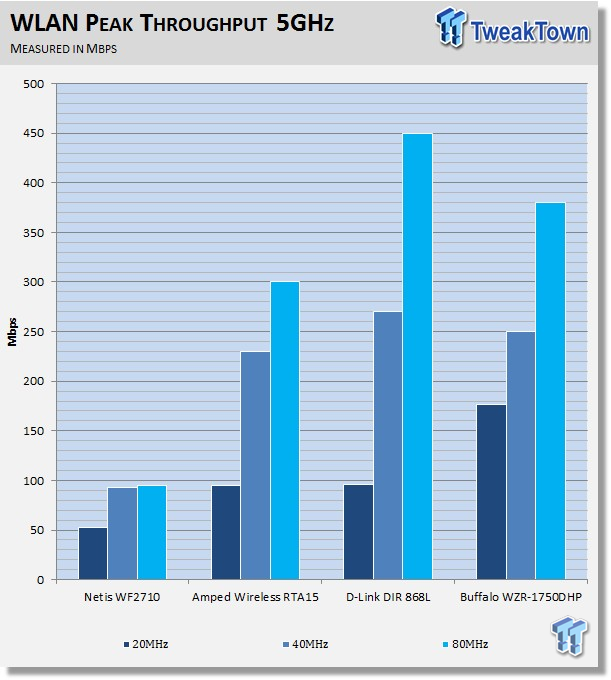 5GHz throughput for the WF2710 was almost non-existent. While all other routers were capable of 300Mbps, the Netis was limited to 95Mbps thanks to its Ethernet ports.
Benchmarks - Wireless Range
For wireless range, we need to refer back to the Network Infrastructure chart on page four of this review. Each chart herein is based on the locations on the table. To make it simple Location One is the closest and within Line of Sight, while Location Four is the furthest away with many walls in between. Location Five tests the routers ability to generate enough signal strength to penetrate to the second floor of a home.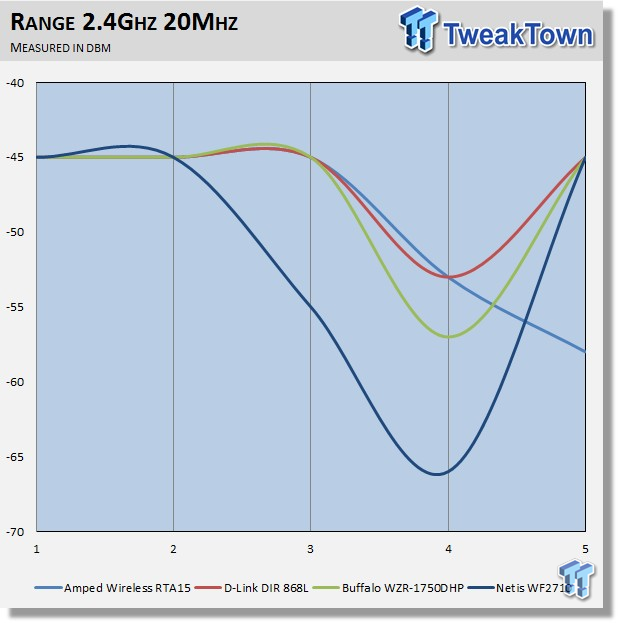 Above, we find the Netis doing quite well within the first two locations. After which, the router falls off rather quickly to -65 at location four.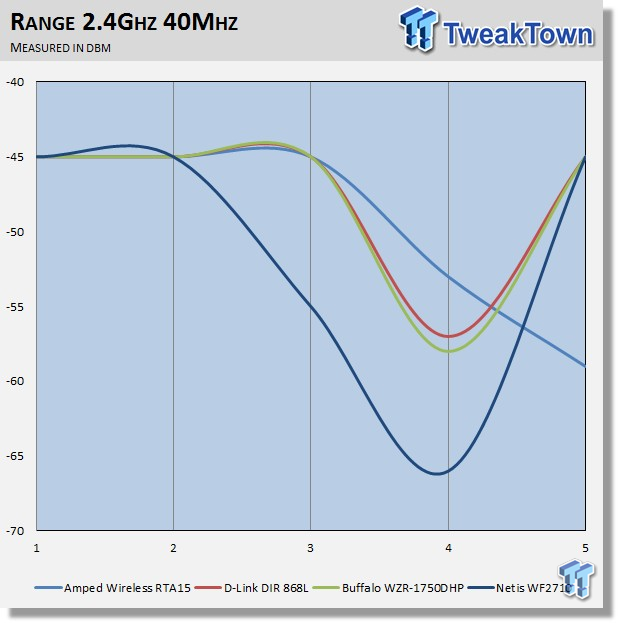 On the 40MHz band, things were quite similar to our previous results, the low point being -65dbm at location four.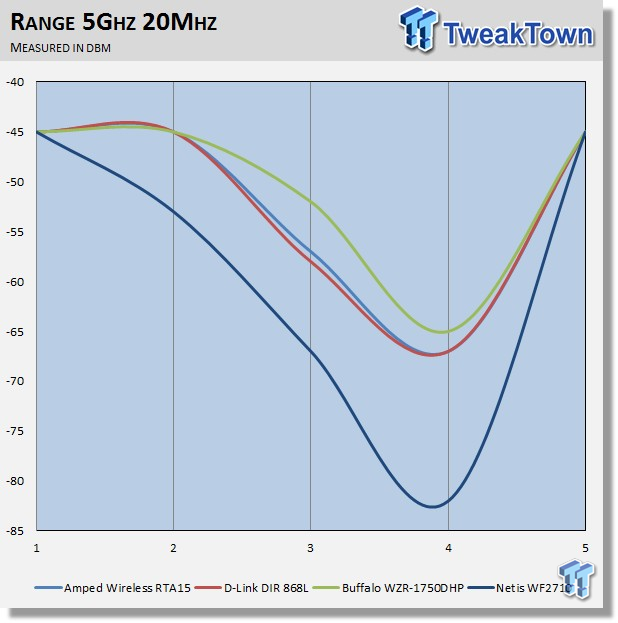 Moving to the 5GHz band, we find the Netis doing quite well within ten feet of the base station; however, moving outward, the router signal quickly degrades to a low of -82dBm.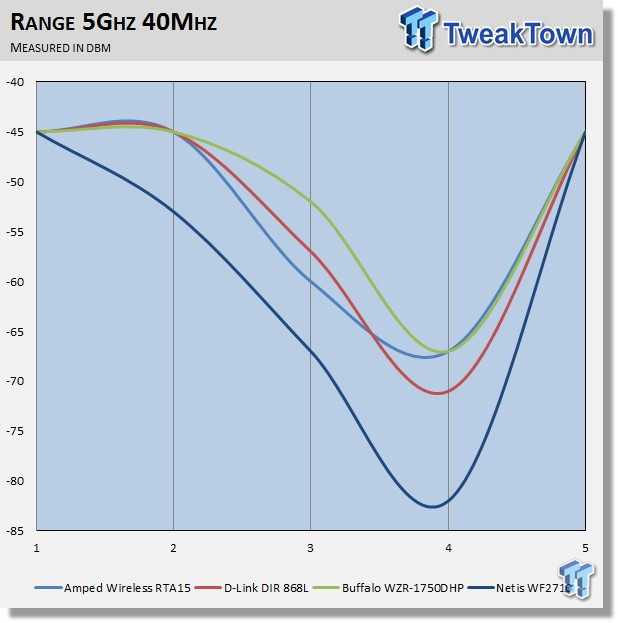 5GHz 40MHz results came in the same as 20MHz, where we had the router doing very well at location one, but falling off rather quick.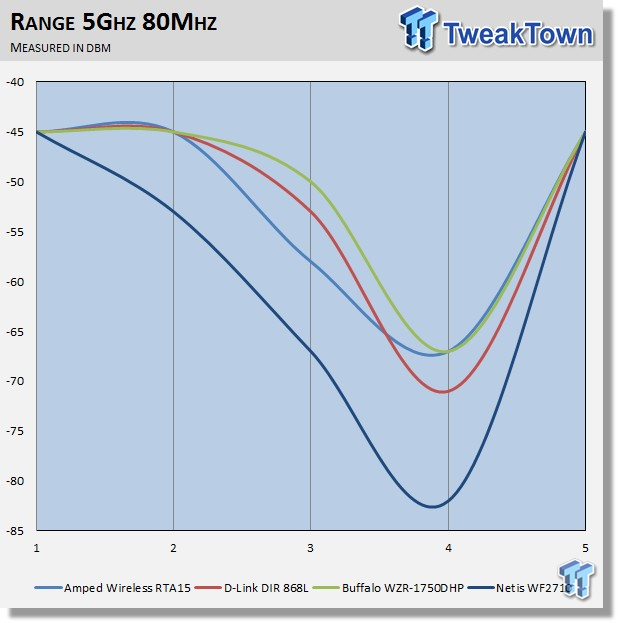 Last but not least, we have the 80MHz, or AC results from the Netis. Here, we have a good -45dBm signal at location one, but it falls to -80dBm at location four before bouncing back in our final test.
Benchmarks - File Transfer Test
In our file transfer test, we use a single 4GB ISO file and transfer it from test system one to our second test system via the network both are listed on in page four of this review. To eliminate any bottlenecks, each system is utilizing a Corsair Neutron 256GB SSD.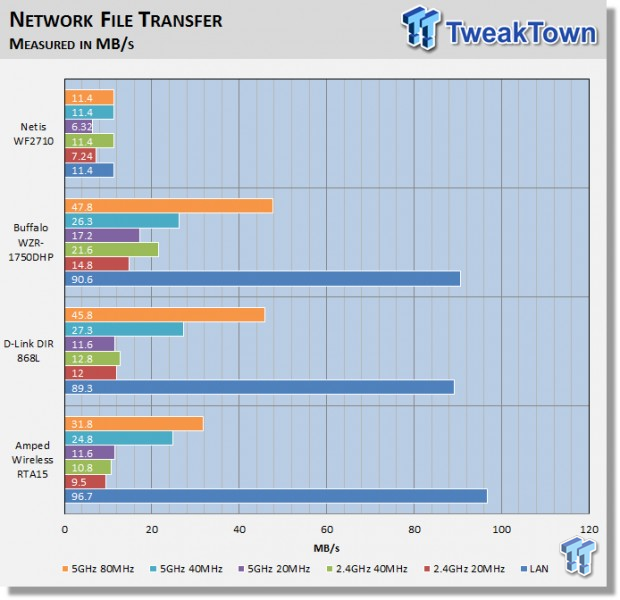 Looking at our chart above, you can clearly discern that the Netis WF2710 is limited due to its Ethernet connection once again. Peak rates came in at 11.4 MB/s with both 20MHz bands dipping even lower to 6.24 MB/s.
Final Thoughts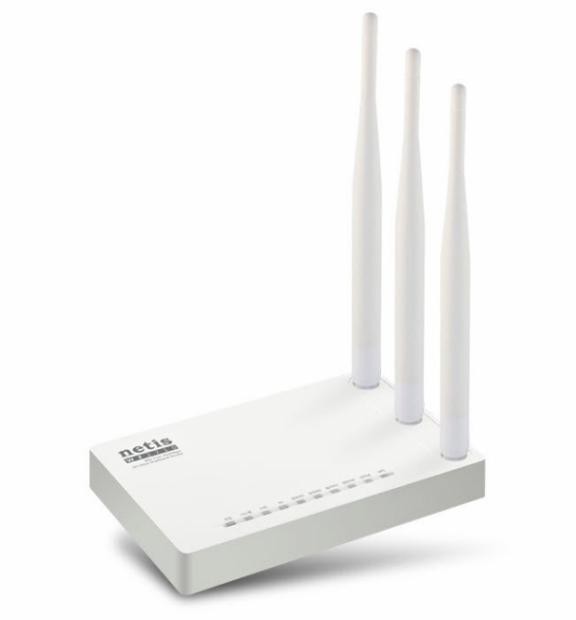 The Netis Systems WF2710 is a bit of an odd product. While the unit supports wireless AC technology, the entire system is limited because of the Ethernet ports. On one hand, we have a positive because of the 802.11ac connectivity, but all of that is taken away after you realize the bottleneck of the 10/100M LAN ports.
I would like to point out that 802.11ac was designed to increase throughput and lower latency in wireless technology using a third band, 80MHz. Thus, what we have with the Netis Systems is relatively unusual, especially in a market where competing products in every segment are now offering full gigabit connectivity.
All of this is a bit disappointing to me, as the unit has great build quality and great range for a home environment, but a massive trade-off in the case of performance in your home network throughput.
For those wanting a low-cost solution for web browsing, downloading apps, or a base station for your mobile devices, the Netis Systems WF2710 is a great option; anything outside of that though, it is not recommended.
The Netis Systems WF2710 carries the excellent MSRP, which is set at $29.99 with a one-year warranty.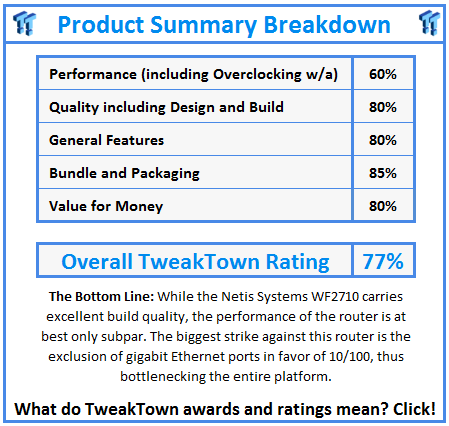 PRICING: You can find products similar to this one for sale below.

United States: Find other tech and computer products like this over at Amazon.com

United Kingdom: Find other tech and computer products like this over at Amazon.co.uk

Australia: Find other tech and computer products like this over at Amazon.com.au

Canada: Find other tech and computer products like this over at Amazon.ca

Deutschland: Finde andere Technik- und Computerprodukte wie dieses auf Amazon.de
We openly invite the companies who provide us with review samples / who are mentioned or discussed to express their opinion. If any company representative wishes to respond, we will publish the response here. Please contact us if you wish to respond.