Introduction, Specifications, Availability and Pricing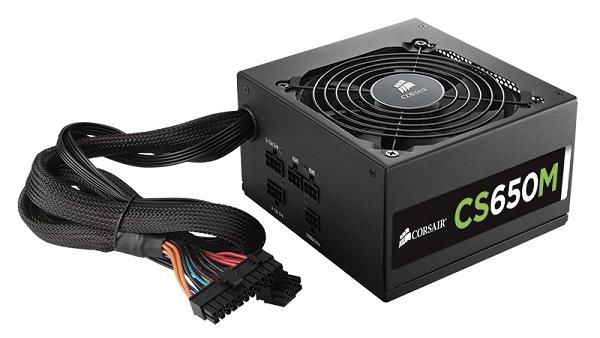 Corsair is a name that we're always happy to see come across our test bench. Many of their products are second to none, and at the same time, they are also industry firsts. This includes their AXi series power supplies, which were the first all-digital units available to consumers, with the ability to be monitored and controlled via software. It's been more than a year and a half since the AX1200i hit the market, and there's only been one other manufacturer to offer software that corresponds with their power supplies.
But, it isn't always about the high-end, bleeding edge technology that we see. There are a very large number of people that simply cannot afford to indulge in such equipment. Others have no desire to buy into the latest and greatest, and only desire what is necessary to get the job done. Finally, you have the ones who want something that is right in the middle of it all. This is right where the CS Modular series from Corsair comes into play.
Today, we are looking at the CS650M, but there are several other wattages available, ranging from 450W to 750W. The CS650M is a semi-modular unit that performs relatively well, but also has a reasonable price. Simply put, it is meant to be a bang-for-your-buck unit. Judging by the questions that I receive on a frequent basis, this seems to be what the majority wants. This doesn't come as much of a surprise though, as most want to make sure they don't waste their money. The best way to do that is to start tearing into the unit, and that is just what we're going to do.
Specifications, Availability and Pricing

Corsair uses a single 12V rail for the CS650M. The 12V rail is rated for 51A, or 612W. Both the 3.3V and 5V rails are rated for 25A each, with a combined maximum output at 130W. The 5VSB rail is rated for 3A, or 15W. Maximum combined output for the CS650M is 650W.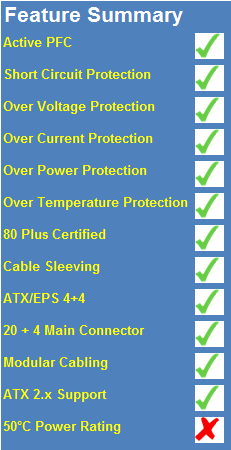 Corsair makes sure that you're not left out to dry when it comes to features for the CS650M. The unit features all of the protections that you want, including SCP, OVP, OCP, OPP, and OTP. The power supply features both native and modular cabling. All cables are of the flat ribbon type, with the exception of the 24 pin main, which is fully sleeved. The CS650M features an 80 PLUS Gold efficiency rating, but it is not rated for 100% continuous output at 50C. Instead, Corsair does rate it for 100% continuous output at 40C.
Corsair has an MSRP of $109.99 on the CS650M. At the time of writing, we weren't able to find it cheaper than that, but we were able to find it at MSRP at Newegg. Unfortunately, it comes across as a bit on the expensive side when compared to the competition. That doesn't make this unit a bust, but it does mean that it will have to perform very strongly during our tests to stand out. Corsair backs the CS650M with a three-year warranty.
Packaging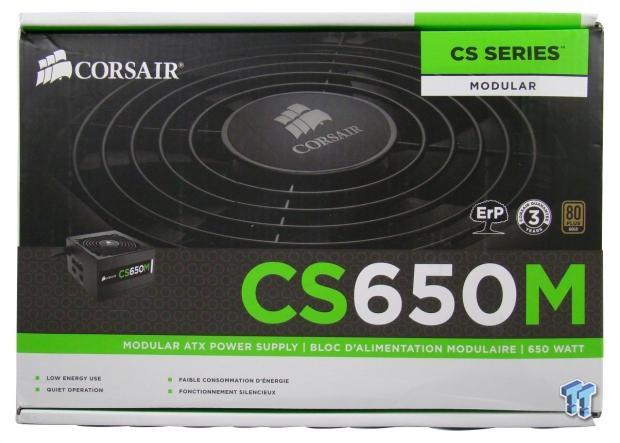 The packaging for the CS650M is very similar to what we've seen with other models. In fact, it would seem as if they've only changed the color scheme, and not much else. The front gives us warranty, wattage, and efficiency information.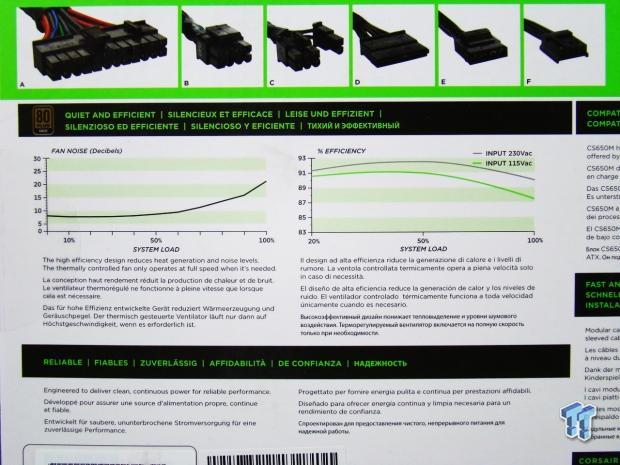 The back gives us some more information. On the left half, we have a list of connectors available for the unit, along with some efficiency and fan charts.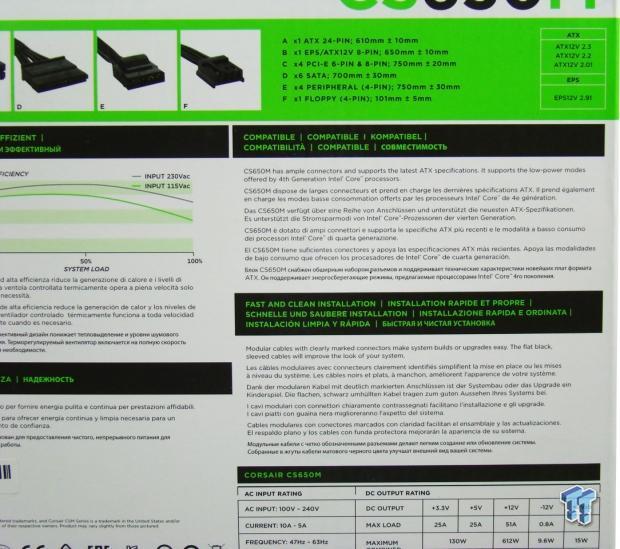 This side of the back lets us know that the power supply is Haswell compatible, has modular cables, and it also gives us the I/O specifications.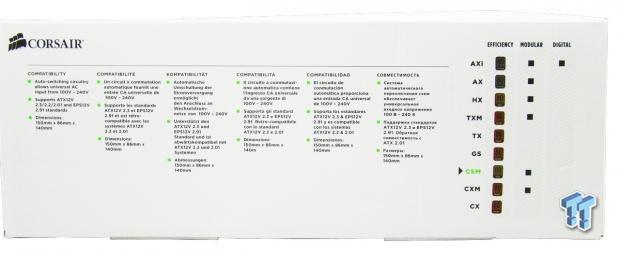 While the rest of the box doesn't have anything useful, this side does give a little bit of compatibility information.
Inside the Box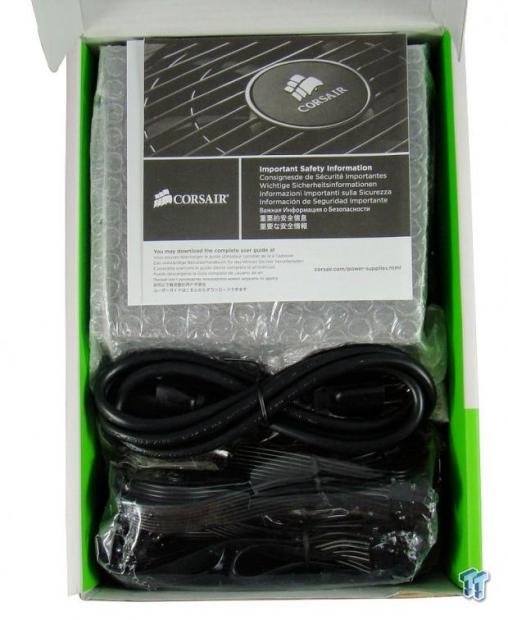 The power supply is packed tightly inside the box with a little bit of bubble wrap to protect it.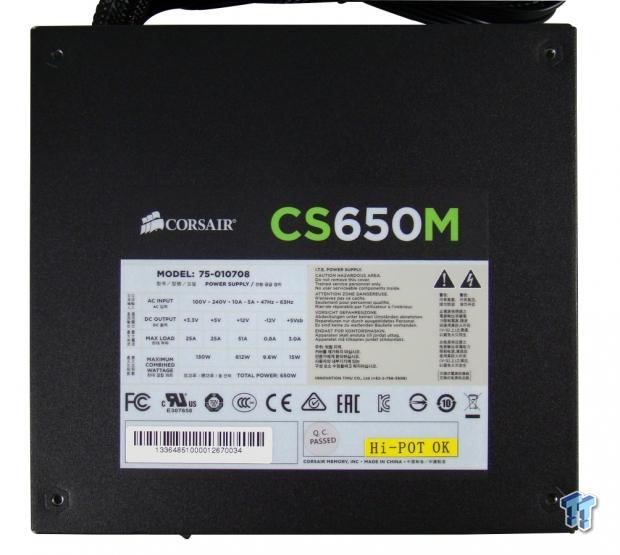 The I/O specification label is located on top, along with the serial number. The CS650M features a black finish that is somewhere between a semi-gloss black, and matte black.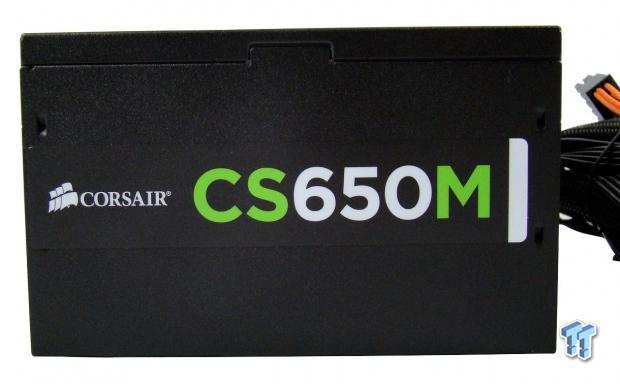 Both sides have the same logos on them, with the opposite side being inverted.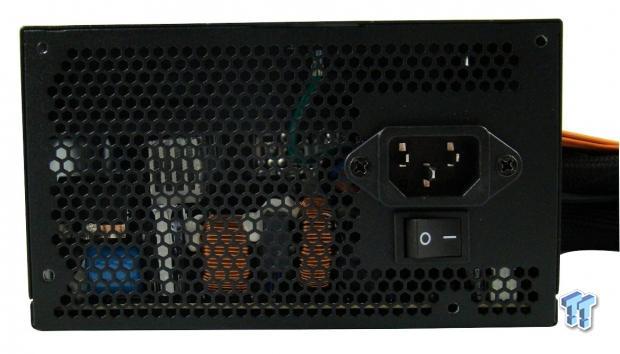 We have the on/off rocker switch, along with AC input in the back. The honeycomb mesh grill takes up the rest of the space in the back of the power supply.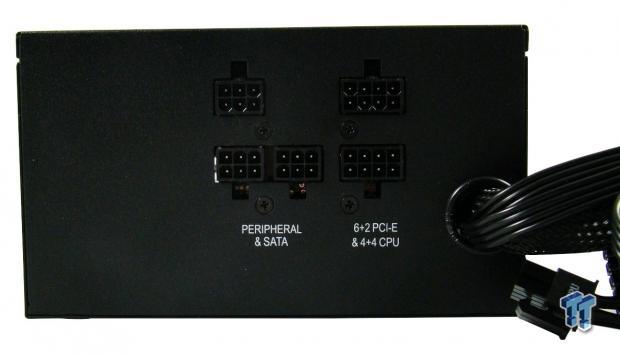 There aren't too many modular connectors with the CS650M, but the ones that are there are clearly labeled.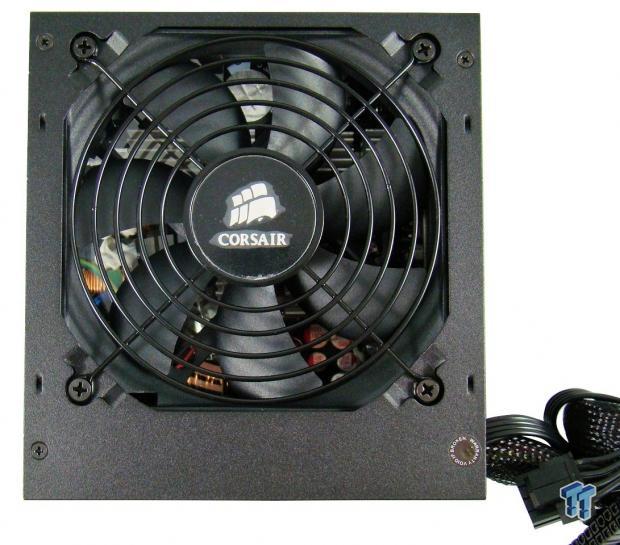 The bottom of the power supply houses the 120mm fan with black wire grill to actively cool the power supply.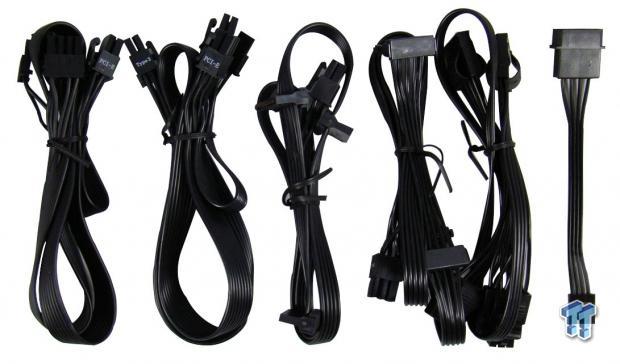 All modular cables are of the flat ribbon type.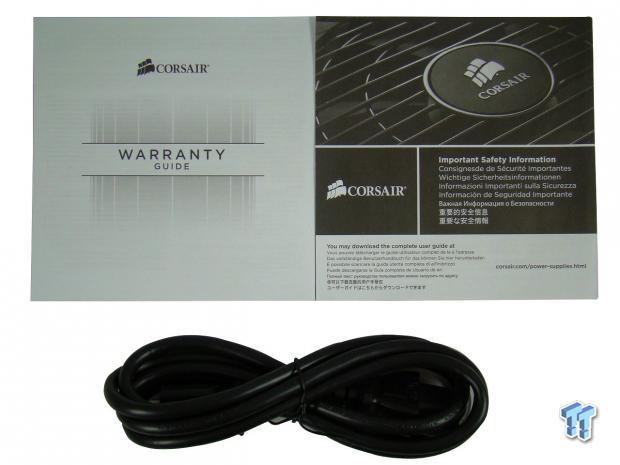 Inside of the box are an AC power cord, a warranty pamphlet, and a safety pamphlet.
Cabling Arrangement and A Look Inside
Cabling Arrangement

The Corsair CS650M does a great job at making sure that there are enough cables and connectors to get the job done. The obligatory 24 pin Main, and ATX 4 + 4 connectors are present, alongside a pair of dual PCI-E cables. Peripherals are handled via three more cables, for a total of six SATA, and four Molex. There is also a Molex to FDD adapter included, in case you still need it. All cables are modular except for the Main and ATX 4 + 4.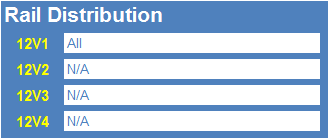 Rail distribution is as simple as it gets with a single 12V rail. There is no need to worry about load balancing here.
A Look Inside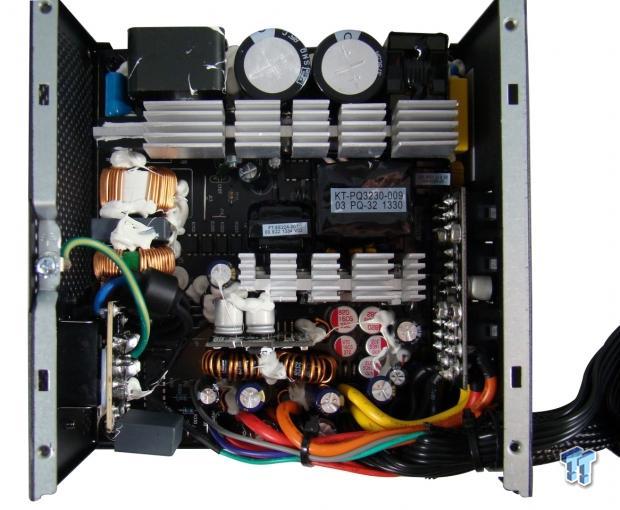 A pair of passive heat sinks takes care of most of the passive cooling for the unit. Coupled with the open air design of the unit, it should be more than enough for a power supply of this wattage.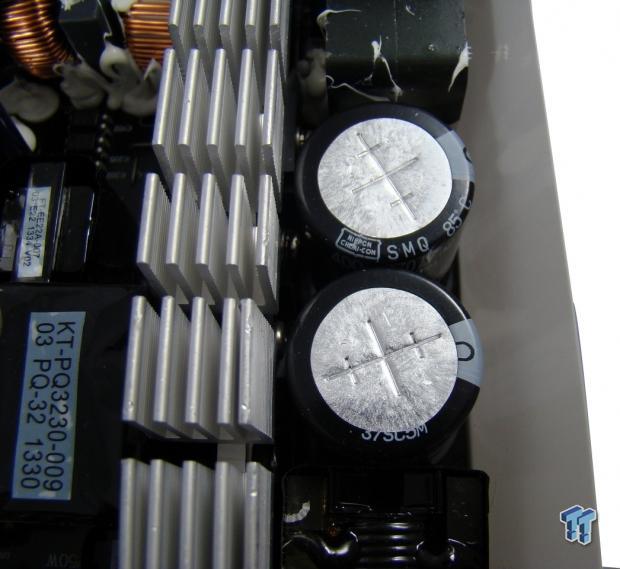 Two Nippon Chemi-Con capacitors reside on the primary side of the power supply.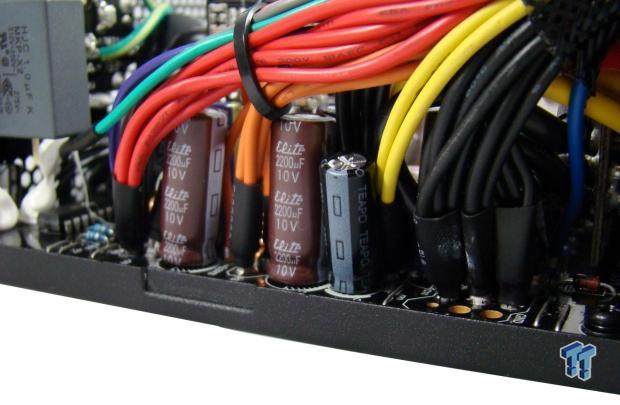 The secondary side is filled with Taiwanese capacitors. In the picture above, you can see both Teapo and Elite caps. Our readers are sure to be familiar with Teapo by now, but this is the first Elite capacitor that we have ever seen in a power supply on our bench.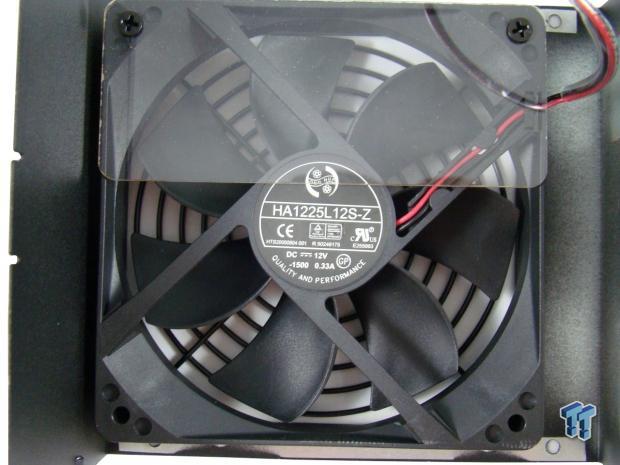 Corsair uses the Ong Hua HA1224l12S-Z 120mm fan to actively cool the CS650M.
Test Results and Final Thoughts
Test Results
Our load tests utilize a couple of FAST ATE active load testers, and a variety of other equipment such as an oscilloscope, power conditioner, temperature probe, and a power consumption meter. You can read more about our standard testing approach here.
The tests performed are based around six conceivable setups that are out there, and progressively load down the PSU up to the power supply's limits, or 1000W; whichever comes first. Since our test equipment's limits are higher than that of the Corsair CS650M 650W power supply, we can test it to the maximum.

The above tests represent typical loads that we have measured from various systems, and are meant to give a rough idea of where your computer might fall in line with our tests. Please keep in mind that each system is different, and actual loads can vary greatly, even with similar hardware.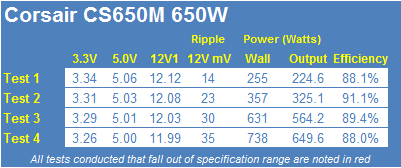 Let's start by taking a look at the voltages to see how well this unit did during testing. Starting with the 12V rail, we see 1% regulation from start to finish, with a total drop of .13V. The 5V rail managed to stay within 2% of specification, with a total drop of .06V from start to finish. Moving towards the 3.3V rail, we see that regulation was within 2% of specification, with a total voltage drop of .08V.
DC Output quality for the Corsair CS650M 650W was good, and well within specifications. During Test One, we saw 14mV of noise on our scope. When we increased the loads in Test Two, the ripple climbed to 23mV at around half load. During Test Four, under a load of 650W, the oscilloscope showed a maximum of 33mV of noise on the 12V rail.
The Corsair CS650M 650W is rated for 80 PLUS Gold efficiency. This means that the power supply must perform at 87% / 90% / 87% efficiency, at 20% / 50% / 100% loads respectively. As you can see, the CS650M passed on our bench, and wasn't close to failing at any point.
Final Thoughts
When Corsair set out to build the CS650M, they had a very strong vision in mind. That vision was to build a quality unit that would attract the masses, and do so while keeping the price down, so that it would appeal to even more potential users. After going over the CS650M, and running it through all of our tests, I have to say that they have done a decent job in doing just that.
The unit performs so well that it gives some enthusiast level units a run for their money in terms of voltage regulation, and DC output quality. There are many high-end units that struggle to stay within 3% of specifications, while the CS650M barely manages to creep into the 2% range.
On the other hand, Corsair also sought to offer the unit at a cheap price. $109.99 isn't bad for a 650W semi-modular unit, but it isn't great either, and therein lays the problem with this unit. There are more than a handful of units that come in cheaper than the CS650M that have the same features, or more. That alone will certainly hinder the minds of many when it comes down to choosing between similar units. New tech products almost always hit the shelf with a little bit of a premium that goes away after a few months.
If that is the case with the CS650M, then it is likely to become a much more attractive offering once it has $10-$15 stripped off the cost of the unit. Until then, it doesn't really stand out in the most crowded segment of the PSU market.