Introduction
For the SOHO user, NAS appliances have traditionally offered a plethora of features that would go unused leaving the home user with an expensive storage solution, sitting idle, draining on the power bill.
With the increased penetration into the SOHO market, Thecus took another route and as of October of this year, started offering embedded NAS appliances built for the SOHO market.
The N4560 is a four-bay NAS appliance catered towards the SOHO market. Within this NAS appliance, we find many of the same underlying components that were introduced with the N2560 we reviewed back in September, though the N4560 does entertain a few more features within its firmware.
Hardware Specifications and Pricing
Modern NAS servers have moved beyond data storage through a wire network. In order to get the most out of a NAS you need to look at the extra I/O hardware and the mountain of potential software features.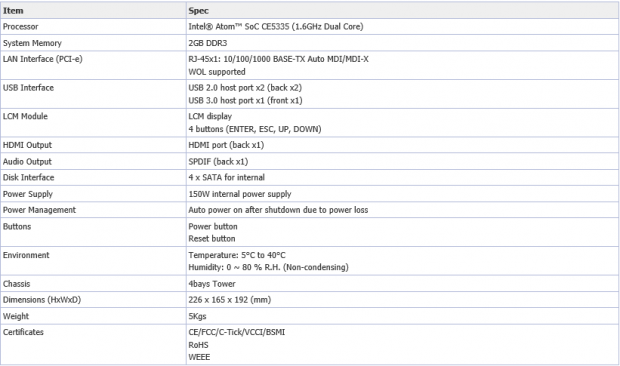 The N4560 is built on the Intel Atom CE5335 SoC which operates at 1.6GHz. Next to this we have 2GB of DDR3 with four hot-swappable drive bays, featuring SATA 6 GB/s support.
The rear I/O panel includes a single gigabit ethernet port, dual USB 2.0 ports, HDMI and SPDIF optical audio. The power supply of this unit is housed internally and peaks at 150w.
Pricing of the 4-bay Thecus N4560 at this time is set at $449.99 with market availability high and it comes with a two year warranty.
Software Features
NAS products are equal parts hardware performance and software features. One compliments the other in a balanced product. You need more hardware performance to run more software features at the same time.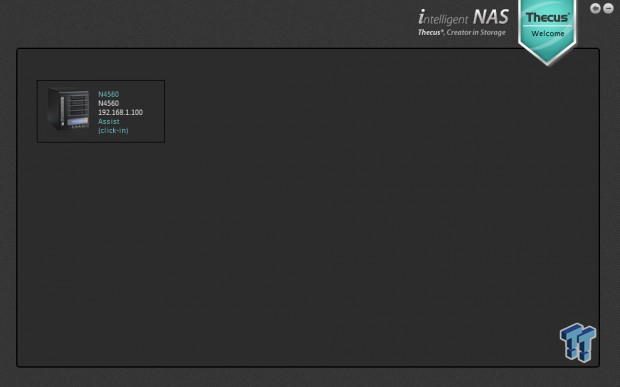 The N4560 uses the Thecus "Intelligent NAS" finder application.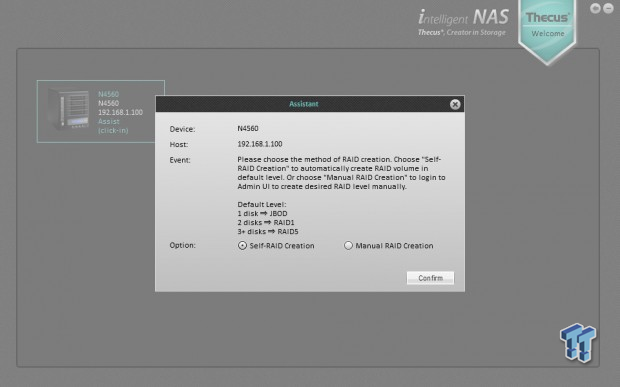 To setup the N4560, Thecus allows two options. Here we have self-creation where the NAS selects the RAID mode based on drives installed, or second the manual RAID creation mode.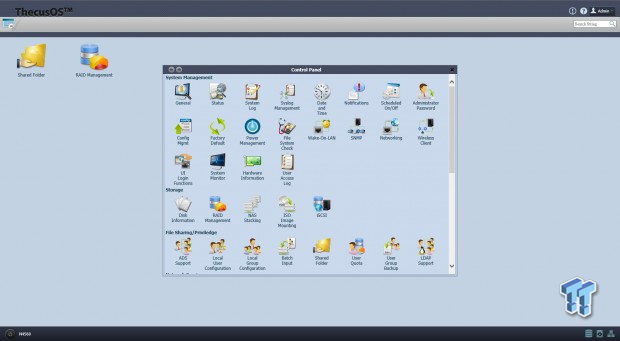 The N4560 uses the relatively new Thecus OS6, as such many of the features found on the N2560 are also found here. Though, with the N4560, you do get access to a few value added apps. Included in these are access to SNMP, NAS Stacking, iSCSI, Active Directory and LDAP servers.
Packaging and the N4560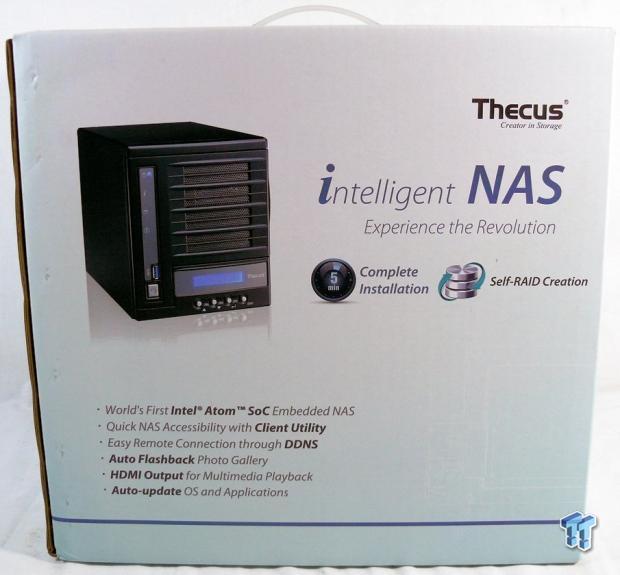 The packaging for the N4560 carries quite an inviting design. We have a photo of the NAS itself on the front of the box, with features like "5 minute installation" touted on the front of the box.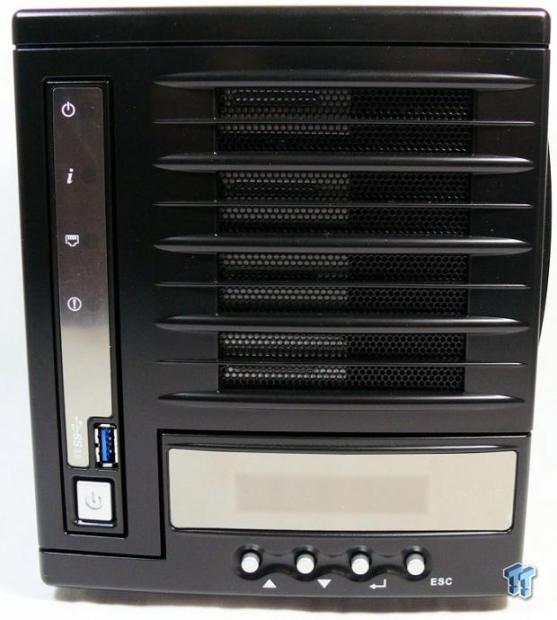 The front of the N4560 carries a similar design to the SMB and business towers. Here we have the drive bays hidden by the front door. The bottom of the unit houses a small LCD display, with the power button and USB 3.0 port to the left.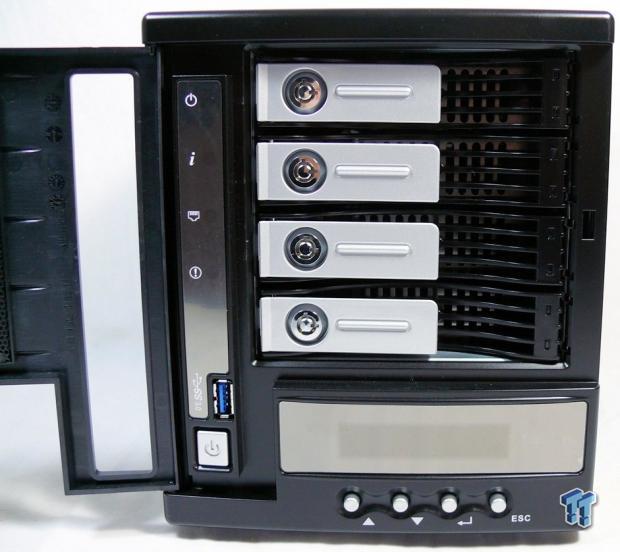 Opening the front door, you can see the four bay complete with locking mechanisms.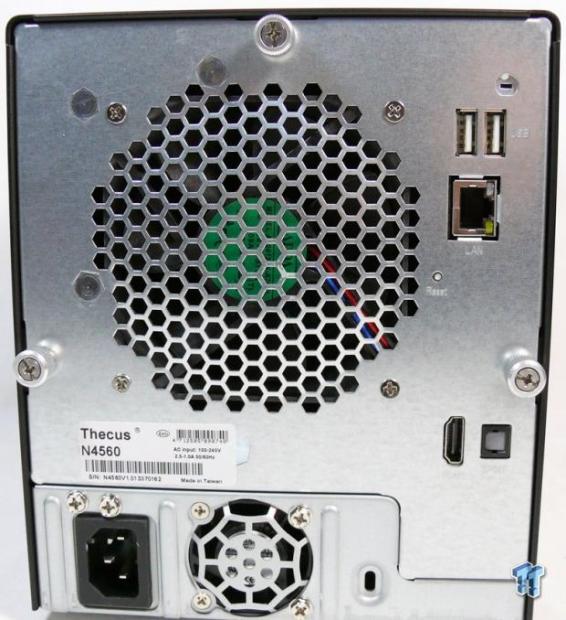 The back of the appliance houses the dual USB 2.0 ports, and single gigabit ethernet port. Additionally, we have the HDMI and SPDIF audio port.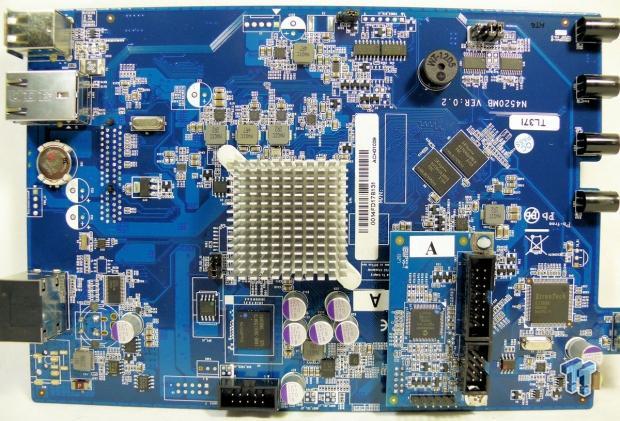 The motherboard for the N4560 features a rather simplistic embedded design. Here we have everything from the SoC, RAM and flash surface mounted.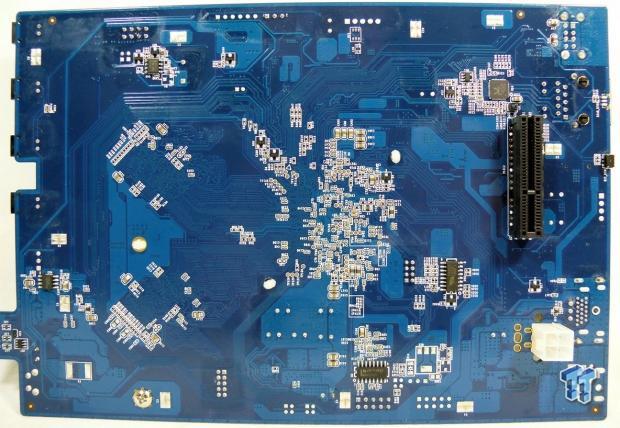 The back of the motherboard houses the PCI Express slot for the backplane.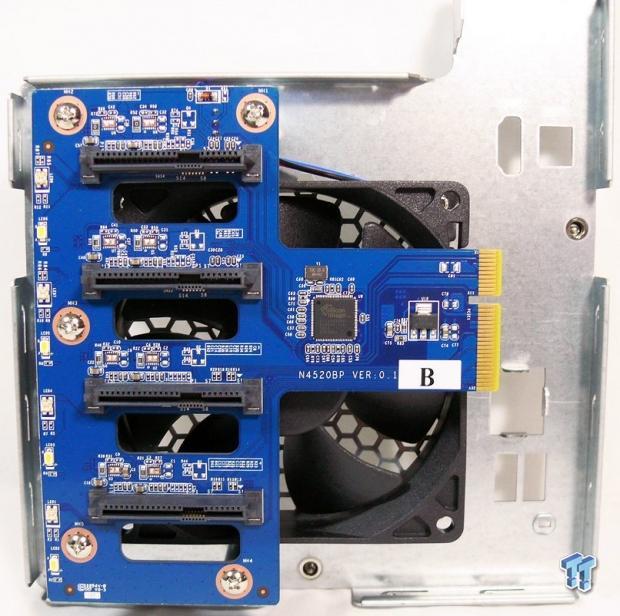 Here we have the four bay backplane for the N4560.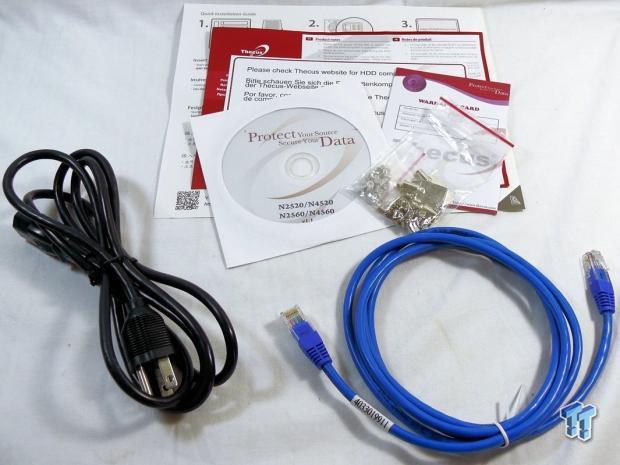 The scope of delivery for the N4560 includes the power cable, Ethernet cable, along with drive screws and keys. We also have a quick start guide and software disc.
Test System Setup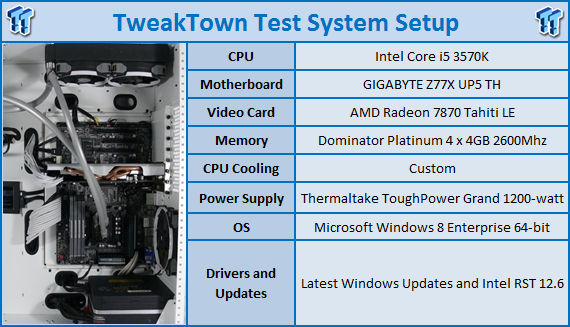 Our Consumer NAS test 'system' is setup similar to what you have at home. Here we have the base of a GIGABYTE Z77X UP5 TH housing an Intel Core i5 3570K with 16GB of RAM supporting. Our Operating System of choice is Windows 8 x64 Enterprise with all available updates and patches installed on a Corsair Neutron 256GB SSD. On the networking side we utilize the Intel PRO1000 PT Server Adapter with a direct connection to each NAS appliance. This eliminates the need for a switch and any bottlenecks that may occur.
This level of testing wouldn't be possible without the help and support from several companies, many of which have little to do with NAS products. We would like to thank Corsair, GIGABYTE and Western Digital for their much-appreciated support.
Intel NASPT
The Intel NAS Performance Toolkit (NASPT) is a file system exerciser and analysis tool designed to enable direct measurement of home network attached storage (NAS) performance. Designed to emulate the behavior of an actual application, NASPT uses a set of real-world workload traces gathered from typical digital home applications. Traces of high definition video playback and recording, office productivity applications, video rendering/content creation and more provide a broad range of different application behaviors.
Western Digital RED - The NAS HDD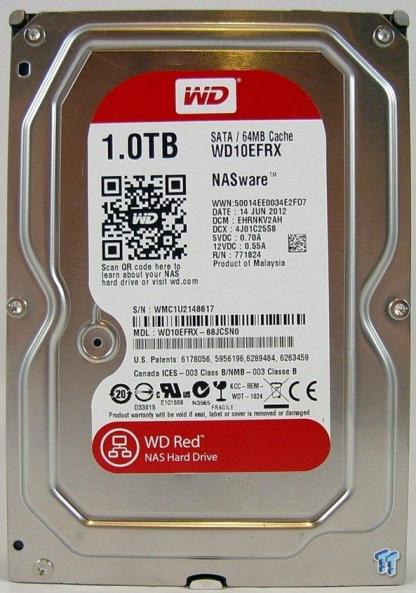 TweakTown uses Western Digital RED 1TB hard drives for all of our NAS tests. You can read our full review of the Western Digital RED 1TB here.
Benchmarks - Single Client Throughput
Workload
HD Video Play - 720p HD stream from Windows Media Player* 256kB reads
2HD Video Play - 2x playback
4HD Video Play - 4x playback
HD Video Record - 720p HD stream, 256kB writes
File Copy From NAS - 4GB file copy, 64kB reads
File Copy To NAS - 64kB writes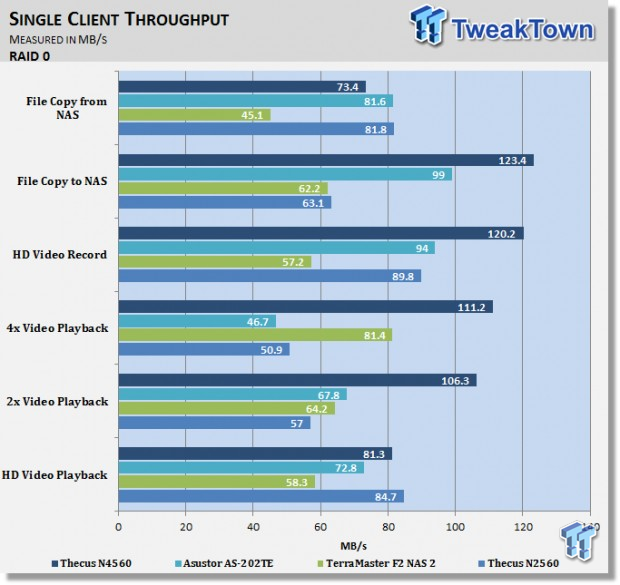 In our single client testing, the N4560 did quite well utilizing RAID 0. Above, we have a peak of 123.4 MB/s during file copy to the NAS and 73.4 MB/s from the NAS.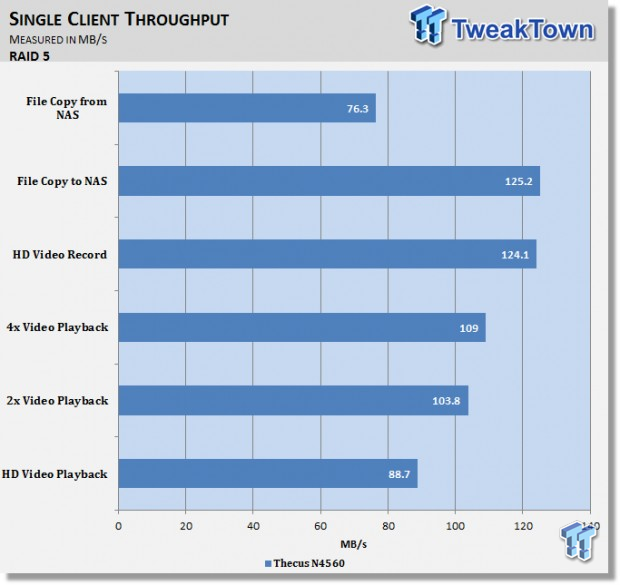 Setting up a RAID 5 array, the N4560 showed almost no loss in single client performance. Peak rates were achieved in HD Video Record and file copy to the NAS.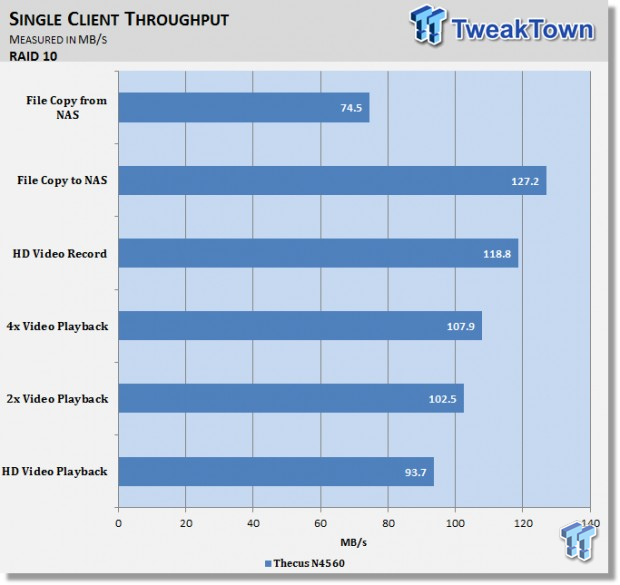 RAID 10 again showed no loss in performance, in fact, we gained additional performance in this scenario. Peak rates were achieved in file copy to the NAS at 127 MB/s.
Benchmarks - Random and Sequential Workloads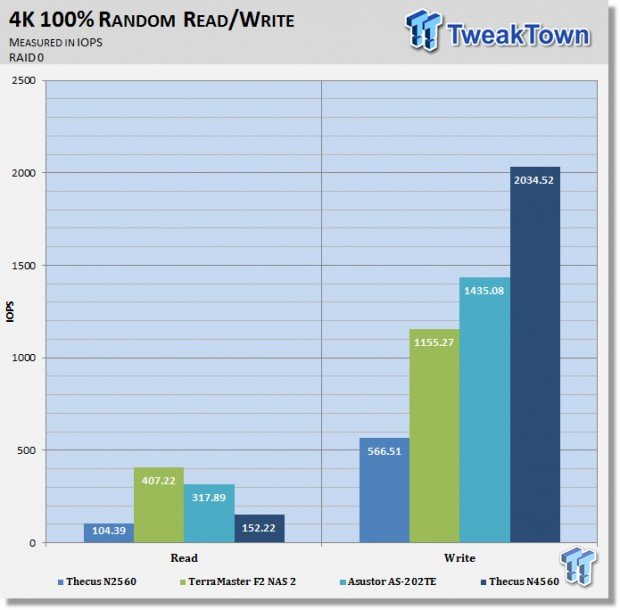 Our 4K Random read/write workload consists of sixteen threads all at QD8, results our measured in IOPS (Input Output Operations per Second).
RAID 0, 4K performance was quite impressive amongst units tested. Write performance topped our charts at 2034 IOPS, while 4K read was near the bottom.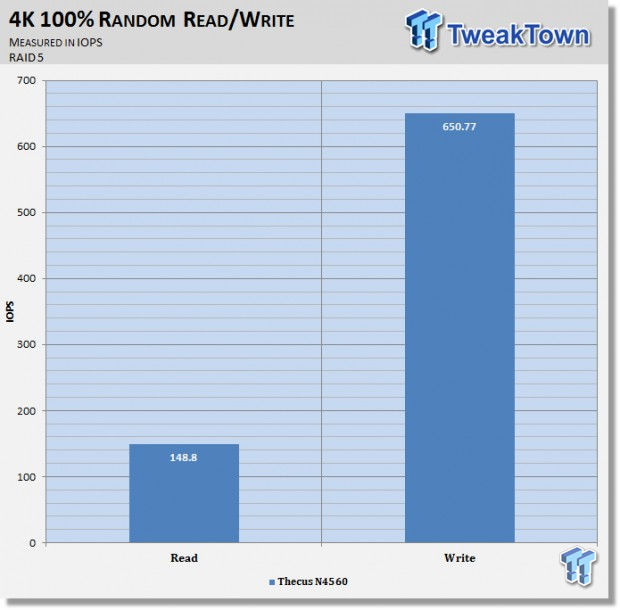 RAID 5 had the N4560 showing again impressive write performance at 650 IOPS. Read performance suffered at 148 IOPS.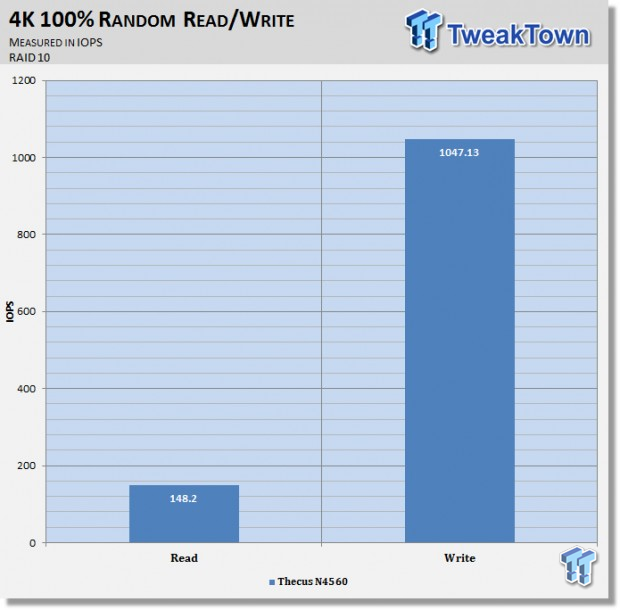 With RAID 10, we find more of the same. 4K writes landed at 1047 IOPS while reads managed just 148 IOPS.
Our Sequential read/write workload is centered on 1MB transfer sizes again with sixteen threads and a Queue depth of 8.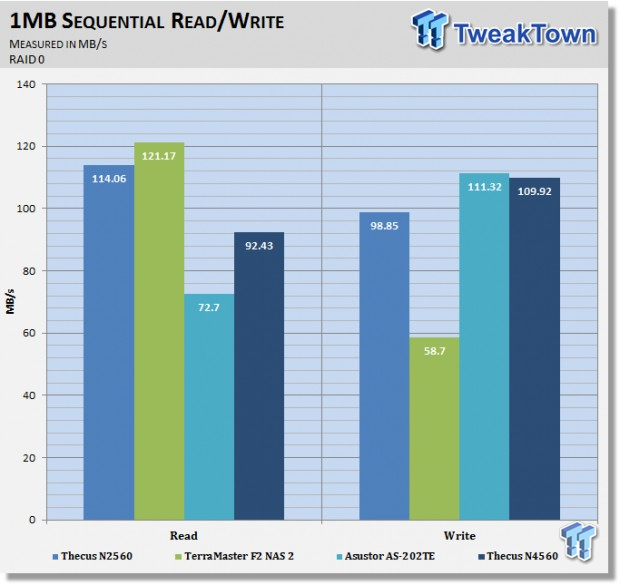 In RAID 0 sequential read/write, we find the N4560 in line with previous units. Reads topped at 92 MB/s while writes reached 109 MB/s.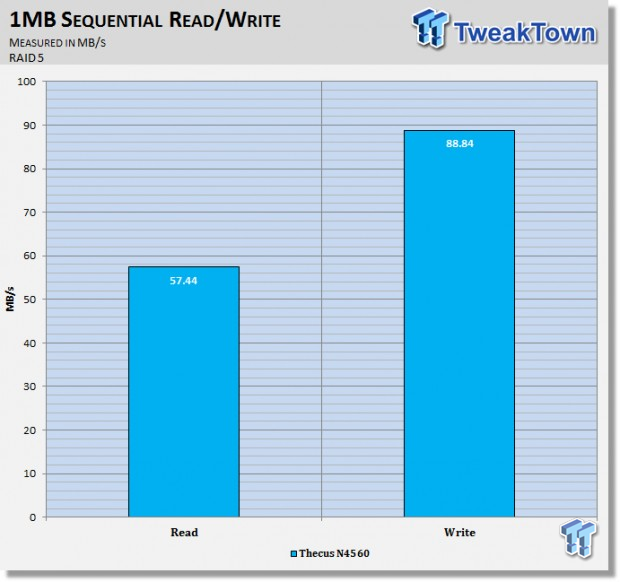 Moving over to RAID 5, the NAS was capable of 88 MB/s write, followed by 57 MB/s read.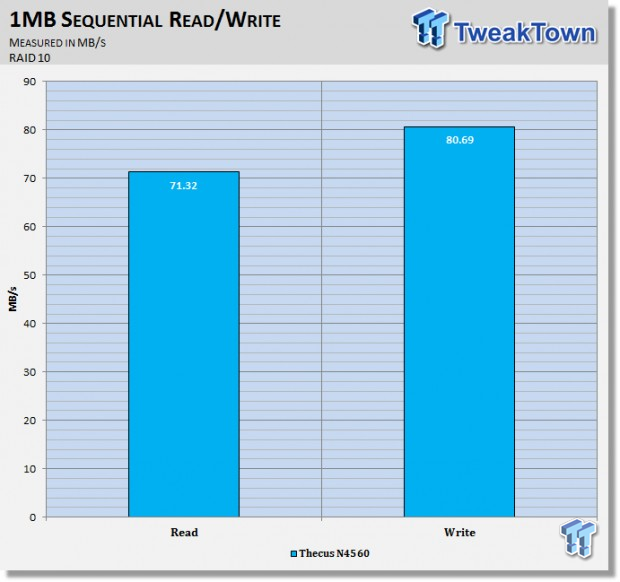 Setting up RAID 10 on the N4560, we touched 80 MB/s write and 71 MB/s read.
Benchmarks - Power Consumption and Acoustics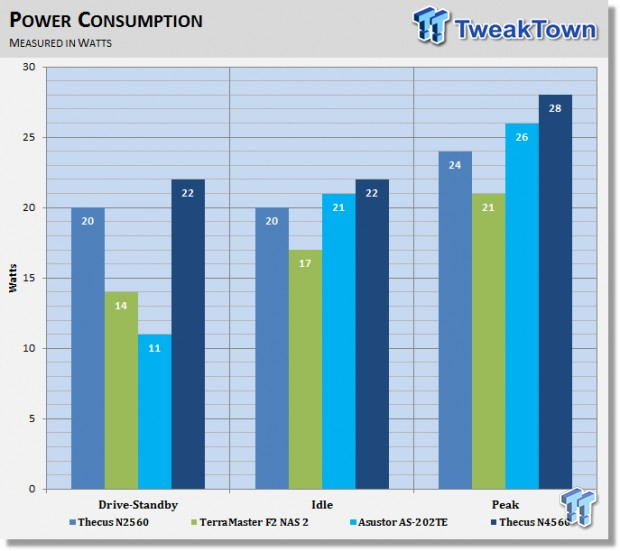 Power consumption for the N4560 came in at 28 watts peak and 22 watts idle.
The drive standby stands at 22 watts with the drive idle featuring not working in the current firmware revision. Keep in mind these figures are with drive, and the drives you choose with your NAS will have a large impact on these figures.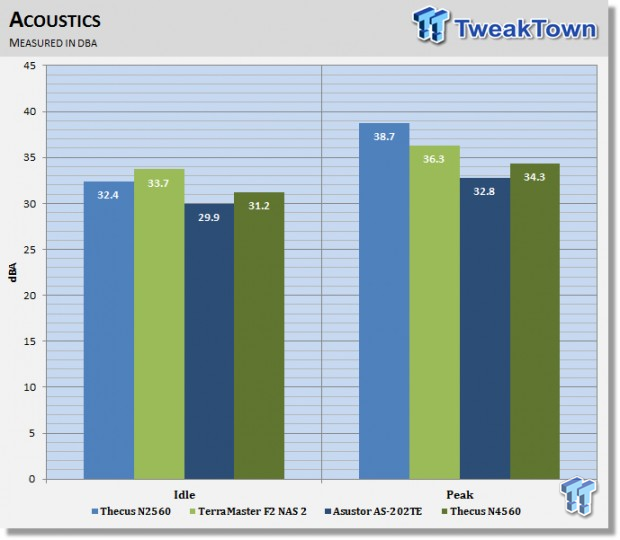 Acoustics for the N4560 came in at 34.3dBa for peak and 31.2dBa while the unit was idle.
Final Thoughts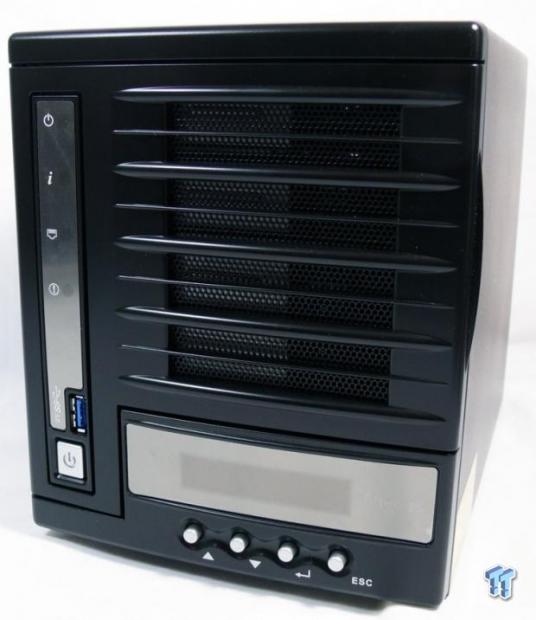 Offering up several new embedded NAS appliances, Thecus has opened a few doors for SOHO users to claim what was once an expensive endeavor. With each of these new units and more specifically the N4560 having such a low entry price, in addition to its low power consumption (depending upon chosen drives), Thecus has positioned these units perfectly, giving SOHO users added value as TCO (Total Cost of Ownership) comes into play.
The build quality of the N4560 was quite compelling, whereas the N2560 was a completely unique build in design and craftsmanship, I see the N4560 as more of a traditional unit from Thecus. Materials like steel and aluminum are found where plastics were used in the N2560, this certainly gives the N4560 a bit more heft, and thus the feel of a durable unit.
Performance was quite good, in fact, I'm itching to get ahold of some new Marvell based units to see how well the N4560 compares to those solutions. If history tells us anything, than the N4560 should fare quite well.
Pricing on the N4560 in its diskless configuration comes in at $449.99 (down from $519.99 at launch), with a two year warranty from Thecus.