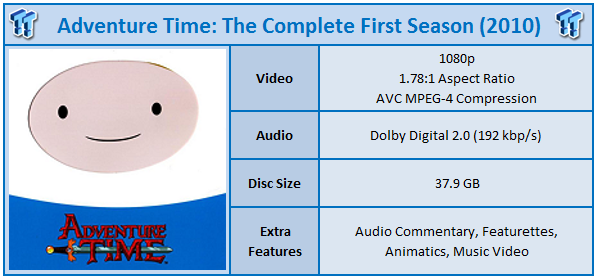 For the uninitiated, Adventure Time is part of a new breed of animated television offerings aimed directly at a pre-teen audience, but enjoys a much wider demographic, entranced by the simple yet appealing animation. The show is downright bizarre, frequently making little to no sense, with a complete absence of continuity between episodes and any overarching narrative. Basically, Adventure Time is the very embodiment of "Turn on, tune in, drop out" and psychedelic enough that I'm led to believe that the show has become somewhat of a poster child for the illicit drug community.
The show revolves around the young human boy Finn (voiced by Jeremy Shada) and his shape shifting dog companion Jake (voiced by John DiMaggio) and as the title implies; their adventures in a strange, post apocalyptic landscape, filled with weird and wonderful denizens and colorful and eclectic characters, including the twisted Ice King (voiced by Tom Kenny) and the sometime love interest Princess Bubblegum (voiced by Hynden Walch).
The lack of story structure gives Adventure Time a very fluid and zany outlook and each episode makes for a very breezy, non challenging and infinitely entertaining 12 odd minutes.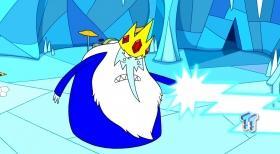 It's worth noting that this disc, released by Madman Entertainment in Australia is an exact duplicate of the disc released in the United States and produced by Cartoon Network partner Warner Bros.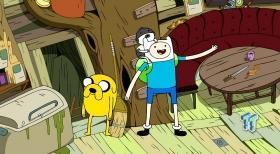 Video
Adventure Time: The Complete First Season is presented in the aspect ratio of 1.78:1, encoded with AVC MPEG-4 compression.
Cartoon Network's animation style is somewhat basic, albeit incredibly kaleidoscopic with bright and solid blocks of color and this encodes quite efficiently, making this a relatively uncomplicated affair. That said, it's not necessarily the embodiment of perfection - the image is prone to infrequent aliasing, which would normally indicate that the native production resolution is higher than the 1080p encode (although I personally find that very hard to believe). Very occasionally I noticed minor banding in the backgrounds, but you'd be hard pressed to notice this in a general viewing.
Audio
Adventure Time: The Complete First Season is presented in Dolby Digital 2.0 at 192 kbps.
Warner Brothers, a late convert to lossless audio mixers for theatrical Blu-ray releases, unfortunately are still to be convinced regarding the merits of consistent lossless audio mixes for television shows. Whilst Adventure Time would arguably not benefit substantially from a lossless mix, (especially from the stereo source material), as a matter of principle, I'd like the same care and effort to go into all Blu-rays - not just theatrical material.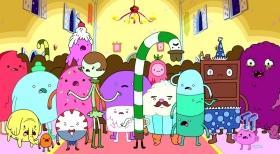 Anyways, I digress. Despite its source limitations Adventure Time sounds perfectly serviceable with the encode here, and mixes up to pro-logic with relative success, if you are so equipped. The voice artists are recorded well and presented perfectly audibly, whilst some of the more outlandish sounds effects and wacky score all present no issues whatsoever.
Whilst there is no specific low frequency channel encoding, there is just enough bass in the mix that can be diverted to the subwoofer if given adequate volume.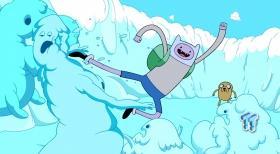 Extras
The Cartoon Network has assembled a somewhat bizarre collection of extra features, which sadly shed little light on the series and do much to play up the subversive nature of the show. I don't think there is much here that even the most diehard of fans will want to return to, or even watch in totality, and as such I believe this to be a terribly nixed opportunity. Still, let's take a look.
First up, we have Audio Commentaries for four episodes, recorded predominantly with members of the voice cast, with a cameo by Star Trek's George Takei!
The imaginatively titled Behind The Scenes is all but unwatchable due to being filmed with a low-fi handheld video camera that could induce some to motion sickness. Disgraceful. Worse, the next featurette, a tongue in cheek Behind the Scenes of the Behind the Scenes is just that.
Four episodes feature an optional Animatics reel, with the bonus of including audio commentary which give an added insight to the unique animation process. Finally we have a bizarre, live action Music Video that I am still somewhat confused as to the intention. It made me feel uncomfortable.