Introduction & Specifications, Pricing and Availability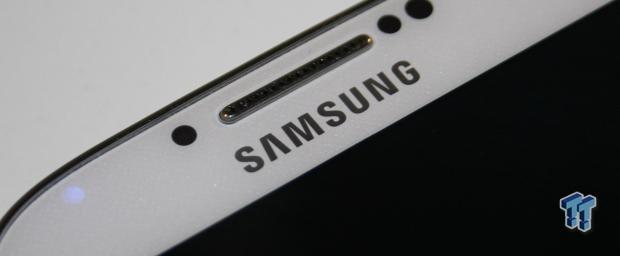 Samsung has enjoyed so much success with its Galaxy range of smartphones and tablets that they've been slowly, but surely eating away at Apple's mobile market share. But with each new release of Galaxy smartphones, Samsung are selling more and more.
We've already heard that the South Korean company has sold over 20 million Galaxy S4s, but just how far can it go? The Galaxy S4 is Samsung's most popular, and quickest selling smartphone yet, but that doesn't automatically make it a great phone.
I've read a bunch of reviews, from other tech sites and media, down to friends and family. I recommended by Dad to purchase the Galaxy S4, which was a great upgrade from his ageing, slow, and broken HTC Desire.
The majority of people seem to overwhelmingly love the smartphone, but what position are they coming from? Are they reviewing it for a tech site and only use it for a few days? That honeymoon period ends pretty quick, at around the two-week mark, for me anyway.
Most people off the street, non-professional users such as friends and family, seem to like the smartphone, but only because it's Samsung's latest phone. If I press them and ask "why do you want it?" or "why do you want to upgrade from your Galaxy S III?" they state "it's better", or "it's faster".
This isn't reason enough to purchase the smartphone, and I've told countless friends now that if they own a Galaxy S III, it's not really worth the upgrade. If they own an S II, or an iPhone 4/4S, then sure, go for it. But from the S III? I don't think Samsung has done enough work there to push people to upgrade just yet.
This is the same issue that Apple face with their iPhone releases, which are followed by an "S" release. This is what we should expect with Apple's next release, which is why I don't think anyone should be excited about the iPhone 5S apart from it including iOS 7 by default - which is just influenced from Android anyway (flame away!).
Specifications, Pricing and Availability
Samsung has beefed the specifications on the Galaxy S4 up, by quite a bit, with the biggest change being the display. We now have a 4.99-inch 1920x1080-pixel display, which is absolutely gorgeous. It's easily the standout feature on the device.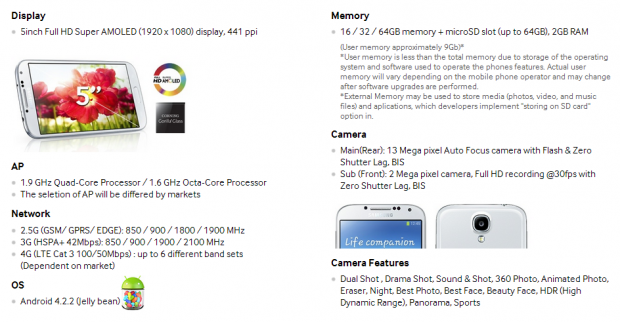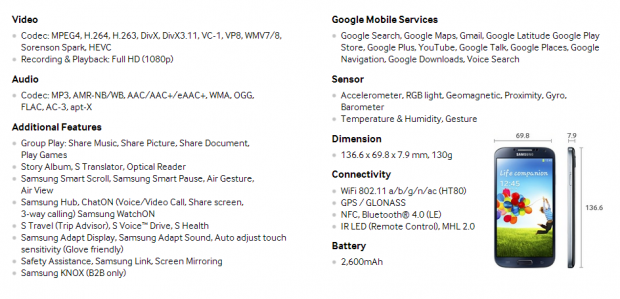 Following those specs, we have 2GB of RAM, 16GB of internal storage (it comes in 32GB and 64GB models) which is expandable by microSD. The screen, as we mentioned before, is a 4.99-inch 1080p display backed up by Corning's Gorilla Glass 3 tech. There are 4G LTE models, which is the one I'm reviewing here today, and when connected to 4G, you can expect some damn fast speeds.
Things start to get confusing when we begin talking about the chipset and CPU inside of the Galaxy S4, as there are multiple variants of the S4. We have one version, which is the Samsung i9505 Galaxy S4, which includes a Qualcomm APQ8064T Snapdragon 600 SoC, which is a quad-core part running at 1.9GHz. This is backed up by the Adreno 320, which is featured in most high-end smartphones.
There's also the Samsung i9500 Galaxy S4, which includes Samsung's crazy eight-core processor, the Exynos 5 Octa 5410. This arrives with a quad-core 1.6GHz Cortex-A15 processor, and a quad-core 1.2GHz Cortex-A7 processor. The i9500 includes the PowerVR SGX 544MP3 GPU.
This makes the review that much harder, as I don't have multiple devices to review. I have the i9505 model which is the quad-core part, but some readers might grab the eight-core i9500 part and see different results. So if you do get different results (+/- 10% or so), then you'll know why.
Finishing these specs off, we have a great 13-megapixel rear-facing camera, which is capable of snapping your photos at 4128x3096. It can capture video at 1080p@30FPS, too. The front-facing camera isn't too bad at 2 megapixels.
All of this is crammed into a device that weighs just 130g (4.59oz). When compared to the Galaxy S III, it actually weighs 1g less, which is damn good considering it has a Full HD display and faster internals.
Price wise, the Galaxy S4 will set you back $609.99 from Newegg at the time of writing, or around $50-$60 per month on a two-year contract through the carrier of your choice. As for availability, it's one of the hottest phones in the world right now, so you should have absolutely no issues picking it up... anywhere.
Look and Feel
I noted in my Galaxy Note II review that I did not like the plastic feel of the phone, and my thoughts continue here. The Galaxy S4 feels cheap, because of its plastic exterior. Samsung has already said that they're working on this, and that its next flagship smartphone will be arrive with a premium feel. Hopefully they've learnt their lesson from Sony and better yet, HTC.
The Galaxy S4 doesn't feel much bigger than the S III, where it measures in at 5.38 x 2.75 x 0.31 inches. Thanks to its light weight of just 130g, it feels lighter than any other smartphone I've used. I would say this is thanks to the smartphone being pancaked across a larger space, instead of condensing it into a smaller, say, 4.5-inch device.
It's incredibly light, which is one of the first things you'll notice about it. Going hand to hand with a Galaxy S III to the S4 was very surprising to say the least. Looks can be deceiving, but the S4 definitely feels lighter, even if it's just that 1g lighter in reality.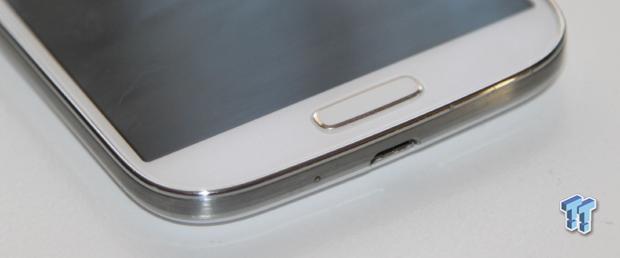 The front of the Galaxy S4 includes that gorgeous, and obvious 4.99-inch 1080p display. Around that we have some notification lights in the top left, followed by sensors for your eyes (we'll talk about that later), the earpiece for phone calls, front-facing 2-megapixel camera and down the bottom, we have a physical home button. To the left of that, we have a touch button for "menu" and to the right another touch button for "back".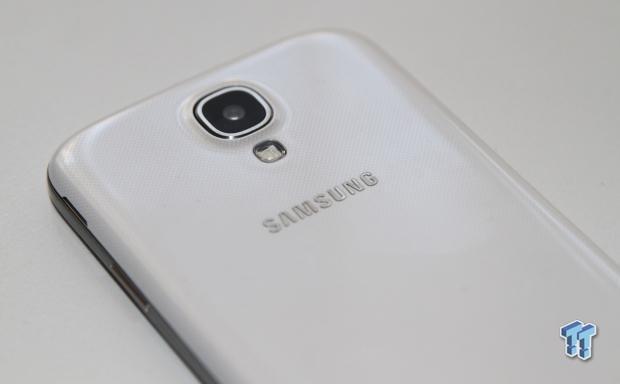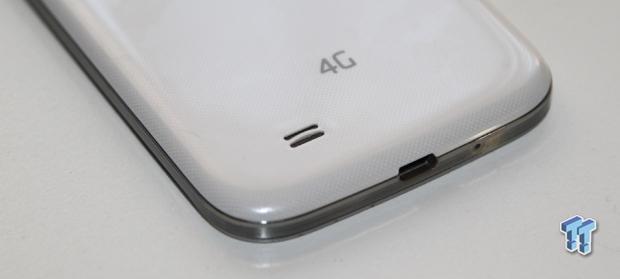 Flipping the S4 onto its back, we find that gigantic 13-megapixel camera, below it we have the huge LED flash. Below the LED flash we have the obvious Samsung logo, and near the bottom we have a 4G logo. To the left and slightly below the 4G logo is the great rear speaker.

On the right side of the phone we have the power button and access to open up the Galaxy S4.

On the left of the Galaxy S4 we have the volume rocker.

On the very top of the phone we have the usual 3.5mm headphone/speaker jack.

On the bottom of the Galaxy S4, we have the microUSB for charging/syncing, as well as the microphone.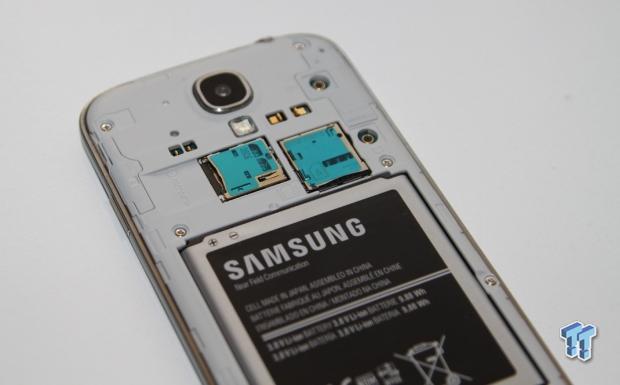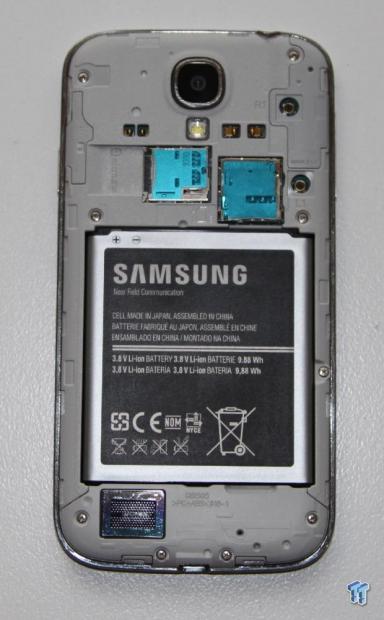 The Galaxy S4 can be opened up for expandable storage through a microSD card, which supports a 64GB microSD card. The micro-SIM slot is also accessed by removing the back, and the battery is also removable, and hence, replaceable.
Display & Speaker Quality
In the last two months, I've been juggling the Nexus 4, Note II, Xperia Z and now the Galaxy S4. The Galaxy S4's screen is by far the best, for real-world, casual use. I don't sit on my phone all day, but when I use it, I like to enjoy it (as I'm sure everyone does). The Galaxy S4 screen is a joy to look at, with awesome viewing angles and beautiful color.
Out in the direct sunlight it's not so great, which is something I'm looking forward seeing improvements on in the coming years. We need these premium smartphones to have great display output in broad daylight, too.
Moving onto the speaker quality, I found it great. Again, I used it in real-world environments, such as when I'm sitting in a cabin in the country and need some music. I can crank it up to 75% or so and it's loud enough to listen to.
Sure, it's not the best of quality (what smartphone loudspeaker is?) but it's good enough. I used it when I was at a friend's place just hanging around having a few drinks, whipped out my Galaxy S4 and played some tunes. It was fine - it filled the room well enough for us to all hear it.
Features
This is where the review takes a turn. Up until now, it's been civil between the Galaxy S4 and I, but now, the gloves are coming off. I've said it before, and I'll say it again, and again, and again, I hate, hate, hate TouchWiz UI.
I'm a huge fan of the pure Android experience which is what Google gives us on the Nexus devices, but the TouchWiz UI has to go. I said in a previous review that I wish Samsung offered stock Android ROMs, and I'm sure they listened.
Samsung has been smart enough to unleash a "Google Edition" of the Galaxy S4, which is pretty much the Galaxy S4 with stock Android. Samsung Australia only gave me the pleasure of using the standard S4, with TouchWiz, and I hated it.
The first week, which is what I like to call the smartphone honeymoon period, was great. The Galaxy S4 and I skipped through fields, held hands, had candlelit dinners and fell asleep in each other's arms. Moving into week two, there were some issues popping up.
Sometimes apps would randomly crash, with Chrome being the biggest culprit. I've probably had 1-2 crashes with Chrome in my many, many years of running Android devices. But, on the Galaxy S4, in the second week of testing, it crashed maybe once every two days, and on one particular day, three times. It wasn't the same website, it was different websites. Oh, and when I say "crash", I mean the Galaxy S4 does a complete hard reboot. Yeah. I'll leave the rest of the sentence blank to let that sink in a little.
On the third and fourth week (now) the Gallery app has some serious issues... for example, if I take a photo, and then tap in the top right of the camera app to look at the last photo taken, it will take sometimes 15-30 seconds for the photos to load.
If I close Gallery, reopen it, and check back again, it loads it fine. I don't know if it's the particular Galaxy S4 I have, but I've read other people experiencing the same issues. I get none of these issues on my Nexus 4, or in any of the other samples I've received, including other Galaxy smartphones like the Note II.
TouchWiz includes so many different options and tweaks, it's really hard to write them all down without this review leaking into a 20-page review. I'll cover the main ones so that I'm not going over the same things because most of them are just TouchWiz features.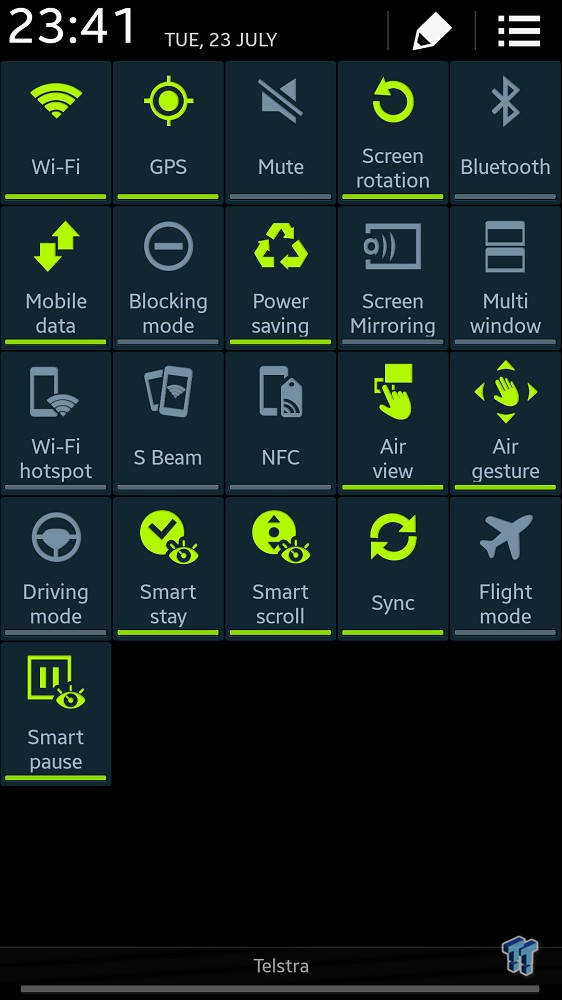 Samsung has pretty much tried to cover all of its bases with the S4, as it includes all of the features that the Note II has, as well as everything that the S III includes. We have toggles for Wi-Fi, GPS, Bluetooth, and much more up top.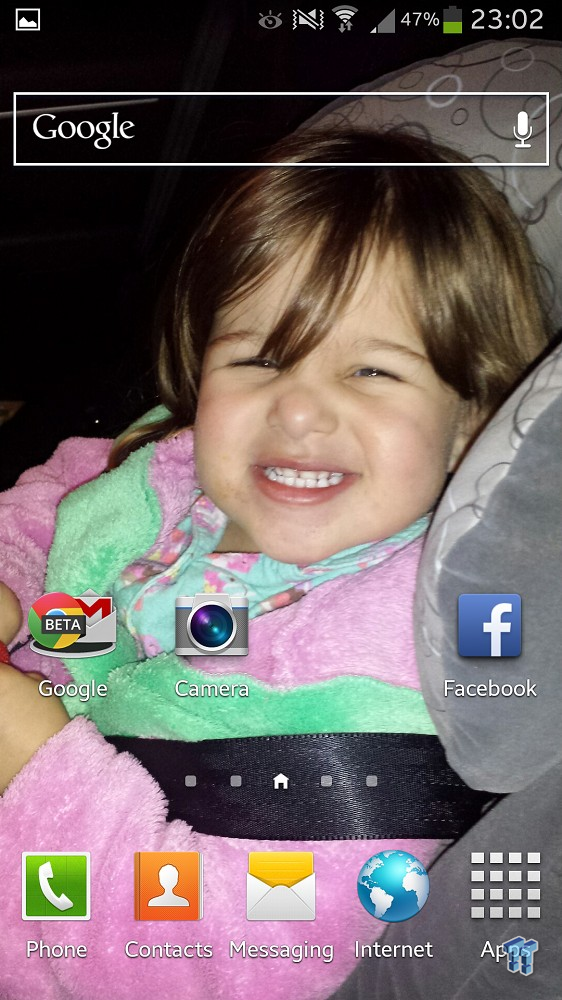 The home screen really got to me off, as you can't just arrange things the way you want them. For example, the Phone, Contacts, Messaging and Internet shortcuts, cannot be removed. This is a huge flaw of TouchWiz, and something I truly hate with a passion.
It forces me to have icons that I don't use all that often, such as Contacts and Internet. I don't go into Contacts that often, I instead use the Phone app, and for the Internet, I use Chrome. Samsung, get over TouchWiz, and at least open it up a little - no wait... a lot.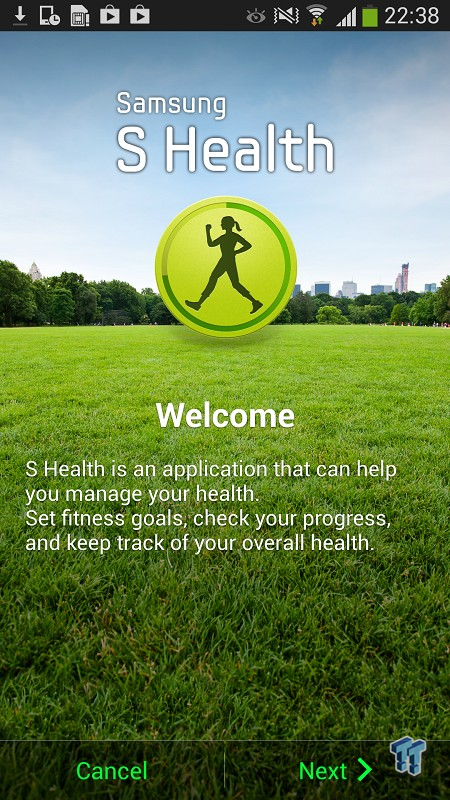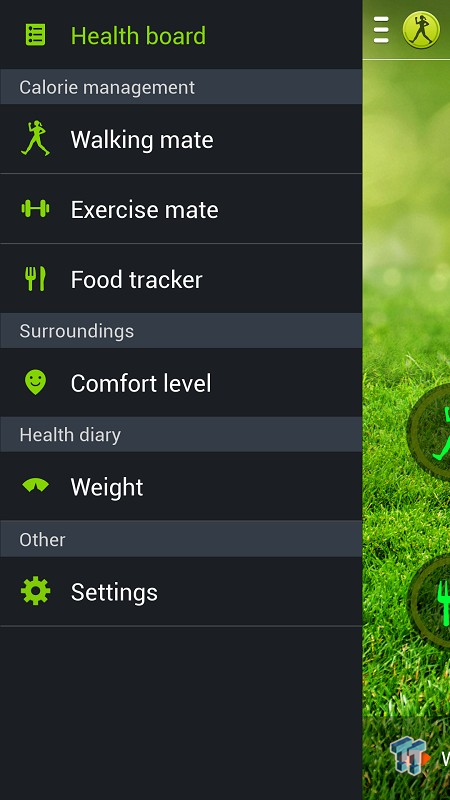 One of the awesome features of TouchWiz - see, I'm not a complete hater - is the S Health app. Samsung - serious kudos on this - you killed it. There's Calorie Management, which is broken up into three subcategories: Walking mate, Exercise mate and Food tracker.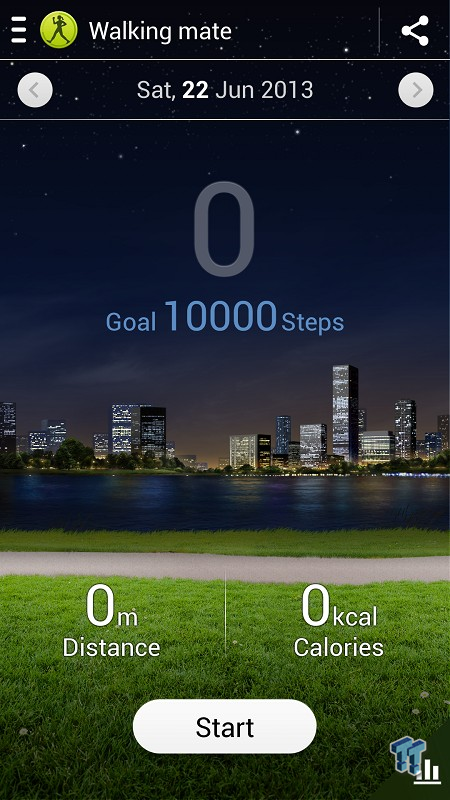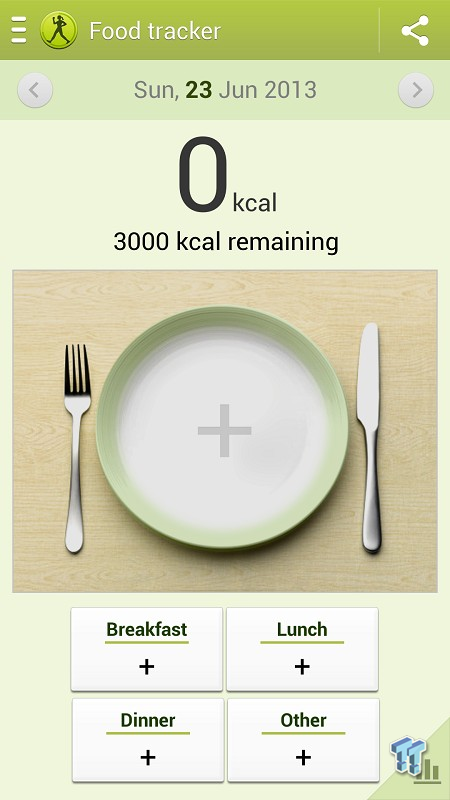 Surroundings offers a look at your Comfort level. Health diary will keep tabs on your weight, and finally, Other, where Settings resides. I don't work out, so I only used Walking mate. It keeps tabs on every single step that I take with a goal of 10,000 steps per day.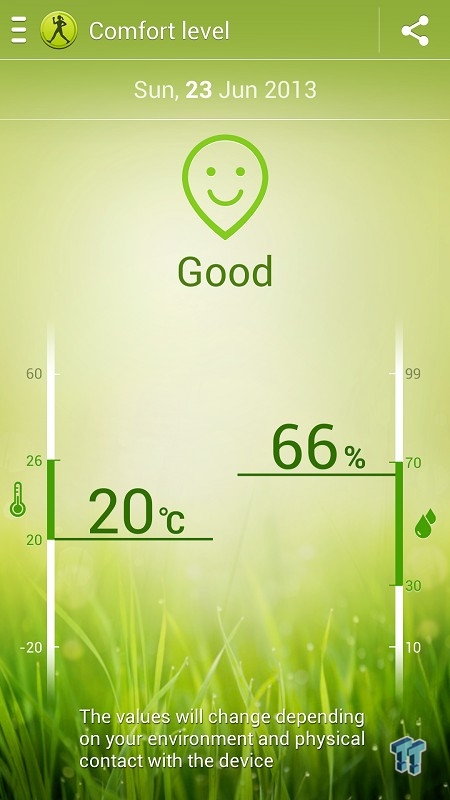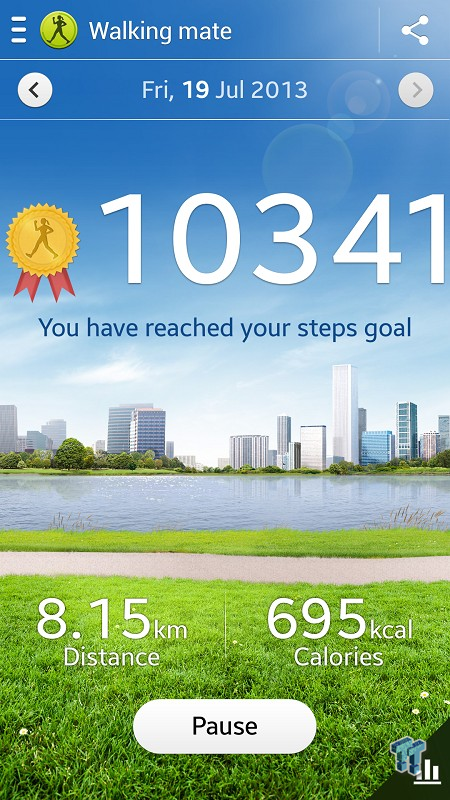 During PAX Australia 2013 last month, I walked the various exhibits and those show grounds for hours. As I jumped into the taxi to go back to my hotel to write up some content, my phone buzzed and made some glorious sound. I only just sat down, but with that last step into the taxi I had reached 10,000 steps and S Health was alerting me I had reached my goal. This is a nice reminder, without being constantly reminded that your health is being monitored.
Moving onto another nice feature of TouchWiz, and the S4, is the Air view, and Air gesture modes. I used neither of these, as they simply don't appeal to me whatsoever. I seriously don't see the point of using my smartphone, waving my hands like a damn lunatic in front of its display to do something I can quickly do with my fingers. But, the feature is there if you want it, peeps.
As I said, I could seriously sit here for hours writing about the various features of the S4 and TouchWiz, but the list is truly too long. These features, in my humble opinion, are perfect for in-store salespeople to push onto would-be Galaxy S4 owners.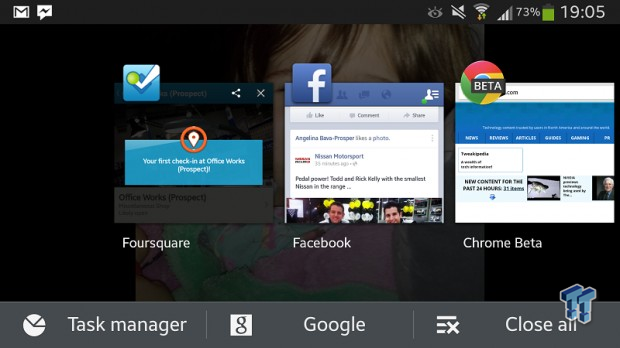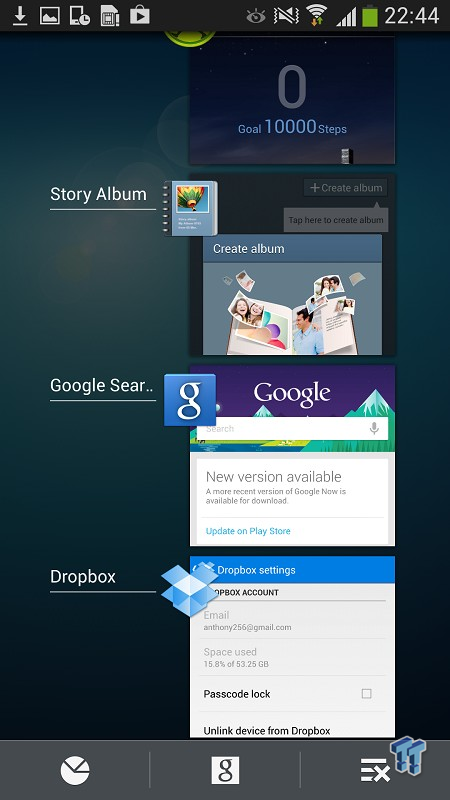 The multi-tasking capabilities of the Galaxy S4 are something that is easy to get used to, which you can see the UI of above.
I can see it now "oh, check this out, Sir", "the Galaxy S4 has an Air gesture feature *waves hands in front of the Galaxy S4*...", to which the middle-aged, non-tech savvy consumer goes "can I do that with my current iPhone 4?", the salesperson would reply with a sparkle in his eye "no, no you can't, Sir". The consumer walks out with a two-year contract based on some - mostly - gimmicky features.
What I would suggest, instead of me telling you about them, is to go in and have a look for yourself before you purchase it. If you could find a retailer which offers a week trial, or a return and swap for another smartphone, I highly, highly recommend this option.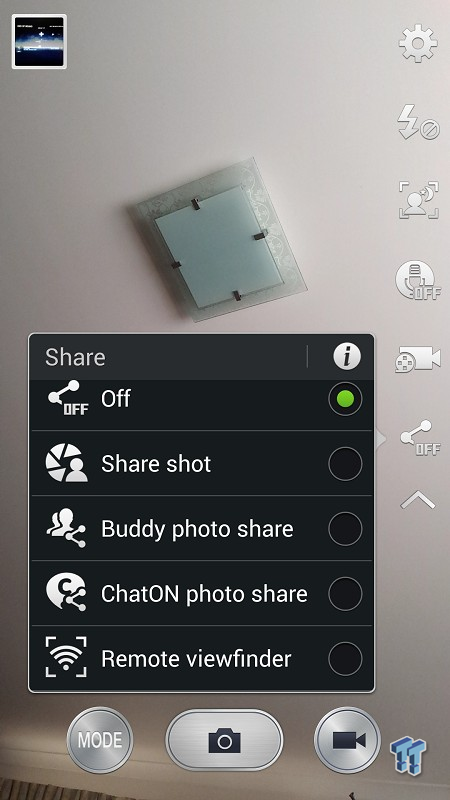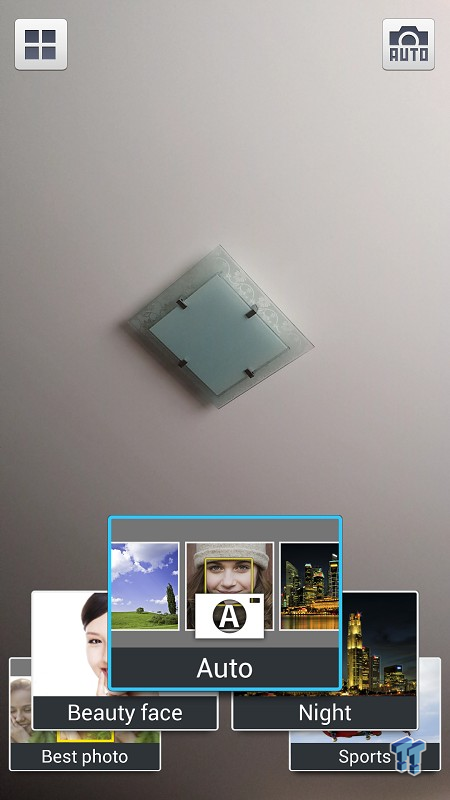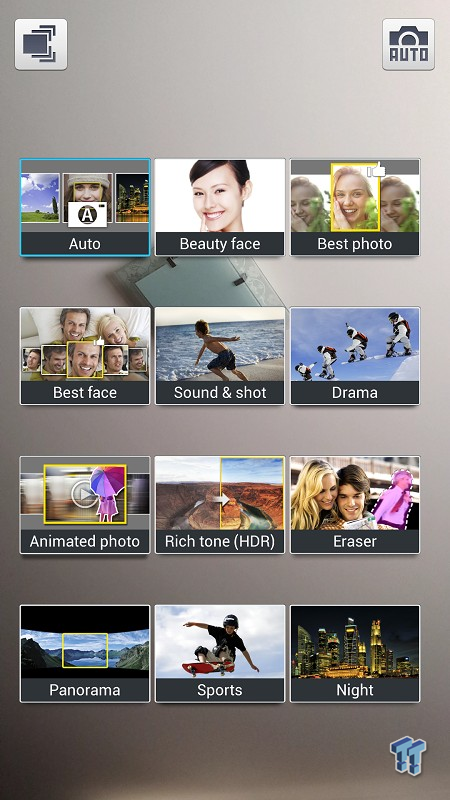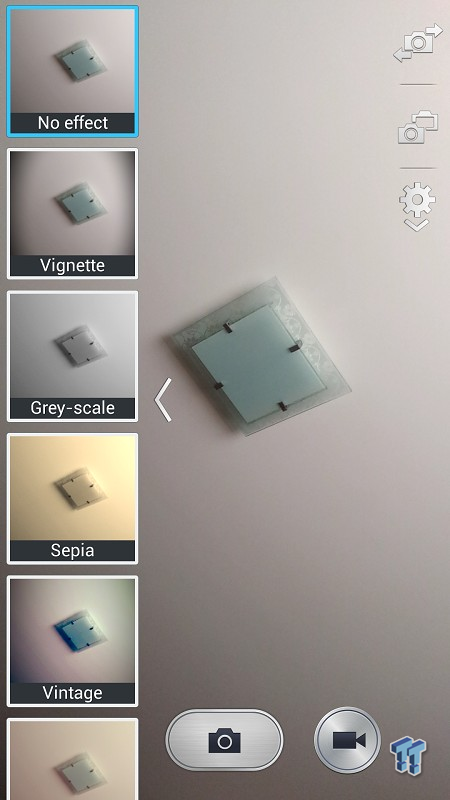 The camera interface has been spruced up, with a bunch of different options you can use to take your photos. Most of the time I left it on auto, but it's nice to have a bunch of options to play with if that's something that tickles your fancy.
Performance & Camera Tests
Performance on the Galaxy S4 was a mixed bag for me. Again, the smartphone honeymoon period was really strong in this section. The Galaxy S4 on its first ten or so days of use felt super snappy, with everything popping open instantaneously.
After the two-week mark, things began to slow down. Remember, that I'm not flooding the Galaxy S4 with apps, I'm using my usual apps like Facebook, Gmail, Chrome, YouTube, etc. I'm not installing a bunch of games, or Spyware-infested apps. I'm a light, Google-based user.
The battery life also saw the smartphone honeymoon period engaged, where the first 7-10 days were great. I was getting full-day use out of the S4, where I'd take it off charge at 9-10am, use it on and off during the day for an average of 3-4 hours, and at 10pm I'd be on 30-40% charge. After 2-3 weeks, doing the same thing I did in the week's just past, at 10pm I was on 10-15% charge.
Again, I'm not thrashing the smartphone, I'm gauging it in real-world tests. I'm not running benchmarks on it, I leave all of that until last. The real-world testing is the unique thing I like to do compared to other websites, because it's not sterile. It's not a "here's a review, but I only used it for a week", my use is very real - I treated the S4 like it's my own for a month.
Let's move onto some images from the camera. Here are some examples of the quality of the camera: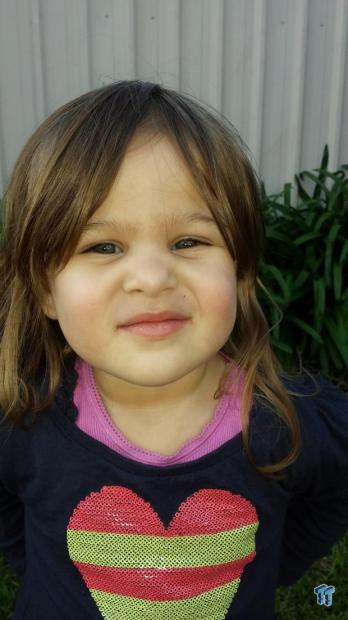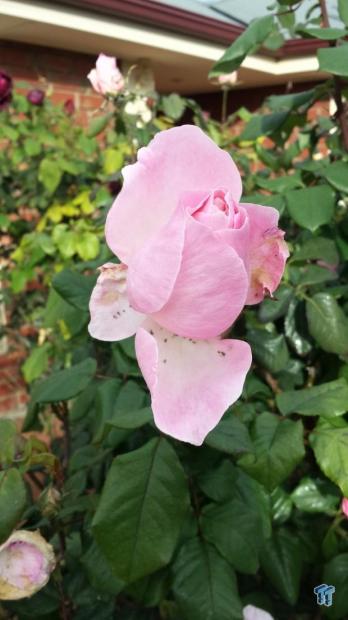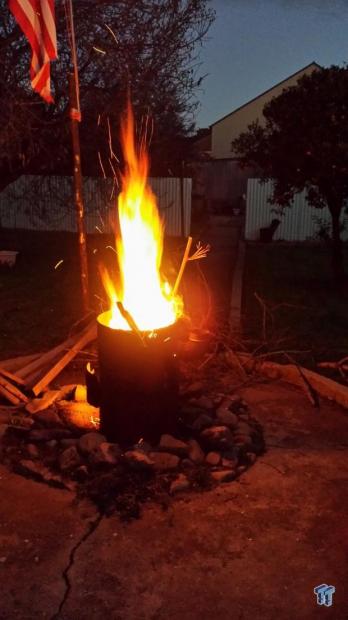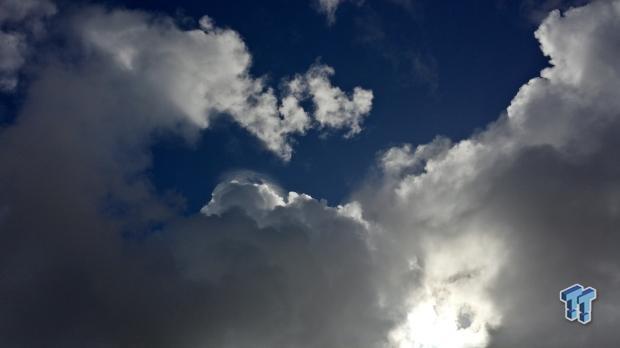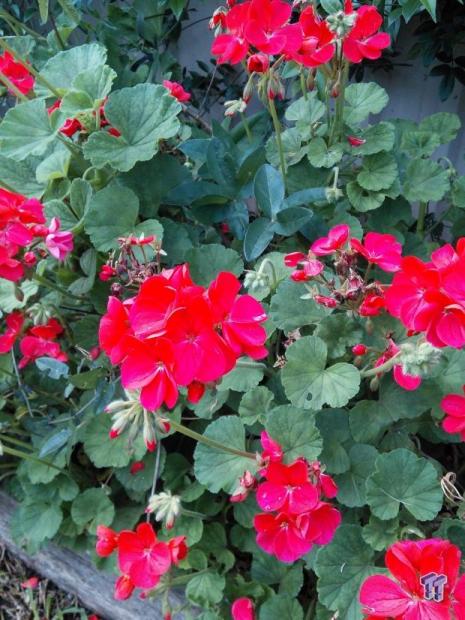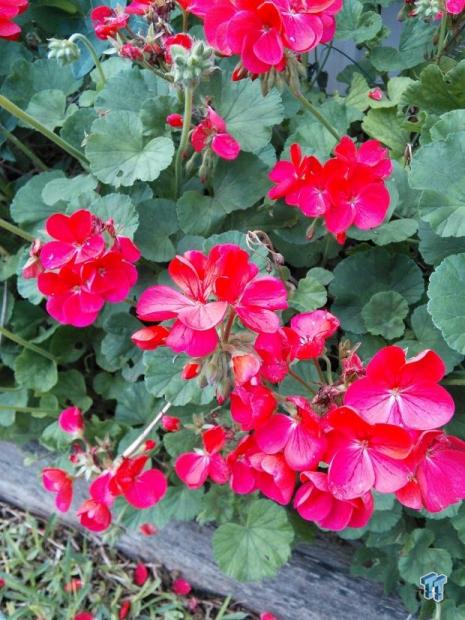 And a few panoramic shots:


Now let's get into some of those benchmark graphs!
Benchmarks
First up, we'll dive into some Basemark X results.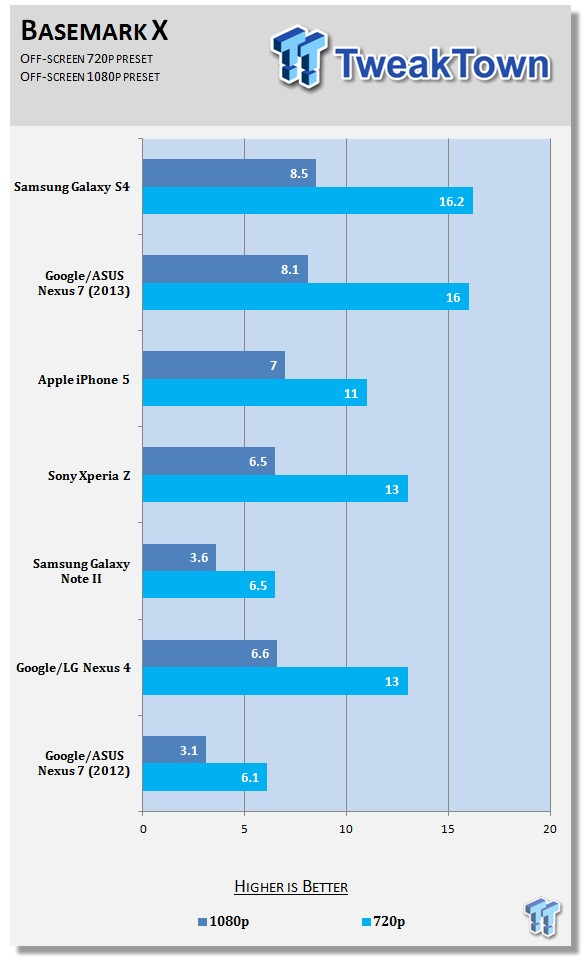 This is something that the Galaxy S4 does well, beating out every other device in Basemark X that we've tested. It even goes toe-to-toe with the latest 2013 Nexus 7 slate. We see 16.2 FPS at 720p and 8.5 FPS at 1080p compared to the closest competitor, the 2013 Nexus 7 with 16 FPS and 8.1 FPS for 720p and 1080p, respectively.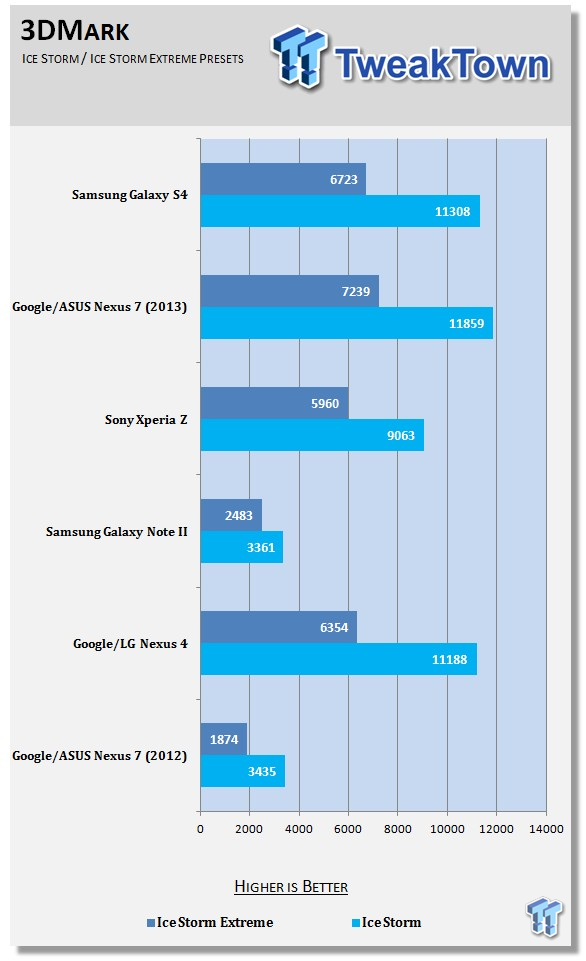 The Galaxy S4 doesn't do too badly at 3DMark, with the Ice Storm test seeing a result of 11,308 total. The 2013 Nexus 7 and 2012 Nexus 4 both beat it, with 11,859 and 11,118 respectively.
We see some changes in leadership when it comes to the more stressful Ice Storm Extreme benchmark, with the Galaxy S4 scoring 6,723 compared to the 2013 Nexus 7 scoring 7,239 and the Nexus 4 trailing in third position with just 6,354.
Just like our 2013 Nexus 7 review, we have changed our GLBenchmark test to version 2.7 and now run the GFXBench 2.7 T-Rex HD Off-screen, which renders it at 1080p.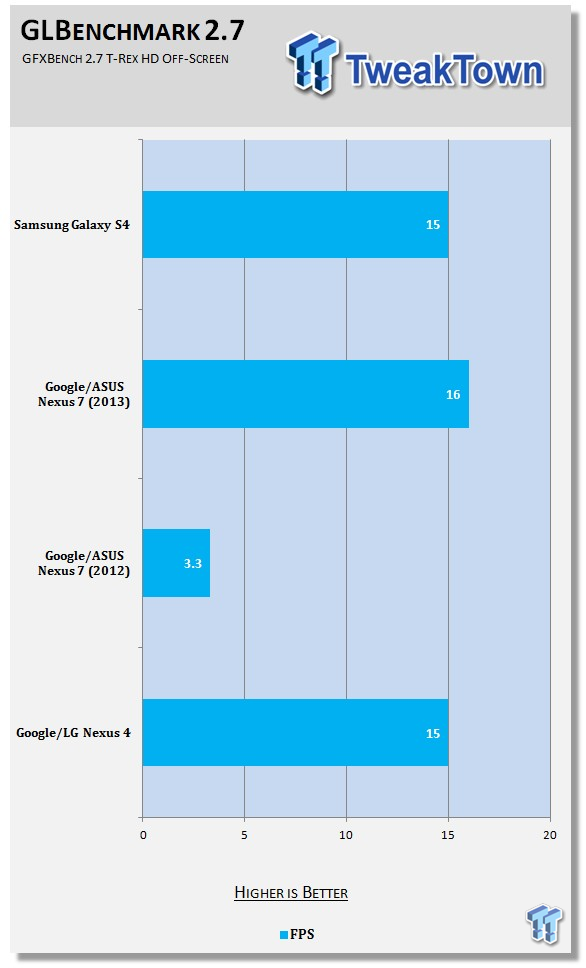 This is where things get more neck and neck, with the Galaxy S4 scoring just 15 FPS. The 2013 Nexus 7 beats it by 1 FPS with 16 FPS total, and the Nexus 4 ties with the Galaxy S4 on 15 FPS. The 2012 Nexus 7 falls flat on its face with just 3.3 FPS.
Next up we have the Fill Rate Offscreen, again at 1080p.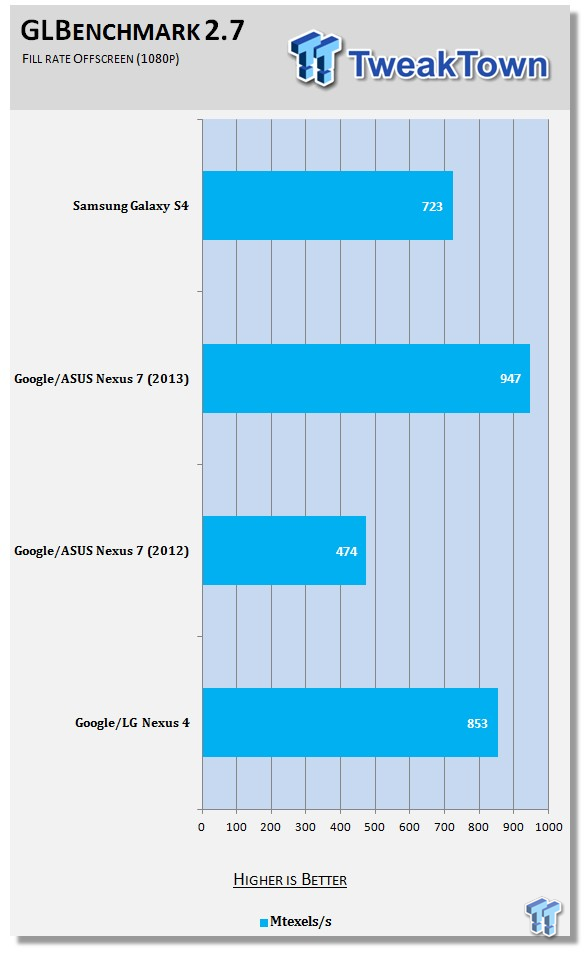 This is another thing that surprised me in terms of performance on the Galaxy S4, which pumped out just 723 Mtexels/s compared to the amazing performance from the 2013 Nexus 7 which was bench pressing 947 Mtexels/s. The Nexus 4 even beat out the much more expensive Galaxy S4 with 853 Mtexels/s.
Second to last, we have Quadrant 2.1.1 Pro with the Full Benchmark Total Score.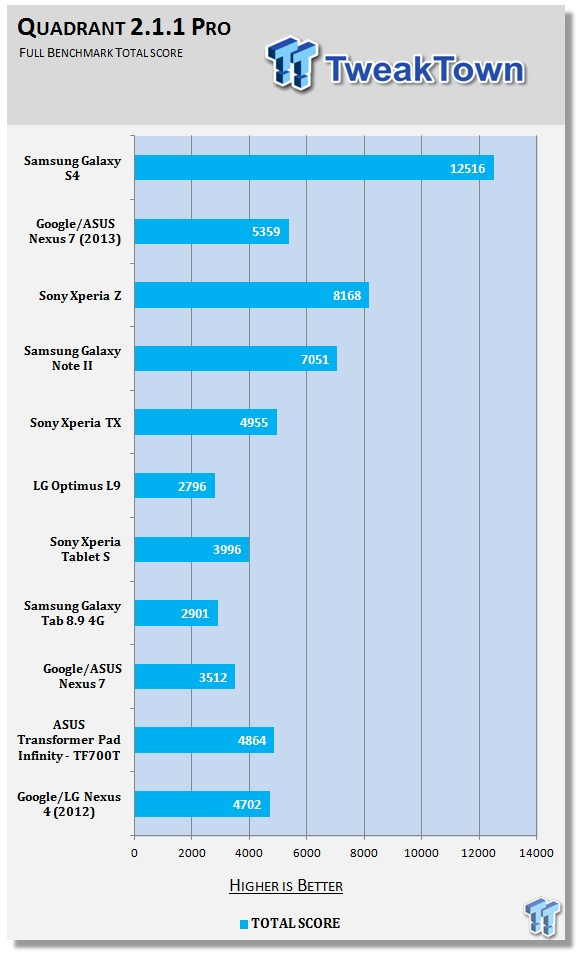 Samsung completely dominates the Quadrant 2.1.1 Pro benchmark with its Galaxy S4, with the full benchmark total score of 12,516! This absolutely demolishes the competition, with the usual suspects in the 2013 Nexus 7 scoring just 5,359 and the Nexus 4 scoring a pitiful 4,702. This is a big reason why I don't like benchmarking smart devices... the Galaxy S4, from this benchmark alone, could look like the undeniable champion.
Final Thoughts
This is one of the hardest Final Thoughts I've had to write. I put off writing my S4 review for a couple of weeks because I was so tied on my thoughts, and didn't want to hastily write a review of the smartphone to just get it out of the way.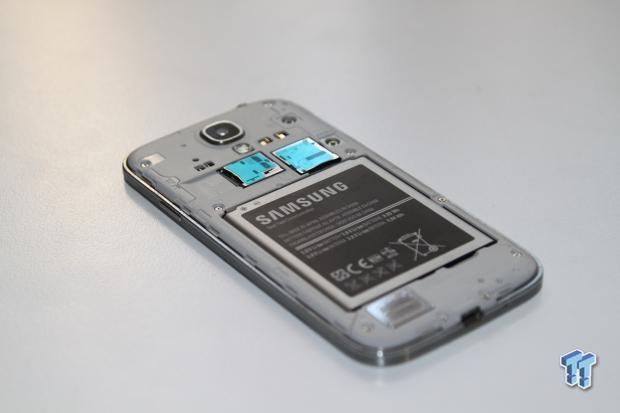 I apologize that my review is up months after the Galaxy S4 was released, but we didn't get a sample until a month after its release, and I really wanted to take my time with this one. I feel like my real-world testing idea has really worked, because if I had written this review in the first week, it would've scored a much higher score, and I probably would've dunked it in our Editor's Choice Award.
But, I haven't. It has been scored appropriately, to what I recommend it receives. The Galaxy S4 is a great smartphone, don't get me wrong. It is fast, it's light, the display is amazing, the battery life is mostly good, but I feel like there's this huge "but" written all over it.
I feel like Samsung has reached the point where they're just making slightly bigger, slightly faster, slightly more feature-packed smartphones as time goes on. The Galaxy S4 looks, feels and acts like an S III, but it's not an S III at the same time.
I feel like my Final Thoughts can be boiled down to a few questions I'll ask, which is what I say when people ask me "which smartphone should I buy?" Here it is: if you have a smartphone that is two years old, say the Galaxy S II, or iPhone 4/4S-era smartphones - the Galaxy S4 is great.
But, if you have a Galaxy S III - you should skip the S4. If you own an iPhone 5, you're going to upgrade to this. If you have something like the Xperia Z or HTC One, you have the better end of the stick here, in my opinion.
I think the Xperia Z had its high points, but I do enjoy the S4's screen. I'm yet to use the HTC One, but I think that is something Samsung should be scared of. They should also be frightened of Google/Motorola, and Sony.
I think Samsung has reached a fork in the road with its Galaxy smartphones... they need to make a premium smartphone, and offer it with stock Android or a downloadable (or provide an 8GB microSD card in the box that includes TouchWiz) add-on for TouchWiz.
A premium feel would be a killer feature on future Galaxy smartphone, something I think we're going to see in the coming months leading up to the Note III. Early next year we should see the Galaxy S5, which should be a very, very interesting device.
If Samsung can release a premium-made Galaxy S5, at the time when Android 5.0 "Key Lime Pie" launches, and give users stock Android, they could truly become the undeniable leader of the smartphone market.