Fractal Design Newton R3 1000W 80 PLUS Platinum Power Supply Review
Fractal Design's flagship power supply delivers plenty of power at a good price. Read on the see how well it performs under our tests.
Published Sep 16, 2013 4:22 PM CDT
|
Updated Tue, Nov 3 2020 7:00 PM CST
7 minute read time
Introduction, Specifications, Availability and Pricing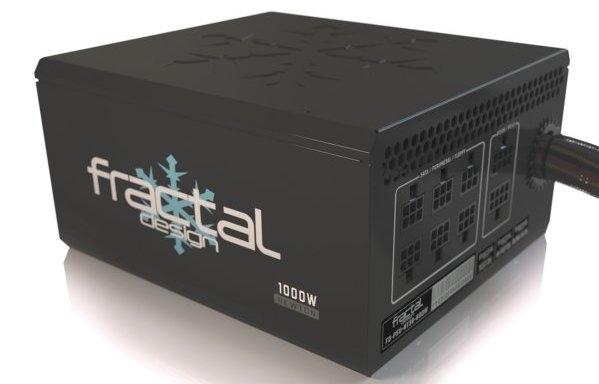 A few months ago, we looked at the Fractal Design Newton R3 800W unit, and while we were rather pleased with what the unit had to offer, it just didn't stand out from what was already on the market. Fractal Design has always proven to give us quality products that stood out, so we were surprised that we didn't see this from the 800W model.
We decided that it would be a good idea if we took a look at their 1000W model as well, and that is just what we are doing today. The 1000W model doesn't differ too much from the 800W power supply, other than additional power, but we do hope that the price makes it a much more attractive offering.
The unit that we are taking a look at today is the standard black model but Fractal Design does offer it in a white version that is just absolutely beautiful, so keep that in mind if you're looking for a white unit.
Let's just stop talking about it and start seeing what it offers.
Specifications, Availability and Pricing

The Fractal Design Newton R3 1000W power supply features a single 12V rail rated for 80A or 960W. This is the only difference you'll find between the Newton R3 800W and 1000W models in terms of power output. The Newton R3 1000W still features 20A 3.3V and 5V rails rated for a maximum combined output of 100W and a 5VSB rail rated for 2.5A or 12.5W. 1000W power supplies typically see a bump on all three of these rails too, but not for this one. Maximum combined output for the Fractal Design Newton R3 1000W power supply is 1000W.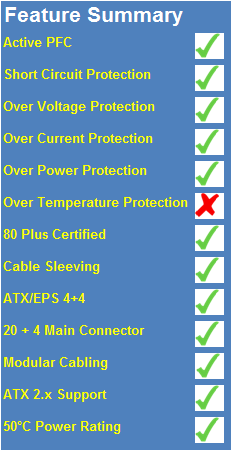 The Newton R3 series of power supplies are relatively feature rich. They offer SCO, OVP, OCP and OPP, but lack OTP. The Newton R3 1000W features both native and modular cabling. All cables are either fully sleeved or of the flat ribbon variety. The Newton R3 1000W is rated for 100% continuous output at 50C and is certified for 80 PLUS Platinum efficiency.
Fractal Design's Newton R3 1000W has an MSRP of $209. The unit is still relatively new to the market and you won't find it for much cheaper than the MSRP. Newegg currently comes in at the MSRP, and while some may have it cheaper, shipping kills the price back to the MSRP. This makes the unit one of the cheapest 1000W Platinum rated power supplies on the market.
Packaging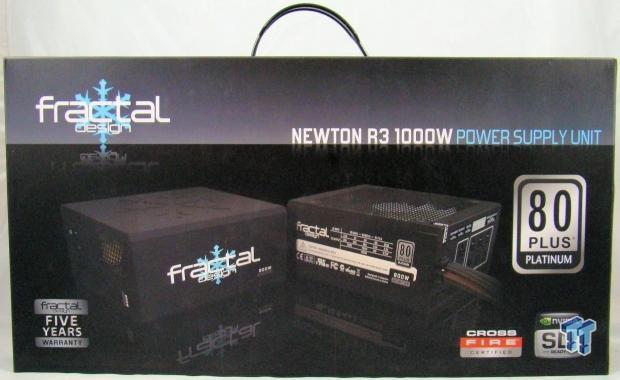 The box for the Fractal Design Newton R3 1000W is huge, albeit not any larger than the one for the 800W model. The front gives us a great look at the unit from multiple angles, wattage, warranty and multi-GPU support information.
The box we received looks like UPS dropped it off the truck. We can see some deformity in the packaging in the top left, so hopefully we'll be able to tell if the packaging did its job and the unit has arrived safely. The left side gives us information on basic features such as voltage regulation and ripple suppression. No figures are given, but rather we are just told it is "excellent." Yes, gotta love those relative marketing terms.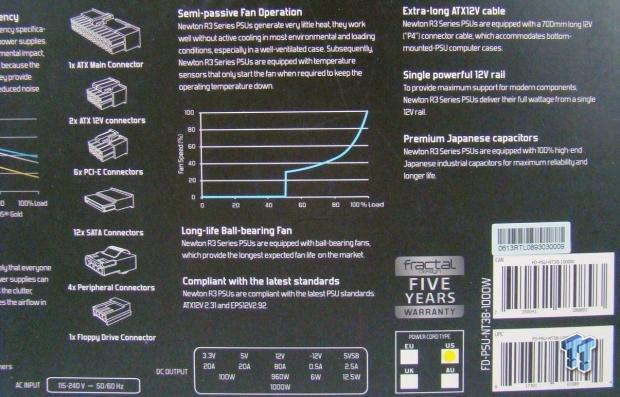 There are a few other features on the right half of the back. We also have a list of connectors available with the Newton R3 1000W unit. Sadly, it is the same list of cables as the 800W model. The rest of the side of the box just feature logos and have no information.
Inside the Box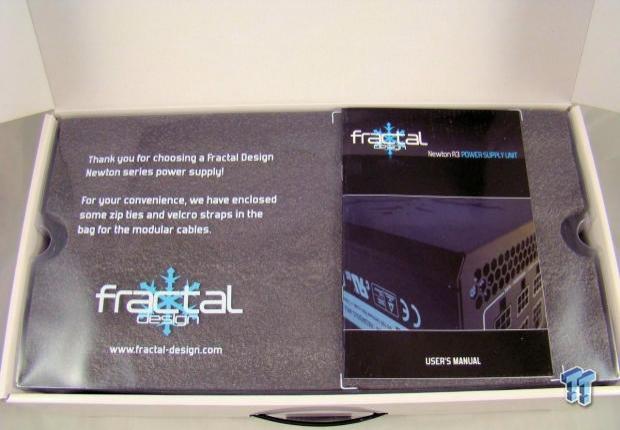 We get the red carpet treatment when opening the box. Just as it should be with anything you buy, the manual is presented up front. Fractal Design is also nice enough to let you know they include some cable management for you.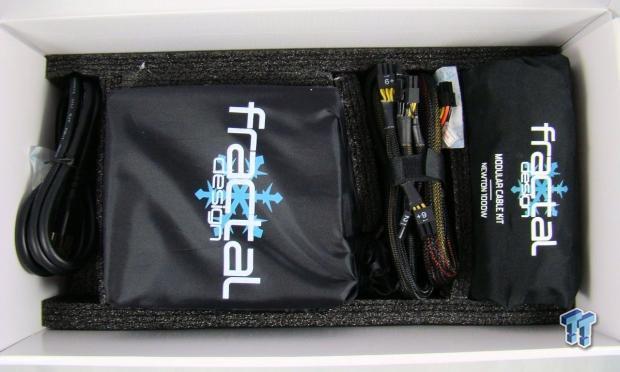 For once we have packaging that is thought out, and isn't more cramped than a Ford Fiesta with four bodies in the trunk. Nothing shows any signs of damage despite the UPS drop test.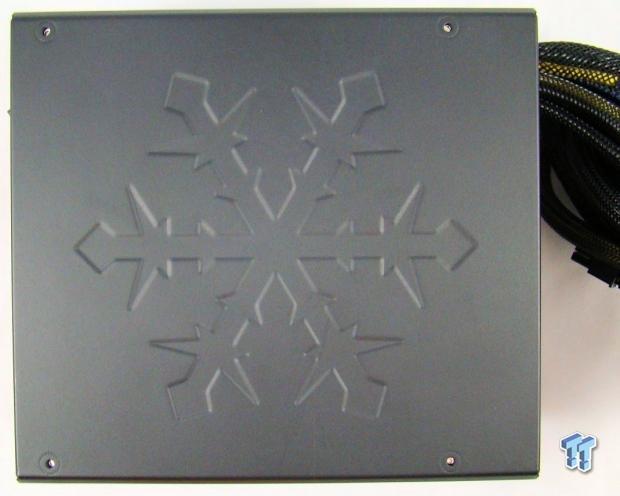 The top of the unit has the Fractal Design logo stamped in it and we can see the semi-gloss finish on the power supply.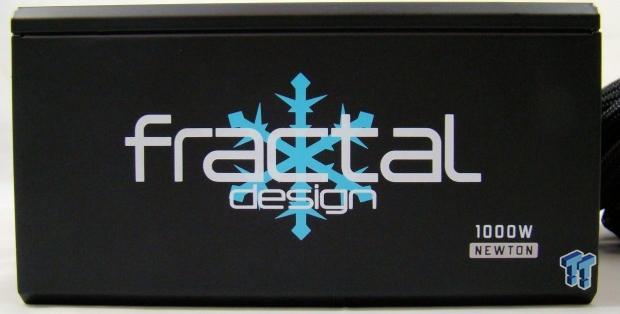 This side of the power supply features nothing more than the Fractal Design logo as well.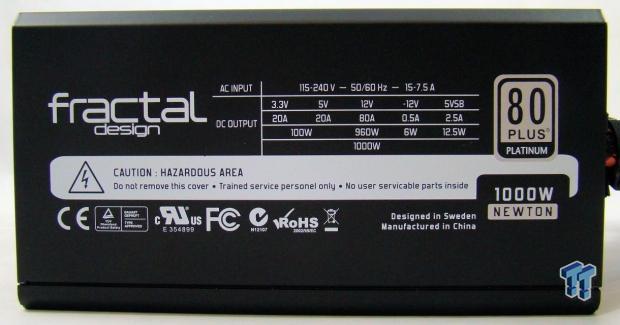 The other side is inverted and features the I/O specifications of the power supply.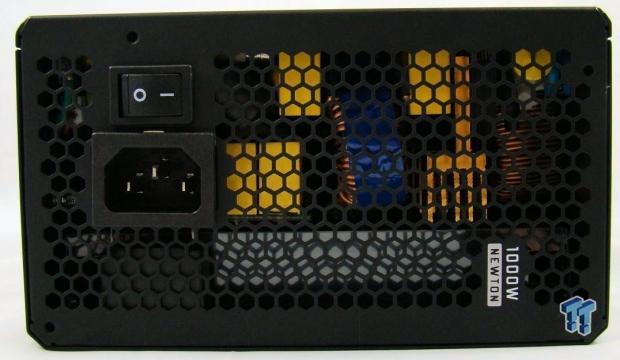 Flipping things to the back, we find nothing more than the standard honeycomb mesh grill with AC input and on/off rocker switch.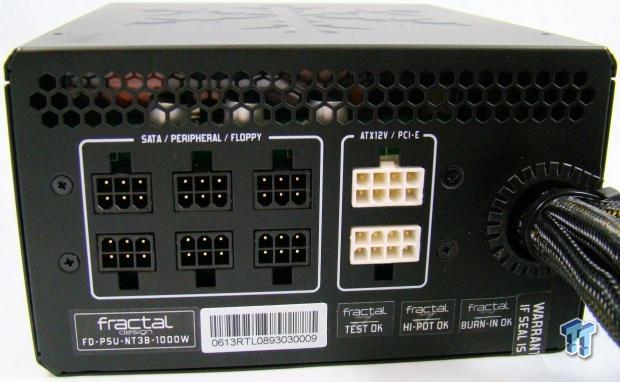 The front presents us with the modular connections, which are labeled nicely, and there is some extra venting as well. I'm not normally a fan of this, but as we transition from power supplies that do more with the daughterboard which has voltage regulation and more ripple suppression, it is becoming necessary to have somewhere for the extra heat to vent to.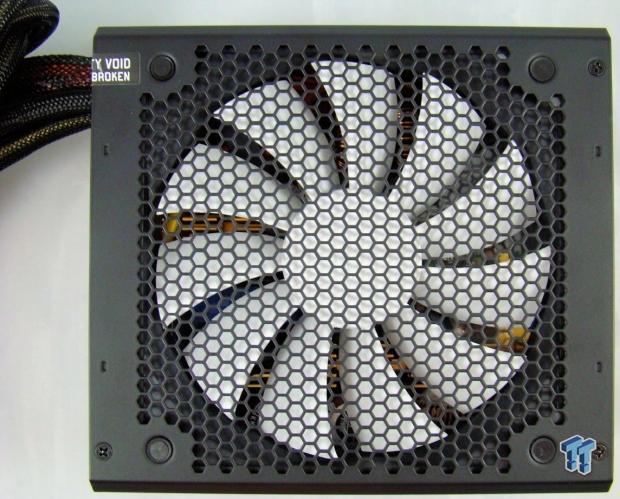 The high contrast white fan is a nice touch to the unit to help it stand out. It is rubber mounted to reduce vibration and noise.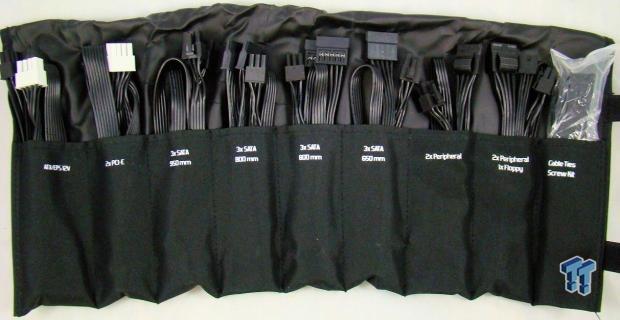 Included with the Newton R3 1000W is a rolled up bag of modular cables, cable ties and mounting screws.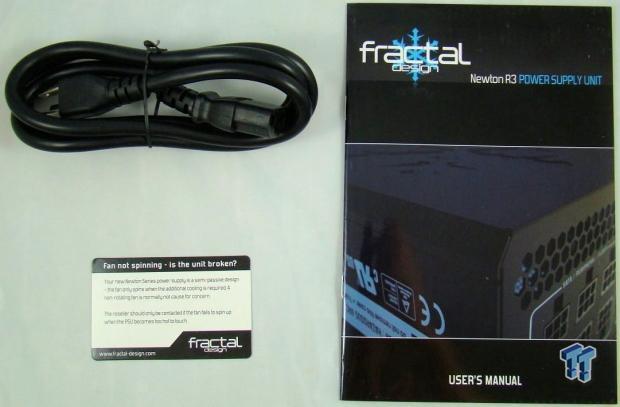 Rounding out the contents of the box is an AC input cable, user manual, and card stating that the fan will not spin until the unit gets hot enough to warrant its use.
Cabling Arrangement and A Look Inside
Cabling Arrangement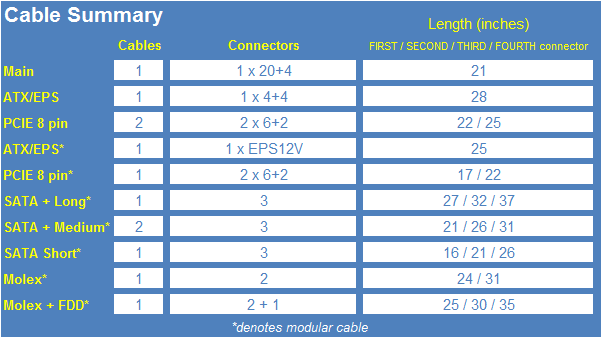 The cable selection differs very little from what the 800W model had to offer. The only difference is that there is an additional medium length SATA cable included with the 1000W power supply. It is still a great selection of cables and where as we felt the 800W model shouldn't have had a second PCI-E cable natively wired, it is certainly warranted with the 1000W model.

Rail distribution is as simple as it gets with a single 12V rail. There is no need to worry about load balancing here.
A Look Inside
As expected, the internal build is almost identical to that of the 800W model with plenty of passive cooling, yet enough free space to allow the active cooling to work well.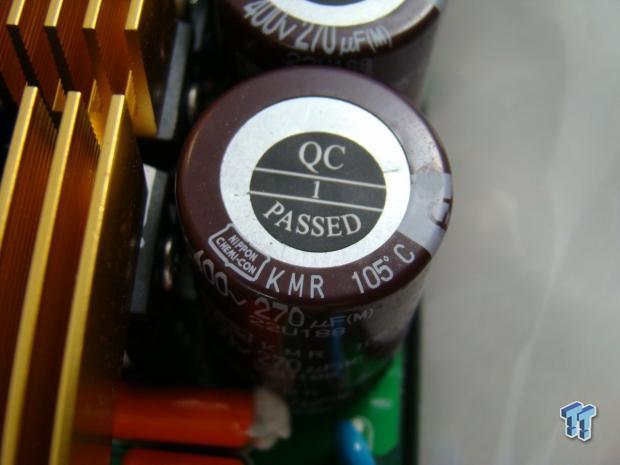 A pair of Nippon Chemi-Con capacitors sit on the primary side of the power supply.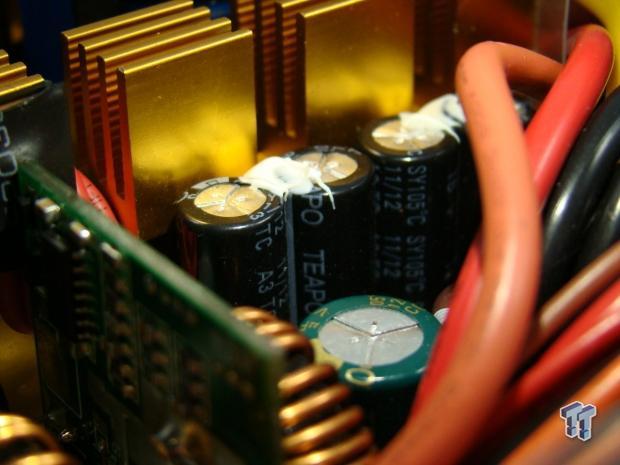 The secondary side is littered with many Teapo and a single Nippon Chemi-Con cap. The back of the box specifies 100% Japanese construction, however our model doesn't have that. We had the same issue with our Newton R3 800W review sample. We also received our Newton R3 1000W model sample before this issue was discovered.
Fractal Design officially responded when we brought it to their attention then and they have taken steps to resolve the problem. Fractal Design has no intention of misleading their customers and it is simply a mistake that they owned up to, took full responsibility for, and resolved. Kudos to them for doing so.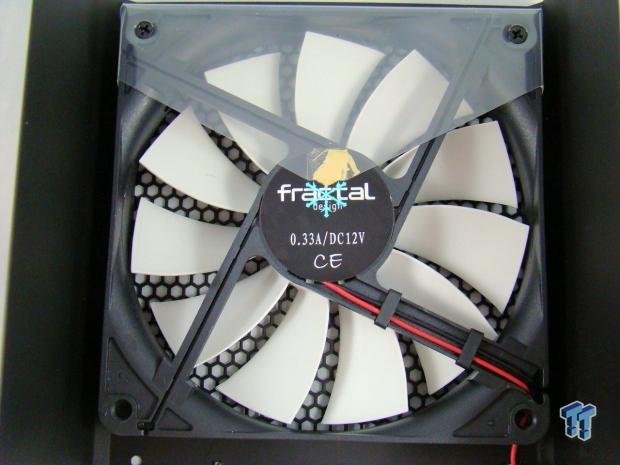 Fractal Design uses their own 140mm fan to provide the active cooling for the Newton R3 1000W power supply and as stated before, it is rubber mounted to help reduce noise from vibrations. It will also only start spinning when the unit gets hot enough to warrant its operation.
Test Results and Final Thoughts
Test Results
Our load tests utilize a couple of FAST ATE active load testers and a variety of other equipment such as an oscilloscope, power conditioner, temperature probe and a power consumption meter. You can read more about our standard testing approach here.
The tests performed are based around six conceivable setups that are out there and progressively load down the PSU up to the power supply's limits or 1000W, whichever comes first. Since our test equipment's limits are equal to that of the Fractal Design Newton R3 1000W power supply, we can test it to the maximum.

The above tests represent typical loads that we have measured from various systems and are meant to give a rough idea of where your computer might fall in line with our tests. Please keep in mind that each system is different and actual loads can vary greatly even with similar hardware.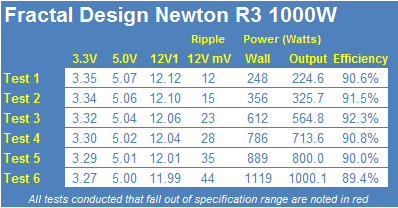 Let's start by taking a look at the voltages to see how well this unit did during testing. Starting with the 12V rail, we see 1% regulation from start to finish with a total drop of .13V. The 5V rail managed to stay within 2% of specification with a total drop of .07V from start to finish. Moving towards the 3.3V rail, we see that regulation was within 2% of specification with a total voltage drop of .08V.
DC Output quality for Newton R3 1000W was good and well within specifications. During Test 1, we saw 12mV of noise on our scope. When we increased the loads in Test 3, the ripple climbed to 23mV at around half load. During Test 6 under a load of 1000W, the oscilloscope showed a maximum of 46V on noise on the 12V rail.
The Fractal Design Newton R3 1000W is rated for 80 PLUS Platinum efficiency. This means that the power supply must perform at 90%/92%/89% efficiency at 20%/50%/100% loads respectively. As you can see, the Newton R3 1000W passed on our bench, and wasn't close to failing at any point.
Final Thoughts
The Fractal Design Newton R3 1000W power supply is a unit that we had high hopes for just like its smaller brother, the 800W model. Rightfully so, the unit didn't disappoint and it shouldn't have because it has nearly identical construction as the 800W model. We don't even have the disappointment with the Taiwanese capacitors that we had last time as we already knew that they would be in there, and that it was a simple mistake that has been corrected.
That means we are left with almost pure satisfaction from the Newton R3 1000W. The voltage regulation and efficiency are spot on. The ripple suppression is good too, and while we have seen better, we really can't complain too much as it is well within ATX specifications. Add in the great cable selection and you start to see why the Newton R3 1000W is such a great package.
We aren't quite done yet though as we can't forget to mention that at $209, the Fractal Design Newton R3 1000W is one hell of a cheap 1000W 80 PLUS Platinum rated unit. Then you have to tack on the five-year warranty, which leaves you with peace of mind that your unit is going to be there for years to come.
Now we get to wrap all of that up in packing that UPS was kind enough to drop test for us and we know it will arrive safe too. All of this is what you get with the Fractal Design Newton R3 1000W power supply and that is why it is one of my new favorite 1000W power supplies, before I even consider just how damn good it looks in white.
PRICING: You can find products similar to this one for sale below.

United States: Find other tech and computer products like this over at Amazon.com

United Kingdom: Find other tech and computer products like this over at Amazon.co.uk

Australia: Find other tech and computer products like this over at Amazon.com.au

Canada: Find other tech and computer products like this over at Amazon.ca

Deutschland: Finde andere Technik- und Computerprodukte wie dieses auf Amazon.de