TweakTown's Rating: 91%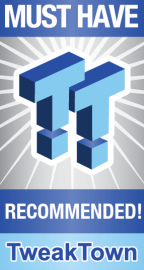 The Bottom Line
Cooler Master's V 1100 SFX ATX 3.0 PSU is a powerhouse in a small package. It's just a bit expensive and could have some compatibility issues with certain GPUs and the 90-degree 12VHPWR connector.
Pros
+

Massive power in a tiny package

+

12VHPWR connection has a 90-degree connector

+

10-year warranty
Cons
-

Expensive compared to other SFX PSUs

-

Straight 12VHPWR cable not included
Should you buy it?
Avoid
Consider
Shortlist
Buy
Introduction, Specifications, and Pricing
Cooler Master, who makes cases, PSUs, coolers, and peripherals, has sent over a powerhouse of an SFX PSU, the V 1100 SFX Platinum. One would wonder why any SFX system would need north of 1000 watts. My response to that would be efficiency. This platinum 80 Plus rated 1100-watt PSU is the most efficient at a 50% load, 550 watts. Getting to 550 watts nowadays is a challenge, but we will try.
Priced at just shy of $260 means it's more expensive than other SFX PSUs in the same price class. Why don't we see what the V 1100 SFX is all about?
Packaging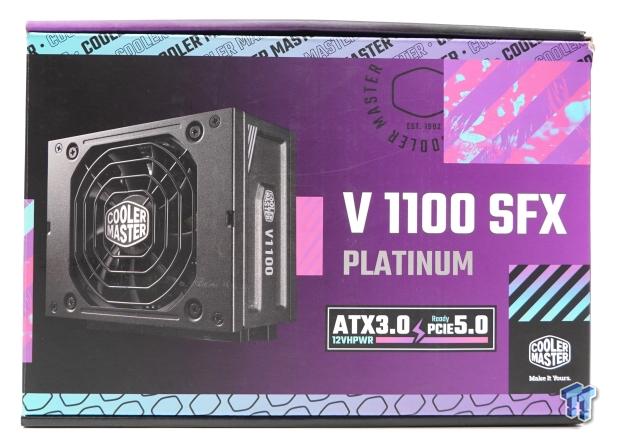 Cooler Master packages the V1100 SFX in traditional Cooler Master fashion, with lots of branding and a picture of the product on the outside.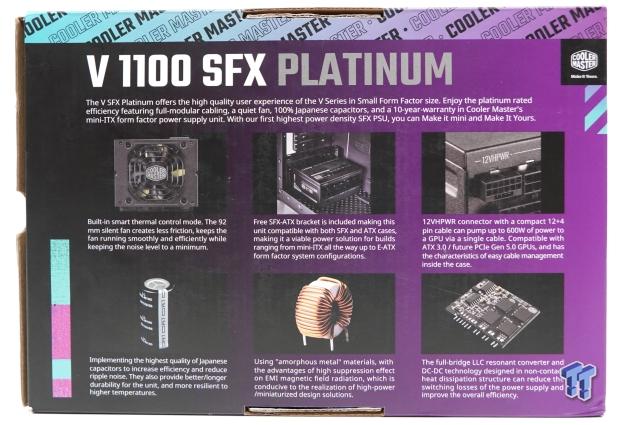 Flipping the box over are six different features that Cooler Master wants you to know about the V 1100 SFX.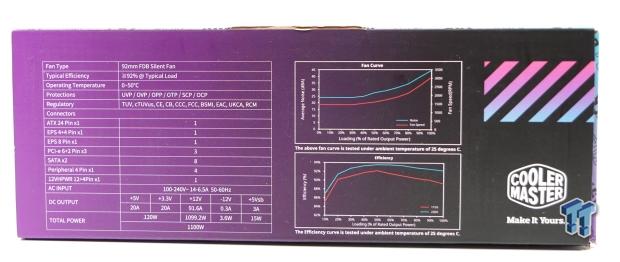 One of the narrow sides of the packaging is the specifications, fan curve, and efficiency charts.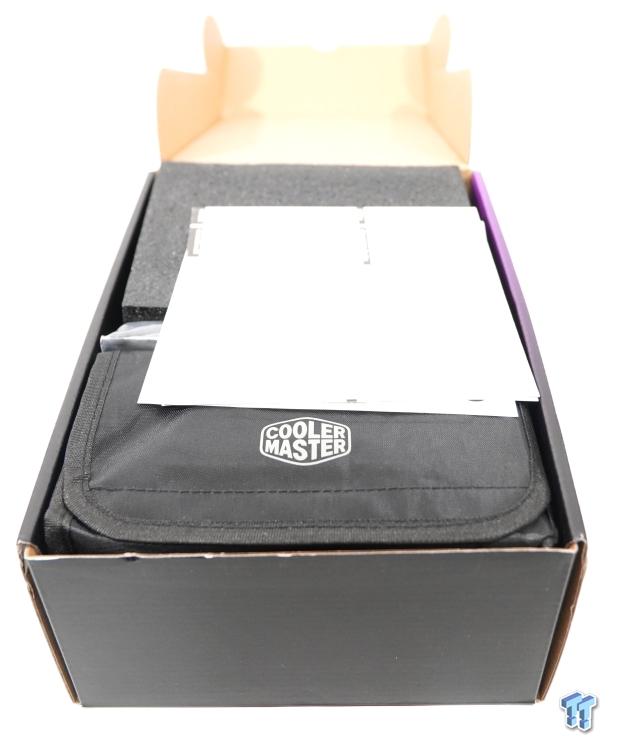 Opening up the packaging shows a couple of leaflets, a black Cooler Master branded bag, and some black styrofoam to protect the V 1100 SFX while in shipment.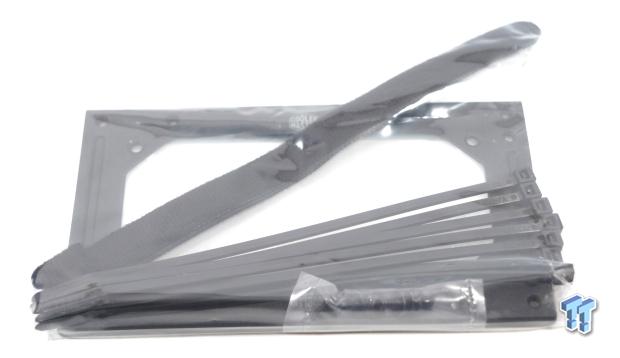 Removing items from the package includes an SFX to ATX adapter, zip ties, velcro straps, and mounting screws.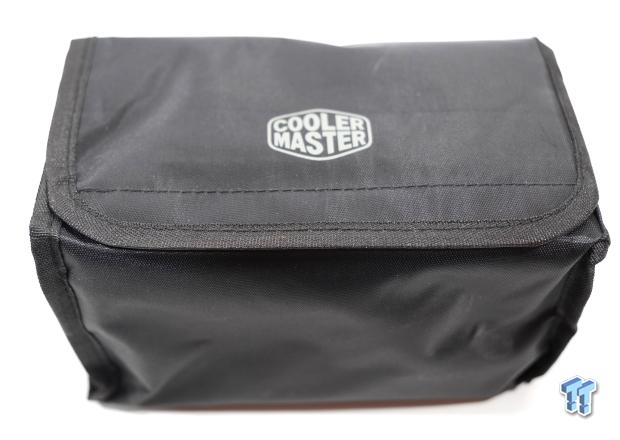 The black bag with Cooler Master branding holds all the cabling needed.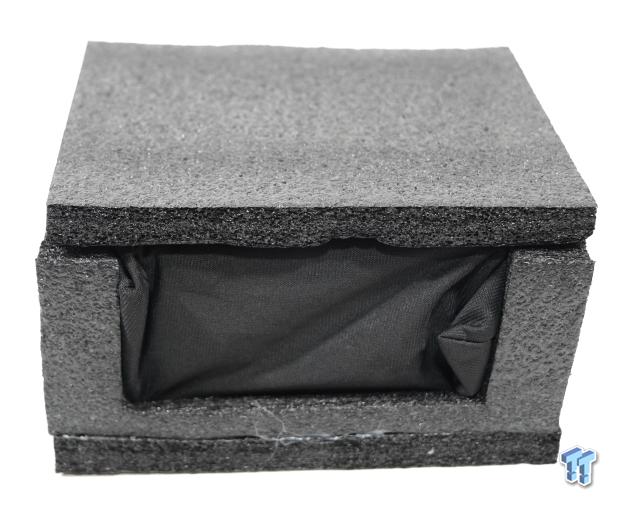 Moving to the PSU, which is packaged nicely, is mostly encased in black styrofoam.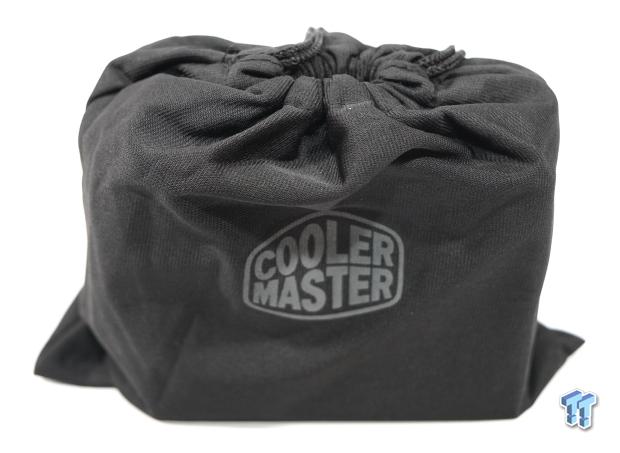 Removing the styrofoam is yet another black bag with more Cooler Master branding, this time containing the V 1100 SFX PSU itself.
Outside the CM V 1100 SFX Platinum ATX 3.0 PSU

Laying all the cabling out starts with the standard power cable, 24-pin motherboard cable, a single right-angled 12VHPWR connector rated for up to 600 watts, a 4+4-pin EPS cable, an 8-pin EPS cable, support to up to eight SATA drives/devices, four peripheral 4-pin connectors, support for three 6+2-Pin PCIe connectors, and lastly support for MOLEX connectors.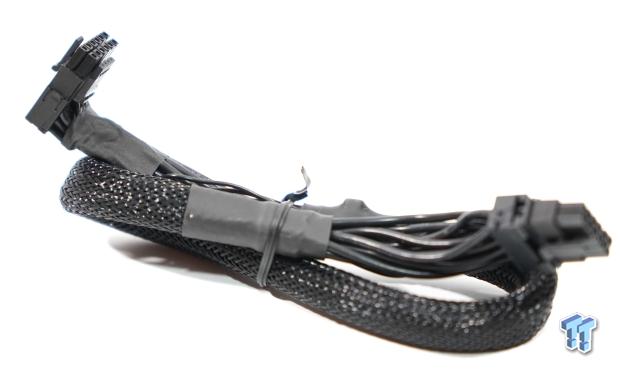 The only sleeved cable included with the V 1100 SFX is the right-angled 12VHPWR cable.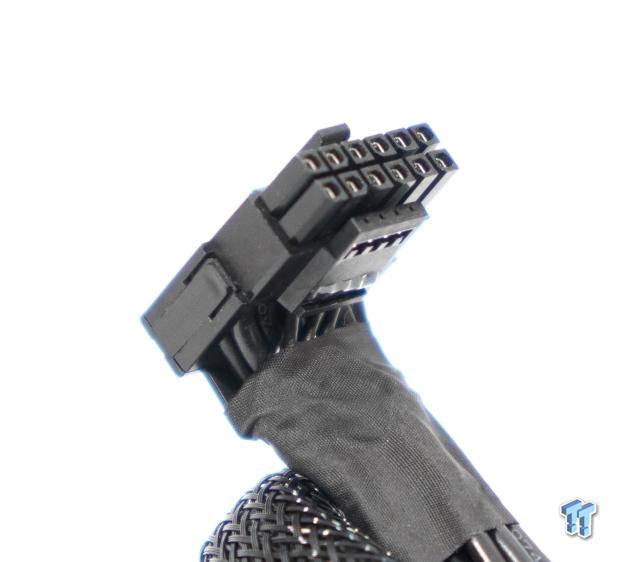 Here is a closer view of the right-angled connector, which supports up to 600 watts with 4 sense pins visible.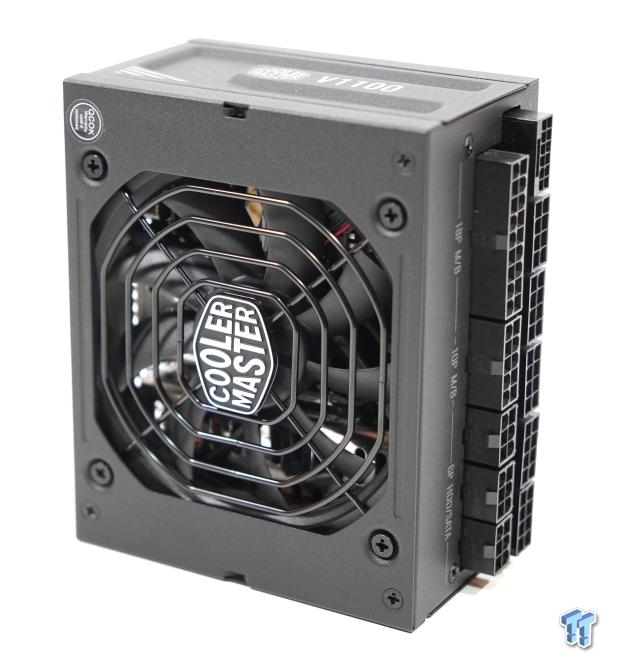 The V 1100 SFX ATX 3.0 PSU itself, to save room, the SFX design allows the connections to be more external than its other ATX 3.0 brethren. A 92mm fan with a metal fan grille also helps keep temperatures under control.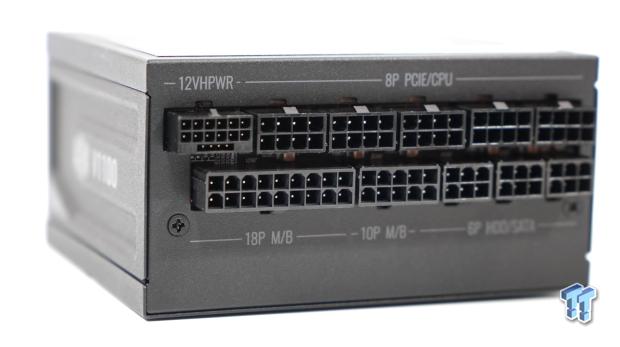 The external connections are all labeled, starting with the 12VHPWR connection, followed by five inputs for an 8-pin connector for either PCIe or CPU power. The 18P M/B and 10P M/B connection terminate to the 24-pin motherboard header. Lastly, any peripheral can be connected using the last three 6-pin connections.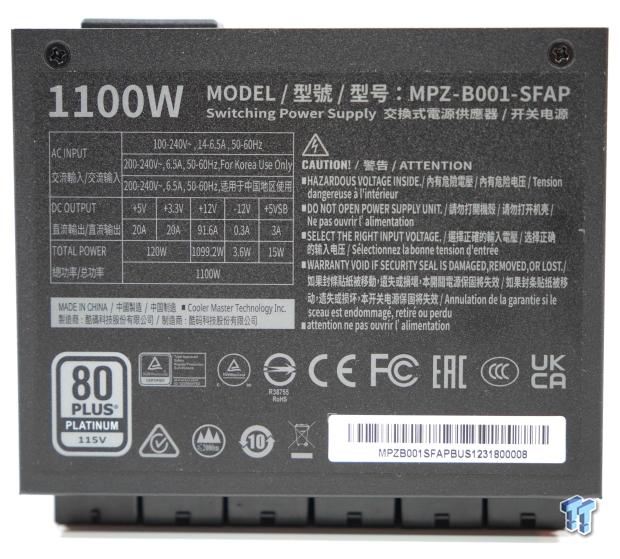 The V 1100 SFX has a rating of 1100 watts on the +12V rail with 91.6 amps.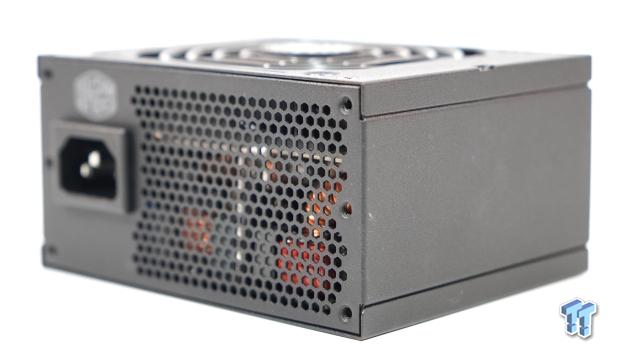 The rear of the V 1100 SFX ATX 3.0 PSU is pretty standard, with a hexagonal ventilation pattern, rear power cable input, and another Cooler Master logo.
Inside the CM V 1100 SFX Platinum ATX 3.0 PSU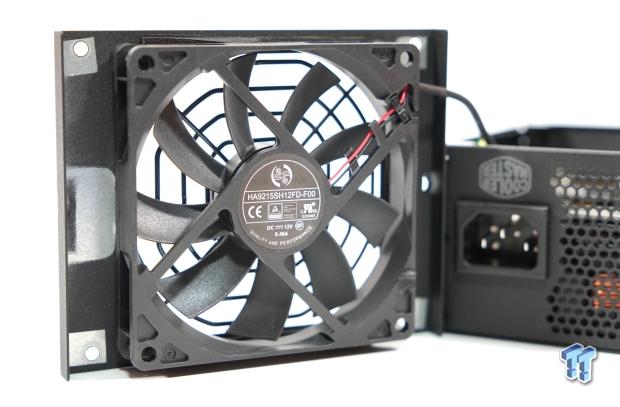 Cracking the V 1100 SFX open, we can see a fluid dynamic bearing 92mm Hong Hua fan with the model number HA9215SH12FD-F00. Rated at .46 amps on 12V.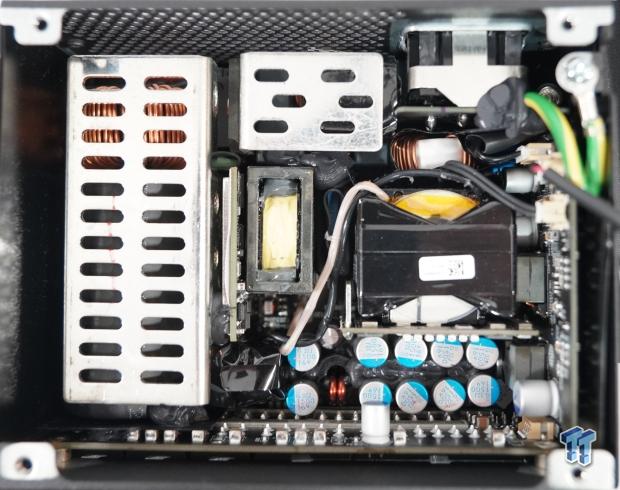 The main board, which the ODM is from Sysgration, has high-end parts such as Infineon FETs and 100% Japanese capacitors from Rubycon, TDK, and Chemi-Con.
Test System
Final Thoughts
Testing the V 1100 SFX, the usual mITX testing hardware was installed in the SSUPD Meshroom D mITX case; review coming soon. The AMD Ryzen 9 7900, a 12 core 24 threaded CPU, and a Wraith Prism CPU cooler were installed on an AORUS B650I Ultra mITX motherboard. 32GB of DDR5-5600 RGB from Patriot Viper and a Kingston Fury Renegade 1TB PCIe 4.0 M.2 NVME SSD were also installed. The NVIDIA RTX 3090 FE also took up the reins for the GPU.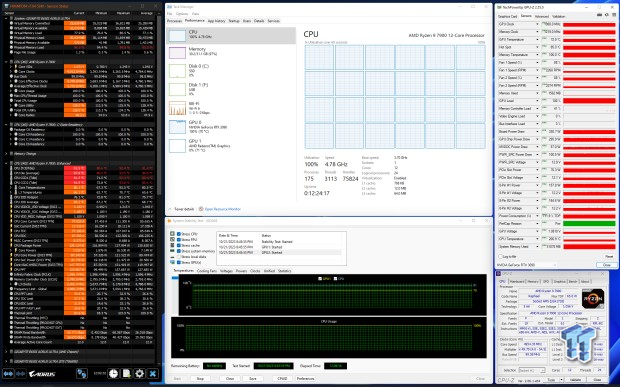 Running a full synthetic load via Aida64's System Stability Test, the Ryzen 9 7900 pulled around 133 watts on average, while the NVIDIA RTX 3090, which was power limited to 95%, averaged just about 331 watts. Adding 38 watts for the motherboard, RAM, and CPU fan brings us to 502 watts. The V 1100 SFX is rated 80 Plus Platinum, meaning it is 92% power efficient at a 50% load, 550 watts, and 545 watts; actuality was drawn from the wall measured via a KillaWatt P3. Dividing 545 by 502 puts the V1100 SFX at 92.11% efficient. All tests were conducted in a 19C ambient environment over 12 hours.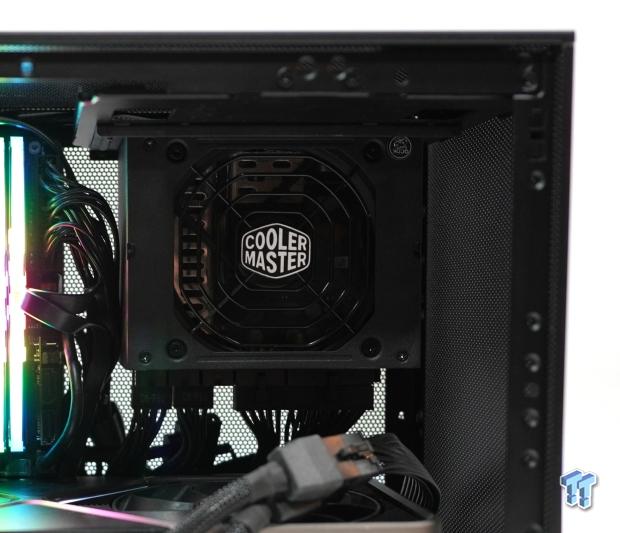 So, in conclusion, the V 1100 SFX from Cooler Master is quite the powerhouse for an SFX ATX 3.0 PSU for being in such a small package. While a bit more expensive than other SFX ATX 3.0 PSUs, the V 1100 SFX fills a market gap for specific use cases, such as running a top-shelf CPU and an RTX 4090 in a small form factor build. Still, even then, that hardware would need help to run past 70% load of the V 1100 SFX's 1100-watt capacity. Some reviews even have reports of high ripple suppression, while this is only apparent while running higher workloads north of 90% load of the V 1100 SFX's full capacity, so there is nothing to worry about.
The only issue I encountered with the V 1100 SFX was the 90-degree 12VHPWR cable. Nothing was wrong with it, but the test system has an RTX 3090 FE, which does not have the extra 4 sense pins due to the angle at which NVIDIA has placed the power connector, which does not fit correctly. An easy solution would be to have included an extra 12VHPWR cable in the box already. Instead, I had to grab the dongle with the RTX 3090 FE and run two PCIe 8-pin cables. It's not a huge deal, but in a mITX case, space matters.