TweakTown's Rating: 90%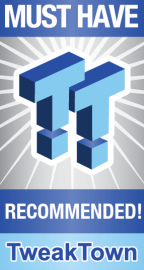 The Bottom Line
SilverStone's Hela 1300R Platinum is a solid performer that has a compact design, which should be able to accommodate more than a few builds during its service.
Pros
+

All Japanese 105C electrolytic capacitors

+

Cybenetics Platinum certification

+

Compact design

+

Fan virtually silent during load testing
Cons
-

12VHPWR cable is a bit short

-

5-year warranty
Should you buy it?
Avoid
Consider
Shortlist
Buy
Introduction, Specifications, and Pricing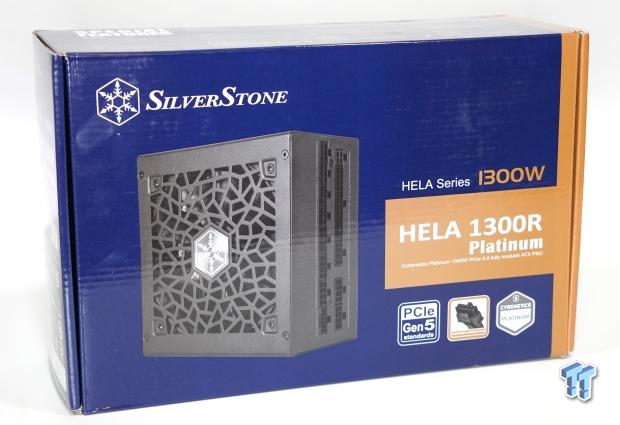 Today we have yet another ATX 3.0 PSU for review from the fine folks at SilverStone. SilverStone has sent over the Hela 1300R Platinum ATX 3.0 PSU, which seems that all of SilverStone's latest ATX 3.0 PSUs are sporting a Cybenetics certification instead of 80 Plus.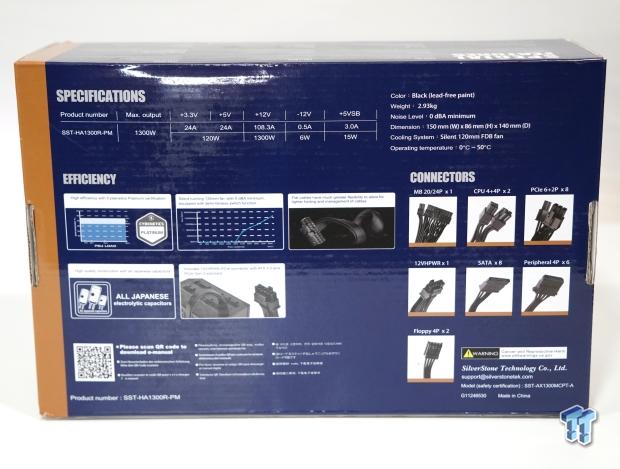 The Hela 1300R Platinum packs a single 600-watt 12VHPWR connector, super flexible black flat cabling that is 100% modular, a compact design, running with all Japanese electrolytic capacitors. Pricing puts the Hela 1300R Platinum in the neighborhood of $290, and it comes with a five-year warranty.
Packaging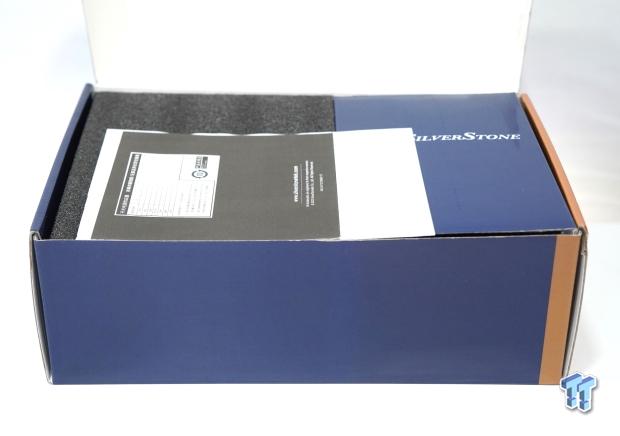 Opening the lid reveals the multi-language manual and the Cybenetics Platinum certification.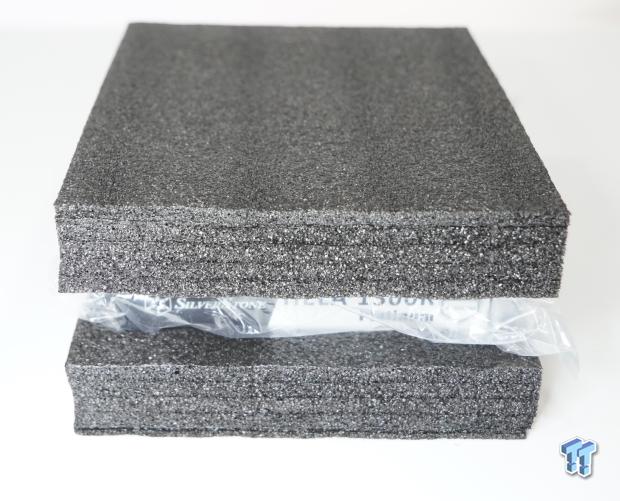 Here we see how the Hela 1300R Platinum is packaged; for the most part, it is packaged very well with two pieces of multi-layered black foam, and the PSU itself is in plastic wrapping.
Outside the SilverStone Hela 1300R Platinum ATX 3.0 PSU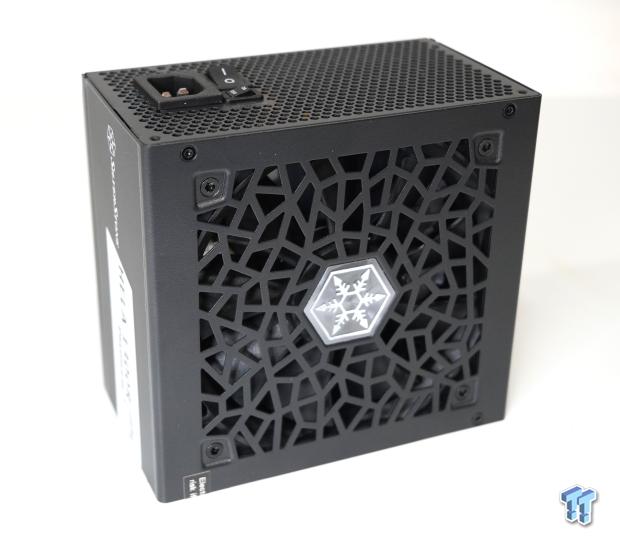 Taking the Hela 1300R Platinum out of its packaging shows its compactness. Fitting into the dimensions that PSUs have with half the wattage, the Hela 1300R Platinum packs a punch in a small package.

Here is all the cabling lined up. SilverStone has chosen not to sleeve any cables but does make it known that the flat black cabling is very flexible.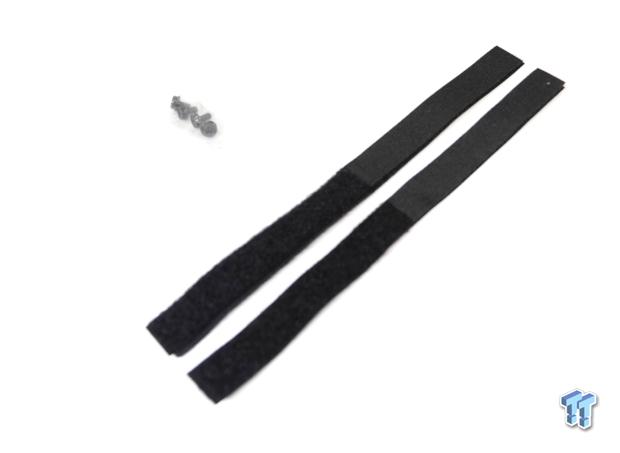 Also in the box are four mounting screws and four velcro cable straps.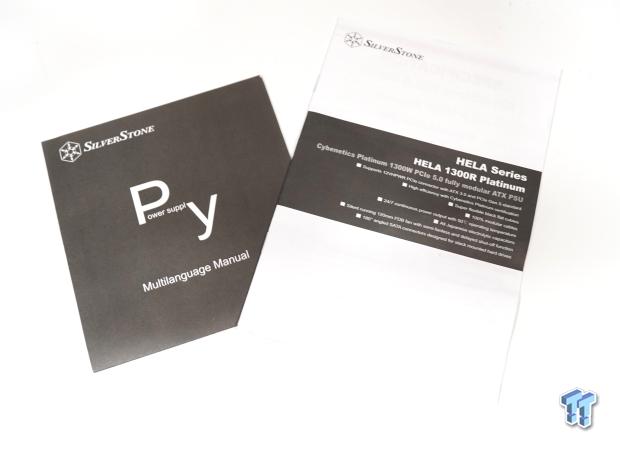 Here is a closer look at the multi-language manual and the Cybenetics Platinum certification.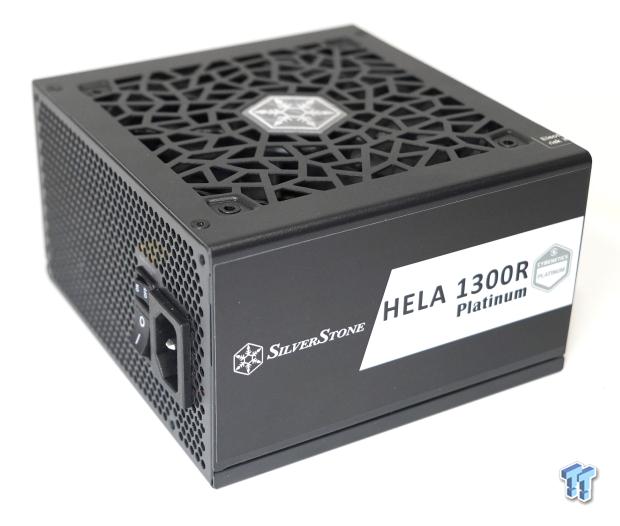 Back to the Hela 1300R Platinum PSU is a large sticker with the Cybenetics Platinum certification logo.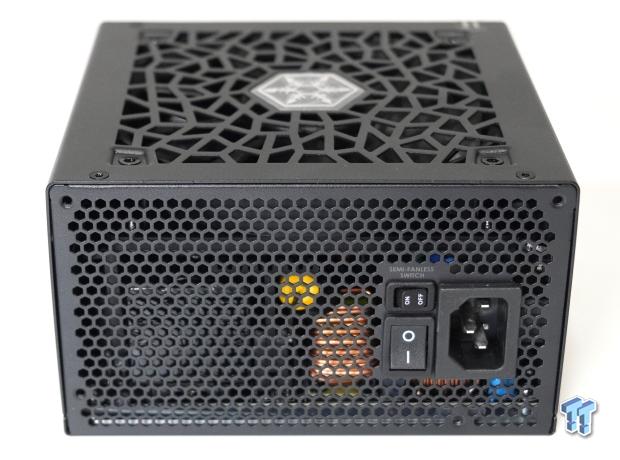 The backside is fairly basic, with an open honeycomb ventilation pattern. Another button toggles semi-fanless mode, is located right above the on/off rocker switch.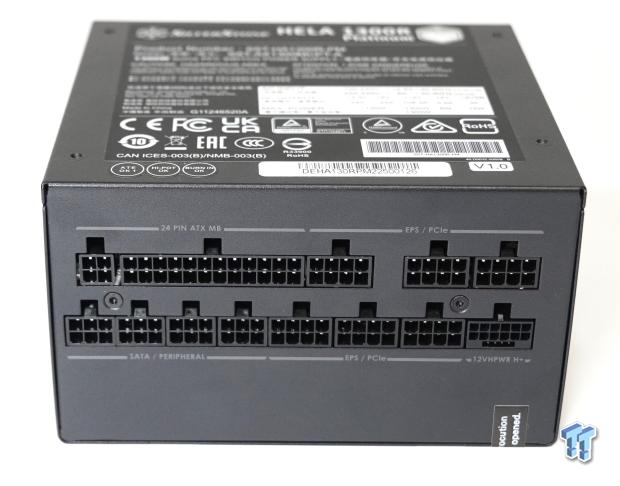 The modular cable input section starts with the 4-pin sense pins for the 24-pin ATX motherboard input, broken into 24 and 8-pin plugs. Next are two EPS or PCIe 8-pin plugs, with three additional 8-pin plugs on the bottom row of inputs. The bottom left has four inputs for SATA or Peripheral. Lastly, the 600-watt 12VHPWR connection is located in the far right of the bottom row.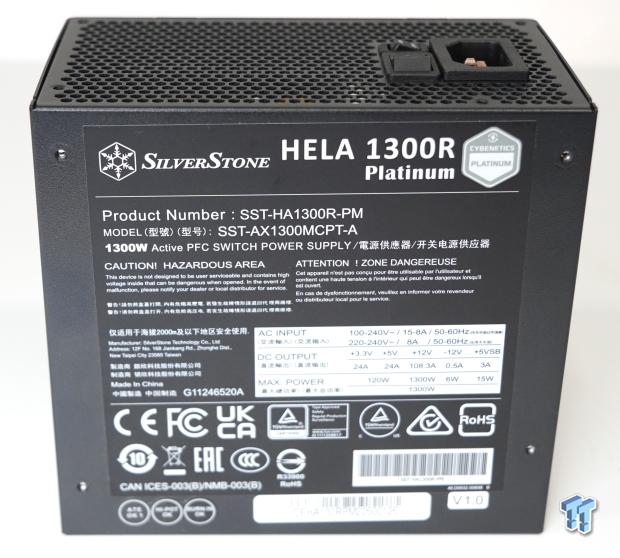 The large specification sticker is located on the underside of the Hela 1300R Platinum, showing over 108 amps for the +12V rail.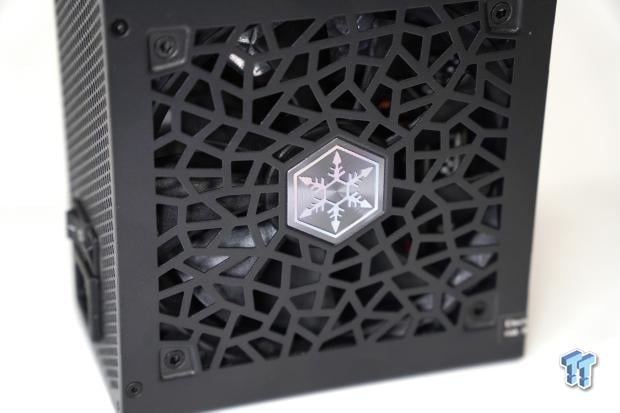 And finally, the top of the Hela 1300R Platinum shows off the 120mm fluid dynamic bearing fan, with semi-fanless operation via the button on the back.
Inside the SilverStone Hela 1300R Platinum ATX 3.0 PSU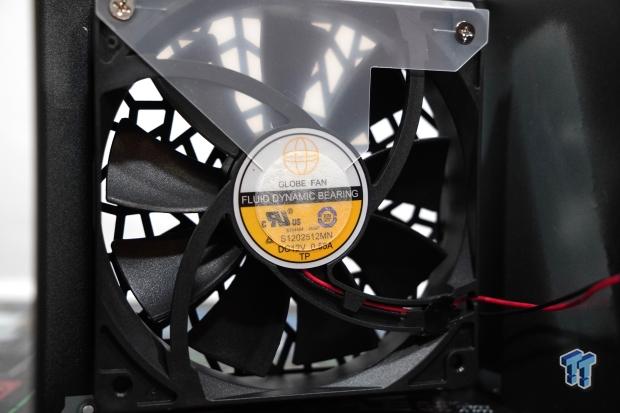 The fan inside of the SilverStone Hela 1300R Platinum is different from what I have seen before. Still, a quick Google search reveals that Global Fan, model s1202512MN, is primarily a manufacturer of larger household and industrial fans.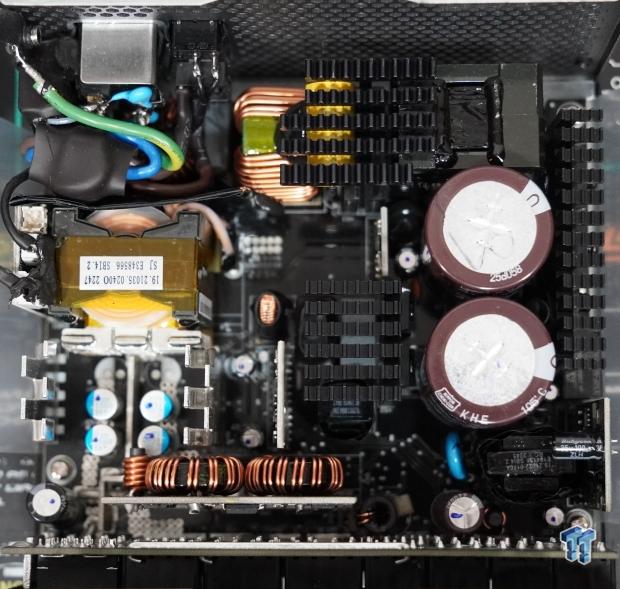 Here is the overall top view of the SilverStone Hela 1300R Platinum. This OEM for this layout is from Sirfa/High Power, which is a well-known manufacturer. Five black heatsinks inside seem to be placed strategically to optimize cooling.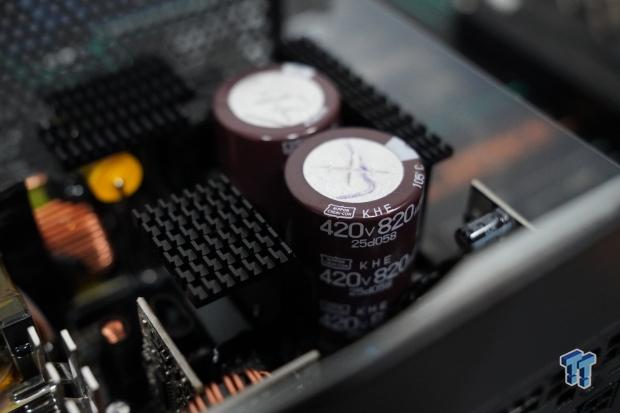 The two large capacitors used here are 100% Japanese, Nippon Chemi-Con rated for 420 volts at 820 microfarads at 105C.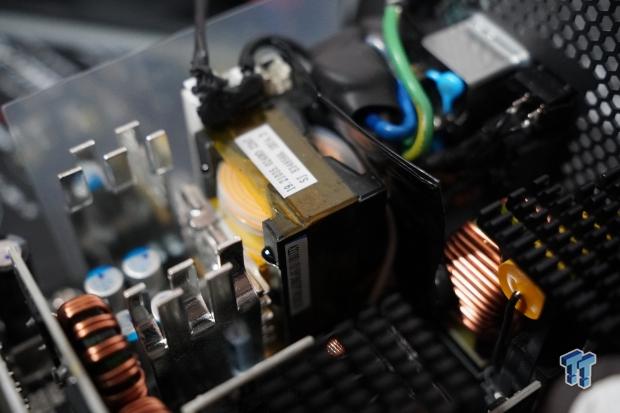 Here is the transient filter stage, which is the very first state of a PSU.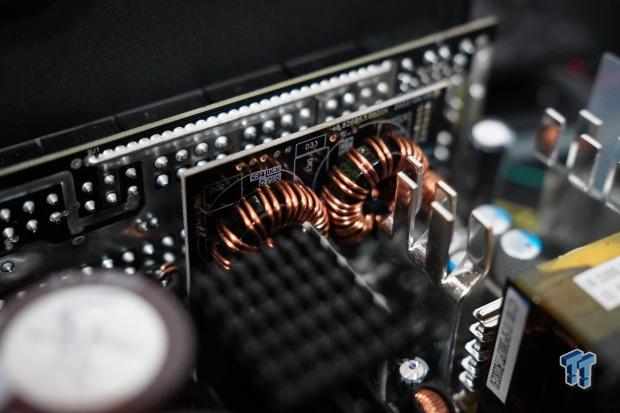 The secondary side consists of several various capacitors, rectifiers, and MOSFETS. Modern PSUs use the rectifiers to produce +12V output, then using a DC to DC converter, +5V, and +3.3V outputs are all done internally. Eight Infineon BSC0906NS MOSFETS are used on the additional board that's wired parallel to the modular cable daughterboard.
Ryan's Test System
Testing & Final Thoughts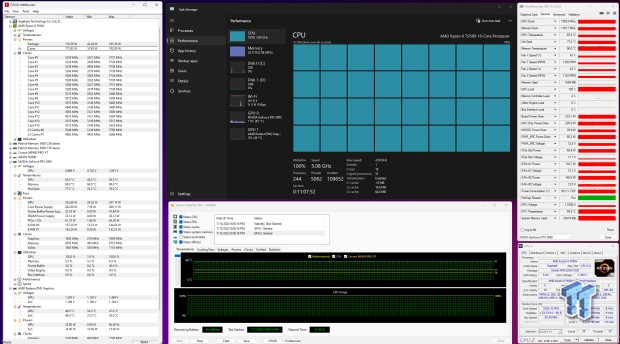 Running my standard 50% PSU load test on the SilverStone Hela 1300R Platinum yielded good results. Running the AMD Ryzen 9 7950X at full load showed a maximum wattage of 195 watts drawn. The NVIDIA RTX 3090, set at 95% power draw via NVIDIA's GeForce Experience Performance control panel, pulled 337 watts at full load.
The AMD Ryzen 9 7950X iGPU also hogged down an additional 80 watts. Totaling up the system power draw was 652 watts, making for a 50% PSU system load. Power pulled from the wall, measured with a KillaWatt P3 electronic monitor, showed 729 watts being measured, putting the Hela 1300R Platinum right in line with its Cybenetics Platinum rating.
Let's talk about that 5-year warranty. More than five years is needed for a PSU warranty, especially for a PSU that costs almost $300. Let's be honest here, and only some people will need a new PSU every time they build or rebuild their PC. However, this time might differ when power is supplied to high-end GPUs such as NVIDIA's RTX 4090 with a 600-watt 12VHPWR connector. I also wouldn't advise going the dongle life as that leads to more points of end-user failure in multiple inputs and outputs.
PSUs are a workhorse of the PC system that does not get replaced as often as a CPU or GPU. But the truth is that those other components offer far less of a warranty than even the 5-year warranty offered by SilverStone and other PSU manufacturers. NVIDIA has a 3-year warranty on their GPUs; the same can be said for Intel and AMD CPUs and GPUs.
So when it comes down to it, is the SilverStone Hela 1300R Platinum ATX 3.0 PSU a PSU I can recommend? Simply put, the Hela 1300R Platinum is a great PSU for someone looking for a reputable brand that has been around for a long time. The Hela 1300R Platinum puts out solid numbers without missing a beat in stability and performance while maintaining a compact design.