Introduction and AX1200 Kit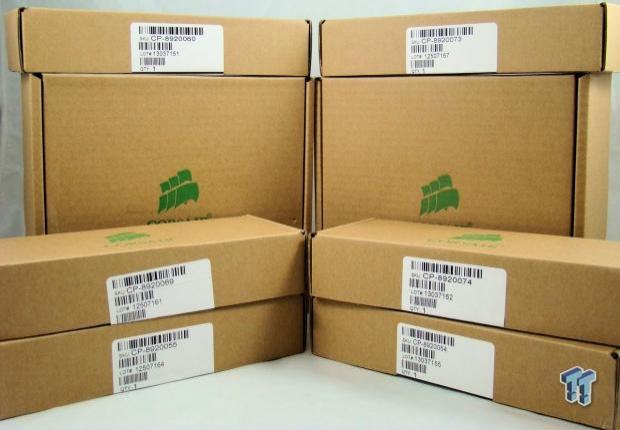 We recently took a look at the power supply accessories that SilverStone had to offer and they had quite a bit to offer. They aren't the only ones on the market with power supply accessories though.
Corsair has their own line of cables and kits that are available in numerous colors and fit a wide variety of their power supplies new and old.
AX1200 Kit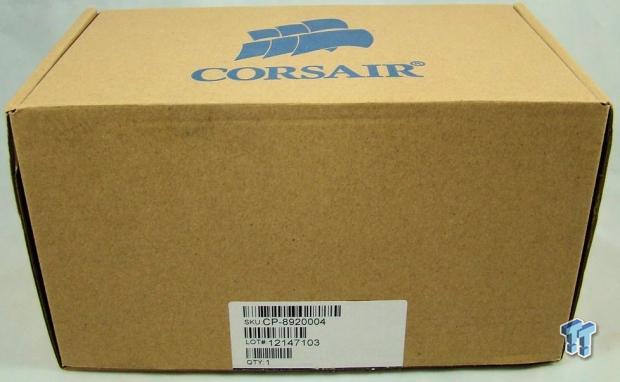 First on our list is a kit for the original AX1200. Corsair offers complete cable kits for the AX1200 in red, white, blue and black. Each kit retails for $39.99. All of these come in rather plain boxes that simply feature the Corsair logo on them.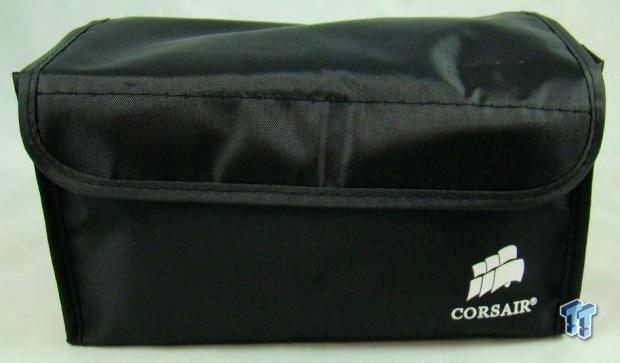 What you receive is a bag of cables just like you normally find in the box with the power supply.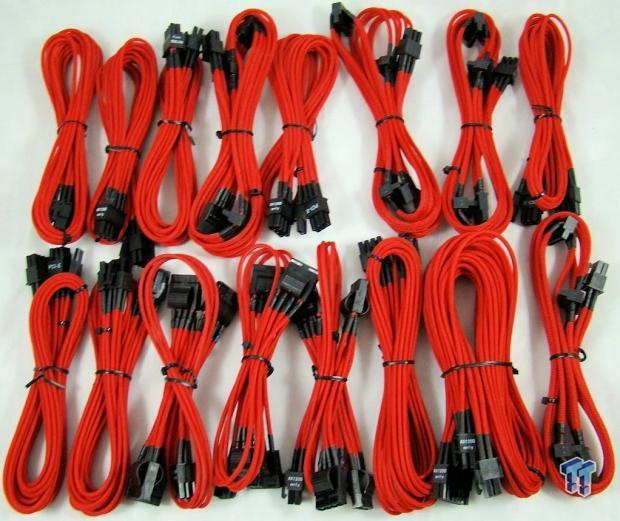 The kit Corsair sent for us was red. As you can see, all cables are fully and individually sleeved.

Zooming in, we find that the shrink wrap on the ends are all fairly even. We can also get a decent shot at the sleeving used. Unlike the soft cloth like sleeving used by SilverStone, the Corsair cables are sleeved in harder nylon sleeving and is a little bit shiny.

I'm still confused as to why the AX1200 only had six PCI-E cables to begin with. That being said, there are plenty of other connectors here to make you happy.
Generation 2 Cable Kits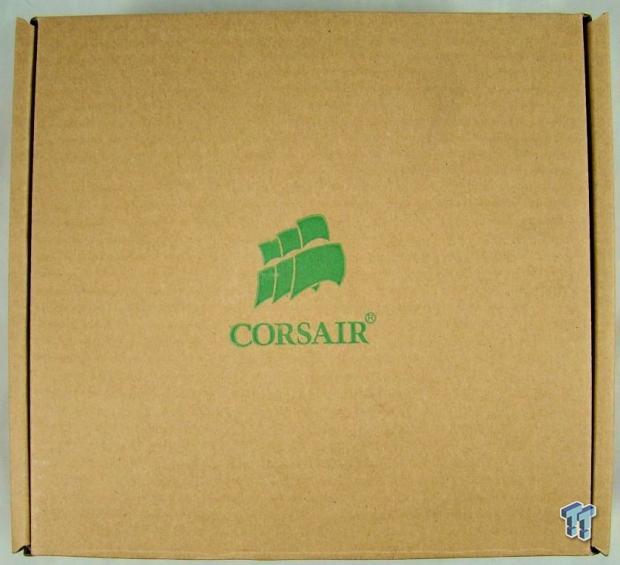 When Corsair did a refresh of their power supplies, they also changed some of the pins on their units. As such, new cable kits were required. In addition to the red, white, blue, and black that were already available, Corsair also took this opportunity to add green and metallic graphite to the color options available. These colors make the Corsair cables some of the most diverse available.
These kits will fit a wide variety of Corsair's power supplies. These include AX, AXi, HX, TXM and CXM series units. That's a wide selection of nearly 15 units to choose from that you can instantly have individually sleeved cables for in a color of your choosing. Corsair has an MSRP of $79.99 on each kit.
There is one caveat to the Generation 2 cable kits... they come without the 24-pin power cables. This is because the AX and AXi power supplies are made by different manufacturers and the 24-pin cable is laid out differently on the power supply.
Mixing the two will produce bad things like sparks, fire, and really bad smells - so please make sure you get the correct cable for your needs.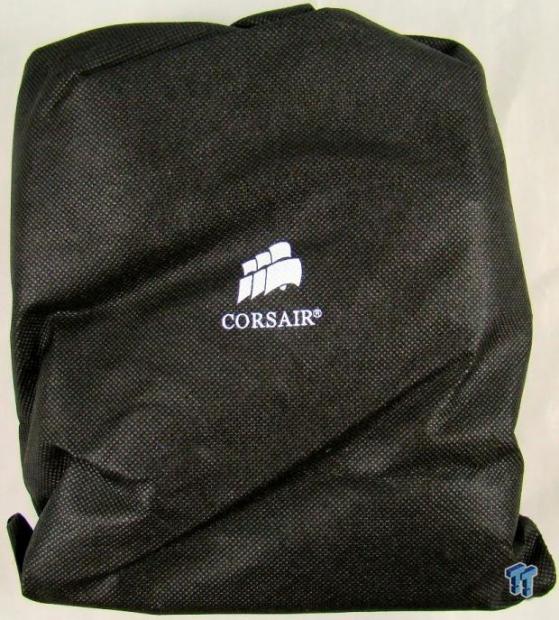 Inside you'll find a bag-o-cables.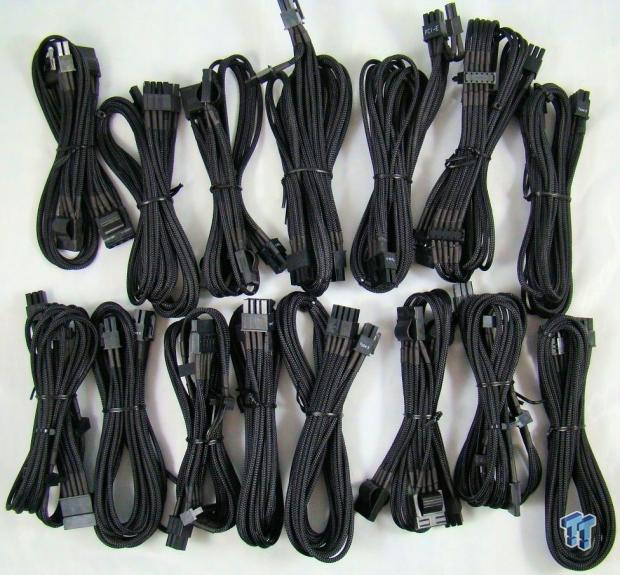 It is hard to beat the original black.

Up close and personal.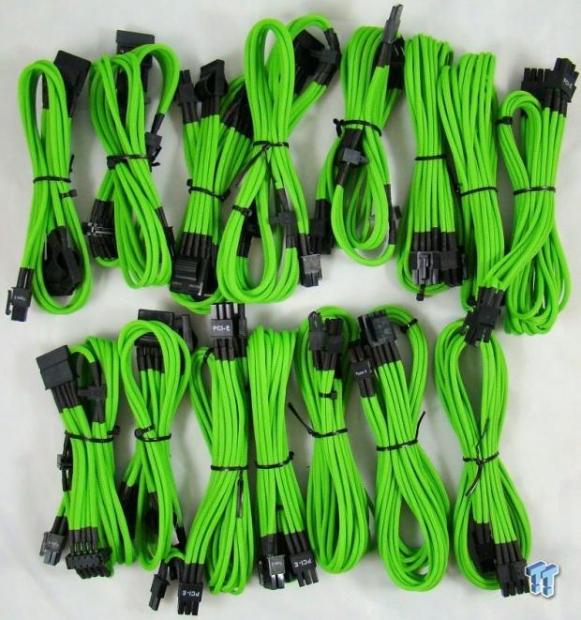 The addition of the green cables have to be my favorite as they are just so vibrant.

These are just begging to go in a pimped out NVIDIA based computer.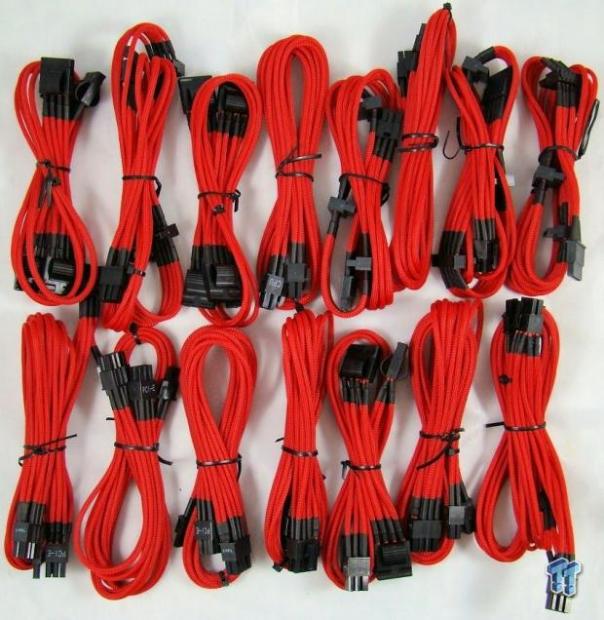 The red is obviously meant for an AMD system.

The quality job on shrink wrapping the ends is prevalent throughout all of Corsair's cables.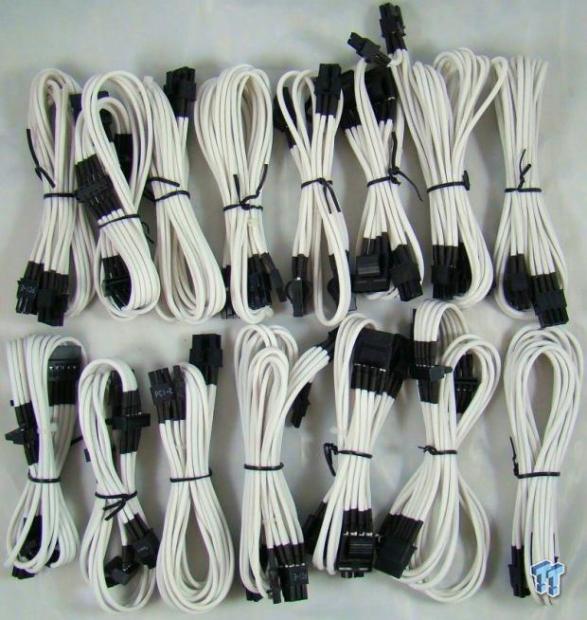 Finally we have a set of the white cables.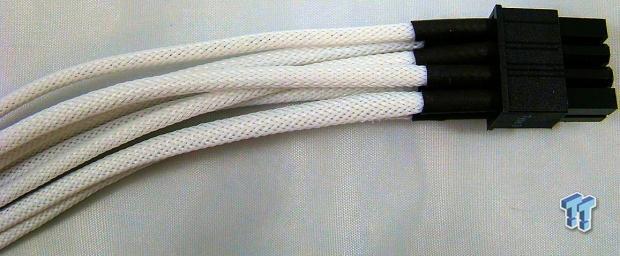 Anyone itching to build a Sapphire Pure system? These would look great with that.

It is rather odd looking at a Cable Summary without a 24-pin connector on it, but those are coming up next. The good thing about these kits are that if you have a lower wattage kit, you still get all the extra cables so that you can mix and match to get the perfect set of cables that you want, especially with the PCI-E cables.
Generation 2 ATX 24-pin Cables and Final Thoughs
Generation 2 ATX 24-pin Cables

The ATX 24-pin cables come in a much smaller box. If I didn't know better, I'd say Corsair sent me some RAM. These are available in all six colors and come in two different models. One fits the AXi series power supplies while the other fits the AX860/AX760 power supplies. Each cable retails for $19.99.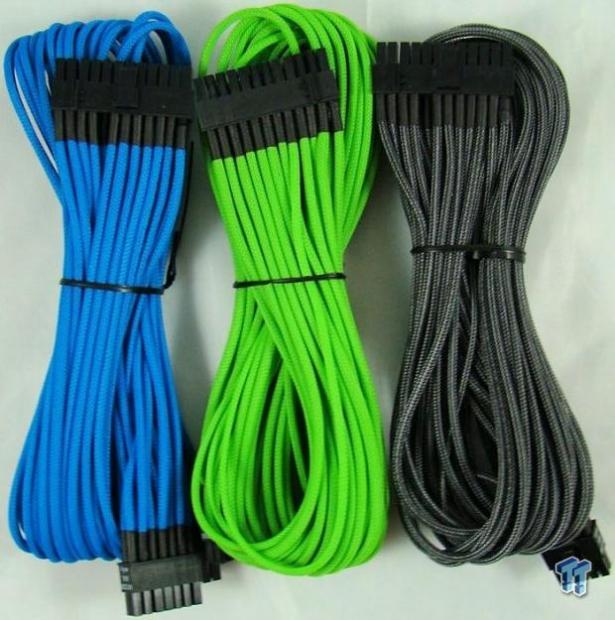 Alas, each box contains a single power cable. Here we have the blue, green and metallic graphite motherboard cables. These are the only cables we were able to get in blue and metallic graphite.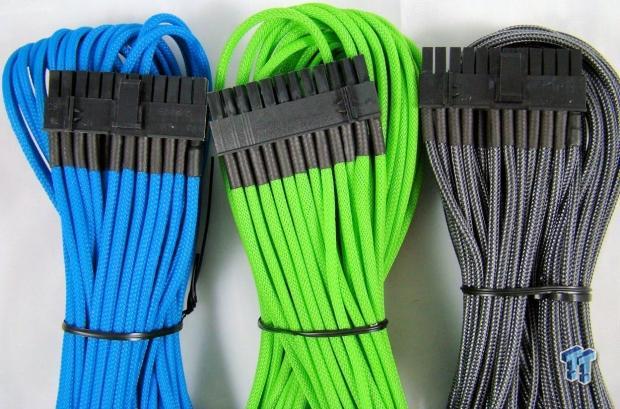 It is the same sleeving and same quality terminations on each cable that we've seen thus far.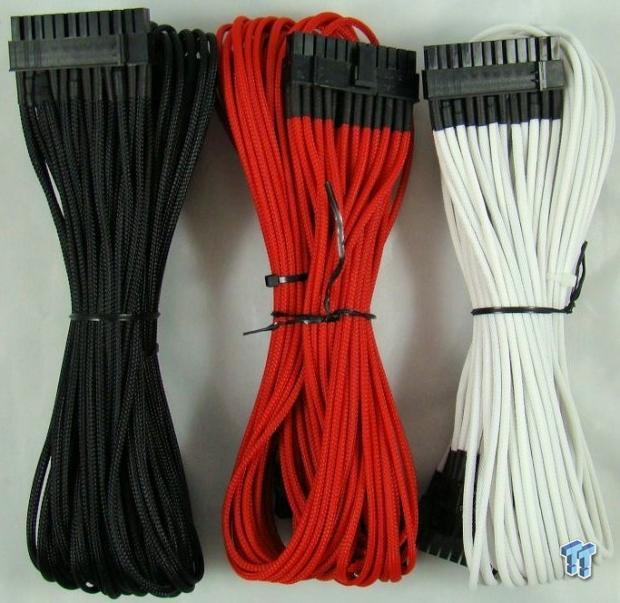 Rounding out our cables from Corsair are the black, red, and white motherboard cables.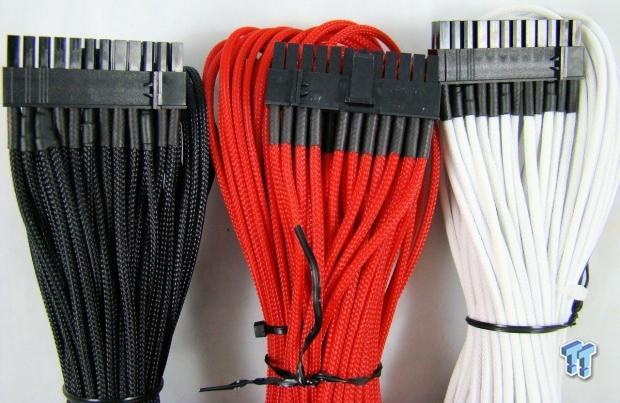 Zooming in we can see that there's nothing abnormal with these either.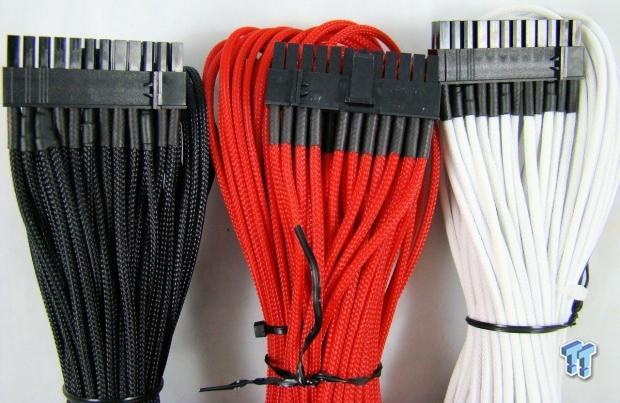 The price is a bit steep for a single cable but you have to have it to round out your set.
[Final Thoughts]
Corsair's solution to customized cables is quite simple and will take care of what a very large majority of user's want. Just pick the corresponding kit for your power supply, make sure you get your motherboard cable, and you're good to go.
Unfortunately they are a bit high priced as you'll end up paying $100 for a full set of cables. There is a bit of a tradeoff though as attempting to do this yourself would require a ton a time and effort, plus the materials, and unless you are really good at it, probably won't turn out the same quality.
One of the biggest attractions for many to the Corsair cables will be the selection of colors. Most offer cables only in black and white, and perhaps one more color. By offering their cables in six different colors, Corsair is sure to appeal to a much wider audience with these. About the only ones who won't be pleased are those seeking cables with multiple colors.
Prior to publication, several members of the TweakTown staff were aware that I'd received these cables. Upon taking some pictures and passing them around, requests came in rather quickly to share the wealth. We're all quite happy with them and will be using them for quite some time with them in our personal rigs.