OUYA - the Android-powered Console Review
Can the Kickstarter-funded, $99, Android-powered OUYA console change gaming? Not yet.

Published
Developer / Publisher: OUYA
6 minute read time
Introduction and Specifications, Pricing and Availability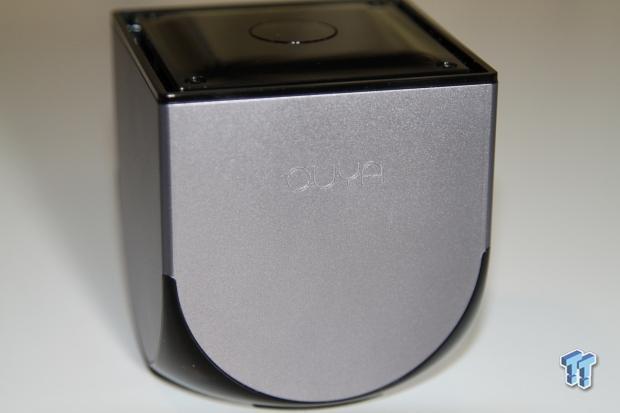 I backed the OUYA close to day one on Kickstarter, back in July of 2012. Fast forward to July 2013, and we're here with a review on one of Kickstarter's most successful devices.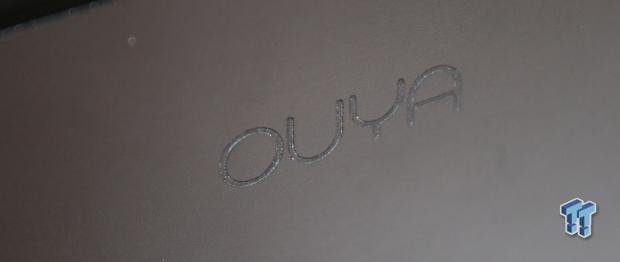 OUYA is from the mind of Julie Uhrman, who raised millions on Kickstarter to get the Android-funded console to the market. After months and months of waiting, it's finally here, but it really isn't what I expected.
If you're expected a glorious, positive-filled review, you might want to close your browser tab, because I'm not that impressed. I've read some other reviews on OUYA, which were positive, but there just isn't much to talk about when it comes to OUYA.
Specifications, Pricing and Availability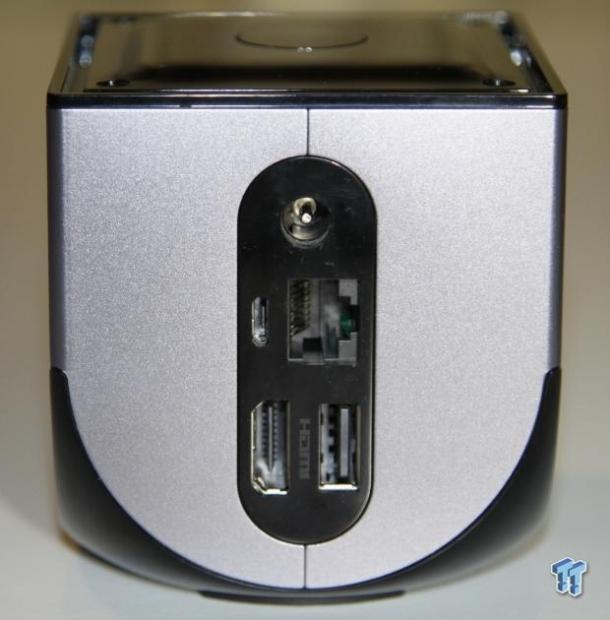 For just $99, you do get a decently powerful Android-based console. First off, we have an NVIDIA Tegra 3 quad-core processor, 1GB of LPDDR2 RAM, 8GB of on-board flash storage, Wi-Fi 802.11 b/g/n, Bluetooth LE 4.0, and HDMI to connect to your TV (or display).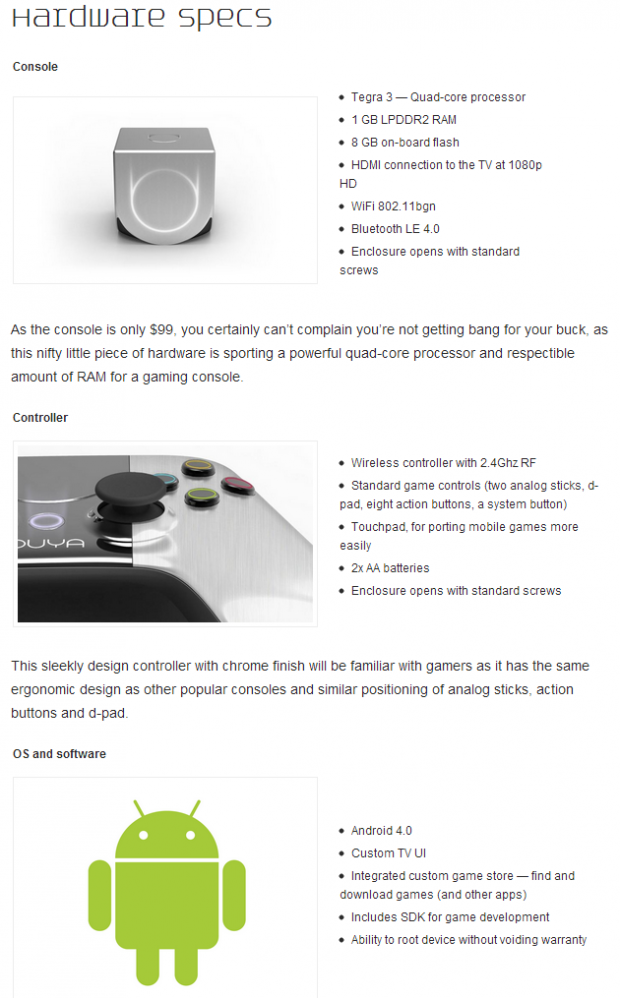 Moving onto the controller specifications, we have a single wireless controller included in the OUYA box, which works on 2.4GHz RF. The controller itself includes the "standard game controls", which consist of: two analog sticks, d-pad, eight action buttons and a system or 'OUYA' button.
The controller is quite easy to open up to install the AA batteries. I would've preferred to have had a rechargeable controller, but I'm sure the team at OUYA were just trying to keep the costs down, and not supplying rechargeable lithium-ion batteries would definitely be a cost-saver.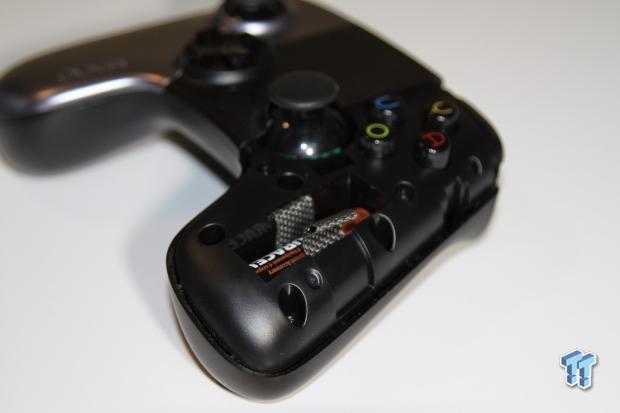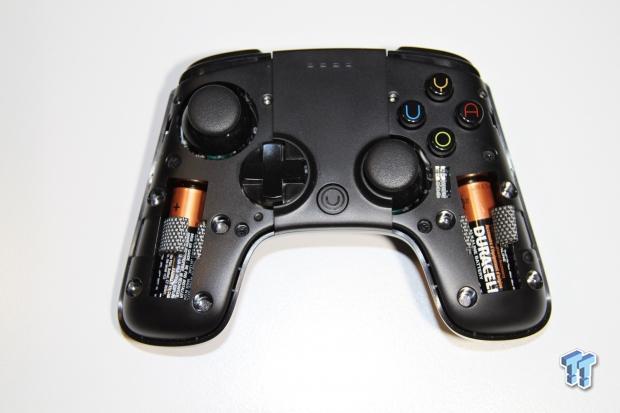 Moving into the final piece of the specifications: Software. We have Android 4.0 running on the OUYA console, with a custom TV user interface. It looks great, it's sleek and easy to navigate, too. There's an integrated custom game store included as well. You can root the OUYA without voiding warranty, as the OUYA team are happy for you to mess around with their Android-powered device.
I do wish I could run standard Android apps from the Google Play Store on OUYA, as that would've opened up a gigantic door for the company. Locking themselves to just OUYA titles, really hurts.
Look and Feel
The OUYA Console
We had a look at the OUYA console in our unboxing video, which you can check out below, then we'll get into the look and feel of the $99 Android-powered console.
I quite like the look of the OUYA console itself, with its cube-like appearance and beautiful edges. It's not something you'd expect from a $99 console. Once the OUYA console has been taken out of its box, the first thought is to lay it down on the flat layer - but you'd be wrong.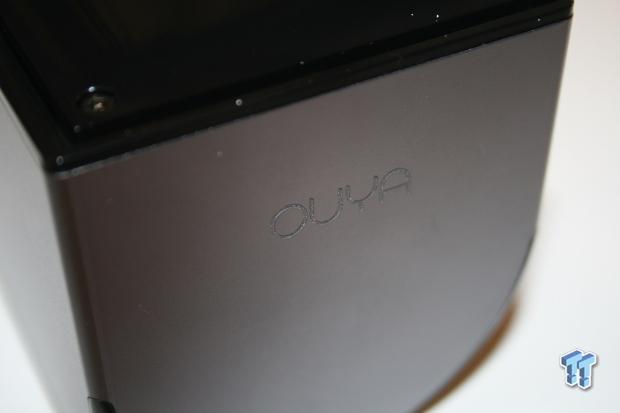 The top of the OUYA console is flat, with a power button on top. It is curved at all four of its sides at the bottom, with those trims being black. It's a great-looking console, and again, something I didn't expect from $99.
It's incredibly small, with the footprint of the OUYA not taking up much room at all. I have mine sitting next to my TV and thanks to its micro size, it's barely noticeable sitting there.
The OUYA controller
Ah, the OUYA controller. Equal parts good and bad. It looks and feels great, but it doesn't perform too well at all. We'll start from the top. We went over the specifications of the controller itself earlier in the review, but I really need to talk about the physical AA batteries powering the controller.
I live in a technology-driven world. I work from home, and everything I use has electronics in it apart from my clothes (for now). Everything I use, and I mean everything (smartphones, tablets, portable batteries is driven by microUSB connectors.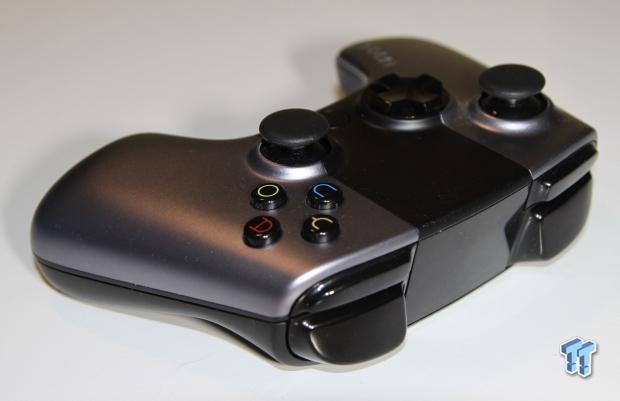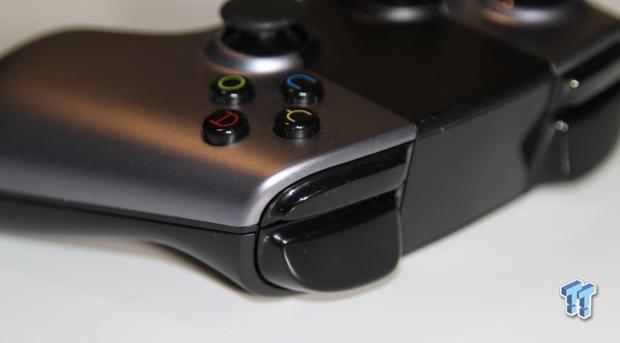 Why oh why did OUYA not decide to use a rechargeable lithium-ion battery like virtually all other devices? Cost. Giving consumers the retail cost of $99 has to come from somewhere, and that's one of the only reasons I can think of. I hate to spend so much time on one tiny portion of the review, but when the device is two parts: the console, and the controller, you kind of have to.
Getting over the fact of having to dig through boxes and boxes to find AA batteries, the installation process is quite easy. Now we get into the actual use of the controller itself.
I've used plenty of console controllers in my life, owning virtually all consoles that have ever been released. I wasn't expecting Xbox 360 or PS3 levels of control here, but I was expecting something decent. OUYA delivered, but only on half of the argument.
The OUYA controller feels great in my hands, it weighs what I think it should weigh, and the button placement for the most part is great. But the buttons just don't feel great to press. I had issues pressing some of the buttons at times (mostly the O, U, Y and A buttons). This annoyed me considerably, especially with most of the games on OUYA being button-heavy titles.
On my last day of physical testing before I finished this portion of the review, I was playing a game when I was prompted to press the 'O' button a bunch of times. Multiple times in a row it didn't register, which made me lose my game over and over again - disappointing to say the least.
I feel that OUYA have some work in the controller department and hope if we see a version 2.0 (which I'm sure we will) that those two major issues will be squashed.
The UI and the Games
The UI
I didn't expect much from the UI after using the controller, and after all, it's a $99 console. But, the UI is actually refreshing and very slim. There's four menus: Play, Discover, Make and Manage. Discover is where you'll spend most of your time - looking at all of the goodies and games you can buy and play.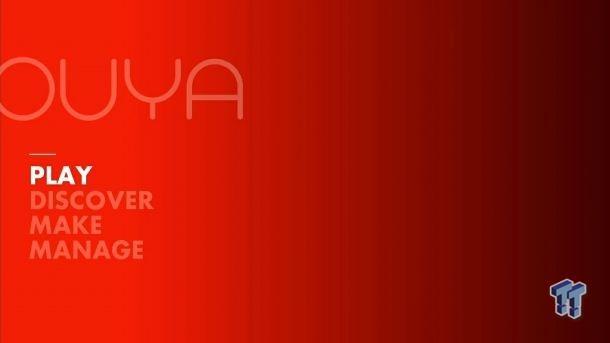 Going into Discover, you'll find it's just absolutely cluttered. Actually discovering games isn't as easy as it should be, and it doubles up on so many of the games it's not funny. It feels like there are hundreds of games in to 'discover', but there's not.
Getting into and out of games was quicker than I had anticipated. I didn't expect much from the console in terms of speed, but we do have some great little tech soldered into this tiny console. The UI is intuitive, but the OUYA console itself has plenty of updates that get blasted to it. The first of which was right out of the box, where the console locked up and provided an error message before downloading the update again.
Then, on the last day of testing the device, a new update became available and the same error happened. It rebooted, downloaded the entire update again, updated, and was fine. This shouldn't happen twice in a row.
The Games
The games on OUYA are mostly simple type of games, but there is plenty in there to tickle most gamers' buttons. Games such as Sonic, right up to proper first-person shooters that use the power of NVIDIA's Tegra 3 SoC are ready for you.
There's plenty of free titles, but nothing, absolutely nothing caught my attention. I wasn't that happy with the array of games available on the OUYA console. There were a few games that I didn't mind playing, but there was not a single game that made me sit somewhere and think "I'd love to fire up my OUYA right now and play this game," not one at all.
I truly think OUYA needed a killer app on the console, something that would at least keep gamers' attention for 30 minutes or more. It doesn't have it.
Final Thoughts
I have to admit, I expected much, much more from OUYA. I backed them to the tune of 2.5x the retail price, had my console delivered after it hit retail, and my Limited Edition username-etched controllers still haven't shipped yet.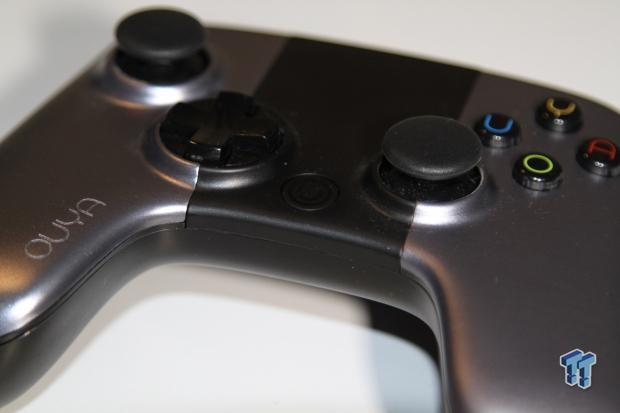 When a company makes more than $8.5 million from its consumers, you'd better be damn ready to keep your original backers happy before you even begin dumping them onto retail shelves. The entire OUYA experience has been a mess from start to finish.
Sure, it's $99 - but is there even $99 of value there yet? I don't think so. The console is laggy, the controller is laughable at times, and the entire experience is hit and miss. Some people don't experience that many issues, but then there are some that experience large issues, too.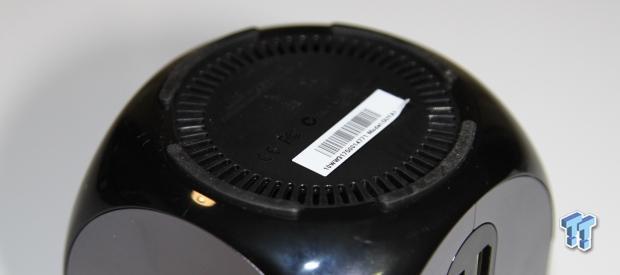 I was in the middle where some of my games worked perfectly, and some of them lagged and the input from the controller was laggy. The controller itself would have a hard time registering the press of the button, or the button would be caught on the plastic to the side of the button - annoying, to say the least.
Then there's a question that I'm sure I'll be asked in the future: would I buy an OUYA now? No. I would not. I don't fully regret my decision, because I knew what I was getting myself in for. But would I want someone else putting themselves through that? No.
I've given the OUYA console a TweakTown rating of 60%, because for $99 it's an impulse buy. "It's just $99, I could buy it and see what everyone is talking about". There are a few games that I played with my niece and nephew and had a few laughs over, but it's nothing memorable.
Give the OUYA a miss, but if $99 isn't too much for you and you want to see what all the fuss is over, or if you're a modder - then take a look. But don't say I didn't warn you.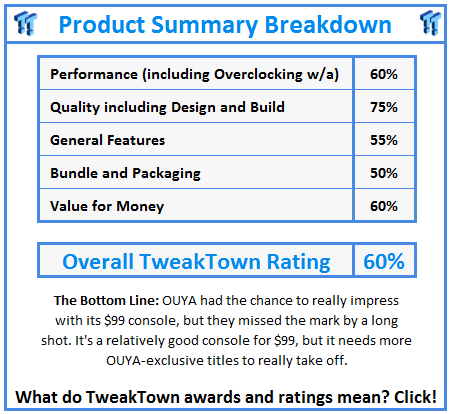 PRICING: You can find products similar to this one for sale below.

United States: Find other tech and computer products like this over at Amazon.com

United Kingdom: Find other tech and computer products like this over at Amazon.co.uk

Australia: Find other tech and computer products like this over at Amazon.com.au

Canada: Find other tech and computer products like this over at Amazon.ca

Deutschland: Finde andere Technik- und Computerprodukte wie dieses auf Amazon.de
We openly invite the companies who provide us with review samples / who are mentioned or discussed to express their opinion. If any company representative wishes to respond, we will publish the response here. Please contact us if you wish to respond.