Introduction and Specifications, Pricing and Availability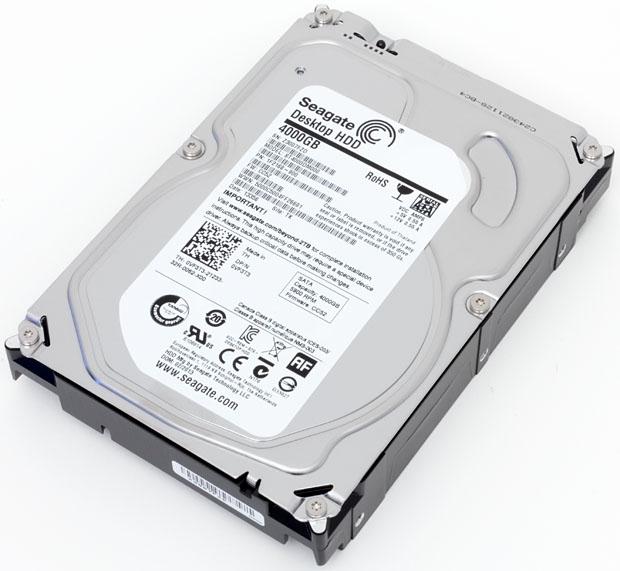 It's no secret that Solid State Drives have taken over and cornered the desktop market as far as OS drives are concerned. With this transition, platter based drives have been relegated to mass storage, whether it be as a secondary drive in a desktop system, or in a home server or NAS.
Seagate recently upped the ante in terms of raw storage capacity releasing the next generation of desktop 3.5" drives. This latest drive out of the Seagate camp packs four terabytes into a single 3.5" form factor, and with pricing sitting around $190 or just over four cents per GB, it's also one of the most affordable drives in existence.
To accomplish this high capacity low-cost drive, Seagate shipped the Desktop HDD .15 with a slower 5900RPM spindle speed, which isn't too surprising, as we typically see new platter technologies released at slower speeds before they are ramped up at a later date. Don't think that this slow spindle speed is going to hold back the performance of the .15 though, as its areal density sits at the top of the market at 625GB/sq. in.
This means that the same amount of data is passed through the head in one revolution at 5900RPM compared to what goes through the head of the WD Black at 7200RPM with its 400GB/sq. in areal density.
Specifications, Pricing and Availability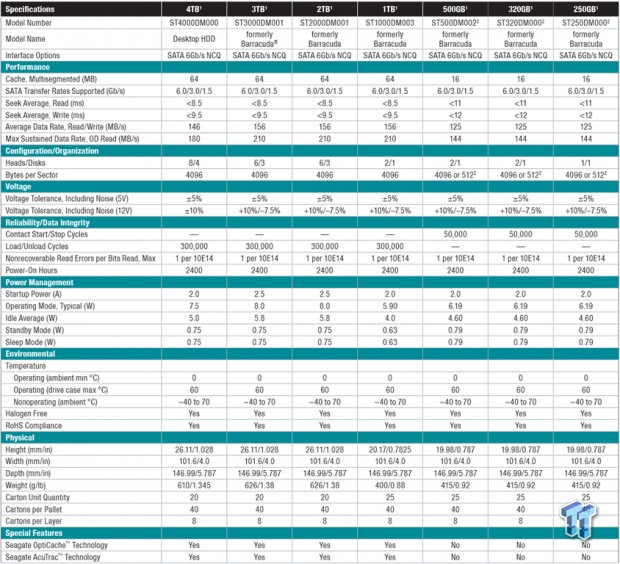 Taking a look over the specifications for the Desktop HDD .15, we find that Seagate has supplied the drive with a generous 64MB cache. SATA compatibility extends from generation one at 1.5GB/s to the latest Gen 3 at 6GB/s with NCQ. Seagate has spec'd out the drive for an average seek of 8.5ms read and 9.5ms write, followed closely by an average read/write data rate of 146MB/s. Moving further down you will find that the mechanics of this drive are controlled by 8 heads with 4 platters using native advanced format 4K sectors.
Power consumption figures for the .15 list a two amp startup draw with 7.5 watts used during normal operation. At idle the drive drops to 5 watts with standby consuming just 0.75 watts.
Newegg at the time of writing has the Desktop HDD .15 in the 4TB capacity listed and in stock at $189.99 or 0.475 cents per GB. The Desktop HDD .15 comes in both retail and bare drive forms and is covered under Seagate's two year warranty.
Desktop HDD .15 ST4000DM000 4TB HDD
Desktop HDD .15 4TB HDD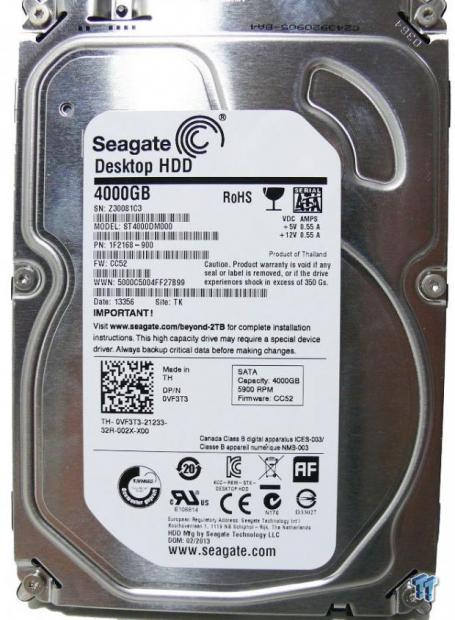 Our sample of the Desktop HDD .15 was delivered in its bare drive form. At the top Seagate has chosen to list the capacity at 4000GB, while also trading in the Barracuda branding for the simpler Desktop HDD.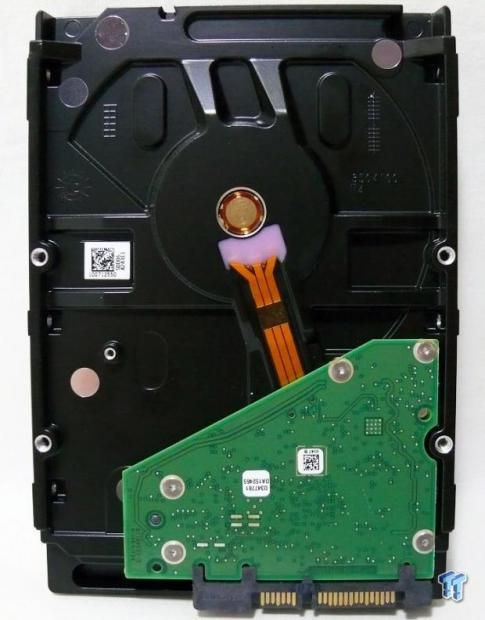 The back of the drive houses a green PCB with the SATA and power connections at the bottom.

The drives power and data connections have been placed in the standard configuration, insuring wide compatibility.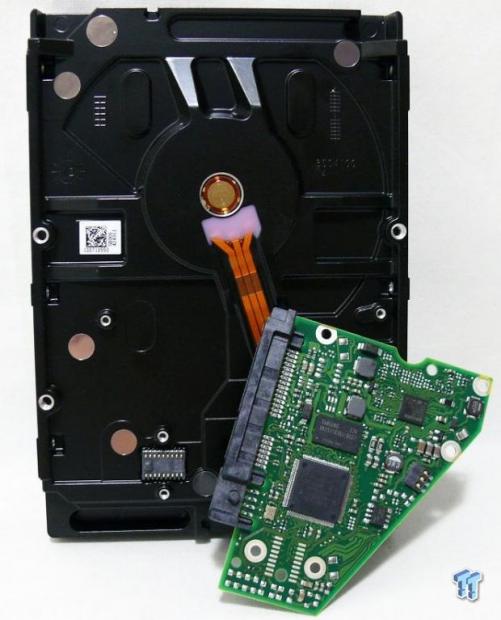 Removing the PCB from the back of the drive, we get a closer look at the construction. A set of pins connect the drives platters and heads to the PCB.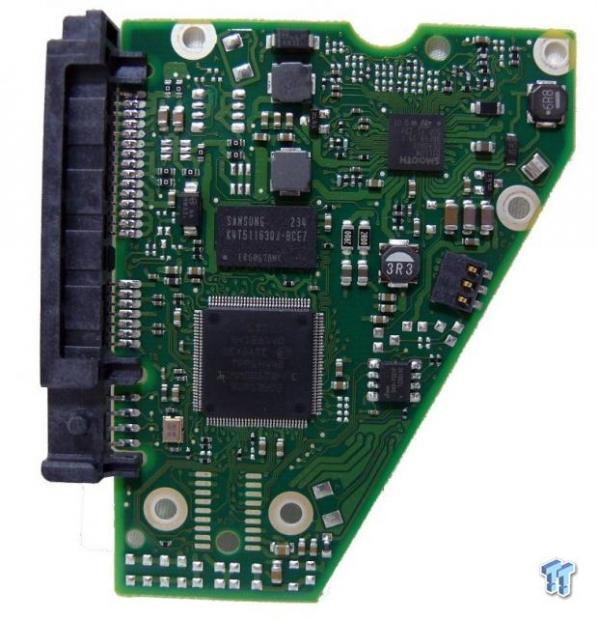 Front and center we found the Desktop HDD .15 to use an LSI MCU. Just north of the MCU you will find the cache by Samsung, and to the right we have the VCU by Smooth.
Benchmarks - Test System Setup and ATTO Baseline Performance
Desktop Test System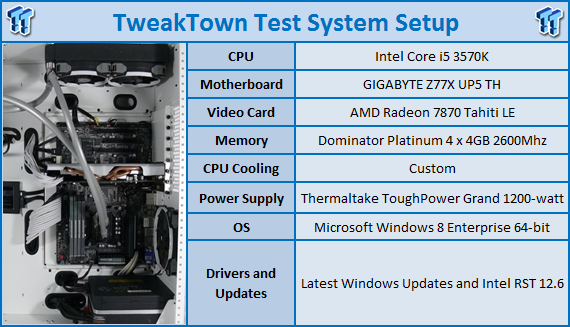 ATTO Baseline Performance
Version and / or Patch Used: 2.34
Many disk manufacturers, to determine the read and write speeds that will be presented to customers, use ATTO.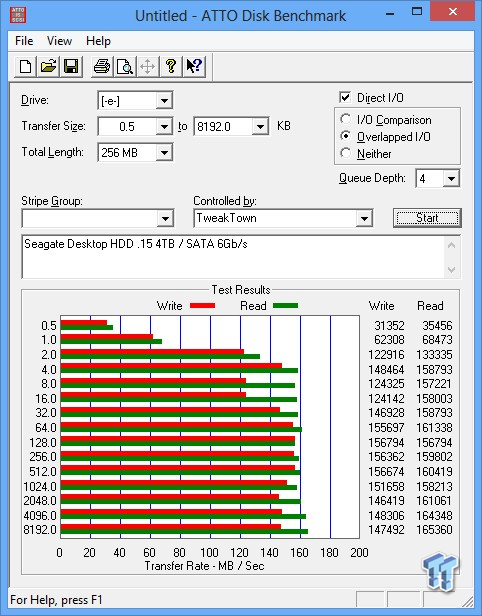 Starting up our test system we first must take a look at marketing performance through ATTO. Here we find the Desktop HDD .15 capable of 165MB/s read and 156MB/s write.
Benchmarks - Sequential Performance
HD Tune Pro
Version and / or Patch Used: 4.00
Developer Homepage: http://www.efdsoftware.com
Product Homepage: http://www.hdtune.com
HD Tune is a Hard Disk utility which has the following functions:
Benchmark: measures the performance
Info: shows detailed information
Health: checks the health status by using SMART
Error Scan: scans the surface for errors
Temperature display
HD Tune Pro gives us accurate read, write and access time results and for the last couple of years has gained popularity amongst reviewers. It is now considered a must have application for storage device testing.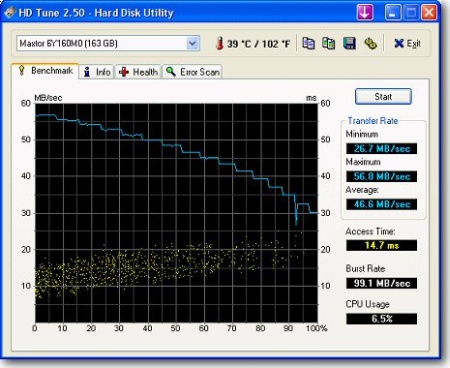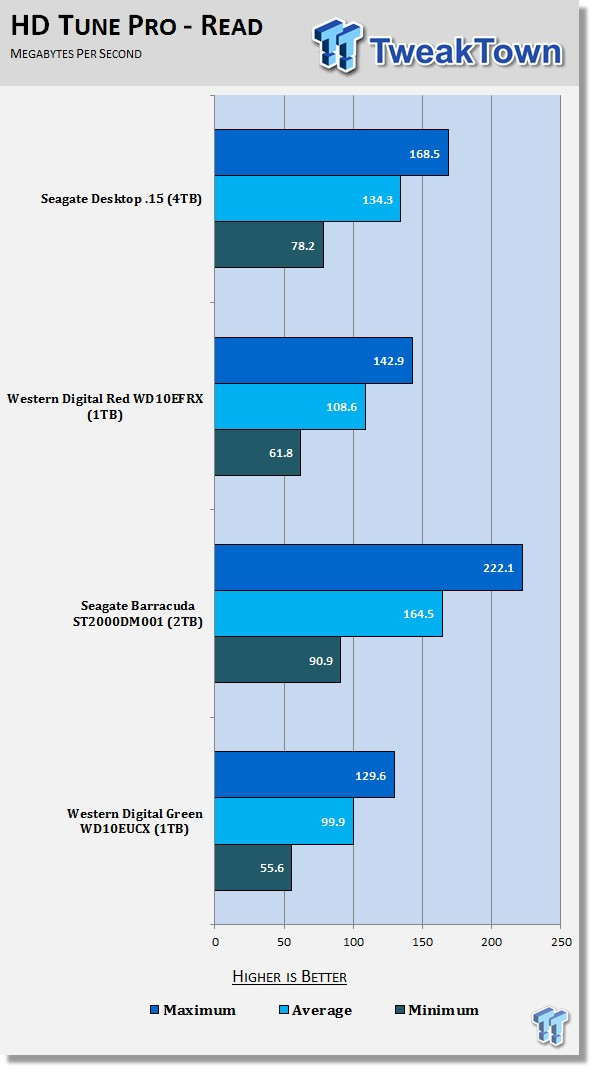 In read testing the Desktop .15 did quite well, with a maximum read speed of 168MB/s. Moving down through the chart notice the 2TB Barracuda, this drive uses the same 625GB/sq. in as the Desktop .15 we are looking at today, but carries a 7200RPM spindle speed.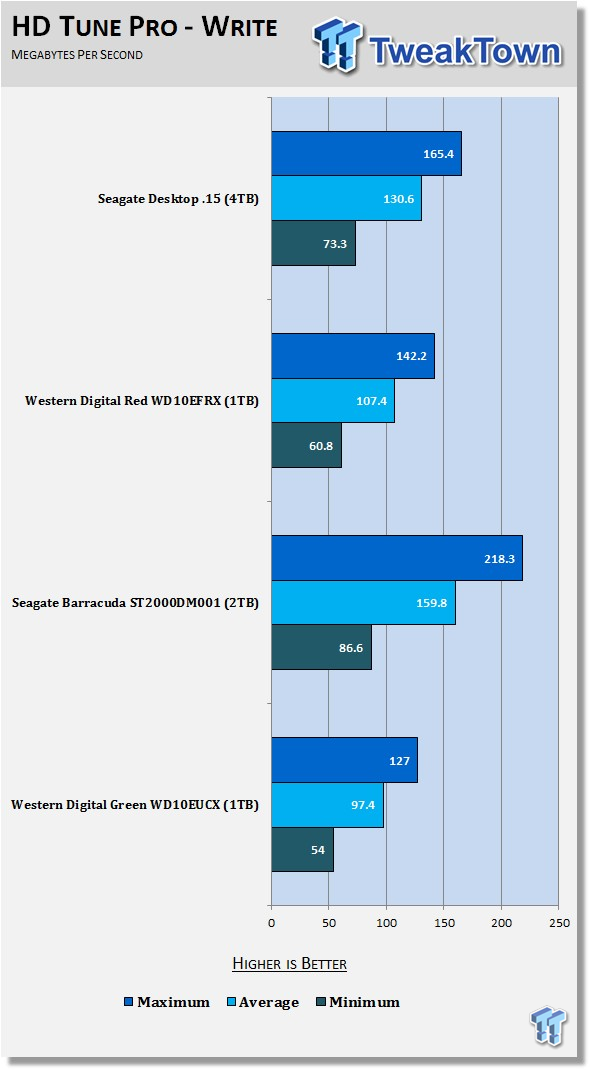 Write testing was equally impressive with the Desktop HDD pushing close to 165MB/s.
Benchmarks - AIDA64 Random Access Time
AIDA64 Random Access Time
Version and / or Patch Used: 1.60
Developer Homepage: http://www.aida64.com
Product Homepage: http://www.aida64.com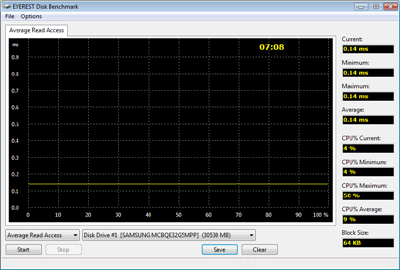 AIDA64 offers several different benchmarks for testing and optimizing your system or network. The Random Access test is one of very few if not only that will measure hard drives random access times in hundredths of milliseconds as oppose to tens of milliseconds.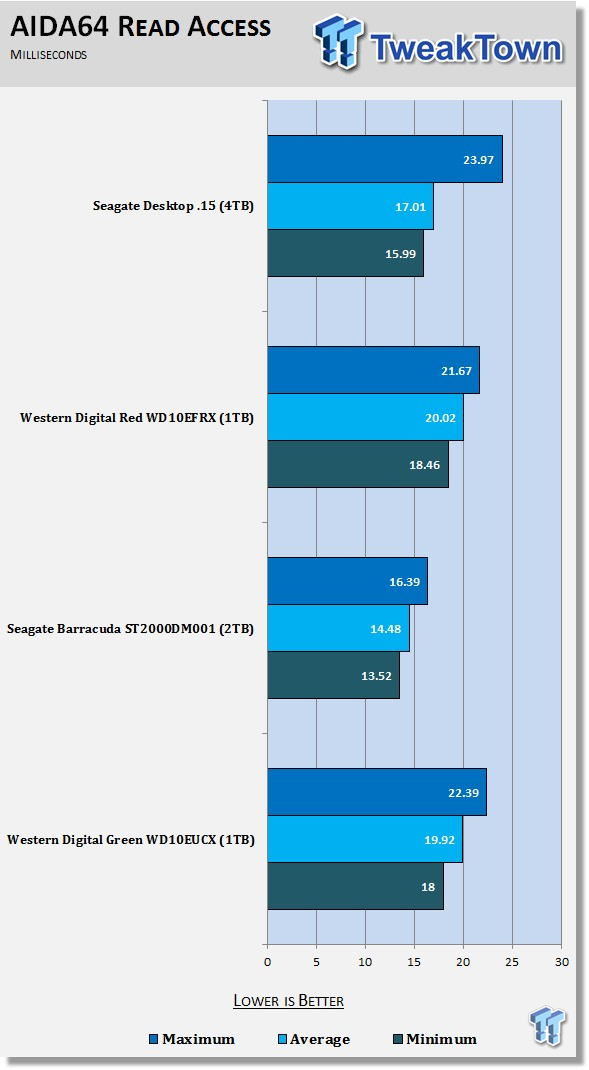 Read access times for the Desktop HDD carried an average of 17ms with a peak of 23.9ms.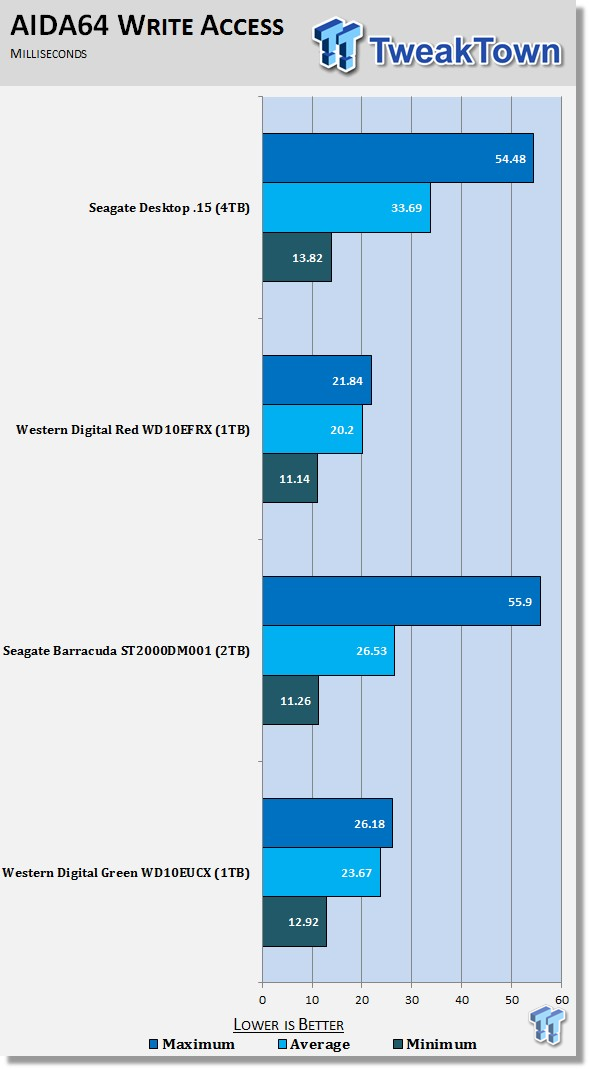 Write access times were a bit jumpy for both of the Seagate drives in our chart. The Desktop HDD peaked at 54ms with a low of 13ms.
Benchmarks - Anvil Storage Utilities
Anvil Storage Utilities
Version and / or Patch Used: RC6
So what is Anvil Storage Utilities? First of all, it's a storage benchmark for SSDs and HDDs where you can check and monitor your performance. The Standard Storage Benchmark performs a series of tests, you can run a full test or just the read or the write test or you can run a single test, i.e. 4K DQ16.
Anvil Storage Utilities is not officially available yet but we've been playing with the beta for several months now. The author, Anvil on several international forums has been updating the software steadily and is adding new features every couple of months.
The software is used several different ways and to show different aspects for each drive. We've chosen to use this software to show the performance of a drive with two different data sets. The first is with compressible data and the second data set is incompressible data. Several users have requested this data in our SSD reviews.
Incompressible Data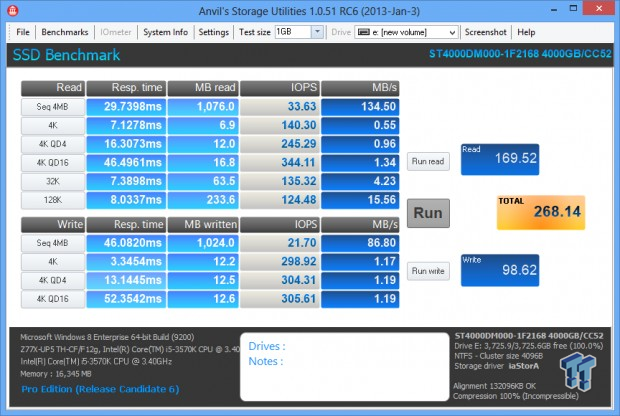 0-Fill Compressible Data
Read IOPS through Queue Depth Scale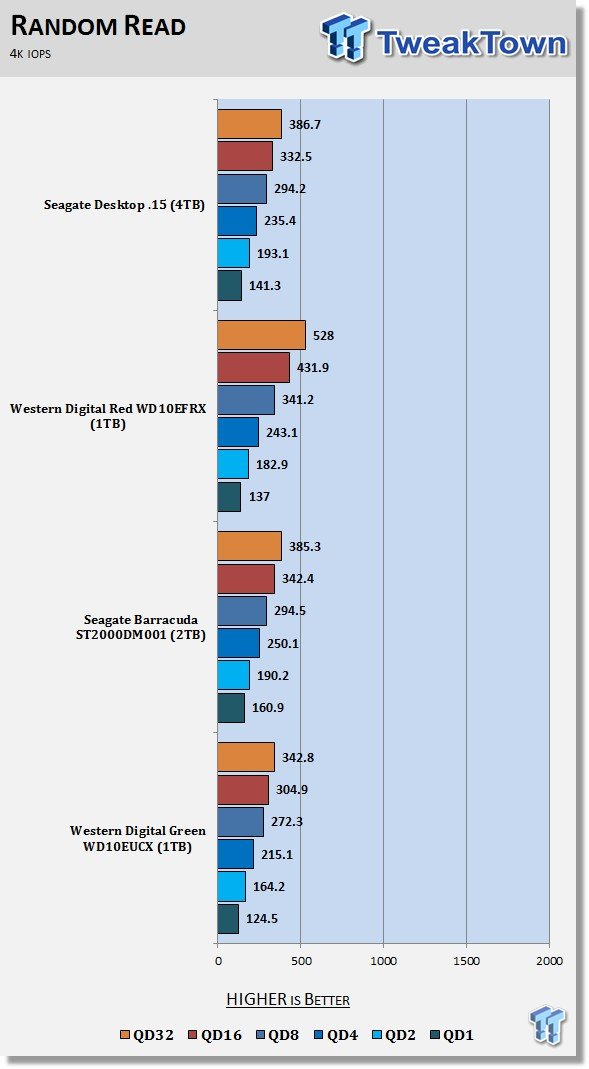 Above we find the Desktop HDD on par with its smaller brother, the 2TB Barracuda, all the way through the scale.
Write IOPS through Queue Depth Scale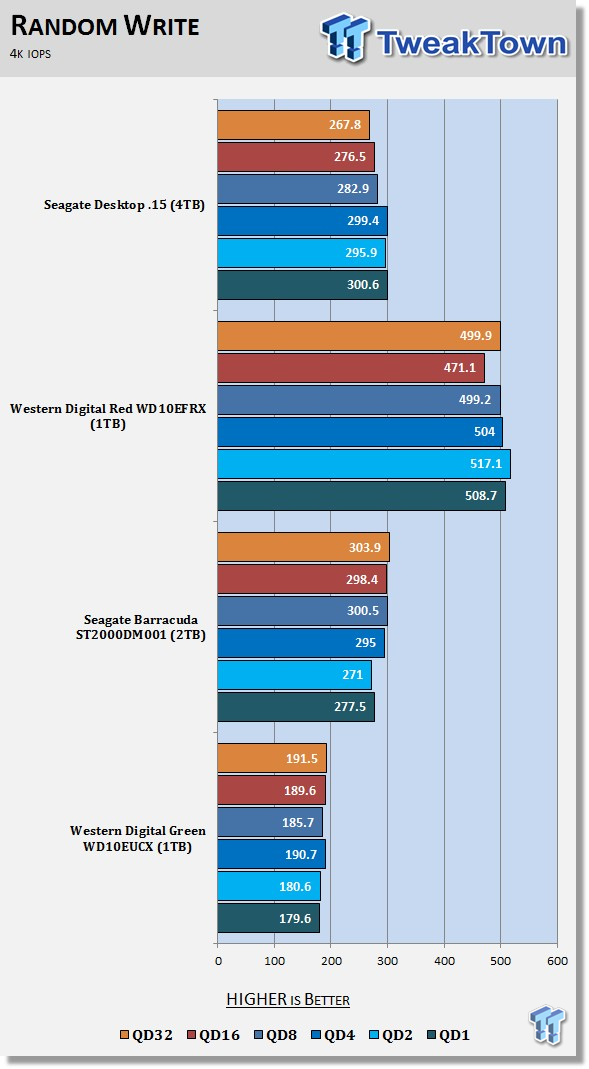 At the top of the charts here, we find the WD Red pushing over 500 Random Write IOPS. The Seagate Desktop HDD, again sticks to being on par with its previous .14 Barracuda.
Benchmarks - PCMark 8 Hard Disk Tests
PCMark 8 - Hard Disk Tests
Version and / or Patch Used: 1.0.0
Developer Homepage: http://www.futuremark.com
Product Homepage: http://www.futuremark.com/benchmarks/pcmark8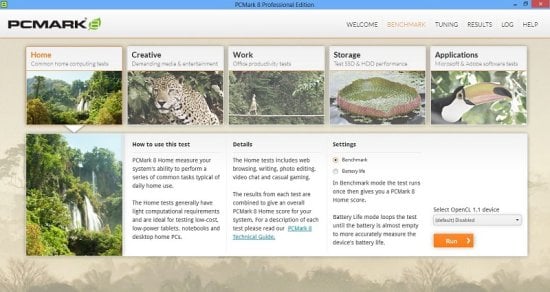 PCMark 8 is the latest version in our popular series of PC benchmarking tools. Improving on previous releases, PCMark 8 includes battery life measurement tools and new tests using popular applications from Adobe and Microsoft. Whether you are looking for long battery life, or maximum power, PCMark 8 helps you find the devices that offer the perfect combination of efficiency and performance for your needs.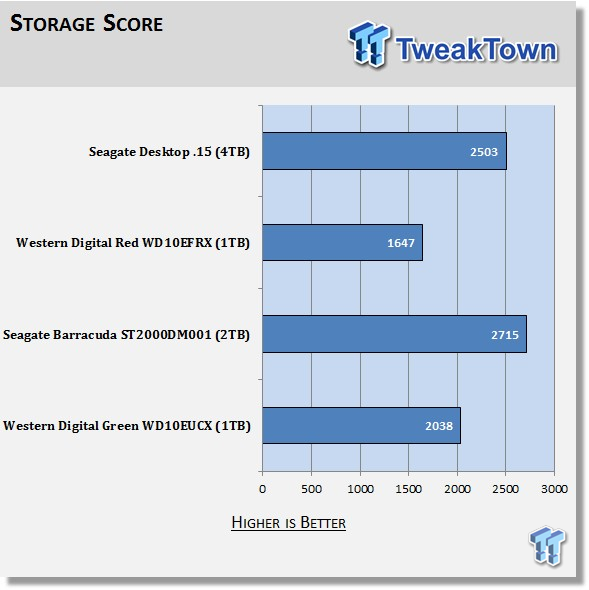 Launching our PCMark 8 testing we have the Desktop HDD .15 coming in with a total score of 2503. Leading the pack is the 2TB Barracuda with 2715.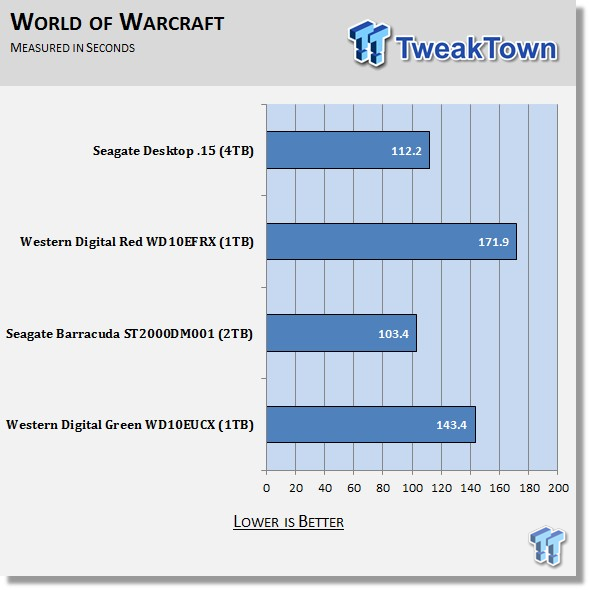 In WoW we find the Desktop .15 miles ahead of any WD drive we have tested, coming in at 112.2 seconds.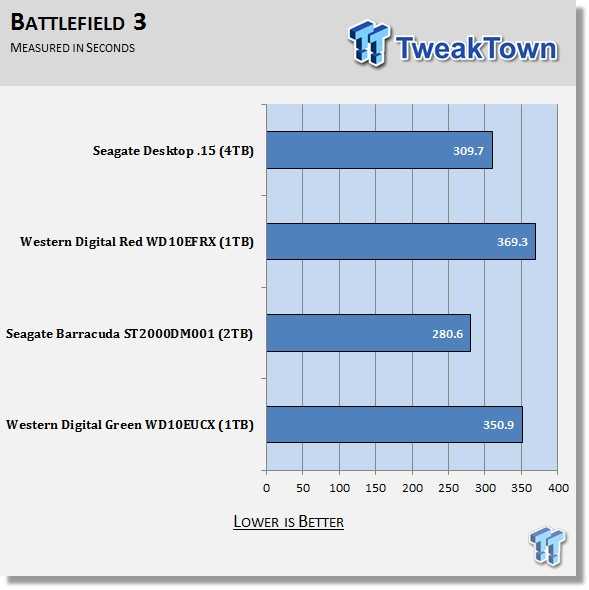 Battlefield 3 has the Barracuda leading the charts, but the Desktop HDD .15 stays close behind at 309 seconds.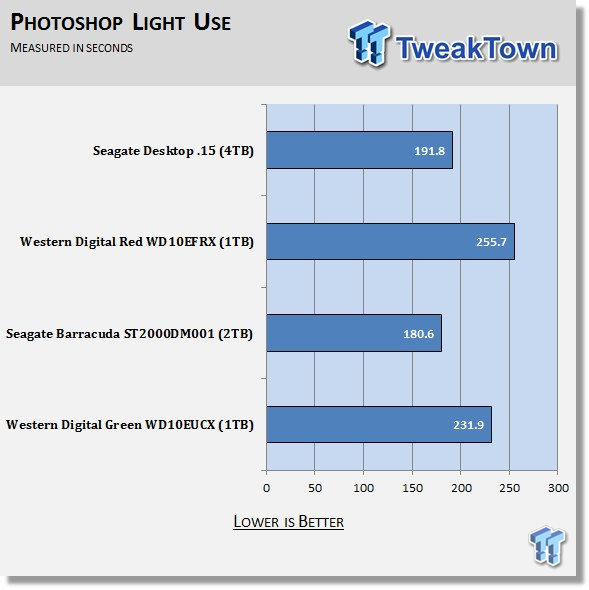 Utilizing Photoshop under light use, the .15 comes in at 191.8 seconds.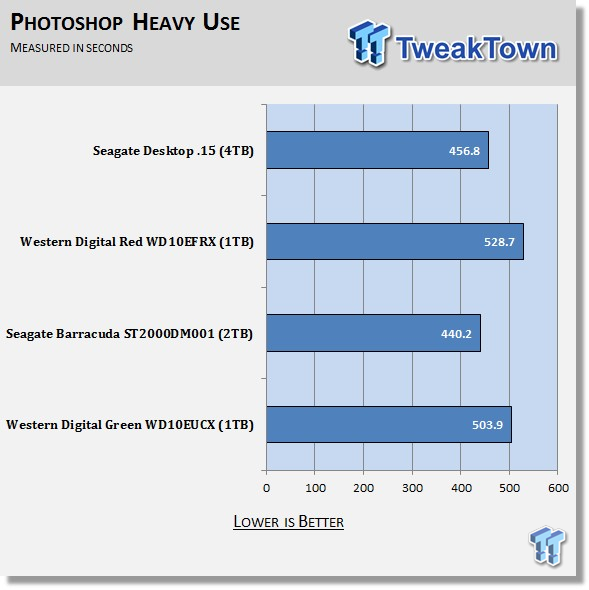 A heavy use scenario tightens up our drives on the chart, with just 16 seconds separating the Desktop HDD .15 from the previous Barracuda .14.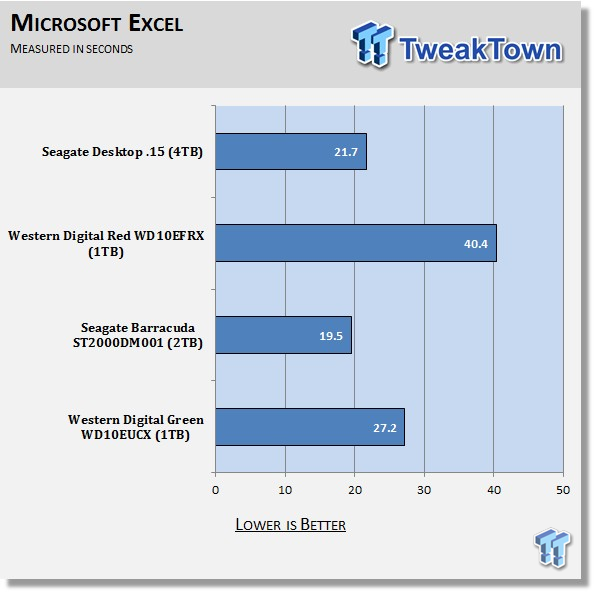 The Excel application trace puts both Seagate drives at the top of our charts. We find the Desktop HDD .15 at 21.7 seconds.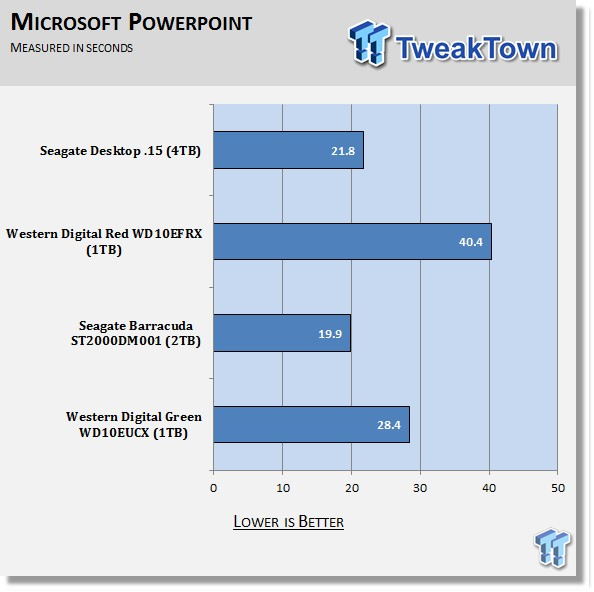 PowerPoint again has the Desktop HDD .15 at the top.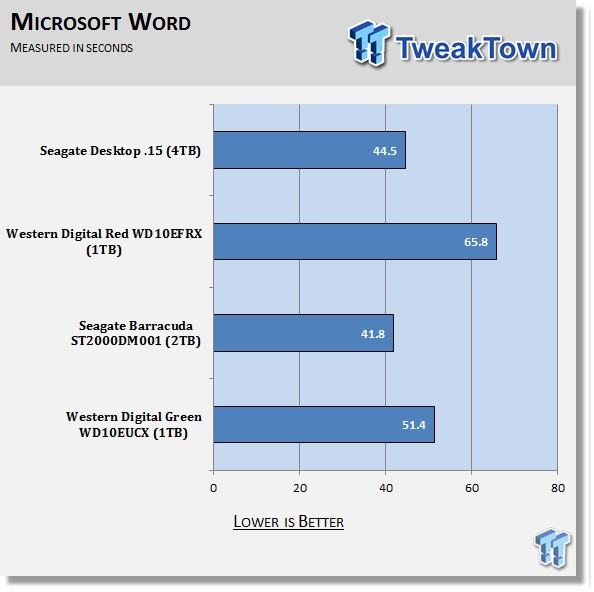 The Word trace puts the Barracuda .14 at the top of the charts, followed very closely by the Desktop HDD .15 at 44.5 seconds.
Benchmarks - BootRacer and Resume from S4 Hibernation
BootRacer - System Boot Time
Version and / or Patch Used: 4.0
Developer Homepage: Greatis
Product Homepage: BootRacer
Download here: http://www.greatis.com/bootracer/download.htm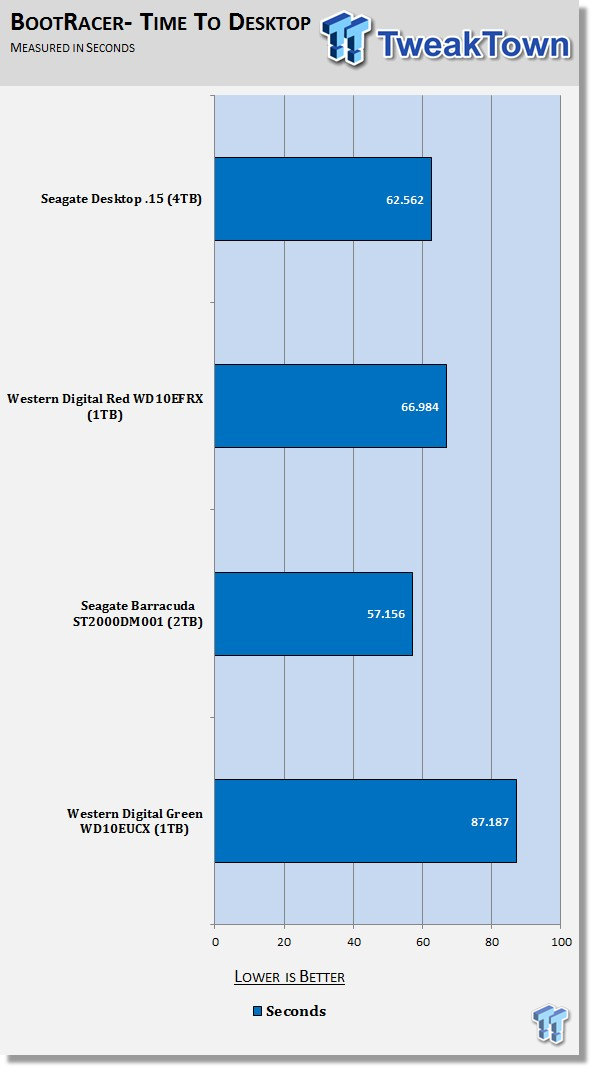 Above we see all of the drives on our chart, with the exception of the WD Green, begin to bunch together. We found the Desktop HDD .15 falling into second place with a 62 second boot time.
Resume from S4 Hibernation
Hibernation or S4 is part of the Advanced Configuration and Power Interface specification. In our custom "Resume from S4" testing, we allow the drive to enter hibernation for a period of ten minutes, from there we use our trusted stopwatch and time how long it takes for the drive to resume to a working desktop environment.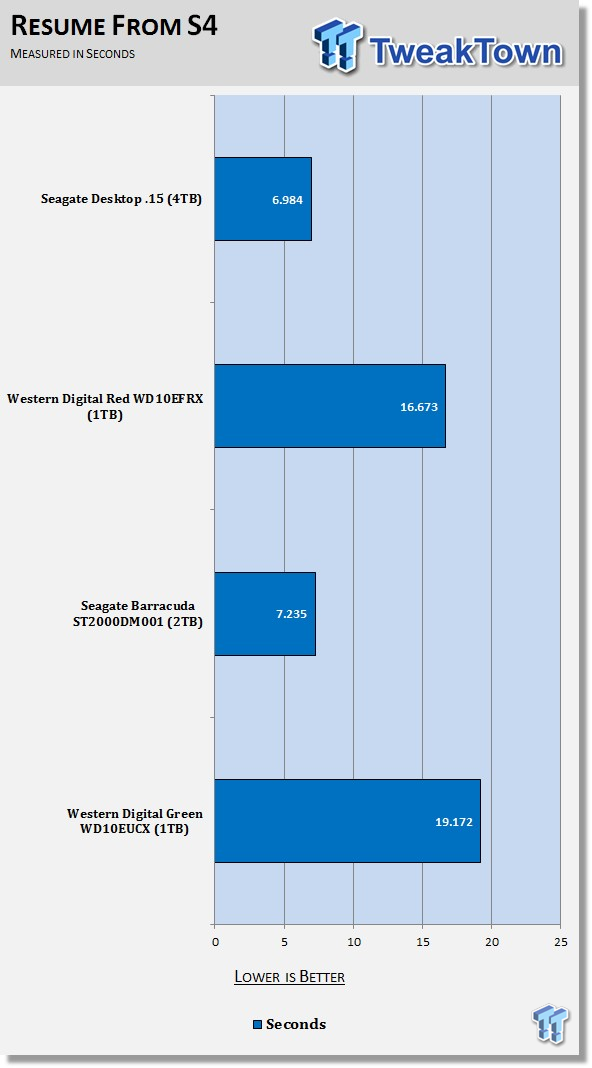 In our custom resume from S4 testing, the Desktop HDD .15 was quite impressive coming in at 6.9 seconds.
Final Thoughts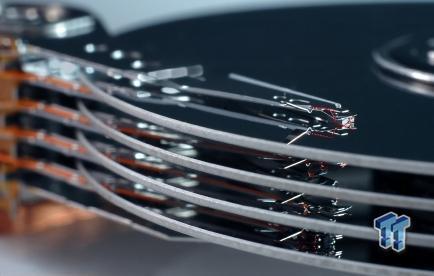 Seagate has been hard at work over the last few months, and now that Computex is over, we are beginning to see products launch left and right from the storage giant. The Desktop HDD .15 launched in April of this year, and takes storage capacity to another level.
Using just four platters, Seagate was able to pack four terabytes into a 3.5" form factor, instead of the five used in competing products. Of course, Seagate did have a few trade-offs to make, and chose to slow the drive down to 5900RPM to maintain data integrity. As technology progresses, we will see Seagate ramp up the spindle speed and offer drives of this magnitude in much faster 7200RPM speeds. To offset the lower RPM, areal density is another area Seagate has really stepped up their game, offering an industry leading 625GB/sq. in.
At this point in the game, mechanical drives have been relocated to backup operations as a secondary drive on your desktop system, or even thrown on a sled in your favorite NAS appliance. Seagate has embraced this concept, designing the Desktop HDD .15 to use less power, creating less heat and even less noise than preceding drives. All of this was done with the average consumer in mind, and to cement Seagate's future in the storage marketplace.
Pricing of the Seagate Desktop HDD .15 4TB is set at $189.99 USD with high availability. This effectively removes all competition from the market when it comes to high capacity drives, as the next best thing cost $120 more currently.