Introduction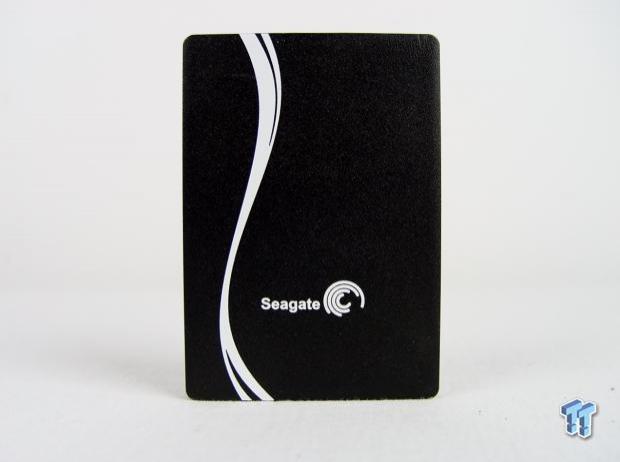 Welcome back to our continuing coverage of the 2013 Seagate SSD launch event here at TweakTown. We have two more products to cover today. The first is largest mainstream capacity drives, the 600 SSD 480GB. After this, we'll take an enthusiast look at the new 600 Pro 400GB.
480GB capacity size SSD's are perfect for mobile users. Notebooks rarely offer two or more drive trays so mobile users need to pack all their data in one drive. For years, Team Flash had to put up with Team Spinner bragging about a capacity advantage, but with 7mm and new 5mm designs, multiple platters in the mechanical products aren't possible. With SSD's breaking the 1TB marker now, the tables are turning, and quickly at that.
There is still a price difference between 1TB of flash-based storage and 1GB of mechanical storage. At the time of writing we don't know where the Seagate 600 SSD price will fall, but we can guarantee it will cost more than a 1TB 2.5" HDD.
Specifications, Pricing and Availability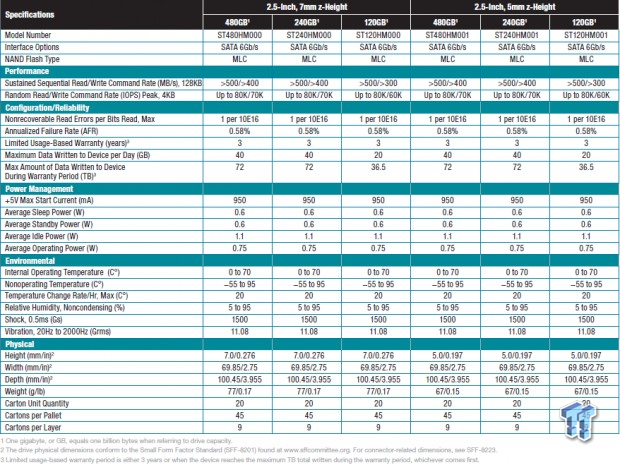 The Seagate 600 SSD has two categories divided by form factor. In each form factor are three capacity sizes and that leaves us with six individual model numbers. The form factors are 5mm and 7mm z-heights, so ultrabook and new ultrabooks popping up at Computex 2013 are covered. The 7mm z-height uses standard SATA power and data connectors so they also work in existing desktops and notebooks. The 5mm standard is a topic we'll talk about in a couple of days when we review a Western Digital 5mm mechanical HDD.
When it comes to performance, the six Seagate 600 SSD products boil down to two categories based on capacity size. The two 240GB and two 480GB drives share the same performance numbers as does the two 120GB sizes. Today we'll publish reviews of both the 240GB and 480GB 600 SSD's.
Seagate's performance ratings are fairly general, over 500MB/s sequential read and over 400MB/s sequential write on the two larger capacity drives. Random 4K IOPS performance comes in at up to 80K read and 70K write. We managed to break all four of the corner performance ratings in our test with both 600 SSD's we're testing today.
Even though we covered it in the Seagate 2013 SSD Lineup article, I want to bring up the fact that Seagate also has a 600 Pro model designed for enterprise use. The 600 Pro should also cross over to the enthusiast / power user market, if the price is within reach.
When it comes to prices, with 48-hours left to go before the NDA lifts, we don't have anything to mention on the MSRP for any of Seagate's new SSD's. To be fair, when Seagate releases mechanical drives, they don't provide us with MSRP information, but SSD's are an entirely different market. Seagate is struggling to get us a lot of the information we're asking for. This is their first real SSD launch, but we really expected a bit more from the company.
The Seagate 600 and 600 Pro both use the Link_A_Media Devices (LAMD) LM87800AA, the same Corsair chose for the Neutron and Neutron GTX products nearly a year ago. Seagate pairs both the 600 and 600 Pro with new Toshiba 19nm Toggle Mode flash, Type C. The Type C is the new dual plane flash with 16K page sizes. Both 600 Series products use Micron DRAM, two chips on the capacity sizes we have in hand. The 120GB model may use just one DRAM chip to store page table data.
The consumer 600 SSD has a three year warranty. Seagate, like many others, have included a total TB written warranty exemption. The 240GB and 480GB 600 SSD's are covered for up to 72TB written, while the 120GB models only go up to 36.5TB.
Seagate 600 SSD 480GB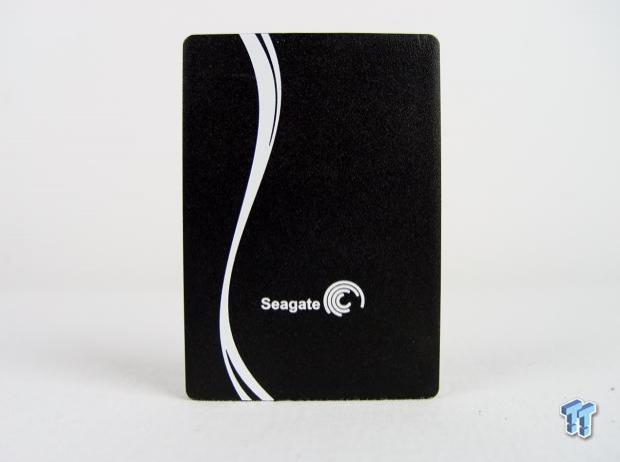 Here we get our first look at the largest capacity size in the 600 SSD family. Seagate put together an attractive design; it's too bad the drive hides beneath plastic and metal in a notebook or desktop case.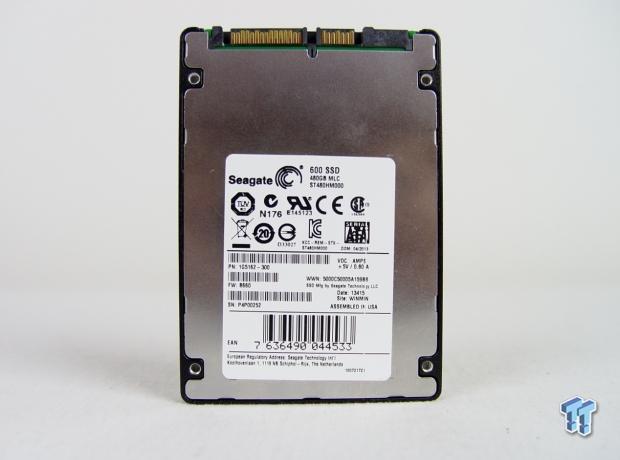 The model, part and serial numbers are on a sticker located on the back of the case.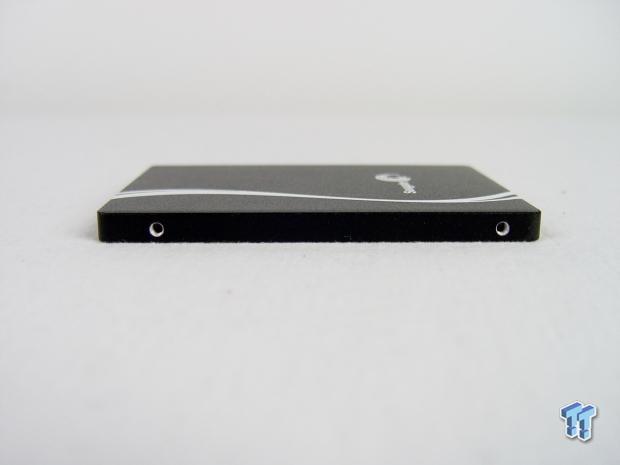 In this article we're testing the 7mm model. The 7mm standard uses the same mounting points as 9.5mm z-height 2.5" HDD's and SSD's.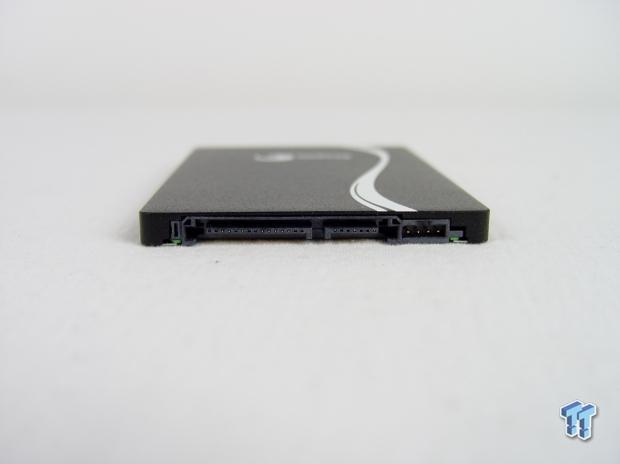 7mm also uses standard SATA power and data connectors.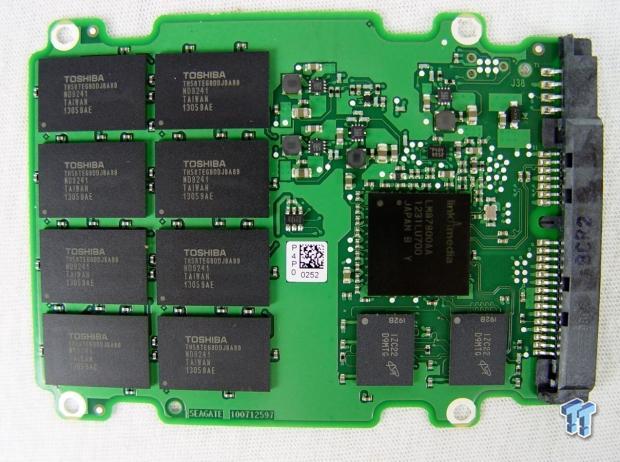 Seagate uses an anti-intrusion system and if you get your drive to this state, the warranty is void.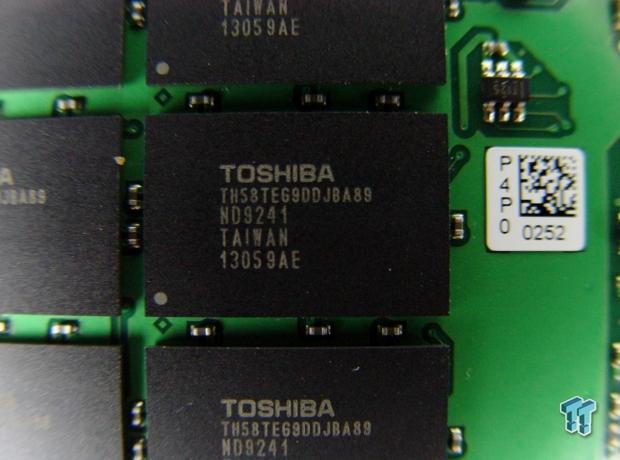 Seagate used Toshiba 19nm Toggle Mode NAND flash, the new Type C version.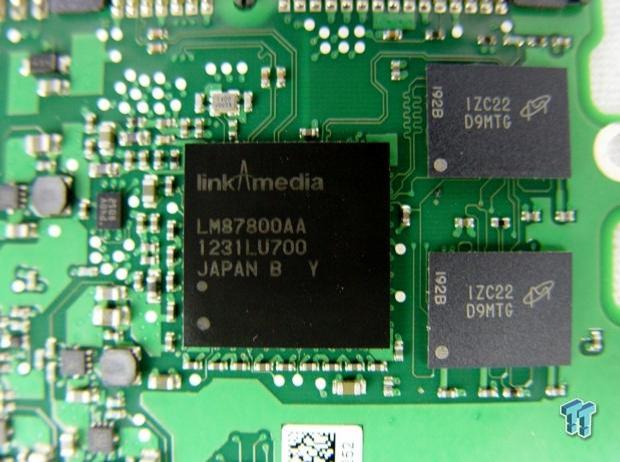 The flash controller is the same Corsair used on the Neutron and Neutron GTX, a Link_A_Media Devices LM87800AA. The controller has two DDR2 256MB DRAM buffers from Micron.
Benchmarks - Test System Setup and ATTO Baseline Performance
Desktop Test System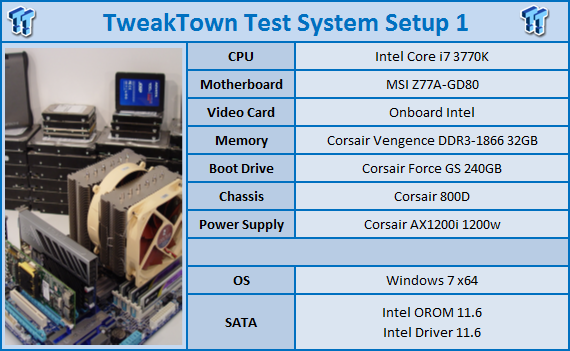 Lenovo W530 - Mobile Workstation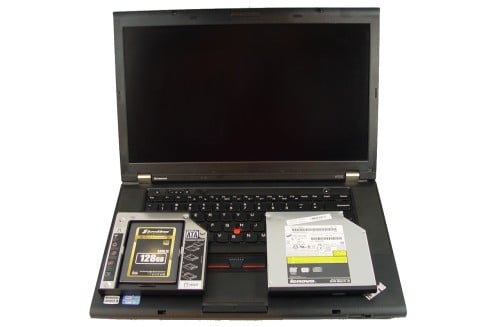 We use two systems for SSD testing. The desktop runs a majority of the tests and the Lenovo W530 runs the notebook power tests as well as the real-world file transfer benchmark.
ATTO Baseline Performance
Version and / or Patch Used: 2.34
ATTO is used by many disk manufacturers to determine the read and write speeds that will be presented to customers.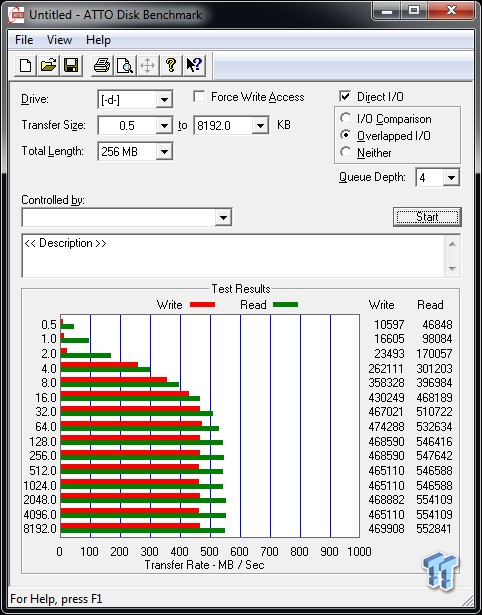 In our ATTO test we managed to break Seagate's marketing numbers of 500MB/s and 400MB/s write. We achieved nearly 555MB/s read and nearly 470MB/s write speeds.
Benchmarks - Sequential Performance
HD Tune Pro
Version and / or Patch Used: 4.00
Developer Homepage: http://www.efdsoftware.com
Product Homepage: http://www.hdtune.com
HD Tune is a Hard Disk utility which has the following functions:
Benchmark: measures the performance
Info: shows detailed information
Health: checks the health status by using SMART
Error Scan: scans the surface for errors
Temperature display
HD Tune Pro gives us accurate read, write and access time results and for the last couple of years has gained popularity amongst reviewers. It is now considered a must have application for storage device testing.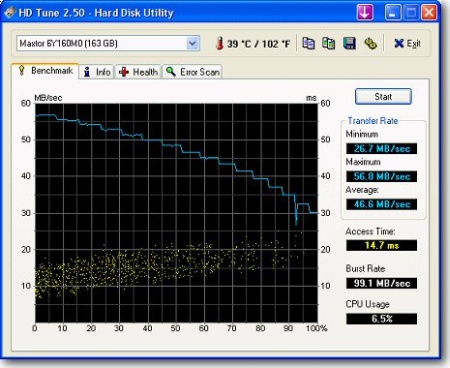 Our sequential performance tests start with the drive in fresh out of box state. This allows us to work the drive down to steady state at the same rate as the other SSD's we've previously reviewed. The 439.8MB/s average sequential read speed is very good in the 480GB capacity size. Some SSD controllers respond well large volumes of flash and others not so much.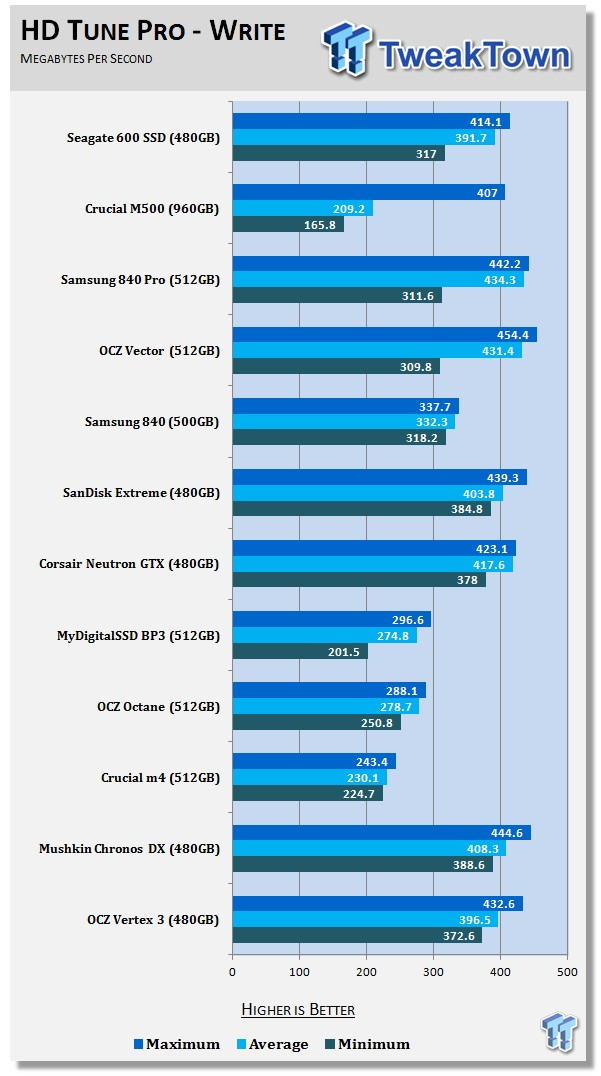 Write performance consistency is important for all SSD's at any level. Inconsistent write performance is what led to early SSD's stuttering and the problem continues today. In this review, we know more about the Seagate 600 than we did when writing the 240GB model. Seagate used two 256MB Micron DDR2 chips to hold page data. In the 240GB review we knew something wasn't quite where it should be and the relatively small DRAM is why. We've seen SSD's with up to 1GB of DRAM and we've also seen DDR3 as well. DDR3 decreases power and increases performance in most cases.
HD Tach - Sequential Write Performance after Random Writes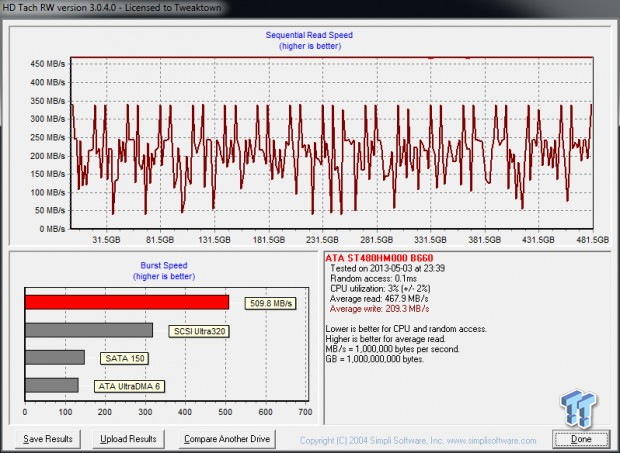 Here we see why the DRAM is so important. With only 512MB, the sequential write performance after a small amount of random writes delivers inconsistent and low write performance. The Corsair Neutron GTX 480GB also uses 256MB of DRAM to cache page table data. I would really like to see a LAMD controller with 1GB to see where the performance sits.
Benchmarks - AIDA64 Random Access Time
AIDA64 Random Access Time
Version and / or Patch Used: 1.60
Developer Homepage: http://www.aida64.com
Product Homepage: http://www.aida64.com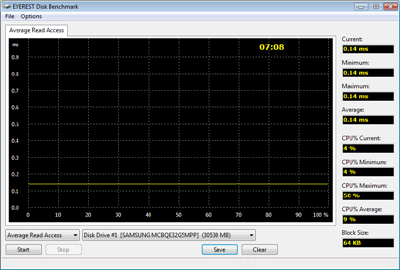 AIDA64 offers several different benchmarks for testing and optimizing your system or network. The Random Access test is one of very few if not only that will measure hard drives random access times in hundredths of milliseconds as oppose to tens of milliseconds.
Drives with only one or two tests displayed in the write test mean that they have failed the test and their Maximum and possibly their Average Scores were very high after the cache fills. This usually happens only with controllers manufactured by Jmicron.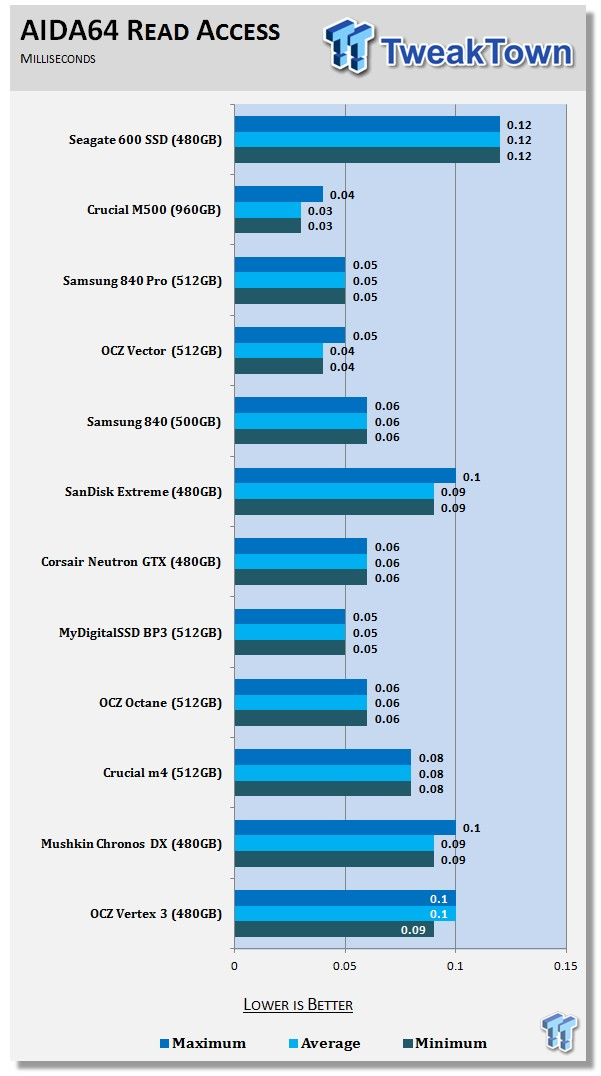 We've yet to figure out why the Seagate 600 has higher read latency in our 64KB block test, but the 240GB capacity size scored the same .12ms average time.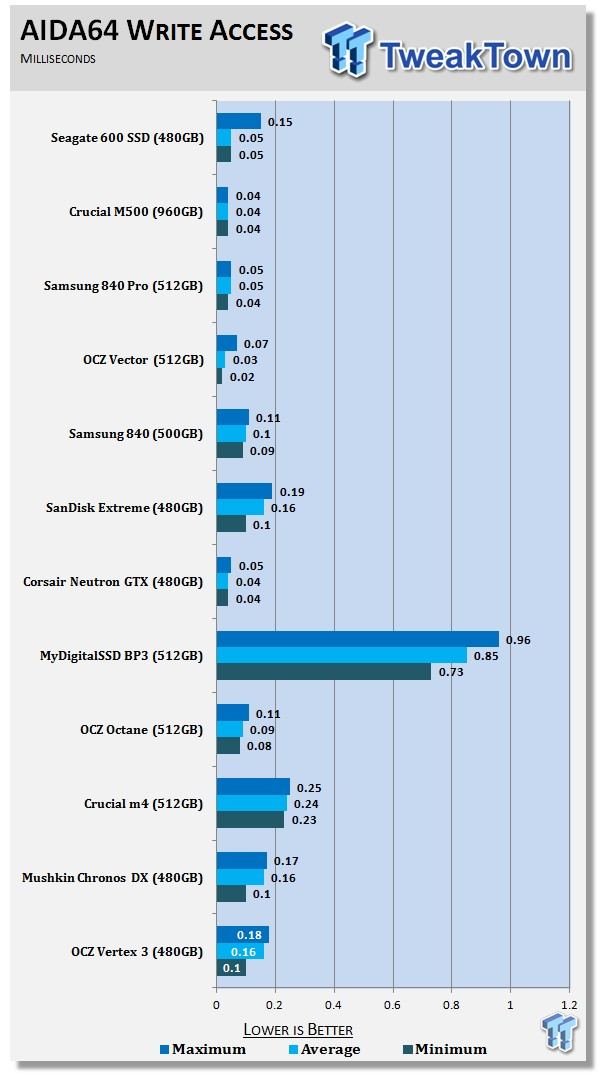 The 600 480GB did well with average write latency, but towards the end of the test, the latency spiked and continued the test in an elevated state.
Benchmarks - Anvil Storage Utilities
Anvil Storage Utilities
Version and / or Patch Used: RC6
So what is Anvil Storage Utilities? First of all, it's a storage benchmark for SSD's and HDD's where you can check and monitor your performance. The Standard Storage Benchmark performs a series of tests, you can run a full test or just the read or the write test or you can run a single test, i.e. 4K DQ16.
Anvil Storage Utilities is not officially available yet but we've been playing with the beta for several months now. The author, Anvil on several international forums has been updating the software steadily and is adding new features every couple of months.
The software is used several different ways and to show different aspects for each drive. We've chosen to use this software to show the performance of a drive with two different data sets. The first is with compressible data and the second data set is incompressible data. Several users have requested this data in our SSD reviews.
0-Fill Compressible Data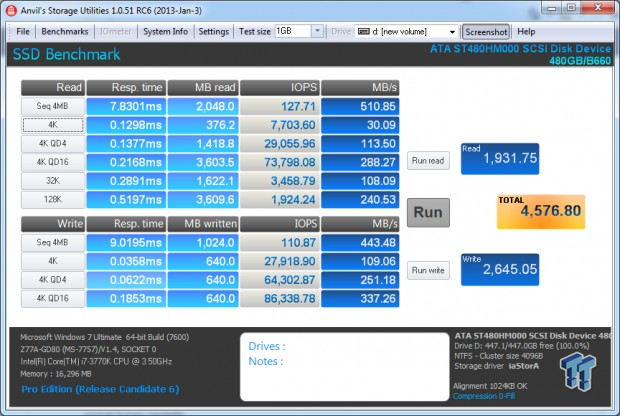 Incompressible Data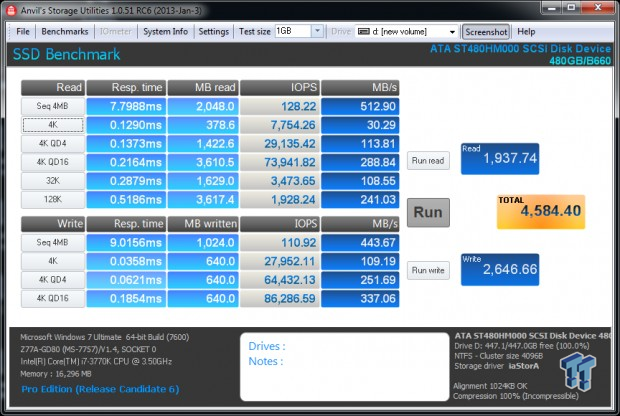 The Seagate 600 SSD does not lose performance when working with incompressible data. You get the same performance with compressible and incompressible data.
Read IOPS through Queue Depth Scale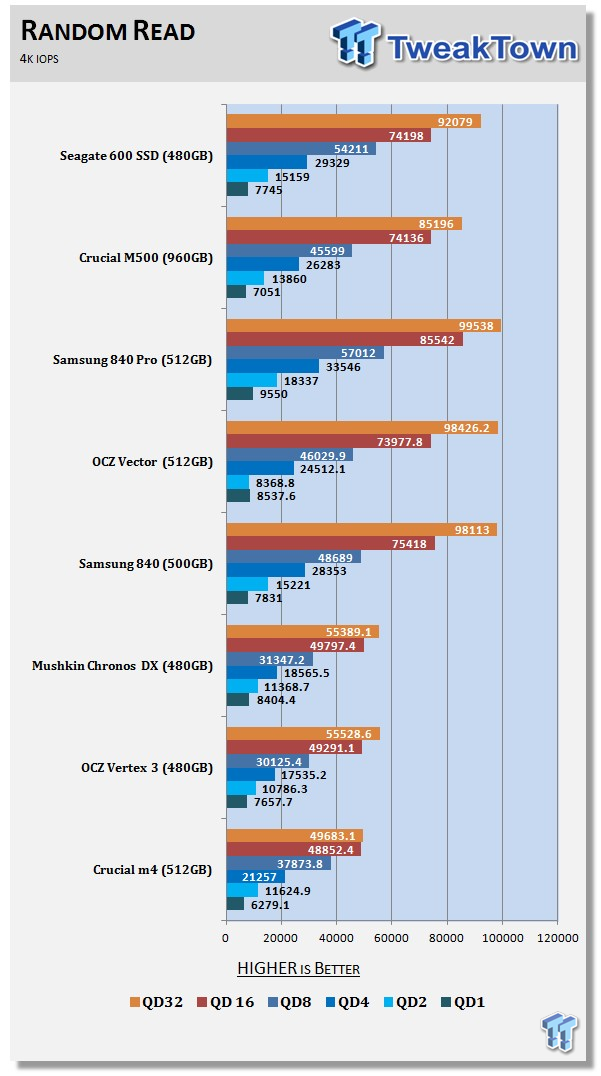 Companies like to talk about their high IOPS performance, but those large numbers only come at high queue depths. Most of us rarely get over QD4 and QD8 is like a once in a lifetime event under normal desktop use. With that in mind we build our spanning IOPS test that shows low queue depths as well as high queue depths. The Seagate 500 SSD 480GB does very well at high queue depths, but is just an average performer at the lower-end of the scale.
Scaling Write IOPS through Queue Scale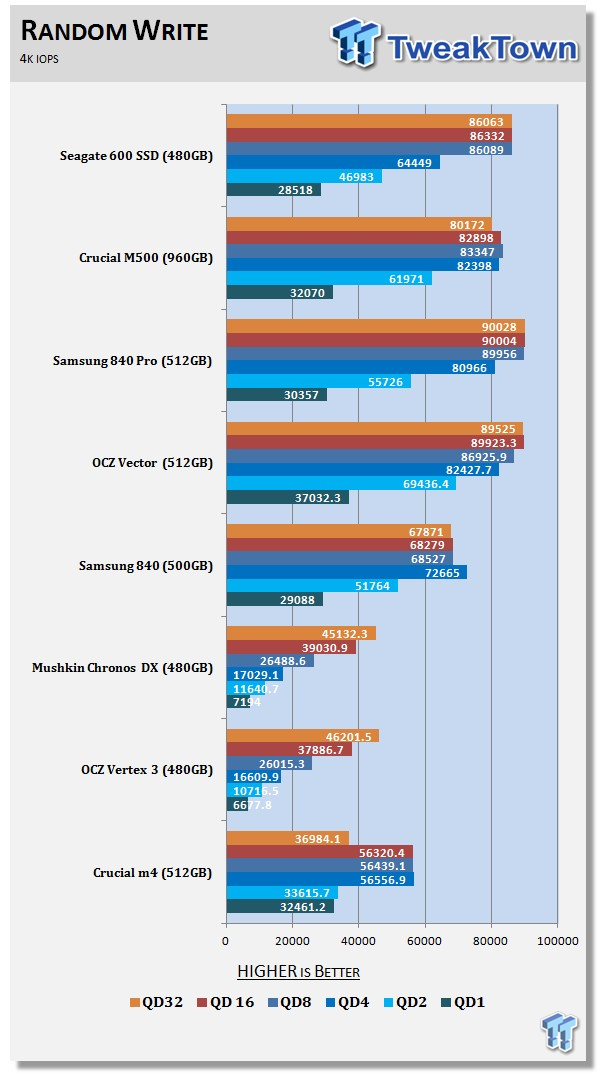 At the top of the chart we see a clear divide between the current crop of performance SSD's and mainstream SSD's at the bottom. The Seagate 600 480GB is right at home with the top tier drives when looking at the write IOPS. At the same time, it delivers the least amount of IOPS in that group.
Benchmarks - CrystalDiskMark
CrystalDiskMark
Version and / or Patch Used: 3.0 Technical Preview
Developer Homepage: http://crystalmark.info
Product Homepage: http://crystalmark.info/software/CrystalDiskMark/index-e.html
Download here: http://crystaldew.info/category/software/crystaldiskmark
CrystalDiskMark is a disk benchmark software that allows us to benchmark 4K and 4K queue depths with accuracy.
Key Features:-
* Sequential reads/writes
* Random 4KB/512KB reads/writes
* Text copy
* Change dialog design
* internationalization (i18n)
Note: Crystal Disk Mark 3.0 Technical Preview was used for these tests since it offers the ability to measure native command queuing at 4 and 32.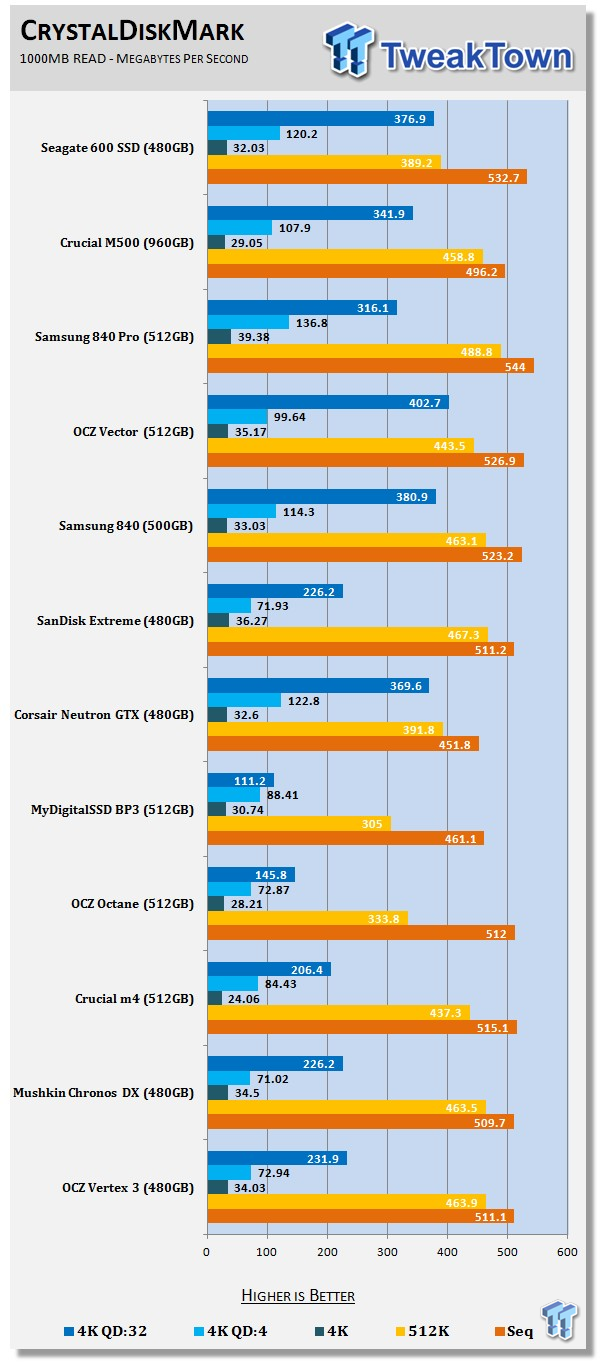 Here we look at 4K performance through the throughput glasses. At QD1 the Seagate 600 480GB delivers 32MB/s. That puts it with the Samsung 840 non-Pro and drives now repurposed for mainstream uses.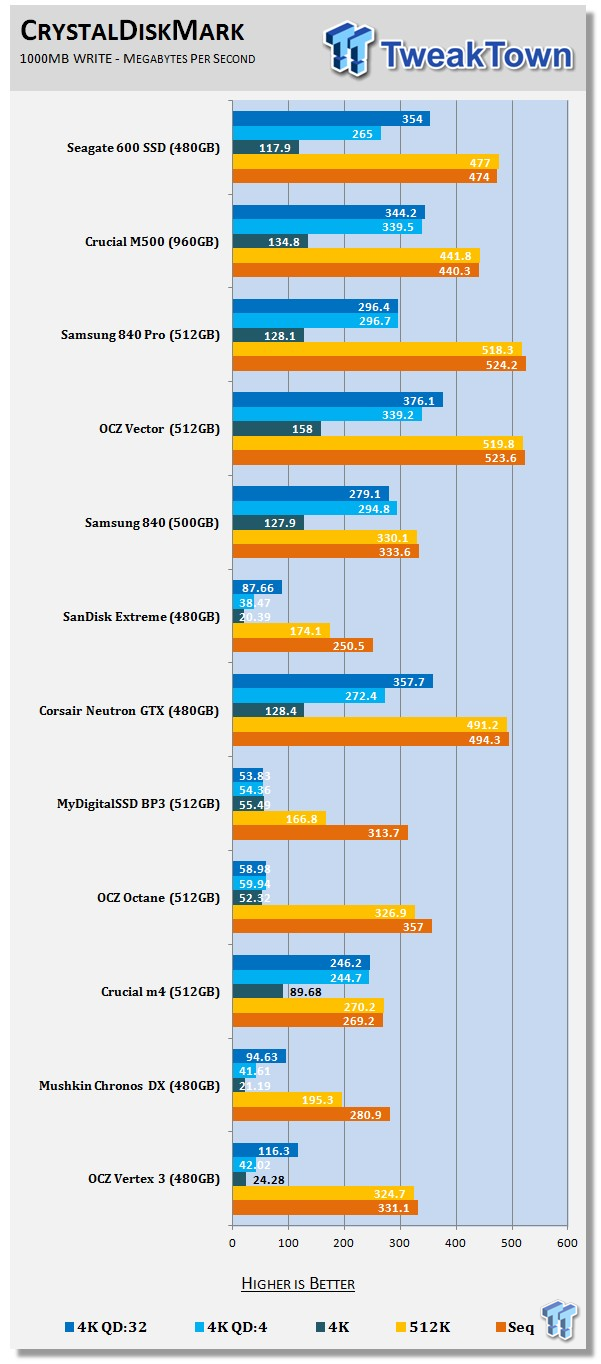 Single QD write performance was 117.9MB/s in our test. The drive scales well when QD increases up to QD32.
Benchmarks - PCMark Vantage Hard Disk Tests
PCMark Vantage - Hard Disk Tests
Version and / or Patch Used: 1.0.0
Developer Homepage: http://www.futuremark.com
Product Homepage: http://www.futuremark.com/benchmarks/pcmark-vantage/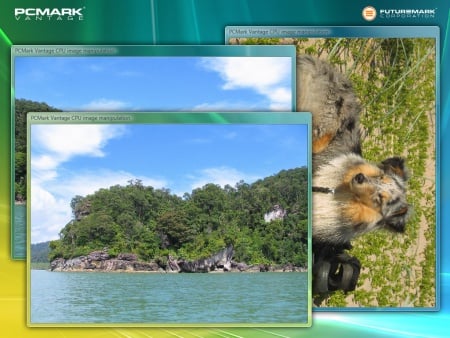 PCMark� Vantage is the first objective hardware performance benchmark for PCs running 32 and 64 bit versions of Microsoft� Windows Vista�. PCMark Vantage is perfectly suited for benchmarking any type of Microsoft� Windows Vista PC from multimedia home entertainment systems and laptops to dedicated workstations and high-end gaming rigs. Regardless of whether the benchmarker is an artist or an IT Professional, PCMark Vantage shows the user where their system soars or falls flat, and how to get the most performance possible out of their hardware. PCMark Vantage is easy enough for even the most casual enthusiast to use yet supports in-depth, professional industry grade testing.
FutureMark has developed a good set of hard disk tests for their PCMark Vantage Suite. Windows users can count on Vantage to show them how a drive will perform in normal day to day usage scenarios. For most users these are the tests that matter since many of the old hat ways to measure performance have become ineffective to measure true Windows performance.

HDD1 - Windows Defender
HDD2 - Gaming
HDD3 - Windows Photo Gallery
HDD4 - Vista Startup
HDD5 - Windows Movie Maker
HDD6 - Windows Media Center
HDD7 - Windows Media Player
HDD8 - Application Loading
The Seagate 600 480GB does really well when the drive is empty. Our daily use software test shows performance that is even better than the Samsung 840 Pro. As we know though, SSD's decrease performance when data populates the flash, and that has a different effect on different SSD's.
Benchmarks - PCMark Vantage - Drives with Data Testing
For a complete breakdown on the Drives with Data Testing please read this article. You will be able to perform this test at home with the files provided in the article - full instructions are included.
- Brief Methodology
SSD's perform differently when used for a period of time and when data is already present on the drive. The purpose of the Drives with Data testing is to show how a drive performs in these 'dirty' states. SSD's also need time to recover, either with TRIM or onboard garbage collection methods.
Drives with Data Testing - 25%, 50%, 75% Full States and Dirty / Empty Test
Files needed for 60 (64GB), 120 (128GB), 240 (256GB)
60GB Fill - 15GB, 30GB, 45GB
120GB Fill - 30GB, 60GB, 90GB
240GB Fill - 60GB, 120GB, 160GB
Empty but Dirty - a test run just after the fill tests and shows if a drive needs time to recover or if performance is instantly restored.

The Seagate 600 480GB compares to other drives better than the 240GB model we tested earlier today.
The 480GB doesn't quite get to the same level of performance when half full that we proved with the Samsung 840 Pro 512GB, but it's fairly close. The 480GB doubles the DRAM buffer size over the 240GB and we think that helps this capacity size.
Benchmarks - BootRacer
BootRacer - System Boot Time
Version and / or Patch Used: 4.0
Developer Homepage: Greatis
Product Homepage: BootRacer
Download here: http://www.greatis.com/bootracer/download.htm
Note: In this test we use the Lenovo W530 Mobile Workstation loaded with an operating system and several program files. The data on the drive at the time of the test is 45GB. The second test, 50GB Free, was ran with the drives filled with block data until only 50GB of free capacity remained.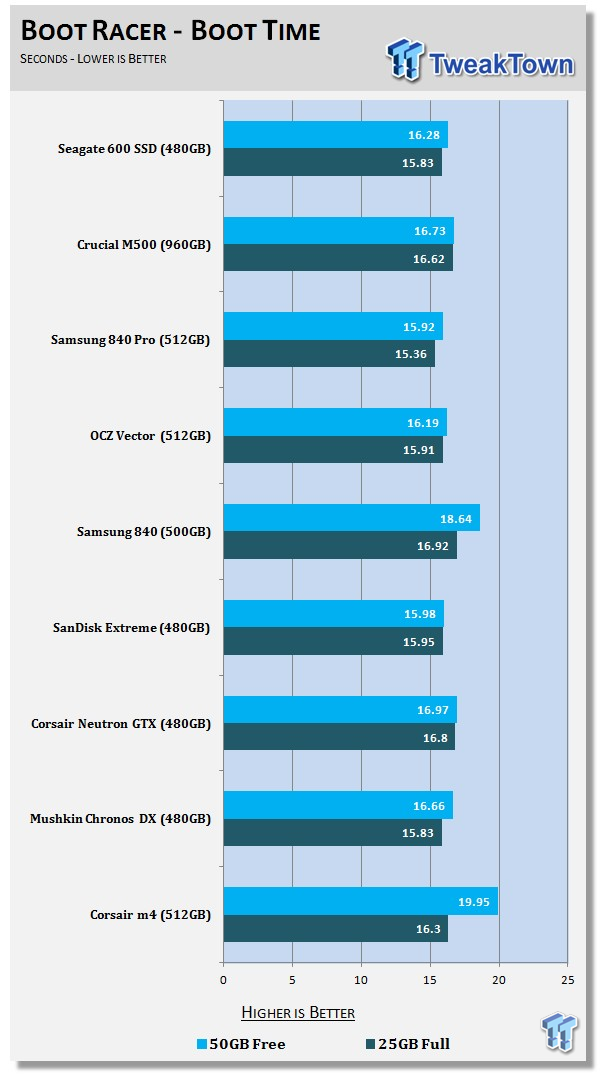 Our time to desktop after a reboot test shows fairly consistent performance across the chart. At this point SSD performance has moved the boot bottleneck back to other areas.
Benchmarks - DiskBench
DiskBench - Directory Copy
Version and / or Patch Used: 2.6.2.0
Developer Homepage: Nodesoft
Product Homepage: DiskBench
Download here: http://www.nodesoft.com/diskbench/download
Note: In this test we use the Lenovo W530 Mobile Workstation and a SuperSSpeed S301 SLC 128GB SSD to move a 15GB block of data to and from the target drive. This is part of our real-world test regiment. Roughly 45GB of data resides on the target drive before the '15GB Block' is transfer. The 15GB Block is the same data we built for the Data on Disk Testing and is a mix of compressible and incompressible data.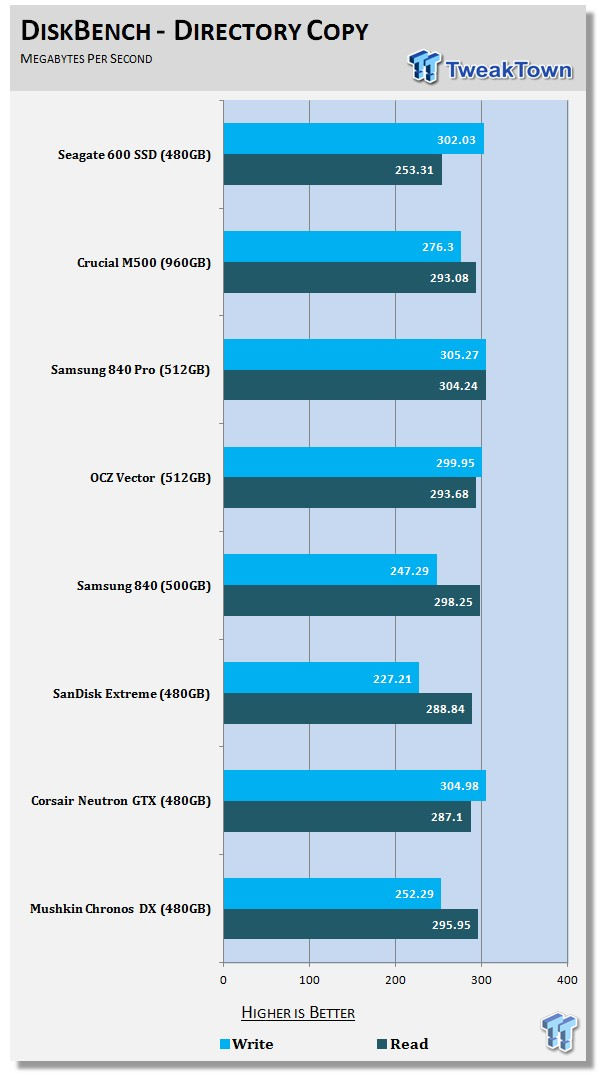 LAMD controllers are a rare breed, one of the few that actually write directory data (a folder full of mixed data) faster than reading it while transferring data to another SSD.
Benchmarks - Power Testing
Bapco MobileMark 2012 1.5
Version and / or Patch Used: 2012 1.5
Developer Homepage: http://www.bapco.com
Test Homepage: http://www.bapco.com
MobileMark 2012 1.5 is an application-based benchmark that reflects usage patterns of business users in the areas of office productivity, media creation and media consumption. Unlike benchmarks that only measure battery life, MobileMark 2012 measures battery life and performance simultaneously, showing how well a system design addresses the inherent tradeoffs between performance and power management.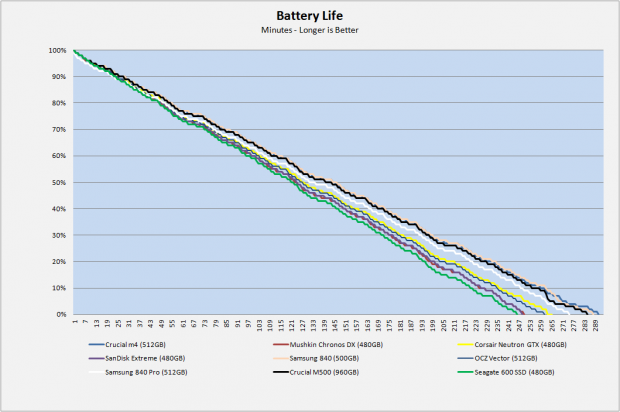 We've talked quite a bit about the DDR2 DRAM buffer in this review and the reason why takes us to this chart.
The Micron DDR2 chips Seagate used in the 480GB drive use 1.8 volts of power. The DDR3 chips we've seen in some SSD's go all the way down to 1.35 volts. LSI SandForce doesn't use a DRAM buffer at all. In our notebook battery life test the Seagate 600 SSD 480GB delivered the least amount of battery life.
PCMark Vantage HDD Test - Power Draw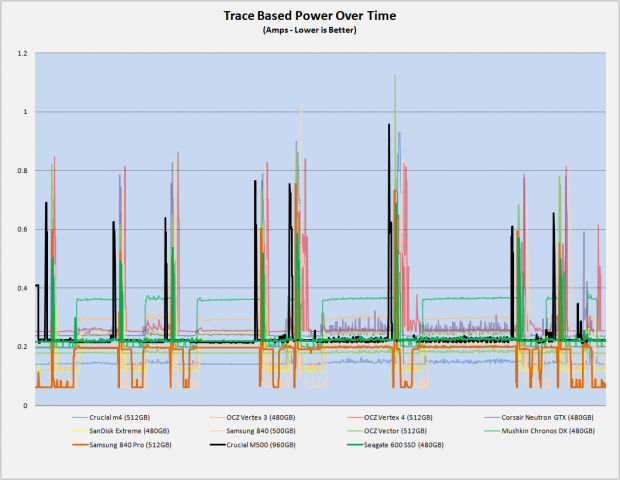 The 600 SSD 480GB doesn't do anything crazy with power, but at the same time it doesn't drop down into a low idle state, either.
Final Thoughts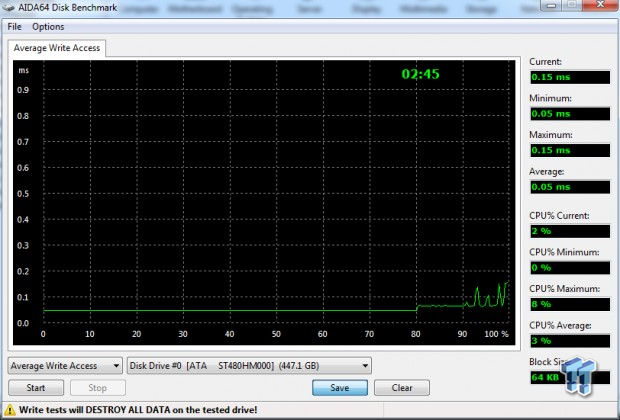 In the image above, we see the AIDA64 write latency test. The spikes are common with drives that rely on DRAM. Some drives give us more to worry about than others, the Samsung 840 120GB and 840 Pro 128GB are two popular product examples that we never expected to have issues with. Older SSD's based on Jmicron controllers and early Toshiba controllers had bad inconsistency issues. The Seagate 600 480GB isn't that bad and it's certainly much better than the 240GB model we published an hour ago.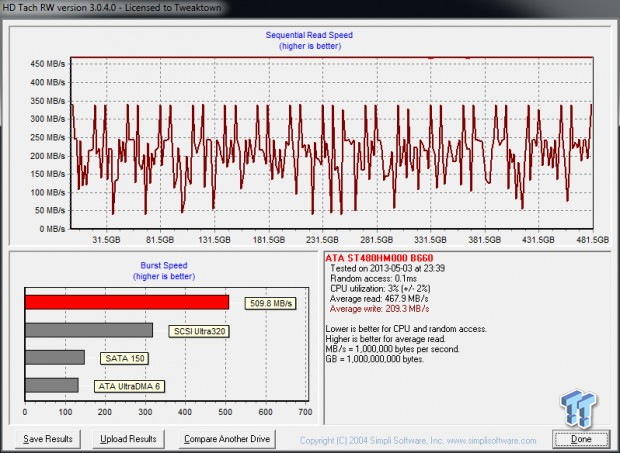 At some point though, we have to ask, what is an acceptable level of inconsistency? Every SSD can get to this point and look like the graph above, but most don't get there after such a small amount of use. What it really comes down to is this, how are you going to use the drive? Seagate marketing just finished sending over the final details and the 600 Pro is a desktop / notebook replacement for mainstream users. If you just want faster boot times, faster game load times and fast data access the 600 SSD is a good choice, as long as the price is in the mainstream SSD range.
On the other side of the coin, if you edit videos you don't want the inconsistent write speeds like in the chart above. For years we've been spoiled with LSI SandForce drives built from enterprise controllers and paired with all different qualities of flash. The enterprise based architecture delivered consistent performance. Now we are moving beyond the SandForce era and some products are getting better performance, but only 50% of the time.
I've always said that maximum performance and even average performance isn't as important as minimum performance. SSD's have different states of minimum performance and different software degrades performance at different rates.
Mainstream SSD's really come down to one important category, price. At the time of writing, we don't know where the Seagate 600 SSD 120GB, 240GB or 480GB will fall on the price scale, because Seagate hasn't told us. The price is really going to seal the deal, but the mainstream SSD market is now the most populated segment in the market, and it might be a tough one for Seagate to crack, even being who they are.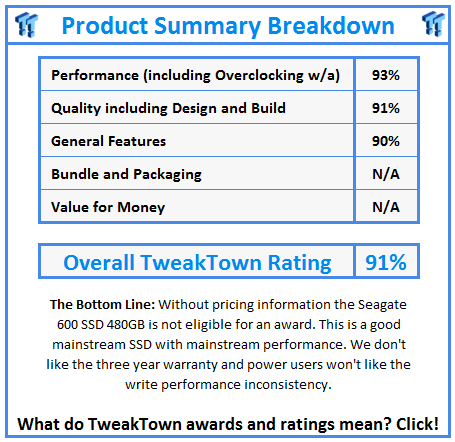 Update: Newegg just gave us our first glimpse of prices for Seagate's new 600 SSD Series. All pre-order prices are well below $1 per GB, a move that surprised us. If the pre-order prices hold up, then the 600 SSD is a helluva value coming in much less than any other LAMD controlled product on the market, and much lower than Samsung's 840 Pro and OCZ's Vector.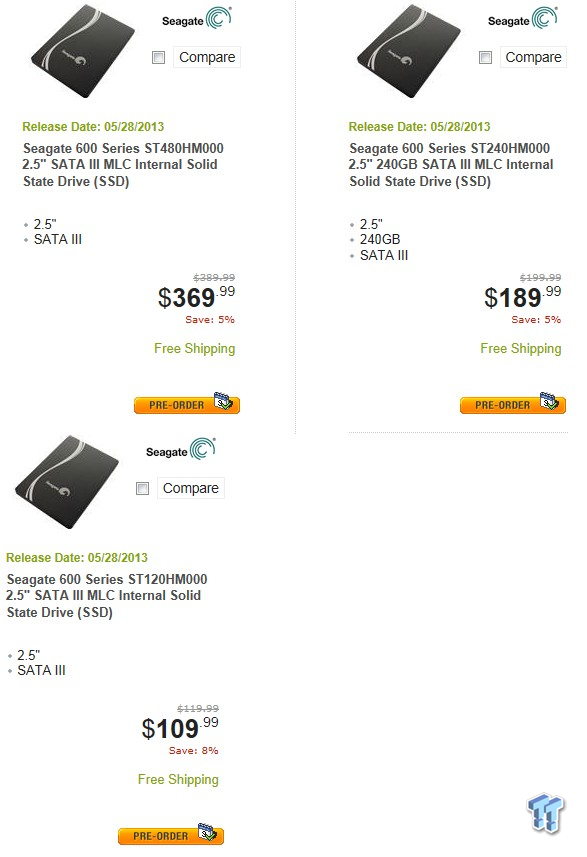 If we would have known pricing was this low our entire outlook on the drive might have been different. When it comes to mainstream SSD's the Seagate 600 is faster than many of the Team SandForce drives costs about the same. Look for more in our Mainstream SSD Roundup coming right after Computex.