Introduction, Specifications, Availability and Pricing
Today we've got another newcomer to our bench that few in the USA have probably heard of. AZZA is a company founded in 1996 as a motherboard manufacturer. They had worked their way up to one of the top ten suppliers globally in the 90's and in 2004 decided to expand into PC cases. In 2009 the company restructured and began selling products under their own name. AZZA also takes pride in giving back to the community and donates a minimum of 50% of their profits to the One Vision, One Mission charity program, sponsoring under-privileged children who are in need of help, nourishment and education.
We've got their new AZZA Platinum 1000W power supply on the bench today and are pretty confident that it will have solid results. The power supply itself is a rebranded Super Flower Golden King that we have seen from at least six other manufactures so we are already quite familiar with what the power supply should have to offer.
Let's dig into this one and see how it stacks up to the others.
Specifications, Availability and Pricing

Knowing that this is a Super Flower rebrand, we can see that I/O specifications are identical to what Super Flower lists the unit as having. There is a single 12V rail for providing a majority of the power. Both the 3.3V and 5V rails are rated for 20A each with a combined maximum output of 100W. The 5VSB rail is rated for a measly 2.5A or 12.5W. Maximum combined output for the AZZA 1000W Platinum is 1000W.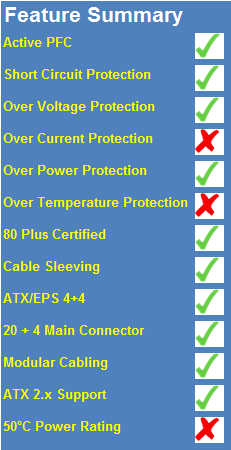 AZZA's features for the Platinum 1000W are also identical to the Super Flower reference design. The power supply features SCP, OVP and OPP, but lacks OCP and OTP. It also features both native and modular cabling, all of which is either fully sleeved or of the flat ribbon type. AZZA rates the power supply for 80 PLUS Platinum efficiency, but does not rate it for 100% continuous output at 50C.
AZZA lists the Platinum 1000W for $229.99. That puts it at a very comparative price point with other 1000W Platinum rated power supplies. Newegg currently has the AZZA Platinum 1000W list for $201.29 after mail-in rebate and shipping, which makes it a much more attractive deal and about $15 cheaper than other similar power supplies. Warranty for the AZZA Platinum 1000W is a measly three years. We find this somewhat crappy to say the least, especially since Super Flower lists the unit with a five year warranty.
Packaging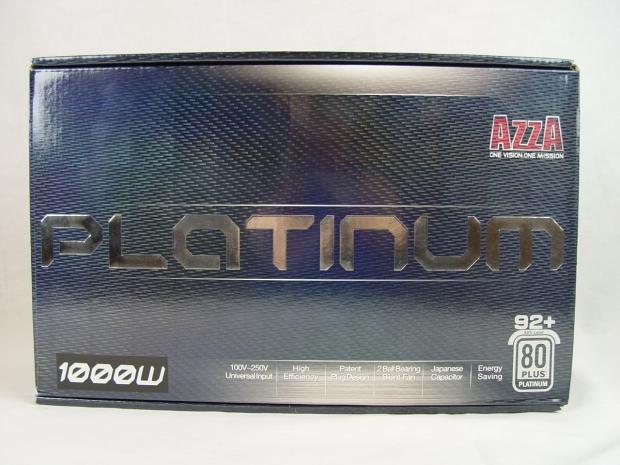 The packaging itself does leave a bit to be desired, at least on the front. It would be very nice to at least have a picture of the unit present.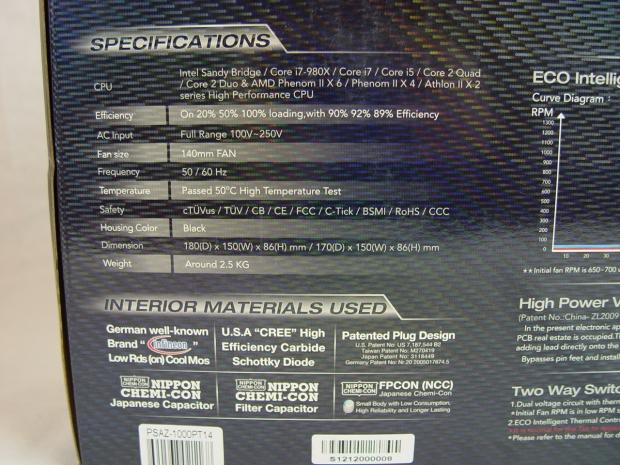 The left half gives us some specifications on the unit as well as informing us of the materials used on the inside.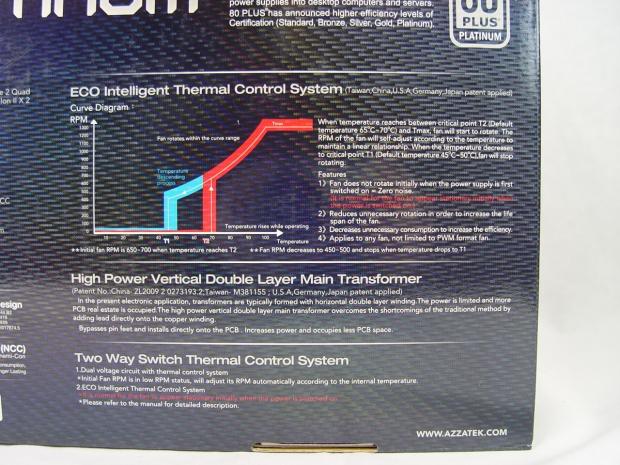 The right half talks about thermal control for the unit.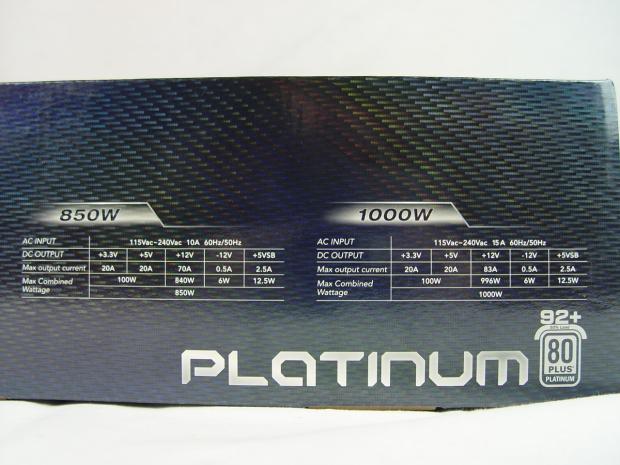 The sides of the box are blank, but the top gives us the I/O specifications for the Platinum 1000W. There are other wattages available in the lineup.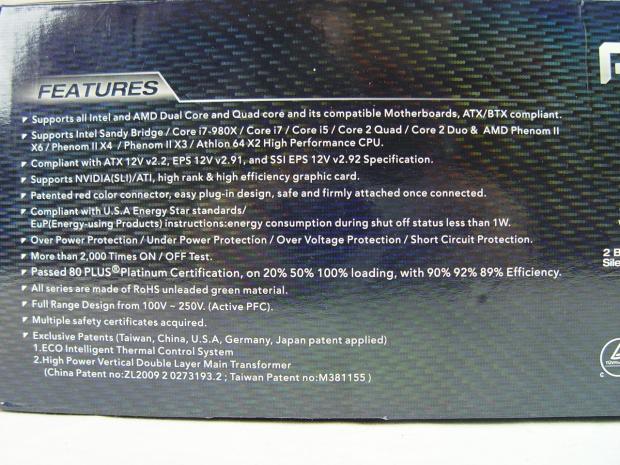 More features are listed on the bottom in bulleted format.
Inside the Box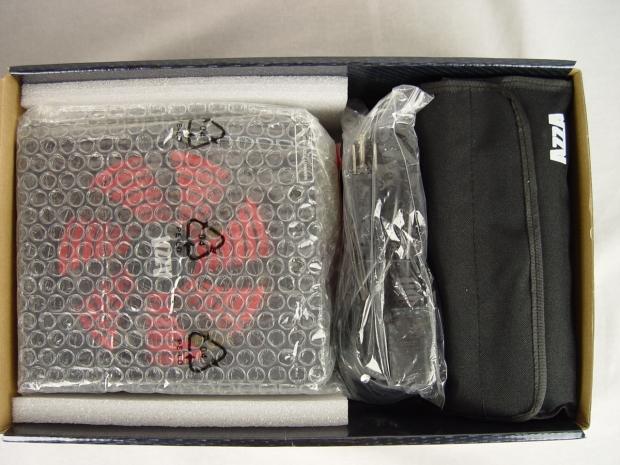 Inside we find that the power supply is protected on all sides with foam or the modular cables.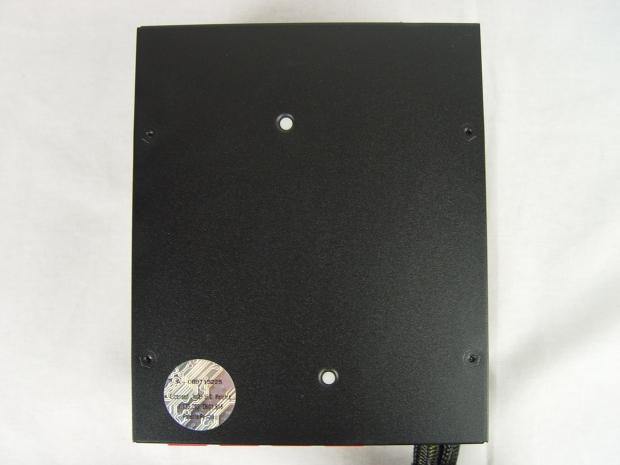 As always, the top gives us our first glimpse at the unit and a good view of the color. The unit is finished in a semi-gloss black.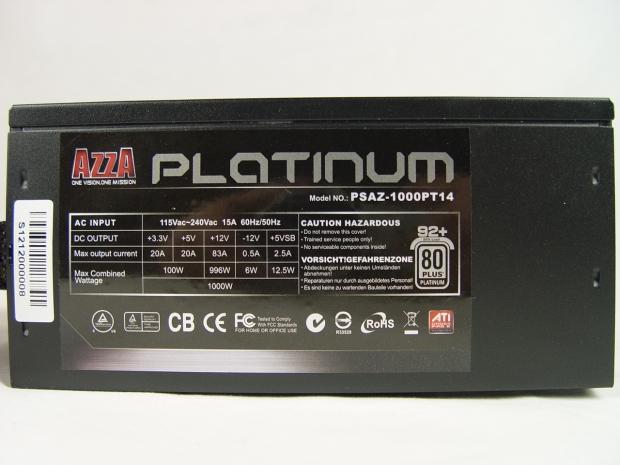 Each side features a different logo. This one has the I/O specifications for the AZZA Platinum 1000W.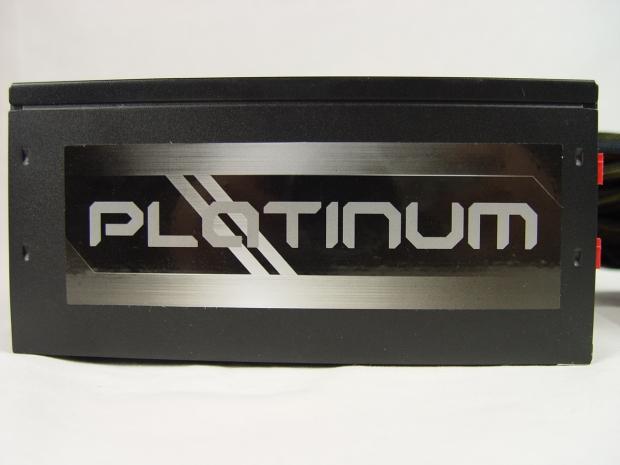 The other side simply says Platinum on it, but strangely isn't inverted in the event that it needs to be installed upside down in the bottom of a case.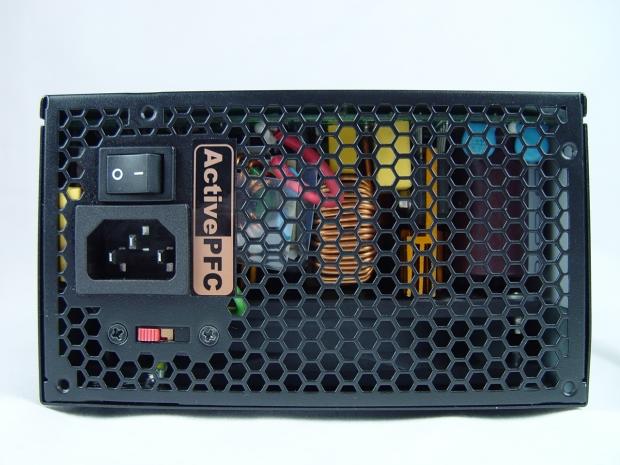 The back has the standard honeycomb mesh exhaust grill with AC input and on/off rocker switch. Also present is a switch to select between modes for the fan. One mode is thermally managed while the other always on.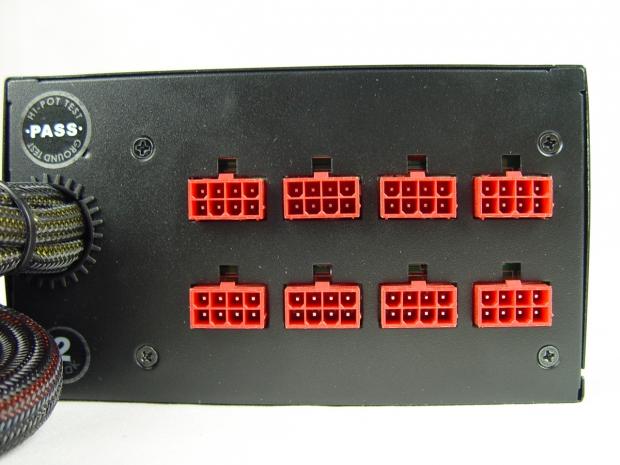 Towards the front we find the modular connectors. AZZA chose to go with red ones that contrast nicely with the black paint.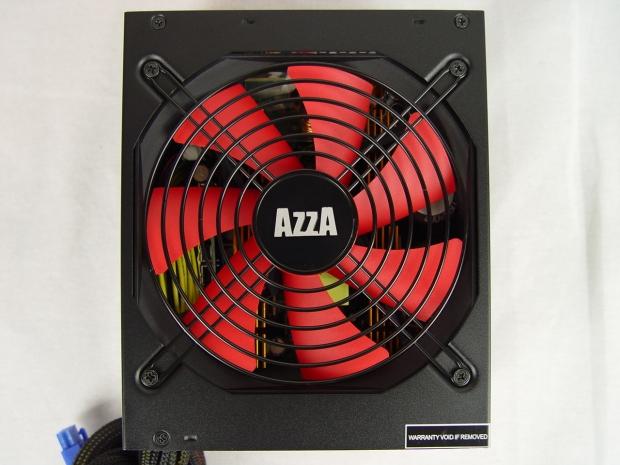 The bottom houses the 140mm red fan that actively cools the unit.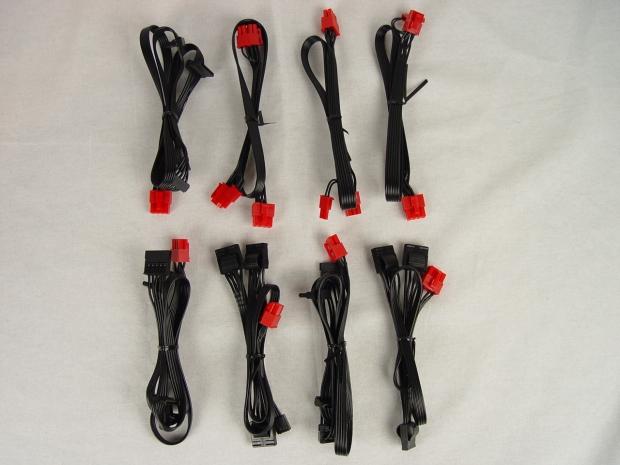 All modular cables are of the flat ribbon type.
Also included with the power supply are mounting screws, AC input cord and the user manual.
Cabling Arrangement and A Look Inside
Cabling Arrangement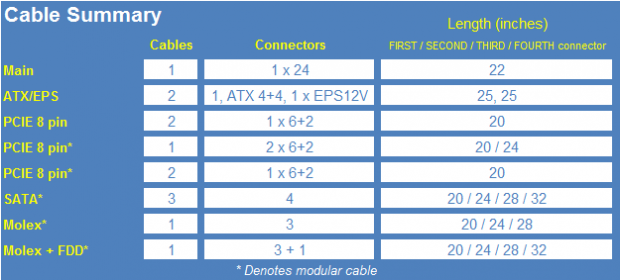 Connector availability for the AZZA Platinum 1000W is great, but the cable selection is a bit ho-hum. There are six PCI-E connectors present to power a trio of video cards along with 12 SATA, six Molex and a single FDD connector. The native cables are what make this less than ideal. It would be much nicer to see the two native PCI-E cables as a single cable with dual connectors. It would also be nice to see the EPS12V connector made modular in order to reduce cable clutter as 95% of users will never need more than one of these.
Rail distribution is as simple as it gets with a single 12V rail. There is no need to worry about load balancing here.
A Look Inside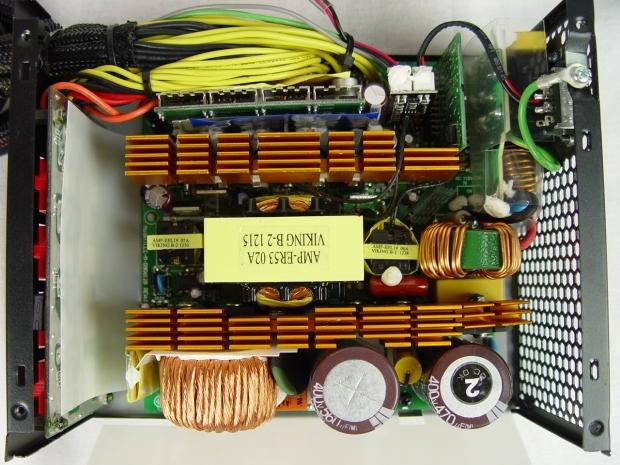 As expected, there are two heatsinks that run the length of the unit to provide passive cooling for the Platinum 1000W.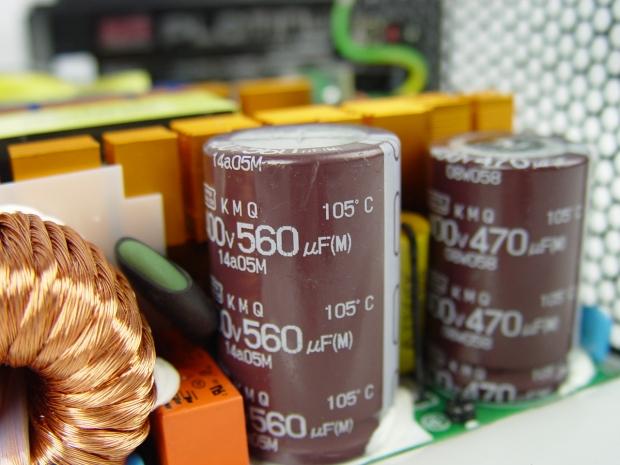 Two Nippon Chemi-Con capacitors sit on the primary side of the power supply.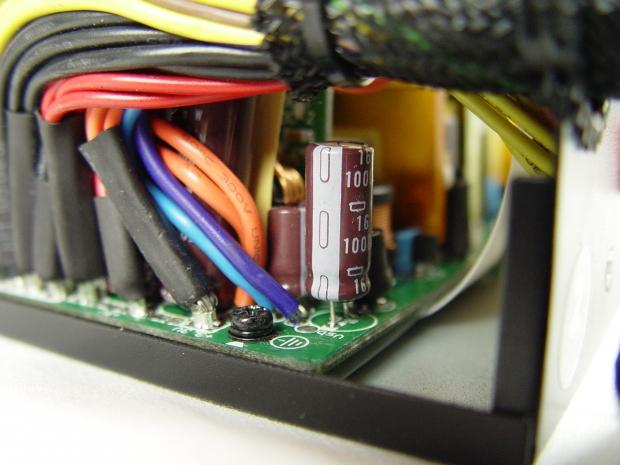 The secondary side of the power supply features many more Nippon Chemi-Con caps.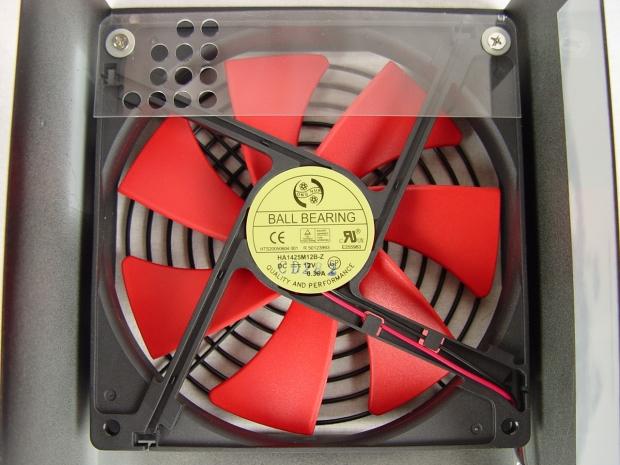 AZZA uses the Hong Hua 140mm fan to provide the active cooling for the Platinum 1000W power supply.
Test Results and Final Thoughts
Test Results
Our load tests utilize a couple of FAST ATE active load testers and a variety of other equipment such as an oscilloscope, power conditioner, temperature probe and a power consumption meter. You can read more about our standard testing approach here.
The tests performed are based around six conceivable setups that are out there and progressively load down the PSU up to the power supply's limits or 1000W, whichever comes first. Since our test equipment's limits are equal to that of the AZZA Platinum 1000W power supply, we can test it to the maximum.

The above tests represent typical loads that we have measured from various systems and are meant to give a rough idea of where your computer might fall in line with our tests. Please keep in mind that each system is different and actual loads can vary greatly even with similar hardware.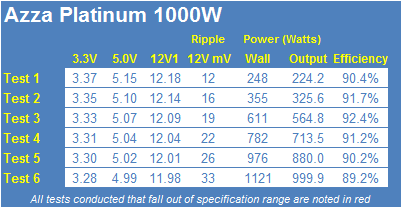 Let's start by taking a look at the voltages to see how well this unit did during testing. Starting with the 12V rail, we see 2% regulation from start to finish with a total drop of .20V. The 5V rail managed to stay within 3% of specification with a total drop of .16V from start to finish. Moving towards the 3.3V rail, we see that regulation was within 3% of specification with a total voltage drop of .08V.
DC Output quality for the Platinum 1000W was great and well within specification. During Test 1, we saw 12mV of noise on our scope. When we increased the loads in Test 3, the ripple climbed to 19mV at a little over half load. During Test 6 under a load of 1000W, the oscilloscope showed a maximum of 33mv on noise on the 12V rail.
The AZZA Platinum 1000W is rated for 80 PLUS Platinum efficiency. This means that the power supply must perform at 90%/92%/89% efficiency at 20%/50%/100% loads respectively. As you can see, the Platinum 1000W passed on our bench, and wasn't close to failing at any point.
Final Thoughts
While AZZA may be new to us and our readers, the power supply in front of us is most certainly not. We've seen it in many different forms from a plethora of manufacturers and all have given us the same result. The AZZA Platinum 1000W is a solid power supply inside and out. Knowing that it is a reference Super Flower Golden King unit helps and there is little to say about this power supply that we've not said before. It is a fantastic unit all the way around.
Performance is great out of the AZZA Platinum 1000W even if the noise suppression isn't as strong as we've seen on other units. Considering we've seen many of these in the past and this one has displayed the "worst" ripple to date, we would happily pick one up and stick it in our own rig without hesitation. It may have the worst ripple we've seen from a reference Golden King, but it isn't even anywhere close to being out of specification, so it's not an issue at all.
The thing that bothers us a bit is the short warranty for the unit. It isn't that the warranty is short that bothers us, but that other identical units have a substantially longer warranty. We just don't understand why they would offer what has become a sub-standard warranty when the company manufacturing it for them offers it with a longer warranty themselves. It just doesn't make sense, especially when trying to make your product stand out in an already crowded market segment.
Aside from being a quality unit though, the price is what really sets the AZZA Platinum 1000W apart from the competition and that is most certainly one way to make a name for yourself. If you're seeking a quality 1000W power supply and doing it on a tight budget, you won't find a better bargain especially if you can catch the power supply on sale.