Introduction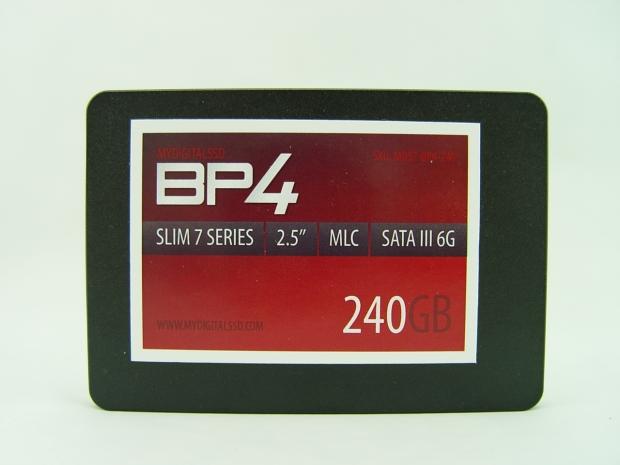 The MyDigitalSSD BP3 and its Phison S8 controller was the sleeper SSD product of 2012. The BP3 was a very fast mainstream drive with a price that blended into the budget SSD class. BP3 used a Phison S8 controller, a controller that was a break out product for Phison, blowing the capacitors off every other Phison controller before it. Phison has made further refinements to the controller to increase performance, mainly in the random area, the one place where this series needed improvement.
The MyDigitalSSD BP4 uses the newly refined S8 controller and pairs it with the newest in NAND flash technology. Toshiba released 19nm Toggle 2 NAND last year and a few products took advantage of the technology. The most well-known product was Plextor's M5 Pro, but BP3 used it as well. The new version, version B, doubles the page size to 16K. This increases sequential performance and the new Toggle 2 version B also costs less than the first 19nm.
Lower prices and new cutting edge technology, it sounds like something My Digital would latch on to and bring to market before anyone else. The BP4 2.5" drives are here in the lab, but not listed at Amazon just yet.
My Digital does have the BP4 mSATA drives listed and we'll take a look at those next week. For now, let's check out what could be a nice price to performance vs. capacity leader.
Specifications, Pricing and Availability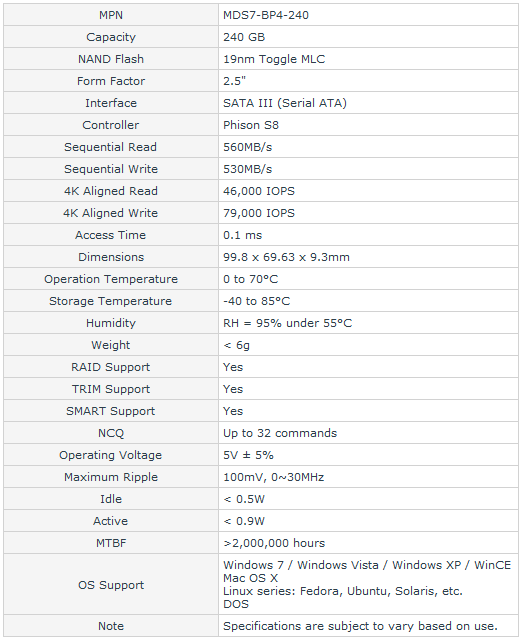 At the time of writing the MDSSD BP4 was just a preorder item on MyDigitalDiscount's website. There are three capacity sizes - 60GB, 120GB and 240GB. Today we're testing the 240GB and soon the 120GB review will hit our website. MyDigital has BP4 in mSATA variants as well.
This is the second time we've seen a Bullet Proof product with a Phison S8 controller. Phison increased the performance via new firmware. The main difference between BP3 and BP4 after flashing BP3 to the new firmware is the NAND flash. BP4 uses new 19nm Toshiba Toggle 2 NAND with 16K page sizes. The sequential read performance quoted by MDSSD is 560MB/s, the upper limits of SATA III. Sequential write quoted is 530MB/s. 4K aligned read tops 46K IOPS while 4K write IOPS is 79K.
The 2.5" drives will hit the market soon and with the following prices - 240GB ($179.99), 120GB ($99.99), and the 60GB ($64.99), all prices USD and pending list at Amazon and MyDigitalDiscount.com. The prices are very good for any SSD, but the performance offered is very good as well. BP4 is also MyDigital's first 7mm z-height form-factor drive for easy installation in new ultrabooks that require the reduced size.
MyDigitalSSD BP4 240GB SSD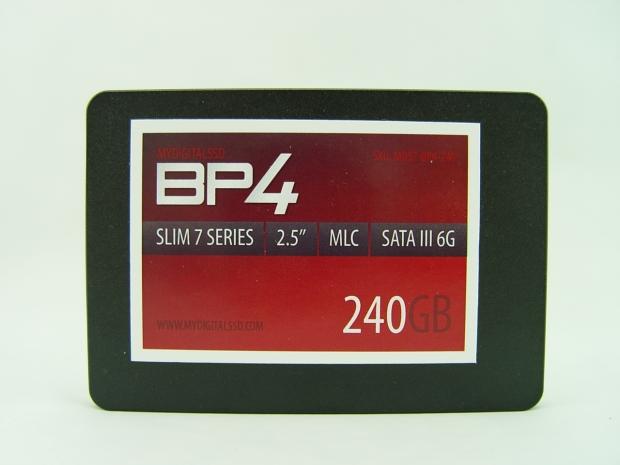 Here we get our first look at the MyDigitalSSD BP4. These drives are so new they shipped without a label and we later received the sticker just prior to the review. I'm sure MDSSD will do a much better job at getting the label strait, something I could use some practice doing.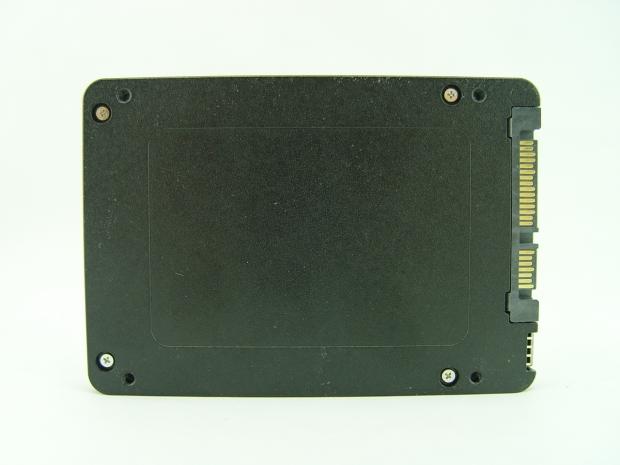 There really isn't much to see on the outside since SSDs are all about the internal components.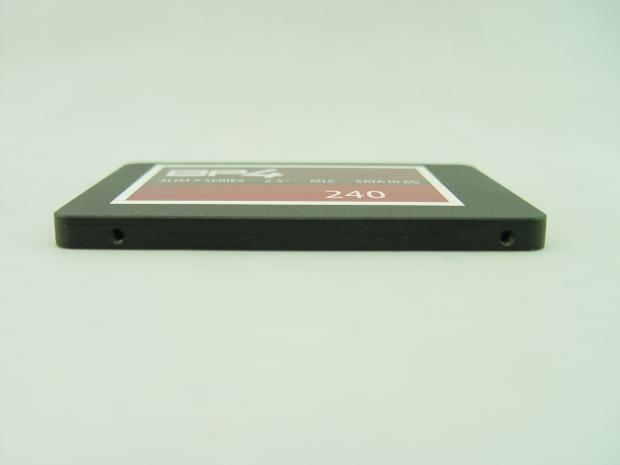 This is MDSSD's first 7mm z-height drive. We knew it wouldn't be too long for a 7mm drive to enter the lineup since MDSSD focuses on the mobile market with a keen eye for new technology that reduces the cost of ownership.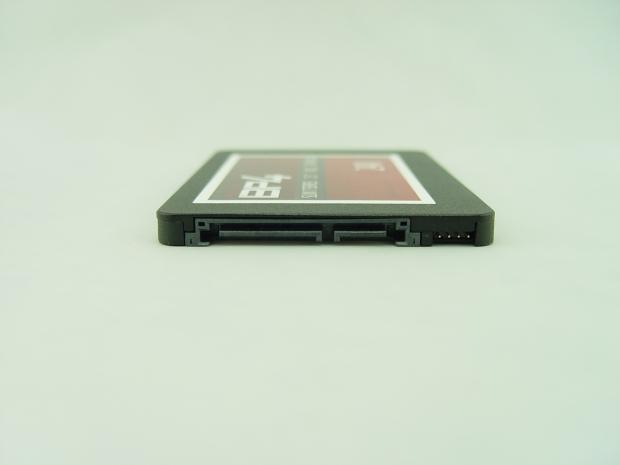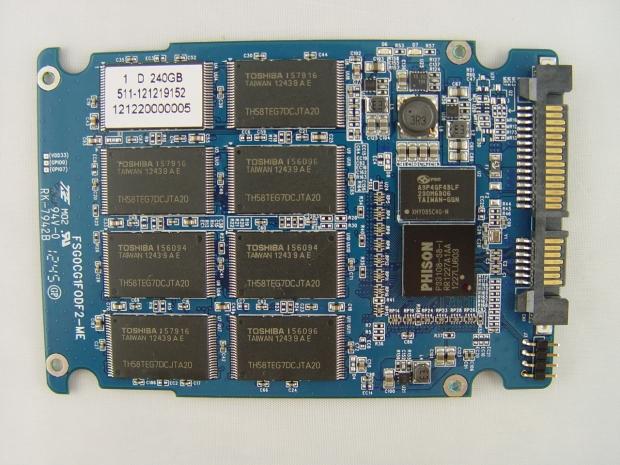 Here we get our first look at the internals. The Phison S8 controller was in the BP3, but the new programming and firmware make the updated version faster across the board.
We weren't able to find a lot of information on the DRAM chip. PSC (Powerchip Semiconductor Corp) and Elpida Memory announced a joint venture in Dec 2011 and since then it's been a bit difficult to find all of the fine details. We're told this is a 256MB chip.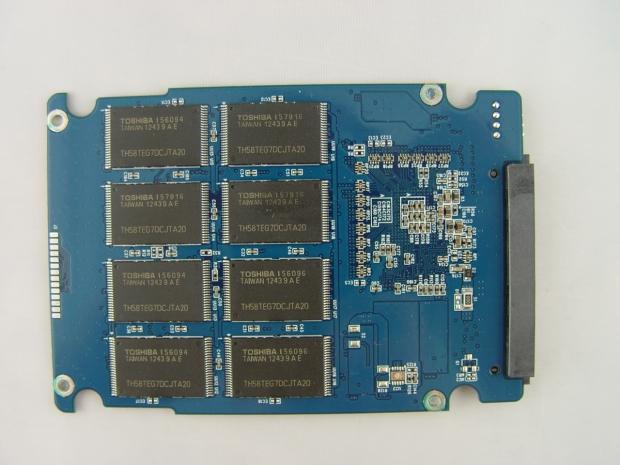 This drive uses eight of the new Toshiba Toggle 2 NAND chips built on the new second gen 19nm process. The new 16K page size increases sequential performance... as you're about to see.
Benchmarks - Test System Setup and ATTO Baseline Performance
Desktop Test System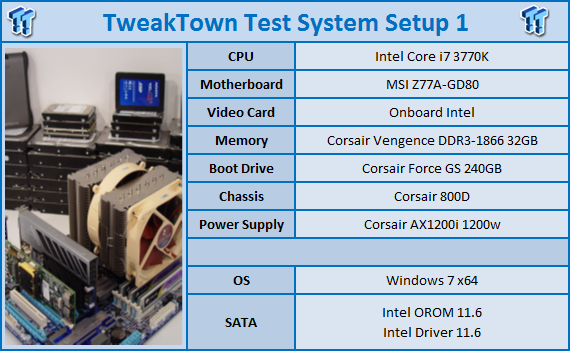 Lenovo W530 - Mobile Workstation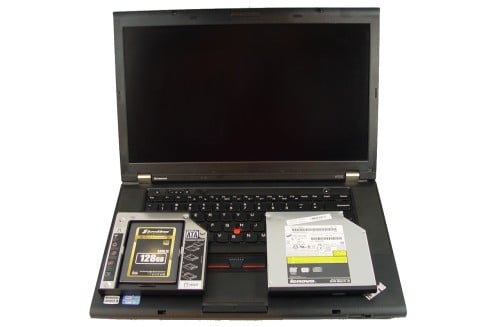 We use two systems for SSD testing. The desktop runs a majority of the tests and the Lenovo W530 runs the notebook power tests as well as the real-world file transfer benchmark.
ATTO Baseline Performance
Version and / or Patch Used: 2.34
ATTO is used by many disk manufacturers to determine the read and write speeds that will be presented to customers.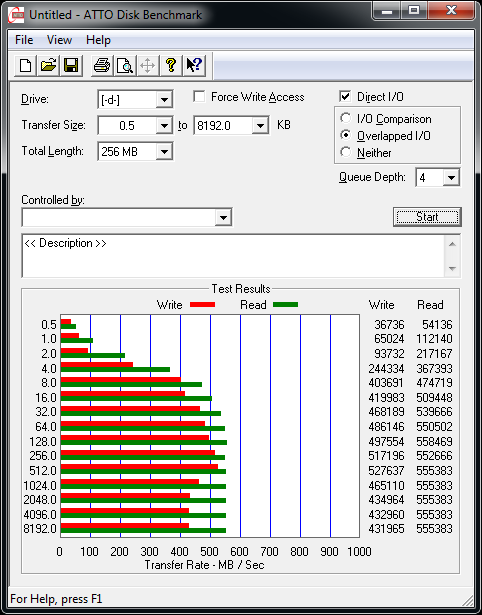 We managed to achieve just over 555MB/s read performance out of the new BP4 SSD. The write performance nearly hit 530MB/s. The drive offers performance all over the place, but it does drop off a bit in the largest block sizes.
We'll have to see how that affects the performance in our real-world tests later in the review.
Benchmarks - Sequential Performance
HD Tune Pro
Version and / or Patch Used: 4.00
Developer Homepage: http://www.efdsoftware.com
Product Homepage: http://www.hdtune.com
HD Tune is a Hard Disk utility which has the following functions:
Benchmark: measures the performance
Info: shows detailed information
Health: checks the health status by using SMART
Error Scan: scans the surface for errors
Temperature display
HD Tune Pro gives us accurate read, write and access time results and for the last couple of years has gained popularity amongst reviewers. It is now considered a must have application for storage device testing.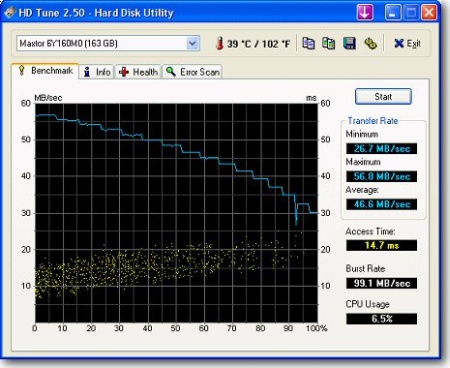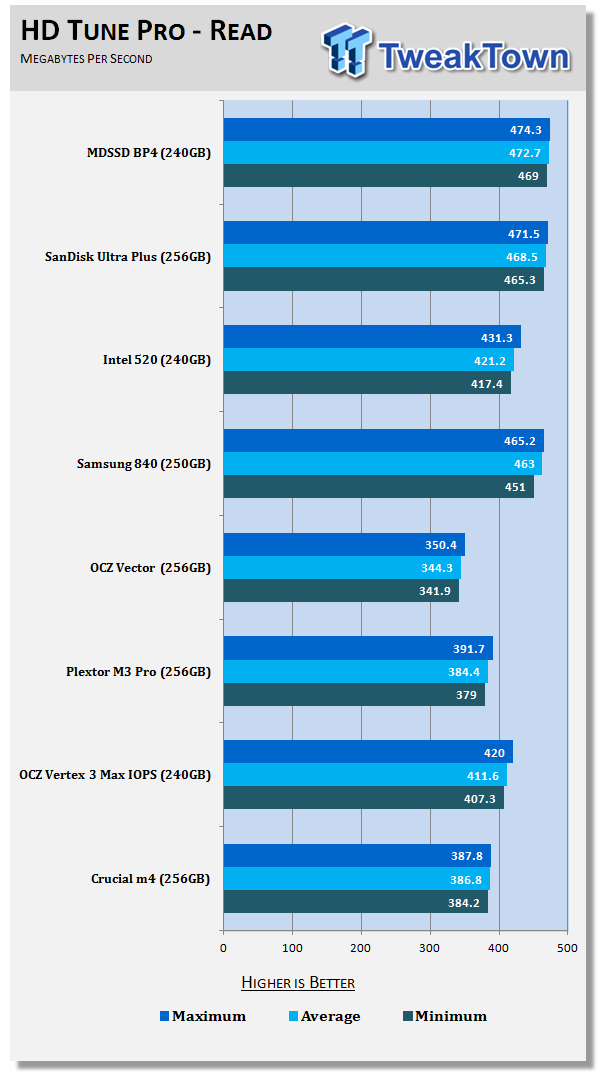 We've mentioned it a couple of times already, but the new NAND really pushes sequential read performance to new performance levels. Here we see the new BP4 240GB scoring higher than any other 2.5" SSD on our chart in this test.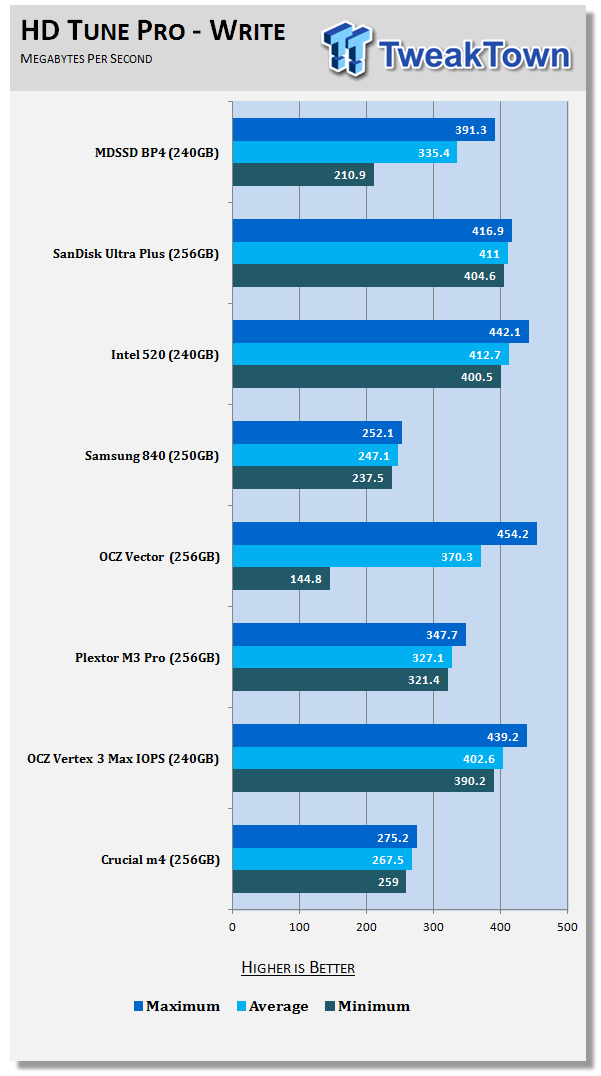 The BP4's sequential write speed was all over the chart in this first test, but the drive was written to before arriving on our door. Still, the 335MB/s average sequential write speed is very high when you factor in the price.
HD Tach - Sequential Write Performance After Random Writes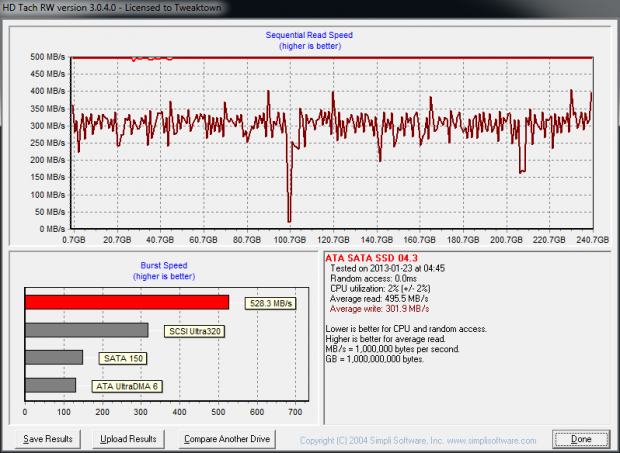 One of our new tests for 2013, sequential write speed after heavy random writes. Here we see the sequential performance in graph form after a series of random writes.
Benchmarks - AIDA64 Random Access Time
AIDA64 Random Access Time
Version and / or Patch Used: 1.60
Developer Homepage: http://www.aida64.com
Product Homepage: http://www.aida64.com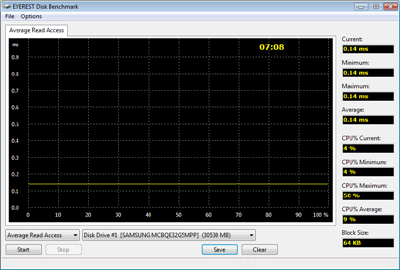 AIDA64 offers several different benchmarks for testing and optimizing your system or network. The Random Access test is one of very few if not only that will measure hard drives random access times in hundredths of milliseconds as oppose to tens of milliseconds.
Drives with only one or two tests displayed in the write test mean that they have failed the test and their Maximum and possibly their Average Scores were very high after the cache fills. This usually happens only with controllers manufactured by Jmicron..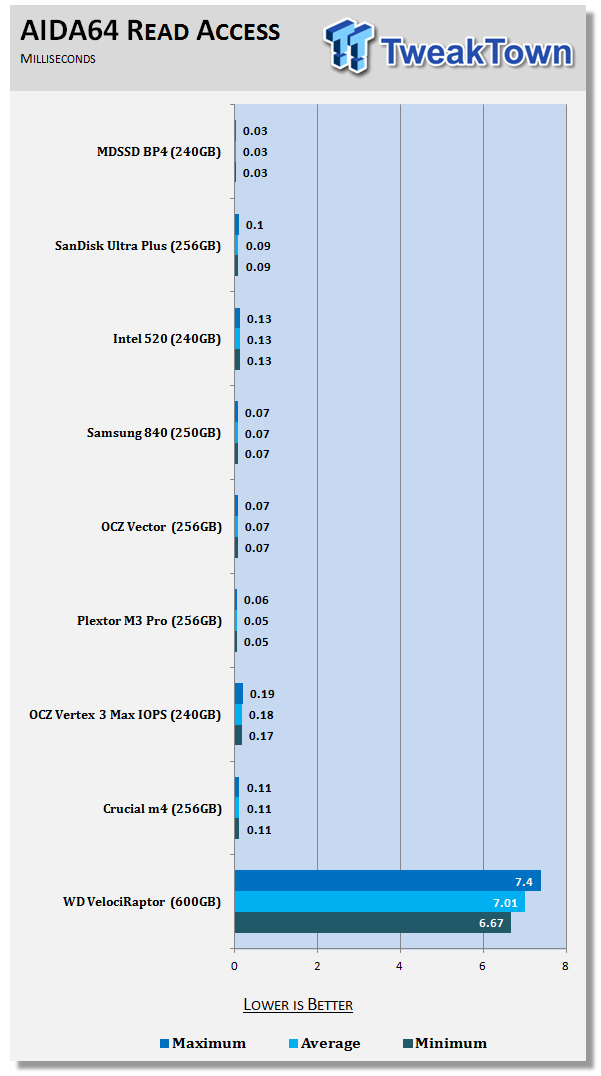 The new spare area, 256GB down to 240GB user capacity, helps reduce latency. The MDSSD BP4 scores a solid .03ms in our read access test. I'm certain this is the lowest latency we've ever measured on any SSD - PCIe, 2.5" or mSATA.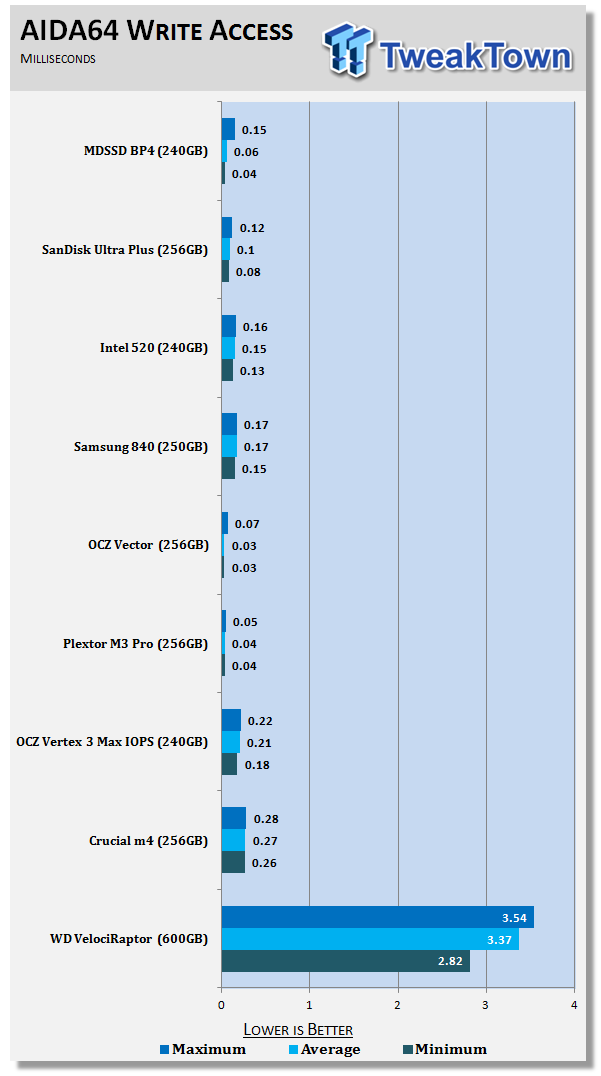 The write latency is very low as well, an average of just .06ms. There were two spikes, one getting as high as .15ms, but they were brief.
Benchmarks - Anvil Storage Utilities
Anvil Storage Utilities
Version and / or Patch Used: RC6
So what is Anvil Storage Utilities? First of all, it's a storage benchmark for SSDs and HDDs where you can check and monitor your performance. The Standard Storage Benchmark performs a series of tests, you can run a full test or just the read or the write test or you can run a single test, i.e. 4K DQ16.
Anvil Storage Utilities is not officially available yet but we've been playing with the beta for several months now. The author, Anvil on several international forums has been updating the software steadily and is adding new features every couple of months.
The software is used several different ways and to show different aspects for each drive. We've chosen to use this software to show the performance of a drive with two different data sets. The first is with compressible data and the second data set is incompressible data. Several users have requested this data in our SSD reviews.
0-Fill Compressible Data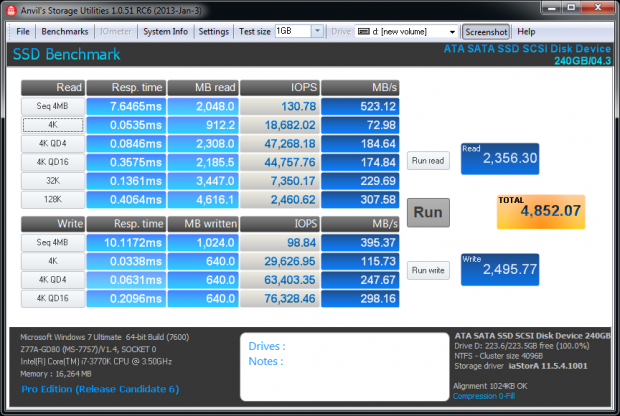 Incompressible Data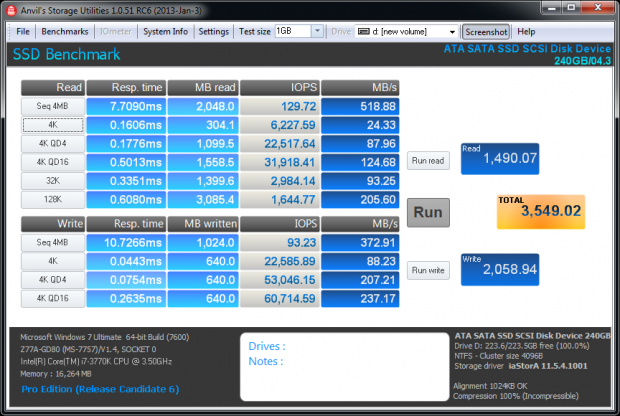 Phison's S8 controller now uses 7% over-provisioning, that's why the user capacity is reduced from 256GB to 240GB. The controller now also drops in performance when working with incompressible data. I wasn't expecting this type of behavior when I started testing.
Read IOPS through Queue Depth Scale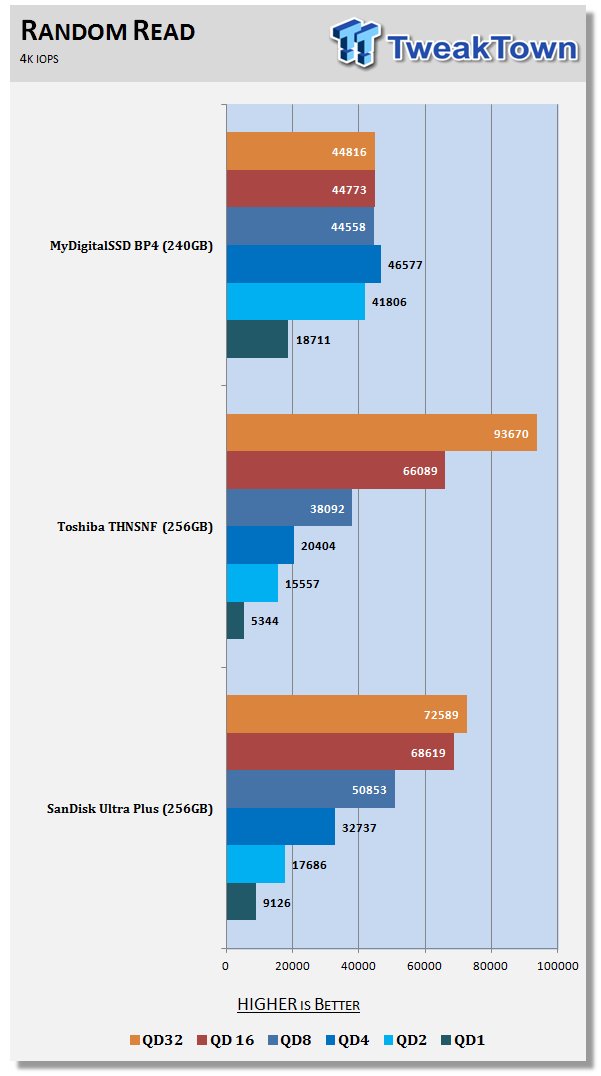 The BP4 is very impressive at lower queue depths where most users need IOPS performance.
Scaling Write IOPS through Queue Scale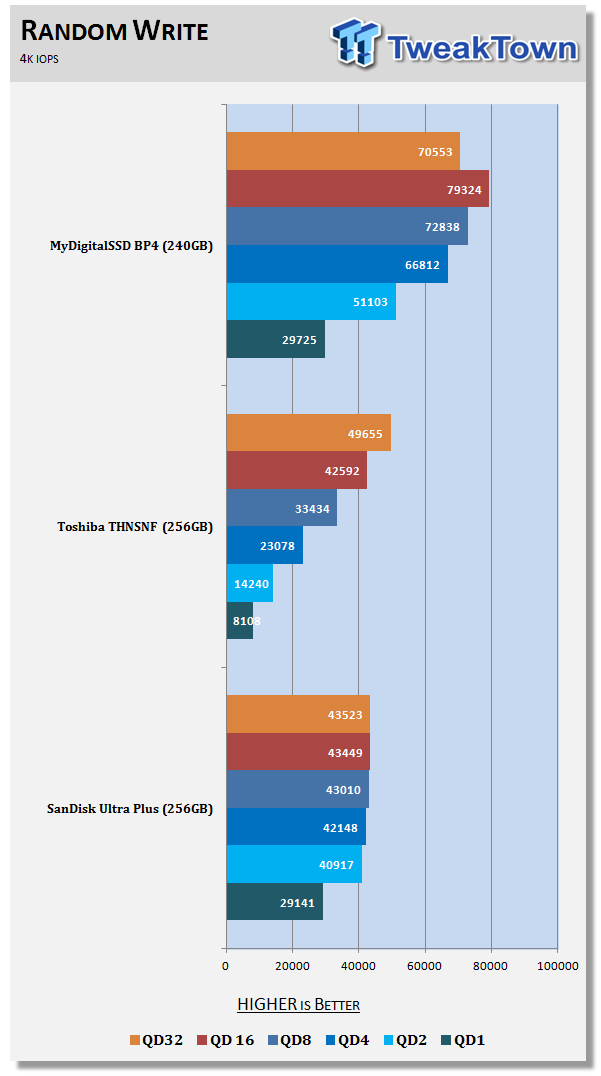 The IOPS performance is much better than the previous Bullet Proof drives we've tested.
Benchmarks - CrystalDiskMark
CrystalDiskMark
Version and / or Patch Used: 3.0 Technical Preview
Developer Homepage: http://crystalmark.info
Product Homepage: http://crystalmark.info/software/CrystalDiskMark/index-e.html
Download here: http://crystaldew.info/category/software/crystaldiskmark
CrystalDiskMark is a disk benchmark software that allows us to benchmark 4K and 4K queue depths with accuracy.
Key Features:-
* Sequential reads/writes
* Random 4KB/512KB reads/writes
* Text copy
* Change dialog design
* internationalization (i18n)
Note: Crystal Disk Mark 3.0 Technical Preview was used for these tests since it offers the ability to measure native command queuing at 4 and 32.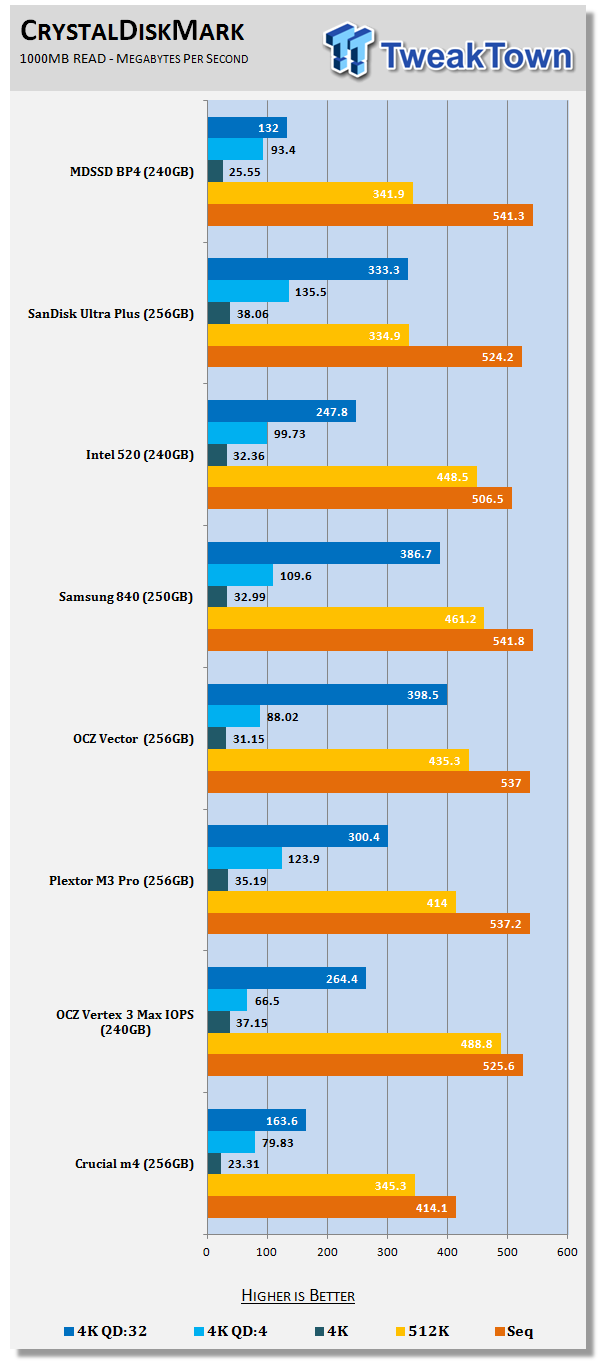 CDM uses incompressible data in these tests so the incompressible data performance is under the microscope. The 4K single queue read speed is just over 25MB/s, this is lower than just about everything else on the chart including LSI SandForce drives like the Intel 520, another drive that slows when working with incompressible data.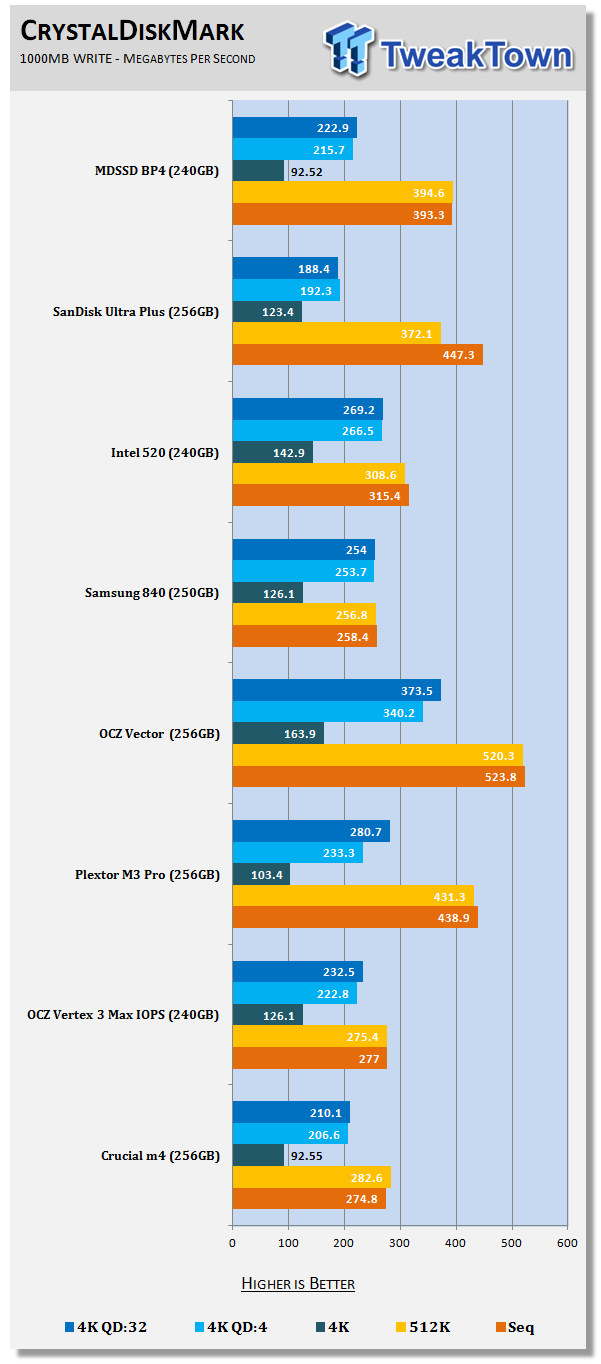 The 4K single request write performance is also lower than just about everything on the chart. We suspect the drive is performing background operations while we were running these tests. The Anvil loads are quite significant and the drives get beaten up pretty good. Still, we run the same tests, in the same order for each drive.
Benchmarks - PCMark Vantage Hard Disk Tests
PCMark Vantage - Hard Disk Tests
Version and / or Patch Used: 1.0.0
Developer Homepage: http://www.futuremark.com
Product Homepage: http://www.futuremark.com/benchmarks/pcmark-vantage/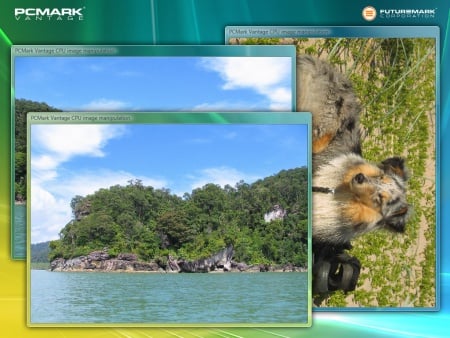 PCMark� Vantage is the first objective hardware performance benchmark for PCs running 32 and 64 bit versions of Microsoft� Windows Vista�. PCMark Vantage is perfectly suited for benchmarking any type of Microsoft� Windows Vista PC from multimedia home entertainment systems and laptops to dedicated workstations and high-end gaming rigs. Regardless of whether the benchmarker is an artist or an IT Professional, PCMark Vantage shows the user where their system soars or falls flat, and how to get the most performance possible out of their hardware. PCMark Vantage is easy enough for even the most casual enthusiast to use yet supports in-depth, professional industry grade testing.
FutureMark has developed a good set of hard disk tests for their PCMark Vantage Suite. Windows users can count on Vantage to show them how a drive will perform in normal day to day usage scenarios. For most users these are the tests that matter since many of the old hat ways to measure performance have become ineffective to measure true Windows performance.

HDD1 - Windows Defender
HDD2 - Gaming
HDD3 - Windows Photo Gallery
HDD4 - Vista Startup
HDD5 - Windows Movie Maker
HDD6 - Windows Media Center
HDD7 - Windows Media Player
HDD8 - Application Loading
The daily use tasks are tested with Vantage and as you can see the BP4 does well here. The performance isn't groundbreaking like Vector or the 840 Pro, but the price isn't anything like those products either. The BP4 delivers solid performance at a very nice budget price.
Looking at the charts, we should have placed the Samsung 840 (non-Pro) just under the BP4 to get a better look at how these two drives compare. It's amazing to think that a company the size of My Digital is able to take on a giant like Samsung in the mainstream market and come out ahead in performance. Then again, My Digital also played a role in the MDSSD TweakTown Chris Ramseyer Signature Edition SSD, still the fastest SSD on the market today.
Benchmarks - PCMark Vantage - Drives with Data Testing
For a complete breakdown on the Drives with Data Testing please read this article. You will be able to perform this test at home with the files provided in the article - full instructions are included.
- Brief Methodology
SSDs perform differently when used for a period of time and when data is already present on the drive. The purpose of the Drives with Data testing is to show how a drive performs in these 'dirty' states. SSDs also need time to recover, either with TRIM or onboard garbage collection methods.
Drives with Data Testing - 25%, 50%, 75% Full States and Dirty / Empty Test
Files needed for 60 (64GB), 120 (128GB), 240 (256GB)
60GB Fill - 15GB, 30GB, 45GB
120GB Fill - 30GB, 60GB, 90GB
240GB Fill - 60GB, 120GB, 160GB
Empty but Dirty - a test run just after the fill tests and shows if a drive needs time to recover or if performance is instantly restored.

SSDs slow when the flash has data on it already and in this test we see show how much performance is lost. The BP4 takes a significant hit when you fill the drive half-full. This is the one area where we feel Phison didn't focus enough on with the new programming and firmware.
Benchmarks - BootRacer
BootRacer - System Boot Time
Version and / or Patch Used: 4.0
Developer Homepage: Greatis
Product Homepage: BootRacer
Download here: http://www.greatis.com/bootracer/download.htm
Note: In this test we use the Lenovo W530 Mobile Workstation loaded with an operating system and several program files. The data on the drive at the time of the test is 45GB. The second test, 50GB Free, was run with the drives filled with block data until only 50GB of free capacity remained.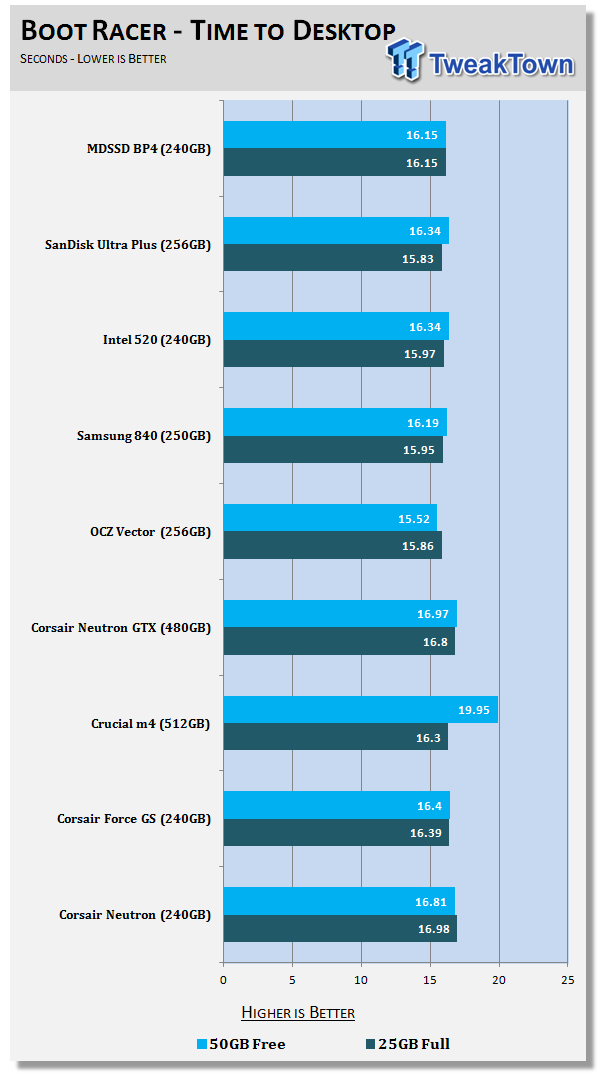 For the first time ever in our history of using this test to measure time to desktop boot performance, both the 25GB full performance matches the 50GB free performance. This test as shown measures boot speed with different amounts of data on the drive.
Benchmarks - DiskBench
DiskBench - Directory Copy
Version and / or Patch Used: 2.6.2.0
Developer Homepage: Nodesoft
Product Homepage: DiskBench
Download here: http://www.nodesoft.com/diskbench/download
Note: In this test we use the Lenovo W530 Mobile Workstation and a SuperSSpeed S301 SLC 128GB SSD to move a 15GB block of data to and from the target drive. This is part of our real world test regiment. Roughly 45GB of data resides on the target drive before the '15GB Block' is transfer. The 15GB Block is the same data we built for the Data on Disk Testing and is a mix of compressible and incompressible data.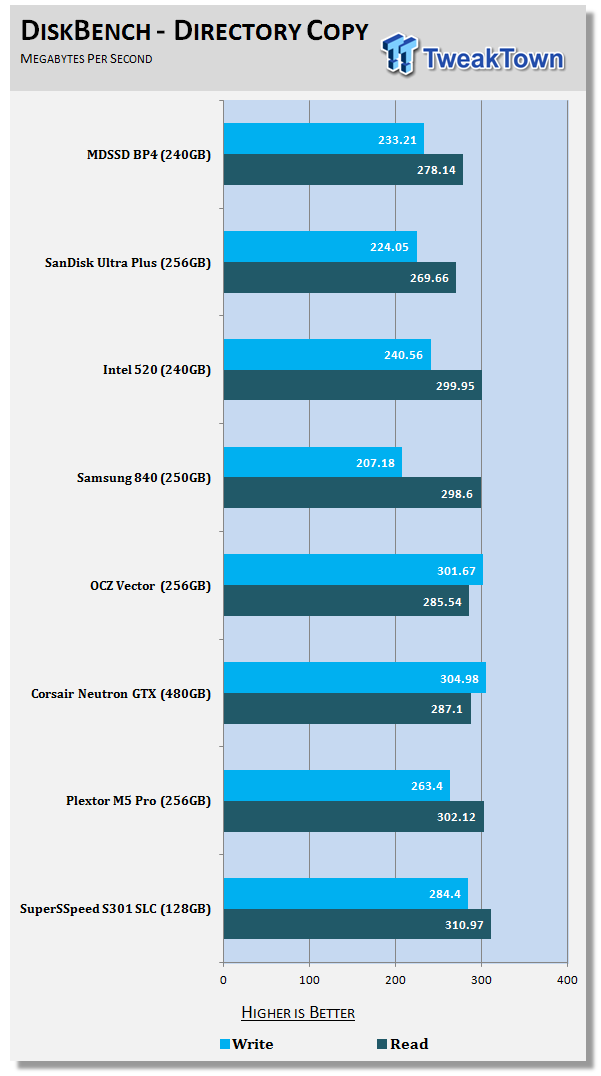 There are two distinct categories in this test and the chart shows the difference. The drives at the bottom are all very high performance drives, the supercars of SSDs. At the top we see the value or mainstream drives. The write transfer speed in this test shows the difference between supercar and sports car.
Benchmarks - Power Testing
Bapco MobileMark 2012 1.5
Version and / or Patch Used: 2012 1.5
Developer Homepage: http://www.bapco.com
Test Homepage: http://www.bapco.com
MobileMark 2012 1.5 is an application-based benchmark that reflects usage patterns of business users in the areas of office productivity, media creation and media consumption. Unlike benchmarks that only measure battery life, MobileMark 2012 measures battery life and performance simultaneously, showing how well a system design addresses the inherent tradeoffs between performance and power management.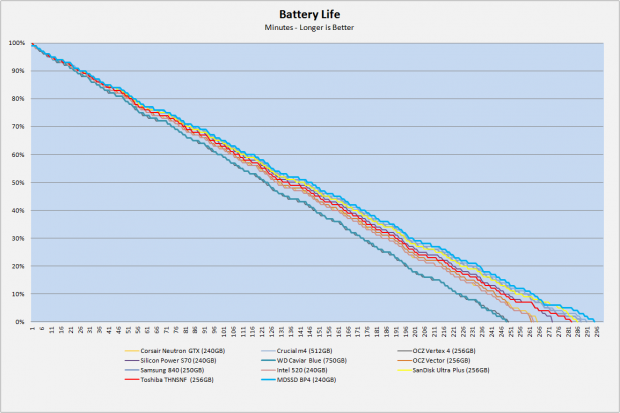 The MyDigitalSSD BP4 240GB nearly breaks into the 300-minute zone in our notebook power test. This is the longest we've recorded on a 240/256GB SSD. The 120GB model that we'll publish soon actually lasted for a little more than 300 minutes, the longest we've recorded for any SSD ever. Since we've now tested nearly every SSD on the market, we can say the BP4 will give you the longest battery life. If you run a notebook on battery and find yourself wanting more time before the battery runs out this is the drive for you.
PCMark Vantage HDD Test - Power Draw
Here we see exactly how the BP4 manages to perform so well in our battery life test. The BP4 240GB has a lower power draw than the Samsung 840 at idle. It also uses less power when reading data back from the drive and when bursting random writes.
It's really too bad we ran into the battery issue because I think this drive would of blown everything else away in the battery life test.
Final Thoughts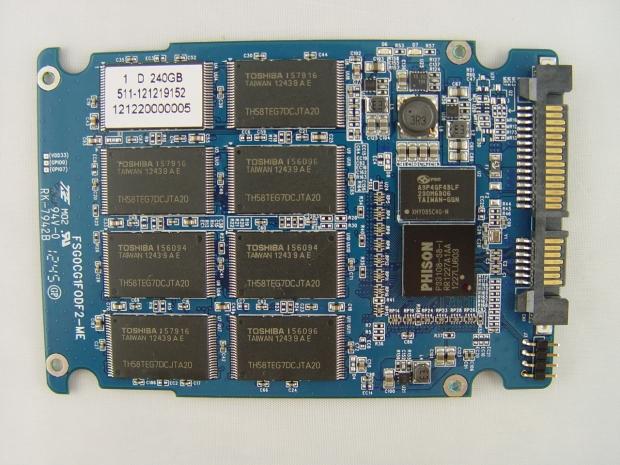 I'd like to say I'm surprised about the new technology packed into the MyDigitalSSD BP4, but I'm not. My Digital has done this repeatedly. I've seen it so often I pretty much expect the new products to have some new bit that is ahead of what everyone else has on the market at the time of release. We know other companies are looking at using the Phison S8 with the new programming, but those products aren't on the roadmaps until the start of Q2 and even Q3. My Digital has the technology now and managed to get it production ready for Q1, and early Q1 at that.
The BP4 240GB doesn't win every performance test, but it does well in all of them. The one test where it does win is a very significant test for notebook users. Both the 240GB and the 120GB we have on hand give the longest battery life in our notebook battery test. Desktop users tend not to worry too much about the power draw of their components, but notebook users looking to extend their 'on battery time' will find the BP4 products do better than everything else on the market today.
When it comes to other aspects of performance, BP4 does well across the board, but isn't in that super class of SSDs, ah-la Vector and 840 Pro. Removing those two products, BP4 does very well and contends with LSI SandForce based drives and 840 non-Pro.
BP4 aims at the mainstream market and the price makes that very clear. Our 240GB sample has an MSRP of just $179.99. We still get excited when SSDs cost just $1 per GB, but BP4 obliterates that standard by a large margin. Given the class leading power performance, I'd say at this price MDSSD may have problems keeping BP4 in stock so at some point the price may actually increase just to slow demand. Let's hope MyDigital is able to keep the warehouse stocked up.