FSP AURUM Xilenser 500-watt 80 PLUS Gold Power Supply Review
FSP introduces its first fanless power supplies to the U.S. market with the new Xilenser series.
Published Sep 12, 2012 11:36 PM CDT
|
Updated Tue, Nov 3 2020 7:01 PM CST
6 minute read time
Introduction, Specifications, Availability and Pricing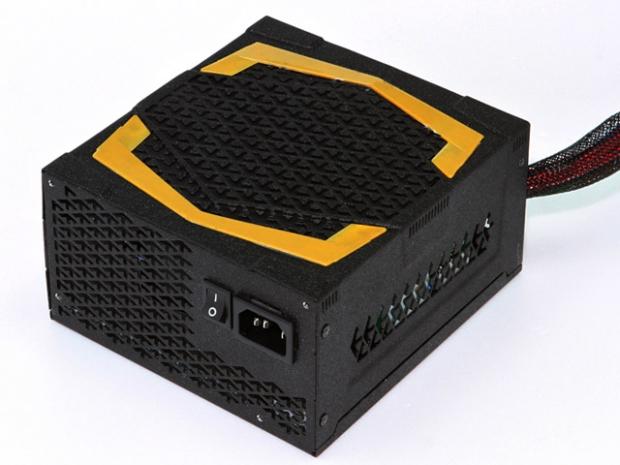 Hopefully by now our readers are somewhat familiar with the FSP brand as we have covered a few of their power supplies already. For those that aren't, FSP is well known across the seas and do quite a bit of manufacturing for many OEMs.
The company has been making a push in the U.S. with their own branded power supplies and so far they have done very well. Both of the units we have taken a look at were very solid and provided something for both the power user and the enthusiast.
Today we have something a little more geared towards the low end, but also for the quiet computing crowd. The FSP AURUM Xilenser 500W power supply is a dual rail unit and is fanless. This makes it optimal for those in need of silence, such as those with studio equipment and HTPCs. It also claims to have 80 PLUS Gold efficiency with numbers in the 90's.
FSP currently only offers the Xilenser series in 400W and 500W models, but they have each in both a fixed cable and modular design. Our unit features fixed cables, but keep in mind that if you're looking for fanless and modular, FSP can cater to those needs as well.
Specifications, Availability and Pricing

DC output is a little different than what you would expect with a 500W power supply. Typically there would be a single 12V rail, but the FSP Aurum Xilenser 500W has dual 12V rails. Each 12V rail is rated for 22A each with a combined maximum output of 41A or 492W. Both of the minor rails are rated for 20A each or 100W total. The 5VSB rail is capable of 2.5A or a total of 12.5W. This is quite typical of what you should expect from a power supply of this wattage. It is more than enough to provide silent power for a mid range computer.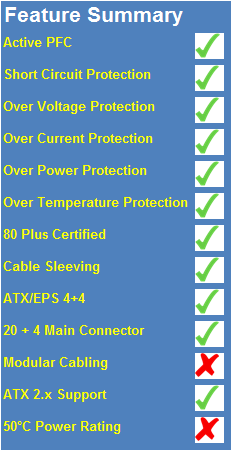 FSP does a good job of filling out the feature list. While the voltage, current and power protections are always important, the over temperature protection is even more important in a fanless power supply. While it isn't listed anywhere in the manual, on the box or on FSP's website, it does have OTP. FSP should look at making this feature more visible to the public. The Xilenser 500W has an 80 PLUS Gold rating and features fully sleeved natively wired cabling. As we stated earlier, FSP does offer the unit with modular cables as well. Unfortunately, this power supply is not rated for 100% continuous output at 50C nor could we find any documentation on what temperature FSP rates the unit at.
FSP lists the Aurum Xilenser 500W power supply for $179.99 on their own website and they are out of stock. We are sure that as more of these make it to the market that you'll find them a little cheaper. After all, $180 is a bit high for a 500W power supply, even if it is 80 PLUS Gold rated and fanless.
FSP does back the unit by a five year warranty, which is very nice to see on a fanless unit.
Packaging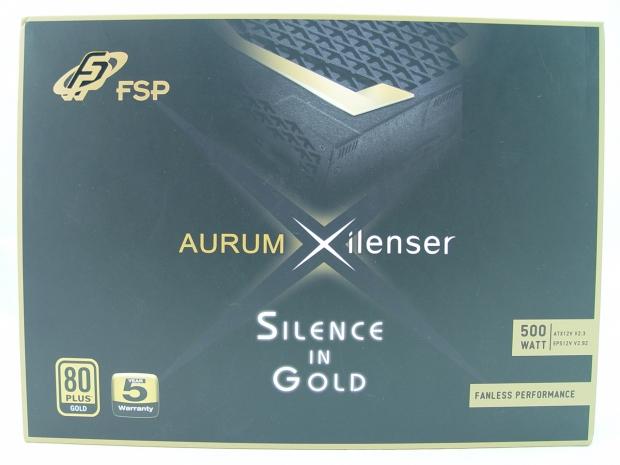 FSP loves black and gold and the Xilenser is no exception. The front of the packaging lists the important information including that it is fanless and has a five year warranty.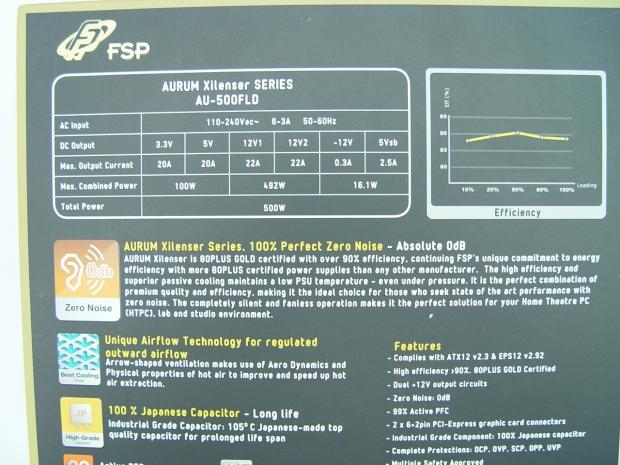 The back gives us all sorts of good information. Right off the bat we find the I/O specifications and efficiency of the unit.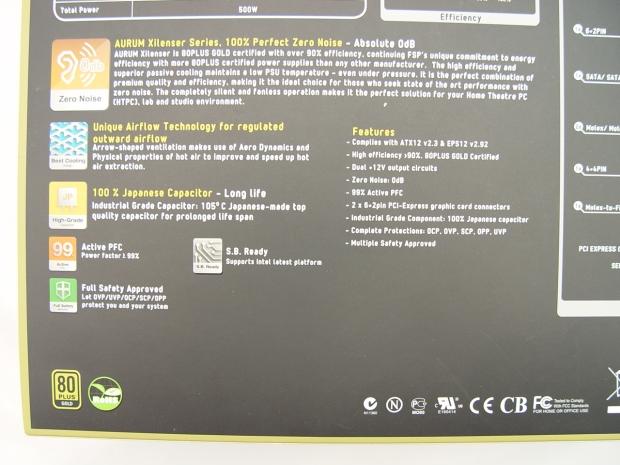 Out of all the features they want you to know that the power supply is silent. I would still love to see some scientific studies done on FSP's arrow-dynamics to prove that it really does improve the airflow.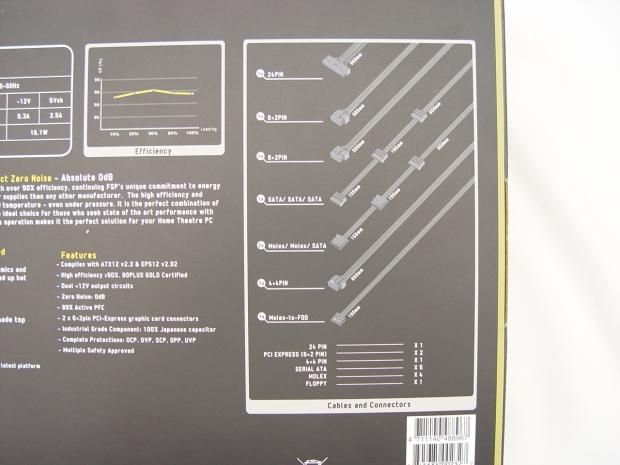 Also included on the back is an excellent list of connectors and cable length.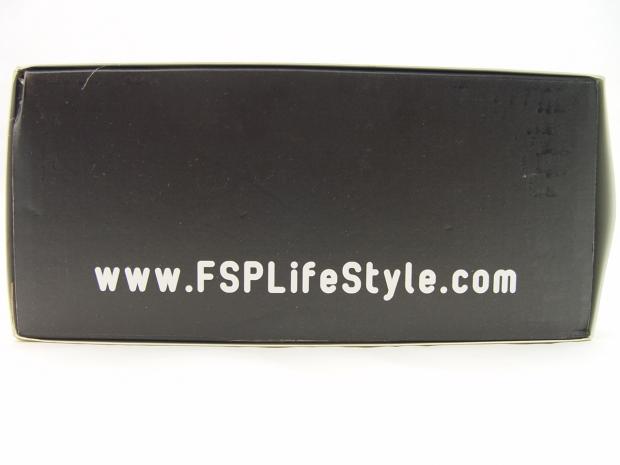 Both sides are blank other than the URL for FSP's website.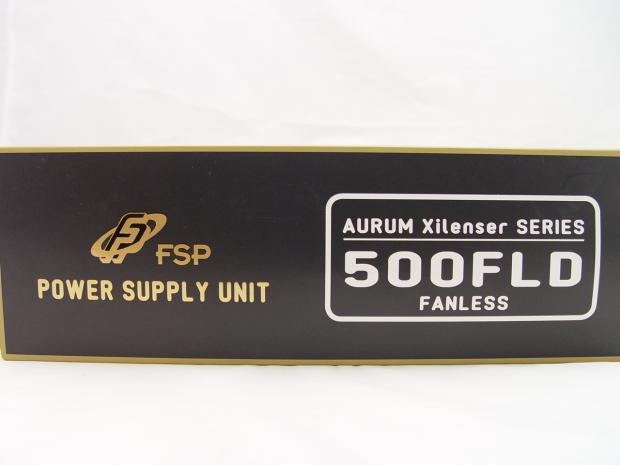 The top of the box lists nothing more than the model number and the bottom has even less information on it.
Inside the Box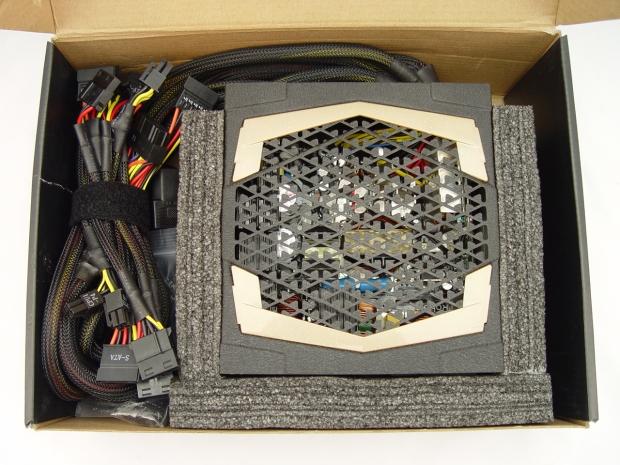 Overall, the power supply is packed well. Thick foam protects the unit on all sides except for the front where the modular cables provide the padding.
The top features the I/O specification label and a few vents for added airflow.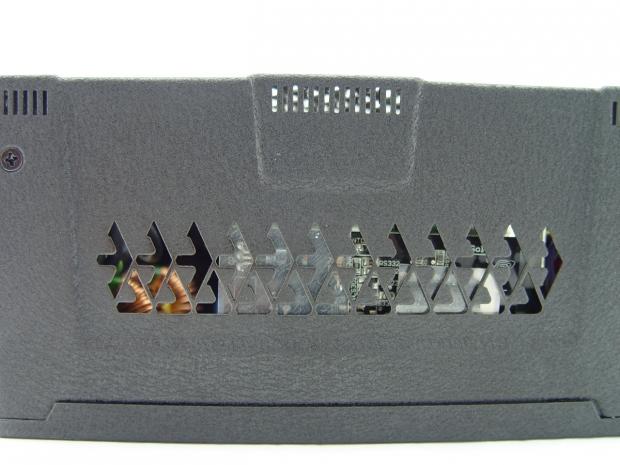 While there is some venting on the side of the unit, there is certainly room for more. Perhaps the arrow-dynamics are more efficient with less venting.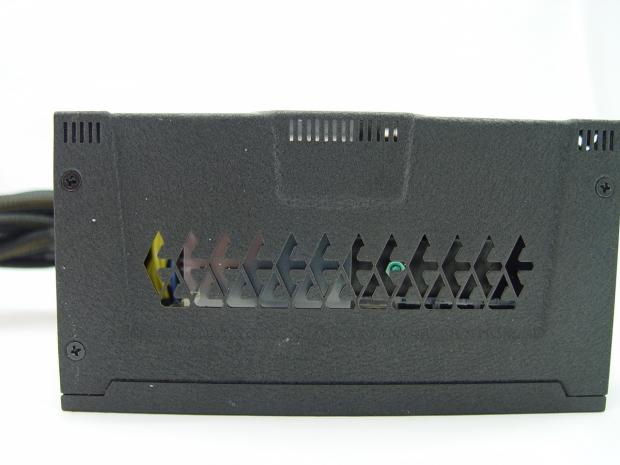 The other side is identical with the vents pointing towards the front.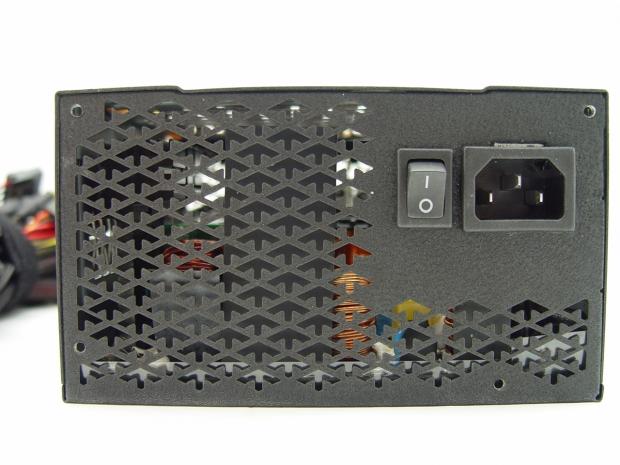 More arrow venting is on the back as well as the AC input and on/off rocker switch.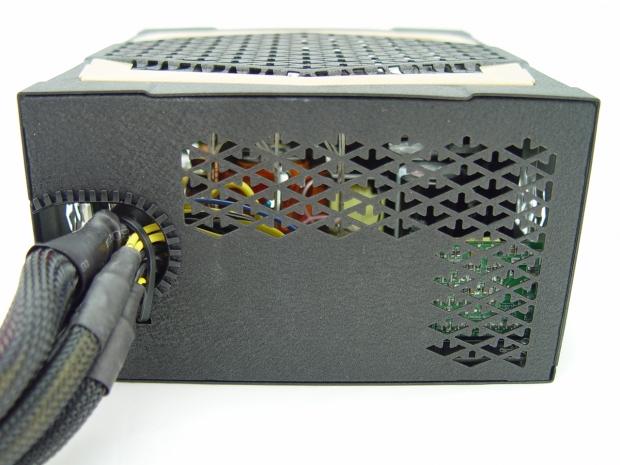 Even more venting is available on the front. The spot where there could be more venting is for the modular connectors for the two models with that feature.
There is no fan here, just a grill allowing air to flow through the unit.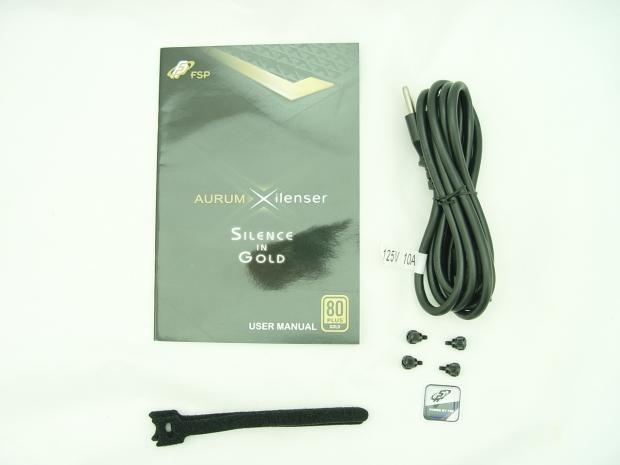 Also included are the user manual, case badge, mounting screws, AC power cord and a few Velcro cable ties.
Cabling Arrangement and A Look Inside
Cabling Arrangement

The cable summary might not look like much, but it should be more than sufficient for a 500W unit. Aside from the obligatory 24-pin Main and ATX 4+4 connectors, there are dual PCI-E cables, five SATA connectors and four Molex connectors. It is worth noting that the modular version has an additional two PCI-E connectors.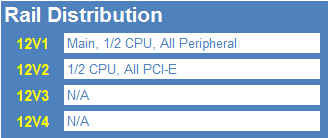 Rail distribution is nicely thought out as it spreads the load across both rails naturally. 12V1 powers the Main, all peripherals and half of the ATX 4+4 connector. 12V2 powers the rest of the ATX 4+4 connector as well as all of the PCI-E connectors.
A Look Inside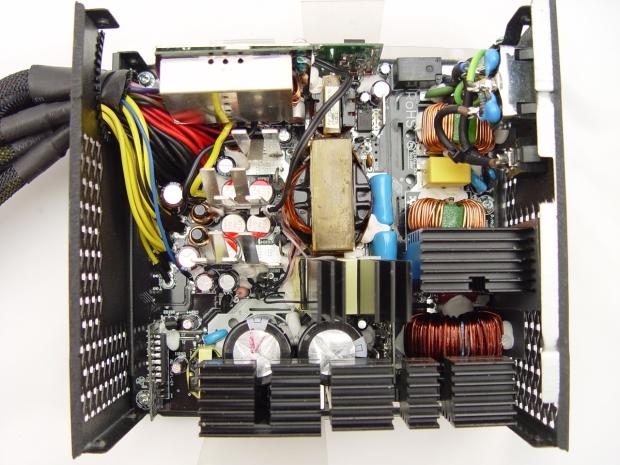 Opening the case, we find that things are very open with plenty of heatsinks to draw the heat away from components.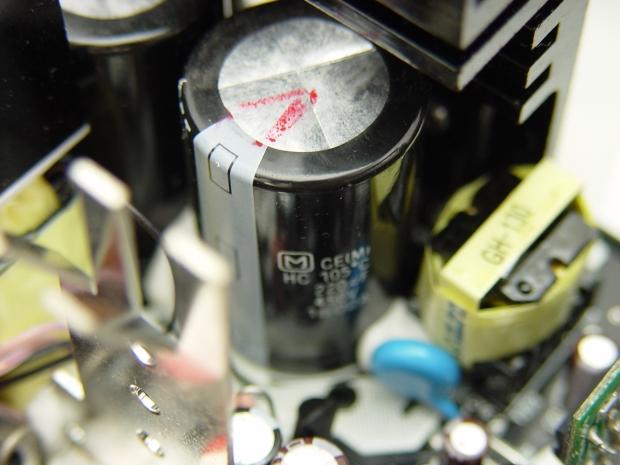 A pair of Panasonic caps covers the primary side of the FSP AURUM Xilenser 500W power supply.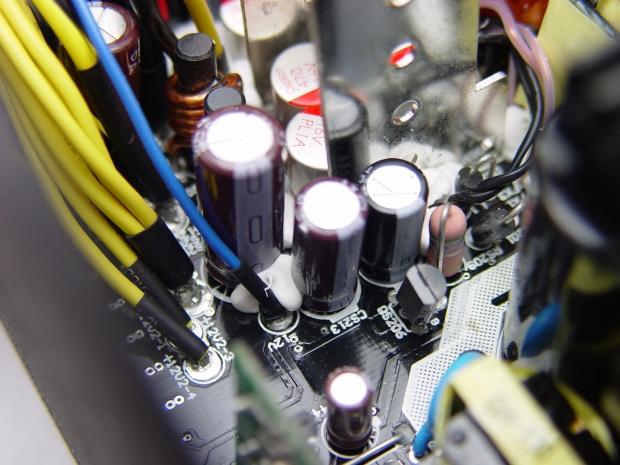 Nippon Chemi-Con capacitors can be found on the secondary side of the PSU.
Test Results and Final Thoughts
Test Results
Our load tests utilize a couple of FAST ATE active load testers and a variety of other equipment such as an oscilloscope, power conditioner, temperature probe and a power consumption meter. You can read more about our standard testing approach here.
The tests performed are based around six conceivable setups that are out there and progressively load down the PSU up to the power supply's limits or 1000W, whichever comes first. Since our test equipment's limits are greater than that of the FSP AURUM Xilenser 500W, we can test it to the maximum.

The above tests represent typical loads that we have measured from various systems and are meant to give a rough idea of where your computer might fall in line with our tests. Please keep in mind that each system is different and actual loads can vary greatly even with similar hardware.

Let's start by taking a look at the voltages to see how well this unit did during testing. Starting with the 12V rails, we see 1% regulation from start to finish on both rails. 12V1 showed a total drop of .07V from start to finish and 12V2 showed a total drop of .07V from start to finish. The 5V rail managed to stay within 3% of specification with a total drop of .12V from start to finish. Moving towards the 3.3V rail, we see that regulation was still within 3% with a total voltage drop of .09V.
DC Output quality for the FSP AURUM Xilenser 500W was a bit lower than we had expected, but still well within specification. During Test 1, we saw 29mV of noise on our scope. When we increased the loads in Test 2, the ripple climbed to 35mV. Under full load, the Xilenser 500W showed us a maximum of 40mV of noise.
The FSP AURUM Xilenser 500W is rated for 80 PLUS Gold efficiency. This means that the power supply must perform at 87%/90%/87% efficiency at 20%/50%/100% loads respectively. As you can see, the Xilenser 500W passed on our bench.
Final Thoughts
While FSP might be new to branding their own units, they are doing a very good job of getting noticed and making sure they stick around. The Aurum Xilenser line of power supplies represents another option for the silent computing crowd and there just aren't that many fanless units available. This is only the second fanless unit we've been able to get our hands on over the last few years and we must say it is something that is much needed.
The Xilenser 500W on our bench today does an excellent job of mixing the good with the bad. The build quality of our unit is great and features Japanese made capacitors throughout the entire power supply. Higher grade capacitors are even more important in fanless units as they are likely to see higher temperatures and stressed more than an actively cooled unit. Even if things were to get too hot, the OTP of the unit should protect you from having a catastrophic meltdown and the Xilenser 500W from dying.
Performance for the Xilenser 500W is mostly just what you would hope for. Voltages are stable with tight regulation across the board. The unit is very efficient too, almost enough to warrant a Platinum rating instead of Gold. Noise suppression was the weakest area of performance and even then it wasn't bad and well within spec. One would hope for this to be a bit better considering the price of $180. There might be other units on the market with better noise suppression, but they are all actively cooled as well.
All of this comes together in a unit that should give you silent power without issues so long as you keep in mind that fanless power supplies aren't design for high heat environments. You might have to pay a little bit more to go silent, but that is quite typical for fanless power supplies as well. At least FSP fives you the option to save a few bucks and go without modular cables or spend a few more and opt for less cable clutter.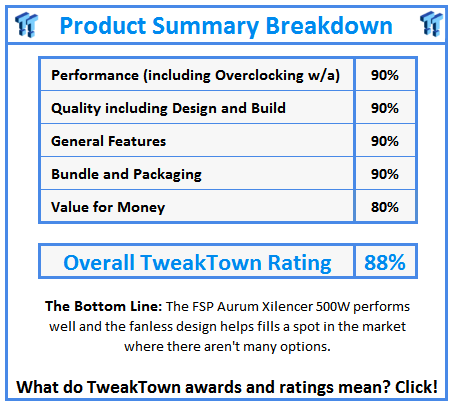 PRICING: You can find products similar to this one for sale below.

United States: Find other tech and computer products like this over at Amazon.com

United Kingdom: Find other tech and computer products like this over at Amazon.co.uk

Australia: Find other tech and computer products like this over at Amazon.com.au

Canada: Find other tech and computer products like this over at Amazon.ca

Deutschland: Finde andere Technik- und Computerprodukte wie dieses auf Amazon.de
We openly invite the companies who provide us with review samples / who are mentioned or discussed to express their opinion. If any company representative wishes to respond, we will publish the response here. Please contact us if you wish to respond.