Seth MacFarlane seems to be popping up everywhere these days; be it from Family Guy to American Dad, to voice work in unrelated TV shows and features, and even a big band/ jazz studio album. Now, he moves to uncharted waters - a big budget cinema outing in his his directorial debut Ted.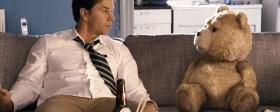 The titular Ted character is an off the shelf everyday teddy bear owned by the young John Bennett (Mark Wahlberg) until he is wished into reality and becomes a living, breathing bear. Rather than being hidden away, Ted becomes a pop culture icon, with appearances on TV, adored by the public. Flash forward 30 years, and John and Ted continue to live it up, having never really grown up.
John has a dead end job at a car rental store, and Ted continues to be his best friend - which means copious drinking, babes and drug use. John's girlfriend Lori (Mila Kinus) is getting fed up with the influence of Ted on John's life and hopes that cutting Ted loose, John will man up and delivers the ultimatum: Her or the bear.
[img]2[/img]
How the world accepts that a teddy bear can come to life, become a celebrity and not destroy itself is slightly beyond me, but hey, it's a film. Ted is a slick product and audiences raised on Family Guy will know what to expect to a certain degree. However, despite its envelope pushing humor, and 'you-can't-say-that-on-TV' language, Ted is a far more conventional feature film than its televisual counterparts.
[img]3[/img]
Wahlberg, and to a lesser degree, Kunis, do an extremely good job of acting to a post produced CG Ted, such that audiences never for one moment believes that Ted is anything other than a real flesh and blood character. That takes real acting skill, and Wahlberg sells it with vigor.
The slightly larger than cameo role by Sam Jones reprising his role as Flash Gordon is a real hoot, evidence that the actor, now in his mid-50's is a real good sport.
The animation for Ted himself is more than convincing, with 500 shots created by Melbourne based studio Iloura, based off on-set motion capture performed by MacFarlane.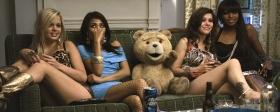 Since MacFarlane's shows are conducive to no more than short bursts, it's no surprise that the 106 minute long feature is not without its lapses. The film sags at the halfway point, worsened by the films subplot featuring Giovanni Ribisi and Aedin Mincks as father and son stalkers. Their sequences would certainly have been cut (and should have), had they not been the catalyst for the films climax.
I enjoyed Ted, despite its lack of transparency in attempts to provoke its audience. But even when the initial shock of seeing the seemingly friendly bear utter absurd profanities wears off, there is still enough charm in the character and strong performance by Wahlberg to retain attention.