The Amazing Spider-Man (2012) Cinema Review
"There's rumor of a new species in New York. It can be aggressive, if threatened..."

Published
3 minutes & 17 seconds read time

Under the directorial watch of Sam Raimi, a man many deemed unsuitable to bring the classic Marvel property to screens in 2002's Spider-Man, the franchise flourished and hit its peak with the 2004 sequel Spider-Man 2 before quickly diminishing with the third entry, three years later. Whilst still a commercial success, critics and fans gleefully savaged it, and when it became clear that Director Sam Raimi had lost passion for the franchise, and lead Kirsten Dunst declared her lack of interest in returning and Tobey Maguire entering his mid-thirties, Sony decided to temporarily shelve the property.
The Amazing Spider-Man is a full reboot of the franchise, jettisoning the established origin story from the first trilogy, in the same manner as Batman Begins before it. Whilst this reboot comes only a matter of a few years after Spider-Man 3, this allows the filmmakers to have full control over the characters back story and establish a new direction for the franchise.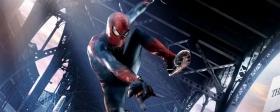 Peter Parker (Andrew Garfield) is a somewhat nerdy, yet wholly ordinary teenage boy, battling the normal everyday issues, such as school and bullies. His fascination with science and the object of his affection, Gwen Stacy (Emma Stone) leads him to the headquarters of the OsCorp conglomerate. There he meets Dr. Curt Connors (Rhys Ifans), whom is working on genetic manipulatory tests involving splicing of reptile DNA in order to re-grow severed limbs, which he hopes can be used to restore his own arm. Parker can't resist investigating OsCorp experiments, which leads him to being bitten by a genetically modified spider. While Parker falls ill, he is quickly transformed into a super being, with impossibly fast reflexes and the ability to scale walls. But when circumstances call on Dr. Connors to prematurely begin human testing on the regenerative serum, he does not fare as well - transforming into a crazed lizard, with a plot to infect the inhabitants of New York City.
[img]2[/img]
The Amazing Spider-Man is a more grounded and faithful adaptation of the comic origins than the Raimi version, the biggest change obvious to cinema goers is that Spider-Man's signature web is no longer secreted from his wrists, but an invention of OsCorp utilized by Parker. Unlike last time, the film now wisely skips over the conception and creation of the Spider-Man suit and jumps right into the action.
Andrew Garfield plays a more sensitive, less socially awkward version of Peter Parker, and is certainly more believable as a teenager than as portrayed by Tobey Maguire. In this outing, Parker is a more confident and border line cocky character and eschews the ecstatic hollering whilst swinging through the skies. The casting of Emma Stone as Gwen Stacy takes inspiration right from the comic pages and plays a far more likeable and appealing love interest than Kirsten Dunst as Mary Jane.
Whilst the previous trilogy setup Dr. Connors to slowly take up the mantle of the Lizard (which would have occurred in the non-materialized Spider-Man 4), this film jumps in right away to utilize one of the last best known characters thus far unused. Rhys Ifans plays him with a convincing intensity, even if the characters motivations are questionable and the Godzilla-esque character design is ill-considered.
[img]3[/img]
I really enjoyed the new origin story, which plays up the mystery of Parkers parents' disappearance which will inevitably be investigated further in forthcoming sequels, and I think that enough elements are put in place to give the series another few films. But the film is far from perfect. When Parker puts on the suit, it gives him an air of invincibility which fails to reflect his vulnerability, even when he is felled at the films finale. This results in action scenes which feel a bit flat and lack real excitement, implying there is nothing really at stake. Some of the plotting was also somewhat ham fisted - I find it hard to believe that New York's finest would be so focused on arresting Spider-Man, when a 10 foot tall Lizard is wreaking havoc on the city.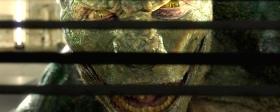 The one aspect where the film takes a major backward step is in the once memorable and triumphant orchestral score provided by Danny Elfman, now performed by James Horner. Horner has dropped the established themes, but replaces them with a painfully generic and mismatched score, which frequently borrows from his previous efforts such as Titanic and Aliens. Whilst these two works are classic, Horner is clearly out of his depth here, or plain doesn't care. Worse, there is no real Spider-Man 'theme' which can be returned to through pivotal moments in the film.
However overall I really enjoyed The Amazing Spider-Man - flaws and all, and I very much look forward to where the series will be taken to next. I'd particularly love to see a proper take on the Venom character as a formidable adversary.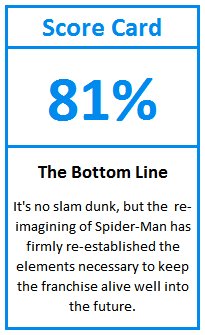 PRICING: You can find products similar to this one for sale below.

United States: Find other tech and computer products like this over at Amazon.com

United Kingdom: Find other tech and computer products like this over at Amazon.co.uk

Australia: Find other tech and computer products like this over at Amazon.com.au

Canada: Find other tech and computer products like this over at Amazon.ca

Deutschland: Finde andere Technik- und Computerprodukte wie dieses auf Amazon.de
We openly invite the companies who provide us with review samples / who are mentioned or discussed to express their opinion. If any company representative wishes to respond, we will publish the response here. Please contact us if you wish to respond.