Men In Black III (2012) Cinema Review
"We are no-one. Our mission is to monitor extraterrestrial activity on Earth."

Published
2 minutes & 48 seconds read time

Despite its enduring success and the not insignificant box office takings, it's a real head scratcher why it's taken Sony Pictures 15 years to produce three films in the series. It's been a decade since the last. However, a bit of familiarity with the pained gestation of previous entries in the series probably reveals the answer.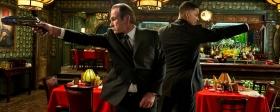 When it was clear that the first film had significant plot issues, it was saved at the last minute by some clever editing and ADR work, which streamlined the story and made it a bit more accessible. Men In Black II was green lit without a finished script, as was an emerging trend during the early nineties, this resulted in an extremely lop sided film with scant little to enjoy. Men In Black III went down a similar road, utilizing a script with incomplete second and third acts, in order to facilitate the schedules of the star cast. The fact that this latest entry is so successful is a genuine and welcome surprise.
The film reunites Agent K (Tommy Lee Jones) and Agent J (Will Smith), operatives of the Men In Black, tasked with monitoring extra terrestrial beings on Earth. Despite working together for 14 years, it's clear that J has become increasingly annoyed with K's closed attitude to his partner. Trouble brews when the megalomaniac, one armed alien Boris the Animal (Jermain Clement), whom K put behind bars (on the moon, no less) 33 years earlier escapes his confines and returns to Earth. When he unleashes a device to transport him to the past in order to kill K before his arm is severed, the fractured timeline results in an alternate future where K has been dead for 40 years. Agent J too goes back in time to ensure the time line is righted, but more trouble might be in store for the universe.
[img]2[/img]
The films patchwork plot barely works. It's convoluted, borderline confusing and illogical (with K dead, would J be recruited to the Men In Black in the first place?), but the main thing is that it scrapes over the line. The real secret of the film's success lies in its inspired casting.
The new villain, played by Flight of the Conchords star Jermain Clement is a real treat. Whilst not especially scary or overly malicious (although his weapon of choice is novel and somewhat exciting), he is perhaps the most appealing character of them all, with intense vocal mannerisms and animated tics which click with the audience. There's a nice scene mid way through, where Boris circa 1969 meets the modern day Boris. It put a huge smile on my face and is a real testament to Clement's comic timings.
[img]3[/img]
In the hands of a lesser talent, the character Griffin, the alternate timeline psychic played by Michael Stuhlbarg, could have utterly killed the film. But Stuhlbarg imbues the character with a keen sense of wide-eyed believability and flourishes of gentle douses of comedy. In my view, the film is carried by these two actors. Without them, it just wouldn't glue together.
It would be remiss if I didn't mention the immense contribution of the ever dependable Josh Brolin, playing a much younger version of Agent K. He nails the movement, voice inflections and facial expressions of Tommy Lee-Jones, which enabled the suspension of disbelief that this is not an actor merely mimicking Jones - it's him, 30 odd years earlier. He really sells it and the audiences buy it.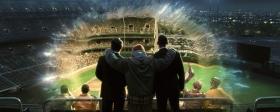 I really enjoyed returning to the world of Men In Black far more than I expected. Where I anticipated a slightly derivative work of diminishing returns, I found a freshness which also retained the familiar aspects of the franchise. The pop culture references might be a little forced (Lady Gaga an alien? Oh, how clever!), but it's never been any different. From the opening score by Dennis Elfman, it's clear that Men In Black is back and not just a close approximation.
Where a decade has passed for this latest installment, I feel that this entry has injected enough new blood into the veins of the franchise to justify its continuation. I get a feeling the wait will be far shorter.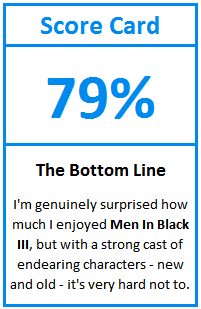 PRICING: You can find products similar to this one for sale below.

United States: Find other tech and computer products like this over at Amazon.com

United Kingdom: Find other tech and computer products like this over at Amazon.co.uk

Australia: Find other tech and computer products like this over at Amazon.com.au

Canada: Find other tech and computer products like this over at Amazon.ca

Deutschland: Finde andere Technik- und Computerprodukte wie dieses auf Amazon.de
We openly invite the companies who provide us with review samples / who are mentioned or discussed to express their opinion. If any company representative wishes to respond, we will publish the response here. Please contact us if you wish to respond.