Independence Day ID4 (1996) Blu-ray Movie Review
"Welcome to Earth!"

Published Sat, Mar 31 2012 8:45 AM CDT
|
Updated Tue, Nov 3 2020 7:01 PM CST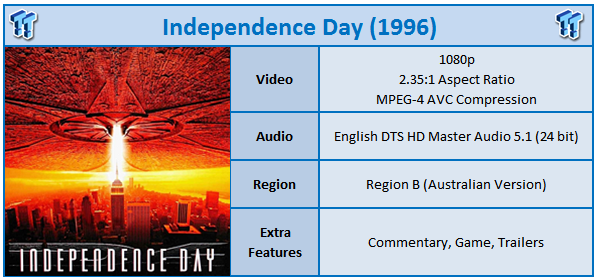 In their formulative years, some kids like to draw mythical creatures. Or dinosaurs. Or whatever their little minds can conjure up. Me? I drew airplanes exploding. Suffice to say, as a ten year old in mid 1996, there was not a movie I wanted to see anymore than Independence Day. The teaser trailer image of aliens attacking the White House is seared into my memory and became one of the iconic pop culture images of the 1990's. As the film approaches its sweet sixteenth, I decided take a look at how the prime example of sci-fi pulp up in the modern age.
The premise of Independence Day (or ID4 as its promotional abbreviation was known) is simple. An unknown and technically superior alien race enters the earth's atmosphere at strategic locations around the world. Their intentions are soon revealed when attempts to communicate with the alien ships result in a pre-emptive attack which destroys the biggest cities in the world. F-16 Navy Captain Steven Hiller (Will Smith) and scientist David Levinson (Jeff Goldblum) are drafted into the cause to strike back at the invaders before there is nothing left to fight for.
Made for the at the time relatively conservative budget of $75 million (Twister made in the same year was budgeted at $92 million), the film went on to gross over $800 million - which held the record for highest grossing film, before Titanic stole that mantel the following year.
Independence Day was always a prize piece of cinematic ham, a throwback to the cold war channeling B schlocks of the 1950's. The "go get-em America" formula was the most effective advert for the U.S. armed forces since World War II and no doubt enthralled Republicans nationwide. It was also a different, slightly more naive time. The fear of terrorism wasn't forefront in the minds of cinema goers and the image of some of the world's most recognizable structures being felled didn't really make anyone uncomfortable. It wasn't high art, but it promised a roller coaster ride of a cinema trip - and it delivered in spades.
Despite the massive advances in computer graphics technology, there is something still very special and engaging about Independence Day. The plot is still paper thin, with holes big enough to steer an alien spacecraft through, and it's even hammier than a can of spam, but it's still as incredibly entertaining and enthralling as it was in 1996. God bless America.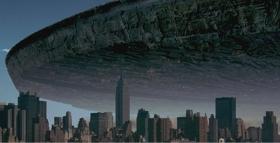 Video
Independence Day is presented in the film's original aspect ratio of 2.35:1, encoded with the AVC codec.
Fox had clearly struck a new transfer for the film prior to this Blu-ray release, evident by some slightly diverging framing which cropped into the image a little tighter in order to not reveal the edges of the film which were annoyingly visible on the DVD release. Intrusive artifacts and even objects that bore more than a passing resemblance to hair on the film have been wiped clean and the wider colour gamut of the HD format means some of the colors are translated far more accurately and free of smear.
The image is appropriately sharp and detailed, which has the unfortunate side effect of causing the exploding models to look a little more like models.
Despite being a stickler for the directors approved aspect ratio, it is worth mentioning that the pan and scan VHS and Region 1 DVD display a varying degree of additional vertical detail at the expense of the horizontal, due to the film being lensed on the Super35 format. I took some screenshots of the VHS version to compare and was somewhat surprised by the results. It seems that most of the effects shots were filmed hard matted to 2.35:1, but many of the live action shots have a lot of extra vertical information. Take a look at some of the comparison shots below.
[img]2[/img] [img]3[/img]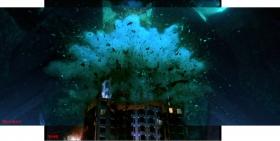 Of course, the original aspect ratio is the way that the film was meant to be experienced, and for a film with as much scope as this, widescreen is the only way to go.
This is a very pleasing transfer from Fox and it's great to see they reinvested a little bit of the cash into ensuring sure it can look as good as possible.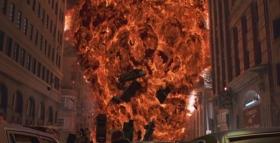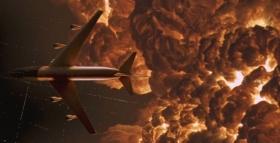 Audio
Independence Day is presented in DTS HD Master Audio, encoded at 24 bits.
The film has always had a pretty rocking soundtrack on DVD in Dolby Digital 5.1 and then DTS 5.1 in the special edition DVD, but this Blu-ray leaves them both for dead.
Expectation is a funny thing and something which does cause surprise. Generally when I'm tasked with reviewing a comedy or a drama, I generally don't expect to be blown out of my chair. But when a title such as Jurassic Park or Tron: Legacy comes my way, my expectations are somewhat inflated. Sometimes I'm disappointed. I'm glad to say that Independence Day belongs to the latter category and 16 years have done nothing to dull the sonic power of the film.
The audio track presented here is completely over the top and bombastic in every way. There is nothing subtle here. And that's even before we get to the centerpiece sequences of destruction, which will test even the most active subwoofers on the market. Some of the sequences ease off the low frequency just a tad in order to not completely overwhelm the mix, but this is more of an observation than a criticism.
The score by David Arnold is not one of his best works, but it is quite effective for the films intent. It's funny that it took a Brit to create one of the most jingoistic scores ever produced, under the supervision of a German director, but there you go.
Extras
Unfortunately, Twentieth Century Fox has failed to port over all of the extra that were to be found on the impressive special edition DVD release from 2000, so fans will want to hang on to the second disc from the set to retain everything. Let's take a look at what they did include.
First up are two Audio Commentaries, the first provided by Director Roland Emmerich and Producer Dean Devlin. Despite the hatred of film critics worldwide, the duo clearly love movies, and it's interesting to hear them describe the film as a love letter to the films they grew up with, such as Star Wars. The second commentary is a bit more technical in nature, provided by visual effects artists Volker Engel and Doug Smith. It's even more interesting to hear their comments with more intervening time - it's clear that many of the technical solutions provided would not be done in the fashion described in this day and age.
Next up is the BD-Java Alien Scavenger Hunt Game, which requires players to locate twelve objects throughout the duration of the film, with on screen hints. The pay off for finding all the items is a short gag reel which is kinda funny. I admit I cheated by investigating the contents of the disc on a PC - it's somewhat worth it.
Finally, we have the Original Theatrical Trailer along with the Teaser Trailer, all provided in 1080p.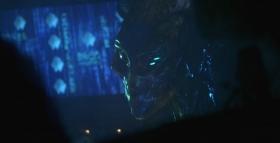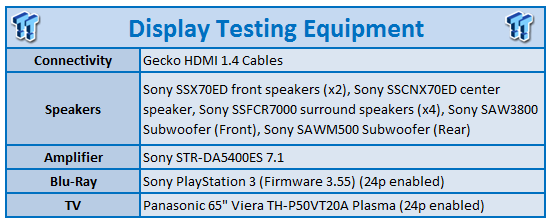 PRICING: You can find products similar to this one for sale below.

United States: Find other tech and computer products like this over at Amazon.com

United Kingdom: Find other tech and computer products like this over at Amazon.co.uk

Australia: Find other tech and computer products like this over at Amazon.com.au

Canada: Find other tech and computer products like this over at Amazon.ca

Deutschland: Finde andere Technik- und Computerprodukte wie dieses auf Amazon.de
We openly invite the companies who provide us with review samples / who are mentioned or discussed to express their opinion. If any company representative wishes to respond, we will publish the response here. Please contact us if you wish to respond.