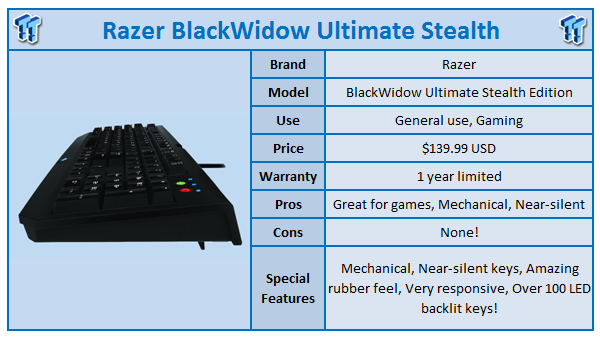 Razer has got quite the lineup of keyboards now, ranging from Arctosa, Lycosa, BlackWidow and even the older Tarantula (which was my first Razer keyboard). It seems they're on a charge for keyboard worldwide domination and the BlackWidow Ultimate Stealth Edition is no change.
The current BlackWidow range is quite noisy, with a very, very loud click/clack sound from its mechanical keys. However, Razer has changed this with the Stealth keyboard. It's not completely silent, but it's a huge step in the right direction for Razer.
The Razer BlackWidow Ultimate Stealth Edition comes in two flavours; Ultimate Stealth Edition and just Stealth Edition. The one Razer sent me was the Ultimate Stealth Edition, and ultimate, it is! The Ultimate Stealth Edition packs a bunch of great tech such as full mechanical keys with 45g actuation force, extreme anti-ghosting, individually backlit keys with five levels of lightning and 1000Hz Ultrapolling with 1ms response time.
[img]2[/img]
It's backed up by programmable keys with on-the-fly macro recording, 'gaming' mode option for the deactivation of the Windows key, 10 customizable software profiles with on-the-fly switching, five additional macro keys, multi-media control keys, a braided cable, audio-out/mic-in jacks and last of all, USB-passthrough.
The box art is absolutely gorgeous, featuring a cut-out hole where you can press the keys to test them (before purchase) to see if you not only like the feel, but the noise levels. The keyboard is outlined with a blue glow on the box that really makes it stand out. You would definitely stop and smell the roses when you see this on a retail shelf.
Once the Razer BlackWidow Ultimate Stealth Edition is taken out of its box and placed onto the desk, you instantly see it's a force to be reckoned with. It not only looks amazing, but it feels amazing too. The rubberized keys feel absolutely perfect, something Razer has gotten (in my opinion), perfect. I cannot stress this enough; the BlackWidow Ultimate Stealth Edition is smooth, suave, and it feels like it's the epitome of mechanical gaming keyboards. The smoothness is something I really got used to and I think it will be hard to change to a harder surface keyboard.
As with other mechanical keyboards I've reviewed, I never really like typing on them all that much, spare one or two. The Razer BlackWidow Ultimate Stealth Edition is a magical keyboard to type on. Not perfect, especially when compared to the chiclet keyboard of my MacBook Pro. But, for a mechanical gaming keyboard, this is hands-down the best one for typing.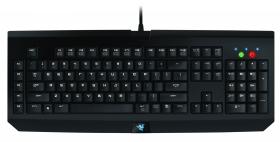 Now, the Stealth part of the Razer keyboard had perked my interest a while ago when I first reported this keyboard in my news posts. So it was something that I really compared against my other mechanical keyboards. I compared it to the Rosewill RK-9000, Thermaltake MEKA G.Unit and Mionix Zibal 60. Everyone, we have a winner! The Razer BlackWidow Ultimate Stealth Edition just breezes through. It is not "silent", but it is worlds quieter than the competition.
You can still hear each key press, but it is definitely a 'softer' sound when compared to the mechanical keyboards normal sound. No longer do I have my wife sitting in the other room telling me to stop making so much noise; it is that much quieter. Wife acceptance factor test = passed.
The Razer BlackWidow Ultimate Stealth Edition also features a heavily braided cable, which contains two gold plated USB cables (one for the keyboard itself, while the other acts as a pass-through for the USB port on the side of the keyboard), and audio/mic pass-through cables for the ports on the keyboard.
[img]3[/img]
Let's turn it on. Wow. Wow, wow, wow. The backlight on this thing is just amazing; the style of lettering Razer have chosen just looks so good, I really was so, so impressed with this. The Razer BlackWidow Ultimate Stealth Edition sports blue LEDs which are actually individually backlit for a total of 100+ LEDs! When lit up on my desk, it made me actually sit there and just stare - I've never done this with any previous keyboard.
The backlit brightness has five adjustable levels, which I preferred to keep on maximum brightness just because it looked so damn cool. Up the top of the keyboard are the F keys, which double as multimedia keys as there is an Fn (function) button next to the space bar that enables various features on the Razer BlackWidow Ultimate Stealth Edition. These features are volume, cycling of the backlight, gaming mode and the disabling of the Windows key.
I'm not much of a fan of dedicated media keys, so the lack of them did not bother me at all. The keyboard is quite short; I've definitely used bigger keyboards, so it's good of Razer to have crammed this much sexiness into a slim(ish) keyboard. On the right of the keyboard itself we have USB and audio/mic pass-throughs. At first I didn't even see them, as I expected them to be at the top (and underneath), not on the right side.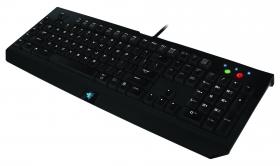 Something different, but after using them in that position, I found no issues at all. I actually preferred them there, as the cables didn't pop up from the back of the keyboard.
Onto the keyboard itself now - placing your hands on top of the keyboard like usual, you'll feel that the Razer doesn't feel plasticy or cheap. It feels like some form of super-rubber that just feels "right". The wrist-pad area of the Razer BlackWidow Ultimate Stealth Edition feels the same, which is great for hours of gaming without getting sweaty and sliding off.
Software wise, the Razer BlackWidow Ultimate Stealth Edition uses the usual Razer configurator. The Razer software is something I've come to love and this is no different. It is just so easy to install, and use, that it makes even a novice to high-end gamer feel right at home.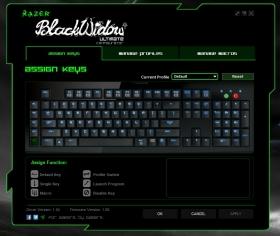 The configurator allows you to map a single key to anything you want, and the keys can also be saved to different profiles. Macros are also possible, with the configuration of a single key to a long and complicated combination of keys, and mouse clicks (along with specific time delays) can also be saved. This allows, for example, a large photo or video-editing suite with lots of shortcuts, to have one profile. With another profile for e-mail, Word or Excel where a key could be copy/paste.
If you don't want to use the configurator, it's okay. Razer have thought of you, too. You can use the on-the-fly macro recording, which you can use by pressing Fn+right Alt key and the keyboard will then enter macro recording mode. From there, you just execute the commands normally, then press Fn+right Alt again then another key to bind those commands to that key.
Let's discuss the 1000Hz Ultrapolling/1ms response time, oh, and the Extreme anti-ghosting. A lot of buzzwords and a not-so-long review. The Razer BlackWidow Ultimate Stealth Edition features 1000Hz Ultrapolling, which in laymen's terms means that the USB port the keyboard is attached to is scanned 1000 times per second for any possible key presses so that you receive an instant response.
Next up, we have Extreme anti-ghosting which sports 6-key rollover (6KRO) over the entire keyboard - 6-key rollover is the limit of USB. This means you can press a combination of up to six keys without jamming up the keys. This also includes modifier keys such as Ctrl, Shift, Alt or the Windows key; this in turn really turns the 6KRO to 6+4KRO.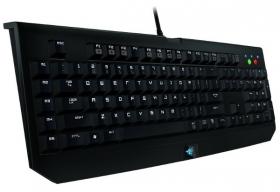 I don't really use this feature on the Razer BlackWidow Ultimate Stealth Edition, but it does come in handy with some testing I used. I fired up the Battlefield 3 beta while it was available and being able to run forward (pressing W) and strafe (pressing either A or D) is very useful, and there is absolutely no lag, period. The same goes for various other games tested; first-person shooters are the easiest to test for 'lag' on keyboards and the Stealth performs admirably.
Quick presses, multiple key presses; the overall feel of the keyboard when gaming is great. As mentioned earlier in the review, the 'rubber' feel really adds to the keyboard and even after extensive gaming testing (3 - 4 hours straight a few nights in a row), the Razer BlackWidow Stealth Edition just rocks on.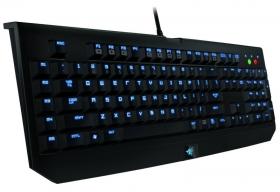 So, not only does it look amazing, feel amazing, play amazing and type amazing - is there anything the Razer BlackWidow Ultimate Stealth Edition can't do? Well, to me, no. It's the perfect mechanical gaming keyboard on the market for me. Easily.
I think the only whinge I could have would be, why wasn't it here sooner?